All the news for Saturday 17 October 2020

Iconic Wagener Stadium ready to welcome FIH Hockey Pro League




The next set of FIH Hockey Pro League matches are scheduled to take place in less than two weeks' time, with the Netherlands men and women gearing themselves up to take on the national teams of Great Britain on 27 and 29 October 2020.

The matches will take place at one of the world's most famous and historic hockey arenas, with the Wagener Stadium in Amsterdam providing a truly wonderful stage for this double header between two famous hockey nations.

Throughout its 82-year history, the iconic venue has been renowned for the thousands of fans who pack the stands whenever the Oranje are in action, with Dutch hockey lovers having been present to witness some truly historic moments down the years.

Due to the health and safety requirements in relation to the COVID-19 global health pandemic, the famously vociferous Dutch spectators will be unable to attend the upcoming clashes, which will be played behind closed doors. Whilst it will be rather odd to see the renowned setting without any fans, the excitement, energy and desire from the competing teams – who have not played a competitive international match for nearly over half a year – should ensure that those tuning in to the global broadcast are in for a real treat.

 Built in 1938, the Wagener Stadium – which is located in the Amsterdamse Bos [Forest] in the Amstelveen district – is named after former Hockey Club Amsterdam chairman Joop Wagener and has so often been the stage for some of the world's greatest hockey events. These include the men's FIH Hockey World Cup in 1973, where the home favourites became world champions for the first time in their history thanks to a penalty strokes victory over India in the competition final. Netherlands legend Ties Kruize finished as the competition top scorer with 11 goals in seven matches.  

 Between 1974 and 2016, the stadium hosted three European Championships (1983, 2006, 2011) and seven Champions Trophy competitions (1982, 1987, 2000, 2001, 2003, 2006, 2011), not to mention various Four Nations and international friendly events. Although the pitch has been resurfaced on numerous occasions, the famous wooden grandstand changed little since its construction.

 That all changed in 2017 when the stadium underwent an incredible renovation in readiness for hosting a fourth European Championships. A brand new, state-of-the-art grandstand was constructed, creating a truly world class environment for the competing teams and for a potential 9000 fans. The revamp was another significant chapter in the history of this wonderful stadium, with the new look arena going on to host both the FIH Hockey Pro League Grand Final and the FIH Hockey Olympic Qualifier events in 2019.  

Although the fans will not be allowed into the stadium itself, all four matches will be available to watch via television or digital streaming thanks to our broadcast partnerships, as well as on the new Watch.Hockey app in every country where a rights holding broadcaster is not showing the matches live.

Keep up to date with all the latest news on the FIH Hockey Pro League via the Watch.Hockey app, event website and through FIH social media channels - Facebook, Instagram and Twitter.

#FIHProLeague
#HockeyInvites
#PlayHockeyStayHealthy

Official FIH Pro League Site


---

Developing world class talent key for Hager



Mark Hager 2019 Olympic Qualifiers

For Mark Hager, coaching is more than just about winning trophies and medals.

In addition to this, one of the real satisfactions he gets from the role is helping talented youngsters become world class athletes.

Since he was appointed as the head coach of the GB women's team in January 2019, the former Australian forward has focused a lot of attention of bringing through youngsters from the GB Elite Development Programme (EDP), with the rewards already clear to see.

Hager has handed debuts to seven players in that time period, four of whom - Esme Burge, Lizzie Neal, Izzy Petter and Charlotte Watson - have transitioned from the EDP into the senior GB squad.

Tess Howard also graduated from the programme shortly before Hager joined and has already won 30 caps for GB, while a total of seven members of the current squad are aged 23 or under.

"I enjoy young athletes coming into the programme," he explained.

"They add a new excitement; they just want to be there, they show up early, they're out on the pitch after training, they want to learn. They're just sponges saying 'give me more'. Early on that's what I really enjoy about them when they come in; they just play without any expectation.

"But that's why they develop so quickly; they're prepared to spend that little bit of extra time after training or before training or at home honing those skills.

"They add a new dimension to training, to the games and all the ones we have brought in have developed very well and it's exciting to see them grow.

"That's the other reason you coach – it's because you love seeing an athlete at one level and in some small way you've developed them to be world class.

"If I can do that for a lot of athletes - not just on the field but off the field as well, to become good people – that's why I really enjoy being a coach."

It's not just these athletes who benefit from the transition though; Hager also believes they have a hugely positive influence on the squad as a whole, something which will drive them forwards as they continue to prepare for the postponed Tokyo Olympics.

He said: "All of a sudden you become a leader.

"We ask those players to give them knowledge, help the young player become better, learn the systems about how we want to play and our values and I think it gives them a new lease of life as well."

Great Britain Hockey media release


---

Players all together and safe in CMCO cocoon

By Jugjet Singh



With the help of the National Sports Council (NSC), players from the seniors, juniors and combined women's team were quickly sheltered at the NSC hostel in Bukit Jalil as the CMCO was announced. -NSTP/File pic

A few days before the Conditional Movement Control Order (CMCO) was announced, the Malaysian Hockey Confederation (MHC) had already hatched a plan to avoid disruption to their national training schedule.

With the help of the National Sports Council (NSC), players from the seniors, juniors and combined women's team were quickly sheltered at the NSC hostel in Bukit Jalil as the CMCO was announced.

"We have already a plan in case the government announces travel restrictions that will affect national training for all three teams.

"As Covid-19 numbers are increasing, a discussion was held recently and it was agreed that the athletes be housed at the NSC hostel.

"A bus will be used to ferry them for training at the two pitches next door if travelling is not allowed," national men's coach Arul Selvaraj said on Sunday. The CMCO for Selangor, Kuala Lumpur, and Putrajaya was announced on Oct 14-27 following a surge in Covid-19 cases.

While Arul's men and Nasihin Nubli's women do not have any "immediate tournaments", Wallace Tan's Juniors team will be involved in a World Cup qualifier in Dhaka on Jan 21-30.

"It was in the nick of time that we managed to get all our national Juniors into the NSC hostel. Team officials are allowed to move in and out of the hostel but the players are not allowed the freedom.

"It's travel to training by bus to the stadium next door, and back to the NSC hostel with no allowance of going anywhere else," said national juniors team manager I. Vickneswaran.

However, Vickneswaran sees a silver lining in this "confinement".

"I see this as a blessing for the Juniors as not only can they continue their training, but the coaches are also able to conduct other sessions at night like team building and tactical discussions.

"We need to get the team to work as a family on and off the pitch to get the desired results at the Junior Asia Cup."

It's like forced centralised training three months before the Junior World Cup qualifier where Malaysia have to reach the semi-finals for a World Cup ticket.

New Straits Times


---

10 new juniors join Dar Hockey Academy




LAHORE: Pakistan's premier hockey nursery Dar Hockey Academy has recently picked up 10 new boys aged 13-15 years from different parts of the country:

Three each from Pir Mahal (district Toba Tek Singh) and Farooqabad (district Sheikhupura, and one each from Pattoki (district Kasur), Fort Abbas (district Bahawalnagar), Khushab and Sukkur.

They are provided with free boarding and schooling in Lahore. The boys train six days every week at the National Hockey Stadium Lahore. The colts are also provided with competition, the academy teams play matches against sides from Lahore and outside.

As their game shows improvement over the period of time, most of them gain selection in the departmental and provincial teams for the national junior championships. Then many are taken up by the departments offering them monthly salaries. These players then vacate the academy hostel.

The academy replaces them with new young players scouted from all over the country. In this manner, the Dar Hockey Academy`s Conveyor Belt functions.

The Daily Times


---

Athlete Spotlight: Alex Grassi




Each athlete that wears the red, white and blue has a unique story to how their careers came to fruition. From the junior level to the senior squad, USA Field Hockey is putting national team athletes under the spotlight to share their journeys.

Depending on who you ask, being an athlete can personally mean something simple or complex. For U.S. Men's National Team athlete Alex Grassi, it means playing with one's entire being, not just with a jersey and equipment given to anyone.

Grassi has been actively playing field hockey since 1997 and was introduced to the game by his physical education teacher in the first grade at Mater Amoris Montessori School in Ashton, Md. From there, once old enough, he joined the school's U-12 team that consisted of fourth, fifth and sixth grade students. This team also frequently competed in the U-12 Mixed division at the annual California Cup, and as Grassi gained in experience, it opened up the door to further playing opportunities in the Men's Olympic Development Pipeline.

"When I was old enough to play on the team, I traveled with them for the Cal Cup near Los Angeles," explained Grassi. "When I turned 13, my coach got me a tryout for the U.S. U-16 Men's National Team out in California. I flew out with my dad and I made the team."

Step by step, Grassi's confidence grew alongside his skillset and before long developed a dream to represent the red, white and blue.




"I always just played because I really enjoyed the game," continued Grassi. "I didn't know if I was any good, but it was fun. When I made the U-16 USMNT, I realized I could potentially play on the Senior team one day, that's when I made it one of my goals."

He slowly but surely made his goal a reality moving up to the U-21 USMNT in 2007 and played in the 2008 Junior Pan American Championship in Trinidad and Tobago where USA finished with a bronze medal. While pursuing his endeavors on the pitch, Grassi was also an active soccer player throughout his time at McDonogh High School and helped the school claim two Maryland Interscholastic Athletic Association (MIAA) state championships. When it came to decide where to attend college, sports played a major role in both as an undergraduate at Franklin and Marshall College and graduate school at San Diego State University (SDSU).

"I chose Franklin and Marshall for college because I wanted to continue playing soccer and they had an engineering program that seemed right for me," said Grassi. "I chose SDSU because I wanted to be able to study and train full time with my teammates at the Olympic Training Center in Chula Vista Calif, which is about 30 minutes away."

While balancing school, Grassi was named to the Senior U.S. Men's National Team in 2012 and earned his first international cap in a series against Chile in the lead up to the 2013 Men's Pan American Cup.

"I was definitely nervous, but realizing a dream is such an exciting moment, I'll never forget it," added Grassi, regarding his first international cap. "After the game, I remember immediately setting my next personal goal, which was to score a goal for USA."

That same year, Grassi also competed in his second Junior Pan American Championship, this time in Guadalajara, Mexico, where USA placed fourth. The Brookville, Md. native was also a recognizable face in 2017 when the team claimed bronze medals at Hockey World League Round 2 in Trinidad and Tobago, and the men's Pan American Cup in Lancaster, Pa. The latter remains among his favorite memories thus far in his career, not only to play on home turf wearing USA's colors, but a chance for those most important to him to watch in person.




"Playing at home on the east coast in front of my friends and family was a great moment in my career," noted Grassi. "So many of our games are outside the US, many of my friends and family had never seen me play before, so it was great to have so familiar faces in the stands."

Through it all, the game taught him humility, how to better communicate and leadership skills among several others.




"You can take a lot of lessons away from a team sport like field hockey," continued Grassi. "A few examples would be learning to deal with adversity, communicating effectively with different people, how to follow, and how to lead. I think one of the main lessons I learned from field hockey is to embrace imperfection and weaknesses. If you aren't willing to admit you have any weaknesses, then you'll never be able to focus on them to improve them."

The sport has also given him many opportunities to be a teacher as well. Grassi added that he has been very lucky to have coached multiple groups of eager athletes in California, Maryland and New Jersey over the years. This includes collegiately at American University and Rutgers University, as well as with the Junior U.S. Men's National Teams.

"Coaching is something I really enjoy and I've been lucky to work alongside some great coaches. I've learned a lot over my time working with them " said Grassi. "Finally, I have also been able to start my own club near [Washington] D.C.! Mustangs Field Hockey Club is for all ages and skill levels. And it is open to boys and girls."

In the first few days of the New Year, Grassi served as captain of the indoor U.S. Men's National Team that competed at the Rohrmax Cup in Vienna, Austria. More recently, while his schedule remains full and active, Grassi has remained well connected with the rest of the USMNT through the ongoing coronavirus (COVID-19) pandemic by supporting each other in individual trainings as they await to retake the field as a full unit.

"The team group chat is always active," commented Grassi. "We have done a few different things through COVID-19, from small accountability groups to team-wide discussions on training. Since we are spread out all over the world, team training isn't an option, but some guys can get together in small groups. Most of the team is at a point where they know how to train themselves to stay fit."

Though they cannot train together in person just yet, Grassi and the rest of the Wolfpack keep their individual and team goals front and center while counting down the days until they walk onto the pitch together once again.

If you aren't willing to admit you have any weaknesses, then you'll never be able to focus on them to improve them.
Alex Grassi

USFHA media release


---

Gaining Confidence Through Every Opportunity

Content courtesy of Justin Lafleur, Lehigh Athletics




Sam Nason had a window into the engineering field this summer as a Whiting-Turner Contracting Company summer intern.

Despite it being her first engineering experience, Nason came in ready for the challenge, due in large part to some important tools.

"The idea of working on an engineering project team was new to me and I believe that's where Lehigh field hockey ties in," said Nason, an industrial and systems engineering major. "The way we operate as a field hockey team significantly impacted how I carried myself on the project team at Whiting-Turner. The leadership qualities I've taken away from LUFH – like direct feedback – proved valuable."

Whiting-Turner is a general contracting and construction management company, who ironically, is currently leading the Bridge West Residence Hall construction on Lehigh's campus.

"I was assigned to a construction product at the Helping Up Mission Women and Children's Center Project in Baltimore," said Nason, a native of Phoenix, Md. "I was able to stay at home and commute daily."

The internship took place for multiple months during the summer, beginning in late May. Nason worked on a project team of 11 and was one of three interns on site.




"I had a lot of hands-on experience," she said. "I was super involved with everything the team was working on because it was a small group. Day-to-day tasks included talking to subcontractors and arraigning the ins-and-outs of what was happening on the project that day. I received pricing from possible subcontractors and compared them."

Some examples of subcontractors Nason spoke to were caulking, paving and appliance companies.

A significant aspect of Nason's internship was talking with people, an important skill no matter the company or position.

"I knew I had to be clear and concise for them to get me what I needed," she said. "That was a big takeaway and also learning curve because I was more shy and timid at the beginning. But by the end of the internship, I felt comfortable on the phone and could confidently ask for what I needed."

Confidence was an area of growth for Nason this summer, and has been throughout her Lehigh experience thus far.

"There is a confidence element I've tapped into since freshman year," she said. "Coming in, I was afraid to put myself out there in uncomfortable situations. But through LUFH, we've been told by [Director of Athletics Leadership Development] Julie (Ammary), Coach Dallmeyer, Coach Taylor and all our mentors that it's okay to be vulnerable.

"I believe LUFH has created an environment that pushes you to the direction of your identity."

It's not about pushing yourself to something you're not. Nason wants to be her genuine self, but knows the importance of gaining confidence, which leads to leadership. And that's important in the working world, such as her engineering internship, an experience that included both office and field work.

"I was more involved with the safety aspect of things in the field, making sure everything was under regulation, meeting with the foremen who were the leaders of each subcontractor, and checking in with them for the day," said Nason. "I wasn't sitting back and watching everything happen. It was a super experiential opportunity."

As a daily routine, Nason physically went to the site being built.

"I would walk the site, see the daily progress, talk to the guys who were out there working, get to know some people and get more of a feel for the construction site itself," she said.

Nason worked for the contractor, not for the women and children's center, but being part of such a worthy cause made her work even more gratifying.

"It's an organization that had previously catered more towards men, but with this new project, it was opening an opportunity for more women to be involved," she said. "It's offered to women experiencing homelessness and addiction, so they're recovery programs. It's like a home environment for the women to stay with their children. It's pretty well-known in the Baltimore area.

"My family had actually previously been involved in the organization before I coincidentally got placed at that site," Nason continued. "It definitely gave me perspective… it was more than just crunching numbers. There was a deeper sense of purpose.

"It just added another layer of why every little thing you do is important."

Nason was grateful to be involved in such important work, and for the opportunity to have a hands-on experience amidst the COVID-19 pandemic.

"There was a period of time before my internship when I felt so lost," said Nason. "It felt like I didn't really have any purpose in my daily activities. The internship helped provide a goal for the summer and bigger-picture approach."




That approach allowed Nason to learn and grow, even if what she was doing isn't exactly the route she'll ultimately takes.

"It was a huge growth experience because I hadn't ever worked with other engineers in that context or setting before," she said. "Construction-wise, I don't necessarily know if I'll continue a career down that path, but it definitely led me in the direction of knowing what I do prefer and don't love as much in a job setting."

Nason also learned about herself, in a similar way that she's learned about herself as part of the Lehigh field hockey team.

"I'm an industrial and systems engineering major, so I don't know super technical things about civil engineering," she said. "At the beginning, I felt like a lost puppy, but I just kept asking questions… and that's something I'm definitely going to take away. My supervisors were super helpful. When I did ask questions, I got constructive responses that will only help me moving forward.

"Don't be afraid to show vulnerability."

Not being afraid to show vulnerability has led Nason to a stronger place today than yesterday, last week, last month and last year. Her growth mindset is putting her in a strong position to succeed.

"About half of the time, I would be behind the computer," she said. "I learned that I definitely prefer working with people as opposed to being behind a desk. Being able to physically go to the job site was really valuable to me. I could interact with the people working with Whiting-Turner first-hand, which I didn't necessarily expect going into the internship.

"All summer, I thought about how grateful I was to still have this type of opportunity, despite the pandemic," Nason continued. "The company put a lot of effort into making it the best experience possible.

"I'm so glad I was able to have this opportunity."

USFHA media release


---

Old Georgians looking to build on positive start




Entering the fifth week of the Men's England Hockey League Premier Division and there are signs that teams are settling and there is more consistency in the playing styles and approaches of individual teams.

As new players find their places within the squads and the principles to which the coaches have been guiding their teams start to become bedrocks of performance, so the pace, intensity and sheer quality of match-play makes for compelling viewing.

All of which makes Beeston's live stream on England Hockey's Facebook page last week and Old Georgians' similar live stream this weekend something to really celebrate and support.

England Hockey caught up with Old Georgians Head Coach Mike Hughes to discover his thoughts on the season so far and what he expects of his team in this weekend's encounter with Oxted, which can be viewed via the England Hockey Facebook page.

"Our main focus as a group is to look after the details every week, ask the awkward questions and continue to improve." says Hughes.

"Last week we let ourselves down in the first half. Our game intelligence, defensive desire and ability to remove the ego in deep defence wasn't at an acceptable level. This is something we've analysed at length and will prioritise against Oxted.

"With the ball we played some great attacking hockey and countered well in patches. The quantity, consistency and outcomes of these attacks are trending positively and we must continue to build on this."

Despite Hughes' assessment that the team had "let itself down", the final result – a 5-1 win over Exeter University - has pushed Old Georgians to second in the league, behind unbeaten Surbiton.

This weekend's opponents will prove a challenge to Hughes and his squad. The Head Coach has a lot of respect for his counterpart at Oxted.

"Two years ago we had some brilliant matches against Oxted and managed to steal a point at their place after coming back from 3-1 down with two minutes to play.

"Nick Giles did brilliantly with this team last year and they were quite rightly crowned champions and promoted. They've recruited well, are intelligent with the ball and have a serious corner threat with Tim Guise-Brown. I've long admired Sam Driver as a person and multi-sportsman. He has a wealth of experience behind him and will lead their forward line with great zeal."

If there was ever any doubt that Hughes is anything but a perfectionist they are dispelled the minute he starts talking about his ambitions for the team.

"We've played some great hockey this year and with a little more care, we could easily have taken all the points against Holcombe and Hampstead and Westminster. Our aim is to become a multifaceted side that has their super strengths but can adapt and adopt a plan B without any fuss. The boys have worked super hard thus far and continue to challenge themselves and those around them."

Beeston, for their part, will be hoping to build on the performance that saw them take their first win of the season when they travel across the country to take on Brooklands MU. The Nottinghamshire side hit their stride quickly against Durham and scored all their goals in the first half of the game. Mark Wadsley will be looking for more of the same this weekend.
 
There is likely to be a tense and hard-fought match between Hampstead & Westminster and East Grinstead being played at Southgate HC whilst Hampstead's pitch remains unavailable. While Hampstead & Westminster will have all the confidence borne of a 4-1 win over Wimbledon, be sure that East Grinstead will be determined to bounce back after their trouncing at the hands of Surbiton.

Durham University v Holcombe and University of Exeter v Wimbledon are both off due to Covid related issues.

Surbiton are without a fixture this weekend, having been due to compete in the Euro Hockey League prior to the Coronavirus lockdown impacting on the competition.

For live scores in the Premier Division see https://englandhockey.altiusrt.com/

Restrictions for spectators apply at some games. Please check before travelling.

FIXTURES
Men's Hockey League (Saturday 17 October 2020):

Division One North
Sheffield Hallam v Loughborough Students 18:30

Division One South
Sevenoaks v Oxford Hawks 17:00
Southgate v Old Cranleighans 14:30

Conference East
Bromley & Beckenham v Wapping 15:30
London Wayfarers v St Albans 14:30
Old Loughtonians v West Herts 16:30
Richmond v Spencer 18:00
 
Men's Hockey League (Sunday 18 October 2020):

Premier Division
Beeston v Brooklands MU 14:00
Hampstead & Westminster v East Grinstead 14:30 at Southgate HC
Old Georgians v Oxted 13:00
Univ of Durham v Holcombe postponed
Univ of Exeter v Wimbledon postponed

Division One North
Bowdon v Olton & West Warwicks 13:30
Cambridge City v Univ of Birmingham 13:30
Deeside Ramblers v City of Peterborough v 13:30
Univ of Nottingham v Cardiff & Met 14:30

Division One South
Brighton & Hove v Havant 13:00
Reading v Canterbury 13:30
Teddington v Team Bath Buccaneers 14:15

Conference East
London Edwardians v Harleston Magpies 12:30

Conference North
Belper v Doncaster 12:30
Barford Tigers v Timperley 13:00
Didsbury Northern v Univ of Birmingham 2s14:30
Preston v Lichfield postponed
Leeds v Univ of Durham 2s 14:30

Conference West
Ashmoor v Univ of Bristol v 14:00
Cardiff Univ v Cheltenham 13:30
Chichester v Plymouth Marjon 14:00
Harborne v Fareham 14:30
Khalsa Leamington v Isca 13:30

England Hockey Board Media release


---

Clifton Robinsons grateful for chance to play




Clifton Robinsons have got their Women's Hockey League Premier Division season off to a solid start under the leadership of Head Coach Juliet Rayden.

A loss to East Grinstead in the opening weekend was quickly forgotten as the team put in two sparkling performances to beat league newcomers Wimbledon and Swansea.

As she reflects on the early days of the new season, Rayden says above all, she is happy that people can play hockey again.

"We have had three competitive games, which were all challenging in different ways. It was important to get the home win against Wimbledon before our bye weekend. We have had a number of new players in and we are pleased with the progress we are making in the early stages of the league. In the bigger picture we recognise how fortunate we are to be playing competitive hockey at the moment."

Consistency is the holy grail for coaches right now. New players have had a chance to settle in and the pre-season and early season coaching and games will have highlighted any areas to work on. It is certainly a quality that Rayden sees as key to success.

"We need to focus on improving our performance as individuals and as a team and making these performances better each week. We need to be as consistent as possible. We have identified key areas from last season that were not good enough and as a coaching team we need to provide opportunities in training for the players to improve in these areas. The players are responding very well."

The Bristol-based team have a tough challenge ahead of them this weekend as they face Holcombe.

The Kent team have struggled to hit form, only winning one match so far. However, Rayden knows that Holcombe's Head Coach Kevin Johnson will have plans to raise his team's performance levels and she will need her team to be on their game to repel the Holcombe attack.

"It is always a tight game against Holcombe, who have some experienced players. We need to focus on our performance and as the home team we need make sure we set the right intensity from the start of the game."

Loughborough Students and East Grinstead are locked together at the top of the table but the Students game with Beeston is off. On Sunday, East Grinstead face the challenge of Hampstead and Westminster. behind closed doors at Lee Valley. It is a match that Hampstead and Westminster's co-Head Coach Sarah Kelleher is relishing.

"It will be a really good battle [against East Grinstead]. The quality of the games we are playing in the league is brilliant. Each time you go out, you face a new challenge and that helps you raise your game and that is what we love. We are really, really excited about it."

In the remaining two matches Swansea travel to Buckingham hoping to get some points on the table, while Wimbledon will look to bounce back from their defeat last weekend.

The London side have made a solid start to their league debut with a 50% win rate, and will continue to push for a place in the top half of the table at the expense of the University of Birmingham – another side searching for a first victory.

For live scores in the Premier Division see https://englandhockey.altiusrt.com/

Restrictions for spectators apply at some games. Please check before travelling.

FIXTURES
Women's Hockey League  (Saturday 17 October 2020):

Premier Division
Buckingham v Swansea 12:00
Clifton Robinsons v Holcombe 13:30
Loughborough Students v Beeston postponed
Wimbledon v Univ of Birmingham 14:00

Division One North
Brooklands-Poynton v Univ of Nottingham postponed
Gloucester City v Ben Rhydding 12:00
Leicester City v Univ of Durham 14:00
Olton & West Warwicks v Bowdon 12:00
Stourport v Belper 14:30

Division One South
Canterbury v Wimbledon 2s 14:00
Harleston Magpies v Cambridge City 13:30
Isca v Sevenoaks postponed
Slough v Trojans 12:15
Surbiton 2s v Reading 16:30

Conference East
Bedford v Barnes 13:30
Bromley & Beckenham v Canterbury 2s 12:30
East London v Southgate 18:00
Horsham v Chelmsford 13:30
St Albans v Hampstead & Westminster 2s 13:00

Conference North
Alderley Edge v Wakefield 14:00
Doncaster v Leeds 12:00
Fylde v Timperley postponed
Loughborough Students 2s v Cannock 12:00
Pendle Forest v Didsbury Northern postponed

Conference West
Basingstoke v Bristol Firebrands 14:00
Cheltenham v Sutton Coldfield 12:30
Oxford Hawks v Exe 12:00
Oxford Univ v Clifton Robinsons 2s postponed
Team Bath Buccaneers v Univ of Birmingham 2s 12:30

Women's Hockey League (Sunday 18 October 2020):

Premier Division
Hampstead & Westminster v East Grinstead 12:30 at Lee Valley

England Hockey Board Media release


---

FLASHBACK: When India & PAK hit rock bottom at Willesdon

s2h Team




It seemed to be a leaf straight out of Ripley's Believe it or Not. Eight time Olympic champions and once World Cup champions India squared up to Pakistan, then three time World Cup champions and as many times Olympic gold medallists.

The stage – the 6th World Cup at Willesdon, England. The prize though was unthinkable for these two nations who played for Olympic gold medals on three occasions and the World Cup once.

This was for 11th position and the avoidance of the ignominy of being left holding the wooden spoon!

It happened on this day (October 17), 34 years ago.

Pakistan won 3-2 in extra-time to leave India at the bottom of the heap. Since that dreadful day, there have been similar or worse disasters for the Asian giants.

Pakistan finished last at the 2010 New Delhi World Cup, India, at the 2012 London Olympics. Both nations have also failed to qualify for the Olympics.

India missed out on the 2008 Beijing Olympics while Pakistan have failed to qualify for the 2016 and 2020 Olympics in Rio de Janeiro and Tokyo (postponed to 2021) as well as the 2014 World Cup in The Hague, The Netherlands.

In 1986, though, the match-up for last position was shocking, unimaginable.

The two arch rivals that featured at the top of the leaderboard were Australia and England with the former winning the title to break Pakistan's sequence of two successive World Cup triumphs.

In the Aussie ranks was cynosure Ric Charlesworth – an admirer of the Indian style of play in a team shaped by the influence of the Ango-Indian immigrants down the ages.

And England fielded two players – forwards Imran Sherwani of Pakistani descent and Kulbir Bhaura of Indian origin. Key players in a team making waves and one to form the nucleus of a Great Britain side which were to win Olympic gold in two years' time.

Ironical indeed. The hockey world had been churned!



Md Shahid was the captain when India was dethroned for the first time in Asian Games, 1986. And then, last at the Willesdon World Cup

Many, however, saw a fall from grace for the Asian exponents stemming from new rules, artificial surfaces and their own limitations to adapt to fast evolving conditions. Add to this administrative quirks and selection vagaries which undermined fortunes of the "national game" in the two countries.

Pushing both India and Pakistan to the brink, however, was the scheduling of the Asian Games and the World Cup, the first to be staged on an artificial surface.

The 1986 Asian Games final took place on September 29 in Seoul and was played between South Korea, the eventual gold medal winners, and Pakistan. India played earlier on the same day, clinching the bronze after beating Malaysia.

The World Cup started on October 4 – less than a week after an exacting and demanding continental championship. Both nations alighted in London, reeling from fatigue and benumbed by defeat – Pakistan struggled to come to terms with a 1-2 defeat to the new force South Korea in the Asian Games final and India from missing the final for the first time in history.

Not surprisingly, Pakistan, the reigning Olympic champions, began their campaign disastrously, losing to Argentina 1-3. India played the next day and lost to Poland 0-1. Further defeats followed – Pakistan went down to The Netherlands 1-2, India to Spain 1-2 and 0-6 to Australia, the eventual champions.

Pakistan appeared to effect a turnaround in fortunes with a sensational 5-3 victory over New Zealand after trailing 2-3 with just minutes to go while India gained some solace with a 2-0 win over Canada.

But it all fell apart for Pakistan, three-time champions, who lost to England (eventual runners-up) 1-3 and crashed out of the semifinal race.

Another defeat followed for the Green Shirts who lost 0-2 to the Soviet Union (who finished fourth) India forced a creditable 2-2 draw with West Germany (eventual bronze medallists) but were already out of the race.

Further setbacks awaited the once invincible Asians. Pakistan lost to Canada 1-2 in the classification crossover and India came up croppers against New Zealand by the same score to set up an incredulous match.

Stick2Hockey.com


---

MYAS selects Chandigarh's hockey stadium as one of India's 8 'centres of excellence'

The decision was taken at a meeting held in Delhi earlier this week, approved on Thursday and the official communication was sent to the Chandigarh sports department Friday.

By Nitin Sharma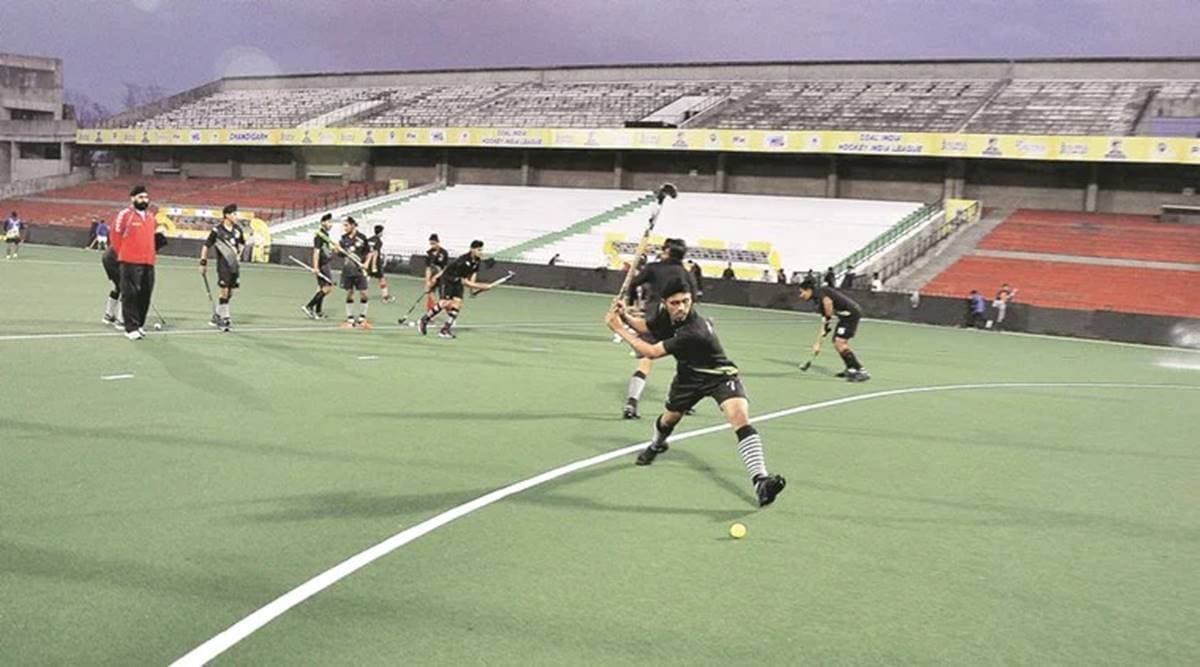 While Chandigarh allowed training in sports like archery, badminton and other sports in May under the Unlock guidelines, the UT sports department started training in sports like judo, wrestling and boxing at its sports complex earlier this week. (Representational)

The Ministry of Youth Affairs and Sports has selected the Sector 42 Hockey Stadium, Chandigarh, as one of the eight 'Khelo India State Centres of Excellence'. The decision was taken at a meeting held in Delhi earlier this week, approved on Thursday and the official communication was sent to the Chandigarh sports department Friday. The sports department had submitted a proposal about hockey, boxing and rowing with the Ministry of Youth Affairs and Sports last November.

"We had submitted our proposal after invited applications. As the Chandigarh Hockey Academy has been operating for the last 20 years and has produced many international players apart from facilities for boxing at Sector 42 and rowing at Sukhna Lake. We submitted the proposal about these three sports. We are yet to get the final details if rowing and boxing are also included. Regarding hockey, the new centre of excellence will act like a conveyor belt for the region for different levels," said Tejdeep Singh Saini, director, sports, Chandigarh. P K Mattu, deputy director-in-charge, SAI regional centre, also confirmed the development. "Yes, Chandigarh has been selected for the Khelo India SAI Centre of Excellence apart from one each in Haryana and Himachal Pradesh," he said.

While the MNS Hockey Complex at Sonepat, Haryana, apart from Indoor Stadium Sports complex, Bilaspur, Himachal Pradesh, are the other 'Khelo India Centre of Excellence' centres in the region in the nationwide list of eight centres, the Sports Authority of India and respective state/UT sports department will conduct the gap analysis regarding sports science support, officials and equipment for the centres.

"In the coming months, the UT Sports Department along with SAI will conduct gap analysis where the required sports science support, manpower and equipment need will be finalised. With players from the region excelling in the Khelo India Games including the winter Khelo India Games too, Chandigarh will provide all the facilities to players from the region and it will be a step to produce more international players. The Khelo India 2021 Games will be held in Panchkula next year and a lot of players from the region are expected to win medals in the games," added Saini.

While Chandigarh allowed training in sports like archery, badminton and other sports in May under the Unlock guidelines, the UT sports department started training in sports like judo, wrestling and boxing at its sports complex earlier this week.

While the Ministry of Home Affairs (MHA) allowed training in swimming for players, the UT sports department is waiting for the SAI guidelines. Regarding the work of upgrading shooting and archery facilities for the 2022 Commonwealth shooting and archery events to be held at Chandigarh January 2022, medals of which will be counted in the medal tally of 2022 Birmingham Commonwealth Games, Saini said the design and architect plans have been finalised.

"We have started basic training in contact sports like judo, wrestling, boxing and other individual sports with proper social distancing measures like less number of trainees in batches, no allowing of parents and other measures at our sports complexes and stadiums. We are still waiting for the SAI guidelines regarding swimming and will resume training in swimming after discussion with all stakeholders. Regarding shooting and archery events of CWG 2022, the UT engineering department has finalised the design and architect plans of the venues and tender will be issued for the upgrade of Patiala Ki Rao shooting range," concluded Saini.

Indian Express