All the news for Sunday 18 October 2020

Fine-tuning our game will make us better: Nilakanta Sharma

'We have identified a few areas that we need to in the upcoming months'



Take on tweaks: Small changes make a big difference to team performances, says Nilakanta Sharma.  

Fine-tuning a few aspects of the Indian men hockey team's game will make a big difference at the Olympics, reckons midfielder Nilakanta Sharma.

The Indian team has done well against top teams in the FIH Hockey Pro League, but Nilakanta feels that there is still room for improvement.

Lot of confidence

"Playing well against the Netherlands, Belgium and Australia at the FIH Hockey Pro League has certainly given us a lot of confidence in our abilities," said Nilakanta, who has played over 50 matches for the national side.

"However, we have identified a few areas that we need to fine-tune in the upcoming months. Sometimes small changes make a big difference to the way a team performs and we are looking to make those small changes to our game.

"If we fine-tune our game properly, we will certainly be a much better unit at the Olympics," he added.

Tricky period

Asked how he felt about his game, Nilakanta said, "This is a tricky period for us. We have to be very careful. We shouldn't push too hard and neither should we take it too easy as well.

"Personally, I am happy with the way I am moving forward with my game everyday. We are taking small steps at the moment. There's still a lot of time to go for the Olympics," he added.

The 25-year-old said that since the team has spent so much time together at the SAI campus in Bengaluru in the last few months, the coordination between the players on the pitch could improve.

Great understanding

"In sport, it's not only about having a great understanding on the pitch but off the pitch relations between players also have a huge impact on performances," Nilakanta said.

"We have become a much closer unit in the last few months since we have spent a lot of time together at SAI campus. This could have a major impact on our coordination on the pitch," he added.

The Hindu


---

Coach Harendra's take on two goalkeepers he spotted and groomed

s2h Team




It's the last line of defence. A role in hockey that can make or break a team's fortunes. Yes, goalkeeping is a facet of the game well appreciated by former India coach Harendra Singh, ex-India defender who knows too well the value of a good goalkeeper.

So much so that when he took over as coach of the India junior team in 2005, he convinced the powers- that-be that goalkeeping should be perked up. "I believe for a team to do well, it's important to have good goalkeepers," Harendra asserts.



PR Sreejesh

The  51-year-old Harendra's persistence with the theory has now seen Indian goalkeeping stocks at an all-time high.

The iconic PR Sreejesh, quite clearly one of the best in the world, stands tall in heat of battle. Literally and figuratively. The 1.83m-tall goalkeeper has tilted the scales in many a battle and has proven to be a stumbling block to the wiliest of strikers in the dreaded shootout.

Sreejesh has been the perfect mentor to his young deputies over the years. And this has helped young Krishan Pathak, the second-choice, blossom.

With coach Harendra's conviction on developing goalkeepers, the department has been able to boldly express itself in recent years with young incumbents not shy of daring and doing.

So in came two more – Suraj Karkera and Akash Chikte – to boost the already impressive goalkeeping stocks of the Indian team. But for the moment, it's Sreejesh largely and Pathak who will handle India's goalkeeping duties with Karkera the third in line.




Physically, they are a study in contrast. Pathak just 5-foot-seven, is largely reserved and restrained quite unlike his flamboyant and exuberant senior colleague. But the young Gurkha, who Harendra spotted at the Junior National Championship in Mysuru in 2015 where he represented Punjab, has bid fair to be a promising understudy to Sreejesh – who also caught the coach's eye as an under-14 more than a decade earlier.

In 48 senior internationals, the 23-year-old Pathak has accepted a secondary role to Sreejesh who made his debut in 2006.

Pathak made his junior international debut in 2016 against England, two days after his father, a crane operator in Kapurthala, Punjab, passed away from a heart attack.

It was a preparatory series as a build-up to the 2016 Junior World Cup and Pathak, who lost his mother when he was 12, chose to skip his father's last rites in Nepal from where he hails and stay with the team.



Coach Harendra has the knack of spotting talents early in their career

In the process he showed much the same courage and dedication that underline his spirit and passion under the bar.

Pathak made his senior international debut in 2018 in New Zealand and has hung in there despite, understandably, the lack of pitch time with the 32-year-old Sreejesh, a veteran of 234 internationals, a safe and warranted first-choice.

But a knee injury to India's senior custodian at the 2017 Sultan Azlan Shah Cup gave Pathak, a member of the Junior World Cup winning team at Lucknow 2016 under Harendra's tutelage,  a chance to shine during an eight-month period when Sreejesh rehabilitated.

Ironically, his high-point so far was keeping goal in the 2019 Sultan Azlan Shah Cup final against South Korea after the match went into the shootout which India lost.

The experience was fruitful despite defeat and it was clear that Pathak was set for bigger things.

Harendra has no doubt. "Krishan reads the game very well. His analysis of the game and coordination with his defenders is remarkable," says Harendra who guided India to the quarterfinals and a sixth-place finish in the 2018 World Cup in Bhubaneswar . "He is also agile and good at defending penalty corners," Harendra adds.

Pathak also has grown by leaps and bounds thanks to Sreejesh's mentorship and counsel.

Now with the Tokyo Olympics postponed to next year and the team emerging from the lockdown with measured training, Sreejesh and Pathak will get down to fortifying the citadel as World No. 4 India aim for a podium finish at the Games for the first time in four decades.

Stick2Hockey.com


---

Players run to avoid boredom

The national hockey players and coaches have to abide by government guidelines as Selangor, Kuala Lumpur and Putrajaya are under the Conditional Movement Control Order (CMCO) until Oct 27.

By Jugjet Singh

COOPED up in the vicinity of the National Sports Council (NSC) with no contact sports allowed, the Malaysian national senior did something new yesterday.

They opted for long-distance running to test their endurance and stamina.

The national hockey players and coaches have to abide by government guidelines as Selangor, Kuala Lumpur and Putrajaya are under the Conditional Movement Control Order (CMCO) until Oct 27.

"We were fortunate to have received help from the NSC to house all hockey players from the three teams (men's senior and junior, and women) at their hostels in Bukit Jalil," said national men's coach Arul Selvaraj.

In groups of eight to ten, the players went for a run around the NSC compound yesterday to sweat it out.

"We are barred from playing any contact sports, including football, so running is the only option. We are only allowed to train in small groups under strict guidelines."

"It will be part of our training culture from now as the players prefer running around the compound compared to running in circles during pitch training,"

Arul hopes to instil a winning mentality in his players ahead of next year's assignments.

The men's team will open their campaign in the Asian Champions Trophy on 11-18 March in Dhaka, followed by the Azlan Shah Cup on June 18-27 and the Asia Cup, a World Cup qualifier, in September or October.

New Straits Times


---

ROUND-UP: Women's Hockey League Round 5



England U18 International Kitty Chapple competes with established GB International Sarah Jones. Credit Peter Smith

Holcombe battled back from behind to grab all three points against Clifton Robinsons, winning 3-2 after a thrilling encounter in the Women's Hockey League Premier Division.

Ashley Mainwaring gave Clifton the lead, tucking home from a penalty corner on six minutes. But Holcombe hit back through Agueda Moroni Melgarejo on 22 minutes and just four minutes later, Beth Bingham gave the visitors the lead.

After the break Lorna Jane Cruickshank made it 3-1 to Holcombe, but Kathryn Lane's strike for Clifton with four minutes remaining made for a tense end to the match.

Both sides have now won two games each, with Holcombe's superior goal difference pushing them into sixth.

A brace from Abbie Brant helped Buckingham to their second win of the season as they beat Swansea 3-1.

Lottie Porter put Buckingham into an early lead on four minutes and Brant doubled their advantage 11 minutes later.

Jess Roe scored Swansea's first goal of the campaign just after the break but Brant's second just before the hour mark put the game out of the Welsh side's reach and they remain rooted to the foot of the table.

Two second half goals saw Wimbledon beat the University of Birmingham 2-0. The sides couldn't be separated after a tight first half but just one minute into the second half, Anna Toman latched onto a penalty corner for the lead.

Then after 61 minutes Lucy Holder gave Wimbledon breathing space with their second.

The Loughborough v Beeston match was postponed due to a large number of players being unavailable from the Beeston squad.

Division One North

Two goals from Megan Brazil gave Gloucester City their first win of the season in Division One North as they beat Ben Rhydding 2-1.

Ben Rhydding continue to search for their first win, despite Kelly Baxter pulling a goal back late on.

Stourport made it three wins from four as they came from behind to beat Belper 4-1 with goals coming from Rosie Lewis, Sarah Parkinson-Mills, Milly Short and Bethan Merriman. Poppy Brown had given the visitors the lead on six minutes.

Bowdon are top of the division after Jane Donnelly's goal rescued a point for them in their 1-1 draw at Olton & West Warwicks.

Leicester City chalked up their third victory of the campaign, beating the University of Durham 2-1. Megan Cottee had given Durham the lead but Liz George and then Jeorgia Carr netted to turn the game around.

Brooklands Poynton v University of Nottingham was postponed by the teams.

Division One South

Leaders Reading still lead the Division One South table despite being held to a draw at Surbiton Seconds.

Jennifer Crossley put the visitors ahead after just three minutes, but Sophie Tait's 42nd minute field goal salvaged Surbiton Seconds' first point of the season.

Canterbury had Tilly Tillings to thank for their 1-0 win over Wimbledon Seconds.

Elsewhere Trojans were 1-0 winners at Slough with  former Slough player Amy Sheeham scoring their only goal from open play in the 28th minute.

And Harleston Magpies and Cambridge City drew 1-1 with Emma Lee-Smith and Heidi Baber the scorers.

Isca v Sevenoaks was postponed due to a decision by the University of Exeter, in consultation with Public Health England, to not permit any community sport involving students. For this reason the Exeter v Wimbledon men's game tomorrow is off.

Conference North

A first half double from Megan Johansen guided Wakefield to a 3-0 defeat of hosts Alderley Edge as they continued their perfect start to the season.

Lauren Grundy scored their other goal in the 54th minute to wrap up the points.

Maddie Goodman also bagged a brace as Loughborough Students Seconds beat Cannock 2-1.

Elsewhere, goals from Victoria Hill and Emily McGrath saw Leeds beat Doncaster 2-0 in the Yorkshire derby.

Fylde v Timperley and Pendle Forest v Didsbury Northern were postponed as the away teams are not able to travel to a Government Very High Risk area. This has also impacted the Preston v Lichfield, Men's Conference North game tomorrow.

Conference West

Sophie Byrne hit a second half hat-trick to help Team Bath Buccaneers to a 4-0 win over the University of Birmingham's Seconds in the Women's Conference West.

Sutton Coldfield remain top despite suffering their first defeat of the season at the hands of Cheltenham with Lorna Wilmott's brace leading the scoring for the victors who recorded their first win of the campaign.

A late Nicola George goal snatched a share of the spoils for Basingstoke as they drew 2-2 with Bristol Firebrands after Amy Homitzky had scored twice for the visitors.

Elsewhere, a goal in each half from Claire Werlinger was enough to earn a point for Oxford Hawks in their 2-2 draw with Exe.

Oxford University v Clifton Robinsons Seconds was postponed in line with the ruling of the University authority.

Conference East

The top two teams in the Women's Conference East clashed and it was Barnes who went top, beating Bedford 3-1.

After a goalless first half the game sprung into life on 43 minutes with Helen Stubbs slotting home for Barnes.

Emma Pinny levelled things up for Bedford on 50 minutes but it took just two minutes for Barnes to reclaim the lead with Aleesa Ferguson converting a penalty stroke. Triona Doyle added their third in the final minute of the contest.

Hampstead & Westminster Seconds came from behind as goals from Isabella Davison, Jessica Orrett and Fran Tew helped them edge out St Albans 3-2.

Elsewhere, Horsham beat Chelmsford 4-2 for their first win of the season, Bromley & Beckenham beat Canterbury Seconds 2-0, and Southgate were 4-0 winners at East London.

(There are two more Men's EHL matches that have been postponed by the teams tomorrow - Durham v Holcombe in the Premier and Bowdon v Olton & WW in Mens Division One North)

RESULTS

Women's Hockey League (Sat, 17 October 2020):

Premier Division: Wimbledon 2, University of Birmingham 0; Clifton Robinsons 2, Holcombe 3; Buckingham 3, Swansea 1.

Division One North: Stourport 4, Belper 1; Leicester City 2, University of Durham 1; Gloucester City 2, Ben Rhydding 1; Olton & West Warwicks 1, Bowdon 1.

Division One South: Canterbury 1, Wimbledon 2s 0; Harleston Magpies 1, Cambridge City 1; Surbiton 2s 1, Reading 1; Slough 0, Trojans 1.

Conference North: Alderley Edge 0, Wakefield 3; Doncaster 0, Leeds 2; Loughborough Students 2s 2, Cannock 1.

Conference West: Basingstoke 2, Bristol Firebrands 2; Cheltenham 4, Sutton Coldfield 2; Team Bath Buccaneers 4, University of Birmingham 2s 0; Oxford Hawks 2, Exe 2.

Conference East: Bedford 1, Barnes 3; Horsham 4, Chelmsford 2; St Albans 2, Hampstead & Westminster 2s 3; Bromley & Beckenham 2, Canterbury 2s 0; East London 0, Southgate 4.

England Hockey Board Media release


---

First action since March as conference gets underway



Photo by Martin Boag

On the opening day of competitive hockey in Scotland, it was Grove Menzieshill who caught the eye with a 4-1 win over Tayside rivals Dundee Wanderers in the Men's Midland Conference.

But it was Wanderers who took an early lead with a direct strike by Elliott Sandison at a penalty corner. The scores were level at the end of the first quarter when Chris McFadden, a recent signing from Clydesdale, levelled also from a set piece.

McFadden struck again from another penalty corner conversion to put Grove Menzieshill 2-1 ahead at the interval. Grove Menzieshill proceeded to consolidate their advantage in the second half with an open play strike by Luke Cranney and a last minute set piece strike from Aidan McQuade.

In the other Men's Midland Conference FMGM Monarchs came from behind to overcome Perthshire 3-2 in a hard fought encounter.

Monarchs struggled in the first quarter and allowed Perthshire to take a two goal lead, not helped when captain Callum White visited the sin bin. But the Dundonians were able to pull one back through Ross Glashan before the interval to reduce the deficit to 2-1.

Monarchs rose to the occasion in the second half and were able to reverse the tables through strikes by Ross Glashan again and Scott Glashan, although their victory was also due to a string of good saves from keeper Sean Thomson at the other end.

In the Men's North Conference Granite City Wanderers against Gordonians ended up an early postponement in the day, as was the Aberdeen Grammar School FP versus Ellon contest.

In the only women`s game of the day in the North Conference Premiership side Gordonians finished 6-2 winners at Ellon.

The former were on song with five of their strikes coming from a slick penalty corner routine. Ellon fought back, a telling run by Gracie Grey-Giles opened up the opportunity for Lynne Gordon to score, and later captain Louise Gordon added another from a penalty.

Scottish Hockey Union media release


---

Erin Matson Scores Late to Give UNC Field Hockey Victory Over Syracuse

By Avery Trendel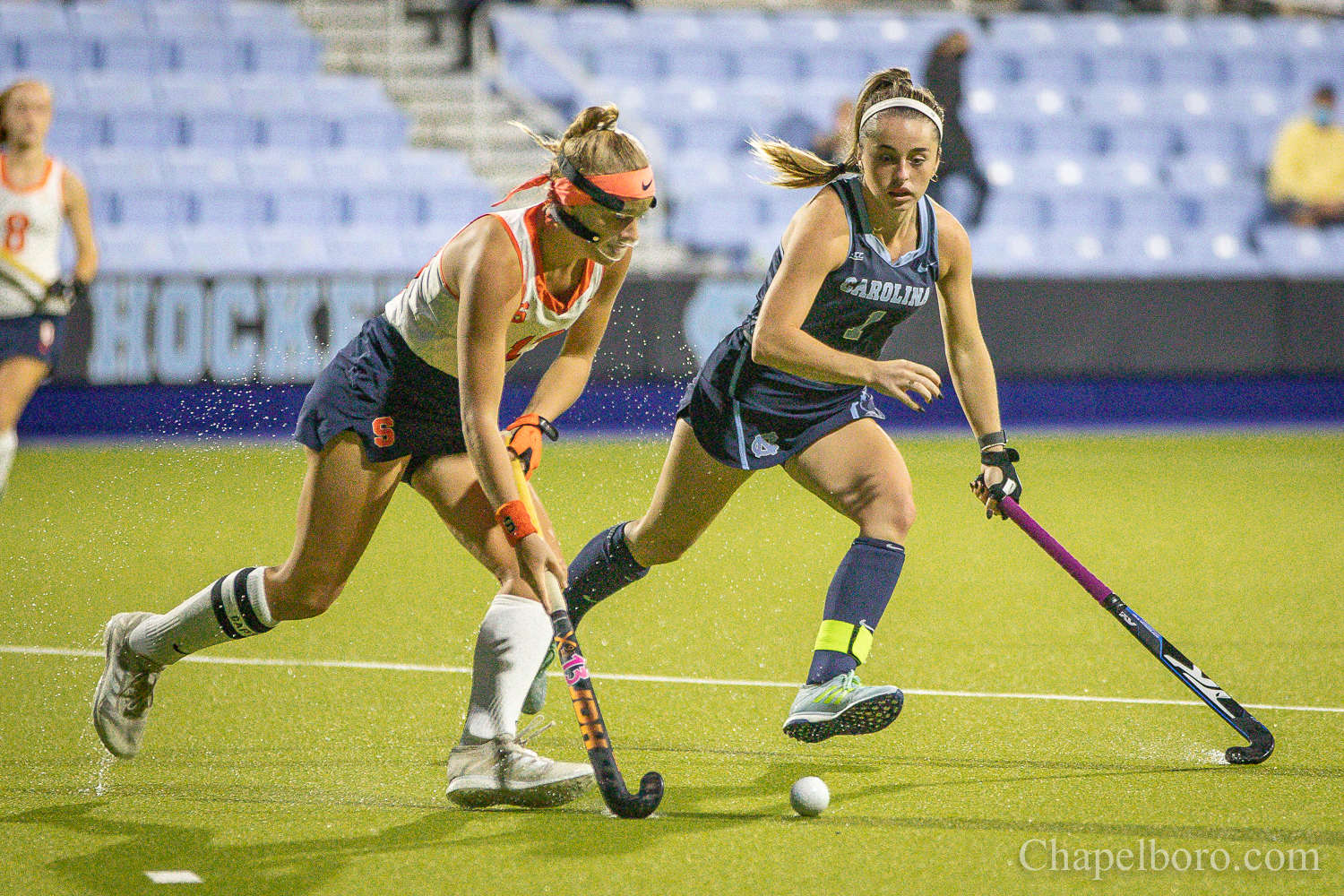 Photo via Dakota Moyer

Under the lights at Karen Shelton Stadium on Friday night, the UNC field hockey team delivered a 1-0 victory over the Syracuse Orange thanks to a late goal from All-American Erin Matson.

Matson scored on a penalty corner attempt with just under eight minutes remaining, while the Tar Heel defense held strong the rest of the way to improve UNC to 5-1 so far in 2020.

It was Matson's team-leading fifth goal of the season and it extended the Tar Heels' winning streak to four games, after the team had its 47-game win streak snapped by Louisville last month.

The Tar Heels tallied up 11 shots against Syracuse (1-3) on Friday, while holding the Orange to just five.

A solid defensive effort by the visitors, however, meant that the game would be decided in the final minutes.

It all simply came down to arguably the top player in the nation doing what she does best, and of course Matson delivered when UNC needed her to.

"I'm thrilled with Erin's execution on the penalty corner, to eliminate the first runner on the penalty corner and put the ball in the goal," head coach Karen Shelton said. "And hats off to our defense – the entire team played well and it was a great team effort. I thought both teams played really hard, and we grew up a little bit in this game."
Up Next:

The Tar Heels are scheduled to host Duke on Sunday, in a game set to begin at noon.

Chapelboro.com