All the news for Friday 16 October 2020

Mix of youth and experience will help team's chances at Olympics, says defender Deep Grace Ekka

'It's great to have a great balance of youth and experienced players in our defence line. We are guiding the youngsters to get even better at their game and I am sure after a few months we will get even better as a defence unit,' Ekka said.



Experienced defender Deep Grace Ekka feels the team has the right mix of youth and experience. Image: Twitter/@TheHockeyIndia

New Delhi: Defender Deep Grace Ekka on Thursday said the Indian women's hockey team's backline has a good balance of experience and youth which will come in handy at the Tokyo Olympics.

The team has enjoyed good results in top tournaments recently, including winning a silver medal at the 2018 Asian Games and qualifying for back-to-back Olympics, and Ekka said the experienced players are working with the young ones to further strengthen the team's defence.

"It's great to have a great balance of youth and experienced players in our defence line. We are guiding the youngsters to get even better at their game and I am sure after a few months we will get even better as a defence unit," Ekka was quoted as saying in a media release.

"Having a great defence line always helps any team and if we are rock solid, it will be a huge benefit for the Indian team, especially in big tournaments like the Olympics," the senior defender added.

It has been a difficult time for the entire world in the last few months because of the COVID-19 pandemic. Sports activities across the globe were brought to a complete halt due to the deadly virus, leading to concerns over the mental health of athletes.

Ekka said that it has been her responsibility to ensure that the youngsters in the team remained motivated during this tough period.

"As a senior player in the team, I had to make sure that the youngsters are not too impacted and remain positive during this period. It's easy for negativity to set in during this time, but our group has done well to take each day as it comes," she said.

"It's my duty to ensure that the youngsters remain motivated and they have done a great job. All of us focused on our fitness while we were away from the pitch and now, we are relishing our sports activities on the pitch," Ekka added.

The 26-year-old defender from Odisha said that the national side has been able to cope with this period by concentrating on fitness.

"We had enough facilities at our disposal for our fitness training during the lockdown and now, we are able to practice for the Olympics only because of the efforts put in by Hockey India and SAI," Ekka said.

Firstpost


---

Canadian National Teams Return to Play: What It Looks Like and What's Next

National Teams face "new normal" on pitch amidst current events



Photo Credit: Blair Shier

Professional athletes know firsthand how much dedication and commitment is needed to play and compete at the highest levels of sport. Setbacks and challenges along the way are almost guaranteed, but it is safe to say that no one could have anticipated the immense threat of COVID-19 and what followed as a declaration of a global pandemic on March 11, 2020.

Within the following days, European hockey leagues were suspended and presumably cancelled for the remainder of the season. Other leagues like the NHL and MLB followed suit and live sport, along with the entire world, was put on pause. Hectic is one word to describe it when everything began unravelling, but as current events show, it is not as easy to put things back together.

With the phrase "return to play" tossed around frequently as competition resumes and new guidelines are introduced, there is still uncertainty that surrounds what the new normal will look like. However, it does signal one thing: hope.

On-field return signals start of Road to Terrassa and Amstelveen 2022 for WNT

In March, Shanlee Johnston and the rest of the Women's National Team were put on flights out of Belgium where they were training as a group at the time. Anxiety filled the air as many thought about the upcoming months and how to keep the momentum gained throughout the year. Among virtual workouts and strength and conditioning programs, the team did its best to stay connected while apart.

After what seemed like a four-month long waiting game, training resumed but not without its many changes.

"The biggest difference for us is not being able to do competitive drills," Johnston said. "One of the main focuses in 2019 was that we just played games and it was just any sort of competition. When we first came back to training, none of that was allowed—it was all non-contact."

Only those residing in Vancouver are practising together while players from Victoria or various cities in Ontario are following provincial guidelines and training in their respective environments, which has posed a challenge for the team given travel restrictions. Kaitlyn Williams, who has kept herself busy with home workouts and outdoor runs, is just grateful to be back onto the pitch.

"It definitely wasn't the normal training environment we were used to…groups had to be small and we had to maintain two meters distance throughout the training sessions," Williams described. "The hardest thing about this whole situation has been the uncertainty so to return to play means I can finally get back to what I love to do and it makes life seem a bit more normal."

After narrowly missing out on Olympic qualification last November, the women have shifted their focus to the 2022 FIH Hockey World Cup. With high expectations for themselves and newly appointed Head Coach Andrew Wilson, they are eager to compete to reach that next level.

"We all want to qualify for the World Cup really, really badly," Johnston said. "All of our decisions right now, all of our motivation kind of comes from that. We're not just here to play pickup games and to just get caps. It's about preparing ourselves for 2022 and whatever comes next."

Eyes on the prize: MNT focused as Tokyo 2020 moves full speed ahead

Men's NextGEN Director Hugh Purvis remembers his last training session before everything began shutting down in Canada. He, David Carter, and Mark Pearson were on the field discussing the growing concerns around COVID-19, recognizing that it was only a matter of time before hard decisions around practice and the Olympics were to be made.

"It was intimidating to think about the short term and long-term effects for the team," said Purvis. "I hadn't anticipated it but that small individual session [in March] would be our last for four months and also our last with Paul Bundy as Head Coach…The whole period was mentally fatiguing for all in the program."

Without any clarity surrounding dates and programming, as well as the outside world, it was difficult to find the motivation to play, never mind maintain it. After the departure of Paul Bundy in the spring, Purvis, with the help of dedicated supporting staff, was tasked with leading the men's national program through the following months into the fall.

When training was finally greenlit in mid-July, on-field sessions were limited to eight people per half of the pitch referred to as "pods" with no contract drills or gameplay scenarios. The focus was on the basics while team arrival and departures were and continue to be tightly monitored. Oliver Scholfield remains optimistic about the return to competition ahead of Tokyo 2020, which has been guaranteed to run in 2021, though are aware of any setbacks that may arise.

"We can only work on what we can control," Scholfield said. "We have confidence in what everyone is doing above us to prioritize our safety and also our success at the Games. We're preparing fully as if they are going to go ahead, but next year, in terms of logistics, is yet to be determined."

Under new Head Coach André Henning, the team is confident in what awaits ahead of them. After a long summer of uncertainty, it comes as a sigh of relief for those anxious to resume training and building toward the Olympics. However, it is important to keep everything in perspective.

"We've had to wait an extra year, but at the end of the day, the pandemic is still at large and people are still dying from it. It's a very serious situation, and you do always have to keep reminding yourself that things aren't necessarily back to normal and there…[are] bigger things at play," added Scholfield.

Despite challenges and setbacks, Field Hockey Canada is driving forward safely with its high performance programs. The preparation and lead up will look different this year, but both senior national teams have major competitions firmly in their headlights.

Field Hockey Canada media release


---

Right man for the job

By Jugjet Singh



I. Vikneswaran

Former international I. Vikneswaran is just the kind of manager that the national juniors hockey team need.

Bold and brave during his playing days, he wants his charges to not only qualify for the Junior World Cup, but make a dash for the final as well.

The Junior Asia Cup (JAC), which is slated for Jan 21-30 in Dhaka, Bangladesh, offers the semi-finalists an entry to the Junior World Cup but that is not enough for Vickneswaran.

"Playing in the semi-finals should not be a problem for this set of talented players.

"Now they must aim higher and the final should be their ambition," said Vickneswaran who was recently appointed as national juniors team manager.

Malaysian Hockey Confederaion (MHC) president Datuk Seri Subahan Kamal had said that former national players were appointed as national team managers to not only be pen-pushers, but also motivate players with their vast experience.

Triple Olympian Mirnawan Nawawi was appointed as seniors manager while former national skipper Siti Noor Amarina Ruhani is to manage the combined women's team.

The usual suspects fighting for semi-final berths in the JAC will again be India, Pakistan, South Korea, Japan, China and Malaysia.

"The only problem for our juniors, as well as all the other teams, is the lack of international friendlies leading towards the JAC.

"Covid-19 has made travel next to impossible, and so the juniors will not have valuable match-practice unlike our previous teams.

"The coaches have their plans to overcome this, and playing more often with the senior side could also help prepare the team.

"India have an advantage over the rest because they have a vast number of internal teams to play against, but the Covid-19 situation in India also does not permit much inter-state travelling right now as well," said Vickneswaran.

Ten teams are expected to play in Dhaka at the end of January, but it is not a definite date as it all depends on travel restrictions as well as the Covid-19 situation in Bangladesh.

"We have about three months to the JAC, and our preparations will continue as usual even though there is no certainty that the virus will be contained," said Vickneswaran.

New Straits Times


---

Hockey competition on hold


On Wednesday 14 October, the Irish government announced the removal of the exemption for senior club championship to be played in Level 3 of the Living with Covid-19 plan.

Following this change, the Board of Hockey Ireland has decided to postpone all hockey competition on an all-Ireland basis until further notice.  Training can proceed subject to Hockey Ireland protocols and restrictions and any restrictions that may apply locally.

This also means that the Interprovincial Competitions scheduled for the end of October are postponed. Hockey Ireland recognises the time and energy the Interprovincial Working Group and the provincial teams have put into the preparations for these games. Suitable dates for the running of the competitions will be considered.

Elite hockey activity can proceed, and this applies to the Irish Senior Men and Irish Senior Women's teams only.

Hockey Ireland would like to acknowledge the work of the clubs that has gone into hosting games over the last few weeks.  The support of volunteers to follow the protocols and keep our players safe has been phenomenal.  We must endeavour to keep club hockey activity going whilst we continue to observe Covid-19 guidelines and hopefully, we can resume competition soon.

Irish Hockey Association media release


---

Hockey Ireland suspends all competition outside of elite international teams

By Nigel Ringland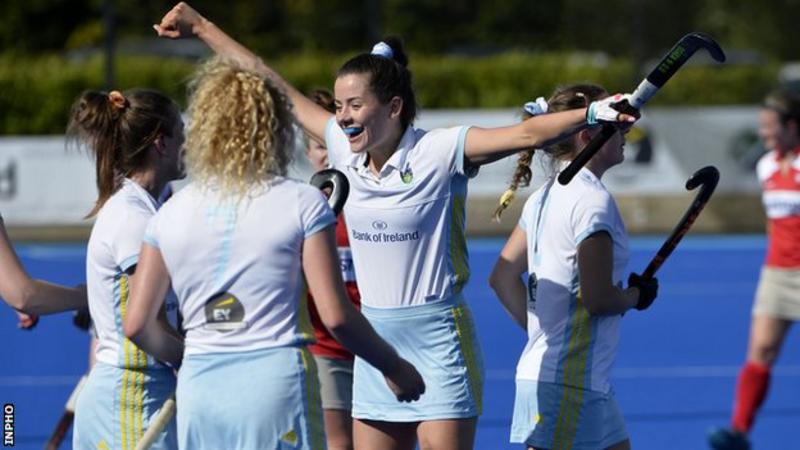 The women's and men's Senior Cup finals were held in September

Hockey on the island of Ireland has been suspended until further notice following changes to Covid-19 restrictions on both sides of the border.

On Wednesday the Irish government announced the removal of the exemption for senior club championships to be played in Level Three of the country's 'Living with Covid' plan.

This followed the Northern Ireland Executive's move to cancelling all but elite sport.

Following these changes, the board of Hockey Ireland has taken the decision to postpone all hockey competition on an all-Ireland basis until further notice, although training can proceed subject to protocols and restrictions, alongside any local guidelines.

As well as the Irish Hockey League and provincial leagues being put on hold it also means the postponement of the interprovincial competitions scheduled for the end of October.

Elite hockey activity can proceed but this applies to the Irish Senior Men and Irish Senior Women's teams only.

In a statement Hockey Ireland said it wished to "acknowledge the work of the clubs that has gone into hosting games over the last few weeks."

"The support of volunteers to follow the protocols and keep our players safe has been phenomenal. We must endeavour to keep club hockey activity going whilst we continue to observe Covid-19 guidelines and hopefully, we can resume competition soon," said the governing body.

Three rounds of matches in the Irish Hockey League had been completed although teams in Cork had refused to travel to both Dublin and Belfast to fulfil fixtures because of health and safety concerns and were subject to forfeiting those games, although that penalty had been suspended and would only be applied if they repeated the offence.

Ulster Hockey had already taken the decision to suspend all matches at all levels until 14 November and will now follow the guidance from Hockey Ireland as the sports governing body.

BBC Sport


---

Town make major statement in Leinster Division One



Chloe Watkins broke the deadlock for Monkstown. Pic: Deryck Vincent

Monkstown produced a statement win early in the women's Leinster Division 1 season on Wednesday; round-up from the five midweek Leinster men's and women's games

Monkstown saw off the challenge of defending Leinster Division one champions Corinthians, winning 3-0 on Wednesday night in St Columba's to set down a big marker for the season.  

It was the visitors who started the stronger, creating a number of great chances in the first quarter, including two short corners, but Holly Micklem in the Corinthian goal stood firm to deny 'Town an early lead.  

The second quarter was a more even affair with both teams playing fast-paced attacking hockey, while corners were spurned at both ends. The best chance of the quarter fell to the red, with Jodie Douglas smashing the woodwork from the top of the circle.  

Town came out of the blocks hard after half-time, spending much of the third quarter in the Corinthian half and they finally got their reward with Chloe Watkins slapping in their fourth short corner of the game.  

The lead was doubled early in the fourth quarter with a slick counter-attack, expertly finished by Sophie Marshall who popped the ball under the onrushing Micklem.  

In an entertaining finale, both teams then had short corners cleared off the line and while Corinthians pushed for an equaliser, Monkstown grabbed a third.  

Some great baseline play down the right hand side from Sadhbh Hoban-Logan presented a golden opportunity and although the initial shot was saved, Sophie Moore was on hand to bundle in from close range to seal a comprehensive victory for the 'Town.

Avoca are clear at the top of the table thanks to a 4-1 win over Rathgar, also on Wednesday night. Anna Richardson put them one up in the first half and they moved well clear in the third quarter courtesy of Sophie Meir's first senior goal and a Sara Gardiner penalty corner deflection.

Hilary Lennon and Ruth Harrison traded goals in the final quarter as Avoca made it three wins from three outings thus far.

Earlier in the week, Trinity made it two wins from two with a hard-fought 2-1 win over Glenanne, Hannah Kelly making it two goals in as many games while Robyn Lewis got the other. Anne Marie Cave got the Glens' reply.

In the men's Division 1A competition, Mark English showed how much quality he will bring to Railway Union this season as he scored four out of his side's eight goals in an 8-1 success against Trinity.

John Mullins got a pair for Clontarf in their 4-0 victory over Dublin North in their first provincial league games of the season. Mark Duggan was also on the mark while Scott Beattie risked the wrath of his boss, scoring against goalkeeper Ronan Walsh who is the principal at Sutton Park School.

Women's Leinster Division One

Monday: Trinity 2 (H Kelly, R Lewis) Glenanne 1 (AM Cave)

Wednesday: Corinthian 0 Monkstown 3 (C Watkins, S Marshall, S Moore); Avoca 4 (A Richardson, S Meir, S Gardiner, H Lennon) Rathgar 1

Men's Leinster Division 1A

Tuesday: Railway Union 8 (M English 4, D Curley, D McCarthy, R Abbott, K Chapple) Dublin University 1 (G Arrowsmith); Clontarf 4 (J Mullins 2, M Duggan, S Beattie) Dublin North 0

The Hook


---

End in sight for Namibian Indoor Hockey League

by Helge Schütz



Matuu Kavikairiua of Old Boys (right) and Vianry Philander of Nust in action during a previous league match that Old Boys won 6-3. Photo: Helge Schütz

AFTER two and a half months of inactivity the Bank Windhoek Indoor Hockey League resumes this weekend with the penultimate round of matches.

The league, which already started in February, was due to be completed in April, but due to Covid-19 it has twice been interrupted. Now, however, it is finally reaching its conclusion with only two rounds of matches remaining.

Saints, who have dominated Namibian hockey in recent years, are well set to continue their dominance, with the women already having won the title for the third year in a row, while the men are also closing in on their third successive title.

Saints currently lead DTS by a point at the top of the Men's Premier League log, while they also have a game in hand, and will start as the clear favourites against fourth-placed Nust at the Windhoek Showgrounds on Friday night.

Nust used to be the whipping boys of the league, but they have improved a lot this season and are currently fourth on the log, having won three and drawn two of their 10 matches.

Two of those victories came away in Swakopmund at the end of February when they beat the X Team 6-4 and Unam 5-0, while they also held the powerful Windhoek Old Boys to a 4-4 draw two weeks later.

Against Saints, though, they will start as the clear underdogs. Saints have been in another class this season and have only dropped points once - in a 2-2 draw against DTS in February. Since then they have overpowered all opposition, posting some huge victories along the way, while they also comfortably beat Nust 8-1 in their first round match on 22 February. After nine matches they have amassed 105 goals and conceded only 11, at an average of 11-1 per match.

In the only other two Premier League matches of the weekend, the X Team travel to Windhoek to take on Nust and DTS on Saturday.

The X Team versus Nust encounter at 15h00 seems to be evenly balanced and could go either way, but DTS should start as the favourites for their match against the X Team at 19h00.

In their first round encounter on 21 February, DTS comfortably won the match 5-0, and they will once again be out to get a big win.

In fact, they will have to get a bonus point victory to keep their faint hopes alive of catching Saints, before the final round of matches next weekend.

The Namibian


---

EHL Men's Cup to make its debut at Easter 2021


The EHL Men's Cup is set to make its debut next Easter as part of the Euro Hockey League festival of events in 2021.

The competition has been put in place this season following the postponement of the 2020 EHL FINAL8 last April and its subsequent cancelation in October. The EHL Men's Cup will run in addition to the men's FINAL12 and women's FINAL8 whose entrants were confirmed on Tuesday.

It offers the chance for the regular total of 20 men's clubs to compete in the EHL for a trophy while also earning crucial ranking points for their nation which can bring extra places in the Euro Hockey League for the following season.

The line-up is packed with high quality clubs; Germany's Rot-Weiss Köln are the 2017 EHL Men's champions and were silver medalists in 2019.  

They will face stiff opposition from the rising force of HC 's-Hertogenbosch whose men are in Europe for the first time since 2002. Previously, they won the European Club Champions Cup in 1999 and the Cup Winners Cup in 2001.

Belgium's Dragons are EHL royalty with an EHL silver medal in 2013 to go with bronze in 2012, 2014 and 2017. Spain's Club de Campo make their first EHL appearance since 2015 and will be hoping to summon the spirit of 2011 when they reached the EHL GRAND FINAL.

Hampstead & Westminster represent England following a hugely impressive European debut in October 2019, beating HGC before just losing out 2-1 to Mannheimer HC.

Russia's Dinamo Elektrostal contest their seventh EHL campaign while HC Minsk are in the EHL for a third successive season as Belarussian champions.  

Austria's SV Arminen are in the EHL for a fourth year in-a-row and they will be hoping to rekindle the fire that brought them to the KO16 back in 2015 when they topped a group also featuring Atlètic Terrassa.

The draw for the EHL Men's Cup is currently due to take place early in 2021.

EHL Men's Cup: Rot-Weiss Köln (Germany), HC 's-Hertogenbosch (Netherlands), KHC Dragons (Belgium), Club de Campo (Spain), Hampstead & Westminster (England), Dinamo Elektrostal (Russia), HC Minsk (Belarus), SV Arminen (Austria)  

Euro Hockey League media release


---

Gold Service Award Winners Named




To continue the virtual recognition of our 2019 Hockey New Zealand Awards, today we are announcing the recipients of our Gold Service Awards.

The recipients of the Gold Service Award have contributed more than 25 years of service to hockey in a variety of ways and have been nominated by their respective associations.

We are pleased to announce that eleven individuals have become recipients of the Gold Service Award for the year 2019; Sylvia Breen (North Harbour), Gary Fraser (Hockey New Zealand / North Harbour), Neil McCorkindale (Auckland), Will McPhail (Manawatu), Kevin McPheat (North Harbour), Paul Morrison (North Harbour), Robyn Neil (Auckland), Danella Rennie (Wellington), Dave Wigmore (Auckland), Derek Wilshere (Wellington), Chris Leslie (Hockey New Zealand / Canterbury)

Below you will find an outline of what they have contributed to hockey over the past 25+ years, and we would like to thank them for all their hard work to make hockey happen around the country.

Sylvia Breen has dedicated her life to giving back to Hockey.

In 2016, Sylvia formed a stable, hockey-focussed committee at Takapuna Grammar School (TGS). This has a parent as Chair, Secretary, Treasurer and advisors/workers to help support the delivery and focus of hockey at TGS. This committee educates students about the pride they should take in being part of the hockey teams at the school and leading by example. It's also allowed for the creation of a sustainable coaching system and understanding for students about the importance of giving back. In 2019/2020 they had 8 students coaching primary school teams and 5 umpiring primary matches. This is just one example of the kind of work that Sylvia has been involved in in the Harbour community.

Sylvia has a passion for learning and for creating safe environments that allow for exploration. She is kind and always one to show her gratitude towards those that support her. One of the most selfless individuals you could find, always putting others needs before hers, she never expects anything in return. Sylvia has gone about her work in the North Harbour hockey community quietly over the years and has enjoyed seeing individuals grow. She's a quiet leader whose supportive nature and belief in players has seen her have a memorable impact on a number of our community members. She has created quite the legacy for herself.

Gary Fraser is someone that you will often see around the hockey turf during a Vantage Black Sticks test match or even the local Ford NHL tournament. He has liaised with several visiting teams over the years and is involved in all areas of trying to help Hockey New Zealand run its events and tournaments. Some may say he is a man of many talents and an all-round good guy. In our eyes, he is a Superstar Volunteer!

Hockey NZ Events Manager, Richard Palmer, has worked with Gary over the last 7 years at numerous Hockey NZ events and says "Gary is a people person who goes out of his way to assist others and make their hockey experience at all levels easy and enjoyable. Gary's assistance to us manifests itself in many forms – Meeting International teams at airports at any time of the day or night, driving equipment to and from venues, picking up product and equipment, putting up signage, taking care of ice baths, manning posts such as parking or entry points when numbers are short – just to name a few of the areas he has helped out with in the past."

He's always smiling and ready to lend a hand. Nothing is too much trouble. No matter how menial the task it gets done quickly and efficiently.

All this in his own time, which is willingly and generously given with no thought or remuneration. His rapport with visiting teams is legendary and he quickly becomes their go-to person making their stay as simple and enjoyable as possible.

This rapport also extends to our staff and he has assisted most of us at some point. It is hard to imagine running an event without Gary being heavily involved.

Chris Leslie's involvement with hockey started as a child playing in Timaru. He went on to play at representative level for New Zealand U21's in 1980-82 and then was selected in the National Men's Team from 1984-89. Chris did a bit of coaching as a player/coach but found his passion when he moved to Blenheim and started coaching for Marlborough in 1991. Chris has been heavily involved in hockey ever since, as a coach and in various other hockey roles at association and national level. He has coached club, representative age group and senior teams for Marlborough, Wellington and Canterbury. He has also coached Wellington, Central & Canterbury Women's National Hockey League teams. Chris' involvement at a national level for Hockey NZ includes:

His appointment as a Regional Development Manager between 1997-2004
Head Coach of the NZ University Women's team in 1998
Assistant Coach for the NZ U21 men's team in 1999
Head Coach for the NZ U18 Girls Camps from 2003-2005
Head Coach for the NZ U18 Boys Camp in 2006
Appointed as a Hockey NZ Regional High-Performance Coach for Central in 2005-06
Coach of the NZ Senior Academy team in 2003
Coach of the Junior Black Sticks Women's team between 2004-2013
Assistant Coach for the Black Sticks women between 1998-2019
National Women's Selector from 2001-2014 and in 2019

Neil McCorkindale has been an active umpire within the Auckland Hockey Association for 43 years. He began his umpiring career back in 1977 and worked his way through to the premier grade. McCorkindale was umpiring up until 2003 when he started utilising his experience to mentor new umpires coming through. He was also the Vice President of Auckland Hockey for over eight years and served on the umpires executive committee for 12 years. Neil is a selfless servant to the game, giving up his valuable time for many years through a variety of volunteer roles. He shines when dealing with difficult and sensitive issues and is awesome at defusing these problems before they arise.

Will McPahail started his association with hockey in 1964 as a 10-year-old in Manawatu. He was selected to play hatch cup in his first-year od playing hockey and would then represent Manawatu every year until 1972. Will has been running all junior, schools, club and summer hockey competitions for Hockey Manawatu. Will started umpiring in 1969 as the first-ever junior umpire in the local junior competition. 50 years later and he is still umpiring in the Association. Will goes out of his way to help others, makes hockey enjoyable and achieves memorable results in everything he does.

Kevin McPheat can often be seen around hockey in Ice Hockey jerseys, leaving you wondering if he has entered the wrong address in google maps. Fortunately for Harbour Hockey, this is not the case. Kevin was a member of their Senior Men's team between 1992-1999. He was a premier club player for close to 20 years and was in the North Harbour Masters 40+ winning Team in 2011. Kevin was heavily involved in the foundation of the Ariel club, and the subsequent merger with East Coast Bays (ECB). He is a key board member, continuously searching for ways to improve Harbour Hockey's service. He has been involved with ECB for over 20 years as a player and coach, most recently as the Premier Men's Coach, and is a Life Member of ECB.

Paul Morrison has been a familiar face around Harbour Hockey over the past 25 years in his suit (for committee meetings) and the famous orange umpiring shirts. He has been on the Board from 2008 to 2016. As a player, Paul has featured in the North Harbour Masters Teams at the 40+ and 45+ level. He was also a team official for three years including 2013 when the team won the title. Paul has chaired and been a regular member of the North Harbour Umpire Division across the years sitting as a regular member from 2013 to 2016. He has Umpired at National Under 21, NHL and Masters Level and received the prestigious Marbrack Umpire Award in 2010 and 2011. Paul has contributed as a Senior Umpire Mentor for a number of years at North Harbour.

In recent years Paul has been a technical official at multiple events including a Four Nations Tournament in 2011 and the Oceania Youth Games Qualifiers in 2014.

His passion for the game is evident through his tremendous contribution to North Harbour Hockey for over 25 years and his passion is still displayed to those he comes across each day at Harbour.

Robyn Neil has been involved in hockey for her entire life to date, starting on the sidelines with her Dad who was one of the founding members along with Grant Chester's Dad of the Roskill Eden Hockey Club in the late 1950s. Robyn played at club level in Auckland up to 1986. She was a founding member of the Somerville Women's team in 1981. Robyn has also served and represented Auckland Hockey and Hockey New Zealand in the following capacities since the 1980s:

Member of the Auckland Hockey Supporters club in the 1980s at Hobson park
Current Auckland Hockey Board member and member since 2016
Black Sticks Women's Manager at U21, U18, U23, and Black Sticks level (2013-current)
Heading up the reinstituted Auckland Hockey Supporters club since 2017 raising and donating thousands to rep players.
Auckland Hockey NHL, U21, U15's Manager 2000's – current

Danella Rennie has been involved in hockey in Wellington for 30 years, and her commitment is incredible and so critical to ensuring the success of the sport. Danella has worn so many hats for hockey, from sitting on the Wellington Judicial Council, umpire mentor, coach and president for Upper Hutt Hockey Club. Danella was elected as a club representative on the Board in 2016. She is a long-time member of the Wellington hockey community having just completed 30 years of playing for her club, Upper Hutt. She has been involved in all aspects of hockey over this time spending many years umpiring and mentoring umpires, she is currently involved in coaching and is part of the Judicial Council.

Dave Wigmore has been involved in hockey for the last 43 years starting in 1976 at the Hutt Hockey Club in Wellington. He comes from a hockey family too so it's only natural that he's been in it for so long. Dave moved to Auckland for University in 1983 and has been heavily involved since then serving both Auckland Hockey and 3 of the clubs (Somerville, University and Past Masters) in a 36 year period. Alongside playing at a club and representative level between 1993 and 2019, a period of 26 seasons, Dave co-coached the U15 Boys Auckland Rep team in 1998 and has also served Auckland Hockey in the following capacities:

Coach of the Auckland Men's Development Squad in 2008
Auckland Hockey Board member since 2012
Chair of the Greater Auckland Hockey facilities working group since 2012
Chair of the Auckland Hockey Board since 2014
Member of the steering group responsible for the Colin Maiden Park turf project since 2012
Manager of the Boys Hatch Cup team since 2018
Hockey New Zealand Hockey Foundation Board Member since 2016
Auckland Hockey Masters Rep

Derek Wilshere has been giving his all to hockey for over 50 years. He is currently the president of the Wellington Hockey Association as well as Patron. As such he attends every Board meeting catching public transport across the city. His contribution and dogged optimism have been really important to support the Board and get the outcomes that Wellington Hockey needs. Derek still coaches every Wednesday, as well as being involved in several other areas of the sport. He is an all-round incredibly hard-working and inspiring man.

Hockey New Zealand Media release


---

The many skills of a multi-tasking match manager



Photo credit: Frank Uijlenbroek / World Sport Pics

Managing the bench, over-seeing substitutions and suspensions, ensuring the accurate recording of match details, providing leadership of team of officials. These are just some of the roles fulfilled by the multi-tasking Match Manager.

The role of Match Manager is a new one. It has been created specifically for FIH Hockey Pro League matches and is a hybrid role comprising many of the traditional roles seen at other competitions, particularly Technical Officer and Technical Delegate.

Being responsible for technical aspects of a FIH Hockey Pro League event  – which is usually a series of two to six matches taking place in one venue – is a tough ask. Not only are there the challenges of managing the match itself, but the Match Manager will also be working alongside the Host NA Event Management team and various functional areas on the ground, including the broadcaster, media, the sport presentation team and others.

Organisational, administration and communication skills are just three of a number of skills needed in this multi-tasking, multi-skilled role.

FIH caught up with one of its cohort of Match Managers, an elite bunch of hockey administrators who, like the athletes themselves, operate at the top of their game.

Elisabeth Fuerst is well known in hockey circles. In her day job she is Event and Sport Director at the Asia Hockey Federation but she has also taken on administrative roles at sporting events, mainly hockey, all over the world for the past two decades. Her most recent appointment saw Fuerst working as Match Manager for the Germany versus Belgium FIH Pro League matches in Düsseldorf.

These were the first FIH international matches to take place since Covid-19 put restrictions on sports events and, as Fuerst explains, things needed to be done a little differently.




"In pre-pandemic Pro League, in the matches I did during the 2019 season, we would just have a quick meeting to talk through a few items and make sure our expectations are well-aligned in the details. Everyone in Pro League is so experienced, there simply is not a lot of need for discussion.

"The matches in Düsseldorf were obviously very different from that. There were several meetings over two days, a lot of discussion and many phone calls, because there were constantly new questions and things that hadn't yet been fully thought through. Luckily, the four teams in Düsseldorf (the German and Belgian men and women) are all very good to work with and also know each other well, and I am grateful for the good communication and cooperation with the team managers that contributed a lot to making the matches go as well as they did.

"The biggest challenge was the uncertainty and the many open questions. There was a very strong desire by everyone involved to get things right and be able to play but it wasn't always clear how to get things right. I mainly tried to mitigate this by communicating extensively with the team managers and other people involved in the matches and trying to create as much clarity as possible."

The Match Manager not only liaises with the national squads but also the umpiring team as well. As Fuerst says, she tries to create an environment where they can perform at their best. Logistics, such as travel or food, need to be as accessible and hassle-free as possible.

Two other key members of the Match Manager's team are the judges, two local technical officials. As Fuerst explains these people can have varying levels of expertise and experience, so she will offer the guidance and support she feels they need to fulfil their roles well. Many of the locally-based hockey workforce involved in a FIH Hockey Pro League event will have officiated together for many years at different tournaments, which makes working together a smooth process. She adds: "I feel that there is a strong appreciation for the fact that we are a team, just like the other teams involved, and we must work together and support each other to succeed together."

Of course, at any event, whether it is impacted by Covid or not, there will be challenging situations that present themselves. Calling on her years of experience, Fuerst says the best way to deal with any issue is: "Work as a team, be proactive, focus on the task at hand, prioritise, stay calm and be prepared to improvise."

And what signifies a good day at the office for Fuerst?

"A successful day for me is when the focus is on the game, when what people remember about a match are goals and saves and counter-attacks and that awesome run by that one player, rather than injuries, disciplinary issues or controversial decisions from officials, and when we, as the team of officials, have contributed our part to a good match for the teams and a good show for the fans."

FIH site


---

Scholarship to assist Hattie Shand's Hockeyroos dream




Talented 20 year old hockey product Hattie Shand's aspiration to play for the Hockeyroos has been bolstered after being named as a recipient of a scholarship as part of this year's Sport Australia Hall of Fame Scholarship & Mentoring Program.

Shand received a $2,500 sporting grant as one of 26 young athletes, and the only hockey athlete, to receive scholarships that are spread across three tiers.

The program is supported by Australian Government funding from Sport Australia and the Australian Institute of Sport (AIS) and has grown significantly since scholarships were first offered in 2006.

Shand said being given a scholarship has given her even greater inspiration and motivation to take her hockey to the next level and work towards her goal of playing for the Hockeyroos.

"It's a big honour to be recognised and to be the only hockey athlete among so many other talented athletes," said Shand.

"In the other tiers a lot of the athletes that received scholarships are going to the Tokyo Olympics which is inspiration for me and something I would love to do.

"To be recognised in such a high calibre of other athletes and also knowing what other athletes have been through this system and who are in the current Hall of Fame, names such as Cathy Freeman and Ricky Ponting…it's pretty inspiring."

"The grant money that you get with the scholarship can obviously also help a lot towards my dream of playing for the Hockeyroos one day."

Growing up on her family farm in country South Australia, Shand currently trains with the South Australia Sports Institute (SASI) Hockey Program and has been part of the Jillaroos (Australia's Under 21 women's hockey squad) for the past three years.

Shand's progress has earned her a place at next month's High Performance Super Camp in Perth, where 40 of Australia's best female athletes will assemble to stake their claim for a spot in the Hockeyroos 2021 squad.

"It has been a pretty big year and has all happened at once. I've always wanted to play for the Hockeyroos and bit by bit I've been working my way up to the Jillaroos and have managed to secure my spot at the super camp coming up," said Shand.

"I'm going to the camp with nothing to lose. I'm a really competitive person and love the challenge and being in this type of environment."

Tim White, who heads up the SASI Hockey Program, said Shand was thoroughly deserving of her scholarship.

"Hattie is totally committed to getting better every day which has been our focus this year without being able to compete in any competitions because of COVID," said White.

"She is a great role model holistically on and off the pitch in terms of her studies, and her commitment to being as good as she can both technically and tactically, and the way she engages with all aspects of her development."

"She is someone who loves what she's doing, relishes every opportunity, is extremely coachable and is an ideal recipient of a scholarship such as this."

For a comprehensive bio on Hattie Shand click here (courtesy of the Sport Australia Hall of Fame).

Hockey Australia media release