All the news for Thursday 15 October 2020

Field Hockey Canada appoints Andrew Wilson WNT Head Coach

Wilson joins Team Canada after a decade coaching in the Spanish hockey program




Field Hockey Canada is thrilled to announce Andrew Wilson as the Head Coach of the Women's National Team.

Following the hiring of High-Performance Director, Adam Janssen, and Men's National Team Head Coach, Andre Henning, Field Hockey Canada continues to build out its strong, podium-focused high-performance team. Wilson joins the women's national team after a historic year that saw Team Canada rocket up the world rankings, earn a silver medal at the Pan American Games and only narrowly miss out on the Tokyo Olympics. Wilson said he's eager to get down to business with the team.

"My interest in Field Hockey Canada was piqued after seeing how much the women's national team improved their game from the beginning of 2018 right up until their fantastic performance in the Olympic Qualifier, not to mention a stellar result at the last Pan Am Games," he said. "I foresee potential for an exciting future within the organization and I am very excited to get to work with the players, staff and the greater hockey community in Canada."

According to Field Hockey Canada CEO, Susan Ahrens, Wilson is an accomplished leader, educator and coach who will be a great fit for a team bursting with potential and energy.

"First of all, I would like to thank Patrick Tshutshani for his leadership of the program during the last 6 months," Ahrens said. "I am sure that Patrick, like everyone at FHC, is looking forward to working with Andrew. There is no doubt in my mind that this coaching team has exceptional talent and is an ambitious leadership capable of achieving world level podium success we are all driving toward."

"I foresee potential for an exciting future within the organization and I am very excited to get to work with the players, staff and the greater hockey community in Canada."

Originally from the UK, Wilson has the bulk of his playing experience in England and Spain. Likewise, with his coaching resume, he recently made a significant impact as the assistant coach of the Spanish National Women's Team, highlighted by a bronze medal finish at the 2018 Women's World Cup. With Wilson on the coaching staff, Spain advanced from 15th in the world to seventh. Wilson is excited to bring his experience in program building and high-performance coaching to Canada and is excited to take on this next chapter in his coaching career.

"The day can't come soon enough when we get on to the pitch for the first time. So far, I have been getting to know the different members of staff and I am looking forward to connecting one-on-one with the players before coming out to Canada and putting our words into actions on the field," Wilson said. "I am extremely grateful to Patrick [Tshutshani] for the work he has been doing with the senior and NextGEN athletes."

Wilson has coaching experience working with international athletes of all ages, both on the men's and women's side. That versatility will be celebrated and relied on as he becomes part of the Field Hockey Canada family. As the High-Performance Director, Janssen said he's thrilled to have people like Wilson on board and looks forward to the on- and off-field success that Wilson will bring.

"I am thrilled to have Andrew joining the leadership team at Field Hockey Canada. He brings an extremely strong performance record to the group and will be an immediate asset to the Women's National Team on their World Cup and Olympic journeys," Janssen said. "Andrew has a strong understanding of what it takes to win at the international level, and he brings a strong track record of international results combined with a clearly defined leadership style and understanding of the game."

Wilson is finishing his work-term in Spain before traveling to meet the athletes in Canada. Despite the uncertainty of upcoming international travel and tournaments, the team is building towards qualifying events and the 2022 World Cup.

Field Hockey Canada will continue to work with all stakeholders to strengthen the Canadian hockey system. This new look coaching team, under Adam Janssen and with the support of the Government of Canada performance partner, Own The Podium, will bring about both short term success as well as long term system change to ensure Canada can achieve sustained — and sustainable — world level podium success.

Field Hockey Canada media release


---

Youth focus



Photo credit: Andrew Wilson

The Young Athletes' Academy is the latest initiative from the progressive team at the FIH Academy, whose aim is to develop hockey skills and knowledge across the international community.

While many of the courses, webinars and mentoring schemes are aimed at adult athletes, coaches and officials, the Young Athlete's Academy (YAA), as the name suggests, is focusing on young players.

Combining coaching advice and support from some of the world's leading coaches, along with mentoring provided by some of the biggest names in the sport, the YAA aims to inspire and educate young players so they can take their understanding of the sport, and their own personal development within it, to the highest possible level.

One of the coaches providing information, tutoring and support is Spanish Hockey Federation and Club Egara Head Coach Andrew Wilson.

On the back of other FIH Academy online courses, the experienced coach was approached by Mike Irving of The Hockey Exchange and FIH Academy Director Mike Joyce to get involved in designing the course. From there it was an obvious next step to recruit Wilson as a coach mentor alongside South Africa's Tsoanelo Pholo and Hockey Wales' Chris Marriot.

"The idea is that the athletes will be split into smaller groups and have an online meeting with an athlete mentor and a coach mentor," explains Wilson. "In that meeting, we will discuss their progress, support them in what they may need and discuss what is coming up next.

"As well as mentoring, I am delivering one of the workshops. My workshop is all around how to analyse yourself, looking at what you need to look for in video feedback, what coaches may ask on the back of video review. There will also be a section on themselves developing as people, not solely as hockey players.

"As part of that process, we will also use video playback from international matches and look at the body language and reaction of players after a certain situation. For example, we will look at Argentina's Lucina von der Hyde and Australia's Kat Slattery and watch how they react in specific situations.

"In addition, we will provide them with resources that they maybe cannot get in their current context, so this is additional support for them.

"I want them to enjoy this. For me, this is a very special project. It is the first of its kind from the FIH and, as a young player, if this had been available to me I would have snapped up the chance. I just want them to enjoy it and to be as honest and open as possible and to really throw themselves into it."

For Wilson, the course is a way of staying reactive in different hockey circles. In his day-to-day job he is focused on adult, elite hockey. He says: "Through this, I get to know where the new generation is at. I get insight into things they like and what makes them tick. It will certainly help guide the work I do for the Spanish Hockey Federation."

For more formation on the FIH Academy Young Athletes' Academy visit here

FIH site


---

Indian hockey team's Varun Kumar says contracting COVID-19 was unlike any other setback

Varun Kumar, who was a part of the FIH Junior World Cup winning India team in 2016, said the SAI and Hockey India ensured that all the COVID-19 protocols and guidelines are followed by the players.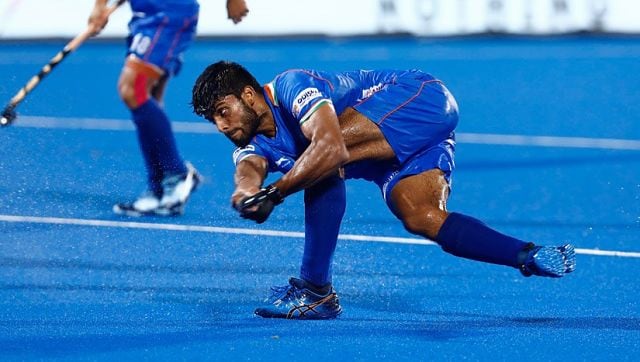 File image of Varun Kumar. Image Courtesy: The Hockey India

New Delhi: Indian hockey team's drag-flicker Varun Kumar says the feeling of contracting the deadly COVID-19 virus was "unlike any other" setback he had faced in his career and he is happy that he has come out of it.

Kumar was one of the six national team hockey players, including captain Manpreet Singh, who had tested positive for the coronavirus at the Sports Authority of India Centre in Bangalore in August. All of them have recovered from the dreaded disease.

"As sportsmen, you face a lot of different challenges in your career. There are ups and downs, frustration when you can't score, disappointment of defeats and joys of winning. But this feeling of having tested positive for COVID-19 was unlike any other," the youngster said.

"I felt like I had a moral responsibility towards everyone around me, to ensure I don't end up passing it to someone else. And I am really happy that all six of us could recover well," added the defender from Punjab.

Kumar, who was a part of the FIH Junior World Cup winning India team in 2016, said the SAI and Hockey India ensured that all the COVID-19 protocols and guidelines are followed by the players.

"Hockey India and SAI provided us with the best of facilities to tackle this challenge. It was due to their efforts that we managed to survive this unusual storm, and the care we received from all quarters meant that we could eliminate the virus without causing any damage to anyone," he said in a release.

He said the players are now following to the 'T' the instructions of chief coach Graham Reid and scientific advisor to return to their best.

"We are on the right path, and having resumed sports activities, I feel like I am regaining my rhythm. There is no better feeling than playing hockey, and having been away from it, you get a sense of what you've missed out on as well."

Firstpost


---

Dinamo Kazan the Russian champs once again




Dinamo Kazan secured their 18th Russian championship this week from the final batch of matches in their championship.

They carried a 10-point lead into this week's series of four games at their home stadium at the Central Art Theatre and Araik Margaryan's men started off their week with a 9-0 win over St Petersburg's SPb-UOR.

They followed up with a 5-2 success against Tana Azov with Pavel Golubev netting twice with further goals from Semyon Matkovsky and Alexey Sobolevsky.

It gave them a unbreakable buffer when they went into Sunday's game against nearest rivals Dinamo Elektrostal who did inflict a defeat on Kazan 2-1 with Nikolay Yankun's strike outdone by goals from Zakhar Zaitsev and Marat Khairullin.

Monday saw the final game of the season which saw Dinamo Stroitel – from Yekaterineburg – also take the points from Kazan on a 1-0 scoreline, helping them to secure third place in the table; Artem Nadyshin getting the only goal.

But the result was purely academic for Kazan who had a comfortable lead following a blistering start to the truncated championship and they got to celebrate their success on their home field. Yankun was named best midfielder of the tournament while Golubev got the best gong with Margaryan getting the coach award.

"Dear athletes, coaches and fans, I sincerely congratulate you on the successful completion of the field hockey competition! Despite the epidemiological situation, the players showed a beautiful game and will to win.  

"I would like to wish our athletes good health and new successes! I have no doubt that the new season will be even more spectacular," said Khalil Shaikhutdinov, the first deputy minister of sports for the Republic of Tartarstan, toasting their success.

Euro Hockey League media release


---

Re-Live classic Euro Hockey League matches via EuroHockey TV




While we cannot bring you your usual October Euro Hockey League-fix, this weekend we will Re-Live a series of classic encounters of the past via the European Hockey Federation's EuroHockey TV platform.  

On Friday, we will look back on the pick of the 2018 final stages when HC Bloemendaal stormed to victory on home turf.  

On Saturday, it is 2019 and an epic week in Eindhoven when the Waterloo Ducks became the first Belgian side to win the Euro Hockey League.  

Sunday sees us go further back into the archive; we will relive the 2014 GRAND FINAL when Harvestehuder THC and MHC Oranje-Zwart went in search of a first EHL title.  

We will also watch the truly remarkable 2013 FINAL4 meeting of KHC Dragons and Rot-Weiss Köln, perhaps the greatest battle in the EHL history. Also on the agenda are the 2015 and 2017 GRAND FINALS which you can watch back in real time.  

If those matches don't immediately take your fancy, don't worry! Over the summer, we have been busy building the archive on the site with over 350 full matches and highlight reels from the EHL on the following page: https://www.eurohockeytv.org/en-int/page/euro-hockey-league-eurohockeytv

We are adding new videos to this section every day as we move our extensive back catalogue to the website, making it a one-stop shop for our 13 years of the best club hockey in the world.

Euro Hockey League media release


---

Changing continents to play hockey




A quick glance at the team rosters of the England Hockey League Men's and Women's Premier Division clubs and it is clear they are attracting players from far and wide.

South Africa, USA, Canada, Argentina and a host of other nationalities are represented across the men's and women's teams. But what is it like to completely uproot yourself and move continents to play hockey?

We spoke to two players who have done just that, Hampstead and Westminster's South African superstar Matthew Guise-Brown, who is now a permanent fixture having initially moved to the UK purely for hockey, and Holcombe's visitor from the USA, Corey Mayer.

The 23-year-old joined Holcombe earlier this year after she finished her studies in the USA.

"I was recruited to play at James Madison University in Virginia in Division One and I played under Christy Morgan [renowned coach and Olympian], for four years."

In January 2020 Corey was selected for the USA development team and this whet her appetite to play hockey for longer than the American collegiate system usually allows for. With very little in the way of adult club hockey in the USA, Corey knew that she needed to look elsewhere if she was to continue along her path to a place on the national squad.

"One glimpse of a national training camp in February made me realise that I still wanted to play hockey at the highest level possible," says Mayer. "I knew I had to play abroad to get the experience and confidence to play at the top level."

It is a move that is fully supported by the USA national team coaching staff, with many of the development squad travelling to mainland Europe and the UK to play in the tough domestic leagues.

"Knowing that other team-mates were doing it and committing to it, made it easier to make the move to a different country and a different lifestyle. We have regular calls with all the players who are playing in Europe. It is great to have that contact, even though we are across 'the pond'."

Once the decision was made Corey started to do her homework on where she might be best suited to playing hockey. She considered clubs in Australia, Belgium and the Netherlands but in the end, Holcombe was the club that seemed to match her own principles and style of play, so she sent an introductory email. It proved a moment of serendipity.

"Coach [Kevin] Johnson said it was really a coincidence that I had got in contact because he was looking for exactly my type of player – an aggressive, attacking forward. We had a call and I really gravitated towards the culture and environment that Holcombe really embodies. It's about not just being an athlete and player but you were expected to be a good person off the field.

"I knew I wanted to play at a level where both the coaches and the other players would push me to get better technically and tactically. I will also develop knowledge of different playing formations and different ways to problem solve. These are all things that I can use back in the US."

To support herself during her time in the UK, Corey has been assisting with coaching at the club. One of her first sessions was with a group of under eight boys, an experience that the US striker says was "just so much fun."



Above, Matt Guise-Brown in action during the 2019 League Finals

For Matt Guise-Brown, a move abroad was always on the cards. What the South African didn't realise was how totally he would fall in love with everything the UK had to offer.

"I love South Africa," says Guise-Brown, "Initially the decision was to just come over to England for hockey, but I have found a nice balance.

"I love my job [teaching in a junior school in Hampstead], I have made some great hockey friends and the club is super social. I have also made friends who have nothing to do with hockey. A few years down the line and it has become more than a hockey decision, it is now a lifestyle choice too."

Guise-Brown was first enticed to the UK by fellow South African Jonty Richards, who was player-coach at Southgate at the time. Guise-Brown spent two seasons with the North London club before moving to Hampstead & Westminster.

He says: "There is no national league as such in South Africa because the country is so big and the funding isn't available. There is a provincial league that is played over a week but there is no league involving the best 10 teams in the country. The idea was to come overseas and improve personally but also to take that learning back for the good of the national team."

For Guise-Brown, the whole experience of moving overseas and living in a different culture has been incredibly important to his development as a person as well as a player.

"The hockey aspect is important but you also put yourself in challenging situations which helps you grow as a human being and learn about yourself. Broadening your horizons is something that shouldn't be overlooked. It is also great to have some new experiences, bonding with different people – that is super important.

While Guise-Brown says there are lots of positives to moving abroad, he also stresses that it is not always an easy path to follow.

"It is difficult to come from a place where you have lots of mates and family and you feel comfortable, to a place where you don't really know anyone. I genuinely didn't have any mates when I first arrived and it takes time to build relationships that have serious meaning in them.

"There can be some lonely times. I got very homesick to start with."

And in a sentence that will resonate with many of the visitors from abroad, he adds: "I am from a place where winter doesn't exist – the weather is really challenging."

England Hockey Board Media release


---

Why Kenya Police forward quit the national team

By  Agnes Makhandia



Moses Cheplaiti of Kenya Police drives the ball during their Kenya Hockey Union Premier League match against KCAU at City Park Hockey stadium on November 4, 2017.File | Nation Media Group

Intrigues in the national hockey team forced influential Moses Cheplaiti to exit, the player has revealed.

The Kenya Police forward, who last played for national team in 2013 during the African Cup of Nations that was staged in Nairobi, said he still had a lot to offer, but the push and pull within the technical bench of the day saw him call it a day.

"II had come of age thanks to my previous participation in the African Clubs championship and other national team assignments which came with exposure and experience. But it is sad that I didn't play for the national team to my satisfaction," said Cheplaiti, who won back-to back Kenya Hockey Union Premier League top scorer accolades in the past decade.

"On two occasions, I was put on the spot to choose between work or to play for national team. Definitely I chose where my bread was buttered-work. I didn't want to have more of those scenarios," he added.

Cheplaiti, who is currently serving in the Diplomatic Police Unit in Gigiri, doesn't harbor ill feelings saying he is open to work with the national team in a coaching capacity in future assignments.



National hockey team Moses Cheplaiti in action during their training session at City Park Stadium on September 12, 2013. File | Nation Media Group

"That is water under the bridge now. The current players have what it takes to sparkle but they need to play a lot of international matches and to be consistent with their delivery as well," said the Kenya Police Sergeant.

After missing out on the top scorer accolades in 2018 and 2019, the former Tambach High School player has set his sight on returning the law enforcement outfit back to winning ways.

Kenya Police last won the KHU title in 2015 and the forward says it is about time they soar again.



Moses Cheplaiti of Kenya Police (left) evades Eugene Onyango of Green Sharks during their during their Kenya Hockey Union Premier League match at City Park Hockey Stadium on December 10, 2017. File | Nation Media Group

"We need to find our footing once again but for this to be achieved, the players have to put in an extra effort. We have played second fiddle to other teams and it is not good when we have good players who can win titles," said Cheplaiti, who recently completed an online level one coaching course of the Olympic Solidarity- Development National Sports Structure for Kenya.

Police fell short to champions Butali Sugar Warriors in 2017, 2018 and 2019 seasons and Strathmore University in 2016.

Daily Nation


---

Weekend College Games: Atlantic Coast Conference



Image Courtesy of UNC Athletic Communications

As the only conference playing field hockey this fall, the Atlantic Coast Conference's (ACC) fifth weekend of action will have one game each on Friday, Sunday and Monday. Most matches this weekend are available for live stream on the ACC Network.

FRIDAY, OCTOBER 16

No. 4 Syracuse at No. 2 North Carolina** | 6:00 p.m. ET | ACCN

No. 4 Syracuse (1-1-, 1-2 ACC) will head south for a trio of games, first taking on No. 2 North Carolina (2-1, 4-1 ACC) in Chapel Hill, N.C. The last time these two teams met was mid-October 2019, where the Tar Heels were victorious 3-1. The game winner came near the end of the first quarter when Marissa Creatore on the left baseline, sent a cross trough traffic to the front of the cage, where Catherine Hayden deflected it in. Erin Matson scored the next goal off a penalty corner and the third for North Carolina came in transition when Hayden delivered a cross to Creatore. Syracuse added one back off the restart when Charlotte de Vries split three defenders and scored to make the final 3-1.

Last weekend, Syracuse's two games against No. 5 Boston College were postponed due to a positive COVID-19 test of an Eagle student-athlete but the Orange were able to make-up their conference match-up against No. 7 Duke. Played at the Virginia Beach Regional National Training Center, Syracuse earned their first win of the season off a late goal.

Duke scored in the fourth minute when Hannah Miller deflected one in for a 1-0 lead. Syracuse's Florine van Boetzelaer evened the game at in the 10th minute when she slipped a rebound past Blue Devil goalkeeper Piper Hampsch for her first of two goals. In the final minute of the first quarter de Vries scored on a cross from SJ Quigley to give the Orange their first lead of the game. Miller scored her second goal in the 17th minute to even things at 2-2 for the remainder of the first half. Syracuse had an 8 to 6 advantage in shots on Duke while both teams had two penalty corner opportunities each.

Syracuse took a 3-2 lead in the 43rd minute on van Boetzelaer's second goal, assisted by Claire Cooke. Fifty-nine seconds later the Blue Devils tied it once more when a shot by Darcy Bourne was finished on a deflection by Alayna Burns to event the score again. With under eight minutes to play Laura Graziosi scored off a rebounded save to give the Orange their third and final lead of the game.

North Carolina is coming off a double-win weekend over No. 3 Virginia. On Sunday, Tar Heel Matson opened the scoring in the 21st minute on an assist from Hannah Griggs. Griggs carried the ball just inside the circle and passed left to Matson, who sent a rocket from the top of the circle. Virginia goalkeeper Taylor Henriksen got a hand on it but couldn't stop it and North Carolina went up 1-0. The score stood there at halftime, with UNC totaling 10 shots to Virginia's 3.

UNC scored quickly after halftime, two minutes into the third period, on a penalty corner. Cassie Sumfest took the initial hit and Paityn Wirth redirected it into the goal for a 2-0 Tar Heel lead. Just under two minutes later, North Carolina made it 3-0. Kiersten Thomassey grabbed a ball out of the air on the left side and passed Eva Smolenaars in the middle of the field. Smolenaars carried it into the circle and shot from the top of the circle, sending the ball cleanly into the cage for her first goal of the year. Wirth's second goal came in the 43rd minute of play. Bryn Boylan took a shot that was saved by Henriksen, but the rebound bounced out to the middle of the circle, where Wirth one-time swept it in to put UNC up 4-0. In the 50th minute of play, the Cavaliers got on the board with a goal by Laura Janssen. Meghen Hengerer passed out from the right baseline to Janssen, who buried it to make the score 4-1. The fifth Tar Heel goal came with just 12 seconds on the clock, courtesy of same duo that connected for the first goal, but this time with the roles reversed. Matson passed behind her back to the left side of the circle, where Griggs grabbed and sent a hard shot into the right corner for the final score. UNC finished with 21 shots to Virginia's 10, seven of which came in the fourth quarter.

On Monday, UNC got on the board early, less than four minutes into the game. Smolenaars gathered a pass from Matson at the top of the circle. As she carried it into the arc, Virginia goalkeeper Lauren Hausheer came out to try to play the ball, but Smolenaars got by her and carried the ball to the right side of the circle. With Hausheer out of the cage, Smolenaars sent a shot in, past a Cavalier defender, to put UNC up 1-0.

The Tar Heels outshot Virginia 10 to 1 before halftime, 7 to 0 in the second quarter, but the score still stood at 1-0 through the break and through most of the third quarter. With two minutes to play in the third period, Virginia freshman Anneloes Knol got her team on the board when she sent a hard shot from the top of the circle past UNC goalkeeper Amanda Hendry to tie the score.

The teams were even heading into the fourth quarter, but UNC changed that just under two minutes into the final frame. From the left side of the field, Smolenaars sent a ball into the circle to Matson. She gathered the ball and sent a cross to the front of the cage, where Sholder was waiting to deflect it behind Hausheer and in for what would prove to be the game winner.

UNC finished with 15 shots to Virginia's four and six penalty corners to the Cavaliers' three. Hausheer made seven saves for UVa. Hendry had one for UNC.

No. 5 Boston College at No. 7 Duke** | Postponed

Boston College will postpone the next five games due to one positive COVID-19 test of a student-athlete on the team and, after extensive contact tracing, the quarantining of nine other student-athletes for 14 days. All team members not in quarantine were tested Tuesday morning and there have been no additional positive test results at the time of this release. Due to the limited roster, the next five games at Syracuse (October 10-11), at Duke (October 16) and home versus Virginia (October 18) and North Carolina (October 25) have been postponed as a result. Boston College has experienced a steady decrease in positive cases since a spike that occurred during the week of September 7-13.

SUNDAY, OCTOBER 18

No. 4 Syracuse at No. 6 Wake Forest** | 12:00 p.m. ET | ACCN

No. 4 Syracuse (1-1-, 1-2 ACC) will round out their trip with a two-game series against No. 6 Wake Forest (0-2, 1-3 ACC) in Winston-Salem, N.C. The Orange and Demon Deacons last met at the end of October 2019. Wake Forest scored back-to-back goals through Meike Lanckohr and Alexis Grippo in the first three minutes of the second half, erasing a 2-0 Syracuse lead that was produced by Charlotte de Vries and Sarah Luby. The Orange kept their composure and took the lead back in the 38th minute when SJ Quigley tipped in a shot by Carolin Hoffman in the 38th minute. Laura Graziosi barreled through a pair of Wake Forest defenders and fired a shot to the upper-90 for an insurance goal in the 39th minute.

Last weekend, Wake Forest hosted No. 1 Louisville, in what was supposed to be a two-game series, but due to the heavy rains and saturated field from Hurricane Delta, only Saturday's contest was played. The Cardinals opened up the game scoring in the ninth minute as Erica Cooper tapped the ball in from close range with an assist from Madison Walsh. Both defenses battled for the remainder of the half as Louisville took a 1-0 lead into the break.

Wake Forest found an answer in the third quarter when Anne van Hoff fired a missile on a penalty corner directly from Alexis Grippo who inbounded the ball. Van Hoof read the play and patiently waited for her opportunity to clear some space and take the shot, evening the game 1-1.

Louisville's Emilia Kaczmarczyk handed the Cardinals the lead in the opening minute of the fourth quarter, connecting on a penalty corner from Alli Bitting and Meghan Schneider. Wake Forest was awarded two more penalty corners in the final quarter, but couldn't convert.

The match featured 15 penalty corner opportunities with eight for Louisville and seven from the Demon Deacons. After an eight-shot third quarter, including five penalty corners, the Cardinals controlled a 12 to 10 shot advantage over Wake.

No. 3 Virginia at No. 5 Boston College** | Postponed

Boston College will postpone the next five games due to one positive COVID-19 test of a student-athlete on the team and, after extensive contact tracing, the quarantining of nine other student-athletes for 14 days. All team members not in quarantine were tested Tuesday morning and there have been no additional positive test results at the time of this release. Due to the limited roster, the next five games at Syracuse (October 10-11), at Duke (October 16) and home versus Virginia (October 18) and North Carolina (October 25) have been postponed as a result. Boston College has experienced a steady decrease in positive cases since a spike that occurred during the week of September 7-13.

MONDAY, OCTOBER 19

No. 4 Syracuse at No. 7 Wake Forest | 12:00 p.m. ET | ACCN

USFHA media release


---

Four incredible umpires honoured in 2019 awards




The Hockey New Zealand Awards recognition continue today with the remaining umpiring categories. The following four umpires have performed with great skill and dedication in their area.

Male Umpire of the Year: Dave Tomlinson
Female Umpire of the Year: Amber Church
Most Promising Male Umpire of the Year: Anton Paulin
Most Promising Female Umpire of the Year: Kelly-Anne Foskin

Dave Tomlinson had another great year of international hockey before Covid-19 shutdown boarders. He was sitting on 97 international matches umpired for the year.

Tomlinson grew up in Central Hawke's Bay where there were plenty of sports to try, but he came across plenty of passionate people in the early days that convinced him to give hockey a try. Since he was a youngster, Tomlinson always felt the natural progression was to go back and help coach or umpire games.

Tomlinson's involvement in the sport has been going on for nearly thirty years now and has seen him fill roles as a player, coach, manager, umpire and fan. He got his start in umpiring when he was in high school and progressed through Hatch Cup, U15 and 18's through to the international stage. Tomlinson was on track to umpire his first Olympic Games in 2020 having been selected as part of a team of five New Zealander's for the games.

Tomlinson states that he "loves the speed, skill and structure of the game". Not only is he an umpire but he still plays the sport and gets out on the turf at every opportunity he can.

Hockey has gone through some significant changes during Tomlinson's time in the sport such as "removing offside, carbon fibre sticks, reverse hitting, drag flicking, and g turns to name a few. The advancement of skills has made for a more interesting sport but also more challenging to officiate".

On receiving the award, Tomlinson stated: "It's an awesome recognition, we have a robust, supportive umpiring community. To be recognised amongst this group is pretty special".

Tomlinson acknowledged the help and support he has been given along the way by the likes of Stuart Ashby, Craig Gribble, Dave Craven and his wife Jackie Tomlinson (also selected for the Tokyo Olympics). "Focus on the journey, not the destination" and keep "smiling" are pieces of advice that continue to ring true for Tomlinson.

Amber Church has been around the international hockey scene since 2013 when she umpired her first international match. From then Church went on to umpire at her first Olympic Games in Rio 2016 and was due to attend her second before the Covid-19 postponement of the Tokyo Games.

Growing up in a rural community in New Zealand, Friday nights were built with anticipation around Saturday sport. Church says "the question wasn't if you would be playing a sport but what sport you would be playing".

It was natural for Church to get into hockey as all her siblings played and she didn't want to be standing down at Harry Barker Reserve getting muddy and not getting to run around and have fun.

Amber's parents instilled from a young age values around giving back and being appreciative of the people that were helping to ensure that sports could run. "When we played sports everyone had to do their bit for things to run smoothly, that could be as little as running match cards out to an umpire before a game".

During high school Church played, coached, umpired and volunteered in roles which she continues to fulfil to this day. When she can find time amongst her international umpiring duties, Church still captains her local premier women's team and volunteers her time to mentor and develop local umpires.

Be careful of getting into a conversation with Amber as she will talk to you all day long about hockey as her passion for the game is endless.

One of the skill changes that have altered the sport dramatically is the self-pass, Church commented that "It has sped up the game and made it more entertaining for spectators. It also requires players and umpires to be more aware of what is happening around them."

Church commented on receiving the Female Umpire of the Year award, "There is such a high calibre of officials in New Zealand, all of who had a 2019 to be proud of. It is an absolute honour to receive this award. Everyone that I came in contact with throughout my journey has a part in it".

Mentors play a significant role in development in our community, and their advice will have an immense impact on people. "The general theme of advice I have received is always try and improve and be better than before as you never stop learning".

Anton Paulin is a rising umpire who comes out of the Horowhenua Hockey Association. As is the case with many of our officials, Paulin started off as a player before picking up umpiring. He still hasn't given up playing yet and finds time amongst his umpiring duties.

The 2019 season was an exciting one for Anton as he umpired at his first National Association Tournament in Tauranga, as well as go to the National U21 Tournament.

As a child growing up, Paulin played football up until the age of seven. He then moved to Levin and wanted to give a new sport a go. This coincided with a group of Black Sticks players coming to town; an experience Paulin enjoyed so much he signed up to play hockey the next day.

Paulin has now been playing hockey for fifteen years and has been umpiring for the past ten years. If he's not busy enough with those commitments he does some coaching as well.

When asked what he loves most about hockey, Paulin responded: "he tāngata, he tāngata, he tāngata (it's the people, it's the people, it's the people)".

"Hockey has allowed me to form relationships and share experiences with a countless number of people from all walks of life and parts of the country. Those relationships and experiences are the most special part of our sport for me. Without them, I wouldn't be the umpire and person I am today".

Hockey has been evolving over the past few years and the speed of the game and the aerial nature that the sport now has are aspects that Paulin finds fascinating while umpiring.

Paulin commented on what it means to win this award, "Many of the big names of umpiring in New Zealand have received this award. It is an honour to have my name on the trophy with theirs. To be recognised for the hard work I've put into my umpiring makes it all worth it, but I couldn't do it without the support of the people around me. This is a milestone on my umpiring pathway, and I am excited to see what the future has in store for me".

Kelly-Anne Foskin is the 2019 Most Promising Female Umpire recipient. In 2019 she umpired at her first Vantage National U21 Tournament and performed with great skill and control. Foskin has come through the ranks and has continued her steady rise since she umpired at her first Collier Trophy in 2014.

As a youngster growing up in Taranaki, Foskin would always head down to the turf and watch her dad umpiring in the local club competition. Once she got into umpiring herself it was her dad that would provide valuable mentoring to the aspiring umpire.

Her family was always around the turf as her Dad and older brother were both players and officials themselves. It was only natural that around the age of nine that Foskin would then pick up a whistle for the first time.

On receiving the award Foskin commented, "It is truly a great honour to receive this award. I know quite a few amazing people have won this award before me and I hope I can live up to the standards they have set. Receiving this award also makes me reflect upon on the people that have helped form me into the umpire I am today and I really just feel so grateful, I know it wouldn't be possible without them".

Hockey New Zealand Media release


---

Silver Service Award recipients named




To continue the virtual recognition of our 2019 Hockey New Zealand Awards, today we are announcing the recipients of our Silver Service Awards.

The recipients of a Silver Service Award have contributed 20-24 years of service to hockey in a variety of ways and have been nominated by their respective associations.

We are pleased to announce four individuals as recipients of the 2019 Silver Service Award; Bronwyn Coomer-Smit. (North Harbour), Murray Goad (North Harbour), Scott Green (North Harbour) and Andy Worrell (North Harbour).

Below you will find an outline of what they have contributed to hockey over the last 20-24 years. We would like to thank them for all their hard work to make hockey happen around the country.

Bronwyn Coomer-Smit emigrated from Cape Town, South Africa to Auckland in 1995. She had played hockey at the Bergvliet Hockey Club in Cape Town since 1972 and was on that club's committee for two years. Upon her arrival to Auckland in 1995, she joined the North Harbour Hockey Association (NHHA) Club of North Shore College Old Girls (NSCOG). To this day she is still a member and player of the North Shore United (NSU) Hockey Club which was formed in 2004 through the amalgamation of NSCOGs and Huapia hockey clubs. Bronwyn has regularly taken on the role of manager for her, her son's and her daughter's winter NSU hockey teams. Since 2017, Bronwyn has and continues to be the manager for the NSU Premier One women's team in the Intercity Auckland competition.

In 2004 Bronwyn joined the NSU club committee, managing various portfolios and taking on the role as President of the club for 2007 and 2008.  Bronwyn remained on the NSU committee until 2016, in the position of Past President supporting the executive committee in driving the growth of the club and the development of sound business administration practices for the club (including policies and procedures, Xero system, grant applications and player databases).  NSU won the NNHA award of Club of the Year for 2017 and 2018.

Although Bronwyn is no longer on the NSU club committee, she continues to provide strategic advice to the President and NSU executive team, as well as providing financial support to NSU with a focus on the premier women's team and youth hockey teams.

Bronwyn continues to be responsible for the organization and implementation of the Youth Hockey program at NSU from its inception in 2002, with NSU having 9 Youth teams for the 2019 season.  She organizes the players, coaches and senior players and has also been involved with the inception and introduction of the Youth Hockey Umpire system being trialled by NSU this year. Following on from each NSU youth hockey season, Bronwyn nurtures and supports young players at all levels during the winter seasons, promoting not only hockey but life skills to young girls.

Murray Goad has coached North Harbour Rep Teams from 2000-2009. In this time Murray helped coach the Collier Girls to success for the 2nd time in their history, receiving a North Harbour Outstanding Coach Performance Award for his efforts. He also coached the winning Primary A-side and was runner up with the 40+ Masters Women's team on two occasions. Murray was involved in the North Harbour Junior and Secondary committees from 1999-2009 including eight years as the Chair and received a Harbour Sports Excellence award in 2007.

Additionally, Murray is an accomplished Umpire, winning the Emarali Trophy for Services to Umpiring in 2012 after umpiring many National Masters, including the Trans-Tasman 2009 Master's 60's series matches (3 games) as a key highlight and achievement. He has also led the Volunteer Turf & Changing Room Team for most international events that North Harbour Hockey has hosted, including the Olympic Men's Qualifier in 2009, Champions Trophy in 2011, World League in 2017  and the Pro League in 2019 and 2020.

On top of all that, since 2012 and still, to this day, Murray sits as the North Harbour Hockey Association President.

With his years of involvement in the sport, it's safe to say Murray is one of North Harbour's most dedicated volunteers. His passion for both high-performance and community hockey sees his involvement across many aspects of North Harbour Hockey. Murray always brings a good laugh whenever you are around him, enabling many memorable moments for those he works with.

Scott Green has been an active member of the North Harbour Hockey Whānau across the past twenty years. He is passionate about hockey, the people involved, and the sharing of lessons learned that sport teaches us. While Scott is a busy individual, he has shown strong leadership skills to help project ideas, such as the 25 Year Celebration Ball, come to life. He is famous for sending emails stating "this is my final contribution", but then sending a follow-up email 24 hours later with additional work done.

Scott does not give back to the sport he loves for the accolades that may come with that, he does it to see people's experience with our sport flourish which is what keeps him coming back to give more.

In the Harbour community, Scott has been known to become somewhat of a father figure for many of the athletes he coached; this was due to his caring nature and his desire to help them develop as people as well as hockey players. He makes all players feel valued and essential and is huge on creating an environment where players could thrive and succeed while remaining humble.

As Scott believes and applies to his own life, "It is nice to be important, but it's more important to be nice."

Andy Worrell is a loyal and hard-working member of of the North Harbour Hockey Whānau and is known for his extreme honesty. He is passionate about creating fair systems and processes that provide equal and safe opportunities. He is a caring individual with a solution-focused attitude. An eternal optimist, his enthusiasm for hockey and our community is contagious.

Andy's support of Harbour Hockey through Representative, Club and School connections have helped North Harbour Hockey become one of New Zealand's leading hockey organizations.

Andy Worrall started playing in the North Harbour Senior Men's Team before the combined Association was formed in 1992. He is one of only eight men to have played 10+ years at this level – acknowledged in 1995 for this achievement.

In 2013, he was selected for the 45+ New Zealand Masters team after having won the 40+ National Title. In 2015 he was also a member of the title-winning 45+ Team.

Andy also dabbled in coaching for North Harbour in the early '90s before his voluntary involvement moved towards committees in the late 1990′ s/early 2000's chairing the Secondary Division, Senior Division and Harbour Hockey Charitable Trust. He also had a three-year stint as Chairman of the Board from 2002-2004. Andy returned to the board in 2013 where he remains heavily involved today.

Hockey New Zealand Media release


---

2019 Bronze Service Award recipients named




To continue the virtual recognition of our 2019 Hockey New Zealand Awards, today we are announcing the recipients of our Bronze Service Awards.

The recipients of the Bronze Service Award have contributed 15-19 years of service to hockey in a variety of ways and have been nominated by their respective associations. We are pleased to announce three individuals are the recipients of the Bronze Service Award for the year 2019; Kirsten Stucky (North Harbour), Kyle Pontifex (Wellington) and Pip Capizzi (North Harbour).

Below you will find an outline of what they have contributed to hockey over the last 15-19 years. We would like to thank them for all their hard work to make hockey happen around the country.

Kirsten Stucky has been an outstanding North Harbour Hockey volunteer for over 15 years and is a role model for aspiring female umpires, a space she is extremely passionate about. She has been a member of the Umpires Division for seven years and a member of the Harbour Umpiring Whānau for fifteen years. In this time, she has been involved in the development and mentoring of Youth and Senior umpires. Not only has she been driven in her umpiring, but she has also supported the development of officials at both the local and international level for several years now. Not only does she help to develop umpires, but she is always happy to spend time chatting with players to ensure teams understand the meaning behind decisions to strengthen the relationship between umpires, coaches and players.

Kyle Pontifex has had multiple roles in his time in the Wellington Hockey community, first as a player reaching the international stage as a Black Stick and playing 100 matches for Wellington/Capital. Since his playing days, he has remained an integral part of the Wellington Hockey (WHA) community, more recently as a member of the board as WHA Director. With his business experience, in that role Kyle has done a huge amount of the heavy lifting as the CEO Performance Sub Committee Chair, including interviewing CEO's, organising meetings with the community, and engaging with clubs, players, sponsors and staff. Kyle was also a member of the four-person 'new Board' who was critical in helping shape the new direction of Wellington Hockey.

Pip Capizzi is a quiet achiever, so quiet you don't realise how quickly Pip's contribution over the last 25 years adds up. Not only was Pip a member of the board from 2008-2012, but she also sat on the North Harbour Junior Division Committee from 2005-2011. Pip is very passionate about seeing the service North Harbour Hockey provide across our competitions and representative teams being at a level that provides a benchmark for other regions to reach. The wow factor comes when you realise she has managed teams in every single representative age group from the winning Primary A boys, through to title-winning Under 21 Men and NHL Men. Pip always receives glowing reviews from players and coaches in campaign feedback. Pip's warm nature draws people in and positively enhances culture within a team environment.  Pip is a very modest and quiet achiever that is happy to lead in the background.

Hockey New Zealand Media release


---

Toil and Zeal by a select few keeps the soul of hockey alive

KOLHAPUR HOCKEY STORY – II:

By Ranjit Dalvi




Can pride and passion just be good enough to preserve a culture and sustain a tradition? In most cases the answer would be in the negative! But take the case of Kolhapur and the sport of hockey. It has survived and prospered to a certain extent due to the people who yet derive immense pleasure despite the lack of incentives!

After integration of Kolhapur State in the Indian Union in 1949, the region had to inevitably embrace or accept a different culture and new traditions. For years the Royals had been their patrons, now it would be the government. In this case the Bombay Presidency. The centre of power had shifted to Bombay (Mumbai), the capital of the province. Maharashtra as a state was yet to be born.

The Royals, descendants of the Maratha power, mainly patronised Wrestling and Football. Tennis, Table Tennis, Swimming, Kabaddi and Kho-kho also enjoyed considerable support. The activities were conducted by the Kolhapur Sports Association (KSA), formed in 1940 by Chhatrapati Rajaram Maharaj.

But Hockey hadn't been on its agenda. So the onus was on hockey lovers to passionately support their hobby. Introduced by British Army regiments and nurtured by the Rajaram Rifles (the state police force), it was played on the outskirts of Kolhapur city in the infantry lines.

When the princely states joined the Indian Union, the nation's rise as a hockey world power had infused a sense of pride in the people. But the game suffered due to lack of a proper structure as brought to light in an earlier article.



Kolhapur Army, circa 1930

Those serving as infantry soldiers and policemen were given the option of joining the army as well as the police. But the opportunities to pursue a sport, especially hockey diminished. The district police would field just one team for their departmental meets. Gone were the inter-unit competitions. That was it!

But the erstwhile infantry lines endured the setback and formed their hockey clubs. This led to the process of popularising hockey in schools and colleges in the Kolhapur region. Somewhere around 1960, Vidyapeeth H S and St. Xavier's H S made a start. In the former physical education teacher Kasam Shaikh, a resident of the infantry lines took the lead. The institution had a big playground outside the city. Named Tapovan (a grove for penance), it was the abode of Gangadhar Dikshit, the guiding force of the institution.

The trainees enjoyed the 3-4 km daily trek. And once or twice a week they went to the River Panchganga for a swim to improve their physical capacity. In St. Xavier's the Jesuits gave an impetus to the growth of hockey.

Situated near the police headquarters Xavier's found it convenient to train and play practice games with the police. In a couple of years the youngsters from started beating their masters. This was narrated by Vilas Patil, an iconic player from Kolhapur, now into his eighties. Vilas used to coach the boys along with a couple of his team mates.



Vikas Patil 'Babu'

Vilas affectionately called 'Bapu' had benefitted from his exposure with the Bombay State Police team. Recruited in 1957 when in class IX, this lad made a notable mark as a sprinter in the police athletics meet held at Worli in Mumbai. Impressed, the state sports officials very soon inducted him in the hockey team.

The Bombay Police was then headed by Jimmy Jameson. He had played in 25 editions of the historic Aga Khan Cup tournament and had been an umpire at the Tokyo and Mexico Olympics.

Bapu played in the BPHA League from 1959-71 which was by all standards the best in India. He played in the prestigious Bombay Gold Cup, the Aga Khan Cup, a few West Zone and All-India Police Championships when Indian hockey was at its zenith. Most of these years were spent at Naigaon, the Bombay Police Headquarters.

It was a big hockey hub after the BPHA (Bombay Provincial Hockey Association) Stadium at Churchgate. As a junior Bapu was fortunate to be in the company of stalwarts like Narayan Chavan who had played in the Asian Games at Tokyo in 1958. He was a world-class left-winger according to Ron Hendricks, the legendary sports journalist. Bapu was groomed by Baburao Patil, father of Olympian Bandu Patil during his formative years in school and the Kolhapur Police.

After returning to Kolhapur in 1971, Vilas and Shamrao Bhandavle got involved in school and college hockey. Cycling to various competition venues this duo did everything, from preparing and marking the ground to umpiring purely on an honorary basis. "You were lucky if offered a cup of tea and a few biscuits," remarked Bapu! Passion, what else?



Shamrao Bhandavle

Shamrao served in the Rajaram Rifles and later joined the army. After retirement he took up a job with New High School as a Physical Education teacher and NCC Officer. Also an expert at Lezim (a Maharashtrian folk dance form which gives good aerobic training), Shamrao used his good offices to provide admissions to hockey players from infantry lines in his school.

Kolhapur hockey owes a lot to the duo and also Rev. Father Miranda SJ, the Principal of St. Xavier's H S. His good work was carried further by Alphonso Albuquerque, a maths teacher. Hailing from Belgaum, this talented player represented Shivaji University. Formed in 1962 it gave a much sought platform to aspiring sportsmen from South Maharashtra. It opened many job avenues for sportspersons.

Albuquerque had contemporaries like Anil Mule, a Xavier's student. Anil played cricket and football besides hockey. In those days the University flew him on a few occasions to different venues when dates of the three tournaments overlapped. Albuquerque had seen and competed with greats like Olympians Bandu Patil and Shankar Laxman in Belgaum.

During Fr. Miranda's tenure football and hockey matches were organised on weekends with other city schools and clubs. This inspired youngsters from the lower classes and yours truly was one of them! The school excelled in all disciplines then and was consistently winning at hockey. I remember winning an inter-school championships in 1971, my last year at school.

Schools like Private H S, Nagojirao Patankar H S, Chhatrapati Rajaram H S promoted hockey a lot and Chhatrapati Rajaram College and Gopal Krishna Gokhale College ruled the roost at the Shivaji University tournaments.

In the year 1962 Maharashtra Kreeda Mandal, the first ever city club was formed by Kumar Agalgaonkar. He succeeded in forming the Kolhapur District Hockey Association in 1980 following numerous attempts to structurally organise the game. Very soon it got affiliated to the Maharashtra Hockey Association, Pune.



Kumar Agalgaonkar

Kumar or 'Dada' to his followers and club mates has been conferred the Shiv Chhatrapati Sports Award by the State of Maharashtra for his yeomen services to hockey. Kumar had a strong ally in Datta Solanki who owned a chain of ice-cream parlours. He gave the much needed financial boost and also used to field a team.

Vijay Lad and Bharat Jadhav were notable hockey players whose contribution cannot be overlooked. Vijay used to run the historic Padma Pathak club. After becoming a municipal councillor he supported hockey for decades before his demise a few years ago. Both of them were talented enough. Had they been successful in entering college, they would have made a mark at the higher level.

There was a schoolmate, Akhtar Athanikar a top class sprinter who after joining the police was unfortunately lost to hockey and sports. He was a good footballer and cricketer too. Like him a few more joined the police never to play thereafter. Drawn to sports initially due to the pride and passion involved, they sadly succumbed maybe to job pressure, the perks, the lure and the culture over there. Sadly they just drifted away from the scene!



Line Bazaar hockey ground, 2020

Pictures courtesy: Sarvashri Amar Bhosale, Freelance journalist and researcher, and Dinesh Malekar, a hockey player from Kolhapur.

Author Ranjit Dalvi is a Sports Writer/ Radio and TV Commentator/ National Umpire: Hockey/Football Referee/ Ex-Convenor Mumbai Hockey Umpires Board/ Ex-Managing Committee member, The Mumbai Hockey Association Ltd.

Stick2Hockey.com