All the news for Wednesday 30 October 2019

Dramatic finish for Canada book ticket to second-straight Olympic Games



Canada qualifies for Tokyo 2020   

WEST VANCOUVER – There was no time on the clock and Canadians had already begun to hang their heads. In a dramatic twist of luck, a video referral favoured the home side and a penalty stroke call gave Canada back their Olympic hopes. Captain Scott Tupper's goal from the spot drew the series 6-6 in aggregate score and forced a shootout. Adam Froese's composure as the second sudden death shooter gave Canada the victory and qualified Canada for Tokyo.

Gordie Johnston, Oliver Scholfield and Tupper scored in regular time that ended 3-1 for Canada. Johnston, Froese and Jamie Wallace capitalized in the shootout victory.

"It was an awesome effort by the boys today and it came right down, I mean, right down to the wire but it feels just awesome," said Froese. "Congrats to both our keepers because they both played such a big part today which is huge. Wow, we've done it again."

Today's 5-4 shootout victory was a replay of their Olympic qualification in 2015 during the World League Round 3 quarter-finals against New Zealand. A late tie, down 3-1 in a shootout, sudden death shootouts, David Carter making big saves in Canada's goal and Froese sealing the game winner – were all identical moments in their 2016 Olympic journey.

"This group of guys are amazing and the biggest priority for us moving in to this quad was to double qualify because of the legacy of those alumni that were around the pitch today and the young kids out there that can also see our sport on the Olympic scene," said Canadian head coach Paul Bundy. "(The team) give me so many grey hairs but I had no doubt that we would play much better today and we did. We executed the game plan and we got into a shootout and we know David is great in shootouts. That dream and that vision we had four years ago just continues."

This will be just the second time in history that Canada qualifies for back-to-back Olympic appearances following 1984 and 1988. This will be a potential third Olympic appearance for veterans Scott Tupper and Mark Pearson, who was injured in the final of the Pan American Games and unable to compete in this weekend's qualifier.

It took just three minutes for Canada to get a penalty corner. Incredible stick work from James Kirkpatrick forced the set piece but the Tupper flick was turned away by a sharp David Fitzgerald in goal for Ireland. Back the other way, Ireland's Tim Cross charged down the right side of the field and calmly dished the ball to an open Sean Murray. Murray's one-time sweep seemed booked for goal but Antoni Kindler found a way to get across and make the save.

Despite a good start for Canada, it was Ireland who extended their aggregate lead as a ball down the left side of the field allowed McKee all kinds of space. McKee entered the circle intending to pass far post but his sweep shot beat Kindler's out-stretched body and put Ireland up 1-0 and extended their overall goal advantage to three.

Canada didn't same shaken as quality attack out of the backfield from Johnston to Sukhi Panesar allowed an open ball to Oliver Scholfield. Scholfield's cut towards the circle forced a foul off John Jackson and gave Canada another corner. Tupper's flick was again turned away.

A favourable video review gave Canada two penalty corner chances before the half but they couldn't beat Fitzgerald, leaving Ireland up 1-0 after the opening 15 minutes.

In the second quarter, Canada yet again had another video review to put them back to top of the Ireland circle. This time Johnston flicked low stick side and sent the sold out crowd in to jubilation with the game tied 1-1.

Canada had several attacking opportunities including two more penalty corners but the Irish defence was stingy and the teams remained level at half time.

Scholfield's effortless touch in a crowded circle lifted Canada 2-1 after hard work from Johnston who broke down the left side of the Irish defensive end.

Late in the fourth quarter, Kindler made a world-class save on Eugene Magee. Kindler dove acrobatically to his right to make an incredible block on a back-hand rip from Magee to guard Canada's lead.

With three minutes to go, Canada pulled Kindler from the net to play with 11 field players on full attack. It wasn't until the final second of the game when the entire crowd fell silent. Ireland had already started celebrating but an infraction on the Irish baseline with Canadian forward Wallace encouraged Canada to push for one last strike of luck.

Canada was two-for-two on their referrals throughout the game and could ask for one last look. All Canadian eyes were hoping for at least a penalty corner chance when video umpire Diego Barbas was heard over the stadium awarding a penalty stroke.

Captain Tupper didn't hesitate, burying the ball low and hard past Ireland's Fitzgerald and stunning the Irish bench.

Now, heading to shootouts Canada found themselves in familiar territory. Johnston, Wallace and Froese scored in the shootouts, while David Carter stepped in on off the bench to make critical saves on Ireland's Michael Robson and Shane O'Donoghue. Canada was down 3-1 but came back to tie it 3-3 sending the shootouts to sudden death.

"I was pretty confident in the guys and their abilities," said Tupper about the moments before the shootout. "We all know that Dave (Carter) is world class in his shootout goalkeeping. I think we are 7-0 in shootouts internationally so we are confident. We knew if we could get there we had a really good shot and the guys did their job and it was amazing to watch."

John McKee was unable to get off Ireland's last shot as the ball got stuck and hit his foot, setting the stage for Froese to do what he did just four years ago. Calm, collected and using nearly all of the eight seconds given, Froese solidified all the work Canada had put in to qualify for the 2020 Tokyo Olympic Games.

"I just love both my goalkeepers," added Bundy about Kindler and Carter. "It is the hardest, hardest thing to choose between two amazing people and two amazing goalkeepers and today we got that right. They were both incredible."

Game 1 score: Canada 3, Ireland 5
Game 2 score: Canada 3, Ireland 1
Aggregate score: Canada 6, Ireland 6
Shootout: 5-4

Pan American Hockey Federation media release


---

Distraught David Harte laments Irish Hockey's cruel Olympic fate

"It's just amateur"

Arthur James O'Dea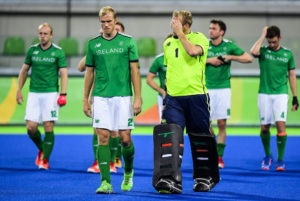 Ireland players including Conor Harte, second from left, and brother David Harte during the 2016 Rio Summer Olympic Games in Rio de Janeiro, Brazil. Picture by Brendan Moran/Sportsfile

After the Irish hockey men's team were cruelly denied a place at the 2020 Olympic Games in Tokyo, a distraught David Harte spoke to Tuesday's OTB AM.

With seconds remaining in Ireland's decisive Olympic qualifier against Canada last weekend, a late, late penalty decision in favour of the North Americans stripped the Irish hockey men's team of a certain place in Tokyo next year.

A tie that would ultimately go in Canada's favour by way of a penalty shoot-out, a selection of Ireland's players were already celebrating qualification when an infraction by Lee Cole was subsequently deemed to merit a penalty stroke in Canada's favour.

"It's been going around the heads of everyone involved for the last 48 hours now," an exasperated David Harte explained on Tuesday's OTB AM. "The on-field umpires gave a wide-ball, no issue, but it went upstairs to the video referral and the video-umpire came back with the decision of a penalty stroke."

Canada's last-ditch attempt to salvage something from the game, hockey's referrals process affords both teams a limited number of opportunities to call the umpire's attention to an incident during a match.

"I still can't quite fathom the decision or the outcome of that and it has cost an awful lot of us a life's work going toward another Olympic Games," acknowledged Harte of Ireland's efforts to back up their qualification for the 2016 event in Rio de Janeiro. "We're all absolutely devastated."

Adamant that the decision made by the video-umpire was incorrect, Harte took further issue with the nature of who had been charged with overseeing this crucial decider.

"The video umpire wasn't asked anything with regards to whether it was a penalty stroke or not," explained Harte. "He was asked a simple question about a body check, that was it.

"He wasn't asked to deem whether it was a penalty or whatever.

"What we found out yesterday that was even harder to take was that I think it was his first time doing the video referral, and it happened to be at one of the most defining and crucial moments of our hockey career.

"It's just amateur."

Although the disappointment of the incident remains raw, David Harte isn't overly hopeful that there will be retrospective action in Ireland's favour.

A damaging event for Irish hockey, an upset Harte can't yet envision how the men's team will progress hereafter.

"Lives were directed towards this," he explained, "and we're all devastated by this.

"Right now, I can't really start thinking about the future because it is still so raw.

"The hardest thing to accept is that I was there embracing some of my teammates who I've played with for 12 to 13 years, and for those lads to have to say, 'Thanks for the memories', it's something that you'd never have foreseen happening in those circumstances.

"I still can't get my head around it, but it is just so cruel."

Twice named the International Hockey Federation's Goalkeeper of the Year, Harte addressed a highly-charged, emotional Tweet that he sent out in the aftermath of the defeat.

    Hockey careers ended, Olympic dreams shattered & years (& years) of nothing but hard work & dedication from all players diminished... Honestly still can't believe what happened @FIH_Hockey !!! A decision that will carry pain for a lifetime - heartbroken!!

    — David Harte (@daveyharte) October 28, 2019

"The only reason I put the Tweet out was because I couldn't actually physically express myself," he admitted. "I had to do so digitally over social media."

You can listen back to David Harte's full interview here.

Off the Ball


---

Ireland men's Olympic hockey heartbreak

Players gave up careers and relationships says coach Mark Tumilty

Ireland men's hockey coach Mark Tumilty says players in his squad gave up careers and relationships to chase the dream of Olympic qualification controversially denied them on Sunday.

The Irish were one second away from qualifying for the Tokyo games when Canada were awarded a penalty stroke.

Canada converted and won the resulting shootout after a dramatic two-legged play-off in Vancouver.

"I look at the commitment some of the guys have given," said Tumilty.

"They have given up careers. Probably a lot of them have given up relationships. They have given up the potential to be on the property ladder to fulfil a dream of going to Tokyo."

Irish unable to speak to video umpire after game

Tumilty and the Northern Ireland-based members of his squad arrived back in Belfast on Monday evening some 24 hours after their crushing disappointment in Vancouver.

The long transatlantic flight did nothing to assuage the squad's anger about what had transpired in Sunday's extraordinary second leg.

After winning Saturday's opener 5-3, Ireland were already celebrating a 6-5 aggregate win when Canada asked for a video referral after Lee Cole's challenge on James Wallace inside the Irish circle.

Video umpire Diego Barbas astonished the Irish by awarding a penalty stroke, which Canada scored before prevailing in the subsequent shoot-out.

"I can't see how a penalty stroke was given. The umpire had blown the whistle. He had signalled that the game was over," added Tumilty, put in temporary charge of the Irish men for the Olympic play-off after the end of Alexander Cox's reign following relegation at the European Championships during the summer.

Tumilty told BBC Sport Northern Ireland that attempts to discuss the decision with Barbas after the game had proved unsuccessful.

"We had no communication with the third official which is disappointing.

"I would just like to know from him how he has come up with that decision. We probably will never find out."

FIH must comment further - captain Bell

Asked for a response to Sunday's controversy, the International Hockey Federation [FIH] released a one-line statement on Monday saying that umpires' decision are "final" and that the governing body does not "comment publicly" on them.

Ireland captain Jonathan Bell insists that is not an acceptable stance for the world governing body to take.

"Trust in the officials in fundamental to every sport. If the players have no trust in the officials, then the whole fabric of the sport is undermined," said Bell.

"The FIH has a duty to come out, whether it is an apology, a clarification or a route map on how they are going to put this right to ensure it doesn't happen again. Certainly I will be expecting something like that from the FIH."

It is being estimated that team's heartbreaking failure to qualify for the Olympics could cost Irish hockey up to a £1m in funding that would have come from both Sport Northern Ireland and their southern counterpart.

Undoubtedly, several members of the squad will not be around for another Olympic cycle as Paris 2024 approaches while it remains to be seen whether Tumilty will be appointed on a permanent basis.

"It has ramifications for the funding of our game, to enable us to try and be better prepared to try and qualify for Paris in 2024," said Tumilty.

"It's easy to say it's just a game. When you see what the guys have given up? I've given six weeks. Those guys have given a lot longer than that."

BBC Sport


---

Sanford returns as GB men's squad announced for FIH Olympic Qualifier




Liam Sanford will make his first appearance on home soil in more than a year after being selected for this weekend's FIH Olympic Qualifiers.

The defender has been named in a squad of 18 to take on Malaysia as Great Britain's men look to book their place at the Tokyo 2020 Olympics.

Welsh star Jacob Draper has also been included after impressing on his GB debut against Spain earlier this month and will appear at Lee Valley Hockey and Tennis Centre for the first time in an international.

With less than a year until Tokyo 2020, this will be the last chance for both teams to qualify for next year's Olympics. The winner will be determined by an aggregate scoreline taken from the two games at 16:30 on Saturday 2 November and 15:00 on Sunday 3 November.

Having been out since February with a knee injury, Sanford made his return to the GB team in a two-Test series against Spain earlier this month.

He comes into the side in place of Brendan Creed, who himself recently sustained a serious knee injury, while Ashley Jackson and Chris Griffiths also miss out with injury.

Draper has been called into the senior side having impressed as part of the GB Elite Development Programme (EDP) over the last couple of years and also putting in several fine performances for Wales at this year's EuroHockey Championships.

It could also be a special weekend for Alan Forsyth as he currently sits on 98 international goals and will be hoping to reach his century in front of #ThePride.

Men's head coach Danny Kerry said: "The lads have been excellent over the last six weeks in the way they have prepared for these matches. The team are very fit, powerful and fast. With some athletes unavailable through injury we have reshuffled our pack which is testimony to the depth and competition for places we have created over the last year.

"Jacob Draper is an exciting new inclusion to the team and he brings a tenacity, speed and agility to defence, plus excellent assuredness on the ball.

"We can expect Malaysia to play a counter-attacking game from deep, they will have spent time on set-pieces and will create wide shapes with the ball. We are well prepared for these aspects and will play with intelligence, tempo and purpose. It will be an absorbing contest and we are ready to lean-in to the challenge."

All of the men's and women's FIH Olympic Qualifier matches will be shown live on BT Sport.

GB Men's Squad To Face Malaysia (2-3 November)
David Ames (Holcombe) – ENG
Will Calnan (Hampstead & Westminster) – ENG
Adam Dixon (C) (Beeston) – ENG
Jacob Draper (Hampstead & Westminster) – WAL
Alan Forsyth (Surbiton) – SCO
James Gall (Surbiton) – ENG
Harry Gibson (GK) (Surbiton) – ENG
Harry Martin (Hampstead & Westminster) – ENG
George Pinner (GK) (Old Georgians) – ENG
Phil Roper (Wimbledon) – ENG
Liam Sanford (Old Georgians) – ENG
Ian Sloan (Wimbledon) – ENG
Tom Sorsby (Surbiton) – ENG
Zach Wallace (Surbiton) – ENG
Jack Waller (Wimbledon) – ENG
Sam Ward (Old Georgians) – ENG
Henry Weir (Wimbledon) – ENG
Ollie Willars (Beeston) – ENG

Great Britain Hockey media release


---

Great Britain's Alan Forsyth sets sights on century

By The Hockey Paper



Phil Roper and Alan Forsyth, right, will line for Great Britain

Forward Alan Forsyth will aim to take Surbiton's sizzling goal form into Great Britain's Tokyo or bust Olympic qualifier against Malaysia this weekend – and finish it by hitting a ton.

The Scot has been part of Surbiton's brilliant start to the season which has seen the league champions rack up 50 goals in just eight games (six domestically and two in the EHL), with Forsyth accumulating 11 of them.

Forsyth is also two goals away from notching 100 international goals and is part of coach Danny Kerry's 18-strong squad for the two matches on Saturday and Sunday.

Liam Sanford will make his first appearance on home soil in more than a year, while rising Welsh star Jacob Draper is also included for the first time after impressing at this summer's EuroHockey Championships.

Sanford comes into the side in place of Brendan Creed, who has been ruled out with a serious knee injury, while Ashley Jackson and Chris Griffiths are also sidelined with injury.

Kerry said: "The lads have been excellent over the last six weeks in the way they have prepared for these matches. The team are very fit, powerful and fast. With some athletes unavailable through injury we have reshuffled our pack which is testimony to the depth and competition for places we have created over the last year.

"Jacob Draper is an exciting new inclusion to the team and he brings a tenacity, speed and agility to defence, plus excellent assuredness on the ball."

Kerry anticipates Malaysia will play with "intelligence, tempo and purpose", with GB looking to negate the Malaysian's ploy of counter attacking from deep, PC and aerial threats.

All of the men's and women's FIH Olympic Qualifier matches will be shown on BT Sport.

GB squad

David Ames (Holcombe) – ENG Will Calnan (Hampstead & Westminster) – ENG Adam Dixon (C) (Beeston) – ENG Jacob Draper (Hampstead & Westminster) – WAL Alan Forsyth (Surbiton) – SCO James Gall (Surbiton) – ENG Harry Gibson (GK) (Surbiton) – ENG Harry Martin (Hampstead & Westminster) – ENG George Pinner (GK) (Old Georgians) – ENG Phil Roper (Wimbledon) – ENG Liam Sanford (Old Georgians) – ENG Ian Sloan (Wimbledon) – ENG Tom Sorsby (Surbiton) – ENG Zach Wallace (Surbiton) – ENG Jack Waller (Wimbledon) – ENG Sam Ward (Old Georgians) – ENG Henry Weir (Wimbledon) – ENG Ollie Willars (Beeston) – ENG

This article was brought to you by The Hockey Paper, on-sale regularly via subscription in print or digital



The Hockey Paper


---

Hope springs eternal for hockey team in London qualifier as Britain loom

By JOASH EE DE SILVA




PETALING JAYA: Three-time champions Pakistan have failed to qualify for the Tokyo Olympic Games – will Malaysia suffer the same fate in Europe next?

Former hockey greats Pakistan, the Olympic winners in 1960, 1969 and 1984 and who last won a medal – a bronze at the 1992 Games, were crushed 1-6 by Holland in the second leg Olympic qualifiers in Amstelveen, Holland, on Monday.

They had earlier held the Dutch team 4-4 in the first leg at the same venue but with the defeat on Monday, world No. 3 Holland booked the Olympic ticket on a 10-5 aggregate.

Like Pakistan, Malaysia will play in their opponents' den too when they take on Britain in London during the two-leg Olympic qualifiers on Nov 2 and 3 at the Lee Valley Hockey Stadium.

The Malaysia Hockey Confederation (MHC) president Datuk Seri Subahan Kamal (pic) has chosen to be optimistic about Malaysia's chances although he is still riled up that his boys have to play both the qualifying legs in Britain's territory.

"It's unfair for Pakistan who also had to play both their matches in Holland," said Subahan, who was not surprised with Pakistan's 1-6 defeat to Holland in the second leg.

"It's one sided and unfair but unfortunately, those are the rules set by the FIH (International Hockey Federation). Malaysia are in the same predicament but I believe the players will cope well.

"It's not easy against Britain but nothing is impossible if the boys put their heart and soul into the two matches in Britain's backyard."

Malaysia have arrived in London after completing their friendlies against Dutch clubs in Holland over the last few days. Roelant Oltman's men were beaten by Gazellen-Combinatie (4-1) and HC Bloemendaal (4-2) respectively.

Some may consider the defeats against the clubs as a bad omen before their crucial matches against Britain, but Subahan stayed positive.

"I won't say the boys played badly because we know the quality of Dutch hockey is very high, so are their clubs. After all, the Dutch national team had just beaten Pakistan," said Subahan.

"And it's not easy as the weather is cold, everything is different even from the way they use their sticks.

"So we can't read too much into the friendlies. They were good "warm-up" matches as they have given the coach a chance to experiment with a few things.

"I believe Roelant knows what he is doing and I'm confident that the team will do well.

"The MHC have given the best support to the team over the last four years – financially and morally. The team know what it means to play for the country.

"Now it's up to the boys to perform and hopefully, they can turn the tables on Britain and do the country proud."

The Star of Malaysia


---

How the U.S. Women's Field Hockey Team Could Clinch its Olympic Berth this Weekend

By PAUL D. BOWKER




The Tokyo 2020 Olympic Games run July 24 to August 9, 2020, with the Paralympic Games following August 25 to September 6, and while they may be nine months away there's a lot to learn on your quest to becoming the ultimate fan. Each Tuesday leading up to the Games, TeamUSA.org will present a nugget you should read about – from athletes to watch to storylines to follow to Japanese culture and landmarks – as part of "Tokyo 2020 Tuesday." Follow along on social media with the hashtag #Tokyo2020Tuesday.

More than 8,000 miles from home, the U.S. Women's National Field Hockey Team is in India this week with one goal: lock down a spot in the Tokyo 2020 Olympic Games.

It all comes down to two matches Friday and Saturday against India in a new Olympic qualifying format being used this year by the International Hockey Federation (FIH).

Win twice, and USA secures one of 12 spots in the women's tournament. Win once, and USA can still qualify through a tie-breaking procedure that involves the goal differential over the two matches.

"We're very excited that the qualifier has finally arrived," team captain Kathleen Sharkey said via email. "We've prepared for every possible scenario and have taken care of all the controllables off of the field, like fitness, nutrition and scouting. We are very ready for the games and we are ready to battle on the field together to achieve our goal of qualifying for the Olympics."

Both games will be played at Kalinga Stadium in Bhubaneswar, which is located in a coastal area in eastern India. And it will be noisy, a fact not lost on USA coach Janneke Schopman.

"We have to execute our game plan and have the flexibility to adapt to what India will throw at us," she wrote via email to TeamUSA.org. "It will also be very loud in the stadium with 15,000 people, so it's key for us to attack and defend as a team, connect and do the work all the time."

"We're expecting that there will be a full stadium this weekend, which will be an amazing environment to play in," added Sharkey, a Rio 2016 Olympian who was the USA flag bearer for the Opening Ceremony of this summer's Pan American Games Lima 2019. "I think the stadium will be very loud, which could make it difficult to communicate on the field, but we've all had the experience of playing in packed stadiums in other countries before and so I think we are very prepared for it."

USA is ranked 13th in the world and is coming off a third-place finish at the Pan American Games. Its fifth-place finish at the Rio 2016 Olympic Games was the best finish for the USA women since winning a bronze medal at the Los Angeles 1984 Olympic Games. One year after Rio, USA won a gold medal in the FIH World League Semifinals.

Erin Matson, a 19-year-old midfielder, scored three goals in a 5-1 victory over Chile in the bronze-medal game of the Pan American Games. Other USA standouts include Lauren Moyer, a member of the 2017 World League team, and goalkeeper Kelsey Bing, along with Casey Umstead and Danielle Grega, who were promoted to the national team last year.

Schopman, who was promoted to head coach in 2017, said she is pleased with the team's preparation entering the Olympic Qualifier in India.

"The team has made great steps in the last weeks," she said. "They have put a lot of effort and work in the preparation and are ready and excited to play."

The new qualifying procedure will determine the final seven teams for Tokyo. Japan has already qualified as host, while top-ranked the Netherlands, Argentina, New Zealand and South Africa all qualified by winning their continental championships.

The final two-team playoff format could produce a shootout round that decides the Olympic berth on Saturday. A win is worth three points and a tie is worth one point. If USA and India are tied in points after two games, and also tied in goal differential after Saturday's second game, then a shootout would determine the winner.

China was the first to take advantage of the shootout format, defeating Belgium in a shootout on October 26 to secure an Olympic berth. Australia and Spain have also qualified through the two-team format.

In addition to USA versus India match, three other Olympic qualifiers are set for this weekend: Chile at Great Britain, Italy at Germany and Canada at Ireland.

India is ranked No. 9 in the world but lost to Team USA in both the Rio 2016 Olympic Games and World League Semifinals.

"India is an experienced and good team," Schopman said. "They are good in playing the counter, are fast to go forward, have a solid defense and have a very good penalty corner with one of the best drag flickers in the world."

Sharkey, a forward and midfielder, is hoping USA can crank up its offense.

"We need to make sure we're maximizing every scoring opportunity we get," Sharkey said. "We need to be aggressive and clinical in the attacking circle. On defense, we need to manage their skillful attackers. They have a lot of speed and skill, so we'll need to disrupt the play without overcommitting."

Paul D. Bowker has been writing about Olympic and Paralympic sports since 1996, when he was an assistant bureau chief in Atlanta. He is a freelance contributor to TeamUSA.org on behalf of Red Line Editorial, Inc.

Content Courtesy of TeamUSA.org

USFHA media release


---

Women's National Team stands on Olympic doorstep for the first time in 30 years

Canadian Wolfpack take on Ireland in two-game Olympic Qualification series




The last time the Canadian Women's National Team qualified for the Olympic Games, half of the current team wouldn't have been born, the other half, so young they wouldn't remember it. Brian Mulroney was the Prime Minister of Canada and smartphones were still 15 years away.

Generations of Canadian field hockey players have come and gone without even a sniff at the Olympic Games. So, when Team Canada defender Shanlee Johnston says, "These are the two most important games in our hockey careers," she means it.

Canada will play against Ireland in a two-game aggregate series on November 2 & 3 in Donnybrook Stadium in Dublin. The winner will advance to the 2020 Tokyo Olympic Games, the defeated will have to try again in four years. Simple as that. Win and you're in.
The Olympic Pathway

This style of qualification series is brand new, the culmination of the FIH Hockey Series. The Canadian Wolfpack's journey started in 2018 by attending the Hockey Series Open in Salamanca, Mexico where they steamrolled the competition en-route to a tournament victory. They then waited a year for their next Hockey Series event, the Hockey Series Finals in Valencia, Spain. A top-two finish would advance them to the final stage. Sure enough, Canada fought their way to a silver-medal performance, only losing to host-nation Spain.

The other avenue to the 2020 Olympic Games is through winning the continental championships; for Canada, the Pan American Games. Team Canada smashed their way to their first Pan American final since 1991 and came away with a silver medal, still one spot shy of that coveted Olympic berth. The successful 2018 and 2019 seasons gave Canada a rankings boost, vaulting them into the top-15.

On September 9, 2019, it was made official with the FIH Olympic Qualifiers draw pitting Ireland vs Canada. Coincidentally, Canada's Men's National Team also drew Ireland in their Olympic Qualifiers. That drama unfolded a few days ago, with Canada's men's team punching their ticket to Tokyo.

The stage is set and now it's just about executing when the lights come up.
Preparation, preparation, preparation

Making it to this series has been the goal for the team since their fifth-place finish at the 2018 Commonwealth Games in Gold Coast, Australia. Under the encouragement and support of head coach Giles Bonnet, the team centralized in Belgium in September 2018. The goal was to get quality competition exposure and have access to a high-level training environment. Bonnet has experience using the centralization method with the South African National Team and aims for similar levels of success with the Canadian Wolfpack.

According to Bonnet, the team will be ready.

"These matches are new for every team. It's about how one specifically prepares for these matches," Bonnet said. "I think we will be ready to compete and able to withstand the enormous pressures that will be present."

Bonnet said that riding the successful results from Pan Ams will set the team up nicely for this pressure-fuelled series with the Olympics on the line.

The team has played three test series this fall simulating the environment of the Olympic Qualification series. They have posted a series wins against USA and Chile, a series tie against Spain and a loss against Belgium.

Johnston explained that the test matches have been helpful for getting into the right mindset for the Olympic Qualifier.

"Basically, the way that we have thought about it as a team is that it is eight quarters," said Johnston. "Because the games are back to back and its aggregate score, you have to treat it as one big game."

Whether or not the team qualifies for the Olympics, what they have accomplished in the last few years has been nothing short of incredible.

"This journey has been amazing and that we've all come a really long way and just being able to play these games shows how far we've come," explained Johnston. "It would mean the world if we qualified but I think that we also need to recognize that it has been a huge accomplishment so far as well and we can't lose sight of that."

Defender Kathleen Leahy said that it would mean the same thing to each player to qualify as it would to the team.

"It's what we've been fighting for, for our entire hockey careers," said Leahy. "Whether it's been 10 plus years like some of the girls or one or two years that some of the other girls have been with us."

"We've fought for it for a long time and we're so close. We're excited going into the qualifier and we're ready."

Right now, Canada is preparing and training with an extended squad. The final 18-player roster for the Olympic Qualifiers will be announced publicly this week.

Field Hockey Canada media release


---

Halpin steps up as goalie in UNC field hockey's 1-0 win over Old Dominion

BY Torre Netkovick



From left, UNC redshirt first-year goalkeeper Cassie Halpin (28), senior goalkeeper Alex Halpin (39), junior back Courtnie Williamson (25), and redshirt first-year back Romea Riccardo (11) prepare to block Old Dominion from scoring a goal on Sunday, October 27, 2019 at Karen Shelton Stadium. UNC won 1-0. Carmen Chamblee

The sun beat down on Karen Shelton Stadium and the Tar Heel defense shone in No. 1 North Carolina field hockey's 1-0 win over No. 16 Old Dominion Sunday. 

The only goal in the contest was scored by senior Megan DuVernois, securing the win for UNC. It was the team's lowest scoring total in over a year — the last time UNC scored just one goal in a contest was against Princeton in 2018. 

In a win where North Carolina's offense started off slow, the team's gritty defensive performance stood out – led by senior goalkeeper Alex Halpin. 

For the past two games, the Tar Heels have been without starting junior goalkeeper Amanda Hendry, who suffered a concussion against Liberty last Sunday. In her place, Halpin, who hadn't started a game since 2016, took over. 

"We knew we had two good goalkeepers, so when Amanda went down, I was not worried at all about that," head coach Karen Shelton said.

Against the Monarchs, Halpin delivered, with five saves in the first half alone.

Old Dominion threatened in the 28th minute when it was awarded a penalty stroke right before the half. ODU's Rebecca Birch stepped into the circle and took her shot, which Halpin snagged.

"I kept behind the ball and tracked the ball," Halpin said. "Tried to read what the stick angle is, but trying not to get in my own head and explode off the line." 

North Carolina, meanwhile, couldn't find a rhythm. In the first half, UNC had four shots, just two on goal. It was the second time in two games that the Tar Heels didn't score before the break.

When the Tar Heels returned, their offense began to push back against the Monarchs. After a few penalty corners, North Carolina capitalized on a chance that would end up deciding the game.

In the 41st minute, DuVernois deflected the ball into the back of the net off a pass from the right side by sophomore Hannah Griggs, and gave her team the lead, 1-0. 

Up by one in the fourth quarter, the UNC defense stood its ground. In the last six minutes, ODU was awarded two penalty corners and took four shots; three of which were blocked, and one was saved by Halpin.

The senior goalkeeper had six saves at the end of the game, two away from her career high, to earn her second win of the season.

The shutout was North Carolina's sixth of the year, while the team has allowed just 15 goals through 16 games.

"Our corner defense was really, really good," DuVernois said. "(Halpin) was really composed on the (penalty) stroke, which helped a lot, I think. She had a big presence in the circle, which was very helpful because it gave a lot of confidence to all of our defenders and mids."

Through two games this weekend, both wins, Halpin collected nine saves. She also secured the second solo shutout of her career — the first coming against the Monarchs in 2016.

It's all coming full circle for Halpin, the veteran who accepted her role behind Hendry and is now stepping up in a big way in her absence.

"It felt amazing, I really enjoyed the opportunity," Halpin said. "I totally feel for Amanda and I want her to be healthy and keep it up. But I was glad I was able to play well this weekend, get the win and join the D-unit to a shutout today."

The Daily Tar Heel


---

No. 2 Maryland field hockey prevails in tight battle with American, 1-0

David Suggs



Defender Kelee Lepage looks to pass the ball in Maryland field hockey's 2-1 win over Rutgers on Sept. 28, 2019 in Piscataway, New Jersey. (Julia Nikhinson/The Diamondback)

As soon as Maryland field hockey midfielder Kelee Lepage's backhanded effort flew into the bottom-left corner of the goal, her teammates crowded her — hoping to mob the senior with hugs and high-fives after she had given the Terps a late 1-0 lead.

But as Lepage laid on the floor holding her leg, celebrations were hushed. The senior got up, though, grinning as she hobbled back to her position in the midfield.

While No. 2 Maryland struggled to break down American's defensive unit on Tuesday, Lepage's tenacious effort proved the difference. Her tally led the Terps to a tight 1-0 victory at the William I. Jacobs Recreational Complex in Washington, D.C.

"There was no way that I didn't think [American] would be a test," coach Missy Meharg said. "Every time we come down to D.C., it is a test, and it's always a game like this."

The Eagles — bolstered with confidence after demolishing Colgate 7-1 in a road matchup Saturday — got off to an inspired start, quickly racking up three shot attempts in the first five minutes.

While American's attacking threat petered out over the course of the first quarter, its intensity remained, especially in the midfield and defense — limiting Maryland's creativity by pinning the Terps to the sideline.

And when the ball would slip into the middle of the field, the Eagles' midfield worked tirelessly to harass Maryland's creative outlets, rushing attackers and forcing a bevy of turnovers.

"[American head coach] Steve Jennings and his players always play such a tactical game," Meharg said. "Their change-ups in how they play defense in the front third and then fell away to the 50 … it prepared us in so many ways for postseason."

Subsequently, the Terps failed to record a shot in the first frame — the second time coach Missy Meharg's squad has been held shotless in a quarter in the past four games.

Maryland's attack showed slightly more endeavor in the second, flashing two shots wide of Fiona Minter's goal.

But it was a largely subdued first-half display for the Terps — a stark contrast to the prolific attacking display they produced against Michigan State on Friday.

And as the horn sounded for halftime, it was clear that changes were in order.

There was subsequent optimism in Maryland's ability to ratchet their quality up in the third period, having combined for seven goals in the third quarter of their past two games — a testament to Meharg's tactical nous and willingness to make adjustments.

And American continued to concede possession to the Terps — preferring instead to push its forwards back and defend in numbers.

Yet the Terps' struggles to breakdown the Eagles resolute defense remained, going shotless again.

It was one of those days for Maryland, where everything it tried was futile — best exemplified by midfielder Brooke DeBerdine, who flashed down the left flank before cleverly flicking the ball between her legs and across the goalmouth.

But just as it looked like a Maryland attacker could get a stick on it, two American defenders closed in, clearing the ball away and stifling another Terps push.

After a largely unimpressive three quarters, the final frame represented something of a kitchen sink approach for Maryland, which seemingly scrapped its possession mindset in favor of a more fluid and intense attacking gameplan.

Armed with this tactical shift, Meharg's squad began to test Minter, with forwards Bibi Donraadt and Madison Maguire forcing the netminder into a trio of saves.

And eventually, Maryland found its breakthrough in the form of Lepage. With 4:48 remaining, the midfielder drifted into the shooting circle before firing a shot past Minter to give the Terps the late lead.

It was a lead that would stick, even as the Eagles drove down the pitch, hoping to equalize late.

With 49 seconds left, it looked like they might have found one, as forward Atina Pagani found herself with the ball on her stick and goalkeeper Noelle Frost well out of position. She flicked the ball toward the middle of the cage, looking certain to dash Maryland's hopes and push the game to overtime.

But defender Bodil Keus stepped in front of Pagani's shot, deflecting it away from goal and securing a hard-fought victory on what was an otherwise frustrating afternoon for the Terps.

"The nice thing about the game is that it prepared us in so many ways for the postseason," Meharg said. "This is a game we're going to be able to look at the video and say 'Wow, we learned a lot from it.'"

The Diamondback