All the news for Tuesday 29 October 2019

Canadian men's field hockey team on its way to Olympics

Cleve Dheensaw

Few Olympians in the 2020 Tokyo Summer Games will savour the moment more, or will have displayed more perseverance in getting there, than James Kirkpatrick.

The field hockey player from Victoria, a late cut from the Canadian team to the 2016 Rio Olympics, will finally become an Olympian after four years of steely staying power.

But that appeared far from certain after favoured Canada fell behind 5-3 to Ireland in the first game of their two-game, aggregate-goal, last-chance qualifying set played over the weekend in West Vancouver.

It looked even more dire when it became 6-3 after Ireland scored the first goal of the second leg Sunday. But three unanswered Canadian goals, the last on a penalty stroke called after video review with just one second remaining in regulation time, tied it in the most thrilling of fashions. Canada then fell behind 3-1 in the penalty strokes tie-breaking round before pulling it out 5-4.

"It's kind of surreal and it's still sinking in. I don't think it has fully sunk in yet," said Kirkpatrick, on Monday.

"We did not have a lot of room for error. But we were not fazed. We kept believing it was going to happen. It's a never-say-die, scrappy attitude that got it done for us."

Kirkpatrick's personal journey exceeds even that of the national team as a whole.

"It's crazy to be back after having qualified for the Olympics twice in a row," said the Oak Bay High graduate.

The last time, however, Kirkpatrick was left off the team for Rio 2016 after helping Canada qualify. But he has gone from being on the bubble to now an integral part of the Canadian midfield.

"I went out and played my game and I'm just enjoying the moment," he said.

The 28-year-old, who is a software developer away from the pitch, has certainly earned this moment.

"It's an amazing feeling and it couldn't have happened in more dramatic fashion," Kirkpatrick said.

It happened playing alongside his former University of Victoria Vikes teammates, and now fellow national team players Keegan Pereira and Brenden Bissett, making it all the more special.

That's not to mention having two-Olympian and former Canada captain Rob Short on the Canadian bench as assistant coach. Short is a member of the Victoria Sports Hall of Fame and Kirkpatrick was inspired as a kid by watching Short play.

"Rob Short is a legend in our sport and someone the current group of national-team players lean on," said Kirkpatrick.

Next up is the Canadian women's team, which by coincidence, has also drawn Ireland in its two-game, total-goal, last-chance Olympic qualifier for Tokyo 2020. That will take place Saturday and Sunday in Dublin.

The Canadian women's team features Oak Bay graduate Maddie Secco and St. Michaels University School-product Anna Mollenhauer of Victoria and former UVic Vikes stars Kaitlyn Williams and Danielle Hennig.

The Canadian men's team is based in Vancouver. The women's national team, looking for its first Olympic Games appearance since Barcelona in 1992, is based in Victoria.

An $82,000 online crowd-sourcing campaign in the spring allowed the Canadian women's team to travel to Spain for a crucial first-round qualifier, in which Canada placed second, to allow it to advance to this final round of qualification against Ireland.

Times Colonist


---

Ireland's Olympic hockey dream dashed in nightmare finish

Shootout exit follows hugely controversial penalty given to Canada at end of match



Ireland players react after the loss to Canada in a penalty shootout in the Olympic qualifier at Rutledge Field in West Vancouver. Photograph: Darryl Dyck/Sportsfile   

The Irish men's hockey team gave up a two-goal overnight lead to miss out on qualification for the Olympic Games next summer in Tokyo. Ireland were beaten 3-1 by Canada in Rutledge Field, West Vancouver before losing in a sudden-death penalty shootout.

Ireland, who first qualified for the Olympics three years ago in Rio, went into the second match of the double header with that two-goal advantage having beaten the home side 5-3 on Saturday. Defeat in the second match ensured the aggregate score over the two legs left the sides level on 6-6 overall.

The Irish women's team will face Canada on Saturday and Sunday of this week in a similar two-leg series at the Leinster Rugby grounds, Energia Park, in Dublin's Donnybrook.

Ireland got off to the perfect start and took the lead after just six minutes. Playing a back court game and working off counter attacks, it was Johnny McKee who made the early breakthrough. Sweeping down the left, McKee penetrated the circle and his slap to the goalkeeper's left foot found the net.

Canada were pressing and earned four short corners in the first quarter, twice goalkeeper Davy Fitzgerald pulling off fine saves to keep Ireland three goals ahead on the aggregate score. The quarter closed with Ireland one up on the day and braced for an all-or-nothing Canadian offensive.

Weathered

Michael Robinson went to the bin early after resumption but Ireland weathered it without conceding. Canada by then were doing most of the attacking and held possession, with Ireland looking at times like they were prepared to try and hold their lead rather than go out and win the match.

A crash ball from Canada earned them their fifth penalty corner after 21 minutes. This time Gordon Johnston found his target low and hard to Fitzgerald's right for the home side to draw level 1-1.

While Ireland remained Ireland two goals ahead on the aggregate scores the penalty corner count mounted, the Canadians reaching seven to Ireland's two by half-time. But it was Canada who scored next a long ball from Johnston picking out Oliver Scholfield unmarked just in front of the goal. His deflection gave Canada a 2-1 lead.

Ireland picked up their game significantly and penetrated the Canadian circle more often but an idiotic piece of bad discipline from Matthew Nelson, who hit away the ball on a Canadian free, drew a yellow card.

That spelled a fraught final 15 minutes for Ireland. More cards came out from the German referee with Ireland's Shane O'Donoghue and Canada's James Wallace both going to the bin leaving Ireland with nine players and Canada with 10.

Needing a score Canada took off their goalkeeper in the dying minutes and when Ireland believed they had earned their place next year, a referral for a penalty corner handed them a hugely controversial penalty decision. Scott Tupper converted with the last play of the match for a 3-1 scoreline and 6-6 on aggregate before the shootout went the home side's way.

Canada 3 Ireland 1 (6-6 on agg; Canada won 5-4 on penalties)

The Irish Times


---

Ireland men's hockey team miss out on 2020 Olympics

Ben Finnegan

The Irish men's hockey team have missed out on qualifying for next summer's Olympic Games in Toyko.

It had all come down to a two-legged playoff with Canada. The first took place on Saturday with the Green Machine winning 5-3. The team went into the second game knowing a draw would be enough to book their place in Japan.

However, with one second to go and the score 6-5 on aggregate, a controversial video review decision resulted in a penalty stroke being awarded to the Canadian side - which was converted.

The game then went to penalty strokes, which Canada won.

Speaking after the game, head coach Mark Tumilty said, "we probably didn't play as well as we did yesterday. Canada reacted well to our performance yesterday, however, I thought we still created enough chances. The guys dug in very deep there right until the last seconds of the game.

"I'm so very proud of what the guys have delivered over these last six weeks. It was a difficult period for them. There were a lot of unknowns in relation to the coaching setup and that. But they've been a fantastic group of players to deal with.

"For some lads, that's their last international game. What a way to go out of international hockey. But they've been excellent servants to Irish hockey. They've had a lot of highs. This would be one of the major lows. It's never a nice way to go out of your international career. But they're a strong group of lads and there's a lot of talent still in the group. I'm convinced that this group can bounce back.

Asked what went through his mind in the final moments of the match, he replied "We celebrated as if we'd won it. It's a very tough call. I wouldn't see too many of those in any level of hockey, to be honest with you - for that to be given. But we had our chances in the shootout as well. Fitzy did very well in goals. That's the way shootouts go. Listen, they're potluck.

"Fair play to Canada for their performance today. They hung in there the whole time. Very hard [not] to let their heads drop when we scored early on. But that's the way it goes. It's not an easy one to take. It's probably a really low one. Not easy."

Off the Ball


---

Deja vu as video umpire quirk denies Ireland

s2h Team



Photo: Yan Huckendubler

Déjà vu was double faced after Canada's incredible victory over Ireland in Vancouver on Sunday to qualify for the Tokyo Olympics men's hockey tournament.

It was joy all over again for Canada and heartbreak once more for Ireland.

Just four years ago in Buenos Aires, Argentina, the North Americans were eliminated from the qualifying race when New Zealand scored in the shootout for an unassailable lead.

But the clock, on review, deemed differently. Canada survived and eventually won in an epic sudden-death battle.

Adam Froese scored the match-winning sudden-death penalty to book Canada's ticket to Rio.

Eerily, it was Froese who did an encore in Vancouver to wipe the smile off Irish eyes.

Once again, technology came to the Canadians' rescue. Along with a huge slice of controversy.

Ireland had already begun celebrating when the hooter sounded but the hosts' desperate throw of the dice in calling for a referral found positive and unbelievable response from the video umpire Diego Barbas of Argentina.

A penalty stroke for Lee Cole apparently bringing down of Jamie Wallace at the death saw Scott Tupper level the scores on aggregate (6-6: 3-5, 3-1) and send the match into a shootout. Video images fails to prove conclusive evidence for such a harsh award especially with just a second left on the clock.

Canada won 5-4 in sudden-death to crush Irish hearts and brought back painful memories and tearful scenes of 2012 back.

It was in Dublin that South Korea stunned Ireland and their home fans 3-2 with a goal at the death through Lee Nam-Young. No controversy here, just a late quirk of fate to deny the Irish.

Ireland qualified for the 2016 Rio Olympics via the Hockey World League coupled with Australia beating New Zealand in the Oceania Cup final to feature in the Games after 108 years.

Ireland's women play the same nation, Canada, in their Olympic qualifier in Dublin next week. Victory there could provide some soothing balm for the pain and sorrow of Vancouver.

Stick2Hockey.com


---

Canada goes through as Ireland slams poor umpiring

Canada men's hockey team beat Ireland 5-4 in the shootout to qualify for the 2020 Olympics after the teams were tied 3-3 on aggregate in regulation time.



Ireland and Canada players battle for the ball during the second-leg of the Olympic Qualifiers at Vancouver.   -  FIH Facebook

The Canada men's hockey team qualified for the 2020 Tokyo Olympics with a 5-4 win in the shootout against Ireland after the regulation time in the second-leg at Vancouver ended 3-1. Ireland, which won the first-leg 2-0, had a foot in the next year's Olympics as it led the tie on 3-2 aggregate until the penultimate minute of the second-leg.

In the 60th minute, Canada went for a referral when one of its players went down inside the circle following a stick check from Irish defender Lee Cole. Diego Barbas, the video umpire, awarded Canada a penalty stroke as Ireland's players were left shocked by the decision.

Canadian skipper Scott Tupper stepped up to convert from the spot as the match went into shootout.

Irish goalkeeper David Fitzgerald saved Sukhi Panesar and Keegan Pereira's attempts, while his opposite David Carter denied Michael Robson and Shane O'Donoghue to stretch the shootout into sudden death.

On the seventh attempt, Adam Froese scored for the host after Carter thwarted John Mckee, leading to wild celebrations in the Ambleside Rutledge Field.

Ireland was furious as it felt that the last-minute penalty stroke robbed it off a place at the Olympics.

"I feel the video umpire should hang his head in shame. It (the penalty stroke) was a terrible, terrible decision in the last minute of the game," Irish captain Jonathan Bell told the reporters after the match.

"But fairplay to Canada, they came out strong against us. We missed a couple of chances which could've  taken away the game from them. But a decision like that at this level of the game is simply not acceptable," Bell added.

Sportstar


---

Ireland captain blasts video umpire as Canada reach Tokyo

By The Hockey Paper



The camera angle was unclear as Canada were awarded penalty stroke

Ireland men were denied a berth at the Tokyo 2020 Olympics after a controversial decision to award Canada a last-gasp penalty stroke as the Green Machine were ultimately beaten in a sudden-death shoot-out in Vancouver.

Ireland were losing 2-1 on the night but led 6-5 on aggregate over two legs until the final seconds of the match when Canada found themselves in the D and the ball went clear.

The Irish celebrated as the match ended before a collision inside the circle went upstairs to the video umpire Diego Barbas.

A decision to award a penalty stroke incensed the Irish after Lee Cole was adjudged to have infringed upon a Canadian attacker. Video footage was unclear at the time as to contact made.

Canada scored and then came back in the shoot-out to seal an unlikely win.

Ireland skipper Jonny Bell praised Canada for the win after the match but then laid blame at the door of the match officials for the decision which ended Ireland's dream of making back-to-back Olympics.

He said: "The video umpire should hang his head in shame. It was a terrible, terrible decision in the last moments of the game.

"Fair play to Canada, they came out strong at us. They had chances, we had chances, but as I say a decision like that at this level is just not acceptable."

A 5-3 victory in the first game meant that Ireland started with a two-goal advantage, a lead that was quickly extended when John McKee put the Green Machine 1-0 up in the sixth minute.

But goals either side of half-time from Gordon Johnston and Oliver Scolfield put the hosts within one goal. Canadian captain Scott Tupper then kept a cool head at the death to slot home the penalty stroke to make it 6-6 on aggregate.

Misses from Canadian pair Sukhi Panesar and Keegan Pereira helped Ireland to establish a 3-1 lead before Michael Robson and Shane O'Donoghue failed to convert, leaving the shoot-out score locked at 3-3 going into sudden death.

A mistake from Ireland's John McKee gave Adam Froese the opportunity to seal victory and he made no mistake as Canada celebrated in dramatic circumstances.

Ireland coach Mark Tumilty, in charge of his first major matches, said: "We celebrated as if we'd won it. It's a very tough call. I wouldn't see too many of those in any level of hockey, to be honest with you – for that to be given.

"But we had our chances in the shootout as well. Fitzy (David Fitzergald) did very well in goals. That's the way shootouts go. Listen, they're potluck. That's the way it goes. It's not an easy one to take. It's probably a real low one. Not easy."

This article was brought to you by The Hockey Paper, on-sale regularly via subscription in print or digital



The Hockey Paper


---

Video umpire should 'hang his head in shame' - Jonathan Bell

Ireland have missed out on a spot at the Tokyo 2020 Olympics after the video umpire made an "unacceptable" late penalty call in favour of Canada.

The Irish team were already celebrating a 6-5 aggregate win when Canada asked for a referral on an incident that happened with one second remaining.

The video umpire awarded a penalty stroke, which Canada scored and they then won the shoot-out that followed.

"The video umpire should hang his head in shame," said captain Jonathan Bell.

"It was a terrible, terrible decision. A decision like that at this level of the game is unacceptable."

The International Hockey Federation told BBC Sport: "Umpires' decisions are final and as a general principle FIH does not comment publicly on individual umpiring decisions".

Ireland had won the first leg 5-3 in Vancouver and looked set to qualify for their sport's most important competition despite trailing 2-1 in Sunday's second leg in Vancouver.

A late Canada attack saw James Wallace surge into the Ireland circle and he went down under a challenge from Lee Cole, a fraction of a second before the umpire, who had signalled for a dead ball, blew the final whistle.

But as the men in green celebrated, Canada used their video referral to ask the the video umpire to take a look at the clash. Diego Barbas, who could have awarded a penalty corner, chose the harsher penalty stroke.

Scott Tupper converted to give the hosts a 3-1 win and level the scores at 6-6 on aggregate.

Ireland led 3-1 in the shoot-out but failed to close it out and lost 5-4 in sudden death.

After a 5-3 win in Vancouver on Saturday, Johnny McKee opened the scoring on six minutes for Ireland to give them a three-goal cushion on aggregate but Gordon Johnston responded in the second quarter.

Oliver Scholfield's goal in the third quarter set up a nervy finish before Cole was adjudged to have clipped Wallace a fraction of a second before the final whistle blew.

Video official Diego Barbas awarded Canada a penalty stroke, instead of a penalty corner, after deeming Cole's foul intentional and Tupper's goal gave the hosts a 3-1 win on the day.

Ireland then went 3-1 up in the shootout but misses from Mark Robson and Shane O'Donoghue meant it went to sudden death.

McKee missed the decisive effort in sudden death for a distraught Ireland side.

Canada outplay Ireland in second leg

Antoni Kindler made a fantastic save to keep out Sean Murray's sweeping effort as Ireland pressed inside the opening five minutes.

However the Canadian stopper was helpless to keep out Johnny McKee's brilliant run and shot across goal which rocketed into the far corner one minute later.

David Fitzgerald saved well from Johnston's short corner, an area the hosts exploited in the first leg, to maintain Ireland's lead after 15 minutes.

Ireland survived O'Donogue's green card but Johnston converted the Canadian's fifth penalty corner with eighth minutes to go in the second quarter to reduce the aggregate deficit to two goals.

Canada's threat from penalty corners remained and John Jackson managed to get a stick on Keegan Pereira's goalbound effort to push the ball out for a long corner.

Kindler saved well from Eugene Magee two minutes before half-time as the Ireland remained in control with 30 minutes to go.

Floris von Son spurned a huge opportunity for the hosts shortly after the restart as he missed an open goal at the back post but Ireland's lead was soon reduced to one as Scholfield flicked home Johnston's cross.

McKee's scuffed effort was saved by Kindler as Ireland looked to respond but tempers started to fray at the end of the third quarter, which resulted in Matthew Nelson picking up a yellow card in the dying seconds.

Canada referral cuts Irish celebrations short

The frantic nature continued in the final 15 minutes with James Wallace and O'Donoghue sent for five minutes in the sin-bin for separate late tackles.

With Canada, who are ranked three places higher than Ireland in 10th, pushing for an equaliser, Magee almost found the clincher for the visitors but he was denied by another brilliant Kindler stop after being played clean through.

Kindler was hooked in the final three minutes as Canada desperately searched for the crucial goal, and the last-gasp review from the hosts allowed Tupper to send the game to penalties.

Ireland had celebrated as the final whistle blew but their joy was cut short as Tupper converted the penalty with Tumilty's side left fuming at the video official's call.

Magee, McKee and Peter Caruth all scored for Ireland and they looked in a prime position to reach the 2020 Games.

However Robson and O'Donoghue's misses, plus a nervy conversion from Adam Froese, meant the shootout went to sudden death.

Magee and Johnston both scored before McKee's effort struck his own foot, which allowed Froese to hit the winning penalty and send Canada to the Olympics.

BBC Sport


---

'What a way to go out of international hockey' - Irish coach Tumilty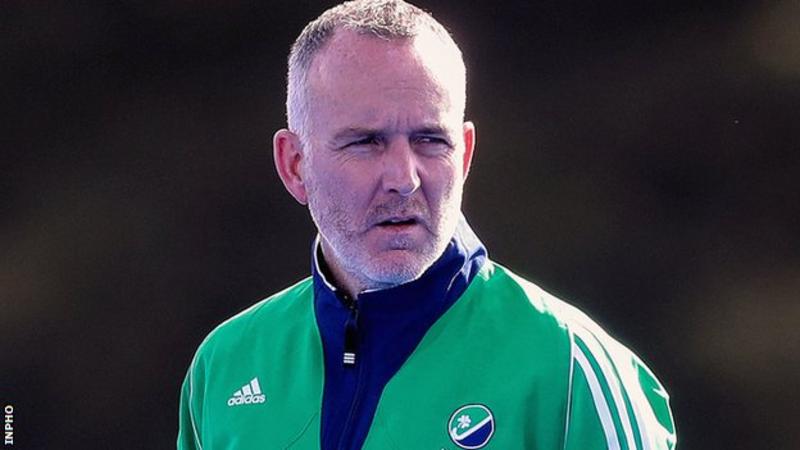 Ireland head coach Mark Tumilty

Ireland men's hockey coach Mark Tumilty has claimed the penalty controversy which cost his team a place at the Olympics has ended some careers.

The Irish were one second away from qualifying for the Tokyo games when Canada were awarded a penalty stroke.

Canada converted and won the resulting shootout after a dramatic two-legged play-off in Vancouver.

"That was the last international game for some lads, what a way to go out of international hockey," said Tumilty.

"They have been excellent servants to Irish hockey.

"They've had a lot of highs, this would be one of the major lows."

After winning Saturday's opener 5-3, Ireland were already celebrating a 6-5 aggregate win when Canada asked for a video referral after Lee Cole's challenge on James Wallace inside the Irish circle.

The video umpire awarded a penalty stroke, which Canada scored before prevailing in the subsequent shoot-out.

"We celebrated as if we won it," added Tumilty."

"It's a very tough call, I wouldn't see too many of those in any level of hockey to be honest for that to be given.

"We had our chances in the shootout, but that's the way shootouts go, they're pot luck, fair play to Canada, it's not an easy one to take."
'The video umpire should hang his head in shame' - Ireland captain Jonathan Bell

Having put themselves in a commanding position to qualify for the Olympics after Saturday's win, Ireland were outplayed by their opponents in the second leg.

Tumilty, who was appointed interim coach following Alexander Cox's resignation in September, said he is proud of his players for digging deep against a resilient Canada side.

"We probably didn't play as well as we did on Saturday," he said.

"Canada reacted well to our performance yesterday, however we still created enough chances and the guys dug in very deep right until the last seconds of the game so very proud of what they delivered over the past six weeks.

"It was a difficult period for them, there was a lot of unknown with the coaching set-up and that but they have been a fantastic group of players to deal with

"It's never a nice easy to end your international career but a strong group of lads, a lot of talent still in the group and pretty convinced they can bounce back."

BBC Sport


---

Hockey Ireland to decide on possible action over penalty in Canada

Late penalty conceded against Canada will cost Ireland place at Tokyo Olympics

Johnny Watterson



Ireland players react after losing to Canada during their Olympic qualifier in Vancouver, Canada. Photograph: Darryl Dyck/Sportsfile
 
Hockey Ireland are waiting for the return home of performance director Adam Grainger from Canada before deciding on how to proceed with the penalty awarded against Ireland in the dying seconds of their playoff match against Canada which cost them a place in next year's Tokyo Olympics.

Ireland, believing they had won the series with a better aggregate over the two matches, began celebrating before the Canadian players asked for a video referral. The umpire had signalled for an Irish hit-out, which would have given Ireland the win. Neither of the two pitch umpires had indicated that any foul had been committed.

When the referral to the video umpire Diego Barbas came back his view was a penalty stroke to Canada, judging that Lee Cole had fouled a Canadian forward driving at the Irish goal. Replays show Cole shadowed the ball with forward James Wallace standing on his stick and slipping. Even then Wallace tried to keep the ball in play. For the referral the Canadian players were complaining of a body tackle.

A brief statement from the international governing body, the FIH, declined to comment on the issue. "Umpires' decisions are final and, as a general principle, FIH does not comment publicly on individual umpiring decisions," said the FIH.

Irish rugby acted when Connacht centre Bundee Aki was sent off for a high tackle on UJ Seuteni in Ireland's 47-5 win over Samoa that booked Joe Schmidt's men a World Cup quarter-final. As a result of the card Ireland expected Aki to face a disciplinary hearing within 36 hours, with a suspension probably ending his World Cup.

So the Irish Rugby Football Union flew out William Fry partner Derek Hegarty to act for the union in any eventual hearing. It stood up for its player despite only a slim chance of success.

It recognised that the effort and dedication over the previous year warranted the best possible representation, and with the best possible representation it might get the best possible outcome. It was a gesture also born out of respect for the Irish team and the Irish coach and Aki himself, and one few could argue they didn't deserve it.

Regulations

The sport of hockey in Ireland is festooned with solicitors, barristers and judges. It would not be costly to pore over regulations to see if they were strictly adhered to.

There are already posts on social media questioning how closely the stated procedures were followed.

And what is umpiring? Following rules. Do umpires have to give post-match reports. Does Mr Barbas have to explain his reading of the incident or explain where the body tackle came in? It also appeared from the sound of it that Barbas awarded the penalty. If so, is he allowed to do that?

Here are a few short lines from FIH General Tournament Regulations: Outdoor Competitions – March 2019.

6.1 The final decision, including any matter of interpretation, remains with the match umpires and not the video umpire.

6.2 All other decisions remain with the match umpires.

This is how the exchange between the pitch umpire and referral umpire unfolded.

"They're asking for a body tackle in the D before the whistle has gone, have look please if there is a tackle and when the whistle was blown," asked the German umpire.

"Yes that's Ireland's infraction of the 29 of Ireland so that's a penalty am . . . a penalty stroke," said the referral umpire. It is difficult to see where rule 6.1 comes into that conversation, although maybe there is an explanation.
No appeal

There was a one-line statement from Hockey Ireland on Monday afternoon.

"There was no appeal last night as teams cannot appeal umpire decisions," it said.

Does that mean they let it slide and the opportunity to question anything about the process has been lost. Did Irish captain Jonny Bell, who said the referral umpire "should hang his head in shame", officially question the decision afterwards.

Bundee Aki got the best. With the Irish women up next weekend, Hockey Ireland will want to show that it too will go the full mile to support its athletes.

The Irish Times


---

No 2020 Tokyo Olympics for Pakistan hockey team



PHOTO: FILE

Once the team to beat in field hockey, Pakistan has now become a shadow of the force that they were in the 90s as they faced a 6-1 loss at the hands of The Netherlands on Sunday.

The magnitude of the loss is worrying but what is more disturbing is that the thrice gold-medallist in Olympics, hockey-playing nation will not be participating in the 2020 Tokyo Olympics due to the defeat.

Pakistan had to beat The Netherlands in the qualifiers to win a spot in the Olympics, but after a heroic 4-4 draw only a day ago, the Men in Green were brought to their knees by a dominant opposition.

The hosts did not give Pakistan any chance to breathe as they attacked from the word go and reaped the rewards thereafter.

The loss has ended any chances that Pakistan had of entering the 2020 Tokyo Olympics.

Earlier in 2016, first time in the history of field hockey, Pakistan were unable to qualify for the Olympics and given the condition of the game in the country, their inability to make it to the Olympics this time around as well is not surprising.

Pakistan, where field hockey in the national sport, has also won three silver and two bronze medals in the Olympics, apart from three gold medals.

The Express Tribune


---

PM urged to intervene to save Pakistan hockey

Kashif Abbasi



Former Olympian Shahnaz Sheikh expresses disappointment over Pakistan's embarrassing defeat against Netherlands. AFP/File

ISLAMABAD: Expressing his dismay over Pakistan hockey team's embarrassing failure to qualify for the 2020 Tokyo Olympics, legendary Olympian Shahnaz Sheikh on Monday urged Prime Minister Imran Khan, who is also the PHF patron, to intervene urgently so that the declining-and-dwindling national game is brought back on track.

After playing a nerve-racking 4-4 draw against the Netherlands on Saturday in the first match of the two-match Olympic qualifier in Amsterdam, Pakistan were crushed 6-1 by the hosts in the second game on Sunday. A few days earlier, Mohammad Rizwan Senior-led green-shirts faced 6-1 and 6-2 drubbings in two warm-up Tests against Germany in their backyard.

The humiliating loss in the Netherlands resulted in Pakistan's ouster from next year's Olympics. The country could not qualify for the 2016 Olympics too.

Speaking to Dawn, Shahnaz expressed his utter disappointment over what he called the patron's unresponsive stance towards the national game which has faced alarming slide in recent years.

"Last year, when Imran Khan became the prime minister, sports fraternity of the country celebrated, thinking that that he would being positive change in sports sector, but to no avail," Shahnaz regretted.

"It is unfortunate that field hockey in Pakistan could not get the attention it richly deserves due to its magnificent past. We now expect the patron will soon call an emergent meeting of the PHF and [former] Olympians so that some concrete steps for hockey's improvement, which has been facing fast decline, can be taken," he stated.

"Pakistan's international ranking has slumped to 17, which is shameful and disgraceful for hockey lovers of the country," Shahnaz said, adding that there is a need to start preparations on a war footing for the 2024 Olympics to be staged in Paris.

"It's really very painful that the former three-time Olympic champions and four-time World Cup winners even could not even qualify for the Olympics, what to talk of winning medals!" he lamented.

"Pakistan have won as many as 23 gold medals, 17 silver and 14 bronze in major international events, like the Olympics, World Cup, Champions Trophy, Asian Games etc. However, now where we are standing? This is alarming," Shahnaz said.

"Pakistan could not qualify for the Olympics for a second successive time, which shows that no lessons were learnt from the previous failure.

"After the first leg [against the Netherlands] when Pakistan stunned the hosts with a 4-4 draw, I was expecting a good fight from our team in the second leg. But [unfortunately] I was shocked to see the poor standard of the game exhibited by them [in the second match]," he said, and noted that the Dutch remained dominant throughout the second game with 60 per cent ball possession.

"They scored goals freely while the level of Pakistan's goalkeeping was pathetic. At least three goals could have been saved with little effort from our keeper," he opined.

The PHF decision last year of not sending the team to play the FIH Pro Hockey League, an opportunity to win direct qualification of Olympics, cost Pakistan dearly and that eventually resulted in the country missing the Tokyo Olympics, Shahnaz highlighted.

"Today, our team is ranked 17th. Had we participated in last year's Pro League regardless of victory or defeat as participation in this event automatically provides ranking points, we would have ranked better, 11th or 12th," he said and added in that case instead of facing the world No.3 Netherlands in the Olympic qualifier, Pakistan would have played against relatively easier opponents like Canada and Ireland.

Last year, the PHF out of the blue withdrew from the FIH Pro Hockey League citing 'financial' constraints.

The Olympian, who helped Pakistan win silver at the 1972 Munich Olympics, bronze at the 1976 Montreal Olympics and several gold medals at the Asian Games, said the national team after playing a tough draw against the Dutch in the first leg looked very lethargic in the second match, which he said signifies a poor physical fitness level. "There is a need to have special focus on the players' physical fitness," he remarked.

Noting that Pakistan up to the 2020 Olympics have no international engagements, Shahnaz emphasised the PHF during this period should look into how the domestic structure of the game could be improved.

"Field hockey, generally, is almost dead as now this is being played only in a few cities across Pakistan," he said.

"The government and the PHF should develop academies to attract and provide better training to youth," he said and urged sports should be made part of the education ministry so that hockey events could be regularly staged in educational institutions across the country.

The dejected player, however, said Pakistan could regain its glory in world hockey, if patronage is given by the government, PHF and former Olympians. "Hockey is in our blood, the young lot needs training, care and proper patronage."

Meanwhile, responding to a question on his possible role in the incumbent PHF, Shahnaz said recently he was offered the position of the federation's spokesperson, which he declined.

Dawn


---

Shanmuganathan believes Malaysia ready to take on any team in the world

By JOASH EE DE SILVA




PETALING JAYA: The national hockey team have had their best preparation – and now, it's time to deliver.

Three-time Olympian Datuk N. Sri Shanmuganathan (pic) believes Malaysia have every chance to beat Britain and qualify for the 2020 Tokyo Olympic Games as they have gone through a thorough preparation over the last few months.The men's team will play world No. 7 and three-time Olympic gold medallists Britain in a two-legged playoff which will be held at the Lee Valley Hockey Stadium in London on Nov 2 and 3.

Shanmuganathan was pleased with the best support given to the hockey team coached by Roelant Oltmans.

The Dutch coach has been assisted by three experts Australian striker Michael McCann and two others from Holland – penalty corner specialist Taeke Taekema and goalkeeper Martin Drijver.

"We've a strong team, and I believe, the players have the experience to take on any team in the world, " said Shanmuganathan, who had played in three Olympics – in 1968 Mexico, 1972 Munich and 1976 Montreal.

"The management have also been fair to them by giving the coaches and staff free reign over the team."

"They've had ample time to iron out problems in the team and now it all comes down to two matches. They just have to go out there and perform, " he said.

He said playing against their opponents' background should not put fear in the team.

"The knew where they would play when the draw was announced – and they knew the weather will be cold. It's all a matter of adapting, " said Shamuganathan.

"They are in Holland now for friendlies and will leave to London soon to adapt to the conditions there. It's all in their mind. The task is obviously difficult but that's what the Olympics is all about, it's not meant to be easy."Malaysia have played two friendly matches in Holland but they were beaten by Dutch clubs Gazellen-Combinatie (1-4) and HC Bloemendaal (2-4).

Shanmuganathan said the friendlies were good for Malaysia.

"I'm glad they had a chance to try out and experiment different things during the friendlies, " said the 72-year-old, who has been hailed as one of the greatest captains of the national hockey team.

"I believe they can be the victors at the qualifiers if they go all out and give a gutsy display, " added Shanmuganathan, who skippered Malaysia to their best-ever outing at the World Cup, when the team finished fourth in Kuala Lumpur in 1975.

Malaysia last competed in the Olympics at the 2000 edition in Sydney.

The Star of Malaysia


---

Hockey Ireland Announce Women's Squad for Olympic Qualifiers




Irish Women's Head Coach, Sean Dancer, has announced the squad which has been selected for the upcoming Olympic qualifier in Energia Park on the 2nd and 3rd of November against Canada. The team confirmed their place in the Olympic qualifier last June in their FIH Series Finals outing in Banbridge which saw the team reach the final of the tournament, narrowly missing out on the overall win to Korea.

After a busy period of training and practice matches, following a positive Euro Hockey Championships in Antwerp last August, the squad are good form heading into their final week of preparations leading into their home Olympic qualifiers.

The squad is as follows:

    1 Ayeisha McFerran Ulster
    2 Roisin Upton Munster
    3 Nikki Evans Leinster
    4 Kathryn Mullan (C) Ulster
    5 Shirley McCay Ulster
    6 Elena Tice Leinster Defender
    7 Gillian Pinder Leinster
    8 Beth Barr Ulster
    9 Serena Barr Ulster
    10 Chloe Watkins Leinster
    11 Lizzie Colvin Ulster
    12 Nicola Daly Leinster
    13 Hannah Matthews Leinster
    14 Sarah Hawkshaw Leinster
    15 Anna O'Flanagan (VC) Leinster
    16 Zoe Wilson Ulster
    17 Deirdre Duke Leinster
    18 Elizabeth Murphy Leinster

Speaking on the selection, Head Coach Sean Dancer said "I'm very happy with the squad we've chosen to represent Ireland in this Olympic qualifier.

Canada are a good side, when you get to this level everyone is, you can't underestimate any team you come up against. We've been working hard the past few months and I'm confident in this team's ability to be successful."

The Irish Women's Olympic qualifier matches will take place on the 2nd and 3rd of November in Energia Park, Donnybrook. The winner on goal aggregate will seal their spot for the Tokyo 2020 Olympics. These matches mark the only Olympic qualifier, for any sport, in Ireland this year.

Seated tickets have sold out however there are still terrace tickets left for both days. Come out and support the Green Army. Be part of their journey as they strive to be the first Irish Women's Hockey team to qualify for an Olympic Games. Tickets available at www.hockey.ie

Irish Hockey Association media release


---

Seven Ulster players in squad for Olympic qualifier against Canada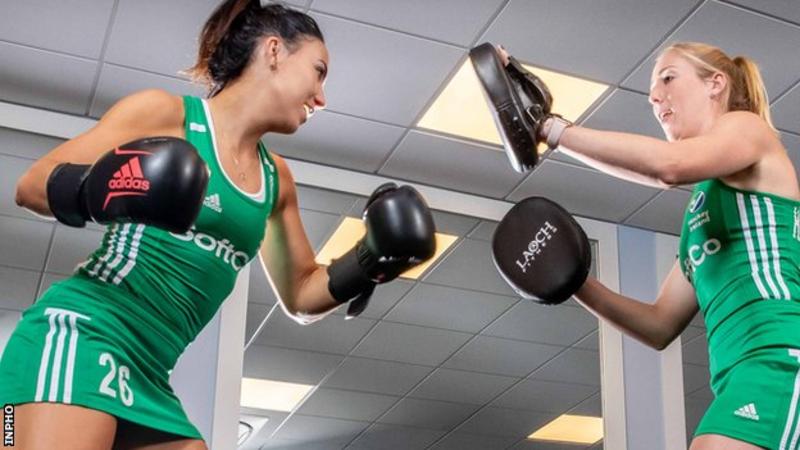 Anna O'Flanagan and Sarah Hawkshaw are named in the Ireland squad for the Olympic qualifier with Canada

Lurgan twins Bethany and Serena Barr are included in the Ireland squad for the two-legged Olympic qualifier against Canada in Dublin this weekend.

It is the first time the siblings are selected in the same tournament squad.

They are among seven Ulster players included by head coach Sean Dancer, who makes just one squad change from the EuroHockey Championships in August.

Ireland play Canada in Donnybrook on 2 and 3 November with the winner booking a place at next year's Tokyo Games.

Serena Barr replaces Ali Meeke in the only change from Ireland's last tournament appearance in Antwerp.

The Ireland women confirmed their place in the Olympic qualifier with a strong performance in the FIH Series Finals in Banbridge in June, losing in the final to Korea.

Ireland squad -

A McFerran (Ulster), R Upton (Munster), N Evans (Leinster), K Mullan (capt, Ulster), S McCay (Ulster), E Tice (Leinster), G Pinder (Leinster), B Barr (Ulster), S Barr (Ulster), C Watkins (Leinster), L Colvin (Ulster), N Daly (Leinster), H Matthews (Leinster), S Hawkshaw (Leinster), A O'Flanagan (Leinster), Z Wilson (Ulster), D Duke (Leinster), E Murphy (Leinster).

BBC Sport


---

Clifton rally as Swansea relish life on road

Rod Gilmour



Hampstead's Joie Leigh scored against her old club  Credit: Peter Smith

Clifton Robinsons coach Juliet Rayden hailed her side's dramatic 5-4 home win over Hampstead & Westminster as a "real crowd-pleaser" as the Bristol side pushed for a play-off place in the Investec Premier Division.

Clifton sit fifth after they came from 2-0 down before captain Claire Thomas scored a last-minute penalty stroke to seal a thrilling win at the death. Defeat was Hampstead's first after seven games in their debut top-flight season.

"It was especially satisfying having lost late on to Hampstead only a few weeks ago," said Rayden. "We are a young developing side, but we showed a lot of character to stay in the game and to score five goals against a side with Hampstead's record, really bodes well."

The Londoners struck a familiar tone when Grace Balsdon netted a penalty corner double inside the opening 20 minutes. Phoebe Richards, Olivia Hopkisson and Kathryn Lane all then netted for the Robbies, while Joie Leigh, returning to her former club, and Amy Askew kept Hampstead in front.

But Thomas levelled up with nine minutes left before a last attacking phase resulted in a penalty stroke.

"Being two goals down twice in the game meant we had to dig very deep but throughout the season we have shown spirit and fight," said Thomas. "Some flowing attacking play and scoring five in front of a home crowd was very exciting."

Swansea bond over league mileage

When Swansea HC were put into the Investec Women's Division 1 North this season, many thought the decision illogical.

But, according to Swansea's head of hockey Gareth Terrett, driving to the north for matches is just a "psychological" matter as opposed to making trips up the M4 every other weekend.

Indeed, they only have to combat around 200 miles more this season than if they were residing in Division 1 South. In all, the players will be negotiating 3,738 miles on the road.

A series of double headers in the north have also saved on travel costs, with Swansea emerging 2-0 winners at Leeds on Saturday before losing out 1-0 to Durham on Sunday. Having played two matches more than Leicester, Swansea remain top of the table for now.

"To be fair to England Hockey I'm really pleased that we've had double header weekends. Without that it would have been a real drain," said Terrett. "But we fully expect that when teams come to us it will be hard for them."



Swansea line up during northern double header  Credit: Callum Pink

Swansea's team has several former Welsh internationals and includes mothers and medical students who are "fully committed" to the amateur cause.

Swansea's resolve will be further tested in the second half of the season. As Welsh indoor champions, they will take part in the European Indoors in Portugal in February as well as competing as Wales' outdoor representative in Prague in May.

Swansea have also emerged from a successful university merger, with aims of taking on rivals Cardiff & Met as one of Wales' top clubs. But in a show of unity, Cardiff men, who are also in Division 1 North, and Swansea women travelled on the same bus to their respective matches at the weekend.

One of Terrett's main aims is now to entice players to stay at Swansea. Hannah Griffiths, who has played for Swansea since she was seven, said: "Coming back to Swansea after a few years off has been such a pleasure, the girls have been so welcoming and I've remembered how fun it is to play national league again. The travelling makes us feel more like a team so it's worth it."

GB will be best prepared, says Howard

Midfielder Tess Howard says Great Britain can atone for their poor EuroHockey Championships and qualify for Tokyo 2020. The Olympic champions play Chile over two play-off matches this weekend in London, with the aggregate winner securing a berth to next year's Tokyo Games.

"Our mental preparation has been stellar and it has to be," said Howard, who has recovered from a broken hand. "It's not us fighting for two games, it's much bigger. There's a lot riding on it but it is just two hockey games. We're doing everything we can in our power to be the best we can for them."



Tess Howard returns for GB after injury Credit: WORLDSPORTPICS

In their only warm-up matches over the weekend in Belgium, Chile lost to Canada 3-0 and 3-2.

Meanwhile, Ireland women will be chasing a first Olympic qualification when they take on Canada in Dublin. The Green Army will be hoping to atone for Ireland men's controversial defeat to Canada on Sunday in Vancouver. Canada men were awarded a last-second penalty stroke after a debatable video review before winning their Olympic qualifier on a sudden-death shoot-out.

The Canadian Wolf Pack will now be aiming for a double berth at Tokyo 2020. The women's squad lost all their Own the Podium funding earlier this year but through crowdfunding have been able to train and play in Europe for several months together, notching some notable performances along the way.

The Telegraph


---

Marcanos, Browne on target in England

by Nigel Simon

For­mer T&T cap­tain, Eng­land-based Kwand­wane Browne and na­tion­al se­nior team duo, Mar­cano broth­ers Tariq and Teague, were all among the goals in the Eng­land Hock­ey League on the week­end.

Lin­ing up for de­fend­ing In­vestec Men's Pre­mier Di­vi­sion cham­pi­ons Hamp­stead & West­min­ster, Browne, the 400-plus capped ex-T&T in­ter­na­tion­al and Eng­land as­sis­tant men's hock­ey team coach, was on tar­get for his team in their 4-3 win over Read­ing.

It was the fourth win in five match­es for Hamp­stead & West­min­ster, who then fell 1-3 to Wim­ble­don with Browne not among the ros­ter to stay on 12 points.

In the Men's Hock­ey League Con­fer­ence East, both Tariq Mar­cano and younger sib­ling Teague were among the goals in St Al­ban's 5-1 de­feat of Old Loughto­ni­ans at Rod­ing Sports Cen­tre.

Dave Williams put St Al­bans on the road to vic­to­ry in the fifth minute and added an­oth­er in the 18th while Matthew Dav­ey made it 3-0 in the 27th.

The younger of the Mar­canos, Teague, widened the lead to 4-0 in the 36th be­fore Ma­ciej Janiszews­ki pulled a goal back for Old Loughto­ni­ans in the 64th.

But St Al­bans, coached by for­mer T&T play­er Dil­let Gilkes, was not done of­fen­sive­ly and Tariq Mar­cano added a fifth item in the 70th to com­plete the drub­bing. The win was the third win for St Al­bans in four match­es to put them joint third on the ta­ble with Chices­ter on nine points, three be­hind lead­ers Wap­ping while Spencer is sec­ond with ten points.

And on Sat­ur­day, Tariq Mar­cano was on tar­get again in St Al­bans' 2-2 draw with Spencer.

The Trinidad Guardian


---

Butali Warriors scent league title

By AGNES MAKHANDIA



USIU-Africa's Veronica Williams (right) vies for the ball with Diana Awino of Strathmore during their Kenya Hockey Union women's Premier League match at City Park in Nairobi on October 27, 2019. PHOTO | SILA KIPLAGAT |  NATION MEDIA GROUP

Butali Sugar Warriors remained on course to retain the men's Kenya Hockey Union Premier League title after a resounding 4-0 win against Sailors at City Park Stadium at the weekend.

The team only needs two wins in their remaining four fixtures to keep the crown. The matches are against Western Jaguars, Wazalendo, Greensharks and relegation candidates Parklands.

Amos Barkibir, Francis Kariuki, Moses Ademba and Derrick Kuloba were on target to help Butali maintain their unbeaten run and extend their lead on the standings with 36 points from 14 matches.

Although Wazalendo and Sharks were not in action last weekend, they remain in second and third places, respectively. Wazalendo have garnered 29 points and Sharks 23 points from 14 matches.

Butali coach Dennis Owaka is optimistic that the team is on track to defend the title.

However, having pulled out of the forthcoming Africa Club Championship set for Egypt Owaka said the team cannot gauge its ability internationally.

"We recruited heavily this season specifically for the club championship. As much as the league title is ours to lose, it's sad that we won't feature in the club championship which was our main target but we will see what happens in future," said Owaka.

Elsewhere, Parklands are staring at relegation after losing to United States International University of Africa 2-1. The team is at the bottom of the standings.

Daily Nation


---

Maryland field hockey players are excelling in unfamiliar positions on the pitch

David Suggs



Forward Lizzy Dessoye (17) and midfielder Emma DeBerdine celebrate during Maryland field hockey's 5-1 win over Michigan on Oct. 25, 2019 at the Field Hockey & Lacrosse Complex. (Gabby Baniqued/The Diamondback)

When Maryland field hockey stepped out for its game against Michigan State, Emma DeBerdine strutted around the middle of the park, eventually slotting into the midfield and scoring from there in the second period

Joining her in the midfield was Kelee Lepage — a player who spent much of her first three seasons as a key cog in the Terps' defensive unit.

And 25 yards in front of the pair stood Madison Maguire, a midfielder by trade who coach Missy Meharg moved up the pitch before the season to increase Maryland's scoring output.

The trio is part of the bevy of changes Meharg has made to the lineup, pushing players to show off their versatility and fill in positions that may not be natural to them. And with postseason play on the horizon, the Terps hope an emphasis on getting the most out of its multifaceted weapons continues to pay dividends.

"Our flexibility to play a lot of different positions [is impressive]," Meharg said. "We've got lots of players that can play a variety [of positions]."

Heading into the season, Meharg was excited by Maryland's depth, with a sizeable number of returning starters complemented by a strong freshman class.

With such a talent-laden squad, though, difficulties arose in getting each player enough minutes.

"We're about 14, 15 players deep in talent, and that's a luxury to be in," Meharg said earlier in the season. "One of the conflicts with it is players not knowing what their role is."

So, as the season progressed, Meharg experimented with her lineups, moving a number of players around the pitch in an effort to get the squad playing more synchronous hockey.

Newcomers such as Linda Cobano and Belle Bressler saw increased minutes as they filled the Terps' needs in midfield and defense, respectively.

Cobano, initially a more defensive-minded midfielder, pushed forward, taking on increased offensive responsibility in the attacking midfield position, Meharg said. The change has worked, with Cobano racking up nine goals this season — good for second on the team.

"I've always been a player who was not bound to one position," Cobano said earlier this season. "[I've always] stayed flexible — enhancing my offensive skills but also training my defensive skills to be an all-around player."

Bressler's skillset has proven a valuable commodity to the squad as well, possessing enough tactical acumen to slot in both the midfield and defense.

"Belle Bressler is just wonderful," Meharg said. "She can play anywhere in the midfield and anywhere in the backfield."

And even as Maryland has established itself as a force in the Big Ten — already clinching at least a share of the conference regular-season crown with their victory against the Spartans on Friday — it's finding new ways to change the lineup.

Take DeBerdine, the versatile freshman who has been omnipresent in the lineup since she arrived in College Park. After spending the first 15 games of the season playing in the forward line, Meharg dropped her into the midfield after the Terps' loss to Michigan on Oct. 18.

DeBerdine has impressed in her new stead, helping link the play between the backline and the front three. Unsurprisingly, Meharg's squad has combined to score 11 goals since DeBerdine joined the midfield trio — three coming from the Millersville, Pennsylvania, native.

"This is the first time I've played in the midfield this season," DeBerdine said Oct. 20, "[but] it feels good."

With flexibility throughout the squad to bolster it, Maryland is poised to be a difficult matchup in the postseason.

And with the Terps set to take on American on Tuesday, fans should expect a slew of positional alterations, with Meharg looking to keep opponents guessing as her squad prepares for the heightened intensity of play in November.

"I'm constantly surprised at how flexible people are to play in different units on the field," Meharg said. "We have forwards move into the midfield, midfielders move into the forward line, and backs move into the midfield … that's an exciting piece to have in this part of the season."

The Diamondback


---

Field Hockey Defeats Brown, Falls to Syracuse in Mixed Weekend

By Faith Fisher



The Red split its weekend games as the season nears its end. Boris Tsang / Sun Photography Editor

Coming off a midweek win over Lehigh, Cornell field hockey entered this past weekend with an important pair of games on the docket.

The Red faced Ivy League foe Brown before venturing up to Syracuse to clash with the No.15 Orange.

While Cornell lost, 3-1, to Syracuse on Sunday, it still earned a landslide 4-0 victory against Brown on Saturday, which served as the team's senior day.

Integral members of the Red (9-6, 3-2 Ivy League) for four seasons, seniors Maddie Henry, Taylor Reed, Kirsten Pienaar, Kristen Ferguson, Maddy Conklin played their last regular-season game on Dodson field. With a desire to honor their contributions and unwavering dedication to the team, Cornell entered the field with a burning determination to clinch a celebratory win.

Channeling these emotions, the Red held the advantage in the offensive zone during the first quarter. The Red got its signature quick start with a goal in the ninth minute, scored by sophomore forward Claire Jones on a penalty corner.

Entering the second frame, the Bears (5-10, 1-4 Ivy League) realized that they needed to play catch-up, which prompted a newly-discovered energy. Battling back and forth, the offensively futile quarter was played mostly in the midfield. A one-goal lead did not satisfy the Red, which capitalized on the only shot taken during the entire quarter.

Jones took full advantage of a loose ball in the midfield. Strategically tracking the ball, she sprinted to the 25-yard line, where she sent the ball to the stick of junior forward Grace Royer. With a quick dodge around the goalie, Royer planted the ball in the back of the net, doubling the Red's lead to end the second quarter.

In the fifth minute of the second half, Jones found the back of the goal once again. After the ball rebounded from a penalty corner shot, junior midfielder Taylor Gladd gained possession. Gladd then redirected the ball to Jones, who tallied her second score of the day.

The Red's momentum could not be hampered. Sophomore defender Avery Smith notched her first goal of the season just two minutes into the last stanza. Smith redirected Jones' wide penalty shot past Bears' goaltender Jodie Brine.

"Going in, we wanted the result to take care of itself and it did," said head coach Andy Smith. "I thought we were by far the superior team. We did what we needed to do and it was a good result for us."

The emotionally-charged win on Saturday, however, did not provide the Red enough fuel to tackle Syracuse (11-5, 2-3 Atlantic Coast). After edging out the Orange in its season opener, the Red could not replicate that result as it suffered a two-goal loss.

"Going into the first game, everyone put everything out there on the field," Smith said. "In the game [Sunday], I questioned that from quite a lot of people. We weren't there mentally today. We paid for that."

Two first-quarter goals by the Orange proved to be lethal for the Red, which trailed for the duration of the game. Cornell failed to respond to either of the Orange's points.

The Red regrouped to enter the second quarter. Attempting to kickstart a comeback, the Red scored a goal in the first minute of the stanza. Jones and freshman forward Bridget Mahoney worked in tandem to capitalize on a penalty corner and bridge the scoring gap. Mahoney tipped Jones' powerful shot past Orange goalie Sarah Sinck.

Going into the second half, the Red still faced a one-goal deficit. Syracuse, on the other hand, was not satisfied with such a feeble scoring advantage. In the third quarter, it notched its third and final goal of the game, which was left unanswered by the Red, despite its efforts for the remaining 20 minutes of play.

"We had to chase the game from behind just to get it back on level terms — we did get one back, but we couldn't get the second," Smith said. "In all fairness, they wanted it more than we did. They put more effort into the game than we did. They played a lot smarter than we did as an entire group."

After mixed results this weekend, the Red will focus its efforts on its next competitor — Princeton. The Ivy League showdown will take place next Saturday in Princeton at 12 p.m.

The Cornell Daily Sun