All the news for Monday 28 October 2019
FIH Hockey Olympic Qualifiers 2019 (Men)

25 Oct 2019    ESP v FRA 3 - 3

26 Oct 2019      CAN v IRL 3 - 5 
26 Oct 2019      NED v PAK 4 - 4
26 Oct 2019      ESP v FRA 3 - 2 Spain qualify for Tokyo 2020

27 Oct 2019 14:00 (GMT -8)      CAN v IRL 3 - 1 (S/O 5/7 - 4/7) Canada qualify for Tokyo 2020
27 Oct 2019 16:00 (GMT +1)      NED v PAK 6-1 Netherlands qualify for Tokyo 2020

Replays on https://fih.live

FIH Match Centre
---

The Netherlands & Canada men qualify for Olympic Games Tokyo 2020



Canada men. Copyright: Yan Huckendubler / Field Hockey Canada

The men's international teams of the Netherlands and Canada have both secured their tickets to the Olympic Games Tokyo 2020, overcoming the respective challenges of Pakistan and Ireland in the two-game FIH Hockey Olympic qualifiers.

The Netherlands proved too strong for Pakistan in the second leg of their Olympic qualifier, with the Dutch powering to a 6-1 triumph over the Green Shirts to confirm their place at the Olympic Games Tokyo 2020. Saturday's first leg finished with the scores locked at 4-4, but the 1996 and 2000 Olympic gold medallists produced a sparking display in the second game to guarantee a 19th Olympic appearance at the expense of Pakistan, the 1960, 1968 and 1984 Olympic champions.

Canada's place at next year's global showpiece in Japan was secured in dramatic circumstance in Vancouver. Ireland came into the contest with a 5-3 aggregate lead from the first match, but a last second penalty stroke from Scott Tupper gave the Canadians a 3-1 win in the second leg to force a shoot-out in which the Canadians emerged as winners.

More information about today's matches, as well as a summary of the upcoming fixtures in the FIH Hockey Olympic qualifiers, can be found below.

FIH Hockey Olympic qualifiers: Day 3 – Sunday 27 October 2019

Amsterdam (NED) – Men: Netherlands 6, Pakistan 1 (Match 2 of 2) 

The day's action began in front of a capacity crowd at Amsterdam's world-famous Wagener Stadium, where the men of the Netherlands (FIH World Ranking: 3) and Pakstan (WR:17) faced each other in a winner takes all encounter. Pakistan sensationally defied both the odds and the FIH World Rankings by coming within seconds of beating their illustrious opponents in front of their home fans, but Mink van der Weerden's last-gasp penalty corner tied the match at 4-4. However, there was to be no repeat performance, with the Netherlands producing a sensational display of attacking hockey to over-run the Green Shirts and seal their place at Tokyo 2020 at the expense of their opponents.

The Netherlands sparkled in the first half, opening up a thoroughly deserved 4-0 lead at the break. Bjorn Kellerman and Mirco Pruijser both netted stunning backhand strikes, while Mink van der Weerden bagged a brace with a penalty stroke and a penalty corner. Goals from Terrance Pieters and Jip Janssen after the break put the result beyond all doubt, before Pakistan's Rizwan Ali scored a late consolation goal. 

More information about the match can be found on the live reporting link by clicking here.

Vancouver (CAN) – Men: Canada 3, Ireland 1 [5-4 After Shoot-Out] (Match 2 of 2) 

A 5-3 victory in the first game meant that Ireland started today's second match with a two goal aggregate advantage, a lead that was quickly extended when John McKee put the Green Machine 1-0 up in the sixth minute. Canada's Olympic dream appeared to be fading, but goals either side of half time from Gordon Johnston and Oliver Scolfield put the hosts within one goal of levelling the aggregate score. Ireland kept the home team at bay until the final second of the fourth quarter when a penalty stroke was awarded, with Canadian captain Scott Tupper showing the calmest of heads to fire into the bottom right corner to tie the aggregate score at 6-6, triggering a shoot-out for the Olympic ticket.

Misses from Canadian pair Sukhi Panesar and Keegan Pereira helped Ireland to establish a 3-1 lead before Michael Robson and Shane O'Donoghue failed to convert, leaving the shoot-out score locked at 3-3 going into sudden death. A mistake from Ireland's John McKee gave Adam Froese the opportunity to seal victory and he made no mistake, finding the target to send Canada to the Olympic Games Tokyo 2020.

More information about the match can be found on the live reporting link by clicking
 here.

How Olympic qualification works: The winners will be determined as follows: teams will be ranked according to the number of points each has accumulated in both matches (for each match, 3 points are awarded to the winner, 1 point to each team in the event of a draw and 0 point to the loser). If there is equality among the two teams, then the teams will be ranked according to their respective goal difference. If the equality remains, a shoot-out competition will be played to establish the winner.

FIH Hockey Olympic qualifiers – Day 1 Results

Friday 25 October 2019
Perth (AUS) - Women: Australia 4, Russia 2 (Match 1 of 2)
Changzhou (CHN) - Women: China 0, Belgium 2 (Match 1 of 2)
Valencia (ESP) - Men: Spain 3, France 3 (Match 1 of 2)
Valencia (ESP) - Women: Spain 2, Korea 1 (Match 1 of 2)

Saturday 26 October 2019 - Day 2 Results
Changzhou (CHN) - Women: China 2, Belgium 0 (Match 2 of 2)
Perth (AUS) - Women: Australia 5, Russia 0 (Match 2 of 2)
Amsterdam (NED) – Men: Netherlands 4, Pakistan 4 (Match 1 of 2)
Valencia (ESP) - Men: Spain 3, France 2 (Match 2 of 2)
Valencia (ESP) - Women: Spain 2, Korea 0 (Match 2 of 2)
Vancouver (CAN) – Men: Canada 3, Ireland 5 (Match 1 of 2)

Sunday 27 October 2019 - Day 3 Results
Amsterdam (NED) – Men: Netherlands 6, Pakistan 1 (Match 2 of 2)
Vancouver (CAN) – Men: Canada 3 Ireland 1 [5-4 After Shoot-Out] (Match 2 of 2)

Upcoming fixtures

Friday 1 November 2019 - Day 4
Bhubaneswar (IND) – Women: India v USA (Match 1 of 2)
Bhubaneswar (IND) – Men: India v Russia (Match 1 of 2)

Saturday 2 November 2019 - Day 5
Stratford (NZL) – Men: New Zealand v Korea (Match 1 of 2)
Bhubaneswar (IND) – Women: India v USA (Match 2 of 2)
London (ENG) - Women: Great Britain v Chile (Match 1 of 2)
Bhubaneswar (IND) – Men: India v Russia (Match 2 of 2)
Mönchengladbach (GER) – Women: Germany v Italy (Match 1 of 2)
London (ENG) - Men: Great Britain v Malaysia (Match 1 of 2)
Mönchengladbach (GER) – Men: Germany v Austria (Match 1 of 2)
Dublin (IRL) – Women: Ireland v Canada (Match 1 of 2)

Sunday 3 November 2019 - Day 6
Stratford (NZL) – Men: New Zealand v Korea (Match 2 of 2)
London (ENG) - Women: Great Britain v Chile (Match 2 of 2)
Mönchengladbach (GER) – Women: Germany v Italy (Match 2 of 2)
London (ENG) - Men: Great Britain v Malaysia (Match 2 of 2)
Mönchengladbach (GER) – Men: Germany v Austria (Match 2 of 2)
Dublin (IRL) – Women: Ireland v Canada (Match 2 of 2)

#Tokyo2020
#RoadToTokyo
#GiftOfHockey

FIH site


---

Netherlands crush Pakistan's Olympic dreams with 6-1 demolition




AMSTERDAM: Pakistan came into the game hopeful and optimistic. The Netherlands left them bruised and battered.

A day after stunning the hosts with a 4-4 draw in the first leg of their Olympic qualifier, Pakistan came crashing down to earth on Sunday as the Netherlands thrashed them 6-1 to seal a 10-5 aggregate victory and punch their tickets to Tokyo for next year's Games.

The Dutch were devastating on Sunday, racing into a 4-0 lead at halftime with Mink van der Weerden scoring twice and Bjorn Kellerman and Mirco Pruijser both firing home glorious backhand efforts.

Terrance Pieters and Jip Janssen then scored in the space of four minutes in the third quarter to effectively end the contest altogether before Rizwan Ali's drag-flick conversion gave Pakistan a consolation goal seven minutes from time.

"It is a bad day, we have missed out on the Olympics," said Pakistan's Rashid Mehmood, as the three-time Olympic champions missed out on reaching the Games for a second successive time.

"We couldn't make it [happen] in the second game. The Dutch team defended very well in the game today and we didn't start very well, we made a lot of mistakes. In the first half they took advantage of that. We couldn't match their pace in the first half."

Kellerman has scored with a sensational backhand strike on Saturday and he was at it again on Sunday. Robbert Kemperman cut in from the right before finding Kellerman on the left, who smashed a stunning backhand strike into the bottom right corner from an ever-narrowing angle to give the Netherlands a ninth-minute lead.

Van der Weerden, who scored twice on Saturday including the last-gasp leveller for the Dutch, doubled their advantage in the 17th, firing in a penalty stroke after after a rapid attack was cynically cut short by the Pakistani defence.

It was 3-0 five minutes later with Pruijser breaking into the circle and finishing clinically before Van der Weerden's powerful drag-flick all but extinguished Pakistan's hopes in the 28th.

"I think the tempo we played today was a lot better, and I think that made the difference," said Van der Weerden. "Our tempo on the ball was a lot better, there was a lot more energy and that is a big difference. It means a lot [to qualify for the Olympics]. It is the event that we all play for. Winning really means a lot."

Pakistan started brightly in the second half but failed to test the Dutch defence. Pieters struck a field goal in the 39th and it was soon followed by Janssen's penalty corner conversion. Rizwan got Pakistan on the scoresheet but it was too little, too late.

OPPOSITE PERFORMANCE

Pakistan's performance was totally opposite to the one 24 hours earlier.

Netherlands had started the tie as strong favourites but Pakistan took the lead on Saturday in the fifth minute through a drag-flick from Mubashar Ali.

Van der Weerden pulled the Dutch level when he slotted home a penalty stroke in the 20th minute and Kellerman scored in the very next minute to give the hosts the lead.

Ali Ghazanfar's penalty corner conversion in the 25th minute saw the teams go into half-time tied 2-2.

Pakistan stepped on the gas in the second half and in the 38th minute, Rizwan scored from a penalty corner to give Pakistan the lead but Kepperman's field goal in the 52nd levelled the game again.

Mubashar Ali though he'd scored the winner for Pakistan in the 58th but Van der Weerden's drag-flick snatched a draw for the Dutch.

The result, though, was a big boost for Pakistan who had come into the game following 6-1 and 6-2 thrashings at the hands of Germany in their warm-up matches for the Olympic qualifier.

Unfortunately for them, though, they couldn't take that form into the second game.

Pakistan won Olympic golds in 1960, 1968 and 1984 but they have fallen on hard times recently and haven't medalled since claiming bronze at the 1992 Games in Barcelona. They now have to build again towards the 2024 Paris Olympics.

Dawn


---

Netherlands deprive Pakistan of Olympic ticket

The hosts trounce Pakistan hockey team 6-1 in the second-leg of FIH Hockey Olympic Qualifiers

Azhar Khan




LAHORE - Hosts Netherlands on Sunday trounced former champions Pakistan 6-1 in the second-leg of the FIH Hockey Olympic Qualifiers 2019 (Men) and sealed their place at the Tokyo Olympics 2020 in Japan.

The Netherlands not only bounced back from Saturday's surprise 4-4 draw but also changed their game plan and played aggressive hockey to outclass Pakistan 6-1 to book berth in the Tokyo Olympics 2020 with 10-5 triumph on aggregate. With this victory, they also deprived three-times Olympic gold medallists of Olympic ticket.

From Netherlands, dragflicker Mink van der Weerden and captain Bjorn Kellerman emerged as top scorers with a brace each while Terrance Pieters and Jip Janssen contributed with one goal apiece. From Pakistan, Rizwan Ali struck a consolation goal in the 53rd minute.

Talking to media after the match, Pakistan's Rashid Mehmood said: Rashid Mehmood (PAK): "It is a bad day, we have missed out on the Olympics.

We couldn't make it [happen] in the second game. The Dutch team defended very well in the game today and we didn't start very well, we made a lot of mistakes. In the first half they took advantage of that. We couldn't match their pace in the first half."

The world No 3 side, Netherlands, started the match well and took 1-0 lead in the 9th minute through an impressive goal by Bjorn Kellerman. Mink van der Weerden then doubled the lead in the 17th minute which was further stretched to 3-0 in the 22nd minute, when hosts captain Billy Baker netted an impressive goal. Mink van der Weerden then converted from the spot to make it 4-0 in the 29th minute.

Terrance Pieters unleashed a fierce strike into the top right corner to further enhance the hosts lead to 5-0 in the 39th minute while in the 43rd minute, Jip Janssen converted a penalty corner to make it 6-0, as the goals aggregate read 10-4. In the final quarter, Pakistan played well and managed to score a consolation goal through Rizwan Ali in the 53rd minute, but it was too late for the visitors.

The Nation


---

Netherlands thrashes Pakistan 6-1 in second-leg to seal Olympic berth



Netherlands' Bjorn Kellerman (Centre) celebrates with his teammates after scoring the opening goal against Pakistan in the FIH Olympic Qualifiers.

The Netherlands came up with a stunning response to Saturday's 4-4 draw against Pakistan, as it handed the Green Shirts a 6-1 mauling in the second-leg to qualify for the 2020 Tokyo Olympics on Sunday.

Dragflicker Mink van der Weerden (17', 29') hit a brace, while Bjorn Kellerman (9'), Terrance Pieters (39') and Jip Janssen (43') added to the scoreline to take the aggregate to 10-5. Rizwan Ali grabbed a consolation for the opposition in the 53rd minute as Pakistan failed to qualify for the Olympics for the second time in a row.

The Dutch, who looked hurt from conceding four goals the previous day, pinned Pakistan in its defensive circle and denied the Green Shirts any sort of space. The world no 3 went 1-0 up in the 9th minute, when Bjorn Kellerman burst into the circle and finished at the far post with a powerful reverse-hit.

In the 22nd minute, Dutch captain Billy Baker stole possession on the left side and put Mirco Pruijser through to the goal who applied a neat finish to double his side's lead.

All the optimism Pakistan showed in the first-leg quickly evaporated when captain Muhammad Rizwan gave away a penalty stroke with a brash tackle on Thierry Brinkman in the 17th minute. Mink van der Weerden converted from the spot and then made it 4-0 in the 29th minute when he found the bottom-right corner from a penalty corner.

Pakistan's misery was compounded when rookie forward Terrance Pieters unleashed a fierce strike into the top right corner to make it 5-0 in the 39th minute. Netherlands took its foot off the gas in the third quarter as Pakistan managed a spell of possession of its own. In the 43rd minute, Jip Janssen scored from a penalty corner as the goals aggregate read 10-4.

Pakistan found some rhythm in the final quarter and won three penalty corners. In the 53rd minute, Rizwan Ali found the bottom right corner with his dragflick, but it was too late for the three-time Olympic champion.

Sportstar


---

Canada book ticket to 2020 Olympics in replay sudden death shoot out

Dramatic finish for Canada book ticket to second-straight Olympic Games

By Ali Baggott



Photo credit: Yan Huckendubler

WEST VANCOUVER – There was no time on the clock and Canadians had already begun to hang their heads. In a dramatic twist of luck, a video referral favoured the home side and a penalty stroke call gave Canada back their Olympic hopes. Captain Scott Tupper's goal from the spot drew the series 6-6 in aggregate score and forced a shootout. Adam Froese's composure as the second sudden death shooter gave Canada the victory and qualified Canada for Tokyo.

"It was an awesome effort by the boys today and it came right down, I mean, right down to the wire but it feels just awesome," said Froese. "Congrats to both our keepers because they both played such a big part today which is huge. Wow, we've done it again."

Today's 5-4 shootout victory was a replay of their Olympic qualification in 2015 during the World League Round 3 quarter-finals against New Zealand. A late tie, down 3-1 in a shootout, sudden death shootouts, David Carter making big saves in Canada's goal and Froese sealing the game winner – were all identical moments in their 2016 Olympic journey.

"This group of guys are amazing and the biggest priority for us moving in to this quad was to double qualify because of the legacy of those alumni that were around the pitch today and the young kids out there that can also see our sport on the Olympic scene," said Canadian head coach Paul Bundy. "(The team) give me so many grey hairs but I had no doubt that we would play much better today and we did. We executed the game plan and we got into a shootout and we know David is great in shootouts. That dream and that vision we had four years ago just continues."

This will be just the second time in history that Canada qualifies for back-to-back Olympic appearances following 1980 and 1984. This will be a potential third Olympic appearance for veterans Scott Tupper and Mark Pearson, who was injured in the final of the Pan American Games and unable to compete in this weekend's qualifier.

It took just three minutes for Canada to get a penalty corner. Incredible stick work from James Kirkpatrick forced the set piece but the Tupper flick was turned away by a sharp David Fitzgerald in goal for Ireland. Back the other way, Ireland's Tim Cross charged down the right side of the field and calmly dished the ball to an open Sean Murray. Murray's one-time sweep seemed booked for goal but Antoni Kindler found a way to get across and make the save.

Despite a good start for Canada, it was Ireland who extended their aggregate lead as a ball to down the left side of the field allowed McKee all kinds of space. McKee entered the circle intending to pass far post but his sweep shot beat Kindler's left toe and put Ireland up 1-0 and extended their overall goal advantage to three.

Canada didn't same shaken as quality attack out of the backfield from Johnston to Sukhi Panesar allowed an open ball to Oliver Scholfield. Scholfield's cut towards the circle forced a foul off John Jackson and gave Canada another corner. Tupper's flick was again turned away.

A favourable video review gave Canada two penalty corner chances before the half but they couldn't beat Fitzgerald, leaving Ireland up 1-0 after the opening 15 minutes.

In the second quarter, Canada yet again had another video review to put them back to top of the Ireland circle. This time Johnston flicked low stick side and sent the sold out crowd in to jubilation with the game tied 1-1.

Canada had several attacking opportunities including two more penalty corners but the Irish defence was stingy and the teams remained level at half time.

Scholfield's effortless touch in a crowded circle lifted Canada 2-1 after hard work from Johnston who broke down the left side of the Irish defensive end.

With three minutes to go, Canada pulled Kindler from the net to play with 11 field players on full attack. It wasn't until the final second of the game when the entire crowd fell silent. Ireland had already started celebrating but a collision on the Irish baseline with Canadian forward Jamie Wallace encouraged Canada to push for one last strike of luck.

The game went to a video referral and thankfully Canada was two-for-two on their referrals throughout the game. All Canadian eyes were hoping for at least a penalty corner chance when video umpire Diego Barbas was heard over the stadium awarding a penalty stroke.

Captain Tupper didn't hesitate, burying the ball low and hard past Ireland's Fitzgerald and stunning the Irish bench.

Now, heading to shootouts Canada found themselves in familiar territory. Johnston, Wallace and Froese scored in the shootouts, while David Carter stepped in on off the bench to make critical saves on Ireland's Michael Robson and Shane O'Donoghue.

"I was pretty confident in the guys and their abilities," said Tupper about the moments before the shootout. "We all know that Dave (Carter) is world class in his shootout goalkeeping. I think we are 7-0 in shootouts internationally so we are confident. We knew if we could get there we had a really good shot and the guys did their job and it was amazing to watch."

John McKee was unable to get off Ireland's last shot as the ball got stuck and hit his foot, setting the stage for Froese to do what he did just four years ago. Calm, collected and using nearly all of the eight seconds given, Froese solidified all the work Canada had put in to qualify for the 2020 Tokyo Olympic Games.

"I just love both my goalkeepers," added Bundy about Kindler and Carter. "It is the hardest, hardest thing to choose between two amazing people and two amazing goalkeepers and today we got that right. They were both incredible."

Man of the match: Gordie Johnston

Game 1 score: Canada 3, Ireland 5 (Gordie Johnston 1, Keegan Pereira 2)
Game 2 score: Canada 3, Ireland 1 (Oliver Scholfield 1, Gordie Johnston 1)
Aggregate score: Canada 6, Ireland 6 (Shootout 5-4) (Gordie Johnston 2, Adam Froese 2, Jamie Wallace 1)

Umpires: Gareth Greenfield (NZL), Ben Goentgen (GER)
Video umpire: Diego Barbas (ARG)

Field Hockey Canada media release


---

Ireland's Olympic dream dashed in nightmare finish

Shootout exit follows hugely controversial penalty given to Canada at end of match



Ireland players react after the loss to Canada in a penalty shootout in the Olympic qualifier at Rutledge Field in West Vancouver. Photograph: Darryl Dyck/Sportsfile

The Irish men's hockey team gave up a two-goal overnight lead to miss out on qualification for the Olympic Games next summer in Tokyo. Ireland were beaten 3-1 by Canada in Rutledge Field, West Vancouver before losing in a sudden-death penalty shootout.

Ireland, who first qualified for the Olympics three years ago in Rio, went into the second match of the double header with that two-goal advantage having beaten the home side 5-3 on Saturday. Defeat in the second match ensured the aggregate score over the two legs left the sides level on 6-6 overall.

The Irish women's team will face Canada on Saturday and Sunday of this week in a similar two-leg series at the Leinster Rugby grounds, Energia Park, in Dublin's Donnybrook.

Ireland got off to the perfect start and took the lead after just six minutes. Playing a back court game and working off counter attacks, it was Johnny McKee who made the early breakthrough. Sweeping down the left, McKee penetrated the circle and his slap to the goalkeeper's left foot found the net.

Canada were pressing and earned four short corners in the first quarter, twice goalkeeper Davy Fitzgerald pulling off fine saves to keep Ireland three goals ahead on the aggregate score. The quarter closed with Ireland one up on the day and braced for an all-or-nothing Canadian offensive.

Weathered

Michael Robinson went to the bin early after resumption but Ireland weathered it without conceding. Canada by then were doing most of the attacking and held possession, with Ireland looking at times like they were prepared to try and hold their lead rather than go out and win the match.

A crash ball from Canada earned them their fifth penalty corner after 21 minutes. This time Gordon Johnston found his target low and hard to Fitzgerald's right for the home side to draw level 1-1.

While Ireland remained Ireland two goals ahead on the aggregate scores the penalty corner count mounted, the Canadians reaching seven to Ireland's two by half-time. But it was Canada who scored next a long ball from Johnston picking out Oliver Scholfield unmarked just in front of the goal. His deflection gave Canada a 2-1 lead.

Ireland picked up their game significantly and penetrated the Canadian circle more often but an idiotic piece of bad discipline from Matthew Nelson, who hit away the ball on a Canadian free, drew a yellow card.

That spelled a fraught final 15 minutes for Ireland. More cards came out from the German referee with Ireland's Shane O'Donoghue and Canada's James Wallace both going to the bin leaving Ireland with nine players and Canada with 10.

Needing a score Canada took off their goalkeeper in the dying minutes and when Ireland believed they had earned their place next year, a referral for a penalty corner handed them a hugely controversial penalty decision. Scott Tupper converted with the last play of the match for a 3-1 scoreline and 6-6 on aggregate before the shootout went the home side's way.

Canada 3 Ireland 1 (6-6 on agg; Canada won 5-4 on penalties)

The Irish Times


---

Ireland miss out on Olympics after penalty controversy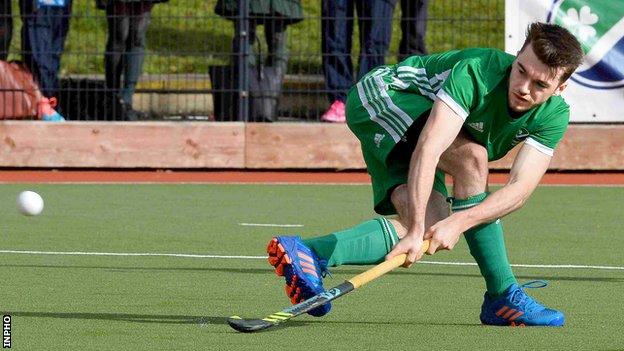 Johnny McKee scored Ireland's only goal in the second leg but missed in the shootout

Ireland have missed out on a spot at the Tokyo 2020 Olympics after late penalty controversy against Canada.

Mark Tumilty's side thought they had qualified as the final whistle blew despite being 2-1 down, but a last-gasp referral led to a Canadian penalty.

Lee Cole was adjudged to have fouled James Wallace and the stroke was duly converted by home captain Scott Tupper.

That meant the tie finished 6-6 on aggregate, with the Canadians winning the shootout in sudden death.

After a 5-3 win in Vancouver on Saturday, Johnny McKee opened the scoring on six minutes for Ireland to give them a three-goal cushion on aggregate but Gordon Johnston responded in the second quarter.

Oliver Scholfield's goal in the third quarter set up a nervy finish before Cole was adjudged to have clipped Wallace a fraction of a second before the final whistle blew.

Video official Diego Barbas awarded Canada a penalty stroke, instead of a penalty corner, after deemnig Cole's foul intentional and Tupper's goal gave the hosts a 3-1 win on the day.

Ireland then went 3-1 up in the shootout but misses from Mark Robson and Shane O'Donoghue meant it went to sudden death.

McKee missed the decisive effort in sudden death for a distraught Ireland side.

Canada outplay Ireland in second leg

Antoni Kindler made a fantastic save to keep out Sean Murray's sweeping effort as Ireland pressed inside the opening five minutes.

However the Canadian stopper was helpless to keep out Johnny McKee's brilliant run and shot across goal which rocketed into the far corner one minute later.

David Fitzgerald saved well from Johnston's short corner, an area the hosts exploited in the first leg, to maintain Ireland's lead after 15 minutes.

Ireland survived O'Donogue's green card but Johnston converted the Canadian's fifth penalty corner with eighth minutes to go in the second quarter to reduce the aggregate deficit to two goals.

Canada's threat from penalty corners remained and John Jackson managed to get a stick on Keegan Pereira's goalbound effort to push the ball out for a long corner.

Kindler saved well from Eugene Magee two minutes before half-time as the Ireland remained in control with 30 minutes to go.

Floris von Son spurned a huge opportunity for the hosts shortly after the restart as he missed an open goal at the back post but Ireland's lead was soon reduced to one as Scholfield flicked home Johnston's cross.

McKee's scuffed effort was saved by Kindler as Ireland looked to respond but tempers started to fray at the end of the third quarter, which resulted in Matthew Nelson picking up a yellow card in the dying seconds.

Canada referral cuts Irish celebrations short

The frantic nature continued in the final 15 minutes with James Wallace and O'Donoghue sent for five minutes in the sin-bin for separate late tackles.

With Canada, who are ranked three places higher than Ireland in 10th, pushing for an equaliser, Magee almost found the clincher for the visitors but he was denied by another brilliant Kindler stop after being played clean through.

Kindler was hooked in the final three minutes as Canada desperately searched for the crucial goal, and the last-gasp review from the hosts allowed Tupper to send the game to penalties.

Ireland had celebrated as the final whistle blew but their joy was cut short as Tupper converted the penalty with Tumilty's side left fuming at the video official's call.

Magee, McKee and Peter Caruth all scored for Ireland and they looked in a prime position to reach the 2020 Games.

However Robson and O'Donoghue's misses, plus a nervy conversion from Adam Froese, meant the shootout went to sudden death.

Magee and Johnston both scored before McKee's effort struck his own foot, which allowed Froese to hit the winning penalty and send Canda to the Olympics.

BBC Sport


---

Heartbreak and outrage in equal measure as Ireland men's hockey team miss out on Olympics

Ireland captain Jonathan Bell said the video umpire should 'hang his head in shame' after a decision which gifted Canada a last-second equaliser.



Ireland were devastated by a last-second call to award Canada a penalty stroke.

THERE WAS HEARBTREAK and outrage in equal measure for Ireland as they missed out on 2020 Olympic qualification in hugely controversial circumstances in Vancouver, hosts Canada edging them on a shootout after the two-legged play-off tie finished 6-6 on aggregate.

Ireland trailed on the night 2-1 but led 6-5 on aggregate until literally the final second, when a video referral by Canada — made while Ireland celebrated having heard the final whistle — resulted in the Canadians being awarded a penalty stroke upon review of a coming-together between Ireland's Lee Cole and a Canadian attacker in the Irish circle.

Canada subsequently leveled proceedings and forced a shootout, in which Ireland led by two goals at the halfway mark but subsequently lost in sudden death.

Ireland captain Jonathan Bell credited the Canadians post-match but claimed the video umpire "should hang his head in shame" for his decision to award the victors a penalty stroke in the last second of normal time. "A decision like that at this level is just not acceptable," Bell added, his Olympic dream and that of his team-mates, many of them in tears, left in tatters.

Irish head coach Mark Tumilty described it as a "very tough call", and noted that he "wouldn't see too many of those in any level of hockey".



Canada celebrate their shootout success.

Ireland took a commanding 5-3 lead into the second leg but Sunday's fixture was a far more tense and cagey affair, with Canada much improved at the second time of asking.

Still, Johnny McKee gave the men in green a perfect start, increasing the aggregate lead to 6-3 with a tidy finish from an cute angle early doors.

From there, however, it was David Fitzgerald's goal which came under the most scrutiny as Canada attempted to battle their way back into the tie.

Fitzgerald produced heroics aplenty but could only do so much: Gordie Johnston and Oliver Schofield struck for the North Americans on either side of half-time to reduce Ireland's aggregate lead to a single goal with the bones of two quarters remaining.

The visitors managed to take the sting out of the Canadians' efforts soon after conceding a second, mounting a number of attacks in Canadian territory which ultimately proved fruitless.

Ireland were reduced to 10 men for the opening five minutes of the final quarter, however, when Matt Nelson was given a yellow card at the tail end of the third.

On 47 minutes, Shane O'Donoghue and Canada's Jamie Wallace collided and temporarily reduced the overall complement to 10 vs 9 in Canada's favour, but not a great deal of action occurred even with the considerable extra space on the field while the three yellow cards overlapped.

With the game on a knife-edge, Ireland did a fine job of gaining a foothold in the Canadian half, even fashioning a couple of half chances on the counter.

Canada withdrew their goalkeeper and brought on another outfield player with just over two minutes left, but the most they could muster was a half-chance from a long corner which they spurned.

That was until literally the final second, when a Canadian player tumbled after a clash with Lee Cole near Fitzgerald's goal. The final whistle blew and Ireland began their celebrations, but in a twist, Canada asked for the incident to be reviewed upstairs, claiming to the referee that their player had been body-tackled by Cole in the 'D' before the clock expired.

Cole's challenge looked innocuous enough on the replay but seemingly inexplicably, the Canadians were to the delirium of their home support — and to the conspicuous outrage of their visitors — awarded a penalty stroke with less than a second remaining on the clock.

It was a guilt-edged opportunity to snatch penalties from the jaws of defeat. Scott Tupper squeezed it beneath Fitzgerald to force a shootout. Cue bedlam in the stands.

When the dust settled, Gordie Johnston was first up from the 25′ for the hosts and he beat Fitzgerald at the second time of asking with just two seconds left on his shot-clock.

Eugene Magee leveled for Ireland before some solid goalkeeping by Fitzgerald forced two consecutive Canadian misses on either side of a superb, sweeped finish by Johnny McKee.

It was advantage Ireland and Peter Caruth appeared to copper-fasten it when, after two bites at the cherry, he rolled his penalty home, leaving his side 3-1 up and on the precipice of Olympic qualification.

However, misses by both Michael Robson and Shane O'Donoghue — intertwined with two more goals by Canada — sent the shootout to sudden death.

It was back to Banbridge man Eugene Magee, who had scored Ireland's first penalty and produced an even more fabulous finish on the swing-around to pile the pressure on Canada and Gordie Johnston. The Canadian talisman, though, squeaked one past Fitzgerald into the bottom right-hand corner.

John McKee was next up for Ireland but in incredibly unfortunate circumstances, he fouled the ball on his run up, clearing the runway for Canada's flight to Tokyo.

Adam Froese did the business and despite a video referral by Ireland as the hosts celebrated wildly, with Fitzgerald alleging Froese had used the back of his stick, it will be Canada, and not Ireland, who partake in the Olympic Games next year.

"We celebrated as if we'd won it," said head coach Tumilty post-game.

"Fair play to Canada for their performance today. They hung in there the whole time. Very hard [not] to let their heads drop when we scored early on. But that's the way it goes. It's not an easy one to take. It's probably a real low one. Not easy.

"We probably didn't play as well as we did yesterday. Canada reacted well to our performance yesterday, however I thought we still created enough chances. The guys dug in very deep there right until the last seconds of the game.

"I'm so very proud of what the guys have delivered over this last six weeks. It was a difficult period for them. There were a lot of unknown in relation to the coaching setup and that. But they've been a fantastic group of players to deal with.

The 42


---

2019 Test matches CHI v CAN

26 Oct 2019 17:30     CHI v CAN     2 - 3
27 Oct 2019 17:30     CHI v CAN     0 - 3

FIH Match Centre


---

Sultana Bran Hockey One League Men's Round 6 Review




NSW Pride Men's team continued on its merry way and the Tassie Tigers won an 11-goal thriller in another dramatic weekend of the Sultana Bran Hockey One League.

The penultimate round of the season featured amazing comebacks, clinical displays and some interesting results that ended the finals aspirations of some teams and saw the top four in the men's competition decided.



(AAP Image/Gary Day)

NSW Pride shot to the top of the standings with an emphatic 8-1 demolition of the Perth Thundersticks in Perth. Blake Govers continued his exceptional season with another hat-trick to take his goal tally to 12, while fellow Kookaburra Tim Brand also got in on the act with three goals of his own.

Ky Willott and Kookaburras defender Matthew Dawson rounded off the scoring for the Pride to set up a blockbuster final round showdown against the other undefeated team, the Brisbane Blaze, in Brisbane on Saturday. Amazingly, the Pride and Blaze have scored a combined 52 goals and conceded only 10 between them heading into Saturday's highly anticipated encounter.

Despite the loss, the Perth Thundersticks are still a mathematical chance of reaching the top four, but they would need to beat the Tassie Tigers and bank on bottom placed Adelaide Fire toppling HC Melbourne in the final round to make it.



(AAP Image/Kelly Barnes)

These results would have to go against form after Adelaide Fire slumped to a fifth straight defeat in a 6-4 loss to Canberra Chill, while a last quarter Eddie Ockenden surge saw the Tassie Tigers pip HC Melbourne 6-5 in Hobart.

Adelaide Fire enjoyed a dream start against the Chill as they went 4-0 up inside 10 minutes. But a double to Jamie Hawke and a goal from James Day brought it back to 4-3 at half time, before Garry Backhus struck and then Jake Staines completed the comeback with a last quarter brace to end the Chill's season on a positive note.



(AAP Image/Leigh Winburn)

The Tassie Tigers and HC Melbourne then produced a genuine thriller at the Tasmanian Hockey Centre which would have had hockey fans licking their lips in anticipation for finals.

The visitors looked on their way to a convincing victory when they held a 4-1 half time lead thanks to Nathan Ephraums' opener and then a stunning second quarter hat-trick from in form Kookaburras forward Josh Simmonds.

That advantage stretched out to 5-1 when Simmonds scored his fourth three minutes into the third quarter to have HC Melbourne cruising, but the Tassie Tigers had other ideas.

When Sam McCambridge scored his second and then Jeremy Hayward pulled another one back less than a minute later, it was 5-3 with a quarter to play.

Enter Eddie Ockenden. The Tigers and Kookaburras captain struck a minute into the final period to cut the deficit to one before he rounded off one of the great comebacks with less than 90 seconds to go as he scored from open play and then converted the clutch subsequent one-on-one opportunity to send the home crowd into raptures.

The win secures Tassie's top four spot, while despite the gut-wrenching loss, HC Melbourne only need to beat the Adelaide Fire at home on Sunday or rely on the Tigers beating the Perth Thundersticks next weekend, to ensure they will also feature in the finals.

For ticketing details of all final round fixtures click here. Every match will also be broadcast LIVE and exclusive on Kayo.

Sultana Bran Hockey One 2019 Season – Round 6 Results

Adelaide Fire 4 (Fry 3'/4', Farmilo 6'/6')
Canberra Chill 6 (Hawke 24'/24', Day 26', Backhus 37', J.Staines 52'/52')

Saturday 26 October 2019
State Hockey Centre (SA)

Adelaide Fire Men's team: 3.Lachlan Busiko, 6.Angus Fry, 9.Fred Gray, 11.Cameron Joyce (c), 15.Andy Leat, 18.Al Oliver, 19.Glyn Tamlin, 20.Isaac Farmilo, 22.Chris Wells, 23.Cameron White, 24.Zendana Hirotaka, 25.Watenabe Kota, 26.Liam Alexander, 29.Edward Chittleborough (GK)

Canberra Chill Men's team: 2.Ben Staines, 4.James Day, 7.Kazuma Murata, 8.Daniel Conroy (c), 9.Jamie Hawke, 10.Owen Chivers, 11.Garry Backhus, 12.Jake Staines, 13.Manabu Yamashita, 17.Aaron Kershaw, 22.Jay MacDonald, 26.James Jewell, 27.Fukuda Kentaro, 30.Andrew Charter (GK)

Perth Thundersticks 1 (Harvie 50')
NSW Pride 8 (Govers 5'/5'/25', Willott 30', Brand 36'/43'/43', Dawson 45')

Saturday 26 October 2019
Perth Hockey Stadium at Curtin University (WA)

Perth Thundersticks Men's team: 4.Jake Harvie, 6.James Collins, 7.Tyler Lovell (GK), 8.Coby Green, 9.Dane Gavranich, 10.Tom Wickham, 15.Will Byas, 17.Aran Zalewski (c), 19.Daniel Robertson, 23.Matthew Fisher, 24.Alec Rasmussen, 25.Trent Mitton, 26.Brandon Gibbs, 27.Marshall Roberts

NSW Pride Men's team: 1.Lachlan Sharp, 2.Craig Tom, 3.BJ Bruton (GK), 6.Matthew Dawson (c), 8.Nathanael Stewart, 12.Kurt Lovett, 13.Blake Govers, 19.Jack Hayes, 20.Ky Willott, 22.Flynn Ogilvie, 23.Ryan Proctor, 24.Dylan Martin, 28.Sam Gray, 29.Timothy Brand

Tassie Tigers 6 (McCambridge 21'/43', Hayward 43', Ockenden 46'/59'/59')
HC Melbourne 5 (Ephraums 14', Simmonds 23'/23'/30+'/33')

Sunday 27 October 2019
Tasmanian Hockey Centre (TAS)

Tassie Tigers Men's team: 4.Hayden Beltz, 6.Joshua Brooks, 11.Eddie Ockenden (c), 12.Sam McCulloch, 13.Joshua Beltz, 14.Jack Welch, 15.Kieron Arthur, 18.Grant Woodcock (GK), 19.Tim Deavin, 20.James Bourke, 21.Ben Read, 27.Gobindraj Gill, 29.Sam McCambridge, 32.Jeremy Hayward

HC Melbourne Men's team: 1.Craig Marais, 2.Max Hendry, 3.Simon Borger, 5.Andrew Philpott, 7.Will Gilmour, 9.Nathan Ephraums, 10.Russell Ford (c), 13.Jayshaan Randhawa, 14.Jonathan Bretherton, 15.Josh Simmonds, 18.Johan Durst (GK), 21.Jake Sherren, 25.Aaron Kleinschmidt, 29.Oscar Wookey

Please see the Sultana Bran Hockey One League website for fuller match reports of the respective games

Sultana Bran Hockey One League Media release


---

Sultana Bran Hockey One League Women's Round 6 Review




HC Melbourne's Women's team sewed up top spot while the other wins for the round went to Perth Thundersticks and Adelaide Fire in another dramatic weekend of the Sultana Bran Hockey One League.

The penultimate round of the season featured amazing comebacks, clinical displays and some interesting results that ended the finals aspirations of some teams and locked in others campaigns.



(AAP Image/Kelly Barnes)

A superb team performance ensured Adelaide Fire will play finals courtesy of a clinical 4-0 win over Canberra Chill in Adelaide. All of the Fire's four goals came from different sources to outline their range of attacking threats come finals time, with Emma de Broughe, Gabi Nance, Hattie Shand and Miki Spano, who scored her sixth goal of the season, getting on the score sheet.

The Chill, who needed to win to lock in their finals berth as they have the bye in the final round, will now have to rely on the winless Tassie Tigers causing a major upset over Perth Thundersticks to hold onto fourth spot.



(AAP Image/Gary Day)

The Perth Thundersticks kept their finals hopes alive and ended any hopes of the NSW Pride featuring at the business end of the season with a 2-0 victory in Perth. The damage was done in the first quarter, Agueda Moroni and Karri Somerville both finding the back of the goal to leave them two points behind Canberra Chill and now needing to beat bottom placed Tassie Tigers to qualify.



(AAP Image/Leigh Winburn)

In Sunday's game, HC Melbourne kept their perfect record in tact with a 5-2 win over the Tassie Tigers in Hobart. The win guarantees HC Melbourne top spot and a home semi final regardless of their result against the Adelaide Fire in the final round.

Hannah Gravenall and Madi Ratcliffe both scored a brace, while Molly Haas gave Tassie's home fans something to cheer about with a consolation double in the last quarter.

For ticketing details of all final round fixtures click here. Every match will also be broadcast LIVE and exclusive on Kayo.

Sultana Bran Hockey One 2019 Season – Round 6 Results

Women's Competition

Adelaide Fire 4 (de Broughe 6', Spano 23', Nance 46', Shand 60')
Canberra Chill 0

Saturday 26 October 2019
State Hockey Centre (SA)

Adelaide Fire Women's team: 1.Linzi Appleyard, 3.Brooklyn Buchecker, 7.Emma de Broughe, 8.Holly Evans (c), 9.Rachel McCann, 13.Sarah Harrison, 15.Euleena Maclachlan, 19.Gabi Nance, 20.Hattie Shand, 21.Miki Spano, 22.Leah Welstead, 24.Leah Butt, 25.Kate Denning, 28.Amy Hammond (GK)

Canberra Chill Women's team: 1.Mikayla Evans, 7.Naomi Evans (c), 9.Sassie Economos, 10.Rebecca Lee, 11.Sophie Gaughan, 12.Aleisha Price, 14.Emily Robson, 16.Shihori Oikawa, 18.Olivia Martin, 19.Anna Flanagan, 22.Taylor Thomson, 25.Tina Taseska, 27.Meredith Bone, 31.Sakiyo Asano (GK)

Perth Thundersticks 2 (Moroni 10', Somerville 12')
NSW Pride 0

Saturday 26 October 2019
Perth Hockey Stadium at Curtin University (WA)

Perth Thundersticks Women's team: 3.Candyce Peacock, 4.Jemma Buckley (c), 6.Jacqui Day, 9.Shanea Tonkin, 11.Rachel Frusher, 14.Roos Broek, 16.Karri Somerville, 17.Annie Gibbs, 18.Renee Rockliff, 19.Aleisha Power (GK), 21.Jade Vanderzwan, 22.Jolie Sertorio, 29.Agueda Moroni, 30.Chloe Pendlebury

NSW Pride Women's team: 1.Jocelyn Bartram (GK), 2.Sarah Johnston, 10.Greta Hayes, 11.Emma Scriven, 19.Morgan Blamey, 20.Maddison Smith, 21.Alice Arnott, 22.Kate Jenner (c), 23.Abby Wilson, 25.Lexie Pickering, 27.Renae Robinson, 29.Courtney Schonell, 31.Emma Spinks, 32.Grace Young

Tassie Tigers 2 (Haas 51'/51')
HC Melbourne 5 (Gravenall 7'/7', Desmet 33', Ratcliffe 55'/60')

Sunday 27 October 2019
Tasmanian Hockey Centre (TAS)

Tassie Tigers Women's team: 1.Sarah McCambridge, 2.Amelia Spence (c), 4.Nicole Geeves, 5.Molly Haas, 7.Madeleine Hinton, 8.Holly Bonde (GK), 9.Emily Donovan, 10.Laura Spandler, 13.Phillida Bridley, 15.Sophie Rockefeller, 16.Samantha Lawrence, 19.Esmee Broekhuizen, 20.Katerina Lacina, 21.Lauren Canning

HC Melbourne Women's team: 2.Aisling Utri, 3.Nicola Hammond, 5.Kristina Bates, 6.Claire Messent (c), 7.Kary Chau, 8.Olivia Colasurdo, 10.Laura Desmet, 12.Carly James, 14.Laura Barden, 21.Florine van Grimbergen, 22.Madi Ratcliffe, 23.Samantha Snow, 25.Hannah Gravenall, 30.Nikki Bosman (GK)

Please see the Sultana Bran Hockey One League website for fuller match reports of the respective games

Sultana Bran Hockey One League Media release


---

ROUND-UP: Investec English Women's Hockey League



Hampstead's Joie Leigh strikes to score the opening goal of the contest. Credit Peter Smith

A last-minute goal saw Clifton Robinsons take a 5-4 win over Hampstead & Westminster in the Investec Women's Hockey League Premier Division on Sunday.

The victory lifted Clifton to fifth, but saw Hampstead suffer their first defeat of the season. Although they remain second, they are now five points adrift of leaders Surbiton.

Grace Balsdon gave Hampstead & Westminster the lead with penalty corner goals on 13 and 18 minutes. Phoebe Richards hit back for Clifton Robinsons six but Joanna Leigh restored the visitor's two goal cushion.

Clifton's Olivia Hopkisson and Kathryn Lane both scored to level the game at 3-3.

Amy Askew put Hampstead ahead with ten minutes to play but two goals from Claire Thomas including a last minute penalty stroke gave Clifton the win.

Surbiton made it seven out of seven with a 3-1 win at the University of Birmingham. Holly Munro, Erica Sanders and Eloise Stenner scored for the visitors, while Catherine Ledesma scored a consolation goal in the last minute for the hosts.

Surbiton stayed top of the table with a 3-1 away victory at University of Birmingham.

Holly Munro, Erica Sanders and Eloise Stenner all scored for the visitors as University of Bimingham's Catherine Ledesma netting a last minute consolation.

Holcombe boosted their play-off hopes with a 3-2 victory at rivals Buckingham. Goals from Isabella Davison, Candice Manuel and Heather McEwan proved enough to take the win, with Buckingham's goals coming from Kitty Higgins and Abbie Brant.

Goals from Lydia Macdonnell, Sophie Bray and Cathy Nicholson helped East Grinstead to a 3-0 win at Bowdon Hightown, while Maria Andrews scored the only goal of the game as Loughborough Students won 1-0 at Beeston.

Investec Division 1 North

A hat-trick from Olympic medallist Sally Walton helped Olton & West Warwicks to a 4-1 victory over Ben Rhydding in the Investec Women's Division One North, leaving them as the only unbeaten team in the table.

Sade Gerald scored Olton's other goal, while Tanisha Janzen was the Ben Rhydding scorer.

Swansea are still top having played two games more than most other teams. They were 2-0 winners at Leeds on Saturday, but lost out 1-0 to the University of Durham on Sunday.

Elsewhere, Leicester City are second after a 2-1 win over Gloucester City. Katie Long and Olive Hepi scored for the Midlands side, while Suzie Carter was Gloucester's scorer.

Brooklands-Poynton were 3-0 winners over Stourport, while Belper won 1-0 at Leeds on Sunday.

Investec Division 1 South

Wimbledon stayed top of the Investec Division 1 South thanks to a 1-0 victory over second placed Reading.

The sides came into the game level on points having won all four of their opening fixtures but Olivia Chilton's 56th minute strike from open play was the decisive factor in Wimbledon going three points clear at the top of the table.

Isca's Juliette Weller scored five minutes from full-time to record their second victory of the season and distance themselves from their opponents and bottom of the league St Albans.

Elsewhere, Cambridge City stayed third with a point at Canterbury which finished 1-1, Sevenoaks beat Harlston Magpies 1-0 and Slough moved fourth with a 2-1 win against Trojans.

Investec Conference North

The University of Nottingham remain top of the table on goal difference as they narrowly won 2-1 at home against Beeston 2nds in the Investec Conference North on Sunday.

Beeston took the lead in the 27th when Helen Jelley netted from a penalty corner.

Jordan Homann equalised for the home side shortly after the break before Lily Wolstenholme found the winner in the 62nd minute.

Timperley kept the pressure on at the top of the table as they won 2-0 at home against Wakefield with goals from Leonnie Molloy and Chloe Tyler.

Investec Conference East

Wimbledon remain three points clear at the top of the Investec Conference East table after winning 3-0 at Chelmsford on Sunday.

Sam Smith gave the away side the lead from a penalty corner in the 26th minute before Tamsyn Naylor added a second half brace to ensure all three points went back to London.

Elsewhere, Southgate ensured they remain in touching distance at the top of the table after winning 3-0 at Ipswich.

Harriette Wilcock sealed the win early in the second half after first half goals from Katie Hopkisson and Emily Ruffell-Hazell.

Investec Conference West

Josephine Nash's goal on the stroke of half time proved enough for the University of Birmingham 2nds to beat Surbiton 2nds 1-0 in the Investec Conference West, securing their first win of the season and inflicting Surbiton's first loss.

Elsewhere Emily Hobbs scored twice and Charlotte Roberts added another as Cheltenham won 3-0 against the University of Bristol.

Dayzee Moss scored twice and Flora Fletcher once as Clifton Robinsons second team won 3-2 over Exe.

* Statistics, full goalscorers and tables from the Investec Women's Hockey League are available by clicking here

England Hockey Board Media release


---

Grange retain pole position in men's Scottish Premiership but change at the top of the women's




Grange retained their pole position in the men`s Premiership with a 2-1 win over Edinburgh University, but in the women`s Premiership Dundee Wanderers fell 6-0 to the Edinburgh University and were knocked off their perch.

This was Grange`s first real test of the season and they survived the challenge with a 2-1 win over local rivals Edinburgh University. The result means that the champions retain their three point lead at the top of the Premiership while the students drop back to fourth.

All the goals came in the third quarter from penalty corners, Ben Pearson opened for Edinburgh but shortly after a couple of set piece strikes from Dan Coultas took Grange over the line.

Grove Menzieshill are still in second spot after a 3-0 win over Tayside rivals Dundee Wanderers. By half-time the `Hill were two up through Luke Cranney and Albert Rowling from a penalty corner. The result was confirmed in the second half, at a penalty corner the ball rebounded off a post, there was then a goalmouth scramble and Ben Cosgrove popped up to slide the ball into the net.

Western Wildcats clawed their way into third spot after a 1-0 win over Watsonians at Auchenhowie. The winner came in the first quarter through a penalty corner strike from Andrew McConnell, and while Western Wildcats had other chances to increase their tally, no further goals ensued.

Uddingston emerged victors of an eleven goal thriller at Bothwell Castle Policies against Kelburne to clinch fifth place in the table. Campbell Couglan scored twice while the other goals came from Johnny McDonald, Andrew Lochrin, Chris Boyle and Jon Jo Lavin in a 6-5 win.

It`s all change at the top of the women`s Premiership, leaders Dundee Wanderers went down 6-0 to champions Edinburgh University while Clydesdale Western`s 12-0 win over Grove Menzieshill propelled them to the top of the table on goal difference.

Clydesdale defeated Grove Menzieshill at Titwood with a round dozen, there were hat-tricks for Naomi Harkness and Heather Lang while Jenny Eadie got a couple in a one-sided encounter.

At Peffermill Wanderers lost their unbeaten record to the Edinburgh students who moved up to third in the table. Former Scotland striker Amy Brodie got two while Louise Campbell, Hanna McKie, Laura Swanson, and Jenny Walls got the others.

Western Wildcats clawed their way back into title contention with a 3-0 win over Watsonians at Auchenhowie. The home side were two up after ten minutes, Rona Stewart opened with a reverse stick strike after the Watsonians` defence failed to clear the danger, then Ava Smith stole the ball off a Watsonians` defender, calmly rounded the keeper and placed the ball in the net.

On a side note Western Wildcats` player/coach Kaz Cuthbert announced that the club had raised over £2K for Breast Cancer at the club`s charity day.

In the second half the third goal emerged from a breakaway, the attack was a team effort and Rachel Bain finished off the move.

Hillhead moved further up the table with a point from a 2-2 draw with GHK, for the latter Carly Bisset scored twice.

Glasgow University finally moved off the bottom rung with a 2-0 win over Merlins Gordonians in Aberdeen, both goals came from Heather Croll.

Scottish Hockey Union media release


---

UCD and Lisnagarvey pushed all the way in memorable Irish Senior Cup comebacks



Cookstown's Stu Smyth lays on a pass beyond two Railway defenders. Pic: Alan Donnelly

High-flying UCD and Lisngarvey both produced monumental three-goal turnarounds to take up their places in the last eight of the men's Irish Senior Cup on a day of high drama.

For the students, they almost succumbed to an almighty shock to Clontarf, needing a last second Guy Sarratt penalty corner goal to earn a shoot-out chance which they eventually prevailed in 7-6.

The Bulls ran riot in the first quarter with Jack Sheahan and John Mullins scoring to make it 2-0, the former a tidy bottom corner finish following a counter-attack, the latter a reverse-stick strike from top D.

A Mullins stroke built a three-goal start by half-time with the cards already beginning to flow. Both sides saw plenty of plenty of cards but Andrew Meates gave UCD a lifeline in the third quarter.

They still had a mountain to climb but Gauthier Beirnaert reeled in another with 15 minutes left on the clock. Tarf keeper David Lawless did wonders to keep it that way and UCD's chances were hampered further when Conor Empey received a red card in the last five minutes – a second yellow, the first for dissent, the latter for deliberately knocking the ball away.

In the aftermath, coach Michael Styles was also shown a red for foul and abusive language but his side plugged away to win a corner which Sarratt nailed.

In the shoot-out, Tarf led 2-0, 3-1 and 4-2 with John Mullins scoring his own effort as well as netting two strokes following goalkeeper fouls. UCD again found a riposte with a final round save and Andrew Keane sent the tie to sudden death.

Into the fourth round of that, Keane won a stroke which David Nolan converted and Clontarf were denied, putting the students through.

At Havelock Park, Garvey stormed back from 2-0 down to beat Banbridge in the Irish Senior Cup for the second successive season. Bann had raced into that lead by the 11th minute when Owen Magee opened the scoring and Josh Moffett followed up from a great ball by Jamie Wright.

They had the best of the first half against a Garvey side who were without goalkeeper James Milliken due to his late call-up to the Irish panel in Vancouver. In his absence, James Ritchie did well between the posts – the former Wallace HS man returned to the club from South Antrim this summer.

The Hillsborough side, though, went up through the gears in the second half and had one back in the 46th minute courtesy of a James Lorimer corner.

Three minutes later, Andy Williamson continued his hot streak in front of goal to level it at 2-2. And the winner came with seven minutes to go with Ben Nelson popping up with the vital touch.

Cookstown, meanwhile, had their biggest test of the season so far with the visit of Railway Union to Steelweld Park and were good value for their 3-1 win.

"We came out of the blocks quick today and put a lot of what we've been working on at training into practice," said Solo Fuels MVP Ryan Millar.

"Railway gave us a really good game, but we were disciplined, we knew what we were doing, and it paid off. It was a very good win."

Paul Watt got the first goal from open play in the second quarter before Callum Anderson extended the Reds' lead to 2-0 before half time.

Stuart Smyth completed the Cookstown scoring with a well-taken penalty corner before Railway hit back with a goal by Michael Fulham.

Alan Sothern struck four times for Pembroke in their 7-4 win over Avoca. The free-scoring Blackrock side have now netted 13 times in three games but somehow contrived to lose all of them.

Three Rock Rovers were too strong for YMCA as three goals in a nine-minute spell in the third quarter earned them a 3-0 victory. The Y had a couple of corners in the opening quarter but could not capitalise and began to be penned deep into their own half.

Harry Morris unlocked the door for the opening goal when he beat a number of players on the left baseline and while Jakim Bernsden blocked his shot, Ross Canning rolled in the rebound.

Jody Hosking's corner slap made it 2-0 soon after and James Walker's vicious shot into the top corner made it 3-0 in the 49th minute.

For YM, Will Powderly lined out in the side, making it 25 consecutive seasons that he has played in the Irish Senior Cup.

Glenanne were comfortable 6-1 winners over Cork Harlequins. It was 4-0 at half-time to leave the Farmers Cross side too much to do with their sole response coming when Julian Dale fired the ball to the back post for John Whyte to tap in. Stu Ronan netted twice with Brad Venter, Stephen Brownlow, Shannon Boucher and Gavin Gibney on the mark.

Monkstown eased to a 7-0 win over Bray with Rory Nichols and Andrew Sykes scoring two goals each. Cork C of I, meanwhile, were handed a walkover by Mossley.

Men's Irish Senior Cup – Round 2: Banbridge 2 (O Magee, J Moffett) Lisnagarvey 3 (J Lorimer, A Williamson, B Nelson); Bray 0 Monkstown 7 (R Nichols 2, A Sykes 2, S Hohn, M Gibbons, R Quirke); Clontarf 3 (J Mullins 2, J Sheahan) UCD 3 (A Meates, G Beirnaert, G Sarratt), UCD win shoot-out 7-6; Cookstown 3 (P Watt, C Anderson, S Smyth) Railway Union 1 (M Fulham); Glenanne 6 (S Ronan 2, B Venter, S Brownlow, G Gibney, S Boucher) Cork Harlequins 1 (J Whyte); Pembroke 7 (A Sothern 4, J Ryan 2, J Lyner) Avoca 4 (R Couse 2, R Nolan, C Funge); Three Rock Rovers 3 (R Canning, J Hosking, J Walker) YMCA 0; Cork C of I w/o Mossley scr

The Hook


---

USIU sting Strathmore Scorpions to move second

By AGNES MAKHANDIA



USIU-A's Florence Karanja (left) vie for the ball with Mariam Suleiman of Strathmore University during their Hockey Premier League match at City Park Stadium, Nairobi on October 27, 2019. PHOTO | SILA KIPLAGAT |  NATION MEDIA GROUP

United States International University-Africa (USIU-A) Spartans Sunday beat Strathmore University's Scorpions 2-0 to move second on the Kenya Hockey Union Premier League standings.

Two goals in either half from Rachel Wangui and Veronica Williams were enough to sink their fellow students and take their tally to 26 points, level with leaders Blazers (formerly Telkom) but with an inferior goal difference.

USIU-A coach Willis Okeyo was happy after securing second place.

"I'm extremely proud of our performance. We have collected six points this weekend and generally we have closed the gap on Blazers. We have two matches left against Kenyatta University and Blazers but at least we will be among the top two when the league comes to an end," said Okeyo.

Strathmore coach Meshack Senge conceded USIU were the better team.

"The top two finish is beyond us. The girls just didn't turn up. They looked comfortable and were not aggressive, USIU A wanted the win more and they got it. The players seem to ride on the name and previous performance but sadly history doesn't count," lamented Senge.

Daily Nation


---

Spartans silence Scorpions in varsity derby

By Elizabeth Mburugu



USIU's Rhoda Kuira clearing ball during Astro Turf tourney match against Telkom at Sikh Union Club. Telkom beat USIU A 2-1 in the final period. [Jonah Onyango, Standard]

United States International University of Africa (USIU-A) Spartans yesterday edged rivals Strathmore University Scorpions 2-0 in a Kenya Hockey Union Women's Premier League match at City Park.

Rachel Wangui and Veronica Williams were on target to see Spartans crown a successful weekend out with double victory.

On Saturday, they defeated Jomo Kenyatta University of Agriculture and Technology (JKUAT) by the same margin.

The victory saw USIU-A equal champions and current league leaders Telkom on 26 points assuring them of a top-two finish.

An elated USIU-A coach Willis Okeyo said they will be looking to end the season on high.

"The girls played well and our game plan was also effective in both matches. Our aim was for a top two finish and I'm glad we have achieved our objective. We also want to play well in our remaining games and improve our points tally," Okeyo said.

His Strathmore equal Meshack Senge was a disappointed man saying his players were not courageous enough.

"We did not take our chances but our opponents made good use of theirs well and that made the difference between winning and losing. Our hopes of a good finish have crashed because third place is the best we can achieve now."

Spartans will take on Telkom and Kenyatta University Titans next

The Standard Digital


---

Paragon, Malvern set up U-19 decider

By Nigel Simon

As was ex­pect­ed, Paragon and Malvern ad­vanced to the T&T Hock­ey Board's In­door Cham­pi­onship Boys' Un­der-19 Di­vi­sion fi­nals with com­fort­able wins at the Wood­brook Youth Fa­cil­i­ty on Sunday.

In the first semi­fi­nal, Joel Daniel scored six goals to lead round-robin ta­ble-top­pers Paragon to a lop­sided 11-2 whip­ping of Queen's Park Crick­et Club, one day af­ter beat­ing the same team 8-2 in their fi­nal round-robin match.

Daniel got his goals in the 14th, 20th, 25th, 28th, 33rd and 39th min­utes while Mal­colm Bap­tiste (13th, 30th) and Tariq Singh (12th, 40th) added two each and Chris­t­ian John the oth­er in the 35th. For the Parkites, Chris­t­ian Mack net­ted both con­so­la­tion items in the 23rd and 36th.

Malvern mean­while got a hat-trick from Aidan Mar­cano in the fourth, 24th and 32nd min­utes in their 6-3 whip­ping of Fa­ti­ma in the sec­ond semi­fi­nal to earn a spot in the ti­tle match on No­vem­ber 3.

The trio of Shawn Phillip (8th), Tariq Chance (36th) and Idi Akii Bua (37th) added one each for Malvern while Fa­ti­ma got a brace from Ghard­el El­cock in the tenth and 23rd min­utes and one from Adam Per­reira (24th).

In the Girls' Un­der-19 Di­vi­sion, Paragon won by de­fault from Raiders and will come up against ti­tle-hold­ers Shandy Carib Mag­no­lias, who ad­vanced to the No­vem­ber 3 fi­nal as round-robin win­ners

Notre Dame booked their spot in the Trin­i­ty Women's Di­vi­sion with a 4-3 up­set of Po­lice thanks to a brace from the moth­er and daugh­ter com­bi­na­tion of for­mer na­tion­al stand-out Car­ol Wynn-White­man and Nicole White­man.

Wynn-White­man put the Dames ahead in the fifth minute be­fore her daugh­ter Nicole ex­tend­ed the lead to 3-0 with strikes in the eighth and 12th min­utes.

How­ev­er, Po­lice then mount­ed a come­back with She­niece Au­guste scor­ing in the 14th fol­low­ing by a brace from Teneil Gar­cia in the 25th and 28th, on­ly for Wynn-White­man to snatch the win­ner for the Dames in the 34th.

Har­vard Check­ers se­cured their pas­sage to the Trin­i­ty Women's Di­vi­sion fi­nal af­ter beat­ing Po­lice 2-1 to end with a per­fect 4-0 record and max­i­mum 12 points in the three-team round-robin se­ries.

But in the Mixed Vet­er­ans, Po­lice made no mis­take against the Dames and stormed to an 11-2 semi­fi­nal tri­umph and will face Queen's Park in the fi­nal af­ter the lat­ter edged Malvern 3-2 on sud­den-death penal­ties af­ter a 3-3 draw.

Re­sults

Semi­fi­nals:

Un­der-19 Boys

Paragon 11 (Joel Daniel 14th, 20th, 25th, 28th, 33rd, 39th, Mal­colm Bap­tiste 13th, 30th, Tariq Singh 12th, 40th, Chris­t­ian John 35th) v QPCC 2 (Chris­t­ian Mack 23rd, 36th)
Malvern 6 (Aidan Mar­cano 4th, 24th, 32nd, Shawn Phillip 8th, Tariq Chance 36th, Idi Akii Bua 37th) v Fa­ti­ma 3 (Ghard­el El­cock 10th, 23rd, Adam Per­reira 24th)

Un­der-19 Girls

Paragon 5 vs Raiders 0 - by de­fault

Trin­i­ty Women:

Notre Dame 4 (Car­ol Wynn-White­man 5th, 34th, Nicole White­man 8th, 12th) v Po­lice 3 (She­niece Au­guste 14th, Teneil Gar­cia 25th, 28th)

Mixed Vet­er­ans:

Po­lice 11 (Dwain Quan Chan 2nd, 12th, 36th, 38th, Roger Daniel 3rd, 13th, 20th, Suzette Pierre 13th, 31st, Nicholas Wren 29th, 32nd) v Notre Dame 2 (Sel­wyn King 8th, Gre­go­ry Gar­raway 10th)
Malvern 3 (An­tho­ny Mar­cano 4th, Ce­cile Wren 12th, Dami­an Gor­don 38th) v QPCC 3 (Ryan Cowie 2nd, Richard Thomas 24th, Jer­azeno Bell 39th) - QPCC won 3-2 on sud­den-death penal­ties

Sat­ur­day:

Mixed Vet­er­ans:

Po­lice 7 (Nicholas Wren 5th, 19th, 22nd, 22nd, 26th, Roger Daniel 33rd, Suzette Pierre 35th) v Malvern 5 (Mar­lon Jack­son 8th, 30th, An­drea Jack­son 20th, Ko­r­ry Bar­nett 36th, Dami­an Gor­don 38th)

Open Men:

QPCC 8 (Aidan De Gannes 2nd, 22nd, 24th, Shawn Lee Quay 18th, 33rd, Mahin­der Mali 11th, Dar­ren Cowie 28th, Ar­rielle Bowen 35th) v Fa­ti­ma 2 (Matthew Per­reira 23rd, Ghard­el El­cock 37th)

Trin­i­ty Men:

Po­lice 5 (Nicholas Wren 20th, 39th, Ryan Ram­baran 11th, Fer­nan­do Beat­rice 24th, Vic­tor Fred­er­icks 28th) v Malvern 3 (Idi Akii Bua 3rd, Mar­lon Jack­son 36th, De Vante Stew­art 37th)

Fi­nal Stand­ings

Men's Open

Teams P W D L F A Pts

1. QPCC 6 4 1 1 34 17 13
2. De­fence Force 6 4 1 1 34 19 13
3. Malvern 6 4 0 2 31 27 12
4. Po­lice 6 3 0 3 40 18 9
5. Paragon 6 3 0 3 24 14 9
6. Fa­ti­ma 6 1 0 5 14 43 3
7. Shape 6 1 0 5 15 54 0

Women's Open:

1. SC Mag­no­lias 6 5 1 0 29 9 16
2. Malvern 6 3 0 3 15 20 9
3. Ven­tures 6 2 1 3 18 17 7
4. Paragon 6 1 0 5 10 26 3

Trin­i­ty Men:

1. Notre Dame 5 5 0 0 34 17 15
2. Carib 5 4 0 1 30 13 12
3. QPCC 5 3 0 2 26 13 9
4. Po­lice 5 2 0 3 22 27 6
5. Malvern 5 1 0 4 13 26 3
6. Fa­ti­ma 5 0 0 5 4 33 0

Trin­i­ty Women

1. Check­ers 4 4 0 0 18 7 12
2. Po­lice 4 2 0 2 8 9 6
3. Notre Dame 4 0 0 4 8 18 0

Mixed Vet­er­ans

1. Po­lice 5 5 0 0 50 12 15
2. Malvern 5 4 0 1 41 15 12
3. QPCC 5 3 0 2 38 13 9
4. Notre Dame 5 2 0 3 25 57 6
5. Fa­ti­ma 5 1 0 4 19 39 3
6. De­fence Force 5 0 0 5 13 46 0

Un­der-19 Girls

1. SC Mag­no­lias 4 3 1 0 12 7 10
2. Paragon 4 2 1 1 17 10 7
3. Raiders 4 0 0 4 7 19 0

Un­der-19 Boys

1. Paragon 4 3 1 0 52 14 10
2. Malvern 4 3 1 0 39 13 10
3. Fa­ti­ma 4 2 0 2 30 15 6
4. QPCC 4 1 0 3 10 21 3
5. Notre Dame 4 0 0 4 7 75 0

The Trinidad Guardian


---

Madison Maguire, a Maryland field hockey staple, has reached new heights

David Suggs



Forward Madison Maguire scored a hat trick against Michigan State on October 25, 2019. (Gabby Baniqued/The Diamondback)

As soon as the final horn bellowed across the Field Hockey and Lacrosse Complex Friday, Maryland field hockey huddled at the center of the pitch, ghost-quiet save for coach Missy Meharg.

Meharg congratulated the team on its accomplishment — clinching at least a share of the Big Ten regular-season crown — before diverting attention to the Terps' seniors.

Once the spotlight drifted to forward Madison Maguire, Maryland's silence was broken, with the surrounding crowd of underclassmen roaring in appreciation for Maguire's hat trick performance before giving her the "game shell" — an award granted to Maryland's player of the game.

It was a memorable display for the senior, who has been at the heart of the Terps' attack throughout her four-year career.

"Tonight, I think Madison played the best game off-ball — in her counter defense, work rate," Meharg said. "When she plays like that, the rest of the front six respond off of her."

Emotions were running high prior to Friday's game, with Maryland's seniors spending much of the preceding week reminiscing on their first three seasons in College Park.

Maguire was no exception, recalling the initial wobbles she experienced as a freshman while she adjusted to the heightened tempo of the college game.

"I only played on AstroTurf when we played with our club teams," Maguire said earlier this season. "If you're just on a high school team or a club team, you learn very quickly that you need to get the ball and give the ball. You have to receive it under a certain amount of time with pressure."

But the Rumson, New Jersey native eventually found her way, becoming a crucial member of the midfield, starting 61 of her 71 games during her first three seasons.

Summarily, Maguire's role in the attack was magnified. Her point total grew steadily in each of her previous three seasons, too.

"Madison is a basketball player by nature," Meharg said. "She understands on-ball, off-ball and all the things [to] manipulate and get [herself] in position to score."

After earning the National Field Hockey Coaches Association All-Mid Atlantic Region second-team honors last season, Meharg tipped Maguire to have a big season — this time, in the front three.

The senior responded to the challenge of playing further up the pitch, scoring a team-high 12 goals so far to help push the Terps up to No. 2 in the rankings.

And Maguire was at the peak of her powers Friday, with teammates teeing her up with a series of slick feeds — trusting her ability to put pressure on Michigan State goalkeeper Jade Arundell.

The senior lurked around the goalmouth early, rocketing an early strike into the bottom corner to give Maryland the lead by the seventh minute of the game. And in the second half, Maguire helped secure the victory for the Terps, corralling midfielder Brooke DeBerdine's fizzed pass before sending a shot into the bottom corner.

Late in the fourth quarter, Maguire secured her hat trick, backhanding a stroke past Arundell to record her first three-goal game since Oct. 22, 2017, against Rutgers.

Maguire's performance was indicative of a player who has grown substantially over the course of her four seasons. And the Terps will be looking for more performances like Friday's from Maguire, especially as the focus shifts to the postseason.

"I hope she can keep playing like that for the next three weeks," Meharg said.

The Diamondback


---

Field hockey seniors leave Grant Field with win

Jahlynn Hancock



Iowa's Katie Birch passes the ball during the Iowa field hockey match against Rutgers on Friday, Oct. 4, 2019 at Grant Field. The Hawkeyes beat the Scarlet Knights 2-1. Emily Wangen

Throughout their careers, Iowa field hockey's senior have shown success both on and off the field. In their final home game of the season, they said goodbye to Grant Field on Saturday with a 2-1 win over Northwestern.

The Hawkeyes honored their five departing seniors – Katie Birch, Leslie Speight, Sophie Sunderland, Isabella Solaroli, and Ryley Miller — before the weekend's matchup.

"We have had an incredible four-year journey here," Birch said. "Being able to share the day with all of the girls and families has been incredible."

Iowa field hockey has seen improvement in this senior class from the day they became a Hawkeye to this weekend.

Birch is a current captain and the team's leader in assists. Through the four years of Birch's athletic career, she has been a letter winner each season, received first and second team All-Big Ten selection, and been named a NFHCA first team All-West Regional selection.

On the season, Sunderland has five goals, four assists, and 14 points. She is a four-year letter winner, was named to the NFHCA second team All-West Regional in her 2018 season, and earned a second team All-Big Ten selection.

"This group has been fantastic with such a wonderful addition to the program," head coach Lisa Cellucci said. "I am really glad we could send them out with a win in such a big game."

The opening minutes of the match were relatively quiet thanks to the play by both defenses. As the first period came to a close, Northwestern's Saar De Breij struck first to put her team up 1-0 in the 12th minute of the game.

The Hawkeye offense had its chances, however. In the second period, freshman Esme Gibson powered her way through the Wildcat defense but was unable to net a shot on the goal.

In the 40th minute, Iowa finally capitalized. Sophomore Leah Zellner tied the game with a redirected goal, the assist coming from sophomore Lokke Stribos.

Junior Maddy Murphy scored the game-winning goal in the 50th minute with a transition shot off the right side. It was Murphy's team-leading 11th goal of the season.

"We were able to clean up for our final third, clean up our possession, and move the ball well," Cellucci said. "That had led to the two fantastic goals."

Going into their last Big Ten game against No. 7 Michigan on Nov. 3 in Ann Arbor, the Hawkeyes are 12-4 overall with a 6-1 conference record.

The Daily Iowan


---

Field Hockey shutout at home against Ohio State

Kathryn Rajnicek



Freshman back Maria Cambra Soler (9) and junior back Melanie Scibilia (17) run down the field for a pass from a teammate on Oct. 27, 2019. Cambra Soler also came to Kent from Barcelona, Spain. Kaitlyn Finchler

Kent State women's field hockey team (10-7) lost 4-0 at home against Ohio State University (8-0) on Sunday.

The Flashes' offense struggled, only taking six total shots. Three were taken by junior back/midfielder Clara Rodriguez Seto.

"Offensively, we had our opportunities and didn't execute on those," coach Kyle Desandes-Moyer said. "We knew Ohio State was a strong team and we talked about executing on our offensive chances and we didn't do that."

Kent only had three penalty corner opportunities compared to Ohio State's eight opportunities, one of which resulted in a goal.

"Losing is disappointing but we are always excited to play a strong ranked team like Ohio State and get better before we go into MAC play," Desandes-Moyer said.

Ohio State's four goals were scored in the first, second and third period by freshman midfielder Mackenzie Allessie, sophomore forward Katie Pyle, senior midfielder Esther Clotet Alsina and freshman midfielder Mackenzie Allessie.

"I don't think we necessarily struggled defensively,"  Desandes-Moyer said. "I just think Ohio State executed on their opportunities and our mentality wasn't strong enough."

Defensively, the Flashes allowed 18 shots overall and senior goalie Mary Crumlish had seven saves on the afternoon.

"I thought our first two quarters were actually quite strong, we were able to implement our game plan and were able to make some changes on the fly which was good as well," Desandes-Moyer said. "We need to improve upon our opportunities in the circle and our attacking 25 and just capitalizing when we have them."

Kent will look to rebound as they close out the regular season and Mid American Conference play on senior day at home on Saturday at noon against Longwood University (7-9).

Kent Wired