All the news for Sunday 27 October 2019

FIH Hockey Olympic Qualifiers 2019 (Men)
25 Oct 2019    ESP v FRA (ESP v FRA) 3 - 3

26 Oct 2019      CAN v IRL (CAN v IRL) 3 - 5 
26 Oct 2019      NED v PAK (NED v PAK) 4 - 4
26 Oct 2019      ESP v FRA (ESP v FRA) 3 - 2 Spain qualify for Tokyo 2020

27 Oct 2019 14:00 (GMT -8)      CAN v IRL (CAN v IRL)
27 Oct 2019 16:00 (GMT +1)      NED v PAK (NED v PAK)

Live streaming on https://fih.live (may be geoblocked) and other broadcast partners

FIH Match Centre


---

FIH Hockey Olympic Qualifiers 2019 (Women)
25 Oct 2019     AUS v RUS (AUS v RUS) 4 - 2 (First AUS goal in 21 seconds!)
25 Oct 2019     CHN v BEL (CHN v BEL) 0 - 2
25 Oct 2019     ESP v KOR (ESP v KOR 2 - 1

26 Oct 2019     CHN v BEL (CHN v BEL) 2 - 0 (S/O 2/6 - 1/6) China Qualify for Tokyo 2020
26 Oct 2019     AUS v RUS (AUS v RUS) 5 - 0 Australia qualify for Tokyo 2020
26 Oct 2019     ESP v KOR (ESP v KOR) 2 - 0 Spain qualify for Tokyo 2020

Live streaming on https://fih.live (may be geoblocked) and other broadcast partners

FIH Match Centre

---

Double Olympic qualification joy for Spain as Australia & China women also book tickets to Tokyo



Spain women celebrate securing a berth at the Olympic Games Tokyo 2020. Copyright: Gabi Juan / RFEH

The second day of action in the FIH Hockey Olympic qualifiers saw four teams book their tickets to the Olympic Games Tokyo 2020, with Spain's men and women joining the women of Australia and China at next year's global showpiece in Japan.

More information about the day's matches can be found below.

FIH Hockey Olympic qualifiers: Day 2 – Saturday 26 October 2019


Changzhou (CHN) - Women: China 2, Belgium 0 [2-1 After Shoot-Out] (Match 2 of 2)
A breathless final five minutes of action at the Wujin Stadium in Changzhou saw China (FIH World Ranking: 10) reel back a 2-0 deficit at the hands of Belgium (WR:12) to bring the aggregate score over two matches to 2-2. Head Coach Huang Yongsheng removed his goalkeeper Li Dongxiao with six minutes left to play and the tactic paid handsomely as the China side won a penalty stroke and followed up immediately with a second goal. Gu Bingfeng and Llang Meiyu were the respective goal-scorers.

Player of the Match, Li, then pulled off some great saves to ensure her team won the shoot-out and progressed to their ninth successive Olympic Games. Belgium, who took a 2-0 lead in the first game and defended staunchly for most of the second game, will be devastated at missing out on an opportunity to return to Olympic action for just a second time in their history (London 2012 was the Red Panthers' only Olympic appearance).

More information about the match can be found on the live reporting link by clicking here.

Perth (AUS) - Women: Australia 5, Russia 0 (Match 2 of 2)
Three time gold medallists Australia (WR:2) will be chasing the medals at the Olympic Games Tokyo 2020 after they put in a devastating first half stint against a beleaguered Russia (WR:19) to emerge 5-0 winners in their second match. The result means the Hockeyroos were 9-2 winners on aggregate. Australia clinically dispatched the lower-ranked team, largely thanks to a five minute patch at the end of the second quarter which brought forth four goals. Goals were scored by Grace Stewart, Mariah Williams, Sophie Taylor Emily Chalker and Kalindi Commerford. Russia for their part will be delighted to have kept a clean sheet in the second half.

More information about the match can be found on the live reporting link by clicking here.

Amsterdam (NED) – Men: Netherlands 4, Pakistan 4 (Match 1 of 2) 

Pakistan (WR:17) were denied a famous victory over the Netherlands (WR:3) by Dutch penalty corner ace Mink van der Weerden, who scored a dramatic late equaliser as the two teams finished with the score locked at 4-4. In a remarkable contest at the Wagener Stadium, Pakistan silenced the home crowd thanks to an early penalty corner effort from Mubashar Ali before the Dutch hit back though Mink van der Weerden's penalty stroke and a glorious backhand strike from Bjorn Kellerman. However, penalty corner efforts either side of half time from Ghazanfar Ali and Muhammad Rizwan swung the match back in Pakstan's favour at 3-2. Robbert Kemperman pulled the Netherlands level in the fourth quarter before Mubashar Ali scored his second of the game to put Pakistan into a 4-3 lead with just two minutes remaining. Van der Weerden had the last laugh, however, rescuing a point for the hosts with a superb penalty corner drag-flick to set up a winner takes all encounter when the two teams meet again on Sunday.

More information about the match can be found on the live reporting link by clicking here.

Valencia (ESP) - Men: Spain 3, France 2 (Match 2 of 2)
Spain's men (WR:8) became the third team of the day to secure Olympic qualification, battling to a 3-2 victory over France (WR:12). Following their thrilling 3-3 draw on Friday, it came as little surprise that the second meeting between the two teams was equally close. France took an early lead thanks to a wonderful individual effort from Gaspard Baumgarten before Miguel Delas and Alvaro Iglesias gave Spain a 2-1 lead. Francois Goyet levelled matters for France in the 39th minute, but it was Xavi Lleonart's penalty stroke a minute later which proved decisive, giving Spain a ticket to Tokyo ahead of a France team that battled every step of the way.

More information about the match can be found on the live reporting link by clicking here.

Valencia (ESP) - Women: Spain 2, Korea 0 (Match 2 of 2)
Spain (WR:7) women joined Spain men on their journey to the Olympic Games Tokyo 2020 when they beat Korea (WR:11) 2-0, building on the 2-1 victory they posted the previous day. Goals from Begona Garcia and a penalty stroke from Lola Riera sealed the victory for the Red Panthers. Korea had plenty of opportunities to reduce the deficit, winning seven penalty corners. However good goalkeeping from Maria Ruiz kept the Asian team's efforts from registering. The result means Spain will compete in their seventh Olympic Games. For Korea, this will be their first absence from an Olympic Games since 1988.

More information about the match can be found on the live reporting link by clicking
 here.

Vancouver (CAN) – Men: Canada 3 Ireland 5 (Match 1 of 2) 

The final game of Day 2 saw Canada (WR:10) taking on Ireland (WR:12), and it was the visiting Europeans who emerged with a 5-3 victory over the host nation. Sean Murray and Shane O'Donoghue scored two goals apiece as Ireland overcame the home favourites, leaving Canada needing a comprehensive victory when the two sides meet again on Sunday if they are to take the Olympic ticket.

More information about the match can be found on the live reporting link by clicking
 here.

How Olympic qualification works: The winners will be determined as follows: teams will be ranked according to the number of points each has accumulated in both matches (for each match, 3 points are awarded to the winner, 1 point to each team in the event of a draw and 0 point to the loser). If there is equality among the two teams, then the teams will be ranked according to their respective goal difference. If the equality remains, a shoot-out competition will be played to establish the winner.

FIH Hockey Olympic qualifiers – Day 1 Results

Friday 25 October 2019
Perth (AUS) - Women: Australia 4, Russia 2 (Match 1 of 2)
Changzhou (CHN) - Women: China 0, Belgium 2 (Match 1 of 2)
Valencia (ESP) - Men: Spain 3, France 3 (Match 1 of 2)
Valencia (ESP) - Women: Spain 2, Korea 1 (Match 1 of 2)

Saturday 26 October 2019 - Day 2 Results
Changzhou (CHN) - Women: China 2, Belgium 0 (Match 2 of 2)
Perth (AUS) - Women: Australia 5, Russia 0 (Match 2 of 2)
Amsterdam (NED) – Men: Netherlands 4, Pakistan 4 (Match 1 of 2)
Valencia (ESP) - Men: Spain 3, France 2 (Match 2 of 2)
Valencia (ESP) - Women: Spain 2, Korea 0 (Match 2 of 2)
Vancouver (CAN) – Men: Canada 3, Ireland 5 (Match 1 of 2)

Upcoming fixtures

Sunday 27 October 2019 - Day 3
Amsterdam (NED) – Men: Netherlands v Pakistan (Match 2 of 2)
Vancouver (CAN) – Men: Canada v Ireland (Match 2 of 2)

Friday 1 November 2019 - Day 4
Bhubaneswar (IND) – Women: India v USA (Match 1 of 2)
Bhubaneswar (IND) – Men: India v Russia (Match 1 of 2)

Saturday 2 November 2019 - Day 5
Stratford (NZL) – Men: New Zealand v Korea (Match 1 of 2)
Bhubaneswar (IND) – Women: India v USA (Match 2 of 2)
London (ENG) - Women: Great Britain v Chile (Match 1 of 2)
Bhubaneswar (IND) – Men: India v Russia (Match 2 of 2)
Mönchengladbach (GER) – Women: Germany v Italy (Match 1 of 2)
London (ENG) - Men: Great Britain v Malaysia (Match 1 of 2)
Mönchengladbach (GER) – Men: Germany v Austria (Match 1 of 2)
Dublin (IRL) – Women: Ireland v Canada (Match 1 of 2)

Sunday 3 November 2019 - Day 6
Stratford (NZL) – Men: New Zealand v Korea (Match 2 of 2)
London (ENG) - Women: Great Britain v Chile (Match 2 of 2)
Mönchengladbach (GER) – Women: Germany v Italy (Match 2 of 2)
London (ENG) - Men: Great Britain v Malaysia (Match 2 of 2)
Mönchengladbach (GER) – Men: Germany v Austria (Match 2 of 2)
Dublin (IRL) – Women: Ireland v Canada (Match 2 of 2)

#Tokyo2020
#RoadToTokyo
#GiftOfHockey

FIH site


---

Hockeyroos qualify for Tokyo 2020

Nic Kerber




The Hockeyroos will appear at an 11th straight Olympic Games after booking their place at Tokyo 2020 with a resounding 5-0 win in the second and final qualifier against Russia tonight.

The result gave the Hockeyroos a 9-2 victory on aggregate to ensure they will join the Kookaburras in representing Australia at next year's Games.

After a 4-2 win in the opening game yesterday, the overall result was decided inside the opening half of tonight's second match as all of the goals came in the first 30 minutes.

Mariah Williams scored a brace while Grace Stewart, Sophie Taylor and Emily Chalker also got on the score sheet.

"I feel really happy for the girls," said Head Coach Paul Gaudoin after the win.

"They worked really hard and it has been a massive year. We didn't quite get there (against New Zealand) in Rockhampton but now we can focus our preparations on Tokyo.

"From here we've got to make sure we're as prepared as we can be leading up to the Olympics.

"It was pleasing that we managed to finish off with some quality goals in the first half but our ball handling needs to get better as well as our fitness."

After a string of early Hockeyroos penalty corners, Lily Brazel, in her 50th appearance, won yet another in the 9th minute.

The set play was well worked, Russian keeper Viktoriia Aleksandrina managing to save Renee Taylor's drag flick but it fell to Stewart who was positioned perfectly to knock the ball home.

A great combination between Amy Lawton and Mariah Williams almost saw the latter score moments later but Aleksandrina came up with a fine save.

But Williams would not be denied in the 22nd minute when some good lead up work along the base line found the forward and she picked her spot and scored.

Three minutes later it was 3-0 when Chalker trapped and rolled the ball to Taylor from a penalty corner. Taylor took a touch to put herself inside the circle and struck a shot low and hard shot into the bottom right corner which gave Aleksandrina no chance.

The second quarter avalanche continued as Kalindi Commerford held the ball up well inside the circle before turning the ball across the goal and Chalker was unmarked at the far post to make it 4-0.

There was even time for a fifth before the main interval, an attack down the right ending with Williams whose speculative shot alluded Russian defenders and the oncoming Commerford to sneak over the line.

Russia provided more stubborn resistance in the second half as the Hockeyroos were restricted to fewer opportunities, while goalkeeper Ashlee Wells, who replaced Rachael Lynch for the final quarter, was called upon to make a sharp save in the final quarter to keep the visitors scoreless.

Pleasingly for Gaudoin, the clean sheet was another positive on a night the Hockeyroos overcame a challenging hurdle to now allows them to start looking ahead to Tokyo 2020.

With Olympic qualification achieved, the Hockeyroos players will now return to play with their respective Sultana Bran Hockey One teams for the league's final round next weekend.

Hockeyroos 5 (Stewart 9', Williams 22'/30', S.Taylor 25', Chalker 27')
Russia 0
Perth Hockey Stadium at Curtin University, WA
Hockeyroos win 9-2 on aggregate and qualify for Tokyo 2020

Hockey Australia media release


---

Holland deny Pakistan a famous victory

By Shahid Khan

Pakistan sprang a major surprise in the first of their double Olympic qualifiers, as the highly fancied Dutch team relied on a last gasp equaliser to deny them of taking all three points as the match finished 4-4, at the Wagner Stadium in Amsterdam.

Coming into the games on the back of two crushing defeats against Germany (6-1 and 6-2) earlier in the week Green-shirts seemed to be facing a daunting task. However they drew first blood as Mubashar Ali slammed their first penalty corner with fizzling low strike.

Despite being awarded two penalty corners, the hosts went to the first quarter break trailing by a goal.

Pakistan enjoyed greater possession in the 2nd quarter but the Dutch team threatened on counter-attacks and it was no surprise when van der Weerden brought them level in the 21st minute. The visitors in fact took the lead in the next minute when Kelerman scored with a stunning backhand across the face of the goal lifting the spirits of the subdued sizeable home crowd.

5 minutes before half time Greenshirts produced a slick corner drill that saw Ali Ghazanfar diving at the right post to deflect home.

The 17th World ranked Asian side were matching their hosts (FIH world ranked 3), who appeared to be rattled and under pressure from the expectant home crowd just as the Green-shirts coach Khawaja Junaid had hoped in his pre-match comments.

Although the Dutch made a reassured start after half time and went close to taking the lead it was their opponents who one again showed their prowess from penalty corner situations as this time their captain, Mohammad Rizwan slotted home from another gloriously worked penalty-corner routine.

The nervous Dutch crowd greeted Kemperman's goal with a huge roar and sigh of relief as he finished their move with a tap into the empty net.

3 times Olympic gold medalist, Pakistan took the lead when Mubashar Ali grabbed a brace with another low drag-flick with only 2 minutes remaining of the match.

The final minute saw Holland forcing 2 penalty corner and van der Weerden managed to deny Green-shirts a famous victory with drag-flick conversion inside the left post.

Everything will now depend on the 2nd game to be played on Sunday with the winner booking their place at the Tokyo Olympics 2020.

Fieldhockey exclusive


---

Pakistan rattles Netherlands to the hilt

K. Arumugam



Picture courtesy FIH Site

Two disputable penalty corners on the trot put paid to what would have been a famous victory for underdogs Pakistan in what is a crucial phase of their hockey's history. In the first of two legs of the Olympic qualifier in Amstelveen, the Netherlands (World Ranking: 3), on Saturday, Pakistan (WR:17) split spoils with the hosts only after a last-second goal via a penalty corner.

All the same it was an unbelievable end to a thrilling 60 minutes and if it wasn't for Van der Weerden's strike, the scoreline would assumed an even more incredulous dimension.

Who would have believed Pakistan would go into the second leg, at the same venue on Sunday, on level terms after their travails, trials and tribulations in the last year?

Financial woes that compelled the Green Shirts to pull out of the inaugural FIH Pro League cost them valuable ranking points and eventually a meeting with the vaunted Dutch in the knock-out qualifier.

With a severe lack of match practice, Pakistan were mauled by Germany by tennis scores in two warm up matches just days ago.

But for all that, Pakistan played a near flawless, free flowing game which upset the Dutch applecart for most of the encounter.

Undeterred by the vociferous home support, Pakistan the three time Olympic champions, had the Netherlands on the back-foot and were level 2-2 at half-time.

Going into the third quarter, the Dutch appeared laden-footed but profited from an avoidable shove inside the circle that brooked a desperately needed penalty corner.

The Green Shirts had used up their TV referral by then and the ensuing penalty corner helped the Dutch equalize.

The clumsy tackle was antithesis to a clean and positive game and wasting of the referral came into the same category.

Earlier, when Robbert Kemperman tapped in a waist-high ball from close range to make it 3-3, a clean goal by all accounts and impressions, the referral taken by Pakistan to dispute the strike proved costly and perhaps came back to haunt them in the final seconds.

Belying expectation, Pakistan put up a stellar show against their highly rated adversaries till the end of the third quarter.

The Green Shirts were precise and near perfect with the set-piece and scored all four goals from penalty corners.

Going into the final 15 minutes the score read 3-2 to the visitors.

Pakistan took the lead early in the first quarter only to see the home team scoring twice in a minute in the next quarter. Goalkeeper Amjad Ali tripped fast-moving Terrance Pieters on the left of (pic) goalmouth and from the ensuing penalty stroke Mink van der Weerdern placed the ball to the right of the goal to restore parity.

A neat backhander from left side to find the right corner of the goal by Bjorn Kellerman (2-1) promised a Dutch revival but that was not to be.

When a neat cross hit a Dutch leg, Pakistan forced their third penalty corner from which Ghazanfar Ali gently diverted home to make it 2-2.

Observers may agree that the Dutch played an error-prone third quarter, failing to trap some well-directed crosses into the D which showed how much the hosts were rattled if not shocked.

Pakistan took a 3-2 lead in the 38th minute, a just reward for their purposeful thrusts and measured give-and-take game. Captain Rizwan tapped in another penalty corner drag-flick from Mushabar Ali, giving the Dutch, past masters of the art, a lesson or two.

Kemperman calmed the nerves in the stands with a gentle tap but Pakistan continued to exert pressure on both flanks with a neat team game.

Two minutes before the hooter, the lanky Mubhasar Ali did the unimaginable with a drag flick, giving his team a 4-3 lead.

Left-winger and veteran Umar Bhutta did the spadework, stealing the ball in the corner and dragging it close to the baseline before finding a foot of his desperate marker.

But Pakistan could not retain composure in the last 30 seconds and a somewhat harsh decision by umpire Sean Rappart of South Africa awarded the Netherlands a penalty corner which led to Van der Weerden's rescue act.

The last-gasp strike deprives Pakistan of three points in the first leg and sets up a winner takes all scenario in the second which will go into the shootout if the scores are level.

Still, the Green Shirts showed they have fire in the belly after being written off as no hopers when they reached Amsterdam.

A coveted ticket to Tokyo is now but a step away.

Stick2Hockey.com


---

Netherlands snatch last-second draw against Pakistan

Green Shirts have done themselves proud but will need to do it all again today (Sunday) as well in what is now a 'winner takes all' contest




LAHORE - A last-second goal from Netherland's Mink van der Weerden deprived Pakistan from victory as both teams played a 4-4 draw in the first-leg of their FIH Olympic Qualifier on Saturday at Amstelveen in Holland.

Former Olympic champion Pakistan put on a stunning display against higher-ranked Netherlands in a seesawing battle. Pakistan's prowess from penalty corner situations in the match had been frightening as they converted two goals from direct hit and two from beautiful regulation routines and did not miss any opportunity after they won a penalty corner.

The Green Shirts have done themselves proud but will need to do it all again today (Saturday) as well in what is now a 'winner takes all' contest.

World no 3 Netherlands came into the tie as the favourite, but Pakistan, which has been struggling on and off the field due to dire financial situation, took the lead in the 5th minute on a penalty corner. A fizzing low penalty corner effort from Mubashar Ali rattles the Dutch back-board, giving the visitors the early advantage against the form book.

First quarter ended with Pakistan leading 1-0 and enjoyed some decent possession at the start of the second period, playing with confidence. However, the Dutch looked ever-threatening on the counter-attack and a soon were rewarded with a penalty stroke after Pakistan goalkeeper Ali Amjad fouled Terrance Pieters. Mink van der Weerden made no mistake I slotting home the penalty stroke in the 20th minute to make the things level.

The Netherlands turned the score on its head thanks to two goals in little more than a minute, with Bjorn Kellerman powering into the circle from the left and smashing a stunning backhand effort across the face of goal and just inside the right post in the 21st minute.

But Pakistan upped the tempo of their game and went all cylinders to get another penalty corner in 25th minute. Pakistan successfully appealed to the video umpire for a penalty corner as Netherlands goalkeeper Maurits Visser kicked the ball into the body of Moin Shakeel. The penalty corner was charged down by the body of Sander Baart, who left the field injured as another Pakistan penalty corner was awarded. Pakistan produced a slick penalty corner routine that saw Ghazanfar Ali diving in at the right post to deflect home in the 25th minute as the teams went into the half-time tied 2-2.

The Netherlands made an assured start to the third quarter, and Pakistan were struggling to get the ball out of their own half. In 33rd minute, Thierry Brinkman smashed a pass into the circle from the right which was begging to be forced into the goal, but Mirco Pruijser and Terrance Pieters both failed to get the decisive touch.

Pakistan went on a counter-attack and won a penalty corner via the foot of Mink van der Weerden very next minute and Pakistan were back in front from another glorious penalty corner routine. The low drag-flick from the top of the circle was touched home brilliantly at the left post by Green Shirts captain Muhammad Rizwan.

The third quarter ended with Pakistan leading 3-2 and kept their lead until 52nd minute. The Dutch were level yet again, with Robbert Kemperman on hand to fire into an empty net from close range, finishing off a fine interchange of passes between Seve van Ass and Bjorn Kellerman.

Pakistan players continued attacking the Dutch goal and in 57th minute and Umar Bhutta showed quick hands to skip into the Netherlands' circle and won a penalty corner. Oranje goalkeeper Maurits Visser makes a fine save, however, Pakistan were awarded another penalty corner. Pakistan scored their fourth penalty corner of the game to take a 4-3 lead going into the final few minutes of the contest. Mubashar Ali netted his second goal of the match with a superb drag-flick which crashes against the backboard in the 58th minute.

However, Pakistan failed to sustain their lead for the last two minutes as the Dutch went all out for an equaliser. The Netherlands won a penalty corner in 6oth and the last minute and rattled the frame of the goal with a drag-flick but failed to score and instead won another penalty corner in the dying moments.

Mink van der Weerden arrowed his penalty corner drag-flick inside the left post. It was a brilliant finish from Van der Weerden, and it proved to be the last action of the game.

Pakistan's Rashid Mehmood  said: "I think it was a great game for the crowd and for both teams. It was a great performance from our side. The team played very proudly and bravely. They are world number 3, and we plated very well in this first game. Unfortanately we didn't get the three points, which were very important, but the way we played, I'm happy with the performance of the boys."

The Nation


---

Pakistan and Netherlands play out thrilling 4-4 draw

World no 17 Pakistan dominated in parts but settled for a 4-4 draw against 2018 World Cup finalist Netherlands in the first-leg of Olympic Qualifiers on Saturday.



File Photo: Pakistan will look qualify for the 2020 Tokyo Olympics after missing out on an Olympics berth for the first time in its history in 2016.   -  Getty Images

Former Olympic champion Pakistan men's hockey team put on a stunning display against higher-ranked Netherlands in a seesawing 4-4 draw in the first-leg of the FIH Olympic Qualifiers at Amstelveen on Saturday.

World no 3 Netherlands came into the tie as the favorite, but Pakistan, which has been struggling on and off the field due to a financial crisis, took the lead in the 5th minute through a dragflick from Mubashar Ali.

However, the Dutch pulled things level before half-time when Mink van der Weerden slotted home a penalty stroke in the 20th minute. Bjorn Kellerman put the host in the lead in the next minute with a field goal, but Ali Ghazanfar converted a penalty corner for Pakistan in the 25th minute as the teams went into the half-time tied 2-2.

Pakistan stepped on the gas in the second half and in the 38th minute, skipper Muhammed Rizwan scored from a penalty corner to give Pakistan the lead for the second time. The Dutch pushed for an equaliser but the Green Shirts held on to their slender lead in the third quarter.

Netherlands found success in the 52nd minute when Robbert Kemperman slotted home a field goal to make it 3-3. The lead did not last long as dragflicker Mubashar Ali scored from a corner in the 58th minute to restore Pakistan's lead. However, the host held its nerve as Mink van der Weerden found the net with a dragflick in the final seconds of the match to secure a 4-4 draw.

With both the team level on goals, it will be interesting to see how the teams approach the second-leg on Sunday. Three-time Olympic champion Pakistan will seek redemption after it failed to qualify for the 2016 Rio Olympics for the time in its history.

In the women's qualifiers, Australia eased to an Olympic qualification with a 9-2 aggregate against world no 19 Russia. World no 10 China was the second team on Saturday to book an Olympic berth as it erased 0-2 deficit from the first leg and then beat Belgium 2-1 in the shootout.

Sportstar


---

FIH Olympic Qualifier: Canada notch three but fall in Game 1 to Ireland

Canada fall 5-3 to Ireland in opening game of Olympic Qualifier series



Photo credit: Yan Huckendubler

WEST VANCOUVER – Canadian fans were treated to a high scoring affair but one that did not favour the home side as Canada's men's national team fell by a gruelling 5-3 to Ireland in Game 1 of the FIH Olympic Qualifier on Oct. 26 in West Vancouver. Canada had two goals from Keegan Pereira and one from Gordie Johnston.

The loss means that Canada needs to win by three tomorrow to secure their spot to the Tokyo 2020 Games, while a tie in aggregate scoring will force the game to a shootout.

"I think Ireland started really well and we were pretty tentative," said Canadian head coach Paul Bundy. "It wasn't our game plan to be tentative. We rely on our defence and we are pretty good on our defence. Today it just wasn't there. I think the occasion got to us and there were some discipline issues that got to us as well. We had three cards their where they scored two goals and it's very difficult to play against a good team like Ireland when we have players off the pitch."

Shane O'Donoghue and Sean Murray each tallied twice for Ireland and Chris Cargo buried the game's opening goal.

A closer look

Canada was forced under pressure from the opening whistle as Ireland earned three penalty corners in six minutes. Unable to capitalize on the set pieces, Cargo was able to put Ireland up 1-0 in the eighth. Cargo stripped the Canadian defence and went in with Michael Robson and buried the ball on the back-hand past keeper Antoni Kindler.

Just before the end of the opening quarter Canada earned their first penalty corner. Doing what he does best Johnston stepped up and flicked a high shot that beat Ireland keeper David Fitzgerald and tied the game at one.

"It felt good and we have a lot of people out here supporting us to it's a nice feeling to put one in the net and see all your friends, family and people in Canadian field hockey right there supporting you," added Johnston about scoring Canada's opener.

John McKee's deflection in tight nearly put Ireland ahead as he deflected a low penalty corner flick just over the Canadian cross bar in the 22nd minute.

Despite the flow favouring Ireland it was Canada that scored next. The penalty corner was off target forcing Pereira to trap the ball on his forehand but the Ajax, Ont. midfielder made no mistake and smashed in a go-ahead goal.

Floris van Son nearly made it a two-goal lead for Canada as his 3D skills opened up some space to volley the ball towards goal but Fitzgerald made the block. Canada held on to their 2-1 edge entering half time.

Ireland were right back to business earning a penalty corner just two minutes in to the third quarter. O'Donoghue rocketed a flick high and just inside the right post to draw the game level at two. The teams traded penalty corner chances but both defensive units looked stingy.

A miss-trapped back pass for Canada put Ireland on a quick counter attack with lots of open space. With Kindler charging out the ball fell to the top of the circle and Murray swept in at third Irish goal into an unguarded Canadian goal.

Canada's best free play chance came in the 45th minute when Gabriel Ho-Garcia's finest of touches had him going straight towards Ireland's end with lots of space. Ho-Garcia found the stick of Matthew Sarmento who beat his defender and fired a back-hand shot. Fitzgerald stood Sarmento up with stacked pads.

In the 48th minute Pereira restored the game to even, 3-3, after he received a hard pass near the baseline from Adam Froese. Pereira was looking to find some space or a foul in the circle but smashed it in from the tight angle.

It took just three minutes for Ireland to respond as a hard ball across the circle fell kindly to the stick of Murray at the back post. Murray's reverse stick touch in to the mesh lifted Ireland 4-3 with nine minutes to go in the game.

O'Donoghue shocked the crowd as he put in another well-executed drag flick on a penalty corner in the 53rd minute giving Ireland the two goal cushion, up 5-3.

Canada continued to press until the final whistle but were unable to put anymore past Fitzgerald. Canada was forced to accept the two-goal loss and will regroup tomorrow, Oct. 27, at 2:00 p.m. PT at Rutledge Field.

"It was a pressure filled situation," said defender Johnston. "We started off a little bit slow and got back in to the game. We did well to fight and stay with it but we need to expect a little more of ourselves and we can provide a much better performance in tomorrow's game."

The game is streamed live at cbcsports.ca in Canada and fih.live internationally.

Player of the match: Shane O'Donoghue, Ireland

A reminder of how the two-match system works:

The winners will be determined as follows: teams will be ranked according to the number of points each has accumulated in both matches (for each match, 3 points are awarded to the winner, 1 point to each team in the event of a draw and 0 point to the loser). If there is equality among the two teams, then the teams will be ranked according to their respective goal difference. If the equality remains, a shoot-out competition will be played to establish the winner.

The starting line-ups for both teams can be found here.

Umpires: Ben Goentgen (GER) & Diego Barbas (ARG)

Video Umpire: Gareth Greenfield (NZL)

Field Hockey Canada media release


---

Green Machine rediscover mojo to build important half-time advantage



Shane O'Donoghue celebrates one of his second half goals. Pic: Yan Huckendubler

Ireland's men put themselves into a golden position to claim a second successive Olympic spot as they will carry a two-goal lead into the second leg in west Vancouver.

In a testy affair, Sean Murray and Shane O'Donoghue fired a double each while Chris Cargo was a hugely influential figure and opened the scoring. It saw Ireland eventually pull clear having gone behind before half-time despite enjoying the lion's share of the action.

Indeed, it was a team unrecognisable from the European Championships, one playing with attacking verve and visible self-confidence from the outset. They did so in spite of David Harte's absence through injury, the goalkeeper replaced in the squad at short notice by the uncapped James Milliken with Dave Fitzgerald donning the starter's smock.

The other talking point was the video review system with issues apparent from the first minute when the Green Machine won their first corner. Canada reviewed but "no advice was possible" came the reply as video umpire Gareth Greenfield could not get the right angle.

Ireland spurned that chance and another two penalty corners but they were buzzing with Tim Cross on the march down the right. There was a sense of inevitability when Cargo opened the scoring, robbing the ball 25 metres out, playing a one-two with Matthew Nelson and then slotting home in the eighth minute.

Canada, though, replied with the first attack, a Gordon Johnston corner drag-flick that deflected off the first runner and through Fitzgerald's gloves. Ireland wanted to review but umpire Ben Goentgen said they were too slow to call for it.



Matthew Nelson tries to work an opening. Pic: Yan Huckendubler

And Mark Tumilty's side lost their review privileges soon after for the corner that Canada went ahead from, a Keegan Pereira shot that squirmed through Fitzgerald's defences. Again, the video process was unsatisfactory with confusion in the radio contact between pitch and tv van over what question Cargo asked for.

It left Ireland rattled and ratty but they rallied and held on to half-time at 2-1 down. Second half, they were rejuvenated and, with Floris van Son in the sin-bin, Jeremy Duncan wriggled down the left wing to win a fifth corner – Shane O'Donoghue ripped it into the top corner.

They went back in front from a quick break and while a pass to John McKee was over-cooked, he retrieved and laid into the path of Murray to slam home.

Back in the ascendancy, Canada got to 3-3 with 12 minutes to go when Pereira found space to fire at goal and Jonathan Wallace nicked in front of the goalkeeper.

But when van Son went to the sin-bin for a second time, now on a yellow, Ireland made the key incisions. Stu Loughrey delivered the perfect cross for Murray to guide home at the back post.

A minute later, O'Donoghue was driving in his 110th Irish goal with another drag down the glove side past Antoni Kindler. That 5-3 lead stayed intact down the final stretch despite Tim Cross getting a yellow card, allowing Ireland some breathing room for game two.

Skipper for the day Jonathan Bell said of the result: "It's a good half-time score but that is all it is. The guys came out and played with a lot of energy, a lot of passion and focus in what we did.

"Maybe we conceded a couple of goals that we would have liked to have kept out but Canada are a quality side. We have to step up tomorrow again, improve in a couple of areas.



Daragh Walsh on the attack. Pic: Yan Huckendubler

"Especially in hockey, goals can be scored in seconds. That two-goal lead is a dangerous scoreline but it is a good start but tomorrow will be massive."

The match will be broadcast live on RTE New Now, the RTE Player, BBC NI Website and on BT Sport.

Men's Olympic Qualifiers – first leg

Canada 3 (G Johnston, K Pereira, J Wallace)
Ireland 5 (S Murray 2, S O'Donoghue 2, C Cargo)

Canada: A Kindler, F van Son, S Tupper, B Logan, K Pereira, A Froese, G Johnston, B Bissett, J Wallace, J Smythe, S Panesar
Subs: G Ho-Garcia, O Scholfield, B Panesar, F Boothroyd, M Sarmento, J Kirkpatrick, D Carter

Ireland: D Fitzgerald, J Jackson, C Harte, L Cole, D Walsh, S O'Donoghue, S Murray, T Cross, J Duncan, J McKee, P Caruth
Subs: J Bell, S Loughrey, C Cargo, M Nelson, E Magee, M Robson, J Milliken

Umpires: D Barbas (ARG), B Goentgen (GER)



Ireland celebrate Chris Cargo's opening goal. Pic: Yan Huckendubler

The Hook


---

Ireland men beat Canada 5-3 in Vancouver first leg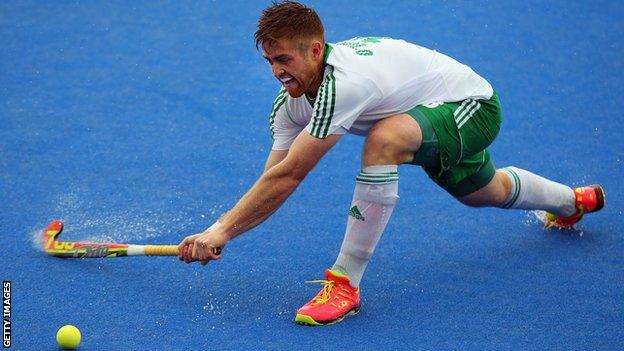 Shane O'Donoghue hit his two goals in the second half in Vancouver

Ireland men look on course for next year's Olympics in Tokyo after earning a 5-3 win over Canada in their play-off first leg in Vancouver.

Sean Murray and Shane O'Donoghue both netted twice for Ireland after Chris Cargo had put them ahead.

Cargo's early goal was cancelled out by penalty-corner Canadian strikes from Gordon Johnston and Keegan Pereira.

O'Donoghue and Murray scored after the break to put Ireland ahead and netted again after James Wallace levelled.

The second leg takes place at the same Vancouver venue on Sunday when the Ireland men will be aiming to secure their second Olympic qualification after earning a spot in Rio in 2016.

The Irish, at 13th three places lower in the world rankings than the Canadians, started the sharper as they forced a couple of penalty corners which they were unable to exploit.

However, the goal that the early Ireland enterprise deserved arrived on eight minutes as Cargo finished to the net after he had dispossessed Sukhi Panesar before playing a one-two with Murray.

But Mark Tumilty's side lost their way before half-time as the Canadians converted two penalty corners with Johnston's shot flying through keeper David Fitzgerald's grasp before Pereira also beat the Irish custodian.

Fitzgerald was a late inclusion in Ireland's goal after former world keeper of the year David Harte had been ruled out by injury.

To his credit, Fitzgerald did deny a pointblank Floris van Son shot just before half-time as the game was threatening to get away form the visitors.

At that stage, Irish indiscipline was becoming a concern with Cargo having become involved in ongoing and unproductive discussions with the umpires following the awarding of the second successful Canadian penalty corner.

However, Ireland regrouped impressively after the break as O'Donoghue's brilliant drag flick from a penalty corner levelled before Murray put the Irish ahead on 39 minutes.

Wallace diverted in a Pereira shot to get Canada on terms again but Murray restored Ireland's lead on 51 minutes after he flicked in a superb ball from the excellent Tim Cross and O'Donoghue's late penalty corner strike ensured his side's two-goal cushion heading into Sunday's second leg.

BBC Sport


---

Ireland take command of Olympic Hockey play-off with Canada

Ireland's men ran out 5-3 winners in Vancouver on Saturday.



Shane O'Donoghue scored twice for Ireland. Image: Bryan Keane/INPHO

THE IRISH MEN's hockey team enjoyed a 5-3 victory over Canada in the Olympic Hockey play-off first-leg in Vancouver on Saturday.

The come-from-behind win leaves Ireland in pole position to qualify for Tokyo next year.

Ireland were 2-1 down at half-time but powered to victory as Sean Murray and Shane O'Donoghue both grabbed a brace of goals.

Chris Cargo bagged a goal for Ireland inside nine minutes, but Canada hit the front at the interval after early goals from Gordon Johnston and Keegan Pereira.

O'Donoghue pulled Ireland level but following some good saves from David Fitzgerald, Pereira sent the hosts back in front.

Ireland finished strongest however with Murray responsible for two and O'Donoghue grabbing another to seal the win.

The 42


---

After one outing, Namita is back

K. Arumugam

Some numbers you would like to look into before getting ready to witness Indian women taking on The States in the last phase of Olympic Qualifying sequence.

Indian women team played in seven international events this year, FIVE Test series (3 against higher ranked teams) and the rest FIH tournaments

Rani Rampal captained all except one when goalie Savita Punia was chosen while she was rested. Indian girls won Ireland 1-0 (WR:8), South Korea 2-1 (WR: 11) & Malaysia 4-1 (WR:20), drew series against Spain 1-1 (WR:7) while losing to reigning Olympic champions Great Britain 0-1 (WR:5).

They played two tournaments, FIH Women's Series Final and Olympic Test Event, both in Japan.

India won 7 of 8 mathes in these two events.

India tried 25 girls this year in the run up to Bhubaneswar. Sonika was played just in one tour before dropped early in the year. Simiarly, Rashta Minz too got only one tour this year.

Namita Toppo, who played just a singular event this got selected, as the stalwart was injured for larger part of the year.

Only two players who figured in Malaysia TS, SK TS and FIH women's series were dropped: Sunita Lakra and Jyoti. For them its so close yet so far fate. Of them, Sunita is most capped and experienced.

Interestingly, 10 players figured in all seven international outings this year while it was just for five in Men's. Women's team this way can be said to be well settled and consistent.

Over all, girls played 26 matches, winning 16.

They lost four matches while six were drawn.

India struck as many as 68 goals, 27 of them coming in the FIH Women's Series.

Penalty corner executioner in the team Surjit Kaur tops the scorer's roll of hour with 19 goals followed by Lalremsiami (10) and Navneet Kaur (9) while Vandana Katariya and captain Rani Rampal shared 12 goals equally.

Stick2Hockey.com


---

2019 Test matches CHI v CAN (W) - 1st Test

26 Oct 2019     CHI v CAN     2 - 3

FIH Match Centre


---

ROUND-UP: Men's Hockey League




A goal in each half from Ben Boon helped leaders Surbiton maintain their perfect start to the season in the Men's Hockey League Premier Division with a 3-1 win over Holcombe on Saturday.

Nick Bandurak had given the visitors the lead with a 17th minute field goal, but their lead lasted just two minutes with Boon's first goal coming on 19 minutes.

Arjan Drayton Chana then gave Surbiton the lead with an open play goal four minutes later, before Boon's second goal on 51 minutes sealed the win.

Second-placed Old Georgians were 3-1 winners at Brooklands MU, but they had to battle back from behind to take the points.

Andrew Jackson had given the hosts the lead with a 31st minute field goal, before James Tindall scored from penalty corners on 33 and 53 minutes. Andy Bull's 54th minute penalty stroke ensured the points went home with Old Georgians.

Wimbledon stay third in the table, but put some daylight between them and fourth-placed Hampstead & Westminster by beating them 3-1.

Ronan Harvey-Kelly put Wimbledon into the lead on ten minutes, only for Matt Guise Brown to level for Hampstead & Westminster. But later goals from Ben Arnold and Ed Horler sealed the win for Wimbledon.

Kiran Patel scored two goals in three minutes to help the University of Exeter draw 2-2 at East Grinstead. Luke Emmett and Tijn van Groesen scored the home side's goals.

Beeston and Reading also drew 2-2, with Chris Proctor scoring both Beeston's goals and Reading's coming from Charlie Ellison and Andrew Oxburgh.

Division 1 North

Cardiff & Met kept their 100% record alive with a 4-3 away win over Leeds in Division One North.

Alf Dinnie netted twice for the Welsh side with Ellis Robson and Jack Pritchard also scoring as they had to fight back from 3-2 behind.

The University of Durham leapfrogged their opponents Bowdon into second place with a narrow 2-1 win.

Despite Ben Park's early goal for the students the scoreboard was all square after Lee Parry levelled for Bowdon in the 50th minute. But Phillip Jansen put Durham back ahead only three minutes later with the final and decisive goal.

Elsewhere, the City of Peterborough beat bottom side Sheffield Hallam 2-1 and Loughborough Students held on to win by the same scoreline against University of Birmingham.

Olton & West Warwicks game against University of Nottingham was postponed.

Division 1 South

Kyle White's 59th minute goal was the only goal of the game as Teddington went top of the Division One South table with a 1-0 away win at Canterbury.

Sevenoaks and Southgate both scored four goals in their wins to take them within a point of the league leaders Teddington.

Ed Matts scored twice for Sevenoaks in their 4-0 home win over Havant which sees them go second on goal difference.

Jonny Maunder put the game to bed for Southgate in their 4-2 home victory over Fareham despite a late fightback from the visitors.

Oxford Hawks drew 2-2 with Oxted while Team Bath Buccaneers scored three minutes from time to also secure a 2-2 draw with Brighton & Hove.

Conference North

Deeside Ramblers held on against Alderley Edge, taking all three points and maintain their unbeaten record in the Men's Conference North.

Ali Ghazanfar and brothers Bart and Warwick Ryan-Beswick all found the net for Deeside as they stay inside the top two.

Damian Jarzembowski struck twice in Barford Tigers' 4-2 home win over Doncaster, while Janak Pachchiger and Sarbpreet Hundal also got on the scoresheet.

Conference East

Chichester capitalised on other results in the Men's Conference East and went second in the table with a 1-0 win over London Edwardians.

Alex Holton's 43rd minute field goal was the difference as Chichester climb from fifth to second.

Old Loughtonians scored a last-minute goal to deny Harleston Magpies their first point of the season.

Harleston were on course to take all three points, winning 3-2 with less than 20 minutes remaining but conceded two goals – one in the 70th minute – as they stay bottom of the table.

Conference West

Old Cranleighans were in fine form and stayed top of the table with a 7-1 home victory over Khalsa Leamington.

Matt Murphy had a superb afternoon, scoring a first half hat-trick before adding a fourth in the second half for the victors.

Harborne claimed their first victory of the season with a terrific 7-3 victory over third-paced Ashmoor.

Matt Shuttleworth and Louis Morris both found the net twice for Harborne with their other goals coming from Matthew Lawrence, Michael Baddeley and Jake Litchfield.

England Hockey Board Media release


---

USIU warm up for Strathmore clash with win over JKUAT



USIU-A forward Rhoda Kuira dribbles past Lakers' Vivian Ogweno during their Kenya Hockey Union women's Premier League match at City Park Stadium on October 12, 2019. PHOTO | CHRIS OMOLLO |  NATION MEDIA GROUP

United States International University of Africa (USIU-A) completed a double over Jomo Kenyatta University Agricultural Technology (JKUAT) thanks to 2-0 win in their Kenya Hockey Union women's Premier League match at City Park Stadium on Saturday.

USIU-A had won 3-0 in the first leg and needed two second half goals from Harriet Otieno and Beatrice Wangui to reign supreme against their fellow students.

While USIU-A will be out to build on Saturday's win when they line up against arch-rivals Strathmore University on Sunday, JKUAT's search for their first win of the season continues when they cross swords with Lakers next Sunday.

Hits and misses were the order of the day in a scrappy first half, but it was USIU-A who could have led going into break but were wasteful in the many chances they created.

MISSED CHANCES

JKUAT could have gone 1-0 up in the 41st minute on the counter but Mildred Kaguha spurned the chance with only USIU-A goalkeeper Becca Awino to beat.

Two minutes later, they were punished as Otieno scored from a penalty corner to put the side coached by Willis Okeyo ahead.

USIU-A grew in confidence and pinned their opponents in their half and the second goal, that seemed inevitable, came in the 56th minute from yet another penalty corner.

JKUAT pushed for a way back into the game but USIU-A stood firm.

JKUAT coach Samuel Oungo refused to let the relegation talk occupy his post-match.

"We don't want to think about relegation just yet Our focus is on the remaining matches where we are targeting wins. In today's match, we had our chances but we fluffed them. We played well but luck was not on our side," said Oungo.

Okeyo said: "I'm happy that out training on penalty corners last week paid off. We have three points and we hope to extend the good run tomorrow(Sunday) when we play Strathmore."

In an earlier women's Super League match at the same venue, Vikings and Technical University of Kenya played out to a barren draw.

Daily Nation


---

Paragon spanks Parkites hockey boys

by Nigel SImon



Fatima's Kenny Brathwaite, left, challenges Shape's Sheldon De Lisle for the ball during their T&T Hockey Board Indoor Championship Open Men's Division clash at the Woodbrook Youth Facility on Friday night. Fatima won 6-3. Nigel Simon

The trio of Mal­colm Bap­tiste, Chris­tain John and Joel Daniel scored two goals each as Paragon spanked Queen's Park 8-2 to top the T&T Hock­ey Board In­door Cham­pi­onship Boys' Un­der-19 Di­vi­sion ahead of the semi­fi­nals at the Wood­brook Youth Fa­cil­i­ty, Wood­brook, on Sat­ur­day.

Bap­tiste opened his ac­count in the fifth minute and added a sec­ond in the 14th, while John net­ted in the 12th and 19th and Daniel in the 25th and 27th for Paragon, who end­ed the five-team round-robin phase with ten points, lev­el with Malvern but with a su­pe­ri­or goal dif­fer­ence of plus-38 to their ri­vals' plus-26.

The duo of Tariq Singh (third) and Daniel Mc Ken­zie (35th) added the oth­ers for Paragon, while Chris­t­ian Mack and Alexan­der Rowe were the scor­ers for Parkites, who end­ed in fourth spot and will have a chance to avenge the lop­sided loss in their semi­fi­nal meet­ing to­day from 12 noon, while Malvern faces Fa­ti­ma in the oth­er se­mi from 2 pm.

Malvern won their fi­nal round-robin match-up against Fa­ti­ma 5-4 with Shawn Phillip (sev­enth, 40th) and Aidan Mar­cano (32nd, 33rd) scor­ing twice. Levi An­der­son al­so found the tar­get for Malvern in the 35th, while Ghard­el El­cock (22nd, 30th), Matthew Per­reira (14th) and Zechari­ah Gowsach (26th) got Fa­ti­ma's replies.

In the Girls' Un­der-19 Di­vi­sion, ti­tle-hold­ers Shandy Carib Mag­no­lias have al­ready ad­vanced to the fi­nals as round-robin win­ners and will face the win­ner of to­day's lone semi­fi­nal be­tween Paragon and Raiders from 1 pm.

Har­vard Check­ers al­so se­cured their pas­sage to the fi­nal of the Trin­i­ty Women's Di­vi­sion af­ter beat­ing Po­lice 2-1 to end with a per­fect 4-0 record and max­i­mum 12 points in the three-team round-robin se­ries.

To­day, Po­lice and Notre Dame will meet in the lone Trin­i­ty Women's semi­fi­nal from 3 pm with the win­ner to face Har­vard Check­ers in the No­vem­ber 2 fi­nal.

And in the Trin­i­ty Men's Di­vi­sion, Sel­wyn King's hat-trick earned Notre Dame a 7-6 win over Carib in clash of per­fect teams.

The Dames fin­ished with a max­i­mum 15 points and will meet the win­ner of last night's fi­nal round-robin match be­tween Po­lice and Malvern in the semi­fi­nals on Fri­day, while Carib, who got a beaver-trick from Jael St Louis in the loss, meets third-placed Queen's Park in the oth­er semi­fi­nal.

T&THB In­door Cham­pi­onship re­sults:

Yes­ter­day:

Un­der-19 Boys

Malvern 5 (Shawn Phillip 7th, 40th, Aidan Mar­cano 32nd, 33rd, Levi An­der­son 35th) v Fa­ti­ma 4 (Ghard­el El­cock 22nd, 30th, Matthew Per­reira 14th, Zechari­ah Gowsach 26th)

Paragon 8 (Mal­colm Bap­tiste 5th, 14th, Chris­t­ian John 12th, 19th, Joel Daniel 25th, 27th, Tariq Singh 3rd, Daniel Mc Ken­zie 35th) v QPCC 2 (Chris­t­ian Mack 7th, Alexan­der Rowe 36th)

Trin­i­ty Women

Har­vard Check­ers 2 (Ke­cia Ho­sein 18th, Patrice Pad­more 27th) v Po­lice 1 (Teneil Gar­cia 38th)

Trin­i­ty Men

Notre Dame 7 (Sel­wyn King 8th, 20th, 40th, Nicholas Baldeosingh 9th, Nicholas White­man 29th, 30th, Kei­th De Peza 37th) v Carib 6 (Ran­dell Ram­sam­my 1st, Jael St Louis 13th, 16th, 19th, 26th, Jalani James 23rd)

Mixed Vet­er­ans

QPCC 16 (Reiza Ho­sein 3rd, 9th, 17th, 37th, 38th, 39th, 40th, 40th, Pe­tra Zand­vli­et 22nd, 29th, 40th, Richard Thomas 20th, 35th, Ryan Cowie 21st, 27th, Rob Wy­att 18th) v Notre Dame 0

Open Women

SC Mag­no­lias 7 (Bri­an­na Govia 16th, 35th, 36th, 38th, Sa­van­nah De Fre­itas 33rd, 38th, Mi­ka El­la-Tang 24th) v Paragon 1 (Kristin Thomp­son 26th)

Fri­day, Oc­to­ber 25:

Trin­i­ty Women

Po­lice 4 (Suzette Pierre 13th, 23rd, Teneil Gar­cia 7th, Shiv­on Hayes 38th) v Notre Dame 0

Open Women:

Ven­tures 5 v Malvern 0 - de­fault

Open Men

Fa­ti­ma 6 (Ghard­el El­cock 16th, 24th, Joshua Olton 23rd, Matthew Newal­lo 25th, 40th, Che Mod­este 38th) v Shape 3 (Eli­jah Ed­wards 26th, Nick Pas­call 34th, Lemus Nep­tune 38th)

Mixed Vet­er­ans

QPCC 11 (Pe­tra Zand­vli­et 15th, 22nd, 23rd, 27th, Rob Wy­att 1st, 4th, 18th, Ryan Cowie 9th, 13th, Richard Thomas 15th, 15th) v De­fence Force 1 (Kesh­en John­son 35th)

The Trinidad Guardian