All the news for Saturday 26 October 2019

FIH Hockey Olympic Qualifiers 2019 (Men)
25 Oct 2019    ESP v FRA (ESP v FRA) 3 - 3

26 Oct 2019 14:00 (GMT -8)      CAN v IRL (CAN v IRL)
26 Oct 2019 16:00 (GMT +1)      NED v PAK (NED v PAK)
26 Oct 2019 18:00 (GMT +1)      ESP v FRA (ESP v FRA)

27 Oct 2019 14:00 (GMT -8)      CAN v IRL (CAN v IRL)
27 Oct 2019 16:00 (GMT +1)      NED v PAK (NED v PAK)

Live streaming on https://fih.live (may be geoblocked) and other broadcast partners

FIH Match Centre

---

FIH Hockey Olympic Qualifiers 2019 (Women)
25 Oct 2019     AUS v RUS (AUS v RUS) 4 - 2 (First AUS goal in 21 seconds!)
25 Oct 2019     CHN v BEL (CHN v BEL) 0 - 2
25 Oct 2019     ESP v KOR (ESP v KOR 2 - 1

26 Oct 2019 16:00 (GMT +8)     CHN v BEL (CHN v BEL)
26 Oct 2019 19:00 (GMT +8)     AUS v RUS (AUS v RUS)
26 Oct 2019 20:00 (GMT +1)     ESP v KOR (ESP v KOR)

Live streaming on https://fih.live (may be geoblocked) and other broadcast partners

FIH Match Centre


---

Australia, Belgium & Spain women claim wins on Day 1 of FIH Hockey Olympic qualifiers



Spain's women fought back from a goal down to beat Korea 2-1 in Valencia. Copyright: Gaby Juan / RFEH

The FIH Hockey Olympic qualifiers got off to a flying start on Friday (25 October), with the women's teams of Australia, Belgium and Spain all victorious in their respective matches to move one step closer to securing berths at next year's Olympic Games Tokyo 2020. 

In the first of the two-leg ties, Australia beat Russia 4-2 in Perth before Belgium recorded a fine 2-0 away win against China. Spain's women were also winners, edging past Korea 2-1. In the men's qualifiers, Spain and France played out a thrilling 3-3 draw, leaving their two-leg tie finely balanced. The second legs of these matches will take place on Saturday (26 October). More information about Friday's games can be found below.

FIH Hockey Olympic qualifiers: Day 1 – Friday 25 October 2019

RESULT: Perth (AUS) - Women: Australia 4, Russia 2 (Match 1 of 2)
Australia (FIH World Ranking: 2) claimed a 4-2 victory against Russia (WR:19) in the opening match of the FIH Hockey Olympic qualifiers, but certainly did not have it all their own way. The Hockeyroos opened up a 2-0 lead inside the opening two minutes thanks to poacher's goals from Emily Chalker and 17-year-old attacker Amy Lawton, as the hosts threatened to run riot. However, Russia captain Bogdana Sadovaia dragged her team back into the contest with an eighth minute field goal before Alina Khalimova's superb penalty corner deflection seven minutes after half time restored parity at 2-2. Australia were not to be denied, however, with Grace Stewart and a second for Chalker giving the home favourites a 4-2 victory and a strong advantage ahead of the second meeting between the two teams on Saturday.

More details can be found on the live reporting link by clicking here.

RESULT: Changzhou (CHN) - Women: China 0, Belgium 2 (Match 1 of 2)
Belgium (WR:12) took a 2-0 lead in their opening match against China (WR:10) courtesy of strikes at both ends of the game. Jill Boon opened the scoring in the second minute of the match and Stephanie Vanden Borre gave her side an invaluable 2-0 lead in the 58th minute. While the Red Panthers have an undoubted advantage going into the second of two matches on Saturday, China will be pulling out all the stops to attempt to turn the scoreline around. The hard-working trio of Zhang Jinrong, Ou Zixia and Peng Yang caused plenty of problems for the Belgium defence and, as Player of the Match Anne-Sophie Weyns made clear, this is only the half-way point in this Olympic qualifier.

More details can be found on the live reporting link by clicking here.

RESULT: Valencia (ESP) - Men: Spain 3, France 3 (Match 1 of 2)
Spain's men (WR:8) were forced to fight back from 3-0 down before salvaging a 3-3 draw against a France (WR:12) team that impressed greatly in a thrilling contest at Valencia's Estadio Betero. Victor Charlet, Gaspard Baumgarten and Amaury Bellenger all netted in the second quarter before Xavi Lleonart pulled a goal back from the penalty spot just before half time. Veteran striker Pau Quemada netted penalty corner efforts in the third and fourth quarters to ensure that the points were shared, meaning that Saturday's second meeting between the two teams is very much 'winner takes all'.

More details can be found on the live reporting link by clicking here.

RESULT: Valencia (ESP) - Women: Spain 2, Korea 1 (Match 1 of 2)
Spain's women (WR:7) claimed a deserved 2-1 victory over Korea (WR:11), but were certainly forced to do it the hard way. Jang Heesun put Korea ahead with a 19th minute penalty corner, a strike that was cancelled out thanks to a diving finish from Belen Iglesias just four minutes later. Lola Reira scored the winning goal with a penalty corner drag-flick in the 39th minute, giving Spain a slender advantage over the Koreans going into tomorrow's second leg.

More details can be found on the live reporting link by clicking here.

How Olympic qualification works: The winners will be determined as follows: teams will be ranked according to the number of points each has accumulated in both matches (for each match, 3 points are awarded to the winner, 1 point to each team in the event of a draw and 0 point to the loser). If there is equality among the two teams, then the teams will be ranked according to their respective goal difference. If the equality remains, a shoot-out competition will be played to establish the winner.

FIH Hockey Olympic qualifiers – Day 1 Results

Friday 25 October 2019
Perth (AUS) - Women: Australia 4, Russia 2 (Match 1 of 2)
Changzhou (CHN) - Women: China 0, Belgium 2 (Match 1 of 2)
Valencia (ESP) - Men: Spain 3, France 3 (Match 1 of 2)
Valencia (ESP) - Women: Spain 2, Korea 1 (Match 1 of 2)

Upcoming Fixtures

Saturday 26 October 2019 - Day 2
Changzhou (CHN) - Women: China v Belgium (Match 2 of 2)
Perth (AUS) - Women: Australia v Russia (Match 2 of 2)
Amsterdam (NED) – Men: Netherlands v Pakistan (Match 1 of 2)
Valencia (ESP) - Men: Spain v France (Match 2 of 2)
Valencia (ESP) - Women: Spain v Korea (Match 2 of 2)
Vancouver (CAN) – Men: Canada v Ireland (Match 1 of 2)

Sunday 27 October 2019 - Day 3
Amsterdam (NED) – Men: Netherlands v Pakistan (Match 2 of 2)
Vancouver (CAN) – Men: Canada v Ireland (Match 2 of 2)

Friday 1 November 2019 - Day 4
Bhubaneswar (IND) – Women: India v USA (Match 1 of 2)
Bhubaneswar (IND) – Men: India v Russia (Match 1 of 2)

Saturday 2 November 2019 - Day 5
Stratford (NZL) – Men: New Zealand v Korea (Match 1 of 2)
Bhubaneswar (IND) – Women: India v USA (Match 2 of 2)
London (ENG) - Women: Great Britain v Chile (Match 1 of 2)
Bhubaneswar (IND) – Men: India v Russia (Match 2 of 2)
Mönchengladbach (GER) – Women: Germany v Italy (Match 1 of 2)
London (ENG) - Men: Great Britain v Malaysia (Match 1 of 2)
Mönchengladbach (GER) – Men: Germany v Austria (Match 1 of 2)
Dublin (IRL) – Women: Ireland v Canada (Match 1 of 2)

Sunday 3 November 2019 - Day 6
Stratford (NZL) – Men: New Zealand v Korea (Match 2 of 2)
London (ENG) - Women: Great Britain v Chile (Match 2 of 2)
Mönchengladbach (GER) – Women: Germany v Italy (Match 2 of 2)
London (ENG) - Men: Great Britain v Malaysia (Match 2 of 2)
Mönchengladbach (GER) – Men: Germany v Austria (Match 2 of 2)
Dublin (IRL) – Women: Ireland v Canada (Match 2 of 2)

#Tokyo2020
#RoadToTokyo
#GiftOfHockey

FIH site


---

Hockeyroos edge closer to Tokyo 2020 qualification

Nic Kerber




The Hockeyroos have one foot in the door to Tokyo 2020 after a 4-2 win over Russia in Match 1 of the two-match qualifying series in Perth this afternoon.

A double to co-captain Emily Chalker plus goals to Amy Lawton and Grace Stewart ensured the Hockeyroos head into tomorrow's second match in poll position.

However it was not all smooth sailing as Russia scored twice to equalise, but the Hockeyroos' class shone out in the end and they now just need to not lose by a bigger margin tomorrow.

Entering the match as hot favourites and carrying the expectation that comes with the favourites tag, any of the Hockyroos' nerves were erased after less than 60 seconds as Chalker scored from the home side's first foray forward.

A minute later it became even better when Lawton made it 2-0 after as many minutes.

Just when it appeared to be one way traffic, in the 8th minute Russian captain Bogdana Sadovaia pegged one back to send a message that the Hockeyroos were not going to have it all their own way.

Despite the Hockeyroos having the better of the second quarter the score remained 2-1 going into half time.

Looking to extend their advantage, the Hockeyroos suffered a sucker punch in the 37th minute as Alina Khalimova converted from a penalty corner to level it up.

However any tension among the Hockeyroos fans only lasted a minute as Stewart trapped, turned and smashed the ball in to seize back control.

Chalker then sealed the result in the final quarter after a scramble in the Russian goal as she was on the spot to tuck the ball away next to the right post.

A reverse shot from Mariah Williams went inches away from adding a fifth in the 53rd minute, the Hockeyroos needing to be content with a 4-2 victory.

Match 2 is at 7pm AWST (10pm AEDT) tomorrow after the Sultana Bran Hockey One double header between Perth Thundersticks and NSW Pride.

Match 1
Hockeyroos 4 (Chalker 1'/48', Lawton 2', Stewart 38')
Russia 2 (Sadovaia 8', Khalimova 37')
Perth Hockey Stadium at Curtin University, WA

Hockey Australia media release


---

Australia hold on against gritty Russia

By The Hockey Paper



Australia edged out Russia in first Olympic qualifier leg PIC: FIH.CH

Hockeyroos coach Paul Gaudoin had hoped the Friday heat would play into Australia's hands, while co-captain Emily Chalker admitted she didn't know Russia had a team after years in the programme.

Well, Russian proved a match for Australia, who in the end carved out a 4-2 victory in Perth for a two-goal cushion heading into the Olympic qualifying second leg on Saturday. But for brief patches, it looked far from easy for the hosts.

Australia had made it 2-0 in the opening two minutes as Chalker and Amy Lawton made hay before Russia pulled one back six minutes later.

They then equalised in the third quarter when Alina Khalimova scored from a PC.

However any tension among the Hockeyroos fans only lasted a minute as Stewart trapped, turned and smashed the ball in to seize back control.

Chalker then sealed the result in the final quarter after a scramble in the Russian goal as she was on the spot to tuck the ball away next to the right post.

A reverse shot from Mariah Williams went inches away from adding a fifth in the 53rd minute, the Hockeyroos needing to be content with a 4-2 victory.

Meanwhile, Belgium scored early and late to earn a 2-0 win in China.

Corinne Reid, who helped her country's women's hockey team, the Hockeyroos, win Olympic gold –

Jill Boon scored in the second minute before Stephanie Vanden Borre secured the win a minute from time.

This article was brought to you by The Hockey Paper, on-sale regularly via subscription in print or digital



The Hockey Paper


---

Ireland men set for Canada battle

By The Hockey Paper




New Ireland head coach Mark Tumilty says the Green Machine's positive vibes are back on track heading into the winner-takes-all Olympic hockey qualifiers this weekend.

Along with English assistant coach and Olympian Jason Lee, Tumilty was appointed to the senior men's role last month, after Alexander Cox's decision to quit the Ireland job following relegation from the top tier of European hockey.

"The first thing was to try and turn the squad morale around which hasn't been a massive challenge", Tumilty said in Vancouver ahead of Ireland's two clashes with Canada this weekend.

"We were very open. We reflected on that with the group. It was their feedback.

"Then we moved it forward from there. I think as well the fact that we've brought guys in to play in their own positions has increased that and improved that morale.

"We hope we've got over that. We'll soon see on Saturday if we've gotten over it, but I believe we have. I believe there's a focus there. We've moved on."

The Irish men's team are aiming for back-to-back Olympics for the first time having qualified in 2016 for the first time since 1908.

Tumilty came to the Ireland role after being head coach at Banbridge for nine years, while Lee has been involved in several Olympics as a coach and player.

Tumilty said: "It's a special shirt to wear. I think all the players recognise that.

"As I say, the opportunity to represent your country at the highest level of sport – the Olympic Games – is something that there shouldn't need to be a lot of motivation [for]. I shouldn't have to say too much in the changing room before the game."

This article was brought to you by The Hockey Paper, on-sale regularly via subscription in print or digital



The Hockey Paper


---

Tumilty says Tokyo spot a must for Ireland men

Goalkeeper David Harte says Tumilty has restored the Ireland players' belief after their poor showing in this year's EuroHockey Championship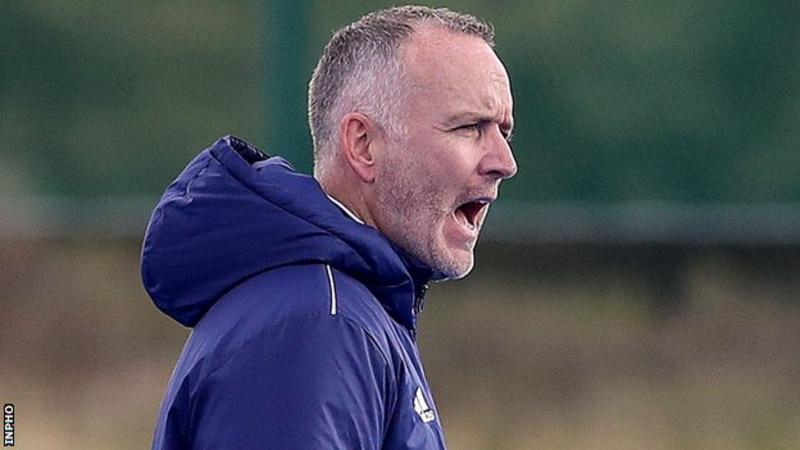 Mark Tumilty led Banbridge to one Irish Hockey League title and two Irish Cups

Ireland men's coach Mark Tumilty says the sport in Ireland needs a victory in this weekend's two-leg Olympic play-off against Canada.

The Irish men play Saturday's first leg in Vancouver with the second leg at the same venue on Sunday and both games are live on the BBC Sport NI website.

"We need to grow the game on the back of another Olympics," recently-appointed Tumilty told BBC Sport NI.

"We probably need to grow the game more than we did the last time [in 2016]."

Tumilty, who replaced Dutchman Alexander Cox who resigned following Ireland's relegation to the second tier at the EuroHockey Championships, says both the Irish players and coaching staff must be ready to deal with the pressure of this weekend's two matches.

"There is pressure but it's international hockey.

"From a coaching point of view and a playing point of view, there is a massive amount of experience in the group.

"These guys have played in EHL [Euro Hockey League] finals. That's [the pressure] not a concern of mine."

Ireland goalkeeper David Harte says Tumilty's arrival has helped to restore the team's morale after their relegation in the Euro Hockey Championships.

"Mark is an amazing motivator and has come in and instilled confidence and belief back into the green machine again," said Harte.

"He has that ability to man manage and understand the individual difference between players."

Ireland's men beat Canada 4-2 at the Rio Olympics but the 10th-ranked Canadians are now three places higher in the world rankings.

In the build-up to this weekend's play-off, the Irish men did beat 12th-ranked France in two games in Bordeaux but their final warm-up game saw them handed a 6-0 hammering by Belgium.

Ireland's women will also face Canada in their two-legged Olympic play-off in Dublin next weekend.

BBC Sport


---

Gritty Canadian side ready for men's field hockey Olympic qualifier vs. Ireland

By Gemma Karstens-Smith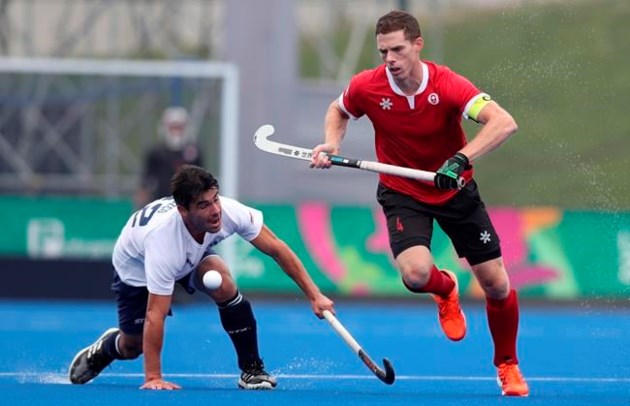 VANCOUVER — Scott Tupper knows the Canadian men's field hockey team has an opportunity to do something special this weekend.

Winning a two-game aggregate Olympic qualifier against visiting Ireland on Saturday and Sunday would punch the team's ticket to next summer's Tokyo Games.

It would also break a slump that's seen Canada fail to play in back-to-back Olympics since 1984 and '88.

"If we could that, I think it would leave a really good stamp for this sort of mini era of our team," said Tupper, captain of the national squad.

"I think it would be something that could just show all the hard work and dedication that we've had and that we have the ability in general."

The qualifier isn't Canada's first chance to clinch an Olympic spot. The team, ranked No. 10 in the world, could have avoided this weekend's games in West Vancouver by winning gold at the Pan American Games in Peru this summer.

Canada settled for second place, losing 5-2 to fourth-ranked Argentina in the final.

The group had a good game plan in place for that contest, said coach Paul Bundy, but got it wrong for short periods, failing to manage the Argentine attack and getting unlucky with some late injuries.

Since returning home, training has been about looking for ways to address those gaps and improving Canada's overall game instead of trying to prepare for what Ireland may bring, he added.

"I think there's been a big focus on us. It's very easy to get caught up when you know your opposition a long way out to focus on them," Bundy said. "But I think we've really shifted the focus on ourselves and the areas and the gaps that we got wrong at Pan Ams."

Canada's squad has traditionally been known as a defensive crew, despite not being very large physically, Tupper said.

Recently, though, they've been trying to attack more without losing their gritty identity.

"We're not scared to go and try to score some goals. But also always getting good goal tending and really hoping we close the door on our end of the field," Tupper said.

The Irish are known for physical play and a stellar goalkeeper in David Harte.

Previous games against Ireland, ranked No. 13, have been tough, Bundy said.

"The rankings go out the window with these kind of games," the coach said. "It's about who's going to be best on the day."

Bundy will be counting on some of his more experienced players to lead in the qualifiers. Players like Tupper, 32, can set the tone and calm any nerves the younger guys may experience, he said.

"It's fundamental that they play well and they lead from example," Bundy said. "Because as soon as that whistle goes, the coach doesn't have the same impact as those leaders on the field."

Much of the team has been playing together since 2015 and several of the current players saw Olympic action at the Rio Games in 2016 when Canada went 0-4-1.

Tupper also played in Beijing back in 2008. Now he's hungry for yet another shot at field hockey's biggest stage.

"I think experience only drives you to get back," he said. "Once you get a taste of it, you want it more and more. So myself, having been there a couple of times, I desperately want to play a third."

The collective experience should be an advantage heading into another tough test against Ireland, Tupper added.

"We've had a knack over the last few years of doing well in some pretty important matches," he said. "So hopefully we can tap into that a bit again on the weekend."

The men's field hockey team is trying to become the fifth Canadian team to qualify for Tokyo.

Women's water polo, women's softball and men's and women's rugby seven squads already have secured spots.

Airdrie Today


---

Seven Olympic Gold Medallists Selected For FIH Olympic Qualifier




Seven Rio 2016 gold medallists have been selected for the team to take on Chile in our do-or-die FIH Olympic Qualifier on 2-3 November.

Hollie Pearne-Webb - who scored the shootout winner three years ago - will captain a side that also includes Giselle Ansley, Maddie Hinch, Shona McCallin, Lily Owsley, Susannah Townsend and Laura Unsworth.

With less than a year until Tokyo 2020, this will be the last chance for both teams to qualify for the Olympics.

The winner will be determined by an aggregate scoreline taken from the two games at 14:00 on Saturday 2 November and 12:00 on Sunday 3 November.

In addition, Charlotte Watson and Leah Wilkinson are set to play their first international games at Lee Valley Hockey and Tennis Centre.

Watson made her Great Britain debut during a trip to Japan back in July and scored her first goal during a recent Test series against India.

Wilkinson – Wales' most capped team sport athlete of all time – made her own maiden GB appearance in that series and featured in all three games as her side took the overall victory.

They are two of five changes from the team that played against New Zealand at The Stoop on 23 June in our last competitive home fixture, with McCallin also set to play her first game in front of #ThePride since 2017 and Sarah Evans also returning.

Ahead of the crucial double-header, women's head coach Mark Hager said: "It's an exciting and very well-balanced group.

"We've brought in Leah Wilkinson to give us another key defender; she's deserved her place after playing well in the recent India Test series. Charlotte Watson has some good raw speed and the ability to put the ball in the back of the net, so she'll be quite an exciting addition.

"We've been training really well, it's been a tough decision around selection as any number of our squad could have made the team. We've got a lot of girls in good form at the moment, we're only a week away from the games so we've got to make sure we keep them confident and let them back themselves to go out there and play.

"It's helpful having the players from Rio 2016, they can talk about their experiences and what it means for this group. You could take going to the Olympics for granted but those players are very good at keeping our team grounded and making sure that everyone understands every time you put that shirt on it means something and that it's an honour to play for your country." 

The men's team for their FIH Olympic Qualifier against Malaysia is due to be announced at 15:00 on Tuesday 29 October.

GB Women's Squad To Face Chile (2-3 November)
Giselle Ansley (Surbiton) – ENG
Amy Costello (East Grinstead) – SCO
Sarah Evans (Surbiton) – ENG
Sabbie Heesh (GK) (Surbiton) - ENG
Maddie Hinch (GK) – ENG
Tess Howard (East Grinstead) – ENG
Hannah Martin (Surbiton) – ENG
Shona McCallin – ENG
Lizzie Neal (Loughborough Students) – ENG
Lily Owsley (Hampstead & Westminster) – ENG
Hollie Pearne-Webb (C) (Surbiton) – ENG
Izzy Petter (Loughborough Students) – ENG
Anna Toman (Wimbledon) – ENG
Susannah Townsend – ENG
Sarah Robertson (Hampstead & Westminster) – SCO
Laura Unsworth (East Grinstead) - ENG
Charlotte Watson (Dundee Wanderers) – SCO
Leah Wilkinson (Holcombe) – WAL

Great Britain Hockey media release


---

Great Britain's home nations feel for Chile clash

By Cassie Worth



GB women are aiming to defend hockey title in Tokyo 2020 PIC: Worldsportpics

Great Britain women's squad for their Olympic qualifying test will have a home nations feel for the two-legged clash against Chile next weekend.

For their successful Olympic qualifying tournament in Valencia four years ago, GB was made up of English players. But Mark Hager has selected three Scottish and one Welsh player in his 18-strong squad for their 2020 tilt.

Seven Rio 2016 gold medallists have been selected. Hollie Pearne-Webb will captain a side that also includes Giselle Ansley, Maddie Hinch, Shona McCallin, Susannah Townsend and Laura Unsworth.

In addition, Scotland's Charlotte Watson and Leah Wilkinson, of Wales, are set to play their first international games at Lee Valley.

Watson made her Great Britain debut during a trip to Japan back in July and scored her first goal during a recent Test series against India.

Wilkinson, Wales' most capped team sport athlete of all time, made her own debut GB appearance in that series and featured in all three games as her side took overall victory.

Hager said: "It's an exciting and very well-balanced group. We've brought in Leah Wilkinson to give us another key defender; she's deserved her place after playing well in the recent India Test series.

"Charlotte Watson has some good raw speed and the ability to put the ball in the back of the net, so she'll be quite an exciting addition.

At this stage five players from England's EuroHockey campaign – Emily Defroand, Amy Tennant, Jo Hunter, Suzy Petty and Grace Balsdon – haven't been selected. Defroand and Tennant are understood to be injured. GB will be picking two more players as standby next week.

The men's team for their qualifier against Malaysia will be announced on Tuesday.

GB Women v Chile (2-3 November)

Giselle Ansley (Surbiton) – ENG Amy Costello (East Grinstead) – SCO Sarah Evans (Surbiton) – ENG Sabbie Heesh (GK) (Surbiton) – ENG Maddie Hinch (GK) – ENG Tess Howard (East Grinstead) – ENG Hannah Martin (Surbiton) – ENG Shona McCallin – ENG Lizzie Neal (Loughborough Students) – ENG Lily Owsley (Hampstead & Westminster) – ENG Hollie Pearne-Webb (C) (Surbiton) – ENG Izzy Petter (Loughborough Students) – ENG Anna Toman (Wimbledon) – ENG Susannah Townsend – ENG Sarah Robertson (Hampstead & Westminster) – SCO Laura Unsworth (East Grinstead) – ENG Charlotte Watson (Dundee Wanderers) – SCO Leah Wilkinson (Holcombe) – WAL

This article was brought to you by The Hockey Paper, on-sale regularly via subscription in print or digital



The Hockey Paper


---

Malaysia ready to get a taste of Holland ahead of Games playoff



Hard at work: National hockey team at a training session in Holland under the watchful eye of goal striking expert Michael McCann.

KUALA LUMPUR: Malaysia hockey team are ready to "warm-up" in cold Holland to show their serious intent to win an Olympic Games ticket.

The team coached by national head coach Roelant Oltmans will get to strut their stuff when they play a friendly match against Holland in Amsterdam today.

They are using the match to prepare for the real test against Britain during the Olympic playoff matches from Nov 2-3 in London.

Over the last few days in Holland, they have been assisted by three experts – Australian striker Michael McCann and two from Holland – penalty corner specialist Taeke Taekema and goalkeeper Martin Drijver.

Malaysia Hockey Confederation (MHC) deputy president Prof Datuk Dr Shamala Subramaniam said the boys would use the friendly match to firm up their game plan. She hoped to see improvement in their scoring abilities.

"The weather is cold there but the boys have been in good spirit ahead of the friendly match, " said Shamala.

"Our coach and the three with different expertise have been working closely with the players in Holland to fine tune their game.

"The three experts have been with the team before, so they are familiar with the boys and know what are the areas that need to be improved.

"The team are different. They are fired up and determined to win the ticket for the Olympic Games. I'm proud with the show of dedication and focus in their preparation so far, " she added.

Malaysia hockey last qualified for the Olympic Games in Sydney in 2000.

The Star of Malaysia


---

Tokyo dream bigger than Deepavali

By Jugjet Singh



Goalkeeper S. Kumar will not be celebrating the Festival of Lights with family as he is preparing for the Olympic qualifiers. -- NSTP FILE PIX

GOALKEEPER S. Kumar will not be celebrating Deepavali with his family in Tampin this year as he is currently in the Netherlands with the national team.

However, Kumar believes that playing for the country comes above everything else.

"I do feel sad leaving my family and friends during Deepavali but they understand it's my 'job' to serve the country. And they support me fully.

"This is my eighth time being away from Tampin during Deepavali. I want to make it count by helping the team qualify for next year's Tokyo Olympics," said Kumar, who has earned 321 caps.

For the record, the 39-year-old has never played in the Olympics.

He is currently with the national team in the Netherlands preparing for the Olympic qualifier against Britain in London on Nov 2 and 3.

"This is our last door to the Olympics, and we hope to claim it."

And his wish for this Festival of Lights?

"I hope my sacrifices with the team for the last 20 years will end with a happy moment in London."

Malaysia will play Dutch clubs, Gazellen-Combinatie and HC Bloemendaal, today and tomorrow before heading for London on Monday.

Happy Deepavali Kumar! Hope your wish to play in Tokyo comes true.

New Straits Times


---

Pakistan hockey team faces Netherlands for Olympic ticket

Azhar Khan




LAHORE - Pakistan hockey team will be looking for Olympic ticket, when they face Netherlands in the first of the double header qualifier.

Pakistan will meet the hosts Netherlands again tomorrow as the aggregate score of both the matches will decide that who would win the right to play in the Tokyo Olympics 2020 hockey event.

Pakistan chances look quite dim after recent thrashing at the hands of Germany last week as they lost the first encounter 6-1 and the second 6-2. Seeing the recent performances of Pakistan hockey team, which have had an unsettled time, only a miracle can help them beat the hosts Netherlands by a good margin to earn an Olympic ticket.

Pakistan head coach Olympian Khawaja Junaid said: "Netherlands have been displaying good hockey tactics and skills recently. We are preparing our strategy to control their strengths."

The Netherlands side has been enjoying steady success in the past few months. A third place finish in the FIH Pro League came off the back of a silver medal performance at the 2018 World Cup.

The Dutch have played at 18 out of a total of 23 Olympic Games – the last time they were absent was the 1980 Moscow Olympics. Head coach Max Caldas and his men will have the pressure and expectation of a large and vociferous home crowd to contend with.

Netherlands' Seve Van Ass said: "Pakistan are a really good team and we have huge respect for them. They have quality players with some individual skills and we have had some tough matches against them."

The next two weekends (October 25-27 & November 1-3) will see some fascinating hockey matches taking place as 14 men's and 14 women's teams do battle for a place at the Olympic Games Tokyo 2020. The seven winning teams in each gender will join Japan men and women, who qualify as both hosts and as Asian champions. The other four continental champions are also qualified, namely Argentina men and women, South Africa men and women, Netherlands women, New Zealand women, Belgium men and Australia men.

Participants in the Olympic Qualifiers booked their places through one of three avenues: nations that finished first or second in the FIH Series Finals that took place earlier in the year; nations that finished in the top 4 of the inaugural FIH Pro League but did not win their Continental Championship; or by virtue of their FIH World Ranking.

Within each gender, the 14 teams have been drawn into seven pairs, and they will play a double header over two consecutive days with the scores from both matches added together. As French player Charles Masson pointed out: "It is two times 60 minutes, so we must be patient."

The Nation


---

USA women arrive for Olympic Qualifiers

The team will take on India at the Kalinga Stadium in Bhubaneswar

USA's women's team on Friday arrived in India to take part in the FIH Olympic qualifiers.

The team would be taking on India in the qualifying match at the Kalinga Stadium in Bhubaneswar.

Skipper Kathleen Sharkey expressed excitement to play a major event in India, which has a history of excellence in hockey.

"It is exciting to be in India. None of us have been here before but we know India has a great history in hockey and people here are very passionate about the sport with a lot of fans coming to watch the matches live.

"We saw the spectacular Men's World Cup hosted here in Bhubaneswar.

Looking forward

"We are looking forward to playing here and take home the experience of playing in one of the world's most famous city for hockey," Sharkey said in an official statement.

The Indian Women's Team last played against the USA during the 2018 Women's World Cup in London and in the match, India managed to hold the USA to a 1-1 draw.

Obvious goal

"Our goal is obviously to qualify for the 2020 Tokyo Olympics. We want to put forth our best in those two games and make sure we play to our potential against India," Sharkey said.

"We are well-prepared for the Indian team. They have progressed well over the past year and so have we.

"We have been following India matches lately. We are expecting close matches and our team is very excited to be here," USA's head coach Janneke Schopman said.

USA will take on India on November 1 and 2 at the Kalinga Hockey Stadium in Bhubaneswar.

The Hindu


---

Playing India in India excites Captain Kathleen

s2h Team

Bhubaneswar, 25th October 2019: With just seven days to go for the most-awaited FIH Olympic Qualifiers to begin here at the iconic Kalinga Stadium, the USA Women's Hockey Team on Friday arrived Bhubaneswar: The team's Skipper Kathleen Sharkey expressed her team's excitement to play a major event here in India, which has a history of hockey excellence.

"It is exciting to be in India. None of us have been here before but we know India has a great history in hockey and people here are very passionate about the sport with a lot of fans coming to watch the matches live. We saw the spectacular Men's World Cup hosted here in Bhubaneswar. We are looking forward to play here and take home the experience of playing in one of the world's most famous city for hockey," stated the 29-year-old who have 174 International Caps to her name.

The Indian Women's Team had last met the USA during 2018 Women's World Cup in London where India held USA to a 1-1 draw. Aware of India's capabilities of doing well, Sharkey said, "Our goal is obviously to qualify for the 2020 Tokyo Olympics. We want to put forth our best in those two games and make sure we play to our potential against India."

USA's Head Coach Janneke Schopman, meanwhile expressed her team's preparedness ahead of the crucial tie against India. She said, "We are well-prepared for the Indian team. They have progressed well over the past year and so have we. We have been following India matches lately. We are expecting close matches and our team is very excited to be here."

USA will take on India on 1 and 2 November at the Kalinga Hockey Stadium in Bhubaneswar.

Stick2Hockey.com


---

Men's Irish Senior Cup Round 2




This weekend sees the second round of the Irish Senior Cup take centre stage with 7 ties to be completed.

There are two all EYHL pairings with Banbridge hosting Lisnagarvey – both sides missing key players on International duty in Vancouver -  and Three Rock Rovers, current holders, welcoming YMCA in a repeat of last weekend's Leinster Senior Mills Cup tie.

Bray, the only non EYHL or EYHL 2 team left in the draw, host Monkstown and Pembroke Wanderers and Glenanne both welcome EYHL 2 opponents in Avoca, @ Serpentine Ave, and Cork Harlequins @ St. Andrews.

Clontarf, unbeaten in the Leinster Senior League, and UCD, joint leaders of the EYHL, face each other in an intriguing encounter in North Dublin.

Two EYHL 2 sides come face to face in Cookstown as the home team play host to Railway Union guaranteeing at least two EYHL 2 sides will be in the draw for the quarter finals on 7th December.

Cork Church of Ireland, who gained a walkover following the withdrawal of Mossley, are also into the draw for the next round.

Draw for Quarter-finals, to be played on 7th Dec'19, and semi-finals will take place next week.

Irish Hockey Association media release


---

Irish Senior Cup and women's EYHL2 provide bank holiday entertainment



Banbridge and Monkstown are gunning for a quarter-final spot. Pic: Adrian Boehm

While Irish hockey fans will be glued to the Olympic qualifiers in Vancouver on Saturday night online, there are plenty of high quality live games on offer in the afternoon as the men's Irish Senior Cup and women's EYHL Division 2 hit the turf.

It is a weekend with plenty of variables for each men's club to cope with international players abroad while the majority of those involved in the All-Ireland Schoolboys Championships are likely to be rested on welfare grounds.

The marquee game is definitely at Havelock Park where Banbridge host Lisnagarvey early in the competition for the second successive season. Bann will be without Eugene Magee and John McKee while Garvey are shy Jonathan Bell while goalkeeper James Milliken has flown out to Canada at short notice as goalkeeping cover for the Green Machine.

It is one of two all-EYHL contests with Three Rock Rovers facing YMCA in a cup competition for a third time this season. Rovers edged out the Y in the Neville Cup 2-1 before picking up a 4-1 result in the Mills last Sunday.

YM did have their chances in that tie, however, and have plenty to build on but their coach Jason Klinkradt is away in Canada as video analyst for the Irish side. Rovers are shy Ben Walker.

Cookstown against Railway is another interesting one between two of the main contenders in EYHL2. Home advantage was the main divider when they met twice in the 2017/18 season when they were both in the EYHL and so Steelweld Park could be a vital advantage.

Railway, though, did run up a 6-1 win over Dublin North in midweek. Richie Forrest and Adrian Sweeney traded early goals before David McCarthy and Fergal Keaveney's stroke eked out a 3-1 half-time lead.

Further goals form Forrest, Michael Fulham and Rob Devlin stretched out the lead to earn Railway top spot in Leinster with four wins from four thus far.

Elsewhere, top tier sides hold the favourites tag against regional opposition. Pembroke host Avoca, Monkstown go to Bray without Dave Fitzgerald and Stephen Cole but still should be in the box seat and Clontarf host UCD.

Tarf did cause the students problems last season but UCD have been in immaculate form this season with their strengthened squad and will expect to advance.



Trinity's Isy Delamer. Pic: Adrian Boehm

Cork C of I are through to the final eight without having to play a single minute. They got a bye through round one and then received a walkover from Mossley who, having beaten Dublin University 4-1 in the first round, decided to withdraw from the competition.

On the women's side, it is day two of the women's EYHL2. Trinity make their seasonal entrance in Pool A with a big test against Lurgan. Three comprehensive wins from three in Leinster is their form guide ahead of their encounter with an Ulster side who always challenge in the Premier League.

Corinthian's busy start to the season continues with an away day at Connacht champions NUIG.

In Pool B, Monkstown are the side making their tournament bow, hosting Greenfields at the ALD Merrion Fleet Arena.

Ards and UCC is the pick of the contests on the agenda, both having won their opening round matches.

Tuesday result

Men's Leinster Division One: Railway Union 6 (R Forrest 2, D McCarthy, F Keaveney, M Fulham, R Devlin) Dublin North 1 (A Sweeney)

Weekend fixtures

Men's Irish Senior Cup – Round 2: Banbridge v Lisnagarvey, Havelock Park, 4pm; Bray v Monkstown, Temple Carrig, 2.30pm; Clontarf v UCD, Mount Temple, 1pm; Cookstown v Railway Union, Steelweld Park, 2.45pm; Glenanne v Cork Harlequins, St Andrew's, 2.30pm; Pembroke Wanderers v Avoca, Serpentine Avenue, 2.30pm; Three Rock Rovers v YMCA, Grange Road, 12.30pm

Cancelled: Cork C of I w/o Mossley scr

Women

EYHL Division 2

Pool A: NUIG v Corinthian, Dangan, 2pm; Trinity v Lurgan, Santry Avenue, 2.30pm

Pool B: Ards v UCC, Londonderry Park, 2.30pm; Monkstown v Greenfields, ALD Merrion Fleet Arena, 2.15pm

The Hook


---

USIU seek redemption at City Park

By AGNES MAKHANDIA



USIU-A forward Rhoda Kuira dribbles past Lakers' Vivian Ogweno during their Kenya Hockey Union women's Premier League match at City Park Stadium on October 12, 2019. PHOTO | CHRIS OMOLLO |  NATION MEDIA GROUP

United States International University of Africa (USIU-A) will be out to exorcise the demons of last weekend's Yusuf Memorial Hockey Festival when they face Jomo Kenyatta University Agricultural Technology seeking to close gap on leaders Blazers (formerly Telkom) in the Kenya Hockey Union women's Premier League at City Park Stadium on Saturday.

The Willis Okeyo-coached side, who were eliminated in the quarter-finals in the coastal event they were considered favourites to lift, will then tackle arch-rivals Strathmore University on Sunday as the battle for the second place hits fever pitch.

Strathmore, who finished second last season, will be buoyed by their triumph in the Mombasa event where they beat Technical University of Kenya(TUK) in the final, while USIU A will be keen to make amends.

Prior to this weekend's matches, USIU-A have 20 points from 10 matches and sit second on the table, while Strathmore are third with 18 points from 11 matches.

Record holders Blazers, who recently changed their name from Telkom after their sponsorship with the Telecommunications firm expired, lead the standings with 26 points and remain unbeaten in 10 matches. Blazers are not in action this weekend.

DIFFERENT BALL GAME

Okeyo said he doesn't gauge his team's performances based on tournament results.

"The match against JKUAT has always been a derby but we won against them in the first leg (3-0) and we hope to build on that win during the Saturday's match. We are aware they remain winless but we will not be overconfident when we line up against them," Okeyo, eho features for Kenya Police in the men's Premier League said.

"We played to a barren draw against Strathmore and we know it will be a tough match but we have prepared well," he added.

"We are a full squad now, unlike in Mombasa where a few players remained behind to sit their exams. But at the end of it all, our focus is to close in on the leaders."

Strathmore coach Meshack Senge said they will give a good account of themselves.

In the men's premier League on Sunday, leaders Butali Sugar Warriors have a chance to extend their when they play Sailors in the final match of the weekend.

Butali have 33 points from 13 matches and will be keen to guard their unbeaten run.

Wazalendo and Green Sharks are second and third with 29 and 23 points respectively from 14 matches but both are not in action.

FIXTURES (All matches at City Park unless stated)

Saturday

Vikings v TUK (12pm)
USIU v JKUAT (2pm)
Parkroad Badgers v Bungoma Farmers (4pm)
KCAU v KU (6pm)
USIU v Parklands (7:30pm)

Sunday

Impala v Bungoma Farmer (9am)
Karate Axiom v Daystar (11am)
KCAU v MMU - Men (12:15pm)
TUK-Women v UoN (1pm)
USIU v Strathmore (3pm)
Butali v Sailors (5pm)

Daily Nation


---

Butali Warriors battle Sailors in league tie

By Elizabeth Mburugu



Champions Butali Warriors to face Sailors. [JENIPHER WACHIE, STANDARD]

Champions Butali Warriors face Sailors in a Kenya Hockey Union men's Premier League match at City Park tomorrow.

They will also be looking to extend their unbeaten run and remain on course to retain the title. Butali have been unstoppable and are the only side yet to test defeat this season.

A victory against Sailors will see the sugar millers stretch the lead to 36 points seven more than second- placed Wazalendo who will not be in action this weekend.

They will also be out to extend a good run over Sailors who they have dominated and in their past encounters chalking three wins out of three.

Butali beat Sailors 2-0 in the first leg and will be looking to complete a double and snatch maximum points.

Sailors on the other hand will be chasing their sixth victory of the season and a chance to leap to fifth place. They are seventh on the log with 17 points and a win will see them break away from Western Jaguars and United States International University of Africa (USIU-A).

Jaguars are fifth and USIU-A sixth tied on 17 points with Sailors but separated by goal difference. Butali will have their key men turn up for the job except Frank Wanangwe who is out for the remaining part of the season with a knee injury.

Butali's George Mutira and Amos Barkibir will be looking to increase their goal tally and remain in the race for the top scorer's award.

Butali coach Dennis Owoka said that even though they have had a good season, the league is not won yet and they will be out to stretch their league and improve their chances.

"Victory against Sailors is very crucial because the title is still open. We have been consistent but we still have to work harder and we don't expect an easy match because they (Sailors) gave us a hard time in our league opener and we don't expect less from them," Owoka said.

Today, third placed Greensharks will take on relegation candidates Parklands in the hunt of their eighth win of the season.

Sharks will also be hoping to grab three points and reduce the six point gap between them and Wazalendo. They go into the match on the back of a 3-1 win over 2016 champions Strathmore University Gladiators.

Parklands must win against Sharks to revive their hopes of escaping the chop. They have had one of their most disappointing seasons winning one match out of 12.

They are tied on eight points with 2012 winners Nairobi Sikh Union while Strathmore are one above them with ten.

In the women's title chase, USIU-A Spartans will be take on Jomo Kenyatta University of Agriculture and Technology (JKUAT) and Strathmore today and tomorrow.

Double victory for Spartans will see them equal defending champions Telkom on 26 points but will remain in second place due to an inferior goal difference.

The Standard Digital


---

Madison Maguire nets a hat trick as No. 2 Maryland field hockey beats Michigan State, 5-1

David Suggs



Forward Madison Maguire sits in space during Maryland field hockey's 5-1 win over Michigan State on Oct. 25, 2019 at the Field Hockey & Lacrosse Complex. (Gabby Baniqued/The Diamondback)

Maryland field hockey forward Madison Maguire sprinted into the shooting circle late in the fourth quarter, hoping to get her stick on one more chance.

Maguire had already seen two of her shots ripple the net, adding an assist as well.

But it was Senior Day, and the Rumson, New Jersey, native wanted to mark it with a memorable performance. So once Kelee Lepage's pass reached her, Maguire made sure a hat trick wasn't going to slip from her grasp, slotting home the chance.

The dominant performance capped off a successful Senior Day on Friday, with the No. 2 Terps claiming a 5-1 victory over Michigan State to clinch at least a share of the Big Ten regular-season title.

"We [had] to show Michigan State how we play — the Big Ten how we play," Maguire said. "We capitalized on that."

From the opening pass-back, the Terps looked dangerous, rattling off seven shots in the first five minutes of the game.

"We played an exceptional brand of hockey," coach Missy Meharg said, "[we] would've liked to get on the board a little bit earlier with some of the shot opportunities we had."

And Maryland was rewarded for its high intensity, with Maguire rocketing an effort into the bottom corner for her team-leading 10th goal of the season.

Despite the disparity in shot totals, Maryland was unable to add to its edge, with Spartans goalkeeper Jade Arundell making a series of acrobatic saves to deny the Terps of a more commanding lead.

"Michigan State is a great team," Maguire said, "They came out with a lot of pressure."

Meharg's squad continued to pepper Arundell's cage in the second frame, eventually finding a second breakthrough off the work of Emma and Brooke DeBerdine. Brooke carried the ball into the shooting circle before flicking a shot toward Arundell's cage.

While the Spartans netminder was equal to DeBerdine's effort, the loose rebound found Emma, who summarily fired home into the empty net.

Defensively, Maryland had spent much of the week working on its structure and shape, looking to limit the space it afforded to the opposition's attack.

And through two quarters, Meharg's squad looked refreshed and confident in that aspect of the game, limiting the Spartans to two shots.

After winning the shot battle, 17-2, in the first half, the only complaint Maryland could have was that it had only two goals to show for it.

So as the third frame commenced, the Terps continued to fire away in the hopes of ballooning their lead.

"We changed up some formations and I think that worked for us," Meharg said. "We … let them play into us more, so we had more space to counterattack. That tactic opened up the players' skills."

And six minutes into the period, Maryland's lead had swelled to four. Lepage drove deep into Spartans territory, forcing Arundell to engage. And as soon as Arundell committed to Lepage, she deftly swept the ball to a wide-open Maguire, who subsequently tapped the ball toward cage before forward Mayv Clune got the final touch to secure the goal.

"We always talk about starting the second half just as strong the first, if not stronger," Lepage said. "I feel like we're getting [more] momentum."

Maguire was the hub of Maryland's attacking threat, recording four shots in the game. And shortly after Clune's goal, Maguire added her second of the match, delicately controlling Brooke DeBerdine's cross before swinging the ball into the bottom left corner.

"I got a lot of good balls in the circle," Maguire said. "[I'm proud of] my teammates because they got the ball open for me."

Seconds later, it was the Spartans who were on the scoresheet, though, as forward Aisha Osinga lifted the ball above goalkeeper Noelle Frost to end Maryland's streak of home shutouts at three games.

But the Terps kept plugging away as the game descended to its conclusion, with Maguire eventually securing her elusive third goal to cap a four-goal victory and at least a share of a second-consecutive Big Ten regular-season title.

"The outcome puts us in first place and I'm really proud of our staff and our team," Meharg said. "[We'll] be ready to head up to State College, [Pennsylvania] for the [Big Ten] tournament."

The Diamondback


---

IU field hockey will look for more Michigan magic

By Aiden Kantner



IU junior Rylee Pearson chases the ball against Miami University on Sept. 6 at the IU Field Hockey Complex. The Hoosiers are losers of eight straight matches and are currently in a position where they won't make the Big Ten Tournament, effectively making their final match versus Northwestern next week a must-win game. Joy Burton

The last time the IU field hockey team traveled north Michigan, the team was 3-3, beginning the gauntlet of its conference schedule.

As an underdog, IU traveled to East Lansing and took down a ranked Michigan State team, moving them to 4-3 and 1-0 in the conference. It was the team's first win to open the conference schedule since 2015, and its first ranked win since 2017. Sophomore forward Hailey Couch had a career day, scoring a hat trick in a 4-2 win.

Since this positive start, the train has gone off the rails.

Now 34 days later, the Hoosiers sit at a disappointing 4-11 with a 1-6 record in the conference. The Hoosiers are losers of eight straight matches and are currently in a position where they won't make the Big Ten Tournament, effectively making their final match versus Northwestern next week a must-win game.

Before the Hoosiers travel to Evanston with their season on the line, they travel back to Michigan to take on Central Michigan University.

Central Michigan has lost 13 straight matches dating back to Sept. 2, including three losses to Big Ten schools by a combined score of 25-0. Central Michigan's weakness is its defense. The team has conceded more than four goals and almost nine corners per game. The Chippewas only average seven shots per game, compared to the 22 shots they concede on average every contest.

Freshman midfielder Alice O'Hagan leads the Chippewas with six goals, and junior midfielder Samantha Glapinski has five goals, forming a dangerous duo up front for Central Michigan. They have contributed 11 of the team's 18 total goals on the season.

Outside of those two, Central Michigan does not have another player with more than two goals this season. If IU can limit the opportunities of O'Hagan and Glapinski, it will give itself an opportunity to top last season's win total on Friday.

The Hoosiers could use the momentum of a big win in a hostile environment with their season on the line next week. However, if IU is to save the sinking ship that is its season, it starts Friday in a winnable game against Central Michigan.

Indiana Daily Student