All the news for Friday 25 October 2019
FIH Hockey Olympic Qualifiers 2019 (Men)
25 Oct 2019 18:00 (GMT +1)     ESP v FRA (ESP v FRA)

26 Oct 2019 14:00 (GMT -8)      CAN v IRL (CAN v IRL)
26 Oct 2019 16:00 (GMT +1)      NED v PAK (NED v PAK)
26 Oct 2019 18:00 (GMT +1)      ESP v FRA (ESP v FRA)

27 Oct 2019 14:00 (GMT -8)      CAN v IRL (CAN v IRL)
27 Oct 2019 16:00 (GMT +1)      NED v PAK (NED v PAK)

Live streaming on https://fih.live (may be geoblocked) and other broadcast partners

FIH Match Centre

---
25 Oct 2019   AUS v RUS (AUS v RUS) 4 - 2 (First AUS goal in 21 seconds!)
25 Oct 2019    CHN v BEL (CHN v BEL) 0 - 2
25 Oct 2019 20:00 (GMT +1)     ESP v KOR (ESP v KOR

26 Oct 2019 16:00 (GMT +8)     CHN v BEL (CHN v BEL)
26 Oct 2019 19:00 (GMT +8)     AUS v RUS (AUS v RUS)
26 Oct 2019 20:00 (GMT +1)     ESP v KOR (ESP v KOR)

Live streaming on https://fih.live (may be geoblocked) and other broadcast partners

FIH Match Centre

---

OQ: Crunch Time As Tokyo Beckons

s2h Team




Ironically, a marquee men's Olympic hockey qualifier starts as a mismatch by consensus. The Netherlands (World Ranking: No. 3) take the pitch against Pakistan (WR:17) in the first of two legs at the Wagener stadium in Amstelveen on Saturday. The Dutch are twice Olympic champions and three-time World Cup champions. Pakistan, three time Olympic champions, are also record four-time World Cup winners.

After vicissitudes over the years have had their say, the once redoubtable Green Shirts' chances of making next year's Tokyo Olympics now draw disdain and despondency, even ridicule.

None more so than from a Pakistani great who reportedly suggested that his country could only win the double-legged encounter if half the Dutch team were to be struck by diarrhoea!

The Dutch players are probably the few in context who appreciate that the world of sport never ceases to produce surprises.

And coach Max Caldas, for one, presumably won't take anything for granted.

In 2014, his team found itself at the receiving end of a 2-4 scoreline against Pakistan in the Champions Trophy quarterfinal in Bhubaneswar.

But there's plenty that has happened since then. The Pakistanis have been ravaged by financial debilitation, a lack of international matches at home owing to security concerns and a chronic drop of form intertwining their off-pitch problems.

The travails of the treasury and alleged mismanagement of the sport in the country compelled Pakistan to withdraw from the inaugural FIH Pro League that offered premium ranking points.

It meant the three-time Olympic gold medallists plummeted to a dismally low ranking that set up a meeting with the highly-rated Dutch after the draw in Lausanne, Switzerland, in September.

The spectre of missing out on yet another major event now hangs heavy over the Pakistan camp. The Green Shirts missed a World Cup (The Hague, 2014) and an Olympics (Rio, 2016).

They made the 2018 World Cup in Bhubaneswar by the skin of their teeth but finished lowly 12th after failing to win a single match.

A few months earlier, Pakistan failed to pick up a medal at the Asian Games for the first time ever, finishing fourth after losing to their arch rivals India in Jakarta.

The current European sojourn started disastrously as Pakistan lost two practice games to Germany (1-6 and 2-6) in Moenchengladbach.

Injuries to two players (captain Muhammad Rizwan Senior and Abu Bakar Mahmood) during training and failure to obtain visas for goalkeeper Waqar and Hammaduddin Anjum have compounded woes.

It does appear that barring a sensational coup, the clash with the Netherlands remains one of three men's qualifiers (seven in all) for which the result is a foregone conclusion.

India (WR: 5) vs Russia (WR: 22) looks to be another.

Germany (WR: 6) vs Austria (WR: 20) may well be a third. Unless one takes a look at the fine print. Austria are the 2018 World Indoor champions after beating – guess who – their adversaries themselves in their own backyard in Berlin.

Still, the Germans playing at home (a privilege for the higher ranked nation) and in a significantly different version of the sport must perform very badly to lose out on a chance to better their imposing record at the Olympics where their four-gold medal tally is second only to India's eight.

Intriguing battles mark the other match-ups. Spain (WR: 8) vs France (WR: 12) in Valencia, Great Britain (WR: 7) vs Malaysia (WR:11) in London, New Zealand (WR: 9) vs South Korea (WR: 16) in Stratford and Canada (WR: 10) vs Ireland (WR: 13) in Vancouver.

Nations that have already qualified for Tokyo are hosts Japan, European and World Champions Belgium, Pan American winners and defending Olympic champions Argentina, Oceania champions Australia and African champions South Africa.

Japan won the Asian Games gold medal and freed up a qualifying spot.

Continental champions and the hosts qualified directly for the 12-nation event at the Olympics. The remaining spots will be filled by winners of the seven playoffs to be hosted by nations with higher rankings.

The seven pairs of nations in the qualifiers spread across the globe came through via intricate routes that spanned the FIH Pro League, Series Finals and the International Rankings.

The double-legged encounters will see the shootout being applied should teams be level on aggregate. Spain and France kick off the programme in Valencia on Friday.

Canada and Ireland do battle in Vancouver on Saturday, the same day that The Netherlands square up to Pakistan.

Spain play France in the second leg also on Saturday before the other second leg battles on Sunday. The rest of the qualifiers will be played from November 1to 3.

In the women's qualifiers, Spain play South Korea on Friday. The next day, it's China vs Belgium, Australia vs Russia and Spain vs Korea (2nd leg).

Other second leg fixtures will be held on Sunday.

The November 1-3 schedule sees India (WR:9) take on USA (WR:13) in Bhubaneswar, Germany (WR:4) vs Italy (WR:17) in Moenchengladbach, Great Britain (WR: 5) vs Chile (WR: 18) in London and Ireland (WR: 17) vs Canada (WR:15) in Dublin.

Japan as hosts, Netherlands (European champions), Argentina (Pan American champions), South Africa (African champions) and New Zealand (Oceania champions) have qualified directly.

Stick2Hockey.com


---

What Indian players say on the eve of OQT

s2h Team




VICE CAPTAIN SV SUNIL: "It's going to be a great weekend of hockey with Pakistan taking on the Netherlands and Spain taking on France. Canada, who gave us the woes back in Rio Olympics will also be playing for an Olympic spot when they take on Ireland. Anything can happen in such crunch games and all teams will come prepared to win a berth for the 2020 Tokyo Olympics. We will be watching these matches together as a team activity and I don't think we can predict a clear winner simply because these are Olympic Qualifiers and any team can create an upset. We have seen such results in the past."

"We got to see the level of intensity they (the Netherlands) brought to their training sessions. We monitored their GPS tracking to see the kind of energy they bring into every drill and every interval. They looked in good nick. One can never take their opponents lightly especially when an Olympic Qualification is at stake and a first-hand glimpse of the Netherlands training ahead of their Qualifier against Pakistan showed that they were not taking their opponents lightly. I am sure the Qualifying matches this weekend is going to be top-notch. We saw what France is capable of when they beat Olympic Champions Argentina in the Men's World Cup last year and the result eventually put Spain out of the knockout stage. They are a very capable team and are developing fast into a strong hockey playing nation."

"The Netherlands is the first team we play in the FIH Hockey Pro League (on 18 and 19 January 2020). They are a team we have always followed closely and these Qualifying matches will give us an understanding about their progress this year and what we can expect from them in January when the season starts. Although our focus right now is the Olympic Qualifier against Russia, it is always good to have an idea of what we need to be prepared for in the forthcoming season."

SUSHILA CHANU: "We know how it felt representing the country at the Olympics when we qualified for it after a 36-year gap last time in Rio. However, when we came back from that outing, there was a unanimous feeling around the group that we need to push ourselves and make sure that we are consistently putting in the performances which will help us in qualifying for the next edition. We have made huge strides from the previous Olympics, and now we are all very determined to secure our place in the 2020 Tokyo Olympics."

"It was unfortunate that I suffered a long-term injury in 2018, and had to miss major tournaments like the FIH Women's Hockey World Cup London 2018, the Asian Games 2018 and the AHF Women's Champions Trophy. It was a very difficult period for me personally as I was low on confidence, and when you are injured, most of the time you are supposed to train alone with your trainer. There were times when I would doubt myself and think about the what-ifs, but the support I received from my family, support staff and my teammates was immense, it helped me in making a comeback."

"I was honored to have been named the Captain of the team in 2016, and it was a surreal experience personally. I had always dreamed about playing for India at the Olympic Games, and when we first stepped onto the field in our first match against Japan, I had goosebumps. I had just recovered from an ACL injury, and to be Captaining the side at the biggest tournament was a proud and emotional moment for me. We have 10 players in this current side who were there in Rio as well, and all of us collectively want to experience that feeling again, and not just that, we want to win a medal for the country this time in Tokyo," said the Manipur-born midfielder.




"USA will pose a huge threat but that her team is ready. "We have the best opportunity to qualify for the Tokyo Olympics as we are playing at home against USA. We will have the support of the home crowd, and even though USA are a strong unit, we have full belief in ourselves and in the way we play. We have made huge strides in our game from 2016, and now is the time to show it to the world that the Indian Women's Hockey team is here to challenge for the top honours, regardless of the opposition we face. That is the kind of confidence that is instilled in the team and we are determined to produce the results in the FIH Hockey Olympic Qualifiers Odisha."

VIVEK PRASAD: "Having been picked for the senior team at such a young age, it was not easy for me when I first came into the side. The intensity and skill required at the senior level, compared to the junior level, was definitely more, but I feel I have adjusted pretty well. I made my debut under Coach Sjoerd Marijne back in 2018, and he also gave me a lot of confidence. The transition has not been easy, but I feel I have improved a lot since last year, and with the help of my teammates, and my Coaches, I have been able to help the team in executing their plans."

"For us, it is always about producing our best performance on the field regardless of the opponent we face. We had a very good preparatory tour of Belgium where we beat the World Champions and the Spanish team quite comprehensively. The Chief Coach also spoke to us after the tour and he was happy with the level of intensity we showed throughout the tour, and we will be aiming to do the same when we take on Russia here in Bhubaneswar."

"Sultan of Johor Cup in 2017 was a great first tour for me personally, but of course I would have loved to win the Gold Medal. I was also given the responsibility of Captaining the side, so that lifted my performances also I feel. But the best thing about that tour was that I was called up for the Senior camp after that, and my journey started from thereon."

"Every player wants to play at the Olympic Games, and my dream is the same. I know we have the team to perform well at next year's Olympics but we don't want to look too far ahead of us. Right now our focus is on the upcoming two matches against Russia, and we will continue to work hard to perform well in those matches. After that, we can look forward to the Olympics."




"I was really young when I was called up for the National Camp, and it was a dream come true for me to be playing alongside legends like Sardar Singh. He was always there to guide me in my initial days, and just speaking to him would lift my confidence. The good thing about the team has been that I have always received good advice from the experienced players like Manpreet bhai and Sreejesh bhai and for me, it has translated into good performances on the field. It is an important time for our team, and I am really looking forward to contributing in securing our place at next year's Tokyo Olympics."

RANI RAMPAL: "We have a group of players who have played together for a good period of time, and that obviously helps in building a good understanding between all the team members. We know each other in and out, and all of us understand each other both on and off the field, so I believe it has also helped us a lot. We are now preparing to be at their best when we take on USA in the FIH Hockey Olympic Qualifiers here at the Kalinga Hockey Stadium."

"Some members from this team have played in India before but that was way back in the FIH World League Round 2 in 2013, but the crowd that comes out to watch hockey in Bhubaneswar is nothing like that. We know we will be cheered on from the first minute of the match, and we are all looking forward to playing at home. It is a good moment in your life when you play such a huge match in front of your home crowd, and the team is looking forward to producing a great performance and enjoying it on the field.

"We are looking at all the positives and we know it is always an advantage when you play at home. But USA is a strong side, and they will also be at their best when we face them here. I am sure they will be coming to win, but we have confidence in ourselves, and the energy that you get from the crowd shall only help us in giving our best on the field."

"We all know how important these matches are, but we cannot let them get to us. We have played in huge matches before and we now have the experience of coping up with the pressure. We will play our own game, and focus on the basics. If we can continue with the way we have been playing, and play according to our plans, we will be able to produce good results."

Stick2Hockey.com


---

Ireland bid to secure qualification for Olympic Games

Massive prize on offer for the winners of two-game play-off against Canada this weekend

Johnny Watterson



Ireland coach Mark Tumilty: "If we can apply ourselves and execute our game plan, we've got, hopefully, a great opportunity." Photograph: Bryan Keane/Inpho
 
The next two weeks will define Irish hockey for the next couple of years as both the men, this weekend, and the women, next weekend, go into a two-match head to head against Canada, the winners gaining direct entry into next summer's Olympic Games.

What the sport and the Olympic Federation of Ireland would do for that outcome.

The men begin a fortnight of fraught nerves in Rutledge Field, West Vancouver on Saturday against a home side ranked 10th in the world to Ireland's 13. The rankings are close enough to make little difference as Ireland were in the top 10 in recent years.

The question is whether Ireland have gotten over the trauma of the recent European Championships, where the team was relegated into a lower stream of competition having stunned England to claim an historic European bronze medal in 2015.

In the last World Cup held in India, Ireland also failed to gain entry to the knockout phases and also lost 6-0 to world and European champions Belgium in the final warm-up match before flying out to Canada.

Prior to the Belgium game, Ireland did defeat 12th ranked France in two Test matches in Bordeaux. The question for this weekend is whether the disappointing results have been laid to rest. The optimistic view of it is that Ireland have been underperforming.

Not surprisingly new coach Mark Tumilty assisted by former British player Jason Lee, a Olympic veteran from Barcelona 1992 and Atlanta 1996, have targeted team morale as their priority.

"The first thing was to try and turn the squad morale around which hasn't been a massive challenge," said Tumilty.
Game plan

"What are we expecting from Canada this week? I think it'll be difficult", he adds. "We've identified their style of play. We understand what their strengths are. Hopefully we understand what their weaknesses are.

"They've plenty of experience, the same as ourselves. But I think if we can apply ourselves and execute our game plan, we've got, hopefully, a great opportunity." 

While the women are hoping to be the first female hockey team to qualify for an Olympics, the men are seeking to become the first to qualify for back to back Games having also played in Rio 2016.

Part of the problem has been since then two coaches, South African Craig Fulton and Netherlands-based Alexander Cox have come and gone with Banbridge man Tumilty the third coach in as many years.

There are 10 of the players from Rio still involved in Vancouver with the emphasis on experience.

IRELAND SQUAD: D Harte (SV Kampong), D Fitzgerald (Monkstown), L Cole (Oree), C Harte (Racing Club de Bruxelles), J Bell (Lisnagarvey), S Loughrey (Reading), J Jackson (Bath Buccaneers), T Cross (Tilburg), D Walsh (KHC Leuven), S Murray (HC Rotterdam), C Cargo (Hampstead & Westminster), S O'Donoghue (KHC Dragons), M Robson (Crefelder HTC), E Magee (Banbridge), J McKee (Banbridge), M Nelson (Lisnagarvey), J Duncan (Oree), P Caruth (Corinthian).

The Irish Times


---

FIH Olympic Qualifier: Men's roster announced

Stage set with all eyes on Tokyo

by Ali Baggott




Canada's mens' field hockey team has determined their 18-man roster after an intense two months of preparation and training. The team will face Ireland in a two-game, aggregate winner-takes-all qualifier for a spot to the Tokyo 2020 Olympic Games.

Head coach Paul Bundy has selected 18 players and five reserves. Heading the roster is Canadian skipper Scott Tupper who has 306 international caps to his name. The qualifier team has 10 players that were at the Rio 2016 Olympic Games, hoping to qualify Canada for their first back-to-back appearance since the 1984 and 1988 Games. Should Canada qualify this weekend it will be the nation's eighth appearance.

The majority of this group were also at the recent Pan American Games, while Gabriel Ho-Garcia and Floris van Son are back in the fold as they were away competing with their club teams in Spain and the Netherlands, respectively.

There is definitely no shortage of fire power as the forwards lines blend a mix of speedy youth and experienced veterans. The team will explore most of its youth up front in West Vancouver's Fin Boothroyd, Netherlands-born van Son, and Vancouver's Jamie Wallace, all of who will be coupled with the experience of strikers Oliver Scholfield, Matthew Sarmento and Keegan Pereira.

Canada is packed with composed and creative midfielders.  Ho-Garcia, Brenden Bissett and James Kirkpatrick will provide the speed necessary in transition, while the veteran mindset of central players Adam Froese and Sukhi Panesar will provide the stability needed through the middle of the pitch.

In the backfield Canada is anchored by Gordie Johnston and two-time Olympian Tupper, both also lethal on penalty corners. John Smythe, Brad Logan and Balraj Panesar provide additional creativity in outletting, while the one-two punch of keepers David Carter and Antoni Kindler leave Canada in good hands in their defensive end.

Canada is ranked No. 10 in the FIH World Rankings, while Ireland are close behind at No. 13.

2019 FIH Olympic Qualifier – Canadian Roster
| Jersey | Name | Position | Hometown | International Caps |
| --- | --- | --- | --- | --- |
| 1 | Floris van Son | Forward | Ghent, Belgium | 28 |
| 4 | Scott Tupper (C) | Defender | Vancouver, BC | 306 |
| 6 | Brad Logan | Defender | Vancouver, BC | 11 |
| 7 | Gabriel Ho-Garcia | Midfield | Burnaby, BC | 125 |
| 8 | Oliver Scholfield | Forward | Vancouver, BC | 63 |
| 10 | Keegan Pereira | Forward | Ajax, ON | 173 |
| 11 | Balraj Panesar | Defender | Surrey, BC | 70 |
| 14 | Adam Froese | Midfield | Vancouver, BC | 189 |
| 16 | Gordon Johnston | Defender | Vancouver, BC | 170 |
| 17 | Brenden Bissett | Midfield | New Westminster, BC | 130 |
| 18 | James Wallace | Forward | Vancouver, BC | 41 |
| 20 | Fin Boothroyd | Forward | West Vancouver, BC | 16 |
| 21 | Matthew Sarmento | Forward | Vancouver, BC | 113 |
| 22 | John Smythe | Defender | Vancouver, BC | 112 |
| 24 | James Kirkpatrick | Midfield | Victoria, BC | 91 |
| 27 | Sukhi Panesar | Midfield | Surrey, BC | 143 |
| 30 | David Carter | Goal Keeper | Vancouver, BC | 193 |
| 31 | Antoni Kindler | Goal Keeper | Vancouver, BC | 92 |
Field Hockey Canada media release


---

MHC spend more than RM1.7m to realise Olympic dream after loss to Japan

By Jugjet Singh



National coach Roelant Oltmans (centre) giving instructions to his players during a training session in the Netherlands yesterday.

A 17-SECOND folly cost the Malaysian Hockey Confederation (MHC) more than RM1.7 million over the year.

Malaysia were leading Japan 6-5 in the Jakarta Asian Games final, and the clock showed 17 seconds more to qualify for the Tokyo Olympics.

But it was not to be as Japan equalised and went on to win the Asiad gold as well as the Olympic ticket which came with it.

Japan double qualified as hosts and first-time Asian Games champions, while Malaysia have been travelling the globe, as well as hosting the FIH Series Finals, to get back into the Olympics after a 20-year hiatus.

Leaving no stone unturned, MHC have sent the players to Europe for matches against England, Spain and Belgium. Then off to South Korea and Japan for Test matches.

The FIH Series Finals, where Malaysia ended up with silver again, alone cost MHC and their sponsors about RM800,000.

Coach Roelant Oltmans did not come cheap, and has been around for a year.

And now, the team are in the Netherlands training with three coaches - goalkeepers coach Martin Drijver, penalty corner coach Taeke Taekema and strikers coach Michael McCann.

The team will play two matches against Dutch clubs before heading for the Lee Vally Stadium in London on Oct 28 to play do-or-die matches against Britain on Nov 2-3.

New Straits Times


---

New Zealand U21 Women's side named for Tri-Series in Canberra




The New Zealand U21 Women's team will travel to Canberra to play a Tri-Series against Australia and India at the beginning of December. 18 players have been selected in the squad as they aim to back up the impressive performance from 2018 when the New Zealand side defeated Australia in their series in Napier.  

New Zealand U21 Women's Coach Katie Glynn stated on the series "It is a great opportunity for the girls to be exposed to International Hockey and what a touring environment is like. The key focus for the series is around development. We will be focusing on a couple of key area's of the game we have identified that we want to improve at this age group, as well as building on areas we believe are our "Kiwi strengths". 

Glynn further commented on the importance for the athletes "We will also be spending a lot of time with the individual athletes to help progress them on their journey as young and up and coming hockey players and looking at ways we can support them with their varying goals and needs. Our preparation for the series will start with creating some training environments around the regions before coming together for a couple of days in Auckland and then heading off to Australia".

"Australia and India will provide some challenging matches for the group – but it will be a special time for some athletes to put on the black jersey for the first time, we are lucky to have several players who have recently played in the Vantage Black Sticks team, the experience and knowledge that they will bring to the rest of the group".

The New Zealand team will have an experienced coaching set up with Verity Sharland and Reiner Vellinga being named as the assistant coaches to Katie Glynn, both Sharland and Vellinga have been involved in the New Zealand development set up for a long time and will bring a wealth of experience to the side. 

The New Zealand U21 side have been able to name four players who have made their debut for the Vantage Black Sticks Women as well as several others who have been in the National Squad set up over the past few seasons. Being able to bring in this amount of experience will mean the New Zealand team head into the series with an opportunity to produce some outstanding hockey.

New Zealand U21 Women's Team 2019
| | | |
| --- | --- | --- |
| Name | Position | Region |
| Jessie Anderson  | Midfielder | Canterbury |
| Millie Calder | Defender | Canterbury |
| Kelly Carline | Goalkeeper | Central |
| Kaitlin Cotter | Striker | Central |
| Hayley Cox | Striker / Midfielder | Canterbury |
| Anna Crowley | Defender | Central |
| Casey Crowley | Midfielder / Defender | Central |
| Katie Doar | Defender | Auckland |
| Maddie Doar | Midfielder | Auckland |
| Kate Ivory | Defender | North Harbour |
| Amelia Marlow | Midfielder / Defender | Auckland |
| Saasha Marsters | Goalkeeper | Canterbury |
| Clodagh McCullough | Midfielder / Defender | Central |
| Holly Pearson  | Midfielder / Striker  | Central |
| Hope Ralph | Striker | Central |
| Olivia Shannon  | Striker | Central |
| Emily Wium | Striker | Canterbury |
| Eva Zylstra | Midfielder / Defender | Midlands |
New Zealand U21 Women Staff

Katie Glynn – Head Coach
Verity Sharland – Assisstant Coach
Reiner Vellinga – Assisstant Coach
Robyn Neil – Manager

New Zealand Women Schedule

New Zealand vs Australia – Tuesday 3rd December at 6pm
New Zealand vs India – Wednesday 4th December at 6pm
New Zealand vs Australia – Friday 6th December at 6pm
New Zealand vs India – Saturday 7th December at 2pm

Hockey New Zealand Media release


---

PREVIEWS: Men's Hockey League




Third in the table last season, Beeston are third-bottom in the Men's Hockey League Premier Division after six matches, but they face bottom of the table Reading in a crucial clash on Saturday.

Both team's hopes of avoiding the drop and climbing the table would receive a boost with a victory this weekend, but neither can take anything for granted.

"This is do-or-die for us, it's as simple as that," said Beeston's first team manager Graham Griffiths. "We've got to get three points out of it, so I don't think we'll be sitting back. We have to attack and get the goals.

"We haven't been a settled side so far, with the GB lads out, and the new youngsters still gelling. It's been a different team every game and every training session, so it's not easy when you don't know who you're playing alongside."

At the other end of the table, leaders Surbiton play host to Holcombe as they bid to make it six wins from their first six games, while fifth-placed Holcombe will want to be the first to inflict defeat on Surbiton and maintain their push for a top four place.

Second-placed Old Georgians are also yet to lose a league match this season, and they go to Brooklands MU aiming to keep that record intact.

Currently lying third and fourth, Wimbledon and Hampstead & Westminster face each other on Saturday evening with Hampstead having switched the game to Lee Valley. The day's other top flight action sees the University of Exeter go to East Grinstead.

It's a big weekend at the top of the Men's Division One North where leaders Cardiff & Met travel to Leeds on Saturday then play third-placed University of Durham on Sunday. Durham travel to second-placed Bowdon on the Saturday.

At the other end of the table, the bottom two play each other with the City of Peterborough hosting Sheffield Hallam.

Top plays bottom in the Men's Division One South, with strugglers Oxford Hawks at home against leaders Oxted. Elsewhere, Teddington are level with Oxted and could go top if they win at Canterbury.

FIXTURES

Men's Hockey League (Sat, 26 October 2019):

Premier Division
East Grinstead v Univ of Exeter 13:30
Beeston v Reading 14:00
Brooklands MU v Old Georgians 14:00
Surbiton v Holcombe 18:00
Hampstead & Westminster v Wimbledon 18:15 at Lee Valley HTC

Division 1 North
Olton & West Warwicks v Univ of Nottingham 12:00
Univ of Birmingham v Loughborough Students 13:30
Bowdon v Univ of Durham 13:45
City of Peterborough v Sheffield Hallam 15:00
Leeds v Cardiff & Met 18:00

Division 1 South
Team Bath Buccaneers v Brighton & Hove 13:00
Southgate v Fareham 14:30
Oxford Hawks v Oxted 17:00
Sevenoaks v Havant 17:00
Canterbury v Teddington 18:00

Conference East
London Edwardians v Chichester 12:00
Harleston Magpies v Old Loughtonians 13:30
Bromley & Beckenham v Wapping 14:30
St Albans v Spencer 15:00
Cambridge City v Bedford 16:30

Conference West
Isca v Univ of Bristol 12:00
Cheltenham v Cardiff University 12:30
Old Cranleighans v Khalsa Leamington 14:30
Harborne v Ashmoor 16:30
Richmond v Univ of Exeter 18:00

Conference North
Barford Tigers v Doncaster 13:00
Lichfield v Didsbury Northern 13:30
Alderley Edge v Deeside Ramblers 14:00
Preston v Belper 14:00
Timperley v Wakefield 18:00

Men's Hockey League (Sun, 27 October 2019):

Division One North
Univ of Durham v Cardiff & Met 14:30

England Hockey Board Media release


---

PREVIEWS: Investec Women's Hockey League




Third-placed Buckingham play host to Holcombe on Sunday, with both sides in need of the points to maintain a top four place in the Investec Women's Hockey League Premier Division.

Currently fourth, Holcombe lost out 4-3 to Surbiton last weekend. But Buckingham were also defeated at Beeston, theirfirst loss of the campaign.

"We didn't quite play as well as we would've liked, especially with the ball," said Buckingham coach Zak Jones. "If we do that, it makes succeeding very difficult at this level.

"We're generally pretty pleased with our start, although we have been a little inconsistent in what we have delivered and there are still a number of areas we continue to work on and develop on both sides of the ball.

"Holcombe are a top side and have been one of the most consistent performers over the past three or four years, so we know it will be a big challenge and another very tough encounter."

Unbeaten Surbiton will be looking to maintain their table-topping form with a trip to the University of Birmingham on Sunday.

Elsewhere, second-placed Hampstead & Westminster have also not lost a league match so far and will want to keep the pressure on Surbiton with a win at Clifton Robinsons.

Loughborough Students may consider themselves unlucky not to have taken something from their narrow 1-0 home loss to high-flying Hampstead last weekend, and they will want to take the points this Sunday when they make the short trip to Beeston.

And in the top flight's other match Bowdon Hightown are at home against East Grinstead.

In the Investec Women's Division One North leaders Swansea travel to Leeds on Saturday and to the University of Durham on Sunday as they look to maintain their form, while unbeaten Olton & West Warwicks have a home game against Ben Rhydding on Sunday.

Wimbledon and Reading are both on 100% records so far in the Investec Women's Division One South – and the two meet on Sunday at Wimbledon. Meanwhile, third-placed Cambridge City go to Canterbury as they look to keep up with the top two.

FIXTURES

Investec Women's Hockey League (Sat, 26 October 2019):

Investec Division 1 North
Leeds v Swansea 16:00

Investec Conference North
Timperley v Wakefield 16:00

Investec Women's Hockey League (Sun, 27 October 2019):

Investec Premier Division
Buckingham v Holcombe 12:00
Bowdon Hightown v East Grinstead 12:30
Clifton Robinsons v Hampstead & Westminster 13:00
Beeston v Loughborough Students 14:00
Univ of Birmingham v Surbiton 14:30

Investec Division 1 North
Brooklands-Poynton v Stourport 12:00
Olton & West Warwicks v Ben Rhydding 12:00
Univ of Durham v Swansea 12:30
Leicester City v Gloucester City 14:00
Leeds v Belper 14:30

Investec Division 1 South
Slough v Trojans 12:15
Canterbury v Cambridge City 12:45
St Albans v Isca 13:00
Sevenoaks v Harleston Magpies 13:30
Wimbledon v Reading 14:30

Investec Conference East
Ipswich v Southgate 12:00
Bedford v Horsham 13:30
Bromley & Beckenham v Barnes 14:00
Broxbourne v Canterbury 14:30
Chelmsford v Wimbledon 14:30

Investec Conference North
Univ of Nottingham v Beeston 13:00
Sutton Coldfield v Pendle Forest 13:30
Alderley Edge v Cannock 14:00
Doncaster v Fylde 14:00

Investec Conference West
Univ of Birmingham v Surbiton 12:30
Cheltenham v Univ of Bristol 13:00
Team Bath Buccaneers v Oxford University 13:00
Oxford Hawks v Basingstoke 14:00
Clifton Robinsons v Exe 15:00

England Hockey Board Media release


---

Scottish  Premiership brings a crucial weekend of close encounters and derby matches




After five games in this season`s Premiership there are only two teams with a perfect record – Grange (men) and Dundee Wanderers (women) – the focus now is on whether the chasing pack can 'put the brakes on' the run-away bandwagons.

Wanderers face the task of taking on the champions Edinburgh University at Peffermill. Coach Iain Strachan is fully aware of the importance of this crucial three week period.

"It was great to get the three points against Clydesdale last Saturday, now we must do the same against Edinburgh University this weekend and then Western Wildcats the following week."

But Wanderers will have to continue their winning ways without the services of striker Charlotte Watson – she is at Great Britain training. Also perhaps missing could be the up and coming Lucy Williamson, still nursing an ankle injury.

Although the champions have yet to hit the heights of previous seasons with so many changes in personnel, they did throw off a 3-2 deficit at half-time to go on and beat Western Wildcats 4-3 last weekend, an Amy Brodie double was a catalyst.

Watsonians have quietly slipped into second spot – albeit only by a couple of goals from Clydesdale Western – with four wins from five games so far, but this weekend`s visit to the Wildcats' den at Auchenhowie could really test their mettle.

While recent results have not gone Western Wildcats' way, there is a lot of talent in their ranks, and Watsonians might find their claws are sharpened for the occasion. Further, player/coach Kaz Cuthbert will be aware that the three points are needed for her charges to get back into the title race.

Clydesdale dropped their first points of the campaign against Wanderers last weekend, although they did dominate for large parts of the game but failing to find the net. On Saturday the Titwood-based side will be hoping to make amends with a home victory over Grove Menzieshill. To do that Derek Forsyth`s charges will look to convert chances into goals.

Although the Taysiders occupy fifth place in the division, most of their games have been against teams from the lower reaches and they have succumbed to Watsonians and Hillhead already. However, they do provide a threat up front with Sam Sangster at set pieces along with Katie Stott, Lucy Murray and Laura Kingston.

At the other end of the table either Merlins Gordonians or Glasgow University, or both, will collect their first points of the season as they meet head-to-head in Aberdeen.

In the final fixture on the card Hillhead entertain neighbours GHK at Upper Windyedge. Both sides have had their moments in the sun this season. The home side are on a small roll, two weeks ago they beat Grove Menzieshill 5-3 and that was followed by a 2-0 win over Glasgow University. GHK battled out a goalless draw against Western Wildcats at Auchenhowie last Sunday. So this could be an intriguing tussle.

Grange are certainly the pace-setters with five consecutive victories in the men's Premiership, but the champions now embark on a crucial three-week period when they take on the other top four sides – Edinburgh University, Western Wildcats and Grove Menzieshill in that order.

The Edinburgh students are first up this weekend at Peffermill, and this has the potential of being a close encounter. After a reversal on the opening day of the campaign, Graham Moodie`s young squad have responded with four straight wins that have taken them to third in the table, only trailing Grove Menzieshill on goal difference.

Asked how confident he was of beating Grange, Moodie said:

"We're excited about the Grange game, it's a local derby and we are very motivated to show what we can do against the champions, it's going to be a great test for us.  We have some very good young players and we have played some exciting, attacking hockey so far and this has allowed us to pick up some positive results."

Asked about the reasons for his side`s recent success, especially last weekend`s 6-3 win over Western Wildcats, Moodie replied:

"We're realistic and understand that with such a young side our performances will be inconsistent, and therefore although we have shown that we can challenge some of the better sides in the league, it's clear that for Grange on Saturday we will need to improve the consistency of our level of performance."

However, Moodie confirmed that Edinburgh would be without key players Ian Moodie, Kevin Wong and Scott Sutherland for the Grange clash.

Second-placed Grove Menzieshill, who recovered some of their composure with a comfortable 3-1 win over Clydesdale last weekend, will hope to maintain their status against local rivals Dundee Wanderers. Although a derby game, and that can present its own issues, Wanderers seem to be still finding their feet with the top flight, they have a single point from six games.

Western Wildcats were given a six-goal defeat by a resurgent Edinburgh University last weekend, and consequently slipped back to fourth in the table, but Vishal Marwaha`s pack have the chance to make immediate amends against a Watsonians side that have yet to triumph since the opening encounter of the season. Western Wildcats certainly have the firepower to get their claws stuck into their Edinburgh visitors, Andrew McConnell should have returned from Malaysia, and there is also Fraser Moran, Rob Harwood, Joe McConnell and Fraser Calder to add to the goal-grabbing predators.

Kelburne have come to life, it's amazing what back-to-back victories can do, and the Paisley side have leapt from bottom to sixth in the table. And the goals are flowing again with Johnny Christie and Jack McKenzie finding their way to the net.

Whether the recent renaissance can survive the visit to Uddingston is another matter. It has been up and down for the Lanarkshire outfit, they showed promise last weekend by taking the lead at the interval against both Hillhead and Grange, but on both occasions failed to capitalise by the final whistle.

The Clydesdale versus Hillhead clash was brought forward from Saturday to Tuesday evening with the home side winning 2-1 to move up to fifth in the table. The first goal was credited to David Nairn while Chris McFadden doubled the Dale tally.

Scottish Hockey Union media release


---

Weekend College Games




USA Field Hockey's weekly feature of highlighting some of the top college games in Division I, II and III is here for the 2019 season.

THURSDAY, OCTOBER 24

DI: No. 24 Fairfield at Wagner | 4:00 p.m. ET

No. 24 Fairfield and Wagner will meet for the first time in Wagner's inaugural season as part of the Northeast Conference on Thursday at 4:00 p.m. ET in Staten Island, N.Y. Fairfield broke into the top-25 last week and have held their spot with two identical overtime wins this past weekend. The first was a comeback effort to tie Rider and send it into extra time to seal the win, while the second saw Fairfield letting one past after being up for the entire game. In both cases, Luzi Persiehl ensured that the Stags left the pitch victorious as she assisted one goal and scored the other. Wagner comes off a 4-0 loss to Lock Haven last weekend where they overpowered Wagner with shots and penalty corners. Goalkeeper Justine van Spengler limited opportunities for Lock Haven in the second half, recording seven saves in her 30 minutes. This may be Wagner's first season, but Fairfield has a history of going to overtime against teams with grit.

DIII: Husson at No. 18 Colby | 5:00 p.m. ET

In the thick of conference play, Husson and No. 18 Colby will take a break from their typical foes to face each other on Thursday at 5:00 p.m. ET in Waterville, Maine. Colby dropped a spot in the rankings following two losses to other ranked teams earlier this week. They first lost to No. 20 Amherst and then to No. 4 Bowdoin which was a close game between the White Mules and Polar Bears. After striking first with a tally from Georgia Cassidy, Colby suffered two goals against that they could not answer in the remaining three quarters of the game. Husson also recently lost to Bowdoin with a score of 5-0. However, the Eagles turned things around as they beat Dean by 13 goals just a few days later. Three players, Kolby Kain, Ryley Newcomb and Allysah Greene, added two goals each to the score. Colby dominated the match-up last year, but with the scoring power of Husson, it is anyone's game.
 
FRIDAY, OCTOBER 25




DI: No. 13 Boston College at No. 1 North Carolina | 5:00 p.m. ET | ACCNX

Top-ranked North Carolina will host No. 13 Boston College on Friday at 5:00 p.m. ET in Chapel Hill, N.C. for an Atlantic Coast Conference (ACC) clash. Boston College may look like the underdog when matched against North Carolina who has held onto their top spot for the entire season, but their six-game winning streak shows that they have what it takes to grind out a win. The Eagles just defeated No. 15 Syracuse and New Hampshire this past weekend as Margo Carlin led the scoring for her team. North Carolina faced Wake Forest and Liberty last weekend, scoring three goals in each as they extended their winning streak from last season to 37 straight games. Marissa Creatore and Erin Matson worked together to tally five of the six goals. Last season saw North Carolina dominate the meeting, but Boston College managed to sneak a goal by as they scored first. With the two teams vying for the top spot in the ACC standings, Boston College will look to topple the undefeated Tar Heels.

DI: No. 20 Wake Forest at No. 15 Syracuse | 7:00 p.m. ET

A second ACC match-up will take place on Friday at 7:00 p.m. ET in Syracuse, N.Y. when No. 20 Wake Forest comes to town to meet No. 15 Syracuse. Both teams have faced adversity this season but fared well as they met top opponents early on. Syracuse upset No. 3 Connecticut on Sunday with a goal coming from Claire Webb in double overtime. Connecticut controlled the match, but goalkeeper Sarah Sinck saved 11 shots and earned herself ACC Defensive Player of the Week for her performance. Wake Forest has also fallen short in a handful of close games this season, leading to their record of 7-8 overall and 0-4 in conference play. The Demon Deacons defeated Davidson this past weekend, as Anne van Hoof put two away in the third quarter within nine minutes of each other. Both teams sit at the bottom of the standings, but a win this weekend could boost them to better standings within the ACC Championship.




DII: Converse at Newberry | 6:00 p.m. ET

Newberry will host South Atlantic Conference (SAC) Carolinas opponent Converse on Friday at 6:00 p.m. ET in Newberry S.C. The two teams met earlier this year and Newberry handled Converse 3-1 with three different players contributing goals. The Wolves come off a strong win over Bellarmine that went to overtime. Converse lost to conference rival Coker last week with a score of 4-1. Morgan Berndt had the lone goal in that contest as well as a few others where Converse only put one on the board. Newberry took both wins last season over Converse who was shut out in one game and only scored once in the other. Converse will look to pick up a win to end their drought, while Newberry will try to carry their momentum and find a ticket to the postseason.

DIII: St. Lawrence at Vassar | 4:00 p.m. ET

New York neighbors and Liberty League foes St. Lawrence and Vassar will meet on Friday at 4:00 p.m. ET in Poughkeepsie, N.Y. Vassar has suffered three losses in their last four games after managing to stay undefeated until two weeks ago. Their last game, a loss, was against Rochester who stole the win in the second overtime period. Vassar had held off almost all of the advances of Rochester thanks to goalkeeper Julianna Smith who made six saves on seven shots on goal. St. Lawrence has seen similar struggles in the latter half of the season, losing six of their last seven games. They most recently lost to Ithaca 5-2 as their battle to come back from an early two-goal deficit was unsuccessful. Vassar bested St. Lawrence when the teams played last year with a score of 5-0 with two scorers, Dara Studnitzer and Sam Plante, returning this season. Both teams will work to improve their conference record as they look forward to postseason.

DIII: Ithaca at William Smith | 5:00 p.m. ET

Liberty League opponents Ithaca and William Smith will go head-to-head on Friday evening at 5:00 p.m. ET in Geneva, N.Y. Both teams are on the edge of making the conference tournament in a few weeks, so a win will give them a chance to earn a spot in the postseason. William Smith has seen mixed results this season. They most recently beat RPI in a hefty 4-1 win against the evenly match rival. Four different players added a goal to the total. Ithaca also comes off a win over a Liberty League rival St. Lawrence where five different players tallied goals. When the teams met in 2018, the contest required extra time, allowing William Smith to take the win in the overtime period. While history is on the Herons' side, the edge that Ithaca may have is a win over previously top-ranked Vassar, who William Smith lost to last week. Ithaca proved they could put out the win and their belief may propel them to another win on Friday.

SATURDAY, OCTOBER 26

DI: No. 3 Connecticut at No .17 Liberty | 12:00 p.m. ET

No. 3 Connecticut will head south to meet No. 17 Liberty on Saturday at 12:00 p.m. ET. The two Big East Conference teams will battle for first place rights as Connecticut sits at the top of the conference with Liberty in second. Connecticut just suffered a tough overtime loss to No. 15 Syracuse even though the Huskies controlled the game with shots and penalty corners in their favor. That loss was their third of the season. Liberty also comes off a loss to North Carolina. The Flames attempted to make up for the two goals that North Carolina tallied early in the game, but they could not find the equalizer in the second half. Both teams have earned honors this week as Connecticut's Antonia Tiedtke was selected as the Big East Conference Offensive Player of the Week, while Liberty's Daniella Rhodes earned Big East Freshman of the Week. Liberty will hope to be the fourth loss on Connecticut's record, while the Huskies will look to take home another road win on Saturday and remain undefeated in the Big East. 

DI: No. 9 Princeton at No. 14 Harvard | 12:00 p.m. ET

Ivy League rivals and top-25 teams No. 9 Princeton and No. 14 Harvard will meet on Saturday at 12:00 p.m. ET. Both teams have decorated players on their rosters after last week's games. The Crimson's goalkeeper Ellie Shahbo earned Ivy League Defensive Player of the Week for the third time this season following her two shutouts this past weekend. Princeton's Clara Roth was honored as the Ivy League Offensive Player of the Week and Play Safe Turf & Track/NFHCA Division I Offensive Player of the Week in Division I for tallying 12 points last weekend on five goals and two assists against Brown and Boston University. Both teams come off wins over conference and non-conference opponents in their last match-ups. When they met last year, Harvard took the regular season win 3-1, but Princeton got their revenge in the NCAA tournament, winning 2-1. Either team could walk away victorious, leaving the other with their first Ivy League loss following Saturday's contest.

DII: No. 7 Assumption at No. 9 Southern New Hampshire | 1:00 p.m. ET

Top-10 teams No. 7 Assumption and No. 9 Southern New Hampshire will take a break from conference play to meet on Saturday at 1:00 p.m. ET in Manchester, N.H. to test themselves against their rankings. This meeting is tradition, and last year saw a mix of results for both teams. The first meeting in 2018, the season opener, had Southern New Hampshire win. However, the second one in November was won by Assumption. The Greyhounds are coming off a victory when they beat American International 5-0 on Saturday with Deirdre Burchill seeming unstoppable with four goals in the contest. Southern New Hampshire also won in their last game when they defeated New Haven through Meaghan Wile on two unassisted goals. National rankings will be on the line as the two teams meet on Saturday.




DII: No. 3 Millersville at No. 10 Mansfield | 1:00 p.m. ET

No. 3 Millersville will compete against No. 10 Mansfield on Saturday at 1:00 p.m. ET to round out conference play. Millersville dominated the beginning of the season with eight straight wins but have since suffered four losses to conference opponents. This past weekend, they beat Slippery Rock 6-0 then lost to Bloomsburg 1-0 in regulation. Meanwhile, Mansfield beat Slippery Rock in a shootout then fell to No. 3 East Stroudsburg 6-1 later in the weekend. They have remained relatively consistent, losing to either the same team or another top-ranked one. While some conference teams have played each other already this season, this is the first meeting of Millersville and Mansfield. Last year, Millersville shutout Mansfield in both games during the regular season. The Pennsylvania State Athletic Conference (PSAC) has seen many twists right before the postseason begins, so both teams will want to secure a win while also earning a spot in the PSAC tournament.

DIII: No. 1 Middlebury at No. 6 Tufts | 11:00 a.m. ET

Undefeated and top-ranked Middlebury will travel to No. 6 Tufts on Saturday for a huge game to watch in the New England Small College Athletic Conference (NESCAC). Even though Tufts has two blemishes on their record, including a conference loss, they have accumulated a five-game winning streak that they will look to extend as they face this familiar foe. Most recently, Tufts beat Connecticut College 8-0 as Gillian Roeca could not be stopped as she notched a hat trick by the beginning of the third quarter. Middlebury's previous couple of games have been close calls, including their game with Trinity that went into overtime. On Sunday, they beat St. John Fisher by a one-goal margin. Katie George, NESCAC Player of the Week, scored in both contests for Middlebury. Last season saw three meetings between the teams and Middlebury taking each one. The first was in regular season where both teams fought until the bitter end in overtime. The second was in the NESCAC Championship, and the third in the National Championship. Each game was a nail biter, and the next one on Saturday will likely be just the same.
 



DIII: No. 10 Kean at No. 2 TCNJ | 1:00 p.m. ET

A battle between two New Jersey Athletic Conference (NJAC) teams will take place on Saturday at 1:00 p.m. ET in Trenton, N.J. as No. 10 Kean meets No. 2 TCNJ. Both teams are undefeated in conference play so far, but only one will be able to remain without a loss on their NJAC record following Saturday's game. TCNJ is also completely undefeated this season, defeating top ranked opponents throughout the season. Their most recent win was over No. 8 Rowan where the Lions held off the Owls for the majority of the game until they scored in the final period. It was too late for a comeback, and TCNJ kept their winning streak alive with a goal and an assist by Kayla Peterson who was the NJAC Defensive Player of the Week for the conference and Play Safe Turf & Track/ NFHCA Division III Defensive Player of the Week as well. Kean has only one loss in 2019, however their schedule saw fewer ranked teams. Their last game on Tuesday ended with a score of 4-1 over Ramapo where Rachel Mills and Melissa Way teamed up for three of the goals for the Cougars. TCNJ handled Kean with ease last year, scoring five goals in the contest. The battle of the cats will prove to be a game to watch on Saturday with the success of both teams so far this season.

SUNDAY, OCTOBER 27

DI: No. 7 Michigan at No. 11 Saint Joseph's | 12:00 p.m. ET

No. 7 Michigan and No. 11 Saint Joseph's will look to improve their overall record with an out-of-conference match-up on Sunday at 12:00 p.m. ET. Last week, Michigan downed No. 2 Maryland in a 1-0 game, and they will look to build on that momentum. Guadalupe Fernandez Lacort had the lone goal in the contest, as well as two assists in their last win over Penn State. She and teammate Emma Tamer earned the Big Ten Conference awards this week for their efforts in both games. Tamer was also recognized as the Play Safe Turf & Track/NFHCA Division I Defensive Player of the Week. Saint Joseph's team also earned awards this week in the Atlantic 10 weekly awards, where Tonya Botherway and Carolina Boxer were named the Offensive Player of the Week and Co-Rookie of the Week, respectively. Saint Joseph's just defeated Richmond last Sunday, fending off a comeback by the Spiders with a goal from Botherway late in the fourth quarter. The last time these two teams met was in the 2018 NCAA Tournament when Michigan ended Saint Joseph's season in the first round. Saint Joseph's will look for revenge and Michigan will look to add another win to their record on Sunday.




DI: Rider at No. 25 Providence | 1:00 p.m. ET

Rider will travel to Rhode Island to take on No. 25 Providence on Sunday at 1:00 p.m. ET. Providence has held strong onto their spot in the top-25 by extending their current winning streak to three games. The Friars just beat Merrimack with a score of 5-1 and Olivia Ward tallying two goals. Her teammate Allyson Parker was named Big East Defensive Player of the Week for her contributions in the team's wins over Quinnipiac and Merrimack last week. Rider defeated Hofstra in their last matchup as Carly Brosious added a goal and an assist for the Broncs. The two teams have not competed since September of 2016. In that game, Providence walked away with the 3-1 win, but both goal scorers have since graduated. With almost identical records, the two teams will look to improve their overall record with a win on Sunday.

DII: Bellarmine at Newberry | 12:00 p.m. ET

Newberry will host another contest on Sunday at 12:00 p.m. ET, but this game will be against Bellarmine and not count toward conference standings. Newberry took both wins last season when the teams met by edging the Knights by one goal in the first match and three goals when they played later in 2018. Newberry also beat the Knights just last week in overtime as Haley Smith found the back of the net for the game winner. Bellarmine could not bounce back from the loss to Newberry and suffered a second one on the weekend as they were defeated by Lindenwood, 4-3. Bellarmine has it in them to even the score this weekend as they hold the series wins against Newberry, but it will take grit and determination to overcome the home team on Sunday.

DIII: Rhodes at Transylvania | 11:00 a.m. ET

Rhodes and Transylvania will compete on Sunday at 11:00 a.m. ET in Lexington, Ky. to continue to decide Southern Athletic Association (SAA) seeding for postseason play. Rhodes current boasts a four-game winning streak following a series against SAA teams, Sewanee and Concordia. The Lynx have a strong scoring presence led by Hailey Mules with 12 goals. Transylvania has lost three games in a row, the last coming against Randolph-Macon who prevented the Pioneers from scoring on their four shot attempts. Transylvania did hold off many of the threats by Randolph-Macon who scored the majority of their goals in the final quarter of the game. Last season, Rhodes overpowered Transylvania in both meetings by at least nine goals. While Rhodes will look to hold onto their winning streak, Transylvania will hope to end their losing one and turn over a new leaf going into the last weeks of regular season.




DIII: No. 7 Williams at Univ. of New England | 1:00 p.m. ET

No. 7 Williams will take on out-of-conference opponent University of New England on Sunday in Biddeford, Maine at 1:00 p.m. ET. Williams has slowly climbed in the Penn Monto/NFHCA Division III National Coaches Poll each week as they continued to increase the wins in their record and ward off any losses. Their recent win over No. 16 Bates saw Williams score early in the first quarter and play strong defense for the rest of the game while pressing hard into their attacking 25. University of New England comes off a 2-0 loss to conference competitor Endicott in close contest when looking at the stats. The two teams have not played each other in recent history, making this game important to setting the tone for meetings to come should they happen to meet in the postseason.

USFHA media release


---

Maryland field hockey plans to punctuate its Senior Day with a dominant showing

David Suggs



Forward Jen Bleakney eludes defenders during Maryland field hockey's 5-1 win over Richmond on Aug. 30, 2019. (Gabby Baniqued/The Diamondback)

When Maryland field hockey takes on Michigan State on Friday, the typical pregame and postgame processions will be replaced with rose bouquets, speeches and emotions that accompany any Senior Day.

Once the Terps take the field, though, they won't be concerned with the inevitable sentimentality of the match.

Rather, No. 2 Maryland is looking to hunker down on its defensive structure in an effort to leave its seniors with a meaningful gift in their final regular-season home game — a dominant performance to close Big Ten play.

"When you're dominating a team a lot, you have to stay very structured in the backfield," coach Missy Meharg said. "We need to pay attention to what we call 'counter structure defense.'"

After struggling to break down then-No. 9 Michigan and then-No. 21 Ohio State in first halves, conventional wisdom would suggest that the Terps attack needed to be ruthless — something it did in the second half of its matchup against the Buckeyes.

However, Meharg pointed to her team's defensive frailties, limiting its ability to push forward — a facet the team has relied on throughout the season.

So, the Terps spent much of the week prepping their backline in an effort to maintain control. At its best, Maryland's defensive unit is a sturdy force capable of shutting down even the most explosive offenses in the country, best shown in shutouts against the top-10 goalscoring offenses of then-No. 3 UConn and then-No. 6 Iowa.

Against the Wolverines, though, the Terps fell apart defensively, relinquishing quality scoring chances to a dangerous Michigan attack. If not for Maryland goalkeeper Noelle Frost, the scoreline could have been far worse than 1-0.

"We were outplayed throughout the game," Meharg said Friday. "At times, I was happy to be in it as much as we were."

The Buckeyes also caused problems for the Terps, especially in the first half, scoring two goals on three shots.

After conceding an early second-half goal, though, the Maryland defense proved far more resolute, shutting out Ohio State for the last 27 minutes and allowing its prolific attack to do the rest.

"We went into Sunday and we were in a funk," forward Lizzy Dessoye said, "but we got right out of it."

Meharg wants to see Maryland's defensive core get back to controlling the tempo of the game, which allow the offense to flourish.

Meanwhile, players feel a similar sense of urgency, refusing to rest on their laurels, even after Sunday's wild comeback.

"We always want to grow," forward Jen Bleakney said. "We're never comfortable with how we're playing — we're always trying to make ourselves better."

After spending the week getting back to the basics of defending, the Terps feel confident in their ability to handle the Spartans' attack. And in combination with a potent attack of its own, Maryland is looking for a complete performance to close out its conference slate.

"I would really like to see our team step on the field and compete and dominate," Meharg said. "Whether the ball goes into the goal cage or not, to be able to just maintain a dominance."

The Diamondback


---

No. 2 Maryland field hockey vs. Michigan State preview

With a win, the Terps will claim a share of the Big Ten regular season title and finish the season unbeaten in College Park.

By Austin Kalt



Sarah Sopher / Testudo Times

No. 2 Maryland field hockey lost its first Big Ten game against then-No. 9 Michigan on Oct. 18 but bounced back with a 6-3 comeback victory against then-No. 21 Ohio State two days later.

Now, the Terps host the Michigan State Spartans in their final regular season home game. With a win against Michigan State, the Terps are guaranteed at least a share of the Big Ten regular season title.

With the regular season winding down, head coach Missy Meharg wants to see some improvements in this last game to prepare for the postseason.

"I would really like to see our team step on the field and compete and dominate," Meharg said. "Whether the ball goes into the goal cage or not, to be able to just maintain dominance, dominance and dominance."

In the last regular season home game, Maryland will also honor its seniors — Lizzy Dessoye, Logan Edmondson, Kelee Lepage, Madison Maguire and Jen Bleakney. And those seniors want to go out with a win and carry over the momentum.

"It's our last home game, our last time that were guaranteed to be here," Bleakney said. "To win and just bring that into the next few games we have would be awesome."

Michigan State — Friday, 5 p.m.

The Spartans struggles have continued this year as they try to post a winning record for the first time since 2014. Michigan State comes into this game with a 6-9 record and are on a three-game losing streak. The Spartans are also winless in conference play, owning an 0-6 record.

Michigan State has improved from last season, where the Spartans finished 5-15 and 0-8 in the Big Ten. Last season, it struggled to put the ball in the cage, averaging less than one goal per game, but this year the Spartans are averaging 1.67 goals per game. Despite improved offense, it still hasn't been enough as Michigan State has been outscored 40-25 this season.

The Spartans' defense has also struggled in limiting top offenses in the nation, allowing 2.67 goals per game. They even gave up eight goals against Michigan. And the defense will certainly have its hands full against the Terps.

In 2018, these two teams met once in the regular season and then in the Big Ten Tournament. In both games, Maryland dominated Michigan State, winning 5-1 in the regular season and 6-0 in the tournament.

Players to know

Aisha Osinga, sophomore forward, No. 11 — Last season, Osinga wasn't much of an offensive threat for Michigan State. This season though, the sophomore leads the Spartans in total points with 14, on five goals and four assists. She's recorded a goal or an assist in each of the last four games.

Nienke Bloemsaat, freshman defender, No. 9 — In her freshman season, Bloemsaat has been a crucial part of the Michigan State defense. Bloemsaat has the second most minutes played and has played the entire game in each of her last five. In addition to her six defensive saves, she also has been a threat off corners, totaling five goals.

Jade Arundell, sophomore goalkeeper, No. 1 — Although the Spartans have allowed 2.67 goals per game, Arundell hasn't been the issue. She ranks in the top five in the nation with saves, totaling 123, while posting a .755 save percentage. The sophomore has also posted six games with double-digit saves.

Three things to watch

1. Maryland has been historically dominant against Michigan State. The Terps have a perfect 12-0 record against the Spartans all-time. Since joining the Big Ten, Maryland is 8-0 against Michigan State, while outscoring the Spartans 33-8.

2. The Terps can clinch at least a share of the Big Ten. Maryland sits at the top of the Big Ten with a 6-1 record, but it also will be the first team to finish its conference games. If Maryland beats Michigan State, the team will claim at least a share of the Big Ten conference. However, If Iowa or Michigan fail to win out in conference play, the Terps will be the lone winner of the conference.

3. Maryland has the chance to finish undefeated at home, again. In the 2018 season, the Terps went a flawless 9-0 when defending their home turf. Now in 2019, Maryland has the chance to secure the identical record with a victory over the Michigan State Spartans.

Testudo Times


---

No. 10 Northwestern prepares for Big Ten clash with No. 8 Iowa

Gabriela Carroll



Junior Midfielder Christen Conley battles for the ball against No. 2 Maryland. The Wildcats have a big game this weekend against Iowa. Photo by Alison Albelda

For some teams, it would be the biggest game of the season.

But for No. 10 Northwestern, it's just another weekend.

No. 8 Iowa is the 11th ranked opponent in the 17 games the Wildcats has played this season. NU's current record against ranked opposition is 7-3, and the Cats hope they can add a eighth victory Saturday in Iowa City, Iowa.

NU (12-5, 4-2 Big Ten) has been on a roll lately, dominating Rutgers and Kent State in its last two contests. The Hawkeyes (11-4, 5-1) are coming off an overtime loss to Louisville, but are likely to play with an edge on their senior day.

The game will likely decide the Cats' seeding in the Big Ten Tournament. Iowa currently sits in third place, with NU is right behind in fourth.

"We want to finish as high as we can in the Big Ten," coach Tracey Fuchs said. "We're just going to take this game as it comes, and we hope to go 1-0 this weekend."

The stakes aren't as high as they would have been in previous seasons, owing to the tournament's new structure, which will see all teams play at a single site. Although earning the right to face a lower-seeded opponent is the goal, without the benefit of home-field advantage, the difference between seeds is minimal.

The Cats have been scoring at a high rate, with an average of 3.12 goals per game. Senior defender Kirsten Mansfield said these opportunities rely on the forwards playing a good defensive game. When NU forces turnovers in the attacking 25, it tends to result in man-up scoring opportunities.

Last Sunday, NU held Kent State to one shot through the combined efforts of both the defensive line and the forwards. The Cats will need to sustain that level of defense in order to beat an Iowa team that averages 3.4 goals per game. To do this, NU will have to limit Iowa's possessions inside the circle, something they struggled with against Maryland, and a strong offensive press is key to doing that.

"The forward unit is super good at putting high pressure, being smart on the ball, and then counterattacking really well," senior midfielder Lily Katzman said. "We know Iowa likes to move the ball, and they have good, quick ball speed. Making sure we're being smart forwards, and knowing when we pressure and how to break down the play."

The Daily Northwestern


---

Maddy Fagan's breakout sophomore season keys Penn field hockey's turnaround

The midfielder is tied for the team lead with five goals

By Tyira Bunche



Credit: Christian Walton

It is common for athletes to take big steps forward in between their first and second seasons, and Penn field hockey sophomore forward Maddy Fagan is no exception.

The Quakers are heating up after an 0-5 start to their season, winning five of their last eight games, including two against Ivy League opponents. Much of the team's resurgence is to due to the breakout season of Fagan. In her freshman season, Fagan started only four games and didn't tally a goal or assist. This season, Fagan's impact has increased dramatically — she has five goals, tied with the team lead, and three assists in her ten starts so far.

In high school, Fagan was an all-around athlete playing basketball, soccer, track & field, and field hockey. She was successful in multiple sports, captaining both her soccer and track teams, while also earning Junior Olympics selections in 2015 and 2016 for field hockey.

But despite her participation in other sports, field hockey was always the choice for Fagan. Her mother played field hockey throughout college and currently coaches field hockey at Towson. That meant field hockey was always favored in the Fagan household, making the decision to pursue it in college was a natural one — even if there were times when it was challenging to play her mother's sport.

"It was fun, but tough sometimes because the line between mom and coach sometimes kind of blurred," Fagan said. "Sometimes it's like I want you to be my mom, not my coach right now."

While Fagan always knew that she would be playing field hockey in college, she wasn't so sure that she would be playing it at Penn. Penn first came on her radar through a high school friend who was interested in attending Villanova. She learned that Penn was hosting a clinic with the other Philadelphia schools; she went to the clinic with her friend and then fell in love with Penn after visiting campus.

So far the decision has paid off for Fagan and the Red and Blue. After all, it's no coincidence that Fagan's offensive outbreak is perfectly aligned with Penn's turnaround this season.



Credit: Christian Walton

In the Red and Blue's first win of the season, Fagan accounted for two goals off the bench. Two days later, she started the game against Temple and scored the game-winning goal in the fourth quarter. Fagan has started the past seven games, tallying three goals and three assists in that stretch. Two of those assists led to game-tying goals in overtime wins against Dartmouth and Drexel. In that seven-game stretch, the Quakers have won four games, and Fagan has played a major role in all of them.

"She's found a position of leadership in the offense and she's really found her spot within the press," sophomore defender Gracyn Banks said. "She even helps the freshmen this year, so she's been a big part of [the offense]."

Fagan now leads the team with 13 overall points. Her offensive prowess has not gone unnoticed as she was recently awarded Ivy League Offensive Player of the Week.

"Maddy has been super important, and an imperative part of our offense," Banks said. "In the beginning we were struggling a little bit and I think she really found a way to just put the goals away."

For Fagan, the difference between last season and this season is her confidence. Last year as a freshman she was more passive, while this season she is being more aggressive and letting her offensive skills shine.

"She is going to keep doing what she's doing," Banks said. "Every game she's been a big part of it and she's going to keep scoring goals."

The Quakers are going to need Fagan's goal-scoring abilities as they look to finish up their season strong in the last two weeks of the season. The team will need continued success from Fagan with both her scoring and her leadership.

The Daily Pennsylvanian 


---

Field Hockey Travels To No. 25 Providence

By Steven Kingkiner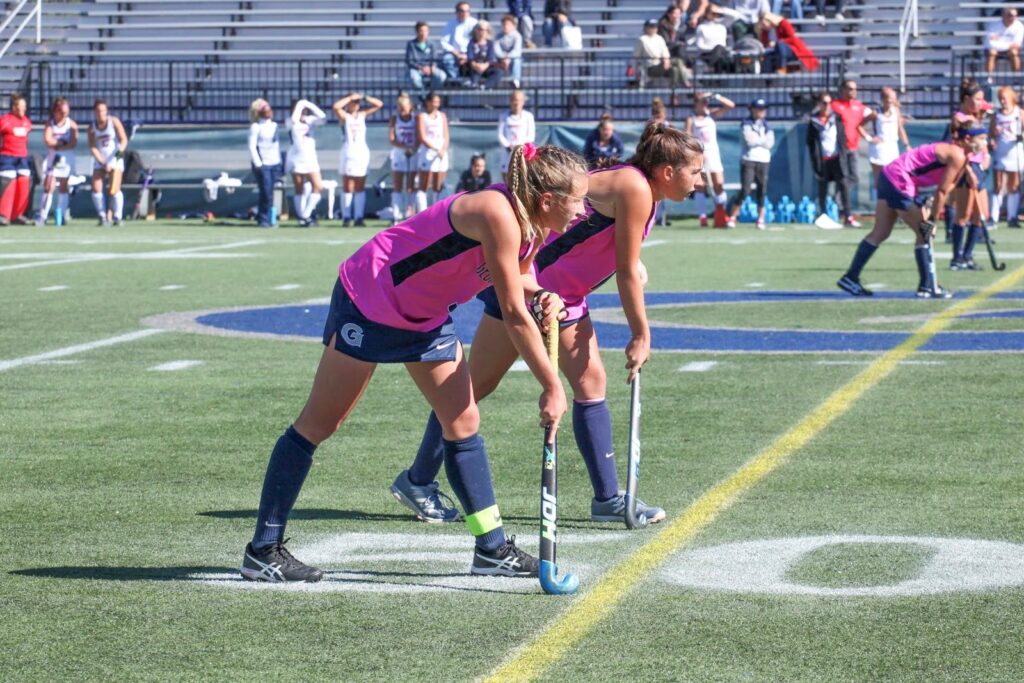 On Friday, the Georgetown field hockey team (5-11, 1-4 Big East) will travel to Rhode Island to take on No. 25 Providence (10-5, 3-2 Big East). The Hoyas are coming off a 4-0 Senior Day loss to No. 17 Liberty (9-4, 4-1 Big East) while the Friars beat Quinnipiac (3-12, 1-4 Big East) 3-2 in a shootout and took down Merrimac (2-12, 1-3 NEC) 5-1.

The Blue and Gray played their last home game against Liberty last Friday. Before the game, the Hoyas honored their seven graduating seniors. The prematch festivities were the end of GU's celebrations on the day. The Flames came out of the gates hot, pressuring sophomore goalkeeper Ciara Weets each time they had the ball. A one-on-one breakaway opened the scoring for LU in the 11th minute. Liberty picked up another goal in the second quarter off of a beautiful cross field pass. The Hoyas fought back in the second half, taking their only shot on target and holding the Flames scoreless in the third quarter. Liberty put the game out of reach with two quick goals, going on to win 4-0.

Junior forward Cami Osborne is the Hoyas' lone double-digit scorer with 13 points this season. Freshman forward Ellie Maransky is knocking on the door with nine points; senior forward Lindsay Getz also has nine points but has been out for the last few weeks with a season-ending injury and will not feature in the Hoyas' remaining games. In the cage for the Hoyas, Weets has accumulated 72 saves, even though she has been splitting time with freshman goalkeeper Megan Maynes, and is looking to take home the title for the most saves in the Big East.

Last Friday, the Friars hosted conference foe Quinnipiac at Lennon Family Field. Halfway through the first quarter, sophomore forward Niamh Gowing intercepted a QU pass. Moments later, Gowing found senior forward Izzy Mendez, who scored with her one-time effort. A defensive turnover in the second quarter let Quinnipiac back into the game, leveling the score at one goal apiece.  The third quarter was a back-and-forth battle, with both teams failing to find the back of the cage. The Bobcats took the lead in the 49th minute with a tap-in at the left post. A minute later, senior midfielder Allyson Parker capitalized off of a stroke to tie the game. The two teams entered sudden death overtime – however, the two OT periods could not separate the Big East opponents. Tied at 2-2 after OT, the Friars defeated the Bobcats 2-0 in a shootout. Quinnipiac failed to convert on their four attempts while junior forward Maddie Babineau and Parker scored for Providence.

Two days later, Providence hosted Merrimack in a non-conference matchup. The Friars opened up the scoring the 12th minute off of junior forward Sydney Cramer's rebound. With two minutes left in the first half, junior forward Olivia Ward scored off of a pass from Babineau, before Merrimack cut the deficit in half three minutes into the second half. Babineau found a goal for herself, combining with freshman Lisa McNamara to give Providence a 4-1 lead with a quarter to go. With four seconds left on the clock, Ward scored the game's last goal, earning the Friars a 5-1 victory.

The Friars are led by Mendez who has 20 points, with three other PC players making it into the double-digit scoring column. Graduate student goalkeeper Lydia Rice has been a staple in Providence's goal. Rice is close to hitting the 1,000 minute mark in goal this season and has kept four clean sheets in her 10 victories. On Monday, Parker was announced as the Big East Defensive Player of the Week for her performance in the Friars' weekend doubleheader.  This is Parker's first time earning this award, previously being named to the Big East Honor Roll three times.

Georgetown is 2-15 against Providence, falling last season to the Friars 2-1 in a shootout on Cooper Field. The Hoyas have not beaten the Friars since 2011, where they won 3-2 in overtime.

The game is set to begin at 3:00 p.m. on Friday. Live stats are available on guhoyas.com. Follow @GUVoiceSports on Twitter for coverage and continuing coverage of fall sports at Georgetown.

The Georgetown Voice


---

Selangor nominate Subahan for MHC's top post

By Jugjet Singh



Datuk S. Shamala. NSTP/ NURUL SHAFINA JEMENON

SELANGOR HA yesterday nominated Datuk Seri Subahan Kamal and Datuk S. Shamala for the president and deputy president's posts respectively for the Malaysian Hockey Confederation (MHC) elections on Nov 16.

SHA also nominated Tengku Hassanal Ibrahim Alam Shah, son of the King, for the men's deputy president's post.

When SHA president S. Ganesh was asked whether he received the consent of all three candidates, he said: 'Yes, SHA have received the consent from all three to be nominated for the MHC elections.'

Ganesh said whether Malaysia win or lose in the Olympic Qualifier against Britain on Nov 2-3, Subahan and Shamala have agreed to contest for the posts.

But when Subahan was asked about the matter, he said:'I haven't spoken to anyone and I have no comments on this. Maybe you should check if this is what he (Ganesh) said or meant.'

Gamesh's statement came as a surprise as Subahan and Shamala had gone on record to say after the failure to qualify for the Olympics at the Asian Games that they will quit their posts if the team fail in their second attempt.

When contacted, Ganesh said: "Selangor HA strongly support Subahan and Shamala, as we believe both have done much for hockey over the years and should continue with their good work.

'Maybe my statement is premature (and that's why Subahan refused to comment),'said Ganesh who will be standing for one of the seven vice-president's posts on offer.

Nominations opened yesterday, and Selangor were one of the first states to send in their list of candidates.

'MHC need a strong team, and that is why we have nominated both Subahan and Shamala as well as Tengku Hassanal.

'Under Subahan's watch, Malaysia moved up to 11th in the world after 15 years, while we also won the Youth Olympics gold.

'The women's team have also made great progress and so SHA believe Subahan must continue with his good work.

'Many times Subahan has used his own money to settle MHC bills, as we know how much MHC owe Subahan when accounts are presented at meetings.

'He is passionate and that is why we have nominated him,'said Ganesh.

New Straits Times


---

Hockey at forefront of physical literacy




An active and healthy lifestyle starts from an early age, which is why physical literacy is such an important part of any child's education. It has long been recognised that sport and activity plays an important role in whole child development, bringing with it physical, psychological, social and cognitive health and wellbeing benefits.

With this in mind, the South Australian government has introduced the Physical Education/Physical Literacy (PEPL) programme which aims to put sport and movement at the heart of the curriculum. Hockey is one of the main sports to jump on board and lend its support.

Hookin2Hockey is a programme developed by Hockey Australia and it will be delivered to a number of primary schools in South Australia next year, aligning beautifully with the South Australian Government's PEPL programme.

For the participating schools, this is the first experience most children will have with hockey. Hookin2Hockey promises action-packed, games-focussed hour long sessions as part of a school's sports/physical literacy offering. Not only will the children benefit from the physical aspects of playing hockey – cardiovascular fitness, balance, strength – they will also learn essential life-skills such as team-work and communication.

Hockey Australia General Manager – Strategy and Game Development, Michael Johnston said the contribution and involvement of hockey's national body in the government programme underlined the sport's values and desire to play a role in helping children have and enjoy an active healthy lifestyle.

"The HookIn2Hockey program perfectly encompasses the intention of the PEPL program and we are extremely proud and passionate to be playing a part in it," said Johnston.

"Sport Australia's summation of physical literacy being about developing knowledge and behaviours that give children the motivation and confidence to enjoy active lifestyles, which can be achieved through quality physical education, school and community sport programs, such as HookIn2Hockey or by joining local hockey clubs, are major reasons we are fully behind it."

"Hockey is an inclusive and family orientated sport that is a lot of fun to play and these physical literacy trials have also proven to have positive impacts on the child's learning."

The PEPL programme was first devised because Sport Australia recognised that, despite its many benefits to an individual's development, the importance of sport was declining within schools. To reverse this trend, something had to be done and, after extensive research, the concept of physical literacy was introduced.

Physical literacy involves holistic lifelong learning through movement and physical activity. It delivers physical, psychological, social and cognitive health and wellbeing benefits. Teaching skills to increase levels of physical literacy supports whole-of-child development and movement for life. A pilot scheme, promoting physical literacy was launched in Victoria in 2018.

Now significant investment has been released by Sport Australia to support the programme across the territory and Hockey Australia is one of the partners who will deliver a high quality sports and physical literacy programme to the youngsters.

Hockey Australia CEO Matt Favier says: "Hockey Australia is at the forefront of one of the most significant projects getting sport back into the school environment, and improving the overall health and development of Australian children. It is for these reasons Hockey Australia is extremely supportive of the Physical Literacy Framework, and proud of its involvement in the PEPL project in South Australia."

#Hockey4Life

FIH site