All the news for Thursday 31 October 2019

FIH Hockey Olympic Qualifiers 2019 (Men)

1 Nov 2019 20:00     IND v RUS (GMT +5:30)

2 Nov 2019 15:00     NZL v KOR (GMT +13)
2 Nov 2019 20:00     IND v RUS (GMT +5:30)
2 Nov 2019 16:30     GBR v MAS (GMT +1)
2 Nov 2019 18:30     GER v AUT (GMT +1)

3 Nov 2019 15:00     NZL v KOR (GMT +13)
3 Nov 2019 15:00     GBR v MAS (GMT +1)
3 Nov 2019 16:30     GER v AUT (GMT +1)

Live streaming on https://FIH.live (may be geoblocked) and other broadcast partners

FIH Match Centre


---

FIH Hockey Olympic Qualifiers 2019 (Women)

1 Nov 2019 18:00     IND v USA (GMT +5:30)

2 Nov 2019 18:00     IND v USA (GMT +5:30)
2 Nov 2019 14:00     GBR v CHI (GMT)
2 Nov 2019 16:00     GER v ITA  (GMT+1)
2 Nov 2019 19:00     IRL v CAN (GMT)

3 Nov 2019 12:00     GBR v CHI (GMT)
3 Nov 2019 14:00     GER v ITA (GMT +1)
3 Nov 2019 19:10     IRL v CAN (GMT)

Live streaming on https://FIH.live (may be geoblocked) and other broadcast partners

FIH Match Centre


---

Tokyo 2020 line-up to be confirmed as FIH Hockey Olympic qualifiers nears climax




Following an 18-month long qualification process, the line-up for the Olympic Games Tokyo 2020 hockey competitions will be confirmed this weekend as the final three days of the FIH Hockey Olympic qualifiers take place.

Last weekend, six nations secured berths at next year's global sporting showpiece, with Australia women, China women, Spain's women and men, Netherlands men and Canada men all winning their respective two-game play-offs over three dramatic days of action.

With ten teams having already achieved Olympic qualification by winning their respective continental championships, there are now just eight - four men, four women - of the 24 Olympic tickets unassigned, something that will be resolved between Friday 1 and Sunday 3 November 2019.




On Friday, two matches will take place in one of the world's most impressive hockey arenas. Bhubaneswar's Kalinga Stadium will see India's men's and women's teams in action, with both hoping for a safe passage to Tokyo 2020. India's women (FIH World Ranking: 9) face USA (WR:13) in their two-match Olympic qualifier, while India's men (WR:5) - the eight times Olympic champions - go head-to-head with Russia (WR:22).




Sitting higher in the world rankings and with home advantage, the Indian teams will rightly be regarded as favourites. However, neither team will under-estimate their respective opponents. Since 2016, USA have lost just one of their five encounters against India, with their most recent meeting - at the Vitality Hockey Women's World Cup London 2018 - finishing 1-1. India's men thrashed Russia 10-0 at the FIH Men's Series Finals in Bhubaneswar earlier this year, but the visitors are likely to enter this contest with a completely different mind-set thanks to their silver medal at the EuroHockey Championship II, a performance which earned them promotion into Europe's top tier event for 2021.




The second legs of the Bhubaneswar Olympic qualifiers take place on Saturday 2 November, a day that will also feature six other crucially important battles. 1976 men's Olympic gold medalists New Zealand (WR:9) play host to Korea (WR:16), silver medallists at Sydney 2000, in Stratford. The Black Sticks are targeting qualification for a fourth Games in succession, while Korea aim to return to the Olympic arena after missing out on Rio 2016.




Bhubaneswar's Kalinga Stadium is not the only World Cup venue being put to good use for these Olympic qualifiers. Great Britain's men and women will be hoping that they can seal Tokyo 2020 qualification at the Lee Valley Hockey & Tennis Centre, the scene of last year's outstanding Vitality Hockey Women's World Cup London 2018.




Great Britain men (WR:7) are likely to face a stern test from a revitalised Malaysia (WR:11), while GB women (WR:5), the Rio 2016 Olympic gold medallists, know that they have to be at their best against Chile (WR:18) in order to keep alive hopes of defending their Olympic crown.




Germany's men and women - Olympic bronze medallists at Rio 2016 - will be in action at Mönchengladbach's Hockeypark, the place where Die Honamas famously won the FIH Men's World Cup in 2006. Germany men (WR:6) need to overcome the challenge of next-door neighbours Austria (WR:20) - their conquerers at the FIH Indoor World Cup 2017 in Berlin - if they wish to add a fifth Olympic gold medal to those collected in 1972, 1992, 2008 and 2012.




Germany's women (WR:4), the Olympic champions of Athens 2004 and 2019 European silver medalists, go head-to-head against an Italy (WR:17) team that is packed with talent and unpredictability. While Germany dominate the historical head-to-heads, a two game test series in 2018 finished with one win apiece, suggesting that this clash may not stick to the script.

 


Saturday's final match is a battle between 2018 World Cup silver medallists Ireland (WR:8) and Canada (WR:15), a team that reached the final of the Pan American Games in Lima, Peru earlier this year. Ireland's women are chasing Olympic qualification for the first time in their history, while Canada have not participated at an Olympiad since Barcelona 1992, where they finished seventh. With Canada men having edged past Ireland in Vancouver last weekend, the Green Army will be determined to do the business at Dublin's Energia Park, the 6000 capacity rugby stadium being re-purposed for hockey thanks to the latest advances in Portable Pitch Technology.

With six second legs all taking place, Sunday is likely to feature various twists and turns in what is the last chance to secure a place at the Olympic Games Tokyo 2020. It promises to be a thrilling weekend of world class international hockey.

You can follow all the action as it unfolds via our live reporting service on the FIH website. Also, every match will be available on FIH.live in all territories where there is no broadcasting agreement in place. For a complete list of broadcasters, please click here.

FIH Hockey Olympic qualifiers

How Olympic qualification works: The winners will be determined as follows: teams will be ranked according to the number of points each has accumulated in both matches (for each match, 3 points are awarded to the winner, 1 point to each team in the event of a draw and 0 point to the loser). If there is equality among the two teams, then the teams will be ranked according to their respective goal difference. If the equality remains, a shoot-out competition will be played to establish the winner.

Results

Friday 25 October 2019 - Day 1
Perth (AUS) - Women: Australia 4, Russia 2 (Match 1 of 2)
Changzhou (CHN) - Women: China 0, Belgium 2 (Match 1 of 2)
Valencia (ESP) - Men: Spain 3, France 3 (Match 1 of 2)
Valencia (ESP) - Women: Spain 2, Korea 1 (Match 1 of 2)

Saturday 26 October 2019 - Day 2
Changzhou (CHN) - Women: China 2, Belgium 0 (Match 2 of 2)
Perth (AUS) - Women: Australia 5, Russia 0 (Match 2 of 2)
Amsterdam (NED) – Men: Netherlands 4, Pakistan 4 (Match 1 of 2)
Valencia (ESP) - Men: Spain 3, France 2 (Match 2 of 2)
Valencia (ESP) - Women: Spain 2, Korea 0 (Match 2 of 2)
Vancouver (CAN) – Men: Canada 3, Ireland 5 (Match 1 of 2)

Sunday 27 October 2019 - Day 3
Amsterdam (NED) – Men: Netherlands 6, Pakistan 1 (Match 2 of 2)
Vancouver (CAN) – Men: Canada 3 Ireland 1 [5-4 After Shoot-Out] (Match 2 of 2)

Upcoming fixtures

Friday 1 November 2019 - Day 4
Bhubaneswar (IND) – Women: India v USA (Match 1 of 2) - 1800 IST (UTC/GMT +5.30)
Bhubaneswar (IND) – Men: India v Russia (Match 1 of 2) - 2000 IST (UTC/GMT +5.30)

Saturday 2 November 2019 - Day 5
Stratford (NZL) – Men: New Zealand v Korea (Match 1 of 2) - 1500 (UTC/GMT +13)
Bhubaneswar (IND) – Women: India v USA (Match 2 of 2) - 1800 IST (UTC/GMT +5.30)
London (ENG) - Women: Great Britain v Chile (Match 1 of 2) - 1400 UTC/GMT
Bhubaneswar (IND) – Men: India v Russia (Match 2 of 2) - 2000 IST (UTC/GMT +5.30)
Mönchengladbach (GER) – Women: Germany v Italy (Match 1 of 2) - 1600 CET (UTC/GMT +1)
London (ENG) - Men: Great Britain v Malaysia (Match 1 of 2) - 1630 UTC/GMT
Mönchengladbach (GER) – Men: Germany v Austria (Match 1 of 2) - 1830 CET (UTC/GMT +1)
Dublin (IRL) – Women: Ireland v Canada (Match 1 of 2) - 1900 UTC/GMT

Sunday 3 November 2019 - Day 6
Stratford (NZL) – Men: New Zealand v Korea (Match 2 of 2) - 1500 (UTC/GMT +13)
London (ENG) - Women: Great Britain v Chile (Match 2 of 2) - 1200 UTC/GMT
Mönchengladbach (GER) – Women: Germany v Italy (Match 2 of 2) - 1400 CET (UTC/GMT +1)
London (ENG) - Men: Great Britain v Malaysia (Match 2 of 2) - 1500 UTC/GMT
Mönchengladbach (GER) – Men: Germany v Austria (Match 2 of 2) - 1630 CET (UTC/GMT +1)
Dublin (IRL) – Women: Ireland v Canada (Match 2 of 2) - 1910 UTC/GMT

#Tokyo2020
#RoadToTokyo
#GiftOfHockey

FIH site


---

Indian men, women start favourites

The Indian men and women are favourites, the men expected to roll over their opponents Russia and the women to advance past USA

Uthra Ganesan



Women's hockey coach Sjoerd Marijine and captain Rani Rampal are confident of India's chances. Photo Credit: Biswaranjan Rout

Two days before the teams take their final steps on the road to Tokyo and hope to book their tickets for the 2020 Olympics, Bhubaneswar is devoid of the buzz that normally accompanies a major sporting event here. Blame it on the opposition or the fact that it would be just a two-day affair. Even the teams decided to take a break from training and preferred to recharge themselves.

The two days, though, would be crucial. The Indian men and women are favourites, the men expected to roll over their opponents Russia — the lowest-ranked side in the qualifiers — and the women advance past USA by virtue of their higher rank and home support.

But for all the spotlight that the men get, clearly a priority for those running the show, it is the women's face-off that guarantees an exciting battle.

Despite being up by a few notches at the moment, the Indian women are far behind in terms of top-level experience and performance. USA has a bronze at Olympics (1984) and was fifth in Rio — where India finished last.

The 2019 edition of Pan-American Games was only the second time it failed to reach the final. And yet, India managed to edge it out of the knockouts the last time the two played, at the 2018 World Cup.

"Our focus is clearly on our game. Yes you should know the strengths and weaknesses of your opponent but not be obsessed with it so much that you forget your own game! Having said that, when you do well against a team, there is greater confidence of doing so again," captain Rani Rampal said.

"To be honest, I feel we could have actually done better than a draw against them in World Cup, we were better than that. Since then, we have improved a lot and I am sure they have worked hard too. The good thing is, that was a pressure game for us — we had to avoid a loss to stay in the competition. It's the same this time around so that experience will certainly help," she added.

Coach Sjoerd Marijne, meanwhile, is confident his girls are up to the challenge, as much of playing at home for most of them as the opposition.

"The way I have experienced the crowd in Bhubaneswar, they are very supportive. But it is about how to to deal with the moment and it is very hard to train for that. The England tour was important because it helped the girls stay in rhythm, else we would not have played for 3-4 months which is too much," Marijne said.

It remains to be seen if Bhubaneswar would oblige again.

The Hindu


---

Injured Varun replaced by Lakra for Olympics qualifiers

Drag-flicker Varun Kumar (in pic) was today ruled out of India's FIH Olympics qualifiers against Russia owing to a shoulder injury and replaced by veteran Birendra Lakra.

The Indian men's team will play Russia on November 1 and 2 here.

"Varun Kumar got injured on Monday while training. He has been receiving treatment since then, but unfortunately, it has not shown enough signs of improvement," said chief coach Graham Reid.

The Tribune


---

OQ History of Indian women against USA

K. Arumugam

History sure has a funny way of repeating itself. The FIH draw pitted India against the United States of America in a two-legged Women's Olympic hockey qualifier. And that, disconcertingly, provides a déjà vu and a trip down memory lane that reveals a history of bitter rivalry. Probably women's hockey's worst kept secret. Something perhaps akin to India vs Pakistan in the men's game, going by several events that suggest such a label.

Exactly 18 years ago, a World Cup hockey qualifier was held in twin cities of Amiens and Paris, France. The top six finishers of the 16-team event were billed to qualify for the 2002 Perth World Cup. Six days before the start, 9/11 occured and, as events unfolded, it impacted Indian women's hockey in a huge way!

The US, second seeds, confirmed participation with reassuring words: "Sports can solace the souls". However, their travel plans went awry due to severe flight restrictions that followed the catastrophe in New York. Alive to the extraordinary situation that the US faced, the FIH announced an unprecedented 3-match Test series between the Americans and the qualifier's seventh-placed team. The winner of the series, to be hosted by the nation placed seventh, would make it to Perth.

It happened to be India who finished seventh.

AK Bansal, the new coach in charge of India in only his second -- and last -- outing failed to finish sixth or better after losing to Scotland 1-2.

The defeat deprived Bansal's team of direct qualification to the Perth showpiece. For reasons best known to them, the US were reluctant to come to India. The FIH went on to suggest holding the playoff at a neutral venue and Randburg, South Africa, and Brussels, Belgium, were among two cities shortlisted.

Vidya Stokes, chairman of the now defunct Indian Hockey Confederation, however, would not play ball. Ultimately, months later, the USA led by redoubtable midfielder Tracey Fuchs landed in New Delhi on May 22d, 10 days ahead of the scheduled match.

Coached by Shiv Jagdev, a Canadian of Indian origin, the Americans practiced behind closed doors, endured a media gag and arranged practice matches with teams from Ludhiana.

However, even as a media conference was being held to announce Indian team at IWHF HQ (National Stadium, New Delhi on May 25h, the Americans had already left India a few hours before!

The IHC cried foul and demanded Rs 25 lakh compensation for loss of revenue but in vain.

Security oficer Larry Buenderp, travelling with the team, produced a media advisory in his support for the departure, while around the same time, a US embassy official at the presser held the view that the advisory was just routine and not a "red alert".

Like present day India-Pakistan tensions on at the border, it was found that the US was also receiving mysteriously threatening faxes from India!

Six months later the mystery was solved when it was learned that a resident in a remote part of Tamil Nadu sent those faxes to the United States Field Hockey Federation.

Within days, the FIH moved the venue from Delhi to Connock, England. Reluctantly, India made the trip but lost the series.

Eight years prior, India lost to the USA too in dramatic fashion and lost out on a place in the 1994 World Cup in Dublin, Ireland.

The Indian girls did not clinch the last qualifying slot in Philadelphia, USA, when Rajbir Rai??? failed with her effort in a nerve-wracking penalty shootout.

History repeated itself yet again with the US proving to be India's nemesis which was now turning out to be an open secret.

In the Olympic Qualifier in Kazan, Russia, India once again lost out to the USA.

What is relevant from the 2001 episode is that the India-Pakistan border situation akin to 2001.

Hockey India, this time around, has a stronger will and character than then and is unlikely to fall prey to to US off-field tactics that worked then.

On the pitch, however, twice winners of Pan American titles in the last decade despite the presence of powerhouses Argentina will be formidable opponents in Bhubaneswar.

In recent times, however, India held the US 1-1 at the London World Cup only a year and a bit ago.

And with a full-throated partisan crowd behind them, Rani Rampal's team could well dig into an extra reserve of energy and determination to go one better and book coveted tickets to Tokyo 2020.

Stick2Hockey.com


---

Russia match inspires Seoul searching

Errol D'Cruz

The erstwhile Soviet Union was often inaccurately referred to as Russia. Especially when it came to sports. So, when India drew Russia in the men's Olympic hockey double-legged qualifier, correct or not, one was tempted to recall past battles against the former Union of Soviet Socialist Republics (USSR). One encounter rankles till this day if you are Indian and old enough to remember.

And for two Indian stalwarts of yesteryear, it brings remorse and thoughts of what might have been.

M.M. Somaya, is one of them. The other is Mervyn Fernandis, his Mumbai citymate.

The match in question – the opener against the former Soviet Union at the 1988 Seoul Olympics.

Igor Davydov's field goal in the first half settled it. A 0-1 loss piled on the pressure at the very start of a tough tournament for India, still reeling from last place at the 1986 World Cup.

"It wasn't a crunch match," Somaya, the cerebral right-half and captain in Seoul recollected.

"We regarded (West) Germany and Great Britain as the main threats."

Somaya, 60, however refutes any notions of complacency.

"Sure, we could have prepared ourselves better for the Soviet match," he said.

"We knew their capabilities and were fully aware of their remarkable consistency.

"The USSR stretched the Netherlands in the Euro 1983 final, losing only in the tiebreaker in Amstelveen.

"They also reached the 1986 World Cup semifinals in London and were Olympic bronze medalists at Moscow 1980," Somaya recounted.

Indeed, the USSR of those times were in a different class from the current Russia.



Victorious team of USSR in the late 80s and early 90s

The fragmentation of the Soviet Union took its toll across, not just hockey, but the whole spectrum of sport.

Russia, ranked No. 22 in the world today, doesn't feature in Europe's top tier. And India (No. 5) have dominated encounters, winning all five with a 30-7 goal record which includes a 10-0 verdict at the FIH Series Finals in Bhubaneswar in June.

Fernandis, the mercurial inside-right who made a comeback into the side in 1988, however, feels that playing in an event such as the FIH Series Finals and the Olympic qualifiers are totally different propositions.

"India would need to score early, even perhaps twice before halftime, to reduce the pressure that an Olympic qualifier brings," the 60-year-old former Indian Airlines star said.

The duo recounted how the defeat to the USSR in the Seoul Opener proved crucial in the final analysis.

India had five points going into the last match against Great Britain and could have squeaked into the semifinals had they won their opener against the USSR as was the widespread expectation.

Britain scored three unanswered goals in the second half to win 3-0 and make the semis at India's expense en route to winning the Olympic gold medal.

"The defeat to the USSR in the first match was an unexpected setback but we recovered to draw 1-1 with Germany in the next match," Somaya recalled.

Further wins against South Korea (3-1) and Canada (5-1) indicated that the team took the opening setback in their stride.



Triple Olympian and inside-forward Mervyn Fernandis

"But after holding Great Britain goalless at halftime, we committed defensive errors and were punished by an impressive British side which boasted of the legendary Sean Kerly who scored twice against us," Somaya said. India eventually finished sixth after losing to Pakistan 1-2 in a classification match – a rung above the USSR — and the performance was largely hailed as a fine recovery from the disaster of London two years prior.

The duo found it difficult remembering the names of the Soviet players of that era.

But they described two brothers – a striker and a goalkeeper – who were undoubted stars of the USSR exploits in the 1980s.

They were Vladimir (in goal) and Sergei Pleshakov who Somaya recalls was a player difficult to mark and therefore a constant threat to any defence.

Vladimir was a pioneer of the "Star Wars" apparel that modern goalkeepers don and a headache to the rule makers with his controversial rush and prostrate position to block penalty corner hits at the 1982 Mumbai World Cup.



Seoul Olympic captain MM Somaya in action in Mumbai WC

Another player to stand out was an indefatigable midfielder called Sos Airapetian, an Armenian not Russian, and one of a host of players produced by the Dynamo Alma-Ata club.

The USSR developed a team for the 1980 Olympics at home in Moscow, exceeding all expectations while becoming a force to reckon with in international hockey.

"Of course, we dominated meetings with the USSR," Somaya points out. "It could well have been because we knew their game well as our nations were close allies and cultural and sporting exchanges were frequent."

India beat the Soviet Union 4-2 on their way to the gold medal in the 1980 Olympics – their last of eight titles at the Games.

They also held sway over the USSR at the 1982 Mumbai World Cup (7-2 and 5-1) and the 1982 Champions Trophy (4-2) in Amstelveen.

So, when it came to the Seoul opener the team could be forgiven for fancying a collection of full points.

That was not to be.



Soviet's livewire Sos Airapetian (left) playing against another legend Ric Charlesworth

Perhaps if the current India side were given a peep into history, presumptions if any of an easy victory against a Russian side that isn't in the same class, may be staved off.

The Russians may have started off disastrously in Bhubaneswar at the FIH Open Series Finals but bounced back with a 12-1 win over Uzbekistan before finishing fifth with a repeat 3-2 win over Eastern European rivals Poland.

Russia made the qualifiers only because Egypt pulled out.

After the Soviet Union split, it was an interim team called the Commonwealth of Independent States (CIS) that entered the 1992 Barcelona Olympics.

The CIS was a regional inter-governmental organization of originally 10 post-Soviet republics in Eurasia formed following the dissolution of the Soviet Union.

Bhubaneswar thus gives Russia a chance to feature as a separate entity at the Games for the first time ever.

The weather in November will be far better than the heat and humidity during their opener in June.

And, with an Olympic place at stake, Russian adrenaline will be flowing.

India, despite vociferous support in the stands, will be all too aware that their tickets to Tokyo won't be booked by little more than turning up on the blue turf at the Kalinga stadium in a double legged qualifier on November 1 and 2.

With echoes of Seoul 1988, so would Somaya and Fernandis.

Stick2Hockey.com


---

All we need is a miracle

By AFTAR SINGH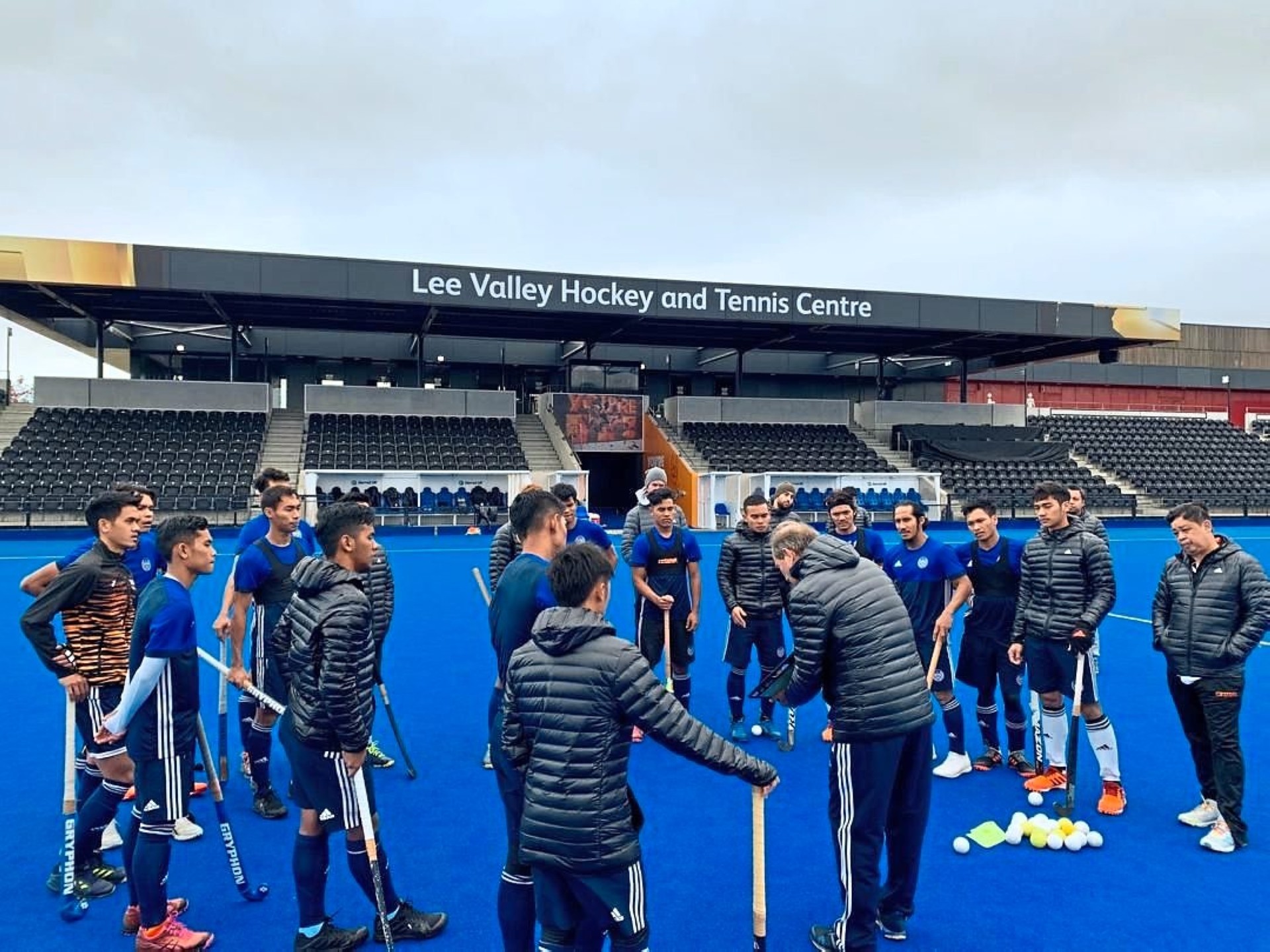 Listen up: National coach Roelant Oltmans (right) speaking to the hockey boys at the venue for the Olympic qualifier in London yesterday.

KUALA LUMPUR: The Malaysian hockey team need nothing short of a miracle in their Tokyo Olympic playoff matches against Britain.

Playing in London's freezing 8ºC weather is going to be a big task for Roelant Oltmans' boys.

And to make matters worse, they will play two matches within 24 hours.

The first match will be played at 4.30pm on Saturday (Sunday, 12.30am Malaysian time) and 3pm on Sunday (11pm Malaysian time) at the Lee Valley Hockey Stadium.

Midfielder Mohd Fitri Saari said that they have never encountered this experience before.

"It is going to be a real challenge to play well in both matches. Britain have home ground advantage and are used to playing in chilly conditions, " he said.

"It's going to be tough for us to get used to the conditions and play to our true form.

"Our past results against Britain have never been good but we are ready to change all that despite the setbacks.

"For some players this is their last chance to qualify for the Olympics, so we aim to make it count.

"I believe my teammates will rise to the occasion. We have been working hard on on our game and fitness level."

Malaysia played in a four-nation meet in Barcelona in August and Fitri scored a goal in the 3-3 draw against England and went on to win the tournament.

"Although we played against England, 90% of their players will be in the playoffs, " said the father of two.

Fitri, who has represented Malaysia 168 times in the last eight years, admitted that he has a major role to play.

"I have to keep the half-line tight in both matches. I have to relay passes to the forwards and also help out in defence.

"It's going to be a real challenge but I'm up for it. I've waited a long time for this."

The Star of Malaysia


---

Portable Pitch Technology evolution set to continue in FIH Hockey Olympic Qualifiers




Four months ago, one of the most significant developments the sport of hockey has seen in decades took place in London at the Twickenham Stoop, home to English Rugby Union giants Harlequins. Whilst the FIH Pro League double header between the men's and women's teams of Great Britain and New Zealand provided wonderful entertainment for 12,000 fans in the stands and untold numbers watching via the global live broadcast, arguably the most fascinating story centred not around what was happening on the pitch. The pitch was the story.

As we reported in June, a ground-breaking partnership spearheaded by England Hockey saw the implementation of revolutionary portable pitch technology that could, in theory, allow hockey matches to be played in any major sporting stadium in the world. Excellent athlete feedback made The Stoop trial a resounding success, turning the game-changing dream of portable pitch technology – where a fully functioning, reusable international standard hockey pitch could be installed and removed with a turnaround as little as six days – into reality.

Following on from the positive test-run staged at The Stoop, the next chapter in the evolution of Temporary Overlay Pitch Systems (TOPS) will be written in Dublin, where Donnybrook's 6,500 capacity Energia Stadium was unveiled last month as the stage for the women's FIH Hockey Olympic qualifier between hosts Ireland and Canada. The move sees Hockey Ireland and Leinster Rugby collaborating in much the same way as England Hockey and Harlequins did in Twickenham, with the very same playing carpet that was used at The Stoop – Polytan's Poligras Tokyo GT, the sustainable turf system that will be used at the Olympic Games Tokyo 2020 – being shipped to Ireland for the double headers that will take place on Saturday 2 and Sunday 3 November.

"This is a huge step for the sport in Ireland to play hockey in a venue of this size", said Hockey Ireland's Chief Executive Officer Jerome Pels. "An Olympic Qualifier on home soil is a unique event. We are delighted that Leinster Rugby share our excitement and ambition about the potential for bringing Big Stadium Hockey to Energia Park and exploiting the benefits of existing infrastructure to raise the profile of women's sport. We are also grateful to the partners in Big Stadium Hockey, particularly England Hockey and Polytan, for all their support on the journey so far and we are delighted to be working with them on the delivery of this unique event."

Polytan's Paul Kamphuis, who is the lead on the Big Stadium Hockey project, described the Energia Park event as 'historic', while England Hockey Chairman Royston Hoggarth was also quick to congratulate Ireland on their "ambition and vision", stating that "these critical games deserve big crowds and Big Stadium Hockey, with its temporary overlay pitch, will create a unique atmosphere."

While the principles of the portable pitch technology that were used at The Stoop will remain in place for the matches in Dublin, there are subtle differences. For instance, there is no grass to worry about, with the temporary hockey pitch being constructed on top of Energia Park's artificial '3G' rugby surface, which will remain fully protected throughout the build and removal processes.

Another key change will be a significant reduction in the installation time, largely due to other events that will take place at Energia Park either side of the Olympic qualifiers. At The Stoop, each layer of the pitch was completed in full before starting the next. In Dublin, the pitch layers will be installed concurrently, with a meticulous sequencing and coordination plan being executed to complete the pitch build, from start to finish, in a matter of days.

Saturday 2 November 2019
Ireland v Canada Women (Match 1 of 2), Dublin, Energia Park

Sunday 3 November 2019
Ireland v Canada Women (Match 2 of 2), Dublin, Energia Park

#Tokyo2020
#RoadToTokyo
#GiftOfHockey

FIH site


---

Ireland hockey's loss will have huge knock-on effect, says David Harte

By Richard Bright



Ireland captain David Harte has spoken out in defeat PICS: Worldsportpics

David Harte, Ireland's captain, has revealed the heartache behind the Green Machine's controversial defeat to Canada which scuppered their Olympic tickets.

Harte was ruled out with a late ankle injury as he was forced to sit out the aggregate defeat in Vancouver on Sunday.

The Irishman put out a tweet as the team processed defeat and set about returning home, where the women will hope to beat Canada women this weekend.

As Harte put it to Irish radio station 2fm's Game On: "Grown men without words, tears rolling down the cheeks. When I put out that tweet, I couldn't actually get the words out physically, I could only type them.

    Hockey careers ended, Olympic dreams shattered & years (& years) of nothing but hard work & dedication from all players diminished… Honestly still can't believe what happened @FIH_Hockey !!! A decision that will carry pain for a lifetime – heartbroken!!

    — David Harte (@daveyharte) October 28, 2019

"You have certain senior players hanging up their hockey sticks who won't wear the green shirt again. That's really tough to take. Guys who've been in the trenches.

"For their careers to finish on a note like that is really harrowing. There is a feeling of numbness. As the hours have gone, there's a feeling of frustration creeping in as well."

For several green shirts, Sunday represented their final games for Ireland. Harte, 31, is likely to stay on but says the consequences of defeat will be felt across the sport.

"Personally, I can't see that being my final memory in a green shirt. For now, I can't say I'll be moving along," he added.

"The knock-on effect that not qualifying will have, and the decision to award that penalty stroke, will have a huge impact on sponsorship. There will be a potential €1 million loss of services and sponsorship so that will have an impact on programmes moving forward."

Meanwhile Ireland captain Jonathan Bell believes the FIH must clarify the controversy which marred the Olympic play-off.

"Trust in the officials is fundamental to every sport. If the players have no trust in the officials, then the whole fabric of the sport is undermined," Bell told BBC NI Sport.

"The FIH has a duty to come out, whether it is an apology, a clarification or a route map on how they are going to put this right to ensure it doesn't happen again. Certainly I will be expecting something like that from the FIH."

This article was brought to you by The Hockey Paper, on-sale regularly via subscription in print or digital



The Hockey Paper


---

The final nail in the coffin of Pakistan hockey?

Muhammad Ali

Like 2015, the year 2019 will also go down in history as one of the darkest chapters of Pakistan hockey. Pakistan's failure to qualify for the second successive Olympics marks a calamitous new low. The agonising reality is that Pakistan hockey has acquired a 'loser' image in world hockey and become a synonym for defeat, mediocrity and failure. It is now the Sick Man of global hockey and it's incorrigible and confirmed Pauper. It has reached its nadir. After their failure to make the grade in the Rio Olympic Games in 2016, the hopes that Pakistan harboured for the Tokyo Olympics 2020 were dashed last week when the Netherlands crushed them 6-1 in the second qualifier to confirm their berth at the Olympics 2020. Though Pakistan did show some spark in the first qualifier when they had held hosts Holland to a 4-4 draw, but the Green Shirts were no match in the second. The failure to qualify for the second Olympics in a row seems to be the final nail in the coffin of Pakistan hockey.

It is lamentable that a country who won Olympic gold thrice, World Cup four times, Asia Cup thrice, Asian Games gold record eight times, Asian Champions Trophy gold twice, FIH Champions Trophy gold thrice and remained unbeatable at regional level for many years have become one of the lowest teams in the world: 17th in world hockey.

For the last many years, the Pakistan Hockey Federation (PHF) has been unable to give maximum international exposure and facilities to senior as well as junior players. What more disturbing is that the crippling financial state of the sport has finally struck a killer blow to the country's national game. However, such has been the state of Pakistan hockey over the past two decades that it came as no shock to all and sundry when the team failed to qualify. For the mandarins who run the hockey show, though, the priorities lay elsewhere. The harsh truth is that the national sport has been reduced to a game of musical chairs, where the officials and former Olympians of yesteryear have taken turns to deprive hockey of both prestige and funds. At the same time, the country's obsession with cricket and the government's indifferent attitude have not helped as the corporate sector and well-wishers have switched their loyalties to the gentleman's game, the highly successful Pakistan Super League being a prime example, relegating the national sport to the background.

It is also very unfortunate that the PHF, over the years, has become politicized and nepotistic, just like its cricket counterpart. In the national sphere and the sporting arena the root of our dilemma is the notorious system of patronage and imposed cronies, to the exclusion of merit and professionalism. Under the powerful patron's benevolent gaze, the pick and choose appointees can survive scandals and failures that would crush an ordinary mortal. These are times when one fails to figure out what is keeping Pakistan hockey alive. In other countries, the people running the hockey affairs contribute by taking professional decisions and by executing them with competence rather than on the basis of personal preference and bias. But, frankly, we are not such a nation. The statements given by the top PHF officials in the national media, aim at to make people believe that the national outfit are doing well, and that there is light at the end of the tunnel. The fact is that the way things are being conducted, the days ahead are anything but that.

Pakistan hockey, which remained up in the clouds for more than three decades, is not the same force that it used to be. Pakistan hockey structure lacks in terms of skills and competitiveness. The very base of the game has shrunk beyond belief. Pakistan hockey's slump is not quite as dramatic or sudden as it now seems to be. It's been a slow and painful decline that began after 1994. Cricket, with better financial rewards and glamour, slowly replaced hockey in schools and colleges. For the last two decades, the government has done nothing seriously for promotion of the national sport of the country but wants results. What a pity. To remain consistent, Pakistan hockey needs improvement all over at every tier of the game at the domestic level to show an upward graph.

The decline of Pakistan hockey also coincides with the advent of artificial turf that gained currency in the late 1970s and early 1980s. It changed the dynamics of Asian hockey, rendering the dribble-and-dodge game of short passes that Indians and Pakistanis were so good at completely obsolete. It also cut the careers of players by half, and demanded greater physical fitness than before. The Asians have not been able to match the fitness levels of Western players. Also, the International Hockey Federation (FIH) has over the decades changed some basic rules of the game that the Asians had mastered in their heyday. This also proved to be a disadvantage.

Building a strong team is not an overnight process and it takes years to put together a balanced side keeping in view the modern approach to competitive international hockey, and the exacting scientific preparations that the international teams now favour. The standard of the game is changing so rapidly that the gap between the best and the second in line has narrowed considerably. In fact, the difference between the four top teams has become so small that whenever any two of them meet it is very difficult to predict the outcome of the game. Failure to qualify for the Olympics is the most forgetful incident for Pakistan hockey. What is worse, Pakistan hockey seems to be on an irrevocable downward slide. And realistically speaking, one should not harbour any hopes of the national team doing any better or revive itself to its former glory in coming years with the cronies running the show and incapable officials handling the affairs of the national sport of the country.

To rise above again, Pakistan hockey requires strong financial backup, commitment and self-belief. Only hard and incessant efforts lead to success. In the absence of these, we should not dream of reaching skies. The future of hockey in Pakistan heavily depends on paying attention to grassroots hockey. Pakistan had been a fantastic hockey nation for decades and ruled at international level by virtue of their talent and skills and now they are struggling to make their mark at the highest level of the game and they should pay attention to their grassroots level in order to broaden the base of the game. Pakistan hockey needs adequate hockey activities at early level which is only possible by evolving a system which could ensure that hockey gets due attention among the youth. It is so painful that country's national sport, having so much pride and passion, has gone to the dogs.

The Daily Times


---

SA Hockey announce SA Men's Indoor coach for Switzerland Series




There is much excitement ahead of the indoor hockey test series between Switzerland and hosts South Africa next month taking part in Durban and Cape Town. It will be the first men's indoor hockey test match played on South African soil in almost 5 years. Of course, the men have played a host of exhibition games at the Pro Series Indoor Nationals over the years, but those have not counted as official test matches.

To add to the excitement the South African Hockey Association have announced the coaching staff for the test series. David Joshua has been announced as the head coach to take on the Swiss, while Ryan Hack has been named as the Assistant Coach, a role he performed at the 2018 FIH Indoor Hockey World Cup having previously coached the team at the 2015 Indoor Hockey World Cup.

Joshua is no stranger to the South African Hockey circuit having coached provincially at both indoor and outdoor hockey for a few years. Having previously served in many different capacities across a range of age groups, Joshua headed to Northern Blues to take on the Indoor challenge of coaching the Men's Senior side. At the past two tournaments he led a highly unfancied Blues side to consecutive top 6 finishes and is well respected and liked by the players and coaches. His hockey resume includes a remarkable cv that includes winning four U18A National titles at the Pro Series Indoor, as well as one silver. He has also featured consistently in the Premier Hockey League and his tactical nous could be a major weapon in the BlitzStoks arsenal for the series.

Ryan Hack has been appointed as the Assistant coach for the series. Hacker's as he is known, is an indoor addict almost. His pedigree is fantastic having won IPT several times with the SPAR KZN Raiders. His experience in the International Indoor game will be massive in supporting Joshua through the series and their ability to read the game together could offer the exciting BlitzStoks side an opportunity to bring their flair to the series.

The South Africans, powered by Tops at SPAR for the duration of the series, will take each other on in six test matches in November. The first three tests (10-12 November) will take place at Danville Park Girls School in Durban North before heading to Cape Town for three tests (14-16 November) at Sunningdale.

You can follow all the series updates on SAHockey.co.za

SA Hockey Association media release


---

Sultana Bran Hockey One League Round 7 preview




A top of the table blockbuster between two undefeated teams and a host of matches that will determine the makeup of the semi finals sets up for an absorbing final round of the Sultana Bran Hockey One 2019 Season.

Here is what lies ahead this weekend as the Sultana Bran Hockey One League reaches crunch time of the inaugural season.

Tassie Tigers v Perth Thundersticks (Saturday 2 November, start time 2:00pm local)

The Perth Thundersticks Men's and Women's Teams have the most to gain of all the clubs heading into the final round. Both have endured topsy-turvy seasons but both could find themselves featuring in the finals come the end of the weekend.

For the Thundersticks Women's Team, they simply need to beat the winless Tassie Tigers to secure a finals berth, and depending on other results, could finish as high as second if Adelaide Fire and Brisbane Blaze both lose.

For the Tassie Tigers Women, who have improved as the season has gone on but have yet to register a point so far, they could extinguish the Thundersticks' top four hopes and get a big thank you from Canberra Chill who would remain in fourth spot with a Tigers win.

On the men's side, the Thundersticks must beat an inspired Tassie Tigers outfit and then rely on bottom placed Adelaide Fire beating HC Melbourne on Sunday to sneak into the top four. After conceding eight goals against NSW Pride last time out, the odds may be stacked against the men from Perth, but any team featuring the likes of Kookaburras Aran Zalewski, Trent Mitton, Jake Harvie and Tom Wickham cannot be discounted.

The Tigers can lock up third spot with a win and they enter the match on the back of their stirring comeback against HC Melbourne at home last weekend.

Brisbane Blaze v NSW Pride (Saturday 2 November, start time 3:00pm local)

A genuine top of the table blockbuster awaits at Queensland's State Hockey Centre as the two standout and undefeated teams in the men's competition meet in what could be a grand final preview.

Brisbane Blaze and NSW Pride enter the match in rich veins of form, and with both sides littered with current Kookaburra stars, it is arguably the match of the season and will ultimately decide who finishes top.

Notably, both sides will have one of their stars missing for not only this showdown but for the finals series. Pride forward Blake Govers, the league's leading scorer, faces months on the sideline after suffering a torn abductor late on in the win over Perth last weekend, while Blaze midfielder Matt Swann has been ruled out for up to five weeks with a hamstring injury.

In the women's match, the Blaze can wrap up second spot and a home semi final with a victory, while a loss could see them possibly relegated to fourth if Perth Thundersticks and Adelaide Fire both win.

For the NSW Pride, it is only pride left to play for but with the State of Origin rivalry between Queensland and New South Wales, there is certain to still be plenty of spice in the contest.

Both teams have made at least a handful of changes as they welcome back their Hockeyroos contingent following the successful Olympic Qualifying Series win over Russia.

HC Melbourne v Adelaide Fire (Sunday 3 November, start time 1:00pm local)

The regular season finishes with another traditional cross-border rivalry as HC Melbourne entertain Adelaide Fire at the State Netball and Hockey Centre.

With top spot and a home semi final assured, HC Melbourne's Women's Team will be aiming to impressively go through the season undefeated.

The home side welcomes back Hockeyroos trio Sophie Taylor, Hayley Padget and goalkeeper Rachael Lynch for the match that has more bearing for their opposition.

The Fire also have their Hockeyroos contingent returning and could finish second if they can upset the ladder leaders, but they would first need Brisbane Blaze to lose on Saturday.

The semi finals of the Sultana Bran Hockey One League will see 1v4 and 2v3 on the ladder, with the top two teams to host and the winners to progress to the Grand Finals which will be played as a double header on Saturday 16 November 2019.

Tickets for every Sultana Bran Hockey One match are available through Ticketek. All of the action will be broadcast LIVE and exclusive on Kayo.

Sultana Bran Hockey One 2019 Season – Round 7 Fixtures

Tassie Tigers v Perth Thundersticks

Saturday 2 November 2019
Tasmanian Hockey Centre (TAS)
Match Start: Women's 2:00pm local (2:00pm AEDT), Men's 3:30pm local (3:30pm AEDT)

Join the conversation on Twitter using the hashtags #TIGvPTX #HockeyOne

Tassie Tigers Women's team: 1.Sarah McCambridge, 2.Amelia Spence, 3.Hannah Richardson, 4.Nicole Geeves, 5.Molly Haas, 8.Holly Bonde (GK), 9.Emily Donovan, 10.Laura Spandler, 13.Phillida Bridley, 15.Sophie Rockefeller, 16.Samantha Lawrence, 19.Esmee Broekhuizen, 20.Katerina Lacina, 21.Lauren Canning

In: 3.Hannah Richardson

Out: 7.Madeleine Hinton (omitted)

Perth Thundersticks Women's team: 1.Phillipa Morgan, 3.Candyce Peacock, 4.Jemma Buckley, 8.Georgia Wilson, 9.Shanea Tonkin, 12.Liné Malan, 14.Roos Broek, 15.Caitlin Pascov, 16.Karri Somerville, 17.Annie Gibbs, 18.Renee Rockliff, 19.Aleisha Power (GK), 21.Jade Vanderzwan, 29.Agueda Moroni

In: 1.Phillipa Morgan, 8.Georgia Wilson,12.Liné Malan, 15.Caitlin Pascov

Out: 6.Jacqui Day, 11.Rachel Frusher, 22.Jolie Sertorio, 30.Chloe Pendlebury

Tassie Tigers Men's team: 2.Nicholas Leslie, 4.Hayden Beltz, 11.Eddie Ockenden, 12.Sam McCulloch, 13.Joshua Beltz, 14.Jack Welch, 15.Kieron Arthur, 19.Tim Deavin, 20.James Bourke, 21.Ben Read, 23.Henry Chambers (GK), 27.Gobindraj Gill, 29.Sam McCambridge, 32.Jeremy Hayward

In: 2.Nicholas Leslie, 23.Henry Chambers

Out: 6.Joshua Brooks (omitted), 18.Grant Woodcock (omitted)

Perth Thundersticks Men's team: 1.Brayden King, 4.Jake Harvie, 5.Frazer Gerrard, 7.Tyler Lovell (GK), 8.Coby Green, 9.Dane Gavranich, 10.Tom Wickham, 14.Liam Flynn, 17.Aran Zalewski, 23.Matthew Fisher, 24.Alec Rasmussen, 25.Trent Mitton, 26.Brandon Gibbs, 27.Marshall Roberts

In: 1.Brayden King, 5.Frazer Gerrard, 14.Liam Flynn

Out: 6.James Collins, 15.Will Byas, 19.Daniel Robertson

Brisbane Blaze v NSW Pride

Saturday 2 November 2019
State Hockey Centre (QLD)
Match Start: Women's 3:00pm local (4:00pm AEDT), Men's 4:30pm local (5:30pm AEDT)

Join the conversation on Twitter using the hashtags #BBZvNSW #HockeyOne

Brisbane Blaze Women's team: 1.Savannah Fitzpatrick, 2.Madison Fitzpatrick, 3.Layla Eleison, 4.Ashlea Fey, 5.Rosie Malone, 6.Morgan Gallagher, 7.Jodie Kenny, 8.Jordyn Holzberger, 9.Jesse Reid, 14.Meg Pearce, 15.Hannah Astbury (GK), 19.Morgan Mathison, 21.Renee Taylor, 22.Britt Wilkinson

In: 2.Madison Fitzpatrick, 5.Rosie Malone, 7.Jodie Kenny, 8.Jordyn Holzberger, 19.Morgan Mathison, 21.Renee Taylor

Out: 10.Maddie James, 11.Ashlyn McBurnie, 12.Kendra Fitzpatrick, 20.Aleisha Neumann, 23.Ruby Harris, 24.Claire Colwill

NSW Pride Women's team: 1.Jocelyn Bartram (GK), 2.Sarah Johnston, 7.Grace Stewart, 10.Greta Hayes, 14.Kaitlin Nobbs, 16.Jessica Watterson, 20.Maddison Smith, 21.Alice Arnott, 22.Kate Jenner, 23.Abby Wilson, 24.Mariah Williams, 28.Casey Sablowski, 29.Courtney Schonell, 31.Emma Spinks

In: 7.Grace Stewart, 14.Kaitlin Nobbs, 16.Jessica Watterson, 24.Mariah Williams, 28.Casey Sablowski

Out: 11.Emma Scriven, 19.Morgan Blamey, 25.Lexie Pickering, 27.Renae Robinson, 32.Grace Young

Brisbane Blaze Men's team: 2.Shane Kenny, 3.Corey Weyer, 4.Hugh Pembroke, 5.Scott Boyde, 7.Joel Rintala, 9.Jacob Anderson, 10.Robert Bell, 12.Jake Whetton, 14.Luke Tyne, 16.Tim Howard, 19.Blake Wotherspoon, 23.Daniel Beale, 26.Dylan Wotherspoon, 32.Mitchell Nicholson (GK)

In: 2.Shane Kenny, 14.Luke Tyne

Out: 15.Justin Douglas, 20.Matthew Swann

NSW Pride Men's team: 1.Lachlan Sharp, 2.Tom Craig, 5.Ash Thomas (GK), 6.Matthew Dawson, 11.Hayden Dillon, 12.Kurt Lovett, 19.Jack Hayes, 20.Ky Willott, 22.Flynn Ogilvie, 23.Ryan Proctor, 24.Dylan Martin, 26.Ehren Hazell, 28.Sam Gray, 29.Timothy Brand

In: 5.Ash Thomas, 11.Hayden Dillon, 26.Ehren Hazell

Out: 3.BJ Bruton, 8.Nathanael Stewart, 13.Blake Govers

HC Melbourne v Adelaide Fire

Sunday 3 November 2019
State Netball and Hockey Centre (VIC)
Match Start: Men's 1:00pm local (1:00pm AEDT), Women's 2:45pm local (2:45pm AEDT)

Join the conversation on Twitter using the hash-tag #HCMvADL #HockeyOne

HC Melbourne Men's team: 1.Craig Marais, 2.Max Hendry, 3.Simon Borger, 5.Andrew Philpott, 7.Will Gilmour, 9.Nathan Ephraums, 10.Rusell Ford, 12.Connar Otterbach, 14.Jonathan Bretherton, 15.Josh Simmonds, 18.Johan Durst (GK), 21.Jake Sherren, 25.Aaron Kleinschmidt, 29.Oscar Wookey

In: 12.Connar Otterbach

Out: 13.Jayshaan Randhawa

Adelaide Fire Men's team: 1.Fraser Bowden, 3.Lachlan Busiko, 7.Scott Germein, 9.Fred Gray, 11.Cameron Joyce, 15.Andy Leat, 18.Al Oliver, 19.Glyn Tamlin, 22.Chris Wells, 23.Cameron White, 24.Zendana Hirotaka, 25.Watenabe Kota, 26.Liam Alexander, 29.Edward Chittleborough (GK)

In: 1.Fraser Bowden, 7.Scott Germein

Out: 6.Angus Fry, 20.Isaac Farmilo

HC Melbourne Women's team: 1.Sophie Taylor, 2.Aisling Utri, 3.Nicola Hammond, 5.Kristina Bates, 7.Kary Chau, 10.Laura Desmet, 12.Carly James, 14.Laura Barden, 20.Hayley Padget, 21.Florine van Grimbergen, 22.Madi Ratcliffe, 23.Samantha Snow, 25.Hannah Gravenall, 27.Rachael Lynch (GK)

In: 1.Sophie Taylor, 20.Hayley Padget, 27.Rachael Lynch (GK)

Out: 6.Claire Messent, 8.Olivia Colasurdo, 30.Nikki Bosman

Adelaide Fire Women's team: 1.Linzi Appleyard, 3.Brooklyn Buchecker, 6.Jane Claxton, 7.Emma De Broughe, 8.Holly Evans, 13.Sarah Harrison, 15.Euleena Maclachlan, 17.Karri McMahon, 19.Gabi Nance, 20.Hattie Shand, 21.Miki Spano, 22.Leah Welstead, 25.Kate Denning, 30.Ashlee Wells (GK)

In: 6.Jane Claxton, 17.Karri McMahon, 30.Ashlee Wells (GK)

Out: 9.Rachel McCann, 24.Leah Butt, 28.Amy Hammond (GK)

Canberra Chill – BYE

Sultana Bran Hockey One League Media release


---

No. 6 Virginia field hockey secures close victory over No. 17 Liberty

The Cavaliers scored in the final minutes to upend the Flames on Senior Night

By Kushal Patel



The No. 6 Cavaliers celebrated Senior Night at Turf Field with a shutout win over the No. 17 Flames.   Courtesy Virginia Athletics

No. 6 Virginia won its sixth-straight game Monday to improve to 14-3, defeating the Liberty Flames 1-0 after another clutch goal with under three minutes to play at Turf Field. The Cavaliers (14-3, 3-2 ACC) controlled the pace, but the Flames (9-6, 4-2 Big East) made enough plays to hold the score even throughout the game.

Ultimately, Virginia's relentless attack and control of pace limited Liberty's ability to strike back. The Cavaliers registered 14 shots to the Flames' six and won the penalty corner contest with eight to Liberty's four, one of which set up the game-winning goal.

Freshman striker Laura Janssen was a key player for the Cavaliers, scoring her sixth goal on the season and third game-winner. At the end of the fourth period, Janssen took advantage as the goalkeeper came out of position and received an assist from sophomore midfielder Peyton Tollaksen to put the Cavaliers up 1-0.

Sophomore goalkeeper Lauren Hausheer had a strong performance for Virginia, making two crucial saves off of great chances for Liberty. Additionally, the Flames had an opportunity to score in the first period, but senior back Colleen Norair made a key defensive save to maintain the scoreless draw.

The Senior Night game was the last at Turf Field for back Anzel Viljoen, striker Catesby Willis, striker Erin Shanahan and Norair. Viljoen and Shanahan have been particularly crucial in the Cavaliers' success on the season, accounting for a combined 10 goals through 17 games.

Virginia's victory over Liberty comes in its second to last game of the regular season. The Cavaliers conclude regular season play in Winston-Salem, N.C., against ACC rival No. 20 Wake Forest Friday at 6 p.m.

With the regular season coming to a close, the Cavaliers have their eyes set on the postseason. After struggling in the ACC and NCAA tournaments over the past few years, this team will look to make a run with what may be Coach Michelle Madison's most talented defensive team ever.

The Cavalier Daily