All the news for Wednesday 27 March 2019

2019 Sultan Azlan Shah Cup - Day 3
Ipoh (MAS)

Results 26 March

JPN v CAN (RR)     1 - 2
POL v KOR (RR)     2 - 3
MAS v IND (RR)     2 - 4

Fixtures 27 March (GMT +8)

16:05     POL v JPN (RR)
18:05     CAN v IND (RR)
20:35     KOR v MAS (RR)

Pool standings
| Rank | Team | Played | Wins | Draws | Losses | Goals For | Goals Against | Goal Difference | Points |
| --- | --- | --- | --- | --- | --- | --- | --- | --- | --- |
| 1 | Korea | 3 | 2 | 1 | 0 | 10 | 6 | 4 | 7 |
| 2 | India | 3 | 2 | 1 | 0 | 7 | 3 | 4 | 7 |
| 3 | Malaysia | 3 | 2 | 0 | 1 | 11 | 8 | 3 | 6 |
| 4 | Canada | 3 | 2 | 0 | 1 | 9 | 7 | 2 | 6 |
| 5 | Japan | 3 | 0 | 0 | 3 | 4 | 8 | -4 | 0 |
| 6 | Poland | 3 | 0 | 0 | 3 | 3 | 12 | -9 | 0 |
---

Canada edge Japan

Canada chalked up their second win in the Sultan Azlan Shah Cup with a 2-1 victory over Japan at the Azlan Shah Stadium.

The win has put the Canadians in reach of a final berth as they have six points from three matches. Their remaining matches are against India and Malaysia who are also in the mix for a final berth.

For Japan the defeat was a bitter blow as they controlled much of the play and had plenty of goal scoring chances.

Japan coach Siegfried Aikman was not happy after the numerous misses by the team.

"We practically owned the match. They had two good chances and scored. Hockey is not all about attacking….but defending as well. You cannot allow such mistakes in defense. I think we were the better team and I believe that we should have won this match," he said.

It was a fast-paced match and both teams moved the ball around quite well.

The Japanese used their speed to good advantage in the last quarter, but they just could get the ball into the net.

Balraj Panesar scored the first goal for the Canadians in the 10th minute off a field attempt.

But Japan who had been quite ferocious in their attacks equalised a minute later with Ryosei Kato striking from close range.

The second quarter was a story of missed chances especially for the Japanese who used their speed to good use.

In the 41st minute, the Canadians capitalised on a rare defensive slip by the Japanese and scored a field goal through James Kirkpatrick.

That goal turned out to be the match winner as Canada collected their second full points to keep in the race for a final berth.

Canada coach Paul Bundy was pleased with the tempo of the match.

"We are basically here for this kind of matches. The tempo was high, and we had a good run against a strong team. It shows that the Asian team has improved, and their play is also more organised.

"We took our chances well and the goalkeeper Antoni Kindler was also in good form. Overall it is a good position to be in. but we still have tough matches ahead and we need to focus on that for now," he added.

Canada plays India next while the Japanese have Poland.

Unofficial Azlan Shah Cup site


---

Korea struggle past Poland

South Korea was given a scare by the 21st ranked Poland before grinding out a 3-2 win in their third  match of the Sultan Azlan Shah Cup.

The win kept the Koreans in the mix for a final berth as they head the table with seven points from three matches.

But their continued stay at the top of the standings will depend on the Malaysia-India game to be played later.

Poland is at the bottom of the table with three defeats and looks set to play for fifth placing.

South Korean coach Shin Seok-kyu was understandably relieved at the win which kept the final ambition alive.

"It was a tough match although many did not think so. I was not taking any chances considering the fact the Poland players were tall and played an aggressive game.

"I am glad that the players did not give up and the last goal was something that we had practiced in training. It paid off," he added.

Against the run of play, Poland took the lead in the 28th minute through a field goal scored by Joseph Hillyer.

The Koreans tried to regroup and then took control of the match, but all their attempts were snuffed out early by the Polish defenders.

It was only in the 40th minute that the Koreans managed to score a goal. It was a field attempt through skipper Lee Nam-yong.

But the Poland side relying on their counter-attacks found second wind and in the 50th minute took the lead.

This time Jacek Kurowski was the scorer as he latched on to a through pass and slotted past the Korean keeper Kim Jae-hyeon.

Jung Man-jae, however, provided relief for the Koreans when he scored the equaliser in the 56th minute.

As the match was headed for a draw the Koreans struck with 20 seconds on the clock.

Man-jae was the scorer of the winner from a goalmouth melee after a quick counter-attack.

Poland coach Karol Sniezek was disappointed at the last minute goal.

"It was disappointing but we accept that this kind of result will happen. Our players tried to keep the ball but they failed to stop the quick counter-attack.  We can only learn from this," he said.

Unofficial Azlan Shah Cup site


---

Malaysia beaten

India and Korea took a major step in their quest for the final of the 28th edition of the Sultan Azlan Shah Cup.

And hosts Malaysia succumbed to their  first defeat after registering two consecutive wins.

Five-time winners India defeated host Malaysia 4-2

They are on the top of the table with seven points and are ahead on goal difference to South Korea who has similar points.

Korea had earlier clawed back from the jaws of defeat to overcome a battling Poland 3-2.

Malaysia is on six points after three matches.

And Canada surprised Japan 2-1 to stay in the hunt for a place in Saturday's final.

The final berth is still wide open with all teams having two matches to play.

Malaysian coach Roelant Oltmans was satisfied with their performance but felt that they gave away too much space for the Indians to attack.

"It was a match we expected, and India were able to make better use of the opportunities. We scored a couple of goals and missed several others. It is always a good lesson and we will benefit from it. We will focus on the next game with Korea's he said

This match between India and Malaysia was the 121st between the two teams.

India has a record of 84 wins 20 draw and 17 defeats.

India took the lead in the 17th minute with a goal by Sumit.

Malaysia drew level in the 21st minute via  Mohamed Razie Rahim  who scored with a direct drag flick.

In the 27th minute, India were back in the lead with Sumit Kumar scoring form a field attempt.

In the 38th minute, India increased their lead when Varun Kumar scored off their eighth penalty corner.

Though Nalaysia reduces the deficit in the 57th minute, through a Mohamed Firhan Azhaari, Mandeep Singh ensured an India win with a quick counter-attack goal.

Indian coach David John was confident that they would win the match.

"We played better, and we gave away too many opportunities for the Malaysians to score. We controlled the match and we were able to match them. I am pleased with the players' attitude and their ability to keep to our structure.

"We are not in the final yet but this result is important given the South Korean win earlier," he said.

Unofficial Azlan Shah Cup site


---

Canada tame fighting Japan

By Jugjet Singh

IPOH: Canada pulled off an upset of sorts when they edged Japan 2-1 in an epic Azlan Shah battle Monday.

Eventough ranked 10th in the World, Canada did not look impresive but did just enough to claim full points.

Japan were all over them, but man-of-the-match goalkeeper Antoni Kindler brought of some super saves in the fourth quarter.

"I hate hockey, days like this, I really hate hockey," said Japan coach Seigfried Aikman.

"Actually, I really hate losing and not hockey, and Canada are not an impressive team but my players made them look good by missing too many sitters.

"Well, my players also made Canada goalkeeper man-of-the-match by taking poor shots at goal," said Aikman.

Canada took the lead off Balraj Panesar in the 10th minute, but Ryosel Kato equalised in the very next minute, signalling another epic battle.

However, James Kirkpatrick's 41st minute goal ended up being the decider, even though Japan tried every trick in the book to draw level but failed miserably in front of a towering Kindler.

Canada coach Paul Bundy stuck to his learning curve: "It doesn't matter if we had won or lost this match. We can finish tops, or at the bottom of the pool, it does not matter because we came here to learn about ourselves and get ready for the FIH World Series in Kuala Lumpur in April.

"That is where we want results," said Bundy.

In the other match, Poland let slip a famous draw when a last minute blunder of a pass saw South Korea win 3-2.

Poland twice took the lead, but in this haste to win, they threw away three points.

The Poland goals were scored by Joseph Hillyer (28th) and Jacek Kurowski (40th), while the Koreans got their off Lee Namyong (40th), and Jung Manjae (56th, 60th).

Jugjet's World of Field Hockey


---

Oltmans' men provide entertainment but not victory

By Jugjet Singh



Malaysia's Faiz Jali falls after he was brought down by India's Mandeep Singh in an Azlan Shah Cup match in Ipoh on March 26, 2019. Pic by EFFENDY RASHID.

IPOH: India's tight game earned them a 4-2 win over hosts Malaysia in the Azlan Shah Cup in Ipoh yesterday.

Confident and commanding, India limited the movements of Malaysia's trio of Tengku Ahmad Tajuddin, Faizal Saari and Firhan Ashaari with their tight marking and tactical play.

India looked fitter and controlled the match for long periods, resulting in goals from Sumit (17th minute), Sumit Kumar (27th), Varun Kumar (36th) and Mandeep Singh (58th).

Razie Rahim (21st) and Firhan Ashaari (57th) replied for Malaysia.

"We played an entertaining game for the crowd, but I am not happy with the end result.

"There are many positives to take from this game.

"I also know on what aspects I need to better prepare my players for ahead of the (FIH World Series) Olympic Qualifier next month (April).

"We had the game in our hands at one point, but let it go. After scoring the second goal, we pressed harder but were punished with the fourth,"

"Against South Korea tomorrow (today) we will need to make sure that the players get a good rest," said national coach Roelant Oltmans.

South Korea coach Shin Seok-kyo jokingly said: "The next time I receive an invitation from Malaysia to play in the Azlan Shah Cup, I will throw it away," said a smiling Seok-kyo on today's clash.

"Malaysia are at their best in this tournament. With the backing of their fans, it will be a very difficult match."

New Straits Times


---

India display new-found reserves of composure and restraint to dispatch hosts Malaysia

Sundeep Misra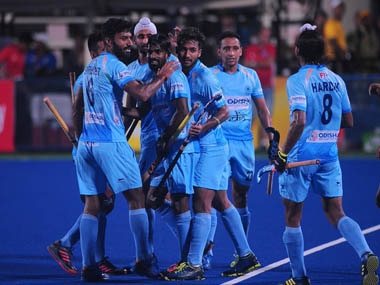 The Indian hockey team moved into second place in the table with their win over Malaysia. Twitter@TheHockeyIndia

Stoicism as a virtue is a rare element of Indian hockey teams. Burdened with the thought of over-playing or even hurrying through the process of building up to get that all-important goal, India, on Tuesday, showed calmness, restraint and a certain dispassion in dispatching off hosts Malaysia 4-2 in their 3rd match of the Sultan Azlan Shah Hockey Tournament.

The victory was sweet, passionate and lent itself to the elements of youth so thoroughly embodied by Hardik Singh as central midfielder and Sumit Kumar as forward and winger. There were moments of the old classical hockey in the runs of Sumit Kumar. The other Sumit, who comes without a surname, did cause confusion among scorers and journalists alike but it was his display that showed the spine against Malaysia.

In the defence, Birendra Lakra raised his level, thwarting attacks, moving the ball upfront and providing that tranquillity at the back, thanks to which the forwards played with abandon. India scored through Sumit (17th), Sumit Kumar (27th), Varun Kumar (36th) and Mandeep Singh (58th). The scorers for Malaysia were Razie Rahim (27th) and Firhan Ashari (57th).

Malaysian coach, the former Indian chief coach, was disappointed with the result. "I felt the match was quite close and both the teams missed close ones. Things could have been different if we had held our chances and the same could be said of India. I and my players know that India can punish if there is space. In the end, the 4th goal was because we were not alert."

Indian coach David John was relieved that the younger lot especially, Sumit Kumar scored, saying, "they expressed themselves and I am happy that the young boys played well under pressure. It's not easy to play the hosts but I think we held our own and remained calm under pressure."

Malaysia has been a thorn in the Indian side. This was the 121st match between both the teams. India won its 84th victory with 20 drawn and 17 lost. Of those 17 lost, more than a handful have been in important matches, the last of which was the Asian Games semi-final. It would be childish to term these as revenge matches but the win would surely bring relief. Before the Asian Games match, India had lost another crucial game against Malaysia in the 2017 Hockey World League semi-final stage in London. Those moments hurt Indian hockey and led to the resignation of Roelant Oltmans as chief coach.

Both teams play a similar style with opening the flanks and exercising control in the midfield. Defensive formations are rarely seen when both match-up. India needed a victory after the 1-1 draw against Korea to keep its ambitions of playing the final. The start was tentative. Malaysia was the fluent team, switching its players with ease and keeping the Indian defence under pressure. The few Indian moves that came couldn't be completed as the finish was erratic. Simranjeet Singh was causing trouble in the Malaysian striking circle as the first quarter ended on an even note.

By the second quarter, Hardik gained control of the midfield. His below-par performances in the first two matches probably pushed him to stamp his class and he did it with authority. Taking charge, he slid the ball both ways, the left and right flank moving with fluency under Mandeep and Sumit Kumar. Two minutes into the 2nd quarter, Hardik from just outside the striking circle, slipped the ball in for Sumit who more with a reflex action deflected the ball that evaded Malaysian goalkeeper Hairi Rahman and slipped into goal. India led 1-0.

Then came five consecutive PCs for India. Either an alert Hairi saved or the flicks lacked venom. By now the flow was both ways. Malaysia was hunting and at the same time didn't want to bring on players from the defence. They were quite aware of the counter-attacking capability of the Indians. In that sense, their attack was slightly blunted. They too had three consecutive PCs and off the third Razie's flick hit Sreejesh on the glove and went in. Malaysia had the equaliser and were back in the match.

It was at this stage that Sumantri had Sreejesh at his mercy but he slipped while taking the shot. Luck was on India's side. India reversed the tide as Hardik and Manpreet once again gained ascendancy. Off a move that started on the left flank, Manpreet slipped past two Malaysians, gave it to Mandeep whose tap found Sumit and the final pass was shot in by Sumit Kumar. More than the goal, the smoothness of the move rocked Malaysia. They realised India had control.

Three PCs came in the 3rd quarter which took the total to 8 and off the last Varun Kumar finally scored as his flick went through the legs of Faiz Jali, standing on the goal-line. India was 3-1 ahead and promised more. Three PCs went Malaysia's way with Pathak in the Indian goal saving a couple. India was without a referral at this stage having called for one earlier which turned out to be a wrong call.

The forward line of Mandeep, Shilanand Lakra, Sumit Kumar, Simranjeet was running the Malaysian defence ragged. Even if the goals weren't coming, Malaysia was pinned to their own half, striking circle, sometimes for minutes. In the midfield, Hardik reigned supreme.

The 4th quarter saw the match open up. Since the 4 quarters were introduced, slowly it has been seen that in the 4th, teams usually start attacking. The ones with the lead defend, hoping to play out time. However, both Malaysia and India were more adventurous. The flow was of the game was unabetted.

With three minutes 20 seconds left in the match, a Malaysian attack saw the ball loop up into the Indian striking circle. Firhan Ashari tried to hook it into the Indian goal. The ball, however, travelled sideways, deflected off Gurinder's stick and went into goal. At 2-3, possibilities arose of an equaliser. There was enough time to pressure the Indian defence and even win a few PCs. Two minutes remained when the ball was sent to the right flank for Sumit Kumar. The youngster picked it up, twirled around the Malaysian player and set off on a run that would have made a sprinter proud. The Malaysians chased. Inches away from the touchline, Sumit Kumar cut the ball into the middle of the circle where Mandeep's stick slashed at it to send it into the Malaysian goal. Malaysian shoulders dropped. They knew the match was beyond them as India held the ball for a minute to run down the clock.

Indian captain Manpreet Singh who had a good outing himself praised the energy levels of the boys. "We knew it was tough to play in front of the Malaysian home crowd. But we were calm. Now we look forward to playing Canada with the same energy."

David wasn't too perturbed with just one conversion off nine PCs. "Look, it's a work in progress. We run the lines. Oltmans knows Varun Kumar and Amit Rohidas well. We will improve."

India have Canada and Poland to play and a full six points to achieve which would easily give them a place in the final. Eighteen circle entries against Malaysia showed a fearless, attacking talent. Fifteen shots on goal made them combative and aggressive. It is this zestful and vivacious display against Malaysia and hopefully deeper into the tournament that would make them such a joy to watch.

Firstpost


---

India makes a huge statement with Malaysia win

s2h Team




Indian team that seemed to have been struggling to finish matches commensurate with its field dominance made a huge statement today against the host team when it struck four goals in a match that saw six goals. After a 2-0 win in the opener against Japan and a 1-1 draw the other day against Korea in the Day III of 28th Azlan Sultan Azlan Shah Cup in Ipoh, Indian team's morale was not at its best.

Today's thumping win could well be turned to be game changer for India.

After a barren quarter, India took the lead in the 17th minute with a field goal from Sumit. Malaysian veteran and penalty corner specialist Rahim Razie annulled it four minutes later. The 1-1 score promised a tough fight that it turned it out to be.

Young Sumit Kumar came out with lead again with a field manouvre three minutes before half time, giving the visitor a sense of dream win.

On resumption, India dominated the quarter with Malaysia throwing in whatever it had. It reflected in a twin fruitful strikes.

Firstly, emerging striker Varun Kumar, Junior World Cup goldie, converted a penalty corner in the 36th minute. However, three minutes before end time, Firhan Ashri narrowed the lead to fighting 2-3.

However, centre-forward Mandeep Singh answered with a goal to settle the matter in favour of his team. His 58th minute striker anchored the final nail in the host's coffin.

India's 4-2 win over Malaysia, the home side, which is managed by former Indian coach Roelant Oltmans, must have given the adhoc coach David John an elbow room and sigh of relief, whatever.

The day started with a stunner. Canada struck twice against Japan's solitary goal. Japan coach Siegfried Aikman atributed the defeat to team's overeagerness to go for goals. Second match of the day too was a close one. Poland despite scoring twice settled for defeat. Poland 2 Korea 3.

Tomorrow, India will take on Poland

Stick2Hockey.com


---

India swamps Malaysia

Moves to joint top of the table



Dominating show: Surender Kumar tries to get past a Malaysian player in the Sultan Azlan Shah Cup hockey match. 

India went to the top of the table of the Sultan Azlan Shah Cup 2019 with a dominating 4-2 win against host Malaysia on Tuesday at the Sultan Azlan Shah Stadium, Ipoh.

After sharing points with Republic of Korea in a 1-1 draw in its second match, India put in a strong performance against an error-prone Malaysia to keep have one foot in Saturday's final.

Fine save

India started with reserve keeper Krishan B. Pathak and the 22-year old made a fine save in the first quarter to deny Malaysia from its first penalty corner.

Simranjeet Singh and Sumit had chances to open the scoring for India but missed out on scoring due to poor ball control inside the circle.

After an entertaining but goalless first quarter, India took the lead in the 17th minute through Sumit after India worked its way from a free hit just outside the circle.

Malaysia pushed for an equalizer winning two consecutive short corners and dragflicker Razie Rahim scored in the 21st minute to restore parity. However, Sumit Kumar's field goal in the 27th minute helped the men in blue go into the break leading 2-1.

Varun Kumar made it 3-1 in the 36th minute after India won three consecutive PCs in the third quarter. Malaysia won three consecutive corners with the third quarter winding down, but poor trapping and mis-hits took the steam out of the home team.

In the 57th minute, Tengku Tajuddin pulled one back for Malaysia with a field goal, but Mandeep Singh scored in the next minute to end the match 4-2.

India leapfrogged Korea and Malaysia to the top of the points table with seven points after the win.

The result: India 4 (Sumit 17, Sumit Kumar 27, Varun Kumar 37, Mandeep Singh 58) beat Malaysia 2 (Razie Rahim 21, Tengku Tajuddin 57).

The Hindu


---

India get back in the groove

World No. 5 jump to second spot after beating Malaysia 4-2



Mandeep Singh celebrates with teammates after scoring a goal against Malaysia on Tuesday. Hockey India

India struck four times after a goalless first quarter to tame hosts Malaysia 4-2 and climb to the second spot in the Sultan Azlan Shah Cup hockey tournament here today. Sumit (17th minute), Sumit Kumar (27th), Varun Kumar (36th) and Mandeep Singh (58th) scored for India. Razie Rahim (27th) and Firhan Ashari (57th) scored for the hosts.

With two wins and a draw, India moved up to the second position in the table. India had beaten Japan 2-0 in the first match before playing a 1-1 draw against South Korea. 

Five minutes into the game, Malaysia won their first penalty corner but goalkeeper Krishan Pathak made a brilliant save. Varun's pass to the top of the circle saw Hardik Singh work in tandem with Mandeep to set up a shot on goal. It was Sumit who eventually got the final touch, his deflection helping India take the lead. Mandeep then helped India win their first penalty corner but after several re-takes India could not extend their lead.

Soon Malaysia won their second PC and Razie Rahim did not disappoint the home crowd as he struck low.
Sumit dispossessed Faizal Saari to set up India's second goal, scored by his namesake.

In the third quarter, Mandeep worked his magic to win India another PC. Dragflicker Varun scored from a re-take with a powerful flick, keeping the ball low to the left. Though Malaysia made numerous attempts on goal in the third quarter, an alert Pathak kept them at bay.

Malaysia sparked hopes of a comeback with a late goal by Firhan Ashari. India's vulnerability at the death, having conceded against South Korea in the last minute, would have given the home team and crowd confidence. But India scored in the next minute to ease the pressure, Mandeep converting from a Sumit Kumar assist.

India will take on Canada on Wednesday.

The Tribune


---

Stats Speak: Canadian dethrone Indian when it matters

B.G.Joshi (Sehore-Bhopal, India)

June 2017-In London World League (World Cup Qualifier) Canada beat India 3-2 and got entry in World Cup.

Canada beat India first ever in pool match of Buenos Aires World Cup (1978) by
1-3. By virtue of this defeat India fails to enter in semis of World Cup first time.
Canadian forced to Indian for bottom place in pool of Utrecht World Cup (1998) as they claim their biggest ever win (4-1) against India.

In Ipoh Canadian have a fair chance of title match, if they win today.

However by grit and determination young Indians are playing well so far.

Last met- In Bhubaneswar World Cup (2018) India beat Canada 5-1 and entered directly in quarter finals.

Here are statistical highlights:
Particulars

Matches

Played

India

Wins

Canada

Wins

Drawn

Goals for

India

Goals for

Canada

Total

39

27

8

4

109

65

In Azlan Shah

5

4

0

1

15

8

Last 10

10

8

1

1

32

16
 Fieldhockey.com


---

From vision to reality, Sabah next

By Jugjet Singh



Pic: Anil, Sabah HA president

IPOH: Malaysia is host to two of the only invitational hockey tournaments in the world, and are working to realise another one soon.

The Azlan Shah Cup and the Under-21 Sultan of Johor Cup is world renowned and even the International Hockey Federation (FIH) is in awe on how Malaysia can consistently organise both flawlessly.

Now, Sabah is planning to host a women's invitational, and newly minted Sabah HA president Datuk Seri Anil Jeet Singh, when met recently, said all they want is more synthetic pitches to be built around the Kota Kinabalu Sports Complex, and the tournament will become a reality.

Anil said they need about RM1 million for the additional pitch, and another RM200,000 to make some minor upgrading works to the current pitch.

And Sabah will have a women's invitational moulded to the Azlan Shah Cup.

The Azlan Shah Cup was also born on a simple note, but now it is the most sought after tournament in the world, as all teams need to do is fork out fight tickets and the hosts will provide food, lodging and transport to and from the KLIA.

Nowhere else in the world can one find such generous hosts who have been doing it since 1983, and never missing a beat into its 28th Edition this year.

It all started when the late Malaysian Hockey Federation (MHF) secretary S. Satgunam was having a difficult time sourcing for funds to travel to Europe and other parts of the world to expose layers.

It was an expensive affair as food, board and transport in Europe costs a bomb, but the late Sultan Azlan Shah was breathing down his neck to expose national players as he knew that was the only way to become better.

Satgunam then came up with an idea to host an invitational in Malaysia, as it would be cheaper to bring six or seven teams down, than flying and playing in seven different countries.

The rest, they say, is pleasant history.

Sultan of Johor Cup is another success story which is partly because of the hard work of MHC vice-president Datuk Manjit Majid Abdullah.

And now, Anil is in the picture to host a women's tournament in Sabah which has direct flights to-and-fro Kota Kinabalu to international destinations.

Malaysia is a wonderful destination for hockey, and all because some people had a plan, and turned it into a vision.

Over to you Anil, to realise another tournament in beautiful Sabah.

Jugjet's World of Field Hockey


---

Hockey India proposes ex-Australia coach Graham Reid for India job

Reid's name has subsequently been forwarded to the sports ministry for a formal approval, which is expected in a couple of days.

By Mihir Vasavda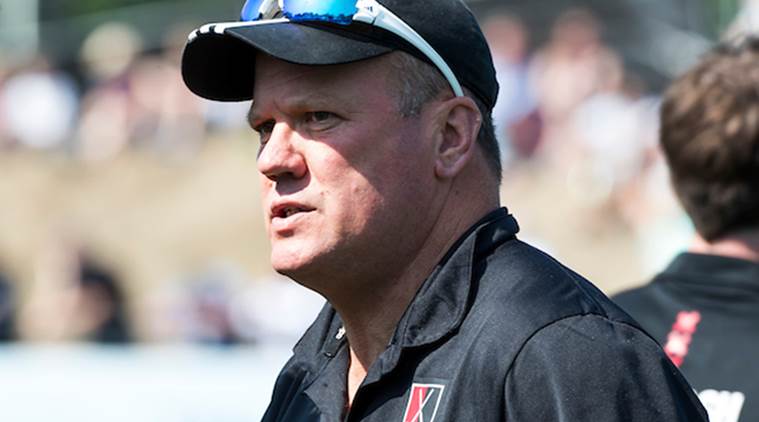 Graham Reid. (Source: https://www.ahbc.nl)

Hockey India has identified Netherlands' assistant coach Graham Reid as the new chief coach of the men's team, thus ending a two-month hunt to fill the position.

The federation officials, along with Indian Olympic Association president Narinder Batra, met Sports Authority of India (SAI) director general Neelam Kapur and executive director (teams division) Radhica Sreeman here on Tuesday and proposed the 54-year-old Australian's name as Harendra Singh's successor. Reid's name has subsequently been forwarded to the sports ministry for a formal approval, which is expected in a couple of days.

While the terms of Reid's contract are not yet known, a source said he is likely to be offered a long-term contract, till the 2022 World Cup. That, however, will depend on the team's performance at next year's Tokyo Olympics, for which the team is yet to qualify. It is learnt that Reid's compatriot Jay Stacy's name was also discussed during Tuesday's meeting.

Hockey India, however, has not yet divulged the names of other candidates who applied for the role and the selection process that was followed. India have been without a coach since January after the governing body sacked Harendra citing the team's inability to defend Asian Games gold medal in Jakarta, which was followed by an average World Cup outing. He was the second coach to be sacked within a year following the team's dismal run in 2018.

Indian Express


---

Scotland's Women Aiming for the Next Level as EuroHockey Championship Tickets go on Sale




Hockey fans across Scotland are being encouraged to get behind the national squad as tickets for the 2019 Women's EuroHockey Championship II go on general sale today (25 March).

The team, led by South African playing legend Jen Wilson, is aiming to return to the top tier of European field hockey with a strong showing at the tournament which is being held from August 4-10 at the Glasgow National Hockey Centre. The top two from the field of eight teams will qualify for the 2021 Women's EuroHockey Nations Championship, while the bottom two will be relegated to the EuroHockey Championship III league.

Scotland will play in Pool B of the preliminary round, which also includes Austria, the Ukraine and the Czech Republic. It was a 1-0 defeat to the Czech Republic in 2017 that led to Scotland's relegation to EuroHockey Championship II after many years of competing in the top flight.

Pool A will see Italy, Poland, Turkey and Wales fight it out to advance to the semi-finals.



31 July 2017 at Glasgow National Hockey Centre Scotland v France

Wilson, who took over as national Head Coach in August of last year, said the home crowd advantage will be a key element in the squad's efforts to move up to the next level.

"I am a firm believer that a crowd that is fully behind the team can effectively be another player on the field," she said. "With the enthusiasm and support for the game that we have seen across Scotland, that will undoubtedly have a huge impact."

It's an exciting new era for women's hockey in Scotland, as a fresh generation of young players emerge into the national team. This comes amid strong growth in participation across school, club and district level.

Although still some time until the squad for this year's competition will be picked, Wilson said the team will include some of the players who participated in the 2017 Championships, as well as an injection of new blood.

"I can confidently state that I have seen massive progress by the players that were involved two years ago," Wilson said. "Many of our experienced players have shown the ability to adapt the way they play in order to progress, while the newer players are bringing in fresh alternatives.

"I don't think the memory of that final match in the 2017 competition will have a massive impact this time around, expect that the girls who were involved at that time will know that the Czech Republic are not a team to be taken lightly."
Tickets are available for online purchase here. 
Pricing (Online general sale from 25 March)
Day                        Adult (including booking fee)   U16 (including booking fee)
1                            £11                                            £5.50
2                            £8.80                                                   £4.40
3                            £8.80                                                   £4.40
4                            £11                                            £5.50
5                            Rest day                                     Rest day
6                            £13.20                                       £6.60
7                            £13.20                                       £6.60
Tournament Pass   £47.08                                       £22
 Club deal general sale: 1 Adult & 10 U16
Days 1 & 4 – £43.20 (including booking fee)
Days 2 & 3 – £34.56 (including booking fee)
Days 6 & 7 – £51.36 (including booking fee)
Sales at the gate (Price with booking fee + £2)
Day                        Adult                     U16
1                            £13                        £7.50
2                            £10                        £7
3                            £10                        £7
4                            £13                        £7.50
5                            Rest Day                Rest Day
6                            £15.20                   £8.60
7                            £15.20                   £8.60
Tournament Pass   £49.08                   £24
 Find out more about Women's EuroHockey Championship II HERE
Scottish Hockey Union media release

---

Wimbledon keep outside chances of playoff place alive



©: Frank Uijlenbroek / World Sport Pics

The battle for the fourth and final play-off spot in England will go down to next weekend's last matches of the regular season after a thrilling set of results in the Premier Division on Sunday.

Wimbledon gave themselves a lifeline by beating hosts Beeston 3-0, and with other top flight matches throwing up some unexpected results there are now five teams gunning for the last play-off place. It was their fifth win in succession without conceding a single goal after a slow start to the competition.

Jack Waller put Wimbledon a goal to the good in the first half before Chad Conlon and Ed Horler (pictured) added to the score to leave his side with hope of post-season hockey.

Reading could also still scrape into the play-offs after a 5-2 win at the University of Exeter. Craig Falconer and Peter Scott put Reading 2-1 up at the half, while James Thomas scored for the University of Exeter. Reading extended their lead after the break with Jack Clee and Fred Newbold both finding the net before Sam Hooper replied with a consolation for the hosts.

Surbiton assured themselves of playing in the Eurohockey League next season with an 8-1 win over bottom of the table Sevenoaks.

Arjan Drayton Chana and Alan Forsyth put them 2-0 up at the half, but Forsyth fired past the Sevenoaks keeper twice more after the break whilst Will Marshall bagged himself a brace and Tom Sorsby and Sam Spencer added the rest for Surbiton.

Andrew Ross scored a consolation goal for Sevenoaks.

A win for East Grinstead would have seen them secure the last play-off spot but they lost to Hampstead & Westminster.

Richard Smith put Hampstead up after three minutes, and it stayed that way until Liam Ansell replied for East Grinstead. However, Rupert Shipperley's last minute strike saw Hampstead & Westminster take the game 2-1.

Holcombe failed to capitalise on that news, drawing 1-1 with Brooklands MU.

Harry Trusler scored for Holcombe before being pegged back in the second half by a Peter Flanagan penalty corner. Both sides remain in contention for the playoffs.

Euro Hockey League media release


---

Lisnagarvey take on the leaders' role in Ireland



©: Adrian Boehm

The latest twist in Ireland's EY Hockey League title chase saw Lisnagarvey move three points clear at the top with Banbridge in pursuit and Glenanne and Three Rock Rovers waiting in the wings with four rounds of matches to go.

For Garvey, they saw off Cork C of I for the second week running, James Lorimer scoring a pair of first half drag-flicks to get their 4-1 win on the road.

Simon Wolfe got one back for the bottom side but Daniel Nelson and Troy Chambers (pictured) soon put the result out of reach. It leaves C of I six points adrift while Garvey moved three points ahead of Glenanne and Banbridge.

Bann won their battle with the Glens 2-1 with Eugene Magee netting twice in the third quarter to make the difference. Stephen Brownlow got one back for the Glens in a rousing finale but the Co Down side held on.

Three Rock Rovers are making a late bid for the title as they made it five wins in a row after a slow start to the season as they beat Annadale 4-2 with Jody Hosking, Ben Walker, Harry Morris and Luke Madeley scoring.

In all competitions, they now have eight wins in a row and have reduced their gap to the top from 13 points down to four over the course of March.

Euro Hockey League media release


---

National hockey players fuel dreams

Nicholas Zaal



Former SA hockey player, Sullette Damons, (right) shows the players a trick for getting around their opponents. Photo: Nicholas Zaal

SUNNINGHILL – Six South African national hockey players imparted their knowledge and skill to youngsters during a coaching course at St Peter's College, Sunninghill.

The Investec Hockey Academy event on 9 March saw girls aged eight to 18 train with the country's best in order to improve their game. The national hockey players involved in coaching were Shelley Jones, Sullette Damons, Kara Botes, Kaila Willemse, Louise de Jager and Taylor Dart.



Dribbling and tackling is practised during the coaching course. Photo: Nicholas Zaal

"We have been going over the basics with the youngest players, such as moving with the ball," said Damons.

"The older players have been going over the finer skills such as protecting the ball."



Tackling skills are practised at the coaching course. Photo: Nicholas Zaal

Damons said she was impressed by the level of skill shown by the girls. Jones said the youngsters would only improve even more after the private coaching they received from the national players.

"When I was younger I was fortunate to have a former national player as my coach and at high school, I did too, so I was exposed to their top-level of playing," Jones said.



A player attacks the goal during the coaching course. Photo: Nicholas Zaal

She added that she personally felt inspired when her team of young players once went to the Olympics and spent time with international players.



SA hockey player, Shelley Jones, enjoys playing with the youngsters. Photo: Nicholas Zaal

 "I decided right then that I wanted to go compete in the Olympics and a few years later I had the opportunity to do so."

Jones represented South Africa at the 2008 and 2012 Summer Olympics in Beijing and London respectively.



SA hockey player, Shelley Jones, teaches youngsters how to dribble around an opponent. Photo: Nicholas Zaal

She concluded that she hoped she and the other national players could also fuel the dreams of the young players at the event in Sunninghill.

Fourways Review