All the news for Thursday 28 march 2019

2019 FIH Pro League (Men) - Weekend fixtures

31 Mar 2019 18:00 (GMT -3)    ARG v ESP (RR) Estadio Mundialista, Rosario

Live streaming and full game replay on https://fih.live (Geo blocked if there is TV coverage)

FIH Match Centre


---

2019 FIH Pro League (Women) - Weekend fixtures

29 Mar 2019 19:00 (GMT - 4)    USA v BEL (RR)  Spooky Nook Sports, Lancaster
31 Mar 2019 15:30 (GMT - 3)    ARG v CHN (RR)  Estadio Mundialista, Rosario
31 Mar 2019 18:00  (GMT - 4)    USA v GBR (RR) Spooky Nook Sports, Lancaster

Live streaming and full game replay on https://fih.live (Geo blocked if there is TV coverage)

FIH Match Centre


---

Red Panthers ready for return to FIH Pro league action




Belgium Red Panthers came into the FIH Pro League as a late replacement team but since joining the higher ranked nations they have proved themselves more than ready for this level of competition. Three games in and Belgium (World Ranking:13) sit in third place in the league table having recorded wins over Australia (WR:3) and New Zealand (WR:6) and a 2-0 loss to Argentina (WR:4) in the opening women's match of the new competition.

Head Coach Niels Thijssen is cautiously pleased with the start his team has made. We caught up with him as the team prepared to take on USA (WR:12) at the American team's Spooky Nook headquarters.

"Joining the FIH Pro League was an exciting one for us of course. Our journey began with a trip around the world, preparing in Germany, then Chile, to play Argentina. This was followed by matches against New Zealand and Australia. To be together full time with the group is always really beneficial. It's simply easier to focus and spend time on improving together. So from that perspective it already was a success. The results – two wins out of the three games – were above expectation and a bit of a bonus for us. It's a confirmation that we are on the right track."

Since that heady beginning to their FIH Pro League journey, Belgium have played fewer matches than anyone except Great Britain. How will a long break between fixtures impact the team and its momentum?

"The re-start is a totally different scenario and one we never faced before," says Thijssen. "We are used to, like in January, having the group together for several weeks before going into international games. But after our January matches, the players went back to their clubs, studies and work, with way less weekly time together then we are used to.

"If you look across the whole year, there is a limit to what we can ask from our players. We need to balance their total programme to make sure they are still fresh and fit in October/November this year."

The demand on the players is huge. On Sunday, all the athletes were involved in club matches. On Tuesday they arrived in the USA and on Friday they will play an important match against USA. As Thijssen says: "That is very different to what we are used to, but the players are agile, they adapt well."

While two out of three matches have gone their way, Thijssen is always looking for things that could be improved upon. He says all the teams in the league are "playing to win, with less tournament stress." This, he says, makes the games more open and more prone to surprise results.

Looking ahead to Friday's match with USA, the Red Panthers are ready to face the challenge posed by a supremely fit and hard working team.

"USA is a team which has gone through some changes in the last months/years, but their playing style and strengths haven't changed much," says Thijssen. "Janneke is getting them playing better every game. It's their first game here at Spooky Nook, in their own environment and timezone, clearly giving them an advantage.

"We'll try to stay close to our own game and bring the best performance we can on game day. Against this USA side in their current form, that will be a difficult one for sure."

The match USA v Belgium takes place Friday 29 March 19:00 local time. (GMT-4)

Official FIH Pro League Site


---

FIH Pro League Scouting Report: USWNT vs. Belgium




In anticipation of the U.S. Women's National Team's upcoming FIH Pro League match, here is a scouting report you'll want to review before the starting whistle.

Game Day: Friday, March 29, 2019

Time: 7:00 p.m. ET

Location: Spooky Nook Sports, Lancaster, Pa.

Live Stream: Don't miss a second of the FIH Pro League action and watch the USWNT take on Belgium this Saturday! The FIH has signed a four-year media rights agreement with Bleacher Report Live for the territories of Canada and the United States. Bleacher Report Live is operated by Turner Sports, a division of WarnerMedia. The platform, which is Turner's live sports streaming service, will be the primary destination for all fans to watch FIH Pro League matches.

FIH Pro League single games are available paid per view for $2.99 per match or $19.99 for the FIH Pro League 2019 Season Pass (all matches). Click here for the FIH Pro League live stream landing page.

Opponent: Belgium
FIH World Ranking: 13

Head to Head: It's been four months since these two teams last met on USA turf battling the brittle cold and playing conditions. In that three-game test series in November, Belgium prevailed in two matches. In the first game the Red Panthers pressed early, eventually paying off with a 1-0 advantage at the end of the first quarter. USA was just as fierce offensively but ultimately could not capitalize on their chances like their counter parts falling 0-2. In the second match, tied 2-2 entering the final frame, USA pulled ahead late in the contest when Kathleen Sharkey scored off a rebound off Belgium's goalkeeper Elodie Picard's pads, giving USA the 3-2 victory. In the final game, after being down 1-0 in the second half, Belgium responded with four unanswered goals to win the series by a final of 4-1.

Before their November match-up in the winter elements of Lancaster, Pa., it had been over six years since these two teams met in the 11th/12th place game of the London 2012 Olympic Games. In a similar meeting, USA struck first before Belgium pulled ahead for a 2-1 win.




Head to Head


(since 2013)




3 Previous Matches
 0 Draws

 

1

Won

2
4

Total Goals

8
What You Need to Know: At the time of writing, Belgium was the lowest ranked of all the teams competing in the inaugural edition of the FIH Pro League. However, do not let that fool you into thinking that all other nations will be looking at the Red Panthers as an easy opponent. Belgium has been on an impressive rise in recent years and, following the men's stunning victory at the Odisha Hockey Men's World Cup Bhubaneswar 2018, the talented women's team will be determined to show the world just how competitive they have become. A tenth place finish at the Vitality Hockey Women's World Cup London 2018 contained some fine performances including a 6-3 thrashing of Japan as well as draws against eventual semifinalists Australia and Spain, although the meeting against the latter ended in an agonizing shootout defeat.

Ten members of the initial FIH Pro League squad selected by Head Coach Niels Thijssen have surpassed the 100 international appearances marker, four of which have all played more than 200 times for the Red Panthers. Team captain Anouk Raes, Emilie Sinia, Barbara Nelen and Jill Boon – sister of Red Lions' World Cup winning forward Tom Boon – having all represented their country more than 200 times. On their day, the European silver medalists from 2017 will be a match for anyone.

Recap of Belgium's Previous Game: No. 3 Australia came into their meeting against No. 13 Belgium confident about their chances of success, boosted by a previous notable 1-0 win against world champions The Netherlands. However, the Red Panthers had good reason to feel optimistic following their 1-0 triumph against the New Zealand Black Sticks in Auckland.

There was little to choose between the hosts and the European silver medalists in the opening quarter, with neither side able to create any clear-cut goal scoring opportunities. Australia attacker Grace Stewart had a half-chance from a tight angle but could not direct her shot on target, while Belgium were intelligent in their play, doing everything in their power to control the pace and tempo of the game in the hot playing conditions.

The match remained evenly balanced in the second quarter, with both teams equal across the board in terms of possession, circle entries and shots on goal. A clever deflection from Belgium's Jill Boon was arguably the best chance of the period, her subtle touch changing the trajectory of the ball but not enough to catch out Hockeyoos goalkeeper Rachael Lynch.

Speaking in his halftime broadcast interview, Red Panthers Head Coach Niels Thijssen indicated that he was not entirely satisfied with his team's performance and was looking for improvement after the break. He got exactly what he wished for, with Belgium taking the game to the hosts and eventually being rewarded when they took the lead through a brilliantly executed penalty corner. A quick pass at the top of the circle allowed Michelle Struijk time and space to drill a low shot into the goal, putting the Red Panthers into 1-0 lead.

Belgium doubled their advantage early in the fourth quarter thanks to a backhand strike from Louise Versavel, who found the gap between the post and replacement Hockeyroos goalkeeper Ashlee Wells. Versavel's strike proved to be crucial, with Australia putting a goal back through Brooke Peris but being unable to find an equalizer thanks to numerous exceptional saves from brilliant Belgian goalkeeper Aisling D'Hooghe.

Belgium's Roster: Click Here

USFHA media release


---

2019 Sultan Azlan Shah Cup - Day 4
Ipoh (MAS)

Results 27 March

POL v JPN (RR)     0 - 3
CAN v IND (RR)     3 - 7
KOR v MAS (RR)     2 - 1

28 March is a rest day

Pool standings
| Rank | Team | Played | Wins | Draws | Losses | Goals For | Goals Against | Goal Difference | Points |
| --- | --- | --- | --- | --- | --- | --- | --- | --- | --- |
| 1 | India | 4 | 3 | 1 | 0 | 14 | 6 | 8 | 10 |
| 2 | Korea | 4 | 3 | 1 | 0 | 12 | 7 | 5 | 10 |
| 3 | Malaysia | 4 | 2 | 0 | 2 | 12 | 10 | 2 | 6 |
| 4 | Canada | 4 | 2 | 0 | 2 | 12 | 14 | -2 | 6 |
| 5 | Japan | 4 | 1 | 0 | 3 | 7 | 8 | -1 | 3 |
| 6 | Poland | 4 | 0 | 0 | 4 | 3 | 15 | -12 | 0 |
---

Japan notch first points

Asian champions Japan finally secured their first win in the Sultan Azlan Shah Cup when they beat Poland  3-0 in an easy outing at the Azlan Shah Stadium in Ipoh.

Then Japanese finally found their scoring skills as they scored three field goals – 10 minutes apart – to secure full points form the game.

It was the fourth game for both teams.

Poland remains winless. The win gave hope that Japan could avoid playing for fifth place.

But that would greatly depend on other matches.

Japan coach Siegfried Aikman admitted that the win has not enhanced their position for third placing playoff.

"We need to beat South Korea in our last match on Friday and then see how the other results go. It is not in our hands" said Aikman.

"The game was good for us as we won for the first time. The players did better than the previous game as they managed to put away the chances they got. It is pleasing to see them try hard to win and also help each other with their game,".

Japan opened their scoring in the 20th minute with Shota Yamada scoring a field goal.

Then 10 minutes later Kentaro Fukuda was on target with another field attempt.

The Poland side had a penalty corner in the 36th minute but failed to score.

Japan , on attack mode increased their lead in the 40th minute through another field goal by Hirotaka Wakuri.

Poland was unable to get any decent shots at goal and was forced to end up with their fourth straight loss.

Poland coach Karol Sniezek was disappointed with the result and felt they should have done better.

"Yes In would have been happy with a different result. But then we need to score the chances that come our way. Japan missed a lot of chances on Tuesday but today were sharper.

"Still we will continue to learn and try and improve with each match," he said.

Unofficial Azlan Shah Cup site


---

India put seven past Canada

Five-time champions India has virtually sealed their place in Saturday's final of the Sultan Azlan Shah Cup.

They defeated Canada 7-3 in their fourth game at the Azlan Shah Stadium.

 It was yet another superb performance by the world number five India as they easily demolished the ambitions of the North American team.

It was also a classic show of the Asian style of Hockey which uses speed and good counter-attacking skills to take the game.

 India and Canada needed to win the match to keep their final berth ambition alive.

India had seven points going into the match while Canada had six.

India with 10 points has almost sealed their place while South Korea and Malaysia will aim for the other place.

India's last match is against winless Poland on Friday.

Indian team manager Chris Ciriello said that the effort was much improved but felt that they could have done better in the later stages of the match.

"We go into every match wanting to win and against Canada, we had the early advantage with the 4-0 lead. The penalty corner conversion could have been better, but the field attempts make up for it.

"We are almost in the final, but we will wait to see what happens to the Malaysia-Korea game.

"Our focus is on one match at a time," he added.

The match was evenly matched in the early stages but a goal from the first penalty corner in the 12th minute by Varun Kumar gave the former five-times champions the upper hand.

The second quarter clearly belonged to India, especially the hard-working Mandeep Singh.m

He scored the tournament's second hattrick in the 20th, 27th and 29th minutes. It was a sublime performance from the 23-year-old from Punjab.

The first hattrick of the tournament was scored by Malaysia's Faizal Saari in the opening tie against Poland.

Canada earned a penalty corner in the 35th minute and Mark Pearson scored with a deflected drag flick to reduce the deficit.

But their joy was short-lived as the Indians hit back almost immediately.

Amit Rohidas scored a penalty corner goal in the 39th minute and the Indians were easily coasting to a convincing win.

Canadian youngster Fin Boothroyd managed to score the second goal for the team in the 50th minute through a field attempt.

Vivek Prasad got into the scoring act as he scored the sixth goal from a field attempt in the 55th minute.

The gal scoring act in the fourth quarter did not stop there.

James Wallace scored goal number three for Canada in the 57th minute while India reached seven a minute later through Nilakanta Sharma.

The match ended 7-3 in India's favor.

Canada coach Paul Bundy was unhappy at the way the team started the match.

"We lacked our usual hard work and discipline. That is not the way Canada plays India in the opening stages. We were better in the third and fourth quarters.  We had some good chances as well but overall we have to look at our performance and feel let down

"Not just the players but the coaches as well," he said.

Unofficial Azlan Shah Cup site


---

India, Korea In Saturday's Final

India and Korea booked their places in the final of the 28th edition of the Sultan Azlan Shah Cup, though in contrasting styles.

This is a repeat of the final in 2010 which was rained off and both teams were declared joint champions.

While India, ranked five in the world outclassed Canada 7-3, the 17th ranked Korea edged the 13th ranked Malaysians 2-1.

India and Korea both now have 10 points and with one match to play on Friday to complete their pool matches.

Malaysia are third with 6 points, the same as Canada with Japan who defeated Poland 3-0 on 3 points

On Friday. India play Poland, Korea lock horns with Japan while Malaysia square off against Canada.

Irrespective of the results on Friday, India and Korea on 10 points have an unassailable lead.

Unofficial Azlan Shah Cup site


---

India virtually in final

By Jugjet Singh



India player (in blue) tries to clear the ball against Canada in Wednesday's Azlan Shah Cup match in Ipoh. PIC BY EFFENDY RASHID

KUALA LUMPUR: India have virtually qualified for the Azlan Shah Cup final following a 7-3 win over Canada in Ipoh on Wednesday.

With 10 points in hand, and a game against Poland on Friday, India are likely to make Saturday's final.

India's goals were scored by Varun Kumar (12th minute), Mandeep Singh (20th, 27th and 29th), Amit Rohidas (39th), Vivek Prasad (55th) and Nilakanta Sharma (58th).

Canada got theirs off Mark Pearson (35th), Fin Boothroyd (50th) and James Wallace (57th).

India team manager Chris Ciriello said: "Even though the players had very little time to recover after the match against Malaysia (on Tuesday), they were very fast on the feet and that is what counted in this game."

Canada coach Paul Bundy said: "This is not how Canada play, and I take the blame for this defeat.

"There is a lot of work to be done over the next few hours as we play Malaysia (on Friday). We cannot afford this kind of attitude," said Bundy.

In another match, Japan earned their first three points when they defeated Poland 3-0.

The goals were scored by Shota Yamada (20th), Kentaro Fukuda (30th) and Hirotaka Wakuri (40th).

"Finally we won, and its a better day in the office for us from now onwards," said Japan coach Siegfried Aikman.

Japan play South Korea tomorrow.

And how does Aikman feel about Korea's rise after the Asian Games.

"They have the most experienced set of players here, but they are also 'old'. So they become tired faster and that's their main problem. Otherwise, they are going to give everyone here a lot of trouble," said Aikman.

New Straits Times


---

Oltmans insists Malaysia are world class despite defeat

By Jugjet Singh



Malaysia's Ishak Arif (right) tries to get the ball away from South Korea's Jang Jonghyun (middle) in an Azlan Shah Cup match in Ipoh on March 27, 2019. BERNAMA pic

IPOH: Malaysia fought bravely, but did not use their brains as South Korea shut the Azlan Shah Cup final door on them with a 2-1 win yesterday.

South Korea and India will play in the final on Saturday, while Malaysia will have to meet Canada in a third-fourth placing playoff.

Eleven penalty corners were won by Malaysia but only one resulted in a goal. This showed how erratic coach Roelant Oltmans' men were.

Malaysia were too eager to win the match in the early stages, and paid dearly for it. They missed many chances amid the goal scored, as jittery fingers saw them falter in front of the goalmouth.

The Koreans kept their cool even though the stadium in Ipoh was packed with their rivals' fans, including Ultras Malaya who never stopped singing and beating their drums.

However, it was the Koreans who danced to the drum-beat as Lee Nam Young scored an opportunistic goal in the 31st minute and Jang Jong Hyun made it 2-0 off a penalty corner attempt in the 35th.

Malaysia kept up the fight but a goal scored by Firhan Ashaari was disallowed as the umpire and video referral ruled that it was a back-stick attempt.

However, a fightback was inspired by Razie Rahim when he scored off Malaysia's eighth penalty corner in the 48th minute.

And in the 57th minute, there were dramatic moments when Malaysia scored another goal, but the umpire turned it into a penalty corner. But still, the Koreans held on tightly to the lead.

And till the end, Malaysia fought bravely, but did not use their brains but only brawn.

"If the umpires had kept their whistle in the pocket a little longer, we would have won the match.

"The players showed a world class performance today and even though they lost, I am still very proud of their display," said Oltmans.

And the Dutchman did not take kindly to the question of his charges being jittery in the match.

"Did you watch the game? Did you see the correct match? They were world class," said Oltmans.

When pressed further that his players played well but were jittery at the crucial moments, Oltmans hit the table and said: "No more, next question."

In earlier matches, India beat Canada 7-3 while Japan earned their first three points when they defeated Poland 3-0.

New Straits Times


---

India ride on Mandeep Singh's heroics against Canada to storm into eighth final

Sundeep Misra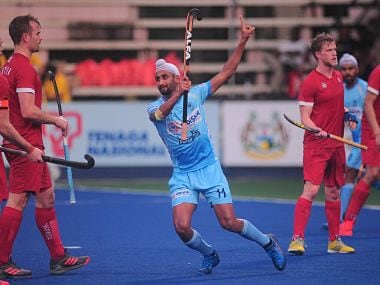 Mandeep Singh's second career hat-trick propelled India to the finals. Twitter: @sports_odisha

Sometimes the potential can boggle your mind, but mostly it has led to deep despair. Yet, on a humid evening, Indian striker, Mandeep Singh, whom many talk about as an 'unrealised potential', showcased his unique and gifted combination of acrobatic athleticism combined with a sense of brilliant positioning to carve out a much-needed hat-trick and in the process destroy Canada, the world's 10th ranked team 7-3. This was Mandeep's second hat-trick in the Sultan Azlan Shah Cup; the first coming in 2017, a come from behind 4-3 victory against Japan.

With this win, India also move into their eighth Sultan Azlan Shah Cup final. Both India and Korea (after beating Malaysia 2-1) are on ten points with no other team capable of catching up with them. Even though India have a match with Poland and Korea take on Japan, Saturday's final will be an India vs South Korea affair.

Mandeep's stamp on the match began with India's first goal, off the team's first penalty corner. Mandeep was brought down by Adam Froese and Varun Kumar flicked into give India a 1-0 lead. The hat-trick arrived at a juncture when a goal or two from Canada could have put India under pressure. India, playing a high press and aggressive game, stood like set pieces on their own 25-yard line. Plucking the ball away off the Canadian counters, they attacked viciously, using both flanks and with Hardik going through the middle. Space was created as Canada couldn't control, either the pace or the smoothness of the attacks. Whenever they were stuck for space, India rotated. Yes, they were guilty of hurrying in some cases. But wherever they patiently built play up, they caused serious damage.

In the 20th minute, India snatched the ball away from Canada and counter-attacked. Sumit Kumar with blazing speed ran down the flank, cut in and passed perfectly to Mandeep, who while falling to his side, slammed the ball underneath the Canadian goalkeeper Antoni Kindler. Only a day back, Antoni was the man-of-the-match in Canada's 2-1 win over Asian Games champion Japan. On Wednesday, he did make saves but also understood that the combination of pace and skill could be deadly.

Leading 2-0, India blew away four more penalty corners. Hardik created a move that only required a trap and shoot but Gursahibjit, playing in his first senior tournament, couldn't control his nerves. The youngster would take some time as he has the height and of course the talent. But the important thing is to keep his morale up. Forwards are strange creatures. Without goals, they kind of freeze and go into a free-fall. Sports psychologists refer to it as a kind of an abyss.

With four minutes left in the second quarter, Canada had flicked their first penalty corner wide. On a counter, a minute later, Kothajit Singh cut into the circle and set it up perfectly for Mandeep to send the ball into the extreme left corner of the goal. Antoni had advanced and had no chance of cutting it off. India led 3-0. Canada were in disarray. They did force a second penalty corner but that also went wide. The pressure was building up on Canada. India were dismantling them brick by brick.

Crowding a striking circle usually is advantageous to the attacking team. And when play has paused for a second, a hit can be extremely dangerous with deflections flying off and the goalkeeper usually unsighted. Hardik saw the jostling inside the circle and gave it back to an advancing Surinder Kumar who had travelled upfield. Surinder hit a powerful shot into the striking circle. Mandeep, in the midst of 6-8 players, managed to deflect it into the Canadian goal. It was a stunning goal, the kind that changes equations between teams. India led 4-0 at the break. Canadian coach Paul Bundy had to keep his team alive.

With 15 circle entries in the first two quarters, India were dominating. They already had nine shots on goal to Canada's two. Playing slightly wider, slowing the game down and keeping the ball away from the Indians and not allowing them to build counters, Canada earned their fifth penalty corner, the third consecutive. Mark Pearson squeezed himself into the space between the post and goalkeeper Krishan Pathak to deflect in the flick. The scores had been cut to 1-4. Four minutes later, India were 5-1 up, thanks to Amit Rohidas whose flick flew past the Canadian defender on the line. The match was now virtually out of Canada's hands.

It would require a monumental fight back from the Canadians. And for that they would have to attack more, exposing themselves at the back. That's exactly what happened. Caught in a no-mans land, Canada played for pride trying to get more goals to make the score respectable and hope for a minor miracle. Off an Indian defensive error with the ball bouncing all over the place, Fin Boothroyd managed to steady his hands and slap the ball into the Indian goal past Sreejesh. The scores were now 2-5.

India struck back five minutes later, utilising space on the right flank. It was a lovely scoop, a wonderful piece of innovation, perfectly weighted, it flew 50 yards and looped into the Canadian striking circle. Mandeep trapped it beautifully and sent in a pass along the line that was whacked in by Vivek Prasad. At 6-2, with five minutes left, the match had been wrapped up. Yet Canada kept coming; it's difficult to keep pride down. They had a penalty corner in the 57th minute and James Wallace flicked it into the corner, right of Sreejesh; the scores were 3-6.

India had a final assault on the Canadian defence when Gursahibjit went along the line and flicked a perfect pass to Nilakanta Sharma who made it 7-3. In the end, the statistics showed India's complete domination. India had 15 shots on goal as against 6 by Canada. They had 32 circle entries against 8 by Canada with possession in the range of 60 percent.

In the recent World Cup, India had beaten Canada 5-1. But before that, they had lost in the Hockey World League Semi-Finals (London) 2-3 to Canada. In the 2016 Olympic Games in Rio, India had drawn 2-2 with Canada. And in the 2015 and 2016 Azlan Shah, India had won 5-3 and 3-1.

Indian team manager Chris Ciriello didn't want to be drawn into a discussion on the final. In fact, till then the South Korea-Malaysia match had not started. "Well, we will wait and see for the next game and we will know if Korea wins. Then we both are on 10 points and that will be the final. We want to win every game we play. The team's energy was good. In less than 16 hours the boys were back on the pitch playing the match. I think they did really well to be able to come back from yesterday (Malaysia match). Many had little niggles, injuries. So, the guys to come back and work hard, it's very impressive."

Asked on the penalty corner conversion as India scored off two from six in the match, Chris said: "Penalty corners are very important. Our basics are not good enough and we have the best 2-3 flickers. Nine guys are injured at home and those guys have played an excess of 100 games. So, they are our main pushers, strikers. These pitches are more slippery than what we are used to training on. There are no excuses we can get better. And coming to the game, we want to make more penalty corners and get good opportunities."

Canadian coach Paul Bundy was extremely disappointed with his team's performance. "This is a game very unlike Canada. Normally we are a team with a lot of heart, we work hard and show a lot of grit and we didn't have that today. That's my fault. That's not my team's fault. I am in charge, so I own that. If you are a Canadian, you work hard, you know self-discipline, you have a lot of grit.

"In the first half, we were terrible. In the second period, we didn't show that and that's my fault. So, I need to change some players, we need to change something we do. The good thing is I know who can play Olympic qualifiers and who can't."

India are now on ten points and that puts them into their eighth Sultan Azlan Shah Final. Malaysia's 1-2 defeat to Korea has left them stranded with Canada on six points each. It is impossible to now catch India and South Korea who have identical ten points with a match in hand. Saturday would see an India vs South Korea final. The only interest in the pool standings would be as to who finishes on top of the standings after the last round of matches — India or South Korea.

Firstpost


---

Goal fest in India Canada encounter

s2h Team

Goals are a galore in the India-Canada Indian match today at the Sultan Azlan Shah Cup. Though India led by 4-0 at half time, Canada came back strongly in the second half. Both teams struck three goals a piece before India walked with the generous scoreline of the first half. Ten goals in a match must please any spectator.

Inbetween Varun Kumar's first goal he thundered through a penalty corner in the 12th minute and youngster Nilakanta Sharma's goal, which was the encounter's last, in the 58th minute, Mandeep Singh posted an impressive hattrick, goals coming in ten minutes between 2oth and 29th minutes.

Other scorers for India were Amit Rohidoss (39th min) and Vivek Prasad in the 55th minute.

Mark Pearson opened the scoring for the losing team shortly after the resumption of play after lemon time where as Fin Boothroyd and James Wallace accounted for the rest.

Tomorrow is rest day for all the teams

Stick2Hockey.com


---

India thrashes Canada, seals a spot in the final

Rides on Mandeep's brilliant hat-trick in the second quarter



Marksmen: Three-goal hero Mandeep Singh, right, celebrates with fellow scorer Vivek Prasad after one of India's seven goals. Photo Credit: Hockey India

Striker Mandeep Singh scored a brilliant hat-trick as India outplayed Canada 7-3 to book a final berth against Korea in the Sultan Azlan Shah Cup hockey on Wednesday. Korea defeated host Malaysia 2-1 in another match.

The 24-year-old Mandeep fired in three quick field goals (20th, 27th and 29th minutes), all of them coming in the second quarter, after Varun Kumar gave India the lead in the 12th minute of the high-scoring match.

At half-time, India led 4-0 before Canada reduced the margin through Mark Pearson in the 35th minute.

Amit Rohidas (39th), Vivek Prasad (55th) and Nilakanta Sharma (58th) struck later to take the game beyond Canada's reach. Fin Boothroyd (50th) and James Wallace (57th) added to Canada's tally.

India and Korea, the two unbeaten sides, now have 10 points each from four matches, with three wins and a draw. They both booked the final berth with a game on hand, to be played on Friday.

India plays Poland (0) in its final league match on Friday while Korea takes on Japan (three points from four matches). Malaysia is third with six points with one match left. India and Korea had played out a 1-1 draw in the league stage on Sunday.

Circle entry

A quick circle entry by Sumit Kumar Jr. resulted in India winning a penalty corner in the 12th minute, which was converted by Varun.

In the second quarter, Sumit sent a fine pass to Mandeep, who simply had to deflect the ball into the goal, to put India 2-0 ahead.

Kothajit Singh dispossessed a Canadian player to make a brilliant assist to Mandeep from the 25m mark. Mandeep, in turn, made no mistake in sending it past the Canada custodian Antoni Kindler. Mandeep then combined with Sumit to complete his hat-trick in the 29th.

Mark Pearson pulled one back for Canada in the 35th minute with a powerful flick.

Amit Rohidas's goal in the 39th helped India take a 5-1 lead. Though Canamade it 2-5 in the 50th, an excellent long-aerial ball by Varun Kumar to Mandeep in the circle helped him assist Vivek Sagar Prasad score a field goal (6-2).

Nilakanta Sharma finished the game for India as he converted a good assist from Hardik Singh in the 58th minute, a fitting reply to Canada's previous goal in the 57th minute through James Wallace's penalty corner. Mandeep was named man-of-the-match.

The Hindu


---

Young Indians find rhythm in Ipoh

s2h Team




So far so good. Barring a hiccup against South Korea, India have maintained cruise control in the 28th Sultan Azlan Shah Cup hockey tournament in Ipoh, Malaysia.

After whipping 10th-ranked Canada 7-3 in their fourth match on Wednesday, India, ranked fifth, have made the final with one match to come against Poland, the tournament's lowest ranked team at No. 21.

India's opponents in the final, where they will aim for a sixth title, will be South Korea who like India have collected 10 points from four matches after putting it across hosts Malaysia 2-1 later in the day.

Much credit, however, must go to Mandeep Singh and Varun Kumar. Mandeep's effervescence up front has led to five goals from the forward's blade including a hat-trick against Canada while dependable defender Varun has scored three from penalty corners.

India, without a host of first-choice players and reeling from the absence of a full-time coach after the sacking of Harendra Singh, the current campaign of this prestigious invitational tournament is an exercise in confidence building after the travails of the World Cup in Bhubaneswar late last year.

Even though India finished sixth – their best position in 24 years – the campaign was considered disappointing and coupled with the traumatic defeat to Malaysia in the Jakarta Asian Games semifinals three months prior, led to the ouster of Harendra.

That reverse came in a shootout after India led 2-1 with only 90 seconds to go and snuffed out the prospect of booking a direct ticket to the Olympics.

Guided by analytical coach Chris Ciriello amid news of another Australian – Graham Reid -- likely to assume the role of head coach, India have their mind on the Hockey Series Finals in Bhubaneswar in June where two spots for the 2020 Tokyo Olympic qualifier are up for grabs.

The team didn't exactly fire on all cylinders in beating 18th-ranked Japan 2-0 in the opener. Then, against 17-ranked South Korea, the memories of Jakarta came flooding back. A last-minute penalty corner goal made it 1-1 and with hosts Malaysia and Canada to play next, the prospects of reaching the final of the six-nation tournament were then a tad in doubt.




The sequence of the next two matches also bore ominous forebodings. Malaysia, and Canada beat India in the 2017 Hockey World League Semifinals in London – setbacks that spelled the end of Dutch coach Roelant Oltmans tenure.

But India got the script right this time. They beat 13th-ranked Malaysia 4-2 with a dominant performance before routing Canada 7-3, registering the same margin as at the World Cup where India won 5-1.

Statistically, Canada have proved a thorn in the flesh even at global majors like the World Cup. The Maple Leaf beat India at Buenos Aires 1978 (3-1) and Utrecht 1998 (4-1). The performances revealed the gritty, hard-working nature behind the team culture in a land where field hockey is eclipsed by the version on ice.

Besides, Canada are the next best ranked nation at the event after India and the victory would have done wonders for the morale of the team.

Poland are up next but having been out of the top echelons for long, an Indian win appears to be a formality. However, the modern game throws up the unexpected and South Korea needed a late surge to a 3-2 win against their unfancied opponents who led 2-1 deep into the match. The Poles then beat Japan 3-0 and are showing marked improvement after heavy defeats in their first matches (1-5 against Malaysia 0-4 against Canada).

A victory in the concluding encounter before the final against nippy South Korea on Saturday will hold India in good stead and they would do well to take on Poland on Friday absolutely focused.

Stick2Hockey.com


---

Savita to lead India for the Malaysian tour

s2h Team




Goalkeeper Savita will lead India for the Malaysian tour. She has replaced injured Rani Rampal, who had been leading the Indian side over last two years. Experienced defender Deep Grace Ekka was named Vice Captain.

Hockey India on Wednesday named the 18-member Indian Women's Hockey Team for the five-match Series in Kuala Lumpur, Malaysia starting 4 April 2019. The eight-day tour will see Savita lead the team along with Deep Grace Ekka as her deputy.

Savita will be joined by Rajani Etimarpu as goalkeepers for India. The defence line-up includes youngster Salima Tete, Reena Khokar, Deep Grace Ekka, Rashmita Minz, and Sushila Chanu Pukhrambam along with Sunita Lakra who is making a comeback into the squad after missing the Spain Tour.

In the midfield, experienced Monika returns from injury as she joins Karishma Yadav, Nikki Pradhan, Neha Goyal and Lilima Minz. The forwardline includes Jyoti, Vandana Katariya, Lalremsiami, Navjot Kaur and Navneet Kaur.

Speaking about the tour ahead of 2020 Olympic Qualifying events, Chief Coach Sjoerd Marijne said, "One of the things we wanted to improve after the Spain Tour was our One Vs One defending and create more opportunities after we intercept the ball. These are the two key areas we want to focus on in Malaysia and we keep working on individual consistency of players."

In the absence of Skipper Rani, experienced Namita Toppo and dragflicker Gurjit Kaur, Marijne said, it is an opportunity that the youngsters must make use of for their future prospects. "Young players get to show their best performance on international level and it's important for us in case of creating depth in the selection."

Indian Women's Team: Goalkeeper: 1. Rajani Etimarpu 2. Savita

Defenders: 3. Salima Tete 4. Sunita Lakra 5. Deep Grace Ekka 6. Reena Khokhar 7. Rashmita Minz 8. Sushila Chanu Pukhrambam

Midfielders: 9. Monika 10. Karishma Yadav 11. Nikki Pradhan 12. Neha Goyal 13. Lilima Minz

Forwards: 14. Jyoti 15. Vandana Katariya 16. Lalremsiami 17. Navjot Kaur 18. Navneet Kaur

Stick2Hockey.com


---

Glenn Turner Announces Retirement From International Hockey

Ben Somerford




Hockey Australia today congratulates Glenn Turner after he announced his retirement from international Hockey effective immediately.

Bowral-born forward Turner enjoyed a decorated career with Australia, competing at two Olympic Games, including winning an Olympic bronze as well as two World Cup titles.

The 34-year-old debuted for the Kookaburras in May 2009 against France and last represented Australia at the 2016 Rio Olympics.

Turner retires with a sensational goal ratio, having netted 96 times in 136 appearances in green and gold, including a memorable goal in the 2014 World Cup final triumph. He also scored seven Olympic goals.

Along with his two World Cup titles (2010, 2014) and Olympic bronze from the 2012 London Games, Turner also won a Commonwealth Games gold medal (2010), two Champions Trophies (2010, 2016), one World League Final (2014-15) and four Oceania Cups (2009, 2011, 2013, 2015).

Turner said: "I would like to take this opportunity to thank Hockey Australia. To be able to represent my country is something I am honoured to have the privilege of doing and something I am very grateful for.

"Being around as long as I have I have a lot people to thank. Thanks to Hockey ACT and ACTAS for everything in helping me become a better player. A few of my favourite memories are playing with some of my best mates for the Lakers.

"My physios Suzie Goodall and Ellen Hawes for keeping on the field I know this was a tough job at times. My coaches include Phil Jorgenson, Warwick Hotchkis, Ian Rutledge, Terry Evans, Mark Hager, Ben Bishop and Graham Reid.

"A special mention Anthony Farry who had a lot to do with my junior representative coaching and also my club coach at a time when I was growing up. He was someone I looked up to.

"Ric Charlesworth gave me a second chance and challenged me to be the best player that I could be.

"Obviously I couldn't have done it without my family. They were and still are my backbone. All the travel and sacrifices mum and dad had to make throughout my juniors and even sometimes now.

"My wife Rebecca has had to do a lot of work and also make sacrifices while staying home working and looking after our family while I travelled and lived away from home for months at a time. I can't even put in to words how grateful I am for this.

"My grandparents for following me around the world and their continued support. My extended family and friends for all their support and encouragement it means a lot and helped a lot as well.

"To the people who fostered me in Perth. Kizza, the Burgers family, Uncle Rob and Aunty Gail, Dianne and a special thanks to my Perth family the Heaths. My team mates and everyone else I have met through this great game.

"I wish Hockey Australia all the success in the future and look forward to watching from the sidelines."

Hockey Australia High Performance Director Toni Cumpston said: "We congratulate Glenn on a long and successful career for the Kookaburras with many major achievements.

"GT was heavily involved in a decorated period for the Kookaburras and will go down as an Olympic medal winner, two-time Olympian and two-time World Cup winner, along with many other honours. His goals-per-game ratio will long be one of the best in Australian Hockey.

"On behalf of everyone at Hockey Australia, we wish Glenn and his family all the best in the future and thank him for his service."

Hockey Australia media release


---

Rot-Weiss extend lead to four points in German league



©: Frank Uijlenbroek / World Sport Pics

Rot-Weiss Koln returned to action for the second half of the season with four points from a possible six as they drew 2-2 with Club an der Alster before beating Hamburg's Polo Club 5-2.

Against Alster, Mats and Tom Grambusch both scored to ut them 2-1 up but a Christian Reimann goal denied them the victory.

Against sixth place Polo, they fell behind early on but two goals from Eric Knobling helped them lead 3-2 at half-time before Marco Miltkau got the fourth and Knobling completed his hat trick.

Coach Andre Henning was pleased with how his side saw the game out in the second half: "After the 2-3, we played very well played through and unfortunately not scored more. We have managed the result very deliberately."

His side now lead the table by four points from Uhlenhorst Mulheim who had an impressive 6-0 win over Harvestehuder THC with Till brock scoring twice.

HTCU coach Omar Schlingemann said of the win: "We had a lot of control right from the start and were able to work chances both from counters and from our own setup. Overall, I found ourselves very solid today."

Saturday sees the big meeting of Mannheimer HC and Rot-Weiss before Mannheim host UHC Hamburg before Rot Weiss welcome Berliner HC on Sunday.

Rot-Weiss are currently preparing for an EHL KO16 rematch with SV Kampong; Uhlenhorst Mulheim face HC Oranje-Rood and Mannheimer HC take on Dinamo Kazan at Easter.

Euro Hockey League media release