All the news for Tuesday 26 March 2019

2019 Sultan Azlan Shah Cup
Ipoh (MAS)

Fixtures 26 March

16:05    JPN v CAN (RR)   
18:05     POL v KOR (RR)
20:35     MAS v IND (RR)

Fixtures 27 March
        
16:05     POL v JPN (RR)
18:05     CAN v IND (RR)
20:35     KOR v MAS (RR)

Pool standings
| Rank | Team | Played | Wins | Draws | Losses | Goals For | Goals Against | Goal Difference | Points |
| --- | --- | --- | --- | --- | --- | --- | --- | --- | --- |
| 1 | Malaysia | 2 | 2 | 0 | 0 | 9 | 4 | 5 | 6 |
| 2 | Korea | 2 | 1 | 1 | 0 | 7 | 4 | 3 | 4 |
| 3 | India | 2 | 1 | 1 | 0 | 3 | 1 | 2 | 4 |
| 4 | Canada | 2 | 1 | 0 | 1 | 7 | 6 | 1 | 3 |
| 5 | Japan | 2 | 0 | 0 | 2 | 3 | 6 | -3 | 0 |
| 6 | Poland | 2 | 0 | 0 | 2 | 1 | 9 | -8 | 0 |
---

Aikman picks Malaysia over India

By Jugjet Singh

KUALA LUMPUR: So who will win today? India or Malaysia?

When this question was posed to Japan coach Seigfried Aikman as well as Fitri Saari, two opposite reactions were received.

Aikman picked Malaysia, while Fitri was cut short in his answer as coach Roelant Oltmans guarded him like a mother goose.

Even though the question was asked in Bahasa Malaysia to Fitri, Oltmans was quick to jump in: "Ay, no such nonsence questions to my team. I understand what you asked, and the answer is 'No' to such questions. We have our own plans and programmes in this tournament and the question will answer itself at the end of the tournament!."

"They say India is a young team (Minus their injured seven World Cup players) but still, 90 per cent of them have played in the Junior World Cup as well as other high ranking tournament and so you can't say they are inexperienced.

"They are fast and skilfull, we just have to play our own style and the result will come," said Oltmans.

Aikman picked Malaysia based on counter attack, fitness as well as Faizal Saari's form in the tournament.

"Malaysia are fast on counter attack and they keep doing it the entire match (against Japan and Poland) because their fitness level is high. They are in the final stages in preparation for the FIH Series Finals and naturally, this is to be expected.

"Also, the way the team feeds balls to Faizal, and his finishing, I believe Malaysia have the edge over India to win," said Aikman who never shies away from any question.

Faizal has nailed a hat-trick against Poland and two goals against Japan and will be a guarded man today.

India skipper Manpreet Singh, Asian Hockey Federation Player-of-the-Year 2018, did not mince his words as well.

"We are here to win the tournament, and to do that, we have to first beat Malaysia. It was disappointing to lose two points to South Korea (drew 1-1) and we can't afford to lose any more points," said Manpreet who is the livewire and mastermind of India.

Jugjet's World of Field Hockey


---

Fly higher, avengers

By T. Avineshwaran



A new strategy: Fitri Saari is one of the captains for Malaysia in the Sultan Azlan Shah Cup.

PETALING JAYA: The victory against Japan was a sweet one and the Malaysian hockey team are hoping to keep the momentum going in the Sultan Azlan Shah Cup.

Malaysia upstaged Asian Games champions Japan 4-3 to register their second win in the tournament at the Azlan Shah Hockey Stadium in Ipoh on Sunday.

The sensational win came just eight months after their agonising 1-3 defeat to Japan in a penalty shootout after both sides were tied 6-6 in regulation time in the Asiad final in Jakarta last August.

They had earlier whipped Poland 5-1 on Saturday in Ipoh.

Midfielder Fitri Saari said the team fought well against Japan to avenge their defeat in the Asian Games final.

"Some of us had revenge on our minds, but our coach (Roelant Oltmans) told us to focus on the three points and we pulled it off," said Fitri.

The Terengganu player said the combination of youth and experience in the team had been effective so far and he was happy to see the commitment shown by the youngsters.

"The quality of the back-up players are outstanding. Even though they are young, their game looks mature and some of them can even give us, the seniors, a tough fight for the FIH World Series Finals selection.

The FIH World Series Finals, which is a qualifier for the 2020 Tokyo Olympic Games, will be held at the National Hockey Stadium in Bukit Jalil from April 26-May 4.

"As seniors, we encouraged them to do their best and told them not to worry even if they committed mistakes on the field. I was pleased with their performance against Japan as they were technically sound," he said.

Fitri, who is one of the team captains with Muhd Razie Abdul Rahim, Marhan Abd Jalil and Meor Muhamad Hassan, said the rotation policy is a master stroke from Oltmans as it promotes better discussion among the senior players.

"Sharing the leadership role is a brilliant move. There are no egos among the four captains, and we can discuss well during training and matches," said Fitri.

"We've played together for quite a while and communication is not a problem at all. It's good to have four to five ideas instead of one during matches."

Today, Malaysia face India, the highest ranked team in the tournament, and Fitri promises the team will be at their best.

"We're aware of India's reputation. They're the favourites because of their rankings but having played against them before, we know we stand a chance," he said.

Malaysia defeated India in the Asiad semi-final last year.

"We have to continue with the momentum. We all know that winning this tournament will boost our confidence for the Olympic qualifier in Kuala Lumpur next month."

The Star of Malaysia


---

India faces 'nemesis' Malaysia



Indian hockey team members during a match at the Sultan Azlan Shah Cup hockey tournament in Ipoh. Photo Credit: PTI

Conceding last minute goals have continued to haunt India for long now and that's precisely what the team would look to avoid when it take on its 'new-found' nemesis Malaysia in its third league match of the Azlan Shah Cup hockey tournament in Ipoh on Tuesday.

After a not-so-convincing 2-0 win over Asian Games gold medallist Japan in the tournament opener, Manpreet Singh and his men conceded a goal in the final minute of the match to draw 1-1 against Korea on Sunday.

India are currently placed third in the six-team standings with four points after a win and a draw. Hosts Malaysia are leading the chart with maximum points after 5-1 and 4-3 wins over Poland and Japan respectively.

Korea are in the second position with four points, same as India, but they are ahead of the eight-time Olympic gold medallists owing to better goal difference.

On Sunday, India were well on course to register their second consecutive win in the tournament after taking the lead in the 28th minute through Mandeep Singh. But a defensive error, just 22 seconds from the final hooter, enabled Jonghyun Jang to score the equaliser from a penalty corner.

And come Tuesday, the Indians can ill afford to repeat similar mistakes, especially against a side like Malaysia, which, in the recent past, have time and again exploited such grey areas to continue to remain a thorn in the flesh for the Blue Sticks.

Considered as the dark-horses of Asian hockey for long, Malaysia have time and again showed their capabilities by upsetting the big teams, at least at the continental level, when it mattered.

It all started way back in 2010 when Malaysia stunned India 4-3 with a last-minute goal at the 2010 Guangzhou Asian Games semifinals.

Eight years later the Malaysians again inflicted yet another agony on the Indians. This time too India conceded a last minute goal in the semifinals of the Jakarta Asian Games to enable their rivals to draw level and eventually win the encounter 7-6 in a dramatic penalty shoot-out.

In former India coach and High Performance Director Roelant Oltmans, Malaysia has a shrewd tactician who knows in and out of the Indian hockey.

Penalty corner specialist Muhammad Razie Rahim is a name which the Indian team would be wary of as it is this 31-year-old who flattened India on more than one occasion, including in the Asian Games semifinal in Jakarta.

Even though Rahim has scored just once in the tournament so far, the Indian defence led by Birendra Lakra and goalkeeper PR Sreejesh, need to be extremely cautious come Tuesday.

Besides, the Indian defence will also have to keep at bay 'Saari brothers' — Fitri and Faizal — especially the latter who has already scored a hat-trick and is currently the leading scorer in the competition with five goals.

But the Indians can take heart from the fact that it is the same Malaysian side which they have thrashed 5-1 at the same venue in the last edition of the tournament in 2018.

All said and done, the Indians would definitely be eyeing a big win against the Malaysians on Tuesday, which would not only bolster their morale but lift them in the points table.

Meanwhile in other matches of the day, Japan will play Canada while South Africa will be up against Korea.

The Hindu


---

Stats Speak:  India has an edge over Malaysia

By B.G.Joshi (Sehore-Bhopal, India)

India has won most 83 matches versus Malaysia In the history of international hockey. Federation of Malaya team played first ever match against India in 1954.Since then 120 times India-Malaysia have crossed the swords.

Under Roelant Oltmans coaching India were on podium in 2016(Silver) and 2017
(Bronze).It seems that Malaysian will be in medal's match in this edition of Azlan shah Cup. Here are statistical highlights of today's match.

India-Malaysia Hockey: At a glance
Particulars

Matches

Played

India

Wins

Malaysia

Wins

Drawn

Goals

For  India

Goals for

Malaysia

Total

120

83

17

20

342

160

In Azlan Shah Cup

25

16

6

3

71

42

In  Ipoh

21

16

4

1

62

30

On Malaysian Soil

53

34

10

9

149

82

Last 10 Matches

10

6

2

2*

27

14

*Lost in sudden death shoot out, full time 2-2, sdso 6-7 in Jakarta Asian Games(Aug18) SF

Last Played in Muscat Asian Champions Trophy (Oct 2018), drawn 0-0.
 Fieldhockey.com


---

Gursahibjit's wonder year earns him India colours

Indervir Grewal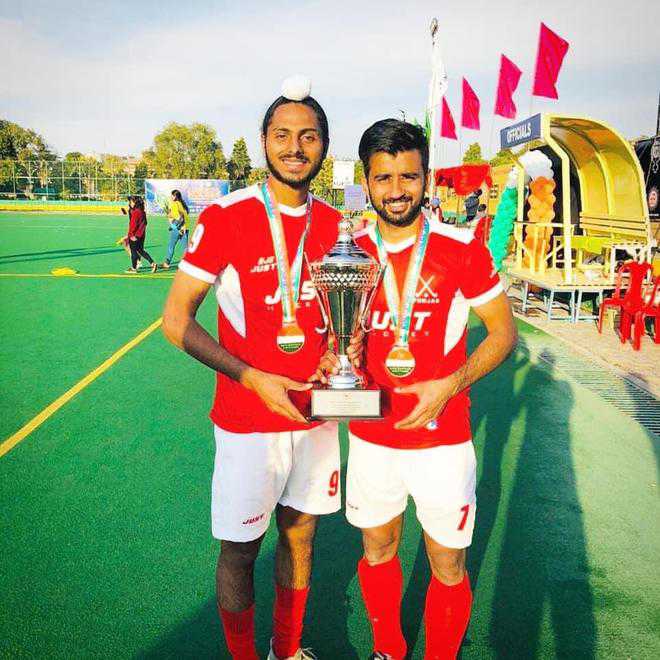 Gurdaspur lad Gursahibjit Singh, 20, and Manpreet Singh won the silver medal for Punjab in the senior Nationals. Gursahibjit/instagram

Gursahibjit Singh was "happy" just to be named among the standbys for the Sultan Azlan Shah Cup. He called his father, Mohinder Singh, and his coach at the Surjit Academy, Avtar Singh, to share the news.

The 20-year-old's excitement was understandable — for someone who played his first major tournament for the junior national team only five months ago, just being considered for the senior team was big news. It was big news for the family as well. Gursahibjit, who hails from village Bahadurpur Rajoa in Gurdaspur district, doesn't come from a hockey family. One of his relatives played hockey, but the popularity of the sport in the region also played a part in Gursahibjit taking up the sport. "We just thought hockey would be good for him," said Mohinder, who works for Punjab Police.

Gursahibjit was sent to Cheema Hockey Academy in Batala, over 30 kilometres from his village, at age nine. "Staying in the hostel was tough for him but it got better once his interest in hockey grew," said Mohinder.

National camps

After two years, he got selected in Surjit Academy, Jalandhar. Though studying in DAV College now, Gursahibjit still trains at the academy when not in national camps.

"His development over the last couple of years has been great," said Avtar. "He has a good physique, he is an all-round player like Dilpreet (Singh). Being in the national camps has helped him a lot."

Gursahibjit benefitted from a month-long camp in the run-up to Azlan Shah Cup. While the team left for Malaysia, Gursahibjit was happy to continue training with the senior core group in Bengaluru. Even to be in the senior camp was a big deal — a year ago, he couldn't even make the cut for the junior national camp. At the start of 2018, while Dilpreet, one of his contemporaries from the academy, was making a name for himself in the senior national team, Gursahibjit was still fighting for a place in the junior Punjab team.

The same month that Dilpreet travelled to Australia for the 2018 Commonwealth Games, Gursahibjit was selected in the Punjab team for the junior Nationals in Bhopal. The young forward made his opportunity count and went on to score a hat-trick in the final, which Punjab won 4-2. His performance didn't go unnoticed and Gursahibjit was selected for the junior national camp for the Sultan of Johor Cup in Malaysia in October. At his first major international tournament, Gursahibjit stood out with his big presence in the Indian forward-line. The promotion to senior hockey came in February, when he was selected in the Punjab team for the senior Nationals. He played alongside India stalwarts Akashdeep Singh and Manpreet Singh, among others. Punjab reached the final and Gursahibjit found his name in the senior national camp.

Good beginning

Hard work and a little luck — injuries to a few senior players — saw Gursahibjit's exceptional journey over the last 10 months culminate with his name being included in the list of standbys. "He was very happy. It was his first senior national camp and to be named as a standby is a big deal," said Mohinder.

A day after the team left for Malaysia, the deal got even bigger for Gursahibjit. Gurjant Singh got injured in training and the next thing Gursahibjit knew, he was flying off to Malaysia.

Gursahibjit's big moment — senior India debut — came on Saturday, but not without a few words of advice from his coach. "The shift from junior to senior hockey is tough and his has been pretty quick," said Avtar. "I told him to be open with the players and the team management, I told him: 'This is your first senior tournament and if you don't understand anything, ask; have discussions with the senior players and the coach; ask what they want from you'," Avtar added.

It turned out to be a happy beginning for Gursahibjit — India beat reigning Asian Games champions Japan 2-0 in their first game. Avtar said that Gursahibjit, the latest player from Punjab to make India debut, was a good prospect for the future. "He needs exposure and this tournament will help him a lot. If he has a good tournament, he can go a long way playing for India," said Avtar.

The Tribune


---

Stage is set for FIH Series Finals opening event




There is just one month to go until the first of the FIH Series Finals bursts into life and what better place to start the action than in the vibrant, colourful, welcoming and hockey-mad Asian country of Malaysia. The event takes place in one of the world's leading global cities and, with the Petronas Tower dominating the landscape, this is all set to be a thrilling opener to three months of Series Finals hockey action.

The opening event – one of six FIH Series Finals [three men's and three women's events] – takes place from 26 April until 4 May in Kuala Lumpur. For the teams taking part this is the next stage in the challenging but thrilling road to the Olympic Games Tokyo 2020.

The chance to qualify for the blue riband hockey event started with the FIH Series Open back in 2018. The top placed teams in the FIH Series Open events qualified to compete in the FIH Series Finals alongside the nine highest ranked teams not participating in the FIH Pro League.

From Kuala Lumpur, and all the other FIH Series Finals events, the top two* placed teams will then earn the right to compete in the Olympic qualifiers. For the men's teams of Austria (World Ranking:19), Belarus (WR:31), Brazil (WR:27), Canada (WR:10), China (WR:14), Italy (WR:32), Vanuatu (WR:52), Wales (WR:24) and the host nation Malaysia (WR:13), this is an opportunity to get one step closer totalling part in the XXXII Olympiad in Japan.

In readiness for the competition, the Malaysia Hockey Confederation has laid a sparkling new turf, which will provide a stunning surface upon which the athletes will compete.

The National Hockey Stadium in Bukit Jalil was re-laid as part of an upgrade to the old pitches that were on the same site. Both the men's and women's national teams will have played on the surface before the FIH Series Finals take place. The stadium is the perfect venue for the hockey spectators to come along and support their teams in this inaugural event.

Kuala Lumpur itself will be a fantastic backdrop for the competition. The capital of Malaysia has been named a 'Seven Wonder City' because of its cultural, architectural and social achievements. It ranks highly as a 'safe city' in terms of crime and has been rated the second most 'liveable' city in Southeast Asia after Singapore. It is also home to the iconic Petronas Towers, which are the tallest twin towers in the world.

Malaysia has a proud tradition of holding major sports events. Most notably, in the past few decades, Kuala Lumpur has played host to the 1998 Commonwealth Games and the 2017 Southeast Asian Games. And currently, like in 2018, Ipoh is the scene of the Azlan Shah hockey tournament.

The FIH Series Final will consist of a two-pool round, with the winners of each pool qualifying for the semi-finals. The remaining three teams in each pool will play cross-over matches to decide who qualifies for the remaining semi-final places. The winners of the semi-finals will go through to a grand final and  play the FIH Olympic qualifiers, therefore continuing on with their Olympic journey.

* If Japan, Scotland or Wales finish in the top 2 of their respective pools, they will not secure a place in the FIH Olympic qualifiers. Japan have already qualified as both host and winners of the Asian Games; for Scotland and Wales, the reason is that England are the nominated country for Great Britain's qualification pathway. If any of these three teams do finish in the top 2, the team that finishes third does NOT automatically qualify for the FIH Olympic qualifiers. Any such additional place is determined by the FIH World Rankings as at the completion of the continental championships (8 September 2019)

#FIHSeriesFinals

FIH site


---

All change at the top of Scottish Women's National League 1




It`s all change at the top of the women`s National League 1, Edinburgh University were held to a 2-2 draw by Dundee Wanderers while Clydesdale Western beat Grange 7-0, the result is that the latter take over pole position on goal difference with one game left to play.

At Peffermill the scoring was over by half time, Amy Brodie at a penalty corner and Hanna McKie were on target for the students, but on both occasions Vikki Bunce levelled for the Taysiders. Bunce might have got her hat-trick and the winner later on, but her effort was chalked off.

In contrast, Western were never in any trouble against bottom side Grange, Millie Brown got two and the rest came from individual players.

Perhaps the best contest of the day came from Tayside where Watsonians emerged victorious 5-4 against Grove Menzieshill and secured fifth place in the table.

After 10 minutes Lucy Smith opened the scoring for the home side with a well worked penalty corner routine, but after 25 minutes Faith Joubert had levelled for the Edinburgh side from close range.

Three goals in six minutes early in the second half seemed to seal the victory for Watsonians, Heather Tait scored with a deflection while Lucy Lanigan added two more for a 4-1 lead. It was extended when Ellie McKenzie added a fifth to put the Edinburgh side well in front.

But back came the Taysiders, Sam Sangster pulled one back at a penalty corner, Katie Stott added another, and then Lucy Smith got her second following a pass from Sangster to make it 5-4, but that was the end of the scoring.

In the men`s league Grange put the icing on the cake of their National League 1 triumph with a 3-0 win over Clydesdale in a rearranged fixture at Fettes.

There was no score until two minutes from the interval when Frank Ryan put the champions ahead with a direct shot at a penalty corner.

A quick double in the opening 15 minutes of the second half settled the affair, Duncan Riddell scored first followed quickly by an open play strike from Ryan to keep Grange`s unbeaten record intact.

Scottish Hockey Union media release


---

Killer blow to KLHA

By Jugjet Singh

IPOH: Kuala Lumpur Hockey Association (KLHA) received a bitter blow when they were told to vacate the Pantai Hockey Stadium by the end of the month.

The contract between KLHA and owners Kuala Lumpur City Hall (DBKL) ended last August but the letter to vacate was only received a few days back.

KLHA have been having their base at the stadium since 1987, and will be appealing the eviction.

KLHA secretary V. Rajamanickam, president Datuk Abu Huraira Yazid, vice president K. Maheswari and treasurer Daljit Singh could not be contacted for comments.

However a source close to KLHA said: "Yes, the contract between KLHA-DBKL ended last August and all these years there was no such problem as it was automatically renewed on a 3+2 basis (three years plus option for another two).

"However, KLHA were shocked to receive the eviction notice which stated that they must move out by end of March. They only received the eviction notice a few days back and so it was surprising.

"An appeal will follow soon," said the source.

KLHA have been doing good development work at the stadium for ages, and if their appeal is rejected, it would be a great loss to hockey in the country.

Jugjet's World of Field Hockey


---

The Hockey Paper: back in print with plenty to cover

By Rod Gilmour | Editor




After nearly two years away, we are back this week as a print product for readers.

Our concept was first conceived thanks to several meetings and plenty of laughs with respected journalist Graham Wilson, who sadly passed away before the first issue was published.

Determined to see through the idea, The Hockey Paper launched on the back of Team GB women's gold at the Rio Olympics.

And it is now a thrill to return subscription-only as we chart GB's Olympic defence ahead of Tokyo 2020 next year. The relaunch is again in Graham's memory.

One of the main reasons we produced a print newspaper on hockey in 2016 – we are still the only UK print newspaper dedicated to an Olympic sport – was that we felt the sport was not getting the attention it both needs and deserves on a national level.

We sought to change that and we were certainly making headway with our stories and features reaching readers and clubs across the UK before we were sadly forced into going digital only.

We kept the momentum online across one Commonwealth Games and two World Cups and web traffic underlined that there is a market for hockey media.

Of course, many of our features don't translate well into digital – such as our dedicated new junior section – and so print is extra important.




We will be a comprehensive product featuring the international game, the domestic scene, Masters, more regional focus, umpiring, coaching, the Home Nations and the history of the game.

The Hockey Paper will be printed regularly every fortnight – barring the odd week off when hockey sticks are rested – but what is certain is that we will continue to be a leader for equal coverage across the men's and women's game.

We hope you will enjoy our journey and, don't forget, if you want to make contact with us, have news or feature ideas, please email This email address is being protected from spambots. You need JavaScript enabled to view it.

We're back! Don't miss your subscription-only print copy. Read your game!



The Hockey Paper


---

Mark Hager interview: I want to take Great Britain hockey to new boundaries

By Rod Gilmour




Mark Hager, the Great Britain women's coach, aims to take his players to 'new boundaries' in both physicality and formation as he sets about a winning template ahead of the Tokyo 2020 Olympics.

Hager, 55 next month, took over the role in January and will be based in the UK in April after meeting the players in Oceania and securing his work visa in the UK.

The Australian has yet to witness Great Britain off to a winning start but he has seen enough to be excited of a bright future ahead of their Olympic defence, be it on opposing benches as New Zealand coach or during his few short weeks in charge of GB women.

"I know there have been changes in the group. It's an exciting group and I felt I could assist with my style of coaching, the attacking side to bring that to the group," he told The Hockey Paper.

"Hopefully I can push them to reach boundaries they have never reached before, particularly around the physical side so when we are ready for the games we play a fast, high standard game."

During their opening set of Pro League games, firepower was lacking while they were shipping goals at the back. In their third game last month, things looked decisively better in both departments – notably Lily Owsley in attack – and Hager admits it's about "gelling both systems."

Asked how he would achieve this, he says: "The defence has to be the No 1 priority but there are some exciting players. If you look back at Rio, their success in stats, conversion on PCs and goals and shots to goal conversion were way ahead of every other team. That is a real plus.

"Sometimes you go through a plateau that doesn't work for you. I'm hoping to bring back that to the group and adapt differently."

Last month, the long-awaited independent review into a negative environment surrounding Hockey New Zealand was released.

The review, which came via a near four-page summary after first being commissioned in September, was short in detail, while Hockey New Zealand chairman Mike Bignell was unable to confirm what actually constituted a negative environment after specific player examples were kept confidential.

The review received short shrift from Sir Owen Glenn, the millionaire businessman and principal backer of Black Sticks hockey, who was also a staunch supporter of Hager as a coach and his methods.

Hager left his role before the findings were released and has admitted to a media hounding akin to what English rugby coach Eddie Jones receives, following the unravelling of Kiwi team culture in the aftermath of last summer's Women's World Cup. "I'm a firm believer of moving forward and you can't change the past," he admits.

He is now keen to make sure that his new charges are well balanced on and off the pitch, a lifestyle model which is already in place at Bisham Abbey.




"Having a balance around life and having a plan when they do retire from hockey so they are ready," is a key Hager mantra. "It's something I learnt as a player that I didn't do well enough. I was more hockey orientated, didn't look at the outside and didn't have a balance."

This, of course, is a scenario which has befallen Sophie Bray, who announced her retirement from international hockey in the same month Hager joined.

Hager admitted that he hoped to get more of an understanding into Bray's decision once he was ensconced at Bisham headquarters and spoke individually to the players.

"I will chat with a lot of players and sit down where they see the programme moving forwards," he says. "It's always a tough decision and sometimes players need a little bit of a break."

Ahead of GB's clash away to the USA on March 31, Hager admits that once he can shore up the defence, Hollie Pearne-Webb's side can start making Pro League inroads ahead of the European legs.

The former Kookaburra will also be assessing the central programme, make it his duty to get closer interaction with the club scene and see if there are players there who warrant a trial on the programme.

He will also take notes off Danny Kerry, the former women's coach. "I'm keen to learn off Danny on the defensive side and what he put in place," he adds.

"They've done brilliantly to get a bronze and a gold in the last two Olympics. I would be silly not to sit down with him, learn a lot and help my coaching."

We're back! Don't miss your subscription-only print copy. Read your game!



The Hockey Paper


---

World hockey needs players' union body, believes Ireland's David Harte

By Rod Gilmour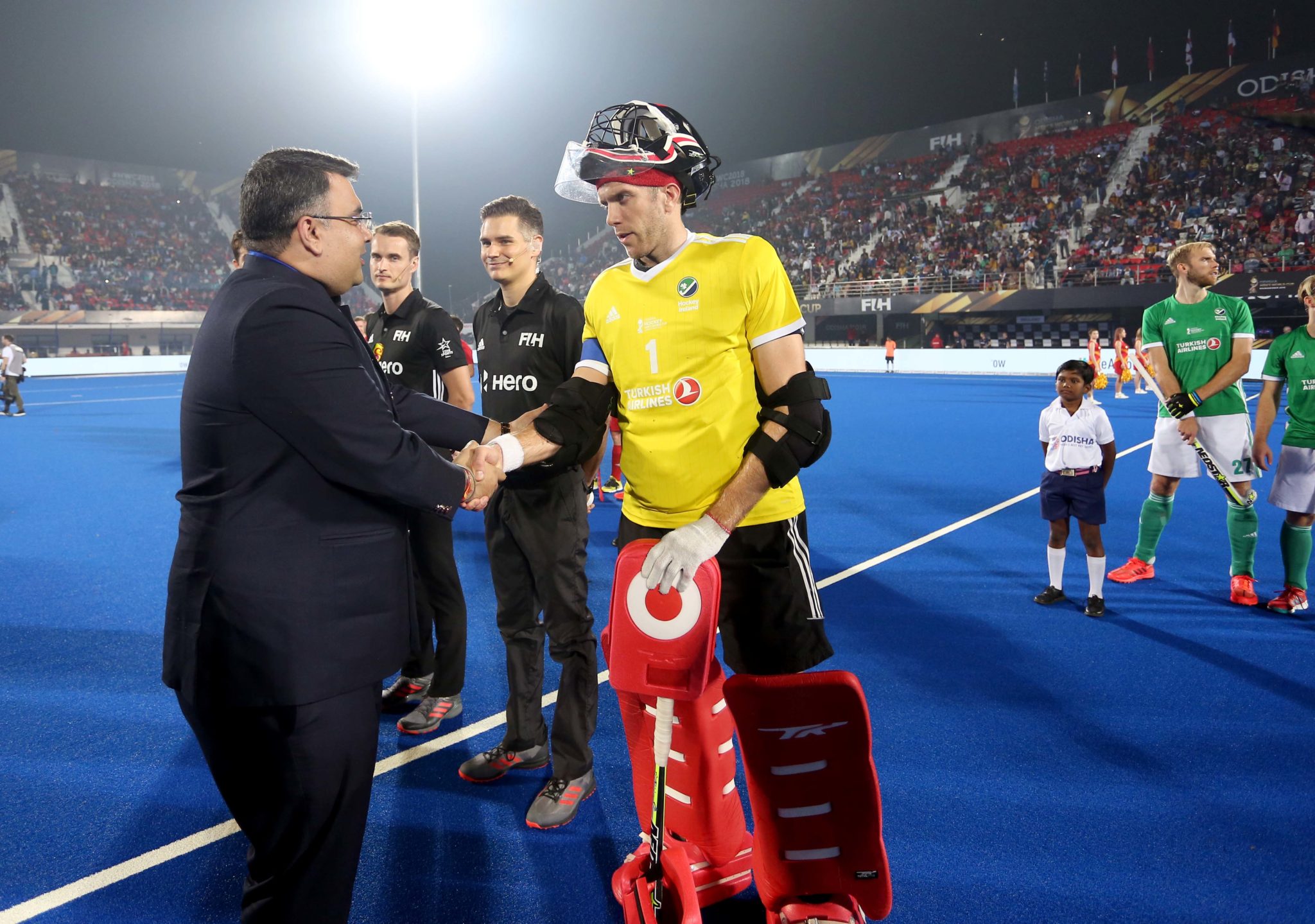 Ireland captain David Harte, the two-time world goalkeeper of the year, believes the setting up of a players' union body should be explored in hockey.

Ireland failed to secure a place in the knockout stages of the men's World Cup – their first in 28 years – after defeat to England in December.

For the first time, hockey's showpiece was decreed a three-week tournament by the International Hockey Federation (FIH), with many questioning the length of the tournament given that some nations are not on full-time funding and athletes were expected to take extended leave from work commitments.

Additionally, the launch of the FIH Pro League is expected to change the face of the game, as the top nations compete over six months on a home and away basis.

Although Ireland were not one of the invited Pro League teams for the inaugural year, the world No 10 side will still feel the effects of the sport's changes with a wealth of Olympic qualifying tournaments set for 2019.

Currently, hockey has no players' association to represent athletes, both domestically and globally, and Harte would welcome its conception.

"If you think about it, the greatest asset the FIH has is its players," Harte told The Hockey Paper.

"If there is mis-management and if athlete welfare isn't to the forefront then there will be serious issues.

"The Pro League is a prime example of that with the amount of travel involved and the ability for the FIH to currently to explain the longevity that they are looking to hold towards."

Harte is a high-profile presence within hockey after being co-opted onto the FIH's athlete commission, a position he also holds in conjunction with the Olympic Federation of Ireland.

Pointing towards some of Ireland's players who don't play on the continent, Harte added: "If you're not earning so much for your international side and you're based on your club commitments, but yet these will be lessened by the fact you are away more than normal, then how is it possible to sustain that? There are plenty of things to be considered."

Great Britain midfielder Emily Defroand said: "We get a lot of support in terms of performance lifestyle, psychology and all aspects of life not just on the pitch.

We could be away for weeks and months at a time and that is big pressure for individuals to deal with. We are very fortunate that it is our full-time job but I can understand that other nations don't have luxury."

This is an extracted piece from our relaunched print edition.

We're back! Don't miss your subscription-only print copy. Read your game!



The Hockey Paper


---

Welsh hockey fans launch history research in landmark month

By Richard Bright




Challenges come in all shapes and sizes – and in the case of two hockey enthusiasts we have one which will be etched in history.

The quest for friends Phil Bailey and Steve Knight involves over a century's worth of Welsh hockey internationals.

Not only are they currently researching and archiving all Welsh hockey's games, they are delving deeper to create an authoritative archive with complete player and cap records from 1899 to the present day.

They are deep into their research but will be boosted this month by a significant landmark: March 27 marking the 120th anniversary of the Welsh ladies first ever match against Ireland at Llandudno.

For the record, Ireland won 5-0 but the intrepid pair already have the team and their clubs from that opening international. As they do for over 600 games and records for 400 players.

Volunteers Bailey and Knight, who watch every Clifton Ladies home game together, have a historical background, having compiled statistics in cricket and it bodes well for their hockey challenge.

"Watching hockey the last few years and talking with a number of the Welsh women (current and former internationals) it was clear that little was in place, or what was available was not in a detailed or organised archive," said Bailey.

"Players were telling us they would like to have records of their games and caps in place and just a record for history."

Knight's day job is in IT and so a database was soon up and running, while Bailey works as a deputy headmaster in Bristol.

They started with old programmes as sources, discovered a Welsh online newspaper site that had matches from 1899 to 1909, all detailed with research, while Wales Women did not then play again until 1923 when the current association was formed.




Research continued online via the International Hockey Federation and British Newspaper Archive, while they are working in partnership with Hockey Wales and The Hockey Museum in a three-fold collaborative effort.

"Last year we went through boxes of material at the Institute of Sport and found many old programmes going back to the 1930s, players tour diaries from 1940-50s, and old photos," added Bailey.

Their research has thrown up a wealth of interesting information, while they are safe in the knowledge that no internationals were played between 1909 and 1923.

From their newspaper archive research, they garnered that Wales lost every game between 1899 and 1909, with a 15-0 loss to England at Abergavenny in 1902; venues have ranged from The Oval and Edgbaston to Trostre Steel Works, Port Talbot; players were awarded cloth badges as 'caps' back in the day, while old programmes such as Commonwealth Games have names, addresses and phone numbers of players from all countries participating.

One quirky fact has also emerged from a 1936 committee meeting, where it was mandatory for the Welsh women to wear hair nets when playing, but not for club players!

Welsh hockey great Sheila Morrow has also provided the duo with her tour diaries, while they have been in touch with Anne Ellis, who is providing some of her material. Last year, both former playing greats were recognised as two of 50 most inspirational Welsh Women by Women's Equality Network (WEN) Wales.

For Bailey and Knight, it is still unknown how many games have actually been played by Wales women. "That remains a challenge, it's about putting the pieces of the jigsaw together through research and leg work," added Bailey.

Bailey and Knight are appealing for any information, programmes and relatives of players who have played Welsh women's international matches. Contact This email address is being protected from spambots. You need JavaScript enabled to view it.

We're back! Don't miss your subscription-only print copy. Read your game!



The Hockey Paper