All the news for Monday 3 October 2016

USA and México with tickets to World League Round 2

The World League came to the end today, in Salamanca. Mexico's women and USA men qualified for World League, next Round.

Josefina Chavez Díaz




Six days of pure competition came to the end in the international hockey Stadium, Siglo XXI.

USA: a well-deserved win

The Americans stepped into the pitch to play Barbados in the final game. With no mistakes and an effective play of his forwards, USA men went home with the win. The game began with both teams creating opportunities in the attack, but were unable to create enough risk in the attacking circle.

Finally, United States opened the scoreboard through Paul Singh in minute 5. Barbados was badly hurt, and could do little against the American strength. USA took advantage of their vulnerability; they got a number of penalty corners that ended in the cage. Barbados was able to get a number of penalty corners their selves, but was unable to score. They had their best chance in a counter attack, but the American goalkeeper stopped the attack and prevented the shot. At the end of the first period, United States converted a penalty corner making the difference 4-0 before the half time.

In the second half, Barbados tried to narrow the score. An early penalty corner seemed to be a good opportunity, but again they were unable to capitalize.  USA recovered the control and scored once more. Barbados executed well a penalty shot, thus they were still short in the scoreboard and USA walked away with the win of 6-1 over Barbados, in the men's competition.

México wanted to win; they have stepped now, into Round 2

This match against Trinidad and Tobago was just like the previous played during the tournament. They played same style. With a victory as their main aim they were consistent and ordered in their games. The Mexicans gained the control of the game early, showing their power and strength.

Possession, open game and an effective recover of the ball were some of the concepts that lead Mexico to their first goal by Marlet Correa, early in the first half. Without any important issues the Mexicans navigated into the second half with no changes in the scoreboard.

One minute from the start of the second half Michel Navarro surprised giving the lead to her team 2-0. It took only a few minutes to Trinidad to score and get back into the game with a difference of only one goal. Arely Castellanos' girls felt the hit and came out to the attack to keep their leadership.

Mexico scored twice thru Arlette Estrada, in minute 66 and 69. The Mexicans kept focused and look always big in the pitch. They got a well-deserved win and a ticket to World League Round 2.

Men, won the Bronze

The men also looked for a win at home. They wanted to be at the final game, but loosing Barbados greatly affected the team.

In the first half of the match against Guatemala the Mexicans could not find their pace. The unexperienced Guatemala had a number of opportunities.

Relaxed, with order and an open play Guatemala made well use of counterattacks and shy approaches to José Hernández, goal.

Thus, Mexico was still the owner of the scoreboard with a lead of 5 goals at the end of the first half.

In the second period, the host changed the pace, made it fast and gained the full possession of the ball. Guatemala was unable to get thru the center line.

México win 14 - 0.

Guatemala players were very happy to participate, and celebrated the opportunity to continue gaining experience playing big national teams; USA, Barbados and México, winner of the Bronze Medal.

The Best of the tournament

William Holt, was the Player and Scorer of the Tournament. The Mexican José Hernández was awarded Goal Keeper of the tournament and Sean Cicchi Junior player of the tournament.

On the women side, Michel Navarro was the Player and Scorer of the Tournament.

Jesús Castillo, was awarded Goal Keeper of the Tournament and the 13 years old, Daniela Vásquez Junior Player of the Tournament.

Pan American Hockey Federation media release


---

Chile, Uruguay with wins on Day 2 of the Women's South American Championship

2016 South American Championship & World League R1 (field hockey) – Chiclayo, Peru – 02 Oct 2016 - Uruguay vs. Paraguay   

On the second day of the Women's Competition, Uruguay and Paraguay met; and then Chile played for the first time in the tournament against host Peru.

Chile-Peru (8-0)

The last match on the second day of the Women's competition was between Chile and Peru. Chile was playing in its first match of the tournament.  The match started with Chile dominating possession, but Peru playing strong defense to keep Chile without a shot opportunity; until Chile was awarded the first penalty corner of the match in the 5th minute. Peru's keeper Chiara Conetta blocked the hard penalty corner shot by Captain Camila Caram; and then a second penalty corner shot went wide. Chile took the lead in the 8th minute off a goal by Carolina Garcia. Chile continued to have the attacking advantage, but Peru kept playing strong defense to prevent Chile from capitalizing off a few more penalty corners or having much possession in their attacking circle.

Throughout the first half the crowd kept cheering for Peru. Peru collectively held off the Chilean attacking pressure for much of the first half. In the 21st minute, Chile earned another penalty corner, but again the Peruvian defense worked well as a team to break up the play. Connetta made another big save by stopping a hard high shot by Camila Caram, but then Chile was awarded a penalty corner and Denise Krimerman's hard penalty corner shot made the score Chile 2, Peru 0. For the rest of the first half, Chile dominated possession. Peru's defense, however, held Chile's attack to only two more shots; and forced Chile to pass the ball outside of their attacking circle. Thus, the halftime score remained Chile 2, Peru 0.

Immediately into the second half Chile was back on attack with a penalty corner in the 38th minute. Krimerman again pushed in a hard penalty corner shot to increase her team's lead to three goals. Five minutes later it was Chile's Sofia Filpek who put in a penalty corner shot after an initial save by Conetta. And then soon after the restart Chile's Fernanda Flores scored to make the score Chile 5, Peru 0. In the 46th minute, Chile again capitalized off a penalty corner as Caram found the back of the net. Peru continued to play strong defense to prevent Chile from having easy shots on goal. Conetta stopped another penalty corner shot by Chile in the 53rd minute. A few minutes later Chile had another penalty corner and this time Peru's Adelaida Olaechea made a big defensive save to block the initial penalty corner shot by Chile. After blocking a couple more penalty corners by Chile, Chile's Francisca Tala broke through the Chilean defense to put her team ahead by seven goals in the 62nd minute. Two minutes later, Chile's Sofia Walbaum put in a penalty stroke. Behind the strong defense of Maira Loaza and Maria Jose Fermi Blanco, Peru was able to prevent Chile from scoring another goal. Thus, the match ended Chile 8, Peru 0.

Uruguay-Paraguay (8-0)

The first match on the second day of the Women's competition was between Uruguay and Paraguay. In the opening minutes of the match, Uruguay was fast on the attack earning four penalty corners. Paraguay's keeper Claudia Flores Guillen came up with big saves on the first penalty corner. After failing to get a shot off the next two penalty corners, Uruguay's Manuela Vilar put in the fourth penalty corner in the fourth minute. Paraguay had their first chance on attack in the 7th minute off a breakaway, but the shot by Gianinna Zambrini Vera went wide. Uruguay quickly got the ball back into their attacking circle and after passing the ball around the inside of the circle, Sol Amadeo's shot found the back of the net to make the score Uruguay 2, Paraguay 0 in the 10th minute.

Uruguay continued to dominate possession in the first half and keep play within their attacking half. Paraguay, however, played good team defense to keep pressuring Uruguay to pass between their defenders around the half line rather than taking multiple shots in their attacking circle. Uruguay was able to break through in the 19th minute when Lucia Lamberti found a way to get the ball through a lot of people in the circle and into net to make the score Uruguay 3, Paraguay 0. One minute later, Amadeo scored again to increase her team's lead to four goals over Paraguay;  and then quickly Janine Stanley got the ball after the restart to dribble the ball into the circle for the score to make it Uruguay 5, Paraguay 0. For over ten minutes, Paraguay played with much better positioning to keep Uruguay out of their attacking circle. However, in the 34th minute, Maria Teresa Viana Ache was able to break through and make the score Uruguay 6, Paraguay 0; and then earn a penalty corner in the final minute of the first half. With Uruguay unable to get a shot off the penalty corner, the score at halftime remained Uruguay 6, Paraguay 0

The second half of the match started with Paraguay's reserve keeper Yasmina Samudio in goal. Paraguay continued to have good positioning to keep Uruguay from getting a shot off during the beginning of the second half. Five minutes into the second half, Uruguay also put in their reserve keeper, Victoria Beares. Soon after, Uruguay earned a penalty corner, but Paraguay's Maria Catebra Martinez came rushing off defense to break up the play. In the 46th minute Uruguay was able to convert their second penalty corner of the second half as Agustina Nieto hit a hard shot into goal. Uruguay continued to apply their attacking pressure, but Paraguay continued to do a good job defense, especially at breaking up a number of Uruguay penalty corners. Paraguay did not let up their persistence to stay in the match and earned their first penalty corner of the match in the 59th minute. Paraguay had trouble stopping the initial push out and Uruguay regained possession and ran fast back into their attacking circle. Paraguay continued to play strong defense throughout much of the rest of the second half. Yet, despite breaking up a Uruguay penalty corner in the 70th minute, Amadeo completed a hat trick to make the final score Uruguay 8, Paraguay 0.

The Women's Competition will continue on the 4th of October. Please continue to also check the Pan American Hockey Federation's website for the Women's competition for photos and post-match interviews and more: http://www.panamhockey.org/en/competitions-54-2016-south-american-championships-women-

Pan American Hockey Federation media release


---

No winners between Pakistan, Hong Kong

By Nabil Tahir

KARACHI: The Pakistan women's hockey team, out on an international tour after three years, was understandably rusty yesterday as they were held to a 1-1 draw against Hong Kong in their opening match of the Asian Hockey Federation Women's Hockey Cup in Bangkok, Thailand.

The jitters and a lack of cohesion were there for all to see in the opening ten minutes when the women in green were completely outplayed and conceded four penalty corners, the last of which breached their defence as Hong Kong took a 1-0 lead.

Pakistan finally found their rhythm and were a much better side over the next 10 minutes.

They got their break in the 17th minute when a long hit into the Hong Kong circle found an unmarked Mayira Saber who expertly pushed the ball into the net to level the tie.

The pace of the match picked up significantly following the equaliser as both teams pushed for the winner.

Pakistan's best opportunity came via a superb defence splitting cross from Hina Kanwal but the diving striker in the circle couldn't put her stick on the ball as the first-half ended 1-1.

In the second-half, both teams had several penalty corners but a winner was not to be found.

"It was the team's first international game after three years. They put an excellent show against a far more experienced side," said the team's head coach Usman Sheikh.

"The manner in which they outplayed the opposition in the last 15 minutes is a testament to their physical fitness. One grey area is the conversion of penalty corners," he admitted.

The Express Tribune


---

The Australian Hockey League - day 4

QLD dealt a crushing loss

Holly MacNeil




Day four of the Australian Hockey League took place at the Perth Hockey Stadium today, and in a spectacular upset reigning champions Queensland were dealt a blow to their chances of retaining the trophy after Victoria defeated them 4 -3.

Queensland were on the defensive for the duration of the match, trailing Victoria from the first quarter thanks to two goals in the first from James Knee and Chris Ciriello.

Western Australia and Tasmania were up next, and the first half of the game was relatively quiet. WA came out fighting in the second half, with Nick Budgeon scoring a penalty corner for the Thundersticks 40 minutes in, to score the only goal of the match.

In a rapid paced first quarter, NSW scored 3 goals against New Zealand courtesy of Nick Hill, Flynn Ogilvie and Tom Craig. New Zealand answered with a field goal from Benedict van Woerkom.

The second quarter was relatively quiet, and then NSW went for it in the second half scoring four more goals courtesy of a double from Matt Dawson, and one each from Lachlan Sharp and Robert McGuire. Benedict van Woerkom scored another for New Zealand leaving the final score line at 7 – 2.

It was an even playing field between the Canberra Lakers and the India National Junior Team, with the overall score 1 – 1 courtesy of goals from Stuart Shepherd (ACT) and Ajit Pandey (IND)

The Northern Territory were unable to back up from their last impressive win, with the Malaysia Tigers defeating them 3 – 1. In the final match of the day South Australia were the better side coming away with a 4 – 0 victory over the Malaysia Blues – the work of three field goals and a penalty corner.

The girls under 13's Australian Carnival was back on today after a rest day yesterday, with all teams participating in two rounds of hockey. The boys under 13's were on a rest day today, with both teams resuming the carnival tomorrow.

For full results on the day, please use the following links:
Men's league 
U/13 Girls

Today's AHL results:
Men's League
QLD 3 – 4 VIC
WA 1 – 0 TAS
NSW 7 – 2 NZL
ACT 1 – 1 IND
NT 1 – 3 MAS T
SA 4 – 0 MAS B

Hockey Australia media release


---

Down Under: Blues lose, Tigers' first win...

By Jugjet Singh

MALAYSIAN Tigers finally won a match Down Under in the Australian Hockey League when they beat Northern Territories 3-1 in Perth Sunday.

However the Malaysian back-up team, Blues, lost 4-0 to SA Hotshots.

The Tigers, Malaysia's national team, scored off Shahril Saabah (seventh), Firhan Ashaari (28th) and Haziq Samsul (37th).

In the earlier matches, the Tigers drew 1-1 with New Zealand Futures, lost 5-2 to Queensland and beat Northern Territory 3-1.

The Blues have lost all their matches thus far.

RESULTS: Men -- Malaysian Tigers 3 Northern Territories 1, Malaysian Blues 0 SA Hotshots 4.

MONDAY: Men -- Malaysia Blues v Canberra Lakers
  Women: Malaysia Tigress v SA Suns.

TUESDAY: Malaysia Tigers v New South Wales.

Jugjet's World of Field Hockey


---

Indian colts play out 1-1 draw against Canberra Lakers

PERTH: India's junior men's hockey team drew 1-1 against Canberra Lakers in their Pool B game of the Australian Hockey League on Sunday.

In a fairly slow start, the two teams interchanged possession in midfield without giving each other any real chances for goal.

India came closest with a penalty corner in the eighth minute, which was saved. In the final minute of the first quarter, Ajit Pandey scored to give the India the lead.

Canberra Lakers made a strong comeback at the start of the second quarter, and soon earned a penalty corner which was converted by Stuart Shepherd in the 17th minute to draw level.

India played with greater urgency in the third quarter. At the end of the quarter, India had a opportunity to surge ahead from their second penalty corner but Brendan Hill in front of Lakers goal denied the visitors.

India kept up the pressure in the final quarter, whereas Canberra were happy to sit back and defend.

India play Tassie Tigers in their next Pool B encounter on Monday.

The Times of India


---

Champs Wimbledon overcome rivals Holcombe



James Albery celebrating a goal on his 21st birthday. Credit: David Kissman.

Reigning champions Wimbledon went top of the Men's Hockey League Premier Division after an impressive 2-1 away victory away at Holcombe on Saturday evening.

Both sides had won their opening two games of the season, but two goals in four minutes from Ben Arnold gave the visitors their third win of the campaign, despite a late Gareth Andrew consolation for Holcombe.

Hot on their heels are Beeston, who maintained their 100 per cent record with a 4-2 home victory over Reading.

Mark Gleghorne was on form again, scoring two more to take his season tally to seven goals, while James Albery and Jonny Wilkinson were also on target for Beeston.

Surbiton registered their first victory of the season on Saturday evening, a 5-3 home win over Canterbury.

The visitors twice went in front but goals from David Goodfield (2), Alan Forsyth, William Marshall and Gareth Furlong saw the hosts take all three points.

Hampstead and Westminster secured a comfortable 4-1 win at home to Loughborough Students on Sunday, thanks to a pair of goals from player-coach Kwan Browne.

East Grinstead secured all three points with a 3-1 home victory over Brooklands Manchester University.

Ashley Jackson scored twice and Andy Piper was also on the scoresheet as the hosts remain unbeaten.

Men's Conference West

Cardiff and Met claimed their third straight win in exciting fashion with a 4-3 victory at home against the University of Birmingham.

Luke Hawker and Jacob Draper both scored twice to secure the points, as the visitors lost their perfect start despite a brace from Josh Kelly and one for Tom Poustie.

Two goals in the last 13 minutes gave the University of Exeter all three points in a 2-0 win over rivals Isca on Saturday.

James Tindall scored twice to lead Old Georgians to a comfortable 5-1 home win against bottom of the table University of Bristol.

Elsewhere, Team Bath Buccaneers ran out convincing 4-0 winners at Cheltenham, whilst Fareham registered their first point, drawing 2-2 with Chichester.

Men's Conference North

The University of Durham are the only side in the Men's Conference North with a 100 per cent record, as first half goals from Rory Patterson and Luke Hudson saw them triumph 2-1 at Preston.

Olton & West Warwicks moved into second place, as Martin Ebbage scored a second-half hat trick to give them a 4-1 home win over Sheffield Hallam.

Goals from Andrew Appleton and Josh Pettinger gave Doncaster all three points in a 2-0 win at Leek.

Matthew Plunkett scored two minutes from time to register Cannock's first point of the season, a 3-3 draw at Oxton, and Deeside Ramblers remain unbeaten, but were also held to a 3-3 draw at Bowdon.

Men's Conference East

Southgate lead the way in the Men's Conference East after Kit Cutter, Simeon Bird and Joe Sterlini goals gave them a 3-1 home victory over Oxted.

A brace from Tejindar Hanspal helped Sevenoaks keep pace at the top, also moving on to maximum points with a 5-2 home win over Brighton and Hove.

Dan Webster scored one minute from time to give West Herts all three points over Teddington in a 2-1 win, and Richmond kept a second clean sheet of the season with a 2-0 win against Cambridge City.

Indian Gymkhana secured their first point of the campaign with a 3-3 draw against Wapping in Saturday's match.

Men's Hockey League (Saturday, October 1 2016):

Men's Premier Division: Holcombe 1, Wimbledon 2; Surbiton 5, Canterbury 3.

Men's Conference East: Indian Gymkhana 3, Wapping 3.

Men's Conference West: Isca 0, University of Exeter 2.

Men's Hockey League (Sunday, October 2 2016):

Men's Premier Division: Beeston 4, Reading 2; East Grinstead 3, Brooklands MU 1; Hampstead and Westminster 4, Loughborough Students 1.

Men's Conference East: Richmond 2, Cambridge City 0; Sevenoaks 5, Brighton and Hove 2; Southgate 3, Oxted 1; West Herts 2, Teddington 1.

Men's Conference North: Bowdon 3, Deeside Ramblers 3; Leek 0, Doncaster 2; Olton & West Warwicks 4, Sheffield Hallam 1; Oxton 3, Cannock 3; Preston 1, University of Durham 2.

Men's Conference West: Cardiff & Met 4, University of Birmingham 3; Cheltenham 0, Team Bath Buccaneers 4; Fareham 2, Chichester 2; Old Georgians 5, University of Bristol 1.

England Hockey Board Media release


---

Scottish Men's National League Round Up

October got off to a flying start in National League with a total of 28 goals being scored across all games.

Bromac Kelburne finished their build-up for the EuroLeague next weekend with a comfortable 4-0 mauling of Western Wildcats.

The scoreline does not really reflect the extent of Kelburne`s dominance of proceedings and the only issue for coach Gordon Shepherd is that his charges failed convert that into more goals.    However, a string of saves by Wildcats` goalkeeper Gavin Sommerville contributed to the Scottish champions frustration in front of goal.

German Jonas Nommensen and youngster Jack McKenzie created the early chances for the Paisley side.    The opener was only delayed a few minutes, Ben Peterson found the net with a low shot at a set piece.

Kelburne did all the running thereafter in the first half and further chances fell to Finn Halliday, Peterson, Lee Morton and finally Nommensen, but still no additions to the tally.

The second half was a carbon copy of the first but it took the champions 16 minutes to double their total, Morton waltzed his way past three Wildcats` defenders along the bye-line and his cross was forced home by New Zealander Nick Finlayson.

The third came when a Peterson shot was illegally stopped on the line by a Wildcats` defender and the same player sent Sommerville the wrong way from the spot.

With only two minutes left a Peterson cross caused chaos in the Wildcats` circle, the ball went into the air and Morton batted it into the net from close range for the fourth.

Grange`s tricky away fixture at Grove Menzieshill looked dead and buried when they found themselves three down with ten minutes left, but a spirited comeback by the Edinburgh side produced three goals and a final share of the points.

In only four minutes a Grange attack broke down and at the resulting breakaway Menzieshill`s Paul Martin finished off the move with a shot into the roof of the net from the top of the circle.

Ten minutes later Ben Cosgrove latched on to a rebound off the Grange goalkeeper and fired a low shot into the net for the second.

To complete Grange`s misery and seal Menzieshill`s dominance Martin scored his own second for a comfortable 3-0 lead just before the interval.

The Taysiders were the architects of their own demise by allowing Grange back into proceedings, with ten minutes left Steven McIlravey made a brilliant double save but Andrew Brogdon sent the rebound into the net off the right hand post.

Five minutes to go Duncan Riddell fired a reverse stick shot into the net from the top of the circle to pull the score back to 3-2.

Menzieshill tried to hold on to their lead by holding the ball in their own defence area, the move backfired as Todd Mills was able to pass it on to Frank Ryan and the Irishman found the net to level the contest.

Newly promoted Watsonians have made a spectacular start to their return to the top flight and join champions Kelburne at the top of the table after an impressive 6-2 win over PSL Clydesdale.   It was close for most of the game, 1-1 at half-time and 2-2 with 15 minutes left but the Edinburgh side put their foot on the accelerated and added four goals to their tally.

There were six different scorers in their strike force -  Craig McCrossan, Fraser Sands, Danny Prentice, Jack Kinloch, Tom Swarbrick and Scott Sutherland.

Edinburgh University marched to the top of the first division on goal difference with an 8-2 thumping of Gordonians at Peffermill - the students have now scored 13 goals in two games so far.

The catalyst in Edinburgh`s triumph was Ian Moodie with four, set piece expert Dan Coultas notched a hat-trick while Antonis Efthymiou was also on target.

Scottish Hockey Union media release


---

Irish Men's EY Hockey League Round Up




Lisnagarvey and Monkstown continue to be the early pace-setters in the men's EY Hockey League, recording their third successive victories each on Saturday afternoon.

For Garvey, theirs was much the closer-run scoreline, edging out last year's playoff contenders Pembroke 2-1. It was a controversial tie with three penalty strokes awarded but the reigning champions held their nerve to win out thanks to James Lorimer's early goal along with an effort from the spot scored by Daniel Buser. Alan Sothern missed one stroke but converted another with 12 minutes to go to make for a lively finish but Garvey held on for an incredible 21st successive victory in EYHL matches in the past 12 months.

Monkstown, meanwhile, blew away the challenge of Railway Union 8-1 with doubles from Gareth Watkins, Lee Cole and Kyle Good.

Cork C of I won by the same scoreline against UCD, racing into a 4-0 lead inside the first ten minutes and they barely looked back. It was a something of a surprise as the students had pushed Lisnagarvey and Three Rock Rovers all the way on the opening weekend of the campaign. John Jermyn and Julian Dale both scored hat tricks.

Banbridge continued their unbeaten start to the campaign with a 4-1 win over Instonians in their Ulster derby, goals from Hugh McShane, Fraser Mills and Eugene Magee putting them into a 3-0 lead at the break. It was the perfect build-up to their Euro Hockey League challenge next weekend when they will host 12 of the continent's best club sides at Havelock Park for a three-day festival of hockey.

Three Rock Rovers got their first win of the campaign with a 2-0 success against Glenanne as Luke Madeley's early corner rebound was augmented by a poacher's effort from Kevin Mullins in the second half.

The Glens, shy four regulars, were left to rue not making more of several penalty corners and sit in eighth place on one point.

Men's EY Hockey League results: Cork C of I 8 (J Jermyn 3, J Dale 3, S Parker, P Sweetnam) UCD 1 (B Campbell); Banbridge 4 (E Magee, M Allister, H McShane, F Mills) Instonians 1 (S Kelso); Three Rock Rovers 2 (L Madeley, K Mullins) Glenanne 0; Pembroke 1 (A Sothern) Lisnagarvey 2 (J Lorimer, D Buser); Monkstown 8 (G Watkins 2, L Cole 2, K Good 2, S Cole, G Cole) Railway Union 1 (M Nowakowski)

Men's day three – extended reports

Cork C of I 8 (J Jermyn 3, J Dale 3, S Parker, P Sweetnam) UCD 1 (B Campbell)
Hat tricks from John Jermyn and Julian Dale saw Cork C of I blitz UCD, effectively killing the game off inside the opening 10 minutes with a blistering start to match the blistering sunshine at Garryduff.

Dale opened the scoring in the second minute; a minute later Jermyn scored from a penalty corner, low and hard. Two minutes after that, he scored from another set piece with the aid of a deflection off the UCD keeper.

In the tenth minute, Philip Sweetnam got in on the act, taking a quick free from outside the 23, buzzed past a couple of defenders and banged home his team's fourth goal before the students had even launched their first attack.

UCD settled somewhat in the second quarter to limit the damage, winning a couple of corners that were dealt with by Billy Lynch, keeping it a 4-0 into half-time.

C of I, though, were back on top  after that with Dale adding his second and third goals in the 46th and 49th minute to build a 6-0 advantage. His third goal was a thing of beauty. Having exchanged some nice passes, he took the ball wide out to the left of the circle and, on his reverse, drove the ball to the roof of the net giving Stephen Dawson no chance.

Ben Campbell briefly stopped the rot with a drag from UCD's fifth corner but final quarter efforts from Stephen Parker and Jermyn in the final minute from a stroke closed out an 8-1 result.

Banbridge 4 (E Magee, M Allister, H McShane, F Mills) Instonians 1 (S Kelso)
Banbridge put in a dominant performance to continue their unbeaten start to the EYHL season, building a 3-0 lead by half-time and they scarcely looked back.

Hugh McShane opened the scoring after five minutes when he skillfully rounded the goalkeeper from close range. Bann continued to boss possession and with more composure would have extended their lead before, in the final minute of the first quarter, Fraser Mills was on hand to force home Bann's second.

Play continued to be confined to the Instonians half for the second period and Bann added a third goal when Eugene Magee flicked powerfully home from a corner switch.

Owen Magee was at his skilful best seeing a reverse shot flash narrowly wide and another just evading the final touch. Bann almost went further ahead when Matthew Bell found Bruce McCandless whose reverse shot was expertly saved.

Instonians won their first corner in 33 minute but the resultant flick was well dealt with by Luke Roleston, deputising for Gareth Lennox. Sam Brown, for Inst, continued to impress between the posts in the second half, limiting any further damage until the 57th minute when Matthew Allister intercepted a clearance to burst into the circle and clinically finished from mid-circle. Instonians scored a consolation goal in the 59th minute when Stephen Kelso scored from close in.



Credit: Rowland White/Presseye

Three Rock Rovers 2 (L Madeley,  K Mullins) Glenanne 0
Three Rock Rovers recorded their first win of the new EY Hockey League season with a 2-0 win over Glenanne at Grange Road with a goal in each half.
 
They scored within the first few minutes thanks to Luke Madeley's penalty corner rebound, following up after an initial shot was charged down. From there, Glenanne – who were without Joe Brennan, Stephen Brownlow, Shane O'Donoghue and Neil Byrne – created some gilt-edged chances but the best of those was flashed wide at the left post by Eddie O'Malley from a sharp corner rebound.
 
Rovers, meanwhile, were living on the counter-attack and had a number of strong breaks kept at bay by goalkeeper Leo Micklem and David Keogh at the base of the defence.
 
In the second half, Three Rock enjoyed more control over the ball and moved the ball around well at pace with Daragh Walsh showing some lovely touches. They doubled the advantage in the third quarter when James Walker got to the baseline and while his pull-back took a defender's stick, Kevin Mullins reacted brilliantly to thrash in the loose ball – his second goal since joining the club.
 
Glenanne, again, fought back strongly and drew some tidy stops from goalkeeper Jamie Carr while a number of corners chances flashed dangerously in front of goal but were not converted, one particular effort ricocheting inches wide.
 
Rovers, too, had big chances to extend the lead, Conor Empey shut out by Micklem while a last second corner came to nothing but Rovers were happy with their win.

Pembroke 1 (A Sothern) Lisnagarvey 2 (J Lorimer, D Buser)
Lisnagarvey continued their perfect start to the season, making it 21 wins in succession in the EYHL over the last 12 months thanks to a 2-1 win at Serpentine Avenue.

Pembroke gave debuts to Rian McDonald and Elliott Goode in a tie that started at a high tempo. Garvey pushed the agenda in the early stages with James Lorimer scoring from the third penalty corner, high to the goalkeeper's left.

There were several other scares to the Pembroke goal but Harry Spain and Keith O'Hare along with John Brennan, Ivan Cooke and Keith Crawford coped well, supported with very good play by Mark Ingram in goal but attacks were few and far between in the first quarter.

The second period was a different matter with a Pembroke corner striking a body on the line but Alan Sothern saw his stroke denied by James Milliken. Otherwise, Garvey were on top but Pembroke were lively on the break.

The second half saw a number of controversial incidents, not least the moment that led to Garvey's second goal. Brennan was adjudged to have blocked the ball with his body on the line while Pembroke vehemently argued he had been fouled in the build-up. Daniel Buser converted the stroke that followed. Kirk Shimmins was shown a green card and Ingram a yellow for their dissent but Pembroke survived the spell down to nine men.

The final quarter saw the Dubliners battle back, moving the ball faster and more directly. The hugely impressive Harry Spain saw a strong run halted with a rough tackle when in shooting mode for the third stroke of the day. Sothern again stepped up and scored with 12 minutes to go but they could not force an equaliser and Garvey had yet another win.

Monkstown 8 (G Watkins 2, L Cole 2, K Good 2, S Cole, G Cole) Railway Union 1 (M Nowakowski)
Monkstown piled on the pain for Railway Union who conceded a hatful for the second successive week, ensuring the side from the Merrion Fleet Arena continued their perfect start to the campaign. Lee Cole started the scoring, getting on the end of Kyle Good's right wing cross. Gareth Watkins added the second from a stroke before Stephen Cole robbed a defender to bang home from a tight angle.

Good and Geoff Cole weighed in with a few more before Mateusz Nowakowski pulled one back at 5-1. But further efforts from Lee Cole, Good and Watkins completed a comprehensive result



Credit: Deryck Vincent

Irish Hockey Association media release


---

Irish Women's EY Hockey League Round Up




Anna O'Flanagan's dramatic late goal saw Hermes-Monkstown land what could be a vital women's EY Hockey League victory as they nicked a 1-0 win over Pegasus in a repeat of last year's EY Champions Trophy final.

The striker got a fantastic touch to Chloe Watkins immaculate pass to win the day late on, making it 10 goals in three games, making it three wins on the spin for the south Dublin outfit.

They are joined in pole position on nine points by Cork Harlequins who showed the grit required to be contenders this year when they came from behind twice to beat Pembroke 4-2. Recent signings Michelle Barry – with two goals – and Caoimhe Perdue played key roles before former Irish international Karen Bateman completed the win with a flourish.

UCD continued their unbeaten start to the campaign, ending Railway Union's perfect run in the process, with a 4-2 success at Park Avenue. Julia O'Halloran's pair of goals had Railway right in the mix, cancelling out efforts from Sorcha Clarke and Lena Tice to leave it 2-2 going into the final phases before Emma Russell won the day. The former Syracuse University speed-merchant struck twice in the closing stages to bring all the points back to Belfield. UCD sit in third place as a result on seven points.

Ulster Elks left it late but eventually grabbed all three points from their derby game with Belfast Harlequins as Emily O'Leary scored the winner inside the final minute. She got a deft touch to Anna Kozniuk's crash ball to complete a 2-1 win from a tie that could have gone either way. Amy Geddes had opened the scoring before Chloe Mitchell levelled matters in the second half.

Loreto won their first game since promotion with a 4-1 success over Ards, Ali Meeke, Jessica McGirr, Mia Jennings and Hannah McDermott all scoring for the Beaufort side.

EY Hockey League results: Pembroke 2 (J Ringwood, L Hanlon) Cork Harlequins 4 (M Barry 2, K Bateman, C Perdue); Hermes-Monkstown 1 (A O'Flanagan) Pegasus 0; Railway Union 2 (J O'Halloran 2) UCD 4 (E Russell 2, L Tice, S Clarke); Loreto 4 (A Meeke, J McGirr, M Jennings, H McDermott) Ards 1 (L McKee); Ulster Elks 2 (C Mitchell, E O'Leary) Belfast Harlequins 1 (A Geddes)

Day three match reports

Pembroke 2 (J Ringwood, L Hanlon) Cork Harlequins 4 (M Barry 2, K Bateman, C Perdue)
Michelle Barry's second half double helped Cork Harlequins maintain their 100% record in the women's EY Hockey League as they came from behind twice to grab their third success on the spin.

Jilly Ringwood had given Pembroke an early lead when she struck first time when found alone in the circle. Quins bounced back in the second quarter when Caoimhe Perdue – another of the recent signings for the Cork side – produced an excellent reverse-stick shot to give Tiffaney Ellis no chance. But Pembroke went in at half-time 2-1 up courtesy of Laura Hanlon's rebound.

The tie was flipped around in the third quarter with Barry striking twice. She levelled from a right wing cross and then put her side in front with a fine shot from open play. Karen Bateman secured the points with two minutes to go with a backhand shot from the circle's edge.

Hermes-Monkstown 1 (Anna O'Flanagan) Pegasus 0
Anna O'Flanagan's goal seven minutes from time saw Hermes-Monkstown pick up a hugely significant 1-0 win over Pegasus in a repeat of last year's EYHL Champions Trophy final. Incredibly, it was her 10th goal of the campaign after just three rounds of action and sees the Merrion Fleet Arena-based club equal top with Cork Harlequins.

The game, from the outset, was played at high tempo with a very open first quarter with no team dominant and very little goal mouth action. Hermes- Monkstown shaded the second quarter creating more opportunities but the Pegasus defence was well marshalled by Pamela Glass with Sammy Jo Greer making some quality saves.

Locked at 0-0, the second half was frantic with both sides earning a pair of corners each. The best chance fell to Pegasus but a combination of great defence by Sarah Greene and Liz McInerney saved the day. 

The reigning champions bounced back in the final quarter to hold sway with Nikki Evans leading from the front. The captain was instrumental in the best chance when a lovely interchange with Ellen Curran set up O'Flanagan but the chance went wide. 

With seven minutes left, the in-form striker got a fantastic touch in the circle, deflecting Chloe Watkins immaculate pass into the D, the ball looping over the Pegasus keeper to give the home side the lead and they used their experience to close out the win.



Credit: Deryck Vincent

Railway Union 2 (J O'Halloran 2) UCD 4 (E Russell 2, S Clarke, L Tice)
Emma Russell continued her excellent start to life with UCD with a final quarter double that saw the students see off Railway Union 4-2 in a thriller at Park Avenue from a fast paced game.

UCD were first to score when, four minutes in, Sorcha Clarke touched in from a Deirdre Duke cross. Four minutes later, Railway equalised in similar fashion when Julia O'Halloran touched in off a Niamh Carey cross, following good work by Anna May Whelan.

The second quarter saw another exchange of goals. Early on, Michelle Carey tested Natasha Cooke in the UCD goal and won Railway's first corner from which O'Halloran scored her second goal with a straight strike. Half-way through the quarter Railway received a yellow card for a clumsy tackle and UCD equalised from the resulting corner when Lena Tice turned in off the back of an initial flick.

The third quarter held steady with both teams creating chance, setting the game up nicely for the final quarter. UCD pressed hard, calling the Railway defence to scramble the ball clear a number of times before Russell scrambled the ball into the net to give UCD a one goal lead. A minute later, the former Syracuse University star secured the UCD win when she broke down the right and on entering the circle crashed the ball into the far corner.

Loreto 4 (A Meeke, J McGirr, M Jennings, H McDermott) Ards 1 (L McKee)
Loreto recorded their first win since promotion to the EY Hockey League, continuing their good start to the campaign while Ards tough opening run continues.

The Beaufort side had the early upper hand with Ali Meeke and Lizzie Colvin enjoying a great midfield battle with Chloe Brown. The Dubliners hit the front when Hayley Mulcahy, weaving and tormenting the Ards defence, slung the ball to Meeke to open the scoring. Next, Hannah McDermott showed great awareness to feed to Jessica for a 2-0 half-time lead.

With Ards – with Sara Alexander to the fore – pushed the agenda in the second half, forcing great saves from Louisa Healy before Loreto struck once more. Niamh Small was the creator, showing some lovely foot and stickwork before feeding Mia Jennings to score.

Ards did continue to battle with Kerry McDonald key to their momentum and they got a deserved goal in the final quarter via Lucy McKee. Loreto, though, closed out the stronger with McDermott scoring was a well worked corner with McGirr.

Ulster Elks 2 (C Mitchell, E O'Leary) Belfast Harlequins 1 (A Geddes)
Emily O'Leary's late touch to Anna Kozniuk's crash ball saw Ulster Elks nick a precious first win of the campaign, condemning Belfast Harlequins to a third successive defeat since promotion to the EY Hockey League.

Elks shaded the first quarter with chances for Hannah Irwin and Kathryn Smiley going close while Chloe Mitchell set Kozniuk up for a shot that went narrowly wide. Quins fought back in the second quarter, creating a number of chances of their own with Shirley McCay required to clear a dangerous opening.

From another swift counter attack, Elks were outnumbered in defense and a neat finish from the baseline saw Amy Geddes score for Harlequins to take a 1-0 lead after 26 minutes.  It stayed that way into the second half as Belfast Quins won a couple of corners but were denied by Rebecca Davidson. But when they were reduced to 10 players with a yellow card, Elks countered with Danni Wilson driving down the right and picked out Mitchell to tap in for 1-1.

Former Elk Gemma Frazer went close to putting Quins back in front but saw her shot saved off the line. They also won a corner with four minutes to go which was also cleared away. It sent the tie to the wire and, with less than one minute remaining, Kozniuk crashed the ball from near the half way line towards the circle to find O'Leary deflecting home for all three points.

Irish Hockey Association media release


---

Telkom Orange still calling shots at City Park

By Elizabeth Mburugu



Orange vs Kenyatta University Orange Telkom celebrate after scoring against Kenyatta University when they played premier ladies at Citypark on 02/07/2016. Orange scored 10-0. PHOTO: JENIPHER WACHIE

Champions Telkom Orange beat Vikings 3-0 in a Kenya Hockey Union women's league match yesterday at City Park.

Veteran Jackline Mwangi once again stood out for Orange, scoring a brace, while Audrey Omaido added the third.

The 18-time champions have been having a tough season and goals have been hard to find. They are now embroiled in a battle against new entrants Amira Sailors, last season's runner-up Sliders and bitter rivals Strathmore University Scorpions. They are all favourites to grab the much-coveted trophy.

Orange Coach Josephine Ataro said her charges were below par and their performance was not their best.

"That was not a good show at all. We had six penalty corners, but could not convert even one. That is enough reason for us to worry, especially now that we are preparing to defend the African title," Ataro said.

She added that her players need to up their game and score more goals to enhance their chances of retaining the national title.

"The league is very competitive and we just have to be at our best and score more goals, if we fail to do that, then our opponents will punish us."

Vikings ran the show in the first 20 minutes as they charged forward, launching attacks in the opponent's territory at will. However, with their title at stake, Orange finally settled in the match, as Mwangi beat the Vikings defence and goalkeeper Angela Kogee a minute to the half-hour mark.

Vikings increased their hunt for an equaliser, but their efforts were not good enough, with Orange going into the break with a one-goal advantage.

Orange were the better side in the second half. Vikings suffered a major set-back as their dependable player Sophie Arum was stretched off early in the second half following a knee cut injury.

The Standard Online


---

In an expanded role, Maryland field hockey's Sarah Bates set a career high versus Michigan

By James Crabtree-Hannigan

Entering Maryland field hockey's game Friday against No. 9 Michigan, goalkeeper Sarah Bates had never played more than 20 minutes in a college game.

The only time she appeared was in a one-point contest in the final four minutes and 58 seconds of the No. 8 Terps' 3-2 loss to No. 11 Northwestern on Sept. 25.

Against the Wolverines, however, Bates played nearly 55 minutes of the team's 3-2 overtime victory. While neither team led by more than a goal, the redshirt junior recorded a career-high six saves and limited Michigan to one score.

"I was nervous, obviously, because that's the most I've ever played," Bates said. "But I mean, it's been a long time waiting."

This season, coach Missy Meharg has maintained her team's starting goalie position was an open and tight competition between Bates and Sarah Holliday. The lineups and playing time distribution, however, have tilted the battle in Holliday's favor.

Holliday has been the starter in all 11 games this year. Bates' action has been limited to the ends of games when the outcomes were already decided.

Friday's win over Michigan, though, proved the position is still fluid. Holliday earned the start, but Bates replaced her earlier than usual.

"Our goalkeeping unit is really strong, and we're going to make a decision on who's going to play probably day-to-day," Meharg said.

Last season, Holliday was the team's primary netminder as a freshman, and Bates was ineligible after transferring from Penn State. Bates was also recovering from a cracked patella.

But in recent contests, the Terps defense has allowed opponents to take early leads.

Michigan scored against Holliday in the 18th minute, prompting the coaches to make the change. Northwestern had scored on Holliday in the second minute Sept. 25, while Iowa took a 1-0 lead in the 11th minute two days before that.

"She's been under a lot of pressure early in halves," Meharg said. "It's not good for a goalie to be scored on early in multiple games. It doesn't make you feel good and [Holliday] certainly doesn't want it. So to get a break would be a logical thing, and we made that decision."

Meharg also said she thought Holliday looked off balance early against Michigan, and Bates entered the game about a minute after the Wolverines took the 1-0 lead.

"The coaches rely on both of us, so, I mean, it's the same thoughts that I've always had when I go in," Bates said. "I'm always mentally prepared."

The Wolverines tested her with a low shot minutes later, and she kicked it away. Making saves early in games is crucial, Bates said, and helps ease the difficulty of entering games off the bench.

"It's very tough. You don't know as a goalie when you're going to go in or if you're going to go in," Bates said. "So it's just at all times watching the game. You're a student of the game on the sidelines."

Bates logged two saves in the waning minutes of regulation to help the Terps preserve their 2-2 tie and force overtime. Then forward Emma Rissinger netted a goal to clinch the victory.

The stops were perhaps the most important in Bates' career, as the redshirt junior didn't take the field during her first three years of college. Despite the wait, the team wasn't surprised with her performance.

"Her and Sarah Holliday are so neck-and-neck, they're both amazing goalies," Rissinger said. "[Bates] came in and she really wasn't timid ever. She was just showing how she can play and how we know she can play.

The Diamondback


---

No. 5 Penn State field hockey overcomes defensive struggle to defeat No. 11 Princeton

Austin Kurtanich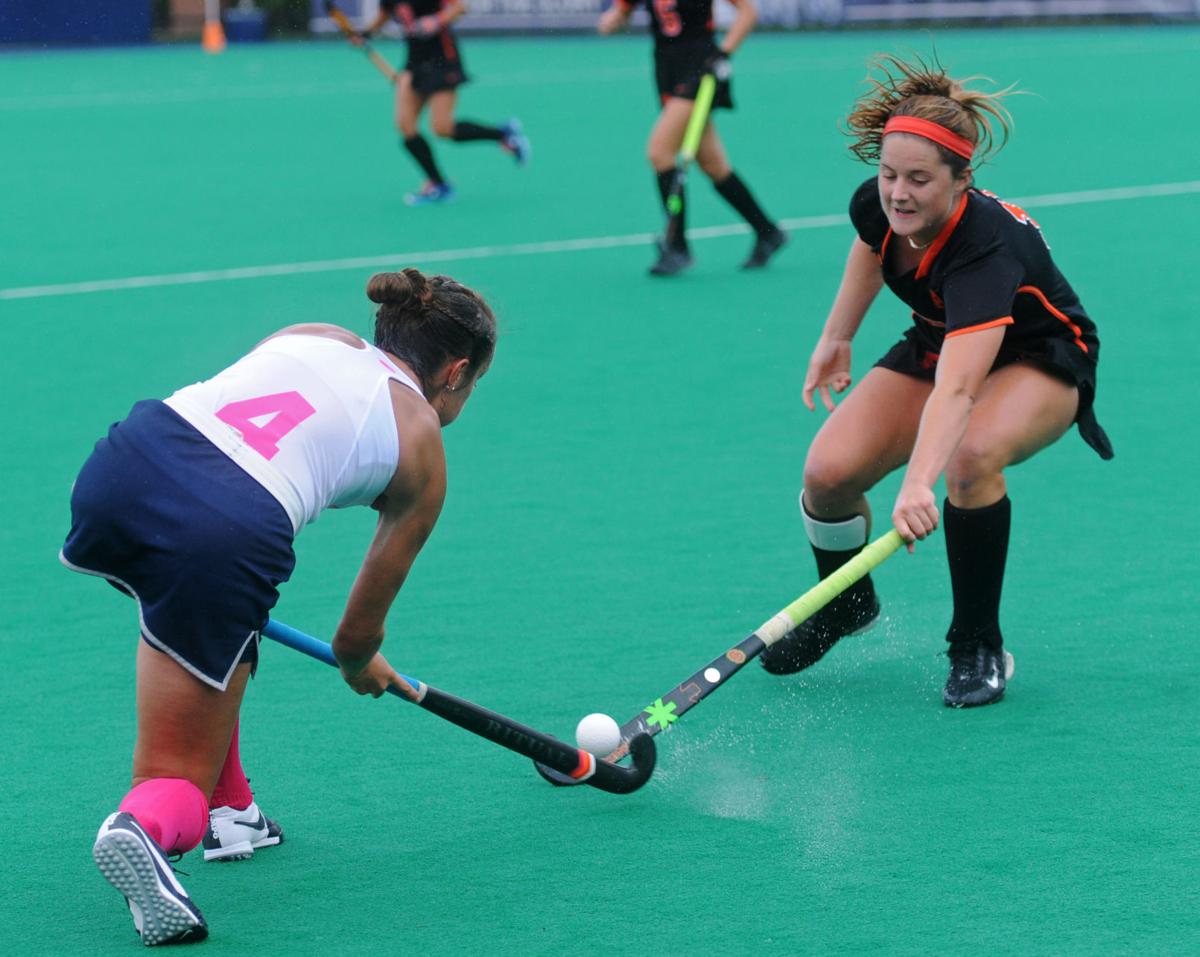 Kirsten Gochnauer (4) being challenged by Lexi Quirk (15) during the Field Hockey game against Princeton at the Penn State Field Hockey Complex on Sunday October 2, 2016. Penn State won 4-2. Photo KC Black

Despite allowing an early goal and giving up 12 second-half shots, No. 5 Penn State defeated No. 11 Princeton, 4-2, to advance to 11-1 on the season.

The Nittany Lions (11-1) struggled to keep the Tigers (6-4) out of their defensive zone but still managed to hold them to only two goals.

"I just thought we were really flat today," coach Charlene Morett-Curtiss said. "I thought giving them that goal early, it's obviously an issue that we have, and I thought we didn't play with a lot of inspiration today, which is disappointing as a coach."

After allowing an early goal, goalkeeper Jenny Rizzo settled in nicely and saved eight of the 12 shots she faced in the second half.

"I really was not ready for the first goal," Rizzo said. "I just realized I needed to be in this game and the only way we were going to win it is for my defense and [I to work] together."

The Tigers took a total of 14 shots, 10 of which were on goal.

The Lions' press and defense were disconnected for most of the game and failed to keep the Tigers' attack at bay. Morett-Curtis said the Lions' defense let the Tigers just "walk in the circle and take shots."

"I think that's obviously an issue we have right now," Morett-Curtiss said. "That's something we are going to have to continue to work on."

Although they faced heavy criticism from their own coach, the Lions, led by Moira Putsch's one goal and two assist performance, put four goals on the scoreboard.

"She can create so much through defensive pressure on the ball," Morett-Curtiss said. "She had a beautiful goal and the ball she set up to Aurelia [Meijer] was gorgeous."

Brooke Birosik, Kirsten Gochnauer and Aurelia Meijer all tacked on goals of their own in the Lions' scoring effort.

The Daily Pennsylvanian


---

Field Hockey Remains Undefeated in Ivy League Play

By Amanda X. Fang

The Harvard women's field hockey team found itself in a very familiar position this weekend against University of Pennsylvania. The Crimson (6-4, 2-0 Ivy) fought through yet another double-overtime to overcome the Quakers (6-3, 1-1 Ivy), 3-2, and continue on undefeated in Ivy League play. This is the third Crimson game this season that has gone into overtime.

"I think we came out and played very well," said coach Tjerk van her Waarden. "I think in the second half we kind of let go a little bit of our swing and we knew that Penn was going to be dangerous team. So we had to go into overtime. Again!"

Balleza's 88th minute game winning goal was her second of the day—she converted a short corner head-on and managed to steal a victory yet again.

"Marissa has been doing what she's been doing her whole entire career," van her Waarden said. "We were all tied up and she was able to get the goal in overtime. I think that really tells you a lot about who she is and what she is made of. I don't know how many game-winning goals she has scored in her career but I know it has been a few…she is able to stand up and do the right thing at the right moment."

Balleza's second goal of the night means she is tied for second in the Harvard history books for most game-winning goals in her college career. Chloe Keating '11 and Balleza both have scored 10 game-winning goals for the Crimson. Balleza already has 16 points this season, bringing her career total to 96—only six fewer than the current Crimson record.

Balleza's first goal of the night put Harvard up 2-0 in the second half. Senior defender Sophie van Weede got the Crimson on the board with her first goal of the season in the 25th minute. However, Harvard's hopes of winning the match in normal time were dashed when Penn's Alexa Hoover retaliated with two goals in the second half at the 45th and 63rd minutes.

"We were up two nothing and it would've been really nice to end the game in regular time," co-captain Kyla Cordrey said. "We let up two goals in the second half and it was a little disappointing. But we kind of got back into our groove in the second overtime and we were able to win in overtime which is always exciting."

Sophomore goalkeeper Libby Manela continued to start for the Crimson and made four saves during this weekend's game. Manela improves her record as goalkeeper to 4-0.

"Sometimes we need people to stand up and lead the team and I think Libby did that today," van her Waarden said. "A goalkeeper is able to do that just by her presence. She is able to give them an extra push and I think Libby showed up in a big big way today."

The Quakers are the second Ivy League opponent that the Crimson has played so far this season. With last week's victory over Yale, Harvard moves forward in Ivy League play as one of three undefeated teams. The Crimson is joined by No. 11 Princeton and Brown as the only teams who have not yet lost a game. Harvard will continue its conference play with a game against the Bears next Saturday in Providence.

"The next game is the biggest game – our next game is against Brown," said Cordrey. "Right now we are going to focus on Brown for the next week and hopefully we will be the only team left undefeated in the Ivy League."

The Harvard Crimson


---

Pinner and Holcombe pursuing EHL medal dream




George Pinner believes Holcombe can potentially challenge for EHL medals in the coming years as the English club marks a special moment in its history next weekend, making their debut in the competition in Banbridge.

The club topped the Premier Division regular season table last season to earn their first ever ticket to the EHL and they are the one newcomer to the competition this year.

It continues a meteoric rise for Holcombe – they were only promoted to the top tier in England last year – as their ambitious chairman David South and coach Julian Halls – with big names like Pinner, Iain Lewers, Barry Middleton, Dan Fox and Sam Ward all joining up in recent years.

And Pinner is keen to see the club challenge on the European level, especially having enjoyed strong runs in the EHL with his former club Beeston.

"I love playing in the EHL. Some of my best club hockey memories are from EHL games. We came back from a couple of goals down to beat Amsterdam in the group stages as well as regularly making the KO8.

"Unfortunately, we never made it through to the FINAL4 and that is one thing I'm desperate to achieve with Holcombe. One of my main reasons for joining the club was the vision David and Julian sold me about one day being the best team in Europe."

They have a tough task on their hands in ROUND1 with their Saturday evening tie with SV Kampong a higlight of the weekend ahead in Banbridge, a day after the English club play AZS AWF Poznan.

"The format is much harder than when I last played so it will be incredibly tough this year to get out of the group. But I hope, if not this year, then in the future, I get to finally play for an EHL medal with Holcombe."

While many of the club's high profile players have caught the eye, the arrival of England's top stars to Holcombe has also had a huge impact on developing the rest of the players in the squad.

This has been an integral part of Holcombe's rapid rise and has been shown in the early stages of the season with good results against Surbiton and Reading when Middleton was not around while Ashley Jackson decided to move back to his old club, East Grinstead.

"The strength in depth has continually improved since I joined. The pleasing thing is that it's not just from recruitment but also the development of existing players already at the club.

"It's our job as the more experienced players to help play a part in the younger club guys' development and so far this season they have really stepped up and performed.

"We have developed a great team spirit and are working hard for each other, which means even when a couple of our big name players are missing we can still perform at a similar level and get results."

And the whole panel will need to be on form in Banbridge, especially if they are to break through against the EHL's reigning champions.

"Playing Kampong will be a fantastic experience for us as players and the club as a whole. Three seasons ago we were trying to get into the top tier of English hockey after several near misses.

"So to be playing the champions of Europe shows how far the club has come and is testament to the hard work a number of people have out in behind the scenes of the years.

"That being said, we aren't just coming along for the ride. We have shown so far this season that when we play to our potential we are hard to break down and clinical going forwards.

"There is no doubt that we will have to be on the money if we are to beat them but we are confident that if we stick to our game plan we can give a really good go."

Euro Hockey League media release


---

De Wijn hungry for more Kampong success after ending 30-year wait




For SV Kampong, last year's EHL victory was the end of a long journey for a major title, a 30-year wait for silverware which weighed heavily on the Utrecht side.

Prior to their cathartic 2-0 win over AH&BC Amsterdam in the Grand Final earlier this year, their last title was the EuroHockey Club Champions Cup in 1986 on home turf, following their 1985 Hoofdklasse victory.

Since then, it has been a long and painful wait, full of near misses but Sander de Wijn said that made the success all the sweeter.

Looking back on their win, de Wijn told the EHL website that it was a tournament packed with memorable moments.

"The final was an amazing game. Two weeks before, we lost the semi-final in the Dutch championship against Amsterdam in a best of three.

"We were so close for reaching the final and were hugely disappointed but kept our heads together, knowing that we could have an opportunity to beat these guys in the Grand Final.

"It was not about revenge but an opportunity and so took it. It was an amazing performance by our team and our 250 supporters that went to Barcelona to celebrate our first big title win since 1986. Finally, we rewarded ourselves after being at the top for the last few years!"

Their title defence starts on Saturday with a titanic battle with England's Holcombe before facing KS AZS AWF Poznan on Sunday.

The Dutch club completed their preparation for the EHL with a massive 10-0 away win over Qui Vive in the Hoofdklasse, a result that lifts them to fourth in the table after a slow start.

They had drawn with promoted Almere 0-0 and then lost to old foe Amsterdam before bouncing back with a 6-2 win over Tilburg. De Wijn says the recent performances have helped build momentum.

"We played some good phases [against Amsterdam and Tilburg]. That will give us a lot of confidence for the next weeks. We know what we have got to work on and we will be in food shape for our big battles.

"We don't know much about Holcombe apart from they have a lot of good players in their squad. With Iain Lewers and Barry Middleton, they have world class players.

"The clash between our sides is going to be the biggest battle of ROUND1. It's always really nice to play the EHL and be abroad with your club team so I'm really looking forward to next weekend in Banbridge."

Euro Hockey League media release


---

Batch reaffirms commitment to Black Sticks



Photo: www.photosport.nz

Hockey New Zealand is thrilled to announce that Colin Batch has been re-signed as head coach of the Black Sticks Men.

The contract extension sees Batch confirm his place at helm until after the Tokyo 2020 Olympic Games.

High Performance Director Terry Evans said it was fantastic to retain a genuine world class coach.

"We are extremely excited to be able to keep Colin at the forefront of a top quality programme he has led and developed over the past four years," he said.

"The men's programme has gone through some big changes during his time as coach and with a vast amount of depth now developed, we have complete belief in our structures, processes and athletes going forward with the focus now on Tokyo 2020."

Batch, a former Australian international, has been in charge of the Black Sticks Men's programme for the past four years leading on from the London 2012 Olympics.

Prior to that he was head coach of the Belgium Men for two years, and was assistant coach of the Australian Men for eight years which included two successful Olympic campaigns. He also played 175 internationals for Australia.

Batch has led a major culture shift during his time as the Black Sticks Men's coach and has overseen a silver medal finish at the 2014 World League Final, fourth at the 2014 Glasgow Commonwealth Games and gold at the 2015 Sultan Azlan Shah Cup, while 2016 has produced bronze medals at the Sultan Azlan Shah Cup and Six Nations in Valencia.

Hockey New Zealand Media release