All the news for Sunday 2 October 2016

Salamanca unveils the teams at World League R1 Finals

USA will play Barbados and México will play Trinidad & Tobago in the final game of the World League Round 1. Winners will qualify to Round 2.

Josefina Chavez Díaz




Salamanca has unveiled the teams in the finals, this afternoon. The National teams will play in the Siglo 21 Stadium, tomorrow. These will be the closing matches of Round 1. USA men will face Barbados while Mexico will play Trinidad & Tobago in the final game of the women's competition. The teams, qualified today and will battle for a place in Round 2.

United States opened the day with a win over Guatemala 22-0 in the Siglo XXI Stadium. With nothing to get worried about Clemen's team scored in minute 3. Since then their offensive was restless. Despite the technical and physical differences, Guatemala tried to keep fighting and did not give up their defense.

Pablo López, Guatemala's reserve goalkeeper came in first this time.  He did a number of saves but could not deal with rebounds. In the second half, Guatemala made many defensive mistakes and United States took advantage of all. William Holt, the captain, climbed to the top, he is now the top scorer of the tournament. The final result was 22 - 0 for USA.

In the women's competition, Guatemala played the last match of the tournament against Trinidad and Tobago, this afternoon. Guatemala was beaten by a powerful Trinidad. Kistel Cuevas, the Guatemalan keeper, still recovering from an injury was replaced by the substitute GK. The Central Americans had a bitter farewell of 14-0.  Thus, at the end of the game they found that their participation had been an enriching experience.

In the last game of the day Barbados played Mexico for a place in the finals.  Mexico, cheered by an important crowd at the stands, gained the control of the game early. They took the lead in minute 14 through Reymundo Lemus.

At this time Marco Molina's players took the control of the game, but Barbados stood strong and Mexico was unable to score.

In minute 28 the team led by Hill Dominic added one and tied the game from a well-executed penalty corner by Akeem Rudder. With a tied game Barbados felt confident to fight for the victory. Neil Franklin's, shot from a penalty corner and gave them the lead, before the half time. 

In the second period Mexico had the possession; they tried to equalize, but their many mistakes made them lose the few opportunities to score. The desperate search of the result, from the right, left, from a penalty corner was ineffective and sterile. The game ended 2-1 for Barbados and Mexico ended hopeless with the final whistle of the game.

Barbados will face USA in the final game and Mexico will play Guatemala in the Bronze Medal game.

Pan American Hockey Federation media release


---

 Strong Scoring Performance Propels USMNT into FIH Hockey World League Round 1 Finals



Photo Credit: FIH/André Mallén'

SALAMANCA, Mexico - In their final match before crossovers, the U.S. Men's National Team posted a comprehensive 22-0 win over Guatemala today in the FIH Hockey World League Round 1 in Salamanca, Mexico. The strong scoring performance saw 12 different goal scorers contribute to the win and it sets the team up for the final tomorrow that will decide which nation will progress through to Hockey World League Round 2 in March 2017.

"We scored some high quality goals today and with twelve different goalscorer I'm even happier," said Chris Clements, USMNT Head Coach. "Our performance throughout the week has been improving and during today's match we took our opportunities. We will look to take this momentum through to the final tomorrow."

The USA scored early and never looked back. Moving the ball quickly they exposed spaces in the Guatemalan defensive unit. Will Holt (Camarillo, Calif.) opened the scoring with a penalty corner goal in the 3rd minute and would end with 5 goals. His performance today gives him 8 accumulated goals throughout the event and is so far the tournament goal scoring leader. Other USMNT athletes to contribute to the goals was Michael Barminski (Ventura, Calif.), Tom Barratt (2) (Greensboro, N.C.), Sean Cicchi (Thousand Oaks, Calif.), Ajai Dhadwal (3) (Agoura Hills, Calif.), Alex Grassi (2) (Brookeville, Md.), Kai Kokolakis (2) (Wiesbaden, Germany),  Manny Martinez (Lakeside, Calif.), Nick Molscan (Wanganui, New Zealand ), Johnny Orozco (Ventura, Calif.), Paul Singh (Simi Valley, Calif.) and Tyler Sundeen (2) (Simi Valley, Calif.).

"It was a good game to build confidence," added Sundeen. "At times we played some really high level hockey and it was a great way to prepare for the final. We're all excited for tomorrow."

Today's match also marked a career milestone for Orozco as he competed in his 50th international cap.

The USMNT will play in the 1st/2nd crossover match tomorrow against Barbados at 5:45 p.m. EST. The team that wins this match will advance to FIH Hockey World League Round 2.

USFHA media release


---

Day 1 of the Men's South American Championship

Hockey World League Round 1 Complete

Patricio Draper celebrates his 100th cap as Uruguay also celebrates a close win over Peru; Cristian Vargas' four goals lead Venezuela over Paraguay; Chile's Mathias Drummer and Jan Berczely also have four goals each to lead their team over Ecuador.

All matches are being live-streamed. Please continue to also check the Pan American Hockey Federation's website for the Men's competition for photos and post-match interviews and more: http://www.panamhockey.org/en/competitions-53-2016-south-american-championships-men-

The matches during the tournament will be in two 35 minute halves. The tournament format is unique in that it follows a Round Robin format that means that no match can end in a tie. In the case of a tie at the end of regulation, the match will go into a shoot out round; and then sudden-death shoot outs if the shoot out round is tied.

Uruguay-Peru (3-2)

For the final match on Day 1 of the Men's competition, Uruguay played host Peru. Patricio Draper received his 100th cap for Uruguay. The first ten minutes of the match both teams traded possession. Peru had a few attacking opportunities through runs by Vincenzo De Martis and Steven Orellana, respectively, but could not get a shot off. Then Uruguay had the first penalty corner of the match, but also could not capitalize off one of their few attacking opportunities of the match thus far. Sixteen minutes into the match Uruguay had its first real shot on goal, but as the shot went just wide of the cage the match remained scoreless. Five minutes later, Peru's persistence in their attacking half paid off as the team passing beat all the Uruguayan defense for Fabrizio Corno to put Peru ahead of Uruguay. Uruguay immediately countered as Alexis Lopez tied the match 1-1 off the restart.

In the 28th minute, Uruguay earned their second penalty corner of the match; and Draper scored off a drag flick to put his team ahead 2-1 over host Peru. With time winding down in the first half, fan s for both teams started cheering loudly in the stands. However, both teams were unable to get another shot off during the last five minutes of the first half. Thus, the score at halftime remained Uruguay 2, Peru 1.

In the opening minutes of the second half, Peru's Hugo Visosa received a green card. In the 42nd minute, Uruguay earned the first penalty corner of the second half. Uruguay's Captain Diego Laborde tipped in the penalty corner pass to put his team ahead by two goals over Peru. In the 46th minute, Peru earned its first penalty corner of the match. Peru completed the play as Peru's Alberto Vives penalty corner goal put his team back within one. Five minutes later, after both teams fought for possession, Uruguay was back on attack with a penalty corner. Uruguay was unable to stop the penalty corner push out, but play continued near their attacking circle.

In the 54th minute, with the intensity of the match increasing, both Uruguay's Gonzalo Martinoni and De Martis were given 10 minute yellow cards. A minute later, Uruguay was awarded a penalty corner, but again could not complete the penalty corner play to get a shot off. Captain and keeper Feliz Mafferetti then came up with a big save to prevent Uruguay from increasing their lead. Uruguay continued to apply strong attacking pressure, but Peru played very strong team defense to prevent Uruguay from scoring further. Thus, Uruguay came away with the narrow 3-2 win over host Peru.

Chile-Ecuador (24-0)

In just the first few minutes of the match, Chile took a quick three goal lead over Ecuador off two goals by Mathias Drummer, and one goal by Jan Berczely. Chile kept up their attacking pressure and Juan Amoroso made the score Chile 4, Ecuador 0 in the eighth minute. In the 13th minute, Chile earned the first penalty corner of the match and Axel Richter pushed in a fast shot to give his team a five goal lead. Vincente Goni then tipped in a goal past Ecuador keeper Lincoln Palacios to make the score Chile 6, Ecuador 0. And the Ricardo Achondo put in a shot to give Chile a seven goal lead only 16 minutes into the first half. Back-to- back goals by Martin Rodriguez and Berczely then made the score Chile 9, Ecuador 0.

About twenty minutes into the first half, Harold Soria had Ecuador's first possession in their attacking half, but was unable to get the ball into Ecuador's attacking circle. Behind Captain Wilson Torres, Ecuador continued to try to play strong on defense and held Chile from scoring again until Captain Sven Richter did so in the 22nd minute. A few minutes later, Drummer made the score Chile 11, Ecuador 0. For much of the first half Ecuador played clean defense such that it was only in the 28th minute that Chile for all its attacking pressure earned its second penalty corner of the match. Palacios was there for the initial save, but Berczely found the back of the net to put his team ahead by 12 goals. Palacios made multiple big saves, but then Drummer got another goal past Palacios to make it Chile 13, Ecuador 0 in the 30th minute. Then Richter scored again; and Rodriguez scored a beautiful high shot to make the score Chile 15, Ecuador 0 that remained the score at halftime.

Reserve keeper Adrian Henriquez started the second half for Chile. Chile continued to dominate possession and maintain their attacking pressure. In the 39th minute Chile earned its first penalty corner of the second half that Axel Richter converted. Then Chile's Fernando Renz made the score Chile 17, Ecuador 0. Juan Espinoza played strong defense at center back, but Chile's Jose Maldonado got past him for the score to make it Chile 18, Ecuador 0. Palacios also made more saves to prevent Chile from increasing their lead even further. Ecuador played strong defense to prevent Chile from scoring again for six minutes; and then Chile's Rodriguez scored.

Again, Ecuador was able to hold off more Chile attack for minutes until Palacios came out to make a save. However, Berczely collected the rebound and made the score Chile 20, Ecuador 0 in the 54th minute. Three minutes later, Drummer converted a penalty corner; and then Amoroso converted another penalty corner. Behind more strong saves from Palacios, much to their credit Ecuador was able to break up six penalty corner plays for Chile. Chile, however, scored back-to-back goals in the 69th minute to make the final score Chile 24, Ecuador 0.

Venezuela-Paraguay (7-2)

The first Men's match of the 2016 South American Championship and Hockey World League Round 1 was between Venezuela and Paraguay. After both teams spent the first few minutes trading possession without attacking opportunities Venezuela earned the first penalty corner of the match in the fourth minute. The penalty corner flick by Captain Andy Adrian went wide. Venezuela persisted on attack, but Paraguay's Keeper and Captain Hugo Lopez came up with two big saves before Venezuela earned another penalty corner. This time Adrian's flick went hard into goal to give Venezuela the lead in the 11th minute. About a minute later Paraguay countered on attack and earned their first penalty corner of the match, but the push out went far outside the circle and Venezuela quickly regained possession. After a scramble in front of net, Venezuela's Cristian Vargas found the back of the net in the 15th minute to put his team ahead by two goals.

For the next seven minutes of the match, Paraguay was able to keep play in their attacking half due to a lot of hard work by midfielder Sasha Dolinzky and Ricardo Samudio on defense. Paraguay had a chance to get on the scoreboard in the 25th minute when play by Julio Russo forced a stroke. Russo converted the stroke to make the score Venezuela 2, Paraguay 1. Soon after attacking pressure by Venezuela's Jose Oropeza forced a penalty corner for Venezuela. Adrian's penalty corner flick was saved by Lopez. In the 30th minute, Paraguay's Federico Ruetalo received a green card. Both teams traded possession in the final minutes of the half, but Paraguay earned a penalty corner as time expired in the first half. Venezuela's keeper Junior Benitez came up with a big glove save to stop Santiago Chamorro's flick to maintain Venezuela's 2-1 lead over Paraguay at halftime.

The second half the match between Venezuela and Paraguay started with Venezuela's Wilmer Vargas receiving a green card. Yet it was Venezuela who kept up the attacking pressure and forced play around their attacking circle for much of the beginning of the second half. Venezuela's hard work paid off in the 41st minute with a penalty corner, the first of the second half. Lopez made the initial save on the penalty corner, but Venezuela's Vargas recovered the rebound to put in a shot past Lopez who was still far outside the goal. A minute later, Venezuela's Wilbur Bracamonte made the score Venezuela 4, Paraguay 1. Then in the 45th minute, Vargas completed a hat trick. And Venezuela again quickly countered off the restart as Wilmer Vargas made the score Venezuela 6, Paraguay 1. At which point, Paraguay substituted keeper Lopez with reserve keeper Roberto Fleitas. In the 49th minute, Fleitas came up with a big save during a penalty corner to stop another shot by Vargas. Two minutes later, Fleitas blocked another Vargas penalty corner shot. Despite strong attacking pressure from Venezuela for much of the second half, Paraguay did not let up. And Paraguay's Russ made it Venezuela 6, Paraguay 2, scoring his second goal of the match off a break away in the 57th minute. In the 61st minute Venezuela earned another penalty corner, but Fleitas saved the flick by Adrian to keep Venezuela from increasing their lead. After Paraguay played incredibly strong team defense for the remaining ten minutes of the second half, Vargas scored his fourth goal of the match , making the score Venezuela 7, Paraguay 2 in the 70th minute. With Paraguay unable to capitalize off last minute attacking pressure the final score remained Venezuela 7, Paraguay 2.

The Men's Competition will continue on the 3rd of October.

Pan American Hockey Federation media release


---

Day 3 of the AHL

Home side WA upset by NZL

Holly MacNeil




Day three of the Australian Hockey League saw the women's competition take place, with the men's league given a rest day. Home side the WA Diamonds saw their winning streak come to an end, with an upset from visiting side New Zealand.

In the first match of the day, the Canberra Strikers played the Tasmania Van Demons. The ACT took an early lead with the score line at 3 – nil at half time courtesy of goals from Naomi Evans, Meredith Bone, and Hockeyroo Anna Flanagan who scored for her first time in this competition. Laura Gray extended the ACT's lead adding another goal to the tally in the third quarter.

Running at the same time was Victoria versus South Australia. Victoria were the better team on pitch, scoring a tidy 3-1. The first quarter saw all the action with Laura Barden scoring a field goal for the Vipers, and Isabella Apps and Amy Watters scoring for the Suns. In the final minute of play the Suns were awarded a penalty stroke which Tarryn Bright knocked through to secure the win for South Australia.

The WA Diamonds were next to the field to take on New Zealand, and the home side were upset going down to the visitors 0 – 1 with a field goal from New Zealander Catherine Tinney in the first quarter.

New South Wales and Malaysia tied 3 all, with New South Wales fighting back from 3 – 1 at half time. Mariah Williams scored a double for NSW, with Abigail Wilson scoring one; while Ruhani Siti Noor Amarina, Onn Hanis Nadia and Silin Fazilla Syvester scored a penalty stroke, field goal and penalty corner respectively for Malaysia.

In the final match of the day, the NT Pearls went down to Queensland 3 – nil. Queensland captain Kirsten Dwyer scored a penalty corner for the Scorchers, with Jordyn Holzberger and Britt Wilkinson both scoring field goals.

In the boys under 13's competition, the carnival moved to the Perth Hockey Stadium, and the Victoria Blues took over from New South Wales State at the top of the round robin table.

For full results on the day, please use the following links:
Women's league 
U/13 Boys

Today's AHL results:
Women's League
ACT 4 – 0 TAS
VIC 1 – 3 SA
NZL 1 – 0 WA
NSW 3 – 3 MAS
QLD 3 – 0 NT

Hockey Australia media release


---

Tigress collapse after big lead

By Jugjet Singh

THE MALAYSIAN women's hockey team took a 3-1 lead, but were held to a 3-3 draw after a late onslaught by New South Wales in the Australian Hockey League in Perth Saturday.

Malaysia, called the Tigress, were down 0-1 before Fazilla Sylvester Silin (21st), Siti Noor Amarina (23rd) and Hanis Nadia Onn (30th) gave them a big lead.

However, they failed to hold onto the lead and shared points instead. The Tigress have lost 3-1 to New Zealand, beat Northern Territories 7-1 for four points after three matches.

The Malaysian Tigress will have a rest day after three consecutive matches, while the men's teams of Malaysian Tigers and Malaysian Blues will take to the field today.

RESULT: Women -- Malaysian Tigress 3 New South Wales 3.

SUNDAY: Men -- Malaysian Tigers v Northern Territories, Malaysian Blues v SA Hotshots.

Jugjet's World of Field Hockey


---

Canberra Strikers return helps Anna Flanagan rediscover love of the game

Caden Helmers



Hockeyroo Anna Flanagan is learning to love hockey again. Photo: Redbull

A return to the Canberra Strikers has made Australian star Anna Flanagan rediscover her love of hockey.

Flanagan has played a key role in the opening stages of Canberra's Australian Hockey League campaign as the Strikers edge towards a semi-final appearance.

Flanagan made her return in a pre-tournament practice match after missing the Hockeyroos' disappointing Olympic showing due to suspension stemming from a drink-driving charge.

Walking into a group where laughter is a given has left the 24-year-old feeling grateful for the opportunity to enjoy herself in ACT colours again.

"It's such a good feeling," Flanagan said.

"I haven't played for a little while and playing with girls I grew up with, it makes you discover why you love playing again.
Advertisement

"This group of girls, they really bring the best out of each other."

The Strikers dropped their tournament opener in a 4-1 loss to hosts Western Australia but had no time to dwell on it given the condensed nature of the tournament.

A 3-1 victory over New Zealand was backed up by a four-goal shutout of Tasmania to put the Strikers within touching distance of the semi-finals.

"It's a strange format, but if we win our next two games we're looking at a semi-final berth," Flanagan said.

"It was a really mixed bag of results yesterday, so anyone can make it at this stage.

"We lost our first game which made it a bit difficult, but we've had two pretty solid wins now and we've got South Australia and Queensland, so they'll be pretty tough."

Four sides are locked in a battle for pool A's top two spots – one of which is defending champions Queensland, tied with Canberra on goal difference.

Flanagan is confident Canberra can take points off the heavyweights in what shapes as do-or-die clash leading into the finals.

"They've always been really strong in the finals for a long time," Flanagan said.

"But we played a practice game against them and it was really close and we performed probably a lot better than we had last year."

Canberra striker Laura Grey is sitting equal-first on the leading goal-scorers list having found the back of the net three times in the last two games.

Flanagan praised Grey's work, saying she has a "pretty big career ahead of her".

The Strikers now turn their attention to what looms as a must-win clash against South Australia if they are to progress to the business end of the competition, before rounding out the pool stages against Queensland.

The Canberra Times


---

East Grinstead beat leaders Clifton Robinsons



Erica Sanders of the University of Birmingham. Credit Andy Smith

East Grinstead knocked Clifton Robinsons off the top of the Investec Women's Premier Division when they beat them 3-1 on Saturday.

Pippa Chapman scored two penalty strokes and Zoe Burrell was also on target for East Grinstead. Abigail Porter had put Clifton ahead in the 14th minute before the home side stormed back after the break.

Surbiton capitalised to claim top spot after a commanding 5-0 victory at Bowdon Hightown.

Rebecca Middleton converted a brace of penalty corners, with Sarah Haycroft, Olivia Chilton and Sarah Page all getting on the scoresheet for the visitors.

Erica Sanders (pictured) scored a hat trick as the University of Birmingham ran out comfortable 6-2 winners at home to Reading.

Sanders also missed two penalty strokes in the first half, but was joined on the scoresheet by Lily Owsley, Holly Hunt and Jo Turnbull.

Second half goals from Sarah Jones and Steph Elliott were enough to give Holcombe all three points at Leicester in a 2-0 victory.

Eliza Brett scored a brace to help Canterbury to their first victory of the campaign, a 4-1 win at Slough.

Investec Women's Conference East

Sevenoaks made it three wins out of three in the Investec Women's Conference East, picking up a home 1-0 victory over previously unbeaten Wimbledon.

Maddie Thompson scored after the break for the hosts, who are yet to concede a goal in the league this campaign.

Alexandra Fenwick score a hat trick to help give Southgate all three points in a comfortable 4-0 win at Northampton Saints.

Victoria Clark and Kate Robinson both scored twice for Chelmsford, as they edged a ten-goal thriller 6-4 away at winless West Herts.

Harleston Magpies were held to a 1-1 draw at home to Cambridge City, whilst Hampstead and Westminster defeated St Albans 2-1.

Investec Women's Conference North

Beeston are the only side in the Investec Women's Conference North with a 100 per cent record after a 2-1 win at Brooklands Poynton.

Trailing at half time after Annie Mills' early goal, second half strikes from Sophie Robinson and Tori Wensley gave the visitors maximum points.

A second half Briony Hearn goal gave the University of Durham a 1-0 victory at Ben Rhydding to move them into second place in the league.

Liverpool Sefton beat Sutton Coldfield 2-1, Louise Jukes and Emma Gaunt on target to secure their first win of the campaign.

Two goals in the last 15 minutes gave Wakefield a 3-1 win over Timperley, and Loughborough Students won 2-0 at Belper.

Investec Women's Conference West

Olton and West Warwicks still have a 100 per cent record after recording a 3-0 victory at Oxford Hawks in the Investec Women's Conference West.

Goals from Sally Walton, Katie Brough and Laura Collins secured the points for the league leaders.

Trojans continued their 100 per cent start to the campaign, a Sally Gibson penalty stroke being the difference in a 1-0 victory at Gloucester City.

Megan Crowson scored twice to help Isca to their first victory of the season, a 3-1 win over Exe. And three second half goals led Buckingham to a 3-0 win at Bristol Firebrands.

Elsewhere a second half Lauren Shilvock goal cancelled out Sophie Clayton's first half goal as Swansea City and Stourport had to settle for a draw.

Investec Women's Hockey League (Saturday, October 1, 2016):

Investec Women's Premier Division: Bowdon 0, Surbiton 5; East Grinstead 3, Clifton Robinsons 1; Leicester 0, Holcombe 2; Slough 1, Canterbury 4; University of Birmingham 6, Reading 2.

Investec Women's Conference East: Hampstead and Westminster 2, St. Albans 1; Harleston Magpies 1, Cambridge City 1; Northampton Saints 0, Southgate 4; Sevenoaks 1, Wimbledon 0; West Herts 4, Chelmsford 6.

Investec Women's Conference North: Belper 0, Loughborough Students 2; Ben Rhydding 0, University of Durham 1; Brooklands Poynton 1, Beeston 2; Liverpool Sefton 2, Sutton Coldfield 1; Timperley 1, Wakefield 3.

Investec Women's Conference West: Bristol Firebrands 0, Buckingham 3; Gloucester City 0, Trojans 1; Isca 3, Exe 1; Oxford Hawks 0, Olton & West Warwicks 3; Swansea City 1, Stourport 1.

England Hockey Board Media release


---

Rabente brings golden touch to new-look UHC side




Jan-Philipp Rabente says playing in the Euro Hockey League is a "pure joy" for UHC Hamburg as they look to continue their brilliant record in the competition this season.

Rabente was the man with the golden stick at the 2012 Olympic Games, tipping in the winning goal in the final for Germany against the Netherlands.

And he will be hoping for more glory this year with UHC who have won the EHL three times and reached the final on five occasions.

They start their campaign in Banbridge next Saturday against Italy's SG Amsicora ASD before facing Welsh champions Cardiff & Met on Sunday. They do so with a much-changed panel, putting their trust in a number of young talents and Rabente is looking forward to help in building the new side.

"Unfortunately, we lost some really good and experienced players but this situation is also very exciting, interesting and a diversified challenge.

"Building a new team with a lot of young guys and still some very experienced players is quite fun, but of course it takes some time until we might be able to compete at the highest level again."

To this end, they lost three of their first four games in Germany but did draw in an incredible 5-5 game with Rot-Weiss Koln – the reigning champions.

The EHL, meanwhile, gives them a different outlet to show off their skills.

"We are improving step by step. Playing in the EHL with UHC always gives us a special feeling. We all like competing on the European stage and especially facing teams we haven't play before is always a nice experience.

"The EHL is just pure joy for us and we hope to play as many games as possible with our young team.

"For me, personally, I have played neither Cardiff nor Amsicora in the past. We don't have a lot of information about their style of hockey. We just want to focus on our game, our style of hockey, enjoy the games and try to move on to the KO16."

Euro Hockey League media release


---

KCA pile more misery on Jaguars, MMU maul Rovers

By TITUS MAERO & BRIAN YONGA



Thika Rovers' Yigo Okune (left) vies with Felix Gaithure of Multimedia University during their Kenya Hockey Union men's National League match at City Park Stadium on October 1, 2016. PHOTO | MARTIN MUKANGU |  NATION MEDIA GROUP

Kenya College of Accountancy University (KCA-U) on Saturday piled more misery on winless Western Jaguars with a 2-1 win in their Kenya Hockey Union (KHU) Men's Premier League match at Kakamega High School Ground.

Simon Peter gave KCA-U the lead in the 14th minute before Tony Ashiraro doubled their advantage in the 48th minute. Keith Machinji slotted in the consolation goal for Jaguars in the 68th minute.

The victory placed the varsity side joint top with rivals Greensharks with 10 points as the race for the play-offs gains momentum.

KCA-U coach Collins Ochieng said their relentless attacking system worked for them.

"We are focused and hope to win more matches with our eyes set on the league title," Ochieng added.

Jaguars assistant coach Peter Okova said his boys gave out their best and were just unlucky in the match.
"The striking force is blunt and it is an area we need to concentrate on during training sessions," he noted.

MMU MAUL ROVERS

In the men's national league, Multimedia University (MMU) came from a goal down to thrash Thika Rovers 6-1 at the City Park Stadium.

Skipper Moses Adamba and Anthony Barasa each scored twice for the university students in an impressive attacking performance.

Jeff Asira and Bringson Kadanya were also on target as MMU walked away with the three points.

Rovers had taken the lead in the third minute when Collins Osiga slammed home the ball past MMU keeper Calvin Odhiambo. However, they were unable to build on their good start as MMU hit back in incredible fashion.

MMU coach Vincent Adhia was left purring after the emphatic win and challenged his charges to maintain the same momentum in their coming matches.

"This is by far our best performance this season. We showed great determination after going behind early on and I was pleased by the response and attacking display today," Aidha told Sunday Nation Sport.

The third minute goal shocked MMU and they regrouped to hit back in style. Asira levelled for the students in the quarter hour mark with a sweet taken field goal that sailed past Rovers keeper Ndung'u Njogu.

The students scored their second goal in the 25th minute after a swift counter attack that started after MMU cleared a Rovers penalty corner ended with Barasa chipping the ball past Njogu at the other end.

"We fell apart once they equalised and our defending was shocking. I knew we would be cruising after we scored early on but we totally let this match go," a furious Rovers coach Peter Mwathe said in his post-match comments.

Earlier, Impala beat Kabarak University 2-0 in another second tier men's encounter played at the same venue.

A second half brace from Eddy Odhiambo saw off the visitors in a game of few chances. Odhiambo struck in the 51st and 57th minutes to give his side the three points.

Impala went into match on the back of last weekend's 2-1 loss at the hands of Parkroad Tigers.

Daily Nation


---

Emma Rissinger's overtime goal propels Maryland field hockey to a 3-2 win against Michigan

By James Crabtree-Hannigan

About three minutes into overtime against Michigan, Maryland field hockey head coach Missy Meharg wasn't happy with defender Grace Balsdon.

Balsdon was in the team's offensive half as No. 9 Michigan pressured Carrie Hanks, who had the ball near midfield with no outlet passing option behind her.

Meharg yelled for Balsdon to retreat into a more defensive position.

"That's just not smart," Meharg said, turning to the bench.

But Hanks found Balsdon near the right corner and the graduate transfer sent it into the circle to forward Welma Luus. Luus then passed to forward Emma Rissinger, who scored the game-winning goal on the far post.

Meharg followed her bench onto the field with a smile. Despite the coach's displeasure moments before, Balsdon's play helped the Terps clinch a 3-2 overtime win Friday night at the Field Hockey and Lacrosse Complex.

"It was just a matter of picking the right people for the right places for [overtime]," Meharg said. "We really put pressure … to be able to have our players put the ball into the circle in position."

The second half against the Wolverines looked similar that of Maryland's 3-2 loss to Northwestern five days earlier.

In both games, the Terps (8-2, 3-1 Big Ten) entered halftime trailing, 1-0. In both games, they evened the score early after the break only to lose the lead again. And in both games, they tied it once more.

"We learned a lot from Northwestern," Rissinger said. "In those back and forth battles, you have to be ready for all things, and we were more ready today."

Unlike when Northwestern scored in the 60th minute to retake the lead for good, Michigan (7-4, 2-2) couldn't respond to the 2-2 tie after Luus' score in the 61st minute.

Before Luus assisted Rissinger on the final score, Rissinger assisted the Luus' connection. Defender Grace Balsdon hit the ball toward the circle, and Rissinger got a touch as it came in. The ball then appeared to hit the stick of a Michigan defender.

Luus waited as the ball sailed near the cage before hitting it high past Michigan goalkeeper Sam Swenson. The netminder had little time to react to the deflection that sent he ball from the right side of the goal to where Luus stood on the left side.

That score was the second time the Terps had to erase a Wolverine lead.

Michigan — also like Northwestern— scored the game's first goal early. Starting goalkeeper Sarah Holliday made three saves in the 18th minute, but Michigan corralled the rebound each time. The fourth look snuck past the far post despite Holliday diving to her right to try to use her stick for the stop.

Bates replaced Holliday soon after the tally. It was Bates' sixth appearance of the season.

"Holliday looked off-balance and a little struggling," Meharg said.

Bates played the remainder of the game and made a career-high six saves. She surrendered her second goal of the year, however, when Michigan midfielder Meg Dowthwaite scored with a high deflection in the 54th minute.

The point gave the Wolverines a 2-1 lead, after Balsdon used her 10th goal of the season — this one on a drag flick penalty corner attempt — to tie the game at one in the 44th minute.

Meharg cherished the back-and-forth nature of the game.

"I couldn't be happier with the opportunity to go to overtime, I know that might sound strange," Meharg said. "To be in position to win championships you have to play a lot of overtimes."

Rissinger said the team felt prepared because it often practices overtime scenarios.

The efforts paid off, as Michigan didn't take a shot in overtime. Maryland took four.

On the fourth, Swenson left the Wolverines' goal open by charging toward Balsdon's pass, but Luus beat her there. The redshirt senior rolled it to Rissinger in front of the net. Rissinger took a touch, chased it and dove to knock the ball into the backboard before Swenson could settle back into position.

"Going into overtime, there was never a part where we thought we were going to lose this game," Rissinger said. "So it was just a relief, like, now it's over and we won."

The Diamondback


---

Multiple captaincy helps team to perform better: Sreejesh

BENGALURU: Indian men's hockey team skipper PR Sreejesh on Saturday said the system of multiple captaincy helps a side to perform better because it allows players to concentrate on their respective responsibilities.

"The multi captaincy system helps me to concentrate and focus on my responsibility. In my case, I can concentrate on my goalkeeping, and others on their responsibilities allotted to them like scoring goals, defending and things like that," Sreejesh said at the Sports Authority of India here.

"Hockey is not an individual game. It is rather a team game. The captain is not in total command of the match. The man who is possessing the ball at a given time is the captain," he said.

Sreejesh said rotational policy helps the team to develop core group of players because it gives players enough exposure to be match fit ahead of any big event.

"When we are preparing our team, we are looking at bigger events including Commonwealth Games. Defender Birendra Lakra unfortunately had to miss Rio Olympics due to injury, but we had ready replacements - Harmanpreet Singh and Surender Kumar. They did better because they got the exposure of playing ahead of Olympics. That's the magic of rotational system," he said.

Asked about the quarter-final loss in Rio Olympics, Sreejesh said it was a disappointing feeling, but the team has already overcome the setback and was preparing for the next big event coming up in Malayasia.

"It was a disappointing exit from Rio Olympics. We did well to reach to the quarter-finals. We have already overcome that feeling and are preparing for the Asian Champions Trophy to be played in Malaysia next week," Sreejesh said.

The Times of India


---

Playing game of fine margins and uncertainty

By Dylan Cleaver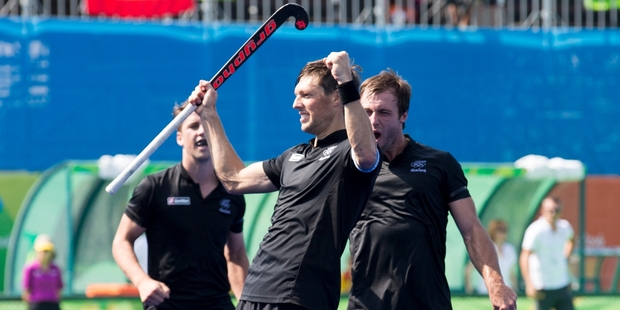 Simon Child, after scoring in Rio, says hockey needs more cash. Photo / Photosport

Of all the sports thrust into the debate about funding, hockey's situation is the most acute.

Black Sticks captain Simon Child knows. He's lived it since making the team as a 17-year-old in 2005.

"Being a hockey player and being part of a sport that is subject to contestable funding puts huge pressure on both the programme and the athlete," he said.

There are no simple solutions to the hockey conundrum. It is a comparatively expensive Olympic sport to fund, with large squads and support staff required to be competitive on the world stage, and that does not take into account the proliferation of international tournaments that incur big travel and accommodation costs.

Add the fact New Zealand are constantly on the fringes of being world class - the 1976 Montreal men's gold remains the only New Zealand success - and you have a difficult situation to reconcile.

In Rio, New Zealand were leading powerhouse Germany by two goals with just minutes remaining in their quarter-final before losing with the last act of the game.

"These are the fine margins between having funding certainty and not having anything," Child said, adding that New Zealand needed more investment in order to cross the threshold from top 10 to top four.

Yet, in a catch-22, they won't get more money until they become that top-four team.

Despite the uncertainty around funding, players are still asked to commit to two- to four-year programmes, often putting off-field careers into limbo.

"There is also pressure on many players to relocate to Auckland, where the high-performance centre is based," Child said. "That comes with a high cost of living and yet very little financial security."

Athletes' Federation boss Rob Nichol said it was a classic example where "full professionalisation" was in place except when it came to those who play the game.

"The coaches will be on fulltime salaries and doing quite nicely, thank you," he said.

"The high-performance manager doesn't have to worry about where their next cheque is coming from. The administration staff [at Hockey NZ] will be looked after.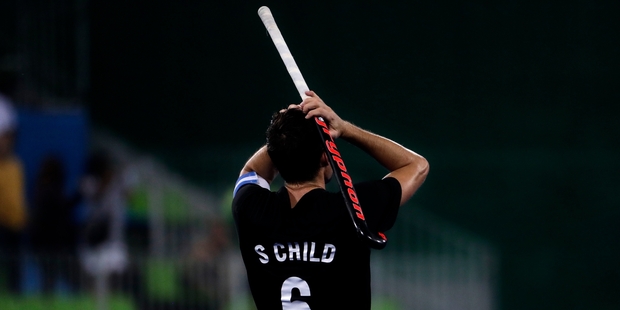 Black Sticks skipper Simon Child says contestable funding adds huge pressure. Photo / AP

"Somewhere along the line, the horse bolted and the athletes were left behind. Essentially that is why athletes now have a massive amount of cynicism about the system.

"They say, 'I'm the one filling the singlet, I'm the one upon whose shoulders rest success and failure, yet I'm left out of all the decision-making'."

Nichol claimed athletes were scared to speak out because the only ones they can talk to are the very people who have carved careers out of sports administration - and control the funding decisions for sports.

But athletes are starting to speak out. It is a squeak they hope will turn into a roar.

"We're not trying to get rich," Child said. "We're trying to pay the bills and put gas in the car to get to training."

The New Zealand Herald


---

Southland under-15 boys' hockey side claims rare NZ championship title



Southland under-15 boys' hockey team after winning the NZ Championship title in Napier. NATHAN SHEARING

The Southland under-15 boys' hockey team exceeded expectations to claim the 2016 NZ Championship title in Napier.

They overcame an early goal by North Harbour B in the final, but battled bravely like they had done all week to reach the final and secured a 4-1 victory, with goals to Blair McKenzie, Benji Culhane, Nichol Reid and Conor Shearing to give Southland the national under-15 title for the first time.

Southland entered the 13-team second-tier tournament under coach Tony Fryer and manager Nathan Shearing, with the aim of making the top eight and the potential to reach the semifinals.

The team prepared for four months for the event.

"Through the week we showed all the effort we had put in paid off," Fryer said.

"Coaching my team how I wanted and knew was required and therefore coming away as what I think was the most prepared and more importantly united team paid off."

The team featuring players from throughout the province got past some big teams in the competition.

They drew with Auckland B, one of the biggest association in the country to secure a spot in the top eight.

This was followed up by a dramatic overtime drop off victory over Waikato B 2-1 in the quarterfinals.
Ad Feedback

In the semifinals they were too strong for last year's finalists Wanganui after conceding two early goals, but Southland dug deep to win in extra time from a stroke 3-2.

"As the coach I had reached my expected top end goal for the team, being top four and after being two goals down after the first 15 min I was doubtful we were going to pull that back with how the boys were playing," Fryer said.

"After a very blunt and to the point halftime talk, the team who played Waikato the previous day was on the pitch and pulled it back to 2-2 to take us into overtime drop offs which we won again."

Meanwhile, the Southland U15 A girls finished 12th at the premier national tournament, while the U15 girls' development team ended up 20th.

Stuff