All the news for Monday 3 October 2022

Adelaide to host Kookaburras and Hockeyroos series against India




Australia's flagship national men's and women's hockey teams, the Kookaburras and Hockeyroos, will play blockbuster test series against fellow hockey powerhouse India in Adelaide.


---

Hockey World Cup officials sweating over Rourkela airport opening




With a little over three months until the 2023 men's World Cup, organisers are sweating on the still-to-be-opened airport at Rourkela, one of the two venues to be used for the tournament.


---

No magic wand to turn Pakistan's hockey fortunes around: Aikman

Anwar Zuberi



A photo of Siegfried Aikman, new coach of the national hockey team, at Lahore's National Hockey Stadium. — Siegfried Aikman Twitter/File

KARACHI: Pakistan coach Siegfried Aikman has cautioned that he has no magic wand and it will take some time to transform the fortunes of the national hockey team with modern dynamics and improve its world ranking.


---

Pakistan will do well at Azlan Shah Cup: Aikman

By Syed Intikhab Ali

KARACHI: Pakistan hockey team's head coach Siegfried Aikman reached Pakistan and joined the training camp of Green shirts at Abdul Sattar Hockey Stadium Saturday morning.


---

HTHC delight home fans with big win over Polo




Harvestehuder THC delighted their huge black and yellow wall as they saw off the challenge of Real Club de Polo to advance to the FINAL8.


---

Pinoké through to EHL FINAL8




Pinoké completed the perfect debut weekend as they advance to the FINAL8 with a 3-1 success against fellow newcomers Old Georgians as their clinical attack and rock solid corner defence served them well.


---

Old Georgians fall short of Euro Hockey League Final 8 berth



Old Georgians and Pinoke went head-to-head in Hamburg PIC: EHL TV

Pinoké produced the perfect debut weekend on the European club stage as they advanced to the Final 8 with a 3-1 success against fellow newcomers Old Georgians as their clinical attack and rock solid corner defence served them well.


---

Courageous Western fall to Egara in the EHL

Western were undoubtedly the underdogs for this EHL ranking play-off match in Hamburg against crack Spanish side Egara, but they put in a brave performance only to finally go down 3-1. The man-of-the match was undoubtedly Western`s keeper Gavin Sommerville who produced a series of brilliant saves to deny the eager Spanish forwards.


---

Lakers hold champs Blazers as Butali maintain unbeaten run

By Washington Onyango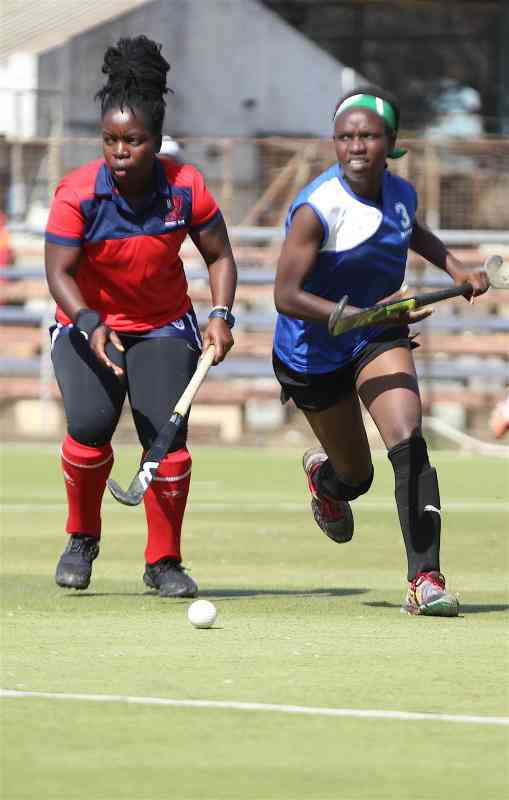 Blazers' Barbra Simiyu (left) and Purity Aseyo of Lakers during Kenya Hockey Premier league at City Park Hockey stadium. October 2, 2022. [Jonah Onyango, Standard]

Lakers Hockey Club moved to third place in the women's Kenya Hockey Union Premier League after collecting four points away from home in Nairobi over the weekend.  


---

NCAA Division 1 results for 2 October


---

Matson's four goals propel No. 1 UNC field hockey to 6-3 win over No. 14 Liberty

By Shelby Swanson



UNC fifth-year senior forward Erin Matson (1) receives a pass during a field hockey game against Appalachian State on Sunday, Aug. 14, 2022.

Spearheaded by four goals by senior forward Erin Matson, the No. 1 UNC field hockey team (9-0) beat the No. 14 Liberty Flames (7-4), 6-3, in Lynchburg, Va.


---

No. 4 Maryland field hockey defeats No. 2 Northwestern in overtime, 2-1

Ian Decker



Danielle Van Rootselaar attempts a shot during Maryland field hockey's 6-1 win over New Hampshire on Sept. 11, 2022. (Riley Sims/The Diamondback)

Ahead of the overtime period, Maryland field hockey danced to the music playing at Lakeside Field and exhibited no signs of a team that had played into extra time just two days prior.


---

#10 Field Hockey Weathers Storm, #15 Harvard in Rain-Soaked 1-0 Win



Lily Santi scored the only goal in Sunday's win over Harvard

MERION STATION, Pa. – The remnants of Hurricane Ian may have drenched the Philadelphia area this weekend, but the storm couldn't rain on the Hawks' parade as the 10th-ranked Saint Joseph's field hockey team held on for a 1-0 win over #15 Harvard at Ellen Ryan Field on Sunday afternoon.


---

Dominant Third Quarter Lifts Field Hockey Over Ohio




ATHENS, Ohio – Following a slower start that saw the Spartans down at the half, Michigan State field hockey used a dominant third quarter to top Ohio, 2-1, in a non-conference road matchup at Pruitt Field Sunday afternoon.


---

Lambert and Mackesy Score Four Each as Field Hockey Picks up Win over Merrimack, 13-0

Madisyn Hartley Sets Program Record with Five Assists in a Single Game




Orono, ME – The University of Maine field hockey team kept their win-streak going as they defeated the Warriors of Merrimack College on Sunday afternoon, 13-0.


---

Field Hockey Match Against Duke Canceled




NORFOLK, VA, - The Old Dominion Field Hockey contest scheduled for Tuesday, Oct. 4 against Duke has been canceled due to the expected inclement weather this week.