All the news for Sunday 2 October 2022

U.S. Masters Collects Three Wins on Opening Day of WMH World Cup in Cape Town, South Africa

CAPE TOWN, South Africa - The U.S. Men's and Women's Masters Teams collected a combined three wins on the opening day of the 2022 World Masters Hockey (WMH) World Cup in Cape Town, South Africa. The O-50 Men defeated Singapore, O-55 Men Spirit of Masters topped Ireland and O-65 Women earned a win against Scotland. The O-55 Men fought in a high scoring match against Malaysia to finished tied while the O-45 Men fell to France and the O-60 Women dropped their opening contest to The Netherlands.


---

Hockey India announces 33 probables for FIH Pro League matches

Hockey India has announced the list of 33 probables for FIH Pro League calling them at national camp in SAI Bengaluru



Indian Hockey Team(Source: Hockey India)

Hockey India on Saturday named a 33-member men's core probable group, including the likes of captain Manpreet Singh and veteran goalkeeper PR Sreejesh, for the FIH Pro League season-opening matches beginning on October 28.


---

Dream debuts for Old Georgians and Pinoké




Debutants Old Georgians and Pinoké advanced to the KO8 following their big wins over SV Arminen and SK Slavia Prague respectively on day three in Hamburg.


---

Polo and HTHC complete KO8 line-up




Real Club de Polo produced a five-star performance while Harvestehuder THC delighted their home support with a big 9-1 win to go through to the KO8 (16.30 CET) of the men's EHL KO16.


---

Western lose in Germany and a roundup of today's two Premiership ties

Western went into the lion`s den in Hamburg in front of a large and noisy crowd to face EuroHockey League hosts Harvestehuder in a first round tie, but they were largely outplayed and found themselves on the wrong end of a 9-1 defeat. They will now play Spanish side Club Egara tomorrow for EHL ranking points.


---

Perth Thundersticks do the double over Adelaide Fire

By Adam Clifford




The Perth Thundersticks' Women's and Men's teams have seen off spirited Adelaide Fire outfits to secure first up home wins in Season 2.


---

National Games: Chance for young hockey players to catch the eye

With only the top eight teams in fray, the competition is expected to be of high standards and it is a chance for many young players to come into the national reckoning

M. R. Praveen Chandran



REPRESENTATIVE PHOTO: Abhishek (left) of Punjab National Bank and Vikaram Kanth of IOC in action during the 93rd All India MCC-Murugappa Gold Cup hockey at the Mayor Radhakrishnan Stadium in Chennai on September 05, 2019. | Photo Credit: M. Vedhan

Indian hockey has been in a revival mode since the exceptional performance of both men and women's team in the Tokyo Olympics. The hockey events of the 36th National Games which begins at the Dhyanchand Hockey stadium on Sunday could possibly unearth new talents and give the much-needed push to the game in the country.


---

Strathmore sting Sailors to extend lead, Lakers bounce back

By Agnes Makhandia

Visitors Lakers Hockey Club and on-form Strathmore University Scorpions on Saturday posted wins in their respective matches in the women's Kenya Hockey Union Premier League at the City Park Stadium, Nairobi.


---

Lakers thrash Sliders to move third

By Washington Onyango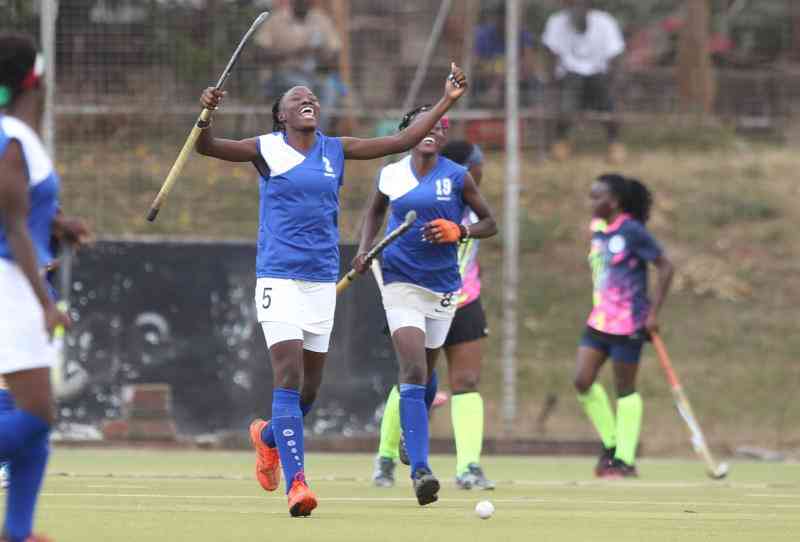 Lakers celebrate their win against Sliders during KHU Premier league at City Park Hockey stadium. October 1, 2022. [Jonah Onyango, Standard]

Lakers Hockey Club picked their second win of the season after thrashing Sliders 4-0 in a crucial Kenya Hockey Union Premier League match staged at City Park in Naiorbi on Saturday.  


---

NCAA Division 1 Results for 1 October 2022


---

Field Hockey Posts Second Consecutive Shutout, Defeat Dartmouth 2-0




HANOVER, N.H. – The defense continues to shine in Britt Broady's first season at the helm of the Brown field hockey program with the Bears blanking Dartmouth 2-0 on Saturday morning at Chase Field. With the win, Brown improved to 7-2 on the year and 1-1 in Ivy League play with Dartmouth falling to 3-6 overall and 0-2 in league action.


---

Field Hockey Narrowly Defeated By Bellarmine 2-1

Lancers Fall 2-1 After Video Review Overturns Goal




LOUISVILLE, KY – The Longwood Lancers fell to the Bellarmine Knights in the team's third MAC contest this season by a score of 2-1. Floor Schouten provided the lone goal for the Lancers, while another from Madison Wiley was wiped away by video review in the third quarter.


---

Old Dominion Field Hockey Shuts Out Villanova 4-0 On Saturday

ODU Set To Take On Duke Tuesday, Oct. 4 At 2 PM




NORFOLK, VA. – The No. 12 Old Dominion Field Hockey Team defeated Villanova 4-0 on Saturday, Oct. 1 at the L.R. Hill Sports Complex. Aubrey Mytych scored two goals in the Monarchs win, making this her second straight game with multiple goals. Cam MacGillivray was strong in goal notching her second shutout of the year.


---

Field Hockey Beats Frostburg State 1-0 in Big Road Win




ST. CHARLES, MO. - The Lindenwood field hockey team beat Frostburg State in a 1-0 road victory on Saturday afternoon.


---

No. 4 Maryland field hockey vs. No. 2 Northwestern preview

The Terps face off against the reigning national champions.

By Damon Brooks Jr.



Photo courtesy of Maryland Athletics.

The No. 4 Maryland Terrapins conclude its two game road trip with a meeting on the road against the No. 2 Northwestern Wildcats on Sunday at 1 p.m. on Big Ten Plus.


---

Hockey settlement according to PM's directives: Mazari

By Abdul Mohi Shah

ISLAMABAD: Minister for Inter-Provincial Coordination (IPC) Ehsanur Rehman Mazari wants an amicable settlement of the ongoing national hockey crisis under the direction of the Prime Minister and recommendations of a three-member committee formed by the Patron in Chief.


---

IPC Minister assures full support to PHF for hockey revival

LAHORE - A two-member delegation of Pakistan Hockey Federation (PHF) has met with Federal Minister for Inter-Provincial Coordination (IPC) Ehsan-ur-Rehman Mazari at his office.