All the news for Saturday 1 October 2022

Hockey veterans to compete in Masters World Cup

By Jugjet Singh



The Malaysian veteran hockey players leaving for Cape Town yesterday.- Pic courtesy

KUALA LUMPUR: Three Malaysian hockey teams left yesterday for the 45s, 50s and over-55s Masters World Cup in Cape Town, South Africa, on Oct 1-10.


---

Watch the live steam of the Masters World Cup in Cape Town


---

We're making right progression, says women's hockey team striker Vandana Katariya



Vandana Katariya

Star striker Vandana Katariya feels the Indian women's hockey team has been making the right progress at the international level and the players remained focussed on setting goals and achieving them going forward.


---

Pakistan hockey player sustains head injury during practice

Pakistan hockey player Zahidullah sustained a head injury during practice on Friday after which he was taken to a hospital in a private car.


---

Wales Hockey Player Natasha Fortnam Steps Away from International Hockey




Wales women senior squad member Natasha Fortnam has announced she will be stepping away from international hockey after representing Wales for 10 years.


---

Gantoise reach FINAL8 for the first time




Gantoise reached the EHL Men's FINAL8 for the first time in their history with a dramatic shoot-out win over AH&BC Amsterdam in Hamburg.


---

Polo delight Home Hamburg crowd




Kane Russell's penalty corner quartet propelled Hamburger Polo Club into next Easter's FINAL8 of the EHL Men's competition as they pulled clear of Ireland's Lisnagarvey 7-1.


---

Tassie women cause huge upset as Blaze men send early statement

By Adam Clifford




A record Sultana Bran Hockey One League crowd has witnessed a thrilling shootout result for the Tassie Tigers in the women's match before Brisbane Blaze spoilt the home town party in the men's encounter at the Tasmanian Hockey Centre tonight.


---

Reading and Surbiton aim to make hay



Hampstead & Westminster are early leaders PIC: Graeme Wilcockson

Men's Premier Division side Surbiton have been the club flying the flag in Europe in recent seasons. With Old Georgians and Wimbledon currently out in Hamburg at the Euro Hockey League, Mark Pearn's side will be looking to get their first win of the season at home and put down an early marker in the Championship bid.


---

Short-handed Kenya Police face Sailors, Blazers tackle Lakers

By  Agnes Makhandia

Despite not having a full-strength squad, Kenya Police coach Patrick Mugambi says they must find solutions on pitch on Sunday when they play unpredictable Sailors in the men's Kenya Hockey Union Premier League at the City Park Stadium in Nairobi.


---

Lakers seek redemption against Sliders, Blazers in Nairobi

By Washington Onyango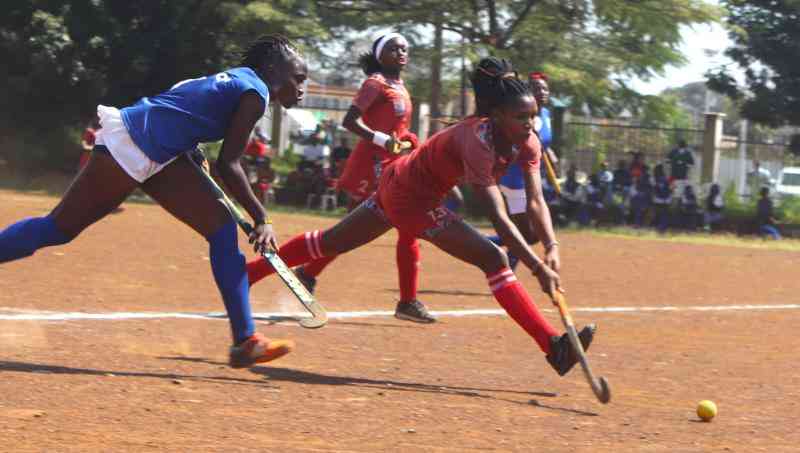 Lakers defender Vivian Onyango (left) plays the ball against Strathmore University forward Grace Bwire during a KHU Premier League match in Kisumu.[Washington Onyango,Standard]

Lakers Hockey Club will be seeking to bounce back to winning ways when they travel to play Sliders and defending champions Blazers as the Kenya Hockey Union Premier League takes shape at City Park in Nairobi on Saturday.


---

NCAA Division 1 Results from 30 September


---

Two-goal performance lifts No. 4 Maryland field hockey over No. 3 Iowa in overtime

IOWA CITY, IA - Danielle Van Rootselaar's second goal of the day powered No. 4 Maryland (10-1, 4-0) to a 2-1 overtime victory against No. 3 Iowa (8-2, 2-1) in a thrilling matchup between two of the top teams in the country that lived up to its billing.


---

No. 7 Virginia field hockey scores two early goals, takes down No. 5 Louisville

CHARLOTTESVILLE, Va. – The No. 7 Virginia field hockey team (6-3, 2-1 ACC) picked up a 2-0 victory against No. 5 Louisville (8-2, 0-2 ACC) on Friday, Sept. 30 at Turf Field in Charlottesville, Va.


---

No. 4 Maryland field hockey ousts No. 3 Iowa in overtime, 2-1

Olivia Janik



Bibi Donraadt embraces a teammate during Maryland field hockey's 7-2 win over Michigan State on Sept. 25, 2022. (Cam Andrews/The Diamondback)

After 60 minutes of regulation, Maryland field hockey was tied 1-1 against Iowa.


---

No. 4 Maryland field hockey picks up massive road win, defeats No. 3 Iowa in overtime, 2-1

The Terps came on top in a thrilling top-five clash.

By Damon Brooks Jr.



Photo courtesy of Joseph Noyes/Maryland Athletics UMTerps

With the game even at one apiece in overtime, No. 4 Maryland field hockey and No. 3 Iowa frantically paced the field searching for the game-winning goal.


---

UVA Field Hockey Takes Down No. 5 Louisville 2-0

Dani Mendez-Trendler scored two goals in the first quarter to lead the Cavaliers to a top-five win over the Cardinals

Matt Newton

Facing a top five opponent in a big-time ACC showdown, the Cavaliers leaned on a pair of freshman to carry them to their biggest victory of the season.


---

Field Hockey Falls 3-0 To #16 Liberty

Fourth Quarter Rally By Liberty Ends Defensive Struggle




LYNCHBURG, VA – The Longwood Lancers took the #16 Liberty Flames down to the wire in a defensive battle in Lynchburg, but would lose by a score of 3-0. Neither team was able to score throughout the first 45 minutes until a fourth quarter rally from the Flames put them on top to seal the victory.


---

Field Hockey Falls In Double Overtime




MOUNT PLEASANT, Mich. – The Central Michigan field hockey team dropped a 4-3 Mid-American Conference decision on Friday in double overtime to Ball State at Cristy Freese Field.


---

Spider Hockey Falls at No. 10 Saint Joseph's




PHILADELPHIA, Pa. – The University of Richmond field hockey team fell 6-0 to No. 10 Saint Joseph's in Friday afternoon Atlantic 10 action at Ellen Ryan Field.  


---

No. 15 Field Hockey Passes Road Test With 2-1 Victory at Penn

Box Score PHILADELPHIA, Penn. – Senior captain Olivia Hoover and sophomore Siena Horton scored to help lead No. 15 Harvard field hockey (7-2, 2-0 Ivy) to a 2-1 win at Penn (1-8, 0-2 Ivy) on Friday afternoon at Ellen Vagelos Field. Harvard has now won six straight contests overall.


---

Field Hockey Tops Georgetown in Fifth Shutout of the Year

PHILADELPHIA - The Temple field hockey team returned to the win column Friday night with 1-0 victory over Georgetown in the team's fifth shutout of the season. With the win, the Owls sit at 8-3 (2-1 BIG EAST) while the Hoyas fall to 3-8 (0-3 BIG EAST).