All the news for Saturday 18 December 2021

Hero Asian Champions Trophy Dhaka 2021 - 18 December
Dhaka (BAN)

All times GMT +6

17 Dec 2021     IND v PAK (RR)     3 - 1
17 Dec 2021     BAN v KOR (RR)     2 - 3

18 Dec 2021 15:30     PAK v KOR (RR)    
18 Dec 2021 18:00     JPN v BAN (RR)    

19 Dec 2021 15:30     IND v JPN (RR)    
19 Dec 2021 18:00     PAK v BAN (RR)    

Live streaming and full game replay on the Watch Hockey App (May be Geo blocked if there is TV coverage)

Pool Standings
| Rank | Team | Played | Wins | Draws | Losses | Goals For | Goals Against | Goal Difference | Points |
| --- | --- | --- | --- | --- | --- | --- | --- | --- | --- |
| 1 | India | 3 | 2 | 1 | 0 | 14 | 3 | 11 | 7 |
| 2 | Korea | 3 | 1 | 2 | 0 | 8 | 7 | 1 | 5 |
| 3 | Japan | 2 | 0 | 2 | 0 | 3 | 3 | 0 | 2 |
| 4 | Pakistan | 2 | 0 | 1 | 1 | 1 | 3 | -2 | 1 |
| 5 | Bangladesh | 2 | 0 | 0 | 2 | 2 | 12 | -10 | 0 |
---

Harmanpreet strikes twice as India down fighting Pakistan 3 - 1




Harmanpreet Singh's drag-flick brace and Akashdeep's field goal helped India put it across arch-rivals Pakistan 3-1 in a 2021 Asian Champions Trophy encounter at the Maulana Bhasani stadium in Dhaka on Friday. Its 11th win for India out of the last twelve encounters between them, the other being a draw.


---

India overwhelm Pakistan at Asian Champions Trophy



DHAKA: India's Harmanpreet Singh (second R) scores against Pakistan during their match of the Asian Champions Trophy on Friday. — AFP

LAHORE: India overpowered Pakistan 3-1 in a high-amplitude match of the Asian Champions Trophy hockey tournament at the Maulana Bhasani National Hockey Stadium in Dhaka on Friday.


---

How 'Competitive Quotient' in India-Pakistan Matches Has Diluted Over the Years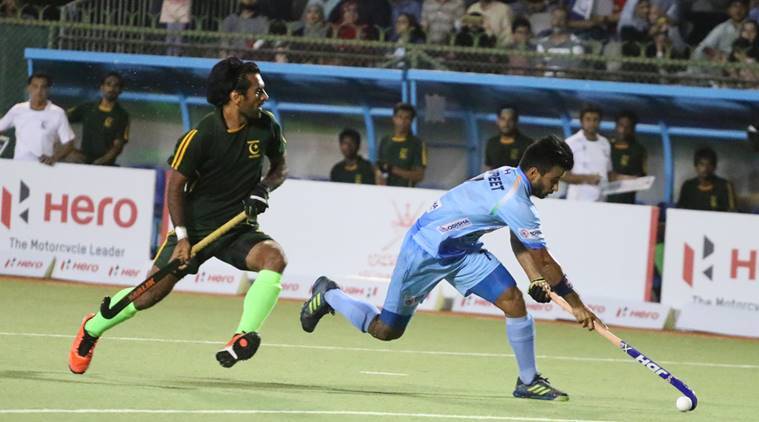 The kind of hype and hoopla India-Pakistan hockey matches generate is something most other teams would struggle to match. We know there is a bit of Trans-Tasman rivalry between Australia and New Zealand – we are aware of the rivalry between two European nations Netherlands and Belgium but not of the magnitude of India-Pakistan encounters.


---

Five goal blitz swings second test for South Africa

South Africa produced a scintillating and devastating final four minutes of the second test match to turn a two-goal deficit into a three-goal lead. Miracle man Mustapha netted a 60 second hat-trick after captain fantastic Jethro Eustice had dragged South Africa back into the contest and Dayaan Cassiem had restored parity with a goal of the finest order.


---

Farry Confirms 20-Athlete USWNT Traveling Roster for 2022 Pan American Cup




SANTIAGO, Chile – After evaluation at the recent Canada series and throughout fall trainings, U.S. Women's National Team Head Coach Anthony Farry has confirmed the 20-athlete traveling roster to head to Santiago, Chile for the 2022 Pan American Cup (PAC) from January 19 to 30.


---

All Indoor leagues cancelled this weekend




Scottish Hockey has taken the decision to cancel all Indoor leagues this weekend (18th/19th December).