All the news for Friday 17 December 2021

Hero Asian Champions Trophy Dhaka 2021 - 17 December
Dhaka (BAN)

All times GMT =6

17 Dec 2021 15:30     IND v PAK (RR)    
17 Dec 2021 18:00     BAN v KOR (RR)    

18 Dec 2021 15:30     PAK v KOR (RR)    
18 Dec 2021 18:00     JPN v BAN (RR)    

Live streaming and full game replay on the Watch Hockey App (May be Geo blocked if there is TV coverage)

Pool Standings
| Rank | Team | Played | Wins | Draws | Losses | Goals For | Goals Against | Goal Difference | Points |
| --- | --- | --- | --- | --- | --- | --- | --- | --- | --- |
| 1 | India | 2 | 1 | 1 | 0 | 11 | 2 | 9 | 4 |
| 2 | Korea | 2 | 0 | 2 | 0 | 5 | 5 | 0 | 2 |
| 3 | Japan | 2 | 0 | 2 | 0 | 3 | 3 | 0 | 2 |
| 4 | Pakistan | 1 | 0 | 1 | 0 | 0 | 0 | 0 | 1 |
| 5 | Bangladesh | 1 | 0 | 0 | 1 | 0 | 9 | -9 | 0 |
---

Can India continue its winning streak against Pakistan today?

By K. ARUMUGAM




In a strange world subdued by the COVID – 19 pandemic, the two arch-rivals will hope to rekindle some of the vigour of the past in the Asian Champions Trophy at the Maulana Bhasani stadium in Dhaka. Both teams are in a rebuilding mode but with contrasting statures. India, who won an Olympic medal after 41 years at the Tokyo 2020 have rested several of the team which took bronze in an effort to consolidate in the next Olympic cycle. Pakistan, whose freefall has deprived them of playing in the last two Olympics and seen them occupy lowly 18th spot in the FIH rankings are trying to climb up the rungs.


---

Indian hockey team to take on arch-rivals Pakistan

On Friday, India will be up against Pakistan, who too boasts of a rich hockey history although of late the game is on the decline in that nation.



Indian hockey team in action against Bangladesh at Asian Champions Trophy (Source: Hockey India/Twitter)

Back to their best after a slow start, defending champions India would look to continue their cautious experiments when they take on arch-rivals Pakistan in their third round-robin match of the Asian Champions Trophy men's hockey tournament on Friday.


---

Pakistan can learn from Indian hockey's revival: New Pakistan coach Siegfried Aikman

Jaspreet Sahni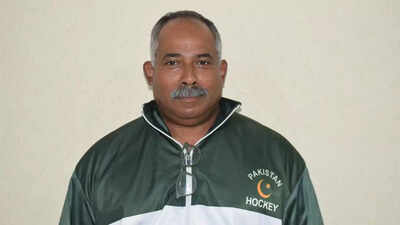 PHF has appointed former Japan coach Siegfried Aikman as the new head coach of the Pakistan senior men's team (Photo: Siegfried Aikman Facebook)

NEW DELHI: Pakistan has renewed its efforts to revive its once celebrated sport of hockey by appointing Netherland's Siegfried Aikman as the new head coach of their senior men's team.


---

Cassiem snatches draw for South Africa in Opening Clash

The Justin Rosenberg coaching reign of the SA Indoor Hockey Men began today at Sunningdale in the Western Cape as the hosts and African Champions took on fellow Indoor World Cup competitor Namibia. The first in a four match series was played in a repeat of the African Indoor Cup of Nations final, which the hosts won at Thomas More College 4-1 earlier this year.


---

2021 Test Matches USA v CAN (M) - 17 December
California (USA)

Times GMT -8

17 Dec 2021 14:00     USA v CAN    
19 Dec 2021 09:00     USA v CAN    

IH Match Centre


---

Elodie eyes top eight in Liege




Elodie Picard is goalkeeper for both the Belgium women's national outdoor and indoor squad. She and her team mates are looking forward to being the host nation at the forthcoming FIH Indoor Hockey World Cup in Liege in Belgium in February 2022.


---

Canadian Captain Scott Tupper retires from Men's National Team Program

Triple Olympian, and long-serving captain leaves lasting legacy for Red Caribou to follow




When Scott Tupper was asked to re-live his 16-year, 322-cap career, he said the little moments stood out just as much as the big moments. He has many big moments to revisit, including three Olympic Games, two world cups, a plethora of Pan American Games, Pan Am Cups and other major tournaments world-wide.


---

Men's Hockey National Championship: Haryana beat MP 5-1 to enter quarter-final

Sanjay struck twice in the 24th and 39th minutes while Joginder (20th), Bobby Singh (35th) and Deepak (38th) scored other goals for Haryana, inspiring their second win of the tournament.

Pune: Haryana beat Madhya Pradesh 5-1 in a Pool B match to enter the quarterfinals of the Hockey India Senior Men's National Championship here on Friday.


---

Hockey Australia signs on with O'Neills




Respected sportswear company O'Neills is the new Official Apparel Partner of Hockey Australia. [Pictured above: Amy Lawton, Jocelyn Bartram, Josh Beltz and Nathan Ephraums in the new Hockeyroos and Kookaburras training kits]


---

Far From Pitch Perfect

Ashley Morrison

Ask any Indian Hockey fan why there was 41 years between their hockey team winning an Olympic medal and the chances are most will tell you that the switch from a grass pitch to an artificial surface was a huge contributing factor. Many believe that the birth of the artificial surface was a deliberate ploy to reduce the dominance of the teams from the subcontinent, namely India and Pakistan, and give the European nations a better opportunity of success.