All the news for Thursday 2 December 2021

FIH Odisha Hockey Men's Junior World Cup Bhubaneswar 2021 - 2 December
Bhubaneswar Odisha

All times GMT +5:30

1 Dec 2021     GER v ESP (Quarter-Final)     2 - 2 (3 - 1 SO)
1 Dec 2021     NED v ARG (Quarter-Final)     1 - 2
1 Dec 2021     FRA v MAS (Quarter-Final)      4 - 0
1 Dec 2021     BEL v IND (Quarter-Final)        0 - 1

2 Dec 2021      CAN v USA (13th-16th Place)     4 - 0
2 Dec 2021 13:30     CHI v EGY (13th-16th Place)       
2 Dec 2021 16:30     RSA v PAK (9th-12th Place)        
2 Dec 2021 19:30     POL v KOR (9th-12th Place)        

3 Dec 2021 10:30     BEL v ESP (5th-8th Place)    
3 Dec 2021 13:30     MAS v NED (5th-8th Place)    
3 Dec 2021 16:30     FRA v ARG (Semi-Final)        
3 Dec 2021 19:30     IND v GER (Semi-Final)       
Keep up to date with all the latest news on the FIH Hockey Pro League via the Watch.Hockey app, event website and through FIH social media channels - Facebook, Instagram and Twitter.
Live streaming and full game replay on the Watch Hockey App (May be Geo blocked if there is TV coverage)

FIH Match Centre

---

U-21 USMNT Falter to North American Rivals at Junior World Cup


IMAGES TAKEN BY WORLD SPORT PICS & FIH/HOCKEY INDIA

BHUBANESWAR, India – In the match to determine final placements at the FIH Odisha Hockey Men's Junior World Cup, the U.S. U-21 Men's National Team were unable to find a result against Canada. Scoreless after the first quarter, Canada converted all goals on set pieces for the 4-0 victory.


---

MJWC: Germany, Argentina, France and India reach final four on dramatic day




Day 7: It was another pulsating day of action at the FIH Odisha Hockey Men's Junior World Cup Bhubaneswar 2021 as Germany, Argentina, France and host nation India all secured their places in the competition semi-finals by winning their encounters in the last eight.  


---

QF1: Heart break for Spain as pugnacious Germany enters semis via shoot out route

K. ARUMUGAM




Spain did everything. Withstood Germany's onslaught for major part of the intensive 60-minutes, saved from any damage from eleven penalty corners conceded, but in the end could not keep of up the solitary goal lead for another 50 seconds to make their day. Germany, on the other hand, put themselves back in the game by converting their last penalty corner, the 12th, that nullified the Spain's 2-1 lead taking the contest to shoot out when just 20 seconds left in the clock.


---

QF2: Late Argentine freak goal does Dutch in




Hockey has no "own goal" rule but Argentina's late match-winner against the Netherlands was very much one even though credit for it goes to Franco Agostini.


---

QF3: France outplays Malaysia 4-0, enter the semis majestically




Score early goals and unsettle the rival. The same strategy of the emerging power France was in full display today against charged up Malaysia in the third quarterfinal which saw them sail into the semis majestically with a 4-0 score. Malaysians waged a grim battle to gain the lost ground in the second half but were not precise in shooting goals.


---

QF4: Moment of brilliance takes India into Semis

By ERROL D'CRUZ




In a game that wasn't as open as expected, India produced a moment of brilliance to score a 1-0 win over Belgium at the Kalinga Stadium on Wednesday and set a semi-final date on Friday with six-time champions Germany in the 2021 FIH Men's Junior World Cup.


---

Six-time champions Germany, Argentina enter semis

In the first quarter-final of the day, Germany eked out a narrow 3-1 win over Spain in the shoot-out after both the teams were locked at 2-2 in regulation time, before Argentina beat Netherlands 2-1.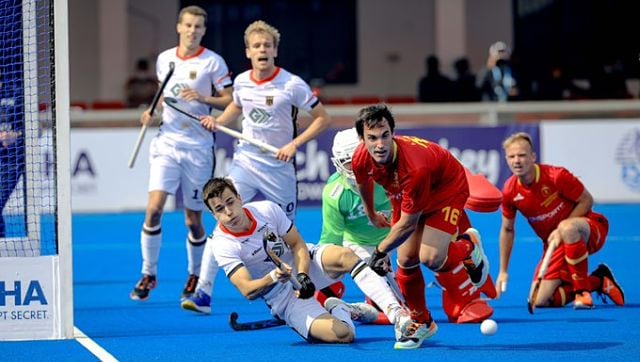 Germany are the most successful team in the history of the Junior World Cup having won the tournament six times. Twitter@FIH_Hockey

Bhubaneswar: Six-time champions Germany and Argentina earned hard-fought wins over Spain and Netherlands respectively to enter the semi-finals of the FIH Junior Men's Hockey World Cup here on Wednesday.


---

France hammer Tigers in JWC

By Jugjet Singh



Christmas came early in Bhubaneswar as Malaysia gifted France 11 penalty corners and were bundled out 4-0 in the quarter-finals of the Junior World Cup (JWC). - Pic Courtesy of MHC

CHRISTMAS came early in Bhubaneswar as Malaysia gifted France 11 penalty corners and were bundled out 4-0 in the quarter-finals of the Junior World Cup (JWC).


---

Quarter of job done

India hold off Belgium in quarterfinals, join Germany, Argentina, France in semis



India?s Shardanand Tiwari scores the winning goal against Belgium during their quarterfinal match. PTI

Defending champions India beat Belgium by a solitary goal to progress to the semifinals of the FIH Junior Men's Hockey World Cup here today.


---

India edge out Belgium to reach semi-finals of Hockey Men's Junior World Cup

By Liam Morgan



India's team features several players who won Olympic bronze at Tokyo 2020 ©Getty Images

Defending champions India are through to the last four of the International Hockey Federation Men's Junior World Cup in Bhubaneswar after beating Belgium in a repeat of the 2016 final.


---

India keep men's Junior World Cup title bid on track



India held off Belgium in Bhubaneswar PIC: Hockey India

India's aim of retaining the men's Junior Hockey World Cup title remained on track on Wednesday with a stout 1-0 display against Belgium in Odisha.


---

Graham Reid, this is not what the puritans exactly wanted! 


By Shane Sadanand


There was an era before the advent of Astro Turf. Hockey was played with artistic beauty. Teams gave importance to goals and attacks. There were five forwards who did everything. Defense was the least area concerned. Two muscled men who had the additional responsibility of PC execution always manned defence.  Then there was left out, right in, centre forward, you can find a lot of classical designations. Hockey was played with three 'D's - dribble, dodge and deftness of touch. Hockey was not mere a sport in those days. In that era, hockey was an art rather than a game played with aesthetic finesse. Spectators came to see the dazzling stickwork of Dhyanchard, Mohammad Shahid, Dhanraj Pillai, Shahbaz Ahmed and many of that ilk. They wove a lot of intricate patterns in grass surface that were real treats to both eyes and mind.



Then they brought in Astro Turf to turn hockey into rocket science. Artistic 3Ds changed to two Ds. Each D planted in front of goals. Dribble and dodge paved way for  power and speed. Strategies and tactics have been borrowed from SunTsu and Mahabharata. All players become muscle men and ballet dancers with stick in hand vanished into the thin air.. Fates of the matches have been fixed even before the pushback (another jargon lost was 'bully–off') . Spectators deserted galleries and TVs start losing veiwers. 



Graham Reid graduated from a school of Ric Chalesworth. That school has only one motto. Positive results. Forget about the hockey aesthetics. What is the relevance of ballets in the era of Robotic hockey?



Belgians made four cardinal mistakes on Wednesday.  They were confused about tactics of Reid to be employed in this match. But started to guesstimate Reid's plan for each quarter. They expected miracle in the next minute. They expected more circle entries from Indian forwards and  thus created space can be utilised for attack. Reid's boys didn't field a single foward  in the last forty minutes. Belgium faced eleven defenders but slightly different from the way Malaysians designed their defence architecture. All Indian players defended, defended and defended. Beauty of the game has been kept in a locker.


Belgium caught the flignt to Bhuvaneswar without a class PC specialist. No coach can develop one in between 4 or 5 matches. They got enough PC opportunities for a victory in regulation time itself. All of them were wasted. 



Belgium coach might have asked their best player Thibeau Stockbroekx to anchor near second post to recieve any loose balls. That didn't come his way. It seems they didn't have a Plan B regarding their attack.



In the fourth quarter Belgium played for an equaliser only as they did against Malaysia. They were very confident about a shoot out victory.  Both teams sacrificed a lot of things in the process.. Indians forgot about the beauty of the game. Belgium forgot about their natural play. Both teams went for results in the most ugliest way. Defenitely Graham Reid will be a happy man today.



This result could be exactly what Doctor (FIH president) is ordered

Fieldhockey.com


---

Solid India eye Germany scalp en route to Junior Hockey WC title defense

India's two goalkeepers -- Prasanth Chauhan and Pawan, in particular --, were terrific against Belgium and produced some breath-taking saves to deny their opponents



Indian players pose for photographs after beating Belgium 1-0 in their quarterfinal match at the FIH Odisha Hockey Mens Junior World cup 2021, at Kalinga Stadium in Bhubaneswar, Odisha on December 1, 2021. PTI

High-flying defending champions India would bank on their solid defensive structure and drag-flicking prowess to outsmart six-time title-winners Germany in the semifinal of the FIH Junior Men's Hockey World Cup at the Kalinga Stadium here on Friday.


---

Canada's stranded field hockey team has flights booked home from South Africa

Team has been waiting to travel home since Junior World Cup was cancelled due to new coronavirus variant



The Canadian women's junior field hockey team were in South Africa for the Women's Junior World Cup, scheduled Dec. 5-16 in Potchefstroom. It has since been cancelled due to concerns about the omicron variant. (@fhc_wolfpups/Instagram)

Canada's junior women's field hockey team could be headed home from South Africa next week.


---

The hockey legacy of the Siwach family

Former India captain and Dronacharya award winner Pritam Rani Siwach and her husband and ex-player Kuldeep Siwach have groomed several players, including three who were part of the Indian women's side that finished fourth in the Tokyo Olympics.

Y.B. Sarangi



Pritam Rani Siwach and her husband and Kuldeep Siwach watch the proceedings in Bhubaneswar.   -  Biswaranjan Rout

he Siwach family is proud of their son Yashdeep in India colours at the Junior World Cup, and watching the youngsters in action is a bigger attraction.

Former India captain and Dronacharya award winner Pritam Rani Siwach and her husband and ex-player Kuldeep Siwach have groomed several players, including three who were part of the Indian women's side that finished fourth in the Tokyo Olympics.

They treat Yashdeep and his sister Kanika, who also plays as a midfielder at sub-junior level, among those who are products of the Pritam Rani Hockey Academy in Sonepat. "All of them are our kids. As players, we don't differentiate. As a parent, it's a special joy to see your son playing for the country in a big event at home," Pritam, who was at the Kalinga Stadium with Kuldeep to watch India's quarterfinal match against Belgium, told Sportstar on Wednesday.

"As parents, we shower our love and affection on them. But as coaches, we treat all the kids equally. It's about the larger picture of going on to play for the country and making it proud," said Kuldeep.

The 'team first' approach is ingrained in Yashdeep as well. "I speak to my parents regularly, but we don't discuss individual games. They always speak about how the team played and what we could have done," said Yashdeep.

Pritam confides that she did not hesitate to be strict when required. "Not only do I rebuke Yashdeep when there is a lapse, but I also hit him. Later, we make up when he says, 'Mummy, you hit me very hard,'" said Pritam with a smile.

During internal matches of the academy, Yashdeep sides with Pritam, while his sister plays with Kuldeep.

Sportstar


---

St Rose replaces Camacho as hockey boss

by Nigel Simon

Attorney-at-Law Roger St Rose of Malvern Sports Club was elected as the new president of the T&T Hockey Board (T&THB) at its 24th Annual Council Meeting (ACM) held on Tuesday, November 30 via the Zoom Video-Conferencing application.


---

Dutch player raises money after revealing cervical cancer recovery




A Dutch big league player has revealed how her "desire to have children, play top sport and have a social career" was nearly jeopardised after being diagnosed with cervical cancer.