All the news for Friday 3 December 2021

FIH Odisha Hockey Men's Junior World Cup Bhubaneswar 2021 - 3 December
Bhubaneswar Odisha

All times GMT =5:30

2 Dec 2021      CAN v USA (13th-16th Place)       4 - 0
2 Dec 2021     CHI v EGY (13th-16th Place)         1 - 0
2 Dec 2021     RSA v PAK (9th-12th Place)          3 - 3 (4 - 1 SO)
2 Dec 2021     POL v KOR (9th-12th Place)         2 - 3

3 Dec 2021      BEL v ESP (5th-8th Place)     2 - 2 (4 - 3 SO)
3 Dec 2021 13:30     MAS v NED (5th-8th Place)    
3 Dec 2021 16:30     FRA v ARG (Semi-Final)        
3 Dec 2021 19:30     IND v GER (Semi-Final)        

4 Dec 2021 10:30     USA v EGY (15th-16th Place)    
4 Dec 2021 13:30     CAN v CHI (13th-14th Place)    
4 Dec 2021 16:30     PAK v POL (11th-12th Place)    
4 Dec 2021 19:30     RSA v KOR (9th-10th Place)       
Keep up to date with all the latest news on the FIH Hockey Pro League via the Watch.Hockey app, event website and through FIH social media channels - Facebook, Instagram and Twitter.
Live streaming and full game replay on the Watch Hockey App (May be Geo blocked if there is TV coverage)

FIH Match Centre

---

MJWC: South Africa & Korea to play for ninth place in Bhubaneswar




Day 8: The line-up for the 9th to 16th classification matches were finalised on the eighth day of action at the FIH Odisha Hockey Men's Junior World Cup Bhubaneswar 2021.


---

South Africa secure a top 10 finish after thrilling Pakistan encounter

For the second time in history the South African U21 Men will finish the Junior World Cup in the top 10, after achieving tenth place in 2016 under the tutelage of Garreth Ewing. They managed to secure their place in the top 10 after a thrilling come from behind victory against Pakistan.


---

South Africa stun Pakistan, Korea beat Poland

While Pakistan scored three field goals through Abuzar (5th minute), Abdul Shahid (25th) and Abdul Rehman (37th), South Africa made a valiant fightback and converted two penalty corners through

Bhubaneswar: South Africa shocked erstwhile Asian powerhouse Pakistan 4-1 in the shoot-out to set up a ninth-10th place classification clash against Korea in the FIH Junior Men's Hockey World Cup here on Thursday.


---

'Show up or ship out'

By Jugjet Singh



Pic credit to Facebook MHC

MALAYSIA gifted France captain Timothee Clement his third hat-trick of the Junior World Cup (JWC) on Wednesday, but it is not the end of the tournament for Wallace Tan's boys.


---

Upbeat India vs resilient Germany

Host's defence will have to be on its toes until the last second

Y.B. Sarangi



Creating a buzz: Hundal has been in rousing form in the tournament.  

Keeping its defence intact had been the primary task for India against Belgium, similarly resisting the German raiders until the last second will be number one priority in the semifinals of the men's hockey Junior World Cup at the Kalinga Stadium on Friday.


---

Germany wary of Penalty Corner threat, India wary of late goals

Junior Men's Hockey World Cup Semifinal: Germany will look to keep the Indian team away from their circle to nullify the set-piece threat, but their head coach says there are other danger areas for his team too.

By Dipankar Lahiri



 India will face Germany in the Junior Hockey World Cup semifinal after prevailing 1-0 over Belgium on Wednesday. (HockeyIndia)

Germany remain aware of the threat India possess in set-pieces but will be focusing more on shutting the noise out when the hosts counter-attack in the semifinal of the FIH Junior Men's Hockey World Cup at the Kalinga Stadium, Bhubaneswar on Friday.


---

Handling the Teutonic Hockey 


Shane Sadanand


Today's semifinal opponent is Germany. For Indians, they are not arch rival Pakistan or the regular quarterfinal nemesis Belgium. So, India can play with ease and comfort to their full freedom. Graham Reid has already sorted out German Seniors two months back. In Tokyo Olympics, India beat them comprehensively in the Bronze medal match. Senior Germany side is a better side with lots of creative players. But Indian juniors are at par with their seniors. This junior side has Harman (Sanjay), Rupinder (Sharada),  they have  Simranjith (Utham) and Gurjanth in Sudeep. Juniors have a fantastic midfield too. Further, Junior Indians have a Mandeep in Mundal to raise the stick in front of opposition D always. Don't worry one can find two Sreejeshs in this junior side. And the think tank in both cases is Graham Reid. If he can sort out German seniors, poor cousins can be smashed for a six.

Like in a war, hockey matches are won by outwitting,  outthinking and outperforming the opposition. Alexander, the great conqured half of world. But he adopted different strategies and tactics for different war and battles. If opposition is familiar with your ideas or arms and ammunition you can't win wars. Each day you will find a new terrain and a new enemy, you need to change your fighters and weapons. So is the case in hockey too.

0ne can consider four war strategies that can be employed in hockey. Attack. defence, flanking warfare and Guerilla warfare. Indians have played a defensive structure against Belgium and the world has already seen it. There is no scope for running it in the next match. Flanking and Guerilla methods are not for the world ranked third team. It is for Canada or Pakisthan to adopt. Indians have only one option and that is attack.  All out attack will bring at least a silver here. One can not always win matches with thinnest margin. Wednesday was a day plated with luck. Friday is the day of aggression.

When you go for an all out attack, you have to follow certain war principles. One has to find real weakness of opposition and attack at that point. In hockey, you have to change this principle slightly for today's match. Find the strength in Germany's  line up and attack it. Basically German game revolves around wait and watch or half press. This itself is their weakness. In Tokyo or in the last  game against Spain, Germans showed their desperation in the last quarter. In Tokyo, India seized upper hand in 2nd and 3rd quarter. To grab this advantage Reid has to utilise midfield effectively. Relentless attacks should be taken place on their defence structure and starve their forwards with ball possession. Sizeable lead should be taken in first three quarters.

Second attacking principle is all about the concentration of mass. Effective deployment of midfielders is the cardinal aspect here. Missing of Maninder is a huge loss  and he has all the attributes of a new Sardar Singh. Bobby Singh played heart out in the last match and to an extend compensates Maninder loss. Since he is a very good ball player he can be withdrawn for strengthening midfield. These five men hold the key in this match. Further, Germany's PC battery is better than that of Belgium.

Surely, this Friday will give enough reasons for Indians to celebrate.

Fieldhockey.com


---

India Must Not Allow Germany to Dictate Terms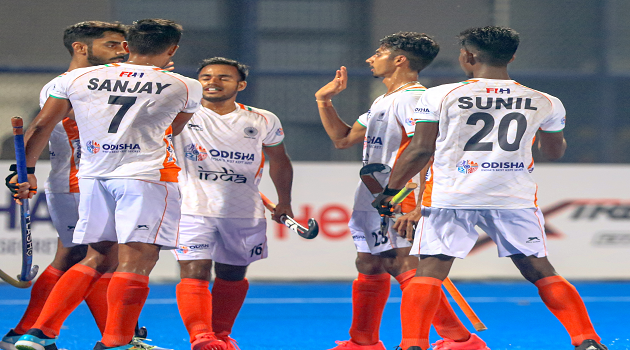 Indian hockey lovers would be delighted to see the Indian junior men's team sneak into the semifinals of the 12th Junior Men's World Cup after they crossed the Belgium hurdle by a solitary goal in the quarterfinal stage. As an ardent supporter of the Indian team, it is easy to hop onto the quarterfinals winning celebrations bandwagon but can we lose sight of the fact that it was Belgium and not India, who dictated terms from the outset – India were not allowed to play their natural game – free-flowing attacking hockey even as the Red Lions, who engaged in a bout of slick and quick interchange of passes. The fact that India's first attacking move came in the closing stages of the opening quarter vindicates the point of how Belgium retained possession over India.


---

Germany's half-court press could get tricky; but India have the surprise up their sleeve

India have more tricks up their sleeves for the semifinals against Germany.

By Mihir Vasavda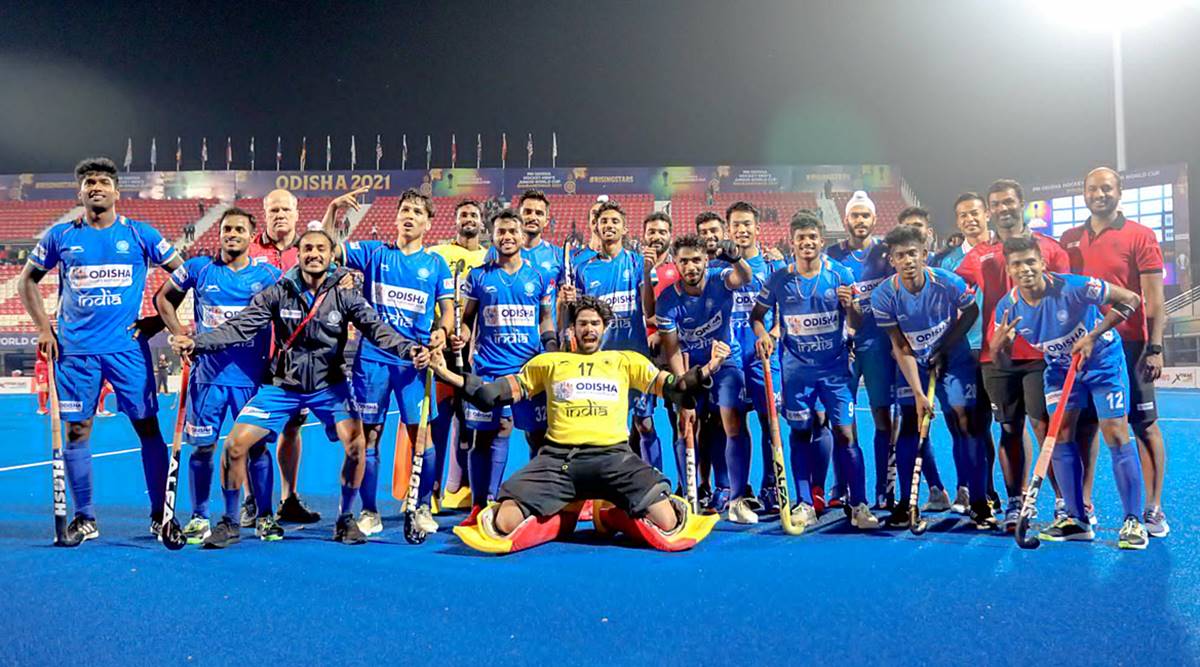 India will take on an opponent, Germany, in the Junior World Cup.   

After surviving a wave of Belgian attacks through some stubborn defending, India will take on an opponent, Germany, in the Junior World Cup semifinal that is diametrically opposite, both in terms of style and mentality.


---

COVID-19 hits Junior Hockey World Cup, one person tests posi itive

BHUBANESWAR: COVID-19 hit the ongoing FIH Junior Hockey World Cup here after an incident-free week with one positive case being reported on Friday.


---

Love and Friendship We Got Here Will Be Memorable: Pakistan on Playing in India



Pakistan players were 'overwhelmed and impressed by the hospitality of India during the FIH Junior Hockey World Cup.

Pakistan players were overwhelmed and impressed by the hospitality and arrangements made for them by Odisha and Hockey India during the FIH Junior Hockey World Cup 2021 in Bhubaneswar.


---

Supermom coach Pritam Siwach was reluctant, but son Yashdeep sticks to hockey, shores up India's defense

Blessed with positional acumen and ability to offload the ball quickly, the 21-year-old is lynchpin of India's zonal defense and fallback for high-press turnovers

By Mihir Vasavda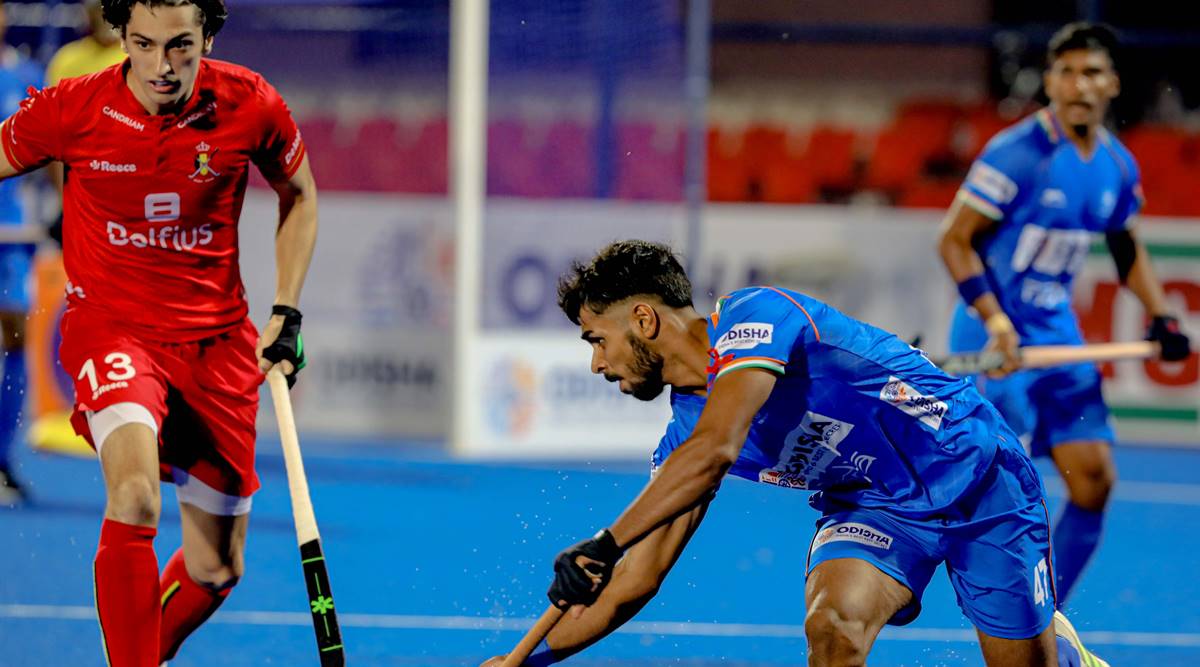 Yashdeep Siwach, credit Hockey IndiaYashdeep has impressed for four games in a row. (Hockey India)   

Pritam Siwach was convinced her son had lost it.

Around six years ago, on a chilly evening, Yashdeep innocently asked his mother, a hockey legend, if he should follow in her footsteps and pick up a stick. "Have you gone mad?" she replied, dismissively.


---

Indian government spent Rs 65 crore on men's hockey teams in last 5 years

The government said the money was utilised for coaching camps, competitions and other expenses.



Tokyo Olympics bronze medallist Indian men's hockey team

The Indian government said that it has spent over Rs 65 crore on Indian men's hockey teams in the last five years apart from shelling out close to Rs 104 crore on 20 infrastructure projects related to the game. The government said the money was utilised for coaching camps, competitions and other expenses.


---

From Outdoor to Indoor – A Leap in the Dark!




As winter approaches, hockey in Scotland turns its attention from the outdoor Premiership to the indoor version of the game – but will it be indoor hockey as we used to know it?


---

Osaka Hockey Becomes Presenting Sponsor of Nexus




COLORADO SPRINGS, Colo. - USA Field Hockey is pleased to announce that Osaka Hockey will be the presenting sponsor of Nexus, USA Field Hockey's Olympic Development Pathway Program, effective immediately and running through the 2024 Nexus Championship.


---

Hockey Wales aims high and looks for commercial backers




Welsh hockey has set upon both a five-year project of qualifying both men and women for the 2026 World Cups and seeking commercial backers to take the sport to the next level.


---

Hockey provides mental and physical benefits

Staying active through regular exercise is proven to improve mental and physical health and help prevent and manage mild anxiety and depression.




Hockey Australia's recent promotional campaign targeted at men highlights the sense of community, mateship and enjoyment that regular participation in sport can bring.