All the news for Tuesday 23 November 2021

FIH Odisha Hockey Men's Junior World Cup Bhubaneswar 2021
Bhubaneswar Odisha

All times GMT +5:30

24 Nov 2021 09:30     BEL v RSA (Pool A)
24 Nov 2021 12:00     GER v PAK (Pool D)
24 Nov 2021 14:30     CAN v POL (Pool B)
24 Nov 2021 17:00     MAS v CHI (Pool A)

Keep up to date with all the latest news on the FIH Hockey Pro League via the Watch.Hockey app, event website and through FIH social media channels - Facebook, Instagram and Twitter.
Live streaming and full game replay on the Watch Hockey App (May be Geo blocked if there is TV coverage)

FIH Match Centre

---

South Africa battle present with Future in mind




South Africa have come to Bhubaneswar with a mission that goes beyond the tournament itself.


---

Good performance here will lift PAK Hockey says coachKaleem




Enter Pakistan. At the last Junior World Cup in Lucknow in 2016, it was a visa problem that denied them entry. This time around the Junior Green Shirts will parade their wares, largely as an unknown quantity, at the Kalinga Stadium in Bhubaneswar.


---

"We will surprise whole world with our hockey" — Pakistan junior team skipper Abdul Rana

Three-time former Olympic champions Pakistan have seen a slump in the last few years, with the senior team failing to qualify for the showpiece event in the 2016 and 2021 editions.



Pakistan Junior Hockey Team (Source: Hockey India)

Pakistan team will surprise the entire world with its performance at the upcoming Junior Hockey World Cup, skipper Abdul Rana asserted.


---

Game time against seniors invaluable, says coach Reid



The Graham Reid-coached junior India team will look to defend its title at the upcoming FIH Junior World Cup. file

Playing practice matches against the senior hockey team in the absence of overseas competition was "valuable preparation" for the Indian side ahead of the FIH Junior World Cup, chief coach Graham Reid said today.


---

Direct entry disadvantage

By Jugjet Singh



The national juniors have a big handicap which might just see them reeling and tumbling at the Junior World Cup (JWC) in Bhubaneswar, which starts tomorrow. -Pic credit to Facebook MHC

THE Malaysian national juniors have a big handicap which might just see them reeling and tumbling at the Junior World Cup (JWC) in Bhubaneswar, which starts tomorrow.


---

Opportunity knocks for Canada in Bhubaneswar

Indy Sehmbi leads Junior National Team to India with a chance for redemption




Head Coach Indy Sehmbi brings a wealth of experience as both an athlete and a coach. He has been coaching since he was 19, when he coached a high school team. Once his career as a national team player was over [he retired in 2009], he became involved in various national team roles, starting as an analyst and then taking on role as Head Coach to the junior team in 2016.


---

FIH Hockey Men's Junior World Cup 2021: Watch live streaming as India chase third title

India are the defending champions and have also won the tournament in 2001. Olympic medallist Vivek Prasad will lead the title defence. Watch live!

By Rahul Venkat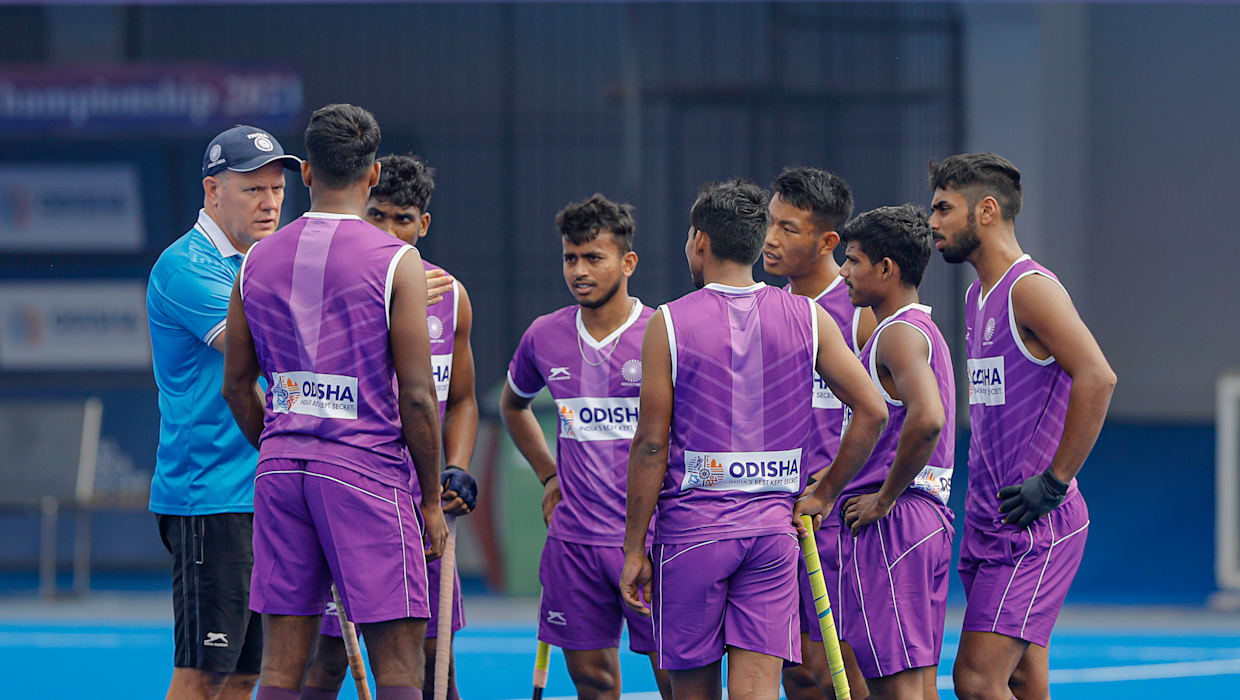 Picture by Hockey India

The Indian hockey team will be one of the favourites to win the FIH Hockey Men's Junior World Cup 2021 which starts at the Kalinga Stadium in Bhubaneshwar, Odisha on Wednesday.


---

Squad lists confirmed for FIH Hockey Women's Junior World Cup South Africa 2021




Lausanne, Switzerland: The International Hockey Federation (FIH) is delighted to confirm the squad lists for the upcoming FIH Hockey Women's Junior World Cup South Africa 2021, the showpiece event where hockey's rising stars will take to the field in the global showpiece in Potchefstroom.  


---

Wazalendo in Ghana for continental hockey event

By  Agnes Makhandia

Kenya's Wazalendo hockey men's club arrived in Accra, Ghana Monday evening ahead of the Africa Cup for Clubs Championship, which bullies off Wednesday at the Theodosia Okoh Stadium.


---

Marcano scores on debut for Hampstead & Westminster

by Nigel Simon



Teague Marcano

T&T international Teague Marcano marked his season debut for Hampstead & Westminster with an assist and goal in their 3-0 defeat of Brooklands Manchester University in the England Hockey League Men's Premier Division on Saturday.


---

Northwestern wins first NCAA field hockey title



A first title for Northwestern was realised on Sunday PIC: Northwestern field hockey

Northwestern beat Liberty 2-0 to lift their first NCAA field hockey title on Sunday.


---

After missing NCAA tournament last year, Maryland field hockey reached the Final Four

Shane Connuck



Brooke DeBerdine takes a shot through traffic during Maryland field hockey's NCAA tournament win over Syracuse, 2-1, on Nov. 14, 2021. (Cam Andrews/The Diamondback)

In 2020, for the first fall in over 30 years, coach Missy Meharg found herself not on the Maryland field hockey sideline. The Terps' season had been postponed, and they were running intersquad practices among themselves.


---

Difficult season dooms UNC field hockey's hopes of fourth straight national title

By Kaitlyn Schmidt



Senior forward Meredith Sholder (2) runs with the ball at the field hockey game against Louisville on Oct. 22 at the Karen Shelton Stadium. UNC lost 2-3 in overtime. Photo by Helen McGinnis | The Daily Tar Heel

North Carolina field hockey head coach Karen Shelton calls herself "a bit of a poker player," and for her team, every season is just like another game of Texas Hold 'em.


---

Five Nittany Lion Field Hockey Players Earn NFHCA All-Region Laurels

Allessie, Gladieux, Simon earn first team All-Region honors




UNIVERSITY PARK, Pa. – Five members of head coach Char Morett-Curtiss' Penn State field hockey team have been honored with the announcement of the 2021 National Field Hockey Coaches Association All-Region teams. Three Nittany Lions have been honored with first team honors and two were named to the second team.


---

Hockey Australia Board renewal

Hockey Australia (HA) advises three Directors will officially end their tenure at this Thursday's HA Council meeting.