All the news for Wednesday 24 November 2021

FIH Odisha Hockey Men's Junior World Cup Bhubaneswar 2021 - 24 November
Bhubaneswar Odisha

All times GMT +5:30

24 Nov 2021     BEL v RSA (Pool A)     5 - 1
24 Nov 2021     GER v PAK (Pool D)    5 - 2
24 Nov 2021 14:30     CAN v POL (Pool B)
24 Nov 2021 17:00     MAS v CHI (Pool A)
24 Nov 2021 20:00     IND v FRA (Pool B)

25 Nov 2021 09:30     ARG v EGY (Pool D)
25 Nov 2021 12:00     NED v KOR (Pool C)
25 Nov 2021 14:30     ESP v USA (Pool C)
25 Nov 2021 17:00     FRA v POL (Pool B)
25 Nov 2021 19:30     CAN v IND (Pool B)
Keep up to date with all the latest news on the FIH Hockey Pro League via the Watch.Hockey app, event website and through FIH social media channels - Facebook, Instagram and Twitter.
Live streaming and full game replay on the Watch Hockey App (May be Geo blocked if there is TV coverage)

FIH Match Centre


---

SA U21 Men beaten by Belgium in World Cup opener

Belgium and South Africa came up against each other for the first time in history in the junior ranks as the 2021 Junior World Cup got underway in Odisha. The Belgians were the runners up in 2016 and with the senior side being the Olympic champions there is massive optimism around the Red Lions at this tournament.


---

SA Men get Junior World Cup underway against Belgium

After a preparation run that can only be described as materially impacted by the coronavirus pandemic, the South African U21 side are in India and will begin their Junior World Cup adventure as they take on the Olympic Champions Belgium's juniors in the opening game of the tournament.


---

France brace for big opener against India

By ERROL D'CRUZ




In an ocean of football in their country, French hockey players are incognito and quietly go about their business. And quite well at that. If their runner-up spot at the 2013 FIH Junior World Cup is an indication. Or their exploits in the senior World Cup where they registered a sensational 2-1 victory over India way back at Lahore 1990 and a 5-3 over then Olympic champions Argentina at the 2018 edition.


---

Defenders at home

Indian boys would hope to add to euphoria after Tokyo high; reigning champs take on France in opener

Indervir Grewal



Vivek Sagar Prasad will be leading the side. - File photo

After facing months of scepticism from the world, India is ready to lift the shroud of uncertainty by hosting its first major international tournament in over nine months.


---

India aiming to defend FIH Men's Junior World Cup on home turf

By Geoff Berkeley



Vivek Prasad, left, who featured at the Tokyo 2020 Olympics, will captain the Indian side at the Men's Junior World Cup ©Getty Images

Defending champions India will be looking to deliver further home success at the International Hockey Federation (FIH) Men's Junior World Cup in Bhubaneswar.


---

Title holders India seek inspiration from Olympic bronze medallist seniors

The India junior side, which got the opportunity to stay, train and play matches against seniors, would look to wrap up the successful 2021 season by retaining the title, which would be its third



India open their Men's Junior Hockey World Cup 2021 campaign against France. Image: Hockey India

Bhubaneswar: The Indian colts would draw inspiration from their Olympic bronze medal-winning seniors when they begin their title defence at the Junior Hockey World Cup with a clash against France, here on Wednesday.


---

Stay focussed as a team in adversity, don't point fingers: Manpreet's advice to Jr WC side

Defending champions India will open their campaign in the FIH Junior World Cup against France



Manpreet Singh. File photo

Staying focussed as a team in times of adversity is the key to success in a high-profile tournament like the FIH Junior Hockey World Cup, advised Manpreet Singh, captain of India's Tokyo Olympic bronze medal-winning side to his young colleague Vivek Sagar Prasad.


---

"Really pleasant to watch Vivek take on leadership role": Reid

By K. ARUMUGAM




First up are France for hosts India at the FIH 2021 Men's Junior World Cup starting in Bhubaneswar on Wednesday, November 24. Graham Reid, India head coach, is taking nothing for granted for myriad reasons. Attending a virtual media conference along with captain and midfielder Vivek Sagar Prasad, the Australian looked ahead to the morrow.


---

Tightly controlled in Bhubaneswar

By Jugjet Singh



-Pic credit to Facebook MHC

JUNIOR World Cup (JWC) host Bhubaneswar, a city in India with a cool November climate, has set up water-tight Covid-19 protocol, which has even impressed the Malaysian officials.


---

Mitton calls an end to time with Kookaburras




Olympic silver medallist and triple Commonwealth Games gold medal winning Kookaburra Trent Mitton has announced his retirement from international hockey.


---

Trent Mitton - One on One




Trent Mitton knows a thing or two about resilience, celebrating success and dealing with setbacks.


---

Wazalendo ready for Zamalek tie as Africa Cup begins

By Washington Onyango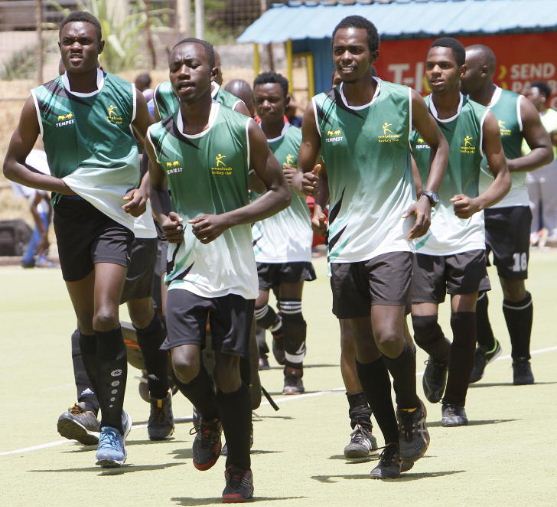 Wazalendo players warm-up when they played National League Men at City Park Nairobi. 09/03/2019 (Jenipher Wachie, Standard)

Kenya's Wazalendo Hockey Club are confident of registering positive results as they begin the 2021 Africa Cup for Clubs Championship with a clash against Egyptian giants Zamalek today at the Theodosia Okoh Stadium in Accra, Ghana.


---

First Irish Under-21 women's indoor panel named for December Euros



illie Regan in action for Ireland in 2019 against South Africa. Pic: Shaun Roy/PSI

The squad for Ireland's first ever entry in the women's junior European Championships has been named as they prepare for the competition in December in Sveti Ivan Zelina in Croatia.


---

Monkstown and Queen's on the march in women's EYHL2



Queen's celebrate. Picture: Billy Pollock

Monkstown and Queen's put their best foot forward in women's EY Hockey League Division 2's Pool B with strong wins but there is nothing to choose between the teams in Pool A.


---

Five Maryland field hockey players earn NFHCA honors

Brooke DeBerdine, Hope Rose, Bibi Donraadt, Julianna Tornetta and Emma DeBerdine were all recognized

By Damon Brooks Jr.



Courtesy of Maryland Athletics UMTerps

Five Maryland field hockey were honored with National Field Hockey Coaches Association All-Mid Atlantic Region honors on Monday afternoon.


---

Diversity push can yield more Olympic talent, says UK Sport



Hollie Pearne-Webb, Sarah Jones and Susannah Townsend have all joined Wimbledon PIC: GB Hockey

UK Sport is urging sports such as hockey to seek out potential talents from diverse backgrounds who may have been missed in the past.