All the news for Tuesday 26 October 2021

Wales Men beat France to win World Cup Qualifiers in Cardiff

By Will Smale



Credit: Irfon Bennett

The final of the European Qualifiers of the FIH men's World Cup 2023 took place on a pleasant, autumn evening in the Welsh capital, with a scene of normality as both sides wore preferred kit - Wales all in red, and the French in blue shirts and white shorts. Both sides had already secured their places in India for 2023, but this match had just as much anticipation and tension as the knockout fixtures earlier in the week.


---

Wales Women narrowly miss out on 2022 World Cup spot




As Wales women lined up to play their final match of the Women's World Cup Qualifiers in Pisa, they had a tough ask ahead of them. Ranked 7th in the tournament, they needed to be on their best form to beat number 1 seed Ireland.


---

Ireland qualify for Hockey Women's World Cup as Wales and France reach men's tournament

By Ali Iveson



Anna O'Flanagan scored twice as Ireland beat Wales 2-1 to earn a World Cup spot ©Getty Images

Wales have qualified for the men's Hockey World Cup for the first time, securing one of two berths on offer at the European qualifier in Cardiff.


---

First Women's GB Squad from 1965 honoured in ceremony in Cardiff



Surviving members of the Great Britain & Ireland 1965 touring team, together with team members' relatives, were awarded Honours Caps by Sheila Morrow, GB Hockey President, at a ceremony in Cardiff on 15th October 2021

At a very special ceremony at Cottrell Park Golf Club, Cardiff, the surviving members of the very first women's GB Squad to be selected in 1965, were presented with their GB Honours Caps by the current GB Hockey President, Sheila Morrow. Six members of this trailblazing team, Helen O'Boyle (nee O'Neill) (Ireland), Eirianwen Thomas and Janet Hopkins (nee Morgan) (both Wales), Janice Lang (nee Mitchell) and Valerie Crombie (nee Sinclair) (both Scotland) and Ellen Jenkins (nee Toulson) (England) came together again for the first time in 56 years. Listening to them sharing great memories of the tour to the USA, their other stories and the laughter, it seemed like it had only happened yesterday. These former players were joined by the relatives of Jennifer Braham (England) and Mary Hyland (Wales) who are sadly no longer with us.


---

Nations lining to take Junior World Cup title




The FIH Odisha Hockey Men's Junior World Cup bursts into vibrant life in Bhubaneswar, India in just a few days time.


---

High hopes for PAHF teams in South Africa and India

Sarah Juggins



WorldSportPics

The men's and women's Junior World Cup competitions will be bursting into life towards the end of the year, with teams from the Pan American region represented in both the men's and women's competitions.


---

SA U21 Men Announced for the Junior World Cup

South Africa will be heading to Bhubaneswar for the 12th FIH Junior World Cup from the 24 November to the 5 December. It will be the African's 6th appearance at the tournament looking to improve on the 10th place obtained in 2016 under Garreth Ewing.


---

Jharkhand, Karnataka, UP register convincing wins in Senior Women's National Hockey

Jharkhand, Karnataka and Uttar Pradesh registered thumping wins over their respective rivals



 Senior Women's National Hockey

Jharkhand, Karnataka and Uttar Pradesh registered thumping wins over their respective rivals in pool matches of the 11th Hockey India senior women national championship on Monday.


---

Favourites win on opening day

791 days ago, before social distancing became a thing, the 2019 IPT got underway in Bloemfontein. In Bloemfontein it was the Northern Blues who emerged victorious winning in the final over the defending champions Southern Gauteng.


---

WP hockey girls revive flame

Earl Haupt



The u-16 Western Province girls hockey team fought hard and enjoyed the competition after months without play. Here are (from left) Isabella Abrahams, Jesse Gradwll, Mia Andrew, Emma Nel and Shana Maggott.PHOTO: TeamphotoSA

After not playing competitive provincial hockey since 2019, the u-16 Western Province (WP) girls teams and their counterparts from Boland locked horns in a series of friendlies recently.


---

Den Bosch wins topper, another win for Kampong



Sanne Koolen in duel with Kira Horn during Amsterdam-Den Bosch. Photo: Bart Scheulderman

On the ninth matchday in the Dutch big league, Den Bosch won the top match against Amsterdam. In the Wagener Stadium it was 2-1 for the leader on Sunday. At the bottom, Kampong was 2-1 too strong for last-placed Oranje-Rood and HGC took three points in the duel with hdm in the nick of time thanks to three hits by Cecile Pieper.


---

Oranje-Rood and Rotterdam show resilience



Jelle Galema (Orange-Red) cheers after his equalizer against Kampong. Photo: Willem Vernes

On the ninth day of play in the Tulp Hoofdklasse Men, Oranje-Rood and Rotterdam each fought to a tie. Oranje-Rood cleared a 3-1 deficit against Kampong and Rotterdam repaired a deficit against HGC three times. Closer Hurley seemed to take the first points of the season, but had to bow his head in the Bosderby with Amsterdam in the final phase. Leader Bloemendaal defeated Little Switzerland 3-1.


---

Stefan Duyf refuses to throw in the towel

Waiting for the first win of the season, the pressure on Oranje-Rood, the current number twelve of the Dutch big league, is increasing every week. How does coach Stefan Duyf view the situation, after the worrying 1-2 defeat against competitor Kampong ?


---

Maryland field hockey's defense found its rhythm in time to knock off No. 2 Michigan

Shane Connuck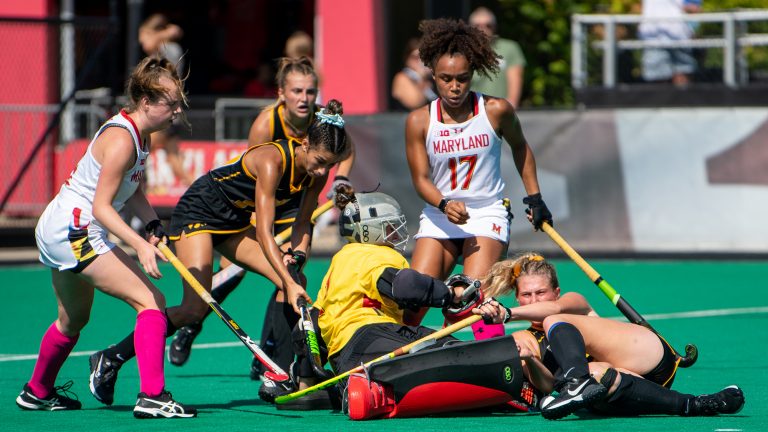 Noelle Frost makes a save during Maryland field hockey's 2-1 loss to No. 1 Iowa on Oct. 3, 2021. (Joe Ryan/The Diamondback)

From 2011 to 2015, Kasey Tapman Asper was a crucial part of Maryland field hockey's penalty corner defense.


---

Savage appointed Hockey Australia High Performance Director




Hockey Australia (HA) has announced highly experienced operator Bernard Savage as its new High Performance Director.