All the news for Wednesday 20 October 2021

Tense times on road to World Cup qualification



Photo credit: Yan Huckendubler

It all comes down to one prized qualification place for the winning women's and two qualification places for the men's teams at the FIH Hockey Women's World Cup 2022 – European Qualifier 2021 and the FIH Hockey Men's World Cup 2023 - European Qualifier 2021. Taking place from 21-24 October in Pisa, Italy and Cardiff, Wales respectively, the teams that triumph will be taking part in the respective women and men's World Cups in Spain/Netherlands (2022) and India (2023). For the women, there is one place up for grabs, while the two finalists in the men's competition will earn the right to compete at Bhubaneswar in 2023.  


---

Stickmen to face USA, Canada in World qualifiers

by Nigel Simon



Darren Cowie, new national men's coach.

The T&T senior Calypso Stickmen men will compete in Group B of the eight-team Pan American Men's Hockey Cup Tournament against North American foes USA, Canada and Mexico from January 12-23 in Santiago, Chile.


---

Calypso Stickwomen to face South America trio in qualifiers

by Nigel Simon



Members of the T&T senior women's hockey team who picked up the silver medals at the 2021 Women's Pan American Challenge at the Villa Maria del Triunfo Pan American Complex, Lima after going under to Chile 2-0 in the four-team tournament final, earlier this month. Photo: PAHF.

T&T senior women's hockey team dubbed the Calypso Stickwomen have been drawn against three South American teams in powerhouse Argentina, Chile and Uruguay in Group A of the eight-team Pan American Cup slated for Santiago, Chile from January 12-23.


---

Asian Champions Trophy hockey winners: India, Pakistan, South Korea dominate

India and Pakistan have won the men's Asian Champions Trophy three times each. South Korea are the most successful women's team with three titles.

By Aarish Ansari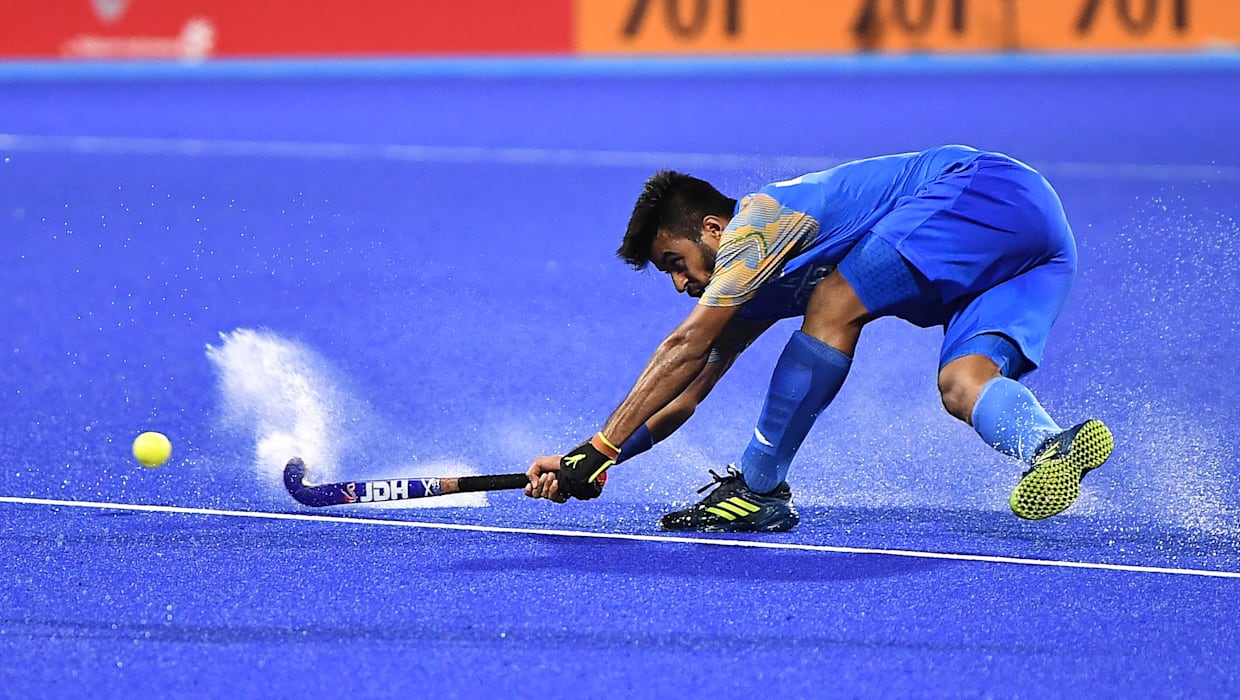 Picture by 2018 Getty Images

Having started only a decade ago, the Asian Champions Trophy has quickly become one of the most exciting hockey tournaments of the continent and one that draws the world's attention.


---

Speedy Tigers achieve tour target in Britain

By K. Rajan



National hockey players in a huddle during their friendly match against France on Monday. - Pic courtesy of MHC

National hockey coach Arul Selvaraj believes his team have a promising future ahead following their Tour of Britain success.


---

Four members of India's junior men's hockey team test positive for dengue

By Patrick Burke



Five athletes tested positive for dengue at the SAI's Southern Centre in Bengaluru, although Ritu Pathik denied reports that more hockey players were infected ©Getty Images

Four members of India's junior men's hockey team are believed to have tested positive for dengue at a training camp at the Sports Authority of India's (SAI) Southern Centre in Bengaluru.


---

2021 National Under 21 Championships cancelled




Hockey Australia, in collaboration with the state and territory member associations, has announced the cancellation of the 2021 Australian Under 21 Hockey Championships.


---

Great Hockey Organiser Ayub Bhaa Passes Away

Ijaz Chaudhry




Ayub bhaa, one of the most dedicated hockey organisers of Pakistan passed away on Monday, just two days before his 83rd birthday, in his native Khushab.

Hockey remained his passion throughout.

He organised a number of hockey events in Khushab including the All Pakistan Khushab Gold Cup for around 35 years which remained a part of the Pakistan Hockey Federation`s annual calendar. It was participated by all the top domestic teams.

Ayub Bhaa was a member of the PHF`s working committee from 1982-86, Later, he remained a member of the PHF`s congress from 1986-1990.

He also toured Malaysia, Zimbabwe and Kenya with the Pakistan teams as the associate manager.

Through his efforts, the national teams of Holland, India, Poland and Kenya touring Pakistan, played matches at Khushab/Sargodha against the regional sides.

Pakistan's victorious teams of the 1982 & 1994 World Cups visited Khushab during their country-wide tours.
 
Ayub Bhaa`s services to Pakistan`s national game especially in his own area endeared him to local people so much that he was elected as the Khushab`s tehsil nazim as well as the chairman baldia (municipality).
 
His death has been widely condoled by the hockey circles of the country.

Ijaz Chaudhry writes on hockey & other sports. For more about him and his work, visit: www.sportscorrespondent.info

Fieldhockey.com