All the news for Friday 27 August 2021

Junior Pan American Championship 2021 - Day 7
Santiago (CHI)

All times GMT -4

Men

27 Aug 2021 10:00     TTO v BRA (7th Place)
27 Aug 2021 14:00     ARG v CAN (Semi-Final 1)
27 Aug 2021 16:00     CHI v USA (Semi-Final 2)

Women

26 Aug 2021     ARG v TTO (5th-6th Place)     11 - 0
26 Aug 2021    USA v URU (Semi-Final 2)     0 - 1
26 Aug 2021    CAN v CHI (Semi-Final 1)     1 - 0

FIH Match Centre


---

Uruguay and Canada women qualify for the Final of the Pan American Junior Championship

Earn an automatic berth for the Junior World Cup

Macarena Ilabaca Burrows



USA v Uruguay. Photo: Rodrigo Jaramillo

Uruguay and Canada women qualify for the Final of the Pan American Junior Championship (and earn an automatic berth for the Junior World Cup) after defeating USA and host Chile. Argentina takes 5th place in the competition by defeating Trinidad & Tobago.


---

Team Canada women beat Chile and earn Junior World Cup berth

Semifinal wins earns Canadian junior women first Junior World Cup berth since 2013




Another tough defensive effort coupled with a Thora Rae backhand rocket vaults Canada into the finals and secures a berth to the Junior World Cup.


---

U-22 USWNT Fall to Uruguay in JPAC Semifinals



IMAGE TAKEN BY WORLD SPORT PICS & RODRIGO JARAMILLO

SANTIAGO, Chile – A battle until the end, the U.S. U-22 Women's National Team were held scoreless against Uruguay in the 2021 Junior Pan American Championship (JPAC) Semifinals. At the Prince of Wales Country Club in Santiago, Chile, USA saw many chances go unanswered as Uruguay capitalized on a penalty corner in the fourth quarter for the 1-0 win.


---

Canada's junior national field hockey team books ticket to World Cup

10 players from B.C., including three from the North Shore, help Team Canada score crucial win at Pan Am Championships

By: Andy Prest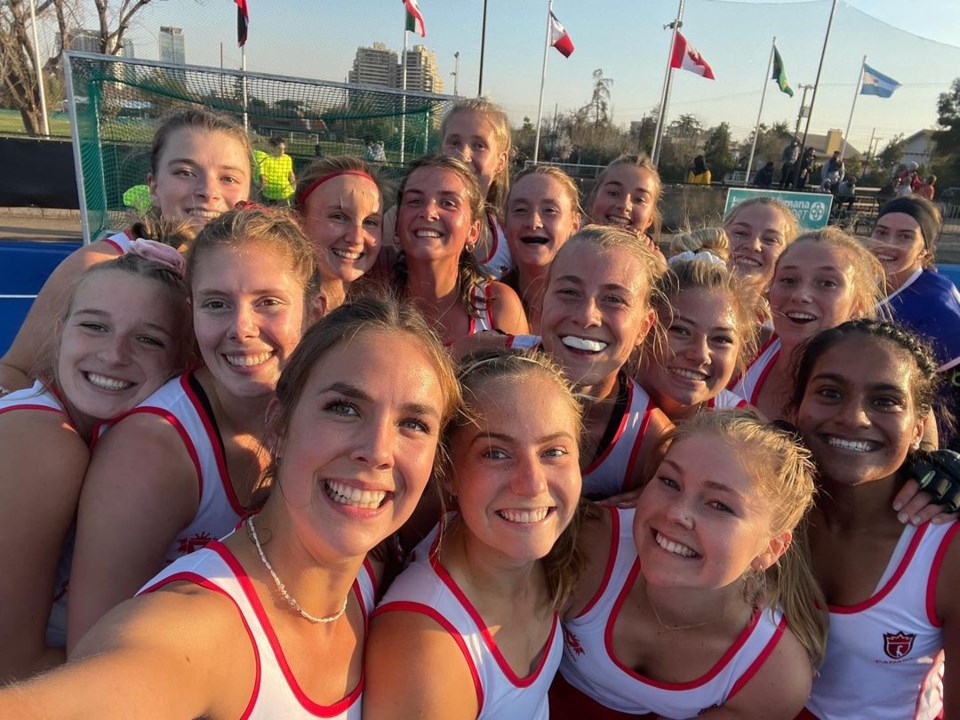 Members of Canada's junior women's national field hockey team pose for a celebratory selfie after booking a ticket to the Junior World Cup with a 1-0 win over Chile in the Pan American Championship semifinals Aug. 26, 2021 in Chile. twitter.com/FieldHockeyCan

Canada's national junior women's field hockey team booked a ticket to the Junior World Cup today with a win over Chile in the semifinals at the Junior Pan American Championships.


---

Trinidad and Tobago women finish 6th in Jr Pan Am Hockey Championships

Jonathan Ramnanansingh



Trinidad and Tobago's women's hockey team concluded their 2021 Junior Pan American Hockey Championships campaign in sixth position in Santiago, Chile, on Thursday.

An 11-0 mauling by Argentina on Thursday saw Trinidad and Tobago's women's hockey team conclude their 2021 Junior Pan American Championships campaign in sixth position in Santiago, Chile.


---

Stints abroad good exposure for aspiring players

By K. Rajan



Former international I. Vikneswaran said more up-and-coming players in the country should ply their trade in the European leagues to improve their game.

Playing abroad seems like the only way forward for Malaysian hockey players as Covid-19 continues to wreak havoc in the country.


---

Amit Rohidas awarded Biju Patnaik Sports Award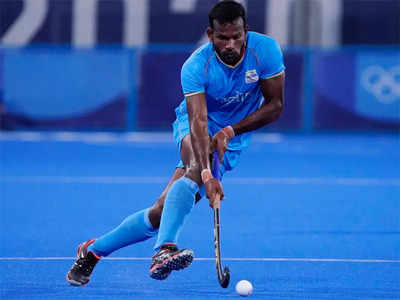 Amit Rohidas. (AP Photo)

NEW DELHI: Indian men's hockey team defender, and drag-flicker Amit Rohidas has been awarded the prestigious Biju Patna Sports Award for outstanding performance in Sports & Games by the Odisha government. Rohidas played an instrumental role in India's backline as well as PC defending in the recently concluded Tokyo Olympics where India ended a 41-year wait for an Olympic medal by claiming Bronze.


---

UNC field hockey seniors Erin Matson, Cassie Sumfest named team captains for 2021

By Lauren Baddour



UNC junior forward Erin Matson (1) drives the ball up the field against Syracuse on Oct. 16, 2020 in the Karen Shelton Stadium in Chapel Hill, N.C. Matson scored the only goal of the game, letting UNC beat Syracuse 1-0. Photo by Angelica Edwards | The Daily Tar Heel

The UNC field hockey team recently elected seniors Erin Matson and Cassie Sumfest as captains for the upcoming season.


---

Hockey India congratulates Col Bibhu Kalyan Nayak on re-appointment as chair of FIH health and safety committee

Bibhu Kalyan Nayak's first International stint as the team doctor was in 2007 when he took up the role with Indian Youth Boxing Team for a span of two years.

NEW DELHI: Hockey India on Thursday congratulated Col (Dr.) Bibhu Kalyan Nayak, an expert in Sports Traumatology and Sports and Exercise Physiology, for being re-appointed as the Chair of FIH health and safety committee by the FIH executive board recently. Col (Dr.) Nayak's new term will last till the first Executive Board Meeting after Congress 2022.


---

HockeyPod Episode 10: Olympic Games Tokyo 2020 Special!




Following the conclusion of the Olympic Games Tokyo 2020, we have a real treat in store for all hockey fans. The tenth episode of HockeyPod – the FIH's monthly podcast – is a very special one, with three of the biggest names in the sport joining in conversation with hosts Sarah Juggins and Rich Stainthorpe.


---

1956 Olympic Silver Medallist Qazi Musarrat Passes Away

By Ijaz Chaudhry




Qazi Musarrat Hussain, a member of the Pakistan hockey team which won the country`s first ever Olympic medal (silver) in any sports at the 1956 Olympics, breathed his last in Karachi on Thursday. He was 86.

Equally adept at the positions of right half and left half, Musarrat presented a distinct figure on the field- he was left-handed so held the stick with a unique grip.

Born in what is now India,his family moved to Lahore after the partition.

Musarrat studied in Government College, Lahore which always had a strong hockey team studded with internationals and potential internationals.

He also represented the Punjab University team. Later, he joined customs which had one of the strongest hockey teams in the domestic circuit.

He hence moved to Karachi where he lived till the end.

Apart from the 1956 Olympics, Musarrat also played for Pakistan at the 1958 Asian Games where Pakistan won the gold medal thus relegating India to second position for the first   time in a title tournament.

At the national camp for the 1960 Olympics, he sustained a knee injury which turned out to be career ending. He never recovered from that and his domestic hockey career also ended.

Later, he concentrated on his job in customs and reached the rank of Assistant Collector.

Qazi Musarrat was one of the two survivors from the 1956 Olympics team. Now, only left winger Mutiullah is among us.

Fieldhockey.com