All the news for Saturday 28 August 2021

Junior Pan American Championship 2021 - Day 8
Santiago (CHI)

All times GMT -4

Men

27 Aug 2021     TTO v BRA (7th Place)         4 - 2
27 Aug 2021     ARG v CAN (Semi-Final 1)     2 - 1
27 Aug 2021    CHI v USA (Semi-Final 2)     4 - 0

28 Aug 2021 08:00     TTO v MEX (5th-6th Place)
28 Aug 2021 14:00     CAN v USA (3rd-4th Place)
28 Aug 2021 16:00     ARG v CHI (Final)

Women

28 Aug 2021 10:00     CHI v USA (3rd-4th Place)
28 Aug 2021 12:00     CAN v URU (Final)

FIH Match Centre


---

Argentina and Chile men qualify for the Final of the Pan American Junior Championship

Earn an automatic berth for the Junior World Cup

Macarena Ilabaca Burrows



Chile v USA. Rodrigo Jaramillo

Argentina and host Chile qualify for the Final of the Pan American Junior Championship (and earn an automatic berth for the Junior World Cup) after defeating Canada and the USA.


---

U-22 USMNT Unable to Overcome Chile in JPAC Semifinals



IMAGE TAKEN BY WORLD SPORT PICS & RODRIGO JARAMILLO

SANTIAGO, Chile – The U.S. U-22 Men's National Team were unable to overcome Chile in the 2021 Junior Pan American Championship Semifinals. At the Prince of Wales Country Club in Santiago, Chile, USA was trailing by one at the half but the hosts used speed and precision to add another three for the final 4-0 win.


---

Coach Graham Reid sets sight on new targets after Indian men's hockey team's Tokyo success

The India men's hockey team won a bronze at the Tokyo Games earlier this month, ending a 41-year wait for a medal in the sport.



File image of Graham Reid. AFP

New Delhi: A historic Olympic bronze medal in its pocket, the Indian men's hockey team is eyeing several milestones in the coming years, the preparation for which will begin next month, chief coach Graham Reid said on Friday.


---

Tata Motors Rani and Co an Altroz each

S2H Team




From driving the ball into the striking circle, members of the Indian women's hockey team will now drive away with a flashy premium Altroz thanks to Tata Motors.


---

Finalists Decided In Day Three Of Futures Cup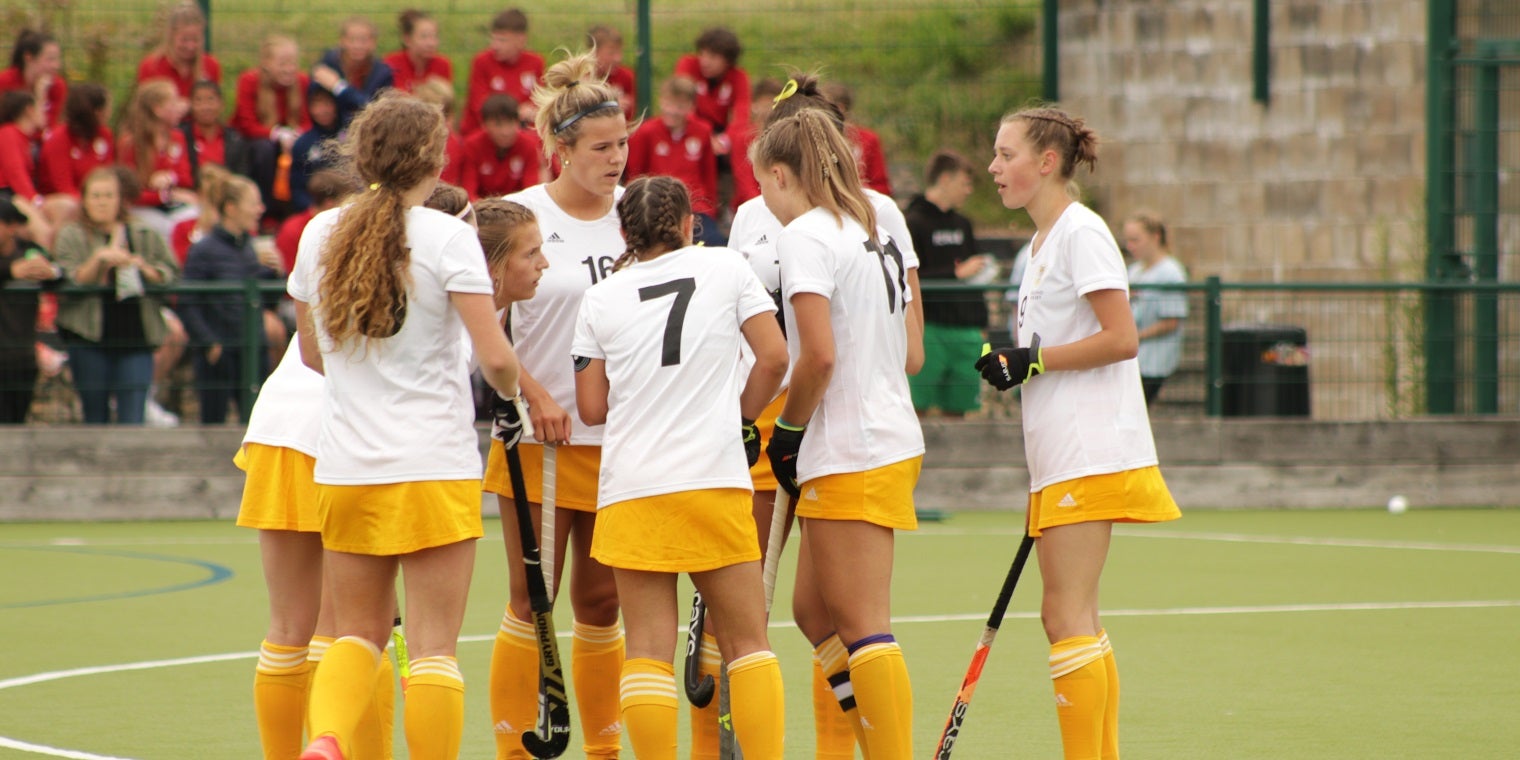 There will be representation of all six teams in Finals Day on Saturday 28 August as the final round of Pool matches of Futures Cup 2021 have come to their conclusion.


---

Weekend College Games: Division I Season Opener Edition




USA Field Hockey's weekly feature of highlighting some of the top college games in Division I, II and III is back for the 2021 season. Division II and III games have not officially started yet, so this week we are only highlighting Division I.


---

No. 1 UNC field hockey drops season opener to No. 2 Michigan, 3-2

By J Banzet V



UNC senior forward Hannah Griggs (3) runs with the ball at the ACC-Big Ten Challenge game against Michigan on Aug 27 in Iowa City, Iowa. UNC lost 2-3. Photo courtesy of Iowa Athletics.

The No. 1 North Carolina field hockey team (0-1) lost its season opener to No. 2 Michigan (1-0) on Friday afternoon, 3-2.


---

No. 3 Iowa field hockey downs No. 11 Wake Forest, 5-3

Three first quarter goals pushed the Hawkeyes past the Demon Deacons at Grant Field in Iowa City Friday.

Ben Palya



Iowa forward Maddy Murphy sweeps the ball during the first quarter of a field hockey game against Maryland on Sunday, April 4, 2021 at Grant Field. The Hawkeyes defeated the Terrapins, 3-0. Hannah Kinson

No. 3 Iowa field hockey opened its 2021-22 season with a 5-3 win over No. 11 Wake Forest in the Big Ten/ACC Challenge Friday afternoon.


---

Maryland field hockey hopes to rely on strong bond for fall 2021 season

Shane Connuck



Maryland field hockey celebrates Mayv Clune's goal during the Terps' 2-1 win over Rutgers on April 17, 2021. (Joe Ryan/The Diamondback)

When someone walks into Maryland field hockey's team room at the Field Hockey and Lacrosse Complex, they can typically see an international field hockey match playing on a flat screen TV.


---

Maryland field hockey opener against UMass Lowell canceled due to inclement weather

Shane Connuck



Nathalie Fiechter moves the ball during Maryland field hockey's season opener against UMass Lowell on Aug. 27, 2021. The game was later canceled due to thunderstorms. (Collin Riviello/The Diamondback)

The sun was high in the sky, beaming down toward a sweltering Field Hockey and Lacrosse Complex on Friday afternoon. Dripping in sweat and overcome with disbelief, a couple of UMass Lowell players stopped in their tracks and took a deep breath as the match was halted due to inclement weather in the area.


---

No. 8 UVA Field Hockey Falls to No. 16 Penn State in Overtime, 3-2

Virginia's 11 shots on goal were not enough, as the Cavaliers dropped their season opener to the Nittany Lions on Friday.

Matt Newton

If you looked at every stat in the box score except for the final score, you would have been certain that the Virginia Cavaliers had won their season-opening field hockey match against Penn State in a landslide. UVA led Penn State in corners, shots, and shots on goal by a wide margin.


---

Field Hockey Tops Monmouth, 2-1, in Season Opener

BOSTON - Sophomore Thalia Steenssens scored the game-winning goal and added an assist to lead the Boston University field hockey team to a 2-1 win over Monmouth in its season opener on Friday afternoon at New Balance Field.


---

No. 15 Rutgers field hockey defeats No. 12 Duke 3-0 in season opener

The Scarlet Knights dominated en route to the program's first victory against an ACC opponent since 1989.

By Aaron Breitman



Duke Athletics

There was no easing into the most anticipated season for Rutgers field hockey arguably ever. Opening the 2021 campaign on the road against No. 12 Duke without First Team All-American goalkeeper Gianna Glatz, currently in net for Team USA, with her backup Sophia Howard having zero career saves and making her first career start was an immediate challenge for the Scarlet Knights. The leadership and experience of this team shined brightly on Friday night as RU dominated play for a 3-0 victory.


---

#20 Field Hockey Rolls Past Fairfield, 4-0, in Opener




MERION STATION, Pa. – Four Hawks tallied goals on Friday as the 20th-ranked Saint Joseph's field hockey team opened its season with a 4-0 win over Fairfield at Ellen Ryan Field.


---

Graig elected hockey president

by Helge Schütz



Reagon Graig, the new president of the Namibia Hockey Union. Photo contributed

THE Namibia Hockey Union (NHU) has elected former captain of the national men's hockey team and well-known Namibian business personality, Reagon Graig, as its new president.