All the news for Monday 23 August 2021

Junior Pan American Championship 2021 - Day 3
Santiago (CHI)

All times GMT -4

Men

22 Aug 2021     MEX v BRA (Pool B)     6 - 1
22 Aug 2021    CHI v CAN (Pool B)         3 - 1

23 Aug 2021 14:00     USA v ARG (Pool A)

Pool Standings

Pool A
Pool B
| Rank | Team | Played | Wins | Draws | Losses | Goals For | Goals Against | Goal Difference | Points |
| --- | --- | --- | --- | --- | --- | --- | --- | --- | --- |
| 1 | Chile | 2 | 2 | 0 | 0 | 5 | 1 | 4 | 6 |
| 2 | Mexico | 2 | 1 | 0 | 1 | 7 | 4 | 3 | 3 |
| 3 | Canada | 2 | 1 | 0 | 1 | 4 | 4 | 0 | 3 |
| 4 | Brazil | 2 | 0 | 0 | 2 | 1 | 8 | -7 | 0 |
Women

22 Aug 2021     CHI v USA (Pool B)         1 - 2

23 Aug 2021 10:00     ARG v URU (Pool A)
23 Aug 2021 12:00     USA v TTO (Pool B)

Pool Standings

Pool A
| Rank | Team | Played | Wins | Draws | Losses | Goals For | Goals Against | Goal Difference | Points |
| --- | --- | --- | --- | --- | --- | --- | --- | --- | --- |
| 1 | Canada | 1 | 0 | 1 | 0 | 0 | 0 | 0 | 1 |
| 1 | Uruguay | 1 | 0 | 1 | 0 | 0 | 0 | 0 | 1 |
| 3 | Argentina | 0 | 0 | 0 | 0 | 0 | 0 | 0 | 0 |
Pool B
---

Emotions, sun and hockey in Santiago

Macarena Ilabaca Burrows, for PAHF



Chile vs. Canada. Photo Rodrigo Jaramillo

An exciting second day was lived on the field of the PWCC, venue of the Junior Pan American 2021 in Santiago Chile.


---

U-22 USWNT Defeats Hosts Chile in JPAC Opener



IMAGE TAKEN BY WORLD SPORT PICS & RODRIGO JARAMILLO

SANTIAGO, Chile – To open their 2021 Junior Pan American Championship campaign, the U.S. U-22 Women's National Team took on the host nation at the Prince of Wales Country Club in Santiago, Chile. USA used a fast start in the first and second quarters to defeat Chile, 2-1, in their first pool play game.


---

Arminen players abound in Austria's run to gold




Eight SV Arminen players helped Austria to EuroHockey Championship II gold as they won gold in Gniezno, Poland via a shoot-out against Scotland.


---

Punjab renames 10 schools after members of Olympic bronze-winning India men's hockey team

Punjab School Education Minister Vijay Inder Singla said CM Amarinder Singh has given approval to rename schools after the names of various players from Punjab who were part of the Indian men hockey team squad which won the bronze medal at the Tokyo Olympics.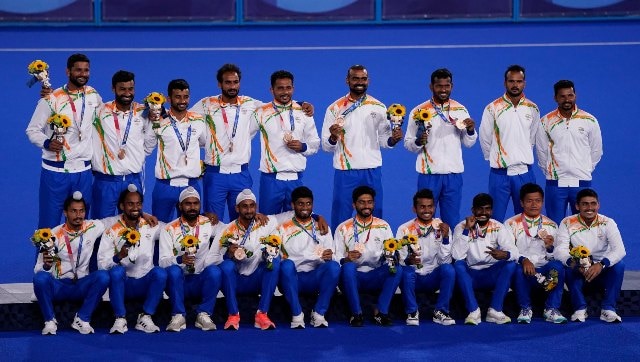 The India field hockey team poses for a photo with their bronze medal after taking third place in the men's field hockey event in the 2020 Tokyo Olympics. AP

Chandigarh: Punjab School Education Minister Vijay Inder Singla on Sunday said the state government has renamed ten schools after the Olympic medal-winning hockey team players from the state.


---

Crouse and USA Field Hockey Eyeing South Africa




DURHAM, N.C.— Duke senior Leah Crouse is trading in her Duke Blue kit for the Red, White and Blue of Team USA for the next week as she looks to help lead the U.S. U-21/22 National Team to the 2021 FIH Junior Hockey World Cup this December.


---

Four takeaways from Maryland field hockey's preseason

Shane Connuck



Belle Bressler shoots the ball during Maryland field hockey's 6-1 win over the DC Dragons in an exhibition on Aug. 20, 2021. (Julia Nikhinson/The Diamondback)

Missy Meharg sat in a red folding chair atop an elevated platform on the far side of the Field Hockey and Lacrosse Complex, overlooking the pitch of the team she's coached for the last 33 years.


---

New format

After putting a read more that went straight to the web page for a particular site, a number of Hockey specific sites asked me if I could do the same for them as a condition of carrying their material. Then the requests to do the same started coming in from news papers and so instead of trying to remember who gets the special treatment, I have decided to do it for every story. This potentially opens up far more stories as well as some site prevent copying a pasting of their stories/pictures and I can now put links to those stories. For me the upside is it is a bit quicker for me to collate the stories for the day.. I hope you don't mind this new format.