All the news for Monday 16 August 2021

EuroHockey Championship II Men 2021 - Day 2
Gniezno, Poland

All times GMT +2

15 Aug 2021     AUT v SUI (Pool B)         0 - 2
15 Aug 2021     SCO v UKR (Pool B)       4 - 4
15 Aug 2021     ITA v CRO (Pool A)         4 - 1
15 Aug 2021     IRL v POL (Pool A)         2 - 1

16 Aug 2021 16:45     UKR v SUI (Pool B)
16 Aug 2021 19:00     AUT v SCO (Pool B)

Pool Standings

Pool A
| Rank | Team | Played | Wins | Draws | Losses | Goals For | Goals Against | Goal Difference | Points |
| --- | --- | --- | --- | --- | --- | --- | --- | --- | --- |
| 1 | Italy | 1 | 1 | 0 | 0 | 4 | 1 | 3 | 3 |
| 2 | Ireland | 1 | 1 | 0 | 0 | 2 | 1 | 1 | 3 |
| 3 | Poland | 1 | 0 | 0 | 1 | 1 | 2 | -1 | 0 |
| 4 | Croatia | 1 | 0 | 0 | 1 | 1 | 4 | -3 | 0 |
Pool B
| Rank | Team | Played | Wins | Draws | Losses | Goals For | Goals Against | Goal Difference | Points |
| --- | --- | --- | --- | --- | --- | --- | --- | --- | --- |
| 1 | Switzerland | 1 | 1 | 0 | 0 | 2 | 0 | 2 | 3 |
| 2 | Scotland | 1 | 0 | 1 | 0 | 4 | 4 | 0 | 1 |
| 2 | Ukraine | 1 | 0 | 1 | 0 | 4 | 4 | 0 | 1 |
| 4 | Austria | 1 | 0 | 0 | 1 | 0 | 2 | -2 | 0 |
---

EuroHockey Championship II Women 2021 - Day 2
Prague, Czech Republic

All times GMT +2

15 Aug 2021     RUS v WAL (Pool A)     0 - 2
15 Aug 2021     POL v LTU (Pool A)      2 - 0
15 Aug 2021     BLR v FRA (Pool B)     1 - 2
15 Aug 2021     CZE v AUT (Pool B)     2 - 2

16 Aug 2021 16:45     WAL v LTU (Pool A)
16 Aug 2021 19:00     POL v RUS (Pool A)

Pool Standings

Pool A
| Rank | Team | Played | Wins | Draws | Losses | Goals For | Goals Against | Goal Difference | Points |
| --- | --- | --- | --- | --- | --- | --- | --- | --- | --- |
| 1 | Poland | 1 | 1 | 0 | 0 | 2 | 0 | 2 | 3 |
| 1 | Wales | 1 | 1 | 0 | 0 | 2 | 0 | 2 | 3 |
| 3 | Lithuania | 1 | 0 | 0 | 1 | 0 | 2 | -2 | 0 |
| 3 | Russia | 1 | 0 | 0 | 1 | 0 | 2 | -2 | 0 |
Pool B
| Rank | Team | Played | Wins | Draws | Losses | Goals For | Goals Against | Goal Difference | Points |
| --- | --- | --- | --- | --- | --- | --- | --- | --- | --- |
| 1 | France | 1 | 1 | 0 | 0 | 2 | 1 | 1 | 3 |
| 2 | Austria | 1 | 0 | 1 | 0 | 2 | 2 | 0 | 1 |
| 2 | Czech Republic | 1 | 0 | 1 | 0 | 2 | 2 | 0 | 1 |
| 4 | Belarus | 1 | 0 | 0 | 1 | 1 | 2 | -1 | 0 |
---

Perfect Start For Wales, Scotland Play Out Thrilling Draw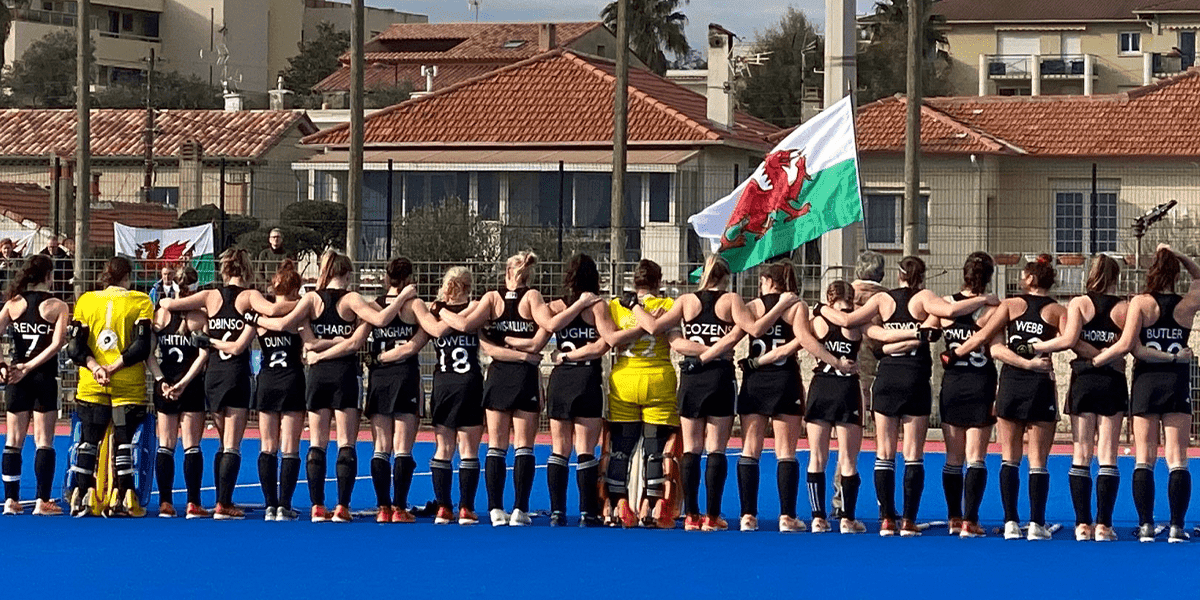 Wales' women got off to the perfect start at the 2021 EuroHockey Championships II while Scotland's men played out a thrilling draw with Ukraine in their opening game of the men's tournament.

Taking on the highest ranked team in the tournament, Wales put in an almost faultless performance to win 2-0 against Russia. Phoebe Richards opened the scoring just moments before the half-time break before Isabelle Howell added a second in the 39th minute while they defended superbly against a team who had been in the top European tier back in 2019.

The day was made even more special for Xenna Hughes as it was her 100th appearance for Wales while it was also a senior international debut to remember for Olivia Hoskins and Millie Holme.

Aiming for a repeat of their gold medal from the 2017 EuroHockey Championships II campaign, Scotland's men were pegged back late on by Ukraine as they played out a 4-4 draw.

The Blue Sticks got off to a flying start and were 3-0 up at the end of the first quarter courtesy of goals from Andrew McConnell, Alan Forsyth and Rob Harwood. Vitalii Kalinchuk and Oleksandr Solomianyi pulled the Ukrainians back to within one goal in the third quarter before Cammy Golden struck with four minutes remaining to seemingly hand Scotland the win.

But two goals in as many minutes from Viacheslav Paziuk and Bohdan Kovalenko stunned the Scottish defence to ensure both sides ended their first game with a point apiece.

Both teams are back in action tomorrow, with Wales facing Lithuania at 15:45 BST before Scotland play Austria at 18:00 BST. Both games will be streamed live on the EuroHockey TV website.

Great Britain Hockey media release


---

Last-gasp McKee winner crowns dramatic week for Green Machine



Jonny McKee Picture: Adrian Boehm

Johnny McKee scrambled in a dramatic winner late on Sunday night to earn Ireland a huge win over EuroHockey Championship II hosts Poland in Gniezno, touching in Shane O'Donoghue's cross with just 18 seconds to go.

It crowned a dramatic week for Mark Tumilty's Green Machine in which the squad lost both Jonny Lynch and Lee Cole from the originally named panel prior to departure and then were forced to quarantine after a close contact ping following their flight into Poland.

It meant Neal Glassey and Fergus Gibson – bringing the list of debutants up to seven – came into the fold.

As such, there was massive relief when McKee got that last ditch winner with coach Tumilty admitting he hurt his leg in the celebrations.

And he had nothing but praise for his revamped side for whom James Milliken, Ben Nelson, Mark McNellis, Kyle Marshall, Kevin O'Dea and Ian Stewart all debuted.

"When the majority of the team got out of quarantine, it's one of the things we said. The maturity the guys have shown this week has been incredible," Tumilty said.

"It goes back to last Saturday when we lost Johnny Lynch. There have been distractions; some of them hadn't been on the pitch yet before today. It wasn't perfect but the senior players and [assistant coach] Jason Klinkradt looked after them really well. Guys have handled it really well.

A young group, they showed a lot of character to hang in there in the end. We defended well and James Milliken was excellent in goals. Shane O'Donoghue produced that great bit of skill on the left-hand side and Jonny McKee got the winner."

Poland came on strong in the opening minutes with Milliken forced into an early save from Mikolaj Gumny while Sean Murray almost turned into his own net but reacted brilliantly to dive full-length and flip the ball off the line.

From there, Ireland grew into it, forcing Maciej Pacanowski into action before taking the lead in the 15th minute. It came from the second phase of the first corner, an upright revese-stick cross falling to Ben Walker to guide home.

Jeremy Duncan, O'Donoghue and Walker all forced good saves from the goalkeeper as Ireland improved through the second quarter.

But there were rocked when a lengthy crash ball from Michal Kasprzyk was redirected by Krystian Sudol into the bottom corner.

It set up a grandstand finish with Ireland twice going within inches of the lead with Stewart inches away from a dream debut while Poland's Wojciech Rutkowski had a goal chalked off with two minutes left.

Ireland reacted brilliantly to that reprieve and grabbed their winner as O'Donghue got in down the left and flicked across goal, McKee putting out a stick which knocked it home.

    Today is the day our man, Ian Robert Stewart, makes his Full International Debut. A massive day for his family, his friends, the team at ScoreIan HQ, and for Ian himself. We're going to try to shed some light on why today will be such an emotional and special day below 1/X pic.twitter.com/lozaVhEGjh

    — Did Ian Score Today? (@ScoreIan) August 15, 2021

It puts the Green Machine in great shape and a win on Tuesday against Italy (4.45pm, Irish time) – who beat Croatia 4-1 with three goals in the last ten minutes – could put them on the verge of this week's first target, a ticket to the World Cup qualifiers.

"It's nice to have that kind of reward out there and if we can get it early, it could give us some freedom for the rest of the tournament," Tumilty added.

"But Italy will be very tough and, actually, Croatia looked very good today as well. We have to be better than today but we will grow.

Men's EuroHockey Championship II
Poland 1 (K Sudol) Ireland 2 (B Walker, J McKee)

Ireland: J Milliken, T Cross, J McKee, K Marshall, S O'Donoghue, S Murray, M McNellis, P McKibbin, J Duncan, M Robson, B Nelson
Subs: D Walsh, N Glassey, K O'Dea, B Walker, F Gibson, I Stewart

Poland: M Pacanowski, D Kotulski, G Jarzynski, J Kurowski, R Pawlak, J Janicki, P Pawlak, J Chumenczuk, W Rutkowski, M Kasprzyk, M Lange
Subs: M Glowacki, T Bembenek, M Gumny, M Koperski, K Sudol, M Nowakowski

Irish Hockey Association media release


---

Tumilty praises Ireland's maturity after last-gasp win over Poland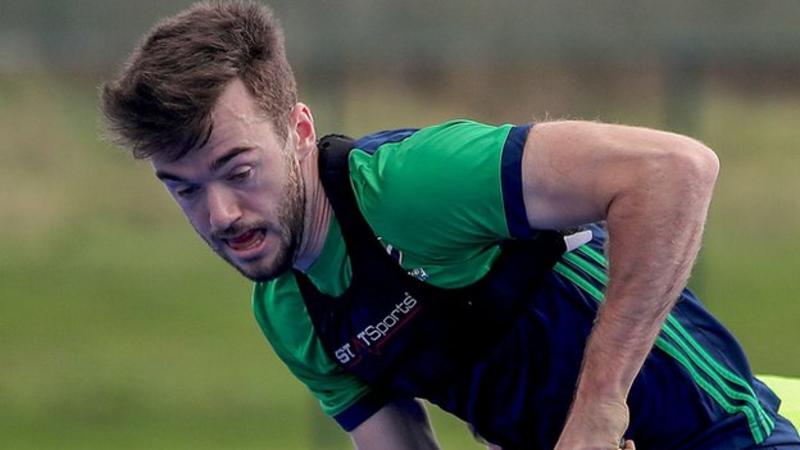 Johnny McKee's winner came 18 seconds before full-time

Coach Mark Tumilty praised Ireland's "incredible" maturity after his Covid-hit team edged hosts Poland in their Eurohockey Championship II opener.

Johnny McKee's goal 18 seconds from time gave Ireland the win in their first competitive outing since 2019.

Ireland were without a number of players who were identified as potential Covid-19 close contacts.

"The maturity the guys have shown this week has been incredible," said Tumilty.

Ireland's preparations were hit when several players forced to quarantine following a close contact notification after their flight to Poland.

Before leaving, meanwhile, Lee Cole was unable to travel to the tournament with Fergus Gibson taking his place.

Kevin O'Dea, Kyle Marshall, Mark McNellis, Ben Nelson, James Milliken, Fergus Gibson and Ian Stewart all made their Ireland debuts in the victory over Poland on Sunday night, and Tumilty was pleased with how his senior players helped the inexperienced members of the panel.

"It goes back to last Saturday when we lost Johnny Lynch," added Tumilty.

"There have been distractions; some of them hadn't been on the pitch yet before today. It wasn't perfect but the senior players and [assistant coach] Jason Klinkradt looked after them really well.

"The guys have handled it really well."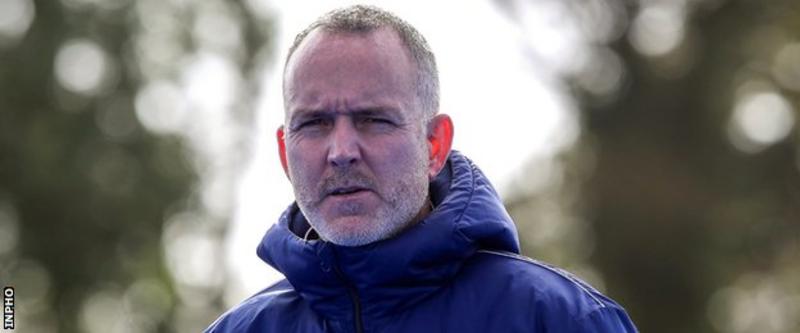 Mark Tumilty was appointed Ireland men's hockey coach on a full-time basis in October 2020

Walker opened the scoring for the visitors at the end of the first quarter when he tapped in from close range after the hosts had initially cleared a penalty corner.

Shane O'Donoghue, Jeremy Duncan and Walker were denied by goalkeeper Maciej Pacanowski before Sudol brought the sides level in the third quarter.

The match was heading for a draw when some excellent approach play from O'Donoghue found McKee at the back post who was able to scramble home.

Having been relegated to Division Two, Ireland are the highest ranked side in Poland at 14th in the world and their primary target is to progress to October's World Cup qualifiers.

"It's nice to have that kind of reward out there and if we can get it early, it could give us some freedom for the rest of the tournament," said Tumilty.

"But Italy will be very tough and, actually, [world number 40] Croatia looked very good today as well.

"We have to be better than today but we will grow."

BBC Sport


---

Scotland draw with Ukraine in their opening match of men's EuroHockey Championship II




A late comeback by Ukraine saw a share of the points in Pool B as Scotland were held to 4-4 draw in their opening match of Men's EuroHockey Championship II in Gniezno, Poland.

The Scots were patient in possession in the opening quarter with no opportunities presenting themselves for the first ten minutes.

The first opportunity came when Andy McConnell stole the ball off a defender and burst into the Ukrainian D, but his final effort struck the side netting.

Good Scottish pressure as the quarter progressed saw them earn a penalty corner. It was an opportunity that saw Scotland take the lead through Andrew McConnell with a penalty corner bullet into the bottom right corner. 1-0.

Almost immediately Alan Forsyth absolutely buried the ball into the bottom left corner to make it 2-0 to Scotland.

Ukraine had barely blinked before Rob Harwood made it 3-0 for Scotland with a lovely near post deflection.

Scotland enjoyed long periods of possession in the second quarter but Ukraine managed to hold strong and deny any goal scoring opportunities.

It was a good start to the second half by Ukraine and they pulled one back with an excellent low shot by Vitalii Kalinchuk into the bottom left corner.

Scotland nearly struck again when a penalty corner prompted a goalmouth scramble but the ball was somehow ushered clear to deny a goal.

Ukraine struck again with another powerful low shot into the bottom left corner. The goal came from a penalty corner rebound, which Tommy Alexander in goal saved superbly, but the resulting effort by Oleksandr Solomianyi was thundered home. 3-2.

A slick Scottish counter attack saw a lovely pass across goal only just evade a Scottish stick as the Blue Sticks looked to add to their score line.

Scotland started the final quarter strong and peppered the Ukrainian goal with shots with no success. As the quarter progressed the Scots earned the chance to advance their lead through a penalty corner.

Cammy Golden stepped up to the top of the D and sunk the ball into the bottom left corner to make it 4-2 for Scotland.

Golden nearly struck again moments later but his diving flick went just wide of the mark.

Then came a dramatic finale to the contest. Ukraine scored a penalty corner with the ball blasted into the left corner by Pavziuk Viacheslav, before a near post finish by Bohdan Kovalenko gave them two goals in 30 seconds.

It finished 4-4 and Scotland face Austria tomorrow in an important second match of the pool to battle for vital points.

Scottish Hockey Union media release


---

Irish men's squad adapts after close contact call




In line with Polish Covid-19 counter-measures, a number of playing members of the Hockey Ireland's senior men's squad are currently in quarantine.

The players were identified as potential close contacts while en route to Poland ahead of the EuroHockey Championship II in Gniezno which begins on Sunday evening.

Ireland's first match of the tournament against Poland will go ahead as planned at 8pm (7pm Irish time).

Separately, prior to departure, Lee Cole was unable to travel to the tournament. Fergus Gibson subsequently travelled in his stead.

Irish Hockey Association media release


---

Oi – Were you Watching?

Ashley Morrison

"Oi" appropriately is an exclamation, rather than a word to attract someone's attention, and the Oi Hockey Stadium certainly managed to attract people's attention at the Tokyo 2020 Olympic Games.


---

How scientific adviser Wayne Lombard rewired the Indian women's hockey team into fitter, more agile versions

Moments after their fourth-place finish at Tokyo 2020, Wayne Lombard, the Indian women's hockey team's scientific adviser since 2017, spoke to Firstpost about the process that went into improving the team's fitness levels.

Amit Kamath



Wayne Lombard, the Indian women's hockey team's scientific adviser, at the Oi Hockey Stadium, which was the venue for hockey games at the Tokyo Olympics. Image: Amit Kamath

The Indian women's team is desperately trying to claw its way back from a 3-4 deficit with just a minute left on the clock. The sapping afternoon heat and the humidity are not helping. It's the Indian women's team's eighth match in more or less similar conditions in 13 days.

Great Britain's Elena Rayer goes on a slaloming, solo run towards the Indian goal. Six Indian players chase after her full pelt, before the attack is thwarted and the Indian women make another last-ditch attempt to equalise.

The Indian women's team may have lost the bronze medal playoff to Great Britain but over the space of 13 days, they have proved naysayers wrong by finishing fourth at the Olympics. Five years back, they had finished last among 12 teams at Rio 2016. Before that, the Indian women's team had made it to the Olympics way back in 1980.

Among the many factors that the Indian women's hockey team got right in the past five years is improving their fitness levels. Moments after their fourth-place finish at Tokyo 2020, Wayne Lombard, the team's scientific adviser since 2017, spoke to Firstpost about the process that went into improving the team's fitness levels:

First impressions

When I was asked to take this position, one of the things I was told was that I had my work cut out for me. I took that as a challenge. If I am good at my job, I could make anyone better. When I first arrived and saw the profile of the players, I thought there is a lot of work that needs to be done. It was a process to get them to buy in and trust me as a person first, and then looking at the physical side and getting them to understand the process.

I am at a stage with this team now that I can give them tasks to do and they will go and implement them. That was my goal: I wanted to empower them to make their decisions by the time I am finished here. If they can do a gym session or a conditioning session without me, then I know I have made them, not just fitter, but also better athletes, who understand what they need to do as individual athletes. But from the beginning, there was a lot of work to be done.

Need to be fitter, faster and more agile

The progress the girls have made in terms of fitness (in this Olympic cycle) is phenomenal. When I started in 2017, the one area I really had to focus on, because we saw that was the issue, was the physical side of things. The girls just were not exposed to the type of training that is required to play at the international level.

The general endurance levels (of the players) were really poor in 2017. They couldn't keep up the intensity that is required in a hockey game to genuinely compete. To give you a random example, in 2017, we were playing in the Hockey World League and we really struggled physically to keep up in Johannesburg. We then went on a tour to New Zealand where their players were a lot bigger than us. So, we realised that we're going to have to be fitter, faster and more agile around them. We got really dominated in those two tournaments. That's when the girls also realised that they are going to have to do something different.

They started from a very low base. This made things easier as we could progress quite quickly. When you start from a low base, your body adapts a lot quicker as long as you do it smartly. To get them from a low base to a decent level was quite easy. But to get them from a decent level to international standards was slightly more difficult. That, plus increased exposure to playing against Western teams, who are really physical, has helped us. Once they realised the importance of physicality behind hockey, they also started enjoying the process. They bought into it better. They started realising that the fitter they feel the easier the game feels. That's when we got them to buy in, when they realised the benefits of it.



India women's hockey team finished fourth at Tokyo Olympics 2020, their best so far in Games. AFP

Yo-yo test numbers

When I first came, the players were averaging around 16-17 on the yo-yo test. Now the team averages between 19-21. So, they've improved. It's not about me. It's about the girls putting in the effort. This comparison about hockey and cricket players' yo-yo test numbers has always been in news. The girls are really fit. Our fittest player scored a 22 or 23. That's some serious running. I am not so sure what the men's team's average is, but they are quite high… about 23. It's difficult to explain it without showing it. It's a good effort in terms of aerobic capacity. It's up there where they need to be. Our norms for all our fitness at the moment, it is within the range of all the western teams or better.

Doing it match after match

In hockey, you're looking at anywhere between 15 percent to 20 percent of high-intensity running in a match. When I started, the girls really struggled to get that sort of percentage. And now they get that pretty easily as a team. Those sorts of things are nice to see, but for me, numbers are just numbers. What I like to see is the robustness and resilience from game to game, can they produce it over eight games. One game is easy. Anyone can produce great output over one game. But then they'll be dead for the rest of the tournament. My approach is that we need to be able to do this over eight consecutive games and stand up to teams like Great Britain — which has got a big support staff, has all the facilities in the world, and knows how to play in such games — and put them under pressure in the final game of the tournament in heat like this.

Recovering better

A lot of times when people look at elite athletes, they think all they do is train, train, train. The process for me has been that we're going to train hard. But we're also going to recover well. In the past, what would happen with them is that they would train completely to the hilt (before a tournament), and they never really knew what it is like to go into a tournament feeling fresh. So, you cannot express any of the work you have done in training in a competition. So that was important to me. I wanted them not only to learn how to train properly but also focus on how they're recovering properly. I wanted to teach them how to feel their bodies properly, so we got some dieticians within India to work on this with the players.

Hockey is a little bit different from rugby or cricket. We've played eight games now in the space of 13 days. This is very intense, not many sports actually have this at all. That too in such heat.

But if you saw, the girls were able to keep up with their opponents in every single game. Keep up their intensity the whole time.

They're fitter (than in 2016). Their recovery process was really good.  One day is enough for them to recover. We haven't had an injury since one mouth leading into the Olympics to now. That's really the best thing we could have had, no injuries over this whole period. There are always niggles, but we've not had to pull someone out.

I think the key thing is now everyone realises that there's a process. It's not an overnight thing that happens. The girls have also realised this. We used to lose to teams like Great Britain quite easily. And now the girls have had a loss by a 3-4 margin, and they are distraught because they think they should have won the game. That's a process too, where they've realised that they have got serious potential too. From hockey skills to fitness… everything's coming together now.

Getting players to buy-in

My approach to anything is to put them as human beings first and get them to trust me as a person and trust the process. They understood slowly that I worried about them as human beings, but also that I wanted to make them better athletes.

I wouldn't take leaves. I would be in India pretty much most of the year, taking leave once a year. Sometimes when the rest of the team was home, I would be working with an injured player at the SAI Bengaluru camp. They saw that and figured that this guy is here to actually help us. He's not here just go through the motions. It's not just a job for him. If you show that you're working 100 percent for them, the buy-in process takes care of itself.

I've been lucky enough to work in a few different countries now. So, the approach that I took was that I needed to understand Indian culture first. Before I joined the women's team, I was with JSW Sports, so I got to work with wrestler Vinesh Phogat and a lot of other girls. So, I also understood the culture before I came. Someone like Vinesh is different because she's very focussed, very determined but she had this whole history behind her already. That allowed me to understand the Indian culture and slowly but sure get to understand these girls a little more. These girls come from very timid backgrounds, socio-economic status is also a little bit of a thing. So, I needed to understand what they needed from me. They needed someone they could trust, confide in, and someone that actually cares about them as people first. From there everything took care of itself. Now, if I tell the girls we need to go run 10km to get us better, they'll do it without any questions because they know the process is to get better.

Firstpost