All the news for Sunday 15 August 2021

EuroHockey Championship II Men 2021 - Day 1
Gniezno, Poland

Times GMT +2

15 Aug 2021 13:15     AUT v SUI (Pool B)
15 Aug 2021 15:30     SCO v UKR (Pool B)
15 Aug 2021 17:45     ITA v CRO (Pool A)
15 Aug 2021 20:00     IRL v POL (Pool A)

FIH Match Centre


---

EuroHockey Championship II Women 2021 = Day 1
Prague, Czech Republic

Times GMT +2

15 Aug 2021 11:15     RUS v WAL (Pool A)
15 Aug 2021 13:30     POL v LTU (Pool A)
15 Aug 2021 15:45     BLR v FRA (Pool B
15 Aug 2021 18:00     CZE v AUT (Pool B)

FIH Match Centre


---

'I want squad to express themselves' - Ireland coach Tumilty upbeat for Poland tournament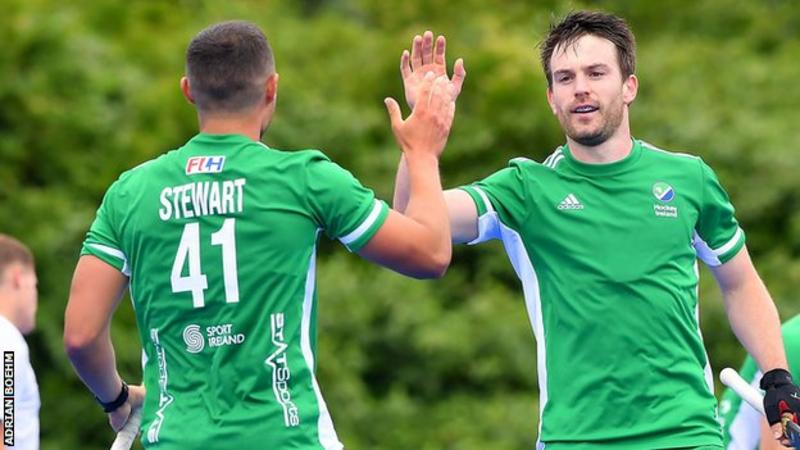 Ian Stewart and Jeremy Duncan celebrate an Ireland goal against the GB development side

Ireland coach Mark Tumilty has called on his squad to adopt a more attacking style of play as they prepare for their first competitive action since 2019.

The Irish men's team open their EuroHockey II Championship campaign against hosts Poland on Sunday.

"I'd like us to express ourselves a bit more, to get away from the belief in hard work and defence, which should be a given," said Tumilty.

"We should have more shape in midfield, then be patient in the final third."

Ireland's last competitive fixture was their controversial Olympic play-off defeat by Canada in November 2019, while earlier that year in Antwerp they finished eighth in the EuroHockey Championships and were relegated to Division Two.

Over the summer, Ireland have won two uncapped series against Scotland and have also beaten a Great Britain development panel four times.

Tumilty's side are the highest ranked side in Poland at 14th in the world and their primary target is to progress to October's World Cup qualifiers.

'My goal is to consistently qualify for larger tournaments'

After facing the Poles in Griezno on Sunday, the take on Italy on Tuesday and Croatia on Wednesday followed by the classification matches on Friday and Saturday.

"Poland at home will be a difficult game - they do the basics well - while Croatia and Italy are both a bit of an unknown," added Tumilty.

"Our aim is obviously to finish in the top five and guarantee qualification but we also want to improve our ranking. If we produce the performances we are capable of we should be grand.

"My goal is to consistently qualify for the larger tournaments and I think this is a small step towards that."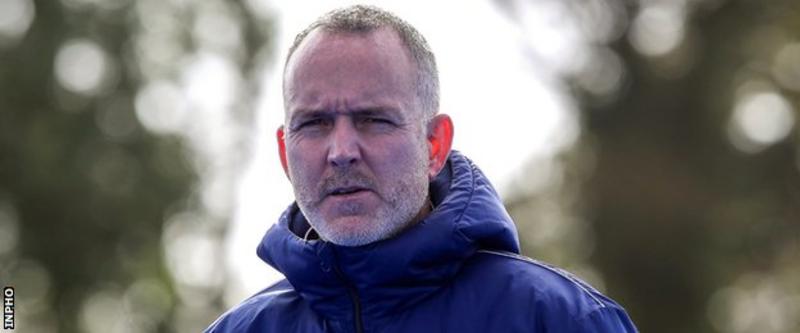 Mark Tumilty was appointed Ireland men's hockey coach on a full-time basis in October 2020

'A development phase within the group'

Six uncapped players have been named in a somewhat new-look Ireland squad for the competition after what Tumilty describes as a "difficult" selection process.

Kevin O'Dea, James Milliken, Kyle Marshall, Ben Nelson, Ian Stewart and Mark McNellis have all been given call-ups.

"I still see this as a development phase with the group but I'm happy with the squad we have picked. I think it's got a good mixture.

"We have a very strong midfield, I'm happy with what we have shape-wise in defence and we have different options up front, guys who can play in different roles.

"The games against Scotland were positive and we had a good experience playing against GB.

"We were conceding a few but the highlights were the goals we were scoring, which is exciting going into a tournament.

"One upside of the strange times caused by Covid was we had more time together to train and help with the physical development of the younger players.

"They're a great group to work with and a number of players have been given an opportunity over the last couple of months so there is good competition for places going into the Euros."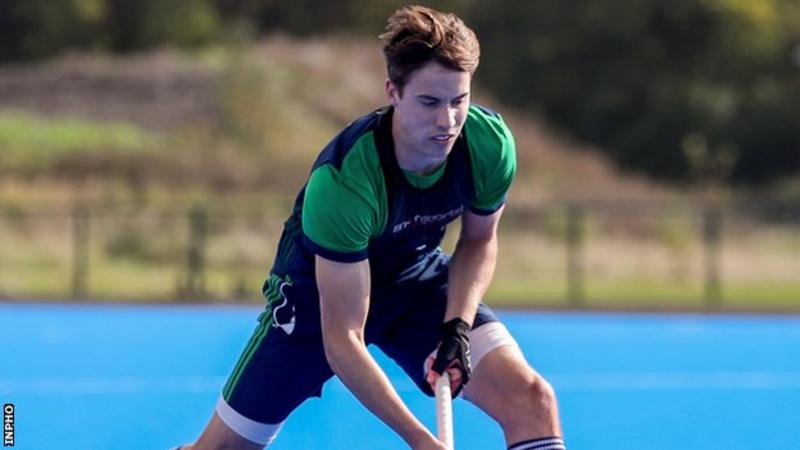 Ulster's Sean Murray is the new Ireland captain

'A massively exciting time'

Ireland also have a new captain in Ulster's Sean Murray, formerly of Lisnagarvey, who now plays his club hockey for Leuven in Belgium.

"The whole squad is excited at the prospect of playing competitive international hockey again," enthused Murray.

"It's a massively exciting time with the new guys coming in and the vibe around the squad is fantastic.

"You can bring some experience back from playing in Belgium in terms of the tactical thing and dynamic attacking - it's very direct over there so I try to improve my level personally and bring it back to the guys here."

BBC Sport


---

Black Sticks bracing for reduced funding after underwhelming Olympics

Brendon Egan



Megan Hull shows her emotion after the Black Sticks' Olympic quarterfinal exit against the Netherlands. Alexander Hassenstein/Getty Images

Hockey New Zealand hope disappointing Olympic campaigns won't result in a sharp funding drop from High Performance Sport New Zealand.

Both the Black Sticks men and women underachieved in Tokyo and were unable to threaten for a medal.

Hockey NZ could pay the price when Government funding agency High Performance Sport NZ (HPSNZ) break down their allocations per sport following the Olympics.

HPSNZ will reassess its funding decisions after these Games, having announced in March it would move to a four-yearly core investment cycle to each National Sporting Organisation, rather than annually.

The Black Sticks women, who finished fourth at the previous two Games, lost their last three group matches after making a wonderful start. They crushed eventual silver medallists Argentina 3-0 in their opening game.

Their poor finish to group play saw them face the top seed from the other pool and world No 1, the Netherlands, in the quarterfinals, who eased to a 3-0 win and went on to capture gold. The women, ranked sixth in the FIH rankings leading into Tokyo, have slipped to seventh.



The Black Sticks women rue their Olympics being over after losing 3-0 to the Netherlands in the quarterfinals. Buda Mendes/Getty Images

Expectations were lower for the Black Sticks men, ranked eighth in the world, but they failed to make the quarterfinals, finishing fifth in their group.

Hockey NZ chief executive Anthony Crummy said there were multiple factors at play in Tokyo, including injuries to key players and a disrupted preparation from the Covid-19 pandemic.

Despite sub-par results, he believed there had been some encouraging signs and did not think it was all doom and gloom.

The Black Sticks women had demonstrated their ability in patches, but were let down by consistency. They beat silver medallists Argentina and matched it with the talented Australians, losing 1-0.

Losses to Spain and China, who New Zealand would have targeted wins against, hurt them badly.



Argentina's Lucas Vila battles with New Zealand's David Brydon for possession in their final group game in Tokyo. Tim de Waele/Getty Images

The New Zealand men competed strongly against bronze medallists India, narrowly losing 3-2, and also pushed silver medallists Australia until late, losing 4-2.

Professional sport is all about results and the Black Sticks could not deliver in pressure moments when it counted.

Crummy was unsure if the Olympic results would have a detrimental impact on Hockey NZ's funding from HPSNZ.

The New Zealand women received an annual core investment of $1.45 million from HPSNZ and the men $700,000.



New Zealand's Frances Davies reflects after their Olympic campaign came to an end, losing to the Netherlands in the quarterfinals. Buda Mendes/Getty Images

In comparison, the triumphant women's rugby sevens team, who claimed gold, received $1.2 million from HPSNZ. Canoe racing ($1.9 million annually) secured three golds through the brilliant Lisa Carrington (and Caitlin Regal in the K2 500m).

By finishing eighth at the Olympics, the Black Sticks women each receive a $25,000 PEG (performance enhancement grant) if individuals commit to the next campaign. The Black Sticks men don't qualify for the PEG for finishing outside the top eight.

"We rely on that [HPSNZ] investment. It's really important to us," Crummy said.

"From my perspective, we're very close. When I look at the build-up we had and really limited preparation, our women for example I don't think were in camp for most of 2020, so doing stuff remotely and in small groups.

"We really reassembled in earnest in 2021 in January. You put all that together and look at what we produced against Argentina, I'm actually quite excited. We can see it.



The Black Sticks women made a brilliant start to the Tokyo Olympics, beating Argentina 3-0 in their opening game. Julian Finney/Getty Images

"Clearly we'd be disappointed if just as we start to reset ourselves for the future that got hampered in any way [through a funding cut]."

While Olympic performances were an important element, Crummy was optimistic HPSNZ would take into account external factors sports were dealing with through Covid-19. What they could achieve in the next few years was important and their potential for the 2024 Olympics.

Said HPSNZ GM performance partnership Eddie Kohlhase: "We ask 'where are your athletes, how is your environment and what are you looking to achieve in a campaign'… and then determine any investment or any other level of support.

"Some will get more, some will get less, but it's really driven around the pathway of their athletes and where they see where they're going."



The Black Sticks women won their first two games in Tokyo, then lost four straight to finish the Olympics. John Minchillo/AP

Both Black Sticks teams had bright emerging talent coming through with Hope Ralph, 21, Holly Pearson, 22, and Sean Findlay, 19, three youngsters to impress at their first Olympics.

"I'm sure [Olympic results] would be part of the discussion, but equally it should be about, I would have thought, the future and where you're going and actually our ability to get there," Crummy said.

"Hockey is a really important sport to the country. I think there's up to 80,000 odd registered players across the country, dual gender, our playing base is 51 per cent female, 49 per cent male. We really are a family sport that takes kids right through to masters.



Youngster Sean Findlay, seen playing against India at the Tokyo Olympics, is someone the New Zealand men can build around. Alexander Hassenstein/Getty Images

"I think we've got a really important role to play, so I'd like to think it's about how do we take that next step and those things we can do to make sure we can nail it next time. We're close. We need to keep pushing."

Any funding hit would have a negative impact on Hockey NZ and the Black Sticks, who like every sport have dealt with challenging circumstances through the pandemic.

Prior to the Covid-19 outbreak, the Black Sticks could easily play 30-40 games a year, but their Olympic preparations were limited to home and away matches against Australia.



Frances Davies consoles team-mate Megan Hull after New Zealand were eliminated from the Tokyo Olympics in the quarterfinals. Alexander Hassenstein/Getty Images

They had planned a two-week camp in Tokyo before the Olympics to adjust to the searing heat, which they struggled with, but that was scrapped due to Covid-19 risks.

"We'd have to cut our cloth and what impact that would have on the programme we'd have to assess [if there was reduced funding].

"We'll have to deal with that as it comes. I'd like to think it shouldn't necessarily be one sport exactly comparing to another. It should be about we can both offer something quite magical to the country [through the respective sports]."

AT A GLANCE:

Tough times in Tokyo:

Black Sticks women:

Played six: Won two, lost four.

Fourth in group B (eliminated in quarterfinals by the Netherlands).

Goals for: 8, goals against: 10.

Black Sticks men:

Played five: Won 1, drawn 1, lost three.

Fifth in group A (failed to make quarterfinals).

Goals for: 11, goals against: 16.

Stuff


---

Adrian D'Souza: "Sreejesh uses his stick as if it is his third leg in one-to-one situations.."

By NANDAKUMAR MARAR




MUMBAI: Adrian D'Souza noticed two changes in goalkeeper friend P R Sreejesh, use of stick under the post and as a person. The two custodians, senior and junior teammates at national hockey camps earlier, caught up in Bengaluru just before the squad left for Japan.The former, an Athens 2004 team member and standout performer for India, noticed the transformation in the latter and appreciated the rise in efficiency, sharper reactions and body language


---

Hunger to win, Indian Eves' greatest gain from Tokyo

BY ERROL D'CRUZ




The pain of defeat so etched on the faces of the Indian women after the bronze medal match against Great Britain was, in a quirky way, perhaps the biggest positives from the Tokyo Olympic hockey campaign.


---

Quan Chan fancies women hockey chances

by Nigel Simon

T&T National junior women's hockey team coach Dwain Quan Chan says he fancies his team's chances of finishing among the top two teams at the Junior Pan American Women's Hockey Championship which is scheduled to take place in Santiago, Chile from August 21-28.

At the one week tournament, the top two teams will qualify for the 2021 Junior World Cup.

T&T, the sixth-ranked team, will contest the round-robin Pool B with Chile (3rd), and the USA (2nd) while top-seed Argentina, Canada ranked 4th, and fifth-ranked Uruguay will contest Pool A.

Quan Chan, a former national men's stand-out told Guardian Media Sports on Tuesday that he used the final practice sessions leading up to the team's departure to work on some tactical aspects of their game. The team will leave T&T on Sunday.

He said: "We will be working on some key tactical aspects of the game like set plays from penalty-corners and free-hits as well as on the defensive end."

Asked about his team's tournament chances Quan Chan said that due to the pandemic it was very difficult to access any knowledge on the opposing teams apart from knowing that the USA always comes with a strong squad. He pointed out: "It's like the first time that most of the teams will be entering competition without much knowledge on their opponents, and sometimes it can work for you and sometimes against you. But I do believe we have a pretty good chance of getting positive results boosted by the inclusion of our foreign-based quartet of the Olton-sisters Saarah, Kaitlyn and Samantha, who are all enrolled at Long Island University (LIU) along with tricky forward Felicia "Chunky" King. The quartet was at home for most of the past two months training with us, so we won't have any problems fitting right back into the team even though they have joined up with their school team for pre-season training within the last two weeks."

He added: "What is also a plus for the team is that the four players are at the same school playing together and may also have some knowledge of players from the USA team as well."

The team is expected to have its final training session on Wednesday at the newly relayed astroturf hockey surface at the St James Police Barracks Training Ground from 4.30 pm to 6.30 pm.

Team:

Adrianna Camps, T'Shana Chance, Shaniah De Freitas, Chelsea Dey, Shania Gajadhar, Jamie James (goalkeeper), Felicia King, Rebekah Ngui, Samantha Olton, Saarah Olton, Kaitlyn Olton, Aaliyah O'Neil, Mia Otero, Shaniqua Paul, Naomi Sampson, Talia Seale (goalkeeper), Nicole Whiteman, Tahirah Wynne.

Reserves: Sarah Sampson (goalkeeper), Tyra Jack, Sumia Quashie.

Technical staff: Dwain Quan Chan (coach), Kimberley Wellington (manager), Jeshajah Drayton (videographer), Dr Nadine Sammy (sports psychologist), Kemba Maximim (massage therapist), Khalil Latiff (doctor).

Tournament Schedule

August 21:

Argentina vs Uruguay, 10 am
USA vs T&T, 1 pm

August 22:

Canada vs Argentina, 10 am
Chile vs USA, 1 pm

August 24:

Uruguay vs Canada, 10 am
T&T vs Chile, 1p m

August 25:

Fifth – Sixth Playoff: Third Pool A vs Third Pool B, 2.30 pm

August 27:

Semifinal:

First Pool A vs 2nd Pool B, 10.30 pm
First Pool B vs 2nd Pool A, 12.30 pm

August 28:

Third Playoff: Loser of semifinals, 10 am
Final: Winners of semifinals, 12 noon

The Trinidad Guardian


---

WAPDA favourites against NBP in hockey final today

ISLAMABAD: WAPDA start as the favourites against National Bank of Pakistan (NBP) in the Mari Petroleum Independence Cup Hockey final to be played at the Ayub Park Ground on Sunday (today).

WAPDA defeated Pakistan Air Force 5-0 in the first semi-final on Friday.

In the second semi-final, NBP edged out Navy 3-1 in penalty shootout following a 1-1 draw in regulation time.

Minister for Inter-provincial Coordination (IPC) Dr Fahmida Mirza will be the guest of honour at the final.

The News International