All the news for Thursday 12 August 2021

De Goede: Three times a champion




With three gold medals (Beijing 2008, London 2012 and Tokyo 2020) to her name, Netherlands captain Eva de Goede is looking slightly shellshocked.

"It hasn't really sunk in," she admits before the interview begins. "It has been like a whirlwind between winning the gold medal and now."

The last few days may have been a whirlwind to the 32-year-old midfielder, but to all the opposing teams who faced the Dutch on their way to the gold medal, it was more like a steam roller. Unbeaten throughout the Olympic Games Tokyo 2020 women's hockey competition, the world number one side lived up to their billing.

"I can't believe that we did it. I am very happy and proud of the way we played," says de Goede. "The pressure was quite high for us. A lot of people expected us to win and that is not easy. But we stayed focused from the start and we played a little bit better each game and that was what we wanted.

"First we had to get used to each other and get used to playing at the Olympics. We excelled through the quarter-final, semi-final and then played our best in the final."

As she compared her previous Olympic experiences, which also include a silver medal win at the 2016 Rio Olympic Games, de Goede says that the first thing she noticed was the quiet in the stadium. At such a major event, the Netherlands would normally be playing in front of thousands of people, either cheering them on or cheering against them. Either way, the quiet atmosphere was unsettling.

"But also," she says, "it was very special because it was so intimate with the team. And we knew that we had the support of thousands of people around the world."

The Netherlands won the gold medal after defeating Argentina 3-1 in the final. De Goede recalls the moment the final whistle went. "It was a very special moment. I still can't believe we actually did it.

"It [the Olympic Games] took way longer than expected, so for another year and a half we had to keep pushing. And then, after all the delay, it all went by so quickly at the end."

On their return to the Netherlands, the team went straight to the beach at Scheveningen where the Dutch National Olympic Committee hosted a party for returning athletes, family and friends. "It was special that we could have a celebration even in these times," says de Goede.

Speaking about the Netherlands Head Coach, Alyson Annan, Eva said: "Alyson is so good at giving us trust and confidence that we can do it. She also gets us to talk about things. Apart from that, she is an amazing coach. Because of that, you go to the Games knowing and trusting you are fully prepared."

Fans of Dutch hockey and fans of hockey generally will be disappointed to hear that Eva de Goede has hinted that she may not be gracing the stage at the Olympic Games Paris 2024 but, if this is to be the midfielder's last Olympics, then she can gracefully retire as a true champion at the pinnacle of her sport.

Watch the full interview on Watch.Hockey

#Tokyo2020

FIH site


---

Another golden period beckons for the Orange Ladies



Eva de Goede will in any case continue until the 2022 World Cup. Caia van Maasakker has ended her hockey career. Photo: Koen Suyk

By conquering the Olympic title, the Dutch national team crowned a period of five years of world dominance in Tokyo. Despite the beginning of a new Olympic cycle, the end of hegemony is far from in sight.


---

"The highest level of tournament hockey we have ever seen"




Double Olympian with Great Britain's hockey team – in 2000, where he even captained the team, and previously in 1996 – Jon Wyatt (195 international caps) joined the International Hockey Federation as Sport Director in 2018. Present in Tokyo, he gives his analysis of the Tokyo 2020 hockey events from a sport and technical perspective.

What is your overall technical assessment of the hockey showcased during the Tokyo 2020 hockey events?

Jon Wyatt: The level of hockey across both competitions has been consistently the highest level of tournament hockey we have ever seen. The physical strength, speed and fitness of the athletes is beyond anything we have seen before, and the way they were prepared and able to continue to play at such a high level in temperatures exceeding 40 degrees and with 85% + humidity, was amazing. The skills on show and the ability to continue to execute skills perfectly even in the final seconds of the matches again showed the level of preparation all of the teams had undergone. On top of these physical attributes, the mental strength and team togetherness shown by so many teams who came back from being behind in matches, or won matches following defeats in a previous match, showed how well prepared they were mentally as well. And all of this during the huge challenges that the COVID-19 pandemic has caused for us all. Athletes have had to spend long periods of time away from friends and family, weeks in hotels self-isolating in order to travel, and in many cases, the usual Olympic preparation has been significantly disrupted with only a handful of preparation matches being possible in the final months.

Have you noted some new trends? Or a confirmation of certain elements of the game which teams have focused upon in recent years?

Jon Wyatt: As athletes have got fitter and defensive structures improved, the coverage of the pitch when defending by all teams has been fantastic. The way to unlock these defenses and find space on the field by using aerial passes is a trend that has grown in recent years but was taken to a new level in this tournament. All players are able to identify space and then deliver aerial passes, eliminating defenders, sometimes over 20m-30m, and at times using up to 60m passes. The receiving of these aerial balls, by attackers and defenders alike, has also vastly improved and it is now rare to see an aerial ball not controlled by the receiver, and more common to see such a pass creating a shooting opportunity and in some cases a spectacular goal.

It is often said about such events that you can't have a 100% correct assessment of a team performance after the Pool stage because from the quarter-finals on, the context is quite different. What makes the difference in the "do or die" encounters?

Jon Wyatt: The format of the Olympic Games, with a Pool stage followed by a knockout stage, certainly leads to a competition of "two halves". The Pool stages are important as they set up the potential route to a semi final and final, so finishing high up in the pool is really important. As we saw in the men's competition, the 2 teams that topped the pools (Belgium and Australia) went on to reach the final, whereas those that did not perform to their best in the pool stages ultimately didn't make it all the way to the final. That said, there are obviously no guarantees in the knockout stages and despite winning their pool, the Australian women came up short and lost their quarter final to the inspired Indian women's team. We saw last minute goals and shootouts deciding which team progressed to the next round, and even for the men, the destination of the Gold medal. In the knockout stages, there are no second chances. History counts for nothing and when it comes to the top 12 teams in the world, anyone can beat anyone in a oneoff encounter (as the inspirational South African men showed against Germany during the pool stage!).

Teams from four different continents were involved in the semi-finals. What does it mean in terms of the globalisation of hockey?

Jon Wyatt: It is a brilliant outcome for hockey and shows the true international and global growth of the game. This is the first time since 1976 that 7 different countries from 4 continents have been represented in the semi-finals, and to have medalists returning to each of those continents to spread the joy of hockey can only be good for the game. At the individual club, national, continental and international level, we all now need to capitalize on these inspirational stories and teams, by providing opportunities for newcomers to try hockey and fall in love with our beautiful game.

Other nations such as Japan or South Africa did not make it to the quarter-finals. However would you agree that they showed they can absolutely compete with the teams who did qualify? And if yes, why?

Jon Wyatt: By definition, not every team can make it to the quarter finals, but all 4 teams in each gender who did not qualify certainly showed they deserved to be in Tokyo and at times were the equal, and sometimes superior, of their opponents. The South African men's forwards have fantastic talent, scoring 4 against the Olympic Champions Belgium and of course defeating Germany, briefly raising them into the top 10 in the World Rankings for the first time ever, and ultimately seeing them ranked 12 after the Olympic Games (up from 14 beforehand). Both Japanese teams, winners of the 2018 Asian Games, also showed moments of brilliance and more than matched the top teams in the world for long periods.

As usual, a few umpiring decisions were debated. But looking at the bigger picture, what do you think about the overall performance of the umpires in Tokyo?

Jon Wyatt: Just like every athlete, the appointed umpires and Officials have spent years training, working and improving to become the very best hockey officials in the world. They have spent long periods of time away from their friends and family, and had to cope with the restrictions of COVID and the lack of matches to prepare in their usual way, but every one of them has shown incredible commitment and dedication to be here in Tokyo. They are all volunteers, taking time out from work and their careers to facilitate the great matches we have seen, without financial compensation and in many cases incurring significant costs to follow their Olympic dreams. The pressure to perform and the analysis of every decision they make is far greater than even for athletes, and the criticism they have to endure for even the smallest mistake tests their mental strength to the limit. There is not an athlete in Tokyo who has had a perfect competition without a mistake, and yet this is what the athletes, coaches, social media hockey fans and critics around the world expect of every umpire, in every match. Of course, that is what they strive for, but as in all sports, hockey matches cannot take place without umpires and officials, and the effort and pride each and every one of them puts into their performance is humbling to witness. They are the best in the world, and like the athletes, they deserve to be congratulated and to be rightly proud of being selected for the Olympic Games, and for their excellent performance throughout the competition.

To conclude, what comments did you hear about the turf?

Jon Wyatt: All 4 turfs, the 2 competition pitches and the 2 training/warm up pitches, have been outstanding. They have allowed the athletes to showcase their remarkable skills and the speed of the modern game. In addition, the sustainability credentials of the turfs (made from 60% bio-plastic and requiring 40% of the amount of water that was required in previous Games), mean we can be rightly proud of contributing to the wider environmental targets of the Tokyo Olympic Games. These 4 turfs will be left in Japan as part of the hockey legacy, for the Japanese hockey community to enjoy for years to come.

The final word must go to the organisers and to the army of volunteers, for whom nothing was ever too much of an ask. To have put on an Olympic Games during a pandemic, with all of the additional logistical and medical challenges this has brought, is nothing short of a miracle. And all with a smile on their faces. To everyone involved in the organisation of the Tokyo Olympic Games and the hockey competition in particular, on behalf of the FIH and every member of the hockey family from across the globe, we say to our Japanese friends from the bottom of our hearts, "Dōmo arigatōgozaimasu"!

#Tokyo2020

FIH site


---

"Proud of the girls, but important for them to stay focused now" — Coach Sjoerd Marijne

Coach Sjoerd Marijne lauds the effort of the Indian women's team despite missing out on a medal

 By Vivek Prabhakar Singh



Sjoerd Marijne (Source: India Today)

The Indian women's hockey team missed the Olympic medal by a whisker. The girls in blue fought valiantly and won the hearts of the entire nation. Not many predicted or expected them to reach this far as they entered their first ever semi-final at the Olympics.


---

Rejigging roles between men's and women's teams was 'disrespectful': Coach Sjoerd Marijne

Former Indian coach came to the country to take over the Indian women's team in 2017 but was appointed chief coach of men's side later that year.

Sjoerd Marijne has played his part in scripting Olympic history but the outgoing women's hockey team chief coach still has scars of what he feels was a "disrespectful" transition back in 2018, when he was shunted out from men's side after the Commonwealth Games disappointment.


---

Hockey girls must play high-pressure games: Coach Marijne




Indian women's hockey team coach Sjoerd Marijne, leaving the team after playing a key part in scripting history at the Tokyo Olympics, has said it is important for the team to play top teams in high-pressure games on a consistent basis.

"You believe in yourself and that's where it starts. Then you have to work really hard, be disciplined in what you do or otherwise you are not achieving anything. And then it's about dealing with the pressure," he said.

"The women's team does not always face that pressure. The last was in Olympics qualifiers two years ago. So we have come really far and that's what makes me proud in what we achieved," he said, referring to the fourth-place finish at Tokyo. "We don't have tournaments (for women) in the country, no Pro League, no HIL but still we made it so far."

Marijne said though he is leaving, he has developed a lifelong connection with India. "That will never go away and there are many more ways through which I can do something for India," he said. "The girls are in my hearts and will never forget them."

Tokyo feat

Under Marijne, the Indian women did the unthinkable in the Tokyo Olympics, reaching the semifinals for the first time ever by stunning Australia 1-0 in the quarterfinals. The Indians narrowly missed out on a bronze, losing 3-4 to Great Britain in the playoff.

"I am proud of what we have achieved as a team, the legacy we have created. I am extremely happy for the girls because they now can feel what it is to have success," Marijne said. "I am proud of how close we were in matches against Great Britain and Argentina. It was not a walkover. The fighting in the last match, coming back… It shows the new Indian women's team. They never gave up and it is something that has changed over the years. That's an effort of the girls and the whole staff. You need time for this kind of things."

Decision to go

The 47-year-old Dutchman said it was long back that he decided to return home after the Olympic Games. "I wrote a post in my website on 7th of September 2020 where I already announced that after Olympics I will go home and spend time with my family," Marijne said.

He was "overwhelmed" with the love and respect he had received during his stay in India. "I wrote a whole book about my journey in India but it is not yet complete. The last chapter is there to be added, this Olympic chapter," he said. — PTI

Still upset over 2018 transition

Sjoerd Marijne still has hard feelings about the "disrespectful" transition in 2018, when he was shunted out from the men's team. He came to India to take over the Indian women's team in 2017 but was appointed the chief coach of the men's side later that year. However, in 2018, he was re-designated as the women's coach, and Junior World Cup-winning coach Harendra Singh took over the men's side. "Of course, I was not really happy with the transition. I was not really happy with what happened, the way it happened with the men's team and I don't think that was fairly respectful," Marijne said. "But the moment I returned back to women, Savita (goalkeeper) came to my room and said, 'Listen, we are really happy you are back'. That moment for me was the changing moment. I felt OK, it's good to be there again," he added. He said if he had been given more time with the men's team, he could have achieved a lot. "But people shouldn't misunderstand me. It was not that I was disappointed to go back to women's team, I was not happy the way they handled it with men's team because I left on a really good moment," Marijne said. "On one side you have the opportunity to work with the most challenging team in the world in Indian men and on the other I was doing Indian women and we were just going up." "So it was a really difficult decision and I am happy how it ended. I am happy with what I did with the women's team, so no grudges," he said. At the Commonwealth Games, the Indian men's team had lost to New Zealand in the semifinals and to England in the bronze medal playoff.

The Tribune


---

Marijne: 'In future, I hope women's team gets the same support and status'

Sjoerd Marijne, who ended his journey as Indian women's team hockey coach after helping the side finish fourth at the Tokyo Olympics, hopes they build on the momentum and do well in future.

Vijay Lokapally



Sjoerd Marijne, who has stepped down as the coach Indian women's team, hoped the women would get opportunities to play more tournaments in their country just like their male counterparts.   -  FIH

Sjoerd Marijne is delighted to have been a part of the hockey campaign that won the hearts of the Indian people. Rani Rampal and her team came close to winning a medal at the Tokyo Olympics. The medal remained elusive but as the Dutch coach said at the end of the campaign, they had won the "hearts" of the people if not the "medal." As Marijne emphasised, "That is what India saw. What they achieved as a team."

The preparations for Tokyo were intense. Marijne was confident. "You never know the course before. In the Olympics, or any tournament, you have to wait and see if the things are going well or not. One of the most important things for me was the belief the girls had in themselves. They really believed we can achieve something. Everything starts with that. If you don't believe you can't go to these kind of tournaments. You can't just look at participating and that is what I told them: 'You are going there to achieve something. Don't think it is just nice to be at the Olympics and gloat over what happened at the previous Olympics. We have to go for the gold'."

The indications of a hockey revival had come in 2018 at the FIH Women's World Cup in London. "The turning point was at the World Cup when we made the quarterfinals (for the first time). That is when they started believing that they could do this. That made the big change. There were also times when we did not do well. When we failed to reach our expectations. The Netherlands tour (before the Olympics) was good. We did well. The girls started believing from there," Marijne said.

Marijne always loved the style of Indian hockey. "I like the Indian culture: dodging the opponent, light on feet. We have players who can win the battle one on one and when you have such players things become fluent and easy. You don't have many such players in women's hockey. You can create two against one. If we create opportunities ,it is the way forward. Also, we need a good player for penalty corners and one good goalkeeper. And we have both."

With India finishing fourth at the Tokyo Olympics, Marijne was convinced Indian hockey can look forward to some exciting times. "There is enough proof now that there is place for women's hockey. And I hope in the future women will get the same support and status. You have to realise we didn't follow the same path as the men. Look at the men, they have Pro League, Premier League, they have tournaments in their own country. We didn't have them at all. These girls must get all these things."

In Marijne's opinion, Indian women have made the biggest progress in the field of fitness, both physical and mental, and technical awareness. "We have improved a lot."

Making the quarterfinals was true to form. "The tournament is then open after that. They did really good. It was not easy to be there. We had not played matches for long and even before that we always played under pressure. They did what they could do. The matches we lost were lost closely. The girls showed their fighting spirit. Most important is you now know the value of these players and how far they can go."

The coach praised the team for putting up a great resistance against established opponents. "We have done it. We played eight matches of high quality with dignity and distinction. That's not easy. The girls had never played eight matches because they would be out of the tournament early. They matched all teams in physical fitness."

    Leaving India this night , this picture tells me everything: unity! And that's what I felt the last years with the team. India will always be in my heart! I will be no longer your coach, but there will be other ways I still can inspire the people of India. We will meet soon pic.twitter.com/XmeMoNM1Xs
    — Sjoerd Marijne (@SjoerdMarijne) August 10, 2021

On his decision to leave the team, Marijne said, "They are aware of why I am leaving. These things happen. When you experience these kind of things together it is always difficult to say goodbye to each other but I know the next coach will do very well. Janneke Schopman (analytical coach) is very good with the girls. These are moments they have to cherish and they also have to go on. That's what I told them: Make this the basics for your next step. Don't just sit back and be happy with what was achieved at Tokyo. Or else you would never grow."

Personally, his moment from the Tokyo Olympics was the victory against Australia in the quarterfinals. "That was an emotional moment for all of us. You could see the happiness on the faces of the girls and the Indian people. It was something I had never experience earlier. I must say it was amazing and the reactions have been overwhelming. I am very happy for the girls."

Sportstar


---

Sjoerd Marijne ensured all-round improvement of the Indian women's team - E. Rajan

The goalkeeper says Sjoerd Marijne helped shape the Indian women's team into a well-rounded outfit that nearly won bronze at the Tokyo Games.

V. V. Subrahmanyam



E. Rajani (left) with Andhra Pradesh Chief Minister Y. S. Jaganmohan Reddy in Amaravathi on Wednesday (August 11).

E. Rajani, a member of the Indian women's hockey team which made it to the semifinals of the Tokyo Olympics, was relieved when the Chief Minister of Andhra Pradesh, Y. S. Jagan Mohan Reddy, directed officials to ensure that the 1000-square yard house site allotted to her in Tirupati was removed from the 'prohibited land' category.

The 30-year-old Rajani, who met the Chief Minister on Wednesday (August 11) in Amaravati informed Sportstar that the officials concerned were asked by him to ensure that the process is completed.

"It was originally allotted in 2016 but for some reasons which we don't know was bracketed in the prohibited area. When I broached the subject, the respected CM gaaru spontaneously issued directions to change it. He also gave me ₹40,000 per month as cash incentive besides a cash prize of ₹25 lakhs for the team's performance in the Tokyo Olympics.

"This, apart from a job to one of my family members. I am grateful to him," said Rajani, who is also a Central Railway employee.

Reflecting on her experience at the Tokyo Games, Rajani, a goalkeeper who has represented India since 2009 - including in the Asian Games, the World Cup, and the Rio Olympics - said the performance of the women's team was just what the sport badly needed to get the desired support from all quarters.

Sjoerd Marijne 'too good'

"It was a great feeling to be on the bench though I was not in the first XI right through the Games, being the reserve goalkeeper, and hats off to my team-mate and custodian Savita Punia for such a terrific performance," she said.

"Yes, the focus for us now shifts to the Asian Games, the Commonwealth Games, and the World Cup. We are a much better side now with all-round improvement, thanks to the coach Sjoerd Marijne, who was just too good," Rajani said, accompanied by the Andhra Pradesh Women's Hockey Secretary, A. Prasanna Kumar Reddy.

"All the efforts of continuous training even during the pandemic in SAI Centre in Bengaluru helped us a lot in gelling a complete unit," said the India goalkeeper, who is the second daughter (of three) of Ramanachari, a carpenter.

"I am sure with the CM Jagan Mohan Reddy gaaru insisting that a new Sports Policy be drafted for Andhra Pradesh with the specific intent of grooming young talent across the State in the remotest areas, many gifted talents would be unearthed in different disciplines," she concluded.

Sportstar


---

Australia defeat was a wake-up call, says India hockey forward Simranjeet Singh

Indian men's hockey team bounced back from a 1-7 defeat to Australia in the group stages and went on to win a bronze medal at Tokyo 2020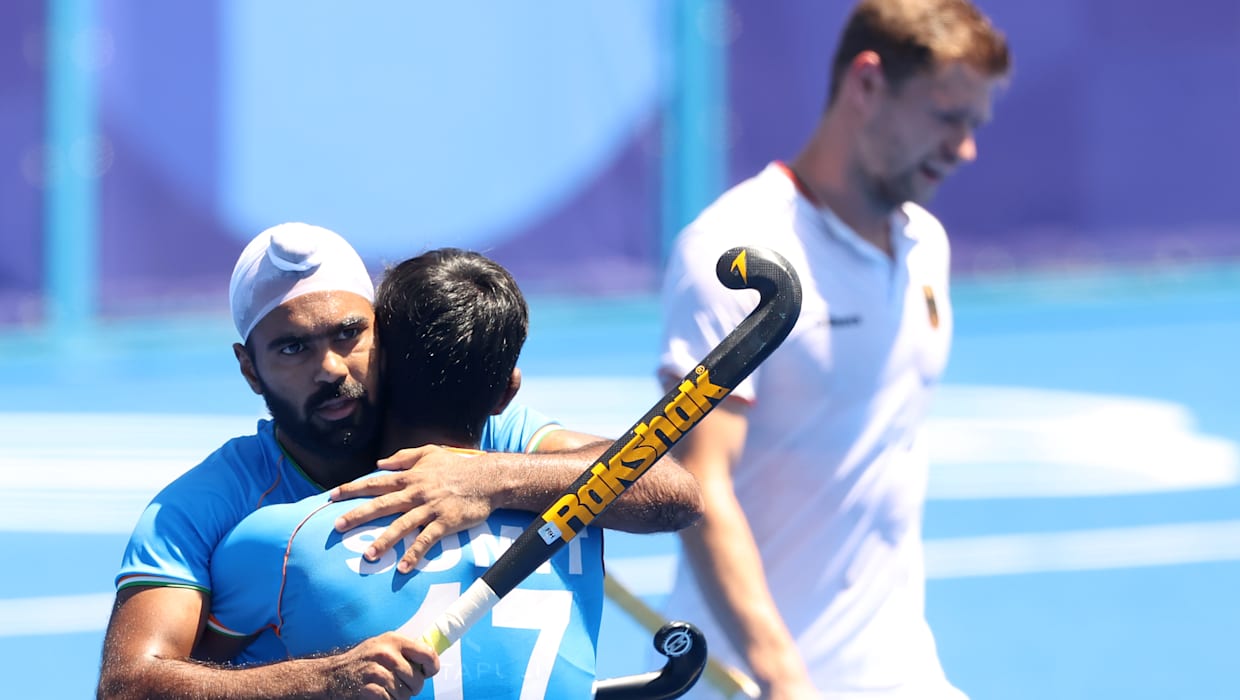 Australia defeat was a wake-up call, says India hockey forward Simranjeet Singh Picture by Getty Images

India striker Simranjeet Singh believes that the 1-7 defeat to Australia in the group stages was a wake-up call for the men's hockey team at Tokyo 2020. It served the team well as they played with greater purpose for the rest of the tournament and won a bronze medal.

Having started their Tokyo 2020 campaign with a 3-2 win over New Zealand, India was crushed by the rampant Australians once again raising concerns over their medal credentials. India, once powerhouses in hockey, hadn't won an Olympic medal in the sport since their gold-winning run at Moscow 1980 before going to Tokyo.

"Defeat against Australia was a wake-up call for us," the 24-year-old Simranjeet Singh told India TV.

"I think we were in our comfort zones before the loss. We were told by the coach and captain to not complicate things and not expect easy pickings against teams. We had to come out of our comfort zone to put up a challenge for a medal."

But India regrouped after the loss and scripted their best group stage performance in more than 40 years. They bounced back with a 3-0 win over Spain and score a morale-boosting 3-1 win over defending champions Argentina. India ended the group stage with a 5-3 win over hosts Japan to record four wins in their five group matches at finish second in Group A.

Simranjeet Singh played his part in India's success story, scoring a goal against Spain and two against Germany during India's bronze medal playoff. The Indian hockey team was in stirring form against the Germans as they chased down the elusive medal. India emerged 5-4 winners after 60 minutes of breathtaking action to win their first medal in hockey in 41 years.

"After the bronze, we now shift our focus towards upcoming matches that would hone our skills for Asian Games, World Cup and Commonwealth Games," he added.

Simranjeet was also part of the 2018 Champions Trophy team that won a silver medal and the 2016 Junior World Cup team that won gold.

IOC Media release


---

Tokyo Olympics special, gave us new identity: Monika Malik

Member of Indian hockey team, she says missing medal disheartening

Deepankar Sharda



Indian hockey team member Monika Malik with her family at her house in Sector 44, Chandigarh, on Wednesday. Photo: Vicky

Once frustrated over not getting proper attention a few years ago, the two-time hockey Olympian Monika Malik now believes that the team's fourth finish at the Tokyo Olympics has brought new identity for all members of the Indian women's hockey team.

Back to her house in Sector 44 here, Monika will soon rejoin the squad for the next year's World Cup and other tournaments. One of the most experienced defenders of the side, Monika said the entire team was disheartened on missing the bronze by a whisker.



India women's hockey team members (from left) Navjot Kaur, Navneet Kaur and captain Rani Rampal with Deputy Commissioner Mandip Singh Brar in Chandigarh. Tribune Photo

"This Olympics has given us a new identity...not only to us but to all athletes. Each and every team member was disheartened after losing the bronze medal match. We were confident of winning the medal. At the end, we have to accept our mistakes," she said.

On her future plans, she said, "As long as I am fit, I will keep playing for India...at least till the next Olympics."

Wish to see Janneke as head coach

While talking about Indian team's former coach Sjoerd Marijne, the 27-year-old defensive midfielder said the Dutchman was behind the team's success. "He just thanked each one of us. He wished to go back to his family. The coaching staff really changed our perspective towards the game. We experienced all types of tactical play in this tournament," said Monika.

When asked who would she like to see as Marijne's replacement, Monika said: "I would love to see Janneke Schopman (team's analytical coach) to take over the responsibility. She supported Marijne and the entire squad like a pillar."

Motivation must for girls

Talking about the odds she faced, Monika said she spent her early days of career at the Chandigarh Hockey Academy (CHA). "I still remember the day when I wanted to leave the academy and return home. There was a time when I refused to stay back at the hostel due to the warden's strictness and the coach's training pattern. My parents would come to meet me every day.

They motivated me and to this day, I thank them for not letting me leave the hostel. Girls need such support to tackle life's odds."

"My father would bring almonds from Delhi and crush it to make a shake for me... such little things just help one sail through tough times," said Monika.

She also remembered Olympian Rajinder Singh, a former coach of CHA. "He taught us well and made us tough enough to deal with every situation. He would make an average player an exception on the field. He helped me learn the basics," she added.

The Haryana-born girl, whose father Takdeer Singh works as an ASI with the Chandigarh Police, remained in the academy from 2007-12 and later moved to her state to pursue higher studies.

"Girls should opt for any kind of sport at a young age. There's no dearth of talent. The government should channelise it in the right direction by introducing infrastructure, schemes and motivation," said Monika.

Besides her, the current Indian team featured two other CHA trainees – Sharmila Devi and Reena.

The Tribune


---

Welsh Senior Women's squad named for EuroHockey Championship

After a long wait, the Welsh Senior Women are finally ready to head off to the highly anticipated EuroHockey Championship II.

Hosted in Prague, Czech Republic from the 15th to 21st August, the women will kick off the action in the opening match of the tournament against Russia on Sunday.

With limited European preparation opportunities this season, the squad is eager to make the most of this occasion to qualify for the World Cup Qualifiers in October.

Congratulations to all the players who have been selected:

Beth Bingham – Holcombe
Ella Jackson – Buckingham
Eloise Laity – Clifton Robinsons
Emily Rowlands – Hampstead & Westminster
Izzie Howell – Durham University
Izzy Webb- Clifton Robinsons
Jo Westwood – Holcombe
Julie Read (Whiting) – Beeston
Livvy Hoskins - Clifton Robinsons
Megan Lewis-Williams – Buckingham
Millie Holme – Buckingham
Natasha Marke-Jones – Clifton Robinsons
Phoebe Richards – Clifton Robinsons
Rose Thomas (VC) – Holcombe
Sarah-Jayne Thorburn – Clifton Robinsons
Sian French (C) – Bowdon
Sophie Robinson – Belper
Xenna Hughes – Bowdon
Sara Davies – Swansea HC
Emily Drysdale – University of Exeter/ISCA

    Whilst the preparation in some parts has been far from normal with the many challenges COVID continues to throw at us, I am confident there is nothing more this group of players and staff could have done to prepare ourselves for what is ahead. We will go into the Euros with a lot of belief in our ability as a team to perform well.

    You will note the omission of both Leah Wilkinson and Sarah Jones in this selection, who have just secured an amazing Olympic Bronze medal finish alongside their GB teammates in Tokyo. Whilst of course any Wales squad would benefit from their inclusion, with both playing until the very end of the Olympic Games in extremely challenging conditions of heat and humidity, the short turnaround between that and the Euros in Prague would have been a step too far given their recent mental, emotional and physical exertions. We are very clear in our duty to fully respect and understand all our players' mental and physical health and well-being, therefore their omission was ultimately the right decision for all concerned and a result of open discussion and consultation.

    Leah and Sarah's achievements for Great Britain in Tokyo will have a powerful and long lasting legacy for Welsh Hockey and will have already inspired our team ahead of its Euros campaign. We look forward to seeing both back in a Wales shirt after a well deserved period of rest and recuperation.

    We have spent a good deal of time now as a group growing our depth and experience and this is demonstrated in 2 players receiving their first caps in the opening game. Congratulations to both Livvy and Millie for adding value and quality to the squad. We are excited to see what they can do at senior International level. Now, a special mention also to Xenna Hughes, who has been waiting patiently since our last test match in January 2020 to reach this special occasion of 100 caps. It is fitting for the real competitor she is that she marks this milestone in our opening tournament game.
    Kevin Johnson (Senior Womens Head Coach)

Please follow @hockeywales on social media for match updates and behind the scenes action throughout the championship.

All matches will be streamed live on EHTV (details to follow).

For the match schedule, head to https://eurohockey.org/event/eurohockey-championship-ii-women/?instance_id=112

Hockey Wales media release


---

South Africa to host the 2021 FIH Hockey Women's Junior World Cup

Making History – The First hockey world cup to take place on African soil




The International Hockey Federation (FIH), The South African Hockey Association (SAHA), and North West University (NWU) will be hosting the first Junior Hockey Women's World Cup on African soil.

The event will take place in Potchefstroom from 5 – 16 December at the North West University's Astro complex.  Following Covid-19 restrictions, the event will be hosted in a strict bio-bubble to ensure the safety of all players and officials.

The SA u/21 women's side will be representing the country as the host nation along with 15 other international teams. Several qualification processes are still taking place, with the final teams participating in the tournament being announced by the International Hockey Federation in September 2021.

What is the FIH Junior Women's World Cup?

The FIH Hockey Women's Junior World Cup is an exciting event hosted every two years, with 16 international women's teams competing for the ultimate prize of Junior World Champions. It provides a platform for athletes under the age of 21 to demonstrate their talent and determination on an international stage. The FIH Hockey Junior World Cup is an important milestone for young elite players aspiring to progress their professional hockey careers and represents the pinnacle in international junior hockey.

Event Details:

Official Event Name: FIH Hockey Women's Junior World Cup South Africa 2021
Host City: Potchefstroom
Host Venue: NWU Astro
Date: 5 – 16 December 2021
Stakeholders: FIH, SAHA, NWU

Teams: 16 International u/21 women's teams – South Africa participating as the host

Making History: Delivering an African first – Bringing a Hockey World Cup Event to Africa for the first time

Safety: The event will be held in a secure bio-bubble without spectators in stadium

A message from the CEO of SAHA – Marissa Langeni

We are very proud to have the opportunity to host the First Hockey World Cup on African Soil. Hosting a Hockey Junior World Cup event in South Africa is a dream come true and provides an amazing opportunity to showcase what a hosting giant South Africa and the continent can be.

It is an event that can inspire the next generation of rising stars and provides a great platform for young athletes to showcase their talents on an international stage.

The South African hospitality is amazing and we look forward to welcoming all the international teams to our beautiful country and sharing the spirit of Ubuntu with the world.

Let us embrace the youth, let us celebrate these rising stars.

A message from the Chairman of the LOC – Sheldon Rostron

The LOC, in conjunction with the South African Hockey Association and North-West University, is excited to welcome the participating teams to our beautiful country and host the FIH Hockey Women's Junior World Cup, which is not only a first for the African continent but also for South Africa.  

our goal is to deliver an event that showcases not only our ability to host world-class events but also exhibits our hospitality, culture, and beautiful country.

 It is an honor and privilege to play for your country and, at this age, there is nothing better than being exposed to an environment that welcomes you into becoming a professional athlete.  We would like to make this a memorable event, one that ignites the flame for the future of their careers and leaves a legacy that inspires the next rising stars.

SA Hockey Association media release


---

Junior hockey men ready for Pan Am challenge

by Nigel Simon



National coach Darren Cowie gives instructions to the National Under-21 men's hockey team during a practice match at the Diego Martin Sports Complex earlier this year. ANTHONY HARRIS

T&T junior men's hockey men will use the next few days to fine-tune its preparations ahead of its departure this weekend (What day?) for the Junior Men Pan American Hockey Championship scheduled for Santiago, Chile from August 21-28.

The Junior Continental Championships will act as the qualification competition for the 2021 Junior World Cup at the end of the year.

At the seven-team men's tournament, fifth-ranked T&T will have a tough assignment with top-ranked Argentina, and the fourth-ranked USA in round-robin Pool A, while Brazil, Canada (2nd), Chile (3rd) and Mexico (6th) are in Pool B.

The 18-member squad will be captained by England-based Teague Marcano of English Hockey League Championship Division club, Hampstead & Westminster and also features the Singh brothers of Paragon Tarell and Tariq, Ghardel Elcock, David Coker, forwards Aidan Marcano and Justin Beharry.

Team coach Darren Cowie, a former national senior men's team captain said he was just in the final phase of local preparations with the players.

He told Guardian Media Sports: "We are just in the last phase of our local-based preparations because when we do reach Chile, we will have to quarantine for one of two days. Then once we come out of quarantine we are expected to play one or two practice matches against Canada and Brazil before tournament play and I will consider that to be our last phase of preparations for our tournament matches. We have a good squad selected and two reserves selected as well who are travelling with the team."

He said: "In these next few days, we are just going to probably do some team building sessions while we also have a few logistical things to finalise like final flight arrangements, equipment and other stuff that the guys will need to get. We also have some testing with regards to fitness to make sure that everybody is in good physical condition and ready and rearing to go and most importantly our PCR Test for the coronavirus to make sure that everybody gets a negative reading."

Cowie pointed out: "By Saturday we plan on having a team bonding exercise with the group along with fine-tuning of set plays just to keep the guys in good spirits and their mindset ready before we travel along with a session with our psychologist Alexandria Olton who will also be on tour with us, so we are basically ready."

Looking ahead to the tournament, Cowie noted that Argentina is the powerhouse in the region, so it will basically come down to T&T's clash with the USA for the second spot in their pool to book a spot in the semifinals.

"From there once you win that match you are in the final and on the way to World Champs as the top two teams from the tournament will earn the qualifying places," he concluded.

The team will have their final field training session at the St James Police Barracks on Thursday from 4.30 to 6.30 pm.

Team: Teague Marcano (captain), Malcolm Baptiste (goalkeeper), Jacques Poon-Lewis (goalkeeper), Tarell Singh, Tyrese Benjamin, Ethan Reynos, Jovan Wren, David Coker, Ghardel Elcock, Caleb Guissepi, Jeremy Nieves, Justin Beharry, Tariq Singh, Aidan Marcano, Roshane Hamilton, Joel Daniel, Nicholas Whiteman, Shawn Phillip.

Reserves: Adam Perreira, Matthew Perreira.

Technical staff: Darren Cowie (coach), Akim Toussaint (assistant coach), Sharon Trotman (manager), Alexandria Olton (psychologist), Kanisha Vincent (EDPU Performance Testing)

Junior Men's Pan Am Hockey Schedule:

August 21:

Argentina vs T&T, 11.30 am
Canada vs Mexico, 2.30 pm
Chile vs Brazil, 4 pm

August 22:

USA vs Argentina, 11.30 am
Mexico vs Brazil, 2.30 pm
Chile vs Canada, 4 pm

August 24:

T&T vs USA, 11.30 am
Canada vs Brazil, 2.30pm
Mexico vs Chile, 4 pm

August 25:

Seventh Playoff: Third Pool A vs Fourth Pool B, 4.30 pm

August 27:

Semifinal:

First Pool A vs 2nd Pool B, 2.30 pm
First Pool B vs 2nd Pool A, 4.30 pm

August 28:

Fifth Playoff: Winner of 7th place vs Third Pool B, 8 am
Third Playoff: Loser of semifinals, 2 pm
Final: Winners of semifinals, 4 pm

The Trinidad Guardian


---

2020 Hall of Fame Inductee: Shiv Jagday

"Coach Shiv" gets the nod for his countless years of dedication and success




The Head Coach behind Field Hockey Canada's first Pan-American Games gold medal is being inducted into Field Hockey Canada's Hall of Fame in the coach category.  

Shiv Jagday, notable for his selfless dedication to growing the sport, grew up in Ludhiana, a small town in Punjab. As a young boy, Jagday was surrounded by field hockey royalty and decided that he wanted to take the sport seriously in his teenage years.  

Jagday's abilities as an on-field player took him all the way to the university level, where he was among the last players to be cut from the national team. That moment became a turning point. He knew he wanted to reach the highest level of the game. But he switched gears and went on to carve a path for himself and contribute to the sport as a coach.  

Prithiphal Singh, the sports director for Jagday's university, gave him an opportunity to show his stripes as a coach. After a little while coaching, Jagday then moved to Canada through his wife. It was in Canada where he became a field hockey coach for the University of British Columbia, and word began to spread about his hockey knowledge.  

Word got out to Victor Warren, who was then the president of Field Hockey Canada, and he hired Jagday as a coach. This moment was the beginning of some groundbreaking accomplishments for team Canada.  

"I had a belief system that if I could teach these young players what I know, why can't they be the best in the world?" said Jagday. "And I came with that mindset."

In the following years, Jagday lead multiple generations of National Teams to notable accomplishments:
The junior national team qualified for its first World Cup appearance in 1982 and finished a national best-8th place.
Canada won the gold medal at the Pan-American Games for the first time in 1983
Canada qualified for the Olympics for the first time in eight years in 1984.
After his time with Team Canada, Coach Shiv continued to coach and lead in different capacities at the international level until 2005. Since then, he has dedicated his life to giving back to the game by continuing to coach at the local and regional level and spreading his hockey knowledge to many people through online sessions and videos. His current goal is to integrate different positive aspects from other sports and see the game of field hockey evolve.  

"I want to give back to sport, what sport has given to me. More than that. I want to be a human and treat everyone with love and respect," said Jagday. "If you treat people with respect and love, it'll come tenfold."

Coach Shiv credits his faith, his family, Victor Warren, John McBryde, and his players for helping him get to where he is today.

Congratulations, Shiv Jagday for being inducted into the Field Hockey Canada Hall of Fame.

Field Hockey Canada media release


---

Olympic medallist Nicola White seeks legal advice over claims of GB Hockey's 'systemic failings'

Having battled to reclaim her place, White says she hit 'rock bottom' on learning that GB Hockey wanted nothing to do with her last summer

By Fiona Tomas



After having to claim Universal Credit, White has criticised GB Hockey over its treatment of athletes Credit: Reuters

Double Olympic hockey medallist Nicola White is seeking legal advice over what she has described as GB Hockey's "systemic failings" in its treatment of athletes, just days after its women's team won a bronze medal at the Tokyo Olympics.

White, who won gold at Rio 2016 and bronze at London 2012, says she is considering taking legal action against the governing body after she struggled to return to the GB programme following her recovery from a debilitating head injury.

"I just feel like systemic failings keep happening and we're losing talent that we shouldn't be losing," White told Telegraph Sport. "There are many good players we've lost over the years who I've been sad to see go. I know it's a cut throat environment, but it's not just me who feels this way.

"It's happened to athletes before where the way they [GB Hockey] handle things isn't quite right, although it's very difficult for us to talk about it through fear. That's why I had to be honest and speak out about this. I don't think it's right for athletes to be treated this way at all."

Last year, England Hockey apologised to player Suzy Petty after admitting there were "shortcomings" in the way it handled her axing from the GB women's programme while she was battling an eating disorder.

In May, Great Britain international Emily Defroand was forced to retire at the age of 26 after a number of serious injuries, while in February last year the former GB captain Alex Danson retired after a long-term concussion sustained outside of the sport.

White, who has a total 186 international caps for England and Great Britain, announced her retirement from international hockey earlier this month after spending two years out of the game following a serious concussion that occurred during a Commonwealth Games warm-up match in 2018.

Having battled to reclaim her place in the side, she says she hit "rock bottom" on learning that GB Hockey wanted nothing else to do with her in a Zoom meeting last summer, despite successfully managing her symptoms for post-concussive vestibular migraines.

White was even forced to turn to benefits to "keep a roof over my head" after being removed from the GB programme in December 2019. Losing her UK Sport funding was devastating as it had enabled her to access The Priory mental health clinic in London after she hit a major depression in 2018. "You never think, as an athlete, you'll need to go on universal credit, but what choice do you have? We're not classed as a worker or an employee," she said.

After being told last year that she did not stand a chance of being considered for Tokyo, White has since "slumped back into quite a big depression" and her symptoms, which had significantly improved after taking a new migraine drug, Aimovig, have regressed.

The 33 year-old maintains she was denied any form of fitness test or trial by GB Hockey and pleaded with the organisation to set her "objective targets to hit for September" last year but was told there was enough talent already in the squad and that she would have to be scouted through her club.

"I never expected to just walk back in, I was fully appreciative of the situation," said White, who returned to club hockey last October after being granted a 'return to play' assessment in March 2020 to determine whether she was fit enough to rejoin its central programme.

She alleges that GB Hockey failed to reschedule the return-to-play assessment after the Covid pandemic hit. "I needed to show I was fit enough, that I could play hockey," she said. "Being told that the reason behind the decision was 'You've been out for two years' I feel was quite disappointing."

A statement from GB Hockey said: "We worked very closely with Nicola and her support network following her injury in March 2018, with support and bespoke medical care in place through to early 2021. We have had regular meetings with Nicola seeking to support her and ensure clarity about optimal medical care, broader support and clarity about a potential return to the Great Britain programme.

"Her initial injury management followed International Guidelines on the management of concussion injuries. Throughout her injury Nicola was managed extensively by the Great Britain Hockey medical team, the medical team at the English Institute of Sport as well as external experts in this area. At all times Nicola's physical and mental wellbeing were the main priority.

"In November 2020 Nicola requested clarity with regards to her potential return. At this point, we communicated that unfortunately, with such limited international match play opportunities between December 2020 and Olympic selection in May 2021, and with such limited training and match play for Nicola over the preceding 2.5 years, we did not see her realistically challenging for selection . The door remained open for her to return in the future."

White says she believes it is important to speak out over what she feels is poor treatment by the governing body. "I can go to sleep at night feeling I didn't let myself down, it was the system that failed me," she said. "I don't want other athletes to experience the same, so if I can impact change for the future by highlighting my story, that is what I will focus on."

The Telegraph