All the news for Wednesday 11 August 2021

This is 'just the start' for Vanasch and his Lions



Photo taken from Vincent Vanasch's instagram account

Vincent Vanasch is the proud owner of an Olympic gold medal after the 33-year-old and his team defeated Australia in a pulsating final at the Oi Hockey Stadium in Tokyo.

"It is really something else. We won silver in Rio [Olympic Games 2016]. I said then that I 'lost' the gold medal in Rio, so this one [gold medal] is incredible."

Talking about the final to the men's competition at the Olympic Games Tokyo 2020, which Belgium won on shoot-out after it finished 1-1 in full-time, Vanasch – who is a three-time winner of the FIH Goalkeeper of the Year – said: "It was a final and crazy things can always happen in a final. I think Australia v Belgium was the match that people wanted to see. It was a bit like a Federer and Nadal tennis game.

"We had some chances and we scored and then they scored. Then we went to shoot-out and it was a case of winning the Olympics in five minutes."

The shoot-out was equally dramatic and tense. Belgium thought they had won when Vanasch saved a shot from Australia's Jake Whetton. The Red Lions erupted in a cheer of jubilation only to see Australia's referral cause the shoot out attempt to be re-taken. Vanasch saved again and this time the Belgium side really could celebrate.

"I knew I had touched his [Whetton's] leg with my stick so I knew it would be a re-take," says Vanasch with a smile. "I took a cold drink and then I was ready for it."

Asked what makes the Belgium squad so good – they are also reigning World Cup Champions – Vanasch said: "We have Alex Hendrickx who is a great drag flicker, but the strongest thing we have is the collective that is our group. We have had ups and downs and many of the team have played 10 years together.

"In the past we have lost 10-0 to Australia, to Netherlands and Germany. But we have grown together. We trust each other, that is the mark of the Red Lions. Everyone can express themselves in our team and we realise how important it is to be the best version of ourselves."

The challenge for Vanasch and his teammates is to continue to win. "Once you have tasted that gold medal, you want more. We give so much to hockey and we make so many sacrifices, as do our family, we just want to make them and Belgium proud.

"We came to Tokyo with one mission. At the EuroHockey Championships [where Belgium finished third], we said, 'okay, in Tokyo we are going to perform. And that is what we did."

Head Coach Shane McLeod was emotional at the end of the final and his goalkeeper paid tribute to the work of the New Zealander and his staff: "He [McLeod] says that he jumped on a train as it was on its way. He gave confidence to the group and we developed trust in ourselves. Our mental strength is much better. He is part of our team and he is part of our country."

Watch the full interview on Watch.Hockey.

#Tokyo2020
#HockeyInvites

FIH site


---

Goodbye Sjoerd! A byword for patience & perseverance

K ARUMUGAM




He came. He saw. He transformed. It took almost three years for the Dutchman Sjoerd Marijne to bring our women to what they are now. The target, primarily, was getting into the quarterfinals of the Tokyo Olympics, but there were far more takeaways from the campaign after the team went through an ordeal by fire. One can unmistakably see coach Sjoerd Marijne's stamp behind every moment in their journey that would change the face of women's hockey forever.


---

"Tokyo success marks resurgence of Indian hockey": Mervyn Fernandis

By MERVYN FERNANDIS, Triple Olympian




Every athlete has a dream to represent their country at the Olympics which comes once in four years. Considering the standards set at that level, qualifying is in itself an achievement. Finishing on the podium gives great satisfaction, due to the realisation that one has achieved another level.


---

Indian hockey should aim to achieve benchmark set by Belgium and Australia, says men's coach Reid

While Australia has been a hockey powerhouse after the 1980s, reigning Olympic and world champions Belgium took the game by storm in the last 10 years by finishing runners-up in 2016 Rio and then winning the gold in Tokyo Games



Indian players celebrate their victory over Germany in the men's field hockey bronze medal match, at the 2020 Summer Olympics, in Tokyo, on August 5, 2021. PTI file

A historic Olympic medal, notwithstanding, the Indian men's hockey team should try to emulate the benchmark set by Belgium and Australia if it wishes to reclaim the gold in three years' time in 2024 Paris Games, said the side's chief coach Graham Reid.

While Australia has been a hockey powerhouse after the 1980s, reigning Olympic and world champions Belgium took the game by storm in the last 10 years by finishing runners-up in 2016 Rio and then winning the gold in Tokyo Games.

Besides, Belgium also bagged the World Cup title in 2018 before claiming the European championship crown in 2019.

"They (Belgium and Australia) are two world-class teams we saw in the final (in Tokyo). I think they are the benchmark and that's what we need to be aiming for," Reid told reporters during an open media session.

"If you look at Belgium, it's a pretty good mirror to what we should be aiming for." The Manpreet Singh-led Indian men's hockey team scripted history in the just-concluded Tokyo Games by winning a medal, a bronze, after a hiatus of 41 years. India's last of the eight Olympic gold medals came way back in 1980 Moscow Games.

Reid, a master tactician, said a strong bonding developed between the players during the COVID-19 forced lockdown was the key to success in Tokyo.

"If you go back 15 months, it was very tough for all of us because most of us haven't seen our family for a long time. So it was great to go to Tokyo and finally being able to play. Competition before the Games was very limited and to play at the highest level, you need competition to keep improving and that was difficult," he said.

"The group bonded well once we got there. I kept saying them don't underestimate the effect of the last 15 months that can have on a team when you go through adversities together as a group and that helped in bonding and that's what you saw in the bronze medal game."    

After a hard-fought 3-2 win over New Zealand in their opener, India were slammed 1-7 by eventual silver medallist Australia in their next match.

Despite the scoreline, Reid, a former Australian player-cum-coach, said the Indians actually had impressive statistics against the Kookaburras in that match.

"We look at the data behind the loss, the scoreline was 7-1 but we created a lot of opportunities in that game and we actually played better I feel.

"I showed the guys the numbers and told them look we are not far off, with Australia having one of those days. So, it was all about helping the team's mentality to look to the next game," he said.

Reid admitted that he desperately wanted India to finish on the podium in Tokyo after having failed to take Australia beyond the quarterfinals as a coach five years back in Rio.

"The Olympics gets in your blood but things didn't get well in Rio for me. This is what happens in hockey quarterfinals in the Olympics, it claims a big scalp every time. This time was Holland and last time was Australia. So you also need a little bit of fortune," he said.

The coach lavished praise on young striker Simranjeet Singh, who scored a vital brace in the bronze medal match against Germany, saying India were fortunate to avail his services after being not picked in the initial 16-member squad.

Simranjeet got a lucky break to be a part of the Olympic-bound squad after the International Olympic Committee allowed three reserve players to be part of the contingent in team competitions due to the Covid-19 pandemic.

"That's the quality of players we have in the group. It's about one person being able to stand up at a different time when someone else doesn't. We were fortunate (to have Simranjeet) but so were other teams as well. I think the rule change worked out very well," Reid said.

The Tribune


---

Indian hockey has been on an upswing since a decade

"Hockey has not been on a decline. In fact, it has been on an upswing from 2008 onwards," opines popular commentator and analyst Siddharth Pandey.

By Abhijit Nair



Tokyo Olympics bronze medallists Indian men's hockey team (Source: Hockey India)

The Tokyo Olympics was one of the biggest high points for Indian hockey in many years. While the men's team returned with a medal for the first time since the 1980 Moscow Olympics, the women qualified for the semifinal for the first time ever.


---

Manpreet: 'We feel we have won a significant Olympic medal'

Manpreet recalls the bronze-medal journey in Tokyo; Rani showers praise on Savita.

Kamesh Srinivasan



India men's hockey team captain Manpreet Singh in New Delhi on Tuesday.   -  The Hindu

The Indian men's hockey team gave an Olympic medal to the nation, while the women's squad missed it by a whisker. But both felt the "love and respect" of the fans when they landed home from the Tokyo Games.

"In my career spanning 12 to 13 years, I have never felt like this. Even after we lost, people are giving us so much love and respect. Now we definitely feel that we have done something good," said Rani Rampal, captain of the women's team.

Though the Sjoerd Marijne-coached side had lost the bronze medal match to Great Britain, it won hearts for a remarkable show. "We fought hard, but it was not our day," said Rani.

The skipper of the men's squad, Manpreet Singh, said he could feel the fans' joy after his side won the country's first hockey Olympic medal after the gold in Moscow in 1980.

"When we landed here, there was so much love and respect for us. We do feel that we have won a significant Olympic medal," said Manpreet.

He said that the boys were able to bounce back from the 1-7 defeat to Australia in its second league match as they had faith in their abilities and felt that they could win a medal.

"It was a bad loss against Australia. We told ourselves that we should regain confidence. We could beat any team as we had done it in the past. The players were determined not to let go this opportunity," recalled Manpreet.

Wall of India

Even as she appreciated the whole team, Rani gave a lot of credit to goalkeeper Savita Punia for taking the team to the bronze medal playoff, calling her "the Wall of India."

India has had to endure heartbreaks in the final minutes during important matches over the last few years, but Manpreet said the current outfit was keen to stay sharp till the final whistle.

"In the last 15 minutes of the bronze playoff, we reminded ourselves about our aim. We told ourselves that if we put all our energy in those 15 minutes, we can be happy all our life," revealed Manpreet.

Sportstar


---

Golden Temple first stop for 11 men's and women's hockey players in Punjab on return from Olympics

Eleven players of the men's and women's hockey national teams were accorded a rousing welcome upon their arrival at the Sri Guru Ramdas Jee International airport in Amritsar.

They first headed to the Golden Temple where they reached at 8,20 am.

A resolute Indian men's hockey team rewrote history as they claimed an Olympic medal after 41 years, defeating a plucky Germany 5-4 to win the bronze in an edge-of-the-seat play-off match.

Indian women's hockey team signs off 4th at Olympics after a narrow loss.

The team too created history surpassing all expectations by entering the semifinals of the Olympics for the first time. They may have lost the bronze medal but they succeeded in winning hearts.

The Tribune


---

PR Sreejesh accorded grand reception in Kochi

A grand reception was accorded to P R Sreejesh at the Cochin International Airport with hundreds of fans thronging the arrival area to welcome their hero



P R Sreejesh presents olympics bronze medal to his father P R Raveendran (Source: Asianet Newsable/Twitter)

A grand reception was accorded to P R Sreejesh, goalkeeper of the Indian hockey team that won the bronze medal at the recently concluded Tokyo Olympics, on Tuesday evening at the Cochin International Airport here with hundreds of fans thronging the arrival area to welcome their hero.


---

India men's hockey assistant coach Shivendra Singh writes own redemption story in historic win

In 2008, Shivendra Singh was part of a historic loss where Indian men's hockey team failed to make it to Olympics for the first time. In 2021, he helped India write history at Games in a new role.

Shubham Pandey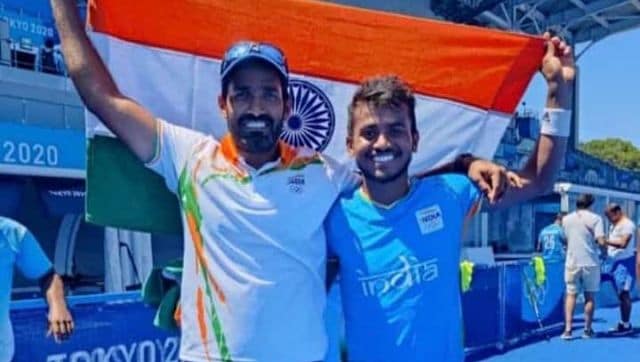 India men's hockey team's assistant coach Shivendra Singh with midfielder Vivek Sagar Prasad. Special arrangement.

With the Indian men's hockey team making history at Olympics after 41 years, assistant coach Shivendra Singh too registered a sweet personal victory, completing a sort of redemption story.

In 2008, Shivendra was part of the Indian side which lost to Great Britain in the Olympics qualifier. That loss is among the most tragic losses in India's hockey history and surely the most tragic in the last two decades. That loss ensured India's first failure to qualify for the Games since the country started playing in the mega event.

Enough has already been said about India's glorious past in hockey, especially at the Olympics and to be a part of the team which, for the first time, did not qualify for the Games, forget about a medal, must have been really painful.

Shivendra concurs.

"2008 was my first attempt to become an Olympian. But that did not happen. I was heartbroken by that loss. Then in 2012, we qualified but it was not a great result for us.

"I was very dissatisfied in my career. I felt I became an Olympian, but what did I do for my country? Just became an Olympian and represented India," said Shivendra.

The loss was unexpected as Great Britain were not a powerful force in international hockey in 2008. Losing to them in such an important match sent shockwaves among the team and fans.

"When we lost, we did not know the road ahead. What were we going to do now? How do we take our hockey forward? It was a massive loss as not qualifying in hockey for India was a big thing," remembered Shivendra.



Netherland's Sander de Wijn (L) vies with India's Shivendra Singh (R) during their London 2012 olympic hockey match at the Riverbank venue in the Olympic park, in London. AFP

"When we lose, we lose as a team. We had cried after the match as well. The team was full of negativity," he added.

The Gwalior-born player did represent India at Olympics in 2012 but in that tournament, Indian failed to win a single game. That was also the last Olympics for Shivendra. The wish to be a medal winner at the Games had remained unfulfilled.

Cut to 2019 when the Indian men's team underwent another change of guard post the average 2018 World Cup show at home. Shivendra was roped in as assistant coach, who would work on India's striking and in came a resolute version of him, who did not want to repeat the past.

"When I got the chance to become India's assistant coach, I decided that I did not want to waste this opportunity. I was young in 2008 and the opportunity had slipped but when I joined the team as coach, I had decided that here I am going to give my 100 percent.  There will be no stone unturned to make it happen."

India registered 13 field goals in Tokyo Olympics. Shivendra gives credit to the players for applying the plans on the field and ensuring the open spaces chances were converted.

"I worked on forward coordination. On the coordination between forward and mid-field. Develop the understanding between the two. It was important players who played on two respective positions understood each other off and on the field.

"Also, where does the forward likes to receive the ball, which area is their strong point. I tried to understand that and made notes, watched their videos. Accordingly made plans, on spacing, receiving and positioning, where is our scoring area etc. Scoring zone was my area of concern and I worked on it," said the former India player.



India men's hockey team's assistant coach Shivendra Singh with midfielder Vivek Sagar Prasad. Special arrangement.

What worked for India was the presence of fresh legs. India had 10 debutants at Olympics, which has never happened before. The plan was to have fresh legs running hard up and down the turf in the heat and humidity in Tokyo, a plan that clearly worked.

Making it to the semi-finals was historic in itself. Many players in the team like captain Manpreet, Rupinder Pal Singh and PR Sreejesh had faced disappointment in the past and Shivendra's hurt was no less than any of them.

Watching the team lose the semi-final was again very hurtful but the team picked it up in time thanks to the 'next thing mentality' principle coined by the head coach Graham Reid, where the team looks to forget the mistakes, the losses, and refuses to pass blame and moves on.

Shivendra said that there were positive vibes in the team all the way back from the Bengaluru camp. The team knew somewhere they are not returning without a medal. That sort of thought helped them stick together even through the losses, whether the Australia drubbing or the Belgium loss.

Before the bronze medal game, the team focussed on playing well and not think about the result, says Shivendra.

"If we start to think about results then the focus is diverted. The focus needs to be intact for the whole sixty minutes on the ball. We decided that this is our last match. It was told that whatever you have learnt, you have to come out with the best and doesn't matter if you're knocked out, your body collapses at the end of the day, you have to give 100 percent."

India made a comeback after being down early on and as per Shivendra, it showed the team's fight to return from any position.

As Sreejesh saved the last second PC, the Indian camp was in jubilation. Among the celebration was Shivendra as well, remembering the past and living the present at the same time.

"I was very emotional and felt I am playing that match. When we won, I did not feel like a coach, I felt like a player. Players too treat me like a friend only, not a coach. That helps up understand each other better. It felt as if I had won that medal," said a happy Shivendra.

In 2008, Shivendra Singh was part of a historic loss where the Indian men's hockey team failed to make it to the Olympics for the first time. In 2021, he helped India write history at Games in a new role.

Firstpost


---

Proud of what men's hockey team has achieved, says former coach Jose Brasa

Currently in charge of Old Club de Liege in Belgium, Brasa took over as India's chief coach in May 2009 and remained in office till the end of Asian Games in 2010, and was among the first foreign coaches to come onboard in Indian hockey. Here's what he has to say on Indian men's team's bronze.

Shantanu Srivastava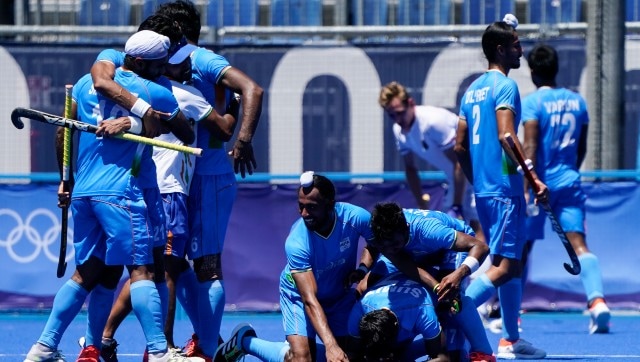 New Delhi: It's been over a decade since Jose Brasa left the Indian shores for good, but the former national coach of the men's hockey team still keeps a tab on the progress of the team he once groomed.

Currently in charge of Old Club de Liege in Belgium, Brasa took over as India's chief coach in May 2009 and remained in office till the end of Asian Games in 2010, and was among the first foreign coaches to come onboard in Indian hockey.

Brasa watched all of India's matches at the Tokyo Olympics, where the men's team ended the 41-year wait for the podium, and couldn't help slipping back into his days with the national team.

"Yeah, lot of memories. I absolutely loved the players. You won't get more committed players than Indians anywhere in the world. That's the reason a lot of top coaches are always ready to come to India and work with these boys. Unfortunately, I can't say the same for those who run the sport in India. I am extremely proud of what India have achieved at the Tokyo Olympics, and would like to believe that I had a small role to play in the team's success," Brasa told Firstpost from Belgium.

"Indian players have a typical desire to do well…real fire. That's because a lot of them come from underprivileged backgrounds and their only recourse is hockey. In my experience, I have always found them very eager to learn and open to suggestions."

The Spaniard is credited with introducing a series of scientific innovations in training and fitness regimes of the men's team, such as GPS tracking and endurance tests, besides emphasising on a protein-rich diet. While there was resistance from the officialdom at the start, Brasa somehow succeeded in rolling out his plans. A fitness culture was gradually nurtured by the coaches who succeeded him.

"Indian players were not really fit back then. We were no match to the Australians and Europeans. When you are not fit, you lose the ball easily and are always chasing the game.

"Part of my contract was that I wanted GPS systems from Day 1. But I got them 15 days before the Asian Games 2010, almost 18 months after I took over. So, full credit to players to come from these systems and excel. When I look at the team now, I feel fitness-wise, they are the best in the world and I am really proud of them. It is impossible to explain how hard these boys have worked," Brasa said.

Among the players he groomed were goalkeeper PR Sreejesh and star defender Rupinderpal Singh, both of who played key roles in India's podium finish recently.

"Yes, I remember bringing Sreejesh and Rupinder to the system. Needless to say, both were very talented and it was evident that they had the potential to play international hockey for a long time. However, the most complete player we had back then was Sardar Singh. Sardar was extremely fit and was technically world-class. He had tremendous work rate. Even when we stopped training for a quick break, Sardar would quietly do his ab crunches as other players relaxed. No wonder, he served Indian hockey for a long time.

"Apart from Sardar, Shivendra Singh and Sandeep Singh were quite fit too. Sandeep, I still remember, had a lot of power," he recalled.

Further, Brasa backed coach Graham Reid's full press style of play and said that it will bring India bigger successes than the Tokyo medal.

"India just need to build on this momentum and continue with their full press, attacking gameplan. This will get you bigger success than the bronze medal. My only request to those who run hockey in India is, 'let the coaches work.'"

Firstpost


---

Field Hockey Canada celebrates 2020 Hall of Fame inductees

Field Hockey Canada Celebrates Hall of Fame Month




August is Hall of Fame month and over the next four weeks, Field Hockey Canada will be celebrating the 2020 class of inductees. Watch every week for individual stories, videos and photos of eight storied field hockey careers and a national team that achieved international glory. Join us by sharing on social media and reading/watching/learning about our amazing legacy.

Legendary Builders, Coaches and Athletes headline the 2020 Hall of Fame Class

Building off a successful 2019 Hall of Fame celebration and a fantastic class of athletes, builders, and officials, Field Hockey Canada is proud to announce its outstanding class of 2020 Hall of Fame inductees.

The Hall of Fame recognizes those who have given to hockey and excelled in our community. Members of our 2020 class have certainly done that. Entering the Hall of Fame in the athlete category this year are Jean Major and David Bissett. Both outstanding players and amazing leaders on the Women's and Men's National Teams, respectively. In the coach category, the storied careers of Shiaz Virjee and Shiv Jagday will be celebrated. Both led Canadian men's teams in Olympic Games and continue to coach in the community to this day. In the builder category, Peter Buckland, Moira Colbourne, Barb Hart Harris and Judy McCrae enter. Closing out the 2020 class is the 1983 Men's National Team, becoming the third recognized team in the Hall.

ATHLETE CATEGORY

Jean Major was the captain of the Hall of Fame 1983 Women's National Team and was named internationally as a top-11 player in 1983. She was an instrumental leader and a dominant player during Team Canada's rise to the top of the world.

David Bissett established himself early on as a tremendous leader and goal-scorer. A multi-talented player, Bissett went on to lead Team Canada to the Olympic Games and World Cup including recognition as the Closing Ceremonies Flag Bearer for the 1983 Pan American Games.

COACH CATEGORY

Shiaz Virjee is a world-class coach, having led the Men's National Team to Olympic and World Cup competitions. An FIH coach, he has coached at every level of the game from youth to international over the past 40 years. He continues to give back to the game as a coach and mentor today.

Shiv Jagday is one of the marquee coaching figures in Canadian hockey history having multiple World Cups and Olympic games under his belt. He is one of the most accomplished and decorated coaches in Canadian history and is a shining example of a hall of famer.

BUILDER CATEGORY

Peter Buckland was an internationally renowned Canadian player before transitioning to administration, where he's remembered as an important Canadian Field Hockey Association president and known for his contribution to hosting the 1976 Montreal Olympics – the first to be held on an artificial playing surface. Peter was central to this transition from grass to artificial surface and in doing so impacted our sport around the world and permanently changed the game.

Former National team athlete, Moira Colbourne continued to give back to the game after retiring as a player. She did so in many ways as a league president and founder, coach and mentor. Notably, she served as the Commissioner on the Burnaby Parks and Recration board leading the creation of sport artificial turf fields.

Moira's teammate, Barb Hart Harris is the ultimate ambassador of the game. She was instrumental in the lead-up and execution of the highly successful 1979 World Championship in Vancouver and she created the 79ers group as a sport, philanthropic and social club.

Finally, in the builder category is the former Field Hockey Canada President, Judy McCrae. Judy was instrumental in guiding the amalgamation of the women's and men's associations to form Field Hockey Canada and was the leader in designing the women's national team program which led to their outstanding performance in the 1980's

TEAM CATEGORY

The 1983 Men's National Team vaulted into the public eye with a historic Pan American Gold Medal to qualify directly for the 1984 Olympic Games. That 1983 team will be recognized as the third team to enter the Hall of Fame.

Sue Neill, Chair of the FHC Hall of Fame Committee said, "the contribution of the inductees into the Hall of Fame in 2020 provide a window into the history of field hockey in Canada in the 70's and 80s. They are all outstanding leaders who changed and/or accelerated the development of field hockey in Canada. The Committee is proud to be able to name these individuals to the Hall of Fame."

Individual recognition and a celebration (online or in-person as the circumstances allow) will be planned for later in the year. We hope the community will join us for a celebration of these amazing individuals and teams. Congratulations to all!

Class of 2020

Athletes Category
Jean Major Gourlay
David Bissett

Builder Category
Barb Hart Harris
Judy McCrae
Moira Colbourne
Peter Buckland

Coach Category
Shiaz Virjee
Shiv Jagday

Team Category
1983 Men's National Team

Field Hockey Canada media release


---

Don't be scared of trying it out, says young hockey goalkeeper



Loving it: Amber and Imogen are converts to goalkeeping

North Notts HC realised there weren't many opportunities for young players to try out goalkeeping – and have seen the position bear fruits thanks to some eager juniors.


---

Is Location Really The Issue?

Ashley Morrison

There is an old saying that if you run away from a problem, you will not solve the problem, you will simply change the location of it.


---

Made-in-Punjab hockey sticks' sale up post India's Tokyo 2020 campaigns

Sanjay Kohli, owner of Rakshak Sports, says the company supplied custom-made hockey sticks to six players of the women's team and two to the men's side.

By Harpreet Bajwa



Indian Men's Hockey team captain Manpreet Singh with Indian Women's Hockey team captain Rani Rampal (Photo | EPS)

CHANDIGARH: Two Jalandhar-based companies which supplied hockey sticks to both men and women's Indian teams in Tokyo say there has been a sudden upswing in their trade after the two sides put up impressive shows at the Olympics.

Their trade has picked up by at least 30% and fresh orders are being booked.

The Rani Rampal-led women squad and Manpreet Singh-led men's teams wielded custom-made hockey sticks manufactured by these firms.

Sanjay Kohli, owner of Rakshak Sports, says the company supplied custom-made hockey sticks to six players of the women's team and two to the men's side. Kohli says these players demanded a particular mould and gave their own weight of the sticks.

"Rani Rampal has been using our hockey for over 10 years. This time, she asked us to engrave a map of India on her hockey stick. Niki Pradhan wanted a green colour stick, while Sharmila Rani and Simranjeet Singh demanded a black & yellow one," said Kohli.

"While the weight requirement varied as per a player's wish, it was between 535 and 550 grams. The length was also adjusted as per the players' style," said Kohli.

Nitin, owner of Pooja Enterprises, said eight players of the men's and women's teams played with the sticks manufactured by the company.

"Savita, Sushila, Nisha Warsi, Deep Grace, Vandana, Udita, Rajni and Salima played with our sticks. In the men's side, the poster boy of our team, captain Manpreet Singh  followed by Shamsher Singh, Nilakanta, Gurjant Singh, Mandeep Singh, Amit Rohidas, Surinder Kumar and Sreejesh carried the sticks manufactured by our company," he said.

The New Indian Express