All the news for Friday 13 August 2021

#Tokyo2020 – Message from FIH President Dr. Narinder Dhruv Batra




"Dear Members of the global hockey community, dear hockey fans, dear all,

As the Games of the 32nd Olympiad have just come to an end, I would like to share a couple of words with you to reflect on the amazing experience we've just been through.

First and foremost, I have no words to express gratitude on behalf of myself and that of the global hockey community to the Japanese authorities, the Japanese Organising Committee and the International Olympic Committee for having, despite these unprecedented times of pandemic, successfully managed to deliver a truly magnificent Olympic Games Tokyo 2020!

For these organizations to have delivered such an outstanding Olympic Games is, quite simply, a phenomenal achievement.

From our side, we've seen top-class hockey and incredible matches, despite preparations which were made far more challenging than usual because of the COVID-19 crisis. In this regard, I'd like to thank wholeheartedly all teams for being such great ambassadors of our sport, even in such difficult circumstances.

Teams from four different continents were involved in the semi-finals. This is a major step for the globalisation of our game, which is such an important factor for its development worldwide.

Special congratulations to all Medallists! This achievement will embellish your lives for ever!

My thanks also go to the umpires and officials. Let's all remember that they are volunteers, who dedicate a huge part of their precious leisure time for hockey. This is out of pure passion and commitment, something I think is remarkable.

Of course, I'd like to address, from the bottom of my heart, sincerest thanks to the people of Japan, and especially the volunteers. Everyone coming from abroad, from athletes to officials, have been impressed – and surely marked for ever – by their hospitality and friendliness. THANK YOU, JAPAN!

Last but not least, a big thanks to all hockey fans around the world who've followed the matches on TV or shared posts on social media. From wherever you are, your support has been felt up to Tokyo!

Of course, hockey never stops! Either now or in a few weeks' time, you will be on the pitch again, practicing, playing competitive matches, or helping your club, your National Association, etc … And this is great! But for the moment, let's take the time to look back, relive and appreciate the wonderful time which the Tokyo 2020 hockey events have given us.

Thank you and I wish you all to keep well and safe!"

FIH site


---

"Proud of the girls, but important for them to stay focused now" — Coach Sjoerd

Marijne Coach Sjoerd Marijne lauds the effort of the Indian women's team despite missing out on a medal

By Vivek Prabhakar Singh



Coach Sjoerd Marijne

The Indian women's hockey team missed the Olympic medal by a whisker. The girls in blue fought valiantly and won the hearts of the entire nation. Not many predicted or expected them to reach this far as they entered their first ever semi-final at the Olympics.


---

Asian Games gold next target, says Tokyo bronze medallist Sreejesh

VPS group brings Manuel Fredericks to present Rs 1 crore award to Olympian P.R. Sreejesh.

Stan Rayan



Kerala's only two Olympics medallists: Goalkeepers Manuel Frederick (1972, Munich) and P.R. Sreejesh (2020, Tokyo) at an event in Kochi on Thursday.   -  THULASI KAKKAT

As a junior with a hockey club in Thiruvananthapuram many years ago, goalkeeper P.R. Sreejesh had gone to Kannur to play a tournament. Manuel Fredericks, then Kerala's lone Olympic medallist with his hockey bronze at Munich 1972, had gone to meet the youngsters then.

"Fredericks had brought his medal to the ground...that was the first time, we saw an Olympic medal," said Sreejesh in a function to fete him here on Thursday.

This time Fredericks, also a goalkeeper, had a close look at Sreejesh's hockey bronze which came in Tokyo. Fredericks had brought his bronze too and for the first time, Kerala had a look at its only two Olympic medals in history.

Dr. Shamsheer Vayalil, the UAE-based chairman and managing director of VPS Healthcare, had announced a Rs. 1 crore cash award for Sreejesh and he had brought Fredericks – who hails from Kannur but who mostly lives in Bengaluru – to present the cheque to the star goalkeeper. There was a pleasant surprise for Fredericks too, he was presented with Rs 10 lakh for his 1972 show.

Sreejesh said the Indian hockey team's next big goal was to qualify for the 2024 Paris Olympics.

"Definitely, we have to win the next Asian Games (in 2022, in China), that is the easiest way to get into the Olympic Games," said Sreejesh.

"That is the first target, then we are going to host the 2023 World Cup in Odisha. The last time we played the World Cup, we couldn't qualify for the semifinal."

Both Fredericks and Sreejesh spoke about the need to improve basic facilities to improve the hockey scene in Kerala.

"Both of us are Olympic medallists and goalkeepers too...we need to offer more facilities for hockey in Kerala," said Fredericks, now 73.

"There is only one astro-turf for hockey in Kerala, in Kollam. That too had been converted into a COVID-care centre and for nearly one and half years, it has probably not been watered.

"If we start private academies, and if VFS Healthcare supports us, we will have more children in hockey."

Sportstar


---

Special event to honour Indian Olympics men's hockey team at PAP in Jalandhar

The Punjab Armed Police (PAP) on Thursday organised an event to honour the bronze medal winning players of the Indian Olympics men's hockey team. Police officials accorded a warm welcome to the players. They were brought on the PAP premises in an open jeep with a line of crisply-dressed bhangra players dancing in front of them.

The players were seated on a podium with a huge banner 'Pride of the Nation' featuring the four players from Jalandhar — Manpreet, Mandeep, Varun and Hardik. Garlanded by officials, the players, along with their families, were welcomed. Shooting Olympian Anjum Moudgil who also participated in the 2020 Tokyo Olympics was also part of the event.

Sports Secretary Bahadur Singh organised the event. He said, "It is a very special occasion for us. Our team has created history. We wanted the best of arrangement for our returning sports heroes. The event was our token of affection for their toil."

Special DG, Arms Battalion, Iqbal Preet Singh Sahota; IG Surinder Kalia; SC Battalion Commandant Manjit Singh Dhesi; Ranbir Singh from the 75 Battalion; Kulwant Singh from the 27 Battalion; along with other senior officials were also present.

Hockey Olympian Surinder Singh Sodhi; Padma Shri Awardee wrestler Kartar Singh; Arjuna Awardee Gurdev Singh; Hockey Olympian Harpreet Singh Mander, among other sportspersons were present on the occasion.

The Tribune


---

Lalit Upadhyay ends Varanasi's long wait for a hockey medallist

There have been bad days, worse days, pathetic days for Lalit Upadhyay as a hockey player but those are behind now. His bronze medal has changed everything.

Shubham Pandey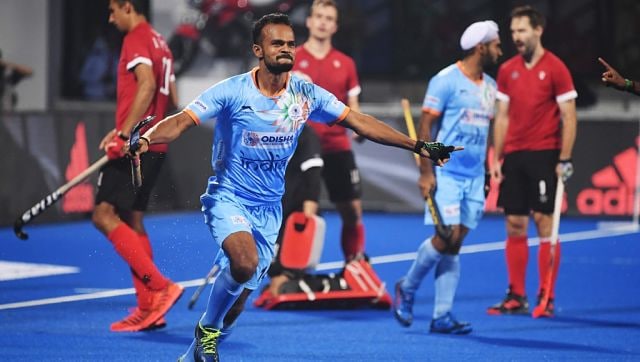 File image of India's Lalit Upadhyay. AFP

Words flow endlessly from Lalit Upadhyay. Despite no sleep in the last 48 hours or so, there are little signs of fatigue. His face reflects pride, and he is ready for some marathon interviews. There is no stopping him. There have been bad days, worse days, pathetic days for him as a hockey player but those are behind him. Today he is an Olympic medallist and he proudly says he is the first from his city, Varanasi, after Mohammed Shahid. But he does not forget to mention the seniors who came between him and Shahid and played for India at the Games.

"Vivek Singh and his younger brother Rahul Singh too played hockey for India at the Olympics. After Mohammed Shahid, I am the first medallist from Banaras, with the blessings of Mahadev (Lord Shiva)," says Lalit.

Lalit pretty much defines the feeling for all medallists who have returned home with a medal when he says, "Whenever an athlete brings a medal, that happiness cannot be described in words. It is a unique feeling. No amount of media coverage or number on bank cheque can top it."

His career could have been nipped in the bud after his name was brought up in a TV news channel's sting operation. Lalit, then 17, found himself sidelined thanks to a group of reporters posing as agents from TV news channel bribing to the then Indian Hockey Federation secretary to include him in the squad. Lalit faced a dark period after that but he was lucky to come out of it after the channel cleared that his name was randomly taken by them.

    I want to thank each and everyone who all have supported to me all the time , so I have to keep doing what I do, which is keep winning medals for my country. This is just simply amazing feeling when you won medal after 41 years in Olympics .#bronze @Media_SAI pic.twitter.com/zNJz9KiBup

    — Lalit Upadhyay (@lalithockey) August 5, 2021

Coming from a humble background, he felt his career was over then and there but he fought back with his stick. A few days back he was standing at the podium with his bronze medal, remembering all the hardships that he went through. When asked about the struggles, he quips he has a word in Hindi but it is not advisable to use it in an interview. But he tries to describe it.

"There are always people who pass comments like, 'So what, his name came in the newspaper, players come and go, many have played, what have they achieved.' You face all of that. There is a saying called never give up. But you understand it fully when you see the struggle in life. You understand how hard it is to implement this saying in life," says Lalit.

And he has had his share of hardships when buying quality shoes and hockey sticks were a huge task. Coming from a lower-middle-class house, financial struggles were obvious. Lalit says it was his SAI coach Parmanand Mishra who helped him with the equipment at the start of his career. Without him, he says, the medal would not have been a possibility.



New Zealand's Shea Mcaleese (L) and India's Lalit Kumar Upadhyay vie for the ball during their men's pool A match of the Tokyo 2020 Olympic Games. AFP

"The whole credit goes to him (Mishra). As a player, if you are not financially stable, you need such support from others. These days shoes and hockey equipment are so expensive. In the past, hockey sticks used to come at an affordable price but today the prices have really gone up. A good, graphite hockey stick today costs Rs 5,000-6,000. The ones with which we play is sponsored, they are worth Rs 25,000," explains Lalit on how difficult it is to pursue a sport if you don't belong to a family that can afford these things.

After all the struggle and problems came the Tokyo Olympics where the dream was to be fulfilled. Before the bronze medal match, there wasn't anything going on in his mind like all others but the will to give it all.

"We were not thinking anything negative. We used to think that if we have got a chance to bring a medal for India after 41 years, then it is important for us to think only about our aim, otherwise history will remember us as also-rans that went to the Olympics and returned empty-handed."

As a part of team protocol, the players were told to not use their phones or check social media updates, in order to keep distraction and negativity away.

"I am sure when we lost 1-7 to Australia, there must have been some nasty comments thrown at us. During the tournament, you don't want to read such things. Social media sees the result, not the process," says Lalit.

There however would be updates from IOC officials of the fan following that was building up on social media after every win. But the team got to believe it when they actually saw the reception at the airport. Lalit says he is still to come in terms with the massive fan following the team has gained post the Games.

"I am speechless to see the fan following for our team at this Olympics. It is unbelievable to see this is happening to hockey."

    Delight to receive good wishes from honourable Chief minister @myogiadityanath ji Sir Thank you for your wishes and blessings ,feeling blessed #blessed #UttarPradesh #varanasi #HarHarMahadevॐ pic.twitter.com/dt134GOkNv

    — Lalit Upadhyay (@lalithockey) August 12, 2021

The 28-year-old landed in Varanasi after eight months. Local newspapers say he went to Kashi Vishwanath Temple before heading home where he was received by his parents. The financial woes are now behind him, finally. Thanks to the hockey stick which, at Rs 1200, was once too costly to afford, he has fetched rewards worth crores from various quarters. He is yet to figure out what to do with the windfall, but for now, he will be heading to his friends who have been upset with him for the past few months for not replying to their text messages.

"As professionals, while preparing for big tournaments, we wake up at an exact time, sleep at a particular time, stay away from social media, use phone only to receive and make calls to family. The friends used to get angry that you don't have time for us. Now I will go and meet them and tell them, 'ab milo aa gaya hoon, ab free hoon ekdum. (Let's meet now, I am home).'"

Firstpost


---

Navy join Wapda in Pakistan's I-Cup hockey semis

RAWALPINDI: Semi-finals lineup has been completed in the first Mari Petroleum Independence Cup Hockey Tournament here at MPCL Ground in Ayub Park Thursday.

Navy put a powerful display to beat Army 4-2 in an important match Thursday to earn a place in the semi-finals from Pool A. Wapda have already made it to the semi-finals from the pool. Navy took 3-0 lead scoring through Akhtar Ali, Asad Aziz and Zulqarnain with Army bouncing back to reduce the margin through strike Shahid Ali who netted back to back goals. Hammad Ali put the icing on the cake scoring fourth for Navy for a clear 4-2 win.

National Bank (NBP) and PAF also checked into the semi-finals of the event.

NBP thumped Punjab 6-2 while PAF and SSGC played 1-1 draw. Shan Irshad scored twice while a goal each came from the stick of Mohammad Atiq, Abu Bakhar, Abu Zahr Jr and Mohammad Naveed. Punjab replied through Arsal and Zain Ijaz.

The News International


---

Horgan Appointed Chair of FIH Rules Committee




COLORADO SPRINGS, Colo. – It is an honor to announce that the International Hockey Federation (FIH) has appointed Steve Horgan, USA Field Hockey's Director of Umpiring, as the chair of the FIH Rules Committee effective immediately. This 2-year appointment will run through March 2023, where Horgan will oversee a committee of six representatives from different continental federations.

"It is a great honor for USA Field Hockey to be recognized as a leader in the hockey world," said Horgan. "As I represent USA Field Hockey and the Pan Am Hockey Federation on this Committee, be assured that it will be done with input from many of our members participating in all aspects of the game. As the Chair of the [FIH] Rules Committee, I look toward the future of the game to keep it the greatest sport in the world with the best people in the world. The skills, speed and tactics of the game will continue to advance, and the rules must keep up with them. I look forward to being in contact with our members to help take the game to the next level, keeping all age groups and participants in mind."

The FIH Rules Committee is responsible for maintaining and updating the international rules of hockey. Sitting on the committee with Horgan is Ahmed Youssef (African Hockey Federation Rep.), Elena Norman (Asian Hockey Federation Rep.), Margaret Hunnaball (European Hockey Federation Rep.), Katrina Powell (Oceania Hockey Federation Rep.), Soldedad Iparaguirre (Pan American Hockey Federation Rep.) and Athlete Representative Scott Tupper

"Steve Horgan seldom speaks of his many field hockey accomplishments," said Jeanne O'Brien, USA Field Hockey's Board of Directors Vice-Chair and Officials' Representative. "He is the type of person who lets his actions define him. His passion for the game; and his dedication to promoting and improving the game are unrivalled. I am excited that the FIH has recognized his hard work and competence by appointing him to chair the FIH Rules Committee. Congratulations Steve for earning such an honor. USA Field Hockey is fortunate to have him part of our team."

In June 2017, Horgan was appointed to FIH Rules Committee as the Pan American Hockey Federation representative. A field hockey official since 1983, Horgan has worked virtually every level of the game from club and high school contests to the Atlanta 1996, Sydney 2000 and Tokyo 2020 Olympic Games. He also has umpired NCAA contests at every division. On the international stage, he has umpired 85 contests, which include World Cups and the Pan American Games in addition to the Olympics Games.

USFHA media release


---

Barry Cawte appointed as new CEO of Scottish Hockey




Following a thorough recruitment process Scottish Hockey is delighted to announce it has appointed Barry Cawte as its new CEO.

Barry will start his new role in October and joins Scottish Hockey from the Welsh Rugby Players Association (WRPA), which represents and supports professional rugby players in Wales.

At the WRPA Barry has transformed its influence and reputation across the Welsh rugby landscape. His work there has included negotiating long-term collective bargaining schemes; making the organisation more influential; building a better reputation; and establishing commercial deals for the organisation.

Barry is also chair of the Tennis Wales board and since 2018 he has led a rebuild of what was a very traditional sport; reconstructed the image of Tennis Wales; and re-established relationships with funders and partners.

Previously Barry worked for Greenwich Leisure Limited, which operates more than 350 public sport and leisure centres, including the London Aquatics Centre and Copper Box Arena opened for the London 2012 Olympic and Paralympic Games.

He also led a charitable social enterprise that saved Swansea Tennis Centre from permanent closure and instead transformed it into one of the best facilities of its kind in Wales. Cawte then worked as a consultant to the Tennis Foundation and Lawn Tennis Association (LTA) to turn the fortunes of several other tennis facilities around across the UK.

Barry also held a range of other commercial roles over a 20-year career in sport and leisure, and brings considerable commercial expertise to Scottish Hockey.

Barry Cawte said, "I am delighted to be joining such an exciting organisation and I am looking forward to working with the board, staff and hockey community to build on the work that's already been done within the sport.

"I'm excited by the foundations that are already in place at Scottish Hockey. I am passionate about the impact sport can have on communities and I'm extremely excited by the untapped potential for hockey in Scotland.

"Scottish Hockey's growth potential across all areas really attracted me to the role and I look forward to bringing the organisation into a dynamic and innovative era."

Chair of Scottish Hockey, Martin Shepherdson, congratulated Barry by saying, "I'm delighted to welcome Barry to Scottish Hockey and look forward to working with him on a restart for the sport. Our recruitment process was very thorough and Barry's drive and ambition shone through from the start, and is backed up by his wide-ranging background in sport.

"I believe that he has all the attributes necessary to lead and work effectively with not just the staff and the board, but also the members, volunteers and other stakeholders who contribute to, and love, hockey.

"I very much look forward to Barry making a positive contribution to the sport and we work towards an exciting future for hockey in Scotland."

Scottish Hockey Union media release


---

Leaked Hockey Australia letter reveals grim implosion

Christy Doran



The Hockeyroos in a practice match against Great Britain at Oi Hockey Stadium at the Tokyo 2020 Olympics. Pics Adam HeadSource: News Corp Australia

The Tokyo Games have come and gone but Hockey Australia is still ripping itself apart.

News Corp has been sent a three-page letter from Hockey Western Australia president Michael Henderson to the HA Board, calling for president Melanie Woosnam to stand down immediately.

News Corp understands HA will have a board meeting on Friday, where Hockey WA hopes Woosnam will stand down – a position she has already told stakeholders she will depart later in the year.

"The president of Hockey Australia has, therefore, lost the confidence of Hockey WA and should resign the position immediately," the letter reads.

The leaked email comes just days after News Corp revealed the future of Australia's national hockey program in Perth was under review.

In an exclusive interview with News Corp following the Kookaburras' silver medal in Tokyo, Woosnam revealed she planned to stand down from her role in November.

She also said the post-Tokyo Olympics review would consider whether the national hockey program should remain in Perth beyond 2024, where it has been based for years.

"That's something we're reviewing as part of our post-Olympic review as well," Woosnam said.

"People will make it all about location but, for us, it's about what does world class look like?

"It's actually more than the location, it's the facilities, it's the environment, career opportunities, support for the athletes, and 95 per cent of the cohort probably come from the east coast, so to have our program based on the west coast, is that the best thing for the program moving forward?

"Do we need to have the same program for men and women?

"Certainly something that came up recently in the Hockeyroos review is that we're taking young girls out of their home environment and basing them on the other side of the country. Is that providing the best and most conducive environment for them to perform?"

Currently, about one-fifth of the squad comes from Western Australia, including Penny Squibb, Aleisha Power, Georgia Wilson, Karrie Somerville while Kaitlin Nobbs grew up in WA but played for NSW after relocating aged 14.

In the Kookaburras, captain Aran Zalewski, Jake Harvie, Trent Mitton and Tyler Lovell are from WA.

HA, who will soon start the search for a new CEO following Matt Favier's resignation last week as well as a high-performance director, maintains no decision has been made yet on the future of the program.

It comes as HA attempt to hose down speculation the program could move from Perth once current deals with Hockey WA, Sport and Recreation WA and Curtin University finish in 2024.

But with HA's head office in Melbourne, it is understood there is a push to bring at least one of the hockey programs to Victoria while Queensland is also hoping to have one of the national teams in the Sunshine State ahead of the 2032 Olympics.

Victoria last month unveiled their $64.4 million investment into the Melbourne Sports Centres, which includes a new indoor hockey pitch, which they are hoping to make the home of hockey in Australia.

The Queensland Academy of Sport is constructing a new $9.8 million gym.

The leaked email also claims News Corp's recent report adds weight to past conversations.

"This reinforces recent statements to the president and CEO of Hockey WA by the president of Queensland Hockey where he stated that 'Hockey WA does not own the hockey high-performance' and that 'Mel (Woosnam) and I are working with the Queensland government to shift the high-performance programs to Queensland'," the letter says.

The politics at play come less than a year after HA reluctantly conducted a review into the Hockeyroos program, where a strike was threatened after leading players were inexplicably left out of the national squad. A legal case later overturned the decision to drop Rachael Lynch and Georgie Morgan from the squad, while only the former was reinstated.

The review later made 29 recommendations, which have not been made public, but claimed the Hockeyroos culture was "dysfunctional".

It led to a domino effect of management resigning, including high-performance director Toni Cumspton, coach Paul Gaudoin and later Favier.

Henderson believes an entire clean-out is required.

"Hockey Australia is really deficient and it needs to change," he said.

"The majority of employees with Hockey Australia are based in Western Australia and yet we're in this bizarre position where the administration is based in Victoria. The hypocritical thing about it is that we've had a failure in our management, e.g. Toni Cumpston based in Melbourne and the high-performance in Perth, it's actually the other way around, it's the tail wagging the dog.

"It should be that the administration, with the CEO, with the high-performance lead, is based in Western Australia.

"The Hockeyroos, there were four reviews, three of them that were overlooked by Mel the president and she stood have stepped in and whether she or whether the CEO did it's still her responsibility to have done something."

Henderson, who was recently selected as a finalist for the Western Australian of the Year Awards, believes the program should remain in Perth because it is the strongest club competition in Australia, its history of success and leading sponsorship agreements are with West Australian companies.

Fox Sports