All the news for Sunday 1 August 2021

2020 Olympic Games - Day 10
Tokyo (JPN)

All times GMT +9

Men

31 JUL 2021 - Rest Day

Men's Quarter-finals

01 Aug 2021     GER v ARG   3 - 1
01 Aug 2021     AUS v NED   2 - 2 Shoot out. 3/3 - 0/3
01 Aug 2021   18: 30    BEL v ESP
01 Aug 2021   21:00      IND v GBR

Pool Standings

Pool A
| Rank | Team | Played | Wins | Draws | Losses | Goals For | Goals Against | Goal Difference | Points |
| --- | --- | --- | --- | --- | --- | --- | --- | --- | --- |
| 1 | Australia | 5 | 4 | 1 | 0 | 22 | 9 | 13 | 13 |
| 2 | India | 5 | 4 | 0 | 1 | 15 | 13 | 2 | 12 |
| 3 | Argentina | 5 | 2 | 1 | 2 | 10 | 11 | -1 | 7 |
| 4 | Spain | 5 | 1 | 2 | 2 | 9 | 10 | -1 | 5 |
| 5 | New Zealand | 5 | 1 | 1 | 3 | 11 | 16 | -5 | 4 |
| 6 | Japan | 5 | 0 | 1 | 4 | 10 | 18 | -8 | 1 |
Pool B
Women

31 Jul 2021          CHN v NZL (Pool B)       3 - 2
31 Jul 2021         JPN v ESP (Pool B)        1 - 4
31 Jul 2021         ARG v AUS (Pool B)       0 - 2
31 Jul 2021         IND v RSA  (Pool A)        4 - 3
31 Jul 2021        GER v NED (Pool A)        1 - 3
31 Jul 2021         IRL v GBR  (Pool A)       0 - 2

Women's Quarter-finals
    
02 Aug 2021 09:30     GER v ARG
02 Aug 2021 12:00     AUS v IND
02 Aug 2021 18:30     NED v NZL   
02 Aug 2021 21:00     ESP v GBR

Pool Standings

Pool A
Pool B
| Rank | Team | Played | Wins | Draws | Losses | Goals For | Goals Against | Goal Difference | Points |
| --- | --- | --- | --- | --- | --- | --- | --- | --- | --- |
| 1 | Australia | 5 | 5 | 0 | 0 | 13 | 1 | 12 | 15 |
| 2 | Argentina | 5 | 3 | 0 | 2 | 8 | 8 | 0 | 9 |
| 3 | Spain | 5 | 3 | 0 | 2 | 9 | 8 | -1 | 9 |
| 4 | New Zealand | 5 | 2 | 0 | 3 | 8 | 7 | 1 | 6 |
| 5 | China | 5 | 2 | 0 | 3 | 9 | 16 | -7 | 6 |
| 6 | Japan | 5 | 0 | 0 | 5 | 6 | 13 | -7 | 0 |
---

India knock out SA Women's Hockey team in Tokyo

By Zaahier Adams



Celia Seerane of South Africa team in action with Navneet Kaur of India. Photo: Corinna Kern/Reuters

Vandana Katariya scored a sensational hat-trick for Team India to finish off the South Africa's Women's Hockey team's hopes at the Tokyo Olympics on Saturday morning.

South Africa fought valiantly with three goals of their own, but Neha Goyal's solitary strike along with Katariya's hat-trick condemned the African champions to a 4-3 defeat.

It was their last Pool A clash of the competition and meant South Africa return winless after five matches.

South Africa and India served up an end-to-end encounter to close out the group stage of Tokyo for both sides. Our ladies fought back three times but just could'nt level for the fourth.

Its been superb being back at the Olympic Games

However, the incessant pressure India extered on the South African goal started to take its toll with Quanita Bobbs and Lilian du Plessis receiving green cards in the third quarter.

India now have an opportunity to progress to the quarter-finals, but first need to wait on the outcome of match between Ireland and Great Britain.

Independent Online


---

Indian women's hockey team reaches Olympic quarter-finals

Vandana Kataria (4th, 17th, 49th minutes) achieved a rare feat by becoming the first Indian woman hockey player to score a hat-trick in the Olympics.

Shyam Vasudevan



India's Vandana Katariya celebrates after scoring her hat-trick goal against South Africa during a women's field hockey match at the 2020 Summer Olympics, Saturday, July 31, in Tokyo.   | Photo Credit: PTI

Vandana Kataria's hat-trick inspired the Indian women to a 4-3 win over South Africa in its final group stage game.

The side made it to the quarterfinals after Ireland lost to Great Britain later in the day. Rani's side will face Pool B winner Australia in the last eight.

This is the first time the Indian women have qualified for the quarterfinals at the Olympics.

The Indians, needing a win to keep alive their hopes of making a maiden appearance in the knockouts, called the shots in the early phase.

They had two penalty corners in the opening two minutes, both via video referrals.

The referrals caused lengthy stoppages of play and only a minute and 18 seconds of play was registered in the first 10 minutes.

The stop-start clash finally got underway when

In the fourth minute, Vandana put India in front. However, who scored a goal in the fourth minute. The Indians dominated possession, not allowing South Africa any circle penetrations in the opening minutes. the Proteas grabbed the opportunity and equalised in the 14th minute as Tarryn Glasby converted Taryn Mallett's long pass.

See-saw battle

Three minutes later, India went ahead again when Vandana diverted Deep Grace Ekka's drag-flick into the net. However, South Africa struck back with less than 30 seconds left in the second quarter, as captain Erin Hunter got on the scoresheet. The see-saw battle continued and there was no separating the two sides at the interval.

India made it 3-2 within two minutes of the third quarter as Neha got into the scoring act. It was a penalty corner variation that led to the goal as skipper Rani Rampal flicked the ball goalwards and Neha guided it past the goalkeeper.

South Africa scored in the last minute of the quarter through Marizen Marais showed exemplary skill, cut past two Indian defenders and held her composure to slot home past goalkeeper Savita Punia.

The final 15 minutes proved crucial as Sjoerd Marijne's side took the lead for the fourth, and final time, as Vandana tapped home Gurjit Kaur's drag-flick off a penalty corner.

Vandana, 29, became the first Indian woman to score a hat-trick at the Olympic Games.

South Africa was awarded a penalty corner in the last minute of play but the Indians, who enjoyed remarkable success with video referrals, got the decision reversed and celebrated the win.

The Hindu


---

Joyous weekend for Indian hockey fans as Men's and Women's teams keep medal hopes alive

A brief overview of the significance of a quarterfinal place for the Indian men's and women's teams in Tokyo 2020

By Subhashish Majumdar



The Indian women's hockey team marches to the quarterfinals of Tokyo Olympics (Source: Hockey India)

Both the Indian men's and women's field hockey teams have made it to the quarterfinals of the Tokyo Olympics.


---

After 41 years of wait, women finally reach quarterfinals



India's players celebrate scoring against South Africa. PTI

Indian women's hockey team qualified for the Olympics quarterfinals after 41 years after they beat South Africa 4-3 and later defending champions Great Britain blanked Ireland 2-0 to ensure their passage into the knockout stage here today. India finished their Group A league proceedings in fourth place with six points, riding on back-to-back wins over Ireland and South Africa and will now face Pool B toppers Australia in the quarterfinals on Monday. Indian women team's best finish at the Olympics was in Moscow back in 1980 when they reached the semifinals but ended fourth.

While Great Britain's win was required, no one can take away credit from Vandana Kataria, who scored a hat-trick in India's win in a pulsating clash.

Kataria (4th, 17th, 49th minutes) achieved a rare feat by becoming the first Indian woman hockey player to score a hat-trick at the Games. Young Neha Goyal (32nd) was the other scorer. South Africa's goals came from Tarryn Glasby (15th), skipper Erin Hunter (30th) and Marizen Marais (39th).

"Today's game was really tough, South Africa gave us a really good fight. They converted their chances in the circle," skipper Rani said. India's chief coach Sjoerd Marijne heaved a sigh of relief but was not happy with the number of goals conceded. "We gave too many goals away, and I think we can score more, that is the main thing. We did what we had to do, we had to win this match, and we did," he said.

The Tribune


---

GB Women Into Olympic Quarter-Finals As They Ease Past Ireland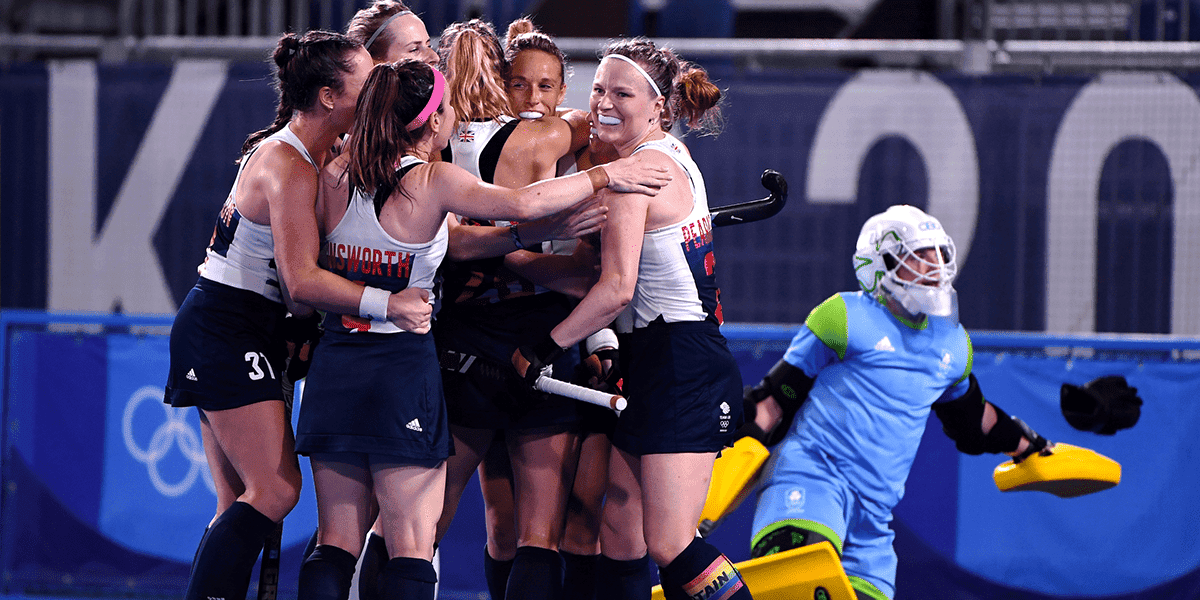 Great Britain finished their Tokyo 2020 group stage campaign on a high as they eased to victory over Ireland.

Hannah Martin scored for the third time at the Games while Susannah Townsend bagged her first as Great Britain hit back from their narrow defeat against the Dutch. Anna Toman also made her 50th appearance for the country.

They came close on a number of other occasions too as they looked to send out a message to the rest of the competition heading into the knockout stages.

The victory means Great Britain finish third in Group A and will play Spain in their quarter-final at 13:00 BST on Monday 2 August.

With a place in the quarter-finals already secured, Great Britain began on the front foot as they won a corner in the third minute. However Lena Tice produced a sensational block to turn Giselle Ansley's dangerous flick over the crossbar.

Great Britain dominated much of the rest of the first quarter, winning two more corners but both of Toman's efforts were blocked and Ireland eventually cleared their lines.

Two more corners were awarded to Great Britain at the start of the second quarter and they made the second one count, Townsend in the perfect position to turn the rebound home after Ayeisha McFerran saved Grace Balsdon's initial flick.

Ireland grew into the game after that with Nicola Daly forcing a save from Maddie Hinch while Katie Mullan's effort from the top of the circle was deflected over the crossbar.

But Great Britain ended the second half on top once again with Izzy Petter coming close twice, the first effort smashed just the wrong side of the post after Sarah Robertson stole the ball in the circle before the two combined again as a sliding Petter couldn't quite turn in Robertson's dangerous pass.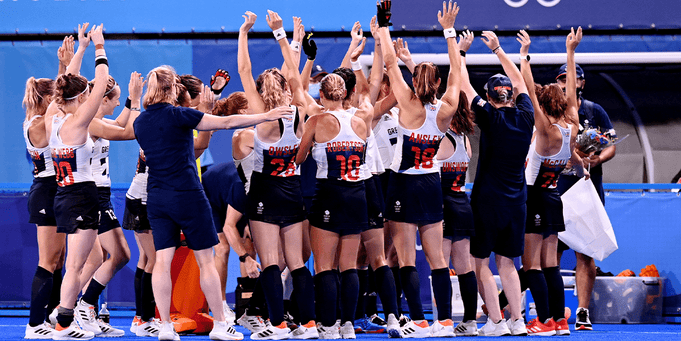 GB's journey to win a third consecutive medal is still alive as they move into the quarter-finals. Credit: World Sport Pics.

Martin made no mistake in the first minute of the second half though as she diverted Ellie Rayer's beautiful cross beyond McFerran.

Ireland almost hit back immediately as Hinch was forced into a save before they then kept out another British corner.

Mark Hager's team dominated thereafter as Rayer forced McFerran into a smart save after a blistering counter attack, Shona McCallin flashed a shot wide and then both Martin and Fiona Crackles forced the Irish goalkeeper into two blocks in as many seconds.

Crackles then came agonisingly close to scoring her first international goal with the final touch of the game but her shot just hit the wrong side of the back board.

After the game, Townsend said: "We're peaking at the right time. We're incredibly fit and just taking on each game as it comes. Taking on Spain is going to be a good challenge, they're a good team and are going to bring something a little bit different.

"Knockout stages are always a little bit tricky but we're incredibly well prepared, playing well and it's only going to get better."

Ireland 0 (0)

Great Britain 2 (1)

Townsend (17', PC); Martin (32', FG)

Starting XI: Hinch (GK), Unsworth, Toman, Jones, Townsend, Robertson, Rayer, Ansley, Pearne-Webb (C), McCallin, Owsley

Subs: Martin, Petter, Wilkinson, Crackles, Balsdon

Great Britain Hockey media release


---

Green Army bow out with heads held high in Tokyo




Ireland's quarter-final hopes came to a formal end as they could not find the victory they needed to continue their involvement in the women's Olympic hockey competition.

India's 4-3 win over South Africa earlier in the day left a simple equation against the reigning champions – win or bust.

But, despite a performance packed with resilience and endeavour, Britain kept the Green Army at bay. Susannah Townsend swooped to score from their fifth penalty corner in the second quarter and Irish hopes of a major upset faded when Hannah Martin guided in Ellie Rayer's exceptional cross a minute into the second half.

Ireland pushed on in the closing quarter, swapping out goalkeeper Ayeisha McFerran – who impressed once again – for an extra outfielder for the closing stages. But GB defended resolutely to get the result which also assured their progression to the last eight.




For Ireland, it meant a fifth place finish in the group stages to their maiden Olympic campaign, outside the top four required to advance.

Despite the low-key end, it brought to a close what was a ground-breaking tournament, a first for Irish women's hockey and, indeed, for women's team sports at the Games.

It brought a first win last week on debut when South Africa were beaten 2-0, Róisín Upton etching her name into the record books as first Olympic goalscorer.

"It is raw emotion," Hannah McLoughlin said in the immediate aftermath, looking back on the tournament. "Firstly not getting to the quarter-finals which I think we were more than capable of. Secondly, knowing this is probably a few of our players last games. It is not the send-off any of us wanted to give them.

"But we have broken the ceiling, coming to the Olympics and for those of us fortunate enough to keep going, we want to push on for Paris and then go for quarters and semis.

"Even before coming out here, getting on any plane, regardless of any result, we were bursting with pride for my friends, family and all the people I represent, the other 18 players here with me. The few words we did have after the match, although disappointment was quite a big thing, pride came up an awful lot.

"Although the result was not what we wanted, no one has any regrets about today – we gave it our all, it just wasn't to be."

Coach Sean Dancer concurred: "We are here on the field, trying to hold our head up high with what we have achieved and where we have got to. We will take a lot of lessons from the journey and experience. We are competing against the best in the world in the pinnacle of our event.

"For women's sport and Irish hockey, it's certainly something to be very proud to be part of. The girls have done all the hard work over the last four years, getting that silver medal and in a good position for this tournament. Very proud of all their performances.

"Those girls should be very proud of the performances they put in and what they have achieved. There will be a few tears and some celebrations over the next few weeks when they get a chance."

A number of players will likely formally hang up their international sticks in the wake of the event but McLoughlin says they have laid the base for a new agenda and belief.




"The lucky ones of us who get to carry on are just going to use this as motivation to push on, train harder. We have proven we can compete with the best countries in the world. This is my first taste of that and I am going to take that forward, not play with any fear.

"The thing I took from the Olympic Village was how other people are so intrigued by us. We are out on the grass, not caring what we look like, having fun and others start to join in, saying 'God, we just love the Irish'.

"It's only this tournament I really notice there is no other team in this tournament or the world who I would want to be part of; one that's as open, as fun, as accepting as this 19 individuals. The whole experience has been unbelievable."

Women's Olympics – Pool A
Ireland 0 Great Britain 2 (S Townsend, H Martin)

Ireland: A McFerran, S McAuley, S McCay, R Upton, L Tice, C Watkins, K Mullan, A O'Flanagan, S Hawkshaw, D Duke, S Torrans
Subs: H McLoughlin, H Matthews, L Holden, Z Malseed, N Daly

Great Britain: M Hinch, L Unsworth, A Toman, S Jones, S Townsend, S Robertson, E Rayer, G Ansley, H Pearne-Webb, S McCallin, L Owsley
Subs: H Martin, I Petter, L Wilkinson, F Crackles, G Balsdon

Umpires: C de la Fuente (ARG), E Yamada (JPN)

Irish Hockey Association media release


---

Great Britain beat Ireland to progress to the quarter-finals

Great Britain's women have reached the Olympic knockout stages after a 2-0 win over debutants Ireland, who were eliminated.

Susannah Townsend opened the scoring for Team GB in the second quarter from a penalty corner, knocking in the rebound after the in shot was saved by Irish goalkeeper Ayeisha McFerran.

Hannah Martin then scored her third goal of the tournament to double the defending champions' lead after Ellie Rayer found her at the back post.

Great Britain will now face Spain in the quarter-finals on Monday, while Ireland have been eliminated, with India taking Group A's fourth and final qualification spot, having beaten South Africa 4-3.

Mark Hager's GB side had to wait to confirm their quarter-final appearance following a 1-0 loss to the Netherlands on Friday.

After an opening defeat by Germany last Sunday, Britain got their title defence back on track with 4-1 wins over South Africa and India.

It faltered again slightly with the narrow loss to 2016 finalists Netherlands - but they made their presence felt against Ireland with seven penalty corners.

Ireland knew going into the final group game that they needed to beat the Rio 2016 gold medallists convincingly to stand any chance of progressing in the competition.

Nicola Daly did manage to draw a save from Maddie Hinch but the GB keeper remained largely untroubled throughout the match.

BBC Sport


---

Great Britain end Ireland women's Tokyo tilt

By Tom Pilcher



Team GB's Hannah Martin consoles Ireland captain Katie Mullan after the match PIC: REUTERS/Ann Wang

Olympic champions Team GB moved with ease into the Tokyo Olympics quarter-finals of the women's hockey competition after a 2-0 defeat of debutants Ireland.


---

'Open and fun' Ireland aim to learn from Tokyo first



Ireland aim to learn from Tokyo Olympic experiences PIC: WORLDSPORTPICS FRANK UIJLENBROEK

Captain Katie Mullan spoke of Ireland as "history makers" in defeat as the first female team to represent Ireland at an Olympics saw their campaign end in the Pool stages.


---

Ireland women take "monumental achievement" home from first Games

Daniel Leussink



Players of Ireland defend a penalty corner. REUTERS/Bernadett Szabo

TOKYO, July 31 (Reuters) - Debutants Ireland took an emotional hit on Saturday after exiting the women's hockey tournament at the Tokyo Games following a 2-0 defeat by Britain, despite giving all they had in their five Olympic matches.

"I'm devastated. I'm so proud of the girls and all the effort they put in," said a sobbing goalkeeper Ayeisha McFerran.

"I can't fault it and I'm proud to pull on the green jersey. I'm devastated our journey has to end now as this group.

"I believe we have so much more but yeah, it's tough right now."

Ireland needed a win to make it into the knockout stages.

Before Tokyo, Ireland had never qualified for the women's Olympics hockey tournament, which was added to the Games schedule in 1980.

The Green Army had narrowly missed out on qualifying for both the 2012 and 2016 Games.

A disappointed head coach Sean Dancer said the team needed to keep moving forward.

"It is what it is," he said.

Veteran Chloe Watkins also said it was hard to take everything in.

"We obviously wanted more from this tournament," she said.

"But at the end of the day - hopefully in a few days, a few weeks - we look back and realise what we did.

"We're here at the Olympic Games. That's a monumental achievement for us as a nation and as players individually."

McFerran said she did not know what to expect when the team arrives back home.

"I haven't even thought that far ahead. I didn't think of finishing this soon," she said with a laugh.

"I know family and friends are going to be super-proud of us. The hockey in Ireland I hope will still be on the bandwagon."

Reuters


---

Great Britain, India join NZ, Spain in quarter-finals



GREAT Britain's Susannah Townsend (R) beats Ireland's goalkeeper Ayeisha McFerran to score.—AP

TOKYO: Great Britain and India on Saturday joined Spain and New Zealand in reaching the quarter-finals of the women's hockey tournament at the Tokyo Olympics, while Ireland and China crashed out.

India made it through with a 4-3 triumph over South Africa in Group A, as Olympic champions Britain secured the third spot in the group thanks to a 2-0 victory over debutants Ireland.

Frederique Matla delivered two goals in the Netherlands' 3-1 win over rivals Germany, which helped the Dutch side finish in the top spot of the group.

Lidewij Welten, who actually babysat Matla when she was a girl, also scored for the Netherlands.

In the quarter-finals, the Netherlands will play New Zealand, who scraped through in their group ahead of China on goal difference despite their 3-2 loss against them.

Also in Group B, Spain fell behind to Japan striker Kanon Mori's goal after six minutes but ramped up the pressure and emerged with a 4-1 victory.

Captain Maria Lopez Garcia said they were extra motivated with coach Adrian Lock returning to the sidelines following his Covid-19 quarantine. "We have been improving in each game. Now we scored four goals. It gives us a lot of confidence for the next game,"

Lopez Garcia said after taking a celebratory group photo with her team-mates. "In the early game we can improve everything, in defence, in scoring more goals."

Japan defender Shihori Oikawa shed tears as the hosts ended the Tokyo tournament after losing all five group matches.

"Players of foreign teams are looking for ways to contribute even after making a mistake," Oikawa said.

The inexperienced players on Japan's team worried too much after having made a mistake, she said.

Australia topped Group B after their 2-0 win over Argentina and Savannah Fitzpatrick hailed their team spirit.

"I think we just pride ourselves ... on playing a real team game," she added. "The beauty of a team sport is that we're out there with 10 other girls. We don't have to do it on our own.

"That's our secret to our success at the moment."

In the other quarter-finals, Spain will face Britain, Germany will play Argentina and Australia will take on India.

Dawn


---

Kookaburras KO Dutch in Olympic Shootout

Catriona Dixon



Andrew Lewis Charter and Matthew Dawson of Team Australia and teammates celebrate after winning the penalty shootout after the Men's Quarterfinal match between Australia and Netherlands on day nine of the Tokyo 2020 Olympic Games at Oi Hockey Stadium on A

THE Kookaburras' kept their gold medal hopes alive defeating European champions the Netherlands 3-0 in a heart-stopping penalty shoot-out to secure their place in the Olympic semi-finals at Oi Hockey Stadium.

Ironically, it was Dutch-born Aussie superstar Tim Brand who kept the world number one team in contention setting up his side's two goals for scorer Tom Wickham and sealing victory after teammates Blake Govers and Flynn Ogilvie scored in the shootout.

Outstanding goal keeping saw two-time Olympian Andrew Charter save seven from nine field attempts and deny all three Dutchman in the do-or-die shootout competition. The shoot-out was held after both teams finished 2-2 at full time.

The Kookaburras will head to the semi-finals against Germany with eyes set firmly on the podium to settle some unfinished business after bowing out in the quarters at the Rio Olympics Games.

Coach Colin Batch praised his side's tenacity under great pressure, applauding Charters' ability to step-up for big moments in the knock-out encounter.

"Credit to both sides…it's very demanding, it's the Olympics, it's the challenge that we wanted, and we are very pleased with the outcome," he said.

"We are already one step further than the Rio campaign, so we are really pleased to get into the semi-final.

"Many of the guys will be experiencing the semis for the first time. Eddie Ockenden has done everything in his career, and he is so driven and hungry for the next thing, so he is a real driver in our group, as is Aran Zalewski.

"We feed off each other; we pride ourselves on going out there and performing well. We know the semi-final will be another step up against Germany and we have to be on top of it."

Brand, who is the sixth top goal scorer in the Olympic tournament, relished the victory against his hockey-mad birth nation, assuring supporters his Dutch father was wearing green and gold.




"It's always cool to play the Netherlands and on a big occasion like this was pretty special," said Brand, who began his hockey career with Ryde-Hunters Hill Hockey Club in Sydney's north.

"It's absolutely amazing to be in the semi-finals of an Olympics.

"I don't think it was our best game, but a win is a win; we grinded for that one.

"We've been practice shoots-out since the World Cup two years ago…so to get a win here was very pleasing. We are keen for the next one."

In what has been the most challenging match of the tournament, the Dutch put pressure on from the opening whistle with Charter stepping up to make three saves, two from penalty corners by drag flick specialist Jip Janssen, to stave off an early onslaught.

Australia had their own opportunities from two penalty corners six minutes into the match, but sharpshooter Govers was unable to beat veteran goalie Pirmin Blaak on both occasions.

Brand proved relentless in attack driving the back line twice before combining with Wickham in the 13th minute who flicked the ball in to give the Aussies a 1-0 lead.

The goal was the fourth of the Tokyo campaign for Wickham, who was a late addition to the team after the IOC expanded team size due to the impact of the Covid-19 pandemic.

Five penalty corners signalled the intentions of the proud Dutch side in the opening quarter but commitment by Charter and the Aussie defenders kept them at bay.




The Kookaburras had another chance early in the second quarter through a penalty corner but Jeremy Hayward was unable to capitalise with Blaak stamping his authority in the goal circle.

Outstanding leadership by co-captain Ockenden kept the Kookaburras steady in defence with Jake Whetton, Lachi Sharp and Brand hard-working in attack but without success leaving the score 1-0 at the half time break.

A controversial umpiring call in the opening minute of the second half – the Australians choosing not to use their referral to dispute the decision – saw Mink van der Weerden convert from what was their sixth penalty corner to level the scores.

Wickham stood up again after a sideline run from playmaker Brand slammed the ball into the circle to notch his second in the 38th minute of the match and regain a 2-1 lead.




Australia owned the ball with 53 per cent possession in the third quarter but the match statistics, which showed equal circle penetrations (11) for both sides, better reflected the determination of the Dutch attack.

A penalty stroke in the final 10 minutes of the game, awarded as the result of an infringement during an attacking penalty corner, helped the Netherlands to level with veteran with Jeroen Herzberger outclassing Charter.

With the scores level at the full-time siren, the match was forced into penalty flicks, the pressure mounting in what was a remarkable, and nail-bitting playoff.

The Netherlands won the toss with Herzberge opening the shootout, but the seasoned Dutchman failed to beat the in-form Charter in their one-on-one encounter.

Govers responded confidently knocking in a spectacular reverse stick to put the Aussies in front. A shot past the goal from Robbert Kemperman, followed by a rebound of Blaaks pads by Flynn Ogilvie secured a 2-0 lead.

Charter outplayed Jonas de Geus as the Dutch struggled to keep their Olympic hopes alive, but it was Brand who sealed the victory with a reverse stick conversion to claim the matach for the Kookaburras.

Australia will face Germany in the semi-final on Tuesday after they defeated Argentina 3-1 in their quarter final match up.

Match details

    Australia (Wickham 13', 38')
    Netherlands (van der Weerden 30', Herzberger 50')
    @ Oi Hockey Stadium

Hockey Australia media release


---

Kooked 'em: Keeper smothers Dutch champs in staggering penalty shootout win

Christy Doran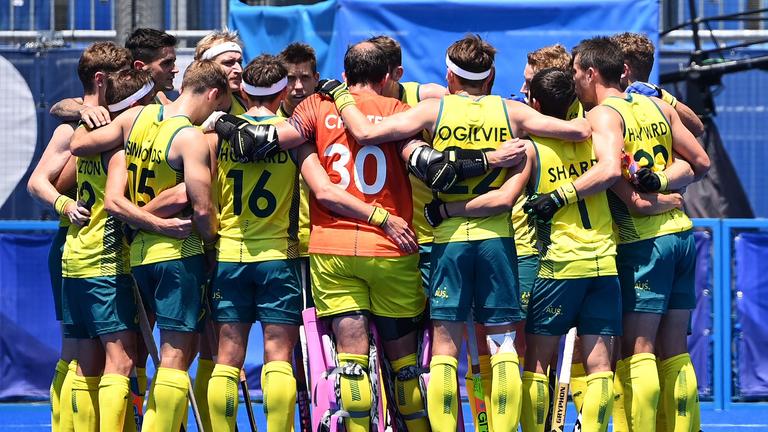 The Kookaburras REALLY wanted this — and they got it.Source: AFP

Revenge at last.

Five years after being sent home from Rio at the quarter-finals by eventual goal medallists the Netherlands, the Kookaburras have atoned for the defeat in a dramatic penalty shootout with goal-keeper Andrew Charter proving the hero.

Charter stopped the first penalty shot, forced the second wide and then put pressure on the Dutch to foul and allow Tim Brand to fire home and see the Kookaburras through to the semi-finals where they will meet Germany.

Colin Batch had hoped the defeat would be the "driving force to make sure that didn't happen again" and his gold medal favourites did not let their coach down.

A goal in each half to striker Tom Wickham looked like proving the difference, but twice the Dutch hit back first through Mink van der Weerden and later by Jeroen Hertzbergen from a penalty.

It's hard to imagine tensions being higher than the temperature, but that's how it felt.

After cruising through the pool rounds undefeated without needing to play the big three – the Netherlands, Germany and Belgium – Sunday's encounter always beckoned to be a nervy encounter.

Those tensions reached Covid temperatures when the Dutch scored early in the second half to draw level and dominated the proceedings.

But Wickham's second, where he fooled goal-keeper Pirmin Blaak after being left unmarked once again put the Kookaburras in front.

Danger was at every turn though and when the Kookaburras illegally stopped a certain goal, the Dutch hit back.

Flynn Ogilvie had two late opportunities for the Kookaburras, but could not find the back of the net forcing the match into a cruel penalty shootout.

Charter stopped the first shot Jeroen Hertzberger, before Blake Govers managed to beat Pirmin Blaak with a diving effort to give the Kookaburras the lead.

And when Robbert Kemperman went wide with the Netherlands' second from a reverse shot, it was Australia's to lose.

Olgilvie fired home with his second attempt just before the allocated eight seconds to score.

But another missed goal and Brand's clinical shot saw the Kookaburras move into the medal matches.

Fox Sports


---

Australia beat Netherlands on penalty shootout in men's hockey quarter-final, to face Germany in semis

The Netherlands were able to hold Australia to 2-2 in the regular time but Australia netted all their first three goals in the penalty shootout.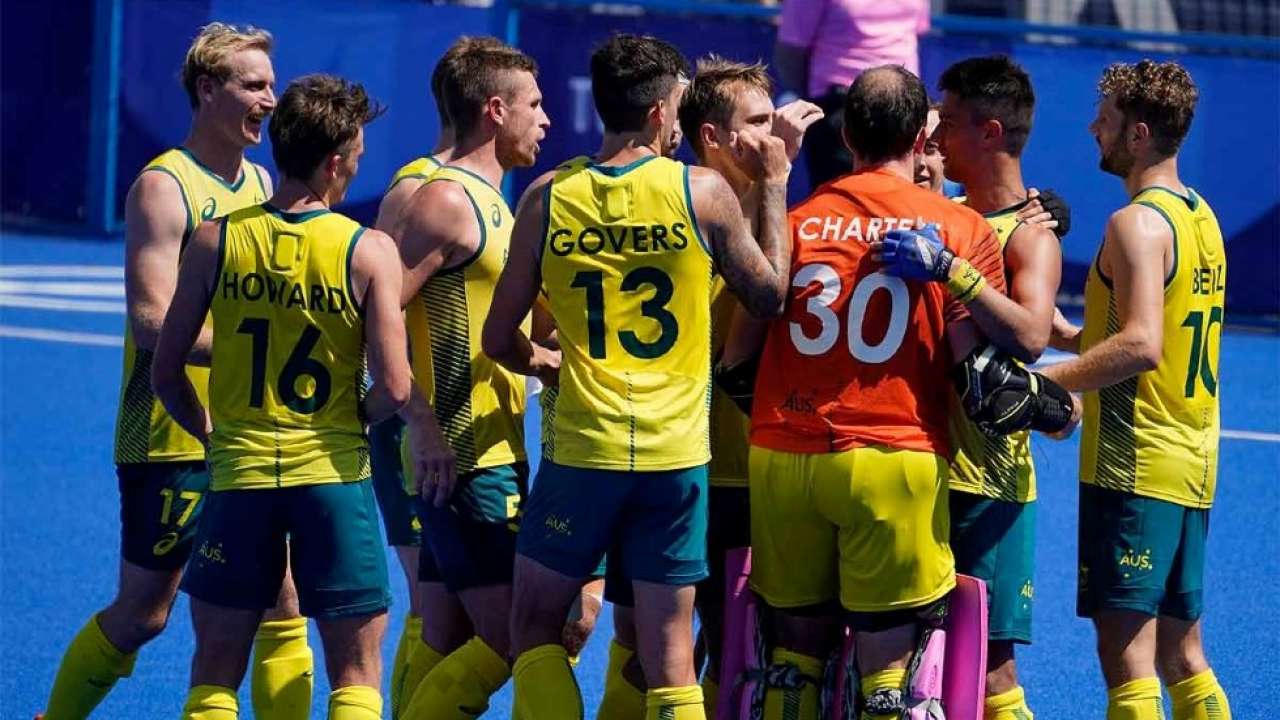 Australian men's hockey team beat the Netherlands in quarter-finals in the Tokyo Olympics | Photo: Tokyo 2020

Australia reached the semi-finals of the men's hockey tournament after beating the Netherlands in a dramatic penalty shootout in sizzling conditions at the Tokyo Olympics, joining Germany who booked a quarter-final victory over Argentina.

Australia won their clash against the Netherlands after winning the penalty shootout 3-0, after the match had ended in a 2-2 draw in regular playing time.

The Kookaburras had pulled ahead twice in the game, thanks to goals by Tom Wickham, but the Netherlands managed to equalise through goals by Mink van der Weerden and Jeroen Hertzberger.

Australia will play Germany in their semi-finals on Tuesday after they booked a smooth 3-1 win over Olympic champions Argentina earlier in the day.

Germany opened the score in the 19th minute when defender Lukas Windfeder shot a penalty corner low and hard at the left side of the goal, leaving Argentina goalkeeper Juan Vivaldi no chance to stop the ball.

Ten minutes into the second half, the German side added to their advantage after playing out another penalty corner in a beautiful variation which ended with Timm Herzbruch deflecting a low pass from captain Tobias Hauke into the goal.

By then, the Germans had little left to fear from the Argentineans.

"It's hot weather and hot-minded Argentina and we just want to keep it cool and play our German style and I think we did exactly that," said forward Christopher Ruhr.

"We had the game in our hands 60 minutes. A very mature play by us."

Windfeder scored another goal, again through a penalty corner, in the 48th minute, effectively securing Germany's spot in the semi-finals and leaving Argentina with a painful loss.

With eight minutes left to go, Maico Casella Schuth scored off a penalty corner for Argentina, but they were not able to add to their score.

Officials doubled the usual two-minute breaks between quarters to allow players to cool down from the heat at the main pitch of the Oi Hockey Stadium, which was sprayed with water during the half-time break to keep play fast and smooth.

The win gave Germany revenge on Argentina after being knocked out by them in the semi-finals of the 2016 Rio Olympics, when the Germans had to settle for bronze.

Argentina's lineup in Tokyo still contained many of the names that brought the country their first Olympic gold medal in hockey in 2016: Pedro Ibarra, Agustin Mazzilli, Matias Rey and 42-year-old goalie Vivaldi.

Daily News & Analysis


---

India look for Olympic win over GB after 49 years

K. ARUMUGAM




India must have a score to settle with Great Britain when the two nations square up to each other in the 2020 Tokyo Olympic quarterfinals on Sunday.


---

"I can se India playing us", Belgium coach Shane McLeod

K. ARUMUGAM




Belgium coach Shane McLeod envisages playing India in the semifinals if his team beats Spain in their quarterfinal early on Sunday.


---

Birendra Lakra: Time for Lakra to redeem himself in Tokyo 2020

The sturdy defender has been named the vice-captain of the Indian hockey team

By Soham Mukherjee




From a very young age, often the thought of representing India had crossed Birendra Lakra's mind when he would be playing hockey on the dustbowls of Lachchada, a small village in the Sundargarh district of Odisha where Hockey is a way of life. More than 60 national players have represented India from Sundargarh including legends of the game like his idol Dilip Tirkey and Deepsan Tirkey.

And when Lakra opened the scoring for India in the final game of the Olympic Qualifying Tournament against France in 2012, which ensured India's participation at London 2012, it was an euphoric moment for the defender.

However, in the main event, it was a disappointing show from the Indian team. They could not win a single match in the group stage, conceded 22 goals, and even lost to South Africa 3-2 to finish at the bottom in the final standings. In short, it was a tournament to forget for Lakra and co.

Four years later, his fortunes did not favour him once again. When his teammates were gunning to recover the lost pride in Rio, destiny had other ideas for the 31-year-old. In 2015, he suffered a ligament tear in his right knee which ruled him out of Rio 2016. While the team boarded the flight to Brazil, Lakra was struggling to even stand on both feet.

 "It was really a hard time for me in 2016 when I missed out on the chance of representing India in the Rio Olympics," he said before flying to Tokyo.

He made a comeback in 2017 but fitness issues continued to plague and he missed several tournaments. It took him almost 18 months to recover and get back to his best.

In the 2018 Champions Trophy, Lakra was a rock in defence. He was outstanding in carrying out his responsibilities at the back and India had the best defence at the end of the group stage, conceding just six goals including a clean sheet against arch-rivals Pakistan. Since then, he has not looked back.

In the FIH Pro League, he made regular appearances and regained the trust of coach Graham Reid. Against reigning Olympic champions Argentina, India won 3-0 away from home at Buenos Aires in 2021 and it was Lakra who stood out with his defensive work at crucial junctures.

Although the Coronavirus pandemic completely disrupted the international hockey calendar, the Indian team made two exposure trips to South America and Europe as part of their preparations for the Olympics, where Lakra once played an instrumental part.

"The tour of Argentina has given us a lot of confidence in our abilities. We played very well as a unit, and we took away a lot of positives from that tour," said the defender.

When India will take on Great Britain on Sunday in the quarterfinals of the ongoing Tokyo 2020 Olympics, Lakra will leave his all on the pitch to take one step further to realising his dream. His idol and former defender Dilip Tirkey had won many laurels for the country, but an Olympic medal remained beyond his reach. Lakra remains motivated to do the outrageous and give double the effort, as only a podium finish in Tokyo will make him forget the pain of missing out on Rio.

Olympic Channel


---

Road to the quarterfinals for the Indian men's hockey team

They will be looking to repeat their group stage performances when they face Great Britain today, but how have they managed to reach the quarter finals?

By C.C. Chengappa



Indian men's hockey team (Source: Hockey India)

India will face Great Britain in the 4th Men's hockey quarter final match that is to be held today. The team has so far been brilliant apart from one bad performance against Australia. We take a look at all the matches they have played till now and the road traversed till the quarter final showdown.


---

Quest for improvement fuels Hockeyroos for Quarter Final




The Hockeyroos will be out to continue their winning run at Tokyo 2020 when they come up against India in a must win Quarter Final at 1pm AEST tomorrow (Monday 2 August) at Oi Stadium.

The Hockeyroos' five straight wins in the pool matches may have surprised Head Coach Katrina Powell but what has impressed her most is the team's determination to build on their performance.

Powell, who has combined with fellow Sydney Olympic gold medallist Katie Allen to guide the team in Tokyo, believes this will ensure their continued success in the knockout rounds.

"This group is challenging themselves to be better, to build and improve – that's what impresses me," Powell said.

"We take into the quarter finals the recognition of what has been working well for us and what has got us to this point.

"We may not be able to take the points and the goals, but we can take the trust in our way of play. We can take our aggressive attitude towards attack, whilst being solid in defence.

"The positive mentality of going after a game and taking it to the opposition team, plus we have played some good second halves this week, so confidence in our fitness is also there."

The Hockeyroos go into the match against rising stars India with an historic advantage having won 31 of their 41 matches, claiming six draws and four losses.

India qualified for the quarter finals finishing in fourth place in Pool A with two wins (South Africa, Ireland) and three losses (Netherlands, Great Britain and Germany).

"India are very determined to be successful here, they work really hard and they are a skilful attacking team," Powell said.

"I think that suits us to play against, but we will definitely have to be on game to make sure we get the better of them."

Committed defence led by experienced campaigners Edwina Bone, Kate Jenner and goalkeeper Rachael Lynch, as well as impressive Olympic debutant Karri Somerville helped the Hockeyroos concede just one goal in their five pool matches.

"Karri Somerville has been outstanding this tournament and she is one of our younger players and very talented," Powell said of the 22 year old Western Australian.

"She's a quiet achiever. When I mentioned to Karri after yesterday's game that I was pleased with the way she played she almost looked shocked. The maturity, the modesty, the 'I think I can do better' mentality she has is really good."

The winner will take on the winner of the Quarter Final between Germany and Argentina.

Tokyo 2020 Olympics - Women's Hockey Quarter Final
Hockeyroos v India
Monday 2 August 2021
Oi Stadium, Tokyo
Start time: 12pm local (1pm AEST)
Broadcast: LIVE on 7Plus

Hockeyroos v India - Overall Record
Played 41; Hockeyroos 31, Draws 6, India 4
Last time they met
18-Aug-19 Tokyo Test Event (Tokyo)
India 2 (Katariya 36', Kaur 59')
Hockeyroos 2 (Nobbs 14', Stewart 43')

Hockeyroos squad: 2.Rosie Malone, 3.Brooke Peris, 4.Amy Lawton, 8.Georgia Wilson, 10.Maddy Fitzpatrick, 12.Greta Hayes, 13.Edwina Bone, 14.Steph Kershaw, 15.Kaitlin Nobbs, 18.Jane Claxton, 20.Karri Somerville, 21.Renee Taylor, 22.Kate Jenner, 24.Mariah Williams, 26.Emily Chalker, 27.Rachael Lynch (gk), 30.Grace Stewart, 32.Savannah Fitzpatrick

Hockey Australia media release


---

Women to face world no.1 the Netherlands




The Black Sticks Women will face world no.1 the Netherlands in their Olympic quarterfinal at 9:30pm (NZ time) tomorrow.

A win in their final pool match yesterday would have seen the Kiwis finish second in Pool B but a 3-2 defeat to China meant the Black Sticks were the last team to qualify from the pool.

New Zealand finished fourth – equal on six points with China but with a much better goal difference of +1 versus China's -7, after the Chinese had been thrashed 6-0 by Australia earlier in the tournament.

The Netherlands won Pool A with a convincing five victories and will be a tough ask for the Black Sticks who have lost their way after two first-up wins in Tokyo.

Official Blacksticks site


---

Spain eye Rio revenge in GB quarter-final clash with returning coach



Spain have rallied after losing coach to quarantine PIC: REUTERS/Siphiwe Sibeko

Most people are asleep or bleary-eyed at 5am on a Saturday morning. Not Spain coach Adrian Lock.


---

How India changed Character after Aussie mauling

K. ARUMUGAM in Tokyo




Indian hockey is surely warming the cockles of our hearts. In a remarkable turnaround, Manpreet Singh's team has shown resilience to pick themselves from the turf after a humiliating defeat to Australia.


---

Stunning stats stack up for record-breaking Hockeyroos

Australia women's and men's hockey is on a roll at the Tokyo Olympics

By Tom Pilcher



Emily Chalker of Australia celebrates with teammate Savannah Fitzpatrick PIC: REUTERS/Bernadett Szabo

Shorn of proper tournament play following the pandemic, Australia completed their Pool B campaign with a perfect record of five wins from five matches, beating Argentina 2-0 to set in stone their status as Tokyo Olympics pool winners.