All the news for Friday 2 July 2021

2021 Test Matches ESP v GER (M) - 2 July
Valencia (ESP)

29 Jun 2021     ESP v GER     2 - 6
01 Jul 2021     ESP v GER     2 - 3

FIH Match Centre


---

2021 Test Matches POL v SUI (M) - 2 July
Gniezno (POL)

Times GMT +2

2 Jul 2021 18:00     POL v SUI
3 Jul 2021 16:00     POL v SUI

FIH Match Centre


---

Teenager O'Dea on the mark in Irish men's series against GB



Irish Coach Mark Tumilty. Photo: Adrian Boehm

Cork man Kevin O'Dea netted his first senior international goal for Ireland in their 3-1 defeat at the hands of Olympic-bound Great Britain at Bisham Abbey on Thursday morning.

Just a few days since completing his Leaving Cert exams, he fired home with 10 minutes to go to raise hopes of nicking a result from the uncapped test match which forms part of their build-up to the European Championships II in Poland next month.

GB had take a 1-0 half-time lead and doubled up just before the end of the third quarter from a penalty stroke before Cork C of I's O'Dea got one back. The hosts, however, struck in the final play to make the game safe.

Nonetheless, the series represents another step forward for coach Mark Tumilty after a 20-month gap in action prior to their recent series against Scotland. This week, Ireland lost game one to the full GB setup 4-0 and then beat their elite development squad 8-4.

Ben Walker scored four times in that second game while Michael Robson netted twice in the first half to see Ireland build a 3-2 lead with Walker getting the other.

And they raced clear in the second half with another three from the Three Rock Rovers man while Conor Empey and Daragh Walsh – two other products of the Rathfarnham club – also weighing in.

Like the recent series against Scotland, Tumilty tried out numerous new players and he says that trend will continue when they take on the Scots again in the coming weeks.

"It was great for Kevin O'Dea to score a week after completing his Leaving Cert," Tumilty said. "I felt during all three games we tried to play attacking hockey and are developing our style of play. The players are getting more confident on the ball and this showed over the three games.

"We still have plenty of work to do as we build a squad and playing style that enables us to achieve our long term objectives.

"Overall a very worthwhile camp, our performance improved each game and was great experience for our younger players who grew as the week progressed.

"I am pleased with how the players are developing and I look forward to giving other players an opportunity against Scotland."

Irish Hockey Association media release


---

Ireland lose 3 - 1 to GB in warm-up series despite promising display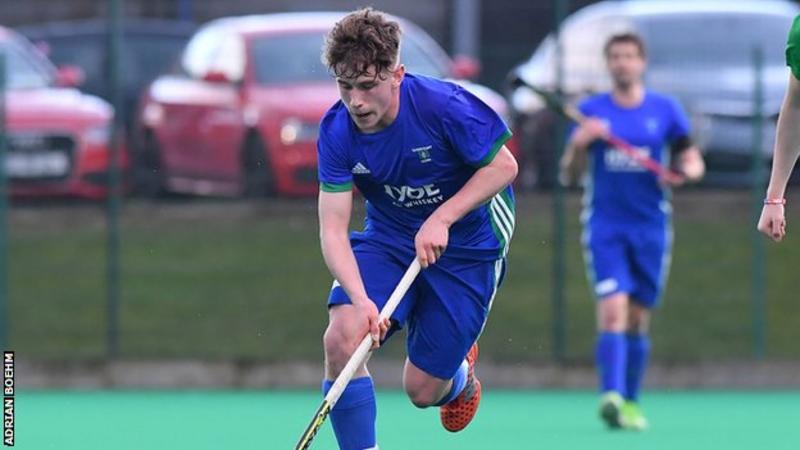 O'Dea scored his first senior international goa less than a week after leaving school

Ireland fell to a 3-1 defeat by Olympic-bound Great Britain at Bisham Abbey to round of a week of three games in England, as part of their preparations for next month's European Championships II in Poland.

Mark Tumilty's side lost twice to a full-strength GB but defeated their elite development squad 8-4 on Tuesday.

On Thursday Cork teenager Kevin O'Dea netted his first senior international goal just a week after leaving school, but could not stop Ireland slipping to defeat

Having lost the opening game 4-0, Ireland's second showing against a full-strength GB was a considerable improvement.

Tumilty's side were two down before O'Dea swept home to bring the visitors back into the contest, only for GB to strike in the final play of the game to secure the win.

"It was great for Kevin O'Dea to score a week after completing his Leaving Cert," Tumilty said.

"I felt during all three games we tried to play attacking hockey and are developing our style of play. The players are getting more confident on the ball and this showed over the three games.

"We still have plenty of work to do as we build a squad and playing style that enables us to achieve our long term objectives."

BBC Sport


---

Oliver Scholfield: How Jersey childhood led to Tokyo 2020 Olympic call-up for Canada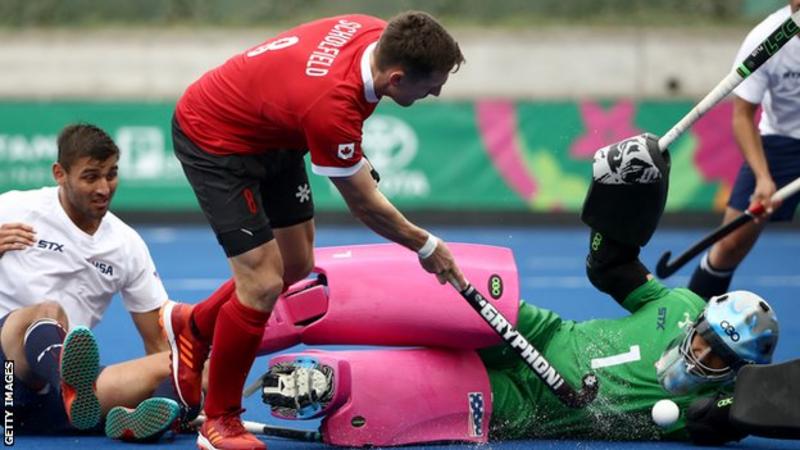 Canada's Oliver Scholfield first learned to play hockey while attending Victoria College in St Helier

A Canada hockey player says he owes his selection for the 2020 Tokyo Olympics to his time growing up in Jersey.

Oliver Scholfield, 27, has been picked for his first Olympics, having won 71 caps for Canada, where he was born.

He moved to Jersey in 1999 with his family and stayed on the island until he left for university in Vancouver in 2011, having played for Jersey.

"I have so many fond memories and it made me the person who I am today," Scholfield told BBC Radio Jersey.

"I didn't really expect to move away for this long, but one thing led to another and I still hold a strong connection with Jersey."

Scholfield played for Victoria College while in Jersey, where his talent was first spotted, and regularly travelled to the UK to have trials and training with the England team.

"When I moved to Canada I didn't really have any intentions of playing for the Canadian national team," he added.

"It's hard to believe this is where the journey's taken me, but it's a fantastic feeling.

"Just being from Jersey, when we were playing in the English development system, having to travel over to the mainland every three or four weeks just to have access to that, it was a challenge, but it was all worth it and luckily my parents were able to support me doing that.

"Thinking back on where it all began, it's been a long journey."

BBC Sport


---

MERVYN: Any of the leading teams going to Tokyo 2020 can finish on the podium

By MERVYN FERNANDIS




The Olympic Games men's hockey is always a close affair. Holland, Germany and Australia dominated in most of the competition for quite some time. Change was seen at the Rio Olympics 2016 when Argentina and Belgium joined the bandwagon and are now among the top contenders.



Olympic Goldie Mervyn

Any of the first six to seven teams in the present world rankings can win against each other on a given day. Referring to so many sides being in contention for the gold medal may look strange…. the reality is that the level of play nowadays is so competitive, any of the leading teams going to Tokyo 2020 can finish on the podium.

India is ranked number four, which is a creditable feat by our players in FIH tournaments over a long duration. As always, there is a lot of  expectation from the side to come back with a medal. This Tokyo-bound team is no exception, considering their consistent performances for the past few years in the build-up to this great event which every athlete dreams of taking part in.

As the fourth-ranked team in men's hockey, other teams are surely aware we are a tough side to face. India coach, Graham Reid, has chosen to go with a fast, fit squad and is assumed to have had a say in team selection. In some of his recent interviews, he has expressed satisfaction with the composition of the team. He spoke about key factors, ie a lot of pressing, defending in numbers and off the ball running.



Indian chief coach Graham Reid

He also referred to the 'team first" mentality, which he feels is going to make the difference. I would like to point out that recent results do not matter when it comes to big teams. We have beaten Argentina, the current defending Olympic champion and Germany (test series). Those wins can boost our morale, nothing more should be read into those results.

Winning matches against Argentina in the FIH Pro League is creditable, the results in the practise games though need to be treated with caution. Bigger teams use these matches to try out players and experiment with game plans, the value of such competitive experience is more for the Indian coaches to assess our players.

Having not seen the Indian team perform in a tournament for more than a year, it is not right for me to comment on the omissions. Forwards SV Sunil, Akashdeep Singh have not been included for reasons known to the coach Reid and the selectors. I understand the selection trials were done virtually. Only Reid and the selection committee could have decided if at least one of these two experienced forwards, used in short bursts, would fit into the game plan on current fitness and form.



Single goalie in the team is a global tactic, so all loads on Sreejesh

Among the players chosen, Shamsher Singh who in my opinion has the least experience. I hope he can justify his selection with his performance. India chose only one goalkeeper in P Sreejesh, the best we have and the first choice. I have noticed other teams also choosing this tactic, but wonder if another player has been trained for the role, in case of a situation when, God forbid, Sreejesh gets injured and the match is on.

Can the team afford the risk, in case he needs to be replaced with a converted goalkeeper from those in the line-up?! India will be at an advantage due to the availability of three drag-flick specialists, ie Rupinderpal Singh, Harmanpreet Singh and Amit Rohidas (reserve player Varun Kumar is also a drag flicker). I do not remember the last time when India was blessed with so many players to take advantage of short corners.

We all know how a good conversion rate can make a difference to the fortunes of the team in tight situations. India will have effective players in the midfield led by Manpreet Singh and the forwardline by Mandeep Singh and Lalit Upadhyay to name a few. Others have been tested by coach Reid in test matches and internal games at the camp.

Indian teams of late have avoided taking cards which is a very healthy sign. The loss of one first-team player due to suspension changes the balance of a settled squad and no team at the Olympics can afford to perform with a key player cooling his heels.

If we can convert the half chances, avoid conceding last minute goals, ensure at least 30 percent short corner conversion and garner maximum points against teams ranked below us, Japan (hosts) and New Zealand (no pushovers), we will have crossed the first hurdle in the race for the quarter-final. Thereafter, it will all boil down to the mental strength and skills which they have exhibited during the build-up and prove that their present FIH rankings were not a flash in the pan.

(as told to Nandakumar Marar)

Stick2Hockey.com


---

First Aim Of Indian Hockey Team Should Be To Qualify For Quarter-Finals, Says BP Govinda

Tokyo Olympics: Former centre-forward in the Indian hockey team, BP Govinda, said the Indian men's team should approach their Olympics campaign "match-by-match" and aim for the quarter-finals as the first step.



Indian men's hockey team will vie for a medal at Tokyo Olympics.© AFP

With less than 30 days to go for the Tokyo Olympic Games, the Olympic fever is engulfing the entire sporting world. While Indian athletes carrying out their high-octane practice sessions, hockey fans are reliving the memories from the triumphant Olympic campaigns in the past. The fiery centre-forward BP Govinda went on a nostalgic trip, fondly talking of his days as an iconic figure with a distinctive headband. "Our coach KD Singh Babu made me play as outside-left in the Bronze Medal match against the Netherlands," recalled the stylish striker in the fifth article of Hockey India's Flashback Series.

"All through the tournament in Munich, I had played as centre-forward, but our coach insisted I change my position for this match, and it so happened that I scored the equaliser and then Mukhbain Singh scored the winning goal through a penalty corner which helped us win the match 2-1," he added.

Having won a bronze medal in 1968, India had fielded a young team in Munich which saw stalwarts like Michael Kindo, Ashok Kumar Dhyanchand, and BP Govinda make their Olympic debut.

But the campaign didn't go as expected despite a good start against teams like the Netherlands (1-1 draw), Great Britain (5-0 win), Australia (3-1 win), Poland (2-2 draw), and Mexico (8-0 win).

India had also beaten New Zealand 3-2 to make the cut for the semi-final.

"But we lost 0-2 in that match. I think we played particularly well in the second half. Almost the entire 35 minutes, we were in their D and we were attacking with all our might, but it was so disheartening that we couldn't convert a single goal," explained Govinda.

"All our shots would go near the goal mouth, and we would miss. It was like as though we were jinxed," said Govinda.

Speaking of the current Indian hockey team led by Manpreet Singh, Govinda said, "They have been playing consistently in the past two years, and they have shown a lot of promise. But my advice to them is to take it match-by-match and their first aim should be to make the quarterfinals. I would say, once they have crossed that hurdle, it is anybody's game in the semis and final."

"This team has been doing well under Graham and has shown that they are capable of beating big teams like Australia, Netherlands, Belgium, and even the Olympic Champions Argentina. I have no doubt that they can perform well in Tokyo," he added.

NDTV Sports


---

What can we expect from Indian women's hockey team at Tokyo Olympics?

After a disappointing finish at the last Olympics, here's what we can expect from the present Indian women's hockey team at Tokyo.

By Subhashish Majumdar




From watching the Indian girls being pulverised at the hands of the Dutch by a 0-7 margin, in 2015, to preparing a transformed Indian outfit who meet the Netherlands in their Olympic opener, life has come a full circle for Sjoerd Marijne.


---

Kookaburras stars make cameo in ASICS Olympic commercial




A host of Kookaburras stars have featured in a special campaign by leading run shoe brand ASICS to promote the upcoming Olympics.

The ASICS TV Commercial merges everyday Aussies along with Olympians moving and being active.

ASICS is the official apparel partner of the Australian Olympic Team for Tokyo 2020, while it also the official footwear partner of Hockey Australia, including the Kookaburras and Hockeyroos.

Kookaburras co-captain Eddie Ockenden, Blake Govers, Tom Craig, Jake Whetton, Tim Howard, Matt Dawson and Jeremy Hayward were all involved in the filming of the "Be Moved" campaign.

The campaign, which will air on televisions across the country during the Games, highlights the spirit of the Olympics and how the world can feel uplifted and motivated by Australia's Olympians to want to move and have a go.

ASICS believe in achieving a Sound Mind in a Sound Body, through the positive power of sport and movement. The Kookaburras and Hockeyroos can't wait to perform on the world stage at the Olympics, and hopefully inspire people to move more and feel uplifted!

This Olympics Be Moved.

#ASICSBeMoved and #TokyoTogether

Hockey Australia Commercial Partnerships Manager and Kookaburras goalkeeper Tyler Lovell coordinated the logistics for the hockey part of the filming with ASICS and said it was a great campaign to be part of.

"To be invited to be involved in the campaign was really special and it's fantastic to have hockey and the Kookaburras feature in the ad," said Lovell.

"ASICS have been a wonderful partner of Hockey Australia for a long time and I know the Kookaburras guys were excited for the opportunity to show their prowess in front of the camera."

"Encouraging health and an active lifestyle is something Hockey Australia and our national teams strongly emphasise through any community interactions we have.

"We are proud to play a small part in helping ASICS promote the message to kids and adults alike to get inspired to move and get active."

For more information on ASICS and to view their footwear range and Team Australia Olympic Apparel and Gear, visit the ASICS website.

Watch the video here

Hockey Australia media release


---

Zim U-21 hockey team eager to return to pitch

Ellina Mhlanga

FOLLOWING the announcement of the national Under-21 women's team, for the Junior Africa Cup, coach Tendayi Maredza says they are eager to return to the pitch.

The continental event will run from August 14 to 22 in Windhoek, Namibia.

It is also a qualifying event for the Junior World Cup that will see India hosting the junior men, from November 25 to December 5. South Africa are hosting the junior women, from December 5 to 16.

The Hockey Association of Zimbabwe on Monday announced the travelling 18 and seven reserves.

The national association have applied for clearance, from the authorities, to have the team start group trainings.

Maredza said as soon as they get the greenlight, they can start the final phases, of the preparations.

"Obviously, we still need to look for sponsorship, and find the money, to actually travel.

"But, with the current restrictions, it's kind of difficult now because we are now at that stage where we need to be on the pitch, practising and finishing off, and working on that structure and all that, and playing against other opponents.

"We are just waiting for the approval so that we can start our group training.

"We are just asking the girls to watch some videos and we discuss about it.

"There is not much we can do online. We really need to get back on the pitch and practice and have some games against other opponents,'' said Maredza.

Among the final 18 is the quartet of Mercedes Beekes, Mutsa Bera, Simone Herbst and Alexei Terblanche, all based in the UK, and United States-based Mufaro Mazambani.

The Junior Africa Cup was supposed to have been held in March, in Ghana, but was moved to August 14 to 22, because of the Covid-19 pandemic.

It will now be staged in Windhoek, Namibia.

"Obviously, now, with the restrictions, the mood has changed but we are trying our best to encourage them and tell them that they have to stay optimistic, and just wait for that approval.

"But, the girls are eager to go.

"I think, under the circumstances, we managed to actually get the best team," said Maredza.

He paid tribute to parents, who have been supportive, with some of the players having to fly back home, for the training programmes, they have had so far.

Travelling Team: Alexei Terblanche, Courtney Lowe, Georgie Allardice, Hayley Clark, Jenna Mathieson, Jorja Jones, Lillian Pope, Marisa Marques, Mercedes Beekes, Mufaro Mazambani, Mutsa Bera, Natalie Terblanche, Rumbidzai Zimuto, Simone Herbst, Taya Trivella, Tinodiwanashe Elijah, Tayla Falkenberg, Victoria Janda.

Non-travelling: Carla Goodinson, Crystal Chanakira, Gugu Sibanda, Khanyisile Mzizi, Munashe Dangare, Stembile Chikoore, Tatenda Maswera.

The Herald


---

CNS hockey tournament in Karachi from August 1

KARACHI: The third Chief of Naval Staff All Pakistan Hockey Tournament, featuring eight of the top domestic hockey sides of the country, will be held at the Abdul Sattar Edhi Hockey Stadium in Karachi from August 1-8.

The teams are Army, Pakistan Air Force, Navy, NBP, SSGC, Mari Petroleum, WAPDA, and Punjab. The teams are divided into two pools.

Sources said that it is possible that the event would be last domestic hockey event at Abdul Sattar Edhi hockey stadium as construction work would be started here after it.

The PHF announced last week in a press conference that the stadium would be constructed afresh.

The News International


---

Aggiss and Denning inducted into Hockey Australia Hall of Fame




Two of Hockey Australia's latest Hall of Fame inductees were officially 'sworn in' during last weekend's FIH Pro League double header in Perth.

Richard Aggiss AM and Elspeth Denning OAM were acknowledged and presented with a commemorative frame from Hockey Australia President Mel Woosnam in a special presentation that took place on the pitch in between the men's and women's double header between Australia and New Zealand at Perth Hockey Stadium on Saturday.

After being ratified and announced as inductees into the Hall of Fame in November last year, the first international matches held in Perth since COVID provided an ideal opportunity to make the presentation and celebrate two Western Australia locals who have had outstanding achievements in hockey at the highest level.

"To be able to publicly acknowledge and congratulate Richard and Elspeth in front a big crowd on a great occasion in their home state was wonderful," said Woosnam.

"They are both significant figures in the history and fabric of Australian hockey and it was great to have this opportunity to officially induct them into the prestigious honour list in person."

A superb player in his own right, Aggiss was inducted into the General Category of the Hall of Fame predominantly for his impact and success as a coach of the Kookaburras.

Achieving a winning record of over 80 per cent from 151 international matches he took charge for, Aggiss was arguably one of the central figures that laid the foundation for Australia's men's hockey team being among the best in the world. He was also the inaugural Head Coach of the AIS programme in Perth in 1984.

Aggiss has also been heavily involved in the development of current hockey coaches, having assisted in writing and conducting Australia's various official coaching courses.

"To be recognised by my peers and general hockey community and be inducted into the Hockey Australia Hall of Fame – general section for my coaching is a very humbling experience," said Aggiss.

"A huge thank you to all those who coached and helped me along my more than 60 years of involvement in hockey."




For Denning, the Hall of Fame accolade highlights the spectacular national and international career she had as a player for Australia where she made her mark as a full-back of the highest quality.

Selected for three Olympics, she was an inspirational vice-captain in Australia's Olympic gold medal win in Seoul in 1988 and was awarded an Order of Australia in 1989.

"I am honoured and grateful to be inducted into the Hockey Australia Hall of Fame," said Denning.

"I want to thank Hockey Australia as well as all of my teammates and coaches at every level – local, state and national – who I had the privilege to play with and learn from, and who helped me to achieve what I have in my hockey career."

"I would also like to honour my dad who was the person who inspired me to follow my dreams."

Further to the presentations for Aggiss and Denning, recently awarded Life Member Dr Tony Galvin and Award of Merit recipient David Christison were also publicly acknowledged at the occasion.

Hockey Australia media release


---

Hockey Ireland welcomes continued Women in Sport funding




Hockey Ireland has welcomed Sport Ireland's continued investment in its Women in Sport Programme which will provide €150,000 to the sport over the two years 2021 and 2022.

This investment aims to support NGBs and enhance all aspects of female involvement across the Women in Sport policy target areas, namely Coaching & Officiating, Active Participation, Leadership & Governance and Visibility.

Recognising that effective and sustainable programmes require a long-term approach, Sport Ireland is committed to a two-year Women in Sport investment cycle. The continuation of this two-year award cycle will enable NGBs to further progress their strategic objectives for women in sport.

Minister for Tourism, Culture, Arts, Gaeltacht, Sport and Media Catherine Martin TD welcomed today's announcement, stating: "Addressing the participation gap in sport and physical activity for women and girls is a priority of the National Sports Policy 2018-2027.

"In recent years we have seen some improvements in this area. The Government and Sport Ireland are committed to continuing this work with the aim of eliminating the participation gap by 2027. While the interim Q1 2021 Irish Sports Monitor, published by Sport Ireland, shows that the gender gap in participation has been eliminated during Covid-19 restrictions, there is a lot of work to do to ensure that more women and girls participate in sport and physical activity.

"As we gradually re-open society we must work to ensure sport and physical activity become a meaningful part of the day-to-day lives of all women in society".

Minister of State for the Gaeltacht & Sport Jack Chambers TD commented: "The previous cycle of Women in Sport funding saw significant strategic advancements in the promotion of Women in Sport. Despite the impact of the Covid-19 pandemic, progress was made on many of the strategic objectives set out in the Women in Sport Policy.

"We are seeing the results of this work in the participation figures and also importantly in the board composition of NGBs, with an increase from 24% of females serving on NGB boards in 2019 to 29% in 2020. There is still a long way to go to improving these figures but the funding announced today will go towards promoting more involvement in sport and physical activity at all levels, from the pitch to the boardroom."

Funding will be ring-fenced under Women in Sport for strategically important internal and NGB related events and projects under the 'Special Projects' funding. This may also be used to support organisations who did not apply for funding support in the current round.

In 2020, the sector delivered on a number of objectives set out in the Women in Sport policy and there were many projects of note throughout the year.

Chief Executive of Sport Ireland John Treacy added: "The appointment of Nora Stapleton as Women in Sport Lead in Sport Ireland, as well as the appointment of leads in many NGBs has led to the creation of a network with increased levels of information sharing, collaboration and delivery of joint initiatives amongst the sector.

"This network, along with the wider NGB sector are working hard to promote sport and physical activity to women and girls. The funding announced today will not only see a diverse range of sports available to the female Irish public but an increase in the visibility of females be that as role models on the pitch or playing field, on boards or in the media.

"It is important that we work together to achieve the ambitious targets and I would like to acknowledge the continued support of the Ministers and staff in the Department of Tourism, Culture, Arts, Gaeltacht, Sport and Media".

Dr. Una May, Director of Participation and Ethics, Sport Ireland commented: "The Women in Sport funding announced today will give the NGBs support and certainty to proceed with their programmes to address the target areas of the Women in Sport policy. In 2020 we saw some exciting and innovative approaches to Women in Sport including the first ever Girls Get Active Hackathon and the publication of significant pieces of research. There is a lot more planned for 2021 and beyond and we continue to work closely with the sector to achieve the objectives of the Policy".

Speaking at today's announcement, Women in Sport Lead Nora Stapleton said: "2020 was a difficult year and like all areas across the sector, many Women in Sport programmes and events were curtailed or had to be redesigned. Many programmes will continue in to 2021 and the NGBs have submitted applications for many new, innovative and exciting projects for the next cycle and I look forward to working with them".

Irish Hockey Association media release


---

Colin Fraser elected as President of Scottish Hockey




Colin Fraser has been elected as the new President of Scottish Hockey at the recent Scottish Hockey AGM. Colin stood unopposed at the election and succeeds John MacKenzie in the role.

In his career Colin has worked in management roles in road haulage, technology and financial services. He is a founder and director of a consultancy and services company, specialising in cyber security and risk management.

Over the past 12 years Colin has often been seconded into UK companies as interim executive, helping teams to improve their performance and be the best they can be.

On the pitch, Uddingston is where Colin started his hockey life before moving to Highland, then Grange and is now a player, umpire and club president at Edinburgh Hockey Club (Cala).

In his role as President, Colin will support board, staff and volunteers to work together as one constantly improving team. Two-way communication will be key to providing a successful link with the membership across Scotland.

Colin said, "I'm delighted to have been elected President of Scottish Hockey.

"I'm excited about helping many thousands more people discover the joy of hockey. We've very strong foundations and a phenomenally enthusiastic hockey family throughout Scotland. Those foundations and our enthusiasm will help take us to new heights.

"I will do my best to deliver on the trust shown by all who elected me by supporting everybody to take hockey on its next stage of development."

Scottish Hockey Union media release


---

Maryland field hockey brings on Kasey Tapman Asper as an assistant coach

By Dylan Spilko




Maryland field hockey added a new member to its staff as former Terrapin Kasey Tapman Asper will become an assistant coach under head coach Missy Meharg, the program announced Wednesday.

Tapman Asper played for the program from 2011-15 and appeared in 77 games as a Terp. She served as the team captain her senior season and was a member of Maryland's 2011 NCAA Championship team.

"I couldn't be more pleased to have Kasey Tapman Asper join the staff on a full-time basis," Meharg said in a press release from the program. "She's been a fantastic volunteer coach for the last three years and through a challenging time and being one of Maryland's best student-athletes out of high school. Kasey is a Terp through and through and we can't wait to get to work."

Tapman Asper has had her fair share of coaching experience these past few years as she recently coached a club program named Freedom HKY, in which she helped lead the U14, U16 and U19 groups.

"I am truly honored and grateful to be back at my alma mater," Tapman Asper said in the press release. "I am excited for the new journey with such an amazing leadership team! Maryland is truly home."

Testudo Times


---

England Hockey Saddened By Death Of Dick Laslett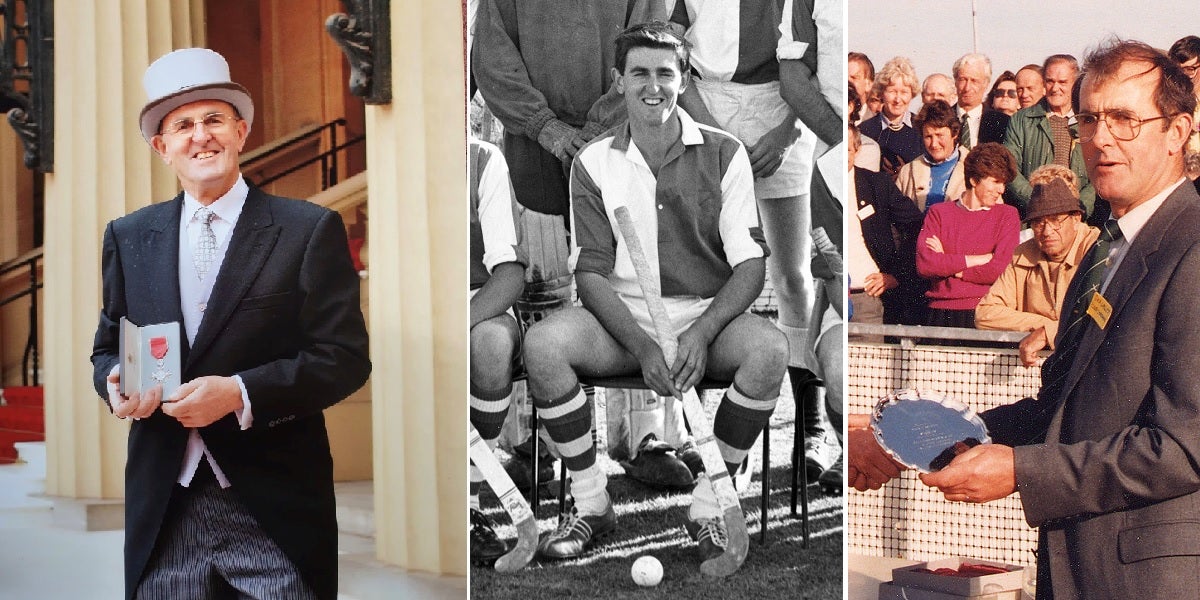 England Hockey were deeply saddened to hear of the passing of Canterbury Hockey Club's Dick Laslett.

Dick had been part of the club for the best part of 60 years, and left an incredibly legacy, not only for Canterbury HC but for sport as a whole in the area.

The club said in a statement, 'We are devastated to record the death of Dick Laslett on the 29th June 2021.

'Dick has shown incredible leadership in developing sports and community facilities over a period of 50 years. He has been a man of vision and foresight, an innovative, inspiring leader and an ambassador for many sporting and social enterprises.

'Dick joined Canterbury Hockey Club at the age of 17, becoming 1st XI captain in 1962 until 1969. He progressed rapidly through club administration becoming Vice Chairman in 1972, Chairman for 10 years from 1977 and was made a Life Member in 1988. He served on the Kent Committee from 1977 for over 20 years. It was a great source of pride for club members that he was elected President of Kent County Hockey Club.

'Throughout the 1970s he led the development of Canterbury Hockey Club from a converted rubbish tip on land rented by the council, eventually identifying the present site at Polo Farm. He helped to fund its purchase and successfully sought grants and loans all the way through to project completion. He was a man of vision, instrumental in setting up one of the finest centres of mens, ladies and youth hockey in the country.

'As well as this focus on hockey, Dick has been a leader in the development of Polo Farm Sports Club. He was a founder member and initiated the development of a local sports venue into one of the premier centres of sport in South East England, playing men's, ladies and youth hockey, tennis, cricket, football and croquet. Throughout all this time he has attracted a large number of voluntary workers who have been inspired by his leadership. However challenging the job he showed persistence and determination to see the job through, however menial the task.

'Dick has also demonstrated enormous service beyond the sports field. He established the Eastry Young Peoples Club, providing a social outlet for the growing number of young people in this community. He secured funding and was project manager throughout the building stage and continued as Chairman and youth club leader. He also obtained funding to establish a private nursery (Bubbles) in the village, to provide a much needed facility in a growing village which was attracting many young people.

'The culmination of Dick's contribution to so many of our lives was the well-deserved award of MBE in November 2009, for outstanding achievement and service to the community. It is an award which sums up Dick's lifetime contribution perfectly.'

England Hockey would like to add their sincere condolences to all who knew Dick.

England Hockey Board Media release