All the news for Monday 2 August 2021

2020 Olympic Games - Day 11
Tokyo (JPN)

All times GMT +9

Men's Quarter-finals

01 Aug 2021     GER v ARG   3 - 1
01 Aug 2021     AUS v NED   2 - 2 Shoot out. 3/3 - 0/3
01 Aug 2021     BEL v ESP   3 - 1
01 Aug 2021     IND v GBR    3 - 1

Semi FInals

3 Aug 2021   10:30   BEL v IND
3 Aug 2021   19:00   GER v AUS

Pool Standings

Pool A
| Rank | Team | Played | Wins | Draws | Losses | Goals For | Goals Against | Goal Difference | Points |
| --- | --- | --- | --- | --- | --- | --- | --- | --- | --- |
| 1 | Australia | 5 | 4 | 1 | 0 | 22 | 9 | 13 | 13 |
| 2 | India | 5 | 4 | 0 | 1 | 15 | 13 | 2 | 12 |
| 3 | Argentina | 5 | 2 | 1 | 2 | 10 | 11 | -1 | 7 |
| 4 | Spain | 5 | 1 | 2 | 2 | 9 | 10 | -1 | 5 |
| 5 | New Zealand | 5 | 1 | 1 | 3 | 11 | 16 | -5 | 4 |
| 6 | Japan | 5 | 0 | 1 | 4 | 10 | 18 | -8 | 1 |
Pool B
Women's Quarter-finals
    
02 Aug 2021     GER v ARG   0 - 3
02 Aug 2021     AUS v IND     0  - 1
02 Aug 2021     NED v NZL    3 - 0
02 Aug 2021 21:00     ESP v GBR

Semi Finals

4 Aug 2021  ARG v IND
4 Aug 2021  NED v ?

Pool Standings

Pool A
Pool B
| Rank | Team | Played | Wins | Draws | Losses | Goals For | Goals Against | Goal Difference | Points |
| --- | --- | --- | --- | --- | --- | --- | --- | --- | --- |
| 1 | Australia | 5 | 5 | 0 | 0 | 13 | 1 | 12 | 15 |
| 2 | Argentina | 5 | 3 | 0 | 2 | 8 | 8 | 0 | 9 |
| 3 | Spain | 5 | 3 | 0 | 2 | 9 | 8 | -1 | 9 |
| 4 | New Zealand | 5 | 2 | 0 | 3 | 8 | 7 | 1 | 6 |
| 5 | China | 5 | 2 | 0 | 3 | 9 | 16 | -7 | 6 |
| 6 | Japan | 5 | 0 | 0 | 5 | 6 | 13 | -7 | 0 |
---

Vivaldi, Argentina's 'gentleman' goalie, bows out at 42

Argentina's quarter-final loss to Germany proved to be Vivaldi's final match for his country.



Argentina goalkeeper Juan Manuel Vivaldi, 42, played his last game for his country in the quarterfinal against Germany at Tokyo Olympics. (FILE PHOTO)   -  AP

Argentina's 42-year-old goalkeeper Juan Vivaldi bowed out of the Olympics for good on Sunday after the team lost its quarter-final clash against Germany, marking the end of his career.

"It was very emotional, my last game," Vivaldi said.

"I want to enjoy all of this. I have played a lot of years, matches and games so this is a moment to look back and enjoy all that."

Vivaldi won praise from the German players for his long career.

"He looks like a 25-year-old man at the beach so you can imagine what he's doing for the sport. I think he really has passion for it," Germany captain Tobias Hauke said after his team won 3-1.

The goalie won Olympic gold in Rio de Janeiro after the team rose from being number 15 or 16 in the world, said Hauke, prompting him to get an Olympic tattoo on his right biceps.

Vivaldi first represented his country in December 2001 but he was not the oldest hockey player on record at an Olympic Games.

That honour goes to Tjerk Leegstra, who was 44 years and 314 days old when he represented the United States at the 1956 Melbourne Olympics.

Vivaldi was one of hockey's legends, said German forward Christopher Ruhr, who battled the goalie many times.

"What's most important is to be 100 per cent competitive in the game but after the game you shake hands and you're buddies. That's what he did always," he said.

"He was always one of the few gentlemen on the team."

Sportstar


---

Olympics-Hockey-Top-scorer Hendrickx roars back after six stitches and Harry Potter-like cut

By Daniel Leussink




TOKYO (Reuters) - Belgian goal-getter Alexander Hendrickx returned to the Olympic hockey pitch on Sunday after a clash with a British player's stick two days earlier that left him with a gaping wound on his forehead.

Hendrickx made his mark on Belgium's 3-1 quarter-final win over Spain right away, scoring two goals to bring his total for the Tokyo Olympics to 11 out of six matches, building out his lead as the tournament's top-scorer.

"I felt just a big hit and then I knew it was open because the blood was streaming out," Hendrickx said, recalling the injury in the game against Britain.

"It was pouring blood and it felt like ages before the doctor or anybody else was there. But I saw at the reaction of everybody that it was a huge gap."

The medical team stitched up the wound in the dressing room, Hendrickx said. He avoided a skull fracture, but needed three inside and outside stitches each.

"It was open until the skull so they could check if there was a fracture or not," he said.

He had an MRI scan on Saturday to make sure he would not face any risks going back into action. The complete checkup convinced Belgium head coach Shane McLeod to bring him back on the pitch.

"There's no fracture. He didn't have any concussion. He had a clearance by five or six radiologists," McLeod said.

He also proved too hard to deal with for Spain in their match against the Belgians. "He's probably the best flicker in the world," Spain veteran Alvaro Iglesias Marcos said.

Hendrickx wore a headband to protect the wound during the game.

"We made a couple of jokes about that headband but this guy is sending rockets," team mate Loick Luypaert said.

After getting the cut stitched up, Hendrickx posted an Instagram story that showed it and compared him to Harry Potter, who is known for a lightning-shaped scar on his head.

"Maybe he's got a magic wand," head coach McLeod said.

"That's another similarity."

Reuters

---

India End GB Men's Hopes At Tokyo 2020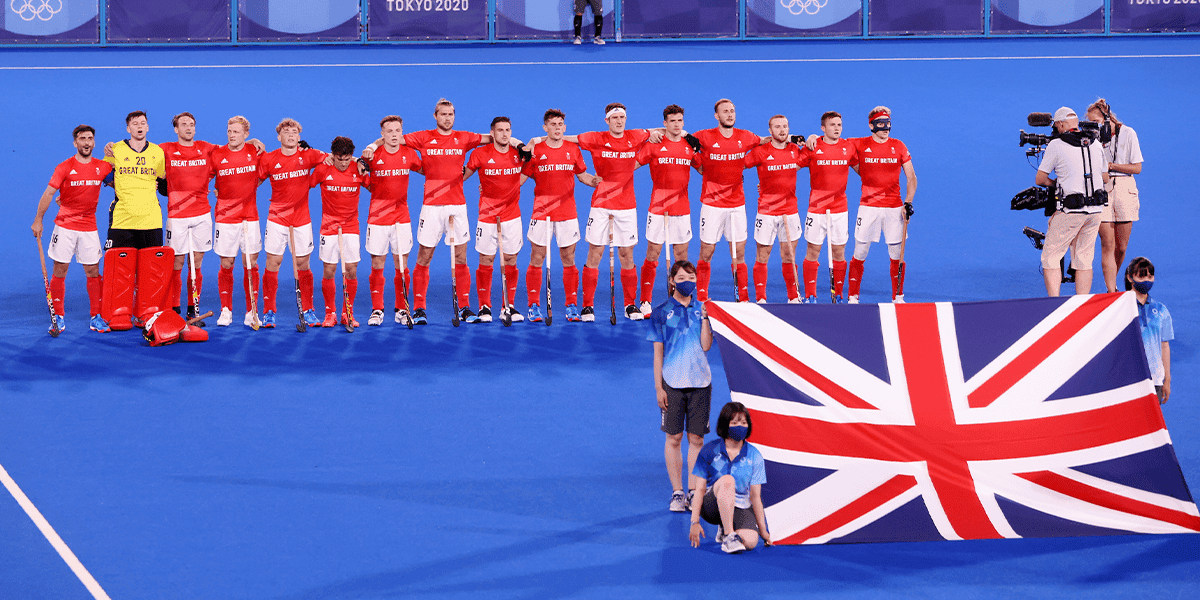 The journey for Great Britain's men came to an end at the quarter-final stages of the Tokyo 2020 Olympics.

Danny Kerry's team were beaten by India – the first meeting between the two at a Games since Sydney 2000 – in a gripping encounter.

For much of the game there was little separating the teams but India pounced on two defensive mistakes by Great Britain to lead 2-0 at half-time courtesy of Dilpreet Singh and Gurjant Singh.

Sam Ward levelled at the end of the third quarter to set up a grandstand finish but Sreejesh produced several impressive saves to keep out further efforts before Hardik Singh added a late third to confirm the victory.

Great Britain won the first corner of the game in the third minute as Sam Ward's effort was charged down.

Five minutes later, Great Britain gave the ball away twice in front of their own goal and Dilpreet made no mistake, sliding the ball between the legs of Ollie Payne.

Sreejesh produced a quickfire double save in the 12th minute to keep out efforts from Ward and Liam Ansell before just moments into the second quarter, India intercepted a loose pass and Gurjant this time was able to score.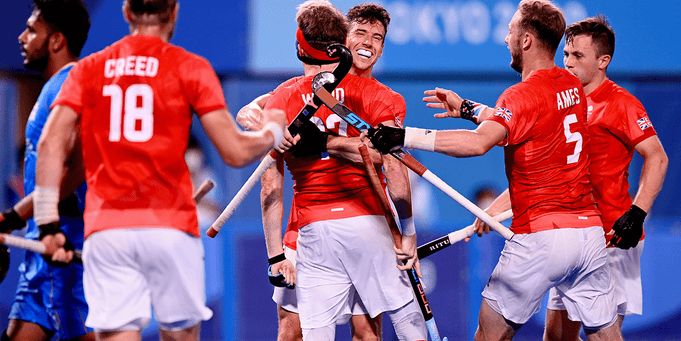 Sam Ward scored his fifth goal of the Games to bring the scores back to 2-1 at the end of the third quarter. Credit: World Sport Pics

Both sides cancelled each other out for the remainder of the first half but the first clear chance of the second half fell to Gurjant, who's effort on the reverse was saved by Payne.

That sparked Great Britain into life, with Sreejesh just beating James Gall to a dangerous Zach Wallace cross before Great Britain won a number of corners in the dying minutes of the quarter. Ward was able to convert the final one, his flick taking two deflections but ending up in the back of the net.

Two corners in the fourth quarter were kept out, the second courtesy of another fine Sreejesh save, before Manpreet was shown a yellow card in the 54th minute. Ward saw his subsequent corner saved once again before a snapshot moments later whistled just wide.

With Great Britain pressing, they were vulnerable to a counter attack and India caught them out with three minutes remaining as they raced towards Payne's goal. The goalkeeper produced a smart saved to keep out Hardik's first effort but the ball came back to the Indian player and he made no mistake with his second attempt to complete the scoring.

After the game, Ward said: "I think any game that knocks you out of the Olympic Games will sting you pretty hard. We had a lot of chances we did not take. There is one thing turning up an Olympic Games and another to win a medal, and that is what we came for and it is pretty gut-wrenching to be knocked out."

India 3 (2)

Dilpreet (8', FG); Gurjant (16', FG); Hardik (57', FG)

Great Britain 1 (0)

Ward (45', FG)

Starting XI: Ames, Ward, Roper, Dixon (C), Creed, Payne (GK), Ansell, Waller, Gall, Sorsby, Wallace

Subs: Draper, Shipperley, Griffiths, Sloan, Sanford

Great Britain Hockey media release


---

Dixon Retires From International Hockey; Kerry Reflects On Tokyo Olympics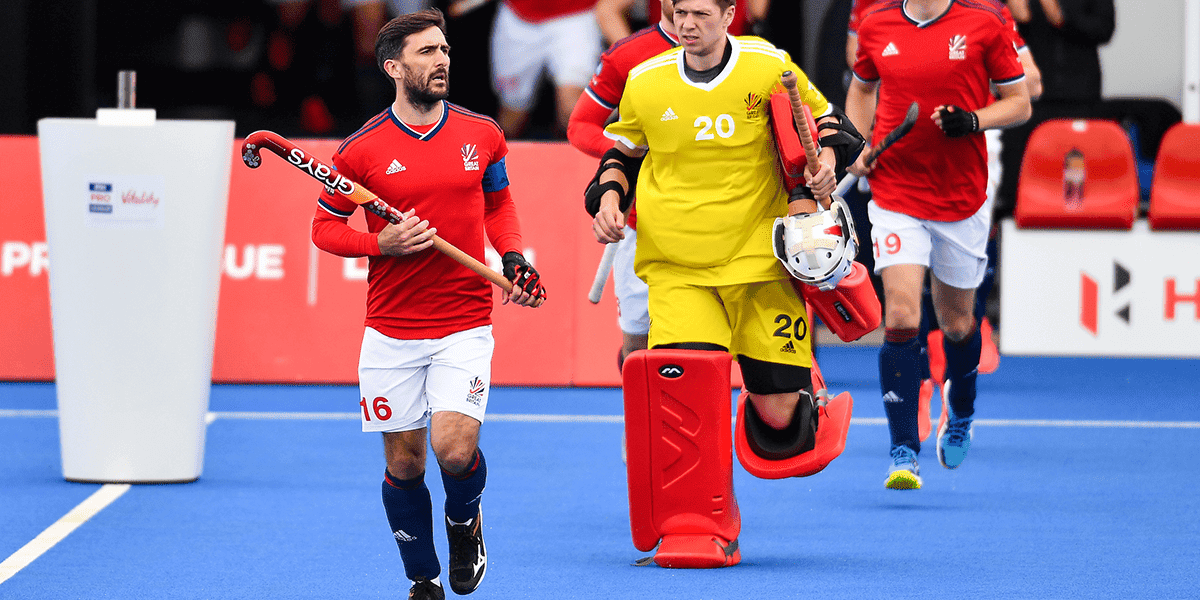 Following their defeat by India in the quarter-finals of the Tokyo 2020 Olympics, Great Britain men's captain Adam Dixon has confirmed his retirement from international hockey.

Head coach Danny Kerry also spoke of his pride in the group who improved on their ninth-placed finish from the Rio 2016 Games but were unable to secure the medal they so wanted.

Dixon, who had captained the England and Great Britain teams from the start of 2019, confirmed his retirement from international hockey to the media after the 3-1 loss to India.

The defender steps away from the game after making 290 international appearances (111 for Great Britain, 179 for England) and winning 14 medals, including European gold with England in 2009.

He spoke of his immense pride at leading this group of players, saying: "It's [been] semi-secret that I'll hang up my stick internationally. I've had 12-13 years as a professional and I am hugely grateful to UK Sport and Lottery funding. I can't think what life is going to be like, not turning up to the gym, doing what I love and being around my best mates. I'll still be playing club hockey but it's such a shame to end internationally on this note. But this group has so much to come.

"In the huddle after the game, Danny just said how proud he was to have led us through a somewhat successful Olympics - it's not a medal but we've gone further than we did in Rio and enjoyed each other's company. We played with no pressure. We pushed and pushed but it wasn't to be.

"It's hard to hide emotions. This is the pinnacle, it hurts not to achieve dreams and ambitions. But in elite sport you have to take the defeats and hopefully the group will use this as a springboard to do something even better. We've got a young, exciting group who will only learn from this. Jack Waller, Zach Wallace, Jacob Draper - players like that have got so many years ahead of them and they're not at their peak yet.

"My family have been so supportive, it would've been easy to hang up my stick earlier but I wanted to make sure I put Rio to bed and we've really achieved that. It's been great to be part of Team GB, unfortunately we haven't got a medal but we'll be supporting them in the coming days."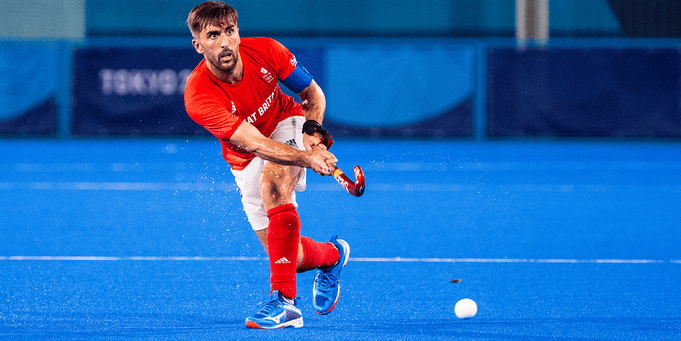 Adam Dixon captained Great Britain from 2019-2021 & appeared at two Olympics. Credit: Team GB

This was a third Olympics for head coach Danny Kerry, who guided the women's team to gold and bronze at Rio 2016 and London 2012 respectively.

After the game against India, he said: "I am very proud of the lads, but I'm a bit upset. It's difficult to explain but when you see the lads support each other after the game as they are now, it's pretty amazing. In many ways that's as amazing as winning a gold medal. I'm proud of that and what the group have become."

"I felt that a couple of errors in the first half knocked us out of our stride. We regrouped at half-time and did enough to get back into the game. Unfortunately we weren't good enough to convert those corners, so now we are where we are.

"The journey in the last six-to-nine months is a credit to the young men and teams take us seriously now. When I took the job I talked about men, magic and moments. The thing I'm most proud of is them being men, looking after one another. They stick together, understand each other, try to hold the judgement of each other, they are good guys and they will come good. I've done everything in my gift, within my human possibilities, to take this team and it hasn't quite worked. I'm old enough and ugly enough to know I can feel good about giving everything I gave.

"This has been the hardest Olympics by some distance. All Olympics are hard but this is why I'm so proud of the blokes; they cracked on. A lot of being at an Olympics is amazing but this one has also been very hard. I don't know if there's a sport that goes as long and as hard as we do - there may well be, but we play for most of the whole fortnight. The teams that medal will do eight matches in 13 days and in these conditions it takes something special. But we'll be better for it."

Great Britain Hockey media release


---

India and Belgium join Australia, Germany in hockey semis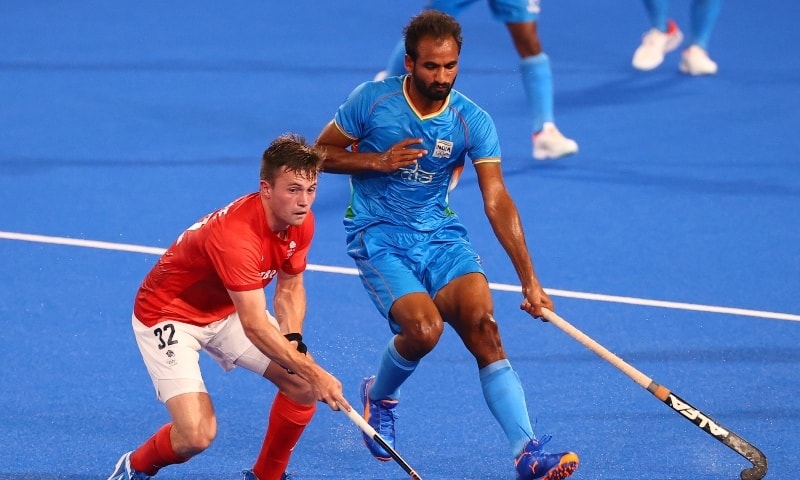 Zachary Wallace of Britain in action against Gurjant Singh of India.

TOKYO: India reached the semi-finals of the men's hockey tournament at the Olympics for the first time since 1980 thanks to a 3-1 win over Britain on Sunday to set up a showdown with Belgium at the Tokyo Games.

Australia and Germany will contest the other semi-final.

India, who had won the last of their eight Olympic hockey gold medals at the 1980 Moscow Games, led 2-0 at halftime thanks to goals by Dilpreet Singh and Gurjant Singh. After conceding a goal in the 45th minute, India sealed the win when Hardik Singh made it 3-1 with just minutes left to play.

Belgium ended Spain's run with a 3-1 victory, including two goals from top-scorer Alexander Hendrickx.

Earlier on Sunday, Australia reached the semi-finals by beating the Netherlands in a penalty shootout in sizzling Tokyo heat, while Germany overcame Argentina.

A powerful performance by goalkeeper Andrew Charter, who kept a clean sheet in the shootouts — won 3-0 by Australia after the score was 2-2 at the end of regular playing time — helped the Kookaburras win the match.

The Australians had pulled ahead twice in the game, thanks to two goals by Tom Wickham, only to see the hard-fighting Dutch side equalise through goals by Mink van der Weerden and Jeroen Hertzberger.

The result meant the Dutch men's squad will not feature in the semi-finals of the Olympic hockey tournament for the first time since 1984.

Australia will face Germany on Tuesday after the Germans secured an easy victory over Olympic champions Argentina.

Germany opened the score in the 19th minute when defender Lukas Windfeder shot a penalty corner low and hard at the left side of the goal, leaving Argentina goalkeeper Juan Vivaldi no chance to stop the ball.

Ten minutes into the second half, the German side added to their advantage after scoring through another penalty corner, which gave them little left to fear from the Argentineans.

The fourth quarter saw one goal from each side, including Windfeder's second, leaving the final score at 3-1.

Dawn


---

India hang in, outwit GB to enter Semis

S2H Team




Questions hung heavy on the inclusion of youngsters Simranjeet, Dilpreet and Hardik in the Indian forward line for the 2020 Olympics men's hockey competition.


---

Have a soft spot for India, wish them well: Dixon




Adam Dixon, Great Britain captain, said it was hard to talk about the opposition after losing to India 3-1 in the Olympic hockey quarterfinals on Sunday.


---

Indian hockey team reach Semi-final of the Olympics after 49 years




The Indian men's hockey team reach the semi final of the Tokyo Olympics after beating Great Britain 3-1 in the quarter final on Sunday. India Hockey Men Team
There are many quality stories from The Bridge on this game. Here are the headlines and links to those stories
Indian hockey team reach Semi-final of the Olympics after 49 years

The Indian men's hockey team reach the semi final of the Tokyo Olympics after beating Great Britain 3-1 in the quarter final on Sunday. India Hockey Men Team

Young Indian strikers propel team into historic Semi final

A brief overview of the manner in which the young Indian forwards came into their own in the Olympic quarterfinal

Road to the semi-finals for the Indian men's hockey team

It wasn't just 6 matches, it was a wait of 49 years and the big day is finally here after a long long time

"Indian hockey team almost killed themselves for this win" — Captain Manpreet Singh

Manpreet lauds commitment of side, says players "almost killed themselves" in pursuit of a win

Who is the coach of the Indian men's hockey team?

While India is slowly reclaiming its lost glory in hockey back, do you know under whose guidance is the team doing it? Graham Reid

Fans fall in love with the Indian hockey team again as they reach semis

India's entry into the Olympic Semi final after 49 years makes fans fall in love with hockey again

5 best players in the Indian hockey team

As the Indian hockey team edges closer to a possible podium finish at the Tokyo Olympics 2020, here we take a look at the five best players in the team.

Manpreet and co. herald a new resurgence of Indian hockey with historic quarterfinal win

A brief overview of the significance of India's quarterfinal win in Tokyo 2020

What happened when the Indian team was in semifinals of Olympics the last time?

The story behind the Indian men's hockey team's last semifinal appearance at the 1972 Munich Olympics.

Fake News Buster: Why is this India's first Olympic semifinal in 49 years and not 41?

The burning question is doing the rounds on social media and we analyse this intriguing stat regarding India's Hockey team

India into the Semi final — Why it's the greatest moment to cherish

The Indian men's hockey team has created a historic performance making it through to the Semi final of Tokyo Olympics.

Whom will the Indian team face in Semi-final of Tokyo Olympics?

Having beaten Great Britain, India will now take on Belgium in the semi-final to be held on 3rd August


---

Indian men's hockey team beat Great Britain, enter semis after 41 years in Games

Indian men's hockey team beat Great Britain 3-1 in the quarter-final and will now face Belgium in the semi-final of the Tokyo Olympics.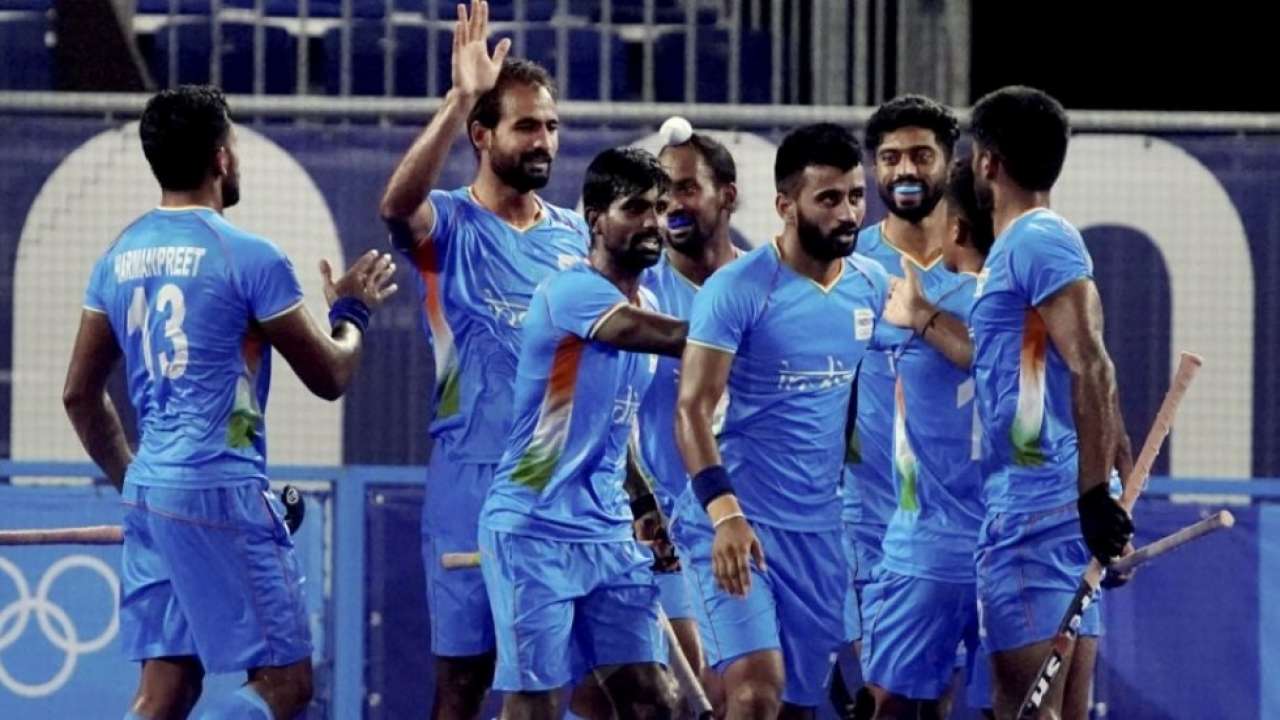 Indian men's hockey team qualified for the semi-final in Olympics after a gap of 41 years | Photo: Tokyo 2020

India men's hockey team on Sunday reached the semi-final of the Olympics for the first time in 41 years as the team defeated Great Britain 3-1 to reach the semi-finals of the ongoing Tokyo Olympics. A semi-final berth had eluded the Indian men's hockey team since the 1980 Moscow Olympic Games where the team led by V Baskaran won the eighth Gold medal for India.

Coming back to the game, India suffered a blow when skipper Manpreet Singh received a yellow card in the dying minutes, but Hardik scored in the 57th minute to extend India's lead.

Dilpreet Singh got India off the mark early as he netted a goal in the seventh minute of the match. Simranjeet stole the possession and passed through England's defenders to Dilpreet who gave India the lead. Gurjant Singh doubled the lead as he scored right at the start of the second quarter.

India maintained the lead and went to the second half of the game with a score of 2-0.

In the third quarter, Sam Ward gave Great Britain something to play for as he netted a goal in the dying minutes of the essay. Great Britain won three back-to-back penalty corners and finally converted the last one into the goal. Despite the goal, India went into the fourth and final quarter with a lead of 2-1 with a thrilling essay on cards for both sides.

In the final quarter, Great Britain tried hard to score a goal after breaching the Indian defence. The side even won a penalty corner but PR Sreejesh made a fine save to keep India on top.

Hardik scored in the closing stages as India defeated Great Britain 3-1 to reach the semi-finals of the Tokyo Olympics. The team will face Belgium in the semis.

Daily News & Analysis


---

Great Britain lose 3-1 to India in men's hockey quarter-finals

Great Britain missed out on a place in the men's Olympic hockey semi-finals as they lost 3-1 to India.

Danny Kerry's side went a goal down on seven minutes when some sloppy defence let Dilpreet Singh in.

India added a second early in the second quarter through Gurjant Singh.

Sam Ward pulled one back with seconds left in the third quarter and although GB pressed, Hardik Singh scored three minutes from time to make the game safe for India.

India, who will face Belgium in the last four, are historically the most successful team in Olympic hockey history, but the last of their eight golds came back in 1980.

Australia will take on Germany in the other semi-final.

BBC Sport


---

VR Raghunath: Make a bright start against Belgium and India will be in the finals

The former India hockey international hailed the attacking performance against Great Britain

By Soham Mukherjee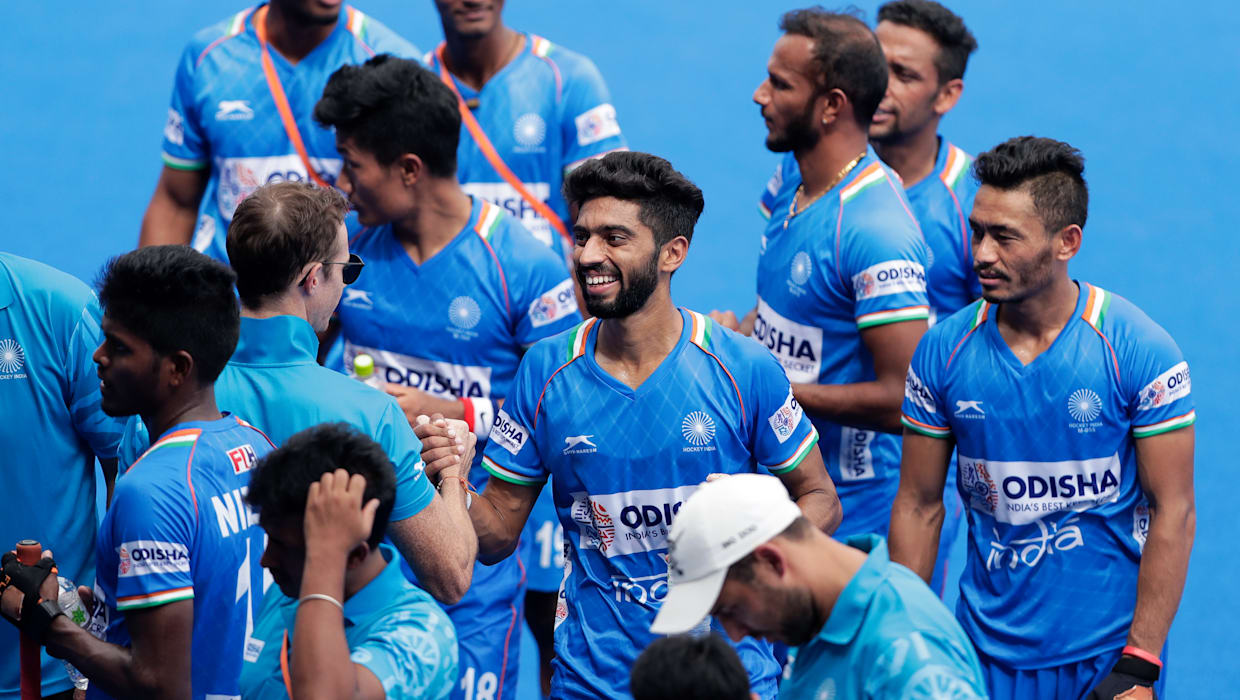 Indian men's hockey team will compete in the semi-finals for the very first time at the Olympics after 17861 days after they defeated Great Britain 3-1 in the quarter-final on Sunday.

Goals from Dilpreet Singh (7'), Gurjant Singh (15'), and Hardik Singh (57') helped Graham Reid's side get over the line against Great Britain for whom Samuel Ward (45') managed to pull one back. Interestingly, all the three strikes scored by the Men in Blue were field goals and India didn't have to rely on penalty corners, which has often been the norm.

"It was high time that the forwards had stepped up and they did not disappoint. We did not get many penalty corners today and so it became more important for the strikers to be in form. They proved their mettle today. Taking the lead was another advantage and then the quick second goal.

"I knew that as the match would progress, there would be holes at the back, and we would get an opportunity to score. That's exactly what happened. But you should give credit to Hardik Singh (third goal) as well. It was a world class goal," VR Raghunath spoke to Olympics.com in the aftermath of the thrilling 3-1 win.

The 32-year-old, who has played 228 international games for India, hailed PR Sreejesh for once again being a thorn for the opposition as he made some important saves. Raghunath, however, pointed out that skipper Manpreet Singh's yellow which resulted in India being down to 10-men is something that must be avoided as otherwise, India may have to pay a heavy price.

"Once again the hero at the back was Sreejesh. He saved numerous goals. What a tournament he is having. The only blip was Manpreet's yellow. That kind of mistake should not be repeated at any cost against Belgium. Even after playing with 10-men, we held our fort when Great Britain were firing on all cylinders," said the Arjuna award winner.

Up next are Belgium, who are ranked number two in the world, on Tuesday in what promises to be an enthralling affair. The Belgians registered a 3-1 win over Spain to progress into the semi-final. Raghunath suggested that the key against Belgium is to make a bright start and convert the goal-scoring opportunities as it will be a high-pressure game.

"We created history today. And I am confident that there is more history to be made. Belgium will not take us lightly. They will also first look to avoid conceding and remain compact at the back. It will be an exciting challenge for us. Whatever they played before doesn't matter in a semi-final. It is a new game, a high-pressure match, and there will be nerves. We will get three-to-four opportunities and we must convert. The chances were taken and that put pressure on Britain right from the first. If we get a bright start against Belgium, we will be in the final," observed Raghunath.

Olympic Channel


---

Argentine women blank Germany to reach semis

With a suffocating defensive effort Monday at Oi Hockey Stadium, Argentina's women's field hockey team moved on to the semifinals at the Tokyo Olympics with a 3-0 humbling of Germany, which saw its hopes of topping the silver medal it won at Rio 2016 dashed in defeat.

The first quarter ended in a scoreless tie, but Argentina took what proved to be a commanding lead before icing the Germans with an insurance goal in the fourth.

KOAA News


---

Hockeyroos stunned by India in Quarter Final upset

Catriona Dixon




HOCKEY: The Hockeyroos' dream of an Olympic medal has been shattered by an unheralded but tenacious India in the biggest upset of the Tokyo 2020 Women's Hockey Tournament.

Undefeated in the preliminary matches, and having conceded just one goal from five outings, the world number two side was knocked out of the Games in a 1-0 result.

The victory was like no other for the world number nine team who claimed the biggest scalp of their three Olympic campaigns and secured only their fifth win from 42 international match-ups against the highly-fancied Australians.

India won just two of their pool matches in Tokyo to secure a place in the Knockout Stage, finishing fourth in their group, in a stark improvement from the 2016 Games where they finished last.

Despite dominating possession and boasting 14 shots on goal including five penalty corners, compared to India's five attempts and one corner, the Australians failed to put themselves on the scoreboard in what was a match full of missed opportunities.

The result was a painful reminder of the Rio Olympics where they were knocked-out by New Zealand in the quarter finals to finish sixth overall.




Head Coach Katrina Powell said her side had left their assault too late after being "on the back foot" to the skilful and fast-paced India in the first half of the match.

"Totally gutted. India are obviously a very good team, very skilful, very fast and were ready for us today," she said.

"I felt like we were ready to go, ready to play…it just wasn't our day.

"Wins can mask sometimes what is going on, but we created a lot of opportunities today, so we do only have ourselves to blame.

"The future of the Hockeyroos is very exciting. The resilience the athletes have shown to get to this point, the way they played, the way they have showed up is a credit to them."

The Hockeyroos had three unsuccessful attempts on India's goal in the first quarter despite positive playmaking by Rosie Malone, Brooke Peris and Grace Stewart.

Committed goalkeeping by Rachael Lynch, which saw a physical one-on-one defensive tackle with Sharmila Devi, along with a deflect off the goal post from Vandana Katariya kept the Indian attackers scoreless at end of the first quarter.

Two-time Olympian Gurjit Kaur then put India in front in the 22nd minute with a lethal drag flick from a penalty corner to claim what was only the second goal against the Australians for the tournament.

The Hockeyroos were relentless in attack with Emily Chalker, Amy Lawton and Malone continuing to press their opponent's goal circle but despite seven attempts on goal in the opening half they remained scoreless at the 30-minute mark.

Australia dominated with the ball in the third quarter but despite opportunities by Savannah Fitzpatrick and two penalty corners, they failed to penetrate the Indian goal line.

In what was a do-or-die final quarter, the Hockeyroos missed four penalty corner opportunities, including one in the final three minutes of the match, to bow out of the competition.

Two-time Olympian Edwina Bone complimented her opponents on their performance, saying the difference was India's ability to consolidate their penalty corner opportunity.

"There are all sorts of emotions going on, disappointment, but I'm still really proud of the way we played today," Bone said, also highlighting the leadership of Powell.

"Our game plan didn't change, we came in with lots of momentum, we created lots of opportunities and unfortunately that's how sport goes sometimes, it can be cruel. Today wasn't our day.

"We had a plan against their defence and we executed what we wanted to, that final execution of putting the ball into the back of the net just wasn't there."

India now faces Argentina for a place in the gold medal match, while the Hockeyroos return home to Australia to lament their missed opportunity.

Match Details
Hockeyroos 0
India 1 (Gurjit Kaur 22')
@ Oi Hockey Stadium, Tokyo

Hockeyroos: 2.Rosie Malone, 3.Brooke Peris, 4.Amy Lawton, 10.Maddy Fitzpatrick, 13.Edwina Bone (c), 14.Steph Kershaw, 15.Kaitlin Nobbs, 18.Jane Claxton, 20.Karri Somerville, 21.Renee Taylor, 22.Kate Jenner, 24.Mariah Williams, 26.Emily Chalker, 27.Rachael Lynch (gk), 30.Grace Stewart, 32.Savannah Fitzpatrick

Hockey Australia media release


---

Indian Women make dream Semi-Final entry

S2H Team




You really didn't need to pinch yourself to confirm it wasn't a dream. That's if you've been following the Indian women's hockey team's progress at the 2020 Tokyo Olympics. All the same, the women in blue pulled off the near-impossible when they beat a formidable team in green-and-gold at the Oi Stadium on Monday.


---

A Movie Magic Helped India Through to the Semi-finals

s2h Team




As India women's team began its Tokyo journey, coach Sjoerd Marijne kept a 'movie' handy for tense moments. When India went down in the first three games, he showed this 'movie' to the girls for motivation. Just before India played Australia in the quarters, parts of the movie were shown to the girls again.


---

Indian women's hockey team upsets Australia, create Olympics history

The Rani Rampal-led India entered the semi-finals after Gurjit Kaur scored the only goal of the quarter-final in the 22nd-minute to stun the Group B toppers.

By Abhishek Purohit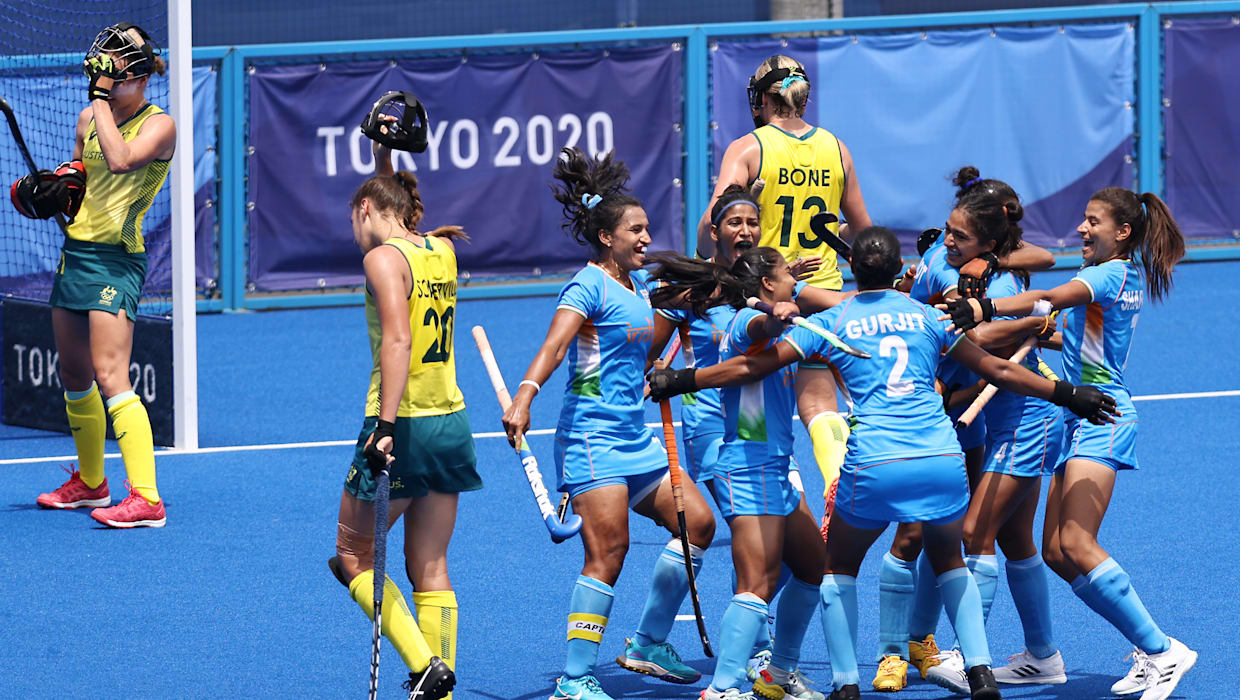 Picture by Buda Mendes

India stunned three-time Olympic gold medallists Australia 1-0 at the Oi Hockey Stadium on Monday to enter the Tokyo Olympics women's hockey semi-finals.

India, the fourth-placed team in Pool A, overcame the Pool B toppers Australia through Gurjit Kaur's drag-flick in the 22nd minute and held on to their lead for the remainder of the match.

Only participating in its third Olympics, the Indian women's hockey team made it to the semi-finals of the Summer Games for the first time. India had finished 12th and last in Rio 2016 and only a round-robin stage was played at Moscow 1980.

It was the Indian women's third straight win at Tokyo 2020, having opened their campaign with three straight losses. India had to win their final two group stage matches to make it to the quarters.

On Monday, India did not get outpaced by the famed speed of the Australians and generated several quick counters to keep the opposing defence busy. Even as late as the fourth quarter, the Indians' fitness levels did not let them down and their concentration in defence did not dip.

The Indian defence led by Deep Grace Ekka and goalkeeper Savita Punia held firm throughout the match, soaking up all the pressure the Australians exerted, and keeping a clean slate across an incredible nine penalty corners.

India had conceded 14 goals to Australia's one and scored seven compared to the Australians' 13 in the group stages. And Australia almost scored right in the second minute of the match, but Ambrosia Malone's shot slammed into the post.

That was the closest Australia would get to a goal in the first quarter, as the Indian women's hockey team ensured plenty of action happened in the opposite half. Holding on to a slender majority of the possession, India didn't concede a penalty corner until the fifth minute of the second quarter. And even then, they were able to repeatedly deny Australia.

India had nearly taken the lead in the ninth minute when captain Rani Rampal's deflection off a cross hit the inner part of the Australian left post.

Australia kept threatening now and then, a Brooke Peris strike going just wide of the right Indian post.

But it was India who would go on the scoreboard first, as Gurjit Kaur's drag-flick found its mark in the 22nd minute off the Indians' very first penalty corner. It was Gurjit's first goal of the tournament following a struggle to fire the drag-flicks in the group stage.

Australia had earned more penalty corners, had more circle penetrations and had taken more shots on goal but India held on to their advantage in the first half.

In the third quarter, the Indian defence withstood the charge of the Australians as they pressed harder, making regular inroads into the Indian circle.

Having absorbed that pressure, India regained some momentum late into the third quarter. Navneet Kaur dribbled her way into the circle for a wide attempt, and Rani Rampal's tap off a cross looped to the right of the Australian goal. India's lead was still intact going into the final quarter.

With just over eight minutes to go in the match, Australia pushed for two more penalty corners, and two more still with a couple of minutes left. But the Indians were just not going to relent and had more than earned their historic semi-final spot at Tokyo 2020 after a 6-1 loss to the Australians in Rio 2016.

Olympic Channel


---

Hockeyroos' quest to end Olympic medal drought spoiled by quarter-final defeat to India

Emma Kemp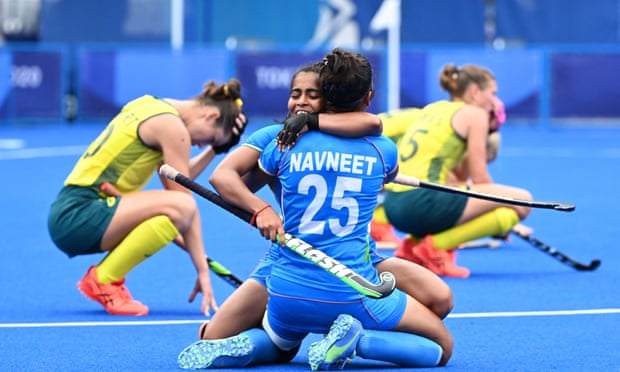 India's Neha and Navneet Kaur celebrate after defeating Australia 1-0 in their Olympic hockey quarter-final. Photograph: Charly Triballeau/AFP/Getty Images

Edwina Bone is used to talking about her team. As the Hockeyroos captain and a veteran of one Olympics and two Commonwealth Games, the practice is routine and rarely one requiring much emotional exertion.

On Monday, though, when asked to speak about her Australian side, she stalled, managed to say, "They're … I'm just really proud of them", and then stepped briefly away from the Channel Seven camera to compose herself before the sobs came.

Bone was stunned, still startled and stupefied by an India team which had just made the semi-finals on mere mettle and in doing so spoiled – yet again – the Hockeyroos' quest for a first Olympic medal since 2000. Five years worth of tears were shed at Oi Hockey Stadium when the full-time horn sounded the end of the road. Tears of both ruin and rapture, as an Australian side still carrying the remnants of the national team program's recent tumult crumpled under expectation and their Indian counterparts watched history blossom before their very eyes.

"It's just a shame to end it this way," Bone said. "We've worked really hard. We've come together as a united group, under a really inspirational leader. Trini [Hockeyroos coach Katrina Powell] showed us the way because she's done it before. It's just a shame that it's over."

India were not supposed to beat Australia. A team ranked ninth in the world and contesting only their third Games do not oust one ranked second with four decades of Olympic experience. But this 1-0 quarter-final was unlike perhaps any other, an upset to rival all women's hockey upsets.

The Hockeyroos had won all five previous matches in Tokyo, conceding a single goal. Twenty-two minutes into this encounter they had shipped their second, as a Gurjit Kaur drag flick bobbled home on 22 minutes. Australia did find their feet in the third quarter but still India frustrated them, held their shape and robbed them of time and space.

Their inability to convert numerous short corners played a large part in the defeat, though Rosie Malone did hit the post after 90 seconds. But it was the work of Savita Punia, the India goalkeeper who saved eight penalty corners and redefined the common definition of "wall".

Australia's exit caps a period of disturbance and disorder in camp which included complaints and ended with the resignation of former coach Paul Gaudoin and an external review that found the sport had a "dysfunctional culture and leadership". Still, the encouraging start in Tokyo under Powell had brimmed with possibility.

"We've had a massive 18 months and our team has had to go through so much stuff off the field that I'm so proud of," Malone said. "It really felt like the way we were playing this was going to all come together at the end for us and make it all worth it.

"There's a lot of excitement for the future of the Hockeyroos and I think we are heading in the right direction with our team and our sport. I know that this will just make all of us even stronger, but right now thinking about waiting another few years to try and chase our dream is a bit hard to swallow.

"It just felt like one of those days where things just weren't really going our way and some of the chances that we got in other games would have gone in."

Five years ago in Rio, India, in their first Olympics appearance since 1980, were winless and finished last. At Tokyo 2020 they will play for a medal for the first time in a semi-final against Argentina.

"I can't believe it ... I knew we could do it but you still have to," said India coach Sjoerd Marijne. "Today the defence was very good and then we got one chance and we made it. I'm very happy for Gurjit because if she doesn't score she gets a lot of comments [from critics]. I kept telling her 'listen, you only need one goal to make a difference in one match' and today she showed it."

The Guardian


---

Chak de! India beat Australia in hockey to reach Semi final of Tokyo Olympics




Rani Rampal led Indian women's hockey team has created history by defeating Australia for the first time in a big tournament and reaching the Semi final of Tokyo Olympics.

There are many quality stories from The Bridge on this game. Here are the headlines and links to those stories
Chak de! India beat Australia in hockey to reach Semi final of Tokyo Olympics
Rani Rampal led Indian women's hockey team has created history by defeating Australia for the first time in a big tournament and reaching the Semi final of Tokyo Olympics.

India rejoices as women's hockey team makes maiden entry into Olympic Semi final

The Indian women's hockey team have made it into the Tokyo Olympics Semi final by beating Australia 1-0

Indian women's hockey team enter Olympic Semi final - Social Media Reactions

The Indian women's hockey team made their way into the Semi final of the Tokyo Olympics, defeating Australia 1-0.

Chak De! India dream turns reality: Rani Rampal & co. defeat Australia in hockey

Sometimes reality overlaps with cinema and magic happens - the Indian Women's Hockey team created history by thrashing Australia and storming into the semi-finals!

Who is the drag-flicker Gurjit Kaur of the Indian women's hockey team?

The girl whose goal scripted history in the history of India women's hockey to enter in the semis at the Olympics

What is the world rank of the Indian women's hockey team?

Indian women's hockey team did the unthinkable by beating Australia in the quarter-finals of Tokyo Olympics. What is their world ranking?

Rani Rampal and co. stun the hockey world one more time - make it to an Olympic Semi final

A brief overview of the significance of the Indian women's hockey team's Semi final entry in Tokyo Olympics

Indian team watched a movie on self-belief before defeating Australia

Indian women's hockey team coach Sjoerd Marijne said that they watched a movie on self-believe to motivate the players for Olympic quarterfinals

Who will the Indian Women's Hockey team face in the semi-finals?

Bringing a surreal dream to reality, the Indian women's hockey team thrashed Australia to book themselves a semi-final spot against Argentina!

India beat Australia: Is it time to honour Sjoerd Marijne with Dronacharya award?

The Indian's women's team created history earlier today when they defeated Australia 1-0 to enter the semifinal of the ongoing 2020 Tokyo Olympics.

Goalkeeper Savita Punia who saved 9 shots against Australia initially didn't like Hockey

Savita made some massive saves as India defeated Australia to reach the Semi final for the first time in Olympics


---

Is Sjoerd Marijne 'Chak de India's' Kabir Khan? Fans compare women's hockey coach to Shah Rukh Khan

India beat Australia 1-0 as they moved into the semis of the Tokyo Olympics.

Chak de India and Sjoerd Marijne



Fans compare Indian women's hockey coach Sjoerd Marijne to Shah Rukh Khan character from Chak de India , Chak de India and Sjoerd Marijne Twitter

As the Indian women's hockey team stunned Australia in the quarter-finals of the ongoing Tokyo Olympics, fans started to compare coach Sjoerd Marijne to the fictional character 'Kabir Khan' portrayed by Shahrukh Khan in the Bollywood movie 'Chak de India'.

India beat Australia 1-0 as they moved into the semis of the Tokyo Olympics. This is the first time that the women's hockey team has reached the semi-finals of the Games.

"Sorry family, I coming again later (sic)," tweeted Marijne alongside a photo with the entire hockey squad.

As soon as he posted the photo on Twitter, fans started comparing him to Kabir Khan and how the reel story transformed into a real story.

"Two people who transformed Indian women's hockey team. Kabir Khan (reel life). Sjoerd Marijne (real life)," tweeted one user.

Many users also shared a GIF of Shahrukh Khan from the movie Chak de India as the entire country continues to marvel at the achievement of the women's hockey side.

In the Bollywood film 'Chak de India', Shahrukh Khan's character 'Kabir Khan' guides the women's team to the world title. In the film, Shahrukh is famous for playing the coach who guides the women's team to the title in the world championship.

The movie is often said to be inspired by the story of former India hockey player Mir Ranjan Negi. But the former goalkeeper and the makers had clarified that it wasn't his story and the makers didn't have an idea about Negi's story when the scripting was done.

In what comes as a historic day and possibly the greatest moment for women's hockey in India, Gurjit Kaur scored the lone goal in the match during the first half through a penalty corner in a very tightly contested match.

Daily News & Analysis


---

India women stun Australia to reach semi-finals for first time in history



India celebrate history after beating the Hockeyroos. PIC: REUTERS/Kim Hong-Ji

Indian hockey was riding the crest of a wave on Monday after the women followed the men into the Olympic semi-finals after one of the Tokyo Games' biggest upsets.


---

India beat Australia 1-0 to reach women's hockey semis for first time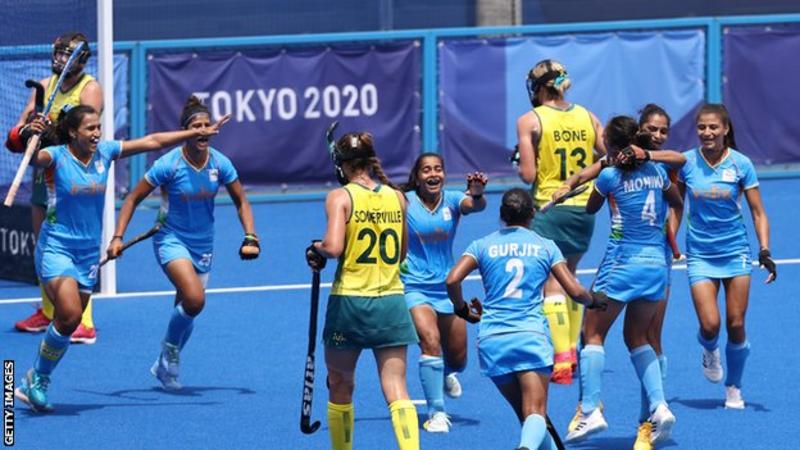 India are competing in the women's hockey tournament at the Olympics for only the third time

India claimed a shock 1-0 win over Australia in the women's hockey to reach the semi-finals for the first time in their Olympic history.

Gurjit Kaur scored in the 22nd minute from a penalty corner to give India the lead against the three-time champions at Oi Hockey Stadium.

India then showed their defensive stubbornness to keep out Australia, who are ranked number two in the world.

They will play Argentina in the semis after their 3-0 victory over Germany.

Agustina Albertarrio and Victoria Granatto scored in the second quarter for Argentina before Valentina Raposo wrapped up the win with a goal in the fourth quarter.

India, whose men's team have also reached the semi-finals, and Argentina will be joined in the last four of the women's event by the winners of quarter-finals between Great Britain and Spain and the Netherlands and New Zealand.

BBC Sport


---

Sjoerd Marijne empowered Indian women's hockey team with self belief, says Harendra Singh

The former India women's team coach credited Marijne for an all-round development of the side.

By Samrat Chakraborty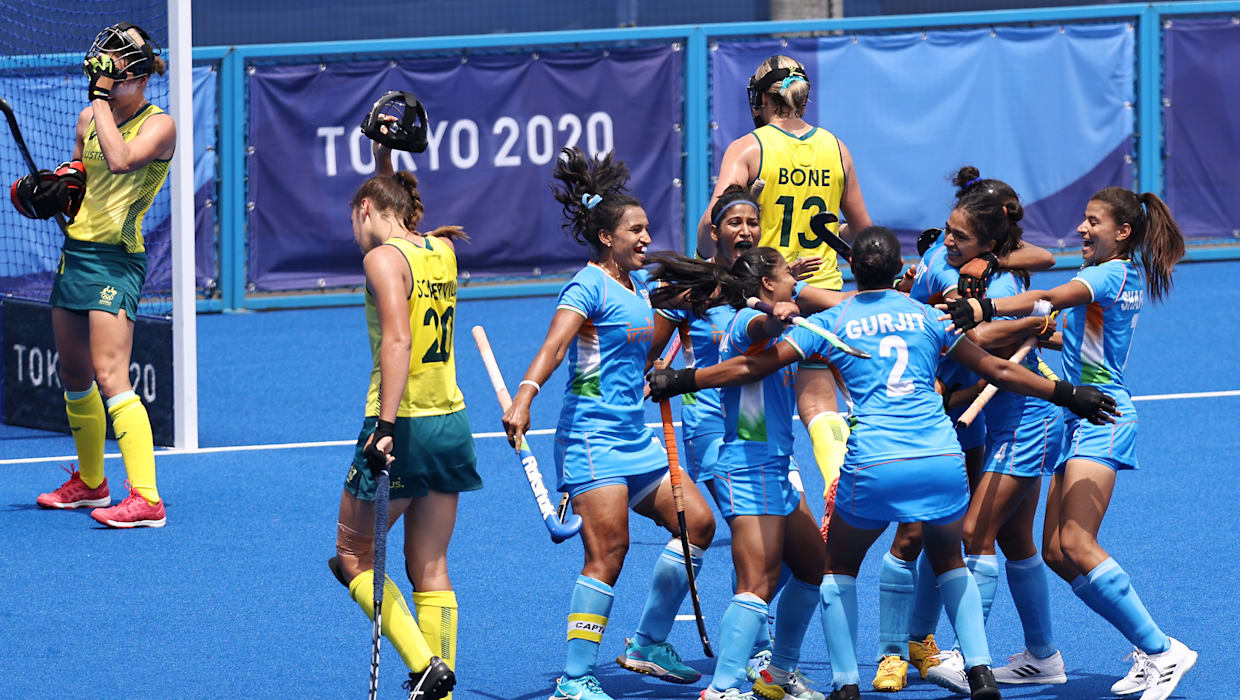 India women's hockey team created history on Monday as they stunned three-time Olympic champions Australia 1-0 to enter their first Olympic semi-finals in Tokyo 2020. Drag-flicker Gurjit Kaur converted India's lone penalty corner in the 22nd minute into a goal and that turned out to be the difference between both sides.

It is under Dutch coach Sjoerd Marijne that the India women's hockey team recorded the historic feat. Taking over as the head coach of the team in 2017, the 47-year-old has instilled a champion's mentality into the side by working on the mindset of the players.

Former India women's team coach Harendra Singh, who led the side to a gold medal-win at the 2017 Women's Hockey Asia Cup, credited the Dutchman for empowering them with self-belief and the all-round development.

He also had a special mention about the team's lead scientific advisor (athletic performance), Wayne Lombard, who has worked closely on the players' strength and conditioning.

"Sjoerd (Marijne) has worked really hard with the team in every department, a huge congratulations to him. He empowered and gave self belief to these girls. Credit goes to Sjoerd," Harendra told Olympics.com

"Of course no one is talking about Wayne Lombard, he has a huge influence and he is the man who brought the fitness level on par with any team in the world," he added.

After taking the slender advantage in the 22nd minute, the Indian eves stood firm and defied their Australian counterparts. Harendra credited their defensive abilities for the thrilling victory.

"Playing full press against Australia, did not allow their midfield to receive the ball. Plus, it put too much pressure on the ball carrier, which was key in today's match. Excellent defending right from striker to goalkeeper," Harendra said.

"This team has every skill in modern hockey. They have been together since 2016 and playing as a unit. They understand each other plus they have very good understanding off and on the pitch," he added.

Harendra, who has worked closely with striker Vandana Katariya during his stint, reiterated that she is a fighter besides applauding veteran goalkeeper Savita Punia for using her experience and standing 'like a wall' throughout the match.

"Vandana (Katariya) is a fighter and a huge motivator on and off the pitch. She deserves an Olympic medal on her neck," Harendra said.

"She (Savita) is a cool customer like PR Sreejesh (India men's team goalkeeper). She knows how to deliver and in today's match she was solid in interception and clearance. She almost stopped two sure goals which was the turning point of India," he added.

Olympic Channel


---

'Nothing to lose but an Olympic medal to win' - Sjoerd Marijne stands vindicated as India women's hockey team book Tokyo 2020 semifinal berth

The Dutch coach had time and again insisted that the mental fortitude of the squad is exemplary

By Soham Mukherjee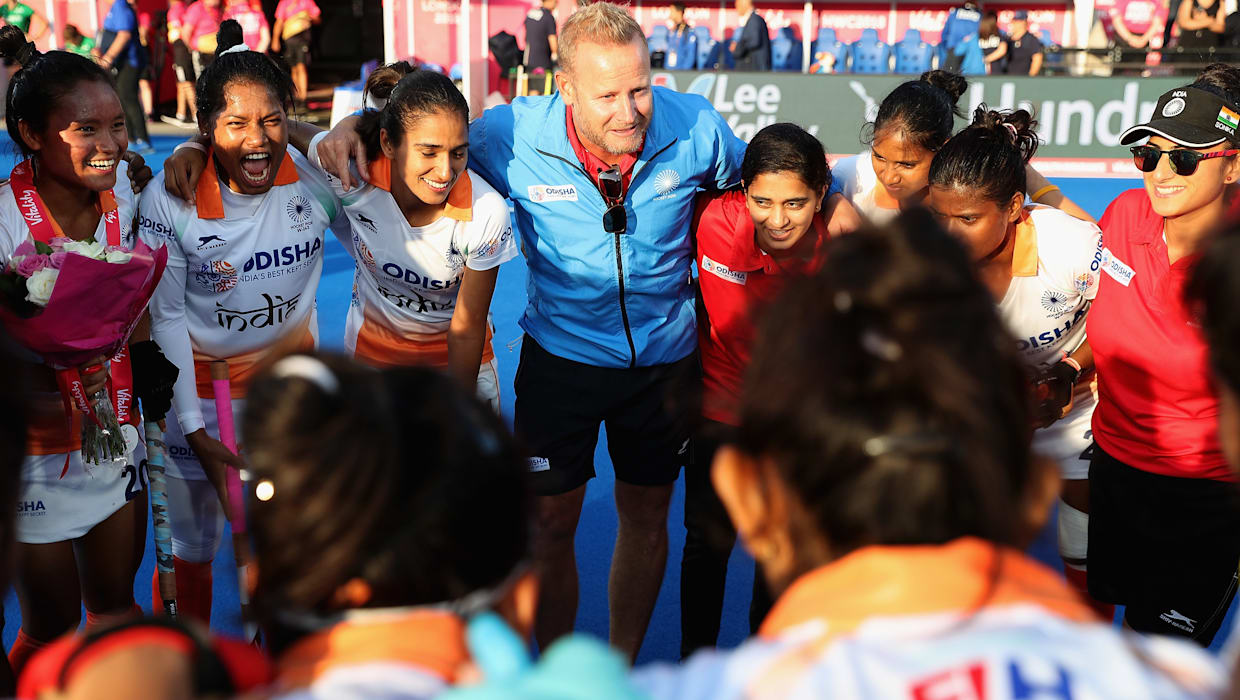 "I am not a scoreboard coach. I believe in performance," Sjoerd Marijne had told Olympics.com after the Indian women's hockey team returned winless in their two exposure trips in the run-up to Tokyo 2020 where they took on hockey powerhouses like Argentina and Germany.

India lost their first match against Germany 5-0. Yet he believed that the scoreline did not do justice to their performance on the pitch. He chose to focus on the positives and did not bother much about the scoreboard. The mantra was to play their natural game. The mentality of the team had changed and when in possession, this team would not just pass the ball around but would look for circle penetrations even if that left them vulnerable at the back.

Marijne also made it a point to give game time to all the squad members so that before the Olympics, the girls get to know what it takes to play against higher-ranked sides.

"We went to Argentina with 25 players and there were not many who didn't play. I think it was really good there. In tournaments, you have to pick your best players and many don't get an opportunity. These players had got good exposure over there and for me, it was more important that these players got to play than winning those matches."

And on Monday morning, the 47-year-old stands vindicated as the Indian team shocked World No.2 Australia 1-0 in the quarterfinals to ensure themselves a spot in the last four in the ongoing Tokyo 2020 Olympics - for the first time in their history.

It is never easy to turn around results in a high-pressure tournament like the Olympics, especially after getting off to a disastrous start against the Netherlands in the opener (5-1 loss). They had earned not a single penalty corner and had just nine circle penetrations compared to 23 for their opponents.

However, as the tournament progressed, the Indian eves started to blossom slowly and steadily. They had already against played the tougher opponents in Germany and Great Britain and in the last two matches, they needed to step up against lower-ranked sides to pick up two wins and progress to the knockouts. And Marijne's troops did not disappoint.

They registered consecutive victories over Ireland and South Africa and gained much-needed confidence before facing Australia. Against the Hockeyroos, they were not intimidated and they looked like a team with a plan.

"Playing full press against Australia with not allowing their midfield to received the ball plus putting too much pressure on ball carrier was key of the today match," stated Harendra Singh, former India coach.

In the fourth quarter, when Australia were firing on all cylinders in their bid to come back in the game, the Indian team defended like a unit, and yet showed no signs of panic. They were calm, composed, collected, and played fearlessly under pressure.

Marijne showed his belief in the squad and rotated the players frequently making 93 substitutions in total so that there were fresh legs on the pitch to keep up the momentum of the press.

With three consecutive victories in the bag, this team has tasted blood and will once again go for the kill in the semifinals against Argentina. And if they can churn out another performance like this, impossible is nothing.

They have nothing to lose but an Olympic medal to win.

Olympic Channel


---

The pressure is all on the Netherlands tonight says Charlton




Black Sticks vice-captain Sam Charlton says they have the ability to be really dogged against world no.1 the Netherlands in tonight's Olympic quarterfinal.

While the experienced defender with 261 caps for her country is under no illusion how tough the Dutch will be, they know they can defend like "absolute mongrels".

"We have the ability to be really dogged. We know we're not going to dominate the game for large periods but I think if we can be really diligent with the opportunities we get in the attacking circle and then defend like absolute mongrels … that's the attitude we're going in with."

While a number of the Black Sticks haven't faced the World Cup winners, Charlton knows they've always had tight matches with the Netherlands – losing the last two in 2019 by just one goal.

"We've actually had a lot of close games. We know they've been the no.1 team in the world for a long time now but it does mean that the pressure is on them. We have to use that to our advantage and play with no fear and no expectation."

Charlton said the 3-2 loss to China on Saturday was a game that everyone felt didn't do the black dress proud.

"We all went back and watched the entire game straight away to figure out where it all went wrong. While it's important to debrief and take the learnings from that, in a tournament format you have to put games to bed really quickly."

While tonight's match could be the last for a number in the team contemplating retirement, she said former Black Stick player and coach Katie Glynn (now part of the Great Britain coaching team) had once told them they should play every game like it's your last.

"It's something you can't really think about too much. And we often talk about playing every game like it's your last as you never know when your last game is going to be – whether it's your choice through retirement or through injury or non-selection."

And if tonight's quarterfinal goes to a shootout like the heart-breaking 2012 Olympic semifinal against the Dutch, Charlton says they'll be ready.

"We had a fear around shootouts because we hadn't won one but when you have someone in goal like Grace (O'Hanlon) and you know she can stop two, three, four if not five of those shootouts then we know we're in with a really good shot."

Official Blacksticks site


---

Preview: Spain v Great Britain (W)




The knockout stages of the Tokyo Olympics are here, with Great Britain's women gearing up for their quarter-final match on Monday 2 August.

They'll face a Spain side that has impressed at the Tokyo Games and finished second in their pool with several solid displays.

When is the match being played?

The sides meet on Monday 2 August at 13:00 BST.

How can I follow the game?

The game will be streamed live on Discovery+ and potentially shown on BBC iPlayer/Red Button as well – we will know more information closer to pushback. You can also keep up to date with live text updates on our dedicated Match Centre by clicking here.

How have the teams fared at Tokyo 2020 so far?

Spain advanced to the quarter-finals after finishing second in their pool with three victories from five matches.

It was a tough start to the competition for Spain who suffered back-to-back defeats to Australia and Argentina. The team responded well with three consecutive victories to finish ahead of Las Leonas on goal difference.

Great Britain clinched third place in their group, similarly to Spain, earning nine points with three victories.

Despite finishing third in their group, GB were only narrowly defeated by one goal by both Germany and The Netherlands, and responded well to get the points they needed to progress.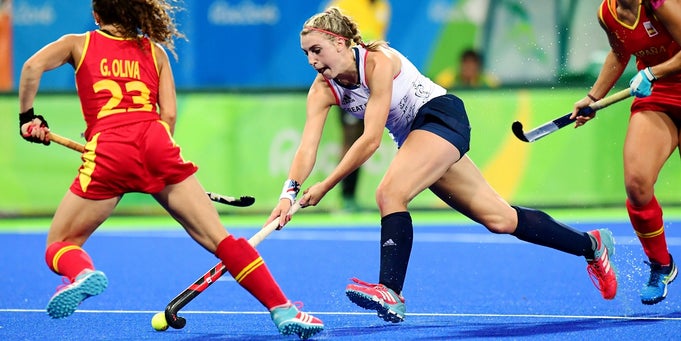 Lily Owsley dribbles with the ball in GB's 3-1 victory over Spain in the quarter-finals at the 2016 Olympics. Photo credit: World Sport Pics

How do the teams match up in their Olympic history?

Matches between these two sides have been few and far between. There have only been three meetings at the Olympics between GB and Spain, the first of which coming in 1996 when nothing could separate the teams as it finished 2-2.

Spain made their first Olympic appearance in 1992, it was to be a special debut Games for the side who took gold with a 2-1 win over Germany in the final, GB taking bronze in that competition. This remains Spain's only medal in women's Olympic hockey.

As well as the one draw, GB have taken victory in two of the three previous Olympic meetings with Spain yet to record a victory. The most recent of these meetings came in the quarter-finals at Rio 2016 where goals from Georgie Twigg, Helen Richardson-Walsh, and Lily Owsley secured GB at 3-1 victory on their way to gold.

Did you know that a huge forest fire broke out on the hills overlooking the hockey centre two hours before the start of the match at Rio 2016!

What does the recent history look like?

Great Britain and Spain haven't met during this Olympic cycle, meaning that the most recent meeting between the sides was in the quarter-finals at Rio - Monday's meeting coming at the same stage of the Tokyo Games.

Thank you to The Hockey Museum for their help in sourcing these stats.

Great Britain Hockey media release


---

Scotland men's squad announced for EuroHockey Championship II




Derek Forsyth has announced his Scotland men's squad for Eurohockey Championship II to be held in Gniezno, Poland from 11th – 22nd August.

Scotland is aiming to gain a return to the top tier of international hockey while securing a place in the World Cup qualifiers in August.

The Blue Sticks will feature in Pool B alongside Austria, Ukraine and Switzerland. Pool A features Ireland, Italy, Poland and Croatia.

The Scots will get their campaign underway against Ukraine before taking on Austria on day two. After a rest day Scotland will play Switzerland before the latter stages of the tournament.

The squad sees the return of goal-machine Alan Forsyth, fresh from Tokyo, and will see Robbie Croll, Rob Field and Andy McConnell play their first international tournaments in the blue of Scotland. Dan Coultas and Hamish Imrie will both play their first international tournament for Scotland since 2016.

Squad

Tommy Alexander (Uhlenhorst)
Michael Bremner (Uhlenhorst)
Andy Bull (Old Georgians)
Gavin Byers (Grobflottbeker)
Murray Collins (Teddington)
Dan Coultas (Watsonians)
Robbie Croll (Edinburgh University)
Rob Field (Holcombe)
David Forrester (Grange)
Alan Forsyth (HGC)
Cammy Golden (Uhlenhorst)
Ed Greaves (Teddington)
Rob Harwood (Western Wildcats)
Hamish Imrie (Royal Antwerp)
Lee Morton (Old Georgians)
Callum Mackenzie (Wimbledon)
Andy McConnell (Western Wildcats)
Robbie Shepherdson (Grange)

Travelling Reserves

Hamish Galt (Western Wildcats)
Struan Walker (Club an der Alster)

Scottish Hockey Union media release