All the news for Wednesday 28 July 2021
2020 Olympic Games - Day 6

Tokyo (JPN)

All times GMT +9

Men

28 Jul 2021 18:30    JPN v ESP (Pool A)
28 Jul 2021 18:30    AUS v NZL (Pool A)

29 Jul 2021 09:30    IND v EARG (Pool A)
29 Jul 2021 10:00    BEL v CAN (Pool B)
29 Jul 2021 11:45    RSA v GER (Pool B)
29 Jul 2021 12:15    NED v GBR  (Pool B)

Pool Standings

Pool A
| Rank | Team | Played | Wins | Draws | Losses | Goals For | Goals Against | Goal Difference | Points |
| --- | --- | --- | --- | --- | --- | --- | --- | --- | --- |
| 1 | Australia | 3 | 3 | 0 | 0 | 17 | 6 | 11 | 9 |
| 2 | India | 3 | 2 | 0 | 1 | 7 | 9 | -2 | 6 |
| 3 | New Zealand | 3 | 1 | 1 | 1 | 8 | 8 | 0 | 4 |
| 4 | Argentina | 3 | 1 | 1 | 1 | 5 | 7 | -2 | 4 |
| 5 | Japan | 3 | 0 | 1 | 2 | 6 | 9 | -3 | 1 |
| 6 | Spain | 3 | 0 | 1 | 2 | 4 | 8 | -4 | 1 |
Pool B
Women

28 Jul 2021     NED v IRSA (Pool A)    5 - 0
28 Jul 2021     GBR v IND (Pool A      4 - 1
28 Jul 2021     NZL v ESP (Pool B)     1 - 2
28Jul 2021     GER v IRL (Pool A)     4 - 2
28 Jul 2021 18:30    JPN v AUS (Pool B)
28 Jul 2021 19:00    ARG v CHN (Pool B)  

29 Jul 2021 18:30    ESP v CHN (Pool B)
29 Jul 2021 19:00    GBR v NED (Pool A)
29 Jul 2021 20:45    JPN v ARG (Pool B)
29 Jul 2021 21:15    NZL v AUS (Pool B)

Pool Standings

Pool A
Pool B
| Rank | Team | Played | Wins | Draws | Losses | Goals For | Goals Against | Goal Difference | Points |
| --- | --- | --- | --- | --- | --- | --- | --- | --- | --- |
| 1 | Australia | 2 | 2 | 0 | 0 | 9 | 1 | 8 | 6 |
| 2 | New Zealand | 3 | 2 | 0 | 1 | 6 | 3 | 3 | 6 |
| 3 | Argentina | 2 | 1 | 0 | 1 | 3 | 3 | 0 | 3 |
| 4 | Spain | 3 | 1 | 0 | 2 | 3 | 7 | -4 | 3 |
| 5 | China | 2 | 1 | 0 | 1 | 4 | 9 | -5 | 3 |
| 6 | Japan | 2 | 0 | 0 | 2 | 6 | 6 | -2 | 0 |
---

 Amit Rohidas completes 100 senior international caps for India

Defender Amit Rohidas completed 100 senior international caps for the Indian men's Hockey team. He achieved the milestone when India took on Spain in their third match of the Tokyo Olympics.



Amit Rohidas, Indian men's hockey team

Defender Amit Rohidas completed 100 senior international caps for the Indian men's Hockey team on Tuesday. He achieved the milestone when India took on Spain in their third match of the Tokyo Olympics.

Rohidas, who hails from Saunamara village in Balisankra block of Odisha's Sundargarh district, the same village as three-time Olympian and former India Captain Dilip Tirkey, made his India debut at the Sultan Azlan Shah Cup 2013 in Malaysia.

He was part of the team that won the Silver Medal at the 2013 Asia Cup and was also named as the Vice-Captain of the junior national team for the 2013 FIH Junior Men's Hockey World Cup held in New Delhi.

The 28-year-old defender also got a chance to feature at the 2014 Hockey Men's World League Final, but couldn't cement his place in the team.

However, after having proved his valour with his defensive duties in the 2017 Hockey India League, Amit finally made his comeback to the national side on the Belgium tour and since then there has been no looking back for this defender, who has become an integral part of the team.

Having achieved the milestone of 100 senior International Caps for India, Amit expressed, "It's a great moment for me and my family. I cannot express my joy enough to be able to play in my 100th senior International Match for India in an event like the Olympics. We are currently on a special mission, I want to give my everything to the team and make our fans proud back home."

A product of Panposh Sports Hostel Rourkela, Amit was part of the Indian team that won the Gold Medal at Hero Asia Cup 2017, Bronze Medal at the Odisha Hockey World League Final Bhubaneswar 2017,

He was part of the Silver Medal-winning team at the FIH Men's Champions Trophy 2018 and FIH Men's Series Finals Bhubaneswar Odisha 2019, where the team won the event. A preferred first-rusher in PC defending for India, Amit also featured in the Odisha Hockey Men's World Cup Bhubaneswar 2018.

Congratulating the 28-year-old defender on completing 100 senior International Caps, Hockey India President Gyanendro Ningombam said, "I would like to congratulate Amit Rohidas on completing 100 senior International Caps for the country. He has developed well through the ranks and made himself an integral part of the Indian team.

"He is known as a fearless first-rusher in PC defences and that's what makes him one of the key players for India in defence. I wish him the best for the future, and hope to see him do well with the Indian team at the ongoing Tokyo Olympics 2020," he added.

Meanwhile, following a 1-7 loss against Australia, the Indian Men's Hockey Team bounced back in style as they outclassed Spain 3-0 in their third match of the Tokyo Olympics on Tuesday.

It was Rupinder Pal Singh (15', 51') and Simranjeet Singh (14') who scored for India while PR Sreejesh ensured a clean sheet to bring India's Olympics campaign back on track.

Business Standard


---

Japan's Tanaka Kenta is a 'real samurai'




TOKYO — Surely the three points will arrive during these Games for the hosts as Japan men kept their Olympic quarter-final chances alive with a 2-2 draw against New Zealand on Tuesday, writes Richard Bright.


---

Goals galore as Belgium triumph

The South African and Belgian Hockey men came to battle at Oi Hockey Stadium on Tuesday evening with very different experiences of the tournament so far. The Belgians had defeated Germany and Netherlands already, while the South Africans had tasted two defeats so far, despite contesting manfully.

The African champions could not have wished for a worse start as just four minutes in the World Champions struck first. The South Africans showed heart though and Dayaan Cassiem scored a sensational solo goal to pull things level. Showing no lingering impact of missing the chance against the Dutch. The next ten minutes though were a display of efficient and clinical hockey from the best team in the world.

Hendrickx, Briels, van Doren and Dohmen with a second turned the knife into the chest of the South Africans with ruthless slugging out to emerge at the end of the first quarter with a 5-1 lead. You may have been forgiven if you thought the game would then turn into a rugby score, but the credit must be given to the South Africans who chose to stare the mighty Belgium in the face and keep plugging and continue to confront their much-fancied opposition.

Belgian got the opening goal of the second quarter before Mustapha Cassiem pulled one back with a delightful tomahawk passed the worlds best keeper Vanasche. As the South Africans tried to gain a foothole in the game Gougnard added a 7th for Belgium, but just before half time Bili Ntuli made it 2-2 for the quarter. 7-3 at the half time break.

The third quarter saw Dayaan Cassiem cement his name as one of the most sought-after talents in world hockey with another wonderfully taken goal. Club sides around the world would have taken note of that ability and targeting a summer signing of our hitman.

Understandably in the Tokyo heat the final chukka failed to match up with the quality of the opening three as the frenetic pace reached its conclusion and the game finished off with a goalless quarter.

South Africa now head into the next game against Germany with belief they can cause an upset, but with determination to make the country proud.

SA Hockey Association media release


---

Festival of goals and victory for Belgium against South Africa




The Belgium Red Lions dominated South Africa 9-4 in their third game of the men's hockey tournament, in Group B on Tuesday at the Tokyo Olympics


---

Game of Inches – Canada drops heartbreaker 4-2 to Netherlands

Canada pushes European champs to the brink in round three thriller




It was a nightmare start for the Canadians, as goals off the sticks of Billy Bakker and Thierry Brinkman made the score 2-0 in the first five minutes of the game.

Canada, coming off a momentum building, albeit heartbreaking, loss to Great Britain, took the pitch this evening with ideas of taking aim at the European champs, and had hopes of three points and a win.

After the initial onslaught from the Dutch, Canada responded well, turning away a few key chances and creating a few of their own. In the 10th minute, Canadian forward Jamie Wallace breathed some air back into the Red Caribou's tires. Brenden Bissett and Wallace made a nice little exchange in the Dutch end resulting in a circle entry and loose ball, which Wallace pounced on and made good from in-tight.

The goal marked the first Olympic tally and 14th international goal of the young Vancouverite's career, but more importantly, it put Canada right back in the game. After the match, Wallace spoke about how Canada has been opportunistic in their chances but need to generate more offense to be able to consistently compete with these top nations.

"We knew they are a good team, we knew they were going to possess the ball for the most part, so when we got our chances, we had to make the most of them. And I think we did that tonight," Wallace said. "We didn't get many circle entries and at the end it just wasn't enough."



Canada takes on Netherlands in round three action in Tokyo. Photos/Yan Huckendubler

From that moment on, the game felt like an even affair. Despite surrendering more chances, Antoni Kindler stood tall in the Canadian net, blanking the Dutch on their penalty corner efforts. Canada may not have carried the possession in the game, but they pressed the Dutch hard on both sides of the ball. Captain Scott Tupper said it was in the game plan to frustrate Holland and force them to stray from their game.

"Without the ball, we wanted to disturb them and interrupt the natural flow of their game," Tupper said. "Being able to kill that flow a bit, got them at times frustrated. It allowed us to be in the game with two minutes to go. It was right there for us, that was our opportunity, but unfortunately we couldn't close at the end there."

The game remained 2-1 until the late stages. Joep de Mol carried the ball down the right side and into the circle and caught everyone by surprise as he blasted a crossing attempt right on goal. The shot handcuffed Kindler and wound up in the Canadian net. The 50th-minute goal looked like it could have spelled death for the Canadians but giving up isn't in this team's DNA.

Three minutes later, Canada earned a penalty corner. With Johnston, Canada's primary PC shooter, on the bench, captain Scott Tupper stepped into the spotlight. It was an all-time classic exchange between Mark Pearson and Tupper. The three-time Olympians showed their experience and poise as they linked up on a backdoor deflection set piece, Pearson getting the final touch, tipping the ball top corner.

Trailing by one at the 55-minute mark, Canada pulled Kindler from the net in favour of another field player. Despite a last-ditch attempt, Canada once again found themselves on the wrong end of a tight-scoring affair. The Dutch added a final minute empty-netter to seal the deal. And although Canada pressured the European champs to the bitter end, once again, it wasn't enough.

Canadian defender, John Smythe already has eyes moving forward. The tall task is ahead of them, but the team knows exactly what they need to do.

"It's not over. We have two more games, and we have six points to get, to push us into the quarters," Smythe said.  "We're going to hit the reset button. We have a rest day tomorrow, let's get recovered and we're going to focus on the next game and see if we can get six points."

Canada takes on Belgium, the reigning world champions and European bronze medallists in their next game.

Field Hockey Canada media release


---

Orange wins with difficulty but shows signs of slight recovery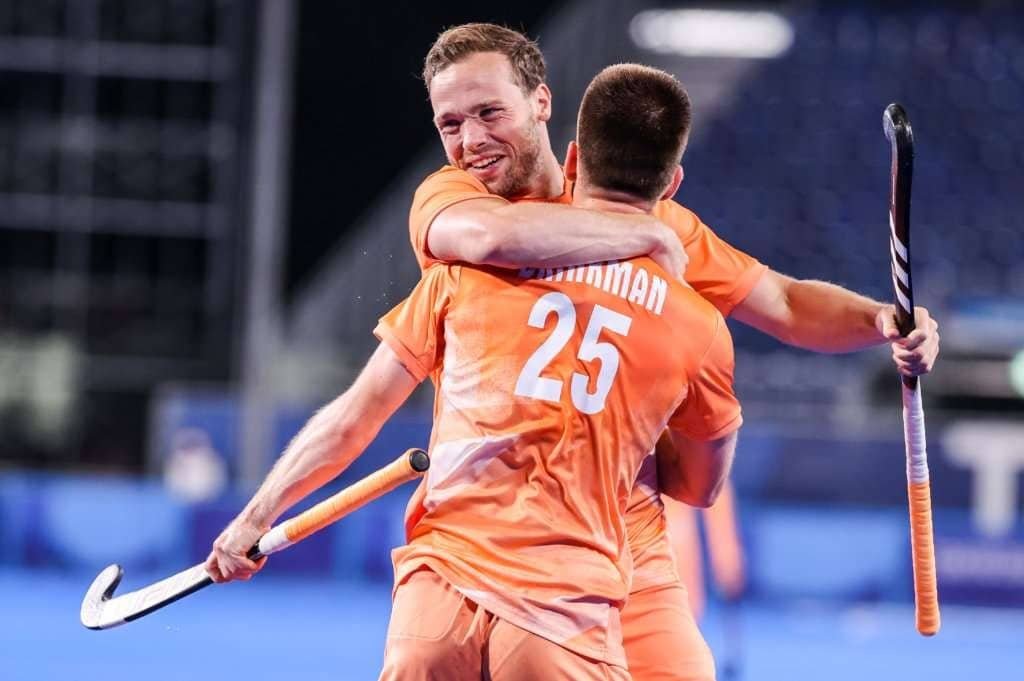 The Dutch team showed the first slight signs of recovery against Canada on Tuesday evening at the so far poor Olympic hockey tournament in Tokyo. The team of national coach Max Caldas again did not play great, but nevertheless won 4-2 against the number ten in the world. Because of the victory, the Orange is almost certain of a place in the quarterfinals.


---

Netherlands, Britain breeze to wins in women's hockey in Tokyo

The Netherlands secured an easy victory over South Africa in hot, blustery conditions at the Tokyo Olympics on Wednesday, while Britain defeated India and Spain won even as their head coach Adrian Lock remained in Covid-19 quarantine.

The Dutch women's team led by a goal at halftime, striker Frederique Matla having scored after picking up a pass by Lidewij Welten from the left side of the striking circle.

The Dutch side motored through the second half, netting a further four goals in a comfortable 5-0 win. The in-form Dutch women remain undefeated in Tokyo, scoring a total of 14 goals and conceding only one in their three matches so far.

"There are always areas every game where we can improve," said Eva de Goede, playing her fourth Olympics in Tokyo.

"We scored a lot of goals but if you consider the number of opportunities we created, it's actually not that many ... Penalty corners can also be handled better."

With temperatures rising as the game progressed, officials had extended the break time between the third and fourth quarters to four minutes from the usual two to give both sides ample opportunity to cool down.

Spain secured their first triumph of the Tokyo Olympics following a tense match with New Zealand, beating the Black Sticks 2-1.

The Spanish team, whose head coach Adrian Lock was following the game remotely https://www.reuters.com/lifestyle/sports/hockey-spains-womens-coach-lock-confined-hotel-after-positive-covid-test-2021-07-28 after going into quarantine for Covid-19, led 2-0 at halftime, and managed to retain their lead in the second half as their opponents stepped up the pressure.

Spanish captain Maria Lopez Garcia said the team's first win at these Olympics was important, and the side celebrated by taking a team picture on the pitch after the match.

"Now we have more confidence than before," Lopez Garcia said. "It's a step (up) for the rest of the games."

Elsewhere, Germany won 4-2 against Ireland, while 2016 Rio gold medallists Britain beat India 4-1.

Following an early goal by playmaker Hannah Martin, the Indian squad pulled level with their opponents before falling behind in the 19th minute when Martin bagged her second.

The British team ran out comfortable winners in the end, scoring twice more in the second half.

"Momentum's key," Martin said. "As a squad, we are hoping to take this momentum forward into the Dutch game tomorrow."

Supersport


---

Mbande shines, but Netherlands still victorious

The South African Women knew they would be up against it as they took on the World and European Champions Netherlands in Tokyo this morning. Playing the morning game for the first time would also throw in the small matter of heat for the young South Africa side to contend with.

One player who seemed to use the heat to inspire her own performance was South African flag bearer Phumelela Mbande who, on her 50th cap, produced one of her finest performances. The South African shot stopper stood firm for 15 penalty corners, only conceding on 2.  And although she conceded 5 goals, she made a remarkable 18 saves in a performance that embodies the South African grit and determination.

Netherlands opened the scoring through the devastating Matla early in the second chukka after a goalless first quarter. The timing of the goal would have been disappointing after such a good first quarter, but the South Africans continued their focused approach and found themselves still only one goal down at the break.

The work and pressure were starting to tell on the South Africans and in the third quarter they added 2 more goals that made the game safe. Matla scoring with a mishit that caught Mbande off guard and Keetels added one more before the break.

South Africa were determined to keep the score line down and showed some great working in cleaning up the rebounds and clearing the efforts, while offering good support to Mbande when she made a save. Mbande was pulling off her own masterclass, with the highlight a remarkable stick save from a Matla drag flick.

But with time running out Alyson Annan's team made it comfortable with two more goals. Albers and Verschoor the goalscorers as the gap between the teams was extended to 5-0. That is how the game would end. Netherlands continues their march to a potential gold medal, while the South Africans will now prepare for the game against European Championship silver medallists Germany on Friday

SA Hockey Association media release


---

Super Showing As GB's Women Top India 4-1




Great Britain's women secured a crucial 4-1 victory over India that edges them closer to qualification from Pool A.

It was the perfect start as Hannah Martin's effort from close range put the team ahead with just two minutes on the clock, before the forward bagged her brace mid-way through the second quarter with a superb finish.

Though India battled back with a goal of their own, Lily Owsley's strike restored GB's two-goal advantage and kept the team in the driver's seat.

India were still creating chances, but resolute defensive work, and a late goal from Grace Balsdon would ensure GB grabbed the three points with a 4-1 victory.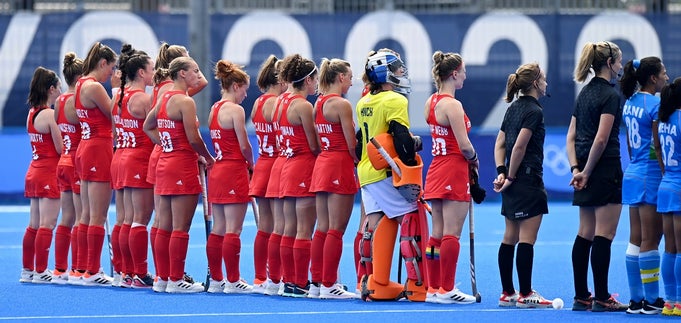 Great Britain's women surged to a 4-1 victory over India in their third match of Pool A at the Tokyo Olympics. Credit: World Sport Pics

Great Britain got off to the perfect start. Shona McCallin rifled a shot on goal only to see it saved into the path of Martin, who reacted fastest to tuck the ball into the net from close range.

The team were looking good during the early exchanges and enjoyed the bulk of the possession, with several circle entries. Martin was again causing problems when she drove down the wing and pulled the ball back to the well-positioned Sarah Robertson, however the forward was unable to connect with the opportunity.

It was the second quarter of the match that really saw the game roar into life. Just two minutes after the restart, Martin bagged her second of the day with a deadly finish. Having seen Sarah Jones' strike rebound into her path, Martin picked up the ball on the edge of the circle and rifled the ball through the legs of the 'keeper with a lethal shot on the reverse to double the lead.

The two-goal cushion didn't last long though. India finding a way through with a neat penalty corner routine that saw Sharmila Devi deflect the ball in from close range to close the gap to 2-1.

Having brought one back just before half-time, India looked determined to restore parity after the interval. Just a minute into the second-half, India secured three consecutive penalty corners, impressive work from Maddie Hinch in goal and a brave charge down from Fiona Crackles repelling the danger.

GB responded well to the pressure and quickly got the ball back up the other end of the field. Hollie Pearne-Webb's goal bound slap forcing a save to prevent Great Britain from making it three.

However, there was nothing India could do just minutes later when the ball fell kindly to Lily Owsley. The forward, who had won the initial penalty corner from which the opportunity was carved, looked calm and composed as she placed it neatly in the corner of the goal to put GB 3-1 to the good.

The match continued to present chances for both sides. Hinch booting the ball away again as India looked to respond before Owsley raced up the other end only to see her driven shot saved.

The three points were guaranteed three minutes from time when Great Britain earned a penalty stroke following good attacking play. Grace Balsdon stepped up and delivered a precise strike that whistled in off the post to put GB 4-1 up with little time remaining.

That result means it's back-to-back victories for Great Britain's women who now have six points from three games at Tokyo 2020. Next up, they face The Netherlands at 11:00 BST on Thursday 29 July.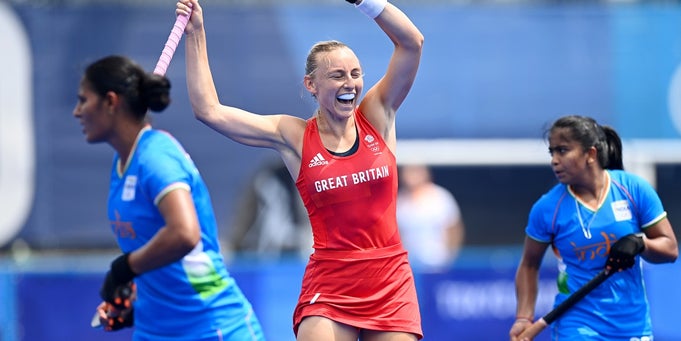 Hannah Martin bagged an important brace to help the team to victory. Credit: World Sport Pics

After the match, Hannah Martin commented: "I'm really pleased with the result and the performance. I think that back-to-back win is vital for us moving forward in the Pool, so we're really happy with the game and the performance.

"It's nice to get on the scoresheet, especially nice and early to settle a few nerves. I'm really pleased with the team performance, we put in a great performance out there and got the three points. It's great to get on the scoresheet, but it's a team game and it's all about the three points.

"I had fractured fibula and a bit of an ankle injury too, which ruled me out of the recent Europeans, so it was a bit touch and go to make it here. Luckily, I proved my fitness to be able to make it. I was absolutely gutted to miss out on the Euros but did absolutely everything I could to come out to Tokyo, so I'm really happy to be here."

Great Britain 4 (2)

Martin (2', FG & 19', FG), Owsley (41', FG), Balsdon (57', PS)

India 1 (1)

Devi (23', PC)

Starting XI: Hinch (GK), Unsworth, Toman, Martin, Townsend, Robertson, Rayer, Ansley, Pearne-Webb (C), McCallin, Owsley

Subs: Jones, Petter, Wilkinson, Crackles, Balsdon

Great Britain Hockey media release


---

Great Britain dent India's hopes with comprehensive win

S2H Team




Defending champions Great Britain scored a deserved 4-1 victory over India to enhance their chances of qualifying for the quarterfinals from Pool A in women's Olympic hockey match at Tokyo's Oi stadium on Wednesday.

It was Great Britain's second successive win after their opening match defeat to Germany and boosted their chances of booking a quarterfinal spot from the six-team pool.

For India, a third straight defeat brings enormous pressure to win the last two pool matches against South Africa and Ireland to hold any chance of making the quarterfinals. A look back at the encounter would reveal the familiar tale of spurning opportunities by India including seven penalty corners, just one of which led to a goal.

Hannah Martin's brace put Great Britain 2-0 ahead with goals in the first two quarters. India showed promise while pulling a goal back through injector Sharmila Devi's diving one-handed deflection of Gurjit Kaur's penalty corner attempt before half-time.

But Great Britain took the match away when Lily Owsley, a Rio 2016 gold medallist, made it 3-1 late in the third quarter before a penalty stroke by Grace Bladson settled it three minutes from time.

With India appearing lethargic, Hannah struck her first with the match in the second minute after Shona McCallin's initial attempt from top of the circle took a deflection.

Her second goal came early in the second quarter when she found the boards through the Savita's pads, capitalizing on a rebound after Sarah Jones first attempted to score from top of the circle.

The Rio gold medallists came roaring back with a goal by Owsley as the third quarter drew to a close. It followed a penalty corner and a lost referral for dangerous play.

It was a moment packed with a rash of reverses for India. Salima Tete was shown a yellow card for the foul that fetched the award and after the ball went in following the ensuing penalty corner, Rani's referral for dangerous play was turned down.

Another yellow card to Navjot Kaur early in the fourth and final quarter deepened the crisis.

India, however, attempted to make a match of it and Vandana Katariya's back-hander drew star goalkeeper Maddie Hinch to a fine save.

Great Britain put the match to bed when Baldson pushed to Savita's left from the dreaded spot after Owsley's shot at goal during a penalty corner found Sushila's body in front of an open goal.

Stick2Hockey.com


---

Indian women's hockey team lose third straight match as Great Britain win group game 4-1

Sharmila Devi was India's lone goal scorer while Hannah Martin (2), Lily Owsley and Grace Balsdon contributed for defending champions Great Britain.

By Ritu Sejwal



Picture by Getty Images

The Indian women's hockey team failed to convert its chances to lose 4-1 to defending Olympic champions Great Britain in its Pool A match at the Oi Hockey Stadium on Wednesday.

This is the Indian team's third consecutive defeat in as many outings at Tokyo 2020.

Hannah Martin (2), Lily Owsley and Grace Balsdon contributed for Great Britain while Sharmila Devi's goal was the only silver lining for India.

Led by Hollie Pearne-Webb, Great Britain needed only 75 seconds to find an opening when Shona McCallin took a straight shot from the circle. It was brilliantly saved by Indian goalkeeper Savita Punia, but Hannah Martin deflected the rebound to score the first goal.

Great Britain largely kept the ball in possession and got their first penalty corner in the 10th minute but keeper Savita Punia blocked. The Indian women then gave away two successive penalty corners in the 12th minute to end the first quarter trailing 1-0.

Great Britain caught the Indians off guard at the beginning of the second quarter when Shona McCallin took a shot, which was saved by Savita, but Hannah Martin collected the rebound again to extend the lead in the 19th minute.

Despite trailing 2-0, the Indian women didn't lose hope and captain Rani Rampal came close in the 22nd minute. It was in the 23rd minute that a successful penalty corner variation from Gurjit Kaur and a final touch from Sharmila Devi got India's first breakthrough.

The Indians had an opportunity to equalise in the 27th minute but couldn't capitalise on the penalty corner.

In the third quarter, the Indian women's hockey team dominated and managed to up its attack with three successive penalty corners but failed to convert. Soon enough, Great Britain launched a counter to get a penalty, but the scoreline remained unchanged.

The quarter featured some high-intensity action as both teams continued to launch attacks. India captain Rani Rampal initiated a counter in the 37th minute, resulting in a penalty corner. This was India's fourth penalty of the quarter and seventh in the match.

Great Britain extended their lead to 3-1 in the 41st minute. India saved a penalty but lost ball possession with Lily Owsley collecting a pass from Shona McCallin to get the goal.

Indian forwards Vandana Kataria and Monika opened their chances but were mostly outnumbered by the British defenders.

Two successive penalty corners to Britain in the 57th minute resulted in a penalty stroke and Grace Balsdon extended the lead to 4-1.

India, earlier, lost to world No. 1 the Netherlands (5-1) and world No. 2 Germany (2-0).

The Indian women's hockey team is currently fifth in the Pool A standings without any points ahead of South Africa by goal difference.

India will take on world No. 7 Ireland on Friday next.

Olympic Channel


---

Great Britain women's hockey team sweep aside India and Germany beat Ireland

Great Britain women's hockey team continued the defence of their Olympic title with a convincing 4-1 victory against India in pool A.

Hannah Martin opened the scoring in the first minute and doubled her tally with a backhand shot in the second quarter.

Sharmila Devi pulled a goal back for India but Lily Owsley netted from close range to restore Britain's cushion.

In the closing stages Grace Balsdon stepped up to convert a penalty stroke into the top left corner.

The victory temporarily moved Britain into second in the pool but they have now moved down into third following Germany's 4-2 win over Ireland.

Lisa Altenburg scored twice with Cecile Pieper grabbing the other as the Germans built a commanding lead in the match.

Elena Tice pulled one back in the third quarter and Hannah McLoughlin fired past Germany goalkeeper Julia Sonntag to give Ireland hope in the final minutes.

However, Germany were too strong and Franzisca Hauke added a fourth before the final buzzer - despite a lengthy video review where Ireland claimed keeper Ayeisha McFerran was obstructed in the build-up.

The defeat sees Ireland stay fourth in pool A, while Germany are now level with leaders the Netherlands on nine points.

Great Britain's Tokyo 2020 campaign got off to a poor start last Sunday with a 2-1 defeat against Germany.

The Rio 2016 gold medallists got themselves back on track with a 4-1 win against South Africa.

They face the Netherlands on Thursday, while Ireland play India on Friday.

The top four teams from each of the two groups of six progress to the knockout stage.

BBC Sport


---

India loses 1-4 to Great Britain in women's hockey

India wasted several chances as Hannah Martin, Lily Owsley and Grace Balsdon scored for Great Britain to hand the defending champion its second consecutive win in Pool A.

Shyam Vasudevan



Great Britain's Hannah Martin (C) celebrates after scoring against India in a women's pool A Tokyo 2020 match at the Oi Hockey Stadium.   -  AFP

The Indian women's hockey team slumped to its third successive loss as defending champion Great Britain cruised to a commanding 4-1 win in their Pool A game at the Oi Hockey Stadium on Wednesday.

India needed at least a point to better its chances of progressing to the quarterfinals, but the loss means it's now an all or nothing situation for Sjoerd Marijne's team -- it has to win the remaining games against Ireland and South Africa and hope the Irish don't beat the British in the final group match to help it finish in the fourth spot.

The top four teams from each group will advance to the last-eight stage. Great Britain got off to a dream start as Hannah Martin scored just 73 seconds into the game. The early setback served as a rude jolt for the Indians, who regrouped well but were simply outplayed.

The British fielded a watertight defence and offered the Indians little to no room. Playing an aggressive high press, they choked Rani Rampal's side for space and shut out any chances in the penalty circle. Martin struck again in the 19th minute to double her side's lead.

She fought off a challenge from a defender before twisting and squeezing her shot into the back of the goal. The Indians responded sharply four minutes later when Gurjit Kaur's drag-flick off a penalty corner was turned in by Sharmila Devi.

Marijne's half-time talk made a difference as the Indians seized control in the opening minutes of the third quarter. The side won three successive penalty corners but found no way past the defence.  

Lily Owsley restored Britain's two-goal cushion in the 41st as she scooped the ball past Savita Punia and Grace Balsdon converted a penalty stroke, three minutes from time.

Britain is now placed third in the standings, while India is fifth, above South Africa, on goal difference. The Indian women will next be in action on Friday when they face Ireland.

Sportstar


---

Misfiring India lose 1-4 to Great Britain; register 3rd straight loss in Olympic women's hockey

India now will have to win their remaining two matches to have any chance of qualifying for knockout stage



Monika Malik of India in action as they defend at Oi Hockey Stadium in Tokyo, Japan on July 28, 2021 REUTERS

The Indian women's hockey team wasted chances galore to lose 1-4 against defending champions Great Britain here on Wednesday, its third consecutive preliminary stage defeat which reduces the side's chances of qualifying for the Olympic quarterfinals.

The Indians were guilty of wasting opportunities in their first two games and the trend continued on Wednesday at the Oi Hockey Stadium as Great Britain punished them through strikes from Hannah Martin (2nd and 19th minute), Lily Owsley (41st minute) and Grace Balsdon (57th minute).

This Great Britain's second consecutive win in Pool A.

For India, Sharmila Devi scored the lone goal in the 23rd minute.

The Indians needed at least a point from this game to be safe but they now will have to win their remaining two matches to have any chance of qualifying for the knockout stage.

India had earlier lost 1-5 to world no.1 the Netherlands before slumping to a 0-2 defeat against Germany. Rani Rampal's side will next play Ireland on Friday.

Despite the score-line, it was a close match between world no.11 India and world no.5 Britain.

The difference between the two teams was that India had the better share of chances but Great Britain utilised more opportunities that came their way.

India secured as many as eight penalty corners in the match but converted just one. Great Britain too didn't have great success rate from set pieces as they found the net just once from the six they earned.

Great Britain started aggressively and put the Indian defence under pressure from the word go.

The title-holders didn't let the Indians settle down with a second minute goal by Martin, which caught the Indian defence off guard.

Great Britain kept up the pressure and had the first penalty corner in the 10th minute which was saved by India custodian Savita.

The Indians slowly settled down and penetrated the Great Britain circle on more than one occasion but, as has been the case, the forward-line lacked the finishing touch.

India earned their first real scoring chance in the 12th minute with back-to-back penalty corners but dragflicker Gurjit Kaur was not upto the mark.

The Indians were guilty of giving too much space to Great Britain inside their half and the defending champions capitalised on their opponents mistake four minutes into the second quarter when Martin scored her second goal with a reverse hit after Savita denied Sarah Jones with the initial try.

India too had their moments in the match and from their third penalty corner, Sharmila to pulled one back for her side.

Sharmila nicely deflected in Gurjit's flick as India executed a great routine to reduce the gap.

The goal pumped up the Indians as they mounted attacks in numbers thereafter and managed to secure another penalty corner minutes later but wasted the chance.

Seconds from half time, Sharmila was denied by Great Britain goalkeeper Madeleine Hinch as India went into the breather trailing 1-3.

The Indians came out attacking in the third quarter and enjoyed the better share of possession. They earned three more penalty corners in succession just a minute after resumption but wasted all.

A minute later, Great Britain got a penalty corner but Savita came to India's rescue.

India got another set piece in the third quarter but the result was same.

Great Britain punished India soon when Owsley scored from the team's third penalty corner.

It was a contentious goal as India asked for referral citing a dangerous ball, which seemed to be the case in TV replays, but the TV umpire didn't find any justification to change the decision.

The third goal broke India's momentum as Great Britain enjoyed the lion's share of possession in the final quarter and in the process secured two more penalty corners, the second of which resulted in a stroke and Balsdon made no mistake in drawing the final nail in India's coffin.

The Tribune


---

'Bad decisions, worst match': Indian women's hockey coach Marijne livid after 3rd straight loss at Olympics

Flays players for failing to raise their game in crucial match



Indian players react after conceding a goal during a Pool A match against defending champions Great Britain at the Oi Hockey Stadium in Tokyo, Japan, on July 28, 2021. Reuters

A livid Indian women's hockey team coach Sjoerd Marijne on Wednesday described the 1-4 loss to Great Britain as his side's "worst match" at the ongoing Olympics and lambasted the players for failing to raise their game in the crucial match.

Marijne didn't mince words in criticising his players after India wasted several chances to suffer their third consecutive defeat in Pool A, which reduces their quarterfinal chances.

"This was our worst match. We always try to play for a six (out of 10) for each individual, and I don't think each individual today played for a six. Bad decisions, bad choices and I'm pretty disappointed by this," the Dutchman said after the match.

"The goal was too early, but the individual performances just weren't good enough. I can keep analysing what went wrong tactically, but it starts with every individual reaching their level and that didn't happen today."    India had earlier lost 1-5 to world no.1 the Netherlands before slumping to a 0-2 defeat against Germany.

Rani Rampal's side will next play Ireland on Friday.

The Indians needed at least a point from this game to be safe but they now will have to win their remaining two matches against Ireland and South Africa to harbour any hopes of qualifying for the knockout stage.

Despite the setback, Marijne Insisted that they still have a chance of progressing to the knockout round and asked his players to introspect.

"We still have chances. There are still six points to get and that can be enough for the quarters. That's what we're all about, that's our goal and that's what I said to the girls," the coach said.

"But they (players) really need to think how can this happen that our individual level went so down."

The Tribune


---

Black Sticks women stifled by Spain




The Black Sticks women have suffered their first loss at the Tokyo Olympics going down 2-1 to a Spanish side who were desperate for a win.

The loss to the previously winless Spanish leaves the Black Sticks still fighting to confirm a quarterfinals spot when they meet top-of-the-table Australia late tomorrow night.

The Kiwis had earlier collected two wins in Tokyo with a 2-1 victory over Japan and a 3-0 upset against world no. 2 Argentina but were upstaged today by a Spanish team that connected better and made a lot less errors than New Zealand did.

Black Sticks captain Stacey Michelsen said it felt like they lacked a bit of energy today.

"We love to play fast-paced hockey and we just held the ball a bit too long at the back and didn't play forward often enough. If we'd done that we would have been able to get around Spain with our speed."

Michelsen was also disappointed they hadn't picked up crucial points against Spain to secure a quarterfinals spot and avoid the likes of world no.1 the Netherlands in the play-offs.

"Coming off two wins it was disappointing not to get the three points today which would have set us up nicely. We just weren't clinical enough in the attacking or defensive circles."

Today the Black Sticks rested Tarryn Davey due to a slight groin niggle, with Taranaki striker Holly Pearson coming into the match day squad.

The Spanish opened the scoring in the Pool B match with a very questionable goal from Belen Iglesias Marcos that appeared to hit a Spanish foot in the circle in the lead up. Even a referral to the video umpire wasn't able to right the wrong, and Spain were 1-0 up after six minutes.

Spain were dominant in the second quarter and added to their lead midway through the spell with a penalty corner drag flick that unfortunately went in off a defender giving keeper Grace O'Hanlon no chance of making a save.

The teams went into the break with Spain 2-0 ahead, but it only took five minutes of the third quarter for the Black Sticks to get on the board in the match. Elizabeth Thompson made a nice entry into the circle, delivered it to Kelsey Smith and her cross was then tapped in by a defender.

Despite a one-on-one opportunity for Julia King early in the fourth quarter that was thwarted by the Spanish goalkeeper, the Spanish held on their slim 2-1 lead until the final whistle.

Spain 2 (Belen Iglesias Marcos 6 min, Lola Riera Zuzuarregui 22 min) New Zealand 1 (Kelsey Smith 35 min). Halftime: 2-0 Spain

New Zealand Women: Ella Gunson, Stacey Michelsen – captain (Northland); Stephanie Dickins (North Harbour); Katie Doar, Julia King, Grace O'Hanlon (GK), Elizabeth Thompson (Auckland); Samantha Charlton, Frances Davies, Rose Keddell (Tauranga); Holly Pearson, Hope Ralph (Taranaki); Olivia Shannon (Manawatu); Megan Hull (Wairarapa); Kelsey Smith (Nelson); Olivia Merry (Canterbury).

Next up the Black Sticks play trans-Tasman rivals Australia in the early hours of Friday morning (12.15am NZ time) followed by their final pool game against China on Saturday.

Official Blacksticks site


---

Black Sticks women suffer first tournament loss, to Spain



New Zealand's Liz Thompson passes against Spain's Belen Iglesias in their pool match. John Locher/AP

New Zealand's Black Sticks women suffered their first hockey defeat of these Olympic Games, losing 2-1 to Spain on Wednesday.

A sluggish first half cost the New Zealanders who trailed 2-0 at the main break to an impressive Spanish side, before Kelsey Smith struck back with a 35th-minute goal.

Playing in white for the first time this tournament in the intense heat, the Black Sticks had the better of the second half but could not convert their chances.

A penalty corner with 1min 30sec remaining – just their second of the match – gave Olivia Merry a chance to level the scores but her shot was blocked.

New Zealand, ranked sixth, made a stunning start by beating Argentina 3-0 and Japan 2-1, while world No 7 Spain were winless after conceding six goals against Australia and Argentina.

Next up in pool B for the Black Sticks are arch-rivals Australia early on Friday (12.15am NZ time), with the top-four sides from the group to qualify for the quarterfinals.

The loss relegated New Zealand to second in pool B behind their trans-Tasman neighbours.

Spain looked clearly the better side in the first half and had 10 shots on goal to the Black Sticks' three. Their first goal in the sixth minute saw Belen Iglesias dispossess Megan Hull, who looked to have saved a goal, and slot home from close range.



Black Sticks player Megan Hull sends one long against Spain. Alexander Hassenstein/Getty Images

Then Spain converted a penalty corner to double their lead in the 22nd minute, with defender Stephanie Dickins unlucky to have the ball deflect off her arm.

Near-misses from Rose Keddell and Hope Ralph late in the half kept them scoreless at the main break.

Players kept cool on the sideline by dipping their arms in ice baths, with misting fans and wet towels also providing relief from the heat.

New Zealand were much livelier in the second half and, five minutes in, Smith charged into the circle and slotted home off a Spanish defender.

Long, accurate passing put the Black Sticks on attack and gave them chances but Spain's defence was solid. Julia King had a one on one with the goalkeeper well saved and the Black Sticks' first penalty corner was not awarded until the 53rd minute.

They started to get desperate in search of the draw and from another penalty corner, Merry had her chance with 90sec left but her shot was blocked and it was game over.

AT A GLANCE

Olympics women's hockey, pool B:

Spain 2 (Belen Iglesias 6, Lola Riera 22) Black Sticks 1 (Kelsey Smith 35). HT: 2-0.

Stuff


---

Black Sticks women hit big snag in 'listless' defeat to Spain

By Dylan Cleaver

New Zealand's women's hockey campaign has hit a speed bump, following a disappointing loss to Spain at the Oi Hockey Stadium.

Disjointed and listless for most of the match, New Zealand only sprang to life in the final quarter but despite having the bulk of possession they created precious few chances and squandered those they did.

It was well into the fourth quarter before the Black Sticks forced a penalty corner and they did not come close to converting the two they eventually were awarded.

Neither goalkeeper was particularly taxed in a match that lacked sparkle.

Spain came into the match winless, New Zealand unbeaten, but it never looked like a top-v-bottom encounter.

The Black Sticks conceded a soft goal after five minutes. They appeared to have safely negotiated a Spanish circle penetration but Megan Hull tried to dribble out of trouble, was dispossessed and Belen Iglesias Marcos had the simple task of slotting past Grace O'Hanlon into the corner.

The mistake was multiplied when New Zealand used and lost a referral on the play, though they might feel aggrieved that more time wasn't spent checking to see whether the ball had brushed a Spanish hand in the lead-up.

The lead was doubled early in the second quarter when Lola Riera converted the Spaniards' fourth penalty corner, with the drag flick taking a wicked deflection to leave O'Hanlon stranded.

The goal finally seemed to spark a response in the listless New Zealanders, with Rose Keddell missing a gilt-edged opportunity to reduce the lead when she dragged a shot wide. Hope Ralph shot straight at keeper Maria Ruiz Castillo.

New Zealand started the second half in much brighter fashion, no doubt with the lilting words of coach Graham Shaw ringing in their ears.

After five minutes, some nice work from Kelsey Smith saw her team on the board. She was credited with the goal but in truth, she was looking to cross for Olivia Merry and a Spanish defender put the ball into her own goal.

That was it for the scoring.

The Black Sticks remain second in Pool B, behind Australia, though Argentina can join them on six points if they win their third match.

New Zealand has pool matches against their transtasman neighbours tomorrow and China on Saturday before the knockout rounds commence.

SPAIN 2
NEW ZEALAND 1

Spain (B Iglesias Marcos, L Riera), New Zealand (K Smith). Halftime: 2-0.

The New Zealand Herald


---

Big Irish comeback just held at bay by Germany



Ireland players huddle after the women's pool A group stage match between Germany and Ireland. Photo by Brendan Moran/Sportsfile

Ireland produced a big second half comeback but were just held at bay by Germany, setting up a showdown on Friday with India where a victory would likely bring a quarter-final spot.

In a match packed full of incident, Germany – recently installed at second in the world – led 3-0 early in the second courtesy of a double from Lisa Altenburg and one from Cecile Pieper.

But two corner strikes from Lena Tice and Hannah McLoughlin had the Green Army right back in the mix going into the closing stages before a contentious Francisca Hauke goal settled the tie.

"Games against Germany are always quite physical and they're quite fun too, so I think we enjoyed that game," Chloe Watkins reflected.

"I think 4-2 is probably not really a fair reflection, we probably deserved a point if I'm honest. One or two things didn't go our way but I think we played really well, we came up to it, they're world number 3 and I think it was a really good battle, we matched them in a lot of areas."




"We could have rolled over in the fourth quarter and let them come in but we didn't. We fought hard and we knew goal difference is really important. They were really good goals, really well worked and it just showed our fighting spirit to give us confidence going into the next game."

Germany went in front in the 10th minute in brilliant fashion. Anne Schröder wriggled out of danger and then lifted a long ball into the path of Lisa Altenburg about 40 metres from goal with open space to attack. She threw it out onto her backhand and shot early by the out-stretched boot of Ayeisha McFerran.

The Green Army responded well, drawing a couple of penalty corners, the latter of which wreaked havoc when Róisín Upton's drag-flick half-saved by Julia Sonntag; Hannah Matthews' batted it back into the danger zone but the German defence rallied well.

The lead was double in the 20th minute when Kira Horn cracked in an inviting cross which Cecile Pieper got in front of her marker and applied a deft finish.

It remained that way into the second half which opened with an exchange of cards, Amelie Wortmann first to depart on a green, Anna O'Flanagan following her for a harsh 10-minute yellow when she was deemed to have gone to ground dangerously.

Germany initially capitalised from the player advantage, earning a stroke from a video review when McLoughlin's foot was deemed to have stopped the ball en route to goal.




Charlotte Stapenhorst was the only German player to call for the review, her team mates actively telling her not to bother but it proved a wise decision in the end. Altenburg converted the stroke.

Ireland rallied, though, and were buoyed when Tice got them on the board from a penalty corner sweep with 18 minutes to go. It set up a rousing closing quarter in which Sarah Hawkshaw's mazy run, a Zara Malseed snap-shot and a series of penalty corners came.

And Hannah McLoughlin arrowed in her first international goal from an accurate corner sweep, pegging it back to 3-2 with 10 minutes still to play.

The result was ultimately settled, though, when Pieper and Altenburg combined to get the ball into the path of Franzisca Hauke who flicked home. Ireland called for video where it looked like McFerran was impeded but the decision again went against the Green Army and the goal stood.

There was still time for Malseed to have a goal disallowed for back stick in the dying moments. Nonetheless, there was plenty to take from the tie for Ireland against the European silver medalists to carry into the key tie with India.

Ireland sit fourth in the group with two games to go with four teams advancing to the quarter-finals. India fell 4-1 to Great Britain to leave them with three losses on their record and targeting the Irish game as one they need to win to keep their tournament hopes alive.

"India have strong elimination skills, the ability to crash the ball [direct] is something they are well known for," is coach Sean Dancer's assessment of that encounter. "Understanding their structure but also willing to front up well and I think we match up nicely against them. We will try and get on the front foot and punish them any way we can.

"We knew the Dutch and German games would be difficult and probably take care of themselves. I suppose the hard work starts now – we always knew India and GB would be where the tournament gets really interesting and we have to step up and is the main challenge."

Women's Olympic Games
Ireland 2 (L Tice, H McLoughlin) Germany 4 (L Altenburg 2, C Pieper, F Hauke)

Ireland: A McFerran, S McAuley, H McLoughlin, R Upton, L Tice, C Watkins, K Mullan, A O'Flanagan, S Hawkshaw, D Duke, Z Malseed
Subs: S McCay, H Matthews, L Holden, M Carey, N Daly

Germany: J Sonntag, K Horn, A Wortmann, S Oruz, A Schröder, L Altenburg, F Hauke, C Pieper, P Maertens, V Huse
Subs: C Stapenhorst, S Zimmerman, P Heinz, J Fleschutz, H Granitzki

Umpires: S Wilson (GBR), M Joubert (RSA)

Irish Hockey Association media release


---

Hockeyroos learn from stablemates, while Kookas wary of Anzac clash




THE Hockeyroos have learned from stablemates the Kookaburras to expect the unexpected when they take on host nation Japan in their third Pool match at Oi Hockey Stadium.

Rising to the occasion, Japan proved themselves as a nation not to be underestimated in the men's tournament scoring three quick goals to put the Aussie team under pressure, and the women are expected to do the same.

Hockeyroos Head coach Katrina Powell said the host nation sounded a warning to the hockey world in their match against the Kookaburras.  

"They are a really excitable team," Powell said of the Japanese women.

"They're fast and you can lose track of them easily; they are a good leading team.  

"Japan at home in the conditions, they are going to be really tough to beat."

The Japanese women earned the right to compete at the Olympics, not just due to being the host nation, but by winning the 2018 Asian Games.

Already they have proved themselves in this tournament with strong performances despite losing to both against China (3-4) and New Zealand (2-1).




Japan and Australia have played 60 internationals with the Hockeyroos boasting 42 wins, but it is the nine draws including one at the Tokyo Test Event in 2019 that have the Australians on notice.

Later in the night, the Kookaburras take on New Zealand, with head coach Colin Batch warning familiarity could be a curse when it comes to his side's penultimate Pool match.

The ANZAC nations have relied solely on each other for pre-Olympic match practice due to COVID border closures, and while Australia has notched six straight wins, they won't be underestimating their Kiwi rivals.

In what is a replay of the 2018 Commonwealth Games gold medal match, Australia goes into this match with top billing after three straight wins, while New Zealand secured a win against Spain (4-3), draw with Japan (2-2) and loss to India (3-2).  

History is on the Kookaburras' side too. The Kookaburras have lost just 19 of the 151 matches they have played against the Kiwis but it is their disciplined and well-structured play that has the Aussies on notice.




Batch knows the Black Sticks culture well having coached the team between 2012-2016. He was on the verge of taking them to the semi-finals at the Rio Olympics, but the Kiwis conceded three goals in the final four minutes of the game to lose 3-2 to Germany.  

"We've had six wins, but we feel they (New Zealand) are probably holding something back," Batch said.

"They are a good side. They have had some good tournament play; you only need to look back to the Commonwealth Games where they had what I think was their most consistent tournament.

"We played them in the Final and we only won 2-0; they can't be underestimated."

While the Kookaburras have dominated Pool A of this Olympic tournament to date, they will need to accelerate their dominance earlier in the match when it comes to the knockout stage.

Hockey Australia media release


---

Siblings in rivalry, Hayward brothers from Australia, New Zealand

Brothers have played together at the Olympics from the days of Dhyan Chand and Roop Singh, who represented India in the 1932 and 1936 Olympics

There are 26 sets of siblings participating in the Tokyo Olympics. The United States has seven sets of siblings in their 613-strong contingent -- brother-brother, sister-sister, and brother-sister. Great Britain has nine while Netherlands, Croatia, Austria, and Spain too have such combinations. Some of them will also be competing against each other -- especially individual competitions.

But brothers Leon and Jeremy Hayward are different from all of them. They are representing different countries at the Tokyo Olympics.

The Hayward brothers will square off when Australia meet New Zealand in a men's Group A match on Wednesday.

And they will definitely come face-to-face especially during a penalty corner for Australia because Jeremy is the Kookaburras' main short-corner expert while Leon, three years elder to him, is New Zealand's goalkeeper.

Both Leon and Jeremy were born in Australia and represented Australia in age-group hockey. Leon made his debut for Australia in the test series against India in 2014. He also represented Australia in the Sultan Azlan Shah Memorial Hockey Tournament in Malaysia in 2015.

However, when he did not get selected for the national team for the next four years, Leon Hayward decided to move to New Zealand. He was eligible to represent them as his mother Ellie is of New Zealand descent.

Leon made his New Zealand debut in 2019 in a test series against Japan.

Meanwhile, Jeremy Hayward became a key member of the Australian team and was a member of the 2014 World Cup-winning squad.

The siblings had faced off in June this year when the trans-Tasman rivals played four matches including the FIH Pro League. Their parents had visited New Zealand to watch the brothers face off for the first time.

"I've actually asked them [who they'll be supporting] a couple of times and they said they weren't sure. But I let them know they'll be wearing a black shirt during the games," Leon had told the local media at that time.

Australia won all those matches and Jeremy had the bragging rights.

But when the two brothers face off at the Tokyo Olympics on Wednesday, their parents will not be there and they will be giving their best to help their team win the match.

Business Standard


---

Great Britain women and Holland set for Rio repeat



Double Team GB scorer Hannah Martin cebrates with Laura Unsworth PIC: REUTERS/Bernadett Szabo

So to Thursday. Speak to any GB player and they will tell you that the Tokyo 2020 squad is vastly different from the Rio 2016 vintage. Creating new stories and all that. After all, five years and plenty of retirements have passed since they beat the Netherlands to Olympic gold.


---

Hockey star Julius shares Olympic experience

Cardboard beds, no fans and living in a bubble

By Charles Baloyi



Robbert Kemperman of the Netherlands in action with Taine Paton of South Africa. Image: Siphiwe Sibeko

Team SA is enjoying itself in a bio-bubble at the Olympic village in Tokyo, Japan, but find it awkward to sleep in beds made of card boxes.

Hockey star Ryan Julius told Sowetan about life in the village via zoom as he shared his Olympic experiences after a five-year absence at the Games.

The hockey men and women's teams did not go to the previous Olympic Games in Rio de Janeiro, Brazil, in 2016.

They are back at the Games. They have since played two games and lost both of them so far in the group stages.

The 22-year-old midfielder said there is barely time to explore the city as they have to stay indoors at all times except when they go to training and to play their matches.

He started playing the game as a goalkeeper at the age of 13 on grass and later switched to a midfield role as an outfield player.

The bubbly athlete described the Olympic Games as weird as athletes cannot support their fellow athletes at the stadiums due to the strict Covid-19 measures.

"The village is world-class, Tokyo has done well to put everything together. There is a competitive vibe and a balance between everything in the Olympic village. The coach allowed us to experience everything and fit in the first three days.

"You can feel the concentration of the athletes and focus, and everyone is here to do the job for their country after the first three days. The beds situation became the talk of the village. There are funny videos circulated regarding the design, structure, and purpose of the beds, and it is always entertaining to see. It's been a light moment here," said Julius.

Team SA is in a bubble and cannot leave the village, and Julius said it is always fun to pick up the trends floating around in the Olympic Stadium at the Tokyo Village.

"We train every day and the weather here is different from home. It is hot, and we play in the heat of the sun. Everyone is wearing a face mask, and in the middle of the table, there is a plastic shield protecting you and the person sitting next to you. We test every day, and if there is a positive test about the opponent, we know about it.

SA lost 1-3 against Great Britain and 3-5 against the Netherlands. They will play their third game against Belgium tomorrow at 11.30am, SA time, at the Oi Hockey in Tokyo.

The Sowetan


---

'Powerless' Rio champion White retires with blast at Great Britain hockey chiefs

By Tom Pilcher



Nicola White ends her international career as a Rio gold medallist

Rio 2016 gold medallist Nicola White announced her international retirement from hockey on Monday night – with an emotional statement surrounding the concussion that forced her to quit.


---

Junior hockey teams get green light for Pan Am qualifiers

by Nigel Simon



Members of the national junior men's hockey team during a training drill at the official re-opening of the refurbished T&T Police Service hockey field at the St James Police Training Barracks Ground, Western Main Road, St James on July 22. Photo: Anthony Harris

T&T's men and women junior hockey teams have been given the go-ahead to compete at next month's Junior Pan American Indoor Hockey Championship in Santiago, Chile from August 21-28.

The Junior Continental Championships will act as the qualification competition for the 2021 Junior World Cups at the end of this year.

The tournament in Chile was originally due to be completed in 2020, however, due to the coronavirus (COVID-19) pandemic, this was not possible in all continents, with the exception of Europe.

In Chile, the seven-team Junior Men's Championship will consist of top-ranked Argentina, USA (4th) and T&T (5th) in Pool A while Brazil, Canada (2nd), Chile (3rd) and Mexico (6th) are in Pool B.

The six-team Junior Women's will see top-seeded Argentina, Canada (4th), and Uruguay (5th), in Pool A while sixth-ranked T&T, Chile (3rd), and USA (2nd), are in Pool B.

Reached for comment, former national men's players, coach of the Junior men's team, Darren Cowie and junior women's coach Dwain Quan Chan both expressed their delight with the decision to send the two teams to the tournament as they have been in training for over a year.

Cowie, who was a member of the senior men's team which was denied a chance to defend its Pan Am Indoor Cup title last month in the USA due to the coronavirus fears among other issues, noted that the junior players have not been mandated to vaccinate.

He said, "We have not been mandated by the T&T Hockey Board or Pan Am Hockey Federation to get vaccinated, but we still have most of the players in the team vaccinated.

"There are still some of them to get their second dose of their vaccines while we also have a few players who are under the age for vaccination."

Quan Chan echoed the views of his former national team-mate saying, "Majority of girls are also vaccinated with the exception with about one or two players who have opted against it, and the players who under the age."

Cowie also pointed out that as part of their requirements by the host country, the players will all have to return negative PCR Test results three days before departure for the tournament and then also subject themselves to being tested on arrival in Santiago, as well as during the length of their stay.

With regards to their preparations, Cowie said, "It's been a difficult one due to the pandemic, but this month has been a lot better for us as we now have the use of the new astro turf surface at the St James Police Barracks Training Ground in St James.

"Before this, we were training on the grass surface at the Diego Martin Sporting Complex, but the astro turf surface has a more truer run of the ball on it and it's much closer to what we will be playing on in Chile.

For the tournament in Chile, the team will be skippered by England-based Teague Marcano of English Championship Division club, Hampstead & Westminster.

According to Cowie, despite Marcano being away from the team for the past few months, he has no doubt he will re-integrate back into the team easily.

He added, "We do a lot of zoom sessions and he (Teague) is heavily involved in them whereby he also gives his input which the guys take on.

"However, our other overseas player, Liam Nieves, the son of former national player, Dean Nieves who now resides in Australia, will be unable to join us.

Cowie explained, "Australia has gone back into lockdowns due to the pandemic and there are a lot of travelling restrictions being placed on their residents, so in discussion with the staff and his parents we decided the best thing at this time was to not include him."

On the women's side, Quan Chan will have no such issues as he is expected to have the services of a trio of USA-based Olton sisters, Saarah, Kaitlyn and Samantha along with Felicia King, all attached to Long Island University.

Both teams will continue training at the St James Police Barracks until their departure on August 15, with the junior men training on Tuesdays (3 pm - 4.30 pm), Thursdays (4.30 - 6.30 pm) and Saturdays (9 am - 11 am) and Sundays (7 am - 9 am) while the junior women train on Mondays (4.30 pm - 6.30 pm), Wednesdays (4.30 pm - 6.30 pm), and Saturdays (7 am - 9 am), and (4.30 pm - 6.30 pm).

The Trinidad Guardian


---

Vale Ian Cochrane




Hockey Australia is saddened to hear of the passing of Mr Ian Cochrane, one of Perth's most respected corporate lawyers and company directors.

Mr Cochrane chaired several prominent companies, including ASX-listed Perenti (formally Ausdrill) and Dacian Gold and private companies including Wright Prospecting and Ardross Group.

Perenti Managing Director Mark Norwell said he remembered Mr Cochrane for his strength and resolve, and his absolute integrity.

He highlighted Mr Cochrane's role in bringing together mining contractors Ausdrill and Barminco to form Perenti.

"That came down to Ian's resolve to bring together two iconic brands in WA mining," Mr Norwell said.

Mr Cochrane also contributed to hockey through Ausdrill's long-running sponsorship of the Hockeyroos.

Hockey WA President Michael Henderson described Mr Cochrane as an amazing person.

"He was passionate and a driving force behind the WA Ballet over many years and equally passionate about sport," Mr Henderson said.

"Hockey in Australia and the Hockeyroos in particular benefited enormously from his support."

He is survived by his wife Rosana, his daughters Kelly and Kate and three grandchildren.

Hockey Australia media releas