All the news for Thursday 29 August 2021
2020 Olympic Games - Day 7
Tokyo (JPN)

All times GMT +9

Men

28 Jul 2021   JPN v ESP (Pool A)   1 - 4 
28 Jul 2021    AUS v NZL (Pool A)   4 - 2

29 Jul 2021    IND v ARG (Pool A)   3 - 1
29 Jul 2021    BEL v CAN (Pool B)    9 - 1
29 Jul 2021    RSA v GER (Pool B)   4 - 3
29 Jul 2021    NED v GBR  (Pool B)   2 - 2

Pool Standings

Pool A
| Rank | Team | Played | Wins | Draws | Losses | Goals For | Goals Against | Goal Difference | Points |
| --- | --- | --- | --- | --- | --- | --- | --- | --- | --- |
| 1 | Australia | 4 | 4 | 0 | 0 | 21 | 8 | 13 | 12 |
| 2 | India | 4 | 3 | 0 | 1 | 10 | 10 | 0 | 9 |
| 3 | Spain | 4 | 1 | 1 | 2 | 8 | 9 | -1 | 4 |
| 4 | New Zealand | 4 | 1 | 1 | 2 | 10 | 12 | -2 | 4 |
| 5 | Argentina | 4 | 1 | 1 | 2 | 6 | 10 | -4 | 4 |
| 6 | Japan | 4 | 0 | 1 | 3 | 7 | 13 | -6 | 1 |
Pool B
Women

28 Jul 2021     NED v IRSA (Pool A)    5 - 0
28 Jul 2021     GBR v IND (Pool A      4 - 1
28 Jul 2021     NZL v ESP (Pool B)     1 - 2
28Jul 2021     GER v IRL (Pool A)     4 - 2
28 Jul 2021    JPN v AUS (Pool B)   0 - 1
28 Jul 2021    ARG v CHN (Pool B)   3 - 2

29 Jul 2021    ESP v CHN (Pool B)   2 - 0
29 Jul 2021   GBR v NED (Pool A)  1 - 0 Q4
29 Jul 2021 20:45    JPN v ARG (Pool B)
29 Jul 2021 21:15    NZL v AUS (Pool B)

Pool Standings

Pool A
Pool B
| Rank | Team | Played | Wins | Draws | Losses | Goals For | Goals Against | Goal Difference | Points |
| --- | --- | --- | --- | --- | --- | --- | --- | --- | --- |
| 1 | Australia | 3 | 3 | 0 | 0 | 10 | 1 | 9 | 9 |
| 2 | New Zealand | 3 | 2 | 0 | 1 | 6 | 3 | 3 | 6 |
| 3 | Argentina | 3 | 2 | 0 | 1 | 6 | 5 | 1 | 6 |
| 4 | Spain | 4 | 2 | 0 | 2 | 5 | 7 | -2 | 6 |
| 5 | China | 4 | 1 | 0 | 3 | 6 | 14 | -6 | 3 |
| 6 | Japan | 3 | 0 | 0 | 2 | 4 | 7 | -3 | 0 |
---

Japan's men's, women's field hockey teams still winless



Japan players react after losing to Spain in a men's field hockey match at the Summer Olympics, on July 28, 2021, in Tokyo, Japan. (AP Photo/John Locher)

TOKYO (AP) -- It was another rough day for Japan's field hockey teams.

The Olympic hosts have had good moments on both the men's and women's sides, but neither has won a match at the Games, and time is running out.

Japan's men lost 4-1 to Spain on Wednesday to likely fall out of contention for a quarterfinal spot. Japan's women dropped a 1-0 decision to No. 4-ranked Australia for their third consecutive one-goal loss.

Japan women's coach Xavier Arnau Creus considered how well Australia had been playing when he assessed his team's result. The Hockeyroos opened the Olympics with two wins and outscored their opponents 9-1.

Arnau Creus also considered the growth on his team.

"Of course the feeling when you lose -- not too good, not so nice," he said. "A long time ago, we started to change a lot of things in this team. In this moment, the team is starting to analyze things well each game, trying to do the system. It's good for us."

The Japan women played dominant defense -- Australia didn't even get a shot off in the first quarter, which ended in a scoreless tie.

Australia threatened in the second quarter, but Japan goalkeeper Sakiyo Asano blocked Kaitlin Nobbs' penalty stroke. The match was scoreless at halftime.

Australia finally broke through with 12 minutes remaining in the third quarter when Madison Fitzpatrick scored on a penalty corner.

Australia's Renee Taylor got a yellow card in the fourth quarter and had to sit for five minutes, but Japan could not take advantage.

"I think the match was very tense from the beginning," Japan midfielder Yukari Mano said. "It's very disappointing that even though we had strong opportunities, we couldn't score. But I'm glad we are able to compete until the end without giving up."

Australia expected a tough match given the circumstances.

"Our focus was that the Japanese were going to come out, without a win yet, and they were just going to come out and throw everything at us," Australia midfielder Edwina Bone said. "We were going to be in for a bit of a scrappy fight of a game, which I think it turned out to be. But at the end of the day we still got the result, so I'm pretty proud of how the girls kind of ground it out."

Japan's women have matches remaining against Argentina and Spain. They need to finish in the top four out of six teams in their pool to reach the quarterfinals.

Japan's men took a 3-1 lead on No. 1 Australia in their Olympic opener before losing 5-3. They followed that with a 2-1 loss to Argentina before scoring their only point in the standings with a 2-all draw with New Zealand on Tuesday.

The team regressed on Wednesday. Xavier Lleonart scored two goals as Spain unleashed 20 shots. Japan only attempted five shots and one field goal, leaving the team with just a remote chance of reaching the quarterfinals.

Manichi


---

Kookaburras grind out gritty win over Black Sticks




The Kookaburras have celebrated defender Matt Dawson's 150th game and secured their best Olympic Pool round results since the 1988 Seoul Olympics after overcoming a dogged New Zealand 4-2.

The Kookaburras top Pool A with a goal tally of 21 – six higher than the next best in the tournament, Belgium.

The world number one ranked Kookaburras took control early in their match against the Black Sticks with a steal by Blake Govers setting up Tim Brand to convert a well-executed flick in the 9th minute.

Not to be outdone, Black Sticks drag flick specialist Kane Russell stunned goalkeeper Andrew Charter with his speed and finesse to equalise off a penalty corner and leave the scores tied 1-1 at quarter time.

Nothing separated the two teams in a scoreless second quarter with the ball possession equal at 50 per cent and circle penetrations similar with 11 (AUS) to 7 (NZL).

Match Details
Kookaburras 4 (Brand 9'/50', Govers 55', Wickham 57')
New Zealand 2 (Russell 13'/58')
@ Oi Hockey Stadium, Tokyo

Kookaburras: 1.Lachlan Sharp, 5.Tom Wickham, 6.Matthew Dawson, 10.Josh Beltz, 11.Eddie Ockenden (c), 12.Jake Whetton, 13.Blake Govers, 15.Josh Simmonds, 16.Tim Howard, 17.Aran Zalewski, 22.Flynn Ogilvie, 23.Daniel Beale, 25.Trent Mitton, 29.Tim Brand, 30.Andrew Charter (gk), 32.Jeremy Hayward

Hockey Australia media release


---

Late Australian goal flurry a killer for Black Sticks




The Kookaburras turned up the intensity in the final quarter with three late goals to comfortably beat the Black Sticks 4-2 in Tokyo early this morning.

The Kiwis had stuck with the world no.2 and Pool A leaders until the 50th minute before Australia went up a gear and added three goals to remain unbeaten in their Olympic campaign.

The Black Sticks are now likely to need some points from their final pool match against Argentina tomorrow night to secure a quarterfinals spot. New Zealand, Spain and Argentina are all sitting on four points chasing the last two play-off spots.

The Black Sticks had previously drawn 2-2 with hosts Japan, collected a 4-3 victory over Spain and a 3-2 loss to India.

Black Stick Kane Russell, who added two more goals today to take his Olympic tally to four, said it was a shame the team couldn't hold on for a draw after keeping an on-fire Kookaburras team to just a solitary goal for those first 50 minutes.

"They're a really classy team and we took a lot of confidence from the pre-Olympic matches with them. It's just a shame we couldn't hold out. I think we ran out of legs in the end there."

Russell praised the team's defensive effort.

"We'd done a lot of work on our press. We had our ways of dealing with them and we also just defended really hard. I think the boys showed a lot of urgency."

Today they were without vice-captain Hugo Inglis, four-time Olympian Shea McAleese and George Muir all with hamstring injuries. Canterbury defender David Brydon came into the match day squad for his first game in Tokyo.

In today's trans-Tasman clash, Australia opened the scoring in the ninth minute with Tim Brand immediately converting a defensive turnover from the Black Sticks into a goal. Russell evened things up just before the quarter break with his trademark penalty corner drag flick.

Despite numerous shots on goal and penalty corners, the score remained at 1-1 going in to the half-time break and through until the last 10 minutes of the game, with Black Sticks goalkeeper Leon Hayward ensuring his team stayed in the match.

In the 50th minute Brand collected his second goal of the match to put the Kookaburras ahead, and then he delivered the second to Blake Govers on the left post to give Australia a 3-1 lead.

A fourth goal to Tom Wickham off a penalty corner rebound put the result beyond doubt, with a late penalty corner goal to Russell merely a consolation.

While the final scorecard won't make happy bedtime reading for the Black Sticks, they will be pleased with their defensive efforts against a confident Australia side who made 21 circle entries, had nine shots on goal and five penalty corners.

Australia 4 (Tim Brand 9 min and 50 min, Blake Govers 55 min, Tom Wickham 57 min)
New Zealand 2 (Kane Russell 13 min and 58 min) Halftime: 1-1

New Zealand Men: Steve Edwards (North Harbour); Leon Hayward (GK), Jared Panchia (Auckland); Nic Woods (Waikato); Sean Findlay, Dylan Thomas (Hawke's Bay); Nick Wilson (Manawatu); Stephen Jenness, Dane Lett, Jacob Smith (Wellington); David Brydon, Sam Lane (Canterbury); Nick Ross, Kane Russell, Blair Tarrant – captain (Otago).

The Black Sticks face defending Olympic champions Argentina tomorrow at 10pm (NZ time) in their final pool match.

Russell added if they can repeat their efforts against Australia they should be take three points tomorrow.

"I think if we play like that against Argentina we should be able to put them away and maybe secure third spot in the pool."

"For one of these teams it could be their last game so everyone will leave everything on the paddock."

Official Blacksticks site


---

Sibling rivalry ends with Australia bragging rights



Jeremy Hayward took family bragging rights against New Zealand PIC: AAP Image/Joe Giddens

TOKYO — There have been some fierce Olympic rivalries down the years, but there was one closer to home on Wednesday as brothers Jeremy and Leon Hayward pitted against one another at Oi Hockey Stadium.


---

Australia score three late goals to overpower Black Sticks men at Tokyo Olympics

Brendon Egan



Kane Russell, right, pictured in a prior game, opened the scoring for New Zealand with a cracking penalty corner. Alexander Hassenstein/Getty Images

Gold medal favourites Australia scored three late goals to subdue a plucky Black Sticks men's side at the Tokyo Olympics.

New Zealand, ranked ninth in the FIH world rankings, matched World No.1 Australia for most of the game before losing 4-2 in their pool match on Thursday (NZ time).

The Black Sticks looked set to gain a memorable draw against the Kookaburras until they scored three quick goals at the start of the fourth quarter to jump ahead 4-1.

Kane Russell pulled back a goal in the closing stages, his second penalty corner strike of the game, in an encouraging performance from New Zealand.

The Black Sticks have one more pool game against Argentina on Friday (10pm NZ time) and depending on other results may need to win that to advance to the quarterfinals.

Australia finally broke through with 10 minutes left through Tim Brand, who netted his second, putting them ahead 2-1. They then struck again quickly through Blake Govers and Tom Wickham to take control of the contest.



Australia's Tim Brand and team-mate Blake Govers celebrate a goal against New Zealand. Alexander Hassenstein/Getty Images

Former Australian goalkeeper Leon Hayward, who switched to representing New Zealand in 2019, after a four-year stand down period, was tremendous in goal, frequently keeping the Kookaburras at bay.

Leon played 13 tests for Australia and his brother Jeremy is a key member of the Kookaburras side.

Hayward denied Jeremy from a penalty corner in the third quarter, making a strong save to deflect the ball onto the inside of the post.



Tim Brand fires Australia into the lead against New Zealand in their pool match at the Olympics. Alexander Hassenstein/Getty Images

The Hayward brothers have a Kiwi mother and were raised in Darwin. They have opposed each other internationally, including in the pre-Olympic warm-up games.

Australia had made a dominant start to the competition, winning their first three games convincingly and scoring 17 goals in the process.

Australia have owned the Black Sticks historically in men's hockey with New Zealand beating their trans-Tasman rivals just twice in the past decade.

In pre-Olympic warm-up games in June, Australia won all six tests against the Kiwis in Palmerston North and Perth.

There were ominous signs early for New Zealand with the Kookaburras opening the scoring after just nine minutes.

Govers stripped the ball from Russell and made a lively run into the circle, finding Brand, who made no mistake in front of goal.

New Zealand were on level terms late in the first quarter with Russell making amends. From their first penalty corner of the game, Russell delivered a pinpoint penalty corner, firing the ball into the top left corner of the net.

It was the third goal in Tokyo for Russell, who also netted in their opening two games against India and Spain.

The goal lifted New Zealand, who finished the first quarter strongly, earning two further penalty corners, only to be denied by Australian goalkeeper Andrew Charter.

After being under early pressure, New Zealand were able to cause problems for Australia and frustrate them on defence.

Australia, who are so ruthless at the set piece, converting seven of 20 penalty corners so far at the Olympics, weren't presented any PC opportunities in the first half.

New Zealand would have been pleased to go into halftime level at 1-all and might have counted themselves unlucky not to have had a second goal, considering the chances they created.

Australia finally had their first penalty corner of the game early in the third quarter.

The Kookaburras started to generate more attacking opportunities in the second half. They were rewarded for the weight of possession and territory with Brand scoring his second.

Further goals by Govers and Wickham blew out the final margin and continued their unbeaten start to the Olympics.

AT A GLANCE:

Australia 4 (Tim Brand 2, Blake Govers, Tom Wickham) New Zealand: 2 (Kane Russell 2) HT: 1-1.

Stuff


---

Precise India posts an impressive 3-1 win over Rio Champions Argentina




Only a day ago, four-time Olympian Juan Manuel Vivaldi of Argentina expressed his wariness for Indian penalty corner battery and its impact on the outcomes of the matches. His worries came true, as India converted two penalty corners besides adding a soft field effort to romp home an impressive 3-1 victory over the Rio gold medalist in the opening match at Oi hockey stadium, Tokyo


---

India seal men's hockey quarter-finals spot at Tokyo Olympics after 3-1 win over Argentina

Harmanpreet Singh, Vivek Sagar Prasad and Varun Kumar scored goals for India against the defending Olympic champions.

By Ritu Sejwal



Picture by WORLDSPORTPICS.COM/FRANK UIJLENBROEK

The Indian men's hockey team beat defending Olympic champions Argentina 3-1 in its fourth Pool A match to book a place in the quarter-finals of Tokyo 2020 at the Oi Hockey Stadium on Thursday.

Varun Kumar (43rd minute), Vivek Sagar Prasad (58th minute) and Harmanpreet Singh (59th minute) scored the goals for India. Maico Casella hit the board for Argentina in the 48th minute.

Manpreet Singh and his men were quick to attack in the match and came close when Simranjeet Singh's pass to Dilpreet Singh inside the Argentinean D was saved by goalkeeper Juan Manuel Vivaldi.

The second quarter started with India putting pressure on the Argentine defence but the forwards struggled to convert, taking too much time and losing possession or going for early shots on some occasions.

In the 23rd minute, India's Harmanpreet Singh led the attack but an early shot from the left wasted the opening.

The Indians were denied again in the 26th minute when a long pass from Nilakanta Sharma to Mandeep Singh, who stretched to find a deflection but found goalkeeper Juan Manuel Vivaldi in the way.

Argentina counter-attacked, led by Nahuel Salis, but Indian goalkeeper PR Sreejesh stood strong.

India earned two successive penalty corners in the 41st minute, but couldn't convert. Soon enough, Argentina countered with Matias Rey, who was returning to the field after a five-minute suspension, going one-on-one with PR Sreejesh. The Indian goalkeeper, however, fended off the attack as Varun Kumar flicked the ball away.

A dangerous tackle on Indian forward Gurjant Singh on the circle got India another penalty in the 43rd minute through a successful video referral and this time debutant Varun Kumar found the Argentinean net to go 1-0 up.

In the last 20 seconds of the third quarter, Argentina defended four successive penalty corners.

In the final quarter, Argentina got their first penalty corner in the 48th minute and Maico Casella made no mistake to equalise. Argentina got their second penalty in the 53rd minute but Amit Rohidas averted the threat.

Three minutes before the final hooter, Dilpreet Singh's dangerous pass at close range was shot by Vivek Sagar Prasad as the ball went in hitting Argentine goalkeeper Vivaldi's stick to get a 2-1 lead.

Harmanpreet Singh's flawless drag flick got India their third goal in the 59th minute.

India are currently second in their group after four matches with nine points, only behind world No. 2 Australia (12 points). Spain (4 points) are third followed by New Zealand (4 points), Argentina (4 points) and Japan (1 point).

Three points are awarded for a win. Only the top four teams from each group will head to the quarter-finals.

India will play their final group match against hosts Japan on Friday.

Olympic Channel


---

India beat Argentina 3-1 to seal quarterfinal berth in Olympic men's hockey

India will play hosts Japan in their final pool match on Friday



Varun Kumar of India celebrates with teammates after scoring. REUTERS

The Indian men's hockey team stormed into the quarterfinals of the Olympic Games with a comprehensive 3-1 victory over defending champions Argentina, scoring two goals in the final two minutes of its penultimate pool match here on Thursday.

After goalless first two quarters, India broke the deadlock in the 43rd minute through Varun Kumar before Vivek Sagar Prasad (58th) and Harmanpreet Singh (59th) struck in the closing minutes of the match to seal the contest.

It was India's third win in Pool A at the Oi Hockey Stadium.

Argentina's lone goal came from a penalty corner conversion by Schuth Casella in the 48th minute.

By virtue of this win, India have consolidated their position in the second spot of Pool A with three wins and one loss out of four games, behind Australia.

Argentina are struggling at the fifth spot in the six-team pool and need to beat New Zealand in their final preliminary match on Friday to stay in the hunt for a quarterfinal berth.

The top-four make the last-eight stage from each group.

India will play hosts Japan in their final pool match on Friday.

The Indians were aggressive and put pressure on the Argentine defence from the very beginning, attacking in numbers.

India completely dominated the first quarter, mounting attacks after attacks but the Argentines defended stoutly to frustrate their opponents.

The Indians nonetheless dominated possession and penetrated the Argentine circle on numerous occasions but the final pass was missing.

Manpreet Singh's men had their first shot at the goal in the third minute.

But Dilpreet Singh's hit from close range from a Simranjeet Singh pass was nicely saved by Argentina goalkeeper Juan Vivaldi.

The midfield, led by Manpreet, played a great game in the first quarter which was evident from the circle penetration statistics. India had 16 against Argentine's two.

India were almost rewarded in the 27th minute when a diving Simranjeet's effort sailed over the post.

Two minutes later, Argentina had the first real scoring opportunity but Nahuel Salis' powerful shot from right corner of the circle was padded away by Sreejesh's outstretched hands.

It was a frustrating first half as both the teams failed to secure a single penalty corner to head into the breather goalless.

The script was similar in the third quarter as India continued to waste chances.

First Gurjant Singh missed from close range in the 35th minute and then Rupiner Pal Singh wasted back-to-back penalty corners minutes later.

Soon the Indians had their hearts in their mouth when the defence was caught off guard by Argentina but Matias Rey couldn't beat Sreejesh from a one-on-one situation.

It took India 43 minutes to break the deadlock through Varun who scored from the team's third penalty corner.

Seconds from the end of third quarter, India wasted four consecutive penalty corners as Argentina defended bravely.

It was even in the 48th minute when Casella scored Argentina's first penalty corner.

They had two more chances -- one from a field effort from Lucas Villa which was saved by Sreejesh and another from a penalty corner which Indians defended stoutly.

Two minutes from the hooter, Vivek restored India's lead tapping in from a rebound after Dilpreet's attempt was saved by Vivaldi and then in the nick of time Harmanpreet drew the final nail in Argentina's coffin by converting the team's eighth penalty corner.

The Tribune


---

Indian hockey men beat 2016 Olympic champions Argentina to seal quarter-final spot

After this victory, India has now won three matches in their group.

India men's hockey team defeated defending Olympic Champion Argentina by 3-1 in their fourth group A game at Oi Hockey Stadium- North Pitch on Thursday. With this win, the Indian men's hockey team has qualified for the quarterfinals in the Tokyo 2020 Olympics.

India started the match at a good pace as defenders gave no clear-cut chance to defending champion to find that rhythm in midfield. Dilpreet Singh had India's best chance in quarter one but it was kept out by the Argentine goalkeeper by a very good save.
                          
India's finishing was not clinical even in the second quarter and it remained scoreless after the end of the first half.

In the third quarter, the pressure by Indian forwards finally delivered as Varun Kumar gave the team a much-needed breakthrough after converting a very well-worked penalty corner.

In the dying minutes of the quarter, Graham Reid's men were close to double their lead but Argentina goalkeeper Juan Manuel came big for his team again by saving a nicely worked PC by the Indian team.

In the fourth quarter, Argentina responded well by converting a PC and levelled the match against India as Casella stormed the ball past Sreejesh.

With the match going for a draw, Vivek Sagar Prasad came with an absolute poacher of a finish to regain the lead for the team. Minutes later Harmanpreet Singh came clutch for India from PC and sealed the match for India.

After this victory, India has now won three matches in their group.

Daily News & Analysis


---

India beats Argentina 3-1 to seal quarterfinal berth

Goals from Varun Kumar, Vivek Sagar Prasad and Harmanpreet Singh guided the Indian men's hockey team to a 3-1 win over Argentina at the Tokyo Olympics.



Harmanpreet Singh (R) scored India's third goal against Argentina in a men's hockey Pool A game at the Oi Stadium in Tokyo on Thursday.   -  AFP

The Indian men's hockey team secured its spot in the quarterfinals of the Tokyo Olympic after a 3-1 win over defending champion Argentina in a Pool A game at the Oi Hockey stadium here on Thursday.

The side – stung by the Aussies in its second group game – has bounced back with two wins on the trot and will take on host Japan in its last group stage game on Friday.

Fresh from a 3-0 win over Spain on Tuesday, Graham Reid's team played with gusto and looked composed throughout the four quarters. The transition from attack to defence was seamless, with Amit Rohidas acting as a bridge between the two ends of the pitch.

The Indian side took the fight to the opposition from the onset, with Harmanpeet Singh making mazy runs into the penalty circle. India nearly went ahead in the 25th minute as Nilakanta Sharma's defence-splitting ball found a diving Simranjeet Singh, but his outstretched attempt was not on target.

Indian goalkeeper P. R. Sreejesh was untested for large parts and made his first save in the 27th minute, a sharp block to his left. The Indians dominated the first half but had nothing to show for it.  

The side began to find some success in the circle only after the 40th minute – winning seven penalty corners in quick succession. The goal came off the third when Varun Kumar scored to give India the lead.  

Argentina struck back in the 47th minute when Maico Casella scored from the side's first penalty corner of the game.

However, Manpreet Singh's side was rewarded for its relentless attacking play as Vivek Sagar Prasad turned in Dilpreet Singh's cross and soon Harmanpreet fired a ferocious drag flick – within a minute of each other – to secure the all-important win.

Skipper Manpreet noted that the win over the reigning champion was crucial but stressed the need to remain grounded. "It was a very important game for us. We will not fly and let this result get to our heads.  The tournament is not over, we have a game tomorrow against the home team Japan and then the quarterfinals as well. It's important for us to remain grounded," he said.

Reid, too, was pleased with his side' performance. "A couple of good strategies worked out today and that is pleasing to see. Our game plan was very well, we created opportunities but just could not put them away. The message at half-time was just don't get frustrated. I used the example of yesterday's game between Australia and New Zealand, they finished the job – that's what good teams do," he said.

The Australian, however, said the team needed to work on its positioning in the circle. "I want to focus on and explain to them to work on our positioning of players inside the circle to give more options. That's how you win corners and having options also distracts the defenders," he said. "We just need to keep improving. We have not had an ideal preparation. It's really accelerated learning during the first four games for us. This is the first three or four games that this team has played together. Every (squad of) 16 or 18 has its own signature. It's taking us a while to develop this signature."

Terming the 7-1 loss to Australia a "wake up call", Manpreet said: "The whole team was disappointed. The focus was to make a strong comeback. We had decided even before the Olympics that we would take it one match at a time. The discussion after the loss to Australia was to look ahead at the upcoming games and it made us realise that we cannot take any team lightly.  It was a good win for us, and we will carry the momentum into tomorrow's game."

Sportstar


---

'We didn't let Argentina frustrate us' – Graham Reid happy with a key win for India

The Australian expects another top performance against Japan in the final group A game.

By Soham Mukherjee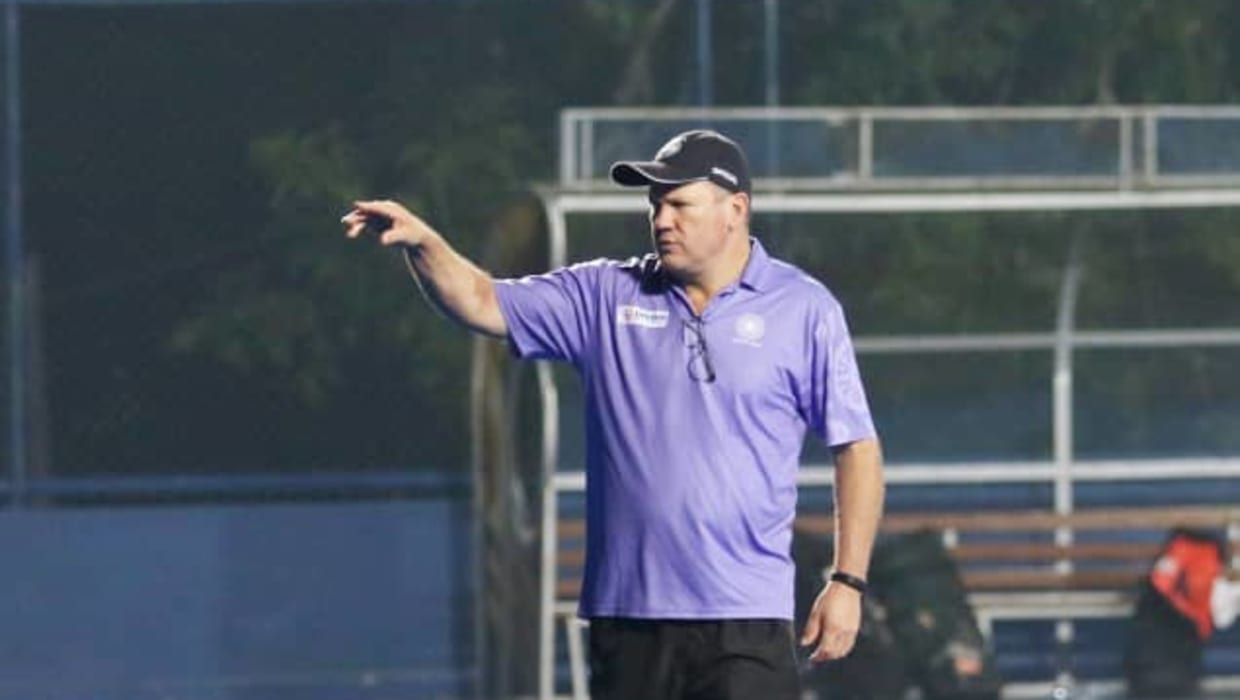 India men's hockey team picked up another win on the bounce as they downed reigning champions Argentina 3-1 in their fourth group A fixture at Tokyo 2020 Olympic Games.

India took the lead through Varun Kumar (43') before Maico Casella (48') equalised in the fourth quarter. However, goals from Vivek Sagar Prasad (58') and Harmanpreet Singh (59') sealed yet another victory for the Men in Blue.

With their third win, India have booked a berth in the quarterfinals of Tokyo 2020 and have another group game to follow on Friday against hosts Japan.

Coach Graham Reid was pleased with the performance of the team as they created several goalscoring opportunities as they dominated 60 per cent possession. India conceded from a penalty corner but struggled to put several chances that came their way. Only Harmanpreet scored from a penalty corner late in the tie.

"Good performance today. This is what Argentina can do, they sit back in the game, and then all of a sudden they score a corner. You know these things can happen when you play a team like Argentina. We again put our opportunities away, we created enough. But what was good is that we didn't let that frustrate us, we stayed patient and stuck with the game plan," said Reid.

The experienced Australian was quick to turn his attention to the next game against Japan but added that they would keep an eye on the results in group B to know who their possible opponent could be in the next round.

"I'm very happy, it can be a bit stressful too for me but we just now need to play well against our next opponent - Japan. We need to play it as though it is the quarterfinals and we will be keeping an eye on what happens in the other pool at the same time," said Reid.

Olympic Channel


---

Canada downed by Belgium in fourth round Olympic action

Second-half struggles lead to elimination from medal contention




It was a tale of two halves.

The first half saw a daring Canadian attack generate several circle entries, a few grade-A chances, and a beautiful backhand rocket from Mark Pearson. The second half saw an experienced Belgium take control and fill the Canadian net, dashing Canada's hopes of advancing in the Olympic tournament.

The scoreline read 2-1 at halftime. For a Canadian team ranked 10th in the world taking on second-ranked Belgium, this was a positive result. Pearson's goal provided a spark when Canada needed it. But, the second half was a completely different story. The Belgian attack came in waves, resulting in chances, goals and penalty corners on repeat. They managed seven markers in the second half finishing the game up with a 9-1 victory. They sit atop the Pool B standings with a 4-0-0 record.

Pearson, the lone Canadian goal scorer, said Belgium is a team that continues to attack and Canada just couldn't keep up in the second half. He addressed how deadly they can be if they are given a little extra time and spaces to make their decisions and moves on the ball.

"It's all about closing your lanes, protecting against the give and go's. In the first half we had the legs to stay with them and keep them out and fight hard defensively," Pearson said. "In the second half, they opened us up. They are a hell of a team and they'll make you pay when they get their chances."

The Pearson goal tied the game at one in the dying seconds of the quarter. A goal of the tournament candidate, Pearson danced in, showing off his 3D skills and then smashed a patented backhand over Vincent Vanasch's shoulder into the top corner. He said the team did a solid job generating chances in the first half, but needs to capitalize more.

"We know we have to be ruthless and clinical when we do get opportunities. So yeah, getting that goal in the first helped us and gave us some energy, but at the end of the day, it's still frustrating and disappointing to come out with this result," Pearson said.



Canada drops a one-sided affair against world-number 2 Belgium. (Photos/Yan Huckendubler)

Canada has played from behind in every game during these Olympics — something head coach Pasha Gademan said leads the team to stray from their game plan and get sloppy. Especially as the game went on, Team Canada lost their legs and gave up far too many chances.

"It's especially hard [to play from behind] when you give them all up at once. Gademan said. "In the first quarter, you go down 2-1, that's not so bad. But then it went so quickly; it's super difficult to get your head back in the game."

Gademan said that the difference can be as little as an extra metre here or there and the ball can wind up back in your net.

"It just looked like we were exhausted in the third quarter. In the first half, we were always there to disturb them, to challenge them," Gademan said. "In the third quarter, we gave them that 1-2 metres extra. When you give a team like Belgium that extra metre…it can end in a result like today."

Although their hopes of advancing are shot, Team Canada can still finish on a high note as they take on South Africa tomorrow morning. The Red Caribou didn't win a game at the 2016 Rio Games, so they are looking to place higher by knocking off the South Africans.

Field Hockey Canada media release


---

Canada eliminated from men's field hockey following 4th straight loss

Canadians will wrap up preliminary round against South Africa Friday in Tokyo

Abdulhamid Ibrahim



Belgium downed Canada's hopes of making the Olympic men's field hockey quarter-finals with a 9-1 victory in pool B action on Thursday in Tokyo. (Jeff Pachoud/AFP via Getty Images)

Canada's men's field hockey team has been eliminated from the Tokyo Olympics following its fourth consecutive loss.

The Canadians dropped a 9-1 decision against Belgium on Thursday in Japan.

Coming into the match, Canada (0-4) needed a win to make the quarter-finals, which will feature the top four teams from Pool A and B, beginning Sunday.

Following Thursday's loss, Canada sits in last place in Pool B with one game remaining, while Belgium, Germany, the Netherlands and Great Britain all have at least two wins, ending any hope of advancing for the Canadians.

But Canada still has one game left to play, wrapping up the preliminary round against South Africa (0-3) on Friday.

Belgium led 2-1 following the first half, but turned the tide in the third quarter by scoring five unanswered goals, then adding two more in the fourth to close out the win.

Mark Pearson, of Tsawwassen, B.C., scored Canada's lone goal.

CBC


---

SA Hockey Men land historic victory in Tokyo



Photo: Yan Huckendubler

The South African Hockey Men have become everyone's second team in Tokyo with their full courage approach to the game. They have stood up and challenged the best in the world with courage and flair in the tournament. They brought that same game plan to the Germany match playing against the 5th best team in the world and pulling off a sensational victory. This is the kind of victory that could inspire other participants in Tokyo. It was sensational and the South Africans got the result their tournament has deserved.

Germany got the games opening goal with a variation that was eventually prodded home by a diving Timm Herzbruch. South Africa showed that determination and fight that they have seen them become the neutrals team of the tournament. The pulled level with their first penalty corner of the game as Matt Guise-Brown got his second of the tournament with a low, strong drive. That parity wouldn't remain for long and South Africa's next circle penetration created another goal with vice-captain Keenan Horne diving onto the ball and finishing superbly to give the African Champions the lead.

Although it was a lead they would hold until the end of the first quarter, the European runners up would not lie down and back down. They fought back with two goals in the second chukka to lead at half time 3-2. Constantin Schaib got the equaliser through a field goal, picking up a rebound, before Lukas Windfeder got the goal from a penalty corner. Although Tobias Hauke would receive a yellow card just before half time, the South Africans weren't able to capitalise on it.

As the heat made things more difficult the South Africans defended with tremendous heart in the third quarter denying a number of German opportunities before springing the perfect counterattack with Nic Spooner bursting through the middle and finishing superbly into the bottom left corner. 3-3 into the final quarter!

There was almost a surreal feeling in the final quarter as Germany allowed South Africa into the circle, Cassiem crossed the ball which took a massive deflection and Cassiem was awarded the goal! The south Africans took the lead 4-3! 12 minutes remained.

South Africa created a chance for Bili Ntuli, but he fired his shot wide. 10 minutes remained. Germany would have a penalty corner with a perfect variation, but Tim Drummond would save on the post. 8 minutes remained. Another circle penetration and more stellar work in defence. 6 minutes remained. A massive opportunity for South Africa as Kok fed Ntuli but just side. 5 minutes remained.

Germany withdrew their keeper to have an extra out field player. 4 minutes remained. South Africa denying another circle penetration. 3 minutes remained. South Africa tried to counter but Germany launched straight back at the South Africans, but they fired wide. 2 minutes remained. Germany won the penalty corner through a trip by Dlungwana, but it was superbly blocked by Guise-Brown. 1 minute remains! South Africa would hold firm and secure a superb and historic a sensational victory

SA Hockey Association media release


---

SA hockey men stun Germany for opening Olympic win

By Karien Jonckheere

They said they were looking for a few big results in Tokyo, and the South African men's hockey team managed to do just that – pulling off the biggest upset of the tournament so far by stunning Rio bronze medallists Germany on Thursday.

The remarkable 4-3 result against a team ranked nine places above them in the world keeps the South Africans' faint quarterfinal hopes alive. But they would need all sorts of results beyond their control and goal difference permutations to fall in their favour.

Germany took an early lead from a penalty corner in the eighth minute, but the South Africans struck right back, Matthew Guise-Brown finding the back of the net off a penalty corner of their own a minute later.

Craig Keenan was next on the board to give the South Africans a goal advantage right at the end of the first quarter.

Another penalty corner provided Germany with their second goal of the match before Constantin Staib put them ahead just two minutes later.

The SA men were far from out of it though and Nic Spooner brought them right back with the equaliser off a counterattack inspired by Dayaan Cassiem at the end of the third quarter.

All square with just 15 minutes to play, it was the younger Cassiem brother, Mustapha, who scored three minutes into the final quarter. And the South Africans held on, staving off two penalty corners to record a famous victory.

An elated Mustapha Cassiem couldn't contain his emotion at the final whistle. "I was just bursting into tears. It's an emotional one and this one's definitely for the people back home. For the families and just for the brothers alongside us," he said.

"It's always a special feeling and I think it could be an historical one as well. We just thought that we're going to go out there and keep believing and I think that's sport for you. If you have the belief, you have passion and you just keep going and empty the tank for 60 minutes."

Scorer of SA's first goal of the match, Guise-Brown added: "Yoh. I can't put it in words, hey. We come into these tournaments and we're big underdogs. We showed today how we can punch well above our weight. I'm actually quite emotional.

"Talk is cheap isn't it? We have our team meetings and we sit around and we talk about our match, we back the system and back each other but the proof is in the pudding, isn't it? Until you can actually do something, sitting in a circle talking about how you believe you can do it doesn't make any difference, does it?"

"Germany are an exceptional side. They always peak come the Olympics, so for us as a group that's huge. That's huge."

SA captain Tim Drummond added: "It's awesome… We knew we had it in us and it's just great for the guys to get this feeling now and hopefully we can remember this feeling.

"We're going to enjoy this moment, but we also have a massive game against Canada tomorrow, so we've got to stay grounded and do our recovery and get ready for tomorrow."

The South Africans' next match against Canada is at 5:15am SA time on Friday.

Supersport


---

SA hockey men launch comeback to sink Germany, register 1st win in Tokyo



South Africa's hockey men celebrate victory over Germany (Getty)

The South African men's hockey team have won their first match at the Tokyo Olympics after beating Germany 4-3 on Thursday.

Goals from Matthew Guise-Brown, Keenan Horne and Nicholas Spooner were enough to see the scores locked at 3-3 heading into the final quarter, but it was Mustapha Cassiem's strike in the 48th minute that got his side over the line.

At one stage, South Africa were 3-2 down in the contest.  

South Africa have one match remaining in Pool B when they take on Canada on Friday (05:15, SA time).

Even victory in that match, however, will almost certainly not be enough to see them progress to the quarter-finals of the competition following losses to Belgium (9-4), the Netherlands (5-3) and Great Britain (3-1).

News24


---

GB's Men Secure Quarter-Final Berth With Dramatic Comeback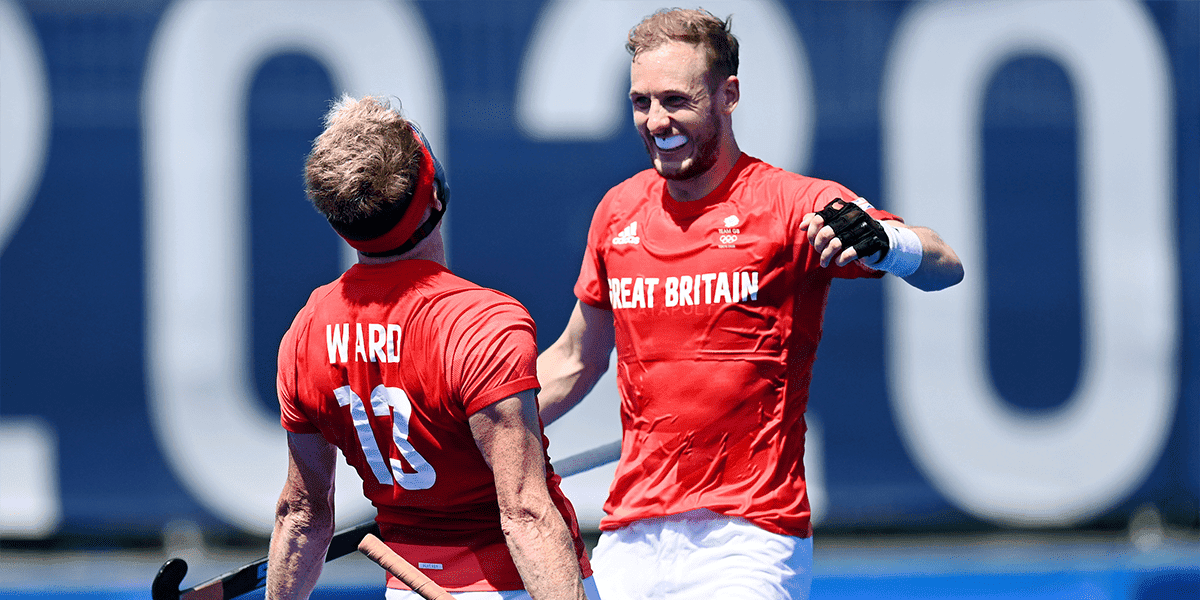 Great Britain's men produced a superb final quarter comeback to secure a point against The Netherlands to secure their place in the last eight of the Tokyo Olympics.

Knowing a point or more would see them qualify for the quarter-finals with a game to spare, it looked as though Danny Kerry's side would have to wait until their final match with Belgium as they trailed 2-0 heading into the final 15 minutes.

But Sam Ward struck twice in quick succession to bring his side level before they kept out for corners in the final minute.

The result moves Great Britain to third in the table ahead of their final game against the Belgians tomorrow.

The opening quarter was a tense affair with neither side able to really establish any influence on the game. Ollie Payne was called into the action for the first time in the ninth minute as he produced a remarkable reaction save to keep out a corner rebound after Tom Sorsby had stopped the initial flick.

Ward then saw two corners of his own saved at the start of the second quarter before the Dutch produced a stunning team goal to open the scoring. Jonas de Geus beautifully controlled an aerial in the circle, played a smart one-two with Mirco Pruijser before crossing for Thierry Brinkman to score.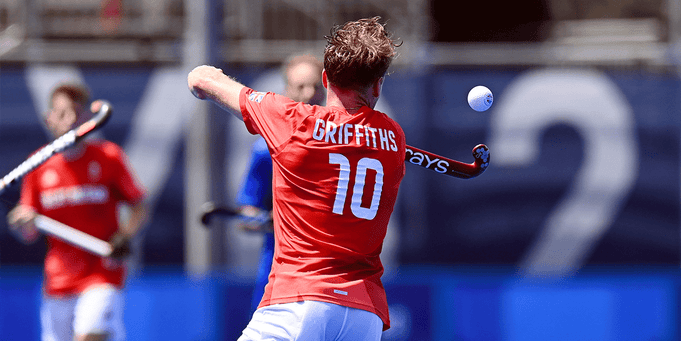 Chris Griffiths played his 50th game for Great Britain. Credit: World Sport Pics.

Zach Wallace sliced an opportunity to equalise shortly before half-time before Jip Janssen doubled the Dutch lead in the first minute of the second half as The Netherlands scored their first corner of the tournament.

Great Britain turned up the pressure after that, with Liam Ansell seeing two corners charged down while crosses from Liam Sanford and Chris Griffiths – playing his 50th game for the country – failed to find a team-mate.

The Netherlands struck the post from a corner rebound early in the fourth quarter after Payne had saved the initial effort and that proved to be the turning point in the game. Five minutes later, Great Britain pulled one back as Tom Sorsby raced into the circle before his shot was turned beyond Pirmin Blaak by Ward.

The forward then scored his fourth goal of the tournament in the 57th minute to equalise for Great Britain as he rifled in a corner.

The drama didn't end there though as Great Britain won another corner a minute later but couldn't convert before the Dutch had four corners in the final minute. However a combination of brave defending, a great save by Ollie Payne and some help from the frame of the goal kept the Dutch out and ensured the game ended level.

After the game, Dixon said: "It was a tough game, it's always tough against the Dutch – they're one of the best teams in the world for a reason. Going 2-0 down, it would have been easy to roll over and give up but that's not what we're about. That's not what we've been working for across the last five years. It was great to see the reaction that we gave.

"Had it been another day, had we had a few more minutes left on the clock we might have pipped them. I honestly sense that we're still getting stronger as a team; we weren't flagging in the last stages of the game. We'll have to go well against Belgium but I think we're well up for the challenge and off the back of today's performance we're absolutely buzzing and can't wait to get going."

Great Britain's final group game sees them take on Belgium at 13:15 BST on Friday 30 July.

Netherlands 2 (1)

Brinkman (22', FG); Janssen (31', PC)

Great Britain 2 (0)

Ward (52', FG; 57', PC)

Starting XI: Ames, Shipperley, Griffiths, Ward, Roper, Dixon (C), Creed, Payne (GK), Waller, Sorsby, Wallace

Subs: Draper, Sloan, Ansell, Gall, Sanford

Great Britain Hockey media release


---

Great Britain men rally for Tokyo advance



Great Britain held off four late PCs in frenetic finale in Tokyo

An hour when the Olympics permutations came alive and reared its head for the first time at Tokyo 2020.

First the news filtered through of South Africa's stunning 4-3 win over Germany. At this point Great Britain were 2-0 down against Holland.


---

Sam Ward double books Team GB spot in men's hockey quarter-finals after comeback Netherlands draw

By Malik Ouzia

Great Britain's men's hockey team came from 2-0 down to book their place in the Olympic quarter-finals with a game to spare thanks to a 2-2 draw with the Netherlands.

Goals from Thierry Brinkman and Jip Janssen put the European champions ahead but Sam Ward's double levelled things before Team GB survived a late penalty corner to hold on for a crucial point, given they face group leaders Belgium, who have won all four of their games so far, in their final pool match.

While Team GB's women took a famous gold in Rio five years ago, their male counterparts suffered a disastrous pool stage exit.

This morning's draw, however, means they are just one knockout win away from a guaranteed shot at a medal.

"We're building into the tournament," Ward added.

"To come back from 2-0 down to get a draw so late is massive, and it's the springboard we need to plough on. Tournament hockey is about momentum, and if we can build on that today and take it into tomorrow and the quarters, then anything can happen."

The Evening Standard


---

Ireland comeback falls short against Germany but hockey quarter-final spot still within grasp

Stephen Findlater



Ireland's Hannah McLoughlin scores on Germany goalkeeper Julia Sonntag during a women's field hockey match at the 2020 Summer Olympics, Wednesday, July 28, 2021, in Tokyo, Japan. (AP Photo/John Minchillo)

Ireland produced a big second half comeback but were just held at bay by Germany, setting up a showdown on Friday with India where a victory would likely bring a quarter-final spot.

In a match packed full of incident, Germany – recently installed at second in the world – led 3-0 early in the second half courtesy of a double from Lisa Altenburg and one from Cecile Pieper.

But two corner strikes from Lena Tice and Hannah McLoughlin had the Green Army right back in the mix going into the closing stages before a contentious Francisca Hauke goal settled the tie.

"Games against Germany are always quite physical and they're quite fun too, so I think we enjoyed that game," Chloe Watkins reflected.

"I think 4-2 is probably not really a fair reflection, we probably deserved a point if I'm honest. One or two things didn't go our way but I think we played really well, we came up to it, they're world number 3 and I think it was a really good battle, we matched them in a lot of areas."

"We could have rolled over in the fourth quarter and let them come in but we didn't. We fought hard and we knew goal difference is really important. They were really good goals, really well worked and it just showed our fighting spirit to give us confidence going into the next game."

Germany went in front in the 10th minute in brilliant fashion. Anne Schröder wriggled out of danger and then lifted a long ball into the path of Lisa Altenburg about 40 metres from goal with open space to attack. She threw it out onto her backhand and shot early by the out-stretched boot of Ayeisha McFerran.

The Green Army responded well, drawing a couple of penalty corners, the latter of which wreaked havoc when Róisín Upton's drag-flick half-saved by Julia Sonntag; Hannah Matthews' batted it back into the danger zone but the German defence rallied well.

The lead was double in the 20th minute when Kira Horn cracked in an inviting cross which Cecile Pieper got in front of her marker and applied a deft finish.

It remained that way into the second half which opened with an exchange of cards, Amelie Wortmann first to depart on a green, Anna O'Flanagan following her for a harsh 10-minute yellow when she was deemed to have gone to ground dangerously.

Germany initially capitalised from the player advantage, earning a stroke from a video review when McLoughlin's foot was deemed to have stopped the ball en route to goal.

Charlotte Stapenhorst was the only German player to call for the review, her team mates actively telling her not to bother but it proved a wise decision in the end. Altenburg converted the stroke.

Ireland rallied, though, and were buoyed when Tice got them on the board from a penalty corner sweep with 18 minutes to go. It set up a rousing closing quarter in which Sarah Hawkshaw's mazy run, a Zara Malseed snap-shot and a series of penalty corners came.

And Hannah McLoughlin arrowed in her first international goal from an accurate corner sweep, pegging it back to 3-2 with 10 minutes still to play.

The result was ultimately settled, though, when Pieper and Altenburg combined to get the ball into the path of Franzisca Hauke who flicked home. Ireland called for video where it looked like McFerran was impeded but the decision again went against the Green Army and the goal stood.

There was still time for Malseed to have a goal disallowed for back stick in the dying moments. Nonetheless, there was plenty to take from the tie for Ireland against the European silver medalists to carry into the key tie with India.

Ireland sit fourth in the group with two games to go with four teams advancing to the quarter-finals. India fell 4-1 to Great Britain to leave them with three losses on their record and targeting the Irish game as one they need to win to keep their tournament hopes alive.

"India have strong elimination skills, the ability to crash the ball [direct] is something they are well known for," is coach Sean Dancer's assessment of that encounter. "Understanding their structure but also willing to front up well and I think we match up nicely against them. We will try and get on the front foot and punish them any way we can.

"We knew the Dutch and German games would be difficult and probably take care of themselves. I suppose the hard work starts now – we always knew India and GB would be where the tournament gets really interesting and we have to step up and is the main challenge."

Ireland: A McFerran, S McAuley, H McLoughlin, R Upton, L Tice, C Watkins, K Mullan, A O'Flanagan, S Hawkshaw, D Duke, Z Malseed

Subs: S McCay, H Matthews, L Holden, M Carey, N Daly

Germany: J Sonntag, K Horn, A Wortmann, S Oruz, A Schröder, L Altenburg, F Hauke, C Pieper, P Maertens, V Huse

Subs: C Stapenhorst, S Zimmerman, P Heinz, J Fleschutz, H Granitzki

Umpires: S Wilson (GBR), M Joubert (RSA)

The Independent


---

Hockeyroos out for Black Sticks revenge

Catriona Dixon




HOCKEY: The Australian Women's Hockey Team are out to avenge their quarter final defeat by Trans-Tasman rivals New Zealand at the Rio Olympics when they face off in their fourth Pool match in Tokyo on Thursday night.

The world number two side goes into the match fresh from two wins and four draws against the Black Sticks in pre-Olympic competition, but fresh in the mind of Head Coach Katrina Powell is the Black Sticks' 4-2 victory at the 2016 Games which foiled Australia's medal hopes.

So too, New Zealand's impressive 4-1 win over the host nation at the 2018 Commonwealth Games on the Gold Coast.  

"This is a critical game," Powell said, likening the match to a grand final.  

"When you play New Zealand in a four-Test series or two Pro-League matches, it's always important, but you can't replicate the Olympic Games.

"The atmosphere that is in and around the Games makes it's a different game today."

The Hockeyroos go into the match confident coming off three straight wins against Spain (3-1), China (6-0) and Japan (1-0) to position themselves at the top of Pool B with just two matches remaining.

New Zealand sealed victories against Argentina (3-0) and Japan (2-1) but suffered a shock upset in their last match to Spain (2-1).

The Kiwi side are hungry for Olympic success after falling just short of a medal at the last two Olympic Games going down to Great Britain (2012) and Germany (2016) in the bronze medal play-off.  

The biggest danger in tonight's match comes from sharp shooting forward Olivia Merry who was recently crowned as the most prolific goal scorer in her nation's history of women's hockey.

The Hockeyroos' match strategy will include shutting down the Black Sticks offence, creating more consistent opportunities and ensuring they play to their own style.

"NZ won't be easy, they know us pretty well, but we know them too. What we need is outcomes," Powell said.

"Our plan is to limit the really good players they have in the line-up, and Olivia Merry is definitely one of those.

"We are always looking to pay back New Zealand in anything we come up against them, but certainly being knocked out in Rio the Black Sticks; we are looking to better that result today."

The action starts at 10.15pm AEST on 7 and 7plus.com.au

Hockeyroos v New Zealand - Overall Record
Played 145; Hockeyroos 95, Draws 24, New Zealand 26

Last time they met
27-Jun-21 FIH Pro League (Perth)
Hockeyroos 3 (S.Fitzpatrick 16', Squibb 34', Williams 57')
New Zealand 1 (Merry 4')

Hockey Australia media release


---

Ireland's hockey stars fully focused on crucial tie against old rivals India

Victory over the team they beat in a shootout at the World Cup could seal quarter-final spot

Johnny Watterson



Elena Tice celebrates after scoring a goal for Ireland against Germany in the 4-2 defeat at the Oi Hockey Stadium in Tokyo. Photograph: Frank Uijlenbroek/Inpho

Hockey's elliptical orbit of national awareness is about to swing as close as it did during the 2018 World Cup. It should be visible to the naked eye.

The women's team and their battling, raised spirit, hearts-on-sleeves attitude and the character that has accompanied them around these past few years continues to grow according to the size of the tournament and challenge.

In Tokyo Ireland have lost two matches in Pool A against the Netherlands, the world number one side, and Germany, the world number two side while they have beaten South Africa.

What that all means is Friday's fourth game against India, who Ireland beat in a shootout at the last World Cup in London, will almost certainly decide if they can turn their hand to another piece of history and qualify for the quarter-finals of the Olympic Games.

Ireland have always kept this tournament simple. Win two matches, get into the top four of the six team pool and, as they did at the World Cup, play their way into the nervy knockout stages, where things can always take a strange turn.

India it is and India it has always been. Although the players came off the pitch against the Germans believing they were better than 4-2 scoreline, with short corner goals from Hannah McLoughlin and Elena Tice, they also knew that the targeted games were the ones that would satisfy their first goal in their first Olympics.

"Yeah, it's kind of looking like that [beating India for a quarter-final] because of the result against GB today [GB beat India 5-1]," says Chloe Watkins.

"So you are looking at two results to get out of the group and that hasn't changed. I think it is well within our ability to get another result.

"It's just about trying to recover with the window we have, less than 48 hours. But we are going to be so up for it. The next two days are really what we were waiting for. It's the fun part of it now."

What Ireland showed against Germany and for periods of the game against the Dutch is their doggedness and an ability to live with even the best teams. As Watkins said after the match, Ireland "spooked" Germany when they came back from 3-0 down to 3-2.

The first two goals Germany scored were also untypical of Irish defending. A reverse shot from the crown of the circle from Lisa Altenburg that beat goal keeper Ayeisha McFerran and a drill into the circle where German forward Cecile Pieper too easily stepped off her marker to touch it in were soft, if expertly taken by both players.

Early goals

"We definitely matched them all over the pitch. They got two early goals and I think we weren't quite switched on but we played ourselves back in. On another day I think the scoreline would have been different," says Watkins.

"I think we deserved a point out of that. We were down to 10 [players] for a bit and you have to be conservative then. Yeah, they got a few corners but we managed to get back in the fourth quarter to get a goal back and put pressure on them. I think they were spooked at 3-2."

India will be different from Germany. The Asian style is forward running, putting players into channels to attack defences with a high degree of skill and pace. There's no mystery anymore to the way they will set up and if the mindset is as it always has been with India, it is to score more goals than the other team rather sit on a lead.

"We knew India was going to be a big game, a target game and we are very much focused on putting in a big performance," says Watkins. "If we play half as well as we played today it will be a good game.

"It's interesting because we haven't seen them play much hockey in the last year and a half, so there was always going to be a few surprises this week with a few teams. But we know their kind of style. They are very direct.

"We have to give them the respect that they deserve. We got our first win the other day and we are looking for our second ever win and looking to reach our first ever quarter-final. That would be absolutely magic for us."

As Watkins teammate Zara Malseed said on Wednesday, Ireland know how to "dig deep". They've shown before that's not to be underestimated.

The Irish Times


---

Can the Indian hockey teams reach the knockouts?

If one ignores the margin of defeat against Australia, results of the men's team have been on expected lines. They won a close encounter against New Zealand to begin with, and beat Spain in convincing fashion.

By Tushar Bhaduri



India's Dilpreet Singh (L) scores the sole goal during the Summer Olympics 2020 Pool A Hockey match between India and Australia, in Tokyo, Sunday, July 25, 2021. (Photo: PTI)   

Despite the thrashing at the hands of Australia, men remain in the race but could face one of the European heavyweights in the last-8. Indian women have it tougher.
How has the Indian men's team fared in the first three pool games?

If one ignores the margin of defeat against Australia, India's results have been on expected lines. They won a close encounter against New Zealand to begin with, and beat Spain in convincing fashion. Sandwiched between them was the 1-7 thrashing at the hands of Australia, which brought back memories of similar hammerings in years gone by.

The top four teams from a pool of six go through to the quarterfinals and barring a complete meltdown, India should get there easily without the goal difference setback against Australia coming into the equation.

What do Manpreet Singh & Co need to do in their remaining two pool games?

India face defending gold medallists Argentina on Thursday, followed by hosts Japan on Friday. The South Americans were surprise champions at Rio 2016, and going by their results in Tokyo, India should be confident going into the encounter. The Argentines have only had a 2-1 victory over winless Japan and were beaten 5-2 by the Aussies. They drew 1-1 with Spain, whom India dispatched 3-0.

Japan are a much improved team in recent times, and are Asian Games gold medallists for a reason. But playing at home in front of empty stands is not much of an advantage, even though they will be familiar with conditions. They have a solitary point from a 2-2 draw with New Zealand.

India should be aiming for two convincing victories to enter the knockout stages with high confidence.

Where can India finish in the pool and how does it affect their medal prospects?

Going by early form, the Australians seem on a mission. They will be hard to catch at the top, so India should realistically target second place in the Pool A.

However, finishing second to fourth may not make much difference to the difficulty factor. In cross-over quarterfinals, the top finisher in one group will play the fourth-placed team in the other. The second-placed team in one pool will face the side finishing third in the other.

Pool B is inundated with top European teams. As of now, world champions Belgium are on top, followed by Germany, the Netherlands and Great Britain. Barring any major upsets in Pool B, India will be up against one of these powerhouses. These teams have regularly been involved at the business end of big tournaments, and frequently finish on the podium. There will be no scope for any error on India's part in the quarter-finals.

How has the Indian women's team fared so far?

The scheduling has not been kind to Rani & Co. They faced the Netherlands, Germany and Great Britain — the three medallists from the Rio Olympics — in their first three matches. Not only have India lost all three games, they have a negative goal difference of nine.

Under Dutch coach Sjoerd Marijne, the Indian team has improved a lot and are much fitter and stronger, but there is still a significant gap to be bridged before they match the best sides in the world on a regular basis.

Does the Indian women's team still have a realistic chance of making the knockouts?

India are currently in fifth spot in Pool A and realistically, can only target fourth place. Their two remaining matches are against Ireland and South Africa. The latter, like India, have lost their first three matches and are below India on the points table only on goal difference (-10 to -9).

Ireland, however, are no pushovers. They were the runners-up at the most recent World Cup in 2018, where they defeated India twice – 1-0 in the pool stage and in the quarterfinals via a penalty shootout. Not only will India have to win both their remaining matches, they will have to redress their abysmal goal difference too.

Who will India face if they somehow make the last eight?

The top team in the other group, at the moment, is Australia after three consecutive wins, with Argentina there as well. Things are much closer there as it seems any of the top four sides – including New Zealand and Spain – can beat each other on any given day.

New Zealand beat Argentina, considered a powerhouse in women's hockey, 3-0 but lost 2-1 to Spain. In the unlikely scenario of India advancing, they will most likely face the Aussies.

Indian Express


---

Poonam Rani: Indian women's hockey team should win against Ireland

The 28-year-old called for the senior players to take more responsibility at Tokyo 2020.

By Samrat Chakraborty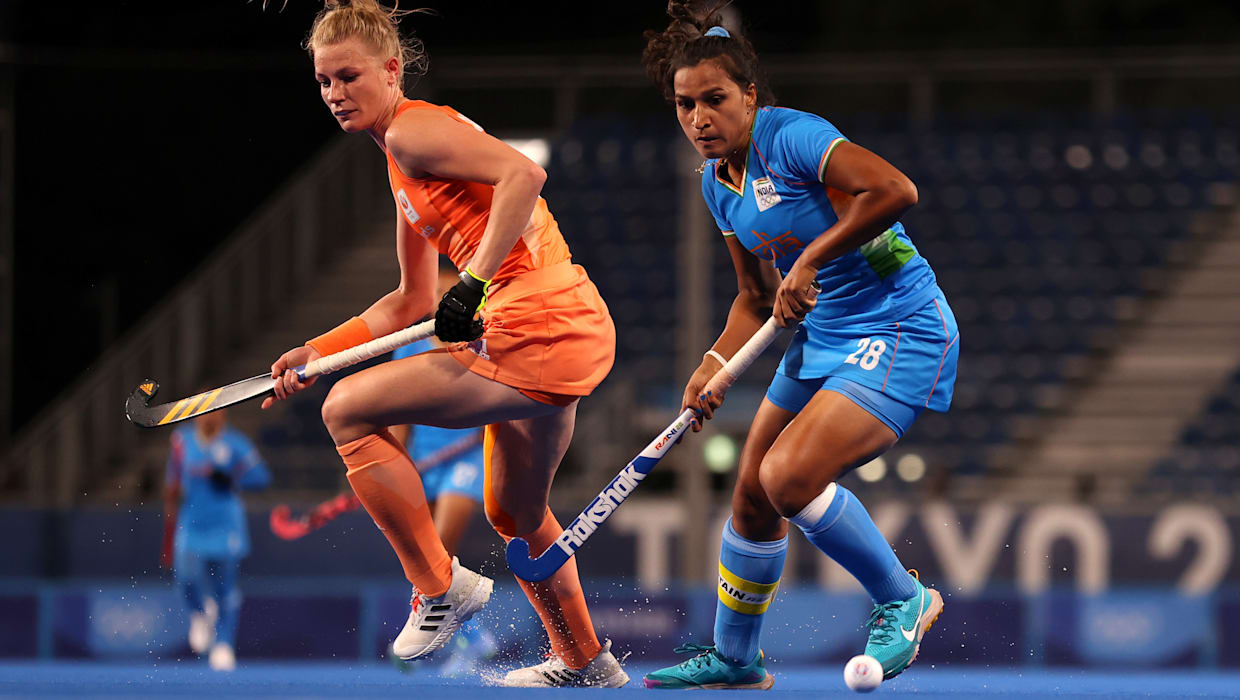 Picture by Getty Images

Indian women's hockey team lost their opening three pool A games at Tokyo 2020 as they went down to Netherlands (1-5), Germany (0-2) and Great Britain (1-4). They leaked a total of 11 goals in three outings and could only manage to score twice.

At Rio 2016, where India had qualified for the Olympics after a gap of 36 years, India lost four games and managed a draw with 19 goals conceded and just three scored.

They are up against Olympic debutants Ireland on July 30 and the onus will be on Sjoerd Marijne's team to produce a positive result. The Indian women's team last won a game at the Olympics was on July 27, 1980, when they defeated Poland 4-0.

"I've strong expectations from the India women's hockey team to do well against Ireland. We have won against them in the past as well. We will win with a big margin," predicted Poonam Rani, who was part of the Rio 2016 India women's hockey team, in a chat with Olympics.com.

Rani however, believes that the experienced players in the team need to do a lot more and not lose their concentration. She also pointed out that some of the younger players haven't been clinical in front of goal despite having had some good opportunities.

"I think the team has played well against the top teams. But I feel somewhere there is a lack of coordination between the team. Basically, the experienced players should take more responsibility and be focused. The junior players have got good chances but failed to convert so that is also a problem," she opined.

"In the matches against the top teams, we have done well, looking at the scoreboard," she mentioned.

Rani feels that the experienced players such as skipper Rani Rampal, Savita Punia and Sushila Chanu have also to play the role of a mentor to the younger lot.

"I think junior and senior players should always combine as a unit and play. That will help to improve coordination which is required. Senior players like Savita, Sushila, Rani should guide the players accordingly," said Rani.

Olympic Channel


---

Uninspiring India face must-win situation against Ireland to keep Olympic campaign alive

India are currently placed fifth in the six-team Pool A, just below Ireland who have registered just one win and two losses from their three games



After three morale-shattering defeats, it would be a Herculean task for the Indians to lift their confidence and outplay a higher ranked side like world no.7 Ireland. Reuters

Staring at an early exit after three consecutive losses, the Indian women's hockey team can't settle for anything less than a victory against Ireland in its penultimate pool match here on Friday to keep its quarterfinal hopes alive in the Olympic Games.

But after three morale-shattering defeats, it would be a Herculean task for the Indians to lift their confidence and outplay a higher ranked side like world no.7 Ireland.

India are currently placed fifth in the six-team Pool A, just below Ireland who have registered just one win and two losses from their three games.

India and South Africa are yet to open their accounts. The top four teams from each pool will qualify for the knockout stage.

The road ahead is tough for India as they would need to win both their remaining two games—against Ireland and South Africa (on Saturday) -- and improve their goal difference to be on the safe side.

They would also need favourable results from other games and hope for a Great Britain victory over Ireland on Saturday.

But these equations will come into picture only if India can beat Ireland on Friday.

So, it would be a do-or-die match for the Sjoerd Marijne-coached team and he would desperately hope for a better showing from his players against Ireland.

India, who are featuring in consecutive Olympics in women's hockey, finished a lowly 12th in the Rio Games and another heartbreak here won't do any good for the sport in the country.

In their first three games, India lost 1-5 to world no.1 Netherlands, 0-2 to Germany before suffering a 1-4 defeat at the hands of defending champions Great Britain.

It was not as if India didn't create any chances in all the three games but the mis-firing forward-line disappointed the team.

India committed elementary errors in all departments of the game, with midfield and defence being as guilt.

A livid Marijne described the 1-4 loss to Great Britain as his side's "worst match" of the Games and lambasted the players for failing to raise their game in the crucial match.

"This was our worst match. We always try to play for a six (out of 10) for each individual, and I don't think each individual today played for a six. Bad decisions, bad choices and I'm pretty disappointed by this," the Dutchman had said.

"...but the individual performances just weren't good enough. I can keep analysing what went wrong tactically, but it starts with every individual reaching their level."            

But Marijne insisted that all is not lost as they still have a chance of progressing to the knockout round.

"We still have chances. There are still six points to get and that can be enough for the quarters. That's what we're all about, that's our goal and that's what I said to the girls," the coach said.

But it would be easier said than done as the faltering Indian defence will need to keep the trio of Elena Tice, captain Kathryn Mullan and Hannah McLoughlin in check.

Though ranked below Ireland, world no.11 India can beat Ireland and have beaten them in the past as well.

In February 2019, India defeated Ireland 3-0 and drew 1-1 against the same opponents in a two-match series during a tour of Spain.

The Tribune


---

Tips from the top: Maddie Hinch on hockey shoot-outs and goalkeeper rise



Maddie Hinch has risen to the top of her game PIC: England Hockey/Worldsportpics

How to deal with hockey shoot-outs

The key is to work out their go-to strengths. Under pressure that's what an athlete wants to resort to.


---

Goalies feel heat of Japan's sizzling summer

Daniel Leussink



Tokyo 2020 Olympics - Hockey - Men's Pool A - Japan v Australia - Oi Hockey Stadium, Tokyo, Japan - July 24, 2021. Andrew Charter of Australia warms up REUTERS/Bernadett Szabo

TOKYO - Athletes performing across a range of sports at Tokyo 2020 have struggled to cope with the searing Japanese summer - but few can be feeling the heat as much as hockey's masked and gloved goalkeepers.

Australia's Andrew Charter said his water intake had risen fivefold from matches played in conditions less demanding than Tokyo's.

"It's 34 degrees (Celsius), 80% humidity and then you throw all this gear on. That's sitting at probably 44, 45 under it. It's tough. But every goalkeeper got their own strategy out there," he said.

For Charter, that means keeping a wet towel and ice water near his goal. He mainly drinks the water when the game pauses for a penalty corner.

"I'm probably drinking five litres of water in a game and it's still not replacing it. It's pretty big."

Other keepers strap water carriers on themselves through which they drink water through a tube.

Tennis players have also struggled, and matches will start later in the day from Thursday to bypass the hottest Tokyo hours after requests from competitors. read more

Meanwhile, when pitchside temperature at the hockey hits 35 degrees Celsius (95 Fahrenheit), teams get additional relief under International Hockey Federation (FIH) rules in the form of a doubling of quarterly breaks to four minutes.

That happened between the third and fourth quarters in Wednesday morning's match between the women's teams of the Netherlands and South Africa.

South Africa faced an additional problem, having had to reacclimatise completely after jetting in from the southern hemisphere winter.

"When we left South Africa it was minus 4 (degrees Celsius)," said men's team head coach Garreth Ewing.

"You have to bear in mind how hot it is," said New Zealand striker Olivia Merry on Sunday following the Black Sticks' win over Argentina.

"Those four-minute breaks are ... a really good chance to cool down for half of it."

Charter, meanwhile, said the Kookaburras preferred to keep playing rather than having extended breaks.

"We like to think we can physically run over some people."

Reuters


---

Nicola White: Olympic champion criticises GB Hockey after head injury ends international career

Best years of my career were to come - White

By Laura Scott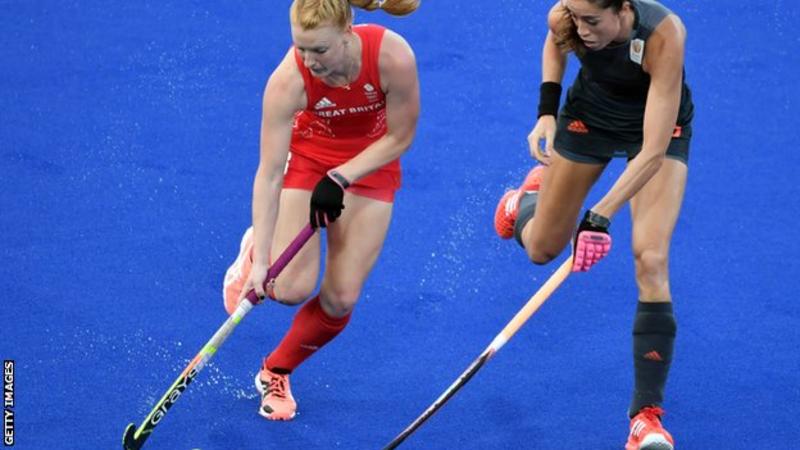 Nicola White helped Great Britain win bronze at London 2012 and gold at Rio 2016

Olympic gold medallist Nicola White has criticised Great Britain Hockey's handling of a head injury that ended her international career.

The 2016 gold medallist felt "crushed" at being told late last year she wouldn't be considered for Tokyo 2020.

White, who also won bronze in 2012, said "numerous aspects" of the body's duty of care during her recovery from concussion should be looked at.

"I don't want anyone else to go through this situation," said White, 33.

The governing body said it had offered White bespoke support since her injury in 2018 and the management of her concussion met international standards.

White announced she was ending her 10-year international career in a lengthy statement on social media

She has not played for GB since March 2018, when she collided with an Ireland player during a warm-up match for the Commonwealth Games.

Speaking to BBC Sport, White said "the force of that impact span me round" and "I can still hear the thud if I take myself back".

She added that while it might have looked "innocuous" she felt as if she had been "hit by a train" and suffered debilitating after-effects of concussion, including being frightened she might not wake up when she went to sleep in the following weeks.

GB Hockey said that in November 2020, White sought "clarity regarding her potential return" and was told that due to there being few international fixtures before Tokyo 2020 and her limited training and game time since her head injury, it "did not see her realistically challenging for selection".

"The door remained open for her to return in the future and we wish her well now she's announced her international retirement," it said.

White wrote on social media that she had been "denied any form of fitness test, hockey trial, rescheduled return to play, or any objective targets" to help her rejoin the programme, and spoke of a "lack of care, moving of goal posts".

Asked if she had concerns about the GB Hockey set-up, she told BBC Sport: "I feel like potentially the support I needed could have been more effective, this was throughout the recovery.

"It was a long recovery, but I did it, and I was in a place where I could have maybe carried on my career. So I feel the care I was given could have potentially been more effective, more individualised, more personalised to me, rather than me fitting to the programme as such.

"There are numerous aspects that need to be looked at. There are ways we can do things better."

'I was ashamed of my depression during my recovery'

White was later diagnosed with chronic migraines and also struggled with her mental health during her recovery.

But she draws comfort from seeing other elite athletes, including the US gymnast Simone Biles, opening up about their own mental health struggles.

"I was ashamed when I hit my major depression during my recovery because of just the length it was going on and how frustrated I was not feeling okay and not feeling like I could function normally," she said.

"It was not that long ago that I started to talk about it, but I feel like the more we do, the more it becomes acceptable.

"It's just like any other injury you have. There's help out there and I'm so thankful I accepted that at that time because it was a very dark period that you sometimes feel like you can't get out of."

A statement by GB Hockey said: "We take athlete care, health and wellbeing very seriously. Nicola has been very unfortunate to experience such an injury.

"We worked very closely with Nicola following her injury in March 2018, with support and bespoke medical care in place to early 2021."

It added it had also encouraged her to access further support from the British Athletes Commission.

"At all times Nicola's physical and mental wellbeing were the priority and her medical management followed international guidelines with regards to symptoms, rehabilitation and return to play," it continued.

GB Hockey said it undertook an independent learning review into concussion care, to which White submitted written information.

BC Sport


---

2021 Hockey Mega Masters cancelled due to COVID

Hockey Australia has today announced the cancellation of this year's inaugural national Mega Masters Championships in Newcastle and surrounding areas due to the ongoing COVID situation in New South Wales.

The decision to cancel the event scheduled for 23 September was strongly supported following an online call between Hockey Australia staff and the Hockey Australia Men's and Women's Masters Delegate Network.

The Mega Masters was set to be the first time the Australian Men's and Women's Hockey Masters Championships were held as a joint event.

Hockey Australia GM - Commercial, Communications & Events, Tim Cherry said the decision was made in the interest of the health and safety of all participants, officials and spectators, as well as a range of logistical factors.

"Considering the hype and anticipation around the Mega Masters since it was announced, there is no shying from how disappointing it is that it will not go ahead," said Cherry.

"The current border restrictions, coupled with the COVID case numbers in Greater Sydney, means no one from interstate could return home from the event without going into two weeks of quarantine."

"We are at a stage now less than two months out where teams could forfeit accommodation deposits if we deliberate any longer, and given the number of COVID cases in the New South Wales it is unclear what Public Health Orders would be in place when the event was due to take place.

"The health and safety of all attendees is the absolute top priority, so making the call to cancel is the sensible and right thing to.

"We thank and acknowledge the NSW Government through Destination NSW for their understanding and support through this process. COVID has and continues to throw curve balls at being able to plan and prepare for any national events.

"After the cancellation of the 2020 and 2021 Masters Championships, we look forward to holding and welcoming the large Masters hockey community from right around the country to safe and successful Masters events in 2022."

Hockey Australia media release


---

Cowie optimistic over hockey team chances

by Nigel Simon



T&T National coach Darren Cowie gives instructions during a practice match against a select senior men's team with the National Under-21 men's hockey team at the Diego Martin Sports Complex earlier this year. ANTHONY HARRIS

Darren Cowie, coach of the T&T junior hockey men team says he is optimistic about his team chances of a top-two finish at next months' Junior Men Pan American Hockey Championship in Santiago, Chile from August 21-28.

The Junior Continental Championships will act as the qualification competition for the 2021 Junior World Cup at the end of 2021.

And in the seven-team men's tournament in Chile, fifth-ranked T&T will face a tough pool assignment having been placed with top-ranked Argentina, and the fourth-ranked USA in round-robin Pool A while Brazil, Canada (2nd), Chile (3rd) and Mexico (6th) are in Pool B.

The 18-member squad will be captained by talented England-based Teague Marcano of English Championship Division club, Hampstead & Westminster and also features the Singh brothers of Paragon Tarell and Tariq, Ghardel Elcock, David Coker and forward Aidan Marcano.

Missing out is Australia-based Liam Nieves, the son of former national player Dean Nieves, due to the lockdown restrictions in that country brought about by the coronavirus pandemic.

Looking at his team's chance of securing a top-two finish to qualify for the World Championships, Cowie told Guardian Media Sports on Wednesday that it will be difficult, but not impossible.

He said: "Everybody knows that Argentina is the powerhouse in the region, so it will come down to our clash with the USA for the second spot in our pool to get to the semifinals, and from there once you win that match you are in the final and on the way to World Champs."

He added, "So we have to continue to prepare as best as we can, as all the teams going to the tournament would have been affected in some way by the pandemic in the last year."

"A lot of them are making up for the lost time by playing in international friendly series of practice matches, but we don't have that chance as yet.

"We were looking at playing against the senior men's team but that may put the players at risk with regards to the coronavirus, so we may have to select a team from vaccinated players to play against, " stated Cowie.

"Other than that, we will have to warm-up matches against Canada and Brazil on arrival in Chile, ahead of our first match," he ended.

The team will continue training at the St James Police Barracks until their departure on August 15 on Tuesdays (3 pm – 4.30 pm), Thursdays (4.30 - to 6.30 pm) and Saturdays (9 am – 11 am) and Sundays (7 am – 9am)

T&T Junior Men's Pan American hockey team: Teague Marcano (captain), Malcolm Baptiste (goalkeeper), Jacques Poon-Lewis (goalkeeper), Tarell Singh, Tyrese Benjamin, Ethan Reynos, Jovan Wren, David Coker, Ghardel Elcock, Caleb Guissepi, Jeremy Nieves, Justin Beharry, Tariq Singh, Aidan Marcano, Roshane Hamilton, Joel Daniel, Nicholas Whiteman and Shawn Phillip.

Reserves: Adam Perreira, Matthew Perreira, Matthew Newallo, Johnathan Afong (goalkeeper), Jeshurun Drayton

Technical staff: Darren Cowie (coach), Akim Toussaint (assistant coach), Sharon Trotman (manager), Alexandria Olton (psychologist), Kanisha Vincent (EDPU Performance Testing).

The Trinidad Guardian