All the news for Tuesday 27 July 2021

2020 Olympic Games - Day 5
Tokyo (JPN)

All times GMT +9

Men

27 Jul 2021         ARG v AUS (Pool A)    2 - 5
27 Jul 2021         IND v ESP (Pool A)     3 - 0
27 Jul 2021         JPN v NZL (Pool A)     2 - 2
27 Jul 2021         GER v GBR (Pool B)   5 - 1
27 Jul 2021         BEL v RSA(Pool B)   9 - 4
27 Jul 202           NED v CAN (Pool B)  4 - 2

28 Jul 2021 18:30    JPN v ESP (Pool A)
28 Jul 2021 18:30    AUS v NZL (Pool A)

Pool Standings

Pool A
| Rank | Team | Played | Wins | Draws | Losses | Goals For | Goals Against | Goal Difference | Points |
| --- | --- | --- | --- | --- | --- | --- | --- | --- | --- |
| 1 | Australia | 3 | 3 | 0 | 0 | 17 | 6 | 11 | 9 |
| 2 | India | 3 | 2 | 0 | 1 | 7 | 9 | -2 | 6 |
| 3 | New Zealand | 3 | 1 | 1 | 1 | 8 | 8 | 0 | 4 |
| 4 | Argentina | 3 | 1 | 1 | 1 | 5 | 7 | -2 | 4 |
| 5 | Japan | 3 | 0 | 1 | 2 | 6 | 9 | -3 | 1 |
| 6 | Spain | 3 | 0 | 1 | 2 | 4 | 8 | -4 | 1 |
Pool B

Women

27 Jul 2021 - Rest Day

28 Jul 2021 09:30     NED v IRSA (Pool A)      
28 Jul 2021 10:00     GBR v IND (Pool A)   
28 Jul 2021 11:45     NZL v ESP (Pool B)  
28Jul 2021 12:15      GER v IRL (Pool A)   
28 Jul 2021 18:30    JPN v AUS (Pool B)
28 Jul 2021 19:00    ARG v CHN (Pool B)  

Pool Standings

Pool A
Pool B
| Rank | Team | Played | Wins | Draws | Losses | Goals For | Goals Against | Goal Difference | Points |
| --- | --- | --- | --- | --- | --- | --- | --- | --- | --- |
| 1 | Australia | 2 | 2 | 0 | 0 | 9 | 1 | 8 | 6 |
| 2 | New Zealand | 1 | 1 | 0 | 0 | 3 | 0 | 3 | 3 |
| 3 | Argentina | 2 | 1 | 0 | 1 | 3 | 3 | 0 | 3 |
| 4 | China | 2 | 1 | 0 | 1 | 4 | 9 | -5 | 3 |
| 5 | Japan | 1 | 0 | 0 | 1 | 3 | 4 | -1 | 0 |
| 6 | Spain | 2 | 0 | 0 | 2 | 1 | 6 | -5 | 0 |
---

Belgium, Britain secure 2nd wins in men's tournament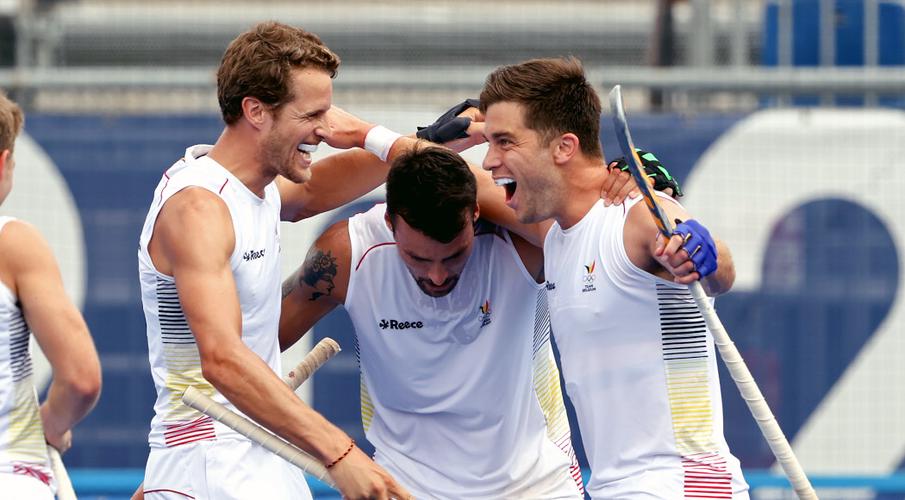 Cedric Charlier © Gallo Images

Belgium's men's hockey team secured a 3-1 victory over Germany in a scrappy match on Monday for their second win of the Tokyo Olympics, while Britain also won their second game of the tournament by beating Canada.

The British women's team crushed South Africa 4-1 while the Netherlands, Australia, Germany, Argentina and New Zealand were also victorious in the women's tournament.

The world champion Belgians took early control of the game, with forward Cedric Charlier beating the German goalie twice in the first quarter.

"It's true that scoring here is a great feeling," said Charlier. "As long as we are working well offensively together, that's what matters the most for the team."

Emotions ran high on both sides in the second half, with Belgian defender Alexander Hendrickx adding to Germany's pain by scoring his fourth goal of the tournament through a penalty corner.

"They did four or five sliding tackles, which is a yellow card every time," said experienced Belgian midfielder John-John Dohmen, who has more than 400 caps.

"Even when they tackled us, they came to us to have a fight.

"We stayed really calm and I'm really proud of that."

Both sides had players temporarily sent off after getting green and yellow cards, which result in two and five-minute suspensions.

The Germans, however, could not penetrate their rivals' defence effectively enough to level after scoring a penalty corner in the fourth quarter.

Under overcast skies, the pitch was still sprayed with water during the halftime break to keep it fast and smooth.

Officials stuck to the usual two-minute quarterly breaks after extended breaks on Sunday to allow players to cool down in sweltering conditions.

BRITISH WINS

Britain's men's and women's team both won on Monday, with the men beating Canada 3-1.

"You have to understand when you're playing teams that rank lower than you, they have nothing to lose. It's a win-win for them," said the team's head coach Danny Kerry.

In the British women's match, South Africa got off to a flying start, resulting in a fourth-minute goal by defender Nicole Walraven.

The relief among the British players was palpable when Ellie Rayer scored her first Olympic goal shortly before halftime, clearing the way for the 4-1 victory.

"To get on the scoresheet is pretty cool but it's testament to the team and the work we do," Rayer, who also scored the fourth goal, said. "They put it on a plate for me."

In other women's matches, gold medal favourites the Netherlands brushed aside Olympic debutants Ireland 4-0, while Argentina secured a 3-0 victory over Spain and Australia beat China 6-0.

New Zealand held off hosts Japan 2-1 and Germany beat India 2-0.

Supersport


---

Red Lions make another statement at men's Olympics




Belgium made another statement of intent as Cedric Charlier hit a double with a 3-1 victory over European rivals Germany in the men's Olympic competition.

Charlier's fifth minute opener was fortunate, with a speculative cross-shot being diverted into the goal via a Germany stick.

However, there was nothing lucky about the second goal, with the Red Lions attacker smashing a ferocious strike from the top of the circle under the crossbar just two minutes after his first.

Belgian penalty corner ace Alexander Hendrickx made it 3-0 five minutes after half time, with Germany's Martin Haner netting a consolation goal from a penalty corner nine minutes from time.

"I think we can be really happy with the performance", said Dragons-bound Simon Gougnard. "We've had two good first games in the pool, which puts us in a good position and I'm looking forward to the next game [against South Africa on Tuesday] already.

"We still have some stuff to improve, so we'll keep our feet on the ground as we haven't done anything yet, but it is a really good start."

Germany captain Tobias Hauke said: "We didn't start well. The first quarter we weren't aggressive enough and then we needed some time to get into the game. The second half was quite good and at the end, we did have enough ball possessions in the circle of Belgium but just one goal and three corners is not enough against this team."

Great Britain, meanwhile, saw off Canada, also on a 3-1 scoreline for their second successive victory.

GB dominated for long periods, twice hitting the frame of the goal but failing to convert in either of the opening two quarters.

The breakthrough came three minutes after half time when Liam Ansell fired home an ingenious pass from Sam Ward, who himself doubled the advantage eight minutes later with a perfectly executed penalty corner drag-flick.

Floris van Son's superb backhand strike in the fourth quarter made things interesting, but Ansell tapped home from close range to kill off any danger of a Canadian comeback.

"I'm obviously really happy", said Great Britain captain Adam Dixon. "Another three points, six points in total so far, so in some ways it is the perfect start.

"I think we are still finding our way into the tournament, which is the same for lots of teams, having not played lots of international hockey in the last few weeks. I keep saying the same message: it's about building momentum.

"We've got the European leg of the pool stage now, so three pretty big games [against Germany, Netherlands and Belgium] coming up, which we are going to have to be ready for."  

GB face Germany next while Belgium are up against South Africa. The Netherlands face off against Canada. In the other group, unbeaten Australia start their day against Argentina, Japan meet New Zealand and Spain face India.

Euro Hockey League media release


---

Germany and Netherlands' women flying high in Tokyo




Germany and the Netherlands have moved to the verge of qualification for the women's Olympic quarter-finals with their second wins of their campaigns in Tokyo.

Germany made it a maximum six points from two games courtesy of a 2-0 victory over India. Captain Nike Lorenz put her side ahead with a well taken penalty corner effort in the 12th minute, with Club an der Alster's Anne Schröder completing the scoring with a 35thminute field goal. Crucially, German goalkeeper Julia Sontag saved a penalty stroke onto the post when the score was at 1-0.

Speaking about Sontag's important contribution, Lisa Altenburg said: "It was really good. We had many, many good moments in this game. She was our best player I would say."

The Netherlands, meanwhile, were too strong for Ireland, winning 4-0 as they eventually broke down the incredible resistance of goalkeeper Ayeisha McFerran.

Amsterdam's Felice Albers put the Dutch ahead in the eighth minute, but a brilliant goalkeeping performance from McFerran kept the Oranje out for the next 41 minutes. Eventually though, the pressure told, with Malou Pheninckx, Laurien Leurink and Frederique Matla all on target in the final quarter as the competition favourites strengthened their position at the top of the pool.

"I'm just so proud", said Netherlands captain Eva de Goede, commenting on the performance of her team.

"I think when you get into the team as a youngster, you just don't know what to expect and you just play. Now, looking at the girls who are younger and really fitting into the team nicely, I think the level of playing and level is passing is so high.

"I really love that we can play like that because I really do think that that's one of our strengths and we can really outplay another team."

Ireland goalkeeper Ayeisha McFerran said: "Unfortunately today just wasn't quite our day. We dug in well and I'm really proud of the defensive effort everyone put in. It was a team effort out there but that's the Dutch for you.

"They're just quite good, aren't they? There's several things we have to take and learn from it. We can't just brush it under the carpet, but we have to move on."

Elsewhere in this group, Great Britain bounced back to beat South Africa 4-1 having trailed in the early stages.

In Pool B, Australia lead the way with a 6-0 win over China putting them top ahead of New Zealand – 2-1 winners over Japan – on goal difference. Argentina got their first win, striking three times late on against Spain for a 3-0 win.

Euro Hockey League media release


---

Ayeisha McFerran 'best in the world right now' - Ireland captain Katie Mullan after Dutch defeat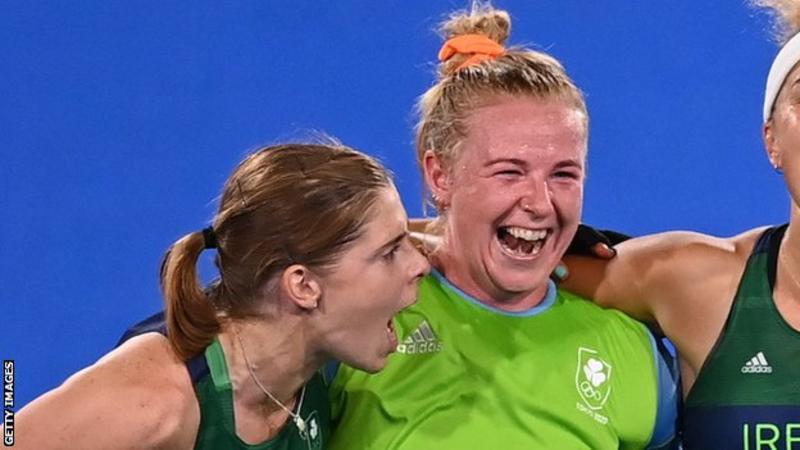 Katie Mullan believes Ayeisha McFerran is the best goalkeeper in the world on present form

Ireland captain Katie Mullan hailed Ayeisha McFerran as "the best goalkeeper in the world right now" after a string of fine saves kept the Netherlands at bay in Tokyo on Monday.

Ireland went into the final quarter of their Olympic Games encounter with the Dutch trailing 1-0 but conceded three further goals to the world champions.

"Ayeisha is so hard to beat. She made save after save," said Mullan.

"We are so proud of her. She is so professional in everything she does."

"To do anything in these tournaments you need a world class goalkeeper and we are so lucky to have her," added the Ireland skipper after her side's 4-0 loss in their second group match.

Ireland beat South Africa 2-0 in their opener on Saturday and the first of their three remaining games is against Germany on Wednesday as they bid to secure a quarter-final place.

Fixtures against India on Friday and Great Britain on Saturday will follow.

Felice Albers gave the Dutch an early lead but Ireland then kept the world champions out for almost 40 minutes before late goals from Malou Pheninckx, Laurien Leurink and Frédérique Matla ensured a comfortable win.

Germans struggle with 'Irish fighting spirit'

"Defensively we were so solid and we made it so hard for the Dutch to score. I'm really proud of our defensive effort," enthused Mullan.

"A few things didn't go our way towards the end of the game and that's when they scored their goals but we can take confidence from how hard we were to beat.

"The Germans find it hard against the Irish fighting spirit and I've no doubt we will bring that into the next game.

"We have a lot of homework and preparation to do but we really enjoy playing against them."

Ireland coach Sean Dancer echoed Mullan's words about the role played by McFerran in keeping the scoreline down.

"Ayeisha had a great game. She saved us on a number of occasions so great credit to her. The fact we went into the last quarter 1-0 down was down to her efforts.

"The girls know Germany and we have confidence going into that game," he added.

BBC Sport


---

SA Hockey Women fall to defending Champions Great Britain




The South African Hockey Women were looking to kick start their Tokyo campaign with a bounce back performance against Great Britain, the defending champions on Monday evening. The two teams started the game showing a united front in taking the knee as a statement of standing against racism.

The South Africans started the game the better and went ahead as they caught a sluggish Great Britain napping. Some quick thinking from Celia Seerane created space for a shot off a penalty corner and it was fired through to an unmarked Nicole Walraven, who on her 50th test cap, gave the African champions the lead.

It was a lead they would hold until the 29th minute when Elena Rayner levelled matters after a period of sustained pressure. That goal was the perfect tonic for the Olympic champions as they emerged after the half time break and proceeded to dominate the possession and circle penetrations.

They took the lead from a penalty corner variation, where Lily Owsley deflected a loop effort over Mbande and past Marizen Marias on the post. Having held the British out for 10 minutes in the third quarter before that goal, the Africans will be disappointed to have conceded so quickly after that. The goal made it 3-1 as Laura Unsworth rocketed the ball home for a cracking finish after a defensive error opened the opportunity for her.

South Africa were having to work incredibly hard to keep the British out with Mbande, Christie, Deetlefs and co having to repel a number of attacks and defend a number of penalty corners. They managed to get to the the end of the third quarter without conceding again, but the defending champions kept getting forward and were rewarded with a fourth as Elena Rayner blasted home leaving Mbande no chance.

The South Africans defended gainfully for the final 10 minutes and showed some good character, but they will be disappointed that they were unable to convert the performance of the opening half and in particular the opening quarter into points.

The SA Hockey Women are next in action against Netherlands, the Worlds top ranked side on Wednesday at 02:30.

SA Hockey Association media release


---

Amazing occasion': GB women's victory hailed by Izzy Petter

By Tom Pilcher



Ellie Rayer scored a welcome GB women's double PIC: England Hockey / Worldsportpics

For a period during their second Pool match against South Africa, things were not going Great Britain's way.


---

Great Britain women's hockey team beat South Africa as men defeat Canada

Ellie Rayer netted twice as the Great Britain women's hockey team got the defence of their Olympic title back on track with a 4-1 win over South Africa.

Rayer scored just before half-time to cancel out Nicole Walraven's opener and then struck again on 50 minutes.

In between, two quick-fire third-quarter strikes from Lily Owsley and Laura Unsworth had put GB, who lost their opening game, in control.

Earlier, a Liam Ansell double helped the GB men beat Canada 3-1.

Sam Ward set up Ansell to finish off a fine team move for the opener after half-time and then found the net himself with a low drive from a penalty corner.

Canada's Floris van Son scored late on before Ansell turned in a Phil Roper assist to make it two wins out of two.

BBC Sport


---

Black Sticks women remain unbeaten in Tokyo




The Black Sticks women have made it two from two in their Olympic campaign with a 2-1 victory over Japan at Tokyo's Oi Hockey Stadium.

The Kiwis had to come from behind against the home side late last night, but two second quarter penalty corner goals secured the victory and the all-important three points to sit at the top of Pool B with Australia.

The win against the Japanese came after Sunday's 3-0 upset over world no. 2 Argentina in the Black Sticks opening match in Tokyo.

Youngster Hope Ralph was again on the scoresheet last night and Olivia Merry opened her Olympic scoring campaign with a strong penalty corner shot.

Black Sticks Head Coach Graham Shaw said it was important they backed up Sunday's victory with a win against the 13th-ranked Japanese.

"In tournament hockey the most important thing is to get the three points. And I'm not sure rankings will be taken into consideration in Tokyo as much they would normally be in an Olympics."

Shaw admitted it wasn't the team's finest performance.

"We made a lot of technical errors which was surprising as I thought we were technically very good against Argentina, whereas last night we looked a bit rushed on the ball and a little bit nervous at times.

"But I thought we responded well. You're not going to play well in every single game. You've got to be able to win ugly and that's what we did. We battled hard and got the result."

Apart from the victory, the most pleasing aspect of the match for the Black Sticks was having captain Stacey Michelsen back on the pitch after injuring her hamstring in Perth last month. She was joined by vice-captain Sam Charlton who also missed the first match with a minor hip injury.

Shaw said it was a real positive to have Michelsen back after not playing for a month.

"She's really only had two training sessions with the team. So we were really pleased to have a player of that calibre back in the team and the captain back on the field."

After a scoreless first quarter, the Japanese took the lead three minutes after the break with a penalty corner goal to Shihori Oikawa that took a deflection on the way in.

The score shook the Kiwis into action and in the 26th minute Merry, the FIH Pro League's top goalscorer for the past two years, fired in a penalty corner shot into the bottom right of the goal.

Two minutes later Merry was in the thick of it again, firing in a penalty corner shot that was blocked and then cracking the rebound across the circle to find Ralph on the right post to deflect in the second. That right post has paid dividends for Ralph after she slotted in one from the same position in the upset over Argentina.

At 2-1 was where the score remained until the final whistle despite the Japanese having six penalty corners in the match to New Zealand's three. Strong defence led by goalkeeper Grace O'Hanlon was again the backbone of the Black Sticks victory.

New Zealand 2 (OIivia Merry 26 min, Hope Ralph 29 min).
Japan 1 (Shihori Oikawa 18 min). Halftime: 2-1.

New Zealand Women: Ella Gunson, Stacey Michelsen – captain (Northland); Stephanie Dickins (North Harbour); Katie Doar, Julia King, Grace O'Hanlon (GK), Elizabeth Thompson (Auckland); Tarryn Davey (Thames Valley); Samantha Charlton, Frances Davies, Rose Keddell (Tauranga); Hope Ralph (Taranaki); Olivia Shannon (Manawatu); Megan Hull (Wairarapa); Kelsey Smith (Nelson); Olivia Merry (Canterbury).

Next up the Black Sticks play Spain at 2.45pm (NZ time) tomorrow followed by a match with trans-Tasman rivals Australia in the early hours of Friday morning.

Shaw said they would take some learnings from the Japan game but needed to move on quickly and focus hard on Spain.

"We're very aware of the threats Spain possess. They were World Cup bronze medallists in 2018 so they're a very good side with players with multiple Olympics experience. They're technically really good and very dangerous individually."

Shaw was in no doubt how tough the match would be despite the Spanish being at the bottom of the Pool B table.

"They probably haven't hit their straps at this tournament so far. Without any points on the board they'll be desperate so we'll have to match that intensity and desire to win the game."

Official Blacksticks site


---

Black Sticks Women beat Japan for second straight win



New Zealand's Hope Ralph celebrates after scoring against Japan. Photo / AP

The women's Black Sticks remain unbeaten in their quest for Olympic hockey glory, with a 2-1 victory over Japan keeping them on track for the quarter-finals.

It was a far less convincing performance than their stunning 3-0 win over World No 2 Argentina in their opening game, with the 14th-ranked hosts putting up a fight despite the Black Sticks having the services of skipper Stacey Michelsen and Sam Charlton - who both missed the opener through injury.

However, the win places New Zealand as one of two unbeaten teams in the group, with Australia ahead of them on goal difference, with the winless Japanese and Spanish squads in trouble in a group where four of the six teams advance to the quarter-finals.

The Black Sticks look like they'll make that stage, but they'll need to be better than they were against Japan.

Two goals in the space of three minutes just before halftime proved decisive, with Olivia Merry and Hope Ralph making the most of a couple of penalty corners.

The Japanese were far less clinical - converting only one of their six penalty corners - but the hosts can be proud of the way they frustrated the Kiwi side.

The underdogs even took the lead from that aforementioned converted penalty corner. After the ball struck Ella Gunson's foot, a drag-flick from Shihori Oikawa found the bottom corner with the help of a slight deflection – the first goal New Zealand have conceded at Tokyo.

However, New Zealand found the equaliser they wanted before halftime thanks to all-time leading scorer Merry, who smashed home a penalty corner into the bottom corner, and shortly after she had another penalty corner blocked, but regathered the rebound and fired across goal where Hope Ralph was on hand to deflect home the ball.

In the second half, they held onto their slender lead, with the impressive hosts coming repeatedly close to finding an equaliser in the third quarter.

The Japanese earned four penalty corners in the period but New Zealand barely survived them all, with a combination of poor finishing and good saves from goalkeeper Grace O'Hanlon keeping the score at 2-1.

The Black Sticks also twice dealt with a reduction in playing numbers in the third, with Katie Doar's green card followed by Liz Thompson's yellow.

Further nervy moments followed but the Kiwis held on for an unconvincing victory, yet one that still puts them in a strong position to advance out of their pool, with their next match coming against bottom-placed Spain tomorrow afternoon.

Stick2Hockey.com


---

Indian Women suffer heart-breaking loss to Germany

S2H Team




India's women's hockey team will be hurting far more on Monday in their 0-2 defeat against Germany than after their 1-5 to The Netherlands in their Olympic opener.

Dutchman and head coach Sjoerd Marinje's girls may feel gutted that there was at least a point for the taking if not all three after a display that not so long ago would have been termed uncharacteristic in terms of energy, resilience and power.

Fine-line errors in defence undermined India's fortunes in the match and a moment of despair arrived when a penalty stroke went begging.

For a match and a half did India wait for a penalty corner so that they could launch their drag-flick weapon Gurjit Kaur.

It finally arrived but it was Rani Rampal who played a key role in forcing a penalty stroke with a hit from the penalty corner, albeit via a smart referral.

Gurjit, presented a chance from the seven-yard spot, essayed one at a comfortable height for goalkeeper Julia Sonntag to brush against her left post.

Had she scored, Gurjit would have leveled scores after German captain Nike Lorenz scored off her team's first penalty corner in the 12th minute, the ball eluding goalkeeper Savita Punia and a defender at the right post.

That prodigality was punished moments later when Anne Schroder, running unopposed into the circle to spank the ball past Savita and make it 2-0.

To the Indians' credit they retained intensity till the very end even though Sharmila Devi did not do her team any favours by drawing a yellow card with nine minutes remaining.

The suspension deprived India of the verve and thrust that she provided upfront, but the team gladdened Indian hearts with staying power that matched a European side as robust as Germany.
Vandana Katariya too sparkled often and the team showed that it was not all about Rani, the captain, and an icon.

India now play Great Britain in a match crucial to retain hopes to make the quarterfinals.

South Africa and Ireland are the other teams in Pool A and, mathematically, the Indian women are still in the running to make the last eight.

Stick2Hockey.com


---

Women's coach praises team but rues wasted chances




India's Dutch coach Sjoerd Marijne praised his team for a "good fight" against Germany despite the 0-2 defeat in the women's Olympic competition on Monday.

"We missed our opportunities especially the penalty stroke but that's sports and nobody is to blame," he said.

"I am happy with the energy we showed against a team that is very strong on the ball. However, I have told the girls that I want to see an improvement especially in making use of the chances that come our way," the Dutchman said.

"We don't get too many chances against tough teams like The Netherlands and Germany and we must make use of them. We also gave away two easy goals," Marijne reflected on the Pool A match.

"I was very happy with the energy and I am hopeful that the results will come. We are taking the good things from this match. This is our second match and we played better than against The Netherlands. It's tough playing the two strongest sides in the competition.

"We are still in the tournament and we will take the good things from this match. Our next match is against Great Britain (the defending champions) and we are working on improvement," he added.

Goalkeeper Savita Punia looked back on a good fight but rued the little mistakes.

"They took advantage of our errors. We knew that Germany is a very good team and they made use of their chances and we missed ours. But we are learning from this match," Savita said.

She affirmed that the team is getting used to the turf on which they didn't get much practice time because of the Covid pandemic and issues related.

Captain Rani Rampal was pleased with the good fight and effort shown by her team but said the flaws that cost the team will be put under the scanner.

Stick2Hockey.com


---

India beaten again, this time by Germany

Showing vast signs of improvement from the opening 5-1 loss to The Netherlands, Sjoerd Marijne's side played a high-intensity game for the large part of the contest but could not beat the Germans on pace and precision.

Shyam Vasudevan



Rani Rampal of India in action against Amelie Wortmann of Germany in Tokyo on Monday.   -  REUTERS

The Indian women's hockey team put up a brave fight but failed to take their chances as it lost 2-0 to Germany in their Pool A encounter at the Oi Hockey Stadium here.

Showing vast signs of improvement from their opening 5-1 loss to The Netherlands, Sjoerd Marijne's side played a high-intensity game for the large part of the contest. The Indians began well and showed early glimpses of an attacking style of play, but were soon left to chase the ball as Germany settled in and dominated possession. India goalkeeper Savita Punia was kept on her toes from the get-go but could do nothing to stop Nike Lorenz's venomous flick from a penalty corner.

The 12th-minute goal gave Germany the early advantage and saw the side seize control of the game. The German defence shut out any attack attempted by the Indians, while the forwards piled forward. Germany, the 2016 Rio Olympics bronze medallist, won a penalty stroke early in the second quarter when Gurjit Kaur's tackle on Cecile Pieper saw the referee award a penalty, but the Indians referred the decision and had it reversed.

Indian had a golden chance to equalise in the third quarter - a chance that was squandered. Rani Rampal's strike off a penalty corner struck Lisa Altenburg on the thigh on the goal-line. It was a clear goalscoring opportunity and even though it struck Alternburg above the knee, the Indians, who opted for a referral, won the penalty stroke. Gurjit Kaur stepped up to take it but was denied by a stunning save from Julia Sonntag.

The missed chance would come back to torment India as Anne Schroder scored in the 35th minute with a ferocious strike.

Vandana was one of the better players and made repeated forays into the circle. She forced a fine save from Sonntag late in the third quarter, but the Indians were largely uninspiring upfront. They did create a few chances, particularly in the third quarter, but failed to find a decent pass into the circle.

The Germans, with a 2-0 lead, were more than content to hold on to possession and control proceedings. Sharmila was shown a yellow card mid-way into the final quarter for a rash foul and the heaves opened up as Germany closed out the game to pick up its second win on the trot.

The Indian side is winless from its two outings.

Sportstar


---

Valiant Indian women's hockey team go down 2-0 against Germany

After the 1-5 drubbing at the hands of world no.1 Netherlands, the Indians lifted their game but it was not enough to get past world no.3 and Rio Games bronze-medallists Germany in their second Pool A match at the Oi Hockey Stadium.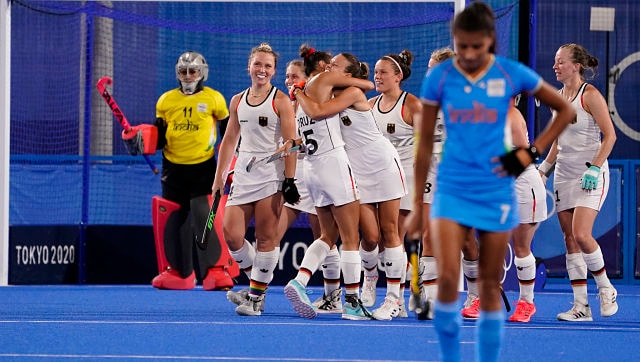 Germany celebrate after Anne Katarina Schroder scores on India goalkeeper Savita (11) during a women's field hockey match. AP

Tokyo: The Indian women's hockey team fought valiantly but poor execution proved to be its undoing, leading to a 0-2 defeat at the hands of Germany, a second consecutive setback for the side at the Tokyo Olympics here on Monday.

After the 1-5 drubbing at the hands of world no.1 Netherlands, the Indians lifted their game but it was not enough to get past world no.3 and Rio Games bronze-medallists Germany in their second Pool A match at the Oi Hockey Stadium.

The team was guilty of wasting a lot of opportunities, including a penalty stroke by Gurjit Kaur in the third quarter while luck also didn't favour the Rani Rampal-led side.

Skipper Nike Lorenz (12th minute) and Anna Schroder (35th) were the goal scorers for Germany, who registered their second win on the trot having beaten Great Britain 2-1 in their first match.

Indian will play Great Britain in their next pool match on Wednesday.

The Germans started on a bright note and had most of the possession early on but India slowly and steadily made their presence felt in the match.

Germany had the first shot at the goal but India goalkeeper Savita was at the right place to deny Franzisca Hauke in the ninth minute.

But three minutes later the Germans were not to be stopped as skipper Nike Lorenz flicked the ball past Savita from their first penalty corner.

The Germans were more aggressive in the first half and got another penalty corner in the 21st minute but India this time defended stoutly.

The Rani Rampal-led side upped its game by a notch compared to the first game against Netherlands and penetrated the German circle on a quite a few occasions.

But what let them down was finishing and a brave and strong German defence as India went into half time trailing by a goal.

The Indians came out with purpose after the change of ends and looked threatening, mounting attacks as the Germans got busy in defending their citadel.

Vanadana Katariya had an excellent game as she created numerous chances for her side but the forward-line erred in the final touch.

Two minutes into the third quarter, it was Vandana who helped India secure its first penalty corner of the Games. Skipper Rani stepped up and her goalmouth strike hit the body of a German defender.

India straight sought referral for a penalty stroke and duly got one but Gurjit failed to find the back of the net as her effort struck the side post.

The Germans punished India three minutes later when Schroder scored with a fierce hit from top right corner of the circle to double her side's lead.

The Indians didn't lose hope and continued their attacking play but they failed to penetrate the German defence.

On two occasions, Vandana came close to scoring -- first she was denied by the German keeper from a one-on-one situation with a brilliant save and then her deflection from Navneet Kaur's pass hit the top of the post in the 46th minute.

The Germans secured another penalty corner soon but faltered in execution.

Thereafter, the Germans mostly tried to keep the possession, denying India any inroads.

Firstpost


---

Australia, Germany win in men's tournament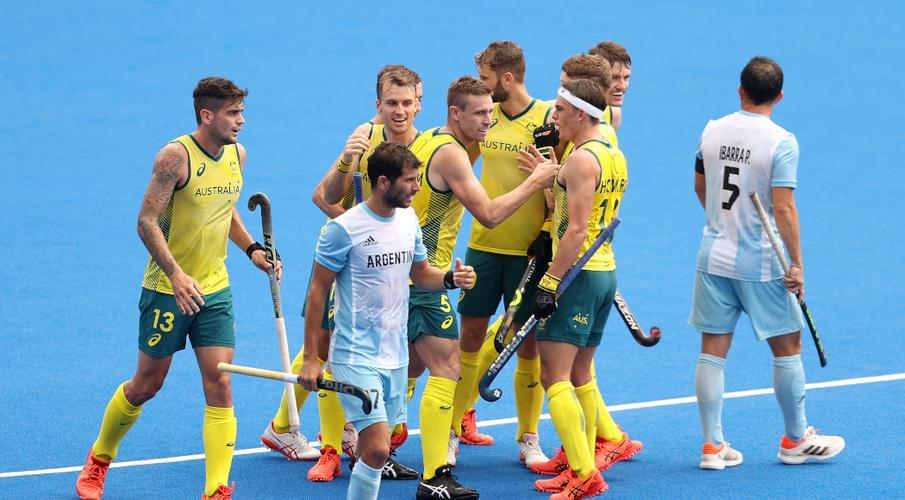 Australian hockey team © Gallo Images

Australia won their third straight match in the men's hockey tournament at the Tokyo Olympics on Tuesday after putting five goals past Argentina, while Germany powered past Britain.

Hosts Japan earned their first point of the tournament following a 2-2 draw against New Zealand and India defeated Spain 3-0.

Australia's 'Kookaburras' went behind in the fourth minute as the match got underway in rainy conditions but had scored four goals by halftime and went on to win 5-2.

"It was a good grind that first five, 10 minutes," said Andrew Charter, Australia's goalkeeper.

"We did concede one but at the same time, we had a couple of opportunities. This is international hockey - you're not going to go through a game without any opportunities against you."

Australia drew level with less than a minute to go until the end of the opening quarter when forward Blake Govers scored a penalty corner, confirming his reputation as a penalty corner specialist.

That was followed by three more goals in the second quarter and one after the break, giving Australia - who beat Japan 5-3 and India 7-1 in their first two games - the maximum nine points from three matches.

"These first three games are shaping up really well," said goalie Charter.

"We haven't had a chance to test ourselves against much competition (in the run-up to the Olympics), except New Zealand."

Also in the men's competition, Germany handed Britain their first defeat of the tournament, winning 5-1, including three goals by attacker Florian Fuchs.

Japan, playing in the men's hockey tournament for the first time since the 1968 Mexico Games, avoided a third straight defeat but coach Siegfried Aikman was disappointed not to have come away with the win over New Zealand.

"I'm a bit emotional at this moment because our team so did very well and we couldn't bring it home," Aikman said.

"We did almost everything well and it's a matter of experience. A few counter-attacks and we are in trouble and that happens through the tournament."

India secured their second victory at the tournament with a goal from midfielder Simranjeet Singh and a double from defender Rupinder Pal Singh, though the game was closer than the scoreline suggests.

Supersport


---

Typhoon Kookaburras take down Olympic Champs

By Catriona Dixon




Reigning Olympic champions Argentina met a typhoon on two fronts today: the first was Tokyo's wild weather, the second the lethal Kookaburras who showed no mercy claiming a 5-2 victory in their third Pool match of the men's hockey tournament.

In what was dubbed as the match of Pool A, the Australians notched a convincing third straight victory to stamp themselves as one of the teams to beat for Olympic gold.

The win was the 44th for the Kookaburras from 59 internationals against Argentina. It places them at the top of their Pool and with an impressive goal tally of 17 with two Pool matches to play against New Zealand and Spain.

But success came with a warning, Head Coach Colin Batch knowing his team have a target on their backs with every opponent they come up against.

"I reinforced that with the guys after the game today," Batch said.

"Every time someone comes up against us, they are going to have a crack, that's normal in any competition.

"It's a big challenge for everyone and it's a big challenge for us to keep finding a way to win.

"I think we were able to do that today. We need to keep doing that for the duration of the tournament."

The Kookaburras were put under pressure early in the match with South American drag flick specialist Jose Leandro Tolini converting on a second penalty corner attempt to give his side the lead in the first three minutes of the game.

Poised and determined defence by postman Flynn Ogilvie and goalkeeper Andrew Charter denied a relentless Argentinian onslaught.

The Kookaburras stepped up in the final 30 seconds of the first quarter to convert a critical penalty corner off a well drilled Jeremy Hayward - Blake Govers battery to level the scores at 1-1.

The world number one team built on this momentum in the second quarter scoring three goals in 10 minutes to signal their gold medal intentions.

In what was an explosive display of teamwork, Tim Brand found Tom Wickham at the goal mouth to score, before Govers converted an impressive drag flick from a penalty corner to give him a first half brace.

Flashy Lithgow forward Lachi Sharp scored his maiden Olympic goal slapping in a cross from Wickham to give the Kookaburras a comfortable 4-1 lead at the break.

As the typhoon-induced weather calmed in the second half, so did the Kookaburras' play with the side embracing coach Batch's "smart and patient" strategy to control the powerhouse Argentineans.

Darwin's Hayward then joined the party with an impressive drag flick in the 39th minute.

Argentina fought through to the final whistle with Maico Casella Schuth reinstating some confidence in his side, converting from a penalty corner to make the final score 5-2.

"This was certainly a different game and we expected that," Batch said.

"Argentina are a slightly different style, they started very well, so for the third game in a row we were under some early pressure.

"This is something we need to correct, but once we got back into the game with our possession, it was very good.

"The second quarter was really good and that was the break we needed.

"This is a long tournament, and we are not even halfway through; there is still a lot of hockey in front of us."

Australia faces Trans-Tasman rival New Zealand tomorrow night at 9.15pm local time in what will be the teams' seventh encounter this year.

Match Details
Argentina 2 (Tolini 4', Casella Schuth 55')
Kookaburras 5 (Govers 15'/23', Wickham 21', Sharp 25', Hayward 39')
@ Oi Hockey Stadium, Tokyo

Kookaburras: 1.Lachlan Sharp, 5.Tom Wickham, 6.Matthew Dawson, 10.Josh Beltz, 11.Eddie Ockenden, 12.Jake Whetton, 13.Blake Govers, 14.Dylan Martin, 15.Josh Simmonds, 16.Tim Howard, 17.Aran Zalewski (c), 22.Flynn Ogilvie, 23.Daniel Beale, 29.Tim Brand, 30.Andrew Charter (gk), 32.Jeremy Hayward

Hockey Australia media release


---

Australia gold contenders as Argentina wilt



Australia celebrate during 5-2 win over Argentina PIC: REUTERS/Alkis Konstantinidis

TOKYO — Australia men are already assured of the Olympic quarter-finals – only this time they look anything but the team which exited to Argentina at the same stage five years ago.


---

India overwhelms Spain, send notice to other teams




Playing first time here in Tokyo, Simranjeet Singh added verve to the struggling Indian forwardline with a neat deflection goal  early in the match against Spain to set India on a victory course. His 14th minute goals was followed by Rupinder Pal Singh's stroke conversion to end the first quarter 2-0. Its a dream start for team with two goals in two successive minutes. Spain did not recover the from early loses, though made huge effort, even earning as many as seven penalty corers compared to  four by the Indians. Rupinder Pal converted the fourth to give India a 3-0 lead which survived till the end.

Narinder Dhruv Batra, the FIH president, Juan Antonio Samaranch Salisachs, the IOC member from Spain, and Fumigo Ogura, the AHF President, and Thierry Weil, the CEO of FIH  also witnessed the Indian resurgence on the South Pitch. It was drizzling and windy morning, but the Indians with their opportunistic game, warmed the hearts of everyone.

Its second win for India in three matches. Coming as it may after the Australian humiliation, the team has woken up to the task and stay counted in Tokyo. Two more matches await India, one in the form of defending champions Argentina and the other and last in the pool Japan. If India can win these two matches, it has a chance to be second in the pool, as things stand now.

India's Spain Success: Spain took 16 shots at goal, scored nil; India 3 out of 10. Spain got 7 PCs not allowed score even once, India got 4 converted 1. Spain held ball for 52 minutes against India's 48. Amit played his 100th match while it was 200th for Birendra Lakra.

India got their Olympic men's hockey campaign back on track after a devastating loss to Australia with a comprehensive 3-0 win over Spain in Pool A at the Oi stadium in Tokyo on Monday.

Ruperinder Pal Singh scored twice, one with a penalty stroke and the other with his trademark drag flick, after Simranjeet Singh, coming in for Gurjant Singh, gave India the lead in the first quarter.

India now have six points from two wins and a defeat and must fancy their chances of making the quarterfinals from the six-team pool with matches against Argentina and Japan to come.

The result also places India at second spot in the pool after freewheeling Australia who beat Argentina 5-2 in the early match.



Goalkeeper PR Sreejesh has been walling the Indian team in Tokyo

Manpreet Singh's team must be credited for retaining composure against the Spanish who controlled the game for long spells in a quest to eke out their first win after a draw and a loss.

They did well to quell the threat of Spain's drag-flicking threat in the form of the veteran Pau Quemada and the penalty-corner defence, including iconic goalkeeper Sreejesh, did their bit in thwarting danger at seven such awards.

At the other end of the pitch, the penalty corner battery worked well with two yielding goals – one from an ensuing penalty stroke.

After Spain all but scored from their first penalty corner, thanks to Sreejesh's timely stretched left foot, India drew first blood. A seemingly innocuous sideline hit by Amit Rohidas eluded the Spanish defence and found Simranjeet who made no mistake in the 14th minute.

With time running out for the first-quarter hooter, the timing of the goal was telling but a penalty corner that came India's way moments later then proved devastating for Spain.

Rupinder did the damage, first forcing the stroke with a power-packed flick that hit the left postman off experienced goalkeeper Quico Cortes and the tall drag-flicker was presented a chance to get his name on the score sheet.

A flick to Cortes' left put India 2-0 up and give India a huge advantage going into the second quarter.

Spain, three time silver medallists, made a concerted effort to get back in the game and hogged possession for considerable periods during which the ball remained within the attacking 23m area.

Two penalty corners to the Red Sticks in this period found the "wall like" figure in Sreejesh.

India braced themselves for the crucial third quarter but the resolute Spanish were blunted by a yellow card to captain Miguel Delas who paid for a faulty player count as per the rules. Spain continued to dominate possession but there was no mistaking Indian resolve and composure.

A critical moment, however, arrived a nano second before the three-quarter hooter when a Spanish referral for a penalty corner was upheld. But with no change in the scoreline, India looked good to preserve their lead even as Spain continued to hold the edge on possession in the final quarter.

The Indian defence, so badly mauled by Australia in a 1-7 reverse on Sunday, retained structure and when a fourth penalty corner arrived for the team in blue with nine minutes to go, it looked ominous for the Spanish.

Surley enough, Rupinder unleashed a tremendous drag-flick to put the match to bed and even though the Red Sticks continued to threaten in a quest for a goal, India never looked like surrendering their stranglehold.

Three more penalty corners came Spain's way but the defence held sway with Sreejesh making his presence felt at the sixth award.

Stick2Hockey.com


---

PR Sreejesh after Spain success: "As a goalkeeper, I need to soak up pressure and control things"




There was a sense of cautious optimism in the Indian camp after the win against Spain and goalkeeper Sreejesh, who had a good match with a clean sheet to boot, exuded just that.

"The three points we gained is all-important and we will continue to focus on collecting points in our next games against Argentina and Japan to ensure a quarterfinal place," he said while cooling down after the morning match at the Oi Stadium in Tokyo on Monday.

India's 3-0 win came in the wake of a huge 1-7 defeat against Australia in their last match and Sreejesh explained the team decided to forget that match and look ahead.

"It's not so important on what happened yesterday or the day before," said the talismanic goalkeeper.

"Our defence was bad against Australia but it was good today and we bounced back well.

"It's important to concentrate on the task at hand and as a goalkeeper, I need to soak up pressure and control the team. Yes, it's time to forget that match, even this one and move forward."

And looking ahead, Sreejesh viewed the challenge posed by Argentina. "We played them recently and know they are skilful. Our mantra is to look at ourselves and execute planning," he said.

"We are progressing gradually. Against New Zealand, we played our first competitive match after a long time and we were reminded how intense the matches here will be while playing Australia.

"The knockouts present a really tough challenge and the newer players got a close look at Olympic competition," Sreejesh said.

About the young players in the squad and their ability to soak up pressure, Sreejesh said that all are now Olympians and are seasoned to that extent.

About the worry the coronavirus is causing, he said: "It's in our subconscious mind. We are given freedom at the Village but we know we must conduct ourselves responsibly, wear masks, sanitize ourselves and remain indoors as much as possible," the 33-year-old said.

Stick2Hockey.com


---

Rupinder Pal Singh, Simranjeet score as India beat Spain 3-0 in Tokyo Olympics group match

The Indian men's hockey team climbed to second place in the six-team group after three matches. The top four qualify for the quarter-finals.

By Ritu Sejwal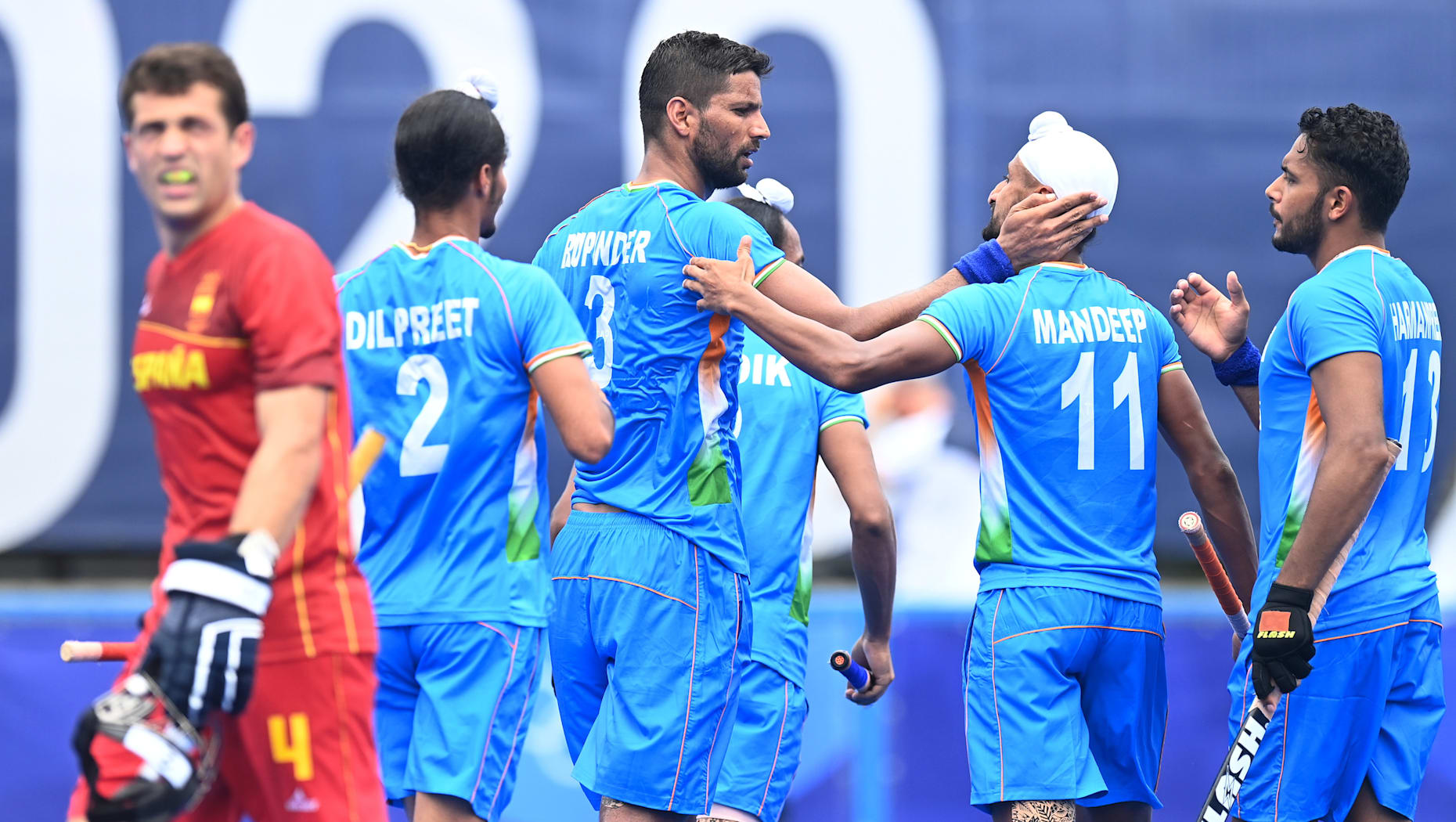 Picture by WORLDSPORTPICS.COM/FRANK UIJLENBROEK

The Indian men's hockey team tasted success for the second time at the Tokyo Olympics as Manpreet Singh and his men beat Spain 3-0 in their third Pool A match at the Oi Hockey Stadium on Tuesday.

Simranjeet Singh (14th minute), Rupinder Pal Singh (15th minute, 51st minute) scored for the Indian hockey team as the Spanish forwards failed to convert.

Coming on the back of a crushing 7-1 loss to Australia, India started dominating early on, keeping the ball in the Spanish side. The Indian hockey team had an opening in the ninth minute when Mandeep Singh dribbled past the Spanish defenders but team-mate Hardik Singh fell short.

Spain slowly found their lost ground and their first penalty in the 11th minute, but Surender Kumar's stick averted the threat.

With just three minutes remaining in the first quarter, world No. 9 Spain looked for every moment to get the board running but it was India, ranked fourth, that delivered.

A long pass from Amit Rohidas was rightly received and converted by Simranjeet Singh in the 14th minute. From then on it was India's game, earning three successive penalty corners, resulting in a penalty stroke. Indian drag-flicker Rupinder Pal Singh made no mistake and got the better of Spanish goalkeeper Francisco Juncosa Cortes for a 2-0 lead a minute later.

Spain dominated the second quarter with goal-scoring opportunities and built pressure on their opponents with a penalty which was later reversed by a successful referral by India.

The Spanish forwards, almost desperately, attacked from the left flank but India's goalkeeper PR Sreejesh and the defenders were too strong to breach. Spain then failed to convert a penalty in the 24th minute. This was their fourth penalty corner of the match.

In the third quarter, captain Miguel Delas was handed a yellow card for an additional Spanish player on the field. A yellow card forces five minutes' suspension. Dilpreet Singh and Sumit's attempts in the 34th and 37th minute, respectively, were saved by the Spanish goalkeeper Francisco Juncosa Cortes.

Spain built an attack and had their shot with six seconds remaining when an attempt found the Indian net after the hooter. Spain got their fifth penalty from a video referral which was successfully defended. The scoreline, however, remained in favour of India 2-0.

Having played two quarters on the defensive, India extended the lead to 3-0 when Rupinder converted a penalty corner in the 51st minute. This was Rupinder's second goal of the match and the third in Tokyo.

Spain counterattacked with three successive penalty corners in the 54th minute and another in the 57th minute, but PR Sreejesh averted the threat each time.

The win over Spain puts India second in Pool A with six points behind Australia (nine points). The top four teams in the pool will qualify for the quarter-finals. Each team plays five matches in the group stage.

The Indian men's hockey team has played three matches at Tokyo 2020 so far. India won their opener against New Zealand 3-2 and then lost 7-1 to Australia.

India will play their fourth pool A match against defending Olympic champions Argentina on Thursday.

Olympic Channel


---

India beats Spain 3-0, Rupinder Pal Singh scores brace

A double from Rupinder Pal Singh and a field goal from Simranjeet Singh helped India defeat Spain 3-0 in a men's hockey Pool A match at the Tokyo Olympics.



Rupinder Pal Singh of India celebrates with his teammates after scoring against Spain at the Tokyo Olympics.   -  REUTERS

Rupinder Pal Singh and Simranjeet Singh scored three goals between them as India beat Spain 3-0 in a men's encounter at the Oi Hockey Stadium's South Pitch on Tuesday.

With this victory, India (six points) moved to the second spot in Pool A of the Tokyo Olympics, just behind Australia (nine) which defeated Argentina (four) 5-2 earlier in the day.

The Indians were thumped 1-7 by the Australians in their last outing, mainly due to their defensive frailty. But the India back-line produced a spirited performance against Spain this time around.

Simranjeet and Rupinder scored within 90 seconds of each other in the first quarter to put the Spaniards on the back foot straightaway. The second and third quarters were goalless as Spain struggled to finish chances and the Indian defenders stayed solid.

Rupinder followed his penalty-stroke goal in the 15th minute with a penalty-corner conversion in the 51st. India eventually managed to keep the clean sheet and claim three points.

India had earlier defeated New Zealand 3-2 in its opening fixture. Spain, on the other hand, is yet to register a win in the competition.

Spain drew 1-1 against Argentina before losing 3-4 to New Zealand.

The Indians will next play reigning Olympic champion Argentina on Thursday.

Sportstar


---

Indian men's hockey team bounce back from defeat to beat Spain 3-0

Drubbed 1-7 by Australia in their last match, India produced a spirited performance against world No 9 Spain and scored through Simranjeet Singh (14th minute) and Rupinder Pal Singh (15th and 51st) to record a comfortable win in their third Pool A match at the OI Hockey Stadium.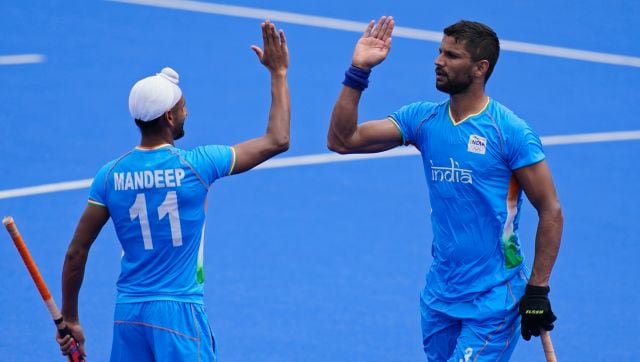 India's Mandeep Singh (11) celebrates after India's Rupinder Pal Singh, right, scored against Spain during a Men's field hockey match at the 2020 Summer Olympics, Tuesday, July 27, 2021, in Tokyo, Japan. (AP Photo/John Locher)

Tokyo: Dragflicker Rupinder Pal Singh scored a brace as the Indian men's hockey team overcame a demoralising defeat in the previous match to cruise past Spain 3-0 and register their second win at the Tokyo Olympics on Tuesday.

Drubbed 1-7 by Australia in their last match, India produced a spirited performance against world No 9 Spain and scored through Simranjeet Singh (14th minute) and Rupinder Pal Singh (15th and 51st) to record a comfortable win in their third Pool A match at the Oi Hockey Stadium.

India, ranked fourth in the world, had earlier defeated New Zealand 3-2 in their opening fixture. Spain, on the other hand, are yet to register a win in the competition.

Spain drew 1-1 against Argentina before losing 3-4 to New Zealand.

The Indians will next play reigning Olympic champions Argentina on Thursday.

For any team, it is always tough to recover from a morale-shattering loss within a day, but India looked more organised and sorted against Spain on Tuesday.

Manpreet Singh's men played high-pressure hockey from the word go and dominated the possession in the initial 10 minutes even though they failed to create any real scoring opportunities.

In the ninth minute, India came close to breaking the deadlock but Simranjeet's deflection from skipper Manpreet Singh sailed over the goal.

Spain slowly and steadily got into the groove and secured their first penalty corner in the 12th minute but wasted the chance.

The Indians mounted a number of attacks in the final few minutes of the game and the ploy bore fruits when Spain's defence was caught off guard by Amit Rohidas' pass and an unmarked Simranjeet just tapped the ball into the goal past Quico Cortes.

The goal rejuvenated India as they secured three back-to-back penalty corners in the final minute of the first quarter and from the third set-piece, Harmanpreet's flick found the body of a Spanish defender, which resulted in a penalty stroke.

Rupinder Pal Singh stepped up and made no mistake in doubling India's lead.

Trailing by two goals, the Spaniards pressed the Indian defence hard in the second quarter and the play was mostly inside the Indian half.

Spain's pressure tactics earned them three penalty corners in the third quarter — the last one coming just seconds from the end following a referral — but the Indian defence held firm to keep their lead intact.

Experienced India goalkeeper PR Sreejesh, who had a nightmarish outing against Australia, had a brilliant game as he showed good reflexes to pull off some fine saves.

The fragile Indian defence, known for succumbing in tough situations, somehow managed to soak up the pressure put up by the Spaniards.

With a two-goal cushion, the Indians were quite content in just defending in the fourth and final quarter as Spain continued to apply relentless pressure.

But in the 51st minute, India managed to find the net again when they earned a penalty corner, their fourth of the match, from a counter-attack and this time Rupinder was bang on target with a powerful low flick to the right of Spanish goalkeeper Cortes.

Down 0-3, Spain didn't give up and continued to attack in numbers while the Indians looked to just defend.

In the 53rd minute, Spain secured three consecutive penalty corners but their dragflicker Pau Quemada failed to breach the Indian back-line led by Sreejesh.

Spain secured another penalty corner in the final minutes of the game but again Sreejesh denied Quemada to help India keep a clean sheet.

Firstpost


---

After disaster against Australia, Indian men's hockey team defeat Spain 3-0 in Group A

India inch closer to a quarter-final berth after winning 3-0 against Spain in the third game of Group A.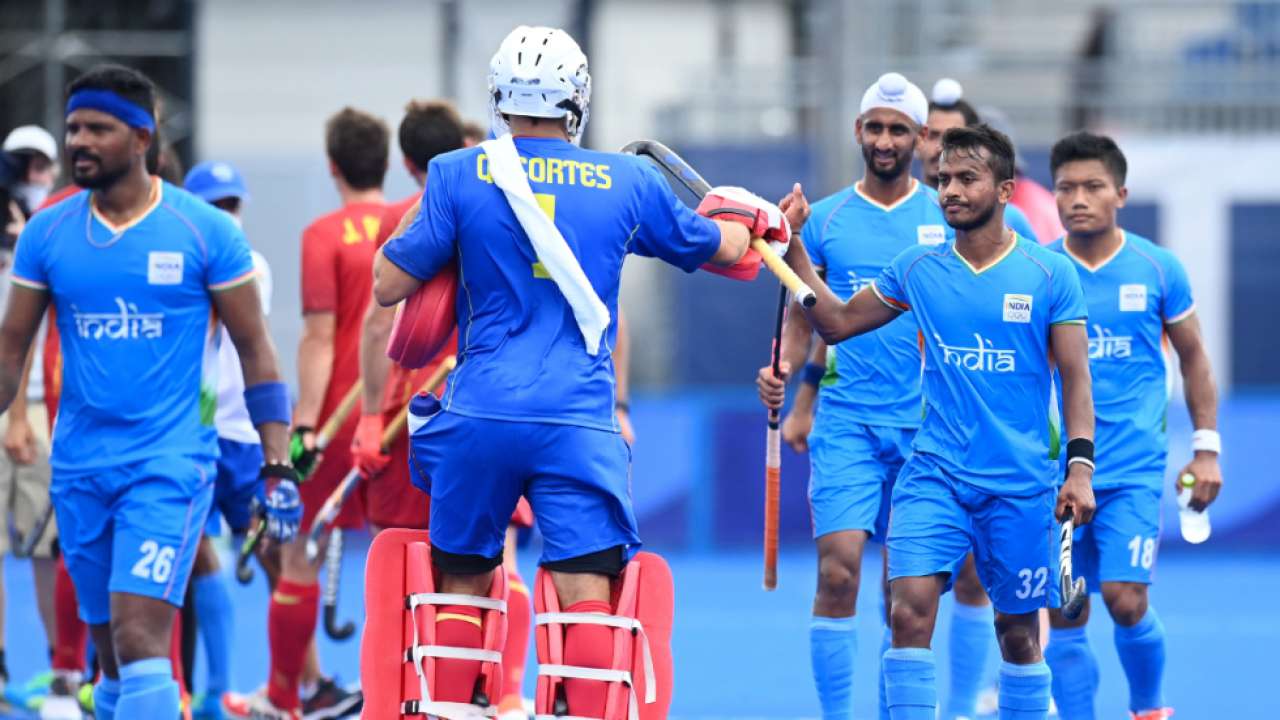 Hockey India Twitter

The India men's hockey team defeated Spain 3-0 in their third Group A game in the ongoing Tokyo Olympics at the Oi Hockey Stadium South Pitch on Tuesday.

This result comes two days after the team was subjected to a 1-7 thrashing at the hands of Australia on Sunday.

In the first quarter, India took the lead as Simranjeet Singh scored the goal and the early nerves for the Manpreet Singh-led side eased a bit.

Soon after Rupinder Pal Singh scored as well, giving India a 2-0 lead by the end of the first quarter.No goals were scored in the second and third quarters, and India held on to the 2-0 lead.

However, Spain was looking good while making attacking moves, and India had a tough task in holding them off.

In the fourth quarter, Rupinder scored one more goal as he successfully converted from a penalty corner, and hence India gained a 3-0 lead.

In the end, India managed to hold on and walked away with a victory. Before the match against Spain, India had defeated New Zealand but lost to Australia.

Daily News & Analysis


---

India hockey men's coach Graham Reid calls for 'improvement' after 3-0 win over Spain

The Australian wants India to give away fewer penalty corners at Tokyo 2020.

By Soham Mukherjee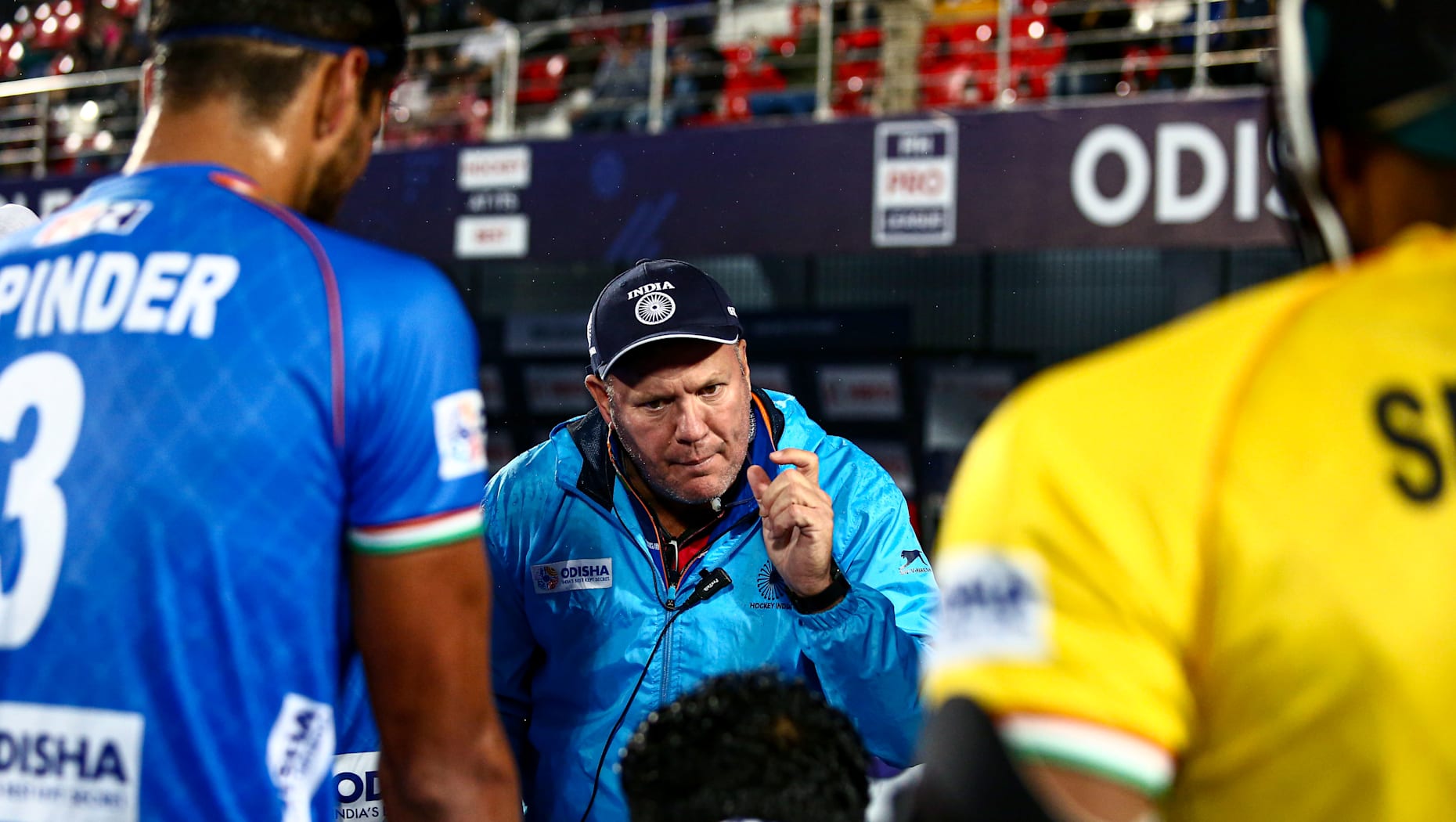 India men's hockey team bounced back after the 7-1 drubbing at the hands of Australia to register their second win at Tokyo 2020, downing Spain 3-0 in their third Group A game on Tuesday.

Rupinder Pal Singh's brace and a goal from Simranjeet Singh helped India ease past Spain with goalkeeper PR Sreejesh keeping his first clean-sheet at Tokyo 2020.

The Men In Blue won their opening game in the competition against New Zealand 3-2 and are currently placed in the second position in Group A.

Coach Graham Reid however, stated that the team needs to improve ahead of their final two games against Argentina and Japan on July 29 and 30 respectively.

"(It was a) Better result today, but a lot of things to work on from an improvement perspective. The fact that we gave too many corners, that's always a concern when that happens. But the team did really well in terms of defending the penalty corner," said Graham Reid.

The 57-year-old coach pointed out that India took their foot off the gas after going 2-0 up in the first 15 minutes and struggled briefly in the second quarter, consequently with Spain in the ascendancy.

"The first quarter was played very well, we could move the ball really well and it was exactly what we planned to do. I think 2-0 is the worse score in hockey because after that we were relaxed and we struggled a bit in the second and third quarter to get back in the game. We managed to do that in the fourth quarter and tried to play simple hockey and that's what we ended up doing," observed Reid.

India will hope to progress to the semi-finals at least this time around, having lost in the quarter-finals to Belgium at Rio 2016.

Olympic Channel


---

Raghunath VR: Rupinder and Harmanpreet will be key for India going ahead at Tokyo 2020

The Indian hockey team came back strongly against Spain after a heavy loss to Australia

By Soham Mukherjee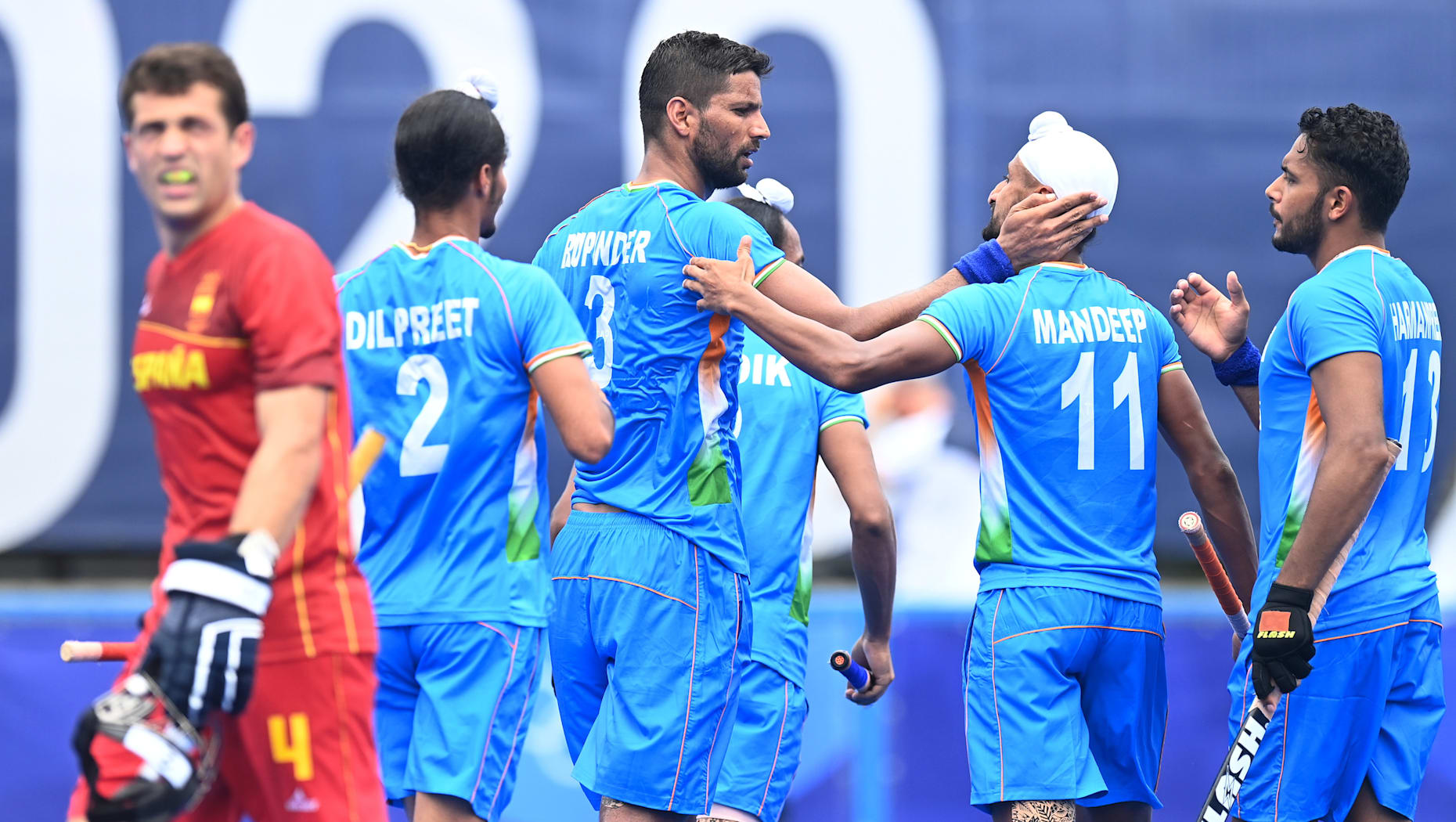 Picture by WORLDSPORTPICS.COM/FRANK UIJLENBROEK

The Indian hockey team showed character and composure to bounce back from a 7-1 loss against world no. 1 Australia to win 3-0 against Spain in a group stage match in the ongoing Tokyo Olympics.

It was Simranjeet Singh (14') who opened the scoring for India while Rupinder Pal Singh (15', 51') added two more goals to his tally to continue his fine form.

Former India international who was part of the squad in Rio Olympics, VR Raghunath heaped praise on Graham Reid's men after the clinical performance from the boys.

"It was a clean win today. The boys showed their maturity to come back so well after the heavy loss. In just one day break they picked up their pieces and put in a great team effort. The penalty corner was perfectly taken by Rupinder. We could have done better in the third and fourth quarters and scored some more goals to reduce the goal difference. Simranjeet came in as a new player and he did the job perfectly. I expect the same calmness and composure from the players in the next two matches," told Olympics.com.

Raghunath believes that the comprehensive win over Spain will help them get over the earlier disappointment.

"We just could not solve the Australian puzzle. But these things do happen in Olympics. Therefore the group stage is so important. You can lose one game and then change the tactics and come back stronger. We lost the match in the second quarter. Against tough teams, the key is to take each quarter afresh as a new match. This team has the calibre and be in a positive mind. This will help them get over the earlier disappointment."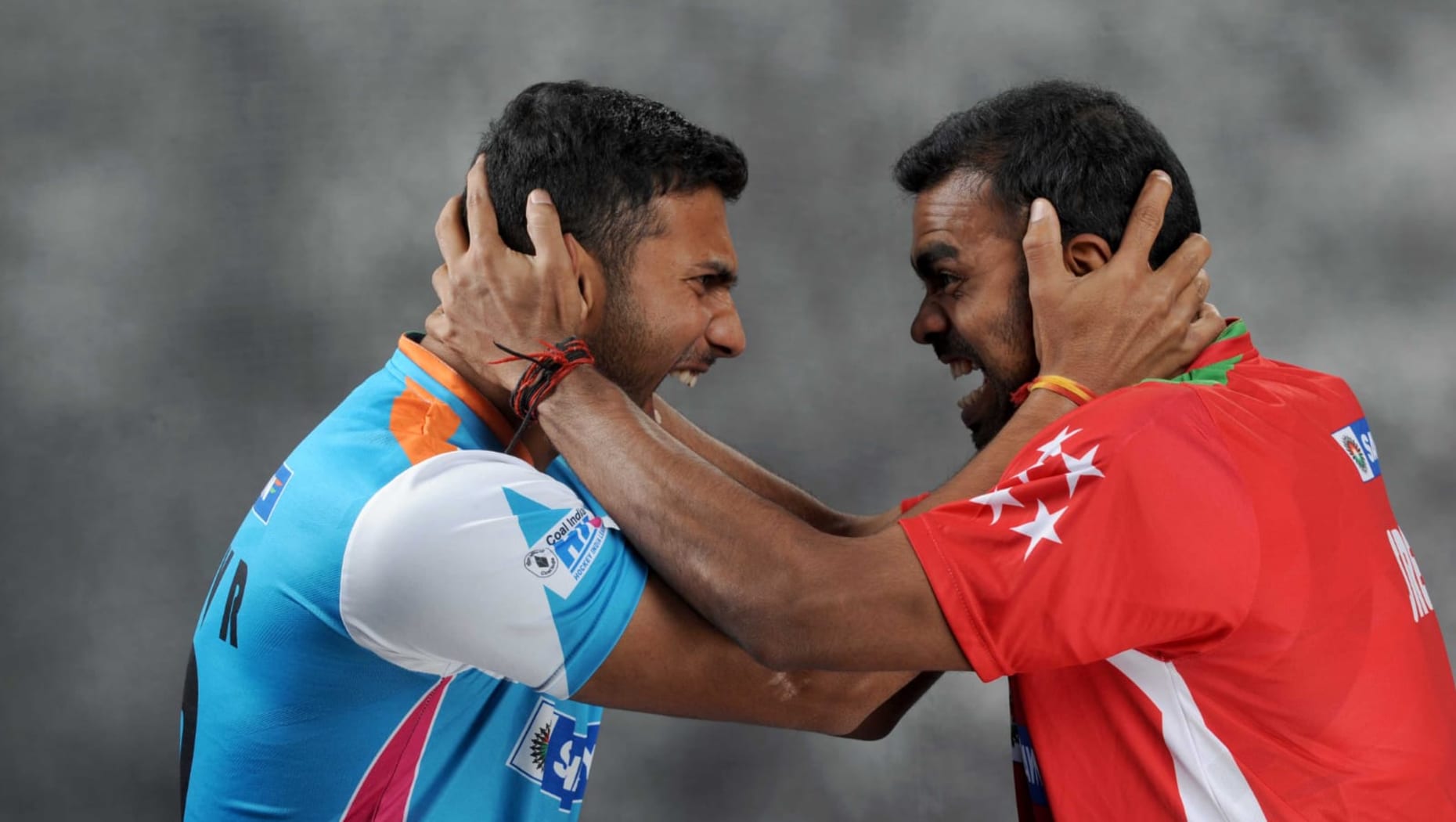 VR Raghunath with PR Srejeesh

In both the wins against New Zealand and Spain respectively, PR Sreejesh stood tall and put in impressive performances which helped India get over the line. His performance against Spain especially deserves special mention as it comes at the back of a humiliating loss.

"I have played with Sreejesh for over a decade. He was even my roommate. He is a very strong character and can bounce back strongly. He analyses it in his mind and we saw within 24 hours he is coming back in a new avatar. He had let that go, his performance against Australia and it was evident from his display today. Keeping a clean sheet in an Olympic game is the most difficult thing and he did that today. No doubt he is one of the top keepers in the world," said Raghunath.

Going ahead India will face reigning Olympic champions Argentina and Japan on July 29 and 30 respectively. India had toured Argentina earlier this year and came back with four wins, and one draw and loss each. Hence Reid's men will look to make the most of their know-how of the Argentine team and get another three points.

"The key in the next two games will e taking the lead early. It gives you a psychological advantage and when you have two world-class drag flickers in Rupinder and Harmanpreet, we should make the most of them. Get in the circle and get those penalty corners," stated Raghunath.

India are currently second in Group A with six points from three matches.

Olympic Channel


---

Harendra Singh: Indian men's hockey team have the most powerful drag-flickers in the world

The experienced coach mentioned that defence will be India's USP at Tokyo 2020.

By Samrat Chakraborty




Fullback Rupinder Pal Singh, one of the best drag flickers in the world, scored a brace while Simranjeet Singh struck one in India's 3-0 win against Spain in the men's hockey Pool A match at Tokyo 2020 on Tuesday.

Former India head coach Harendra Singh pointed that India's biggest strength will be the telepathic understanding between goalkeeper PR Sreejesh and the defenders, namely Harmanpreet Singh, Rupinder Pal Singh, Surender Kumar, Amit Rohidas, Birendra Lakra.

"All these five defenders are capable of playing any position with great defending skill and overlapping. We have three most powerful drag-flickers and one hard hitter in team which is a unique proposition of the team. Defenders are the biggest strength of the Indian team," Singh told Olympics.com.

The likes of Rohidas, Lakra, Pal and Singh are adept at drag-flicks, which is one of the unique strengths of the Indian men's hockey team.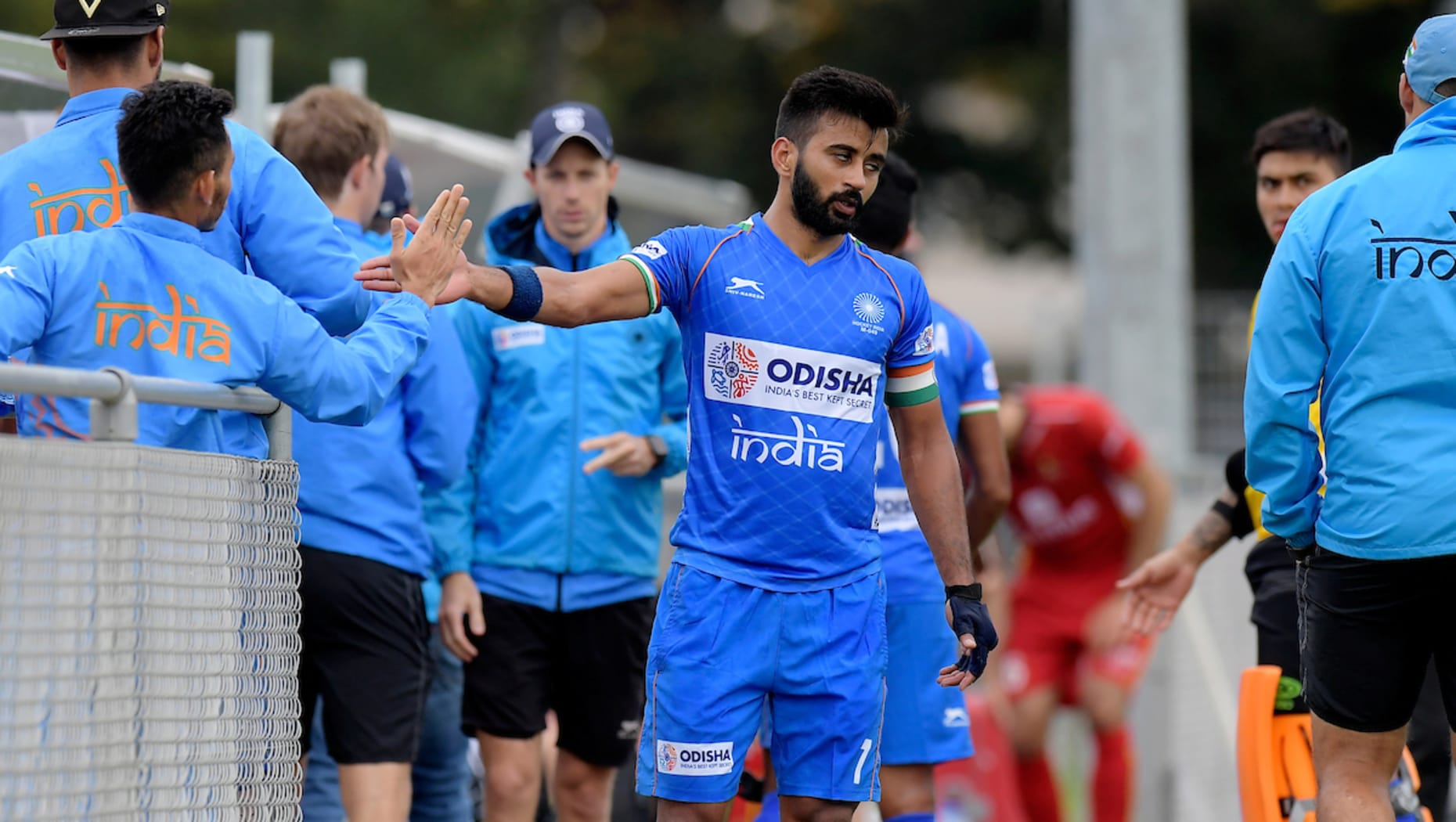 Current Indian captain Manpreet Singh

"Harmanpreet, Rupinder and Rohidas are world class drag-flickers and I am sure they will put lot of masala in this Olympics with their unique style of flick.

"The Indian team has over a period of time developed a variety of drag-flickers which can give any custodian in the world a hard time," he mentioned.

Manpreet Singh guided India to a silver at 2018 Men's Hockey Champions Trophy as they lost to Australia on penalties. Under him, the team had become defensively compact. Since then, Graham Reid has changed the style of play as the men's team are not just defensively solid but always look capable of scoring against any opposition.

India are clubbed in Group A alongside New Zealand, Australia, Japan and Spain. They will be looking to win their first medal in hockey since the 1980 Moscow Olympic Games where they won gold.

Olympic Channel


---

Black Sticks men lucky to come away with draw against Japan




The Black Sticks men have held on for a 2-2 draw with a determined Japanese side in their third pool match in Tokyo.

The draw at the Oi Hockey Stadium today kept the Kiwis quarterfinal hopes alive but was not the result the team would have been looking for against the 15th-ranked Japanese.

The Black Sticks will be ruing missed opportunities, with the Japanese having the better of the Kiwis late in the match and nearly coming away with the upset.

New Zealand had collected their first win on Sunday with a 4-3 victory over Spain after a disappointing 3-2 loss to India the day before.

Black Sticks captain Blair Tarrant was incredibly disappointed not to gain a victory today.

"We needed to get three points out of that match and we haven't."

"We had plenty of opportunities and we needed some scoreboard pressure. In games like that you need to get a couple ahead … so really disappointing."

Tarrant said it was unfortunate to play the latter stages of the game with only 14 players after injuries to George Muir and Shea McAleese.

Today New Zealand were without vice-captain Hugo Inglis who has a hamstring injury. Dylan Thomas returned to the match day 16 after sitting out Sunday's match.

The Japanese took an early lead in today's match with Koji Yamasaki making a strong run and flicking the ball to the left of keeper Leon Hayward.

Nick Wilson equalised for the Black Sticks in the 11th minute as he jumped on the scraps from a Sam Lane penalty corner flick to push the ball past the keeper.

The Black Sticks weren't able to add to their tally throughout the rest of the first half despite sustained periods of attack and three more penalty corners.

Minutes after the half-time break the Kiwis were awarded a penalty stroke after Nick Wilson went down in a tangle with the keeper. Unfortunately for the Kiwis, Kane Russell hit the post with the stroke and the score remained at 1-1.

It wasn't long before the home side regained the lead with a brilliant run from Kenta Tanaka who charged from halfway through some poor Kiwi defence to fire the ball into the bottom right of the goal.

But Lane brought the Kiwis immediately back into it with a penalty corner drag flick that went in off a Japanese defender. At three-quarter time the teams were all tied up at 2-2.

Torrential rain was the dominant feature in the scoreless final quarter which Japan had the better of.

New Zealand 2 (Nick Wilson 11 min, Sam Lane 41 min)
Japan 2 (Koji Yamasaki 3 min, Kenta Tanaka 40 min) Halftime: 1-1.

New Zealand Men: Steve Edwards, George Muir (North Harbour); Leon Hayward (GK), Jared Panchia (Auckland); Nic Woods (Waikato); Sean Findlay, Shea McAleese, Dylan Thomas (Hawke's Bay); Nick Wilson (Manawatu); Stephen Jenness, Dane Lett, Jacob Smith (Wellington); Sam Lane (Canterbury); Nick Ross, Kane Russell, Blair Tarrant – captain (Otago).

Next up the New Zealand men face world no.2 Australia in the early hours of Thursday morning (12.15am NZ time) followed by their final pool match against Argentina on Friday night.

Official Blacksticks site


---

Black Sticks men's hopes in the balance after draw with Japan

Aaron Goile



Japan and the Black Sticks played out a thrilling draw in their Olympic hockey clash. Francois Nel/Getty Images

The Black Sticks men's hockey hopes at the Tokyo Olympics have taken a big dent, after being unable to clinch an expected victory over Japan.

In a thrilling encounter at the Oi Hockey Stadium on Tuesday, the teams fought out a 2-2 draw in heaving rain, which served to dampen New Zealand's quarterfinal hopes, after a missed Kane Russell penalty stroke proved costly.

Japan are the only side in Pool A with a lower world ranking (15) than the Kiwis (eight), with the latter now facing the prospect of potentially needing points out of their last two group games, against world No 2 Australia and defending Olympic champions Argentina, in order to progress.

Despite twice fighting back after trailing, the Black Sticks at times only had themselves to blame, after several sloppy moments with the ball opened the door for the hosts, who had just six shots to New Zealand's 14, and just one penalty corner to six. But their two goals were beauties.

After a second quarter where neither team was able to alter the 1-1 halftime scoreline, the third period was an all-action affair, as the heavens opened in a big way to only add to the drama.

In the space of five minutes in the middle of the quarter, the Black Sticks suffered a double whammy thanks to two massive moments.

The first saw Russell unable to convert his golden opportunity from the spot – instead firing high left and onto the post – and to rub salt into that wound, Japan then re-found the lead thanks to an outstanding half-field run from Kenta Tanaka, who showed superb stickwork and sent a brilliant strike low left past the outstretched Leon Hayward.

New Zealand did hit back a couple of minutes later, with a Nick Wilson video referral proving crucial to win his side a penalty corner, and while they didn't score first time, Sam Lane – a standout for the men in white – cashed in from the next set-piece opportunity straight after.



Koji Yamasaki celebrates after his stunning early goal for Japan. Francois Nel/Getty Images

Less than 30 seconds into the final quarter, Black Sticks veteran Shea McAleese limped off with a left leg injury, but the Kiwis kept themselves in the hunt to bag the three points.

Hayward made a fine reflex save from a penalty corner, then Lane rattled a heavy shot on target, before a final-minute attack looked likely, only for no reward.

Earlier, Japan had opened the scoring in just the third minute thanks to a sensational individual effort from Koji Yamasaki, who went on a mazy run down the left and delicately flicked home, before bursting into wild celebrations in front of a TV camera at the spectator-less stadium.

But, having been set back on their heels and forced into plenty of defending, New Zealand struck back inside the final five minutes of the first quarter, profiting from their first penalty corner opportunity, when Lane's initial shot was saved, but Wilson was able to latch onto the rebound and slot home.

The Kiwis made a strong start to the second quarter, and went within inches of taking the lead, with their penalty corner deflected by Japan goalkeeper Takashi Yoshikawa onto the post.

They enjoyed the better of things throughout that 15-minute period and went close on a few more occasions, but just couldn't find the decisive blow.

And in the end, that proved a major problem.

AT A GLANCE

Black Sticks 2 (Nick Wilson, Sam Lane) Japan 2 (Koji Yamasaki, Kenta Tanaka).

Stuff


---

Men's Black Sticks medal hopes suffer crucial blow in draw with Japan

By Dylan Cleaver



Jared Panchia battles for a loose ball against Kenji Kitazato. Photo / Getty Images

The men's Black Sticks' chances of progressing to the hockey medal rounds were dealt a blow when they were held to a draw by hosts Japan.

New Zealand forced six penalty corners and a stroke to Japan's two PCs, but conceded two spectacular but ultimately soft open-field goals that put a significant dent in their hopes of finishing in the top two of the pool and securing a more advantageous quarter-final opponent.

While they will be pleased they retained their composure when falling behind, they will no doubt feel they left two points on the field of the Oi Hockey Stadium.

New Zealand now have the full house of a win, loss and a draw from their first three matches and face the best team in the pool, Australia, on Thursday and Argentina the following day.

They are third, equal on four points with Argentina but holding a better goal difference, and behind India (six) and unbeaten Australia (nine).

Full Kiwi schedule below. Click on a name to see athlete's bio, upcoming events, past Games performance and medal chance.

Given the one-sided nature of the transtasman hockey rivalry and the talent of Argentina, this was a crucial clash for New Zealand and it started in the worst possible fashion.

Koji Yamasaki cut in from the left and looked to be corralled effectively along the byline, yet he somehow beat Leon Hayward at the near post with an angle that could only be found on a protractor.



Japan's Hirotaka Zendana and Masaki Ohashi celebrate scoring their second goal against the Black Sticks. Photo / Getty Images

While annoying to fall behind, goals have not been a problem in New Zealand's matches to date – 12 in two matches – so a comeback was on the cards.

New Zealand started to assert themselves as the first quarter wore on and it was no surprise when Nick Wilson scored after a fortuitous rebound from a penalty corner struck by Sam Lane.

The second quarter was an exercise in frustration for the Black Sticks, who spurned three penalty corner opportunities – one a spectacular save on the line from the Kane Russell drag flick – and several chances from open play.

Stephen Jenness even managed to thread one through goalkeeper Takashi Yoshikawa's legs, only for him to somehow keep it out with his butt as he fell back. Jake Smith also missed a golden opportunity when one on one with the goalie.

If the second quarter was frustrating, the third was downright perplexing. New Zealand poured on the pressure but the ball would not go into the net. Russell's relationship with set-piece situations continued when he hit the inside of the post off a penalty stroke and the ball still stayed out.

When another attack broke down, the midfield and defence contrived to allow Kenta Tanaka to pick the ball up on his own 25m line and run close to unopposed into the circle and slot past Hayward. It wasn't the cleanest finish but the placement was inch perfect.

New Zealand equalised before the final break. After all the clean-cut chances there was some irony that the goal was again fortunate, taking a wicked deflection off Lane's corner attempt.

The final quarter was a see-sawing affair. The wet conditions and fatigue made control difficult but again both sides had chances, with Hayward saving twice to spare any further blushes.

Black Sticks 2 (Nick Wilson, Sam Lane)
Japan 2 (Koji Yamasaki, Kenta Tanaka)
Halftime: 1-1

The New Zealand Herald


---

Clinical Germany Inflict GB Men's First Defeat Of Tokyo 2020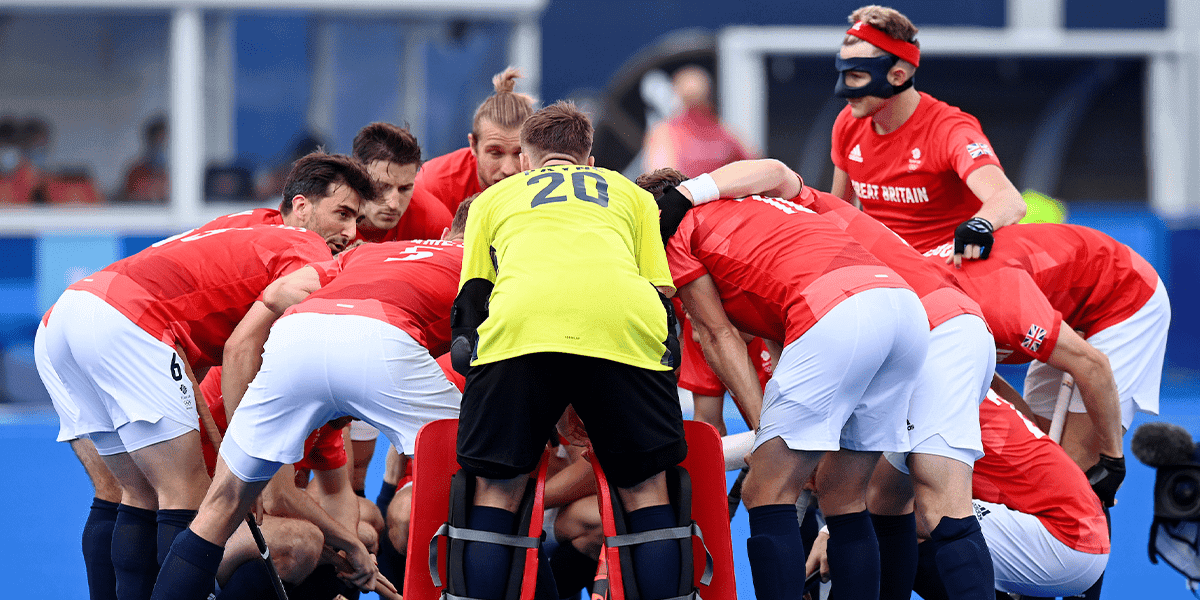 A stunning second half performance saw Germany end Great Britain's unbeaten start to the Tokyo 2020 Olympics.

Florian Fuchs scored a hat-trick and Christopher Ruhr produced an exquisite finish to give Germany their second victory of the Games.

Phil Roper had opened the scoring with a brilliant finish in the ninth minute before Ruhr equalised at the end of the first quarter. He then scored twice more in the final quarter to add to goals from Ruhr and Justus Weigand.

The result means Great Britain's men sit third in Pool B at the time of writing on six points with two games left to play.

Following yesterday's victory over Canada, Danny Kerry's men were hoping to record a third straight victory against a side they had beaten twice in the FIH Hockey Pro League in May.

But it was Germany who started on the front foot, with Weigand missing from close range early on before Tom Sorsby cleared a partially charged down corner off the line.

With their first chance of the game Great Britain took the lead, Roper slamming the ball beyond Alex Stadler from the top of the circle.

Both sides then saw corners saved before Ollie Payne produced a great save from close range in the final minute of the quarter. However there was still time for Germany to win another corner and Fuchs was perfectly positioned to deflect the ball in between Payne and Tom Sorsby.

Neither side was able to add to the scoreline in the second quarter, with Payne producing three brilliant saves from close range while Chris Griffiths' wicked shot was palmed away from goal by Stadler.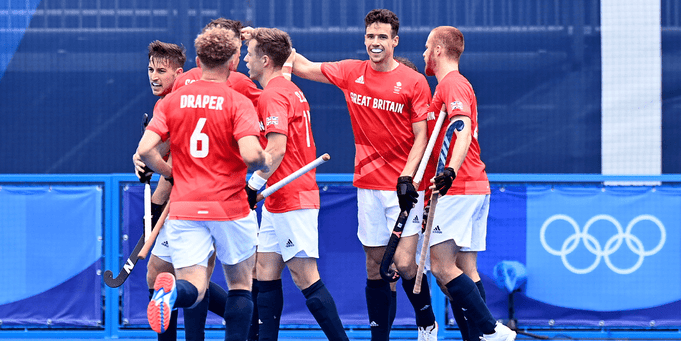 Phil Roper had given Great Britain the lead in the ninth minute. Credit: World Sport Pics

Ruhr then produced a moment of magic five minutes into the second half, lifting the ball into the roof of the net from an acute angle, to give Germany the lead for the first time.

Both Roper and Liam Ansell had chances to level but couldn't find a way past Stadler before Weigand struck three minute before the end of the quarter, finishing from close range after a great run by Mats Grambusch.

Fuchs then added two more in the final quarter to complete his hat-trick, the first a cross-come-shot deflected beyond Payne before he pounced on a rebound at a corner in the final minute.

After the game, Kerry said: "We simply weren't at the races first half and were lucky to go in level.

"The second half was ironically more purposeful but a card against us killed the momentum and Germany capitalised.

"The step up in level from our previous matches was the lesson we needed. We will need to take that lesson."

Captain Adam Dixon added: "We can't take that game in isolation. This is just a little hiccup. It hurts a little bit more because it's Germany but we've got to pick ourselves up because we've got two big games and we want to finish this pool stage off in a strong position. We'll be kicking ourselves after that result today but we've got to turn it around in 48 hours' time.

"The positive is that we can still improve tenfold from what we've put out in this tournament so far, we've still not peaked. If we can start putting things together the next two games should be quite exciting."

Next up for Great Britain's men is an enticing encounter against The Netherlands at 04:15 BST on Thursday 29 July. Before that, the women face India at 02:00 BST on Wednesday 28 July hoping to record their second win.

Germany 5 (1)

Fuchs (15', PC; 51', FG; 60', PC); Ruhr (35', FG); Weigand (42', FG)

Great Britain 1 (1)

Roper (9', FG)

Starting XI: Ames, Draper, Shipperley, Griffiths, Sloan, Roper, Dixon (C), Payne (GK), Ansell, Sanford, Wallace

Subs: Ward, Creed, Waller, Gall, Sorsby

Great Britain Hockey media release


---

Germany in cruise control over hapless Great Britain



Germany were in superb form during 5-1 win over GB PIC: REUTERS/Bernadett

Germany men moved through the gears with Autobahn speed, precision and class in poor Tokyo weather as they continued their Olympic dominance over Great Britain on Tuesday with a fine 5-1 win.


---

Indian women hockey team needs to create and grab chances against Britain

They have managed a win and a loss in their two games.Great Britain lost 1-2 against Germany before registering a 4-1 win over South Africa in their second match.India captain Rani Rampal too stressed on the need to keep on improving in the competition.

Enduring a forgettable campaign, bottom-placed Indian women's hockey can't afford to squander any more chances if it fancies upsetting defending champions Great Britain at the Tokyo Olympics, here on Wednesday.

After a 1-5 drubbing against world number one the Netherlands, the Indians players lifted their game by leaps and bounds to give third-ranked Germany a run for their money before losing 0-2 in their next Pool A match.

But two consecutive defeats have definitely pegged the side back. India created a lot of scoring opportunities against Germany but finishing was lacking from the forward line. On one occasion, Vandana Katariya was denied by the goal post too.

But not converting the penalty stroke was a huge miss. However, the Rani Rampal-led side can take a lot of heart from its performance against the Germans given that it kept the intensity and fight intact till the final hooter. With two defeats from as many games, the Indian women are currently lying at the bottom of the six-team Pool A, which is being headed by the Netherlands, followed by Germany, Great Britain, Ireland, and South Africa.

While Ireland has recorded a win out of their two games, both South Africa and India are winless but the Africans are placed ahead on goal difference.

But these are still early days with three matches each remaining for all the teams. The top four sides from each pool of six will qualify for the quarterfinals.

India's chief coach Sjoerd Marijne acknowledges the improvement but said it needs to continue if his side wants to secure a quarterfinal berth. ''We played better yesterday (against Germany) than in our previous match. The quality of the play has to improve with each match, and that's what we are focussing on,'' he noted. ''It was unfortunate that we missed our penalty stroke, but I'm happy we created many opportunities to score, which was a positive sign. We played with a lot of energy and were able to put pressure on Germany.'' Ranked 11th in the world, India stands a chance to make the quarterfinals but for that to happen they will have to outplay seventh-ranked Ireland and South Africa, who are placed 16th.

Even if they play to their potential and make use of the chances, the Indians can very well beat world number five Great Britain, who so far didn't look like the titleholders. They have managed a win and a loss in their two games.

Great Britain lost 1-2 against Germany before registering a 4-1 win over South Africa in their second match.

India captain Rani Rampal too stressed the need to keep on improving in the competition. ''We created a lot of chances against a tough opponent like Germany and our defensive organization was better than before. We know that we are on the right track and our time will come. We must show our strength and character as a team. This is a long competition,'' she said. ''...but we want to focus on our good takeaways from our previous match and identify the areas where we still need to improve.''

Devidiscourse


---

Lynch receives 'Olympians for Life' accolade




Hockeyroos goalkeeper Rachael Lynch OLY is one of five athletes to be inducted into Olympians for Life by the World Olympians Association (WOA).

Together with Ugandan athlete Julius Achon OLY, American swimmer Donna de Varona OLY, Japanese athlete Koji Murofushi OLY and British athlete Alan Pascoe OLY, Lynch was inducted into Olympians for Life for her outstanding contribution to society.

The quintet was honoured at a special online ceremony late last night by WOA Patron, HSH Prince Albert II of Monaco, OLY, IOC and WOA Honorary President, Thomas Bach OLY and WOA President, Joël Bouzou OLY as part of the WOA OLY House Tokyo 2020 celebrations.

Lynch received the award, 'for her selfless work as a nurse on the frontline of the fight against COVID-19 in Australia and her role as a mental health ambassador.'

Lynch, who is in Tokyo with the Hockeyroos, said it was a privilege to receive the award and recognition for her work off the field.

"Knowing this is worldwide…I guess the thing that's most special to me is that it's about the conduct off the field rather than the sporting achievements," said Lynch.

"They (WOA) rang me and said that I have been inducted and I asked a few questions and how Olympians for Life came about because I hadn't heard of it."

"They said they've got people watching all around the world and that's how it happened. It's a reasonably new thing but a way to combine all the Olympians and acknowledge what people do."

Hockey Australia President Mel Woosnam congratulated Lynch on the accolade.

"On behalf of the Australian hockey community, I congratulate Rachael for the significant difference she has made away from the hockey pitch," said Woosnam.

"To be among a handful of athletes across the globe to be acknowledged in this way is something special and we are really happy for her."

At each Summer and Winter Olympics, the WOA chooses Olympians who draw on their Olympic experiences to make the world a better place.

Hockey Australia media release


---

'No advice possible!': Hockey's TV umpire review system mocked



Beatriz Perez of Spain in action against Delfina Merino of Argentina PIC: REUTERS/Bernadett Szabo

World hockey's umpire review system has received its sternest test on the sport's biggest platform over the last few days, with several media outlets ridiculing the video challenge procedure while it was roundly mocked online during the opening days at the Tokyo Olympics.


---

Road to Recovery: Mark Pearson recovers from Achilles' tear to play in third Olympic Games

From laying on the ground in Lima to running out onto the pitch in Tokyo. Mark Pearson overcame the odds in dramatic return to play




Six minutes into the 2019 Pan American Games Gold Medal match, Mark Pearson fell to the turf in what looked like an innocent play off the ball.