All the news for Monday 26 July 2021

2020 Olympic Games - Day 4
Tokyo (JPN)

All times GMT +9

Men

26 Jul 2021     GER v BEL (Pool B)   1 - 3
26 Jul 2021     GBR v CAN (Pool B)   3 - 1

Pool Standings

Pool A
| Rank | Team | Played | Wins | Draws | Losses | Goals For | Goals Against | Goal Difference | Points |
| --- | --- | --- | --- | --- | --- | --- | --- | --- | --- |
| 1 | Australia | 2 | 2 | 0 | 0 | 12 | 4 | 8 | 6 |
| 2 | Argentina | 2 | 1 | 1 | 0 | 3 | 2 | 1 | 4 |
| 3 | New Zealand | 2 | 1 | 0 | 1 | 6 | 6 | 0 | 3 |
| 4 | India | 2 | 1 | 0 | 1 | 4 | 9 | -5 | 3 |
| 5 | Spain | 2 | 0 | 1 | 1 | 4 | 5 | -1 | 1 |
| 6 | Japan | 2 | 0 | 0 | 2 | 4 | 7 | -3 | 0 |
Pool B

Women

26 Jul 2021     NED v IRL (Pool A      4 - 0
26 Jul 2021     AUS v CHN (Pool B)   6 - 0
26 Jul 2021     RSA v GBR (Pool A)  1 - 1 HT
26 Jul 2021 19:00     ARG v ESP (Pool B)
26 Jul 2021 20:45     JPN v NZL (Pool B)
26 Jul 2021 21:15     GER v IND (Pool A)

Pool Standings

Pool A
Pool B
| Rank | Team | Played | Wins | Draws | Losses | Goals For | Goals Against | Goal Difference | Points |
| --- | --- | --- | --- | --- | --- | --- | --- | --- | --- |
| 1 | Australia | 2 | 2 | 0 | 0 | 9 | 1 | 8 | 6 |
| 2 | New Zealand | 1 | 1 | 0 | 0 | 3 | 0 | 3 | 3 |
| 3 | China | 2 | 1 | 0 | 1 | 4 | 9 | -5 | 3 |
| 4 | Japan | 1 | 0 | 0 | 1 | 3 | 4 | -1 | 0 |
| 5 | Spain | 1 | 0 | 0 | 1 | 1 | 3 | -2 | 0 |
| 6 | Argentina | 1 | 0 | 0 | 1 | 0 | 3 | -3 | 0 |
---

Ruthless Kookaburras put seven past India

By Catriona Dixon




The Kookaburras signalled their gold medal intentions in Tokyo on Sunday night with a 7-1 smashing of India.

Wollongong due Flynn Ogilvie and Blake Govers starred for the world number one ranked team with five Olympic debutants notching goals to ensure the Aussie's pole position at the top of Pool A - and with a tournament goal tally to envy.

The 7-1 win is the second in as many days for the Kookaburras and is Australia's largest in Olympic history over India in men's hockey, surpassing the 6-1 win in 1976.

Head Coach Colin Batch was encouraged by his team's performance but remains focused on qualifying for the quarter finals to put the team into medal contention.

"We had a great game today, so we have to maintain that momentum," he said.

"At the start India had us under a fair bit of pressure and we had to defend strongly.

"The score could have easily been much closer if they had scored an early goal, but we withstood that early pressure and then took over the game. The counterattack, particularly in the second quarter, was outstanding.

"The guys are excited to have played so well, it was a good result, but it is still only the second game in a long tournament."

While the 10,000 seat Oi Hockey Stadium was void of fans due to the Covid 19 pandemic, Australian Olympic Team Chef de Mission Ian Chesterman was in attendance to cheer on the Kookaburras and he would have enjoyed what he saw.

The Australians started strongly scoring their first goal from a thumping top-of-the-circle shot courtesy of Jake Whetton and a deft touch by Daniel Beale from a penalty corner in the 10th minute.

The Indians responded, claiming two penalty corners in the first quarter, but brilliant defence by post man Flynn Olgivie and keeper Andrew Charter kept the Kookaburras 1-0 up at the break.

It was a matter of second-time-lucky for Olympic debutant Jeremy Hayward who converted the second of two penalty corner attempts with a lethal drag flick in the opening minutes of the second quarter.

Moments later, Blake Govers broke through with great pace to set up Ogilvie who slammed the ball in from the top of the circle.

Not to be outdone, Josh Beltz scored from a reverse stick just two minutes later to give the Kookaburras a 4-0 lead at half time. The goal was just his fourth in 47 internationals for the Kookaburras and sealed a dream Olympic debut.

India rallied after the break with striker Dilpreet Singh expertly glancing in a low hard drive from outside the circle to put his team on the scoreboard in the 34th minute.

Two goals in two minutes for Govers, one from a penalty stroke and the other from a penalty corner, signalled the Kookaburras dominance over a talented Indian side with a 6-1 lead.

A show-stopping break away in the final quarter saw Tim Brand manoeuvre around disheartened Indian keeper Sreejesh Parattu Raveendran Sreejesh and beat defender Birendra Lakra to score the only goal of the final 15 minutes.

The Kookaburras will have a rest day on Monday before facing Argentina at 9.30am local time on Tuesday.

Match Details
India 1 (Dilpreet 34')
Kookaburras 7 (Beale 10', Hayward 21', Ogilvie 23', Beltz 26', Govers 40'/42', Brand 51')
@ Oi Hockey Stadium, Tokyo
 
Kookaburras: 6.Matthew Dawson, 11.Eddie Ockenden (c), 12.Jake Whetton, 13.Blake Govers, 14.Dylan Martin, 15.Josh Simmonds, 16.Tim Howard, 17.Aran Zalewski, 22.Flynn Ogilvie, 23.Daniel Beale, 25.Trent Mitton, 29.Tim Brand, 30.Andrew Charter (gk), 32.Jeremy Hayward

Hockey Australia media release


---

India swept aside by Aussie" Gold Rush"

STAT: Today India played its 128th Olympic match. The  7-1 drubbing is the worst ever defeat for India out of 128. The previous worst was 1-6 at the hands of the same rival at Montreal Olympics (1976)

S2H Team




Australia handed India their worst Olympic hockey defeat at the Oi Stadium in Tokyo on Sunday.

After a tide of gold shirts swept Manpreet Singh's team away, India were left staring at a 7-1 scoreline and a feeling of deflation that now makes the opening-match victory over New Zealand and a year of promise a distant memory.

Australia, nursing five years of hurt after failing to make the semi-finals at Rio and coping with a paucity of match practice in the wake of Covid, left no doubt about their hunger for the gold medal to add to their only one won at Athens 2004.

Their's was a performance best termed as brutal and they all but blew eight-time gold medallists India away in a second-quarter blitz that yielded three goals in five minutes after leading 1-0 at the end of the first.

There seemed to be a gold shirt at the end of every forward pass, several more around an Indian defender and an extra yard of pace by players donning that colour in what was a celebration of hockey at its very best.

Coming into the match after a 5-3 win over hosts Japan on Saturday, the World No. 1 team scored through Daniel Beale (10th minute) following a penalty corner, Jeremy Hayward (21st), Andrew Ogilvie with a powerful drag-flick (23rd ) and Joshua Beltz (26th) to go 4-0 ahead at the half-time break.

Fourth-ranked India had their chances – Shamsher Singh (twice) and Dilpreet going close – and even outdid Australia on circle entries (24-22) but it's finishing that counts and the Kookaburras exemplified that in frightening style.

For all that, India began purposefully in the second half and succeeded in reducing the margin when Dilpreet touched home a long pass from Rupinder Pal Singh to provide a hint of a fightback.

But Blake Govers converted a penalty stroke with three-quarter time beckoning, to make it 5-1. He stepped up to score another, this time with a drag-flick before the fourth and final quarter, his 92nd goal in 106 international appearances, the ball going in off Sreejesh.

There was no mercy nor remorse by the Kookaburras in the final quarter and Tim Brand, the livewire on the left flank, scored from a challenging angle past last man Birendra Lakra after Sreejesh had come out of his line for a challenge.

India play Spain next on Tuesday, Argentina on Thursday and hosts Japan on Friday.

Stick2Hockey.com


---

Tokyo Olympics: Australia thumps India 7-1 in men's hockey Pool A

Australia had six different goal scorers as the team thrashed India 7-1 at the Oi Hockey Stadium in a men's hockey Pool A encounter at the Tokyo Olympics on Sunday.

Shyam Vasudevan



Australia's Blake Govers celebrates with teammates after scoring his side's sixth goal against India in a hockey group match at Tokyo 2020.   -  Getty Images

The Indian men's hockey team was little match for Australia as the world No. 1 side stomped to a 7-1 win in their Pool A match at the 2020 Tokyo Olympics on Sunday.

The result steadied Australia's seat at the top with two consecutive wins, while India slipped to fourth spot. The top four teams from the six-member Pool will advance to the quarterfinals.

Skipper Manpreet Singh maintained that the loss would not deflate his side's spirits. "Everyone is disappointed today but it is a learning lesson for us. It was not a medal match, it was a pool game and we will take the learnings and move on. We have three more games to go and it will be really important for us to bounce back and win those," he said.

Australia romped ahead in the 10th minute through James Daniel Beale, who cleverly guided Jacob Whetton's flick into the back of the net. India had chances to restore parity within five minutes, but Ravinder Pal Singh was denied by a sublime goal-line block from Andrew Ogilvie.

"If Pal put that corner in, the scoreline would have read 1-1 and it would have completely changed the game. These scoring opportunities do matter. They put away their chances, while we did not. You have to put the ball in the goal to put the scoreboard pressure on a team like Australia," India coach Graham Reid said after the game.

India will rue that missed opportunity as the Aussies snatched the game away in the second quarter with three goals in five minutes. Jeremy Hayward struck a thumping drag flick, while Ogilvie scored two minutes later with a sublime no-look finish. The Indian defence, battered, had no time to recuperate as Joshua Beltz joined the party. Tim Brand bombed down the left byline, cut inside and crafted a neat tomahawk towards the centre. Amit Rohidas could have cleared but was not quick enough and Ogilvie hammered it home.

While the Indians were wasteful up front, the defensive shape also took a beating and the backline was susceptible to long passes – a tactic that the Australians relied on to create numerous one-on-one chances with goalkeeper P. R. Sreejesh.

The Indians came out with renewed tempo in the third quarter and Dilpreet Singh managed to score a consolation goal in the 34th minute, but it was insignificant as Australia simply marched on. Blake Govers sent Sreejesh the wrong way to score from the penalty spot and scored again two minutes later to propel his side to an unassailable 6-1 lead.

Australia used the aerial channel to perfection to bury the tie. Tim Brand skilfully received a long pass, weaved his way past Sreejesh and slammed the ball home nine minutes from time to take Australia to its biggest win of the year.

"There are no easy games at the Olympics," said Manpreet. This was anything but easy for the Indian side.

Sportstar


---

A day to forget for men's hockey team

Aussies thrash listless India 7-1



Australia's players celebrate scoring a goal against India. PTI

The Indian men's hockey team was thrashed 7-1 by world No. 1 Australia in their second Pool A match of the Olympic Games here today, a morale-shattering loss that exposed every possible chink in the side's armour.

The mighty Kookaburras simply toyed with the Indian defence after the first quarter and scored goals at will to comfortably secure their second consecutive win in the competition. For India, it was their biggest loss since Australian Graham Reid took charge as coach in April 2019.

Australia looked dominant and were in complete control from the onset, scoring goals through Daniel Beale (10th minute), Joshua Beltz (26th), Andrew Flynn Ogilvie (23rd), Jeremy Hayward (21st), Blake Govers (40th, 42nd) and Tim Brand (51st) to secure an easy win.

India's lone goal came from Dilpreet Singh in the 34th minute. They will next play Spain on Tuesday.

This was India's worst loss in Olympics hockey. The previous worst was also suffered at the hands of Australia, a 6-1 hammering in the group stage of Montreal 1976.

The Tribune


---

Indian hockey hits a new low with 1-7 rout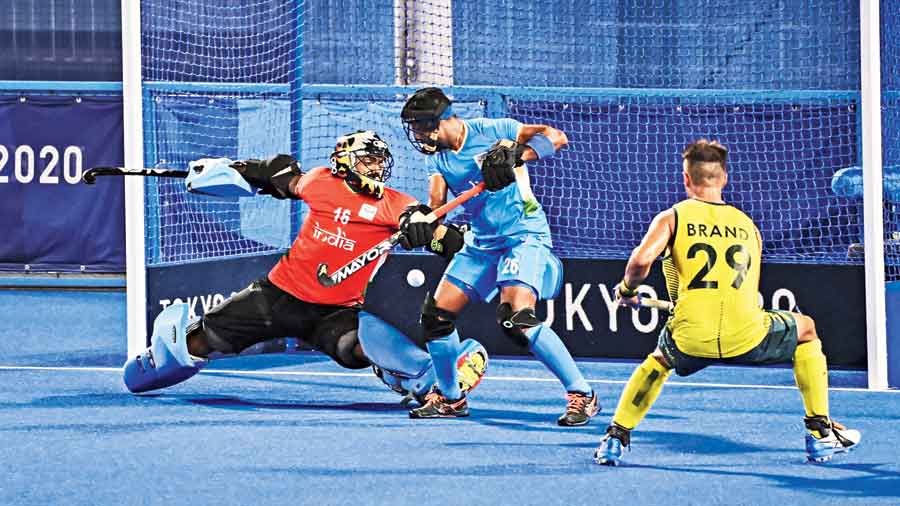 India goalkeeper P. R. Sreejesh attempts unsuccessfully to prevent a goal during a Pool A hockey match against Australia in Tokyo on Sunday. Australia won 7-1.

A string of disappointments early on followed by a humiliating defeat in the afternoon ruined India's Sunday at the Tokyo Olympics.

If the fancied shooting squad drew a blank for the second successive day, there was an early exit for tennis star Sania Mirza and her partner debutant Ankita Raina in women's doubles.

And then in swimming two youngsters failed to qualify for the semi-finals in their respective events. Gymnast Pranati Nayak of Bengal also could not earn a berth in the all-round final.

But nothing was more debilitating than the 1-7 rout India suffered at the hands of world No. 1 Australia in men's hockey.

The mighty Kookaburras simply toyed with the Indian defence after the first quarter and scored goals at will to comfortably secure their second consecutive win in the competition.

This was India's biggest loss since Australian Graham Reid took charge of the team as coach in April 2019.

Australia looked dominant and were in complete control from the onset, scoring goals through Daniel Beale (10th minute), Joshua Beltz (26th), Andrew Flynn Ogilvie (23rd), Jeremy Hayward (21st), Blake Govers (40th, 42nd) and Tim Brand (51st) to secure the easy win.

India's lone goal was scored by Dilpreet Singh in the 34th minute.

The Telegraph, India


---

Australian Ogilvie's red pants prove too hot to handle

By Tom Pilcher



Flynn Ogilvie of Australia competes with Yuma Nagai of Japan. PIC: REUTERS/Bernadett Szabo

Goalscorers in Australia's imposing 7-1 win against India, Daniel Beale and Flynn Ogilvie have identified what gave the favourites a big edge in their second Tokyo 2020 Olympics Pool A encounter.


---

Focussing on bouncing back: Manpreet

S2H Team




Manpreet Singh, India captain, found his voice after a 1-7 demolition by Australia in a men's Pool 'A' hockey encounter at the Oi Stadium in Tokyo on Sunday.

"We expected a strong performance from a great side like Australia," the midfielder said. "Our man-man marking was poor and they punished us for it."

"However, this is a lesson for us. We are disappointed but we must now focus on bouncing back. There are, after all, three matches to go in the pool stage," he added.

"We missed chances at the start and that makes a difference when it happens against top sides," the Indian captain reflected remorsefully.

Manpreet revealed that the team chat touched upon aiming to hit the top game in the next encounter. "We need to play with a high level of energy from the start to the final hooter.

"Even in the last game, we exerted pressure on the opponents in the third quarter but we failed to sustain it," he said.

Indian head coach Graham Reid, an Australian, knew his adversaries all too well. He coached them at Rio 2016 and played 130 internationals in the vibrant green-and-gold, collecting an Olympic silver medal at Barcelona 1992.

"When they (the Australians) are in that sort of mood, it's very hard to stop them. We simply have to put the ball in the net to put some scoreboard pressure on them and that means making use of the chances that come your way. Something they did and we didn't!"

Reid affirmed that India were in the game and looked back to the third quarter where they made inroads, scored a goal and could have put in another two.

"The game has changed and you can score quickly like in indoor hockey," Reid said. But we lost tempo, lost a referral…."

Any positives from the match?

"Had we scored from a penalty corner, it would have been 1-1 and, who knows, things could've been different.

"Sure. The boys fought till the end. And if you look at it, we got as many goal opportunities as they did. We were making opportunities even in that last quarter."

Reid drew reference to the Euro 2017 championship in Amstelveen where The Netherlands lost 0-5 to Belgium but eventually beat them in the final.

When asked how the team intends picking itself up, Reid said: "We are very wary about our morale being affected. We will make sure it won't happen. We will look at what can be fixed and focus on the next training session and the next game. That's the mindset with which we wish to go ahead.

"Most importantly, we've got to put the ball in the goal," Reid signed off.

Stick2Hockey.com


---

Kiwi men claim late winner to keep quarterfinal hopes alive




Wellington striker Jacob Smith has fired in a late winner to keep the New Zealand men's hockey team's Olympic quarterfinal hopes very much alive.

The Kiwis grabbed a late 4-3 victory over Spain last night in a thrilling final quarter in the second Pool A match for both sides at Tokyo's Oi Hockey Stadium.

After a disappointing 3-2 loss to India on Saturday, the Kiwis knew they needed some points from the Spanish game to stay in the hunt for a quarterfinals spot. Late goals from Kane Russell and then the Smith winner with just three minutes left on the clock gave the Kiwis the much-needed victory.

Smith said the team had treated the game like a must-win play-off match.

"It felt like a knock-out game after being disappointed with our first game against India. We felt like we played well and deserved more (against India) so we did need the points.

"We're just really happy to get that first win of the tournament."

He added that the match-winning goal certainly wasn't one for the highlights reel.

"Reflecting on the goal, it definitely wasn't the prettiest I've ever scored but quite possibly is the most important of my career so far. It was a team goal … definitely cool to be on the end of it but the result was the most important part."

New Zealand strengthened their attack for their second match with North Harbour striker George Muir coming into the match day 16 for Dylan Thomas.

The Kiwis opened the scoring with Stephen Jenness continuing his goal-scoring form from Saturday's match to claim the first goal just before the quarter break. The Wellington striker took the ball at speed into the circle, beat a defender and fired the ball into the left of the net to give the Kiwis the lead.

Spain equalised off a loose rebound in the 26th minute but New Zealand skipper Blair Tarrant instantly restored the lead as he picked up the scraps from a Russell penalty corner drag flick.

The Kiwis went into the break 2-1 ahead but their European opponents were quick to equalise in the third quarter and then take the lead through two penalty corner goals.

Minutes into the nail-biting final quarter, Russell tied up the match with his trademark drag flick penalty corner going low and hard into the right-hand corner.

With just three minutes left on the clock it was the Kiwis strikers' moment to shine, with three-time Olympian Nick Wilson showing patience on the baseline to work the ball goalward where Smith reacted swiftly to pounce on the loose ball and pop in the match winner.

New Zealand will also be pleased with their defensive efforts, restricting the Spaniards to just one field goal from eight attempts and absorbing sustained periods of pressure.

New Zealand 4 (Stephen Jenness 14 min, Blair Tarrant 27 min, Kane Russell 48 min, Jacob Smith 57 min)
Spain 3 (Enrique Gonzalez 26 min, Pau Quemadu 31 min, Marc Bolto 39 min)
Halftime: 2-1 New Zealand.

New Zealand Men: Steve Edwards, George Muir (North Harbour); Leon Hayward (GK), Jared Panchia (Auckland); Nic Woods (Waikato); Sean Findlay, Shea McAleese (Hawke's Bay); Nick Wilson (Manawatu); Stephen Jenness, Dane Lett, Jacob Smith (Wellington); Sam Lane (Canterbury); Hugo Inglis, Nick Ross, Kane Russell, Blair Tarrant – captain (Otago).

Next up the New Zealand men face the home side Japan at 2.45pm (NZ time) tomorrow followed by a clash with world no.2 Australia in the early hours of Thursday morning.

Smith says Japan at home will be a different beast altogether to the team they beat convincingly in a series in New Zealand in 2019.

"They're a team that's been together for the last eight years preparing for this tournament, so they will be a really tough prospect in their conditions and in their home stadium."

"They'll be fast, counter-attack oriented and they'll take a few risks to score. They also throw a few high balls from back to front so our defensive structures will have to be really solid."

Hockey New Zealand Media release


---

Black Sticks Women claim stunning win over Argentina, Black Sticks Men beat Spain

By Liam Napier



Ella Gunson and Maria Jose Granatto of Argentina compete for the ball. Photo / Getty Images

The Black Sticks women have made an opening statement by stunning Argentina to put their counterparts on notice at the Tokyo Olympics.

The Black Sticks men followed suit later in the day.

Argentina, world No 2, were heavily favoured to account for a depleted New Zealand side in the searing heat.

Yet with defensive resilience and clinical attacking execution sixth-ranked New Zealand upset the South Americans 3-0 to make the best possible start to their Games campaign.

That the victory was achieved without captain Stacey Michelsen and vice-captain Samantha Charlton, as well as legend Kayla Whitelock, who tore her ACL on the eve of attending her fifth Olympics, magnifies the sense of satisfaction for the young brigade.

Three second-half goals - Hope Ralph and Kelsey Smith scoring from penalty corners and a brilliant strike from Holly Pearson to claim her first international goal – sealed victory, but the Black Sticks were even more impressive on defence.

Goal keeper Grace O'Hanlon kept a clean sheet to rebuff six penalty corners. Chasing the game, Argentina piled on the pressure in the final quarter but O'Hanlon held firm to increasingly build frustration.

In a gruelling tournament that forces teams to play five matches in six days, the Black Sticks are now well placed to be one of four sides to progress from their pool.

The Black Sticks, Commonwealth Games champions on the Gold Coast three years ago, next meet world No 14 and hosts Japan on Monday (11:45pm).

Australia (second ranked), Spain (seventh) and China (10th) are also in New Zealand's pool.

Later, the Black Sticks men got their Olympic campaign right back on track, edging a seven-goal thriller against Spain.

Jacob Smith's goal three minutes from fulltime proved the winner in an action-packed encounter in Tokyo, helping New Zealand to a 4-3 victory.

The Black Sticks had suffered a 3-2 defeat by India in their first game on Saturday and their second clash was similarly hectic.

The Kiwis held a 2-1 lead at the halftime break, courtesy of a smashing strike from Stephen Jenness and a scrambled finish from skipper Blair Tarrant.

But Spain charged back into the match in the third quarter as the Black Sticks looked set to throw away another lead, before Kane Russell equalised with a perfect low drag-flick and Smith was in the right place at the right time to play hero.

The Black Sticks men have a day off before playing Japan on Tuesday.

- Additional reporting Kris Shannon

The New Zealand Herald


---

SA Hockey Men almost pull off shock underdog victory against Netherlands

Just over 24 hours after both teams opened their Tokyo campaigns with defeats the Dutch and South African Men were back in action at Oi Hockey Stadium. The South Africans would be up against it as their head-to-head record was not great, with a combined 24-3 score from the previous four meetings. The South Africans were critical of their start against Great Britain yesterday but their could be none of that today as the Team Mzansi men came out firing.

Mustapha Cassiem created a pocket of space off the shoulder of his defender and from a marginal angle fired into the side of the goal. The Cassiem family, along with the rest of the South African hockey community, had another reason to cheer not long after as Dayaan Cassiem was on hand to finish after unselfish work by Bili Ntuli. The South Africans were 2-0 up and fully deserving of it.

2 became three with a sensational strike into the roof of the net after Nic Spooner's shot was saved and Tevin Kok picked up the loose ball. It was a sublime finish and the Dutch were stunned. But they aren't European champions for nothing and slowly started working their way back into the game.

They made their first dent into the lead with a thunderbolt strike from Mirco Pruijser giving Rassie Pieterse no chance, although he was having another fine game in goals denying 8 penalty corners in the match. The second came from a goal mouth scramble and when South Africa failed to clear Thijs van Dam bundled home the ball. That the goal game less than a minute after a yellow card would have frustrated the management team of the South Africans.

Netherlands were awarded a penalty stroke early in the second half but a Jeroen Hertzberger effort was closer to troubling ground staff than Pieterse. The Dutch would find their equaliser though through Thierry Brinkman through a well worked field goal and would finally take the lead through another penalty stroke. This time Mink van der Weerden made no mistake.

As South Africa surged forward looking for an equaliser they left gaps at the back and Mirco Pruijser was at home to finish superbly. It was the final nail in the coffin of a pulsating test match that made you proud, even if disappointed too.

The SA Men next take on the World Champions Belgium in their next group game on Tuesday.

SA Hockey Association media release


---

SA men's hockey team fade after strong start against the Netherlands



SA hockey (Photo by Dan Mullan/Getty Images)

After their gritty display against Great Britain on Saturday, the South African men's hockey team were left shattered on Sunday after a 5-3 defeat to the Netherlands in their Pool B clash at the Tokyo Olympics.

South Africa will be particularly unhappy that they threw away a 3-0 lead against the European Champions.

Goals from Mustapha Cassiem, Dayaan Cassiem and Tevin Kok saw South Africa in control in the second quarter.

But the experienced Netherlands side fought their way back into the match, scoring through Mirco Pruijser, Thijs van Dam and Thierry Brinkman to draw the teams level just after half-time.

Further goals from Mink van der Weerden and Pruijser put the game beyond doubt.

South Africa have one game left in Pool B when they face Belgium at 11:30 on Tuesday.

News24


---

Netherlands escapes embarrassment against world number 14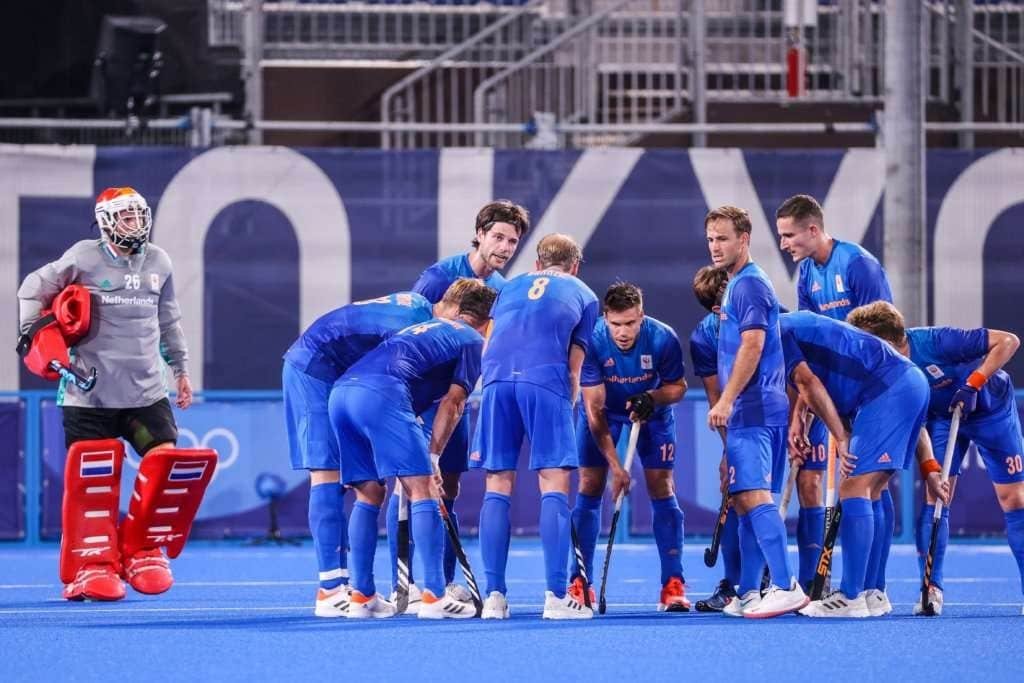 The Orange squad escaped a disgrace on Sunday against South Africa, the number fourteen in the world ranking and last placed team at these Games in Tokyo. After a 0-3 deficit, the team of national coach Max Caldas struggled to a 5-3 victory in the final phase.


---

Belgium beat Germany 3-1 for their 2nd win in men's tournament

Netherlands defeat Ireland in women's tournament



Cedric Charlier of Belgium celebrates with teammate John-John Dohmen after scoring a goal at the Oi Hockey Stadium in Tokyo, Japan, on July 26, 2021. Reuters

Belgium's men's hockey team secured a 3-1 victory over Germany in a scrappy match on Monday for their second win of the Tokyo Olympics, while the Netherlands defeated Ireland in the women's tournament.

The world champion Belgians took early control of the game, with forward Cedric Charlier netting the ball behind the German goalie twice in the first quarter.

"It's true that scoring here is a great feeling," said Charlier. "As long as we are working well offensively together, that's what matters the most for the team." Emotions ran high on both sides in the second half, with Belgian defender Alexander Hendrickx adding to Germany's pain by scoring his fourth goal of the tournament through a penalty corner.

"They did four or five sliding tackles, which is a yellow card every time," said Belgian veteran midfielder John-John Dohmen, who has more than 400 caps.

"Even when they tackled us, they came to us to have a fight.

"We stayed really calm and I'm really proud of that." By the end of the match, Germany had been given two yellow cards and a green one. Belgium had collected one yellow and two green cards. In field hockey, green cards result in two-minute suspensions for players and yellow cards bring five-minute suspensions.

The Germans could not penetrate their rivals' defence effectively enough to level the score after scoring a penalty corner in the fourth quarter.

Amid an overcast sky, the pitch was still sprayed with water during the half-time break to keep it fast and smooth.

Officials stuck to the usual two-minute quarterly breaks after extended breaks on Sunday to allow players to cool down in sweltering conditions.

In the women's tournament, gold medal favourites the Netherlands brushed aside Olympic debutants Ireland 4-0.

The goal scorers were rookie ace Felice Albers, who also scored twice in the opening match, Marlou Pheninckx, Laurien Leurink and veteran striker Frederique Matla.

The Tribune


---

Four-star Netherlands eventually break down Green Army defences



Ayeisha McFerran. COPYRIGHT WORLDSPORTPICS YAN HUCKENDUBLER

A late flurry of goals saw world number one side the Netherlands eventually break Ireland down and win 4-0 at the Oi Stadium on day two of the women's Olympic hockey tournament.

Felice Albers had given the Dutch a strong start but the Green Army – inspired by an Ayeisha McFerran masterclass – kept the Oranje raiders out for the guts of 40 minutes. But a final quarter barrage from Malou Pheninckx, Laurien Leurink and Frédérique Matla saw the Dutch ease home.

In so doing, they matched June's EuroHockey Championship scoreline, extending their winning streak over Ireland to 30 games dating back to 1963.

"Unfortunately today just wasn't quite our day," said the immaculate McFerran. "We dug in well and I'm really proud of the defensive effort everyone put in. It was a team effort out there but that's the Dutch for you. They're just quite good, aren't they?

"There's several things we have to take and learn from it. We can't just brush it under the carpet, but we have to move on."

On whether she has ever made more than the 14 saves she made against Netherlands on Monday, she added: "Not at international level anyway. That's the thing with playing them, they're just going to keep coming, they don't stop and you just have to be ready for whatever comes your way.

"Tough day at the office, for sure. I'm ready for a wee nap anyway now.

"As tough as it is to say, 'yeah let's have fun', going in and knowing you're going to face them, you have to keep breathing and keep being ready for the next shot. You can't dwell on what's coming or what's just happened. So it's one shot or one action at a time."

Pre-match, skipper Katie Mullan was honoured for her 200th international cap, becoming the eighth Irish woman to reach that milestone. Michelle Carey came into the line-up with Nicci Daly rested.

Early on, there was a familiar feeling when Albers deftly finished off a flowing Dutch move in the eighth minute, a sleight of hand to nick the ball away from McFerran and slot home after Malou Pheninckx picked her out on the right of the D.

The Irish goalkeeper had already shown her steel in the first few minutes, swatting away efforts from Lidewij Welten and Laura Nunnink while Sarah McAuley and Lena Tice scooped efforts off the goal line.

McFerran's pick of the bunch was a diving stick-stop from Frédérique Matla's ripper of a drag-flick, tipping it around the post with a measure of disdain.

The attacks came in waves but the Green Army were gritty and resolute, keeping the Oranje scoreless for the guts of 40 minutes. Maria Verschoor did have it in the net but an umpire's referral from Xiaoying Liu ruled that out for a prior foot, adding to their frustrations.

That encompassed seven penalty corners which were well dealt with but the rearguard action was eventually breached in the 49th minute when Caia van Maasakker slammed a shot onto the inside of the post.

It fell kindly for Pheninckx and she just about got by her SV Kampong club mate, the diving McFerran almost eating up the ground to keep out a relatively simple chance.

Within a minute, the third goal arrived as Xan de Waard stormed through from the right channel and her offload dropped into the path of Laurien Leurink who flicked in on her backhand.

And the scoreline was complete in fortuitous fashion as Matla shanked her drag-flick so much that it wrong-footed the Irish defence all ends up and dribbled down the middle.

It leaves Ireland with three points from two games ahead of Wednesday morning's date with Germany (4.15am, Irish time)

Women's Olympic Hockey – Pool A
Ireland 0 Netherlands 4 (F Albers, M Pheninckx, L Leurink, F Matla)

Ireland: A McFerran, S McAuley, H McLoughlin, R Upton, L Tice, C Watkins, K Mullan, A O'Flanagan, D Duke, N Carroll
Subs: S McCay, H Matthews, L Holden, M Carey, S Torrans

Netherlands: J Koning, S Koolen, M Pheninckx, X de Waard, F Albers, L Welten, C van Maasakker, F Matla, L Stam, M van Geffen, E de Goede
Subs: L Leurink, M Keetels, M Verschoor, P Sanders, L Nunnink

Umpires: X Liu (CHN), M Meister (GER

Irish Hockey Association media release


---

Irish women's hockey team go down fighting against awesome Dutch outfit

The Pool A tie finished 4-0 after a final quarter blitz.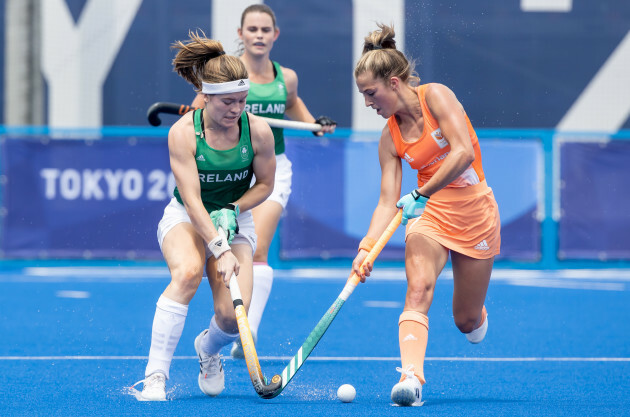 Hannah Matthews takes on Xan de Waard. Source: Morgan Treacy/INPHO

THEIR CLASS AND skill are evident, but spirit is the trait that has given this team a special place in the hearts of the nation.  

The Irish women's hockey team showed it in abundance once more in Tokyo, keeping the Netherlands to a single goal until the final quarter when the heat took hold.

It was a frantic start with little respite as the Dutch poured on the pressure in stifling conditions. A superb Ayeisha McFerran left-hand save from a Frederique Matla shot set the tone early on. Ireland would have to be comfortable on the back foot and make any chances count.

The opening score came after a quick midfield exchange midway through the first quarter left Sean Dancer's outfit exposed at the back. McFerran committed but could do little to deny 21-year old Felice Albers as she cooly slotted home. It was a timely warning. Even minor mistakes have major consequences against this world-class side.   

To their credit, the underdogs responded well and dug in, populating the area in front of McFerran's goal. The 2018 Hockey World Cup goalkeeper of the tournament was magnificent once again. Roisin Upton and Sarah McAuley linked up well down the left-hand side to bring the action into their opponent's half.

Deirdre Duke had the ball in the net at the start of the second quarter although it did not count due to an earlier infringement. The Netherlands came close to doubling their advantage from a penalty corner until a full-length save kept them at bay. A perfectly timed Hannah Matthews tackle added to the defensive stand.

Even when they regained possession, working their way up towards the scoring circle proved a formidable challenge. A determined Duke battled resolutely to give the rearguard a well-earned break and by half-time Albers' effort was the only difference.

Ireland gained a player advantage in the third quarter after a green card. Unfortunately, it did not last long. A double-stick Matthews tackle from behind earned her a green card soon after.

Maria Verschoor was denied a goal in the fourth quarter after an umpire referral saw it chalked off due to hitting her foot prior to the finish. Frustrated evidently started to build. Finally, the Irish effort wilted when a penalty corner rebounded to Malau Phennickx who shot past her club team-mate to make it 2-0.

Goal number three came from Lauren Leurink after some great work on the baseline. A 57th international goal for Matla made it four. Her weak effort from a penalty corner wrong-footed the goalmouth defence.  

"It's tough to take. We defended really well and I am proud of how everyone kept fighting to the end," McFerran said in the wake of the tie.

"I am disappointed, particularly with the last goal and didn't do myself justice in that one but overall the Dutch showed they are number one for a reason."

It was a brave effort from the Olympic debutants who continued to work to the point of exhaustion. Next, they play Germany on Wednesday.

Netherlands 4
Ireland 0

Ireland: A McFerran, C Watkins, S Torrans, R Upton, H McLoughlin, D Duke, K Mullan (C), S Hawkshaw, L Tice, S McAuley, A O'Flanagan

Subs: H Matthews, S Torrans, S, McCay, L Holden, M, Carey

Netherlands: J Koning, S Koolen, M Pheninckx, X de Waard, F Albers, L Welten, C van Maasakker, F Matla, L Stam, J Koning, M van Geffen, E de Goede

Subs: L Leurink, M Keetels, M Verschoor, P Sanders, L Nunnink

The 42


---

Ireland undone by Netherlands class



Ayeisha McFerran was in top form for Ireland PIC: WORLDSPORTPICS / YAN HUCKENDUBLER

A late flurry of goals saw world No.1 side the Netherlands women eventually break Ireland down and win 4-0 at the Oi Stadium.


---

Consecutive Victories For GB's Men After Canada Win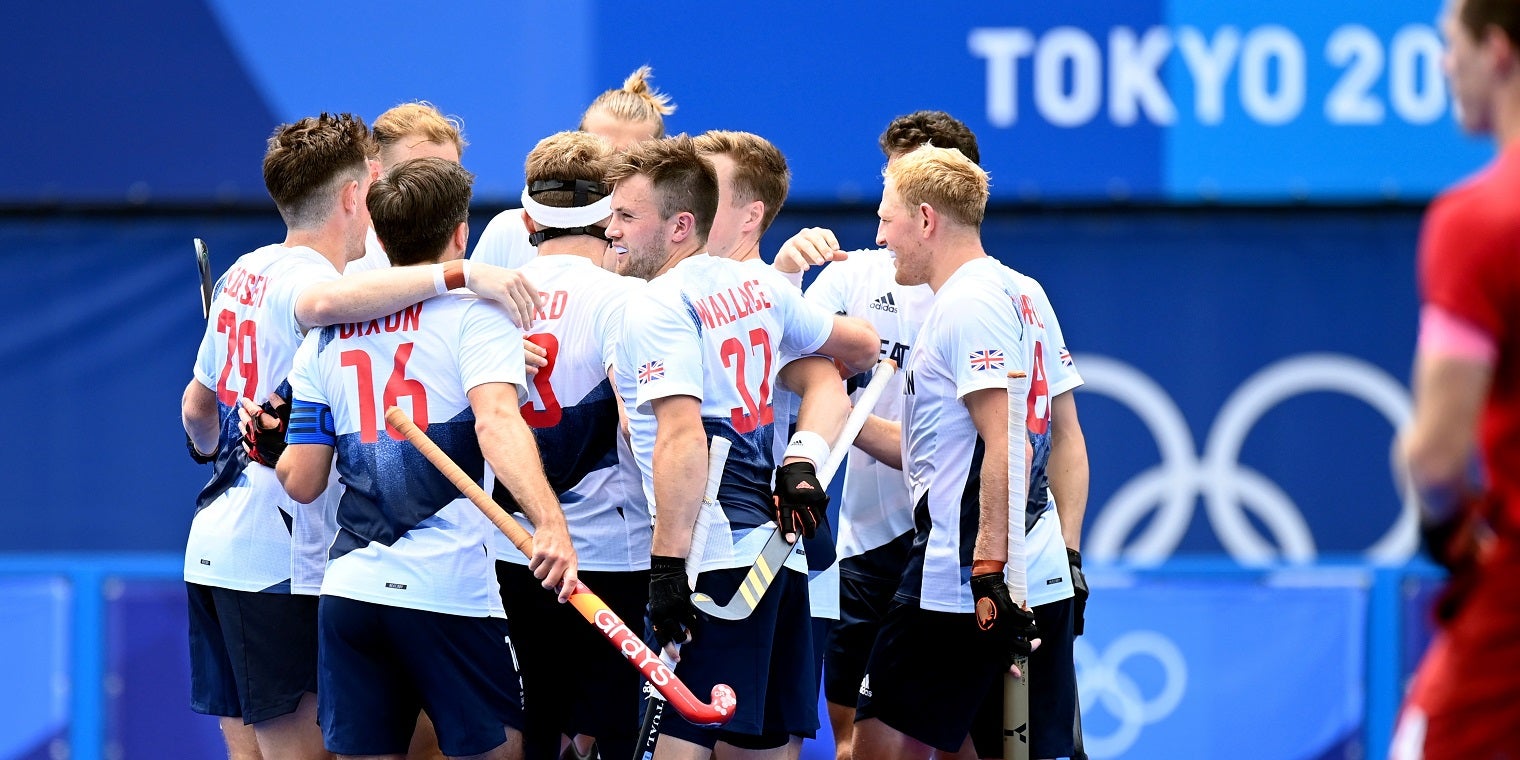 Great Britain's men made it back-to-back victories in the Pool stage of the Tokyo Olympics with a 3-1 victory over Canada.

The team hit the crossbar, post, and saw the opposition goalkeeper make several impressive saves in a first half that would somehow finish goalless.

It was a different matter come the third quarter as Liam Ansell and Sam Ward both found the target with GB truly in the ascendancy.

Though Canada brought one back late on, any nerves were quickly shut down as Ansell hit his second of the match to make it consecutive victories for Great Britain's men.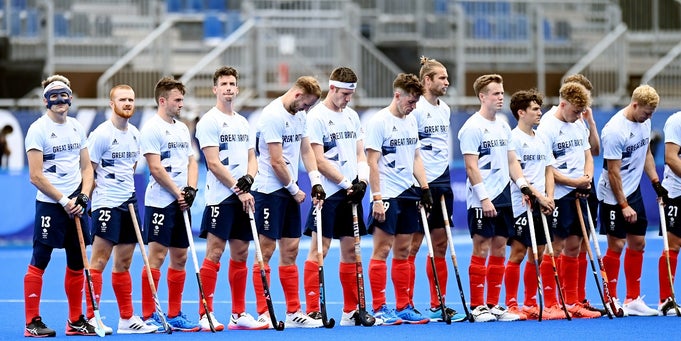 Great Britain's men earned a 3-1 victory over Canada in their second match at the Tokyo Olympics. Credit: Yan Huckendubler/World Sport Pics

Great Britain were looking threatening from the off with a succession of penalty corners coming within the opening minutes of the half.

Phil Roper twice looked to have given GB an early lead when his initial drag flick was blocked on the line by the last remaining defender before his next effort smacked into the crossbar.

As GB ramped up the pressure, Chris Griffiths conjured a sublime strike on the half-volley, though his thumping drive was well met by a fantastic save from Antoni Kindler in the Canadian goal.

Sam Ward also came agonisingly close to putting GB ahead as he broke forward on the counter-attack. With time to pick out his spot, the forward's powerful shot on the reverse rocketed past Kindler but was then met by the far post as the woodwork denied Danny Kerry's side once again.

It was all one-way traffic through the first half, though Canada were defending admirably, the team were struggling to create any meaningful chances of their own as the score remained goalless heading into half time.

After being frustrated through the opening half, the GB pressure would eventually tell after the interval. Just a few minutes after the half time break, Ansell found himself with time on the ball to produce a tidy finish and send GB ahead with his second goal in as many matches at the Tokyo Games.

The third quarter would prove to be decisive as Ward doubled the GB advantage with another superb drag flick from a penalty corner.

Canada wouldn't go down without a fight and brought one back with ten minutes remaining to make GB work for their victory. Floris van Son's brilliant reverse stick shot smacking into the inside of the post on its way into the goal to make it 2-1.

The team ensured there would be some nervy moments for GB, winning their first penalty corner of the match and testing the defence with two further set pieces.

However, GB held firm and quickly ended the Canadian pressure. Phil Roper's shot was veering wide, but Ansell was on hand to tuck it in from close range at the back post to bag his second of the match and restore the two goal cushion.

With Kindler withdrawn for an extra outfielder, GB nearly made it four when Chris Griffiths latched onto an aerial into the Canadian circle, however the forward's attempt flew just wide of the target.

The result means that Great Britain's men have two wins from two games going into their next match against Germany on Tuesday 27 July at 04:15 BST.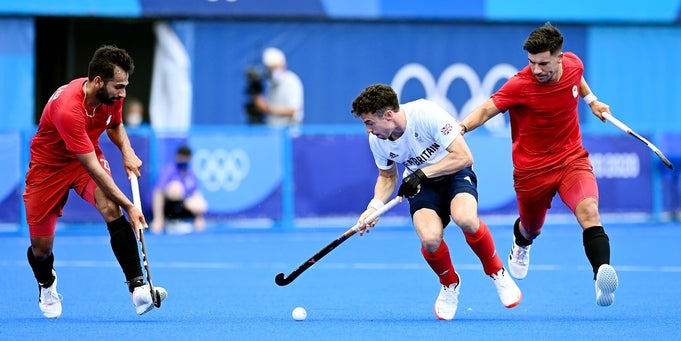 After the match, Head Coach Danny Kerry commented: "We showed glimpses of our level of play but also the bit of tension in the game means that we aren't playing high enough, so we need to be playing our game more consistently. We can take positives in that we've won both of our opening games.

"I think you have to understand when you're playing teams ranked lower than you that they have nothing to lose and it's a win-win for them. You have to play with the expectation and judgement on your shoulders. When our chances hit the crossbar, the post, and the goalkeeper also made a world-class save, but the game is still tight, then you feel the pressure a bit and I think that's what happened to the lads today.

"What was good today was that when Canada took their goalkeeper off, we remembered our processes and nearly converted off them, so it was good to see that clarity of mind in that moment. Despite not playing anywhere near our best, we've still won our first two games."

Liam Ansell added: "It's a big three points for us. We knew coming into this game that we wanted to leave a mark on the game, keep a lot of the ball, and make them run, so that hopefully by the end of the game we'd have the energy advantage to score those goals. I think in these tournaments, the games are quick and fast, so we need to train, recover, and prep for Germany tomorrow now.

"We want to win every game. As a team you never want to lose or draw, you always go out there to win, so our focus is firmly on the next three Pool matches. They're tough opponents but we've beaten them in the past. We want to go out and do that again and keep the momentum going."

Great Britain 3 (0)

Ansell (33', FG & 55', FG), Ward (41', PC)

Canada 1 (0)

van Son (51', FG)

Starting XI: Ames, Griffiths, Ward, Roper, Dixon (C), Creed, Payne (GK), Waller, Gall, Sorsby, Wallace

Subs: Draper, Shipperley, Sloan, Ansell, Sanford

Great Britain Hockey media release


---

Great Britain defeats Canada 3-1 in second round Olympic action

Third quarter struggle costs Canada crucial pool play game



Photo: Yan Huckendubler/World Sports Pics

Dominant possession and two all-important goals in the third quarter vaulted Great Britain to a 3-1 victory over Canada this morning at Oi Hockey Stadium in Tokyo.

After a rout at the hands of Germany, Canada knew they had to come out sounder if they were going to have a shot against Great Britain. Right from the first buzzer, it was a scrappier Team Canada, a fiery bunch and a team looking to push team Great Britain to the brink. After 30 minutes of play, the Red Caribou had held the British off the scoresheet. Some fantastic saves by Antoni Kindler, a clutch penalty corner block by Scott Tupper and some friendly iron-hits had Canada entering the half break knotted up at nil-nil.

The third quarter was tough for Canadian hockey fans. Canada surrendered multiple chances, took a green card and a yellow card, and allowed two British goals. The first was a field goal off the stick of Liam Ansell, his second of the tournament. The second was a penalty corner rocket from Sam Ward.

Desperate for some offense in the fourth quarter, veteran Mark Pearson, Floris van Son and Keegan Pereira drove the attacking pace. Canada finally cracked the British defense as Gordon Johnston thumped a ball into the circle. Van Son grabbed the ball off the deflection and smashed a backhand into the bottom corner. According to van Son, getting that goal was a special feeling, especially because it breathed life back into the team when they needed it most. But at the end of the day, the sting of the loss looms.

"We said to each other, 'first we have to score one, then we can think about a second,'" van Son said. "I was in the right spot at the right time. It feels special to score one [on the Olympic stage], but I would trade that for three points and a win."



Team Canada battles Great Britain in Pool-B action at the 2020 Tokyo Olympic Games. Photos/Yan Huckendubler

The ensuing minutes were steeped in drama as Canada earned three consecutive penalty corners, none of which were successful. Great Britain capitalized on their strong PC defending and countered with a field goal by Liam Ansell, his second of the night.

The late Ansell goal was all the insurance Team GB needed. Knowing the importance of this game, Canada pulled their goalie in an attempt to get back in it. But it was too little, too late for the Red Caribou. Three-time Olympian, Pearson, knows what it's like to play against these stingy, disciplined European sides. And although Canada brought a much better product to this morning's game, Pearson said they still have higher to reach for.

VIEW PHOTO GALLERY (CAN vs GB)

"[Great Britain] doesn't give you any mistakes. You have to work super hard to break them down," Pearson said. "We knew it was going to be a fight. I think we put in a much better performance than we did the other night. We can be happy with some of the things we did out there, but ultimately disappointed with the result."

Canada has another tight turnaround as they take on the Netherlands tomorrow night. The Dutch lost their first match against Belgium and surrendered three goals to South Africa before storming back to win in a tightly contested match. Captain Tupper said they know every game has the potential to yield valuable points, and they are targeting tomorrow as a chance to take three points off a top-tier team.

"They didn't seem to be on their top form yesterday. But I would expect them to be extremely sharp, it's going to be difficult one," Tupper said. "You never know, if you put in a good performance, we might be able to get a result."

Field Hockey Canada media release


---

Liam Ansell double keeps Great Britain unbeaten



Liam Paul Ansell in action against James Kirkpatrick of Canada and Brendan

Two games against part-timers, now for the European blockbusters.

Great Britain men notched their second 3-1 win, this time over Canada, as they set about preparing for Germany in relative style.


---

Great Britain beat Canada 3-1 as Liam Ansell strikes twice

Liam Ansell struck twice as Great Britain's men repelled a late Canada fightback to earn a 3-1 win and a second victory at Tokyo 2020.

Great Britain - who won their opener against South Africa - saw Phil Roper and Sam Ward hit the woodwork early on.

The lively Ward set up Ansell in a fine team move for the opener after half-time and found the net himself with a low drive from a penalty corner.

Canada's Floris van Son scored late on before Ansell turned in a Roper assist.

Roper played a neat one-two before driving forward and drilling his shot into Ansell's path with less than four minutes on the clock, ensuring Canada's late resurgence would count for little.

Great Britain's 2016 Olympic champion Kate Richardson-Walsh told BBC viewers there would be "relief" for Danny Kerry's players, who now move on to face Germany in their next group fixture on Tuesday (04:15 BST).

Ansell has already found the net three times in Tokyo, while Ward's form is promising for a team chasing a first men's medal since Great Britain secured gold at the Seoul Games in 1988.

Kerry's side now sit second in a group of six teams in Tokyo, with the top four set to progress to the quarter-final stage.

BBC Sport


---

Rampant Hockeyroos hit China for six




They may have been an unknown entity going into the tournament, but Katrina Powell's Hockeyroos are the talk of Tokyo after a crushing 6-0 defeat of China to make it two-from-two in their Olympic campaign.

The world number two side went into the Pool rounds with just six international matches to their credit due to Australian border closures, but a lack of match play hasn't hampered their success.

Powell predicted the unknown quality of the Hockeyroos would provide her team an advantage in the pool matches, and it has. Australia holds top position in Pool B with two wins and an impressive overall goal tally of nine.

But it was the work ethic of the Hockeyroos that impressed all those at the Oi Hockey Stadium. The hockey world is abuzz with excitement at the possibility that three-time Olympian Powell could help the national side return to the glory era of 1988-2000.

Hockey Australia media release


---

SA women's hockey side face 'group of death'

Mbande accepts they are in 'difficult group' in Tokyo

By Charles Baloyi



Sarah Mcauley of Ireland in action with Edith Molikoe of South Africa. Image: Phil Noble

The SA women's hockey team is the lowest-ranked team in Group A at the Tokyo Olympics, and they have a mammoth task to qualify for the quarterfinals after starting their campaign with a 2-0 defeat against Ireland on Saturday.

They will play against Great Britain at the Oi Hockey Stadium in Tokyo tomorrow at 11.30am SA time.

Goalkeeper Phumelela Mbande,  the joint flag bearer for SA with swimming sensation Chad le Clos, said they want to use the opportunity to make history in the sport as they were absent from the previous Games.

"We are in a difficult group and it was always going to be tough. We are playing against some of the best teams in the world. We are currently ranked 16th in the world. We came into this tournament as the underdogs. Our target in this tournament is to be competitive, and we hope to deliver on our mandate," she saide.

Mbande, 28, added they hope to do something big in the tournament to inspire the young generation at home.

She dedicated her role of being a flag bearer to all the black females in SA and sport.

"It is an honour, and it means a lot to me. I never thought it would happen to me at my debut Olympic Games. It is an exciting period not for me only, but for my sporting code and the black females in SA. It is a huge feat, and I am proud and hope to have a great competition."

SA are in the group of death with the Netherlands, India, Ireland, Great Britain and Germany. The top three teams will advance to the quarterfinal.

The Sowetan


---

Argentina's Lucas Rossi handed suspension for scuffle




Argentina men have been forced to field only 15 players for their next match against hosts Japan after Lucas Rossi was handed a one-match suspension following the end-of-match fracas in the Argentina-Spain Pool match at the Olympic Games.


---

Green Machine cranks out the goals in Scotland



Matthew Nelson in possession. Picture: Mark Pugh

Ireland's men enjoyed a free-flowing weekend of action with two wins and a draw from their three-game uncapped series against Scotland, netting 12 goals along the way.

In game one, Luke Madeley scored on his return to the Irish senior men's side as they drew 1-1 at Titwood.

The defender scored a first half penalty stroke – following a series of corners – to give the Green Machine the lead but they were pegged back in the fourth quarter when Rob Harwood finished off after a neat build-up.

Madeley was among a number of players returning to the line-up this weekend having come back to Ireland this month from Belgium with quarantine and study reasons delaying him linking up with the panel.

In Saturday's game two, all-time top scorer Shane O'Donoghue – another returnee – netted twice in his first appearance of the summer in a 4-1 success. He opened the scoring in first quarter from a low penalty corner strike.

Daragh Walsh forced the next over the line in quarter two and the lead was three at half-time with another O'Donoghue corner shot, flicking this one into the top right corner.

Scotland had slightly more of the game in the second half but Ireland extended the lead via Jeremy Duncan – another of the returnees – from a smart counter-attack. The hosts did get one back in the closing stages via Cameron Golden.

And Sunday brought another goalfest with Ireland winning out 7-4 in a frenzied contest. Shane O'Donoghue ended the tie with a hat trick, making it five goals in two appearances in the competition, starting the rush with a top-right corner flick.

Sean Murray's low shot made it 2-0 before Gavin Byers got one back. Ireland soon restored their two-goal advantage with a penalty corner finish by O'Donoghue to make it 3-1.



Ireland's corner defence. Pic: Mark Pugh

The second quarter saw Ben Walker find the net for Ireland at a penalty corner, and then Luke Madeley scored from close range after finding space in the circle, 5-1.

Dan Coultas replied in kind to reduce the gap with a corner goal for 5-2 at half-time and their potential comeback gathered pace via Ed Greaves.

O'Donoghue's stroke, though, kept Ireland 6-3 clear. Cameron Golden again pegged the Green Machine back but Madeley duly completed the scoring from another set piece to end a rousing tie.

Reflecting on the weekend, Irish coach Mark Tumilty said: "We played some very good attacking hockey in phases over the three games. Very pleased to score 11 goals across the weekend; the squad has made progress and will work hard over the next few weeks in our preparation for the Euros [in August in Poland]. We look forward to the GB EDP series in Lisburn."

That series will be on at Lisnagarvey Hockey Club with games on August 4th, 5th, 7th and 8th. A week later, Ireland will play their EuroHockey Championship II tournament in Gniezno, Poland.

Men's senior international series
Thursday: Scotland 1 (R Harwood) Ireland 1 (L Madeley)
Saturday: Scotland 1 Ireland 4 (S O'Donoghue 2, D Walsh, J Duncan)
Sunday: Scotland 4 (G Byers, D Coultas, E Greaves, C Golden Ireland 7 (S O'Donoghue 3, L Madeley 2, S Murray B Walker)

Irish Hockey Association media release


---

Scotland and Ireland battle out a goal-fest in game three of test series




It was an eleven-goal frenzy at Titwood as Ireland defeated Scotland 7-4 in the third test match of a three-game uncapped series.

The Irish were quick out the traps and bagged an early goal when Shane O'Donoghue found the top right corner from a penalty corner. 1-0.

Scotland enjoyed a period of good pressure following the Ireland goal with Hamish Imrie causing problems down the left.

However it would be Ireland who furthered their advantage when Sean Murray made it 2-0 to Ireland with a low shot into the bottom left corner.

Gavin Byers pulled one back for Scotland with a great low finish after some great work by Andy McConnell to make the opportunity.

Ireland soon restored their two-goal advantage with a penalty corner finish by O'Donoghue to make it 3-1.

The second quarter started very badly for Scotland. First Ben Walker found the net for Ireland at a penalty corner, and then Luke Madeley scored from close range after finding space in the circle. 5-1.



Photo by Rob Lindblade

Scotland battled hard and created a chance for Ed Greaves but his deflection looped over the bar.

A penalty corner went to Scotland and in the second phase Struan Walker had a chance to strike at goal but the ball spun into the air and clear of the goal.

Scotland quickly earned another corner and this time they made it count. Dan Coultas pulled one back for Scotland with a powerful low corner for 5-2.

Scotland came out for the second half on full throttle and very quickly found the net when Ed Greaves finished off a lovely move to pull it back to 5-3. The move began with a delightful pass by Coultas and the ball eventually found its way to Greaves to finish at the far post.

The Scots were then hit by a sucker punch early in the fourth quarter. A penalty flick was awarded to Ireland and O'Donoghue buried it into the roof of the net. 6-3 to Ireland.

A lovely pass by Aidan McQuade allowed Cammy Golden to strike for Scotland to pull it back to 6-4 to Ireland.

McQuade himself had an opportunity to score from a penalty corner rebound but his shot sailed over the bar.

As Scotland went hunting for goals it was Ireland who found the next one. Madeley scored from another corner to make it 7-4 to Ireland and win the series in Glasgow.

Scottish Hockey Union media release


---

Victory for Scotland against Ireland at U19 GB&I 4-Nations




The U19 GB&I 4-Nations came to a conclusion in Ireland with a won for Scotland boys, and a shootout victory for the girls. The win for the boys means they are the 4-Nations champions after three weekends of great displays.

IRELAND 0-2 SCOTLAND (Boys)

Scotland`s under-19 boys peaked at exactly the right time to take pole position in the Great Britain & Ireland 4-Nations tournament with a 2-0 win over Ireland in Belfast. The Scots youngsters started the day a point adrift of the Irish who also had a better goal difference, so only a victory would do – that achieved they finished on top by the margin of a couple of points.

The Irish came out of the blocks in the first quarter the busier side but the Scots managed to weather the storm, and were dangerous on occasions on the counter-attack.

The visitors managed the second quarter better and started to create some good chances. The best fell to Inverleith`s Charlie Jack whose fierce reverse stick effort flew off the Irish keeper`s shoulder without the latter knowing much about the passage of events.



Photo by David McCarthy

The Scots confirmed their ascendancy after the interval by deservedly taking the lead. Wildcats` Adam Mackenzie was both creator and executioner – he moved down the left base-line and passed the ball on to Grange`s Matthew Hughson, his shot was blocked but Mackenzie was on hand to bury the rebound.

The Scots then created further good opportunities but were thwarted by some very good saves by the Irish keeper, both from open play and penalty corners. But he could do nothing to prevent Scotland`s second, it came originally from a long corner, the ball fell to Edinburgh University`s Keir Robb who rounded the keeper and found the net with a shot off the back foot.

The Scots were able to see out the rest of the game and take the title.

After the game, a delighted Andrew Brogdon remarked: "It`s been a hard last 18 months with two EuroHockey tournaments cancelled, also we have had to resort to a lot of virtual training sessions until recently, but the boys have responded very well to put in such a brilliant performance today.

"But they have come back to deliver across the entire series and especially as they have brought their vision of `rocking the boat` to life"

IRELAND 0-0 (1-2) SCOTLAND (Girls)

It was a very cagey opening quarter with neither side able to take hold of the game. Some excellent goalkeeping by Maddie Boyes, on her debut weekend, denied Ireland an early goal from a penalty corner opportunity.

Itske Hooftman threatened for Scotland with a diving shot but the danger was cleared.

As the quarter reached a conclusion another corner opportunity presented itself to Ireland, and it was very nearly converted by a near post deflection that went just wide of the mark.

The second quarter played out much like the first with both teams battling hard but not fashioning any real opportunities for goals.

With two minutes of the half left to play Scotland finally earned a corner of their own but found the Irish defence resolute in its defending.

In the second half Ireland jumped on an error in the Scottish circle and were denied by an excellent save. It did however lead to a corner, which again was booted clear by the Scots keeper.



Photo by David McCarthy

As the third quarter reached a close Scotland looked dangerous on a swift counter attack through Ellie Stott but the Irish keeper dealt with the danger well, and the ball was cleared.

The fourth quarter saw Ireland enjoy some pressure as the home side searched for the opener. The Scots soaked up the pressure however and denied any clean chances to score and the game ended goalless.

The contest went to a shootout for the bonus point and it was Scotland who came out on top. Ireland took the lead before Scotland converted a stroke. The goalkeepers played their part up until Scotland took the lead, and held on for a 2-1 victory on penalties.

Boyes in goal for Scotland was colossal in the shootout and Zara Mason and Corrie Hay found the net to give Scotland the bonus point.

Head Coach Keith Smith said, "We had to grind out a result today and it showed great character in our squad. We showed a great defensive platform against a really strong Ireland team and completely contained the threat. We fully deserved the result.

"Over the tournament it's been brilliant to see how much progress we've made, it's been incredible. After a long time out, and playing in three really hot weekends, we've shown great intensity and tempo and every team we've played has had to work really hard to compete."

Scottish Hockey Union media release


---

Under-19 girls land Four Nations title with boys finishing second



Under-19 girls land Four Nations title with boys finishing second

Ireland's Under-19 girls shared the spoils with Scotland over their two games this weekend to take the Four Nations Series title while the Irish boys finished in second place.

Leading the table by two points from England going into the final series of the three-week competition, the Little Green Army had the title confirmed by Saturday night.

That was because of a 1-1 draw against the Scots, picking up the bonus point via a shoot-out success. In the meantime, Wales beat England 3-2 to put Ireland into an unassailable lead.

Gavin Groves' side concluded the series with a 0-0 draw on Sunday at Jordanstown against the Scots and were denied in the shoot-out 2-1 but it proved immaterial in the final reckoning.

"It's really satisfying for the whole group to sign off the programme with some success," Groves said of the title, a welcome one after almost 18 months between fixtures for this key development group.

"The players have put so much in to these programmes so it was nice for them to get a little reward at the end.

"We were really happy with how the group has progressed through this series and we are delighted to have provided a platform for these players to push on to the next phase of their playing career. The consistent level of performance and aligned well with the results.

"We would like to thank AIB and all our other sponsors for their support. It gives us the opportunity to run this programme in a professional manner and provides the players with everything they need."

In game one, Holly Barr gave Ireland the lead 40 seconds into the second half with a perfect deflection from a penalty corner swept down the right channel.

Lucy Smith equalised with five minutes remaining, peeling away from goal and smacking home with a powerful shot.

That sent the tie to a shoot-out for the extra bonus point. In tandem with Wales' 3-2 win over England in the other Saturday match, it meant Ireland were four points clear in the group overnight and guaranteed the title.

On the boys side, Scotland leap-frogged Ireland on the final day of the competition with a smash and grab 2-0 success at Jordanstown.

Ireland had held the slight edge on Saturday evening after a remarkable 4-4 draw was followed by a shoot-out success.

In that game, Scotland took the lead with the last play of the first half from a corner rebound with Pete Caughey following up for 1-0.

Patrick Rose equalised just over a minute into the second half with a rasping shot on his backhand, kickstarting a thrilling second half. Jamie Croll got in behind the last defender to return Scotland to the lead five minutes later and Keir Robb's reverse extended the lead out to 3-1.

Ireland levelled up, though, when Craig Mackay converted a penalty stroke and Adam Walker added a penalty corner, making it 3-3 with seven seconds left in the third quarter.

Robb got an outstanding fourth goal for Scotland to put them in front yet again with 11 minutes remaining but, ultimately, it was a draw when Kent Irwin's brilliant pulled the ball out of reach of the goalkeeper and slotted home.

The shoot-out was won 4-3, bringing a bonus point that gave Ireland a slight edge going into the final game of the competition.



Craig Mackay celebrates his goal on Saturday. Picture: Adrian Boehm

It had Simon Lowry's side a point ahead going into the final game and needing a draw to capture the crown but, try as they might, it proved elusive.

The Irish came out of the blocks in the first quarter the busier side but the Scots managed to weather the storm, and were dangerous on occasions on the counter-attack.
Adam MacKenzie put them 1-0 up from a rebound to put the Scots into the lead. The hosts had numerous penalty corner chances and close-run efforts in the final quarter but an equaliser could not be found.

Moments after Fionn Marriott's reverse flashed across the face of goal, Scotland broke well and Keir Robb rounded the goalkeeper to clip home the second goal in the last three minutes.

It meant a second placed finish and a strong development base for a wide group of players with Lowry deploying out over 30 players in the course of these six games.

Girls
Saturday: Ireland 1 (H Barr) Scotland 1 (L Smith), Ireland win shoot-out 3-0
Sunday: Ireland 0 Scotland 0, Scotland win shoot-out 2-1
Standings: 1. Ireland 13pts (+12) 2. Scotland 9pts (+3) 3. England 8pts (0) 4. Wales 6pts (-15)

Boys
Saturday: Ireland 4 (P Rose, C Mackay, A Walker, K Irwin) Scotland 4 (K Robb 2, P Caughey, R Croll), Ireland win shoot-out 4-3
Sunday: Ireland 0 Scotland 2 (A MacKenzie, K Robb)
Standings: 1. Scotland 13pts (+6) 2. Ireland 11pts (+4) 3. England 7pts (-2) 4. Wales 5pts (-8)

Irish Hockey Association media release