All the news for Sunday 25 July 2021

2020 Olympic Games - Day 3
Tokyo (JPN)

All times GMT +9

Men

25 Jul 2021     IND v AUS (Pool A)      1 - 7
25 Jul 2021     JPN v ARG (Pool A)     1 - 2
25 Jul 2021     ESP v NZL (Pool A)   0 - 1 Q1
25 Jul 2021 21:15     RSA v NED (Pool B)

26 Jul 2021 09:30     GER v BEL (Pool B)
26 Jul 2021 11:45     GBR v CAN (Pool B)

Pool Standings

Pool A
| Rank | Team | Played | Wins | Draws | Losses | Goals For | Goals Against | Goal Difference | Points |
| --- | --- | --- | --- | --- | --- | --- | --- | --- | --- |
| 1 | Australia | 2 | 2 | 0 | 0 | 12 | 4 | 8 | 6 |
| 2 | Argentina | 2 | 1 | 1 | 0 | 3 | 2 | 1 | 4 |
| 3 | India | 2 | 1 | 0 | 1 | 4 | 9 | -5 | 3 |
| 4 | Spain | 1 | 0 | 1 | 0 | 1 | 1 | 0 | 1 |
| 5 | New Zealand | 1 | 0 | 0 | 1 | 2 | 3 | -1 | 0 |
| 6 | Japan | 2 | 0 | 0 | 2 | 4 | 7 | -3 | 0 |
Pool B

Women

25 Jul 2021     GBR v GER (Pool A)     1 - 2
25 Jul 2021     AUS v ESP (Pool B)      3 - 1
25 Jul 2021    JPN v CHN (Pool B)     3 - 4
25 Jul 2021     NZL v ARG (Pool B)     3 - 0

26 Jul 2021 10:00     NED v IRL (Pool A
26 Jul 2021 12:15     AUS v CHN (Pool B)
26 Jul 2021 18:30     RSA v GBR (Pool A)
26 Jul 2021 19:00     ARG v ESP (Pool B)
26 Jul 2021 20:45     JPN v NZL (Pool B)
26 Jul 2021 21:15     GER v IND (Pool A)

Pool Standings

Pool A
Pool B
| Rank | Team | Played | Wins | Draws | Losses | Goals For | Goals Against | Goal Difference | Points |
| --- | --- | --- | --- | --- | --- | --- | --- | --- | --- |
| 1 | New Zealand | 1 | 1 | 0 | 0 | 3 | 0 | 3 | 3 |
| 2 | Australia | 1 | 1 | 0 | 0 | 3 | 1 | 2 | 3 |
| 3 | China | 1 | 1 | 0 | 0 | 4 | 3 | 1 | 3 |
| 4 | Japan | 1 | 0 | 0 | 1 | 3 | 4 | -1 | 0 |
| 5 | Spain | 1 | 0 | 0 | 1 | 1 | 3 | -2 | 0 |
| 6 | Argentina | 1 | 0 | 0 | 1 | 0 | 3 | -3 | 0 |
---

Hendrickx powers Red Lions to impressive opening win in Tokyo




Belgium won the big European derby on day one of the men's Olympic hockey competition as Alexander Hendrickx scored a four-minute hat-trick in a 3-1 win.

Following a quiet opening two periods, Jeroen Hertzberger scored a wonderful individual effort to put the Oranje ahead early in the third quarter, but it was Hendrickx who would have the final say in the outcome.

Hendrickx netted two outstanding penalty corners either side of a penalty stroke as Belgium made a clear statement of intent with a hard-earned victory.

When asked how he feels about being considered as one of the best drag-flickers in the world, Hendrickx said: "I don't think about that, what others think, I'm busy with what I do with my technique with flicking, thinking about something during the flick and then all the pressure falls away".

Netherlands captain Billy Bakker said: "It's not the result that we want, but it's also not the way we want to perform as a team and that's more something that we're not really disappointed (about), but we need to be more focused on our own quality."

Elsewhere in the group, goals from Sam Ward, Liam Ansell and Jack Waller helped Great Britain to victory in their opening match of the competition, defeating a resilient South Africa 3-1.

Ward's opener arrived in only the second minute of the match through a penalty corner, but the African champions were level less than 60 seconds later when Matt Guise-Brown slammed home a penalty corner. The score remained unchanged until Ansell's miss-hit effort deceived outstanding South Africa goalkeeper Rassie Pieterse, with Jack Waller's deflected fourth quarter strike sealing the win.  

Canada were too strong for Canada, running up a 7-1 victory with both Lukas Windfeder and Christopher Rühr both netting braces.

In the other group, Australia overcame a scare to beat Japan 5-3 having trailed 3-2 at one stage. Argentina drew with Spain 1-1, Pau Quemada rattling home a penalty corner eight minutes from full time. India saw off New Zealand 3-2.

Euro Hockey League media release


---

Show stopper Sreejesh scintillates as India pip Kiwis

S2H Team




P.R. Sreejesh gift wrapped and presented his team three precious points from a 3-2 victory over New Zealand in the 2020 Men's Olympic hockey opener in Tokyo on Saturday.

The talismanic goalkeeper playing his 237th international match brought off three breathtaking saves in the last pulsating moments of the match against a determined onslaught by the Black Sticks to bring more relief than elation to the camp.

Fourth-ranked India started and ended the Pool A match at the Oi stadium against a team four rungs lower on the backfoot when The Kiwis took the lead in the sixth minute through Kane Russel from the first of nine penalty corners forced by his team.

Rupinder Pal Singh equalized from a penalty stroke following his own drag flick from a penalty corner in the 10th minute.

Harmanpreet Singh, who struck the crosspiece with India's first penalty corner in the second minute, put India 2-1 up in the 26th minute from the third such award with a drag flick that gave goalkeeper Leon Hayward no chance.

The sturdy defender then scored his second goal to make it 3-1 after Rupinder played the 'slip ball' to perfection from India's fourth penalty corner.

New Zealand gained a lifeline with time running out in the third quarter when the predatory Stephen Jenness scored from close range after Nick Wilson crossed from the right.

An opening win in a gruelling tournament with the heat and humidity thrown in could be termed a perfect start, especially with India's historical anxieties in kick-starting a campaign.

And as Manpreet Singh's men cool down and gear up for their next encounter – an imposing challenge in the form of World No. 1 Australia on the morrow – one reflects on a victory as vindication of coach Graham Reid's faith in percentage players and a focus on fitness.

The defence led by sprightly Birendra Lakra stood firm, the penalty corner attack and defence worked well, the referral calls were spot on and the final and most important cog, the last line of defence in the shape of Sreejesh, made a telling difference.

The veteran brings more to the team than his heart-stopping saves and his cohesion with the back four is going to be a factor that will count in challenges to come.

India, however, may do well to induce some creativity in the attack.  The customary flair associated with a team with a rich past came at a premium even as a refreshing adeptness at using the aerial ball set up promising situations for circle entries and shots on goal.

Much has been said about the absence of the skilful Akashdeep Singh and speedy SV Sunil in the squad and the task will now be largely that of Mandeep and the sublime Lalit Upadhyay's to step up the ante as the pool hots up.

Stick2Hockey.com


---

Fitness was India's trump card, says Somaya



Manpreet Singh against New Zealand

MM Somaya, captain of the Indian team at the 1988 Seoul Olympics, knows the value of winning an opening match.

The former right-half reflected on a job well done by the Indian men's team in their 3-2 win over a gritty New Zealand on Saturday while taking a quick trip down memory lane.

"We lost to the (erstwhile) Soviet Union 0-1 in our opener in Seoul and, in the final analysis, it cost us dear in terms of a semi-final place," the Mumbai-based Somaya said.

"Today's victory could be attributed to the high level of fitness that the team enjoys. The point to note is that, both in attack and defence, India, thanks to impressive fitness, outnumbered the opposition.

"India had more players around the ball than New Zealand and that enables you to gain the upper hand even if you don't exhibit flair and skill," Somaya revealed.

"The team did not flinch in the wake of hot weather, kept calm and composure after going behind, performed at penalty corners when it came to scoring and did equally well in defending during the setpiece with Amit Rohidas the exemplary first rusher."

And last, but by no means the least, Somaya was all praise for the iconic Sreejesh in goal.

"His saves went a long way to bring India full points and, along with all the above factors in place, things augur well for India in games to come," Somaya enthused.

Stick2Hockey.com


---

Team Canada drops Olympic opener 7-1 to Germany

Canada looks to build on bright spots heading into next match



Photo: Yan Huckendubler

Canada began their Olympic campaign with a 7-1 defeat at the hands of world-number-5 and reigning Olympic bronze medalists, Germany.

It was déjà vu — from the 2016 Rio Games — for the Canadian men's team as they drop their opener to Die Honamas 7-1. Despite scattered moments of creativity and attack from the Red Caribou, the Germans carried the possession and the play for the duration of the game. Although Canadian keeper, Antoni Kindler made several fantastic saves in short succession to start the game, Germany opened the scoring on a penalty corner set at the 11-minute mark.

In the 16th minute, right as the second quarter started, Canada sprung to life. Floris van Son delivered a piercing backhand ball into the circle to Gabe Ho-Garcia. Ho-Garcia one-touched the ball to Keegan Pereira who smashed it into the corner of the goal, tying the game 1-1. For about six minutes, Canada looked like they were back in this game and could make a push. The energy was stomped out swiftly, as Germany's Christopher Rühr notched back-to-back goals, re-establishing the German lead. The German lead grew in the second half and they added a pair of late goals to close out the game.

Pereira has a knack for finding the net in Olympic openers. In his debut game against this same German side in 2016, Pereira also bagged a goal. He was held off the scoresheet for the remainder of the Rio Games. Scoring a goal on the Olympic stage is an achievement, but the team score line always comes first, and Pereira knows Canada must step it up in their coming matches if they want to make it to the bracket stage.

"It's an indescribable feeling to score a goal on this stage, it really is. Especially in that moment, helping get the team back into it, getting that belief. It's a special feeling," Pereira said. "Obviously it didn't go well for us after that, but I think it's all mistakes that we can fix moving forward and we expect to have them figured out before we play GB."

The attacking one-two punch of van Son and Pereira was threatening all game. Even before they got on the scoresheet, they were the bright spots in the Canadian attack. Pereira said it's not just one aspect that needs tightening up, he said the team needs to up their performance on the offensive and defensive side of the ball.

"We had some moments, but we have to do better," he said. "I think we need to play with a little more confidence; we know we can make those forward connections, we know we can get circle entries and outcomes, we just have to play with that belief."

On the defensive end, goalkeeper Antoni Kindler, making his first Olympic start, stood tall in the Canadian net. He weathered flurry after flurry of German assault. Kindler finished the night with 15 saves, facing 22 shots. Commenting on his Olympic debut, he said the whole team needs to tighten up and play a more consistent and complete game moving forward.

"The Olympic magnitude isn't lost on me. Obviously there's some nerves before a major competition like this, but those quickly disappear once you are in the game," Kindler said. "I think our whole team played flat in moments, and it hurt us. Germany can be clinical in their attacks, and we paid for it tonight.

"I know we are capable of a better performance, and I know we all expect it of ourselves. I need to be better, we're still a confident group; we just need to shore a few things up and bring a better team game against GB," Kinder said.
Canada takes on Germany in opening round Olympic action at the Oi Hockey Stadium in Tokyo. Photos/Yan Huckendubler

Canadian Head Coach Pasha Gademan made his Olympic debut this evening behind the Canadian bench. According to Gademan, Canada showed some promise for stretches of the game but needs to tighten up on the defensive side and add a little more offensive flourish.

"There were batches in the match, tonight, where we played really good hockey. We showed that when we drive and push forward, when we are creative and attacking, we can be really good," Gademan said. "It's not always easy to find positives in a 7-1 game, but there were really good moments.

Team Canada has a tight turnaround, as they take on Great Britain in less than 48 hours. They face a Great Britain team who took down South Africa today 3-1 in a spirited affair. According to Gademan and Kindler, the team has more in the tank and expects to step up in their second showing.

"It's in this team's culture and built into its DNA to battle and improve every game," Gademan sad. "I never question this team's work rate; we're always working hard. I believe we have the tools and power to come out much stronger and play a more complete game against [Great Britain]."

Field Hockey Canada media release


---

Canada falls to Germany in Olympic field hockey opener

Canada beaten 7-1 by 4-time Olympic champions, outshot 22-2

Nick Murray



Germany's Christopher Rühr beats a sprawling Antoni Kindler as part of a 7-1 rout of the Canadians. (Alexander Hassenstein/Getty Images)

Canada's men's field hockey team lost to a dominant German squad in its opening match of Tokyo 2020, falling to the powerhouse nation 7-1 on Saturday.

Germany's Christopher Rühr and Lukas Windfeder led the way for the four-time Olympic champions, each with a pair of goals, as Canada was outshot 22-2. Keegan Pereira scored the lone goal for Canada.

"We're obviously disappointed to give up seven goals. We didn't play our best game," Pereira said after the match.

"But overall, Germany is a top-five team in the world and they're probably better than that, to be fair. We know moving forward in the tournament we're capable of doing much more than we showed today."



Canada's Antoni Kindler stopped 8 of 15 shots on goal in the loss to Germany on Saturday during their opening match of the Tokyo 2020 Olympic Games at Oi Hockey Stadium. (Alexander Hassenstein/Getty Images)

"Of course we know Canada is not the best team to face in the group stage, but that doesn't matter," said Rühr, the International Hockey Federation's rising star award recipient in 2013 and 2015.

"And in the final few minutes we scored a few goals which is always a good feeling, 7-1 is a great result."

Germany opened the scoring late in the first quarter off a penalty corner, after John Smythe took out Rühr in the circle. Windfeder made no mistake, finding the top corner to give Germany the early lead.

Canada tied it in the opening minute of the second quarter on its first shot of the game. Flois van Son sent a cross pass into the circle, deflecting off Gabriel Ho-Garcia and right onto the stick of Pereira, who found the back of the net.



Canada's Keegan Pereira, right, celebrates with teammates after scoring Canada's lone goal against Germany Saturday. (Ina Fassbender/Agence France-Presse/Getty Images)

"[It's] always special to score in the Olympics," Pereira said.

"It was quite special scoring against Germany having played with a lot of these guys in the German league and also very special to get that 1-1 goal to tie it up and give our team some confidence in the game."

But Germany later regained the lead and never looked back.

After a Canadian turnover, Rühr came down the wing and beat a sprawling Antoni Kindler to go up 2-1.

Rühr then netted his second goal of the match three minutes later to give Germany a 3-1 lead.

Germany went up 4-1 before halftime, with Windfeder scoring again on another penalty corner as Canada was outshot 10-1 in the first half.

Germany added one more in the third quarter — with Martin Haner making it 5-1 as Germany went 3-8 on penalty corners in the match — and two more in the fourth quarter with goals from Niklas Bosserhoff and Mats Grambusch in the dying minutes.

With the win, Germany now sits atop Pool B on goal differential.

Canada will face Great Britain on Monday, which won its opener 3-1 over South Africa.

CBC


---

Bizarre scenes mar hockey clash between Argentina and Spain

One of the non-sporting highlights of the Olympic Games is the camaraderie we see between athletes of different nations - whether it be a congratulations after a tough battle or a helping hand when an opponent hits the deck.

But Argentina won't be winning any medals for sportsmanship this year, after an unprovoked attack from one of their field hockey players at the end of a game against Spain.

The game itself ended in a 1-1 draw, and Spain's David Alegre finished the match lying on the field as Argentina's Matias Rey came over to help stretch out his tired muscles, the two rivals seemingly in good spirits.

Cue Lucas Rossi.

The 36-year-old Argentinian came flying over and appeared to shout in Alegre's face before shoving his stick at the back of his head while he was still lying on the field, much to the outrage of the other Spanish players.

A scuffle ensued where Delas from Spain pushed Rossi away with a hand around his throat, aggravating Rossi further.

The umpire tried to break things up, but a Spanish player could be heard saying to the umpire that the head knock was "f***ing dangerous".

Both teams walked off the field, with no details yet on whether Rossi will face any repercussions for the attack.

The men's Black Sticks will be hoping for a drama-free match when they take on Spain tonight at 11:45pm.

The New Zealand Herald

Note: Lucas Rossi was suspended for the Japan - Argentina game on Sunday 25 meaning the Tournament Director suspended him for the incident


---

Shocking Scenes As Argentina Hockey Player Jabs Opponent In The Head With Stick While Down On The Ground




The most shocking moment of this year's Olympics happened in the hockey match between Argentina and Spain when a player jabbed an opponent in the head with the stick.

After the 1-1 draw, Spain's David Alegre was struggling with cramp and an Argentina player was helping him stretch while he was on the floor.

Then, out of nowhere, Lucas Rossi came up to Alegre and hit him in the head with the stick in a bizarre, unprovoked attack.

The game had been played in good spirits but naturally a scuffle between both sets of players, with Rossi being grabbed by the throat.

His own teammates tried to calm Rossi down but he was absolutely furious.

The scenes prompted reaction aplenty on social media:

Sport Bible

Note: Lucas Rossi was suspended for the Japan - Argentina game on Sunday 25 meaning the Tournament Director suspended him for the incident


---

India women's team loses 1-5 to Netherlands

Netherlands defeated India 5-1 in a Pool A match of the women's hockey event at the Tokyo Olympics on Saturday. Felice Albers scored two goals for the Dutch.

Shyam Vasudevan



Indians got a taste of what they can expect in Pool A, where they have been grouped with all three medals winners from the 2016 Rio Games – Great Britain, the Netherlands and Germany.   -  Getty Images

The Netherlands women's team lived up to its billing as one of the favourites for the women's hockey title at the 2020 Tokyo Olympics as it handed India a 5-1 drubbing in their Pool A game at the Oi Hockey Stadium in Tokyo on Saturday.

The Indians got a taste of what they can expect in Pool A, where they have been grouped with all three medals winners from the 2016 Rio Games – Great Britain, the Netherlands and Germany. India's other two opponents are 2018 World Cup runner-up Ireland, which beat India twice in that tournament, and South Africa.

The Dutchwomen got off to a flyer as Felice Albers broke the deadlock in the sixth minute. The Indian side, led by Rani Rampal, was always going to need to churn out its very best to stand a chance against the 2021 European champion. And it was skipper Rampal who brought India back into the game as she scored against the run of play four minutes after the opener.

The Indians creditably held fort at the back to neutralise the potent attacking threat posed by the Dutch forwards, while goalkeeper Savita Punia made a string of sharp saves in the second quarter to ensure the scoreline remained 1-1 at the interval.

However, India's hopes of upsetting the Dutch faded away when the latter scored within three minutes of the restart. Caia Jacqueline van Maasakker collected the penalty corner and struck towards goal as Margot van Geffen stuck her stick out to direct it past the 'keeper.

Albers scored her second goal of the evening after finishing off a stunning move orchestrated by defender Pien Sanders, who made a surging run down the right and played a delightful inch-perfect pass for Albers to convert.

If the third goal deflated the Indians, the fourth, which arrived just two minutes later, left them gasping for air. Frederique Matla ran a good 30 yards before selling the defender a dummy and slamming home a ferocious reverse hit. Dutch defender van Maasakkaer capped off a commanding win with a thumping strike off a penalty corner, past a hapless Savita.

The Indians will face another stiff challenge when they take on Germany in their next Pool A match on Monday.

Sportstar


---

India women lose 1-5 to Netherlands in hockey opener

The Indians defended bravely in the first two quarters to go into half time locked at 1-1 but the break seemed to have broken their momentum as the Dutch came out all guns blazing after the change of ends and pumped in three goals to nip any chance of an upset in the bud.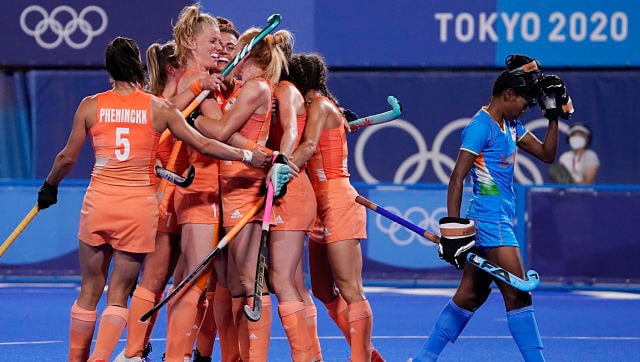 Players from the Netherlands celebrate after scoring against India. AP

Tokyo: The Indian women's hockey team fought valiantly in the first two quarters before losing the steam to go down 1-5 against world No 1 Netherlands in their opening pool match at the Tokyo Olympics on Saturday.

Felice Albers gave the Netherlands the lead in the sixth minute before the advantage was evened out by India skipper Rani Rampal in the 10th minute.

The Indians defended bravely in the first two quarters to go into the half time locked at 1-1 but the break seemed to have broken their momentum as the Dutch came out all guns blazing after the change of ends and pumped in three goals to nip any chance of an upset in the bud.

Margot van Geffen (33rd minute) restored Netherlands' lead soon after the resumption before the three-time Olympic champions and the reigning silver medallist scored two goals in quick succession through Albers (43rd) and Frederique Matla (45th) to take control of the proceedings.

If that was not enough, there was more agony in store for the Indians as Caia Jacqueline van Maasakker slammed home from their sixth penalty corner in the 52nd minute.

Firstpost


---

Mixed opening day for Indian hockey teams

Men seal 3 points



India's players celebrate Harmanpreet Singh's (3rd from left) goal against New Zealand. Reuters

Harmanpreet Singh scored a brace and veteran goalkeeper PR Sreejesh stood like a wall in the closing minutes as the Indian men's hockey team overcame a late surge from New Zealand to eke out a 3-2 win in its opening Pool A match here today.

Harmanpreet (26th and 33rd minutes) gave world No. 4 India a two-goal cushion with two penalty-corner conversions after Rupinder Pal Singh had converted a penalty stroke in the 10th minute to level things up.

Eighth-ranked New Zealand had taken the lead through a Kane Russell drag-flick goal in the sixth minute. Down by two goals, the Black Sticks regained confidence after Stephen Jenness' 43rd-minute strike. However, despite the late pressure, the Kiwis could not find the equaliser.

India will next play Australia tomorrow. The Kookaburras beat hosts Japan 5-3 earlier in the day.

Women find Dutch too hot to handle

The Indian women's hockey team fought valiantly in the first two quarters before losing steam to go down 5-1 against world No. 1 Netherlands in their opening Pool A match. Felice Albers (6th, 43rd) scored a brace for Netherlands, while Margot van Geffen (33rd minute), Frederique Matla (45th) and Caia Jacqueline van Maasakker (52nd) were the other goal-scorers. India's lone goal was scored by skipper Rani Rampal in the 10th minute. "Now we have the benchmark, we will look to make improvements," India head coach Sjoerd Marijne said. India play Germany on July 26.

The Tribune


---

GB's Men Make Winning Start To Tokyo Olympics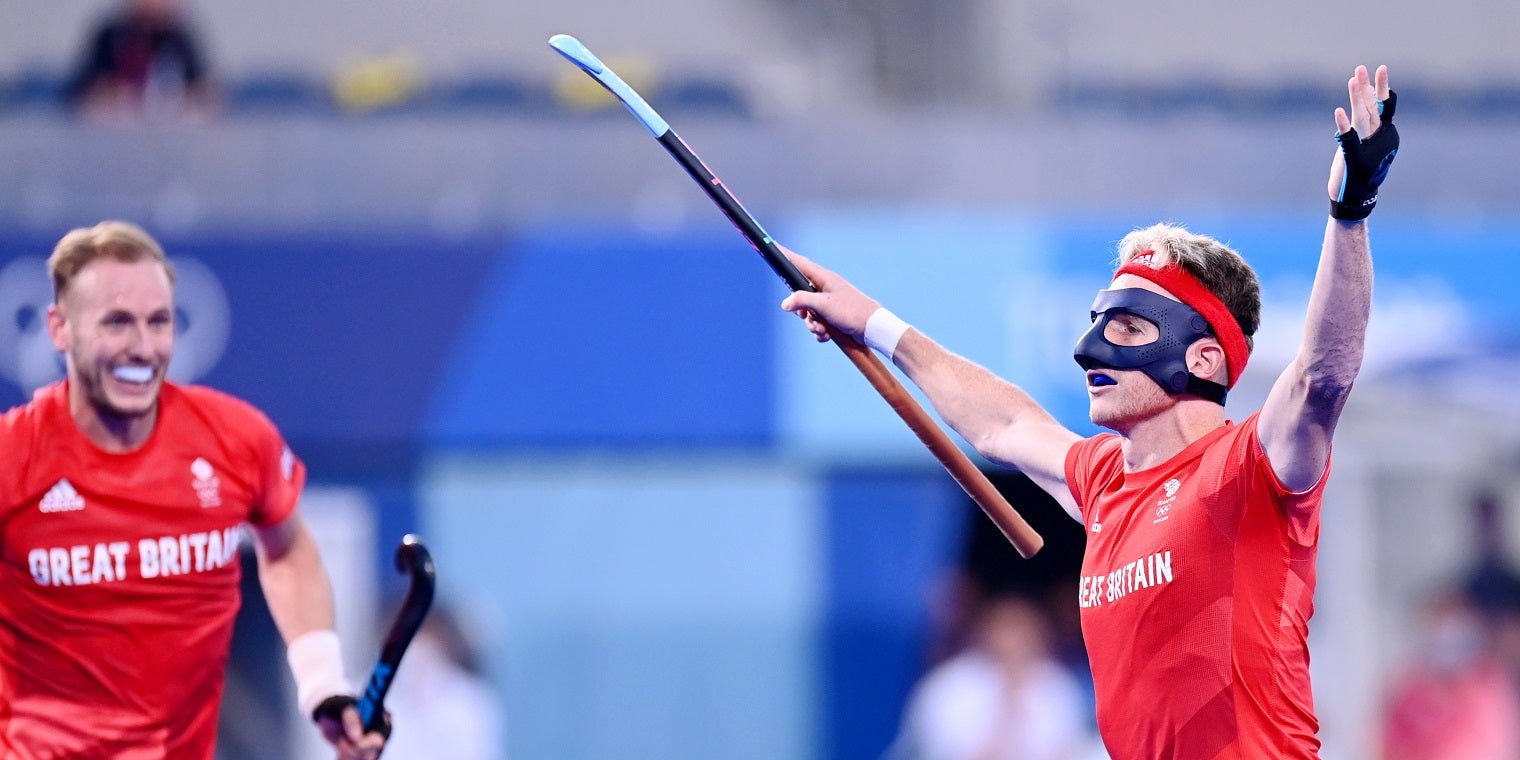 Great Britain's men earned a 3-1 victory over South Africa to get their Olympic campaign off to the perfect start.

Sam Ward had opened the scoring with only two minutes on the clock, only for South Africa to reply just a minute later and level the scores.

The second-half was almost a mirror image of the first, Liam Ansell firing in a goal for GB after two minutes of play, though this time there was to be no response from South Africa.

Danny Kerry's side were looking dominant, creating numerous chances on the offence, and limiting South Africa to very little at the other end.

Victory was ensured when Jack Waller forced a defender into turning the ball into his own net with a dangerous ball across the face of goal.

The result means that Great Britain take the three points in their first match of the group stage, they'll face Canada on Monday 26 July at 3:45am BST in their next match.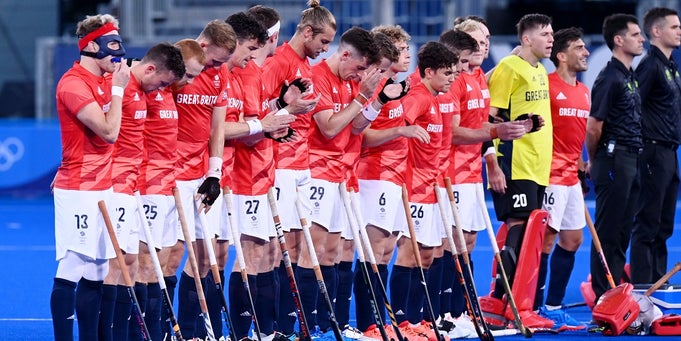 Great Britain's men got off to a winning start at the Tokyo Olympics against South Africa. Credit: World Sport Pics

Great Britain were quick out of the blocks and earned two penalty corners in as many minutes. Ward ensured that early pressure would pay as his thumping drag flick couldn't be stopped by the South African goalkeeper to record GB's first goal of the Tokyo Olympics.

The team weren't ahead for long as Matt Guise-Brown's precise drag flick found the corner of the net to level the scores just one minute after GB had taken the lead.

In a breathless first quarter, Danny Kerry's side were looking dangerous and had domination over the possession count, with the ball persistently being worked into the South Africa circle.

Penalty corners were looking a real strength for GB as the first half wore on. Another low attempt from Ward was this time halted by the diving 'keeper before Liam Sanford's deflection from Adam Dixon's drive was well saved.

South Africa did grow into the game and looked threatening on the counter-attack with several aerials causing trouble amongst the GB defence, though the side couldn't conjure another shot on goal in the first half.

Great Britain raced out for the second-half with renewed energy and retook the lead just two minutes after the restart. Liam Ansell found himself with time and space to unleash a drive on goal, and though he didn't catch it truly on the reverse, the looping ball evaded the South Africa goalkeeper to put GB ahead.

The team just couldn't be stopped and remained firmly in the ascendancy with the 'keeper facing unrelenting pressure in the circle.

A lack of discipline was also costing South Africa as three yellow cards were shown their way, though Ollie Payne was called into action to make a smart save with the boot to maintain the lead.

The result never looked in doubt when Waller flashed the ball into the circle, where a defender's touch inadvertently sent it into the backboard, to put GB 3-1 to the good with just five minutes remaining.

There was to be no further change to the score as Great Britain's men got off to the perfect start to their Tokyo campaign and will head into their next match against Canada on Monday 26 July at 3:45am BST hoping to make it two wins from two.

After the match, Head Coach Danny Kerry commented: "It was a tricky first match to start the Olympics. South Africa set up to play counter-attacking hockey and sat deep for much of the game, so we had to work hard to break them down. We managed to create a lot of opportunities through the match, but we'll go away and seek to improve in a number of areas. It's always pleasing to start with a win, we're off and running."

Jack Waller commented: "It wasn't perfect today, but it's always good to win the first match of any tournament. We're really looking forward to building on this performance ahead of our next match, against Canada."

Great Britain 3 (1)

Ward (2', PC), Ansell (32', FG), Waller (56', FG)

South Africa 1 (1)

Guise-Brown (3', PC)

Starting XI: Ames, Draper, Shipperley, Sloan, Ward, Roper, Dixon (C), Payne (GK), Ansell, Sanford, Wallace

Subs: Griffiths, Creed, Waller, Gall, Sorsby

Great Britain Hockey media release


---

Spirited South Africans fall in opening day defeat




It had been 9 years since a South African hockey side stepped foot onto an Olympic pitch. But that sense of wonder was quickly given a stark return to reality as Sam Ward had opened the scoring with only two minutes on the clock.

The South Africans though fought right back and pulled level through a sublime finish by Matthew Guise-Brown. Although England were dominating the possession, South Africa did grow into the game and looked threatening on the counter-attack with several aerials causing trouble amongst the GB defence, though the side couldn't conjure another shot on goal in the first half.

In a fantastically fought first half neither side could establish dominance and the teams finished the first half 1-1, with the South Africans answering all questions asked by the favourites.

That needed to continue in the second half but following the same pattern as the first half and an early goal by Liam Ansell found Great Britain back in the lead. It was a lead they would never relinquish but only add to it later on when a Waller strike was diverted in to make it 3-1.

Rassie Pieterse was called into action on a number of occasions but was able to keep it competitive while the yellow cards were disrupting the teams opportunities.

In truth the team had set up with a well structured game plan and had some opportunities, but Great Britain were able to capitalise on their higher ranking and take the three points. For the SA Men its back in action tomorrow against Netherlands, who themselves want to overcome the defeat to Belgium this morning!

SA Hockey Association media release


---

GB's Sam Ward in dream Olympic return after career-threatening injury

Great Britain's Sam Ward made a dream return to Olympic action as his side won their men's hockey Pool B opener against South Africa.

Ward opened the scoring in Tokyo, 20 months after suffering a serious eye injury which threatened his career.

The 30-year-old struck from a penalty corner after just two minutes.

Matt Guise-Brown levelled from another penalty corner a minute later but second-half goals from Liam Ansell and Jack Waller gave GB a winning start.

With tough games against Belgium, Germany and the Netherlands to come, Danny Kerry's side needed a good display against one of the two Pool B teams ranked lower than them to boost their quarter-final hopes.

And while Great Britain were tested by their opponents early on, South Africa's ill-discipline cost them as the game went on.

Kerry's side next face Canada on Monday.

BBC Sport


---

Dream start for Green Army in Tokyo with 2-0 win over South Africa




Ireland made a dream start to life as a women's Olympic hockey team as they got the best of South Africa in their debut on this stage at the Oi Stadium.

Róisín Upton's powerful low drag-flick in the ninth minute meant they held the lead from the outset, an advantage they eventually strengthened before the end of the third quarter via Sarah Torrans.

"You could see the smiles when we walked out," Torrans said after the win, scoring in what was her first senior ranking tournament game.

"It was just fun; it was a long day waiting to get out on the pitch and it still feels so surreal. To do it with this group of girls is incredible It is just a pity we can't do it with family and friends but hopefully we are doing them proud. It is nice to get on the score sheet in the first game; it is what an attacker dreams of and hopefully we can bring that into the next few games.



Team Ireland stand for Amhrán na bhFiann ahead of their Women's Pool A Group Stage match between Ireland and South Africa at the Oi Hockey Stadium during the 2020 Tokyo Summer Olympic Games in Tokyo, Japan. Photo by Ramsey Cardy/Sportsfile

"Netherlands next, the best in the world. It's always a fun game but we will come out fighting."

Ireland got off to a fast start with Torrans and Nicci Daly storming down the right flank. Deirdre Duke's trickery duly earned the first penalty corner of the match which Upton duly whipped into the left corner past the stick of Phumelela Mbande.

After that, it was a case of when rather than if Ireland would score again as they held the vast majority of the play against South Africa, the lowest ranked side in the tournament at number 16.

Three more corner chances came and went in the first half while Naomi Carroll pinged the post with a rasping shot from close range.

The African champions showed their threat in fits and starts with Nomnikelo Veto the danger player.

But it was the Green Army who always looked the more likely to push on. Torrans missed out from a great chance created by Katie Mullan's driving run and diagonal ball into the danger zone. Anna O'Flanagan also stung the pads of the goalkeeper and Sarah Hawkshaw chipped one over.

The insurance goal eventually arrived in the 44th minute when Loreto team mates Hannah Matthews and Torrans connected. The former provided the pace on the ball into the circle which saw the ball deflected high in the air and Torrans instinctively batted down and into the net.



Roisin Upton of Ireland, second from left, celebrates with team-mates after scoring her side's first goal during the Women's Pool A Group Stage match between Ireland and South Africa at the Oi Hockey Stadium during the 2020 Tokyo Summer Olympic Games in Tokyo, Japan. Photo by Ramsey Cardy/Sportsfile

After that, there were further corner chances which went incomplete but goalkeeper Ayeisha McFerran never looked unduly troubled in a composed defensive outing. Matthews was denied a third by Mbande's brilliant diving stop but Ireland content to win 2-0.

Ireland next meet the Netherlands on Monday morning (2am Irish time). The Dutch eased to a 5-1 win over India with four second half goals.

Olympic Games – Women's Pool A
Ireland 2 (R Upton, S Torrans) South Africa 0

Ireland: A McFerran, C Watkins, S Torrans, R Upton, H McLoughlin, D Duke, K Mullan, S Hawkshaw, L Tice, S McAuley, A O'Flanagan
Subs: H Matthews, N Daly, S McCay, N Carroll, L Holden

South Africa: P Mbande, C Seerane, N Walraven, K Paton, R Johnson, O Zulu, L-M Deetlefs, E Hunter, L du Plessis, Q Bobbs, T Glasby
Subs: E Molikoe, T Mallett, N Veto, C Maddocks, L Mahole

Umpires: E Yamada (JPN), K Hudson (NZL)

Fixture list (times Irish):

July 24: Ireland 2 (R Upton, S Torrans) South Africa 0
July 26: Netherlands v Ireland, 2am
July 28: Germany v Ireland, 4.15am
July 30: Ireland v India, 3.45am
July 31: Ireland v Great Britain, 12.45pm
August 1-6: Knock-out matches

Irish Hockey Association media release


---

Green Army enjoy dream Olympic debut




Ireland wrote another famous chapter in their wonderful recent history by beating South Africa on their Olympic debut.

The Green Army took a 2-0 win over the African continental champions to make a dream start to their first ever Olympic title challenge.

It was a dominant display from Ireland, who took the lead in the first quarter thanks to Roisin Upton's perfectly placed penalty corner drag-flick.

Sarah Torrans ensured victory for her team with an instinctive overhead volley, finding a way past onrushing goalkeeper Phumelela Mbande.  

Ireland goal-scorer Sarah Torrans said: "It's such a relief to get a win there. We're just here, having a load of fun and dreaming of being in the Olympics and to finally get over the line in our first game is incredible. It's just great to get a good start."

Next up for Ireland is a date against the Netherlands on Monday after the world number one side saw off India 5-1 with four second half goals

Felice Albers put the Oranje ahead early with a close-range finish before India captain Rani tore up the script, netting with a speculative strike from the edge of the circle. T

he score remained tied at 1-1 until a three-goal blitz from the Dutch put the result beyond all doubt, with Margot van Geffen, a second for Albers and a fine backhand strike from Frederique Matla took the score to 4-1. The scoring was completed by Caia van Maasakker, who bagged a trademark penalty corner.

Talking about scoring her first Olympic goal in her third Olympics, Margot van Geffen said: "Finally. After a long time. It's cool, it's a great start but it's not what I'm here for. You know what I'm here for. It's a good start, a 5-1 win, and now we get ready for the next game."

Euro Hockey League media release


---

SA Women unable to overcome the Irish on Day 1 in Tokyo



Photo - Anton Geyser / SA Sports Images

The South African Hockey women opened their campaign with a tough match up against the 2018 FIH World Cup silver medallists Ireland. It would also be the South Africans official test match in two years after the COVID Pandemic hurt the programme badly.

The South Africans started the game by handing international debuts to Edith Molikoe, Charne Maddocks and Lerato Mahole.

South Africa had the clearest opening opportunity with Nicky Veto unable to convert after some great build up play and Ireland were able to convert from the first penalty corner of the game through a low drive from Roisin Upton. The Irish were creating a number of circle entries but were not generating outcomes with South Africa attempting to play the ball on the counter.

The defensive combination and Phumelela Mbande in goals were able to hold off the Irish, but there were so few opportunities being created by the South Africans. And at half time the score remained 1-0.

South Africa were able to create a few circle entries and managed to win a penalty corner, but were unable to convert and just after that Sarah Torrans completed a moment of real quality to divert the ball beyond Mbande and give the Irish the 2nd goal they were desperate for.

That second goal would be the final as neither team was able to create another meaningful opportunity and it was Ireland who got the tournament off to the perfect start.  For South Africa its back to the drawing board ahead of playing Great Britain on Monday.

SA Hockey Association media release


---

'You can't get better than that' - McCay delight as Ireland beat South Africa in opener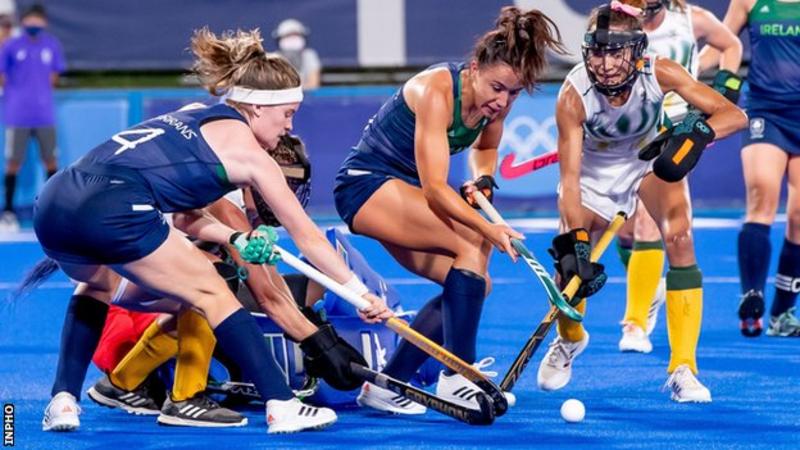 Ireland's Sarah Torrans and Anna O'Flanagan are involved in the goalmouth scramble in Tokyo Sarah Torrans (left) hit Ireland's clinching second goal late in the third quarter

Ireland defender Shirley McCay celebrated beating South Africa 2-0 in their Olympic Games opener in Tokyo on Saturday.

Roisin Upton and Sarah Torrans netted as the Irish played in the Olympics for the first time.

"A first ever win at the Olympics - you can't get better than that," said McCay after her 312th appearance for Ireland.

"It wasn't pretty and we we didn't play our best hockey. But we wanted a clean and to start with a win."

Upton converted a ninth-minute penalty corner and the ninth-ranked Irish missed a series of chances before Torrans scored in the third quarter.

South Africa threatened occasionally but Ireland controlled a contest they had to win with tougher tests to follow.

Upton's goal came from the first of Ireland's six penalty corners, with South African goalkeeper Phumelela Mbande producing a series of fine saves to keep her team in the game before Torrans' strike gave the Irish more breathing space.

Earlier in the third quarter, Dubliner Torrans had missed a glorious chance set up by skipper Katie Mullan, but she atoned for that by diverting the ball into the net after a Hannah Matthews shot had been deflected into her path.

South Africa, 16th in the world rankings, could only force one penalty corner which came just before Torrans' goal, although Ireland keeper Ayeisha McFerran had to make a great early save to deny Charne Maddocks.

In a busy Pool A programme, Ireland's women resume against the world's top-ranked team the Netherlands on Monday, before contests against Germany (Wednesday), India (Friday) and Great Britain (next Saturday).

After the match started in 30 degrees Celsius, McFerran saved Maddocks' sixth-minute chance but the Irish were soon ahead as Upton finished off a penalty corner won by Deirdre Duke.

Ireland dominated the second quarter as Naomi Carroll hit the post from close range and also failed to convert another chance with Chloe Watkins having a penalty corner blocked by South Africa's Kristen Paton.

After further Irish chances were squandered in the third quarter, they had a nervous moment when South Africa forced their sole penalty corner but poor execution meant the chance was wasted.

But Torrans' goal in the final minute of the third quarter eased Irish nerves and they avoided any mishaps in the closing 15 minutes of action as Lena Tice continued her impressive display in defence.

"For their first ever game at the Olympics the girls showed some true character," said Irish coach Sean Dancer.

"The game didn't go exactly the way we wanted but we deserved the win."

BBC Sport


---

Mixed emotions on a challenging day for SA in Tokyo

By Karien Jonckheere

It wasn't the most successful of starts to their Olympic campaign for the South African women's hockey team against Ireland in Tokyo, but it was certainly a night to remember for Charné Maddocks.

The 23-year-old from Kimberley pulled on the green and gold for the first time – making her debut for the national team.

Maddocks was one of three SA debutants on the night, but the only one in the starting line-up.

"It was super-exciting. It went pretty well," she beamed afterwards. "The nerves were in the first 30 seconds of the game when I had a chance but I think we came out well and played hard.

"It was quite overwhelming to be able to play at international level. I'm chuffed because I was quite nervous but I think I pulled through for my team and gave my best effort so it was pretty exciting. It's just unlucky we couldn't get the win today."

Speaking about making her debut with Lerato Mahole and Edith Molikoe, Maddocks added: "We stepped on as juniors together to make a big impact so it was quite scary. It's pretty special to make your debut at the world's biggest event – the Olympic Games – so I'm quite pleased with myself."

Having lost their opener 2-0 to Ireland, the South Africans now face the daunting task of taking on defending Olympic champions Great Britain in their next game on Monday.

"I think we need to go back to the drawing board and fix a few things. The first game is done, the nerves of being on the world's biggest platform are over so we just need to come out and be better and bust it in the gut I think," said Maddocks.

Earlier in the evening, the SA men's hockey team put up an impressive fight against the British team, all square at 1-1 for much of the match. But they eventually succumbed 3-1 in their opener.

Supersport


---

SA women's hockey downed by Ireland, while SA men lose to Great Britain



Phumelela Mbande. (Wessel Oosthuizen/TEAM SA)

South Africa's women's hockey team lost 2-0 to Ireland in their opening Pool A game at the Tokyo Olympics.

It was a case of 8th in the world beating 16th but South Africa were anything but outclassed. A goal in each half was enough to settle the issue in the way of the match favourites.

The South African men's hockey team also started their campaign with a loss to Great Britain.

LIVE | Tokyo Olympics Day 1: Team SA sees hockey, waterpolo sides beaten as Gallagher, Houlie miss out in the pool

In a brave display in which they were forced on the back foot for most of the match, South Africa eventually went down 3-1 after holding their more fancied opponents to a 1-1 scoreline at half-time.

Sam Ward opened the scoring for Great Britain before Matthew Guise-Brown drew South Africa level.

As the game went on, however, Great Britain wore down the South African defence and despite the heroics of Rassie Pieterse in goal, they scored further goals through Liam Ansell and Jack Waller.

South Africa are now up against the Netherlands who lost 3-1 to Belgium.

That Group B match takes place on Sunday, 26 June 14:15.

News24


---

Narrow Defeat For GB's Women In Tokyo 2020 Opener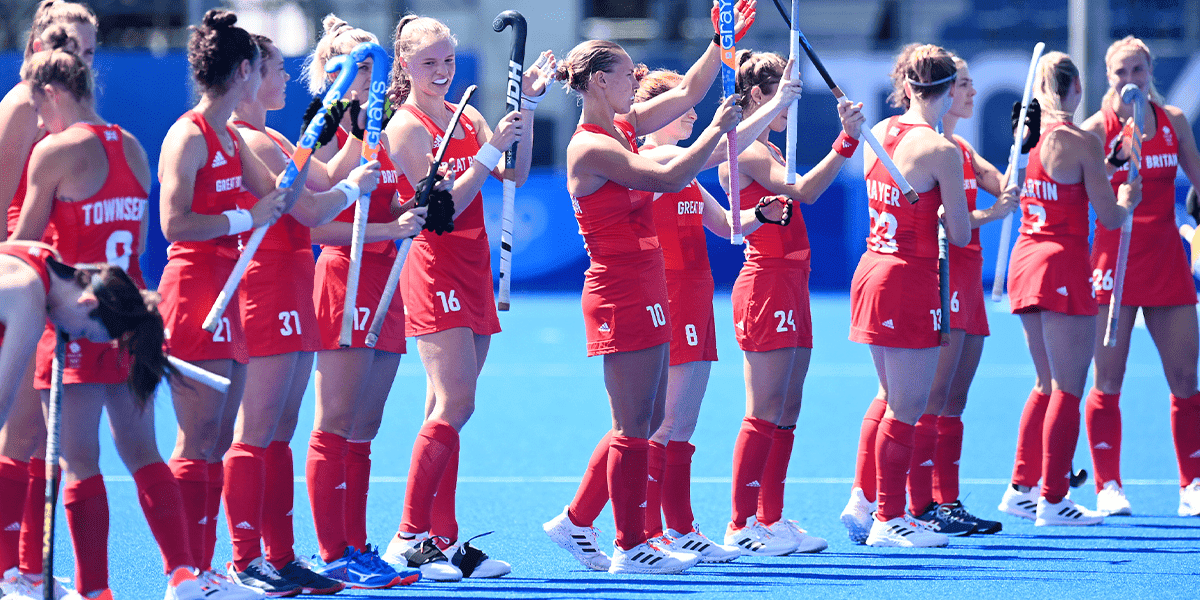 Great Britain's women suffered a narrow defeat in an entertaining opening game at the Tokyo 2020 Olympics.

Mark Hager's team peppered the German goal throughout the game but came up against an inspired goalkeeper in Julia Sonntag, who made several important saves.

Sarah Jones opened the scoring for Great Britain towards the end of the first quarter, turning home a deflected corner to hand her side a well earned lead.

But a penalty stroke from Viktoria Huse drew the Germans level at half-time before Charlotte Stapenhorst converted a blistering counter attack with a goal that would prove crucial.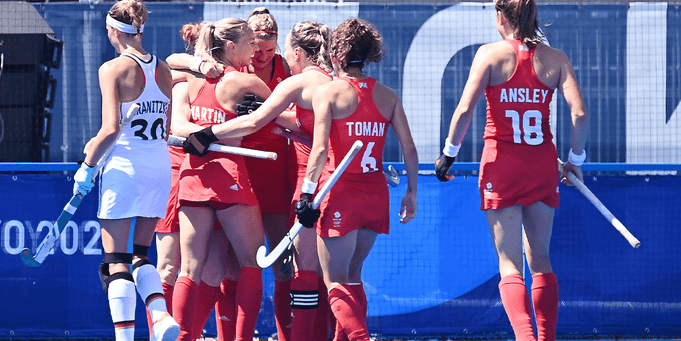 Sarah Jones opened the scoring on her Olympic debut. Credit: World Sport Pics

The reigning Olympic champions started as they left off five years ago with Shona McCallin having the game's first shot after just 19 seconds, before two Giselle Ansley corners and their follow up efforts were blocked by the German defence.

Sonntag was on hand to stop Ellie Rayer's close range effort in the 11th minute before Jones opened the scoring two minutes later, finding herself perfectly positioned to nudge the ball into the goal after another corner was deflected.

Germany put together a dangerous counter attack early in the second quarter but Leah Wilkinson read the final pass expertly to turn the ball away from danger before shortly after at the other end, Sonntag was called into action to pad away Izzy Petter's deflection.

Maddie Hinch was then forced into a smart save in the 22nd minute but she couldn't keep out Huse's penalty stroke shortly after as the German player sent her the wrong way.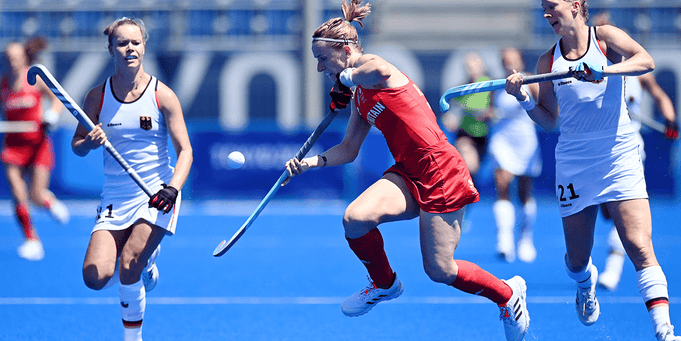 Ellie Rayer looked sharp on her first appearance at an Olympics. Credit: World Sport Pics

There was nothing Hinch could do to stop Germany's second goal either as Stapenhorst found the target from close range after another stunning counter. Moments after Sonntag saved from Hannah Martin, Pia Maertens raced up the right-hand side of the pitch before crossing for the forward to tap home.

Both teams had one more chance apiece in the third quarter, Hinch reacting smartly to her right to stop the German effort before Ansley's flick – which looked destined for the top corner – was brilliantly blocked on the line.

Three more corners in quick succession early in the final quarter couldn't breach the German defence either, with the first two striking feet before Ansley's flick was saved by Sonntag.

GB's women return to action against South Africa at 10:30 on Monday 26 July, with the men playing Canada earlier that day at 03:45.

After the match, captain Hollie Pearne-Webb commented: "I think we're going to go back tonight, look at the stats and I think that'll show that it was a really dominant performance from us. In one way that's disappointing because on the balance of play the three points should have been ours, however, it's also disappointing as we didn't make sure it was three points and I think the difference was just in both circles. I think we'll look at the stats and see that they didn't have many opportunities, I think they had one corner, one stroke, and not many shots. We had numerous corners, but that's the difference in hockey at both ends. We need to go back and tighten up those areas. Overall, I think it was really positive.

"There was a danger that with a very new group we could come out here and be a bit nervous, but I don't think we started like that. I think we started confidently and had them on the back foot with the momentum in our favour, so it was a really pleasing start. Now we're in the tournament, game one is out of the way, and we've got South Africa coming up tomorrow, so we need to take the confidence we showed today and take it into that match.

"Obviously we look back at Rio with what we did and take learnings from that, but equally this is a very different squad with lots of new players, a new coach and a different style of play, so we very much see ourselves as a new squad looking to win our first gold medal together. We'll take some confidence from what happened five years ago, but we want to create our own history here. I am really pleased with how we started the game, we played some really good hockey in patches and it's just about tweaking those final things and I think we would have had three points."

Starting XI: Hinch (GK), Unsworth, Toman, Jones, Townsend, Robertson, Rayer, Ansley, Pearne-Webb, McCallin, Owsley

Subs: Martin, Petter, Wilkinson, Crackles, Balsdon

Great Britain Hockey media release


---

Great Britain begin women's hockey title defence with loss to Germany

Great Britain's women began their Olympic hockey title defence in disappointing fashion with a 2-1 defeat by Germany in Pool A in Tokyo.

Sarah Jones gave GB the lead from close range before Germany hit back through a scuffed Viktoria Huse penalty that sent Maddie Hinch the wrong way.

Germany grew in confidence and took the lead as Charlotte Stapenhorst fired home from Pia Maertens' pass.

Great Britain face South Africa on Monday at 10:30 BST.

While GB played aggressively and won three successive penalty corners in the final quarter, they were unable to break through the German defence.

The top four teams from each of the two groups of six will progress to the knockout stage.

Great Britain captain Hollie Pearne-Webb: "We'll go back, look at the stats and see that was a really dominant performance. In one way it's really disappointing because on balance of play, the points should have been ours. However, we didn't make sure it was three points.

"We had loads of corners and that's the difference, at both ends. We need to go back and tighten up those areas. Overall, it was really positive.

"There was a danger we could have come out and been nervous with an inexperienced group but we started really, really confidently. We had them on the back foot and momentum was in our favour. It was a really pleasing start.

"Now we're into the tournament, game one's out of the way. We've got South Africa tomorrow and we need to take the confidence from the dominance we showed today and take that into tomorrow's game, to tweak a few things."

BBC Sport


---

Germany end Great Britain women's Olympic run



Charlotte Stapenhorst celebrates for Germany during win PIC: REUTERS/Bernadett

Captain Hollie Pearne-Webb admitted that the three points should have gone to Great Britain women as they lost their first match since the London 2012 semi-finals.


---

Germany win against Britain in women's tournament

Daniel Leussink



Julia Sonntag of Germany in action. REUTERS/Bernadett Szabo

TOKYO - Germany gave Britain their first Olympics loss in women's hockey since the London Games on Sunday, while New Zealand powered past Argentina in hot Tokyo conditions.

After both sides took a knee before the opening whistle, the British women moved aggressively against their opponents, taking an early lead in the 13th minute when midfielder Sarah Jones netted the ball behind German goalie Julia Sonntag.

Germany pulled level in the 24th minute when Viktoria Huse scored her 10th international goal with a penalty stroke, setting the stage for the 2-1 victory.

Charlotte Stapenhorst scored the winning goal for the Rio bronze medallists shortly after the halftime break.

"It's a nice feeling to start with a win especially against the gold medallist," Huse said.

"We know them quite well so it was a very tough game with us lucky at the end."

Britain's captain, Hollie Pearne-Webb, praised her team's positive start and performance, despite losing their first Olympic match since the semi-finals at the 2012 London Olympics.

"We all know that we're still in this. Game one is out of the way and it's a marathon, not a sprint," she said.

Officials doubled the usual two-minute breaks between quarters to allow players to cope with the heat at the unshaded main pitch of the Oi Hockey Stadium.

The pitch was also sprayed with water during the longer half-time break to keep play fast and smooth.

KIWI WIN

New Zealand defeated Argentina with a clean 3-0 score in Pool B, netting all goals in the second half.

Despite showcasing their dribbling skills and passionate play, Argentina could not break the Black Sticks' defence, missing six penalty corners.

"It's a really positive step in the right direction," said Kiwi captain Olivia Merry.

"There's some fantastic defence and fantastic players that we have, but winning one game doesn't win you a gold medal. It's a long road there."

In other Pool B matches, China defeated host Japan 4-3, while Australia also won their first match of the tournament, beating Spain 3-1.

The Hockeyroos were down 0-1 at halftime but turned the tide in the second half through field goals by Ambrosia Malone and Emily Chalker as well as a penalty corner by Grace Steward.

Reuters


---

Kiwi women upset world no.2 in Olympic opener




The New Zealand women's hockey team have startled world no.2 Argentina with a 3-0 victory in their opening Olympic match at Tokyo's Oi Hockey Stadium.

The result was even more remarkable considering the sixth-ranked Kiwis were without their two most experienced players today with captain Stacey Michelsen (hamstring) and vice-captain Sam Charlton (hip) both on the injured list.

Otago midfielder Tessa Jopp and Taranaki striker Holly Pearson were called into the match day squad, and Pearson made the most of her Olympic debut scoring the all-important third goal – her first in the black dress.

New Zealand captain for the day Olivia Merry, recently named the FIH Pro League's top goalscorer for the second year in a row, was pleased to see their penalty corner options delivering results today.

"We have been working on our set pieces so it's really good to put away a few penalty corners. But you never know with an Argentinian side – they can always come back.

"It's a huge stepping stone for us … but you don't win a gold medal from your first game."

Argentina had the better of a scoreless first half, dominating possession and having a handful of shots on goal – with a penalty corner going high and star Delfina Merino putting one wide from the spot. The Kiwis soaked up the pressure and slowly built into their own attack.

New Zealand opened the scoring five minutes into the second half with Kelsey Smith picking up the scraps from a Stephanie Dickins penalty corner strike to juggle the ball over the keeper and into the goal.

Five minutes later New Zealand extended their lead to 2-0 with youngster Hope Ralph collecting her fourth goal for her country. Ralph received a Megan Hull penalty corner on the right post and pushed the ball under the Argentinian keeper.

The Argentinians threw everything at the Kiwis in the final quarter but weren't able to convert any of their 13 shots on goal, including six penalty corners, largely thanks to the efforts of Grace O'Hanlon in goal.

In fact it was the Kiwis who scored at the end, with Pearson latching on to a pass from Jopp and firing in the third goal which put the result beyond doubt.

New Zealand 3 (Kelsey Smith 35 min, Hope Ralph 40 min, Holly Pearson 54 min).
Argentina 0.
Halftime: 0-0.

New Zealand Women: Ella Gunson (Northland); Stephanie Dickins (North Harbour); Katie Doar, Julia King, Grace O'Hanlon (GK), Elizabeth Thompson (Auckland); Tarryn Davey (Thames Valley); Frances Davies, Rose Keddell (Tauranga); Holly Pearson, Hope Ralph (Taranaki); Olivia Shannon (Manawatu); Megan Hull (Wairarapa); Kelsey Smith (Nelson); Olivia Merry – captain (Canterbury), Tessa Jopp (Otago).

Next up the New Zealand women play the home side Japan at 11.45pm (NZ time) tomorrow followed by Spain at 2.45pm on Wednesday.

Official Blacksticks site


---

Black Sticks women stun powerful Argentina in opening victory

Mark Geenty



New Zealand's Rose Keddell passes around Argentina forward Agustina Albertarrio in their pool B match. John Locher/AP

New Zealand's women hockey players defied the heat and stunned world No 3 Argentina with a remarkable 3-0 win, to open their Tokyo Olympics campaign in the best possible fashion on Sunday.

Second half goals to Kelsey Smith, Hope Ralph and Holly Pearson - the latter scoring her first in international hockey - saw the world No 6 Black Sticks make a flying start to pool B in the race for the top-four to make the quarterfinals.

In searing 30degC-plus temperatures, the New Zealanders defended superbly to shut down numerous Argentina raids, and achieved a hugely significant win without two of their best players Stacey Michelsen and Samantha Charlton.

Both were injured, with Hockey New Zealand later saying in its match report that Michelsen (hamstring) and Charlton (hip) were ruled out as New Zealand beat Argentina for the first time in their fifth meeting at an Olympics.

Olivia Merry took over the captaincy and led a committed performance, as Argentina had 13 shots on goal to New Zealand's five. Goalkeeper Grace O'Hanlon epitomised the gutsy defence, her left glove swatting away two goalbound Argentina shots in the second half.

Merry said she was immensely proud of her team, looking to win a first Olympic medal after agonising fourth placings in London 2012 and Rio 2016.



Argentina and New Zealand line up before empty stands at Oi Hockey Stadium on Sunday. Julian Finney/Getty Images

"We knew we were going to have to come out strong, and with no international hockey for the last 15 months it's hard to gauge where other teams are at. We really wanted to put in a good performance in our first game," she told Sky Sport.

"It's only the first game and there's a long way to go in the tournament. It's a really positive step in the right direction and there was some fantastic defence and fantastic players that we have. But winning one game doesn't win you a gold medal. It's a long road here."

Both sides found it hard work in the height of a Japan summer day at Oi Hockey Stadium, with the mercury reading 32degC.

Having arrived from a New Zealand winter, the Black Sticks' intensive heat training appeared to pay dividends, with wet towels cooling them under shade at each break.



Argentina midfield Sofia Toccalino and New Zealand defender Tessa Jopp, right, battle for possession. John Locher/AP

Under the guidance of performance physiologist Lorenz Kissling, who completed a thesis in heat acclimation, they tried to replicate the Tokyo temperatures using heat chambers, saunas, and submerging in a spa for upwards of 50 minutes back home.

A scoreless first half raised hopes for New Zealand who defended stoutly, defying Argentina who had four shots on goal to their opponents' one.

It all opened up after the main break as the Black Sticks mounted some attacks and earned penalty corners.

Two goals in five minutes came from the set piece, with Smith pouncing on a saved drag flick from Stephanie Dickins, then Ralph deflecting a Megan Hull drag flick off the Argentina goalie after Olivia Shannon attacked into the circle.

New Zealand scrambled well at the other end as Argentina's frustration built, then they drove in the final nail with seven minutes left. From a Black Sticks counter-attack, Tessa Jopp hit into the circle and Pearson slammed it home for a memorable first goal.

New Zealand must back up quickly, with a night match against world No 14 Japan late on Monday.

AT A GLANCE

Olympic women's hockey tournament, pool B:

Black Sticks 3 (Kelsey Smith 35', Hope Ralph 40', Holly Pearson 53') Argentina 0. HT: 0-0

Stuff


---

Black Sticks Women claim stunning win over Argentina in opening game

By Liam Napier



Ella Gunson and Maria Jose Granatto of Argentina compete for the ball. Photo / Getty Images

The Black Sticks women have made an opening statement by stunning Argentina to put their counterparts on notice at the Tokyo Olympics.

Argentina, world No 2, were heavily favoured to account for a depleted New Zealand side in the searing heat.

Yet with defensive resilience and clinical attacking execution sixth-ranked New Zealand upset the South Americans 3-0 to make the best possible start to their Games campaign.

That the victory was achieved without captain Stacey Michelsen and vice-captain Samantha Charlton, as well as legend Kayla Whitelock, who tore her ACL on the eve of attending her fifth Olympics, magnifies the sense of satisfaction for the young brigade.

Three second-half goals - Hope Ralph and Kelsey Smith scoring from penalty corners and a brilliant strike from Holly Pearson to claim her first international goal – sealed victory, but the Black Sticks were even more impressive on defence.

Goal keeper Grace O'Hanlon kept a clean sheet to rebuff six penalty corners. Chasing the game, Argentina piled on the pressure in the final quarter but O'Hanlon held firm to increasingly build frustration.

In a gruelling tournament that forces teams to play five matches in six days, the Black Sticks are now well placed to be one of four sides to progress from their pool.

The Black Sticks, Commonwealth Games champions on the Gold Coast three years ago, next meet world No 14 and hosts Japan on Monday (11:45pm).

Australia (second ranked), Spain (seventh) and China (10th) are also in New Zealand's pool.

The New Zealand Herald


---

Hockeyroos pass critical Spain test




The Hockeyroos claimed a critical opening round victory against rivals Spain on Sunday, winning 3-1 in a match that could be best described as a game of just six minutes.

Nerves, a lack of international matches and the intense Tokyo heat saw the Hockeyroos' first game of the women's hockey tournament look more like an end-to-end tennis match with both sides failing to dominate or convert goal-scoring opportunities.

And it's not surprising. The Australian team has played just six international matches since March last year, have 10 players making their Games debut and are under the guidance of a new coach.

Hockey Australia media release


---

Spain coach Adrian Lock tests positive for Covid

By Rod Gilmour



Adrian Lock, Spain women's hockey coach, at the 2019 Euros

Spain women were left without coach Adrian Lock after the Briton tested postive for Covid ahead of their opening defeat to Australia on Sunday.


---

Need to Back Our Skills in Tie Against Germany, Says Rani Rampal

Rani, who scored the only goal for India in their match against the Dutch, added that here teammates will have to be on top of their game to counter the Germans.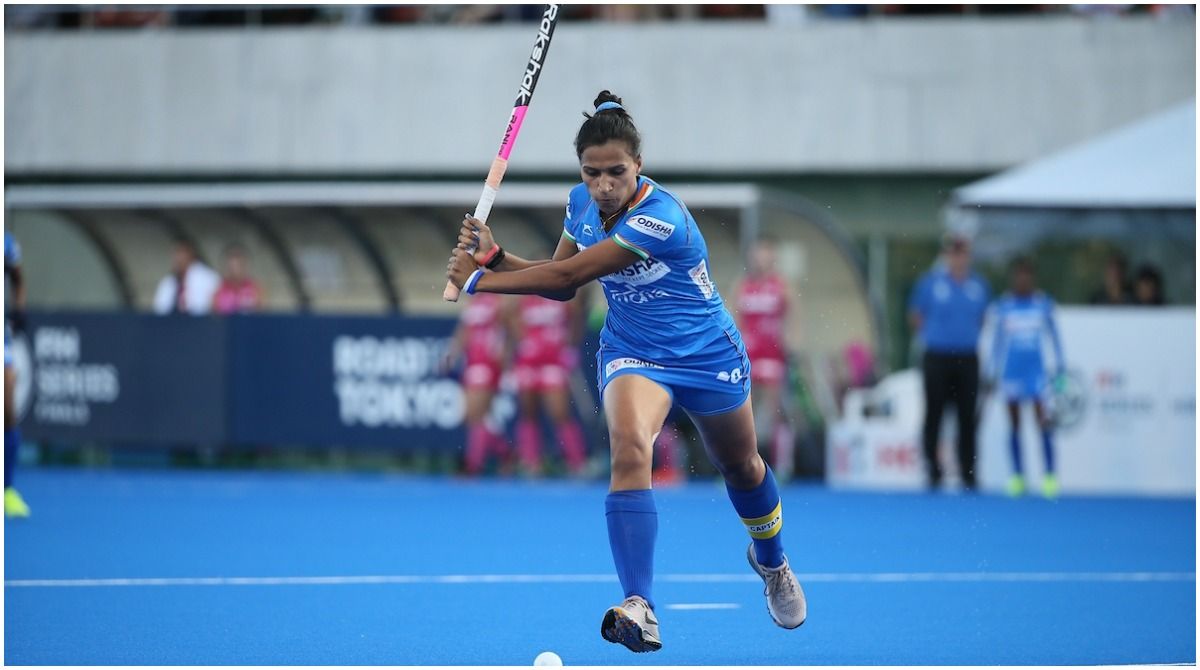 Rani Rampal (Credits IANS)

Ahead of the Indian women's hockey team's Pool A clash against Germany on Monday, captain Rani Rampal said the side will take a lot of positives from the 5-1 defeat at the hands of the Netherlands on Saturday and "rectify the mistakes" in the second encounter at the Tokyo Olympic Games.Also Read - India's Schedule at Tokyo Olympics 2020, Day 4: All You Need to Know

While India lost to the Dutch by a big margin, Germany defeated Great Britain 2-1 in their opening Pool A match on Sunday.

"We can definitely take a lot of positives from our first match. We played an aggressive brand of hockey, especially in the first half. We created many chances and also capitalised on one chance in the first quarter itself. We were in control for the better part of the match against the best side in the world and that has definitely raised our confidence," said Rani on the eve of the clash against the world No. 3 side.

Rani, who scored the only goal for India in their match against the Dutch, added that here teammates will have to be on top of their game to counter the Germans.

"Germany are a good side too. We have to be on top of our game. We have looked at the mistakes we made in our first match and we will try to rectify them in our next match. We have to stay positive and keep backing our skills throughout the competition."

Chief coach Sjoerd Marijne said that he had looked at the footage of their match against the Netherlands and noted down the key points they need to work on.

"We have watched the match against the Netherlands together and have spoken about the points we need to improve and we are currently focusing on that. Germany are also a very strong side. If we can be consistent during the whole match then the result will be better."

India.com


---

Ireland women ready to take on Holland



Roisin Upton celebrates after scoring her side's first goal Olympic Games PIC: Ramsey Cardy/Sportsfile

Sarah Torrans says the Green Army will "show the world what we can do" against the world No 1 Dutch on Monday after Ireland women notched a debut Olympics win on Saturday.


---

Can India do it against Australia today




'You can protect a lead. Its modern hockey. Its a game of seventy minutes". Said, Graham Reid, Indian men's national team's chief coach, 24 hours ago, on asked about India conceding goals goals to New Zealand in the Tokyo Opener.

His words will come into severe test today when the biggest of challenge in Pool B — match against Australia – await the Indians.

Indian men have to beat history today to get past the Australian hurdle – and thus make their own history.

Those were the days — even on turf era — both were not frequently meeting, and the Indians were looking at them with awe.

This prompted Ric Charlesworth to write in his Magnus Opus: 'There are two generations of Australian hockey players: One generation that never beat India and the other never lost to India!'

Early last year, Indians proved they can beat the Aussies, a nation that used to beat them lock, stock and barrel on the synthetic grass era. The opening phase of second FIH Proleague is an eye opener for Indian hockey fans.

The present team at Tokyo would not simply care. They have already tasted a victory in a difficult situation, in a strange Olympics. Indian team at Tokyo has as many as 11 players who are first timers to Olympics and will be experiencing as big as this event without single spectator on ground.

No way they will succumb to stands and it what it stands for – adding pressure.

However they were all part of the FIH Pro-League in which India took them on. The first match on 21st Feb at Bhubaneswar was a close affair (3-4 ifo the visitors) but the hero of the match was hitherto unknown Raj Kumar Pal. The young lad struck a brace and leaving another and the last of India goal to Rupinder Pal Singh.

The repeat match was all the more interesting. Aussie could not win. Not only that India was leading the Aussies for about 20 minutes till Aran Zaleswki equalized in the 46th minute. Tried as they could, but India did not bulge, leaving the turf heads held high with a 2-2 score.

The first match was victory for an youngster whom David John believed. Now, his choices such as Gursahib Singh, Jarmanpreet Singh are not in the team, but others like Nilakanta Sharma, Hardik Singh, Shamsher Singh — who definitely impressed in the opener — Sumit are such kind of players who are all truly all rounders.

Crisp overhead passes of Shamsher Singh, Sumit's ability to omnipresent, Dilpreet Singh's ability to send crosses from the right, all were there in the first match, which titled the scale infavour us in the opener. The win over the Kiwis is a morale booster for India. It has clearly established that PR Sreejesh can be Mr. Saviour of India.

However, opener for the today's Indian rival was not a smooth affair. The Japanese definitely have clearly sent a message- We can puncture the Aussie's jaggarnaut why not you derail them.

Remember, Australia was not the semifinalist at Rio. They do not present an invincible image any more. They are also brittle and vulnerable. Even in good times they are not good at penalty corner conversion. India should see their rival in this perspective.

Therefore, what should count today is how one team perceives the other, which team is mentally strong and strategically superior.

Having selected an young team, India's hopes are now on these young guns.

Stick2Hockey.com


---

Scotland men defeated by Ireland in game two of the test series at Titwood




Ireland took the spoils on day two of Scotland's three match uncapped test series at Titwood.

In the blazing sunshine it was the visitors who started brightly and Ireland took the lead with a low penalty corner strike. Shane O'Donoghue found the net to make it 1-0 in the opening quarter.

Then an Ireland counter attack prompted a good save by David Forrester to keep the deficit to one goal.

Scotland started to battle back into the contest and nearly found an equaliser when Gavin Byers stole the ball and drove into the Irish D, but his shot fired over the bar.

It would be Ireland who would score next. The visitors pressed the Scottish defence in the circle and Daragh Walsh forced the ball over the line for 2-0.

The second quarter found Ireland threatening from penalty corner opportunities, and from a corner routine they found a third goal. From the top of the D the ball was flicked into the top right corner by O'Donoghue to make it 3-0.

In the second half Scotland piled on the pressure but the Irish counter attack threat was very real.

Scotland won their first penalty corner of the match but Dan Coultas saw his low effort saved.

Rory McCallum was called into action in goal for Scotland early in the fourth quarter when an Ireland counter ended with the keeper saving high under the crossbar.

As Scotland attacked Andy McConnell had a penalty corner strike from the top the D saved low to the left but the Scots got a second and third opportunity from corners but good defending denied Scotland a goal.

An excellent McCallum double save denied Ireland a goal on another counter but Jeremy Duncan soon scored as Ireland countered yet again while Scotland pressed for a goal.

Scotland very quickly pulled one back. The Blue Sticks piled into the Ireland D and after some good work by Struan Walker Cammy Golden forced the ball home in a crowded circle.

The score remained 4-1 and the two meet again tomorrow at 11:30am at Titwood.

Scottish Hockey Union media release


---

Draws for Scotland against Ireland at U19 GB&I 4-Nations




Draws were the order of the day in Belfast, the boys were 4-4 while the girls were 1-1, sadly both lost out in the resulting penalty shoot-out for the bonus points.

Scotland`s youngsters put in a stirring performance to finish with a hard fought four each draw against Ireland, but unfortunately lost the bonus point when they went down 4-3 in the subsequent running penalties. But it is still all to play for tomorrow, Ireland have a single point lead and a slightly better goal difference, but a win for the Scots would give them the title.

The Scots took the lead in the first quarter, at a penalty corner, the initial shot was blocked but Pete Caughey followed up to find the net on his debut.

The second quarter was a fairly even affair with chances at both ends, but it was the home side who levelled – and that was the score at the interval.



Photo by David McCarthy

The third quarter produced a flurry of goals. It started with a brilliant counter-attacking move between the Grange pair of Matthew Hughson and Jamie Croll, leaving the former to round the keeper and made it 2-1.

The Scots were on fire at this point and went 3-1 up following a fierce reverse stick shot by Grove Menzieshill`s Keir Robb from the top left hand of the circle which flew into the bottom right corner of the net.

But the visitors were unable to hold on to their advantage and Ireland levelled by the end of the quarter from the spot and then a penalty corner.

The final quarter became a little fractious and the Irish were reduced to ten players for a time. The Scots regrouped and a run up the right by Hughson resulted in a brilliant cross to be finished off be an even more brilliant deflection by Robb for his second of the game.

Again the Scots were unable to hold their advantage and the Irish levelled again from a counter-attack.

At the end of the game, Scotland `s coach Andrew Brogdon said: "It was a really high quality game of international hockey, and our goals would certainly have graced any international stage.

"Our key focus is to manage the game so that we can finish this development series on a high. It will be a just reward for the squad`s dedicated efforts over the last 18 months."



Photo by David McCarthy

The girls started the first half of their game with good tempo but there were not many clear-cut chances despite being slightly on top, and the half ended goalless.

At the start of the second half the Irish took the lead with a slick penalty corner routine, the rest of the third quarter was scrappy while the Scots defended well to prevent any further Irish scoring.

The Scots had more composure and possession in the final quarter and only the Irish keeper prevented Itske Hooftman, Lucy Smith and finally Katy Swanson from finding the net.

A great chance to equalise came when Hooftman won a penalty corner but Anna Hoolaghan`s shot went inches wide.

However, the equaliser finally came at another penalty corner, Lucy Smith`s first effort was saved but the rebound fell to the Glasgow University player who fired the ball into the bottom corner of the net from a narrow angle.

Coach Keith Smith remarked: "It was probably a fair result. We were disappointed to go behind but we came back well to get a draw. I was happy with the play and I thought we rallied well, so it`s a good platform for tomorrow`s game."

Scottish Hockey Union media releas