All the news for Saturday 24 July 2021

2020 Olympic Games - Day 2

All times GMT +9

Men

24 Jul 2021     JPN v AUS (Pool A)     3 - 5
24 Jul 2021     NZL v IND (Pool A)      2 - 3
24 Jul 2021     NED v BEL (Pool B)      1 - 3
24 Jul 2021     ARG v ESP (Pool A)     1 - 1
24 Jul 2021     GBR v RSA (Pool B)     3 - 1
24 Jul 2021    CAN v GER (Pool B)    1 - 7

25 Jul 2021 18:30     IND v AUS (Pool A)
25 Jul 2021 19:00     JPN v ARG (Pool A)
25 Jul 2021 20:45     ESP v NZL (Pool A)
25 Jul 2021 21:15     RSA v NED (Pool B)

Pool Standings

Pool A
| Rank | Team | Played | Wins | Draws | Losses | Goals For | Goals Against | Goal Difference | Points |
| --- | --- | --- | --- | --- | --- | --- | --- | --- | --- |
| 1 | Australia | 1 | 1 | 0 | 0 | 5 | 3 | 2 | 3 |
| 2 | India | 1 | 1 | 0 | 0 | 3 | 2 | 1 | 3 |
| 3 | Argentina | 1 | 0 | 1 | 0 | 1 | 1 | 0 | 1 |
| 3 | Spain | 1 | 0 | 1 | 0 | 1 | 1 | 0 | 1 |
| 5 | New Zealand | 1 | 0 | 0 | 1 | 2 | 3 | -1 | 0 |
| 6 | Japan | 1 | 0 | 0 | 1 | 3 | 5 | -2 | 0 |
Pool B
Women

24 Jul 2021     NED v IND (Pool A) 5 - 1
24 Jul 2021     IRL v RSA (Pool A)   2 - 0

25 Jul 2021 09:30     GBR v GER (Pool A)
25 Jul 2021 10:00     AUS v ESP (Pool B)
25 Jul 2021 11:45     JPN v CHN (Pool B)
25 Jul 2021 12:15     NZL v ARG (Pool B)

Pool Standings

Pool A
Pool B
| Rank | Team | Played | Wins | Draws | Losses | Goals For | Goals Against | Goal Difference | Points |
| --- | --- | --- | --- | --- | --- | --- | --- | --- | --- |
| 1 | Argentina | 0 | 0 | 0 | 0 | 0 | 0 | 0 | 0 |
| 1 | Australia | 0 | 0 | 0 | 0 | 0 | 0 | 0 | 0 |
| 1 | China | 0 | 0 | 0 | 0 | 0 | 0 | 0 | 0 |
| 1 | Japan | 0 | 0 | 0 | 0 | 0 | 0 | 0 | 0 |
| 1 | New Zealand | 0 | 0 | 0 | 0 | 0 | 0 | 0 | 0 |
| 1 | Spain | 0 | 0 | 0 | 0 | 0 | 0 | 0 | 0 |
---

Olympic Games Tokyo 2020: Ready to go!




With the start of the Hockey competition at the Olympic Games Tokyo 2020 less than 24 hours away, we take a look at some of the fascinating player and team statistics going into the XXXII Olympiad.

Women's competition


Netherlands aces Lidewij Welten and Eva de Goede are in search of a third Olympic gold medal in hockey, something only Australia's Rechelle Hawkes has achieved.
De Goede (G2-S1-B0) and Welten (G2-S1-B0) can also claim a fourth Olympic medal in hockey. The only female hockey player who has achieved that is Luciana Aymar (ARG), who claimed two silver medals and two bronze medals.
Australia and the Netherlands are both making a record-extending 10th participation in women's hockey at the Olympic Games. Both have won the tournament three times - Australia in 1988, 1996 and 2000 and Netherlands in 1984, 2008 and 2012. No other nation has won more than once.
When the host has taken part in the women's Olympic hockey tournament they have claimed a medal in seven of the eight Games, the exception was USA at the Olympic Games Atlanta 1996 (5th). Japan's best result in the women's Olympic hockey tournament is an eighth place at the Olympic Games Athens 2004.
Netherlands coach Alyson Annan (AUS) and Australia coach Katrina Powell will be looking to become the first woman to win Olympic gold as player and as a head coach. As players, they were teammates when Australia won gold in 1996 and 2000.

Men's competition


Germany's Tobias Hauke, who won gold medals in 2008 and 2012, could become the eighth man – and the first not representing India – to claim a third Olympic gold in men's hockey.
Spain's David Alegre will take part in a fifth Olympic Games, which equals the record of Teun de Nooijer (NED) and Pol Amat (ESP).
World champions Belgium can become the fourth World Cup holders to win Olympic gold, after Pakistan in 1984, Netherlands in 2000 and Germany in 2008.
Belgium could win a second gold medal in a team sport in the Olympic Games, after the men's football triumph on home soil at the Olympic Games Antwerp 1920.
The oldest man to win an Olympic gold medal in men's hockey is Stanley Shoveller (GBR), who won his second gold medal at age 39 in 1920. Argentina goalkeeper Juan Vivaldi, the goalkeeper for Olympic champions Argentina, will be 42 years old at Tokyo 2020.

General


India's 24-1 win against USA in men's hockey at the Olympic Games Los Angeles 1932 is the highest-scoring hockey match.
Two Olympic gold medal matches have been decided by penalty strokes or shootout. In the men's tournament in 2000, when Netherlands beat Republic of Korea (3-3 after extra-time, 5-4 penalty strokes), and in the women's tournament in 2016, when Great Britain defeated Netherlands (3-3 after extra-time, 2-0 penalty shoot-out).

Statistics provided by Gracenote Sports

The opening day of action at the Oi Hockey Stadium will feature six men's and two women's matches, with the hosts Japan men facing Australia, the world number one ranked team, getting proceedings underway at 09:30 JST (UTC +9) in Pool A. The day will also feature potentially thrilling contests between the Netherlands and Belgium (Men's Pool B), New Zealand and India (Men's Pool A), Argentina and Spain (Men's Pool A), Great Britain and South Africa (Men's Pool B) as well as Canada versus Germany (Men's Pool B). In the women's competition, reigning World, European and FIH Hockey Pro League champions the Netherlands begin their campaign against India (Women's Pool A), while Olympic debutants and 2018 World Cup silver medallists Ireland take on African continental champions South Africa (Women's Pool A).

The hockey competitions at the Olympic Games Tokyo 2020 will take place from Saturday 24 July to Friday 6 August 2021. Both the men's and women's competitions feature 12 teams, split into two pools of six ahead of quarter-finals, semi-finals and medal matches. For more information about the hockey competitions at the Olympic Games Tokyo 2020, visit https://olympics.com/tokyo-2020/olympic-games/en/results/hockey/olympic-schedule-and-results.htm.

Make sure that you use #Tokyo2020, #Hockey, #StrongerTogether, #HockeyInvites @Tokyo2020 and @olympics on social media when showing your support for your nation. Be sure to follow FIH for all the latest updates as teams and fans get ready for the biggest show on earth – the Olympic Games.

#Tokyo2020
#StrongerTogether
#HockeyInvites

FIH site


---

Kookaburras survive tenacious challenge from hosts




The world number one ranked Kookaburras opened their Olympic campaign with a 5-3 victory over host nation Japan, to successfully begin their gold medal assault at the Oi Hockey Stadium on Day 1 (Saturday).

But their win did not come without a tenacious challenge from the Japanese, ranked 15th in the world they were leading the match at half time - much to the surprise of the international hockey community and Australian fans.

And in doing so, they put the highly-fancied Australians on notice after what has been a tumultuous 18 months leading into the Games with limited international match play due to the pandemic.

Coach Colin Batch said the Kookaburras had not underestimated Japan, but needed to be smarter with the ball and play to their own game style, not their opponents.

"We played into their tactics a little bit, assisted their counterattack," he said of his side, which claimed 58% of ball possession throughout the match.

"While we set out not to do that before the game, we were not good in the second quarter and learned a lot from it.

"We had good composure in the first quarter and a very good second half."

Hockey Australia media release


---

Kiwi men go down 3-2 to India despite late comeback




The New Zealand men's hockey team have started their Olympic campaign with a 3-2 loss to India in stifling heat at Tokyo's Oi Hockey Stadium.

The Pool A match between the ninth-ranked Kiwis and the fifth-ranked Indian side finished the way of the rankings despite a late comeback from New Zealand including four penalty corners in the last three minutes.

New Zealand captain Blair Tarrant was disappointed the team had lost the penalty corner contest.

"We knew the penalty corner battle was going to be massive in this tournament and we had to win it.

Tarrant was pleased his side fought back in the final quarter but they know they can't leave it that late in future games.

"We always push well in the last quarter but we can't leave it late. We have to get ahead and build scoreboard pressure."

New Zealand opening the scoring today in the sixth minute with a well-taken penalty corner drag flick from Kane Russell that flew into the top left of the goal.

India equalised four minutes later after four-time Olympian Shea McAleese saved a penalty corner on the line with his body, and Rupinder Pal Singh sent the subsequent penalty stroke in with bullet-like speed.

Despite four more penalty corners from the Kiwis, the teams were tied at 1-1 at the first quarter break.

India looked more threatening in the second quarter and eventually went ahead just four minutes before halftime with a cleverly taken penalty corner from Harmanpreet Singh. The corner was awarded after a lengthy video referral to see whether a foot from Hugo Inglis was inside or outside the circle.

The score stayed at 2-1 until the halftime break but it was only minutes into the second spell before Harmanpreet Singh was on the scoreboard again with a penalty corner that rocketed into the goal.

The Kiwis got a much-needed goal with a couple of minutes left in the third quarter through a nice touch from Stephen Jenness after Nick Wilson had entered the circle along the baseline and found his fellow striker on the spot.

Despite a couple of late penalty corners for New Zealand, one involving possibly the longest referral in the game's history, that was where the score stayed with a 3-2 victory to India.

India 3 (Rupinder Pal Singh 10 min, Harmanpreet Singh 26 and 33 min)
New Zealand 2 (Kane Russell 6 min, Stephen Jenness 43 min). Halftime: 2-1 India

Next up the New Zealand men face eighth-ranked Spain at 11.45pm (NZ time) tomorrow followed by the home side Japan at 2.45pm on Tuesday.

New Zealand Men: Steve Edwards (North Harbour); Leon Hayward (GK), Jared Panchia (Auckland); Nic Woods (Waikato); Sean Findlay, Shea McAleese, Dylan Thomas (Hawke's Bay); Nick Wilson (Manawatu); Stephen Jenness, Dane Lett, Jacob Smith (Wellington); Sam Lane (Canterbury); Hugo Inglis, Nick Ross, Kane Russell, Blair Tarrant (Otago).

Official Blacksticks site


---

Belgium beat Netherlands, Australia defeat hosts Japan in men's opener

By Daniel Leussink




TOKYO (Reuters) -World champions Belgium defeated the Netherlands 3-1 in the men's hockey tournament at the Tokyo Olympics on Saturday thanks to a stunning hat-trick from Alexander Hendrickx, while Australia beat hosts Japan in a thrilling opening game.

Hendrickx scored three goals in five minutes as the Belgians came back from a goal down to take revenge on the side that beat them in the semi-finals of the Euro Championship last month.

"There, our product was not finished yet. Now, we're already one step closer to that finished product," said Hendrickx, who scored a penalty stroke and from two penalty corners.

"We played calm and kept the ball in the team. We killed the game."

Earlier on Saturday, Australia beat hosts Japan 5-3 while India fought back from a goal down to beat New Zealand.

Australia's 'Kookaburras' trailed 3-2 at halftime after conceding three goals in quick succession but kept fighting to turn the tables in the final two quarters.

"Japan are a tough opponent. We wanted to get the result today," said midfielder Daniel Beale, who scored the final goal.

"Luckily, we got the three points and we're just looking to build each and every game. This is definitely a good place to start with a win."

The Australians pulled level in the 34th minute after Blake Govers scored a penalty corner and went ahead on the sun-drenched pitch of the main stadium with a backhand shot from captain Aran Zalewski that flew high in the net.

Beale took an assist from forward Tim Brand to put the game away.

Australia's players were taking on plenty of ice water and using fans and cold towels to cool themselves during breaks but Beale said they would adapt to the humid conditions.

"It's hot, but we're just going to deal with it and get on with it," he said.

"Luckily coming from Australia we're used to a high heat so I think everyone has to deal with it. The team that copes the best is going to go the furthest in this tournament."

Rio gold medallists Argentina drew 1-1 with Spain after conceding in the 52th minute while playing with a man down following a yellow card minutes earlier.

India, who have won gold medals at eight Olympics, conceded early against New Zealand but equalised quickly through a penalty stroke and roared on to win 3-2, with two goals from Harmanpreet Singh and one from Rupinder Pal Singh.

Yahoo Sport


---

World no.1 Kookaburras survive almighty scare by Japan in thrilling opener

Christy Doran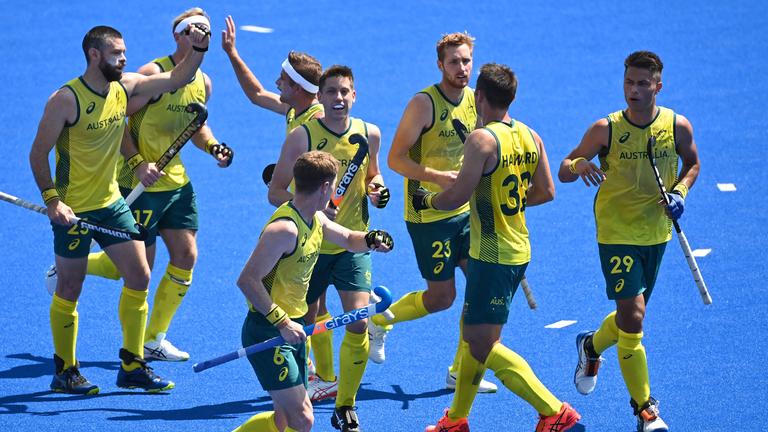 Australia suffered a scare. (Photo by Ina Fassbender / AFP)Source: AFP

The Kookaburras are up and running with a 5-3 victory, but the gold medal favourites survived a massive scare on the opening day of the Games by the host nation.

Leading 2-0 at the end of the first quarter after early goals from Tim Brand and Tom Craig, Japan fired home not one, not twice but thrice in the second quarter.

Three goals in six minutes left eyebrows being raised around Oi Hockey Stadium, south of the city centre.

Were fans permitted, they would have been left shell-shocked and in disbelief as the world No.15 side went ahead of the world No.1 as Kenta Tanaka cleaned up the scraps in front of Australian goalkeeper Andrew Charter and fired home his second.

Five minutes earlier, the attacker fired home from an acute angle after a sweeping movement saw him left alone on the far side and with little room to work with he fired past from the far side. With that, elation and belief as the red-kitted Japanese side turned up the pressure-cooker and built on it with Yoshiki Kirishita's delicate finish.

But the third quarter belonged to Australia.

Blake Gowers powered low and hard from a penalty corner.

In hot conditions, with the sweat pouring from the foreheads of the Australians' heads not to be confused with the heavy watering the pitch got pre-game, it was the sigh of relief the favourites needed.

Only days earlier, the Kookaburras had been denied a crucial second warm-up match against the Netherlands, the hockey powerhouse who dumped Australia out in the quarter-finals in Rio, because their bus failed to show.

And when captain Alan Zalewski beautifully finished with a reverse stick finish soon after Australia was back in front.

The nerves at the back dissipating with every passing second on the pitch.

Daniel Beale's goal early in the final quarter gave Australia an important, tension-relieving victory for a side expected to be in the gold medal match.

The Kookaburras take on India on Monday evening, while the Hockeyroos get their campaign underway on Sunday.

Fox Sports


---

India wins opening match 3-2 against New Zealand

India beat New Zealand 3-2 in a Pool A match of the men's hockey event at the Tokyo Olympics on Saturday. Harmanpreet Singh and Rupinderpal Singh scored three between them.



Dilpreet Singh #2 and Harmanpreet Singh #13 of Team India celebrate scoring during the Men's Pool A match against Team New Zealand on day one of the Tokyo 2020 Olympic Games at Oi Hockey Stadium.   -  Getty Images

India beat New Zealand (NZL) 3-2 in a Pool A men's hockey match at the Tokyo Olympics on Saturday. A brace from Harmanpreet Singh and crucial saves in the end from PR Sreejesh carried India into the next round. Rupinder Pal Singh also scored a penalty.

New Zealand had a chance to make it 3-3 in the dying seconds when Kane Russell hit a shot towards the top left corner of the post off a penalty corner. Indian goalie Sreejesh executed a full-stretch dive to his right to deny New Zealand the equaliser. Moments later, he pulled off another remarkable save in open play.

New Zealand won its first penalty corner in the 6th minute and Kane Russell converted it to make it 1-0. However, minutes later, India pulled one back when Rupinder Pal sent NZL keeper Leon Hayward the wrong way from close range.

At the half-hour mark, Harmanpreet found the back of the net to put India ahead. He then extended India's lead in the 33rd minute. Stephen Jenness kept NZL in the hunt with a goal towards the fag end of the third quarter.

Despite NZL's relentless attack in the last quarter, India clung on for a 3-2 win. The men's team will face world No.1 Australia at 3 PM IST on Sunday. The Indian women's hockey team will take on the Netherlands at 5:15 PM IST on Friday.

Sportstar


---

Harmanpreet's brace, Sreejesh's heroics help India beat New Zealand 3-2 in Olympic opener

India will next play mighty Australia on Sunday



India midfielder Sumit (17) takes a shot on New Zealand goalkeeper Leon Hayward (20) during a mens field hockey match at the 2020 Summer Olympics, Saturday,

Harmanpreet Singh scored a brace and veteran goalkeeper P R Sreejesh stood like a wall in the closing minutes as the Indian men's hockey team overcame a late surge from New Zealand to eke out a close 3-2 win in its opening Olympic Games match here on Saturday.

Harmanpreet (26th and 33rd minutes) scored a double for India, while Rupinder Pal Singh (10th) was the other goal-getter for the eight-time former champions, currently ranked fourth in the world, in the Pool A match at the Oi hockey stadium here.

For the eighth-ranked New Zealand, Kane Russell scored from a penalty corner in the sixth minute before Stephen Jenness (43rd minute) reduced the margin of defeat later in the match.

India will next play mighty Australia on Sunday.

The Indians were shocked in the sixth minute when Russell found the top right corner of the Indian goal past Sreejesh with a fierce flick.

Even though he didn't score, striker Mandeep Singh was a live-wire for India upfront and earned a penalty corner for his side, which resulted in a penalty stroke from which Rupinder drew parity in the 10th minute.

New Zealand were not to be left behind as they gave the Indian defence a run for its money securing four consecutive penalty corners but wasted all.

From a counter-attack, Gurjant came close to handing India the lead but his effort was saved by New Zealand goalkeeper Leon Hayward.

Four minutes into the second quarter, Hayward again came to the scene when he kept away India skipper Manpreet Singh's lob from a one-on-one situation.

But six minutes later, Harmanpreet gave India a 2-1 lead at the half-time.

Three minutes after the change of ends, Harmanpreet was again in the thick of things when he converted his second penalty corner of the day with a precision strike.

India secured another penalty corner minutes later but this time Harmanpreet's effort was saved by the Kiwi defence.

But the match came to life when Jenness scored with a lovely finish past Sreejesh in the near post in the 43rd minute.

Three minutes from full time, Lalit Upadhayay's strike from top of the circle was blocked brilliantly by Hayward to keep New Zealand in the hunt.

It was all New Zealand in the final few minutes of the game as they pressed hard for the equaliser and in the process earned three penalty corners in quick succession but Sreejesh came to India's rescue making some brilliant saves to keep the opponents at bay.

With 24 seconds to go, New Zealand secured another penalty corner but once again the experienced Sreejesh came to India's rescue and helped his side secure full points from the game.

The Tribune


---

Black Sticks men sunk by India in crunch opening Pool A clash

Aaron Goile



Black Sticks goalkeeper Leon Hayward gets in the thick of it during his side's loss to India in their Olympics opener. John Minchillo/AP

The Blacks Sticks men suffer a heartbreaking 3-2 loss to India in their Olympics opener in sweltering Tokyo conditions.

An already tough road to the quarterfinals has got even harder for the Black Sticks men's hockey team, after opening their Olympic campaign with a 3-2 loss to India on Saturday.

In a pool where world No 9 New Zealand are ranked above only hosts Japan, the first-up clash against No 5 India – who hadn't played a competitive match since April – loomed as a crunch one.

But, in Tokyo temperatures around the 33-degree celsius mark, which were always going to play into India's hands and which had huge mist fans working overtime in the dugouts, the Kiwis gave up an early lead to be outgunned.

Aided by several drawn out video reviews taking the sting out of the heat, a gutsy Black Sticks fought valiantly in search of a late equaliser in a heartstopping final few moments, but India goalkeeper Parattu Raveendran Sreejesh pulled off a couple of athletic saves, before his most vital of all – off the stick of Nic Woods from a penalty corner with 24 seconds left.

In the end, India's sharp set-piece execution proved key, with Harmanpreet Singh bagging a double from penalty corners either side of halftime, after Rupinder Pal Singh had earlier slotted home from a penalty stroke.

The Black Sticks had opened in style, seizing the initiative in the sixth minute via a penalty corner, with Kane Russell flicking stylishly high past the right shoulder of Sreejesh, after India had had an early shot kept out only by the crossbar, before Woods was temporarily forced from the turf after copping a stick to the face.

India pressed hard in response and a great save from Kiwi keeper Leon Hayward kept them out, only for the resulting penalty corner to morph into a penalty stroke after the goal-bound shot struck Shea McAleese.

Rupinder Pal duly slotted the stroke, and New Zealand's lead had lasted less than five minutes.



Black Sticks defender Nic Woods cops the stick of India captain Manpreet Singh to his face. John Minchillo/AP

The Black Sticks went within inches of regaining the lead late in the quarter, opting to review an umpiring decision, but with replays not showing any evidence the ball had in fact crossed the line from Russell's firmly struck penalty corner.

And, with some determined defensive work, India managed to hold out a fourth-straight penalty corner, and go to the first break at 1-1.

In a second quarter largely bereft of attacking opportunities, India made the most of the big one that came their way, breaking the game open five minutes from halftime.

After successfully reviewing to win a penalty corner, a slick set play then saw Harmanpreet's shot fire between the legs of Hayward, and so the Kiwis found themselves behind at the break.

And any hopes the Black Sticks had of coming out of the sheds and getting back on level terms were immediately sunk when that man Harmanpreet found his double less than three minutes into the third quarter.

In almost a carbon copy of their late first-half effort, India made it two from two with their video reviews to win themselves another penalty corner, when the ball was shown to have come off the foot of Dane Lett, and Harmanpreet this time struck high into the top of the net.

That left New Zealand with an almighty hill to climb. But just as it looked like they might be out of the contest, they conjured an important goal two minutes before three-quarter-time to suddenly restore belief.

With some good attack buildup down the right side, Nick Wilson penetrated into the circle and his cross had Stephen Jenness deflect home, making it 3-2 going into the final period.

They ended with 52 per cent possession, more shots on goal (14 to India's 11) and double the amount of penalty corners (10-5), but just couldn't make it count when it really mattered.

New Zealand's next match is virtually a must-win affair, against world No 8 Spain on Sunday (11.45pm NZT).

AT A GLANCE

India 3 (Harmanpreet Singh 2, Rupinder Pal Singh) Black Sticks 2 (Kane Russell, Stephen Jenness).

Stuff


---

Black Sticks Men denied at the death by India in hockey opener

By Christopher Reive



India celebrate victory over the Black Sticks. Photo / AP

Goals to Kane Russell and Stephen Jenness have not been enough to lift the Men's Black Sticks to an opening win in the Tokyo Olympics hockey tournament, falling to India 3-2.

It was a quality showing from the Kiwis against the team expected to be their biggest test in pool play, with world No 5 Indian side having enough success defensively to stifle most of the New Zealand attacks.

The Indian side had goalkeeper Sreejesh Parattu Raveendran to thank for closing out the game, as he made several good saves in the final quarter to keep his side in the lead and close out the win.

It didn't start out that way, however. The Black Sticks went ahead early in the match after seeing off some early pressure, with Russell converting from a penalty corner six minutes into the contest.

The lead was short lived. India continued to apply the pressure on the New Zealand goal, and broke through for a penalty corner of their own with Rupinder Pal Singh getting it past Kiwi goalkeeper Leon Hayward.

With the scores level after the opening quarter, it was the Indian side who continued to ask questions of their Kiwi counterparts, and struck the lead through Harmanpreet Singh just before the halftime break.

Singh was in again soon after play resumed to give India a two-goal buffer, but from there it was the Indian defence that had questions to answer.

The Black Sticks pushed up looking to close the gap, and did – again from a penalty corner – with Jenness beating Raveendran toward the end of the quarter.

The New Zealanders had the better of the attacking opportunities in the final period, working some good shots both in open play and from penalty corners.

However, they were unable to get another passed the stick of Raveendran, who made three important saves in the final minutes of the game – the last coming with less than 30 seconds remaining.

The New Zealand Herald


---

VR Raghunath: PR Sreejesh was brilliant for India against New Zealand

The former India captain was full of praise for Graham Reid's hockey team.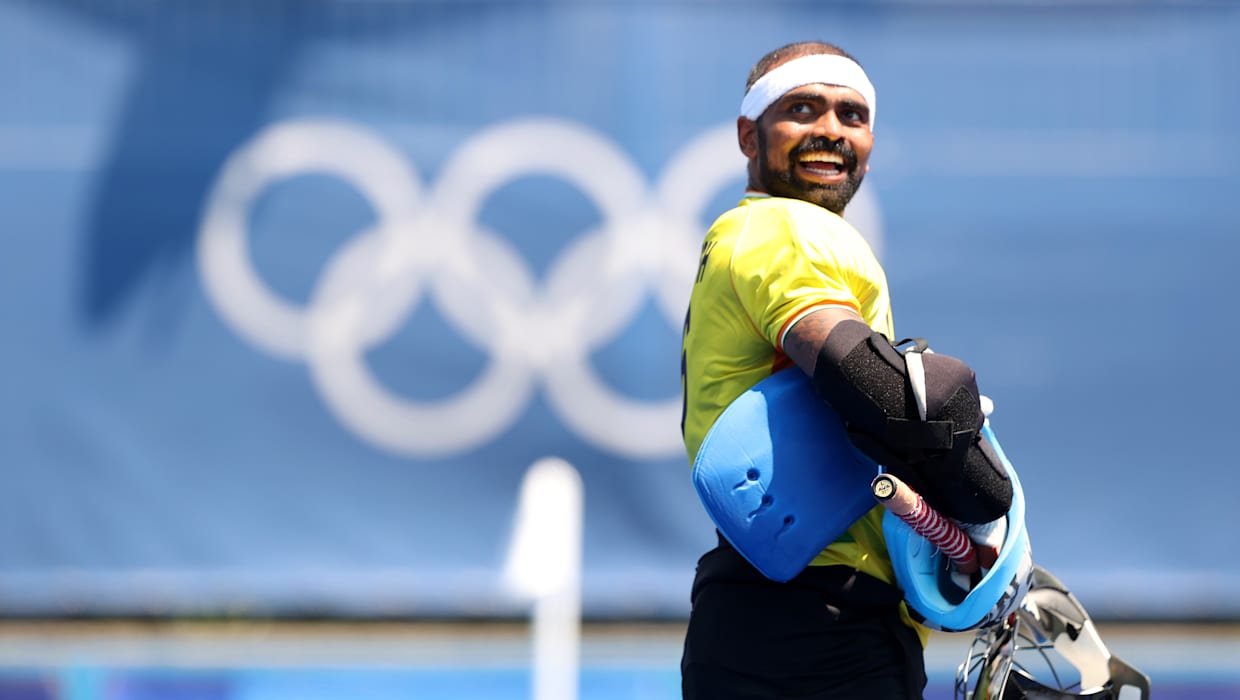 VR Raghunath: PR Sreejesh was brilliant for India against New Zealand. Picture by getty images Germany

India men's hockey team started their Tokyo 2020 sojourn on a bright note as they downed New Zealand 3-2 on Saturday.

A couple of goals from Harmanpreet Singh and the opening strike by Rupinder Pal Singh helped India edge out New Zealand who had Kane Russell and Stephen Jenness on the scoresheet.

VR Raghunath was pleased that India got off to a winning start, as they did in Rio 2016 against Ireland, and the result will certainly boost their confidence ahead of the tie against world number one Australia.

"It is a great start to the campaign. It's always good to start with a win and we got what we wanted. It will be a big boost before facing Australia. We cannot afford to go down in any match. Points from every match will be crucial so that we get a relatively easier opponent in the quarterfinal," Raghunath told Olympics.com in the aftermath of the result.

The 32-year-old highlighted the performance of the experienced players in the Indian squad who led from the front given that as many as 10 debutants are part of the men's hockey contingent. He also stressed that having experienced players certainly helps in big tournaments such as the Olympics.

"(PR) Sreejesh was absolutely brilliant in goal. He made a couple of great saves. That is why experience is the most important thing in Olympics. Apart from that Harmanpreet (Singh) and Manpreet (Singh) were also brilliant. Basically, everyone gave their 100 percent, but it was the seniors who led that charge and held the nerves," he pointed.

India had a slim 3-2 advantage going into the fourth quarter of the game and had to defend in numbers against New Zealand who piled on pressure in their quest for an equaliser.

"It is common in Olympic matches. When you have a slender lead going into the fourth quarter the opposition will give their all to break you down. Every match will have this situation and it will be close. The weaker nations will also give you a run for your money. So, the key will be to get an early goal and dominate," he reasoned.

India scored two goals from penalty corners and one from a penalty strike but couldn't find the back of the net from open play. Raghunath was asked whether not scoring a field goal was a cause of concern for Graham Reid's team.

"I don't think so. The forwards got five penalty corners today and we scored two from it. So, they are getting into good positions. When you don't get these chances inside the circle then it is a problem. So, the forwards did a good job today and we must appreciate their role. Yeah, we had two three open chances which could have been converted but you also must give it to the opposition goalkeeper (Leon Hayward) who made good saves," he replied.

India haven't won a medal in men's hockey since 1980 Moscow Olympic Games and Raghunath wants all the chatter around medal to be put on hold for now.

India scored two goals from penalty corners and one from a penalty strike but couldn't find the back of the net from open play. Raghunath was asked whether not scoring a field goal was a cause of concern for Graham Reid's team.

"I don't think so. The forwards got five penalty corners today and we scored two from it. So, they are getting into good positions. When you don't get these chances inside the circle then it is a problem. So, the forwards did a good job today and we must appreciate their role. Yeah, we had two three open chances which could have been converted but you also must give it to the opposition goalkeeper (Leon Hayward) who made good saves," he replied.

India haven't won a medal in men's hockey since 1980 Moscow Olympic Games and Raghunath wants all the chatter around medal to be put on hold for now.

"Let us not talk about the 41-year-old thing. We should go match-by-match. Then think of the quarterfinals. That should be our first target. After that we can again analyse our opponents and then think about the semi-finals and finals," he signed off.

India are next in action against Australia on July 25th in their second Group A fixture.

Olympic Channel


---

Dominant Dutch out for Olympic redemption in women's hockey at Tokyo 2020

By Liam Morgan



The hockey tournament at Tokyo 2020 is set to get underway tomorrow ©Getty Images

The Netherlands women's hockey team will be looking for Olympic redemption when they compete here at Tokyo 2020 as they aim to maintain their record of winning every major tournament since their shock loss in the final at Rio 2016.

The Dutch are the top ranked side in the world and enter the delayed Olympic Games as the red-hot favourites for gold.

Since their defeat to Britain in the gold medal match five years ago, the Dutch have won the World Cup, three European titles and the first two editions of the Hockey Pro League.

Reigning Olympic champions Britain are set for a rematch with the Dutch in the group stage of the event.

They are joined by Rio 2016 bronze medallists Germany, Ireland, India and South Africa in Pool B.

"Obviously there were some girls in this squad who just missed out (on making the team) in Rio, so this is their opportunity to shine," said Britain's captain Hollie Pearne-Webb.

"But, equally, we are a very new squad and we want to create our own history by winning our first Olympic gold medal (as this squad).

"The team in Rio has just given us the belief that we can."



Eight matches are scheduled to be held on the first day of hockey action at Tokyo 2020 ©Getty Images

Pool A features three-time Olympic champions Australia, whose build-up to the Games in the Japanese capital has been dogged by a crisis at their national governing body following a series of allegations from past and present players against the women's team hierarchy.

Double Olympic gold medallist Katrina Powell will lead the team after replacing Paul Gaudoin, who resigned in March following a scathing review into allegations of a toxic culture and bullying in the women's setup.

Argentina, China, Japan, New Zealand and Spain complete Pool A.

The men's tournament is more difficult to call, with Belgium, world number one-ranked Australia, Argentina, Germany and The Netherlands all harbouring strong hopes for gold.

Belgium, Germany and The Netherlands are in Pool B with Canada, Britain and South Africa, while Argentina, Australia, hosts Japan, India, New Zealand and Spain make up Pool A.

Six men's matches and two women's games are due to be held on the opening day of the competition at Oi Hockey Stadium.

Olympic Channel


---

GB Face South Africa & Germany This Weekend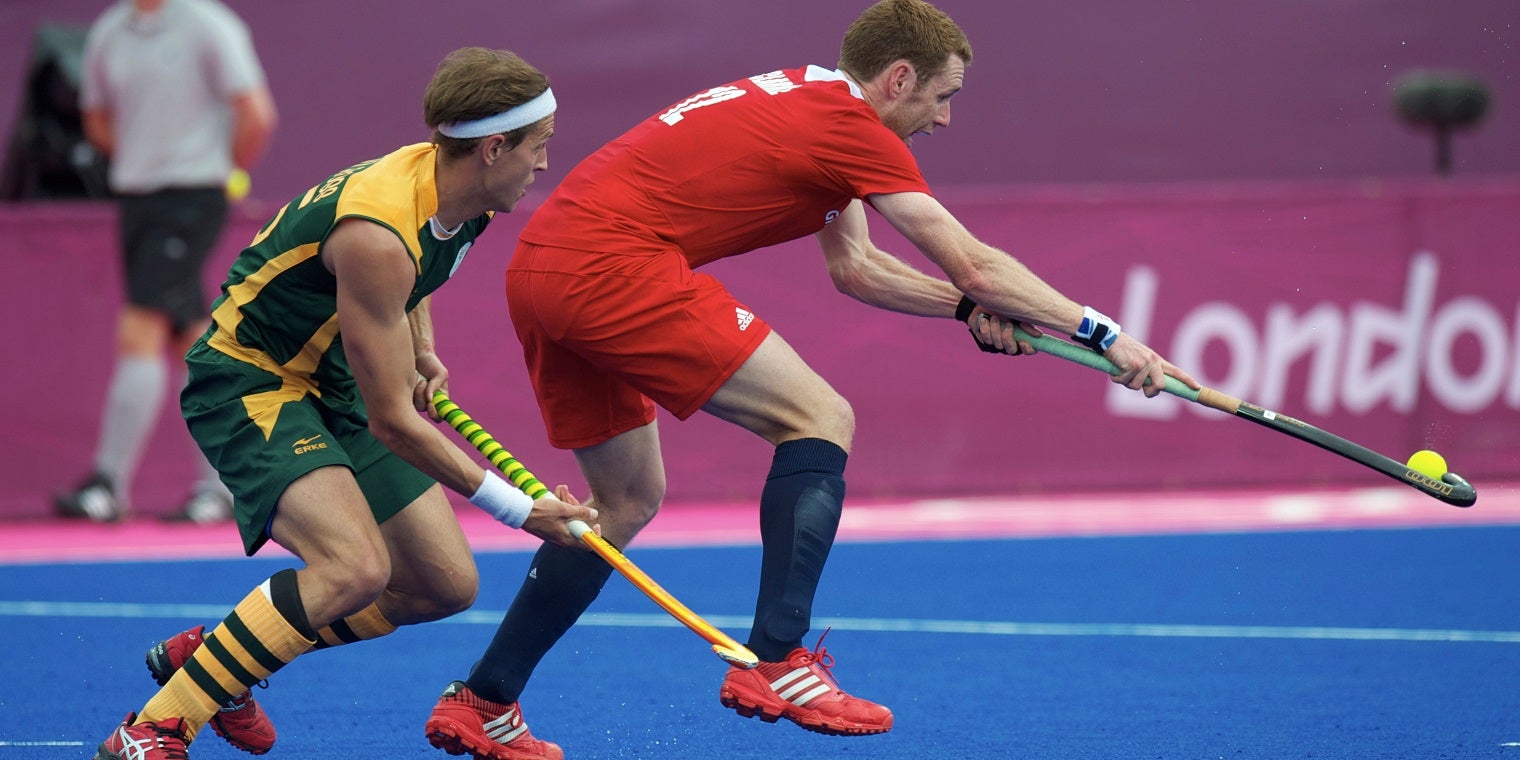 The wait is finally over, the Tokyo Olympic Games are here! Great Britain's men and women will both make their Tokyo bow over the weekend, read below to find out all you need to know ahead of the opening matches:

When are the teams playing?

First up, Great Britain's men will face South Africa on Saturday 24 July at 10:30 BST before Mark Hager's side face Germany the following day at 01:30 BST.

Both matches will be broadcast live on Eurosport, view the full schedule by clicking here.

Preview, Great Britain's men v South Africa:

South Africa will be the opposition for Team GB's men's side in their opening hockey match of the Tokyo Olympics.

The most recent Olympic encounter between the two happened on home soil at the London 2012 Games, nothing could separate the sides on the day as three goals in the final ten minutes meant the game would finish 2-2 – Ashley Jackson scoring both goals for GB.

Great Britain's men and South Africa have only ever met on four occasions at the Olympics, the record makes for good reading for GB who are unbeaten in those matches having taken two victories and two draws.

South Africa's first experience of the Olympics came in Atlanta 1996, coinciding with their first ever match against Great Britain – a tie GB would emerge 2-0 victors in.

Keep an eye on defender Austin Smith, who is the most capped player in the current team and fired in ten goals in five matches during the 2019 African Olympic Qualifiers which sealed their spot at the Tokyo Games and earned him the top goal scorer gong.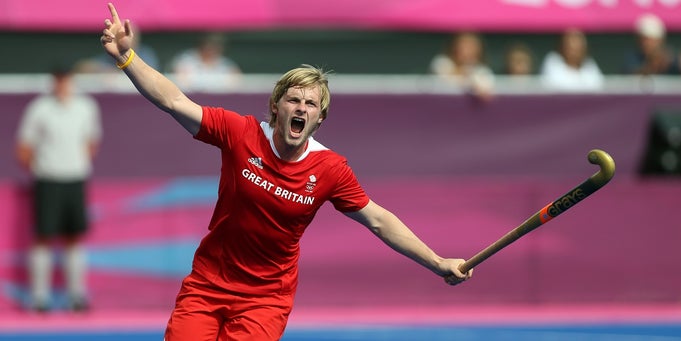 Ashley Jackson celebrates his second goal against South Africa at London 2012. Credit: World Sport Pics

Preview, Great Britain's women v Germany:

Great Britain's women begin their campaign against a German side that they met just two months ago in the FIH Hockey Pro League.

Though Mark Hager's side are currently the reigning Olympic champions, they'll face a stern test against a Germany team that is currently ranked third in the world and took silver in the recent EuroHockey Championships.

Despite both teams being prominent competitors in recent Olympics, Team GB's women and Germany haven't met at the Games since back at Beijing 2008, on this occasion the German outfit triumphing 5-1.

Germany made their Olympic debut back in 1984 and have been to every iteration of the Games since. In those nine Olympic appearances, the team have bagged a very respectable tally of four medals, their lone gold coming back at Athens 2004 before clinching bronze at Rio 2016.

In the four Olympic meetings that have ever taken place between these two sides, Die Danas have the edge with three victories and only one loss.

Though eyebrows were initially raised when Germany failed to select legendary defender Janne Muller-Wieland, who had been to the previous three Olympics, this is a young and exciting side that has proven to be worth looking out for.

Did you know that when GB met Germany at Beijing 2008, the match was played in dreadful conditions, high winds and relentless rain, more curiously, Sarah Thomas' parents were given a lift to the stadium in a police van!

If you don't have a Eurosport subscription, you can follow minute by minute updates on our match centre by clicking here. For more information on the matches, please click here.

All stats, figures, and anecdotal references have been collated by the dedicated volunteers at The Hockey Museum, a huge thanks to them for their research.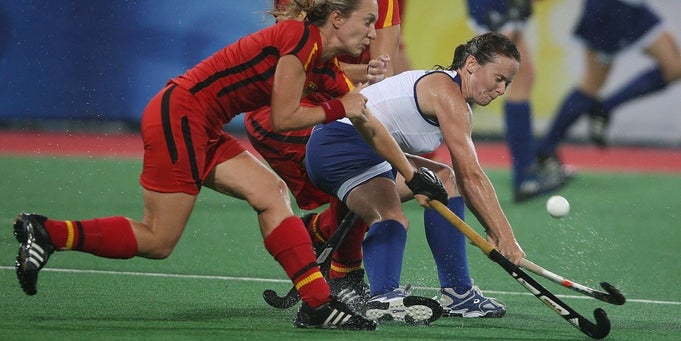 Sarah Thomas tussles for the ball in torrential rain at Beijing 2008. Credit: World Sport Pics

Great Britain Hockey media release


---

Canada takes on reigning Olympic bronze medalists Germany in Olympic opener

Offense is key to taking down highly-touted Die Honamas




It's game day in Tokyo and Canada begins their Olympic campaign against world-number-5 Germany.The four-time Olympic gold medallists, Die Honamas, qualified for the 2020 Games by thoroughly defeating Austria in the 2019 FIH Olympic Qualifiers 5-0 and 5-3 in the two-leg battle in Mönchengladbach. Most recently, Germany lost in penalties in the European Hockey Championships final match to Belgium, walking away with the silver medal.

This is a German team that scores a lot of goals. Not only have they dominated the head-to-head against Canada over the past decade, but they also scored 21 goals in five matches at the European Hockey Championships last month. Led by captain Tobias Hauke, veteran Florian Fuchs and high-flying attacker, Christopher Rühr, Germany looks poised to make a medal push.

If Canada wants to earn a result against the high-powered German offense, they'll have to find some attacking prowess of their own. Leading Canada's assault are veteran forwards, Keegan Pereira and Mark Pearson. The two have combined for over 100 international goals in their careers. Youngster, Jamie Wallace has amassed 13 field goals in only 48 caps and is on the rise. Wallace played the 2021 professional season for Almere in the Dutch Hoofdklasse and will be familiar with the European style of play. Canada also has the dual penalty corner threat of Gordon Johnston and Scott Tupper. If Canada can get into the circle and generate chances and PCs, they certainly have the firepower to get it done.

Canada is looking to avenge their 6-2 loss in pool play at the 2016 Olympic Games — the last time these teams met in a major competition. Their edge may come off the field as both Canadian coaches Pasha Gademan and Andre Henning have extensive experience working against the German side. Notably, Henning coached the German women's team at the 2016 Rio Games. That inside connection might be the extra edge Canada needs to keep this match tight and get a result.

Half of Canada's roster, including their starting keeper, Antoni Kindler, are making their Olympic debuts. But with 14 players returning from their 2018 World Cup squad, this is still a group bustling with experience. Pearson and captain Scott Tupper define experience, as they are suiting up in their third Olympic Games. They are looking to break through the pool play stage and make a splash at the 2020 Games.

Can Canada knock off the reigning Olympic bronze medallists? Watch the game live to find out!

FUN FACT – THE VENUE:

The state-of-the-art Oi Hockey Stadium complex was constructed in the Oi Pier Ocean Park in 2019 and consists of two competition fields, 10,000 and 5,000 seats respectively, and two training fields. As part of the legacy of the Olympic Games Tokyo 2020, the venue will become the central hub for Japanese hockey and a multipurpose sports facility.

Field Hockey Canada media release


---

Team Canada takes on Europe's best in Pool-B Olympic action

The Red Caribou look to make history at Tokyo Games



Photo: Yan Huckendubler

The men's national field hockey team touched down in Okayama, Japan last week to prepare for the Tokyo Summer Games. They have since played two test matches against the host-country Japan, winning both. Now, they call athletes village home for the next 10 days.

Like many teams heading to this year's games, it has been a long road to get to this moment. 21 months long to be exact, since the dramatic 2019 Olympic Qualifiers. The team has faced many challenges over the last year and a half, but according to team captain, Scott Tupper, that is behind the team now, and all that matters is the present.

"Honestly, it just ­­is behind us. A few months ago, when you heard or read stuff about the Games and whether it's going to go or not; it was tougher," Tupper said. "But now, we're here. We're playing tomorrow. We are fully locked in and focused. We're looking forward to the challenge of playing Germany in our first game."

Head coach, Pasha Gademan echoes Tupper's sentiment. For him, it's about maximizing this team's potential at this crucial moment. Gademan said that every game presents the opportunity to secure points.

"We have done our best to come in physically and mentally prepared. We have five games in seven days; that's an intense load," Gademan said. "If we want to stay here longer than a week, we'll have to go out there and do something special. We can't just focus on one or two specific matchups. We need to go out and fight for points at every possible moment."



The Red Caribou play in a warm-up match against New Zealand at the Tokyo 2020 venue. Photos/Yan Huckendubler

Team Canada is ranked 10th in the world and opens their Olympic campaign on Saturday, July 24 against Europe's silver medallist, Germany (5). Germany arrives in Japan hot off a European finals berth and a third-place performance in the 2021 Pro League. Canada follows up with round-robin matches against Great Britain (6), Belgium (2), Netherlands (3), and South Africa (14)

It's no secret that Canada is targeting the South Africa game as a must-win, but with only the top-4 countries in each pool advancing to the championship bracket, both Tupper and Gademan know they will have to earn multiple results along the way.

"We know we are going in as a bit of an underdog into most games," Tupper said. "We have to play well in every game. Even if it's a game where we are down, we still have to protect against the tiebreaker. If you have a strong finish in a [loss], you can still feel really good and get momentum from that game. We need to put together 60-minute performances and take points at any spot we can get them."

History to be made in Japan

Canada has history in Japan. In fact, the first time a Canadian field hockey team qualified for an Olympic Games was in 1964 in Tokyo, where they finished 13th place. Since then, the team has qualified for six of the last 13 Summer Games with a best finish of 10th place. Before their dramatic qualifications for Rio and Tokyo, the last time Canada had qualified for back-to-back games on the men's side was in 1984/88.

The goal is crystal clear heading into Tokyo 2020: Make history and become the top finishing Canadian men's field hockey team ever. Tupper said the team will need to bring their A-game to every match. For the returners, the sting of bowing out in the pool-play stage of Rio is still lingering. Tupper hopes the team can draw on that experience and the World Cup experience from 2018 to give them every possible advantage heading into the Games.

"In Rio, we played okay at times, and not as good at other times. We were inconsistent," Tupper recalls. "It's difficult to knock teams off at these big-time events. We are more prepared this time around and we know what is expected of us. If we play well, we have the ability to beat any team here."

Roster Balance

Including the active reserves, this year's team features nine athletes returning from the Rio 2016 roster and nine first-time Olympians.

Returners: Brenden Bissett, Taylor Curran, Gabe Ho-Garcia, Gordon Johnston, Sukhi Panesar, Mark Pearson, Keegan Pereira, Matt Sarmento and Scott Tupper.

First Timers: Fin Boothroyd, Brendan Guraliuk, Antoni Kindler, James Kirkpatrick, Brandon Pereira, Oliver Scholfield, John Smythe, Floris van Son and Jamie Wallace



JamieWallace

Left to right: Fin Boothroyd, Antoni Kindler and Jamie Wallace are all making their Olympic debuts. Photos/Yan Huckendubler

In an earlier interview after the team was announced, Tupper spoke about the chemical balance of the team and how it represents a great combination of youthful energy and veteran experience.

"Having that experience of going through a major Games or two is really important. We've been through it all before so we know what to expect," he added. "With that said, it's also really nice to have that young injection of energy and youth. They are wide-eyed and seeing things for the first time. That fresh attitude can remind us how truly amazing this experience is. I think striking that balance is great for our team."

Tokyo 2020 will be Tupper's third Olympic Games following his appearances with the team at Beijing 2008 and Rio 2016. Mark Pearson joins him as the other three-time Olympian on the Red Caribou roster.

"Personally, to be able to compete in a third Olympics is definitely something I'm incredibly proud of and excited for," said Tupper, who was also Team Canada's Opening Ceremony flag bearer at the Lima 2019 Pan American Games. "Anytime you get to represent your country, it's a huge honour. I cherish my Olympic experiences and am looking forward to this year's Games."

Let the Games Begin

Team Canada is eager to get underway. For the Red Caribou, it's been 21 months since qualifying and this week has been a long time coming. Tupper said the team is ready to show their best stuff on the world's biggest stage.

"I think there were some concerns coming in about the COVID protocols and how everything was going to feel. But now that we're here, it honestly still feels like the Olympics, just with masks on."

"The guys have a little bit of anxious energy right now. It was great to get those test games against Japan and it's been good to be training on the Olympic pitch," Tupper said. "But we're ready to get out there and play."

We hope you are as excited for Tokyo 2020 action as we are. We are thrilled to announce that every second of Team Canada field hockey action will be streamed/televised live by CBC. Click below for streaming details. In addition, Field Hockey Canada will be hosting an online chat-thread for every game, and special watch parties for our Great Britain and Belgium games. See below for more details.

Field Hockey Canada media release


---

Three Representing USA at Tokyo 2020 Olympic Games




It's the team behind the team. The ones that don't get that much recognition but put in as much work as the competing athletes. They watch film, run fitness tests – nurture their minds and bodies to prepare themselves for the international stage.

USA Field Hockey is proud to have three individuals representing Team USA at the Tokyo 2020 Olympic Games as an umpire, umpire manager and technical official.




USA Umpire Maggie Giddens smiles before officiating at a 2018 Vitality Hockey Women's World Cup gameAt the pinnacle of her career, Maggie Giddens is a well-known official in the United States and on the international scene. On the International Hockey Federation's (FIH) Umpire Olympic Games and International Panels, she has been appointed to many high-level competitions over the years and has officiated 124 international matches to date. Those include the 2017 women's Fintro Hockey World League Semifinals, 2017 Pan American Cup, 2018 Vitality Hockey Women's World Cup and 2019 and 2020-21 FIH Hockey Pro Leagues.

Making her first Olympic Games appearance, Giddens is excited to be representing the red, white and blue and her country.

"The Olympic Games have been a dream of mine since I was a little girl," said Giddens. "At first I dreamed of going for equestrian, then swimming and then field hockey…chasing this dream and making it as an umpire is a surreal feeling. The Olympics are an incredible honor, it is the pinnacle point for athletes and officials' careers!"




USA Field Hockey's Director of Umpiring Steve Horgan smiles during the 2018 USA Field Hockey SummitUSA Field Hockey's Director of Umpiring and FIH Umpire Manager Olympic Games Panel Steve Horgan was appointed as one of four umpire managers for Tokyo 2020. Someone who is utterly devoted to umpiring, he was an umpire at both the Atlanta 1996 and Sydney 2000 Olympic Games as well as World Cup and Champions Trophy events. Since 2012, he has regularly been appointed to FIH events as an umpire manager, putting those years of international umpiring experience to good use.

In this role, he helped prepare the appointed umpires ahead of the event, so that when game time starts, he can act as a team manager for the group. He is responsible for managing the umpire appointments each game, watching game film and reviewing with umpires for development and aiding in the evaluation of umpire performances for crossover game appointments.

"Umpires have heard me say before…If I cannot be with my immediate family, the field hockey family is who I want to be with," said Horgan. "It is such an honor to be able to represent USA Field Hockey and the Pan American Hockey Federation at the most important world sporting event and to be part of a family that is so unique. It is only because of the love and support of my immediate family that I even get to be part of this larger family of hockey. USA Field Hockey has supported me for almost 40 years in umpiring and I cannot repay or say thank you enough for the support, education and even the challenges that have gotten me to this point."

"Being behind the scenes at the Olympic Games, you realize they are not about medals or commercialism. They are about peace, respect and understanding with different cultures. If the whole world could live like we do for these two weeks, there would be less global problems. To be part of the Games is a life experience like none other and again, I am very honored to be a small part of it and represent USA Field Hockey."




USA Technical Official Rene Zelkin smiles following a 2018 Vitality Hockey Women's World Cup gameRene Zelkin has been a technical official, judge or tournament director/administrator since 2005. In 2016, she reached a personal milestone, being selected for two prestigious events as a judge at the women's Champions Trophy and a technical officer at the Rio 2016 Olympic Games. She will repeat as a technical official at the Tokyo 2020 Olympic Games, helping manage the game off the field from behind the technical table. Her role includes communicating with the team benches (usually through the head coach or manager) managing penalty cards, game clock, score and shootout logistics, as well as additional technical work as needed.

With this being Zelkin's second Olympic Games appointment, she said the experience is sure to be another amazing and memorable one.

"This Olympic Games will truly be different from the last, yet it is still the Games," said Zelkin. "Participating at the highest level as a technical official is a high point in the passion that I have had as a child. I am very thankful for all the support from my family, my hockey family and my mentors over the years to help me learn and grow, and my colleagues at work who ensure I have the time off to go. I look forward to working with my fellow technical officials throughout the world. Together, we will make this Olympics a memorable and successful event.

"Huge credit to Maggie, Steve and Rene who have risen to the very top of their profession," commented Simon Hoskins, USA Field Hockey's Executive Director. "Their appointments are well deserved and reflect positively on the officiating community in the United States. We wish them all the best as they represent USA in the Tokyo 2020 Olympic Games."

USFHA media release


---

New Zealand women aiming to make the medal grade



Lily Owsley takes on the New Zealand defence. Credit Simon Parker

TOKYO — Black Sticks women are ready to usurp their semi-final hoodoo should they reach the crunch end of the Olympics in two weeks time.


---

Roisin Upton gunning for gold with the Irish Women's Hockey Team

By Mark Reilly



Ireland's Roisin Upton celebrates with fans Mandatory Credit ©INPHO/Morgan Treacy

LIMERICK will be represented by a number of athletes at this year's Olympic Games in Tokyo in the form of Roisin Upton, Carolyn Hayes, Sarah Lavin and Greg O'Shea.

Upton is a part of the Irish Women's Hockey Team who will be competing in a first ever Olympics.

Janesboro native and Irish hockey star Roisin Upton has become a highly important figure in Irelands defence, and will look to have a huge impact in their Tokyo Olympics campaign.

The 27-year-old who attended Crescent College also played Gaelic football for Mungret St Paul's and football for Janesboro while she has won two schools Junior and Senior Cup titles apiece.

Upton was named the Munster and Ireland youth player of the year back in 2011 which in turn earned her a place in the University of Connecticut on a scholarship. She quickly became an important member of the college team as she played for the UConn Huskies, winning a 2013 and 2014 NCAA Division I Field Hockey Championship.

The Huskies were also aided greatly by her talents as they would go on to win four Big East Conference Field Hockey tournaments in a row between 2012 and 2015.The Limerick star was made captain for the 2014 campaign and would go on to be recognised in the running for the Honda Sports Award.

Once Upton had returned home, she resumed her passion for hockey, this time playing for the Cork Harlequins and reaching the 2017 Irish Senior Cup Final but ultimately losing out to UCD. She then returned to her former side Catholic Institute the following season and helped them to top tier promotion.

The primary school teacher also represented Ireland at the 2010 Youth Olympic Games before being selected in the years following by Graham Shaw in the Irish squad, however due to injuries Upton had to withdraw twice, both in 2015 and  January 2016.Upton would eventually make her first senior appearance against Scotland in November 2016.

In 2017 she was a highly integral member of the Ireland team that claimed victory in the 2016-17 Women's FIH Hockey World League Round 2 tournament in Kuala Lumpur as they defeated Malaysia 3-0 in the final. Upton scored four goals in the tournament.

In 2018 she would go on to play for Ireland at the 2018 Women's hockey World Cup, helping the side to achieve silver medals.

2019 was a memorable one for the Limerick native as she was Ireland's top scorer in the Euros that year with an impressive four goals in five games.



Ireland Roisin Upton celebrates winning the shootout Mandatory Credit ©INPHO/Joe Toth

Upton's major honours will look to be built upon in this summer's Olympic games in Tokyo. To her name so far the experienced star has a World League Round two Gold medal, a World Cup silver and in 2019 added the FIH Hockey Series silver to her growing collection.

Upton and the Irish Women's Hockey team kick off their Olympic campaign this Saturday at 1.15pm against South Africa.

Limerick Post


---

Women's hockey stars Nisha Warsi and Neha Goyal: Childhood friends living the Olympic dream together

Jonathan Selvaraj



Neha Goyal (R) and Nisha Warsi (L) started their hockey journeys together as children, and now play for the Indian national team. Hockey India

Nisha Warsi, 26, didn't have high hopes on the day the Indian women's 16-player-hockey squad for the Tokyo Olympics was to be announced. Sitting in her room at the Sports Authority of India hostel room, she reasoned that having never represented the Indian team at a junior level or even at a major tournament, she'd be considered too inexperienced. When her teammate Neha Goyal came into the room with a big smile, Nisha expected it was because Neha had made the cut. After all, Neha is one of the key figures in the Indian midfield, having been part of the squad ever since the 2018 Asian Games where the Indian team had won a silver.

"Neha came into my room and I was really happy for her because I knew she would be going to the Olympics. But then she said she was even more happy because 'we are going to get to the Olympics together!" says Nisha.

It's seems right that the two girls should be making their Olympic debut together.

"We grew up playing the same tournaments, playing on the same ground, Now we are at the same level. I'm really glad I'm playing for India because now I'm playing along with her once again." says Nisha,

Their bond extends beyond the sport. It even goes back before their birth. "We aren't related but we aren't less than sagi behen (blood sisters) too," says Nisha.

Her mother, Mehreen Warsi, says, "Savitri [Neha's mother] and me grew up on the same street in Kharkhoda [in Haryana]. Her family used to own a house and we rented the one across from theirs. But we grew up together and were close friends from childhood." They lost contact after each other's marriage but regained it fortuitously years later, which is when their daughters met and became friends. "It was entirely luck that we moved there. We could have moved anywhere in Sonepat but we moved to the house opposite that of Savitri," says Mehreen.

Neha and Nisha remember those days fondly. "There was no their house or our house. We'd run and out of each other's house. We called each other's mothers mausi (Mother's sister)" says Neha.

It was Neha who introduced Nisha to hockey. She herself had started playing the sport a year earlier having been introduced to it by former Indian captain Pritam Rani Siwach who ran an academy for underprivileged children in Sonepat's industrial area. On seeing her friend go for hockey lessons, Nisha was interested. "At that time I was not sure if I could play because I thought it would be very expensive and my parents wouldn't be able to afford it," recalls Nisha.

But Neha convinced her.

The fact that Neha was with Nisha in those early days was crucial to Mehreen's agreeing to her daughter participating. "No one plays sport in our family. We are Muslims. In our society it's rare for a woman to go outside her house even or even study. There was almost no chance that a girl would be allowed to play sports," she says.

At the academy the two were as close as ever. "Sometimes we'd get into trouble in the hockey ground as kids because we'd be holding hands and walking. People would say why don't you at least leave each other's hands," says Neha.

Hockey was a respite from an otherwise grim life. Both families were very poor. Neha's father was an alcoholic and family violence was not unknown. Eventually her mother had to work in a cycle factory. Nisha's father suffered a paralytic stroke in 2016 and has been unemployed ever since. "At that time we had nothing but we had each other. We were always worried. What to do? We didn't have the money to support each other back then but we were always supporting each other mentally," says Neha.

She and Nisha would play together at the school and state level, but Neha who progressed faster. She was part of the Indian junior team in 2011 and eventually made it to the senior squad earning a silver medal at the 2018 Asian Games. Those achievements brought a measure of financial stability. "We both came from a lot of hardships. We both are the only earning member of our families. We were never jealous. When she got prize money from the state, I was really happy for her because I knew she really needed it a lot more than me at that time," says Nisha



Neha Goyal in action against Ireland in the 2018 Hockey World Cup. James Chance/Getty Images

On her part Neha says, "When I got to the India camp first, I'd tell her 'Nisha you should get into the India camp as well. You have the capacity.' I wanted her to think if I can do, she could do it as well."

Eventually Nisha did make it.

She got selected to the Railways team in 2016, and joined the Indian squad in 2019.

"I was very nervous in my first tour. Everyone supported me. But at that time because everyone knew it was my first time on tour, everyone would be very guarded around me. If I made mistakes, they wouldn't say anything because they didn't want to hurt my feelings. But Neha wasn't like that. She would never hide it because she said these aren't things to be hidden." says Nisha

Nisha, a defender, has improved significantly since those early days. According to Neha, the understanding the two have with each other is now an advantage. "Now both of us play on the ground in the midfield. If I am beaten by an opponent, I'll find that she's already there to cover my position. She sees me and knows where she has to be. We have a really good understanding. We don't need to even talk to each other. We just know," says Neha.

Off the field, the bond is unshakeable as ever. They'd probably be roommates if it wasn't for COVID protocols, says Neha. "I'm really grateful to have Neha as a friend. You know how things are these days. It's so easy for friendships and relationships to break apart," says Nisha.

Neha agrees with that sentiment. "Religion has never been an issue. We never even thought about it growing up. We were always sisters. Even now, her mother knows that when it's Eid, she has to make my kheer for me. She always knows that when she makes pulao, she has to keep some for me as well," she says.

Before they left for Tokyo, Neha says, "I said Mummy we are leaving now. Read your namaz, read your Koran and pray for us that we play for India," says Neha. Mehreen remembers this as well. "I said Allah se dua karenge. Allah se dua karte hain, ki meri beti desh ka naam roshan kare, (I'll pray to God. I'll pray that my daughters make the country proud."

ESPN


---

Junior Green Army finish series on a high




The Junior Green Army signed off on a hugely productive summer with two wins and a draw against their Welsh Under-23 counterparts at Jordanstown.

The series began with a thrilling 3-3 draw in which Ireland led 1-0 thanks to a Hannah Kelly goal but were pegged back by Jess Hill. But the real fireworks were reserved for the last 10 minutes in which four more goals followed.

Siofra O'Brien put Ireland in front but responses from Liv Strickland and Beth Collier had Wales in front with time running out. Laura Foley, though, nabbed an equaliser in the last three minutes.

Game two was a marked difference as Ireland ran up an 8-1 win with doubles from Kelly, O'Brien and Jess McMaster with Sophia Cole and Yasmin Pratt getting the others.

A couple of neat backhand strikes had Ireland 2-0 up inside five minutes and they scarcely looked back with a couple of corner goals moving them into a 5-1 half-time lead.

And the series closed with a 3-0 success, this time Erin Getty, McMaster and Pratt getting the goals.

It concludes a productive week with four wins out of six games against a variety of Welsh line-ups and finishes off their summer schedule in style.

Women's Under-23 series
Wednesday: Ireland 3 (H Kelly, S O'Brien, L Foley) Wales 3 (J Hill, L Strickland, B Collier)
Thursday: Ireland 8 (H Kelly 2, S O'Brien 2, J McMaster 2, S Cole, Y Pratt) Wales 1
Friday: Ireland 3 (E Getty, J McMaster, Y Pratt) Wales 0

Irish Hockey Association media relea