All the news for Friday 23 July 2021

2020 Olympic Games- Day 1
Tokyo (JPN)

All times GMT +9

Men)

24 Jul 2021 09:30     JPN v AUS (Pool A)
24 Jul 2021 10:00     NZL v IND (Pool A)
24 Jul 2021 11:45     NED v BEL (Pool B)
24 Jul 2021 12:15     ARG v ESP (Pool A)
24 Jul 2021 18:30     GBR v RSA (Pool B)
24 Jul 2021 19:00     CAN v GER (Pool B)

Women

24 Jul 2021 20:45     NED v IND (Pool A)
24 Jul 2021 21:15     IRL v RSA (Pool A)

FIH Match Centre


---

Indian Men fancy chances against lower-ranked NZ; women set for tough Dutch test in opener

The men would be seeking to reclaim a glorious past, while the women would be aiming to script some history of their own when the two Indian hockey teams begin their Olympic campaign here on Saturday with expectations from both at a high.

Men will be up against eighth-ranked New Zealand, followed by the women''s clash with the Netherlands.

Indian men''s hockey has a rich history in the Summer Games having won the gold an unprecedented eight times in the past, the last of which came way back in 1980 Moscow Olympics.

A slump followed but the last few years have seen a resurgence in fortunes. With a current world ranking of four, the Indians are considered a bright medal prospect this time around in Tokyo.

But it would be easier said than done as India are placed in a tough Group A alongside the likes of reigning Olympic champions Argentina, mighty Australia, hosts Japan, New Zealand and Spain.

Group B consists of world champions Belgium, Canada, Germany, Great Britain, Netherlands and South Africa.

The top four teams from each group qualify for the quarterfinals.

Going by form and current ranking, the Indians definitely start as favourites against New Zealand as after 2016 Rio Olympics, the Manpreet Singh-led side has beaten the Black Sticks eight times out of the 11 encounters between the two sides.

The Indians have also scored 34 goals as against their rivals'' 14 during these matches.

India''s last win against New Zealand came at the same venue here back in 2019 at the FIH Test event, where they won 5-0 in the final.

But India''s chief coach Graham Reid has asked his men to stay on guard and take one match a time in pursuit of the podium finish here.

"New Zealand is a very good team, and I have a lot of respect for the way they play. They are mentally very tough, and they never give up. This attitude of theirs makes them a dangerous opponent," said Reid on the eve of their campaign opener.

"They have a very skillful forward line and honestly at the Olympics, world rankings don''t really matter. So, it will be important for us to start well on Saturday."

The coach said having spent considerable amount of time at the pitch after arriving here, his wards are well prepared for their opener.

"When you get to somewhere new, I always like to make sure we do drills to familiarise and test the surface. Things like penalty corners and bounce of the turf is often very important because overheads also play such an important role in the matches these days," Reid said.

"We went through the intricacies of the ground in the last 3-4 days in the village and training sessions."

India captain Manpreet Singh, who is the country''s flag-bearer alongside boxing legend MC Mary Kom in Friday''s opening ceremony, cautioned against complacency.

New Zealand will be led by the experienced Blair Tarrant who has 217 internationals caps to his credit.

"They are a team we need to be careful of. We must stick to our basics, ensure we execute our plans properly and not get complacent at any point in the game."

In 2018, when New Zealand toured India ahead of the FIH Men''s World Cup in Bhubaneswar, the hosts had tasted many victories (4-0, 3-1, 4-2) against their opponents but had gone down 2-3 in the crucial semifinal of the Gold Coast Commonwealth Games.

After a dismal eighth place finish in Rio Games, much is expected from the Manpreet-led side.

For the women''s team, it is a second successive Olympics, and a tough opener awaits in world no.1 Netherlands in their Group A fixture.

After appearing in the Olympics for the first time in 36 years at the Rio Games, the Indian women''s team has only grown from strength to strength, winning the 2016 Asian Champions Trophy, 2017 Asia Cup, the silver medal at the 2018 Asian Games and reaching the qarterfinals of the 2018 Women''s World Cup for the first time in history.

After Netherlands, the India women will take on Germany (July 26), Great Britain (July 28), Ireland (July 30) and South Africa (July 31) in the group stages.

Indian women''s hockey team chief coach Sjoerd Marijne said the confidence among the group is high but didn''t want to look too far ahead in the competition.

"This team has played well against the top sides in the recent past and therefore the confidence level in the group is high. We are going to take it one match at a time and try to keep improving with each match," the Dutchman said.

Talismanic women''s team skipper Rani Rampal said the players can''t wait to take the pitch after putting in all the hardwork for the last five years.

"We have worked very hard for this tournament in the last five years, and we can''t wait for it to start. We are very confident about our chances in this competition."

Outlook India


---

Be careful in opening match, former hockey stars warn India

The first match at the Olympics has always been a matter of concern for the Indian men's hockey team in the last eight editions since the Moscow Olympics in 1980, when they last won gold



2020 Tokyo olympics | Indian Hockey Team

The first match at the Olympics has always been a matter of concern for the Indian men's hockey team in the last eight editions since the Moscow Olympics in 1980, when they last won gold.

So, as Graham Reid's men, hoping to end the four-decade-long gold medal drought, get ready for their opening Pool A match against New Zealand in the Tokyo Olympics on Saturday, former India stars have advised the current lot to be extra careful in the opening encounter -- for that will set the tone for the entire tournament and eventually decide their fate.

"Winning the first match will be very important," former India star Merwyn Fernandes, a member of the gold medal-winning team of the 1980 Olympics told IANS.

"If they lose, they will have to do a lot of catching up. Even a draw will put unnecessary pressure on the team because New Zealand, Spain, and Japan are the lower-ranked teams in the group," he added.

However, various Indian teams have found the first match a difficult proposition.

In the eight editions, barring 2008 when India had failed to qualify for the Olympics, between 1980 and 2020, the team has lost the first match five times. Of the three wins, one has come against the United States (5-1) in 1984 and against Ireland (3-2) in 2016. During this period, India have twice played the Netherlands in their tournament opener and lost on both occasions --in 2004 (1-3) and 2012 (2-3).

That is the reason why Fernandes, his 1980 colleague, MM Somaya, and 1984 Olympics teammate Joaquim Cavalho warn India, usually jittery starters, against complacency in their campaign opener.

"I remember in the 1988 edition in Seoul that India played the Soviet Union in the very first match and we never thought we will lose to them but we lost. And to come back after dropping points is very difficult," said Fernandes.

New Zealand too have targetted the first three matches. Head coach Darren Smith says it's crucial to get points from their opening three games starting with India on Saturday, despite India being four spots higher than the ninth-ranked Kiwis in the world rankings.

The current tournament format is such that India need to finish among top four in the six-team pool to qualify for the quarter-final. Considering India's ranking and recent performances, that should not be a problem.

However, finishing in the top two in the pool is vital as that would mean avoiding potential banana-skin encounters against teams like the Netherlands, Belgium, and Germany in the quarter-finals. In Rio, the team ran into Belgium in the quarter-finals and lost.

That is the reason why Manpreet Singh and his boys will have to be very careful on Saturday.

"The first game is very important. Indian usually take their time to settle down but we have a crucial match against Australia following up, So, getting maximum points from this encounter is a must. India have always started on a poor note and they have to do a lot of catching up," Carvalho told IANS on Thursday.

New Zealand are expected to crowd their defence and look for quick counterattacks against India.

"They will have to be careful about the counter-attacks from New Zealand, avoid conceding penalty corners and soft goals, capitalise on field goal opportunities and convert penalty corners," said Carvalho.

Fernandes agreed that scoring early will be very important but India should not get into panic mode if they fail to score in the first two quarters.

While the Indian teams in the past have had problems with the first match, Somaya says this team is different from the teams of the past and very well prepared.

"This team is one of the fittest. The Tokyo Olympics team is one fittest to leave our shores. This enables them to play high-intensity hockey for the entire duration of a match: said Somaya.

"Besides, the players are more aware tactically than earlier teams. Mentally too, the team seems more composed and has conquered the fear of failure against higher-ranked higher ranked teams," said Somaya.

All three said that India have to be very careful against New Zealand for they have a bigger match lineup next -- against Australia. Losing points in the first two encounters will be suicidal for the team.

Fernandes and Carvalho said that India will have to be aggressive so that they can counter the defensive tactics of the rivals and create more chances -- more penalty corners as they have more short-corner specialists.

Business Standard


---

India need to tame 'dark horses' New Zealand in first pool game

Grouped along with the defending Olympic Champions Argentina, the formidable Australia, New Zealand, Spain and Japan, World No.4 India's task will be cut out to ensure a spot in the quarter-final.



India men hockey team in Tokyo. (Photo @TheHockeyIndia)

TOKYO: The Manpreet Singh-led Indian men's hockey team will make a cautious start to their campaign in the group stage at the most-awaited Olympic Games Tokyo 2020 as they take on dark horse New Zealand in their first Pool A match on Saturday.

Grouped along with the defending Olympic Champions Argentina, the formidable Australia, New Zealand, Spain and Japan, World No.4 India's task will be cut out to ensure a spot in the quarter-final.

Playing at the same venue, in the north pitch, back in 2019 at the FIH Test event -- Ready Steady Tokyo Hockey, India had beaten New Zealand 5-0 in the final.

However, in the round-robin stage, New Zealand had got the better of India with a narrow 2-1 victory. "They are a team we need to be careful of," expressed Manpreet Singh who will be India's flag bearer at the Opening Ceremony on Friday. He further emphasized that: "The team must stick to basics, ensure we execute our plans properly and not get complacent at any point in the game."

Manpreet's caution to his team also comes from past experiences while playing against this team which will be led by the experienced Blair Tarrant who has 217 international caps. In 2018, when New Zealand toured India ahead of the FIH Men's World Cup in Bhubaneswar, India had tasted considerable victories (4-0, 3-1, 4-2) against this team but had gone down 2-3 in the crucial semi-final at the 2018 Commonwealth Games.

"New Zealand is a very good team, and I have a lot of respect for the way they play. They are mentally very tough, and they never give up. This attitude of theirs makes them a dangerous opponent," expressed India chief coach Graham Reid. "They have a very skilful forward line and honestly at the Olympics, world rankings don't really matter. So, it will be important for us to start well on Saturday," Reid said.

With the team getting good training hours at the Oi Hockey Stadium, Reid believes the team is ready for the group stage challenge.

The New Indian Express


---

We can break toughest defences with good communication, says Mandeep Singh

Having made his debut for the senior side way back in 2013, Mandeep is the most experienced striker in the Indian team.



Mandeep Singh  

Indian men's hockey team striker Mandeep Singh on Thursday asserted that they have it in them to break the defence of any rival side in the Tokyo Olympics, beginning here on Friday.

Having made his debut for the senior side way back in 2013, Mandeep is the most experienced striker in the Indian team.

"I don't think there's any added pressure on me because I have good support from the rest of the players. We have good on-field communication and on a good day, we can breach the toughest defence," said the 26-year-old forward from Jalandhar.

Singh has already played over 150 international matches for the country but is making his Olympic debut now. The nippy forward, who is known for his quick reflexes and positioning in front of the goal, said having lived inside a bio-bubble at the SAI centre in Bengaluru for the last one-and-half-years due to COVID, India are much better-placed than any other hockey playing nations in the Olympics.

"We are very used to the COVID protocols. Here, we get tested every morning, it is a very simple process and the results come out by evening," Mandeep said.

"It has been great so far. Although it took us some time at the airport due to testing and other procedures, ever since we checked into the Games Village, it has been incredible. Everything is well-organised and everyone is very careful about all the protocols.

"The food is very good and there are some Indian dishes being served everyday too. The support staff is also ensuring we are in good shape physically and mentally ahead of our first game." India will play New Zealand in their opener on Saturday and Mandeep said they are geared up for the job ahead.

"...we are now allowed to interact with other teams. Today was the first day we also got to play on the main competition pitch and no doubt, it is a fantastic stadium.

"We are eager to play our first match against New Zealand," he said.

Ranked fourth in the world, India would be looking to break their over four-decade-long Olympics medal drought. Their last of the eight gold medals came way back in the 1980 Moscow Games.

The Hindu


---

MM Somaya says India's Tokyo Games contingent teeming with medal hopefuls

The world's best coaches and scientific training have given India a refreshingly new identity in world hockey, writes MM Somaya, a member of the Indian team that won Olympic gold in Moscow in 1980 and was captain of the Olympic team at the 1988 Seoul Games.

M. M. Somaya



The Indian women's team, trained by Sjoerd Marijne (left), has improved steadily with every outing. Skipper Rani Rampal is an exceptional talent and as good as anybody in world hockey.   -  FIH

As Tokyo prepares to formally say "yokoso" – welcome – to athletes from all around the globe, a sense of excitement is gradually setting in. Yet, there is an unmistakable air of uncertainty this time around, athletes having endured lockdowns, curbs and restrictions over the past year to get battle ready, while the lurking presence of the invisible enemy persists.

India has borne the brunt of the pandemic, yet our Olympic preparations have largely stayed on track. Until the 1980s, hockey was India's only hope for a medal. Today, the country's contingent is teeming with medal hopefuls – archers, badminton stars, boxers, shooters, weightlifters and wrestlers have emerged as international champions and will be strong contenders in Tokyo.

Indian hockey, too, has hit a purple patch. A consistent run over the past three years has seen the men's team break into the top four of the FIH World Rankings – the first time this has happened in many decades – and its performance in the recent FIH Pro League made people sit up and take notice. The women's team has been consistent, too, its current ranking of nine putting it ahead of China and the USA, both former Olympic champions. That said, both teams will have to stretch every sinew to even progress through their pools.



Manpreet Singh the captain of the men's team, was named the FIH Player of the Year 2020.   -  Biswaranjan Rout
 
Australian Graham Reid, the Indian men's team coach, has opted for experience in defence, while he has pumped for youth and exuberance in the midfield and in attack. Reid's strategy has clearly been to put as many players around the ball at any given time at any place on the pitch. This requires a forward line to defend deep and then push up at great pace after gaining possession. The midfield largely comprises younger players who can make quicksilver transitions from defence to attack and vice versa. The rolling-substitution rule is working to India's advantage, and playing shorter bursts has enhanced the pace and effectiveness of the team. For many old-timers, it seems a boon to play only 15-20 minute spells and then be benched for a similar period before getting back on the pitch for another spell of a similar period. Let's not get fooled into believing this is true. Today's hockey is played at a frenetic pace and each session is energy sapping. Fortunately, the Indian team of today is supremely fit.

Skipper Manpreet Singh, the FIH Player of the Year 2020, leads by example and will be ably supported in midfield by Hardik Singh. Together, they will have to marshal the younger players and control the flow of play. Harmanpreet Singh is India's key defender and can impact many an outcome with his drag-flick from penalty corners. Battle scarred Rupinder Pal Singh, Birendra Lakra and Surender Kumar are the other defenders who repose confidence. P. R. Sreejesh has been a rock under the bar and will be keen to show that he can do well at the biggest stage. In attack, Mandeep Singh and Lalit Upadhyay have shown opportunism in front of goal. They, along with young guns Dilpreet Singh and Samsher Singh, will have to show a lot more creativity and enterprise at the business end of the pitch. Reid's trust in these youngsters ahead of the tested S. V. Sunil, Akashdeep Singh and Ramandeep Singh appears to be based on physical fitness levels alone.



Graham Reid, the Indian men's team coach, has opted for experience in defence, while he has pumped for youth and exuberance in the midfield and in attack.   -  Special Arrangement
 
Placed in Pool A, the easier of the two pools, India has Australia and Argentina among others to contend with. Should India make it to the top four, it may have to face one of Germany, Holland or Belgium from Pool B in the quarterfinals. That would be a crunch match. Winning there would put India in with a serious chance of getting onto the podium. The Indian women's team, trained by Dutchman Sjoerd Marijne, has improved steadily with every outing. Skipper Rani Rampal is an exceptional talent and as good as anybody in world hockey. This time, the India team has quality across the field. Vice-captain Savita Punia carries years of experience under the bar. The other, vice-captain Deep Grace Ekka is a resolute defender and Gurjit Kaur an accomplished drag flicker. Upfront, Vandana Katariya and Lalremsiami are players who can unlock some of the best defences.

In Pool A with higher-ranked teams Germany, Netherlands and Great Britain, the Indian women will have to play out of their skins to pip one of the big three or Ireland for a place in the quarterfinals.

The world's best coaches and scientific training have given India a refreshingly new identity in world hockey. The players' physical fitness and tactical acumen are now at optimum levels. The teams are better equipped to crack the European as well the Australian styles of play that befuddled us for many years. A winning mentality has been infused and will be hopefully carried into the Olympic Games. A medal from the men and a top-eight finish from the women is a realistic expectation. Only then will it be a happy "sayonara" to Tokyo.

M. M. Somaya was a member of the Indian team that won Olympic gold in Moscow in 1980 and was captain of the Olympic team at the 1988 Seoul Games.

Sportstar


---

SA Olympic Hockey Preview




Its been 3 268 days since the South African men triumphed 3-2 over India at the London Olympics. There have been changes in coaches, changes in players and changes in dates of tournaments. There has been no change in the South African heart, determination and spirit. On 1 day both the SA Hockey Men and Women will return to Olympic action.

For the South African Men, they will start things off with a battle against Great Britain, the team they started the 2012 Olympics against. Coach Garreth Ewing will have Tim Drummond, Taine Paton, Austin Smith and Rassie Pieterse available from that historic and unfortunate draw. The team has of course had changes with Clinton Panther and Mo Mea ruled out, while Rusten Abrahams and Dan Bell have joined the team.

The SA Men had limited preparation with a home test series against Namibia resulting in a 5-0 win, while the CTM Showdown was a useful exercise. Warm up friendlies against Argentina and New Zealand have helped the team acclimatise. There are obvious questions about the team's preparation that has been frustratingly blighted by the covid pandemic, but the time spent off the field has seen a togetherness fostered that can simply be defined as sublimely South African.

The South Africans will look to summon the character shown against Germany in a draw at Wits, or the performance of the team at the FIH Hockey Series Final, or the strength of the performance at the Road to Tokyo tournament in Stellenbosch. It promises to be a tough but exciting tournament for the South African Men.

The SA Hockey women open their campaign against Ireland, incredibly the last team they played in an official international fixture in February 2020. That was a tough series in Stellenbosch that the Irish were 3-0 winners of, but both teams are on a very different path now than they were 16 months ago.

The Irish of course are playing at their first ever Olympic Games trying to carry momentum from their remarkable World Cup run in 2018. That run to the final may ironically be the exact tonic to be the inspiration to take South Africa to an underdog victory.

The team will also be buoyed by vice-captain Phumelela Mbande fulfilling the role of flag bearer for Team South Africa in the opening ceremony, while the experience of now triple Olympian Lisa Deetiefs will be imperative to a good South African run. Erin Christie will also be a vital cog in inspiring her team as they look to shock the world.

In November 2019 the Springboks headed to Japan and inspired a nation. Nelson Mandela said that Sport has the power to change the world. It has the power to inspire. It has the power to unite people in a way that little else does. As South Africans our teams have this notion ingrained in them. Our hockey teams will be living it in Tokyo.

For all match statistics and more, go to the Hockey page on the Olympics site here:

https://olympics.com/tokyo-2020/olympic-games/en/results/hockey/olympic-schedule-and-results.htm

SA Hockey Association media release


---

Can Japan produce Women's Pool upset?



Japan at the 2018 women's World Cup PIC: England Hockey

RUPERT BARKER, of Hockey 21, continues to assess the make up of the Olympic group stages and looks at Pool B in the women's competition


---

Ireland's women's hockey team's journey to their first Games

BBC Sport NI's Nigel Ringland has followed the Ireland Women's hockey team for the last decade. As they participate in their first ever Olympic Games, Nigel details the characters and their journey to get to this stage.

By Nigel Ringland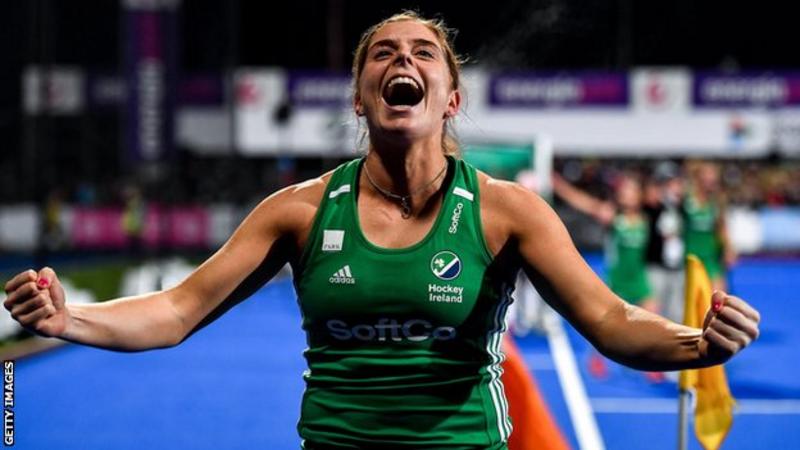 Katie Mullan celebrates Ireland's win over Canada that sealed the team's spot in Tokyo

There are plenty of inspirational quotes about life, journey and destination, and many would apply to the Ireland women's hockey squad.

The destination has always been a first appearance at an Olympic Games and on Saturday, 16 women will take to the pitch at the Oi Hockey Stadium in Tokyo and will achieve that goal or, more romantically, fulfil a dream personally and collectively.

For each player, the journey is different.

Shirley McCay's started in 2007 and for Ireland's most capped sportswoman the opening game of the Olympics will be her 312th appearance. Three previous campaigns had ended in failure, serious gut-wrenching disappointment, but not the fourth.

No-one deserves to step onto the grandest stage in sport more than the woman from Drumquin. Well maybe except for Lizzie Holden, Chloe Watkins and Nicci Daly, who all shared the misery of narrowly missing out at the final hurdle in 2012 and 2016.

Ireland's fixtures in Tokyo (all times BST)

South Africa - 24 July (13:15)
The Netherlands - 26 July (02:00)
Germany - 28 July (04:15)
India - 30 July (03:45)
Great Britain - 31 July (12:45)
Quarter-finals - 2 August
Semi-finals - 3 August
Bronze/Gold matches - 6 August

Then there is Sarah McAuley who was just five years old when McCay made her international debut. Now 19, and with just one full cap to her name against Italy at the European Championships last month, the teenager will line up alongside her friend, mentor, Muckross teammate and Ireland's all-time leading goalscorer Anna O'Flanagan, another who has been chasing this dream for a decade or more.

'Rio heartbreak to Japanese dreaming'

Even with reflection the past six years have, at some points, defied belief. Eight of this squad - including captain Katie Mullan, goalkeeper Ayeisha McFerran and Hannah Matthews - were devastated by a shootout loss to China in Valencia in 2015 that cost them a place at the Rio Olympics.

It took a long time to get over.

Two years later they qualified for the World Cup for the first time in 16 years. By that stage Roisin Upton, Deirdre Duke and Lena Tice were established members of the squad.

No one could have foreseen or even dreamed what would happen next.

They finished top of a group that included the Olympic champions England (who won gold in Rio as GB), then beat India and Spain in shootouts to make the World Cup final as the 15th ranked team out of 16 at the tournament.

The eleven players already mentioned above (except McAuley who was still at school) have World Cup silver medals to their names from three years ago, an achievement that only grows and grows in stature as time passes.

But the Olympics was always the destination.

Olympic dreams start in Banbridge

The road to Tokyo began over two years ago on 8 June 2019 with a 2-1 win over Malaysia at Banbridge in the FIH Series. A place in the Olympic qualifiers was secured a week later with a 4-0 victory over the Czech Republic.

Over 6,000 supporters packed the ground in Dublin for a winner-takes-all play-off against Canada, only to witness two awful scoreless games. Another shootout loomed with a spot at the Olympics awaiting the winner.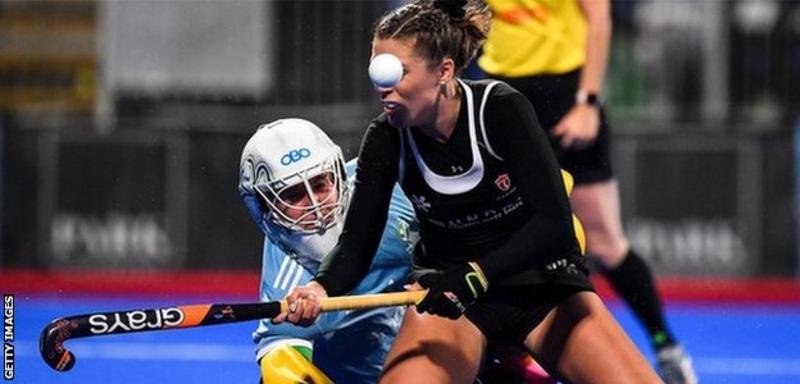 Ayeisha McFerran was the hero with two penalty shootout saves against Canada

The World Cup had exorcised the demons of Valencia but at 3-1 down it looked like another journey would be halted in its tracks. By this stage McFerran was now regarded as one of the world's best goalkeepers and when her country needed her she produced two saves that didn't do justice to the word 'huge'.

Bethany Barr and Watkins still had to score and somehow both summoned the temperament and skill to do just that. Upton then stepped up and slotted home from such an acute angle as to defy physics. Canada missed. The journey continued.

Amid the glorious celebrations that night who would have thought that four months later a global pandemic would sweep the world causing the Olympics to be postponed for the first time in peacetime.

For individuals, the delay of a year meant their journey has gone off in a different direction. The same ACL injury deprived twins Bethany and Serena Barr of their Olympic dreams as it did for the ever-present smiling face of World Cup silver medallist Zoe Wilson while two other members of that squad, Megan Frazer and Nikki Evans, were the last two players to miss out on selection.

Twelve months ago, that would probably not have been the case, but they will be in everyone's thoughts this weekend.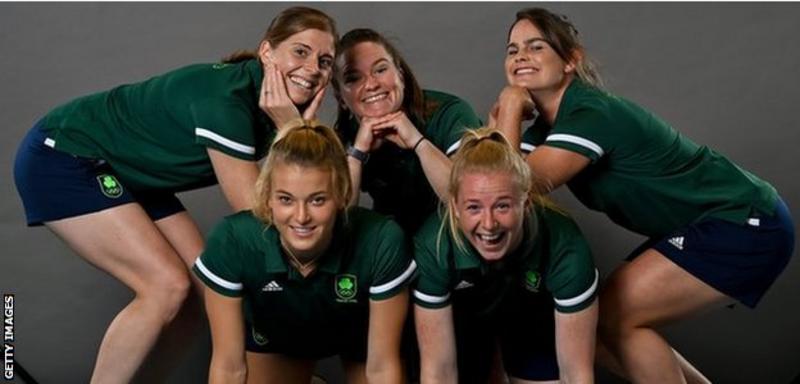 Katie Mullan, Zara Malseed, Shirley McCay, Ayeisha McFarren & Lizzie Holden The bond between the squad is clear to see in their pre-Games photo shoot

Hannah McLoughlin, Michelle Carey, Sarah Torrans and Zara Malseed are new faces along with McAuley while Naomi Carroll, Sarah Hawkshaw and Lizzie Murphy complete the squad who will make history this weekend.

Not only is it the debut of Ireland women's hockey in an Olympics but they are the first ever female team to represent the country at a Games in any sport. You see not only are they history makers, but they want to be trailblazers as well and help inspire the next generation.

It might be foolish to think that they can repeat what they did at the World Cup over the next two weeks, then again it might be more foolish to think they can't.

The Olympics will be the final destination for some of these players, life's journey will take them on a new path. For others it's just the beginning, a chance to write a first chapter, actually the next chapter in the story of the Ireland Women's hockey team.

So far, it's been a page turner you haven't been able to put down.

BBC Sport


---

Crying in a Coles car park: Star Hockeyroo breaks silence on 'dark' year ahead of Tokyo tilt

Christy Doran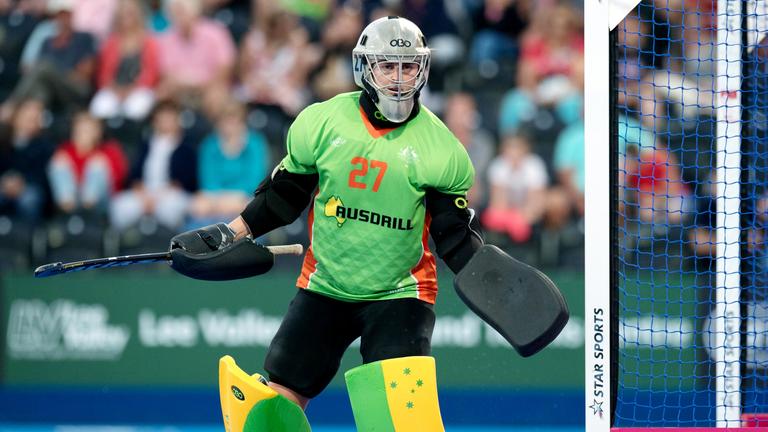 Rachael Lynch was named 2019 world goalkeeper of the year yet found herself out of the squad a year late, before winning a legal case against Hockey Australia. Photo: WORLDSPORTPICS

TOKYO — Rachael Lynch – the 2019 women's world hockey goalkeeper of the year – sat in her car in a Coles car park and burst into tears in April.

After 150 days, the recently turned 35-year-old was given the news she had long craved.

She and former Hockeyroos captain Georgie Morgan had won their legal challenges against Hockey Australia after being sensationally ostracised and dropped from the squad.

"We had no idea when they would call, and I finally got it and literally collapsed and was in tears because we both won," Lynch told News Corp.

The big question is how was it possible that the captain and world class defender Morgan as well as Lynch, Australia's most capped goalkeeper, the goalkeeper of the 2014 World Cup and goalkeeper of the year in 2019, had been left out?

That question threatened a strike by the Hockeyroos in late 2020 and later saw an independent review describe the culture in the prestigious Olympic sport as "dysfunctional".

It also made 29 recommendations to Hockey Australia and saw Paul Gaudoin step down as head coach on the eve of that announcement.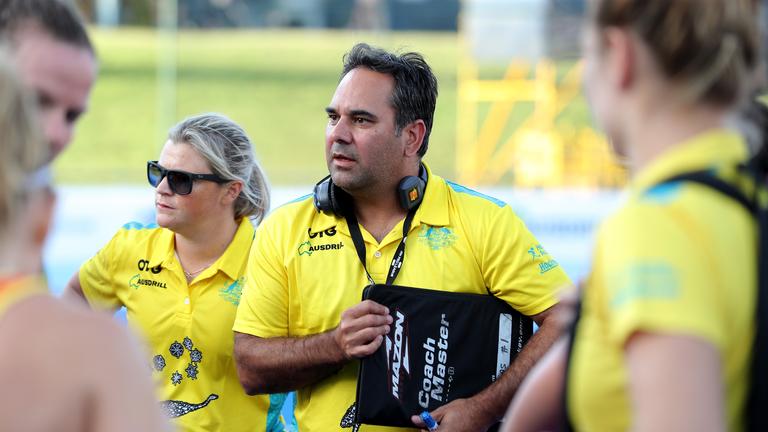 Paul Gaudoin resigned on the eve of Hockey Australia's independent review's finding being handed down. Photo: AAP

Along the way, the collateral damage saw high performance director Toni Cumpston, assistant coach Steph Andrews and independent selector Sharon Buchanan previously resign.

Hockey Australia CEO Matt Favier has since also confirmed he will step down following the Tokyo Olympics.

For Lynch, one of the few survivors from the dreaded 2016 Rio campaign, she believes it came down to her "character".

"The things that came out from the appeal were about my behaviour," she says. "Asking questions and challenging things.

"I've always, and the reason I stayed after Rio, was that I wanted to leave a legacy and help the younger girls and get the Hockeyroos in a better place than when I came in and that's always been my agenda.

"Questioning things around our mental health and how we manage our athletes, pushing hard for us to be able to work and study and have set schedules so that we can do that and have respectful relationships with our employers, just being more professional, and that's what got me in trouble."



Rachael Lynch celebrates with teammates after Australia defeated Germany in penalties during the Women's FIH Field Hockey Pro League match on February 10, 2019 in Hobart. Photo: Getty Images

Asked how she reconciled being world hockey goal-keeper of the year in 2019 and being dropped the next, Lynch simply put it down to the wrong motivations at play.

"I don't even know how to describe it," she says. "It was maybe just a really terrible decision and people getting caught up in things that weren't true and misinformation and some bad processes and structures.

"There's a lot more to it than we will know, but I guess I'm going to Tokyo and looking back our CEO's resigned, our high performance director has resigned, two of our coaches have resigned, our psychologist has resigned, our wellbeing person has … that's pretty clear to me."

When Fox Sports asked Favier following the review why so many women in their prime had walked away from the sport, the former head of the Australian Institute of Sport said Hockey Australia had in fact asked for data to see whether that held true.

He said the numbers leaving the squad were consistent to other sports.

Insiders believe that is not the case and the amount of players entering their prime and leaving early such as Georgie Parker was an indication all was not right.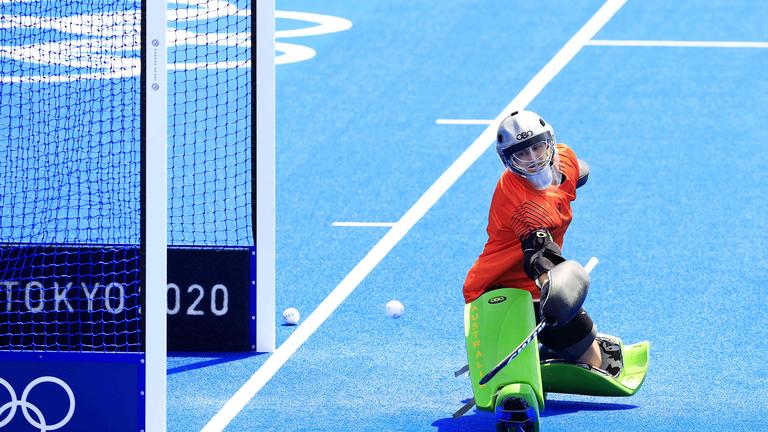 Rachael Lynch In action for the Hockeyroos in a practice match against Great Britain at Oi Hockey Stadium at the Tokyo 2020 Olympics. Pics Adam Head

Lynch says being left out of the squad ahead of the Games, only to later win her appeal and later win selection back into the squad pushed her to the edge.

"I definitely won't deny that it's been the hardest period of my life," she says.

"I was challenged in every way personally and, I guess, it took me to a pretty dark place mostly because some of the things that were happening were not about my hockey, they were about my character and I wasn't willing to accept that, my teammates weren't, and it seems the general public weren't either to believe it or accept it and that's why I fought so hard to get back in.

"I knew that my agenda and my motives the whole way through have been very pure and completely about the team and being a good person.

"It wasn't just about myself and Georgie Morgan, it was about change for the Hockeyroos and trying to make the Hockeyroos better and a lot of it has happened and we're really on the right track."

While Lynch was reintroduced to the Hockeyroos squad, Morgan was not.

It still surprises her she was left out despite winning her appeal too.

"Getting back into the squad, that was a terrible day for me seeing my name in the list meant little after the fact Georgie's name was not on the list," Lynch said.

"For me, she's one of the best defenders in the world. Yes, she's had some troubles with her body, and I believe that's what they said was the reason, but I would take her in my team any day of the week."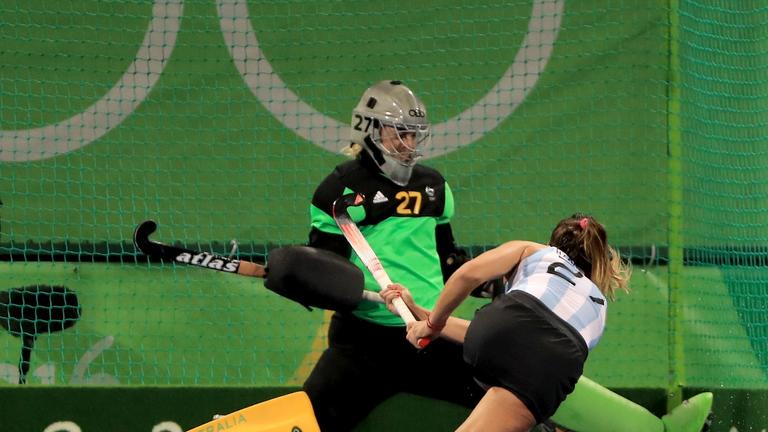 Rachael Lynch stops the shot of Argentina's Maria Barrionuevo during a Women's Preliminary Pool B match at the Olympic Hockey Centre on August 11, 2016 in Rio de Janeiro, Brazil. Photo: Getty Images

As the sole goal-keeper in the squad, Lynch will stand between goals in Tokyo as Australia attempts to win their first medal since claiming gold in Sydney.

Lynch plainly accepts the results of 2016 were not good enough, as a star-studded side, which saw Anna Flanagan left out of the squad after an off-field related incident in the lead up to the Games, bombed out in the quarter-finals.

"It was really disappointing the result that we got over there," Lynch said.

"Fantastic tournament and amazing experience, but we all got a rude shock when we missed out on the quarter-finals and finished our campaign a week early and didn't know what to do with ourselves.

"You go over there pushing so hard for a gold medal, but to not even be close to that really hurt.

"I would love to say we learnt a lot from that, but leading into Tokyo it's just been really challenging with COVID and all that to fine-tune a lot of things."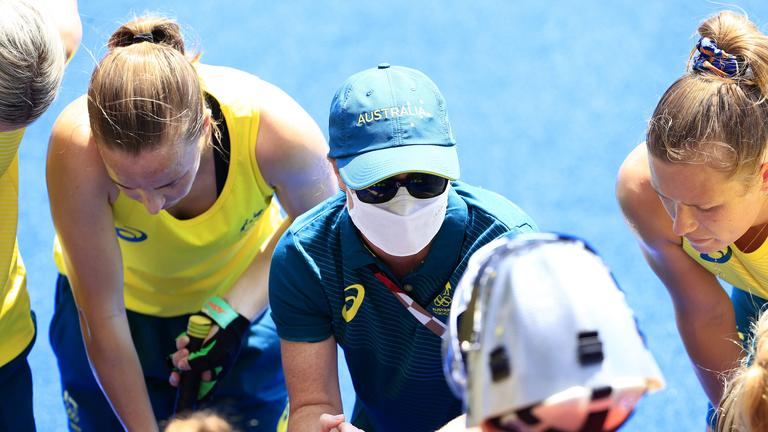 Coach Katrina Powell addresses the Hockeyroos in a practice match against Great Britain at Oi Hockey Stadium at the Tokyo 2020 Olympics. Pics Adam Head

She believes one of the shortcomings of the 2016 campaign was the Hockeyroos were too worried about what was coming rather than focusing on themselves.

But Lynch says the recent appointment of Katrina Powell – a two-time gold medallist – means those errors of the past will not be repeated.

"When I look back I think it was too much about them and not as much about us," she says.

"This time around, coincidently it's Triny's (Powell) style anyway, we've focused more on us.

"But you've got to have the skills to get out of trouble rather than know them so well that you think you can beat them that way because it can be guaranteed they will do something different.

"I think the main thing with her is she really wants people to be themselves and that's quite refreshing. She's good fun, she makes us laugh and keeps it lighthearted, but she's also a competitor. She wouldn't have won the gold medals she did without being a fierce competitor."

Australia's women for the first time head to Tokyo as outsiders.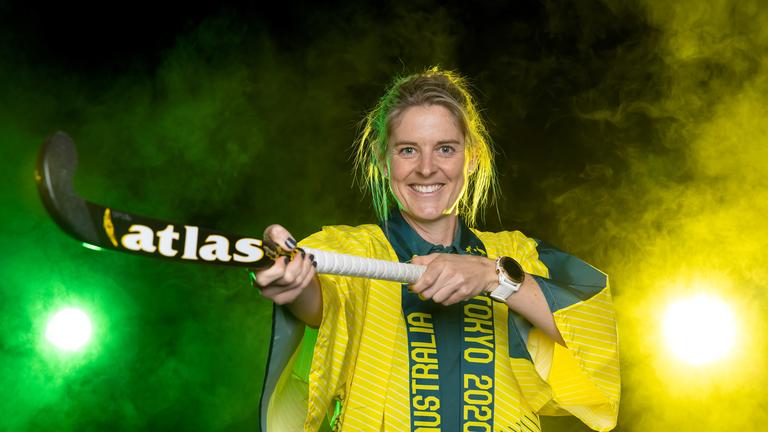 After a rollercoaster ride to Tokyo, Rachael Lynch - the 2019 World goalkeeper of the year - will stand between goals for the Hockeyroos. Photo: Getty Images

The Netherlands are the heavy favourites, while Germany are expected to heavily challenge and Argentina can never be written off.

But for Lynch, coming this far and not succeeding on the big stage just is not enough.

For a program that relies on government funding, a medal is essential.

"We're pretty realistic, we know we need to get a medal in order to secure funding for the program going forward and I don't think there's any point to dance around that," she said candidly.

"It's the reality, but the way I look at it, we just want to put out a performance everyone can be really proud of.

"Given what we've all been for, we want to create a long-lasting brand, not just of hockey but of people, that mums and dads watching us play will say, 'yep, I want my son or daughter to play hockey,' for our teammates back home watching to say, 'yep, I want to push on and compete for the next Olympics.'

"I think you can show that in the way you play and act but also in your results, and we want to go over there and have people get excited about the Hockeyroos and how we play."

Fox Sports


---

Germany hockey captain allowed to wear rainbow colours at Tokyo 2020

 By Dan Palmer



Nike Lorenz wearing rainbow colours ©Getty Images

Germany women's hockey captain Nike Lorenz will wear a rainbow-coloured band on her socks at Tokyo 2020 after the International Olympic Committee (IOC) agreed to let her support the Lesbian, Gay, Bisexual and Transgender movement and sexual diversity.

It will be the latest sign of athlete activism at the Olympic Games here after the IOC relaxed its Rule 50 restrictions.

Rule 50 states that "no kind of demonstration or political, religious or racial propaganda is permitted in any Olympic sites, venues or other areas."

But athletes can now demonstrate at specific times and in certain areas before their competition at the Games.

Twenty-four-year-old Lorenz will first wear the rainbow band in her team's opening match against Britain at Oi Hockey Stadium on Sunday (July 25).

She has previously worn rainbow items in other matches.

German Olympic Sports Confederation President Alfons Hörmann, who will step down later this year, welcomed the Tokyo decision.



The rainbow colours worn by Nike Lorenz will be the latest sign of athlete activism at Tokyo 2020 ©Getty Images

"We are pleased that we have found a way together that enables the hockey team to make a socio-political statement," he said.

Using a rainbow flag to celebrate sexuality began in the 1970s in San Francisco but it is now a well known symbol across the world.

It has been used in sport through initiatives such as the Rainbow Laces campaign, which encourages athletes to don special shoelaces to show their support.

Political statements have already been seen at Tokyo 2020 after the first day of sport yesterday.

Five women's football teams took the knee before kickoff and Australia's players posed with an Aboriginal flag.

Inside the Games


---

Those 1964 Olympic gold days!

GURBUX SINGH



Exclusive photo of 1964 Olympic medallist taken out in a public procession

The first hockey match of the much awaited Tokyo Olympics starts within 24 hours. In the run up to the Olympics, we honoured most of our accomplished Olympians by unearthing their rare photos and presenting them to the new generation the way they like — number-laced graphics. As the nation wait for the Indian men's and women's hockey team to do well, we are happy to publish perhaps the last of historic pieces — none other than memories of 1964 Olympic gold. Its collated from 'Golden Days' the autobiography of double Olympian and gold medallist Gurbux Singh  — Editor

…. And then the end of the match was signalled. My mind went blank…more mentally than physically….you might call it over-happiness.

We had won. This was Tokyo, 29″October, 1964.

The victory celebrations began immediately…. Milkha Singh, who was in Tokyo as one of the 4 x 400 metres relay team, was one of our staunchest fans, present at every match. He started dancing the bhangra: it was an unforgettable sight. Shooter Karni Singh was not used to this dance and hurt his ankle. But the dance went on.

It was only when our captain, Charanjit Singh, stood on the victory stand, our National Anthem was played, and our supporters swayed the Indian tricolour around us, that the true realization began to sink in. Most of us cried openly: there were tears in my eyes as I went up to receive my medal from G.D. Sondhi, at the time the Indian member of the International Olympic Committee.

It was undoubtedly the best moment of my life. The wearing· of the Gold medal around one's neck is a matter of a few moments, but preparations for the happening of these few moments are long and arduous. The worth of an Olympic Gold medal cannot be expressed in words: it is a matter of feeling.

The hockey stadium was a small one, with the stands accommodating perhaps three thousand spectators in all on the two sides. The Japanese organizers had thoughtfully distributed Indian and Pakistani flags to our respective supporters!



1964 Olympic Gold Medallion

We had naturally been tense before the match. ….. The Pakistanis stood a little way away, and suddenly I noticed some of them were frothing at the mouth, so great was the tension.

They were, indeed, the defending champions. We had come to Tokyo as the challengers: we had nothing to lose. So, they were under greater pressure.

The evening before the final, we discussed tactics…. Captain Charanjit still felt we would gain little by playing rough…when I had a chance to speak, I asserted we should retaliate if they were aggressive. Charanjit maintained we should go for clean hockey. But I was adamant : if they hit me once…

In the team coach on the way to the grounds, goalkeeper Shankar Laxman, as always, had led the singing of our rousing signature tune. This was the patriotic song Vatan ki raha me watan ke naujawan shahid ho, a popular number by Mohammed Rafi, from the film Shaheed. No religious sentiments were involved: the aim was to raise our team-spirit.

The seventy minutes were eventful…..as the final moments neared, how were we to resist our excitement? The match still had some way to go … when would we have the medals around our necks? In those days, there was no official time-keeper sitting on the sidelines. Timings were dictated by the giant clock. Pakistan tried hard to get an equalizer, but found Laxman a solid last line of defence. Finally, the Dutch umpire, Lathouwers blew the long whistle.

The Gold was ours! India were again Olympic champions. The teams:

India : Shankar Laxman; Prithipal Singh and Dharam Singh (jr); Mohinder Lal, Charanjit Singh (captain) and Gurbux Singh; Joginder Singh, VJ. Peter, Harbinder Singh, Haripal Kaushik and Darshan Singh.

Pakistan : Abdul Hamid; Munir Dar and M.H. Atif; Saeed Anwar, Anwar Ahmed Khan and Muhammad Rashid; Khalid Mahmood, Zakauddin, Afzal Manna, Asad Malik and Mutiullah.

The other players in our Tokyo squad were Udham Singh, Bandu Patil, Ali Sayeed, R.A. Christy, Jagjit Singh, Rajinder Singh and Balbir Singh (Punjab). Our coach was Dharam Singh Sr, and the manager Inder Mohan Mahajan.



Excerpts from 'Golden Day' by Gurbux Singh.

Stick2Hockey.com


---

Scotland and Ireland men battle out entertaining draw at Titwood

It ended honours even at Titwood as Scotland and Ireland battled out a 1-1 draw in the first of three uncapped test matches. Rob Harwood equalised for Scotland in the final quarter and the two will meet again on Saturday at 4pm.

There was searing sunshine as the match got underway, but the heat didn't stifle the action. The opening quarter was a very even affair but the better opportunities fell to Ireland. Three early penalty corners were awarded to Ireland but it all three efforts were well defended.

Then a penalty stroke was awarded to the Irish and it was buried into the roof of the net by Luke Madeley, despite a great attempt to Tommy Alexander, to make it 1-0.

Michael Bremner surged down the right in retaliation but his pass fizzed across goal and Andy McConnell couldn't deflect it goal ward as the Scots put the Irish under pressure.

Scotland began to probe the Irish defence in the second quarter. Cammy Golden came close with low shot on the reverse, but it was booted clear by Jamie Carr in goal for Ireland. Then Struan Walker's deflected effort evaded the near post.

The Blue Sticks came close again with a penalty corner towards the end of the half but the effort went wide of the left post to keep the score 1-0 at half time.

Scotland stepped up the tempo after half time and McConnell was first to be denied when his shot was blocked from the top of the D.

Then Dan Coultas had a penalty corner saved low to the left. Walker was then denied when he unleashed a reverse shot to the top corner but the keeper read it well and batted the ball clear.

In the final quarter Scotland got their deserved goal. Rob Harwood equalised after some lovely build-up that ended with Lee Morton firing the ball across goal for a Harwood tap-in. 1-1.

David Forrester was called into action in the Scotland goal after a swift counter attack from the Irish, the Scotland keeper got down well to his right to stop a low effort.

Coultas was denied twice with late penalty corner attempts as the Scots went hunting for a winner. The winner wouldn't come and the match ended in a draw, which was a fair result.

Scottish Hockey Union media release