All the news for Tuesday 27 April 2021

Hockey captain Rani Rampal, Savita among seven to test positive for COVID-19

The Indian hockey team was tested on April 24 after the players returned from their hometowns to the SAI Centre in Bengaluru.

By Naveen Peter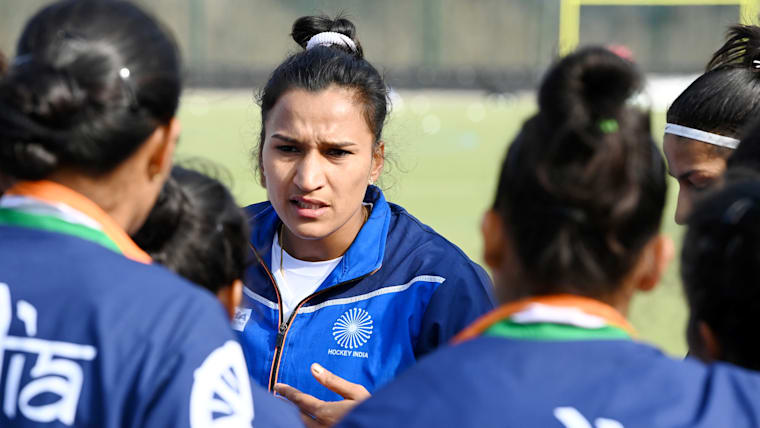 Image: Hockey India

Seven members of the Indian hockey women's team, including captain Rani Rampal, and two support staff have tested positive for COVID-19, the Sports Authority of India (SAI) said on Monday.

The players to return a positive COVID-19 test include veteran goalkeeper Savita Punia, Sharmila Devi, Rajani, Navjot Kaur, Navneet Kaur and Sushila Chanu. Video analyst Amrutaprakash and scientific advisor Wayne Lombard too have tested positive for the novel coronavirus.

"They were tested on April 24, post quarantine after their return from their respective hometowns to their training base at SAI Bengaluru, as per the laid down protocol," the SAI said.

All the players and support staff are asymptomatic, and have been isolated and kept under observation at the SAI centre.

Bengaluru is one of the hotspots for the dreaded virus and the Karnataka state government has announced a two-week lockdown, starting Tuesday.

India have over 28 lakh active COVID-19 cases as on Monday with over 1.9 lakh reported deaths as per the ministry of health and family welfare.

The pandemic hasn't spared the Indian sporting fraternity with stars like wrestler Vinesh Phogat and shuttle ace Saina Nehwal coming down with the virus over the past year.

As many as six members of the Indian hockey men's team, including their captain Manpreet Singh, too tested positive for COVID-19 last year.

Olympic Channel


---

Indian women's hockey captain Rani Rampal, six other players test positive for COVID-19

The Indian women's hockey core group had returned to the national camp in Bengaluru on Sunday last to restart the preparations for the Tokyo Olympics after a 10-day break.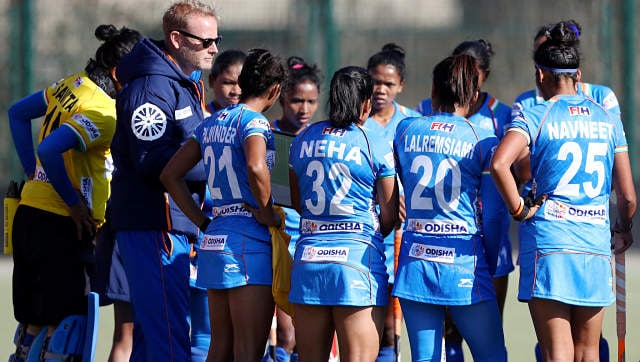 File image of the Indian women's hockey team during a practice match against Germany. Image courtesy: Hockey India via WORLDSPORTPICS/ GINO VAN OUTHEUSDEN

New Delhi: Seven members of the Indian women's hockey team, including captain Rani Rampal, and two support staff members on Monday tested positive for COVID-19 ahead of a training camp at the Sports Authority of India's (SAI) Centre in Bengaluru.

All the players and support staff are asymptomatic and have been placed under observation at the SAI centre.

"They were tested on 24 April, post quarantine after their return from their respective home towns to their training base at SAI Bengaluru, as per the laid down protocol," the SAI said in a statement.

Besides Rampal, the others who have been infected are Savita Punia, Sharmila Devi, Rajani, Navjot Kaur, Navneet Kaur and Sushila.

The two support staff members who have tested positive are video analyst Amrutaprakash and scientific advisor Wayne Lombard.

The Indian women's hockey core group had returned to the national camp in Bengaluru on Sunday last to restart the preparations for the Tokyo Olympics after a 10-day break.

The 25-member Olympic core group underwent mandatory quarantine before the commencement of training.

In January, the team toured Argentina where it played seven matches.

The side drew two matches against the host country's junior team, lost the next two against Argentina B side and then suffered defeats in the two games against world number two senior team.

In the tour of Germany in February-March, the Indian women's team lost all its four matches against the world number three home side.

Firstpost


---

Argentina and USA resume FIH Pro League action

Sarah Juggins



Pedro Ibarra (ARG). (Photo: Yan Huckendubler)

As the FIH Hockey Pro League makes a gradual return to action, albeit with several postponed matches creating some holes in the schedule, we take a look at how men's and women's team of Argentina and the USA women's team are using the international competition to get their respective programs back on track.

For Argentina, the FIH Pro League provides the top competition needed for their Olympic preparations, while the USA are targeting the next Hockey World Cup.

The excitement ahead of Argentina's FIH Pro League matches against Germany was palpable. It had been a year since either the men's or women's team had played an international competitive match and, with the re-scheduled 2020 Tokyo Olympic Games looming on the horizon, both teams were anxious for a return to play.

Argentina men's captain, Pedro Ibarra summed it up: "We are happy and excited that we are playing again. We stopped playing international hockey for 14 months, and that is a lot for an international player. So we have a lot of pent-up energy to play these two matches against Germany."

However, he also recognized that Germany would possibly have the edge in the early stages of the first match because they had played the Netherlands in a high tempo encounter just two weeks previously.

"I think we will need some minutes to get up to speed and get used to international hockey," said Ibarra, "But we can't change that. It is what it is. But we will work hard to get into the right place, both for the Pro League and for our Tokyo preparations."

Equally ready for the challenge was Victoria Sauze. The midfield player recognized Germany's strengths as a tough team physically and mentally, but said that Las Leonas had enjoyed a very positive and meaningful test match series against India earlier in the month. This, she said, had been a good preparation for the return to action.

Unfortunately, for both the men's and women's teams, Germany proved a very strong opposition. Argentina's women fared better. They drew their first match and then won the shoot-out 3-2. However, the second game saw Germany find another gear and the European team won by a convincing 3-1 scoreline.

In the men's games, Germany won on both occasions. The first match was an absorbing 3-2 win to Germany, with Argentina unable to contain the goal-scoring brilliance of Constantin Staib in the final minutes of the game.

The next day, Los Leones lined up against a German team that was buzzing after the previous day's triumph. Goals from Staib, Christopher Ruhr and Martin Wicker left Argentina reeling and with little in the way of answers. Coach Carlos Retegui was not trying to hide his emotions as he watched his players struggle to find any patterns of play in the face of Germany's discipline. However, both sides saw cards in a match that veered from being intensely competitive towards downright angry. Six yellow cards were shown, with Argentina receiving four of them.

A visit from India was the chance that Argentina men needed in order to recover their equilibrium. Ahead of the matches assistant coach Mariano Ronconi spoke of his team's need to "keep a clear head" and see the matches against Germany as a good learning opportunity.

"The results against Germany were not a big surprise. We found everything that we knew was going to happen: we lacked connections between players, we lacked playing as a team and it is normal because it's been about 13 months that we haven't played. There is no way to train for this, this is a reality. The only way to train is by playing so we will keep on playing as much as we can if the pandemic allows."

For their opponents, the preceding months had not been easy. The Covid pandemic had struck down a number of players in the squad, including captain Manpreet Singh. Several coaching staff had left their posts and match opportunities, as with every nation, had been limited. However, India had benefited from a recent trip to Europe where they had played some invaluable matches against Great Britain and Germany.

The resilience of the India team showed in the opening match when India managed to carve out a 2-2 draw after Argentina had held a 2-1 lead for the majority of the match. The visiting side went on to win the shoot-out 3-2.

In a mirror of the preceding weekend's results, Argentina seemed unable to bounce back from the result and India won by a 3-0 scoreline as their creative midfield and forward lines caused havoc among the Argentina defence.

For both the men's and women's teams, the next challenge will take place on European soil as the men and women of Argentina face the national teams of Belgium.

The other PAHF team that is currently preparing for FIH Pro League action is the USA women's team. With a new coach in place in the form of Anthony Farry – formerly head coach to Japan women – the squad has been trying to find ways to stay focused and ready for action in the face of pandemic restrictions. The last time the USA played a Pro League match was in February 2020, when they lost to New Zealand. With fixtures in Europe against Belgium and Great Britain in May, the new look team with a new coach at the helm has been preparing for a return to international action.

Lauren Moyer, who is a mainstay of the USA midfield spoke of the positive attitude that Farry was engendering within the team, despite being stuck in his homeland of Australia for much of the past year. With only five Pro League matches played and all of them losses, the squad is in need of some Farry-positivity.

Moyer says the past few months of lockdown have offered a chance for some deep levels of reflection. A heart-breaking loss to India in the 2019 Olympic Qualifiers, when the team so nearly turned around a huge goal deficit only to see the Olympic spot slip from their grasp in the final minutes of the game was hard to bear. Moyer, who speaks candidly about the experience says: "The lows from 2019 lasted a long time and during lockdown we had a lot of time to think about things. Some people decided 'you know what, I've reached my potential here'.

"Those of us who have stayed on want to explore where we can take this new team. We could dwell on what has happened but, no, we need to focus on now and the future.

"It is exciting to see new faces in the program, as hard as it was to see some people leave. But we are refreshed, we want to gain experience and there are a lot of learning opportunities, so we are on an exciting journey.

"Now, on the horizon we finally have a 'match'. We are going to be in a very different position to many of the other teams who are prepping for the Olympics because we are building and growing for the World Cup. It is important to get these matches in and see where we are at. We will be trying new ideas and using the Pro League as a springboard.

And the new coach's initial interactions have received a big 'thumbs up' from Moyer. "Anthony's ability to bring things from other programs is huge. And I like his approach to coaching. He has a great rapport with Greg Drake [assistant coach] and they play off each other in a very unique way. Right now, it is all about building trust. And they are making that easy to do because they have outlined a plan and that sets really clear expectations of the group. It is a work in progress but it began on Day One. They set high standards and it is so refreshing to be back in an environment where the standards and high and the future is bright."

Pan American Hockey Federation media release


---

Olympic Capital to welcome first ever senior World Hockey5s event organised by FIH




Lausanne, Switzerland: The International Hockey Federation (FIH) is delighted to announce that it will organise its first ever senior World Hockey5s event on 11 and 12 September 2021, in Lausanne, Switzerland. It will offer an exciting mix of intense competition, music entertainment and additional activities, such as initiations or demonstrations, to showcase hockey and engage further with the public. Access to 'FIH Hockey5s Lausanne 2021' will be free of charge and the event will be broadcasted live across the world on the Watch.Hockey platform.

Five male and five female national teams, including some of the powerhouses of international hockey, will compete:

Switzerland, England, Germany, India, Malaysia (Men)

Switzerland, England, Germany, India, South Africa (Women)

Hockey5s is played with 5 athletes per team. It is particularly known for its non-stop end to end action, since the ball is in play for about 90% of a match, thanks to rebound-boards placed against the outside of the side-lines and back-lines. Furthermore, there are usually more goals with Hockey5s than with the more traditional 11-a-side format of hockey, since players can score from anywhere after the attacking line. Also, Hockey5s is played on a smaller pitch, which enables to bring hockey to people in new and unexpected venues, sometimes even at the heart of the cities.

Precisely, FIH Hockey5s Lausanne 2021 will be staged on the Place de la Navigation, an iconic location near the Lac Léman bordering the Olympic Capital.

Played in about 70 countries in the world, Hockey5s was the most attended sport at the 2018 Youth Olympic Games, in Buenos Aires, Argentina, with no less than 200'000 spectators!

In 2019, in order to further boost the development of hockey globally through Hockey5s, the FIH Executive Board decided to create an FIH Hockey5s World Cup - with the inaugural edition planned in 2023 - and, in the near future, a Hockey5s World Tour, which will consist of events similar to Lausanne's.

Commenting on FIH Hockey5s Lausanne 2021, FIH CEO Thierry Weil stated: "Hockey5s is a great format to promote our sport and especially introduce it to sports fans not yet familiar with hockey. I invite everyone to come to this world event and enjoy the speed, skills and fun of our game!"

In an exclusive interview to FIH, Swiss Women's national team player Sae Fontana said she's "really excited about playing some of the best teams of the world!As early adopters of Hockey5s, we want to gain a competitive advantage, to get better rapidly, as a small country. Hockey5s is definitely a faster game, which makes it very intense as a player. Also, there are many more possibilities to score a goal, to get creative. The individual skills of each player are quite important, and there is more ball contact for each player since there are less players on the field of play."



Photo Credit: Swiss Hockey Federation

Reflecting on Hockey5s, South African coach Tsoanelo Pholo said in an exclusive interview to FIH: "Hockey5s [is] an initiator into hockey, a developer into the full field version. If you have a Hockey5s court in three or four places in the country, I'm telling you now, we are going to have way more hockey players in developing countries. That is a dream of the FIH, to ensure that we touch as many lives as we can with hockey. Because hockey has given me and so many others so much, I would love to see that opportunity be given to many other people, especially youth. I think it is going to grow massively in the smaller countries. I think that is exactly what Hockey5s is about."

FIH site


---

Den Bosch and Amsterdam go down to the wire in women's Hoofdklasse




The women's Hoofdklasse regular season will go down to the final day after Den Bosch landed two wins from two to draw level with AH&BC Amsterdam at the top on 55 points.

Crucially, they beat third placed SCHC on Saturday 3-2 to move level and they then backed that up with a 7-1 success over struggling HGC.

Pleun van der Plas's lovely piece of dexterity saw her volley in the first goal but a sharp Pien Dicke strike equalised for 1-1 at half-time.

Frédérique Matla restored the lead and Ireen van den Assem extended the advantage out to 3-1 and while Ginella Zerbo got one back, Den Bosch had the all important result.

A day later, Matla added a hat trick in their 7-1 win over HGC to bring her season's total in the Hoofdklasse to 22 goals with Joosje Burg, Lidewij Welten – her 150th career strike – Teuntje de Wit and van den Assem all scoring.

Amsterdam, for their part, got the better of neighbours Hurley 1-0 courtesy of Marijn Veen's single goal in the 33rd minute.

The upshot was Den Bosch moved level with Amsterdam on points with one game to go each. Amsterdam face fourth-placed hdm while the Brabant outfit are up against bottom-placed Laren.

In the men's Hoofdklasse, the last remaining issue is the destination of the fourth playoff place. Den Bosch are in pole position following their 4-1 success, coming from a goal down to beat HC Tilburg with two goals from Austin Smith and one each from Koen Bijen and Noud Schoenaker.

They stay two points ahead of Pinoké who won against already relegated Almere 10-0.

Den Bosch's final challenge is a battle with 11th placed Hurley; Pinoké hope they slip up there and then they can do their side of the deal with a home win against Tilburg.

Bloemendaal are already confirmed in first, SV Kampong in second with HC Rotterdam confirmed in a playoff spot.

Euro Hockey League media release


---

Dragons and Ducks have the edge going into Belgian men's semi-final second legs




KHC Dragons and Waterloo Ducks have the edge after the first leg of their respective Belgian men's semi-finals, getting the better of Orée and Royal Léopold on Sunday.

For Dragons, a brilliant late double from Nicolas Della Torre saw them spring a 3-2 win over Orée as he netted twice in the last four minutes to turn things around.

It was a game, though, while will be remembered more for a nasty head injury to Manu Stockbroekx which required a 40-minute break in play.

Thankfully, he was conscious to be able to post on Instagram from hospital, saying he was suffering from internal bleeding and concussion as well as requiring five stitches in his lip. It will require two days in rest and potential surgery for the internal bleeding.

Before his injury, Lucas Martinez had given Dragons a 1-0 lead while Tomi Domene swapped the lead after Stockbroekx's departure to make it 2-1 to Orée.

The WatDucks won by the same 3-2 scoreline over Léo thanks to Jeremy Wilbers' late goal.

Léo did take a sixth minute lead via Arthur Verdussen while Max Plennevaux hit the crossbar. Waterloo equalised through Whillian Ghislain (pictured) in the second half and went in front from Victor Charlet's corner.

Tom Boon levelled with five minutes to go but Wilbers got the winner with 94 seconds left to continue the Ducks unbeaten run into a 15th game.

The decisive second legs will take place next weekend.

Euro Hockey League media release


---

l'Orée need to fight back to slay the Dragons




The people of Brussels bowed down at the very end of the game against the Dragons. But everything remains possible for l'Orée during the semi-final return to Brasschaat. However, to dream of the title, it will be necessary to show more character and aggressiveness.


---

Emmanuel Stockbroekx suffers nasty concussion injury




Belgium Red Lion Emmanuel Stockbroekx suffered internal bleeding and concussion after a nasty clash of heads during the national hockey league play-offs.

The incident occured when L'Orée's Stockbroekx went into a three-way tackle with Max Lootens of KHC Dragons. The clash can be viewed here.

The 27-year-old, who joined Orée from Dragons, this season lay motionless for around a minute before medical staff were able to administer concussion protocols.




The game was then held up for over 30 minutes as Stockbroekx was stretchered off and taken to hospital where he also received five stitches to his lip.

Stockbroekx gave a positive update from his hospital bed where he revealed that he could require surgery for the bleeding.

When play resumed Dragons came from 2-1 down to seal a 3-2 win late on. Waterloo Ducks beat Royal Léopold by the same scoreline in their first-leg match.




In Spain, Atlètic Terrassa topped the men's regular season table to secure a place in Europe next season.

A 5-1 win over CD Terrassa kept them clear of Club de Campo, adding to their EHL Men's silver medal.

The top four in the Spanish women's top flight has already been realised. Club de Campo notched their 21st win from 22 leaguue thanks to a 4-3 win over Madrid rivals SPV Complutense.

In Holland, the women's Hoofdklasse will go down to the wire with Den Bosch – who secured two wins over the weekend – and AH&BC Amsterdam level on points at the top, with SCHC and hdm in third and fourth.

On the men's side Bloemendaal are already confirmed as table toppers, SV Kampong in second with HC Rotterdam securing third in the play-offs.  Den Bosch are favourites to land the fourth spot.

SIGN UP for The Hockey Paper's returning newsletter: Promotions, exclusives and our best coverage

The Hockey Paper


---

Stockbroekx hospitalised in playoff semi-final




In the playoff semi-final between l'Orée and Dragons, Manu Stockbroekx and Max Lootens collided with incredible violence at the start of the first period. The defender of the Orée remained on the ground, his mouth bleeding, completely still. Supported and helped by John-John Dohmen, his roommate with the Red Lions, the Antwerp resident was finally evacuated on a stretcher and into a waiting ambulance to rush him to hospital. It was lying from his hospital bed that the international gave us his news at the end of the afternoon after having passed several additional examinations.


---

Atlètic Terrassa hold off Campo to win Spanish men's regular season




Atlètic Terrassa topped the men's regular season table in Spain to land a place in Europe next season as they continued their super 2020/21 season.

Their 5-1 success against neighbours CD Terrassa kept them clear of the challenge of Club de Campo and added a trophy to back up their EHL Men's silver medal.

Xero Gasol's side built a 3-0 lead with Joan Tarrés getting two before half-time and Albert Beltrán getting the other. Enric Miralles replied but further strikes form Sam Cortés and Pau Cunill completed the win.

The result ensures they will play fourth placed Real Club de Polo at the Can Salas next weekend with the final on Sunday.

Polo finished the regular season seven points off top spot with a 2-1 win over Junior FC with Marc Miralles scoring his 28th goal of the season.

The other semi-final sees Club de Campo face Club Egara. The former ran up an 11-3 win over Línia 22 but it proved in vain as they ended one point behind Atlètic Terrassa in the final table.

Egara were third, six points off the pace. They beat FC Barcelona 5-1 in their final game.

In the women's competition, the top four had already been decided with no movement in the top four possible.

As such, Club de Campo completed their season with a 21st win out of 22 league outings when Begoña Garcia's hat trick earned them a 4-3 win over Madrid rivals SPV Complutense.

Campo face Real Club de Polo – 3-2 losers to UD Taburiente on the final day of the season.

Junior FC won 2-1 against CD Terrassa to take some form into their semi-final against Complutense.

Euro Hockey League media release


---

TigerTurf locks on for Hockey One League




Ahead of Season 2, the Sultana Bran Hockey One League has secured a partnership with highly respected turf supplier TigerTurf.

Having recently recommitted as the Official Turf Supplier of Hockey Australia for four years, TigerTurf has added the Sultana Bran Hockey One League to its suite for the same timeframe.

"Our goal is to forge strong partnerships with highly regarded and reputable brands who are leaders in their industry, and TigerTurf certainly fits the bill," said Sultana Bran Hockey One League General Manager, Tony Dodemaide.

"It is terrific they see value and benefit in being associated with the Hockey One League.

"The league is Australia's premier hockey competition and prides itself on being exciting, bold and featuring the best players in the country, so it is great to have TigerTurf on board and their 'passion for performance' certainly aligns with what Hockey One is about."

One of the world's largest synthetic turf manufacturers, TigerTurf has been instrumental in developing products and systems that result in top performing surfaces.

TigerTurf manufactures and installs high quality synthetic turf products and systems for a range of sports, leisure and landscape applications.

"Tiger Turf is very excited to be extending its partnership with Hockey Australia to include the Hockey One League," said Nick Kerr, TigerTurf Australia National Sales & Marketing Manager.

"The Hockey One League was a great success in its inaugural year and TigerTurf saw it as an opportunity to extend our relationships to include the state based hockey associations as well as continuing our support of hockey within Australia."

For more information about TigerTurf visit tigerturf.com

Sultana Bran Hockey One League Media release


---

Masters hockey won't dwindle after pandemic



Masters players at the Guildford tournament PIC: Jordon Robson

Most people will agree, the year 2020 was a wash-out on so many levels. For us 'Grand Masters' (herewith defined as mens and ladies' teams over 60 years) they will to continue playing has never dwindled, writes Nick Cane

Indeed, it appears age is definitely just a number for the world of ageing hockey players, who just do not 'give up'. Ipso facto, their numbers are swelling.

At least we did see some hockey over the last year. Having suffered a summer of lockdown and restricted access on the astros, mid-August saw a sudden and most welcomed change; enabling teams to complete against each other, albeit with some restrictions to navigate.

Two player/organisers, Nick Cane of Welsh Dragons and John Ingram-Marriott of Handbags HC (who have played against each other on an international platform and who first met at the World Cup in Barcelona) resolved to start making things right for all that pent up hockey energy needing to be spent.



Vets tournament at Guildford Hockey Club PIC:  Jordon Robson

They organised not one, but two full weekends of hockey last August at a Festival of Hockey, hosted by Handbags HC from Guildford HC.

Women's teams were invited, but other factors prevented their attendance, and the net was cast a little wider to include some 50 years + players.

Indeed, this gave rise to the birth of the 'Apprentice Dragons' (50-59 years) from Wales Hoci, who fielded one of the 18 teams in total that took part over the two weekends. Hit 60 in Welsh hockey and you automatically become a 'Dragon'!

All of this took place within the newly established covid restrictions, watched eagerly by eyes from England Hockeyand by the clever recordings of a licenced drone operator Jordon Robson.




Sadly we soon discovered that all the Masters World Cups had not only been delayed for a year, but now totally cancelled. Money lost by many in travel flights that would not honour 'refunds', but only issue 'vouchers' until December this year.

All is not lost. A Grand Masters Festival of Hockey 2021 is set for any male or female hockey players that can raise a team over 60+ years.

It is early days yet, but intentions are looking at early September, with a suitable location maybe in the South/Mid-South of England being sought.

Further details will appear at facebook.com/vetshockeytouringhub

Any teams interested in attending, should contact This email address is being protected from spambots. You need JavaScript enabled to view it. or This email address is being protected from spambots. You need JavaScript enabled to view it.

SIGN UP for The Hockey Paper's returning newsletter: Promotions, exclusives and our best coverage

The Hockey Paper


---

World hockey challenges industry on waterless turf



Big Stadium Hockey at Twickenham Stoop

World hockey's vision on playing on pitches without the need to water remains a priority despite the pandemic.

In 2018, the FIH challenged the synthetic turf industry to develop surfaces that play the way the sport wants without using watering.

It followed the FIH Congress, where it was confirmed that water-based surfaces will be replaced for the Paris 2024 Olympics, if not earlier.

For the upcoming Tokyo Games, the Polytan pitches will requre two-thirds less water than surfaces used at previous Olympics. By Los Angeles 2028, it is likely that Games organisers will be seeking one of the most sustainable and waste-free Games yet.

Last year, the FIH joined the EMEA Synthetic Turf Council (ESTC) as an associate member, aiming to speed up development of more sustainable and durable surfaces in the sport.

ESTC director general Stefan Diderich told THP: "Recognising water is precious, and it is becoming increasingly scarce in many parts of the world, the FIH announced at their Congress in 2018 that they wished to move from hosting elite level hockey competitions exclusively on wet turf.

"ESTC and its members the industry are investigating to see if they can achieve these objectives. The impact of the pandemic has slowed this work, but the FIH's commitment to amend its regulations to remove the need to water fields, but still retain good hockey performance, creates opportunities for the industry to work with the hockey and create opportunities for the sport to develop and become accessible to all globally."

ESTC say that companies are innovating to develop more sustainable ways of watering fields. Using technology that allows fields to be watered from beneath is now becoming more available and fields using this concept have been built in Europe.

This technology offers the major advantages of allowing water capture and recycling, reducing consumption and ensuring a constant and even distribution of water across the field and throughout a game.




"We have to go away from the water system," FIH chief Thierry Weil said at the 2018 Congress. "We can't be seen to be continually wasting water while maybe next door people have not enough water to drink.

"It's an important decision and it's on us to work with the suppliers to bring a new product.

"We're not talking about getting rid of it but getting a replacement and allowing the players getting the same quality of play we see today and hopefully it will be much cheaper."

Jon Wyatt, FIH's sport and development Director, said that by joining the ESTC, the sport will be able to strengthen its relationships with the companies producing the surfaces that hockey needs.

"It will also help to ensure that FIH is part of the debate as questions around sustainability, maximising opportunities and returns on investment and environmental considerations become ever more important," he said.

SIGN UP for The Hockey Paper's returning newsletter: Promotions, exclusives and our best coverage

The Hockey Paper


---

World hockey to vote on gender-neutral terms



Congress will vote on FIH presidency in May election

The International Hockey Federation (FIH) will decide on approving gender-neutral terms in its statutes at next month's Congress.

While hockey has already seen mixed gender umpiring in the Pro League and women's matches take equal preference at major tournaments on the pitch, the FIH says that using gender-neutral tems off the field is an "important step" for the hockey community.

Congress will decide at its virtual Congress on May 22 whether to use these terms throughout instead of masculine gender terms; for example, changing his/her to their and her/him to them.

More specifically, if the FIH is using a phrase such as "and during the term of his office", it would change to "and during term of office".

Further examples are published in the proposed statute ammendments, released last week by the FIH:




The FIH told THP in a statement: "Whilst hockey really is gender-equal on the field of play – for example, all FIH competitions have the exact same format for Women as for Men – there is still some work to do to achieve the same off the field of play, even though we are on a good way there too.

"Of course, using gender-neutral terms in the FIH Statutes is only one out of a number of measures which need to be taken in order to achieve gender-equality off the field, but it's an important one and sets the tone for the global hockey community."

Back on the pitch, history was made early last year when four umpires combined to provide the first mixed gender umpiring teams at a top tier international fixture in the Pro League.

Mixed umpiring has continued in the Pro League at elite level, as have technical officials appointed to either male or female matches, irrespective of their gender.

Other sports are beginning to use gender neutral paradigm in its lexicon.

Leading cricket portal ESPNCricinfo said recently it would be retiring the word 'batsman' and 'man of the match' and adopting more inclusive terms, replacing with 'batter' and 'player of the match.'

SIGN UP for The Hockey Paper's returning newsletter: Promotions, exclusives and our best coverage

The Hockey Paper


---

Congratulations College Conference Winners!




It has been a unique season for collegiate play, and with that USA Field Hockey wants to highlight the conference champions of each participating conference this spring 2020v2 season.


---

Weekend College Games: NCAA Division I Bracket Breakdown

The 2020 NCAA Division I Field Hockey Tournament field is set! Below is a breakdown of each region's teams, match-ups and more!


---

Tar Heels receive #1 seed in NCAA Tournament

The two-time reigning champions are the top ranked team heading into this year's NCAA Tournament.

By Matt Ferenchick



Photo by Jeff Reinking/NCAA Photos via Getty Images

Like we discussed with soccer last week, field hockey is another sport that has its schedule altered by COVID-19. The typical fall sport will have its NCAA Tournament take part this spring, starting this Friday.

North Carolina have been quite a force in field hockey in recent years, and it should be no surprise that the Tar Heels will be involved in this year's tournament too. After a 16-1 year between fall and spring seasons, UNC received the #1 overall seed.

Coming into this season off the back of two undefeated, national championship winning seasons, the Tar Heels dropped their second game of the year to Louisville on the road. They've responded by winning 15 straight, including two revenge victories over that Louisville team. They won the ACC Tournament in the fall and then beat Wake Forest in double overtime to be the conference's automatic NCAA Tournament qualifier.

Over the course of the season, the Heels have scored more than double the amount of goals they've allowed. They've given up 25 in total all year, which is the same amount UNC have gotten from Erin Matson alone.

With the bracket at 12 teams, UNC will get a bye in the first round. Their opening game will come on May 2nd against the winner of a game between Miami (Ohio) and Stanford. The Cardinal went 10-2, winning the America East championship over Monmouth in double overtime. As for Miami, they went 13-1, with their lone loss coming to the same Louisville team that knocked off the Tar Heels.

Both potential opponents put up some solid records, but did do so against lesser competition. In addition to UNC, the ACC had Louisville get in as the #3 overall seed. Several other ACC teams were ranked and likely would've made it in were it not for the reduced tournament field this year. Stanford and Miami are both ranked, so they're no slouches, but UNC will deservedly be favored.

Based on seeding, their most likely semifinal opponent would be #4 Iowa, while #2 Michigan and #3 Louisville are the top seeds in the other half of the bracket.

One positive for Carolina is that they will have home field advantage throughout the NCAA Tournament. The Tar Heels' area in the bracket is being held at Karen Shelton Stadium, meaning their first game will be held there. In addition, the NCAA had announced that the semifinals and championship game were also to be held at Shelton Stadium. That means, UNC will never have to leave home for however far they advance.

It should also be noted that a national championship this season would be a historic one for the program. A win this year would be the ninth in school history, moving them into a tie with Old Dominion for the most in the sport.

Men's basketball will probably always be the school's most famous program. Women's soccer has been the most historically dominant. However in terms of recent success, it's hard to go against Karen Shelton and field hockey, having won four national championships since 2007. Let's see if they can add another to that tally this year.

Tar Heel Blog


---

Penn State field hockey demonstrates marked improvement throughout .500 season

Kailee Warner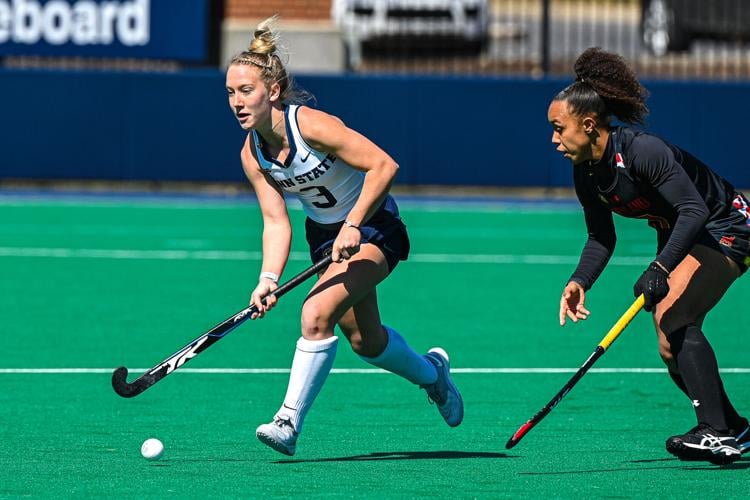 Penn State's Sophia Gladieux (3) during the game with Maryland. Nittany Lion field hockey lost a hard-fought 3-2 game to the visiting Terrapins in the series finale between the two teams on March 14, 2021 at the Penn State Field Hockey complex. Photo/Mark Selders Courtesy of Penn State Athletics

Penn State had a roller coaster season battling its fellow Big Ten squads, but the Nittany Lions made necessary improvements as the year progressed.

The blue and white started its season in Virginia Beach, Virginia, for a tournament with Iowa and Northwestern.

With the season opener ending in a 1-0 loss to the Hawkeyes, Penn State would fall to them once more just two games later.

The Nittany Lions had to fight hard against Northwestern to earn their first win of the season, doing so in shootout fashion. In that contest, senior forward Bree Bednarski scored Penn State's first goal.

The blue and white then played its first true home games of the season against Maryland, earning a series split against the Terrapins.

In the home opener, the blue and white dominated Maryland in a 3-0 victory. Freshman forward Sophia Gladieux scored one of those goals, her first of many throughout the season.

But the second matchup against the Terrapins was a different story.

Penn State didn't play with the same intensity it did in the first game and seemed to sit back the entire first quarter, allowing Maryland to net the first two goals.

The Nittany Lions did end up getting those two goals back, but it wasn't enough as they dropped to a 2-3 mark on the year at that juncture.

The blue and white had a better outcome at Michigan State — even though it had a slow start.

After going scoreless in the first half, it seemed as if Penn State was headed toward another loss due to a lack of offense.

Then there was a spark in the form of Gladieux.

The freshman scored three unassisted goals in a row to finally break the Nittany Lions' scoring drought. Gladieux then added another goal later in the fourth quarter, scoring four out of the blue and white's five goals against the Spartans.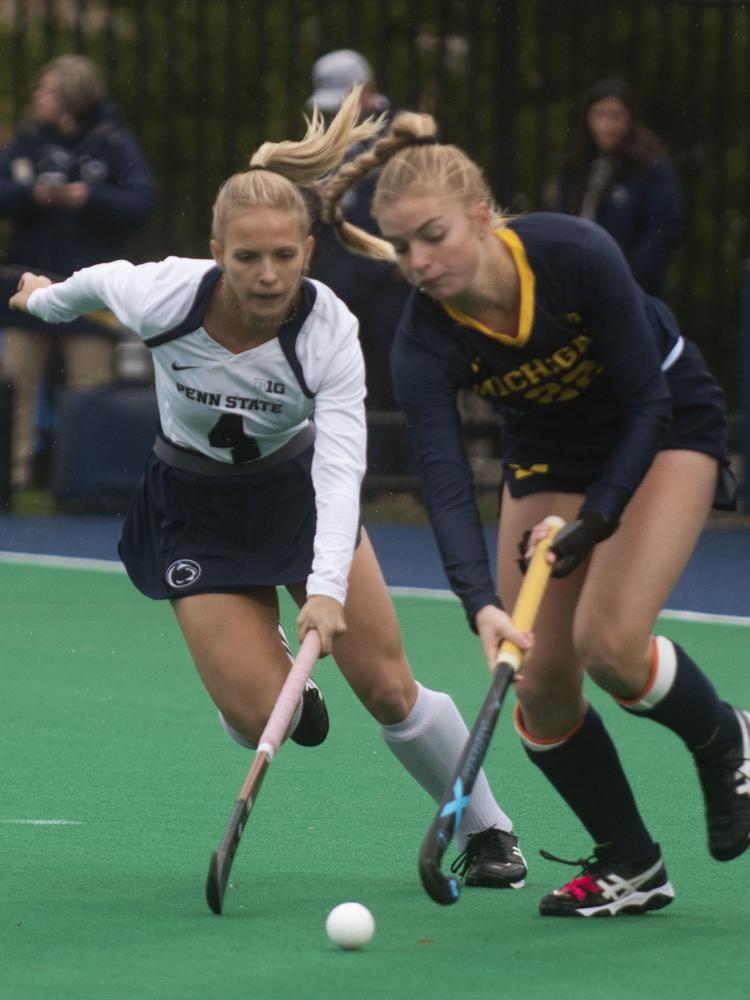 Midfielder Emma Spisak (4) and Michigan back Halle O'Neill (22) reach for the ball during the game against Michigan at the Penn State Field Hockey Complex on Thursday, Nov. 7, 2019. Penn State defeated Michigan 2-1. Samantha Wilson

Penn State would get its first series sweep after winning the second contest against Michigan State 3-0.

Taking one step forward and two steps back, the Nittany Lions lost their next two games against Rutgers by failing to score a single goal.

The blue and white outshot the Scarlet Knights in both games for a combined total of 19-11.

In the time leading up to its encounters with Indiana, Penn State focused on getting more shots off while also preventing those coming from the other team.

It was obvious the hard work paid off after the Nittany Lions earned a shutout in both games, first winning 1-0 and then 3-0.

Gladieux was the only goal-scorer in the first game, even though the blue and white produced 16 shots and 11 corners.

On the defensive side, Penn State only allowed three corners to Indiana while sophomore goalie Brie Barraco had four saves.

The Nittany Lions did even more during their second matchup, getting 21 shots and 13 corners while the Hoosiers only had four shots and two corners.

For its final contests of the season, the blue and white would face Ohio State three consecutive times.

In the first game, Penn State secured a tight 2-1 victory. But between the first and third encounters, the Buckeyes took a 3-2 overtime win.

The Nittany Lions' run ended in the first round of the Big Ten Tournament when they lost 4-3 in overtime to — who else — Ohio State.

As such, Penn State finished its season with a 7-7 mark, which is in many ways an improvement from its 8-12 record in 2019.

The blue and white outscored its opponents 26-20 while scoring an average of 1.86 goals per game.

Penn State put up a fight against Ohio State in the season-ending quarterfinals of the Big T…

Getting more shots off toward the end of the season, the Nittany Lions ended with 172 shots. Ninety-eight of those wound up on target, leaving the blue and white with an on goal shot percentage of .570.

Penn State was also able to collect 88 penalty corners while only giving up 58, as well as earning 68 saves.

Gladieux led the Nittany Lions with 12 goals, 26 points and 60 shots. Bednarski was next with six goals, followed by senior defender Anna Simon with three and seniors Emma Spisak and Madison Hutson with two each.

Sophomore defender Elena Vos tallied one defensive save — the only one on the team by a non-goalie.

Penn State finished out its season No. 2 in the Big Ten and No. 39 in the NCAA. Leading the Big Ten was Michigan, which went on to beat the Buckeyes in the league's championship game.

The Daily Collegian


---

Indian hockey umpire's manager Virendra Singh dies of COVID-19, Hockey India offers condolences

Virendra Singh had officiated in a number of All India tournaments and National Championships and as an umpire's manager, his role included electing the best possible umpires for matches.

New Delhi: Indian hockey umpire's manager Virendra Singh has died of COVID-19 related complications and his demise was mourned by the game's governing body.

Singh was 47. He died in Meerut, Uttar Pradesh on Monday.

Virendra had officiated in a number of All India tournaments and National Championships and as an umpire's manager, his role included electing the best possible umpires for matches.

He had also officiated as Umpire's Manager at the recently concluded 56th All India Veer Singh Ju Dev Memorial tournament and 5th All India Rajmata Vijay Raje Scindhiya women's tournament.

He also officiated at the 4th Edition of Bangalore Cup Invitation All India Hockey Tournament 2019 (Men) Bengaluru, All India Swami Shraddhanand Hockey Tournament 2019 Haridwar, Uttarakhand, among other events.

He also had a full-time job with the Indian Railways.

Mourning his demise, Hockey India president Gyanendro Ningombam said, "We at Hockey India are deeply saddened to learn about the untimely demise of Virendra Singh.

"Apart from taking up numerous officiating assignments, he was actively involved in Hockey India's initiatives for Umpires and Technical Officials.

"His passing away has shocked the officiating community. We share his family's grief in this time of mourning and express our deepest sympathies to Virendra's family."

Last week, renowned hockey statistician and historian Baboolal Goverdhan Joshi had died owing to COVID-19 related complications.

Firstpost