All the news for Monday 22 March 2021

2021 Test matches UGA v KEN (M)
Nairobi (KEN)

18 Mar 2021     KEN v UGA     1 - 1
20 Mar 2021     UGA v KEN     1 - 0
21 Mar 2021     KEN v UGA     0 - 2

2021 Test matches UGA v KEN (W)
Nairobi (KEN)

18 Mar 2021     UGA v KEN     0 - 11       
20 Mar 2021    KEN v UGA     6 - 0
21 Mar 2021     UGA v KEN     0 - 5

FIH Match Centre


---

Mwangi confident as men's team falls to Uganda again

By Agnes Makhandia



National men's hockey team captain Constant Wakhura (right) leads his teammates during their Test match against Uganda at Sikh Union grounds on March 20, 2021. Chris Omollo | Nation Media Group

Kenya women's hockey team coach Jacqueline Mwangi says the wins against Uganda in the international friendlies matches that ended Sunday at the Sikh Union, Nairobi is an indication of better things to come.

Her sentiments came after the women's team wrapped up the three-day test matches with a 5-0 win. Flavia Mutiva, captain Gilly Okumu, Carolyne Guchu, Alice Owiti, and Maureen Okumu scored for Kenya.

Mwangi said the first match where Kenya humiliated their opponents 11-0 on Thursday, before a 6-0 win on Saturday, was as a result of trying a new system.

"Of course people might be wondering why the scores went down in day two and today, but what they don't know is that we were trying a system of building from behind.

And though the results wouldn't have come in immediately, it's something we are building for future and more so the forthcoming under-21 Africa Cup of Nations in Ghana in August," Mwangi said.

Uganda coach Sandra Namusoke said they picked alot of positives from the friendlies.

"We need to work on the endurance. Today was an improved performance as we were able to hold them in the first quarter where they didn't score. This means that with proper preparations we can ruffle a few feathers," said Namusoke.

"In Uganda, we only have four women's teams that feature in the league and therefore there is no competition but we hope that things will be better. I had few players to choose from for this event but ahead of the 2022 Africa Cup of Nations I believe we will have many players to select from," he added.

Both teams failed to score in the first quarter although Kenya were a better side but they couldn't convert the chances.

Guchu then scored a fantastic field goal in the 23rd minute as Uganda chased the game. Uganda would later contain Kenya as they trailed 0-1 at the half break.

In the second half, the pep talk from coach Mwangi seemed to have worked as Kenya returned with gusto and speedy forward Okumu scored another superb field goal to give Kenya a 2-0 lead.

Uganda lost momentum and had unforced errors as Mutiva and Karanja converted penalty corners in the 41st and 46th minutes respectively.

Owiti wrapped up the win with a field goal in the 59th minute. Once again, Kenya men's team succumbed to Uganda 2-0 at the same venue. Brian Bayuule and Alfred Agaba scored for Uganda.

The side coached by Fedhils Kimanzi had gone down to Uganda 1-0 on Saturday having played to a 1-1 draw last Thursday.

Daily Nation


---

Kenya thrash Uganda 5-0 to end AFCON test matches unbeaten

By Washington Onyango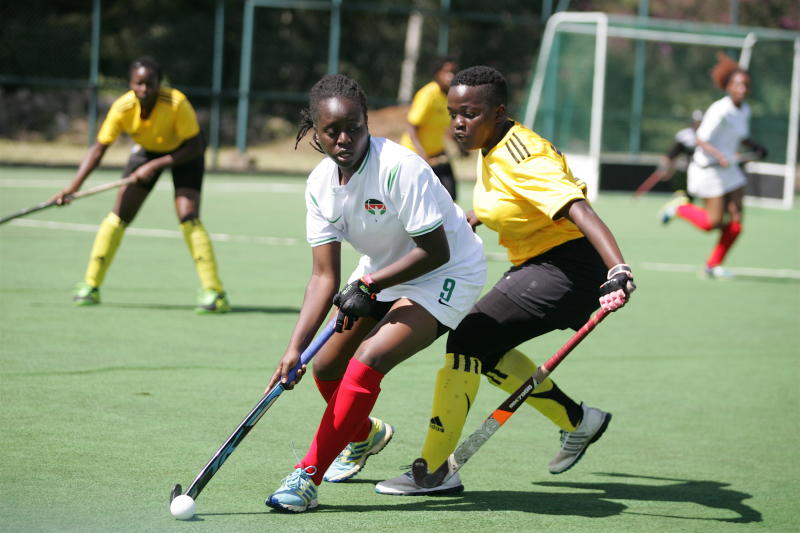 Kenya's Leah Omwandho (left) and Margaret Nassiwa of Uganda in Africa Cup of Nations Test match against Uganda at Sikh Union on Sunday, March 21, 2021. [Jonah Onyango, Standard]

Kenya national women's hockey team on Sunday thumped Uganda 5-0 to finish unbeaten in the Africa Cup of Nation Test matches played at Sikh Union Hockey stadium in Parklands.

Carol Guchu, Gilly Okumu, Flavia Mutiva, Maureen Okumu and Alice Owiti all got into the score sheet as Kenya completed their rout with a massive 22-0 aggregate score.

In the opening match played on Thursday, the Kenyan ladies registered their biggest win of the Afcon test matches after thrashing Uganda 11-0.

On Saturday, Kenya were at it again, seeing off the rival East African neighbours 6-0 before completing the job with another impressive 5-0 score.

Captain Gilly Okumu finished as the top scorer in the four-day event with five goals, same as Flavia Mutiva who also doubles as the top player with the most assists.

Grace Bwire joins them with three goals, all scored during the opening day of the matches as Carol Guchu, Alice Owiti, Maureen Okumu join also with a couple of goals.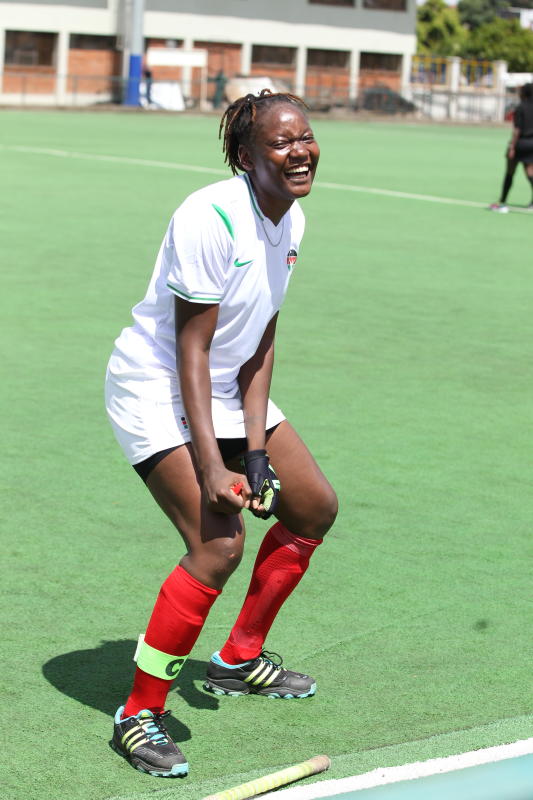 Captain Gilly Okumu at the Sikh Union on Sunday, March 21, 2021. [Jonah Onyango, Standard]

Speaking to the Standard Sports, Kenya captain Gilly Okumu said she was proud of the team's performance which she termed has improved compared to the previous tournaments.

"The team has performed very well considering it's a young one constituting of senior players and players from the junior team. They jelled so well and we're able to be compact as one team bringing each other's strength out and working on the weaknesses."

"The objectives of the team was to work and perfect the structures and improve on our weaknesses that we had on the previous tournaments, including short corners and build-up play," Okumu said.

The test matches replaced the North-Eastern region qualifiers which were originally meant to be graced by six nations

Kenya qualified for the 2022 Africa Cup of Nations Test matches set to be held in Ghana after five teams pulled out.

The Standard Digital


---

How Okumu guided Kenya to victory against Uganda in AFCON test matches

By Washington Onyango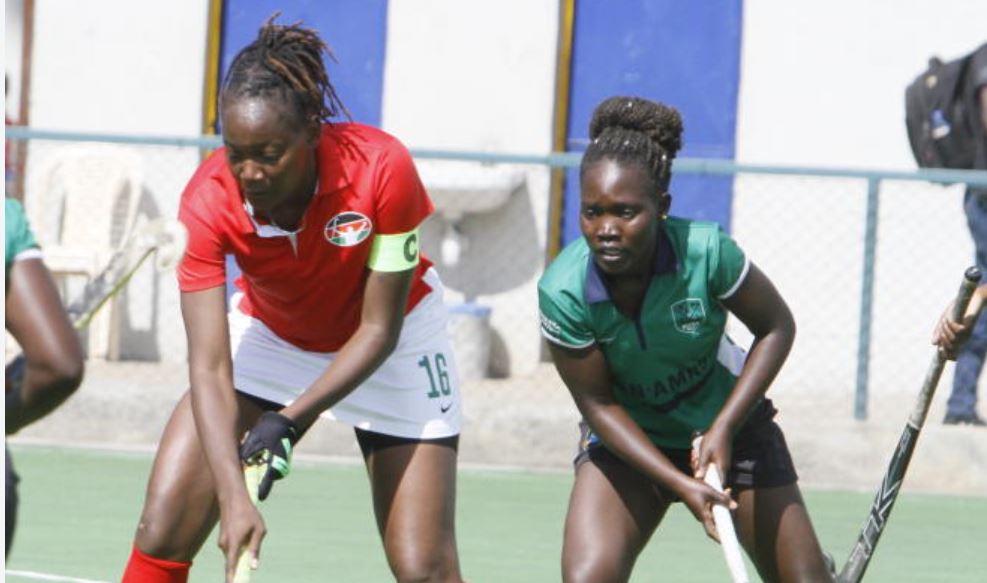 Kenya's captain Gilly Okumu dribbles the ball past Uganda's Faith Achom during an Africa Cup of Nations Test match at Sikh Union, Parklands on March 20, 2021. [Jenipher Wachie, Standard]

To many, Grace Bwire grabbed the headlines last week after netting a hat-trick against Uganda in the opening match of the Africa Cup of Nation test matches at Sikh Union Hockey stadium.

But nobody can despise Kenya's captain Gilly Okumu, who was not only the inspiration that day, but the irresistible force of nature that drove her team and her nation to glory.

Okumu, a physically imposing and combative attacking midfielder, may not have struck the final blow to Uganda, but she was the architect of their downfall.

Okumu was the leader of a talented team that went into Sikh Union stadium after a long lay-off, but emerged victorious.

Without Okumu's tremendous will, guile and sheer force of personality, Kenya would have struggled to edge out their fierce rivals Uganda in the four-day Afcon test matches.

"The team has performed very well considering its a young side constituting of senior players and players from the junior team," said Okumu in a phone interview with  Standard Sports.

"We were compact as one team as we brought each other's strength out and worked on our weaknesses too." Okumu.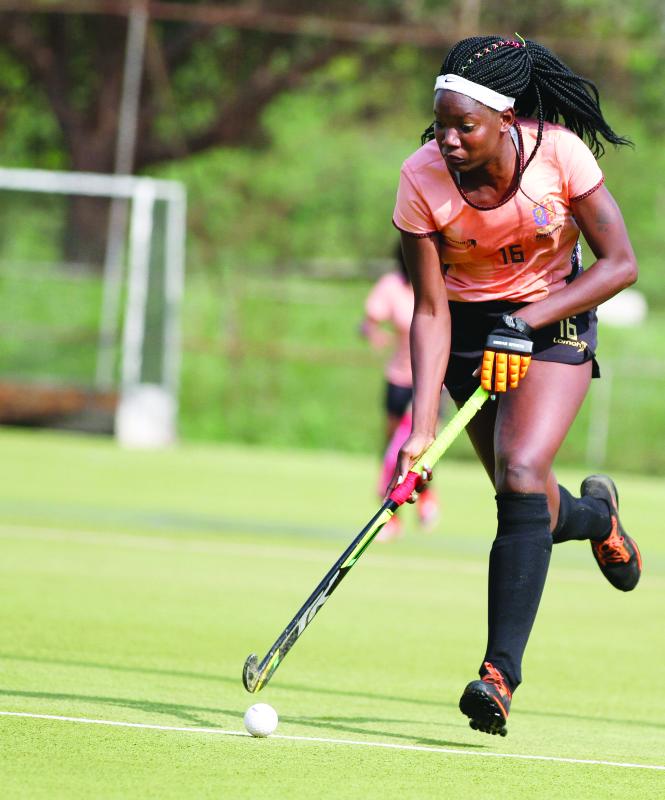 Strathmore University's Gilly Okumu playing against USIU during the Kenya Hockey Premier League match at City Park Stadium on Sunday June 17, 2019. [Jonah Onyango, Standard]

The Kenya national women's hockey team thrashed rivals Uganda 11-0 in the opening test match last week on Thursday before drilling six more goals in the second match with the captain in the middle of almost every play and goals.

"The objectives of the team were to work and perfect the structures and improve on our weaknesses, including short corners and build-up play," said the 25-year-old captain.

Being at the right place at the right time as she scored five goals and three assists in Kenya's haul of 22, Okumu believes she has to lead as a captain so that the younger players can follow her example.

"Personal discipline and remembering that I'm mentoring the junior players drives my hunger for goals and victory in every match I play," she said.

Despite staying out of action for more than one year due to the Covid-19 pandemic, the Strathmore University player said team work, courage and unity has played a big role in her current form.

"Of course, there has to be a difference in how you are dealing with them after a long break since it affected many people negatively. But it's the sport that brought us together and on the pitch, we forget all our problems and issues, focusing on the match at hand," she added.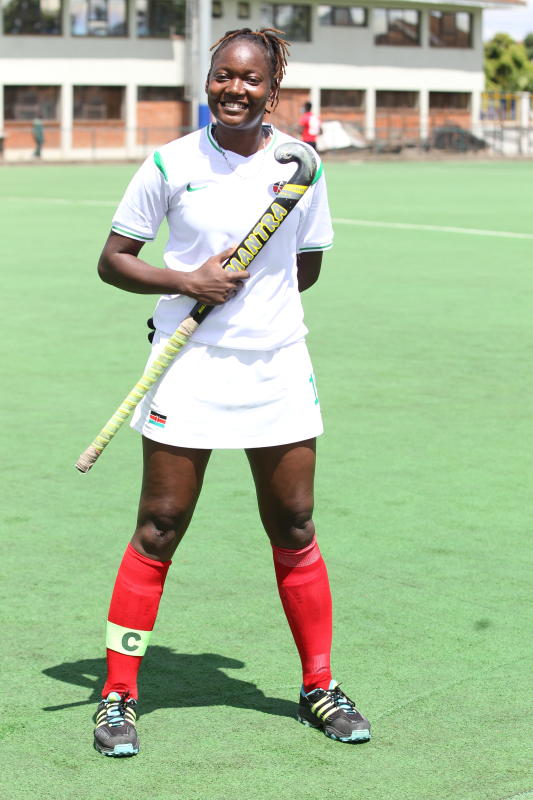 Captain Gilly Okumu [Jonah Onyango, Standard]

Okumu said she is pleased and happy when other people also grow and bring out their best to the team, while congratulating Flavia Mutiva, Grace Bwire and Carol Guchu for stepping up when the team needed goals.

"Everyone has a day when things don't go as planned and that's when you need the team to stand up and be counted. My happiness is to grow together, win together, laugh together because one's achievements leads to the whole teams' victory," she said.

Kenya and Uganda qualified for the 2022 Africa Cup of Nations Test matches to be held in Ghana.

The Standard Digital


---

The FINAL4 check-in: Bloemendaal and Atlèti on form but Léo run halted by Dragons




HC Bloemendaal got back to winning ways with a 2-0 win over HGC, ending a rare blip in form that had seen them earn just one point from their last two matches.

They were made to wait in Wassenaar with both of their goals coming in the closing 13 minutes. Thierry Brinkman finished off from close range to put them in front after Florian Fuchs' brilliant run down the left wing.

And Jorrit Croon made the points safe with a super snap-shot on his backhnad to make it 2-0 with four minutes left.

It saw the club bounce back from last week's 1-0 defeat to Den Bosch and then a midweek draw against Pinoké which allowed SV Kampong get back within five points of the table-toppers.

Speaking about the week gone by, Brinkman said the loss to Den Bosch was "really not good" before adding: "Things went much better against Pinoké, but we didn't win either. We are not used to losing twice in a row!  

"Of course, I don't mean we lost twice but it felt like two defeats. Fortunately we stayed calm because the match against HGC was a good test."

Kampong remain in pursuit with a 4-2 win over Den Bosch with Jip Janssen's double and further goals from Terrance Pieters and Robbert Kemperman putting them out of sight.

Rotterdam are third after a 3-1 success against Hurley while Pinoké fell 5-4 to HC Oranje-Rood to lose ground. They stay in the top four, one point ahead of HGC.

In Belgium, Royal Léopold lost for the first time since the return of the Belgian league for the new year as they struggled in the absence of Tom Boon, Dylan Englebert, Tom Degroote and Tanguy Zimmer.  

They were undone 2-0 by KHC Dragons, opening up a lot of possibilities in their section of the Audi League with Félix Denayer and Lucas Martinez scoring the goals.

With La Gantoise beating Racing 3-1, three teams are now covered by three points with two rounds remaining in this mini-league with two semi-final spots on the line.

" We had a very good first half ," rejoiced Dragons captain Florent van Aubel . "In the third quarter, Léopold did everything to get back into the game but without success. We fought well and we resisted several corners."

For Léo, they now have a break before facing into the EHL FINAL4 against Bloemendaal in two weeks time.

In Spain, Atlètic Terrassa cut loose in the second half against RC Jolaseta with a thumping 7-0 win away from home. Marc Escudé scored twice while there were further goals from Quim Malgosa, Pepe Cunill, Joan Dalmases, Marc Bolto and Pau Cunill.

The win puts thems four points clear at the top of the Honor Division with Club de Campo in second place after 17 rounds of the competition. None of the other sides in the top four were in action this weekend.  

Euro Hockey League media release


---

The FINAL4 check-in: Alster back with a bang as Amsterdam and Campo roll on




Der Club an der Alster made a brilliant return to action in the German Hockeyliga, winning 4-2 away from home over Rot-Weiss Köln, cutting the gap to their rivals to six points.

Rot-Weiss cut the gap via Nike Lorenz just after half-time via a corner but Hanna Valentin's reply was instant, making it 3-1. Another corner from the hosts reduced the deficit once again to a single goal but Gablać settled things in the 41st minute with the killer goal.

For Alster coach Jens George, he was delighted with the final outcome after a rollercoaster ride.

"It was a bit wild at times," he said. "After the first quarter we lost the structure a little. But I also found it good that we were able to respond perfectly after every goal we conceded. In between, however, there was a lack of security, as there were a lot of ball losses on both sides. With a view to the EHL in two weeks, we still have to improve."

The Hamburg club went in front when Hannah Gablać's backhand cross was turned in by Lisa Altenburg in the fourth minute. Carlotta Sippel got the next goal in the 14th minute.  

Alster remain in third place in Group A with six points to make up on the sides above them over the next month.

In the Netherlands, AH&BC Amsterdam overcame the absence of Ilse Kappelle, Fay van der Elst, Freeke Moes, Marijn Veen and Eva de Goede as they got the better of SV Kampong 1-0.

The result came courtesy of Sosha Benninga tip-in goal in the 51st minute and Felice Albers told hockey.nl afterwards it was an important performance given the circumstances.

"You know that in this time it can happen that players are not there," she said. "You have to stay calm. It was very annoying for the team, but I think we handled it well. In the second half, we fought more and scored a nice goal. All in all, we can be satisfied."

It backed up a 3-2 win over Klein Zwitserland in midweek and sees them move back to the top of the table. That is because Den Bosch's Sunday game against SCHC was postponed as a result of a number of positive tests for players in the Bilthoven club's camp.

Club de Campo maintained their six-point lead in Spain with a strong 3-0 win over fourth placed Real Club de Polo. Carmen Cano and Pilar Campoy put them in pole position at half-time and Begoña Garcia closed out their victory.

Junior FC bounced back from last week's defeat to Campo to beat RS Tenis 6-1 but they still need a number of favours in the last five games to have any chance of hitting the top spot again.

Euro Hockey League media release


---

UniKL made to slog against fellow university side

By Jugjet Singh



UniKL player Tengku Ahmad Tajuddin

KUALA LUMPUR: Universiti Kuala Lumpur (UniKL) expected a walk in the park, but Universiti Teknologi Mara (UiTM) put up a brave front before bowing out 3-0 in the Malaysia Hockey League (MHL) today.

The robust match, which even saw a normally cool-headed Tengku Ahmad Tajuddin getting into a fracas, was UniKL's from the start but they kept wasting chances.

Marhan Jalil finally broke the deadlock with a 33rd minute field goal while Razie Rahim's penalty corner in the 44th tamed a battling UiTM.

Tengku Ahmad Tajuddin's field attempt in the 47th settled the score.

The win saw treble holders UniKL top the table on 13 points from five matches.

"Credit to UiTM because they played their best match of the League and were not intimidated by our reputation. They defended well and we could only score after half-time.

"My players were late to check their emotions, and it made it harder to score goals, but when they calmed down, the goals came," said UniKL manager Datuk Amir Azhar Ibrahim.

In another match, just like coach K. Rajan predicted, Terengganu Hockey Team (THT) escaped from the jaws of defeat by playing simple hockey to edge TNB Thunderbolts 3-2.

Thunderbolts took the lead off a Syahril Syafiq goal in the 20th minute, but Noor Firdaus Rosdi (21st) and Arif Syafie Ishak (23rd) made it 2-1 for THT.

Syahir Hasif Harun nailed the equaliser in the 30th minute, but THT's prolific goal-getter Faizal Saari nailed the winner from a 34th minute penalty corner attempt.

Tenaga Nasonal and Maybank shared the spoils in a 1-1 draw, as both sides wasted many golden opportunities to seal the match.

Syamim Naim handed Maybank a 24th minute lead, but Tenaga managed to claw back in the 54th minute off a Faiz Helmi Jali penalty corner set-piece.

RESULTS:

Maybank 1 Tenaga Nasional 1, Terengganu HT 3 TNB Thunderbolts 2, Sabah 2 NurInsafi 1, UniKL 3 UiTM 0.

New Straits Times


---

UniKL Ladies set for early success

By Jugjet Singh



Universiti Kuala Lumpur (UniKL) Ladies are poised to walk off with the women's Malaysia Hockey League (MHL) title today in their debut season, with a match in hand, thanks to their experienced skipper. - Pic Courtesy of UniKL Hockey Facebook

UNIVERSITI Kuala Lumpur (UniKL) Ladies are poised to walk off with the women's Malaysia Hockey League (MHL) title today in their debut season, with a match in hand, thanks to their experienced skipper.

UniKL Ladies will play Sabah today and end their League fixtures tomorrow against Young Tigress.

And the university side should pass both tests, based on current form.

One major factor for UniKL's success in all their three matches so far — they even beat Vivian May Soars Cup winners UniTen 3-0 — was the commanding presence of their pint-sized skipper Nuraini Rashid.

The versatile Nuraini, 31, superbly marshalled her defence with not a single goal conceded. And when it came to penalty corners, she helped herself to four goals.

UniKL Ladies can claim the League title today itself by beating Sabah.

And expect Nuraini to play a pivotal role in a team that have seven national players, including herself.

"As newcomers, we could not have asked for a better start to the league as we have beaten two of the toughest teams (Police Blue Warriors and UniTen) and are just a match away from the League title," said Nuraini.

Sabah are a young side with all but two of their players eligible for the Johor Malaysia Games.

UniKL can expect a gallant fight but experience should prevail in the end.

New Straits Times


---

Route to World Cup for Irish men following FIH amendment



Ireland's men still have a shot at World Cup qualification. Pic: Adrian Boehm

Ireland's men will have a chance to qualify for the 2023 Hockey World Cup in India following an amendment by the International Hockey Federation (FIH) over the process.

In December, head coach Mark Tumilty had labelled the process a "complete and utter shambles" when it looked like his side would be out of the running without even hitting a ball.

Due to Covid-19's impact on the international calendar, the FIH has changed the process a number of times with December's adjustment leading to all seven European tickets on offer set to come via this summer's continental championships.

At the time, it was unclear from the FIH briefing whether this meant teams from the top tier alone.

That would have left Ireland on the outside due to their relegation from the top tier of European hockey in 2019. As such, Hockey Ireland was among numerous national federations to canvas against this and the FIH relented, creating a new European qualifier event.

This competition will feature the bottom three finishers from June's "A division" along with the top five from the "B division" which Ireland take part in August. From this eight team tournament, two tickets to the World Cup will be on offer.

Ireland's men will play in the European B division in the Czech Republic in August.

For Ireland's women, the move is a mixed blessing. Previously, a top six finish in the Europe's top tier would have confirmed a place at 2022's World Cup.  

Now, Ireland have two shots at qualification but it is a more complex equation. Now, only a top three finish in Amsterdam in June will absolutely assure a place at the World Cup but, with Spain and the Netherlands hosting jointly, fifth place could suffice.

Only one ticket to the main event will be on offer from the secondary qualifier which will feature three teams from the "A division" and the top five from the second tier.

Elsewhere, the FIH has ramped up its focus on Hockey5s – a five-a-side variant it runs in addition to 11-a-side and indoor hockey – with the introduction of a first senior world level event in September in Lausanne, Switzerland.

The FIH will run a Hockey5s World Cup in 2023 and this September competition is a forerunner to that while plans are in the pipeline to run a Hockey5s World Tour.

The variant is being viewed by some as potentially the FIH's new option for the Olympic Games where pressure is being put on to reduce the number of participants and the length of the tournament.

**

Europe's qualification process for the FIH Hockey Women's World Cup Spain & Netherlands 2022 and the FIH Odisha Men's Hockey World Cup India 2023 has been amended:

    For the Men, the 7 European participating teams will be determined as follows:

    The top 5 teams from the EuroHockey Championship 2021 will qualify
    2 teams will qualify from the European World Cup Qualifying Tournament 2021 (this event will comprise teams ranked 6-8 in the EuroHockey Championship 2021 and teams ranked 1-5 in the EuroHockey Championship II 2021)
    For the Women, beyond both hosts (Spain and the Netherlands), the 4 other participating teams from Europe will be determined as follows:

    The top 3 teams – not including Spain or the Netherlands – from the EuroHockey Championship 2021 will qualify
    1 team will qualify from the European World Cup Qualifying Tournament 2021 (this event will comprise the 3 lowest ranked teams – not including ESP and NED – in the EuroHockey Championship 2021 as well as the teams ranked 1-5 in the EuroHockey Championship II 2021)

The Hook


---

'They were not being raised': Hockey CEO Matt Favier hits back after 'dysfunctional culture' finding

Christy Doran



World keeper of the year Rachael Lynch was dropped from the Hockeyroos squad, which almost led to a player strike.Source: Getty Images

The Hockeyroos — one of Australian sport's most recognised and successful teams.

But the sport, at least in the women's program, is in crisis less than four months out from the Tokyo Olympics.

Last Thursday, less than 24 hours after head coach Paul Gaudoin stood down, Hockey Australia revealed the key learnings from an independent review into the organisation.

It found there was a "dysfunctional culture" within the women's national program and made 29 recommendations, which HA has since promised to fix.

The review came after the threat of a player strike, which came after years of unrest within the program, claims of bullying and body shaming. It ultimately came to a head following the flabbergasting axings of former captain Georgina Morgan and the current world goalkeeper of the year, Rachael Lynch.

In light of the review's recommendations and calls that Gaudoin has been made the "fall guy", foxsports.com.au interviewed HA CEO Matt Favier.



Hockey Australia CEO Matt Favier has defended the organisation in the wake of an independent review's findings that there was a "dysfunctional culture" within the women's national program.Source: AAP

Broadly, Favier said fractures within the program were exacerbated by Covid and at no point were concerns from the players raised directly with him.

Favier said "trust" needed to be built between the playing group the HA high-performance team and at board level.

Favier chose not to comment on whether he supported HA President, Melanie Woosnam, who flew to Perth late last year in an attempt to resolve tensions within the playing group following Morgan and Lynch's surprising axings.

These are his words.

Question: It was a dramatic week in hockey in this country, broadly has the report been a good thing?

Favier: The report really talks to a significant issue that we have now got to navigate with the women's program. With that in mind, yes absolutely, while it is a really difficult set of circumstances, particularly for the board and myself as a senior manager, and obviously for the players with an Olympic campaign not that far away and selection still pending for that team that ultimately will represent Australia, the fact it is a very difficult time but the review is important because we absolutely want to make sure that the experience every player has in the program is clearly an experience that we are proud to support and we haven't got that right – with that in mind, it is really important for us.

Q: You came on board in the middle of 2017, at what point in time did you hear of issues within the organisation and complaints within the playing group?

A: Some of the issues, not all of them, pre-date my time, but matters that appear to have been within the women's program for a couple of cycles. Now that's not at all to excuse or to dismiss in anyway matters that have emerged over the last couple of years, but there are some matters that have been conflated in this review and suggesting that everything that has been dealt with has only considered over the last three and a half or so years [would be wrong].

There are several things that the review did not find that were present in the previous cycle(s). So for example there was no evidence of bullying between staff and players in the recent period, but there was clearly evidence of that in previous cycles. There were suggestions that body shaming was present in the current cycle – that was not called out by the review panel but is evident in previous cycles. I make that point primarily to be mindful of some matters that were over several cycles.

In terms of from my point of view, there have been periods over the last three years where players have raised matters with the board and through me and the board and myself have responded to address concerns that were raised by players from time to time.

It is clear, however, that those actions, when we have taken action when matters have been raised to us, and I'm thinking particularly back to 2018 around the Commonwealth Games where there was and have been matters that have been raised and we did address and have endeavoured to address [but] it to an extent have not been addressed satisfactory.

There is always tensions in programs to a greater or lesser extent; it's clear though that the actions that we have taken today and over that time were not resolved to the satisfaction of the players.

And I guess my final point was, we cannot underestimate and we do not underestimate the impact that Covid has on this program. At the end of 2019, we, Hockey Australia, were not dealing and had no issues that were brought to our attention by the playing group at that time. Absolutely none. So these matters have emerged much more considerably at the end of 2020, coupled with Covid, a delayed Olympic Games, as well as the non-selection of two players, it's clear that those matters are significant among the review that we have now got to deal with.



Paul Gaudoin resigned as head coach of the Hockeyroos a day before an independent review's findings.Source: Getty Images

Q: There were letters dating back to 2010 expressing concerns at the high-performance program, so much so that one former assistant coach felt the need to write to HA because she didn't think complaints were being heard and addressed. She later resigned.

As you said, some steps were made in 2018 – restructure of coaching side – to solve the problems, but why did it take so long before a review was necessary?

A: I can only answer that by saying at the end of 2019, as we were looking in to what was going to be the Olympic year in 2020, none of these matters were being raised at all to myself or the board, and so we absolutely took action the moment these matters were being raised in public.

But they were not being raised, I can tell you categorically, they were not being raised at the end of 2019.

So the moment they were being raised, we took action, we initiated the inquiry, that inquiry was led completely independent of Hockey Australia, so despite the fact we initiated the work when these claims were being made very, very loudly from external people — former and past players and staff — I believe we acted swiftly to undertake that piece of work. That piece of work was then handed across to be led independently through Sport Australia and we received that report and we will absolutely take action against it.

We can only respond to the information that we have at the time. Now the matters that have been raised at the end of 2019, that includes matters that were raised previously and despite our efforts to address those matters at the time, we can only respond to those issues as and when they come through.

Now we did not have matters raised at the end of 2019, so from our perspective, whilst it is clear that they were not resolved satisfactorily based on the feedback of the review, we have responded to them. But up until the end of 2019, these matters were not being raised in any shape, way, or form.

Q: Melanie Woosnam made comments to The Age in December, where she turned the focus back on the players too. It almost seem like she shifted the focus onto the players. She expressed disappointment that members of the Hockeyroos shouldn't vent frustrations and claims in the media. Yet, as it turns out it's been seen through review there has been a dysfunction, 29 recommendations. Why would the president, as recently as December, seek to defend board but shift some of the blame?

A: I'm not sure that those comments are accurate, but Mel, our president, addressed the playing group. I was not at that meeting, so I can't speak as to what was said and reported to be said, so it's a little bit hard based on the media reports and what was shared in a confidential meeting between players from a meeting with a president. So I think it's really hard to comment on what was said in that playing meeting, but that does appear to be a sentiment from the playing group shared with the media in a confidential meeting has been made.

That's never been the view of the board.

The matters that we are dealing with will require a whole sport response and that includes board, management, coaching staff as well as players to find a way forward.

I have to say, it was incredibly disappointing that the meeting that was held with the players last year in confidence with Mel, the president who we flew across the east coast to speak to the players to have a discussion and within hours information from that meeting was shared with the media.

So clearly we, we, between players and management, trust needs to be restablished and, I guess, that's an example of an area that we absolutely need to work on.

Q: Would this review have taken place with the media not delving and diving into this?

A: Only in so far as if matters are being raised with us, that we can address them.

We absolutely have taken action, we have previously taken action, so the fact that they have been raised externally is somewhat immaterial. We can only respond and deal with things if there is disquiet and disconnect, and we have done that previously and will continue to do that, so it's somewhat immaterial whether it's been raised publicly or not. The fact is they were raised publicly, we did take action, had they been raised directly with us in a sensible way then we would have equally taken action. The fact is they were raised externally and we responded. I don't see that's particularly material.



World keeper of the year Rachael Lynch was dropped from the Hockeyroos squad, which almost led to a player strike.Source: Getty Images

Q: With all due respect, the fact that trust wasn't there with board, high-performance etc, would that not suggest that the reason they went to the media was they weren't able to talk with you all and didn't have the confidence?

A: Again, as based clearly on the recommendations, we have got to have a look at some of those governance processes.

From my perspective, there have been avenues for players.

So for example, to make this very clear, as ceo there has never been a matter raised directly with me — at any time — that there was any level of disquiet in the program. The fact that it went to the media without ever coming through the ceo, ever coming through the ceo, makes it extremely hard for us to be able to respond to these issues.

And as to whether or not the players felt comfortable to do so is something that we need to address. Clearly we need to address. I'm not sure that I am able to respond any further other than to recognise that we have got to do something to address this matter of trust between the organisation and the players. It is something that we acknowledge and we accept is an area that needs to be considered, and we have a role to play as do the players have a role to play.

I'm not sure that we can respond in any other way. It's difficult for us to respond if we don't know what the issues are and they are not being raised, and that is irrespective whether they're being raised through the high performance director or the coaching staff.

We need to look at a better feedback loop – that's clear.

Q: There have been suggestions of prejudice. At least one player, who was selected only in development squads in the recent Olympic cycle, claims that she was told she would not be selected in the national squad regardless of performance. Have there been instances of trying to appease players so to keep them quiet?

A: Well, I rely on our high-performance staff to navigate these decisions. It's very hard for me to comment on the quality of any player that may or may not be picked up in a development squad or a national squad. There are processes around that. Players that may not be selected from time to time obviously have different emotions and feelings about that, so these are difficult circumstance when a player is not picked up in a squad. It's hard for me to determine without the advice of people who are employed to cover those areas as to whether a player is appropriate or not to be selected to a squad, placed in a development squad, or not.

I don't agree with the statement.

It has not been, and I'm not aware, of the practise where we place players out of a national squad into a development squad if we did not think that that player had potential at some future point to be considered for selection for the national squad. It would be with that in mind that I am confident that those decisions are made.

Q: Players waiting for appeal, when are we likely to hear the result bearing in mind the Olympics is rapidly approaching?

A: That is a matter that's at play at the moment. The lawyers representing the two players and the lawyers who are representing Hockey Australia in defence to that appeal have agreed to a timetable. That timetable continues. Exchange of material continues to happen. I am, and we are, hoping that this matter will be resolved quickly but there is still an exchange of material of information being requested by the players' lawyers and so we are responding to that under the agreed schedule. It is absolutely not lost on me the time that's being undertaken, but it's by an agreed process between parties and the difficulty we have here is the time available. We are operating as quickly as possible to resolve these appeals.

Q: There had been players, in last 4-5 years, a number of players that left the program, now in late 20s and senior players, Georgie Parker for instance, was that a concern that so many players were leaving? Did it sound alarm bells?

A: We've had this question posed to us to say that there was high player turnover. We undertook an exercise with the AIS to benchmark our national program against other sports, and our program is in-line with every other team sport. In fact, better than a couple of team sports. When I say better, our player turnover across a cycle is lower than two or three other team sports, it's the same as the Kookaburras.

There are some unique pieces around this time of the year and at the end of every Olympic cycle. It is consistent with a higher turnover in and around those times … but our trend is consistent and in-line with every other team sport.

Q: When did you speak with the AIS to test that?

A: It was throughout the process where the question was asked by the panel and that information was provided to the panel directly by the AIS.

Q: Do you still support Melanie Woosman as president?

A: I don't have a comment to make about that – that's not a matter for me to provide an answer to, I'm afraid.

Doran: Thank you very much for speaking with me this afternoon.

Favier: Thanks a lot.

Fox Sports


---

Birmingham 2022 releases Commonwealth Games mascot




The 2022 Commonwealth Games mascot has been revealed as a bull adorned with a patchwork of multi-coloured hexagons.

Named as Perry – after the Perry Barr area in Birmingham – the 2022 mascot becomes the first at any multi-sport Games who will be brought to life through augmented reality.

It will give fans the opportunity to #PoseWithPerry using their mobile phone camera, and via a special filter on Facebook and Instagram.

Perry is inspired by the design of ten-year-old Emma Lou, the winner of a national design competition that took place last summer.

The competition tasked children aged 5-15 with creating a mascot that reflects the identity, heritage and culture of Birmingham and the West Midlands.



Manchester 2002 mascot Kit the Kat plays hockey

The animal has been synonymous with Birmingham for centuries.

The city has had a market area known as the Bull Ring since the 16th century while the site is close to the current Bullring shopping centre.

Denise Lewis, Commonwealth Games England president, said: "Perry represents the heritage of Birmingham and the West Midlands, as well as what the modern region stands for.

"Perry is right up there with the fantastic mascots I've seen during my athletics career, and I can't wait to see him entertaining the crowds during the Games next year!"

Perry follows Clyde from Glasgow 2014 as the last mascot to feature at a Commonwealth Games held in the UK.

To find out more about Perry, head to www.birmingham2022.com/mascot – including how to #PoseWithPerry using augmented reality on a mobile phone.

SIGN UP for The Hockey Paper's returning newsletter: Promotions, exclusives and our best coverage

The Hockey Paper


---

Maryland field hockey gets past Indiana, 3-1

Shane Connuck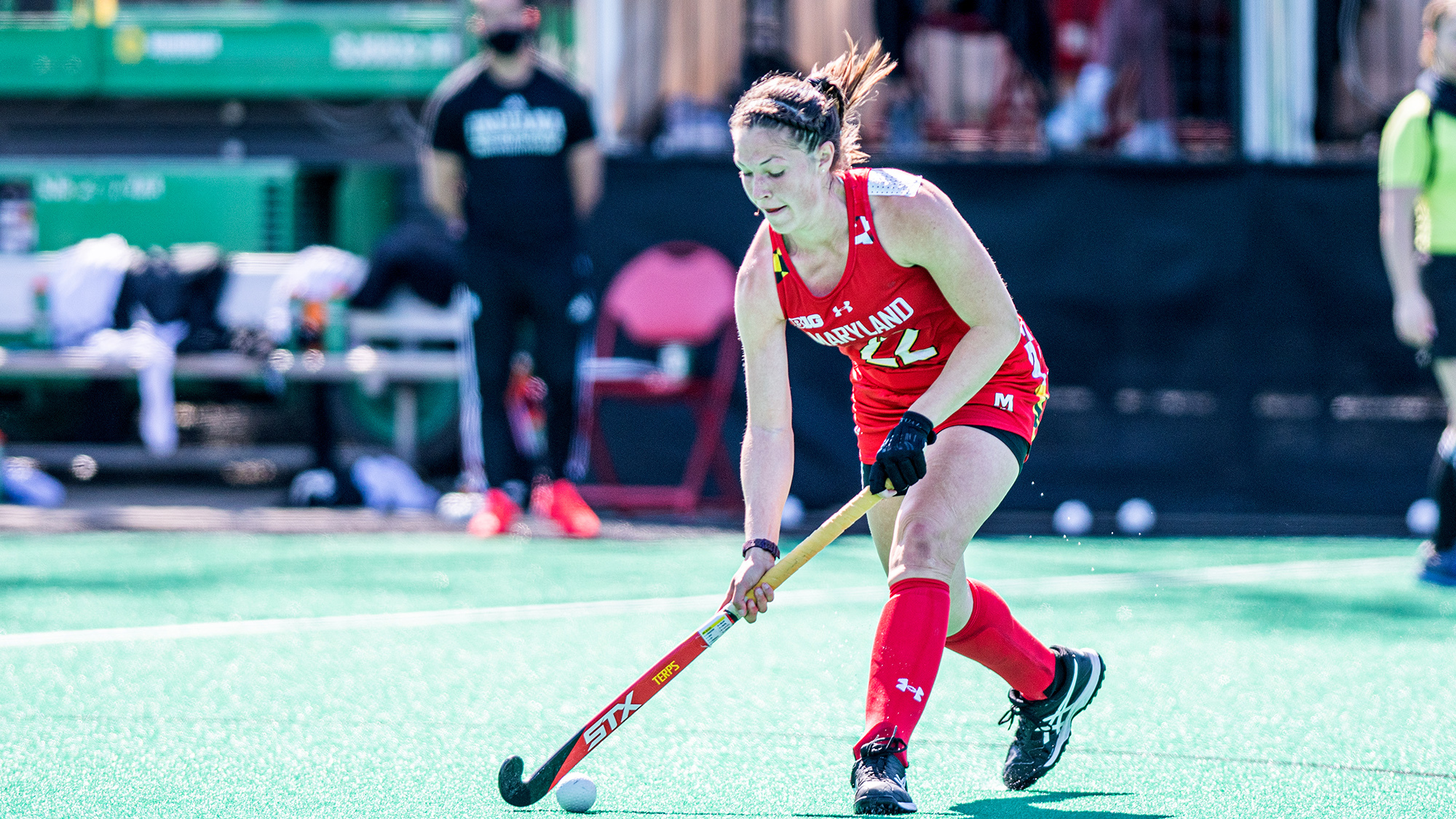 Defender Riley Donnelly scored her fourth and fifth goals of the season during Maryland field hockey's 3-1 win over Indiana on March 21, 2021. (Julia Nikhinson/The Diamondback)

Taylor Mason raised her right arm into the air and leaped in celebration. The junior's teammates came over to high-five and hug her, as she'd just netted a goal that put No. 10 Maryland field hockey back on top.

The Terps had found themselves locked in a 1-1 battle with Indiana late in the third period. Mason's goal was the breakthrough Maryland needed. And it didn't look back, closing out the weekend series with a 3-1 win over the Hoosiers Sunday morning.

The Hoosiers drew just one penalty corner all match. Meanwhile, the Terps racked up nine, including four in a row during a stretch in the third period.

"We said from the first half to the second half that we wanted to get more corners because it's a great outcome," defender Riley Donnelly said. "So we were happy to get more, now we need to finish more of those corners, as well."

After Indiana (0-8) held Maryland (5-3) scoreless for most of the first period in Friday's contest, the Hoosiers' defense kept the Terps from taking a shot for the first 12 minutes. And Indiana's attack was able to cut through Maryland's strong defense; Mary Kate Kesler fired off a shot before the Terps could even make an attempt getting one past Hoosiers goalkeeper Shannon McNally.

Just like Friday, Maryland's offense looked like it may have been coming to life in the waning minutes of the opening period. But a Bibi Donraadt shot couldn't find the back of the cage.

As the Terps' attack started to pressure the Indiana defense, Maryland began to show more aggression, as well. Emma DeBerdine drew a green card late in the first.

"Your mentality and your presence when you step on that court or step on the field typically dominates and dictates the energy and the pace," coach Missy Meharg said. "Maryland can do better with that. And we will."

It took over 21 minutes for either team to earn a penalty corner. But when the Terps got their chance, they capitalized.

Donraadt inserted the ball to Maura Verleg, who set up a Riley Donnelly blast toward the cage. McNally anticipated a drag and fell to the pitch, but the junior launched a line drive shot through the air and straight into the upper-middle part of the cage.

And for the fourth time of the season, Donnelly — a defender who has been a recipient of the Big Ten's Offensive Player of the Week honor — was on the board.

About three minutes later, the Hoosiers stormed back from left to right. Indiana freshman Anna Gwiazdzinski took an open, left-handed shot. Terps' goalkeeper Noelle Frost turned it away.

But Indiana wasn't done pressuring Frost, and soon after earned a penalty corner. Off the insertion, Kesler fired a drag flick past Frost. And for the first time all weekend, the sparse Hoosiers crowd on the right side of the Field Hockey and Lacrosse Complex's bleachers erupted in cheers.

The Hoosiers left the pitch for halftime excitedly, as they were also outshooting the Terps, 5-3.

"Our first two quarters were choppy," Meharg said. "

Over a period of about 20 seconds, the Terps drew four straight penalty corners. They took a total of five shots off these corners — two from Donnelly, one from Mason, one from Anna Castaldo and one from Verleg. But none got past McNally.

But late in the third period, Maryland finally gave its crowd something to cheer about. Emma DeBerdine fed Mason the ball, and the junior midfielder rattled one into the cage.

And they weren't done.

After drawing another corner, Donnelly buried the shot. The Doylestown, Pennsylvania, native had her second score of the day, and Maryland took a 3-1 lead entering the final 15 minutes.

"Our execution on inserts … wasn't the most accurate today," Meharg said. "Riley and the women every day were getting better and better in training, and we've started to, at least on Friday and today, we're scoring on penalty corners."

Roughly four minutes into the fourth, Indiana thought it had one of its most promising looks of the day. Gwiazdzinski dashed downfield, a step ahead of her defender. The Hoosiers contingent started to get excited, as it looked like the freshman was going to drift downfield for a shot with only Frost in front of her.

But a foul before she could even take a shot quickly handed the ball back to Maryland, which marched back downfield and drew its eighth penalty corner of the match.

The shot missed, but the Terps weren't done earning corners. Moments later, Brooke DeBerdine was on the endline triggering the ball to Donnelly, who let Verleg have the shot. But as the freshman inched toward the cage, the Hoosiers took it away and drove back upfield.

But nothing worked for Indiana, which suffered its eighth consecutive defeat to open this season.

"The energy is contagious," Donnelly said. "It's important for every single person to bring it."

The Diamondback


---

Murphy shines for Iowa field hockey in sweep of Ohio State

Iowa field hockey took down Ohio State twice this weekend, with senior Maddy Murphy leading the way on offense.

Ben Palya



Iowa Forward Maddy Murphy attempts to block a pass from Michigan's Clare Brush during a field hockey game between Iowa and Michigan at Grant Field on Friday, March 12, 2021. The Wolverines beat the Hawkeyes 1-0. Jerod Ringwald

Senior forward Maddy Murphy was Iowa's top point-scorer last season, leading the team with 12 goals and 13 assists in 22 games. Through Iowa's first six games of the 2020-21 season, Murphy had not registered any points, forcing the Hawkeyes to lean on their defense.

This weekend, however, Iowa scored four goals in two 2-1 victories over Ohio State. The Hawkeyes are now 7-1 on the season.

Three of Iowa's goals came from Murphy — two of which came in the second game.

Murphy's first goal of the weekend actually proved to be the game-winner in the Hawkeyes' Friday contest with Buckeyes.

Both games Iowa played this weekend stack up a lot differently in comparison to the Hawkeyes' first six games of the year.

In Friday's game, the Hawkeyes came out ready to play, scoring their fastest goal of the year, as Iowa put the ball in the net just seven minutes into Friday's action.

Senior midfielder Nikki Freeman made the shot with assistance from junior defender Anthe Nijziel and fellow senior midfielder Ellie Holley.

Iowa maintained the momentum it gained from that goal as Murphy would go on to net her first goal of the year at the end of the first quarter.

RELATED: Iowa field hockey picks up No. 3 ranking heading into Ohio State

Senior goalkeeper Grace McGuire also made two crucial saves before the end of the first half to ensure Iowa took a two-score lead with it to halftime.

The second half of Friday's game was much quieter between both teams, as the Hawkeyes and Buckeyes only fired a combined three shots in the latter portion of the game.

One of those three shots, however, did find the back of the net, as the Buckeyes managed to sneak one ball past McGuire.

As the final buzzer sounded on Friday, Iowa led, 2-1, and secured another Big Ten victory.

Saturday's game went about the same as the Friday's did for Iowa. The final score was again 2-1 and Murphy scored an unassisted goal eight minutes into the game to give Iowa an early advantage.

Murphy went on to score again with about 12 seconds remaining in the first quarter. Murphy was assisted by freshman forward Alex Wesneski. The assist was Wesneski's first as a Hawkeye.

Although Iowa dominated the first half, McGuire had to spring into action in the second.

For much of the third period, the Hawkeyes' backs were against the wall, as McGuire had to step up and make two more big saves to preserve a victory.

In the 47th minute of action, the Buckeyes found the breakthrough and make things interesting late in the match. But Iowa held strong to secure the win and earn the sweep over Ohio State on the weekend.

After struggling to convert on scoring chances for much of the first few weeks, scoring four goals in two games is a step in the right direction for the Hawkeyes.

With the wins, Iowa stays on top of the Big Ten ahead of the likes of Rutgers and Michigan.

Iowa returns to Grant Field in Iowa City for home matchups against Michigan State and Maryland.

The Daily Iowan


---

Field hockey finds its form

By Jeremy Rubin



Senior attacker Corinne Zanolli (above) has three goals, including one game-winner, through two games for the Cardinal. (Photo: SCOTT GOULD/isiphotos.com)

Led by senior attacker Corinne Zanolli, Stanford field hockey (2-0, 2-0 America East) secured back-to-back wins to open the season in West Long Branch, NJ.

The Cardinal dove straight into conference play, with its first game since Nov. 2019 coming against Vermont. The team's balanced offense and stout defense proved to be the difference as Stanford coasted to a 3-0 victory. Zanolli opened the scoring at the 5:21 mark, and classmate senior midfielder Frances Carstens doubled the lead with a goal of her own. Zanolli's second score of the day was the last time either team found the cage.

Zanolli's five shots matched the total number of team shots attempted by the Catamounts. Cardinal junior goalkeeper Hannah Santos was flawless in the matchup and finished with one save.

Santos saved another three shots on Sunday, as the team took on Monmouth (3-2, 1-1 America East) at 7 a.m. PT. However, an early score by Maggie Downs put the Cardinal in a 1-0 deficit. It wasn't until nearly 45 minutes into the game that junior defender Juli Porto was able to even the score, but redshirt sophomore attacker Lily Croddick followed it up with a score of her own just two minutes later.

Monmouth rebounded to make it a 2-2 game, but from there the two teams went scoreless until 59:24, where Zanolli finished the job for the Cardinal to put the team up 3-2. The game-winner was her 77th goal in 66 career games.

Stanford outshot both teams by a collective 28-13 margin.

The Cardinal will remain on the east coast for a matchup with New Hampshire on Wednesday in Durham. Game time is 11 a.m. PT.

The Stanford Daily


---

Field Hockey Falls at Delaware




NEWARK, Del. - In the third of a three-game non-conference tune-up, the Temple field hockey team fell 4-0 at Delaware Sunday afternoon. With the loss, the Owls fall to 4-6 while the Blue Hens improve to 2-1.

Recapping the Game
> Neither team could get much done in the first quarter, with just two shots being fired.
> Delaware scored the go-ahead goal on a penalty stroke at the 23 minute-mark before scoring off a penalty corner five minutes later to go up 2-0 at the half.
> The Blue Hens found the back of the cage on a goal from Berber Bakermans mid-way through the third quarter, putting the game away on another penalty stroke.

Statistically Speaking
> Veronika Novakova and Kerrie Lorenz each fired one shot, with Novakova putting it on target.
> The Owls conceded five penalty corners, successfully defending four, and attempted two.
> Cristina Carotenuto recorded three saves to put her season total at 36.

Next Up
> Temple will return to BIG EAST action, hosting Providence for a pair of games next weekend.

Owl Sports