All the news for Sunday 21 March 2021

2021 Test matches UGA v KEN (M) - 21 March
Nairobi (KEN)

Result 20 March
UGA - KEN   1 - 0

Upcoming 21 March
14:30 (GMT +3)     UGA v KEN

2021 Test matches UGA v KEN (W) - 20 March
Nairobi (KEN)

Result 20 March
KEN - UGA   6 - 0

Upcoming 21 March
16:30 (GMT +3)     KEN v UGA

Live streaming and full game replay on the Watch Hockey App

FIH Match Centre


---

Kenya's hockey teams post mixed results against Uganda

By Agnes Makhandia



Uganda's Brian Okodi celebrates his goal during their test match against Kenya at Sikh Union ground, on March 20, 2021. Sila Kiplagat | Nation media Group

Kenya men and women's national hockey teams posted mixed results as the international friendlies matches against their Ugandan counterparts entered day two at the Sikh Union, Nairobi Saturday.

The women's team picked from where they left on Thursday with a 6-0 win over Uganda, while the men's team succumbed to the neighbors 1-0.

The women's side, coached by Jacqueline Mwangi, had thumped Uganda 11-0 in their first friendly match on Thursday.

Men's coach Fedhils Kimanzi said his side didn't do enough.

"We have a long way to go. We couldn't just hold the ball and our possession was poor. I hope that tomorrow the players will step up," said Kimanzi.

"We have picked some positives with some players showing improvement. After the friendly matches,  the coaching department will meet and forge the way forward," said Kimanzi.

Uganda coach Vincent Kasasa was on cloud nine saying they had finally had their revenge.

In 2007, Uganda lost to Kenya 6-0 during the Olympics qualifier.

"The win has changed history. Tomorrow (Sunday) we need to finish what we have  started and confirm what we had came here for. The win is big to us," said Kasasa.

Brian Okodi scored the lone goal in the 21st minute through a fantastic field goal.

Uganda were the better side, dominating proceedings in all facets of play in the entire match and could scored more in the first quarter but Peter Walusansa was poor on delivery.

Kenya easily lost possession as Uganda pressed for an opener. Uganda then pushed Kenya to play in their own half but were wasteful as they led 1-0 at the break.

Uganda would have scored three more goals in the second half but Walusansa shot wide in open chances.

Women's team captain Gilly Okumu(5th, 26th) and Flavia Mutiva (14th, 52nd ) each scored a brace while Naomi Kemunto (18th) and Carolyne Guchu (9th) scored a goal apiece as Kenya routed Uganda once more.

The two nations will play their last test matches on Sunday.

Daily Nation


---

Kenyan men lose after drawing in first match on Thursday

By Washington Onyango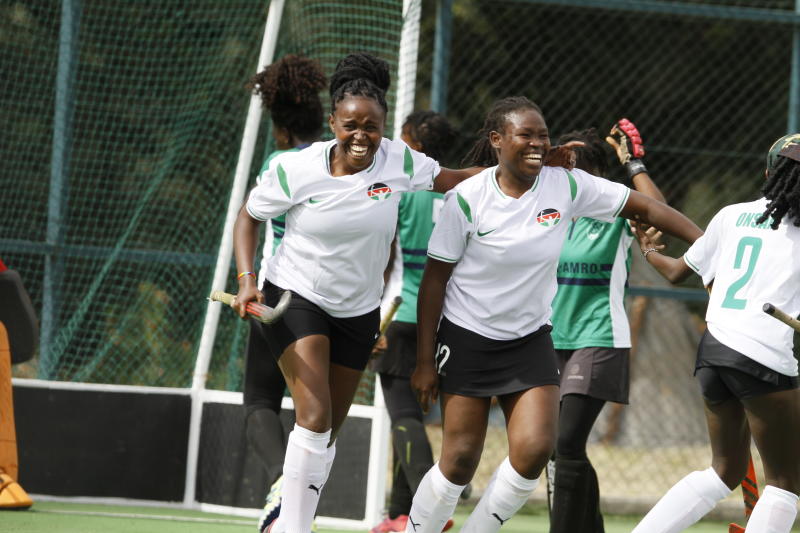 Kenya team Caroline Guchu and Flavian Mutiva celebrate a goal against Ugandan's at Sikh Union, Parklands during an Africa Cup of Nations Test match. ON March 18, 2021. [Jenipher Wachie, Standard]

Kenya national women's hockey team registered their second consecutive win after thrashing rivals Uganda 6-0 in a tight Africa Cup of Nations Test match at Sikh Union Hockey Stadium in Parklands yesterday.

In the men's tie, Kenya lost 1-0 with Uganda's Brian Ogodi scoring the only goal.

The first match on Thursday ended 1-1.

In the women games, Captain Gilly Okumu and Flavia Mutiva each scored a brace to inspire Kenya to their second win of the three Test matches set to be completed tomorrow.

The hosts dominated the opening two quarters to lead 5-0 at the breather before withstanding numerous Ugandan attacks in the third and fourth quarters, adding only one goal in the final quarter to win 6-0.

Despite the heavy loss, this was an improvement on the Ugandan side which conceded 11 goals in the opening match on Thursday.

Uganda have now conceded 17 goals in their last two matches, a result which will affect their rankings at the end of the week when the Africa Hockey Federation and the International Hockey Federation (FIH) update the nations rankings.

Kenya started on a high note yesterday with Okumu dribbling past four Ugandan defenders before sliding the cork past the keeper to give the host the lead in the fifth minute after receiving a neat assist from Chebet Eleanor.

Carol Guchu doubled the scores minutes later after being released by Mutiva who registered her fourth assist in the two Test matches played so far.

Ugandan worries worsened further when Kenya was awarded a penalty flick few minutes before the end of the first quarter after the cork hit a Ugandan defender who was behind her goalkeeper.

Mutiva, who turns out for local champions Blazers stepped up to stretch Kenya's lead to 3-0 by the end of the first quarter.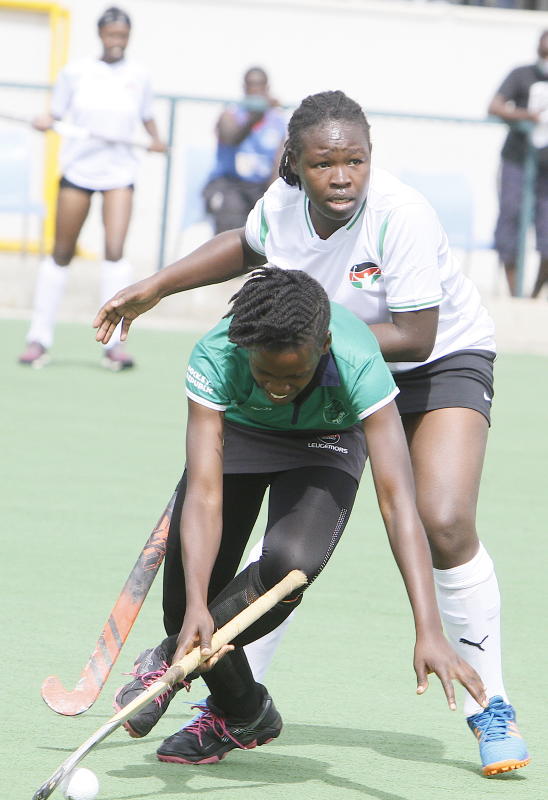 Kenya's Flavia Mutiva (left) and Uganda's Lamula Nakajjumba in action at Sikh Union, Parklands during a Africa Cup of Nations Test match. ON March 18, 2021. [Jenipher Wachie, Standard]

In the second quarter, Okumu turned provider after assisting Maureen Okumu to score Kenya's fourth goal of the game from a short corner.

The captain would claim her brace and fourth of the two matches played to extend Kenya's lead to 5-0 at the breather.

As it was in the first match, Uganda limited Kenya's chances in the third quarter which ended goalless but with the hosts at a comfortable stage with a five goal lead.

The visitors proved a hard nut to crack again in the fourth quarter before Mutiva completed her brace from a well taken short corner to condemn the Ugandans to a second consecutive loss.

Kenya will play Uganda again today at 2pm in the final Test match.

The Test matches replaced the North-Eastern region qualifiers which were originally meant to be graced by six nations

Kenya qualified for the 2022 Africa Cup of Nations Test matches set to be held in Ghana after five teams pulled out.

The Standard Digital


---

Blue Warrios thrash Sabah

By Jugjet Singh



Police scored through Nur Syafiqah Zain (fourth and 33rd minutes), Liyana Aqilah Sepawi (37th), Fatin Shafika Sukri (44th), Wan Norfaiezah Saiuti (52nd) and Nurul Safiqah Isa (53rd). - Pic courtesy of MHC

POLICE Blue Warriors had to wait until the third quarter before they could tame a battling Sabah 6-0 in the women's Malaysia Hockey League (WMHL) in Bukit Jalil yesterday.

Police scored through Nur Syafiqah Zain (fourth and 33rd minutes), Liyana Aqilah Sepawi (37th), Fatin Shafika Sukri (44th), Wan Norfaiezah Saiuti (52nd) and Nurul Safiqah Isa (53rd).

In the men's MHL, Terengganu Hockey Team (THT) will not attempt anything fancy against TNB Thunderbolts today.

"We will be up against young legs guided by a few seniors, and I believe Thunderbolts will not be easy. We will play for full points," said THT coach K. Rajan.

THT also hope Universiti Kuala Lumpur (UniKL) and Tenaga Nasional will drop points in one of their remaining matches.

"The top spot is out of our hands unless Tenaga and UniKL drop points. However, we will play to win our remaining matches. I believe finishing second is now a more realistic target," said Rajan, whose team had lost to UniKL.

RESULTS — Women: Blue Warriors 6 Sabah 0, UNITEN-KPT 0 UniKL Ladies 3, Young Tigress 8 Mutiara Juniors 2.

FIXTURES — TODAY, Men: Maybank v Tenaga Nasional (6pm, Pitch I), Terengganu HT v TNB Thunderbolts (6pm, Pitch II), Sabah v NurInsafi (8pm, Pitch II), UniKL v UiTM (8pm, Pitch II) — * matches at the National Hockey Stadium in Bukit Jalil.

New Straits Times


---

Junior hockey team's training camp concludes

KARACHI: Pakistan junior hockey team's training camp in Karachi at Abdul Sattar Edhi hockey stadium ended on Saturday.

The players will participate in the Chief Minister Hockey Gold Cup Hockey tournament which is to be held in Quetta from March 23 to April 2, 'The News' has learnt.

The PHF will decide the schedule of the next phase of their training after Chief Minister Hockey Gold Cup.

The national junior team is to participate in Junior Asia Cup 2020-21 in Dhaka from June 1-10.

PHF wanted to involve all the players of the junior team in rigorous competitions at domestic level as there is no international competiton because of Covid-19.

Sources said that all four provincial teams and departmental teams are expected to participate in the Quetta tournament.

The probable players of senior and junior teams will represent their provincial and departmental teams in the tournament.

The sources said that PHF has already planned that cycle of domestic hockey competitions would continue throughout the year with strict enforcement of Covid-19 protocols, so that all leading players of the country remain fit and in form.

Sources said that PHF is also planning to organise another domestic competition during Ramadan in Gojra. The matches will be organised at night and all leading domestic teams and their players will participate in the event. The details of this event will be announced when its schedule is finalised.

The sources said that PHF wanted to organise an eight-nation Asian event before the Junior Asia Cup so that the players of all teams get high quality practice of international hockey. But due to surge in cases of Covid-19 PHF is not much hopeful about it, sources said.

The News International


---

Quinn's Goal Lifts Central Michigan To Dramatic 2OT Win




BOONE, N.C. – Callie Quinn's first goal of the season could not have come at a better time.
 
Quinn scored in the second overtime to lift the Central Michigan field hockey team to a dramatic and exhausting 3-2 victory over Appalachian State on Saturday in the Mid-American Conference opener for both teams. The win lifted CMU to 3-1.
 
The Mountaineers outshot the Chippewas, 31-7, and they had 12 penalty corners to CMU's three. CMU goalkeeper Katie Maxim made 11 saves and the Chippewas scored with under three minutes remaining in regulation to tie it 2-2 and send it to overtime.
 
"Today's game was a game of grit, and that is our team word," third-year Chippewa coach Catherine Ostoich said. "(Appalachian State) kept putting on shot after shot, and our goalkeeper played out of her mind; she had an incredible game. She kept us in it today."
 
Rachel Ruttenberg scored the dramatic game-tying goal late in regulation and Anna Riesenberg also scored for CMU. Alice O'Hagan had two assists and Taryn Damm had one.
 
"It was not pretty hockey today," Ostoich said. "We played a lot of defense, and if you look at the stats it appears that we did not deserve to win, but you have to finish the game and we put that final one in.
 
"I simply could not be prouder of the team today. It is cool to see that we shouldn't have won this on paper, but we did because we fought harder than they did."
 
The Chippewas and Mountaineers complete their MAC-opening weekend series with a game on Sunday (11 a.m.).

CMU Chippewas


---

Ball State Loses Overtime Battle Against Ohio




MUNCIE, Ind. – Unfortunately, no matter how hard you battle, sometimes things do not go your way.

Saturday was one of those days for the Ball State field hockey program which suffered a heartbreaking 2-1 overtime loss to Ohio at the Briner Sports Complex.

The Cardinals (2-4, 2-2 MAC) were looking to complete the two game Mid-American Conference weekend series sweep over the Bobcats (1-3, 1-2 MAC) after defeating them 2-1 on Friday. Regrettably, they fell short in the afternoon's extra period.  

"Today was a battle, no other way to describe it," Ball State field hockey coach Stephanie Bernthal said. "There were moments we were a dominant team and some moments the heat of the battle & got the best of us. What I love about our team is we contest everything, we grind out every minute of the game. There is no easy moment or matchup for teams playing us. We came from behind and had our opportunities offensively in a dominant 4th quarter. Unfortunately, we came up just short of putting it away. Credit a tough Ohio team for capitalizing in OT. I believe this game can be a great maturing moment for us."

Today's game was like a role reversal, as Ohio would strike first in the opening minutes of the first period to take the early 1-0 advantage.  

After one slip up, the Cardinals brought their A-game when it came to defensive pressure and would hold the Bobcats scoreless the remainder of regulation. That defensive pressure gave Ball State the opportunity to tie the game late in the fourth stanza.  

As time was winding down, Ball State still trailed 1-0 despite a few good looks at the net in which the Cardinals were unable to convert.  

With a little over 12 minutes remaining in the fourth period, sophomore Angel Nkosi snuck one past Ohio's goalkeeper Nele Graner with a shot right up the middle, knotting the game 1-1.  

That score from Nkosi would end up being the goal that sent the contest into an extra period.

Both teams battled in the overtime and could not capitalize offensively until a corner was called against Ball State with under five minutes left to play.  

Ohio's Leah Warren would capitalize on the corner opportunity, scoring the winning goal for the Bobcats.

The Ball State field hockey team continues Mid-American Conference action at home on Friday, March 26 against Longwood University at Noon in the Briner Sports Complex.  

For the most up-to-date news on the Ball State field hockey team, please follow @BallStateSports, @CoahBERNbsu and @BallStateFH on Instagram and Twitter.

Based on guidance surrounding the ongoing COVID-19 pandemic, general public attendance will not be permitted at the Briner Sports Complex this season.

Ball State Sports


---

Nittany Lion Field Hockey Team Looking to Build Momentum

Ashley Conklin




Coming off of a weekend split with Maryland, Penn State Field Hockey Head Coach Char Morett-Curtiss was proud of the Nittany Lions play. "I was so proud of our performance both days." Penn State's win on Friday showcased their composure and connectedness as a team. "Our Friday performance against Maryland was outstanding. One of the best games I've seen not just this team, but this program play."
 
Morett-Curtiss was also pleased with the team's scoring opportunities, putting three goals past the Terrapins last Friday. She thought the team was just off a step two days later, but overall, she felt they took a big step from their two weekends of play at Virginia Beach. "We worked really hard preparing Tuesday through Thursday and practices were extremely intense."
 
Practices were limited for the Nittany Lions heading into this season, as they had played on a full field for the first time this season in Virginia Beach. This was a challenge they have had to overcome, as it was difficult to gage the team's play in a smaller setting. Once the players really opened up the field, the coaches realized they needed to move things around.
 
The Penn State coaching staff made some adjustments that gave the players more confidence when taking the field. "I made a couple positional changes and I think that just got more players into their comfort zone." These changes were a big ask for some of the younger players on the team, as they are still understanding the collegiate game, but overall gave the team more continuity.
 
"I think Michigan State being at home is an advantage for them as it was for us this past weekend." Looking ahead, Morett-Curtiss knows what the team needs to do to prepare to face another competitive Big Ten opponent.
 
Penn State overcame an early deficit in Friday's game against Michigan State, made key halftime adjustments, and rode a four-goal burst from freshman Sophia Gladieux to a 5-2 victory in East Lansing.  Now, with another battle against the Spartans looming on Sunday, Morett-Curtiss and her team hope to finish off a sweep.  The Nittany Lions are off next weekend, and hope to head into the second half of the season  riding a wave of momentum.

Go PSU Sports