All the news for Tuesday 23 March 2021

Graham Reid wants India to play teams with different styles ahead of the Tokyo Olympics

The Indian men's hockey team coach also shared his views on how rule changes have brought about tactical changes in the sport

By Soham Mukherjee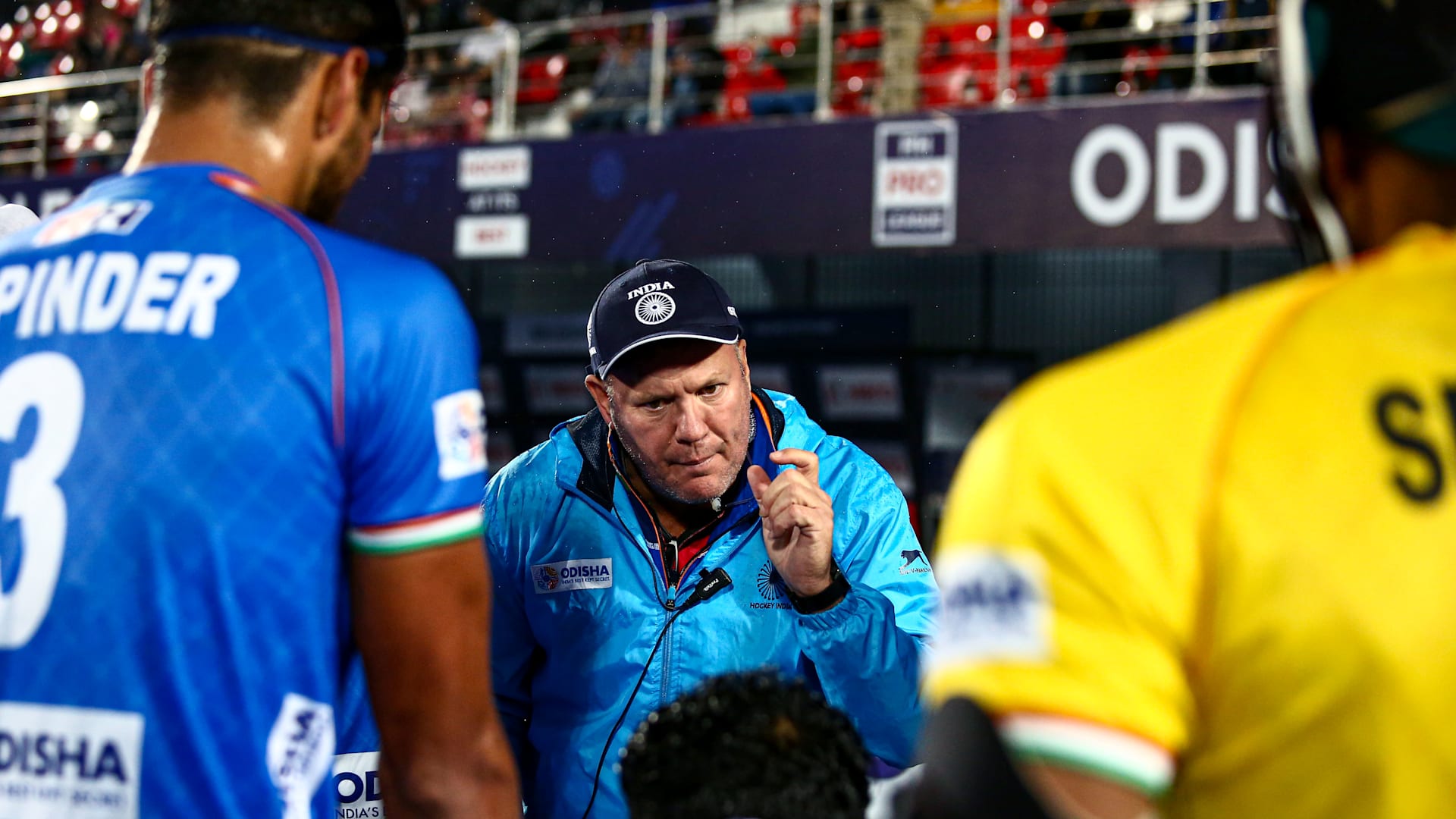 In his eight years with the Australian hockey team, Graham Reid never managed a such an emphatic triumph against Germany. But almost a year long hiatus after hitting the pitch, the Indian team pulled off a eye-catching show against the mighty Germans. The Indian men's hockey team defeated Germany 6-1 in the opening game of their European Tour in February.

"It was pent up emotions and things that we wanted to do over a year," said Reid during a chat with the Olympic Channel.

But the veteran tactician doesn't want to read too much into the result. He prefers to brush it aside as a one-off performance and rather focus on areas that need more improvement if India have to finish on the podium in Tokyo.

"The numbers behind that, tell a different story. It wasn't a 6-1 game. If you play that game 20 times then you would expect something of a 3-3 game, a scoreline of that sort. But having said that, it was great that we took all opportunities that were handed to us," admitted the coach.

What excited him more was that he was finally locking horns with an opposition of repute, a much-needed change from doing the regular stuff at the training grounds in SAI (Sports Authority of India), Bengaluru.

"The fact that we got to play was the most impressive and positive outcome of the trip. There was excitement within the squad. Even just going out and travelling, doing the regular stuff that we used to do one year before felt great. We were tested nine times in 16 days and that is not much fun. Regardless, the trip was fantastic."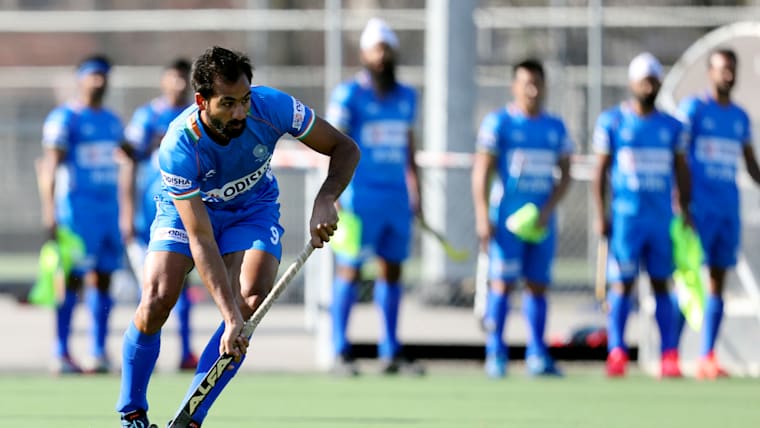 Indian hockey team had a great start to their European tour (Courtesy: Hockey India/Twitter)

Following their sojourn in Germany, the Indian team also travelled to Antwerp, Belgium to play two matches against Great Britain. In those two games, the Indian team showed strength of character and perseverance with late goals that changed the complexion of the match. Simranjeet equalised late in the third match, while Mandeep scored the winner in the dying minutes of the fourth game.

"We made sure we kept up the pressure till the very last minute and got a goal to level 1-1. When you practice doing that it's great to know that you can do it again. Then in our last game, we again managed to get a goal in the last two minutes to get a win. You have to learn to graft out those games. We definitely played much better in the fourth game.

"It was great to play against two different styles in two different countries. When we have a camp for 12 months and when I look at how much time we spent on the pitch improving it is not 12 months at all. It is more like four and five. It is hard to recreate the competition that facing another team gives you. So all the little idiosyncrasies that playing a competition gives you, make a better team. Matches give you problems and you learn to find solutions to them," observed Reid.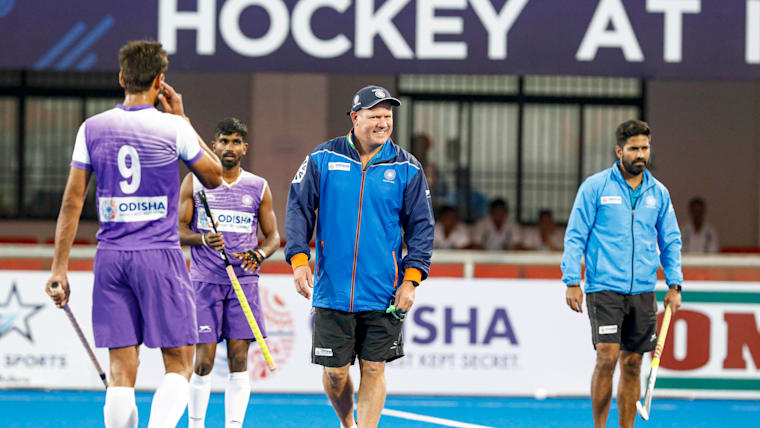 Graham Reid. Photo: Hockey India.

After a successful European trip, India will next head towards South America to take on Argentina in the FIH Pro League. The Argentine team possesses a different kind of challenge, which will help the men in blue prepare more comprehensively before the Olympics.

"Argentina are a really very good team. They play a different style and that's what I am looking forward to. I think one of the things we need to improve is making decisions on the field and to do that you must come across different problems to solve. Winning in hockey is about solving problems. So playing many different styles of teams is really good for the next four-five months. They lull you into a false sense of security, almost put you to sleep sometimes and then they attack. So that's what we need to be ready for. It is going to be an interesting challenge," commented the coach.

Amidst the impressive show in Europe, there was one aspect that concerns India; the tendency to concede penalty corners. The World title winning coach also spelt out what it takes to be a rusher in hockey, as they have always been a rare and premium commodity.

"I think in the first game it was that sort of a game where they were blowing a little bit differently. We are blowing things in training that may not necessarily be the same that is happening in Europe. It was a bit of an aspect of that. However, in the last three games, we improved a lot on that. Sometimes you give away a penalty corner and then while defending you give away another one. So these things happen. But since we have got back we are reconsolidating ourselves and we have a very good battery.

"I think the three major ingredients to be a world-class rusher are agility, you need to be able to anticipate the line in which the ball will be delivered and then change the angle to which you are running, many people can run out fast but not accurately. You need the skill to change your line and that's the agility part of it. The second part is the ability to read the play and take into consideration the various variables and the history of the battery. Whereas the third part is bravery, you need to be brave."

It must be noted that although India gave away penalty corners cheaply, they conceded only once which shows that although teams are getting more set-pieces the rate of conversion has declined with the advent of different tactics.

"I think it is happening since the World Cup 2014. That's the way you defend corners these days. You have to develop new skills and variations. There is a first rusher and a second rusher, and the second one is a bit towards the left shoulder of the first. Whereas to score you have to pretend that you are flicking left and go right. Or as you come to flick you drag the ball a little bit to the left to miss the rusher or vice versa. These are tactics and that's hockey."

Reid believes that rule changes in hockey have pushed the game to evolve more quickly. And while India plays a quickfire brand of hockey, he thinks that his outfit have the potential to play even faster.

"In 2009 when the self-pass rule came in, it accelerated the speed of the game. Since then, it has become a very, very fast game. You need to be really fit to play as you have 11 attackers and 11 defenders today. You have to be at the top of your physical shape, as you have to block someone with the body and not with the stick. There are still things which one has to look at (for a review).

"However, I love the speed and skills. Most of the technical changes that have happened in the game have happened in the last decade are due to rule changes. Or the tactics that have changed are down to rule changes. Now you cannot hit the ball directly into the circle. But it was not a long time ago that you could do so. So you had to develop different tactics to do that. The long corner rule changed two to three times. All those little things make the difference. But I think we can really play even faster."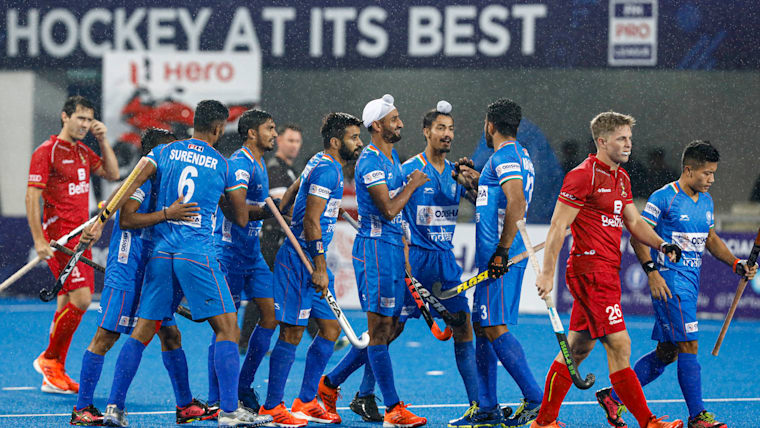 The Indian hockey team has managed to churn out several impressive results of late. Photo: Hockey India.

Indian players are known for their skills and wit on the field. Reid believes that this is a necessary adjustment that Indians have made over the years to tackle the more physically dominating Europeans.

"Indian hockey comes from a different place. If you look at the history of the game in Australia, a lot was imported into it. So Australia also started from a different place than the European game. You develop different skills. A lot of Indian skills have developed because they are not big-bodied like the Europeans. We have to bridge the gap in strength. Yet we do have a few big-bodied players like Rupinder (Singh). But that's what I like about hockey.

"Some of the best in the world are not huge. We have a lot of stick skills and we will continue to use those. We like to pass the ball around and don't give time to tackle. When you look at Vivek (Prasad) he is a tiny player, but look at how we played against Germany. Then when you don't have speed then you develop other skills to compensate for that. We have different skills to Germany, the Netherlands and Australia, and that's what unique about India."

India are currently counted as one of the elites in world hockey. It is the little adjustments and ability to adapt to different opposition that sets them apart. After an unbeaten European trip, all eyes will be on them in Argentina as they play back-to-back games on 10th-11th April. Another strong performance will not only propel them in the rankings but also act as a huge morale-booster with just a few months left for the ultimate showdown

Olympic Channel


---

Field Hockey Canada responds to Statement on Oversea Spectators for Tokyo 2020

On March 20, 2021, the International Olympic Committee (IOC), the International Paralympic Committee (IPC), the Tokyo Metropolitan Government (TMG), the Organising Committee Tokyo 2020 and the Government of Japan met to discuss the matter of overseas spectators for the Olympic and Paralympic Games Tokyo 2020. Due to ongoing COVID-19 safety concerns, it was concluded that Japanese parties would not allow entry to Japan for overseas spectators.

Field Hockey Canada will work closely with the Canadian Olympic Committee (COC), internal and external stakeholders and the broader community to ensure supporters of our Men's National Team will have the opportunity to unite behind them in Tokyo. If Canadian families and fans cannot travel to Japan for the Olympic experience, we will work with our partners in our best endeavour to bring the Olympic experience back home to everybody. We support the committee's ongoing commitment to making the Games as safe and secure for all as possible.

"In many ways the Tokyo 2020 Games will be completely different to any previous Games," Tokyo 2020 President Hashimoto Seiko stated. "However, the essential of the Games will remain unchanged, as athletes give their utmost and inspire the world with transcendent performances.

"We are currently working on specific plans to share support remotely from around the world and help bring people together in ways suited to our current times. Even if you are no longer able to come to Japan this summer, we hope very much that you will continue to support the Tokyo 2020 Games."

Olympic and Paralympic tickets purchased by overseas residents from the Tokyo 2020 Organising Committee will be refunded. To read the full statement, click here.

Field Hockey Canada media release


---

The Waterloo Ducks qualify for the playoff semi-finals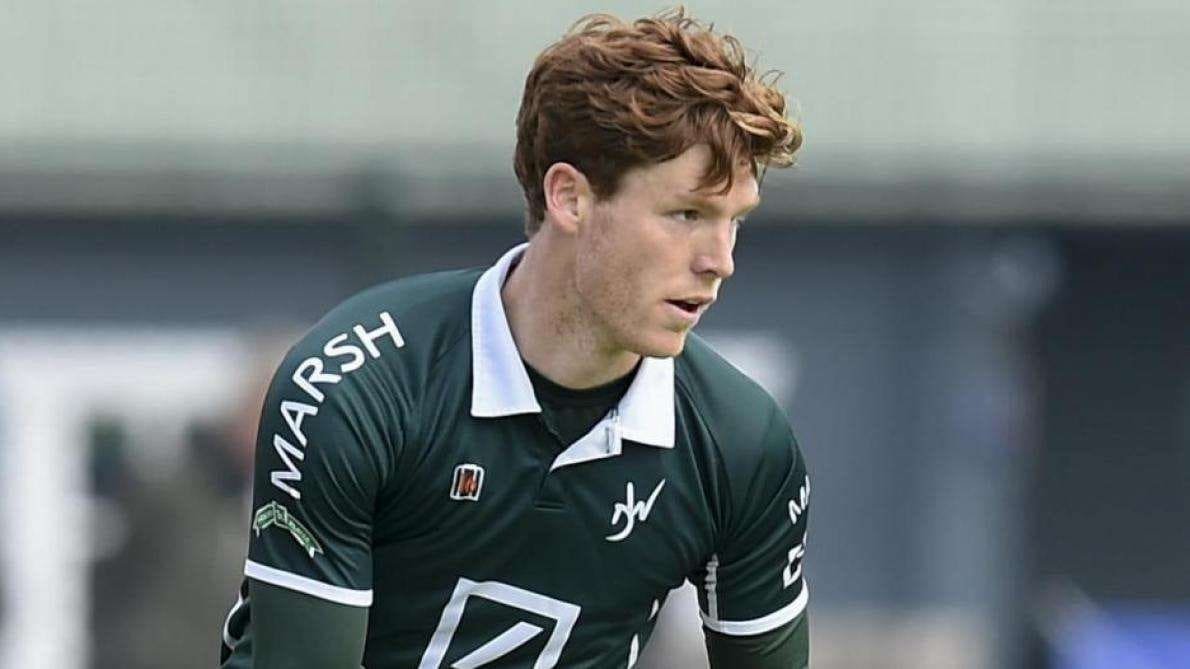 The Waterloo Ducks have validated their ticket for the playoff semi-finals while the suspense remains for the other 3 places.


---

Small steps to the top




Celine Martin-Schmets joined us on Episode 5 of the Hockey Pod fresh from a weekend of FIH Hockey Pro League action. The Belgian umpire had been one of the team of officials taking charge of the Netherlands versus Germany fixtures and Martin-Schmets had been on field for both the women's matches.

The model of professionalism on the pitch, Martin-Schmets is an affable, smiley character off it and her easy manner makes her an approachable umpire for players and coaches to talk to in post-match debriefs.

Martin-Schmets has moved rapidly up the umpiring ladder but, despite her talent for game management, she has yet to gain an appointment to the highest level of competition. As she explains, she came close to selection for the Olympic Games Tokyo 2020 but failed to make the final cut.

"At the beginning it was really hard because I was on the short list and I really wanted to go, even though I knew it would be a really difficult challenge. But I come from a country that has a lot of very good female umpires, particularly Laurine Delforge [FIH Umpire of the Year]."

Celine explains that Delforge has been a huge help when it came to acceptance of her not being selected for the Games and her fellow umpire has been supporting and mentoring her for future success.

"She is really inspiring and I know, from observing her, that I still have some steps to go through before I am ready for the top appointments.

"I will be taking appointments step by step to make improvements in my performance. There is the EuroHockey Championship in June and then every tournament after that provides yet more experience. There is the World Cup and then Olympic Games Paris 2024 to aim for, but we will see. I will focus on one event at a time."

When it comes to working on aspects of her umpiring performance, one of the things that Martin-Schmets knows she can work on, no matter what else is happening at the time, is her fitness. It was a realisation that came to her in 2018 when she was appointed to the Women's Champions Trophy in China, her most prestigious appointment to date.

"I was a good umpire at that point, but I wanted to be a great umpire. I realised that I needed to get better. As an umpire, you always want to be appointed for the gold medal matches and I wanted to know how I could get to that level. I asked Laurine and she said 'get your fitness to the highest level you can, so your body is doing what it needs to do and your mind can stay focused on the game'."

Since then, Martin-Schmets has made fitness one of her focus points. As she says, "during the pandemic, fitness and running was one of the few things you could do. It was one of my ways of keeping focused."

She says her next target is to work on her body language. She admits that when she is under pressure, her body language tends to give her away. "This is a small thing but it is important to master," she says.

With a full year of events, including the remaining FIH Hockey Pro League fixtures, the EuroHockey Championships and the packed Belgium club fixture list, the aspiring and inspiring umpire will have plenty of opportunity to make those steps to the big time.

Listen to the full podcast here.

#HockeyPod

FIH site


---

Belgium umpiring lacking women and young talents




The number of women umpiring in Belgium is low despite the overall number continuing to develop at high speed, thanks to the slave labour provided daily by the ARBH and its two leagues, which must support and supervise their members, offer quality arbitration to as many people as possible. However, it remains complicated to recruit new talents, especially on the female side. Out of 256 national officials (referees, referee coaches and match officers) registered at the Federation, there are only 19 women or just over 7%. A startling figure when we practically reach parity in terms of members. "We are in these proportions at all levels despite all the work already in place for several years," admits, a bit annoyed, Laurent Colemonts, the boss of Belgian arbitration. "But we do not manage to find real explanations for this phenomenon. The 2 Leagues have put in place many initiatives to remedy this, but the health crisis has cut them off. In an ideal world, we want to achieve a balance between men and women, but that seems utopian".


---

Manawatū trio celebrated




With just four months until the Tokyo Olympics, Black Stick Kayla Whitelock has taken time out of her Olympic preparations to be honoured alongside former team-mate Emily Gaddum.

The achievements of the pair along with another outstanding Manawatu woman Sarah Leberman were celebrated at a Hockey Foundation function, sponsored by John Turkington Forestry, in Palmerston North on Saturday – with all three receiving Queen's Birthday honours last year.

Whitelock (nee Sharland) is currently training with the Vantage Black Sticks between her Palmerston North home and Auckland, as she prepares to join Barbara Kendall and Dame Val Adams as the only women to attend five Olympics.

The 2020 season saw the mother of two come out of retirement as she sought that elusive Olympic medal.

Gaddum (nee Naylor) attended three Olympics (2004, 2008 and 2012) alongside Whitelock and retired as the most capped Black Stick at 274 matches – now overtaken by current captain Stacey Michelsen with 287 caps.

Gaddum said "it is an incredible honour, and to be recognised alongside my great mate Kayla makes it extra special".



MC Lesley Murdoch and Emily Gaddum

The pair's impact on the game has transcended beyond their playing efforts with the pair heavily involved with youth coaching.

In 2019 Gaddum took on the role of Executive Officer for the Hockey Foundation, and she has been instrumental in helping create new scholarship opportunities for those who would otherwise struggle to participate in hockey.

Since retirement Gaddum has been coaching in the Hawke's Bay where she has taken on various roles with the Iona and Woodford 1st XI teams as well as being involved with Small Sticks programmes.

Whitelock has also been involved with coaching, helping out at a Hawke's Bay academy in 2006 during her recovery from an ACL tear. In recent years she has been coaching alongside her sister Verity Sharland at Palmerston North Girls High School.

Whitelock has enjoyed helping out the next generation and hopes the honour will inspire more to pick up a stick.

"I think it's great for hockey, for players in the community to see our sport be recognised".

Leberman has been championing women in sport and education for more than 20 years. The Massey University professor helped found Women in Sport Aotearoa and the university New Zealand women in leadership programme.

Leberman has also managed the Junior Black Sticks women's hockey team, has been stand-in manager for the senior women, has served on the boards of Volleyball New Zealand, Western Netball and Hockey Manawatū, and coaches at her Taekwondo Manawatū club.

Hockey New Zealand Media release


---

Welsh side Penarth promoted to English hockey leagues



Penarth follow Swansea into the England Hockey leagues PIC: Dafydd Tomos/twitter

A Welsh women's club is celebrating after becoming the second side from Wales to reach the England Hockey National League, writes Richard Bright.

Penarth, near Cardiff, will follow Premier Division side Swansea into the national league after being promoted to the Conference from the West Clubs Women's Hockey League.

In a meeting last week, the WCWH decided that a meaningful conclusion to the season would likely not be played out.

The Premier Division 1 season had been curtailed to such an extent that some clubs hadn't been able to play any games, including Penarth.

"Our decision is in accordance with EH guidance for concluding the season without being able to have a play off," a statement read.

Penarth, who were runners-up in the 2019/20 season, will be joined in the National League by Bristol University, who were the team relegated from the EH league at that time.

Head coach Dafydd Tomos said: "This is great reward for the amount of work the committee and players have put in over last five years."

England Hockey's new league structure set for the 2021/22 season means the addition of a fourth EHL conference, with 10 teams made up of two qualifiers from each of the five regional leagues.

SIGN UP for The Hockey Paper's returning newsletter: Promotions, exclusives and our best coverage

The Hockey Paper


---

Hockey camp hopes to include state schools after mix up




Essex County Hockey Association will cancel an Easter training camp if it is unable to change the original date after it was pointed out that state school juniors would have been excluded.

A tweet on Friday caused friction on social media when the dates for an Essex CHA development camp in April would have benefited independent school children.

The Hockey Paper immediately contacted England Hockey to make them aware of the situation.

Development Centres are organised by volunteer-led county associations and England Hockey said it was an "honest mistake" on the part of Essex camp organisers.

According to England Hockey, the dates for Development Centre activity are not set in its centralised calendar to allow for local delivery decisions.

"They are an important first step on the Player Pathway and we want as many children as possible to have the opportunity to take part," EH said in a statement.

Essex CHA are now looking to move the camp dates a week earlier to ensure children from Hertfordshire and Essex state schools can attend.

Robert Gotobed, an Essex volunteer, said: "A volunteer who works in a state school in Upminster hired a pitch and fliers went out advertising it. While the dates were fine for schools in most London Boroughs and Chigwell (which are part of the Essex County provision), they would not have been fine for state school in non-metropolitan Essex.

"Once this was pointed out Essex reviewed the situation and is attempting to book a pitch on dates so all can attend. While England Hockey did contact we were already attempting to change the date. If we cannot get a pitch then we will cancel the camp as it would to be not right to disadvantage anyone."

SIGN UP for The Hockey Paper's returning newsletter: Promotions, exclusives and our best coverage

The Hockey Paper


---

Maryland and Penn State Earn Weekly Field Hockey Honors



Sophia Gladieux of Penn State

Terrapins' Donnelly and Nittany Lions' Gladieux claim weekly awards

Offensive Player and Freshman of the Week
Sophia Gladieux, Penn State
F – Fr. – Boyertown, Pa. – Oley Valley
• Registered 10 points as Penn State swept Michigan State in East Lansing, Mich., last weekend
• Heading into the second half down 2-0, Gladieux netted four goals to rally Penn State to a 5-2 comeback
• Tallied her fifth goal of the weekend in a 3-0 shutout just two days later
• Earns her first career Big Ten Offensive Player of the Week honor
• Garners her first career Big Ten Freshman of the Week award
• Last Penn State Offensive Player of the Week: Bree Bednarski (March. 16, 2021)
• Last Penn State Freshman of the Week: Brie Barraco (Nov. 4, 2019)
 
Defensive Player of the Week
Riley Donnelly, Maryland
D – Jr. – Doylestown, Pa. – Central Bucks East
• Held the backline and paced the team in scoring as Maryland swept Indiana last weekend
• Led the Terrapins in scoring with three of their eight goals over two games
• Her strong defensive efforts helped allowed just one goal to the Hoosiers in 120 minutes
• Claims her first career Big Ten Defensive Player of the Week award
• Last Maryland Defensive Player of the Week: Noelle Frost (Oct. 14, 2019)
 
2020-21 Big Ten Field Hockey Players of the Week
March 1
O: Peyton Halsey, So., NU
D: Gianna Glatz, Sr., RU
F: Maddie Zimmer, NU         

March 8
O: Riley Donnelly, Jr., MD
D: Anthe Nijziel, Jr., IOWA
F: Bridy Molyneaux, RU
 
March 16
O: Bree Bednarski, Sr., PSU
D: Kayla Blas, Jr., NU
F: Liz-Elaine Stange, RU
 
March 22
O/F: Sophia Gladieux, PSU
D: Riley Donnelly, Jr., MD

B1G Ten Conference media release


---

Penn State field hockey's Sophia Gladieux receives pair of weekly Big Ten honors

Madyson Cioni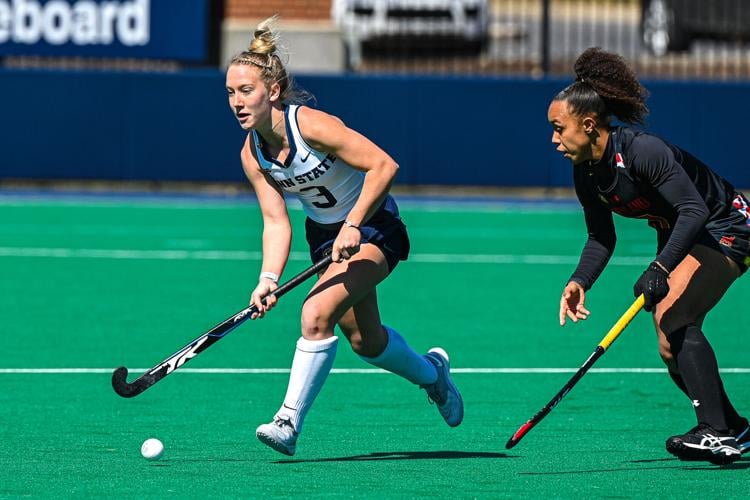 Penn State's Sophia Gladieux (3) during the game with Maryland. Nittany Lion field hockey lost a hard-fought 3-2 game to the visiting Terrapins in the series finale between the two teams on March 14, 2021 at the Penn State Field Hockey complex. Photo/Mark Selders Courtesy of Penn State Athletics

Freshman midfielder Sophia Gladieux was named both Big Ten Offensive Player of the Week and Freshman of the Week for the week of March 16.

The awards were Gladieux's first of her young career with the Nittany Lions. She is the first member of the blue and white to receive either award this season.

During last weekend's win over Michigan State, Gladieux registered 10 points.

She led the Nittany Lions to a 5-2 comeback win with four goals in the second half of last Friday's game in East Lansing.

Two days later, Gladieux tallied her fifth goal of the weekend to help the blue and white top the Spartans in their second encounter.

The Daily Collegian


---

IU field hockey falls to Maryland in weekend series Friday, Sunday

By Luke Christopher Norton



IU freshman Taylor Etling competes in a field hockey match against Maryland on March 19. Maryland beat IU 5-0. Photo courtesy of IU Athletics

IU field hockey fell to Maryland in a weekend series, 5-0 Friday and 3-1 Sunday in College Park, Maryland.

The two teams began their first match at 6 p.m. Friday. The Hoosiers would fall 5-0 as the Terrapins scored three goals in the second quarter to go up 4-0 before slamming the door in the fourth with another goal.

The second match began at 11 a.m. Sunday and ended in a 3-1 loss for IU, although the Hoosiers were able to tie the match just over four minutes prior to halftime.

Junior midfielder Mary Kate Kesler, who recorded the first shot by either team during Friday's matchup, had a goal in the second quarter Sunday, which was the Hoosiers' first since March 5.

Freshman back Emma Martin inserted the ball, which was then received by freshman forward Meghan Dillon to set up Kesler's shot.

The ball zipped past five Terrapins before finding the back of Maryland's net. Dillon then leapt into Kesler's arms, who disappeared behind an incoming wave of her teammates, their cheers resounding across the pitch.

The Hoosiers recorded 10 shots on the weekend to the Terrapins' 31, and Maryland also had an advantage in corners with 17 to IU's 3.

IU returns to play in a weekend series against Ohio State on April 2-4, giving the team a respite from its entirely away schedule.

Indiana Daily Student


---

Maryland field hockey has thrived off penalty corners

Shane Connuck



Maura Verleg fires a shot during Maryland field hockey's 5-0 win over Indiana on March 19, 2021. (Julia Nikhinson/The Diamondback)

Bibi Donraadt stood on the backline near the east goal at the Field Hockey and Lacrosse Complex during the second half of Maryland field hockey's 3-1 win over Indiana on Sunday.

The junior was there to insert the Terps' fourth penalty corner in the span of just 31 seconds.

Last weekend, coach Missy Meharg's squad drew 17 total penalty corners, while the Hoosiers' managed just three. But as Meharg has said, it's not just earning these opportunities — it's capitalizing on them. And three of the team's eight goals this weekend came off penalty corners.

"We've been hitting so much in training sessions," Meharg said after Friday's 5-0 win. "We're all looking at each other like, 'OK, when are we gonna score some of these goals in games?'"The team continues to rank among the best in the conference at giving itself these chances to score. It's drawn 47 total penalty corners, good for second place in the Big Ten. Its offense is also averaging 2.13 goals per match, ranking third in the conference.

This weekend, Meharg shook up her rotations at times. On most corner attempts this year, Donraadt would insert the ball to Maura Verleg, who would set Riley Donnelly up for a drag flick.

But the first goal of Friday's win came from Verleg, whose sweep was elicited by Belle Bressler. Fellow newcomer Anna Castaldo also took several shots on penalty corner plays this weekend.

"It's nice in penalty corners to have different ways that you actually play the ball into the cage," Meharg said. "So we've got people who can hit; we have people who can drag flick, and Maura, of course, sweeps the ball, and she's got a very deceptive sweep."

Last season, Maryland was well out in front of its conference, leading the Big Ten after earning 149 penalty corners. It also led the conference with 364 shots.

Though Maryland lost a handful of players from the 2019 team, including defender Bodil Keus, Verleg has started to fill that gap. She is stepping into her role on the Terps' backline while being in the middle of most of the team's corner attempts.

And Verleg continues to play a critical role in both Maryland's defense and offense. The Netherlands native came to College Park from New Hampshire, where she spent her freshman season starting all 18 matches for the Wildcats and leading the team in minutes played. She was named the America East's Rookie of the Year as she burst onto the scene after competing at the highest level of junior field hockey in her home country.

She assisted on three goals at New Hampshire. But despite how much action she saw on the pitch, she never scored one. This made her goal Friday night even more special.

"We've worked so hard these past few weeks," Verleg said. "It's good to see that it's paying off now."

The Diamondback