All the news for Friday 29 January 2021

Indian women's hockey team suffers second straight defeat against Argentina

It was Argentina who showed their experience as they held sway to convert opportunities.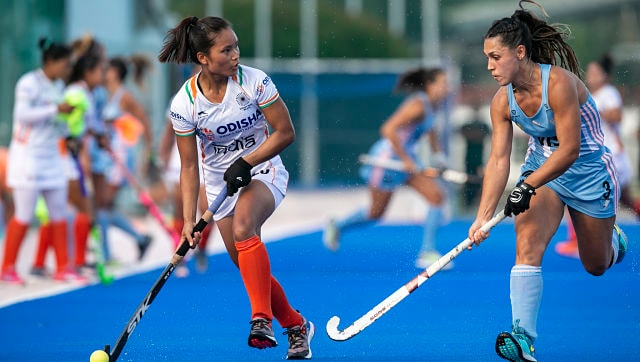 India will again clash with the hosts on Saturday. Image Courtesy: Twitter @TheHockeyIndia

Buenos Aires: Argentina comfortably beat Indian women 2-0 to register their second successive victory in the hockey series having won a thrilling opening game couple of days back.

Indian women lost their first match by 2-3 margin against the hosts.

On the day, Silvina D'elia (2nd minute) and Agustina Albertarrio (54th) were the goalscorers for Argentina, while India drew a blank.

Argentina's forward line created early pressure to push India on the defensive during the very first quarter.

A foot-foul by Indian defender in the striking circle, gave away a penalty corner to the home team which was capitalized by the experienced home team.

Silvina scored the goal, in a tactically executed PC, fetching her team a 1-0 lead in the second minute of play.

Though India didn't let this early setback dent their spirit and worked a disciplined structure to find opportunities in the striking circle, they could not breach the strong Argentine defence to score.

"If you don't convert your opportunities, you know the other team will and that's what happened today. Our structure was much better in this match and that's why in the first two quarters we created good opportunities in the circle," said chief coach Sjoerd Marijne.

After the early jolt, Indian defence ensured an effective formation that kept the Argentine forward line at bay.

With no goals scored in the second and third quarters by either team, the match went down to the wire with intense play being showcased in the fourth quarter of the match.

It was Argentina who showed their experience as they held sway to convert opportunities.

In the 54th minute, a defensive error on India's part saw them earn a PC. Agustina did well to convert the goal, eventually helping her team clinch a 2-0 victory.

"Argentina was very effective in their PCs and that was, for me, the deciding factor today. We feel we are getting closer to win, but small mistakes can make a huge difference in the match especially against a top-class team like Argentina," said Marijne.

India will again clash with the hosts on Saturday.

India had conceded late goals resulting in a 2-3 loss to Argentina in an exciting opening encounter.

Earlier, India had played matches against the Argentina junior women's and their 'B' teams.

Firstpost


---

India Junior women's hockey captain Suman Thoudam already eyeing Asia Cup and World Cup

The team remained undefeated on their tour to Chile

By Samrat Chakraborty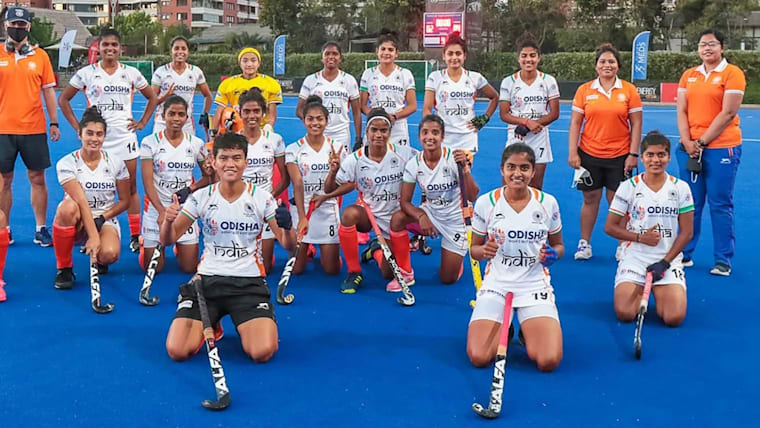 The Indian junior women's hockey team landed in New Delhi on Wednesday after a fantastic Chile trip, where they remained unbeaten. They won five matches and drew once in Santiago, the capital of Chile.

Beauty Dungdung excelled in the tournament as she scored a hat-trick in their inaugural game and concluded the tour with a convincing brace.

Skipper Suman Thoudam was excited to get some competitive minutes under the belt as she has already set her sights on the Junior Asian Cup and Junior World Cup that are slated to be held later this year.

"We are very happy to have got the opportunity to resume competitive hockey after the pandemic. It was a very good experience for all the players and members of the support staff and it gives us huge confidence as we approach an important year ahead," Thoudam said.

"We are definitely keeping our eyes on the Junior Women's Asia Cup and the FIH Women's Junior World Cup both scheduled later this year."

The Indian team beat Chile junior team in both their encounters with score-lines of 5-3 and 4-2 in the first two matches of the tour.

"We felt like we were back at our best when we took to the field in Santiago. Whatever we have done in our training sessions, we could execute on the pitch against our opponents from Chile. Everyone was a bit rusty at the start, but we quickly got into a great rhythm, and you could see that with our performances against their Senior team," commented Suman, who plays as a defender for the Indian team.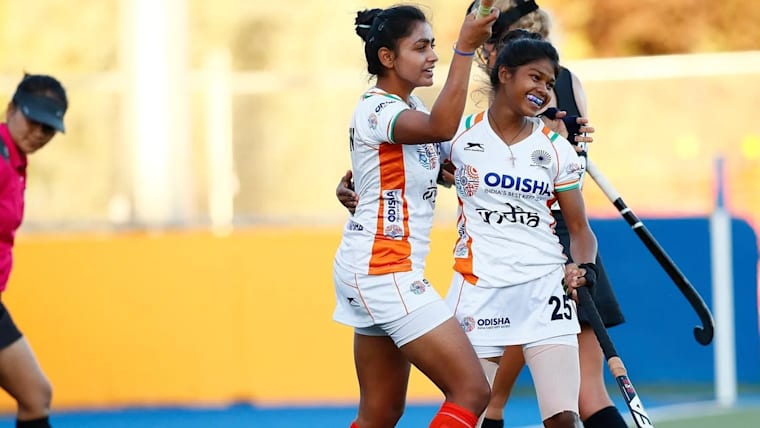 India Women's junior hockey team in action

They continued their rich vein of form when they faced Chile senior team, winning three of the four matches they played.

"The best part for me about our performances is that, not only were we strong in attack, but were very solid defensively. They tried to use their experience in the forward areas, but we showed great unity and resilience, so I'm really proud of the team," added the 21-year-old.

The team will now head for a two-week break before assembling again for the national camp on February 10.

"I think we showed great fitness in our matches against Chile, playing six matches in eight days, and still winning five of them. Now, it is about recovering and spending some time with our families, following all the guidelines, and then ensuring we are back in the national camp to prepare for this important year," she concluded.

Olympic Channel


---

Andrew Wilson takes charge of Canadian women's field hockey after successful stint in Spain

33-year-old England native inherits cash-strapped team eyeing 2022 World Cup run

Neil Davidson



After success in Spain, 33-year-old Andrew Wilson, shown in a handout photo, has begun work as coach of the Canadian women's field hockey team. (Andrew Wilson/The Canadian Press)

While just 33, Andrew Wilson paid his dues en route to becoming Canadian women's field hockey coach.

Originally from Kent in southeast England, Wilson went to university in Exeter and Canterbury before moving to Spain in 2008 to teach English during a year abroad.

"I was very lucky to be posted close to the city of Terrassa which is the heart of hockey in Spain," he said.

Terrassa is about a 30-minute drive northwest of Barcelona. Wilson, who had been working on his coaching qualifications in England, wrote to the nearby Club Egara, one of Spain's elite field hockey outfits, to ask if he could help.

He began as assistant coach on the under-12 girls' B team, working his way up the club ladder as he juggled coaching with his teaching job. It wasn't easy — at times he would get up for work at 6 a.m. and not getting home until 10 or 11 p.m.

Turning point

"I wasn't having a very good time," he said of his initial time in Spain.

But the coaching jobs got better. And it was at Egara that he eventually got to work with countryman Adrian Lock, who took over the Spanish women's team in January 2013.

Wilson offered to help for no charge, knowing the national team was cash-strapped. He went from watching to setting up cones but gradually was given more responsibilities.

In 2014, he served as team analyst for the Spanish women at the Champions Challenge in Glasgow, filling in for an unavailable coach. At his suggestion, they started one-on-one briefs with players after every game.

He became the under-21 assistant coach, "and it just snowballed from there."

Wilson went on to become co-ordinator for Egara's senior women's sides and an assistant coach under Lock with the national team. Together they helped Spain, known as the Red Sticks, rise up the ranks and win bronze in a 3-1 win over Australia at the 2018 Women's World Cup in London.

It was a turning point for the program.

"Without a doubt," Wilson said. "And it was a result that we knew we were capable of getting. But we knew that very easily we could have not got that result and we could have gone into obscurity again."

No flash in the pan

Spain, currently ranked seventh in the world, showed it was no flash in the pan when it also won bronze at the 2019 Women's EuroHockey Championship in Belgium. Then Wilson struck out on his own, leaving his comfort zone in Spain.

Wilson arrived in Canada in mid-December, serving out his quarantine before starting daily training sessions in West Vancouver. He is currently working with 18 senior and junior players, with others spread across the country and a few in Europe during the pandemic.

"The girls are working very, very hard," he said. "They're extremely well trained. The coaches in the past have done a very good job with them. It just makes it so much easier to implement new concepts."

"The seniors are confirming what I had seen when I competed against them. And the juniors are showing some promising individual talent but need to be trained in a high-performance environment consistently to make any improvements," he added.

Wilson's experience with Spain should serve him well in Canada.

Field hockey is down the sports' pecking order in both countries and funding is hard to come by. But there is a pool of talented, committed women willing to do what it takes.



The 14th-ranked Canadian women have had to make sacrifices in recent years. Having lost their Own The Podium funding, they turned to family, friends and supporters to fund their Tokyo Olympic qualifying journey. (Silvia Izquierdo/The Associated Press)

"Football is king and basketball is the prince," Wilson said of sport in Spain. "Beyond that everyone really shares out the rest of the support from people."

The 14th-ranked Canadian women have had to make sacrifices in recent years. Having lost their Own The Podium funding, they turned to family, friends and supporters to fund their Tokyo Olympic qualifying journey.

On then-coach Giles Bonnet's suggestion, the women moved to Belgium in September 2018 to join club teams. It gave them access to elite coaches and trainers while allowing the Amsterdam-based Bonnet to work with them regularly.

The move worked and the Canadians rose up the world rankings. But Field Hockey Canada gave notice to Bonnet, saying it could not afford to pay the South African's salary. Once again, supporters stepped up to pay his wages through Olympic qualifying,

Under Bonnet, the Canadians made it to a two-legged Olympic qualifying showdown — only to suffer a heart-breaking 4-3 penalty shootout loss to Ireland in Dublin in November 2019. The women have sat out the last six Olympics, last competing in 1992 when they finished seventh in Barcelona.

The Canadian men booked their ticket to Tokyo, dispatching Ireland in West Vancouver in October 2019.

Wilson believes the players' move to Europe was a good one. The team jumped from No. 21 rankings to the mid-teens and "every single nation saw Canada as a threat."

But he plans to keep the team in Canada for the moment.

"I think right now that's not the road we need to go down with the team, because the negative side to that was they weren't able to be with family. They weren't able to work They weren't able to study whilst they were there."

In Canada, Wilson is already working with high-performance director Adam Janssen and newly hired men's coach Andre Henning of Germany so their teams can pool resources. They are also combining on funding presentations.

The women's focus will be making the 2022 World Cup. The regional qualifying tournament has been pushed back from November 2021 to January 2022 in Santiago, Chile.

Wilson plans a carding camp in March with the hope of getting some games in during the summer.

CBC


---

All 12 top class Hoofdklasse matches to be broadcast on Sunday




The Dutch Hoofdklasse returns on Sunday with two bumper fixtures with the men's programme headed up by HC Bloemendaal and SV Kampong while Den Bosch host AH&BC Amsterdam in the women's competition.

All 12 games are set to be broadcast – either via Ziggo or live streams – offering an incredible set of matches for hockey fans around the world to enjoy.

For the Bloemendaal tie, they go into the match with a healthy six point lead after seven matches with HC Rotterdam in second while Kampong are third, another two points back but with a game in hand.

As such, the fixture is vital for the Utrecht club if they are to start making inroads into Bloemendaal's advantage, something which Terrance Pieters says his side are in great shape to do.

"We are ready and will collect three points in Bloemendaal on Sunday," he said to hockey.nl, adding that he is keen to build on his excellent form before the Hoofdklasse came to a halt.

"This isn't arrogant but I think I am physically in good shape and often have an advantage over my opponents. I have a lot of energy and I simply make use of it.  

"I steal a relatively large number of balls from defenders and that is how we create a lot of our transition moments.

"I am reasonably satisfied," he says of his increased goal output this season. "But  I think I can score even more. As an attacker, I have to contribute on this front.  

"That means that I have to be involved in attacks, get corners, give assists and score. It is not that I focus on goals, because I am not a circle striker but I do think that, as an attacker, I should be the end of things more often."

It is among plenty of big games with HGC hosting AH&BC Amsterdam's men while Den Bosch take on Rotterdam on Sunday.

In the women's competition, Den Bosch put their perfect record on the line when they face second place Amsterdam who sit two points back after seven rounds of matches. The game will be broadcast live by Ziggo in the Netherlands (from 12.10pm CET).

Both are unbeaten in the 2020/21 season and Amsterdam's Noor de Baat is thrilled to get the chance to try and end their rivals' record after a productive series of friendly matches this month.

"It has been wonderful to be able to train with the whole group again for two weeks," the 20-year-old told hockey.nl.  

"Finally, we can all play matches again! In recent weeks, we have seen great things emerge in the team, especially in terms of teamwork in our attacking structure. We will have to work on that even further in the coming weeks.

"The difference between us and Den Bosch is small, the qualities are very close to each other," she adds. "We are in good shape. If we continue to work for the team in the build-up phases and, also, continue to work optimally for each other without the ball, then we are at our best."

Fourth plays third, meanwhile, in Bilthoven with SCHC looking to try and close the gap to this season's surprise package HDM who are four points above them.

Euro Hockey League media release


---

Van der Horst moves to Den Bosch




HC 's-Hertogenbosch will welcome Jaïr van der Horst to the club next season following a successful two-year spell with HC Tilburg having previously lined out for Oranje-Rood and Atlètic Terrassa.

Speaking about the move, the player said: "This step to HC' s-Hertogenbosch is a reward for me for the past two years at HC Tilburg. I look forward to continuing this development in the coming seasons and to realise my ambitions together with the club and the team."

Euro Hockey League media release


---

Two Coaches Selected For Pioneering UK Sport Female Coaching Programme



Lisa Letchford

Lisa Letchford and Sarah Kelleher have been selected to join the UK Sport coaching programme that aims to double the representation of elite female coaches by the Paris 2024 Olympics.

They are two of 19 coaches who have been identified as having the potential to coach at Summer and Winter Olympics from Paris 2024 and beyond.

Letchford (nee Wooding) is currently the Lead Talent Coach (Girls) for England Hockey, having played for GB at the 2008 Olympics and England at the 2006 Commonwealth Games and 2006 World Cup. Former Irish international Kelleher currently coaches at Hampstead & Westminster HC and also led the England U18 NAGS girls' squad.

They will now embark on a six-month programme where they will be offered key support and development opportunities, including time observing an assigned coach already working a high-performance community.

The programme was first announced back in November 2020, when the seven coaches currently working in elite sport who will lead were named alongside Karen Brown, the former England and GB Hockey coach and player who will act as a mentor throughout.

Letchford will spend her six months working with diving coach Jane Figueiredo while Kelleher will be with British Swimming's Mel Marshall.

Speaking about the opportunity, Letchford said: "I'm very honoured to be accepted onto the first cohort of this programme. Not only am I shadowing one of the most experienced and successful female coaches, I get to network with some of the most talented upcoming female coaches in the UK, giving me numerous avenues to enhance my learning and progress as a coach.

"It is a very unique environment and one that I am determined to take the greatest advantage of."

At present, approximately only 10% of coaching positions within the high-performance community in the UK are held by women. The leadership programme forms part of UK Sport's long-term plan to address the current under-representation of female coaches at all levels of the talent pathway within the high-performance community.

The first target of this long-term plan is to ensure that by the Olympic and Paralympic Games in 2024, the number of female coaches available to Team GB and ParalympicsGB has more than doubled to 25%.

England Hockey Board Media release


---

RIP John McDonough




Hockey Ireland is very saddened to learn of the sudden passing yesterday of John McDonough. John served as a Board Director of Hockey Ireland until as recently as 2020, and was widely respected for his love and work for hockey in Ulster and across Ireland.

Described as "a stalwart of the local game with many friends in the Ulster Hockey family", John was a member of the Queen's University Men's HC Irish Senior Cup winning team in 1972 and then played for the Belfast YMCA/Holywood 87 Men's Club and afterwards coached at the Harlequins Ladies Club.

We send our sincere condolences to John's wife Margaret, daughter Jenny (Harlequins Ladies HC), and son Andrew, together with the larger family circle, at this most difficult time.

Irish Hockey Association media release